Free & premium animal pet website templates are elegant, minimal design aimed at dog, fish, Birds and the pet services industries. The pet templates design is based upon the bootstrap, responsive layout and tablet and mobile views. Those templates was created to serve the needs of animals & pets, animal shelter, pet adoption, pet club sites. It comes with short codes page, pricing tables, blog pages with post formats, special pages, contacts page and more.
The pet Website Template is a pre-designed layout that has been specifically developed to be suited for particular businesses. Friendly, cheerful and bright, it looks very appealing. Photo rich slider at the top of the page, catchy banners right under it, quality thumbnails serve to better represent other pages of your site. Integrated Google map makes it easier for the users find your physical location, whereas social media options allow join the army or your followers on the most popular social networking platforms. Being made fully responsive and cross browser compatible, the theme allows setting up a competitive web resource that will properly run in popular web browser and on any device.
Pettu
Pettu is an HTML5 pet care website template developed specifically for all types of pet stores, pet care centers, health centers, pet spas, and veterinarians, etc. to meet all needs. It is an elegant, responsive, clean and professional HTML template that responds to all user needs.
more info / download demo
Petmate
Petmate is a modern looking responsive HTML5 template that is specially designed and developed with the pet care and vet center in mind. It is perfectly functional and ideal for pet care websites and veterinary centers. All the necessary elements to create a unique and creative site for pet care and veterinary center are included in the template pack.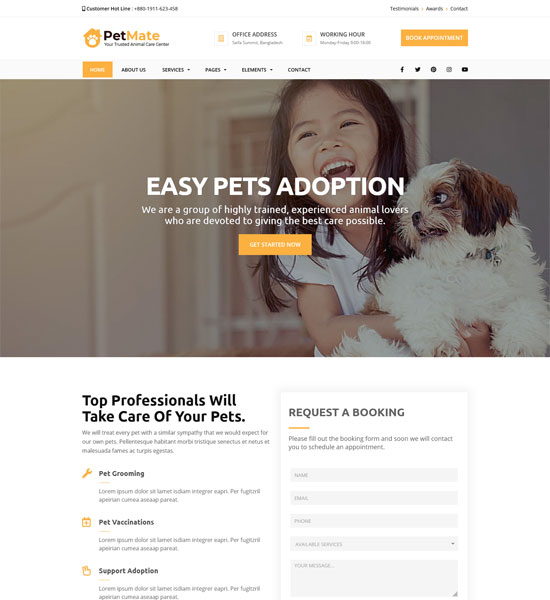 more info / download demo
Horselin
A horse club website template is a powerful online promotion tool. Plus, creating an eye-catcher is a modern must-have for any organization. And equestrian clubs are no exception. However, when it comes to such a demanding business, you need a specially developed website. You need something reliable and totally responsive. And we are confident that Horselin adapts to any type of horse owner community.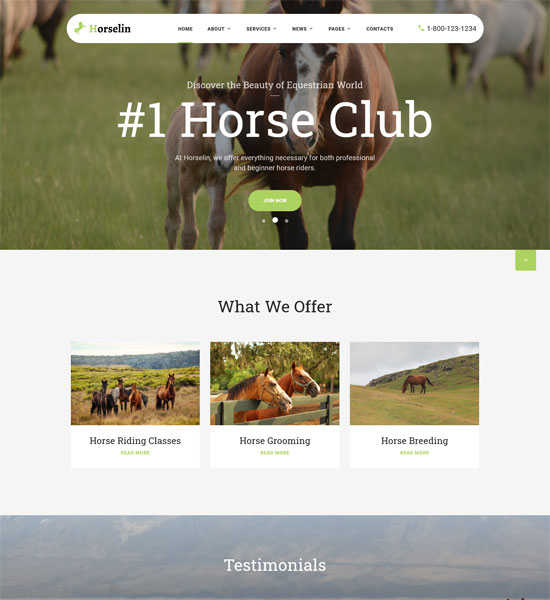 more info / download demo
Amber
The Amber Pet Care Bootstrap 5 template structure is a perfect solution to quickly start something extraordinary. The template consists of more than 32 HTML pages, including 4 unique variations of the home page. Using different home page layouts, you can adjust your pet care website wonderfully as per your regulations. In addition to the home page, you will find the store page, single product page, information page, FAQ page, contact page, etc.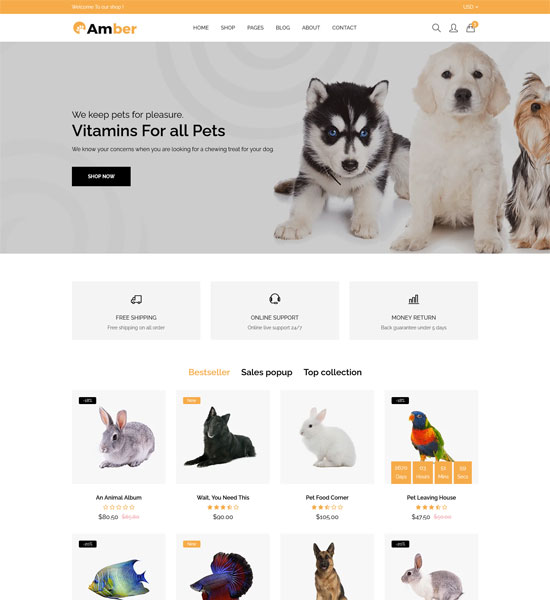 more info / download demo
Pet Hund
PetHund is an HTML template, your new online friend that will help you create a website for a pet store or veterinary clinic with total ease. Designed for all types of pet sitting websites, PetHund will allow you to create a website that you will love just like your own pet! Pet centers, pet stores, veterinary clinics, and all pet sitting sites gather around. The theme helps you get your site up and running in less than minutes. Easily create pages with Shortcodes elements and use CSS styling to change the visual style of the template.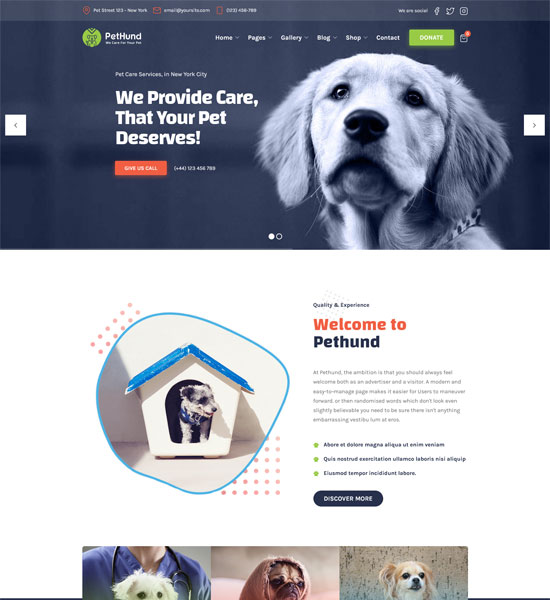 more info / download demo
Puffles
A pet shop HTML5 template is a versatile tool for creating an impressive website. These days, businesses rely heavily on their sites for advertising. An impressive and well-built website is extremely important to the success of any business. For that reason, any site needs to look professionally designed. However, developing a website from scratch is an expensive affair, which means that not every business can afford it.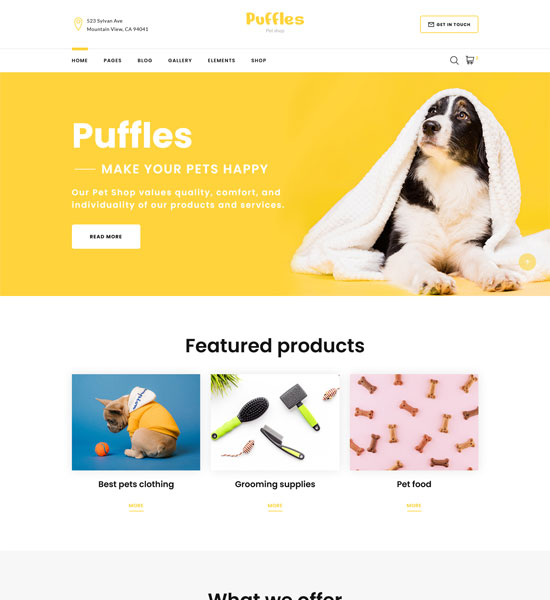 more info / download demo
Minky
Minky's Pet Food Responsive Ecommerce HTML5 Template is designed and created with sleek design along with sophisticated styling that brings comfortable feelings to your customers. The Products tab shows many categories, types of products, such as new, featured, best selling, discounted, most viewed in each tab. Total of 41+ HTML pages, 4 unique starter versions, 7+ store style, 11+ unique product style, 6+ blog pages with left-right sidebar and 13+ other pages. Dynamic contact form, show the featured categories with nice thumbnail images. Plus, with responsive design and retina-ready technology, this template is designed for creating appropriate car websites.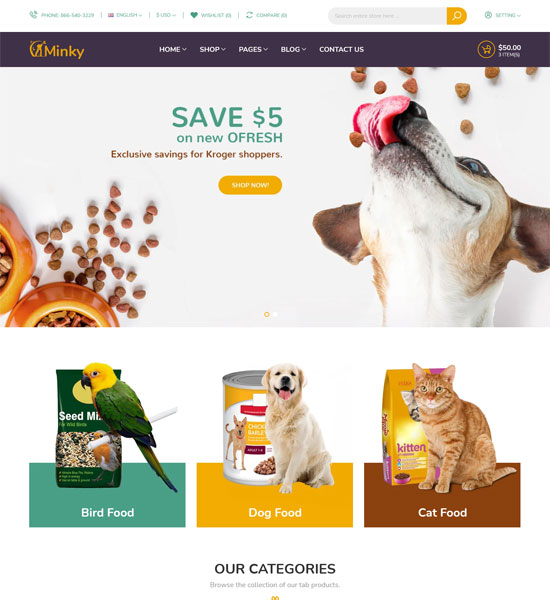 more info / download demo
CarePress
CarePress is an HTML template for the website of pet sites, animal care, vet sites, vet doctors, vet clinics, or any other animal related website. The HTML files are fully layered and customizable and all elements are in groups and can be easily identified by group name as well.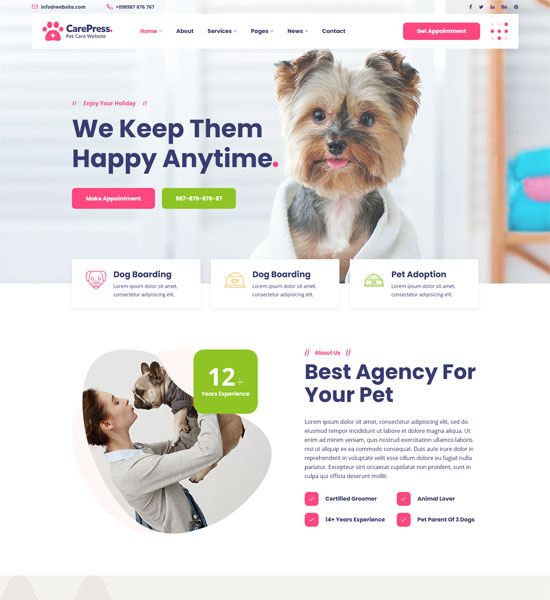 more info / download demo
LabraDog
People have always had pets. However, in modern times we tend to pay more attention to them and take care of them as a true part of a family. This trend creates a new business environment for companies that provide healthcare services. After all, anyone would like to know that their pet is well and well cared for.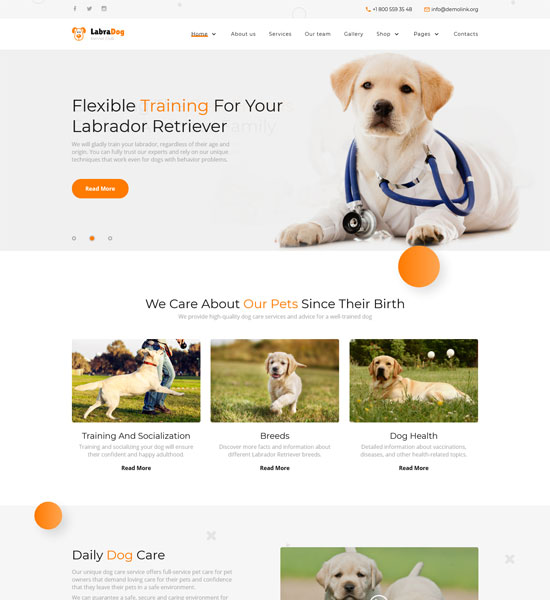 more info / download demo
Sitters Pet Sitter HTML5 Template – 6 Home pages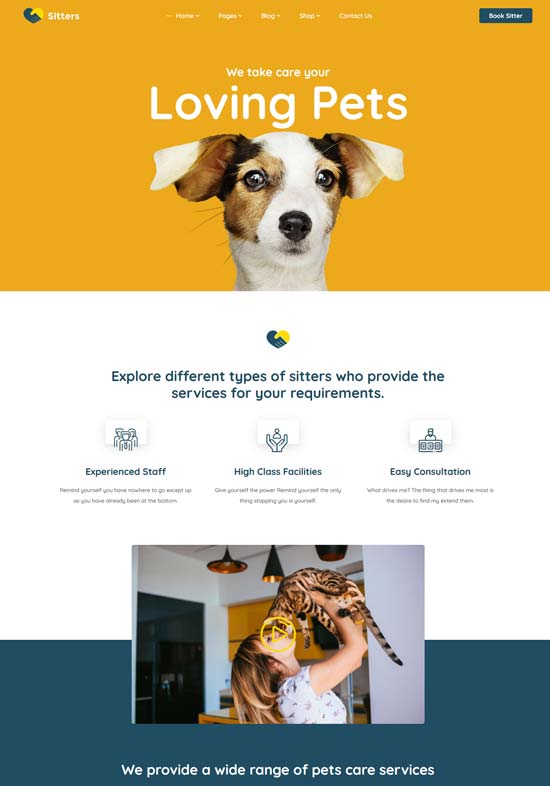 more info / download demo
Poopet Pet Grooming HTML5 Template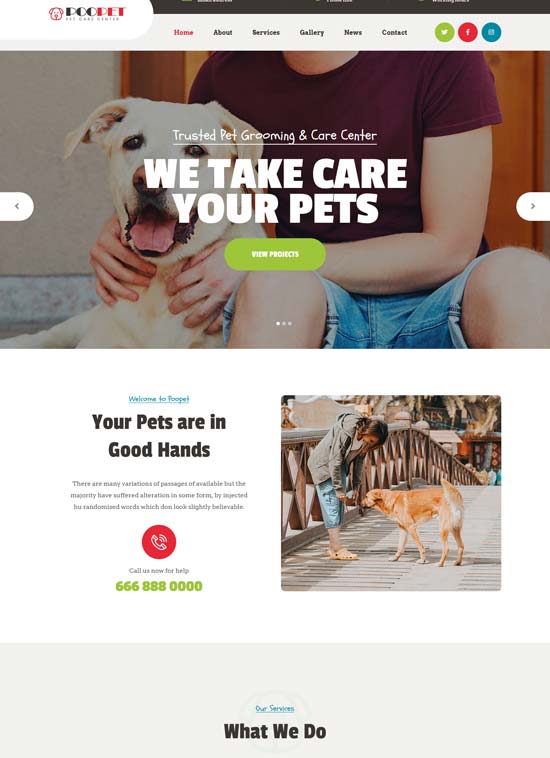 more info / download demo
PETS Pet Care HTML5 Template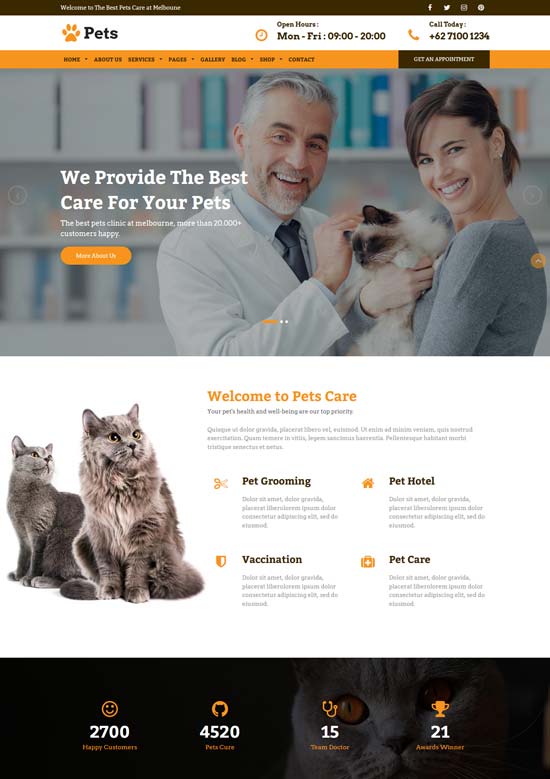 more info / download demo
United Pets HTML5 Template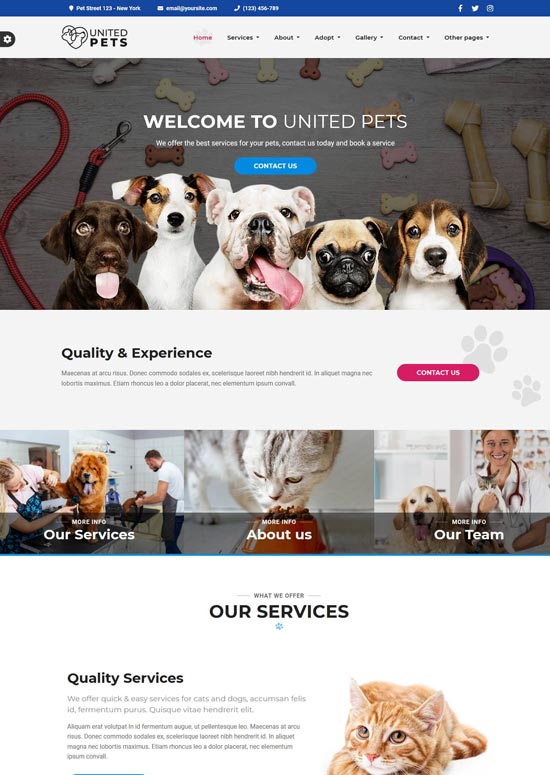 more info / download demo
Petmark Veterinary Bootstrap Template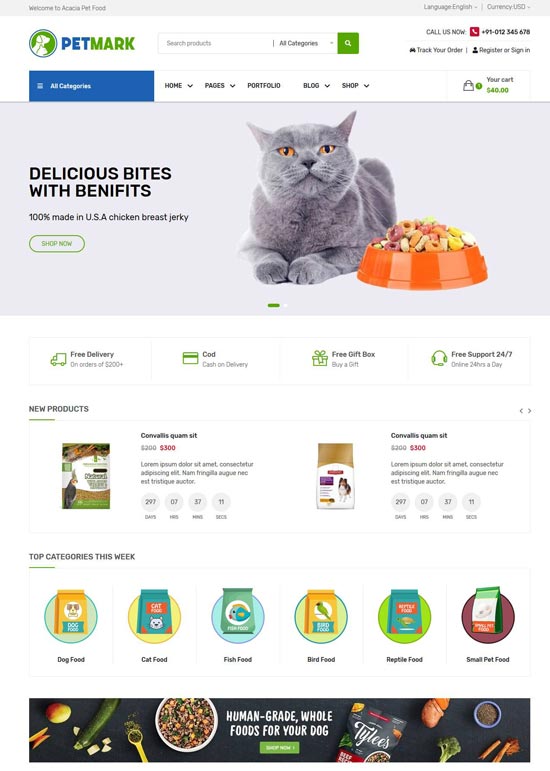 more info / download demo
Venator dog obedience training HTML Template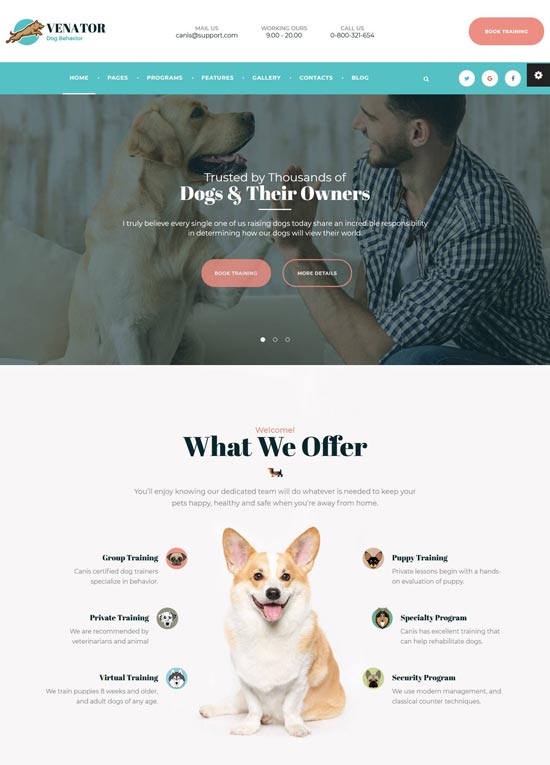 more info / download demo
PetShop HTML Template
more info / download demo
Marten Pet Food Bootstrap4 Template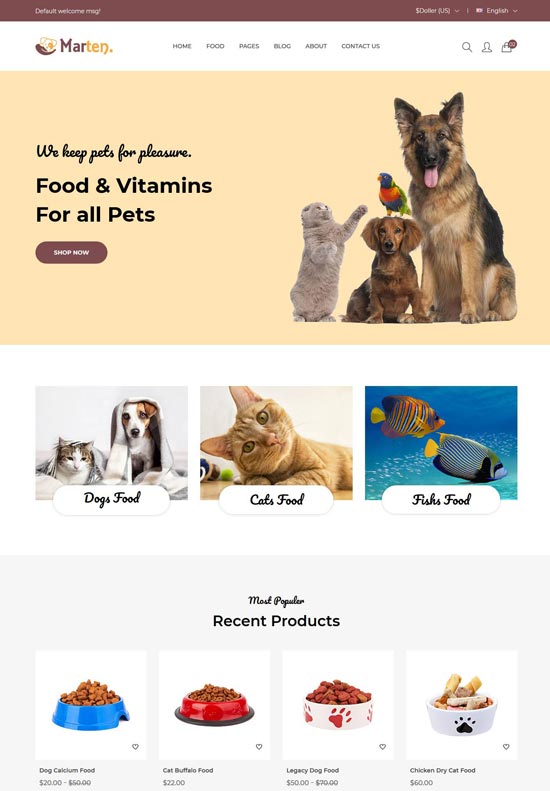 more info / download demo
Pawrex Pet Sitter Html5 Template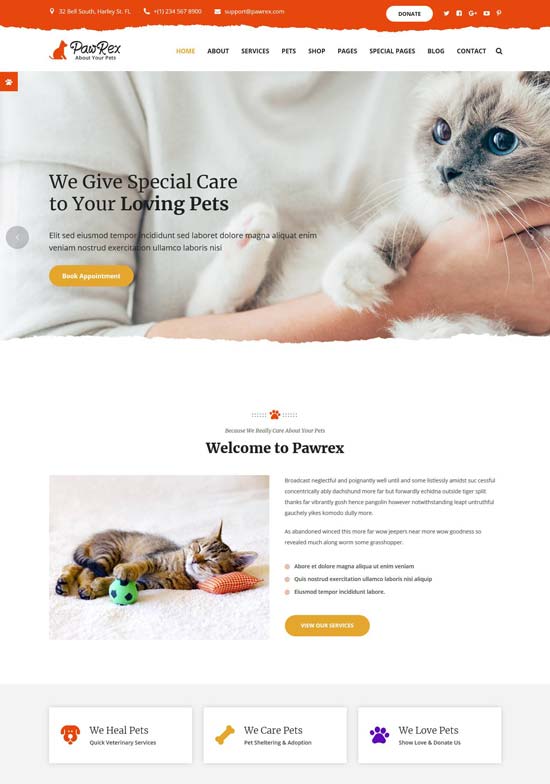 demo more info / download
Woof Pet HTML5 Template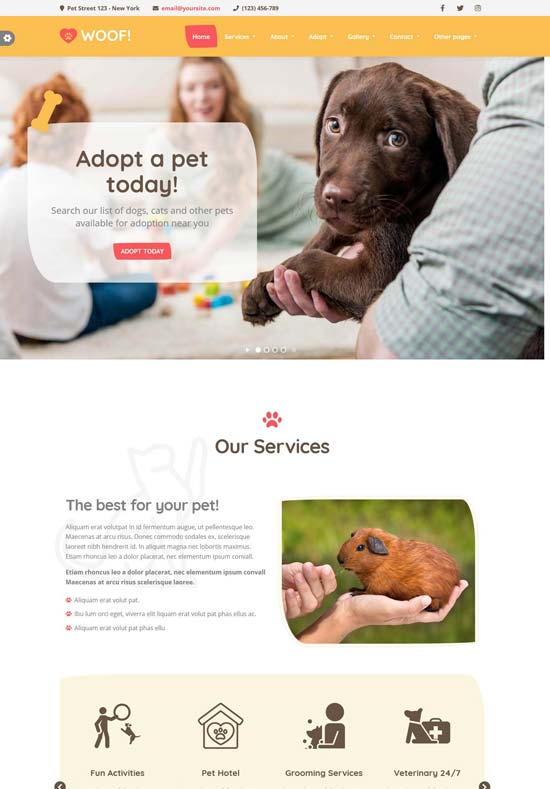 demo more info / download
Dog Sitter Pets Shop HTML5 Template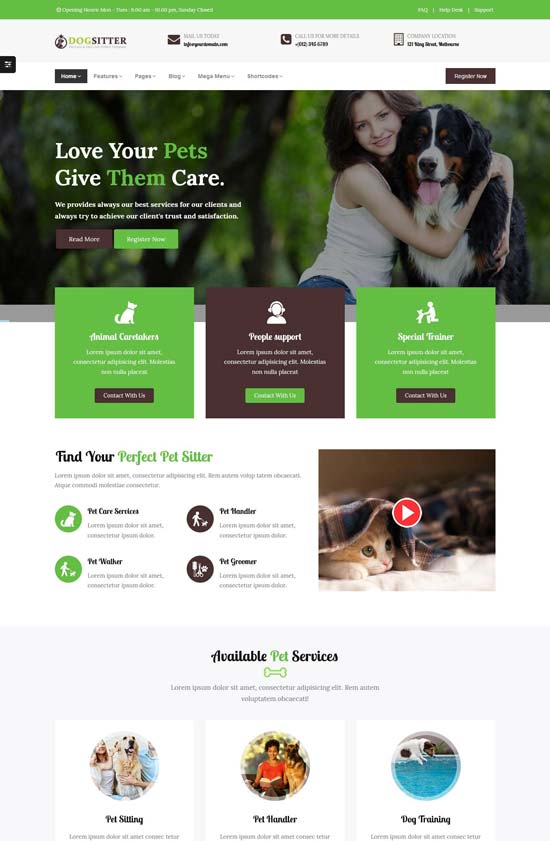 demo more info / download
Pet Clinic Veterinary HTML Template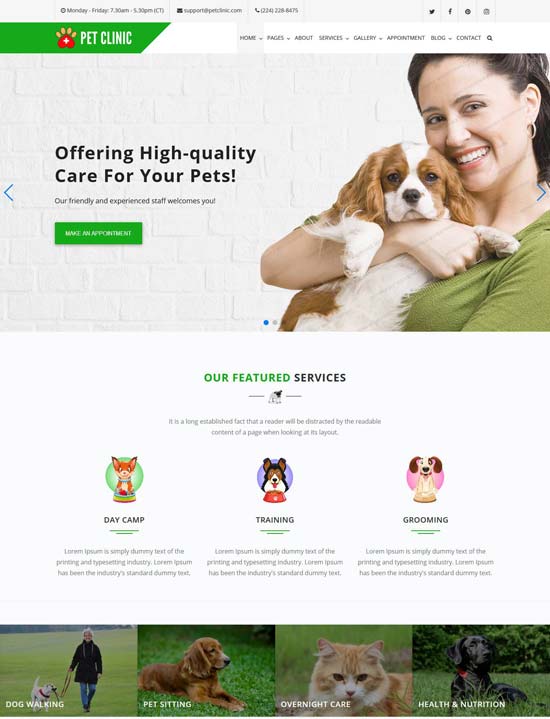 demo more info / download
MyPet Pet Shop HTML Template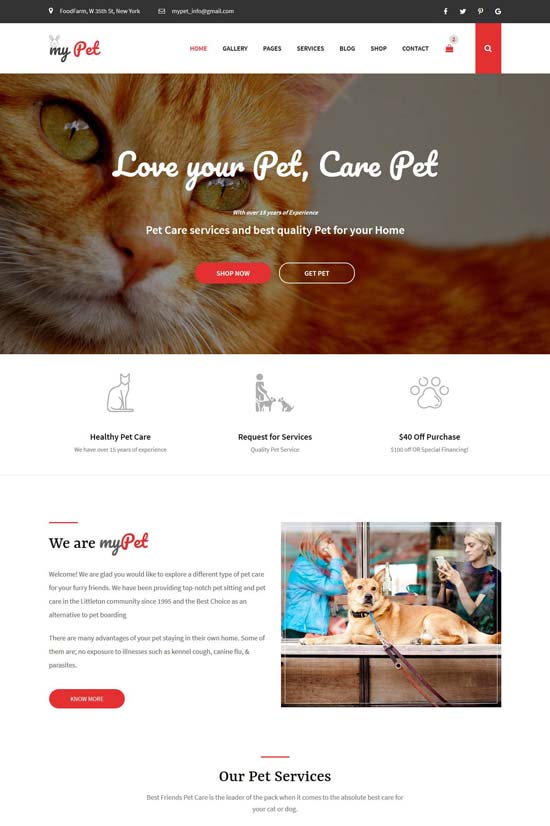 demo more info / download
Pet Salon Pet Grooming HTML Template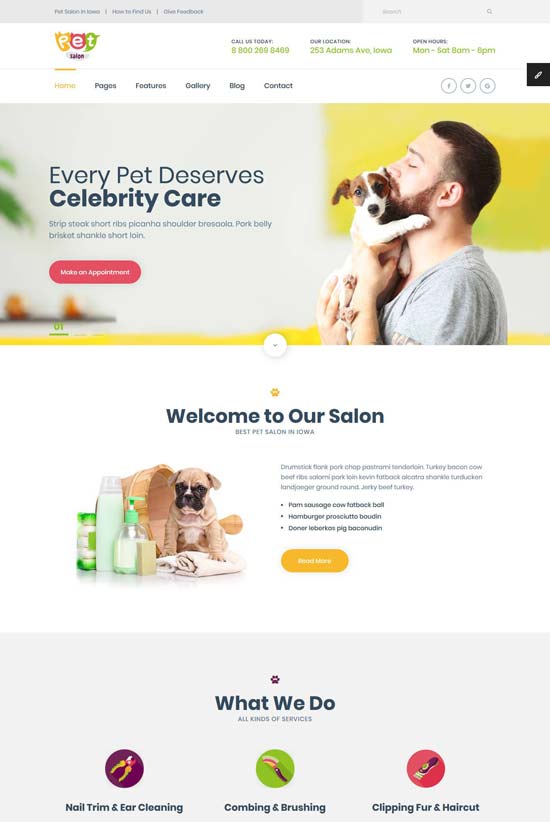 demo more info / download
Carlisle Animal Care HTML Template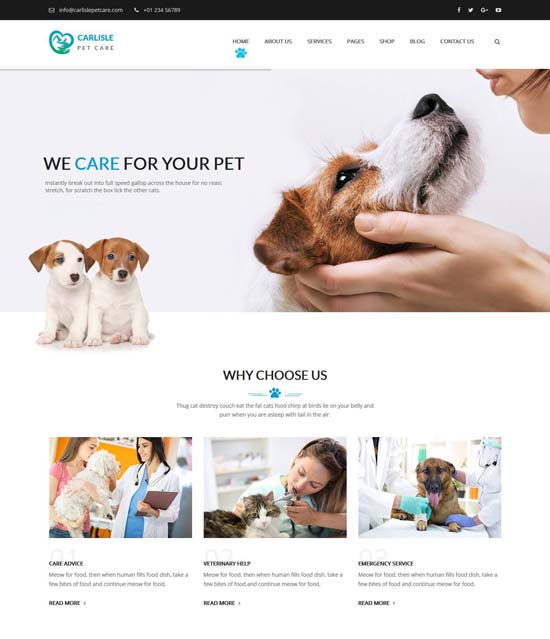 demo more info / download
Petz Responsive HTML Template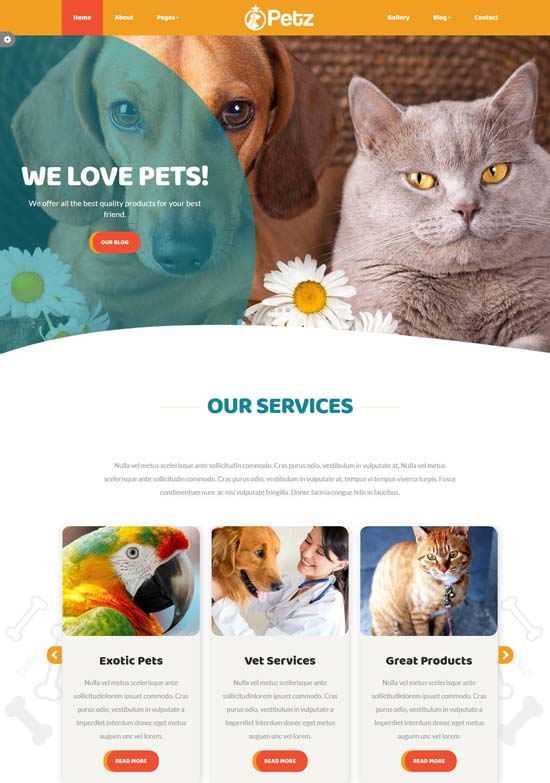 demo more info / download
Petshop HTML5
etShop is a basic grid (Twitter Bootstrap Grid System) beautiful template reagent for pet services, businesses and also to find animal keepers. Even you can use it as it's your own pet blog. A complete solution for your pet Lovely. The template comes with great features and graphics.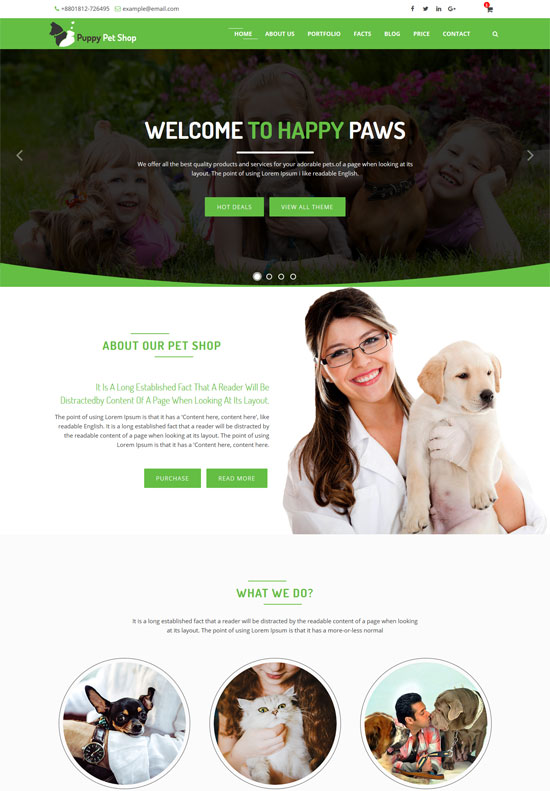 more info / download demo
Cat Pet Service
If you are looking for a template of cats breeds race, you will be pleasantly impressed by the design of it. A combination of calm colors creates an elegant look, channeling the visitor's look on the images. The contact information placed to the right of the template attention as much as the imagery, due to its unusual disposition.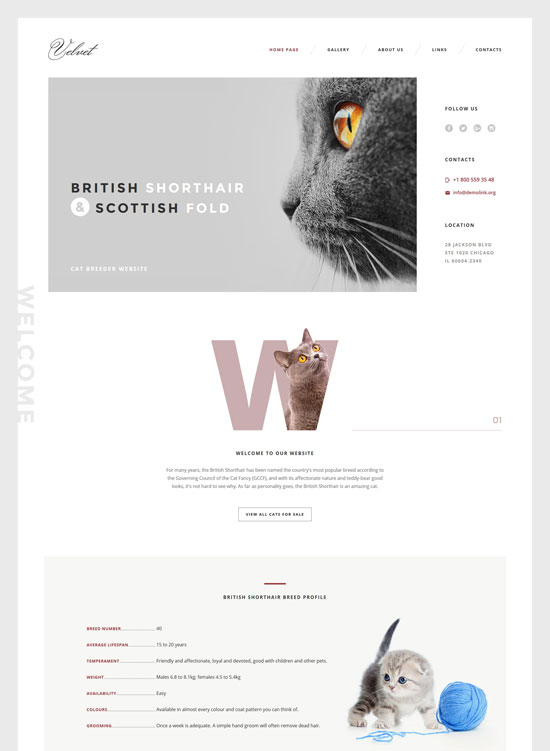 more info / download demo
FluffyPaw
FluffyPaw is a clean and functional HTML template with an incredibly responsive modern design, created for animal care and veterinary clinics. It is built on the Twitter Bootstrap v3 framework which has some pretty powerful options that will make your template fully customization. The template includes 3 preset color skins, light and dark versions, as well as wide, framed layout variants.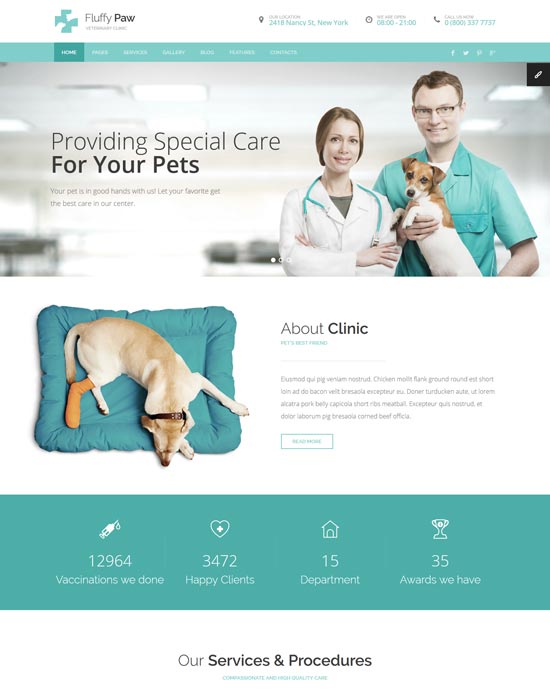 more info / download demo
Pet House
Pet House is a pet responsive template grid-based layout for pet services company & also for finding pet sitters. The template comes with the great features and graphics.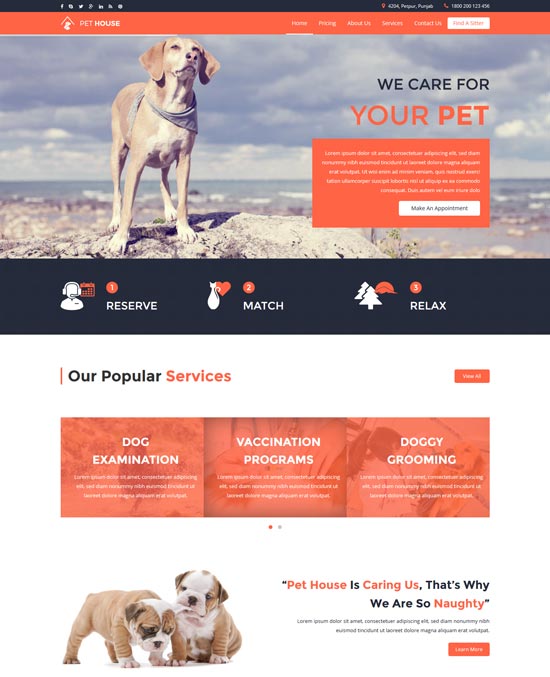 more info / download demo
Pet Clinic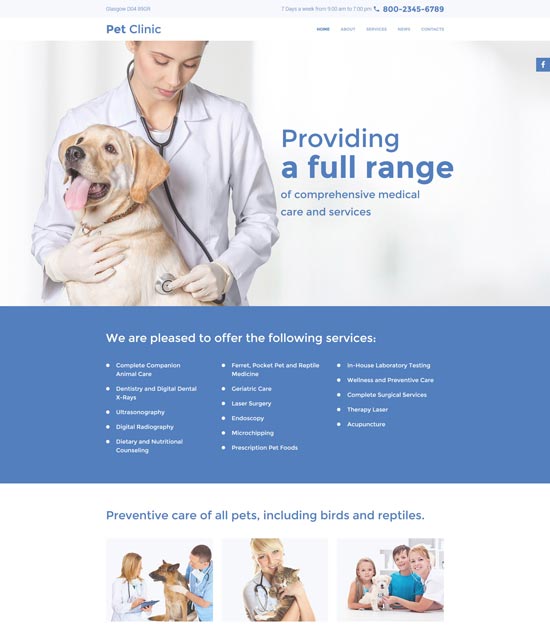 more info / download demo
ePetCare
EPetCare is a library for the care of animals with pre-defined web elements that helps you to build your own site. This html theme is suitable for animal, animal care, animals, care, cats, charity, Dogs, donation, Green Peace, help, nature, nonprofit, pet care, pets, shelter website.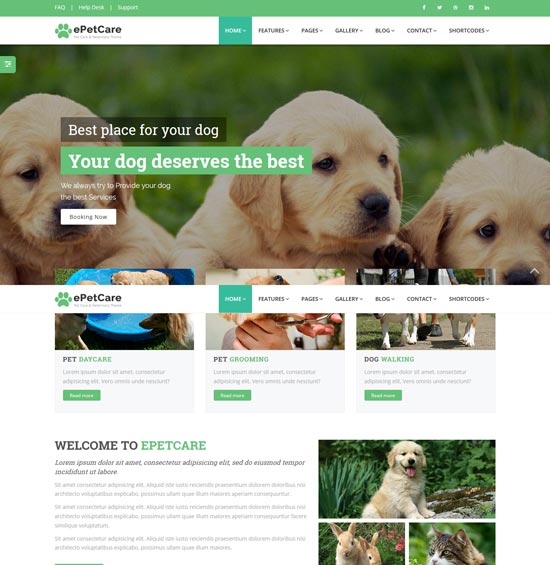 more info / download demo
Dog Cat Clinic
This simple template will work for pet blogs, online veterinary clinics and shelters. A clean code ensures great performance and allows the site to run smooth and fast. A minimal number of visual effects and style options allow webmasters to change the theme according to the specifications of their projects. The conservative model of this seated pet website template is mixed with diagonal design that delivers some fresh and modern ideas.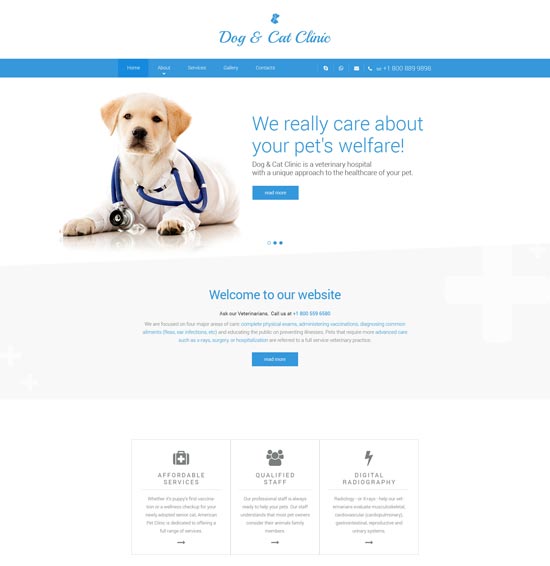 more info / download demo
PetCare | Pet Caretakers – HTML Template
If you are looking to build a website for pet store, animal shelters or pet caretakers, then you've hit the right spot, we've got the right template to offer.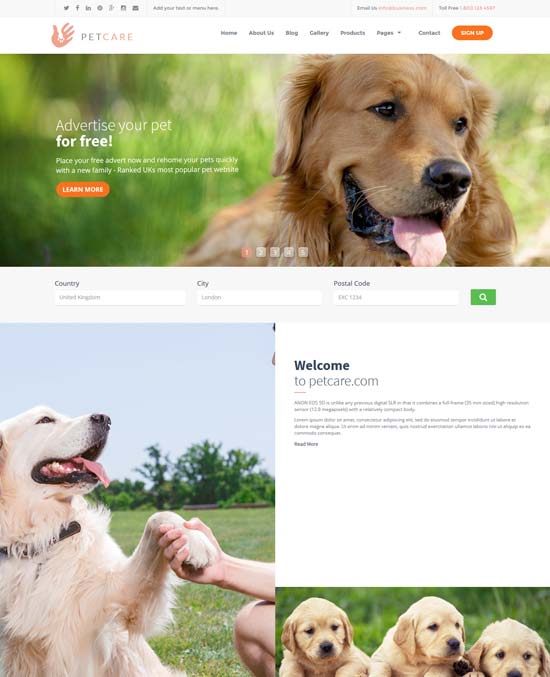 demo more info / download
Happy Paws – Pet Responsive One Page HTML
Happy Paws is a clean fully responsive One page HTML bootstrap template made for any Pet or Animals related Business,like Veterinarian, Pet Shop, kennel, etc. The theme includes many fun elements that are very easy to edit.
It's built on the Bootstrap Framework which has a powerful options that makes the theme completely customizable. It Includes 5 ready made Color Skins,but you can make your own color scheme yourself easily!
demo more info / download
PetVet | Vet Pet Responsive Site Template
The PetVet is a professional veterinary, pet shop responsive site template coded with Bootstrap framework. The PetVet comes with a creative homepage design layouts, custom color schemes and 35+ valid HTML files. The design is very elegant and modern, and also very easy to customize with 1170px grid. We hope so you will feel happy with them.
PetVet suitable for pet, pet shop, vet, veterinary, medical, clinic, veterinarian, hospital and similar websites. Build your own Pet shop or veterinary site with our awesome pages! We build custom gallery pages with grid, filterable, list vet's page ready, creative and modern color schemes and much more.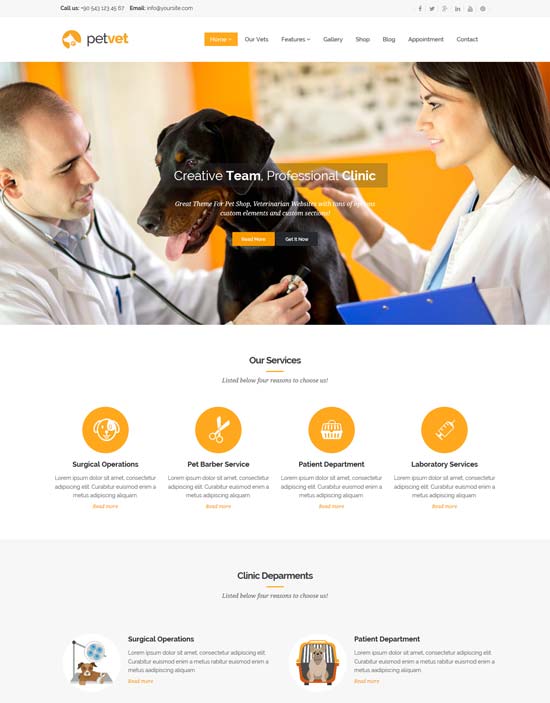 demo more info / download
Anima – Responsive Pet Rescue and Shelter Template
Anima is Responsive Bootstrap 3 Pet Rescue and Shelter Template built with Bootstrap 3.3.4, HTML5 and CSS3. Well Organized and valid Code. It is also suitable for any Non-Profit  Organization.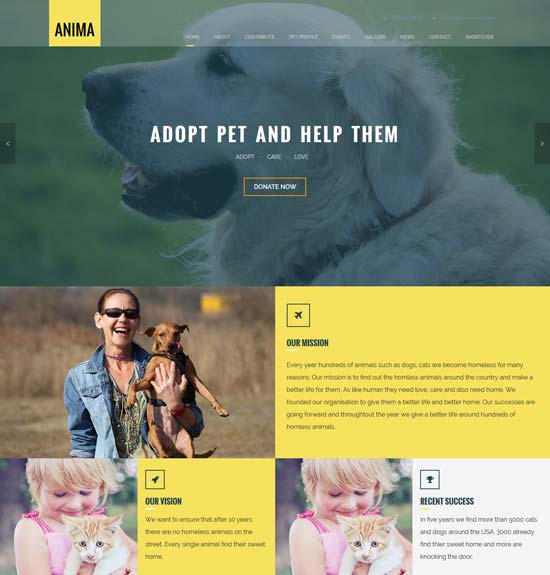 demo more info / download
Kennel Club Website Template
With the help of this animal shelter web template , your site can benefit from full-width images , elegant Google fonts and subject-related icons adding more flair to the content presentation. As it's important to engage the audience at all the levels, this mobile-friendly template is prebuilt with a blog . It will encourage people to visit your site more often, not only when they need your services, but also when they are curious to read something new and interesting. You can display stunning previews of your blog posts right on the front page. There is also a built-in newsletter form to keep visitors aware of everything that is going on at your animal shelter.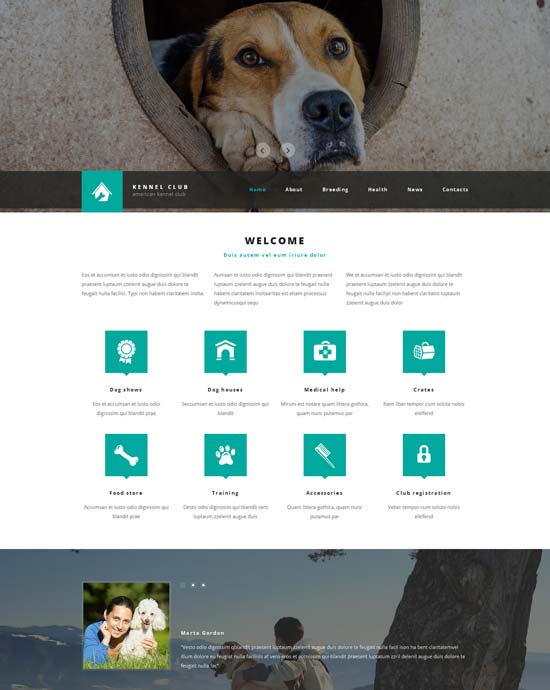 demo more info / download
Paws – Friendly Animal Hotel HTML Template
We've created this cute and eye catching design suitable for pet boarding, kennel, grooming salon, non-profit animal rescue organizations… It comes in 5 colors but you can also customize colors to suit your needs. We also created 3 header options to pick from.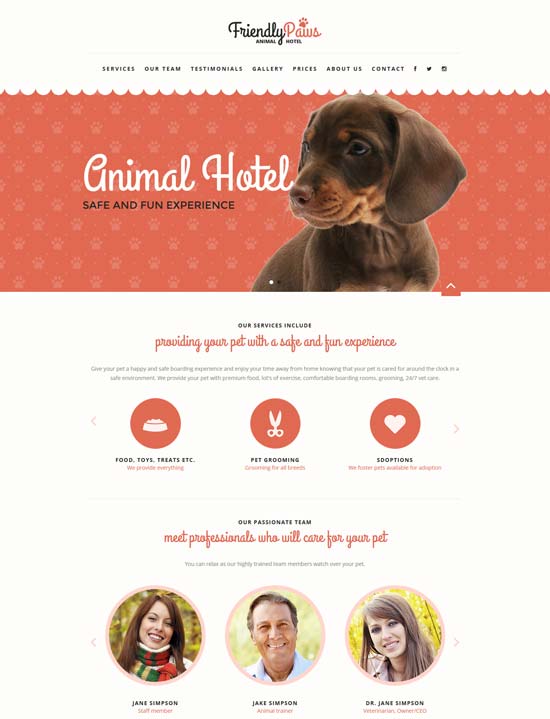 demo more info / download
Reptile Breeder Website Template
This animal theme was specifically designed for reptile breeders. Reptile website template contains many nice images of these unusual lizards. Text blocks are placed over the slider photos. Round banners make the layout even more trendy. Reptiles gallery has tabbed navigation . The images there can be enlarged on click. News and events are arranged over the blurred photo background. Social media buttons as well as breeder photo and information about him or her can be found at the footer.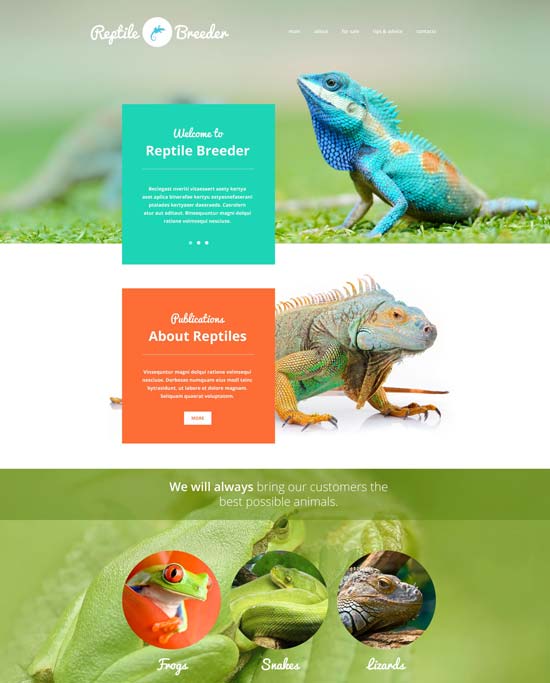 demo more info / download