The Free WordPress Templates for Hair Salons and Spas are stunning, modern, and easy-to-use responsive themes. These themes work well for websites for salons, spas, hair salons, massage rooms, wellness centers, yoga studios, and other similar businesses. The website for my beauty salon has a lot of helpful sections and features. Some of these sections and features are a "services" page, an "about us" page, a "gallery," and "testimonials."
These things help the website's reputation as a complete resource that is easy to find on the internet because it is easy to use. All of the options for making changes to the website have been rolled into one feature called "customize," which makes it much easier and more streamlined to make changes. You can find this feature in the upper right corner of the site.
It can be formatted in any way, so it can work with any web browser or device, and it works with the most recent version of WordPress. With this theme's different sections and options, you won't have any trouble making a website for your business that looks good and is easy to use. Putting together a site like this won't be hard at all.
Related Article
Beauty Hair Salon
This Free Beauty WordPress Theme is a great place to start building your website, whether you want to make a site for your beauty salon, beauty shop, or cosmetics store, or if you want to start a beauty blog for your readers. With this theme, you can do both of these things. If you want to make a site for your beauty salon, beauty shop, or cosmetics store, just click on this link.
Because it is well-made and has HTML codes that have been optimized, it works very well on all devices and in the web browsers that most people use. You will get a set of controls that make it easier to make changes to things like colors, fonts, logos, favicons, and so on. You will be shown how to use these controls.  This Free Beauty WordPress Theme looks great because the images are clear and the design is ready for retina displays. This says a lot about how good your work is.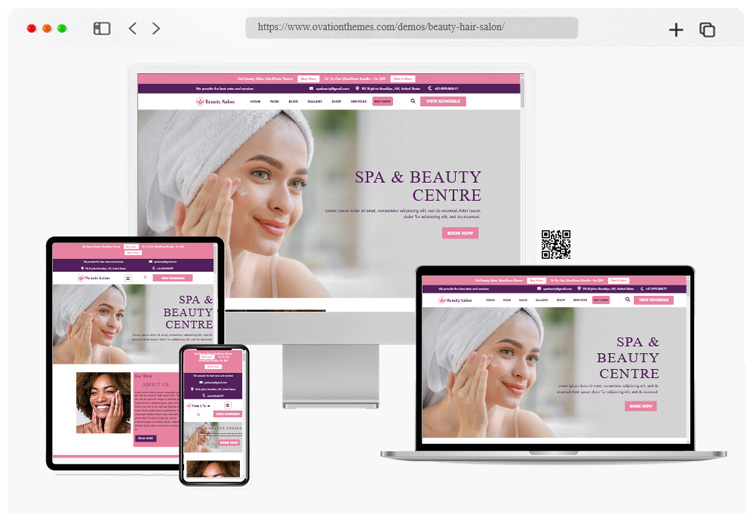 More info / download Demo Get Hosting
CRest Beauty Spa Lite
CRest Beauty Spa Lite is a WordPress theme that was made to meet the needs of beauty salons and spas. Not only does it look good, but the way the pages are put together is also perfect. It can be used in a wide range of businesses, such as those that deal with makeup artists, beauty spas, massage parlors, beauty centers, luxury spas, hair and barber hair salons, spa and body treatments, and other websites that offer the same services as those websites.
If your website is optimized for Google and the other big search engines, you can expect to see a big jump in the ranking of your website almost as soon as you finish optimizing it. This theme can be used on any device because it is fully responsive and has been made to work well on mobile devices.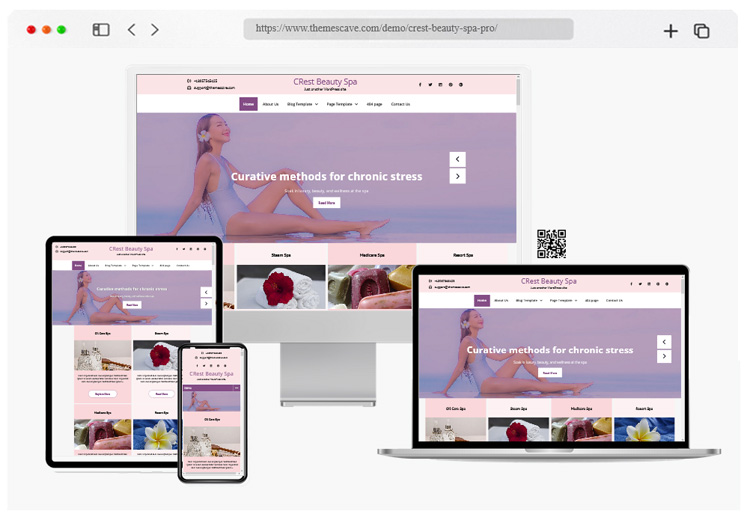 More info / download Demo Get Hosting
Beauty Salon Spa
Beauty Salon Spa is a multi-purpose and versatile theme ideal for creating websites for Beauty Salon Spas, Massage Parlors, Beauty Centers, Luxury Spas, Makeup Artists, Wellness Centers, Hair Care Products, Nail Salons, Dermatologists, etc. rehabilitation and rejuvenation health services and chiropractic therapy. , meditation center, cosmetics, beauty spa and all related websites.
It is packed with many features and options including therapist, booking and appointment, spa booking calendar, gift card and much more. Features like gallery pages for different treatments, blog posts, lots of portfolio layouts make it the best theme ever. It is SEO friendly which will get your site ranked soon on major search engines like Google.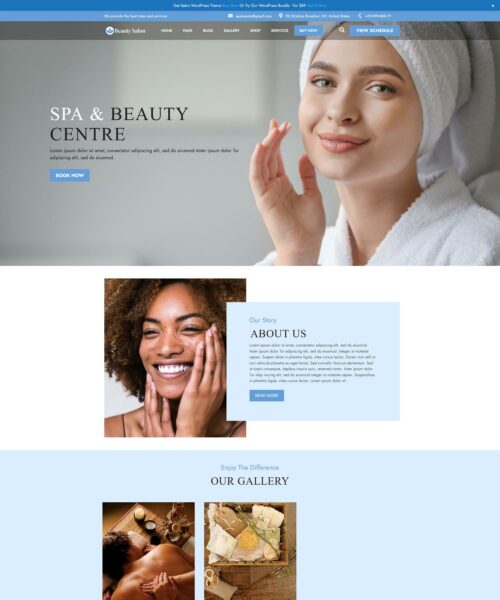 More info / download Demo Get Hosting
Presto Beauty
Presto Beauty is the free and easy to use feminine WordPress theme. It will help you create stylish and functional websites in a few minutes, without touching any lines of code. Plus, Presto Beauty is SEO friendly and optimized for speed. The theme is cross-browser compatible, translation ready, mobile friendly, WooCommerce Plugin compatible and RTL compatible. Plus, it offers free technical support (via our professional developers and designers) and smooth integration with social media too.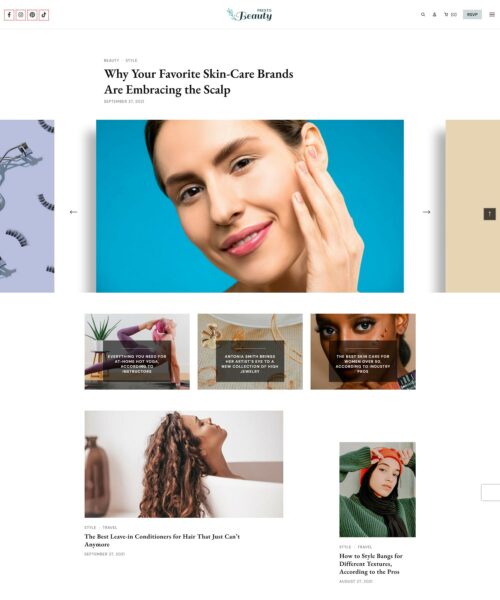 More info / download Demo Get Hosting
Beauty Spa Salon
Beauty Spa Salon is a perfect WordPress theme for spa, wellness center and beauty salon websites. This theme comes with professionally designed layouts and is compatible with WooCommerce, Elementor, Contact Form 7, Jetpack, Yoast SEO, Google Analytics and many other popular WordPress plugins. Not only that, but it is also a very lightweight theme that loads with one click in no time.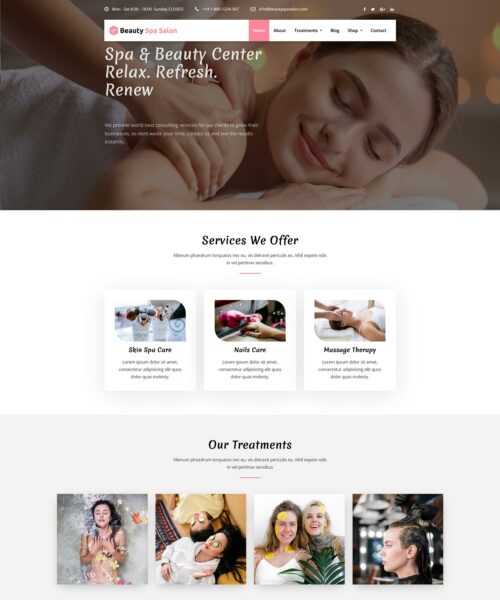 More info / download Demo Get Hosting
Lotus Beauty
Lotus Beauty is a free WordPress theme created for Beauty, Spa, Saloon, particularly for beauty-based businesses. Fully Customizer-based theme and widget options allow you to design your site from the Customizer screen. Its modern design layout and extraordinary features make it a perfect subject for the world of glamor and it can quickly grab the attention of your onlookers. It has good compatibility with Site Origin Page Builder.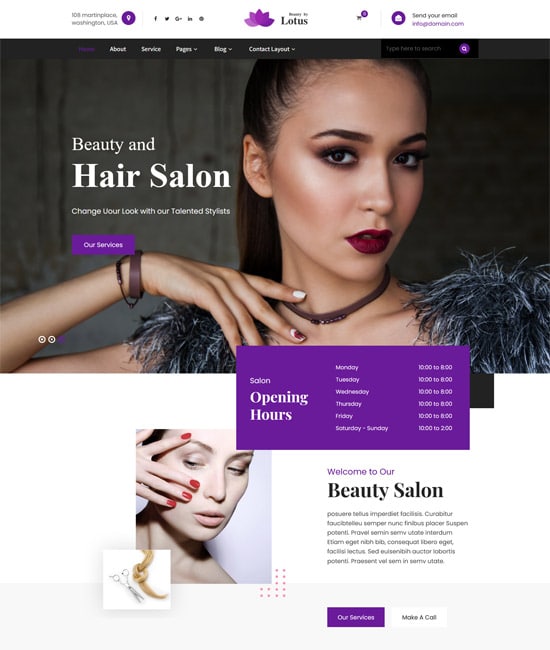 More info / download Demo Get Hosting
Blossom Beauty
Blossom Beauty is a child theme of the Blossom Feminine free WordPress theme. This theme helps you create a visually appealing, lively and engaging blog without writing a single line of code. This theme can be the best choice if you want to share your expert fashion tips, your favorite recipes, or create a travel, beauty, food, workout, makeup, portfolio, wedding, personal, girly, or cooking blog.
This theme comes with an advanced customization option and features a built-in customizer to help you customize your website with live preview as per your wish. Blossom Beauty is a fully responsive and mobile friendly theme that ensures your website displays properly on any screen size. This theme also helps you to increase your Instagram followers with beautifully placed Instagram section.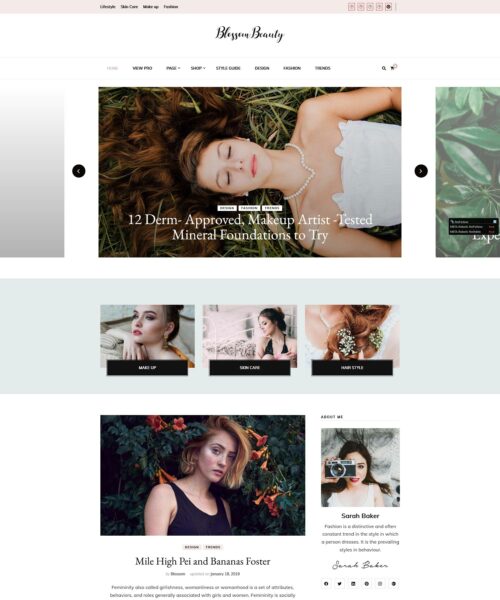 More info / download Demo Get Hosting
Spawp
Spawp is a creative, clean, easy to use and modern multipurpose WordPress theme. This theme is specially designed for any kind of commercial websites. Beautiful theme for Spa, beauty salon, wellness center, health care natural beauty business, massage salon, yoga studio, meditation classes, personal, corporate, agency, photography, wedding, portfolio, blogging, magazines and many other businesses. This topic uses the settings in the customizer options panel to customize custom page templates and sections.
The features of this theme are the slider section, the service section, the feature section, the CTA section, the testimonial section, the team section, and the blog section on the homepage, which is helpful. to provide details of information about your business.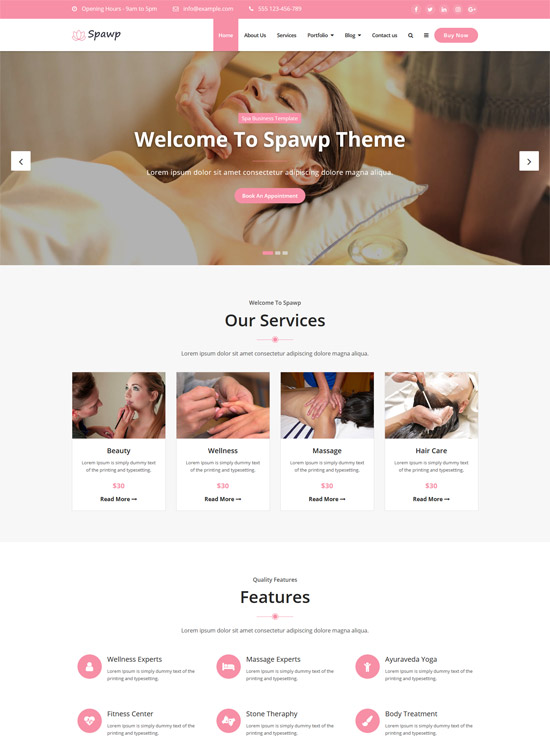 More info / download Demo Get Hosting
Nikhar Spa Salon
Nikhar Spa Salon is a youthful, refreshing, stylish and feature-packed WordPress theme for spa, salon, beauty salon, hair salon, health club, healthcare center, makeup artist, cosmetics, wellness, massage salon, physiotherapy center , steam. bath center, gym, yoga class, treatments, hospitality and similar websites. Can also be used for health or beauty care blogs. You can change the entire look of the website from sleek to bold and vice versa by changing its color scheme, background images, and font.
It is fully responsive, cross-browser compatible, and translation ready. It gives an impressive look on retina-ready devices with the use of sharp images and sharp fonts. It is optimized for search engines that give your website a good ranking. Social media integration is done so that content can be shared across multiple networking sites. You can use real size full screen banners or full width sliders to attract users.
This spa WordPress theme allows customization to change your logo, menu, header and footer style, slider effects, color, background image, fonts and many other things to make it a custom website. Nikhar Spa Salon loads at high speed. Attract visitors by displaying beautiful and colorful images of your spa, its infrastructure and its services in the gallery.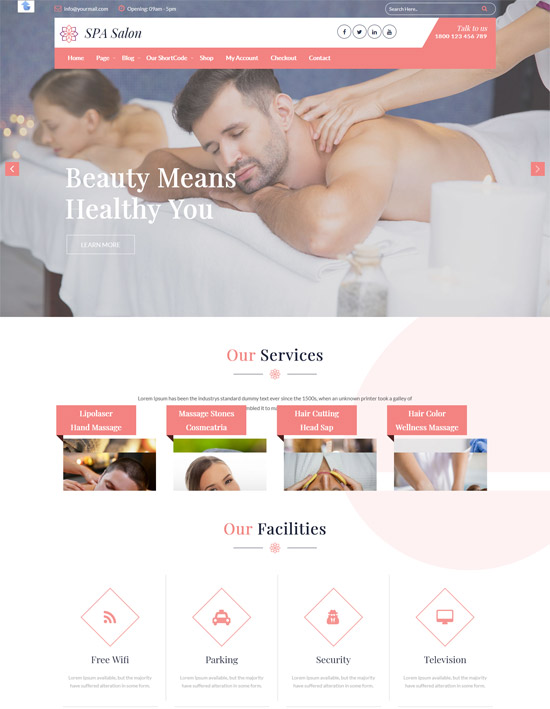 More info / download Demo Get Hosting
VW Hair Salon
VW Hair Salon is a creative, minimalist and easy-to-use Free Hair Salon WordPress theme for salons, spas, beauty care, massages, physical therapy, yoga, health and wellness centers. This multipurpose theme can be used as a health and beauty blog. It is a responsive theme that fits perfectly on all devices. Its compatibility between browsers allows its use in different browsers. The theme is customizable to make small changes on your own. Share site content with built-in social media icons.
You can upload your own logo with no overhead. Even if this hair salon theme is free, but its code is written to meet WordPress standards. Being compatible with the latest version of WordPress, it works without problems. It has limited but sufficient accessories for its correct operation. And if at any time you want to expand its functionality, third-party plugin support will make your job easier. This fully documented topic will make working on it even easier.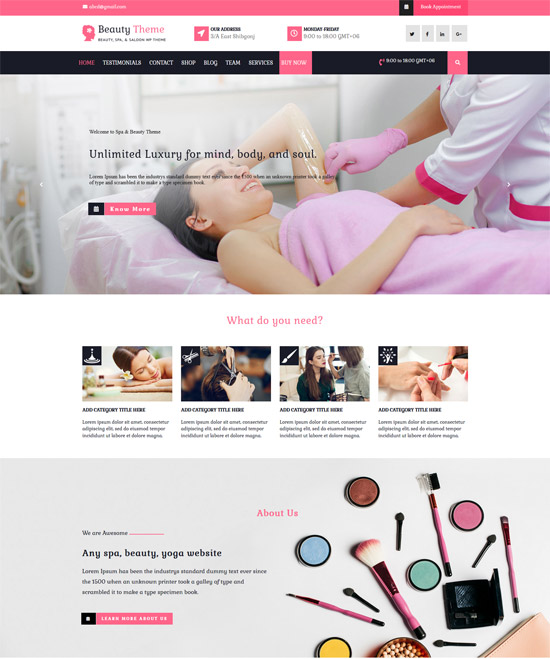 More info / download Demo Get Hosting
Spa and Salon
Spa and Salon is a stylishly designed theme suitable for spa, beauty salons, care, feminine, hair, health, hospitality, massage, medical, salon, physical therapy, wellness, yoga, health blogs, and various types of commercial websites. Spa and Salon comes with several features to make a website easy to use, interactive and visually stunning. Such features include custom menu, attractive banner with a call to action button, service section, testimonial section, about section, header phone number display, breadcrumbs, and social media integration.
It has a three footer area and a right sidebar and includes four custom widgets for Recent Posts, Popular Posts, Social Media, and Featured Post. The theme is based on the Customizer and allows you to easily customize your website with live previews.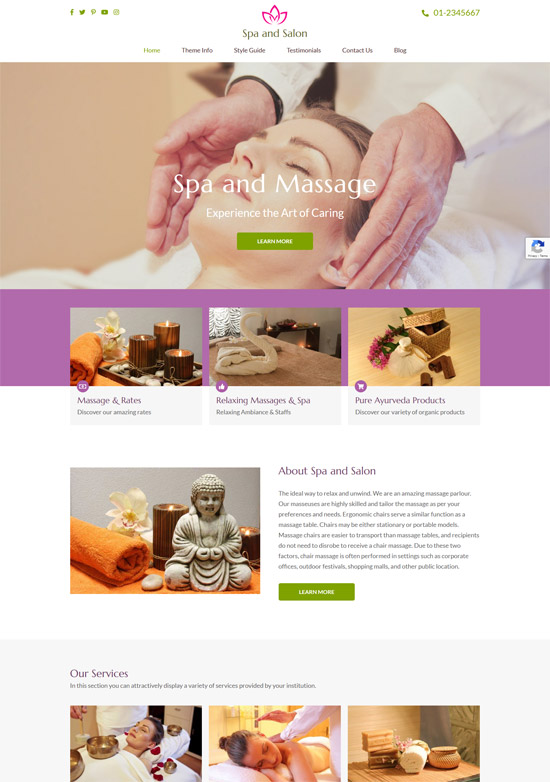 More info / download Demo Get Hosting
Hairstyle
Hairstyle WordPress theme is well designed and developed for hair salons, beauty salons and hair salons. This is the best designed theme that gives your website a unique look and many color options make this theme very stylish. This theme is best suited for hair salons, beauty salons, massage parlors and day spas, medical businesses, beauty centers, and beauty treatment businesses.
This theme comes with great features and many options. This theme is fully responsive and compatible with the latest version of WordPress. It can be easily adapted to any type of website due to all the features that the theme has.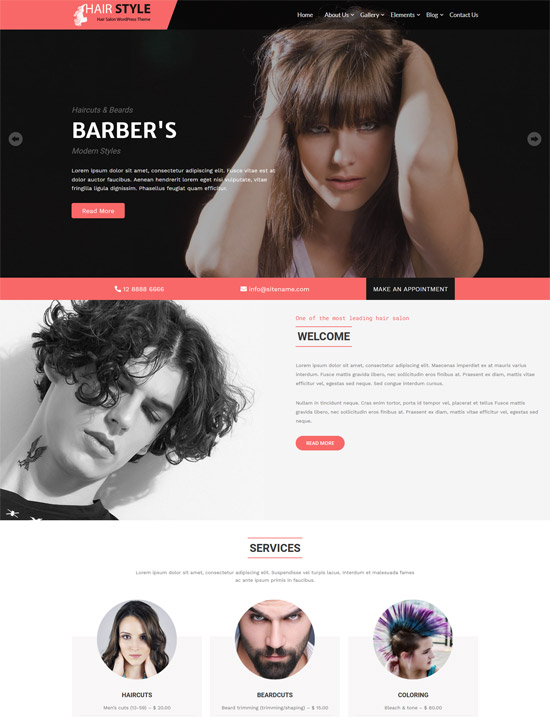 More info / download Demo Get Hosting
Spasalon
SpaSalon is a fully responsive multipurpose theme, best suited for spas, beauty salons, care, hair, health, hospitality, massage, medical, salon, physical therapy, wellness, yoga, health blogs, and for any type of business. SpaSalon is fast and lightweight, built with speed, SEO, and usability in mind. SpaSalon has 9 widget ready areas to help you create any type of site.
It supports drop-down menus, built-in widgets, and Contact Form 7 styling. Make your website exactly the way you want it – With the Customizer, you'll see your changes being made right in front of you, before you publish them. You can also create an effective online store presence, as SpaSalon supports WooCommerce, and separate WooCommerce sidebars have been added to the store pages, to add different sets of widgets from the default templates. SpaSalon PRO supports Contact Form 7 and Google Maps; Gives you more widget-ready areas and built-in widgets for teams, services, product sliders, and more.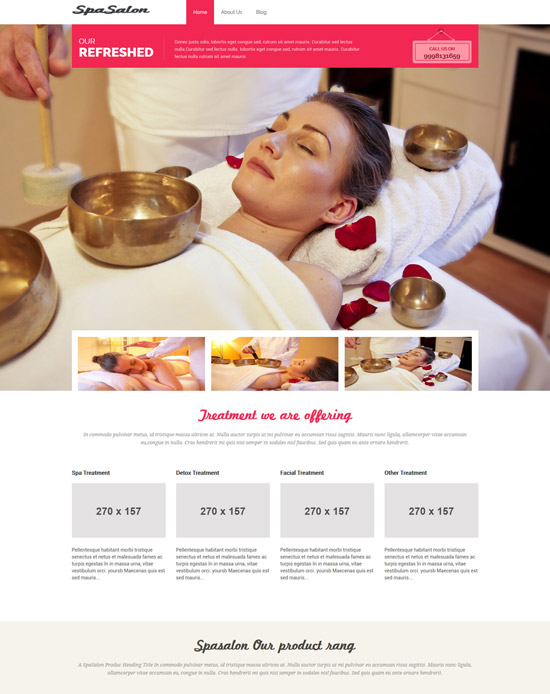 More info / Download Get Hosting
Makeup Lite
Makeup Lite is a free cosmetic WordPress theme that allows you to create a professional and elegant website for your cosmetics store like beauty salon, spa, skincare, beauty products, etc. It can also be used for beauty salons, hair salons, wellness centers, makeup artists, beauticians, fashion designers, Ayurvedic centers, personal trainer, yoga studio and any other related business.
This theme is specially designed for those who want to establish their online presence in the beauty and cosmetics business. This free cosmetic WordPress theme has an attractive home page layout that helps bring together all of your cosmetics business on one page.
It comes with a beautiful header with contact information and social media settings, full screen image slider to display your beauty products, makeup services, and welcome section. This theme is one of the best platform with unique options and the rich feature set that helps to develop an impressive website without any coding knowledge.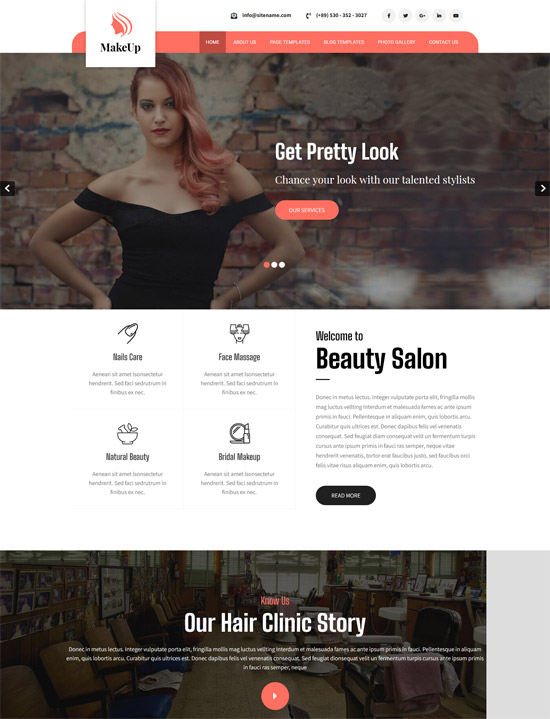 More info / download Demo Get Hosting
Belleza
Beauty Salon WordPress Theme is specially designed for salons, wellness centers and spas. Creating a website for this type of business is the best idea to increase the value of your business. Salon theme is very easy to customize and has many features to make your theme beautiful.
Salon WordPress themes come with many more features including online booking appointments, online payment collection, which make your business much easier. The salon theme has 25 different gallery styles, by using this item, you can portray your art to the client or visitor. One of the best features of the Salon WordPress theme is geolocation, it will help your client to reach your place.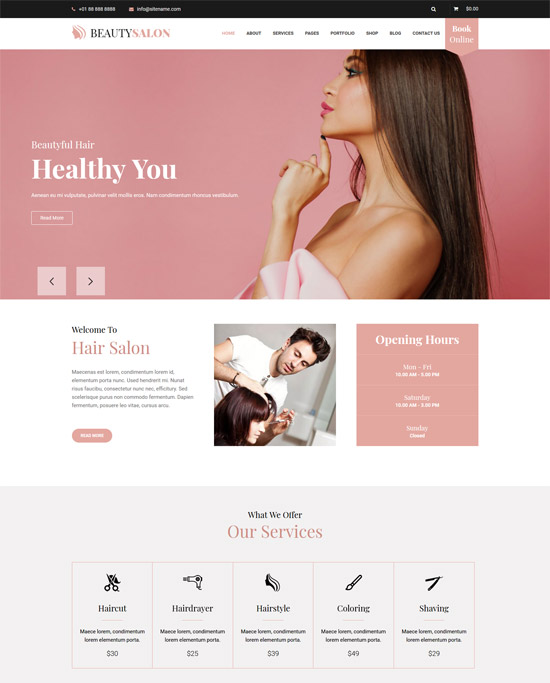 More info / Download Get Hosting
Thai Spa
Thai Spa is a stylish and modern WordPress theme for spa and wellness centers, but it is also very easy to customize for other businesses such as hairdressing, ayurvedic, manicure, pedicure, makeup, mashups, nails, detox, tanning, men's grooming, treatments facials, waxing, body and spa treatments, massages or other services related to Hair & Barber.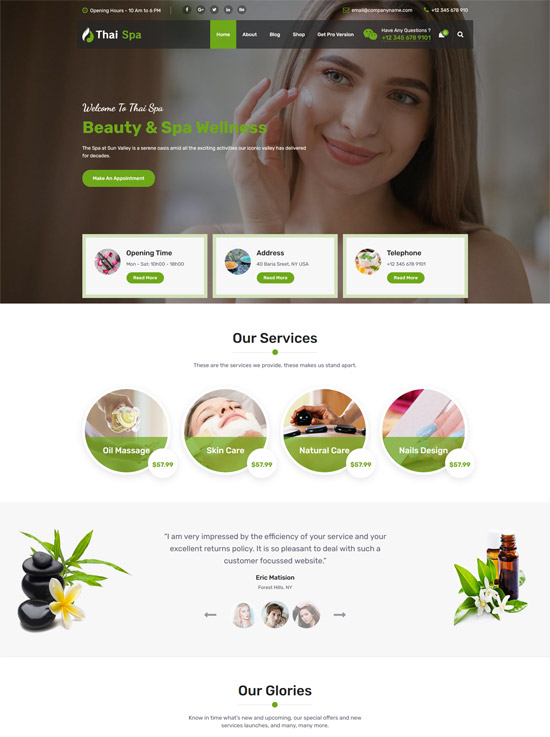 More info / download Demo Get Hosting
Delight Spa
Delight SPA free theme is beautiful and amazing performing theme with unlimited plan. You can use this WordPress theme for beauty salons, wellness centers, spas, dermatologists, plastic medical procedure facilities, cosmetologists, and other wellness, beauty, and other comparative organizations and expert sites.
Woocommerce store, you can sell artisan cleaners, organic and Ayurvedic items, gorgeous creams, shampoos, nail polish, essential highlights, for example show pages, blog posts, numerous portfolio formats that make Charm Spa the best theme of WordPress for SPA.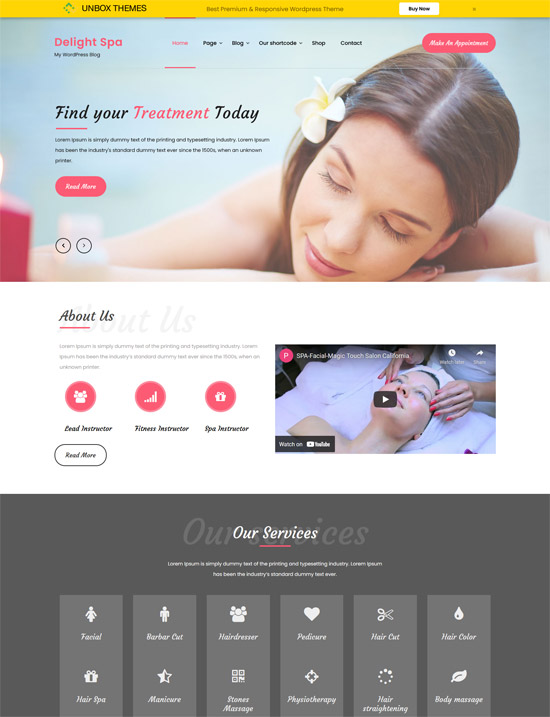 More info / Download Get Hosting
Blossom Spa
Blossom Spa is an attractive free WordPress theme for spa, beauty salon, wellness center, massage parlor, yoga studio, meditation classes, and natural health care businesses. Whether you want to create a rejuvenating website or want to give your old website a fresh look, Blossom Spa is the theme for you. Blossom Spa is easy to use, mobile friendly, optimized for speed, and SEO ready.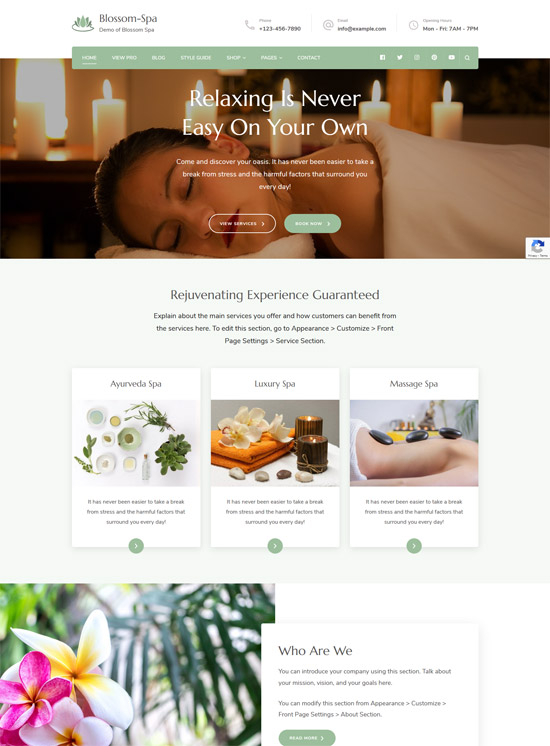 More info / download Demo Get Hosting
Medical Spa
Medical Spa is the sub theme of Spa and Salon that helps you create a beautiful website for beauty clinic, spa, salon, alternative medicine clinic, massage parlor and herbal therapy business for free. You can quickly get started with a clean, professional-looking website with the intuitive features of Medical Spa. Medical Spa is a free WordPress theme for mobile devices, optimized for SEO and Speed Optimized to make a strong online presence of any business.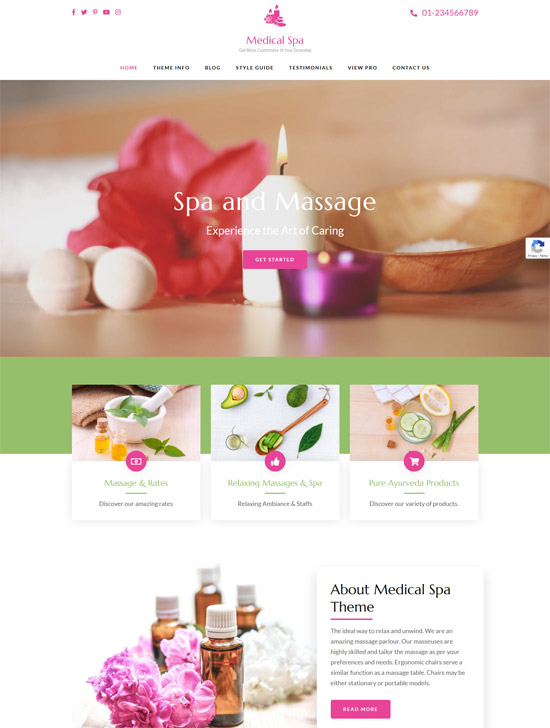 More info / download Demo Get Hosting
Spa Lite
SKT Spa Lite is a spa and massage salon WordPress theme suitable for spa, manicure, pedicure, massage, health club, panchkarma, ayurveda, yoga, fitness trainer, hair salon, beauty, clinic, barber, therapist, pool, treatment , depression, stress, nail salon, herbs, luxury, resort, hotel, services and any other industry as the theme is multipurpose and supports Visual Composer (WP Bakery), Elementor, Beaver and other page builders as well like WooCommerce for ecommerce stores and contact forms.
add-ons for calls to action. Mobile friendly responsive widget and color change. It is easy to use, flexible, customizable and multipurpose and comes with over 63 add-on templates that can be used alongside the theme as a plug-in.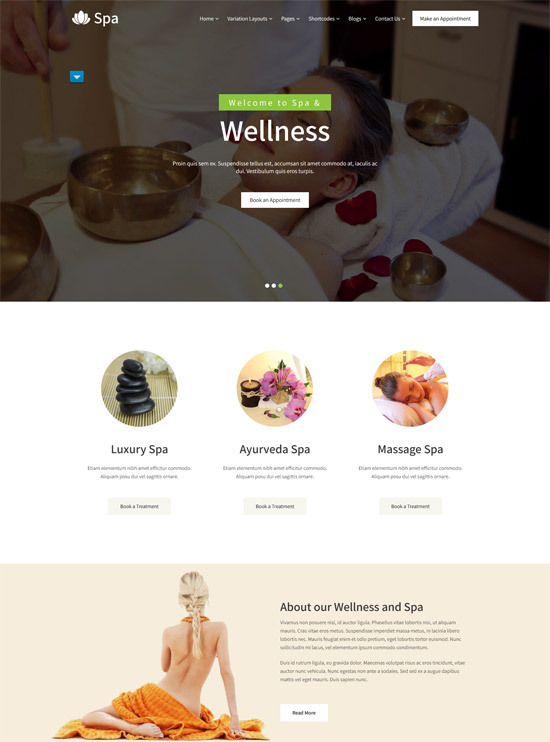 More info / download Demo Get Hosting
Massage Spa
Massage Spa is a clean, modern, visually accomplished, flexible, smooth, creative, and extremely customizable free beauty salon WordPress theme. This theme has been developed to create a platform for the development and design of beautiful modern websites for massage and spa, hair and nail salons, health, yoga and beauty salons.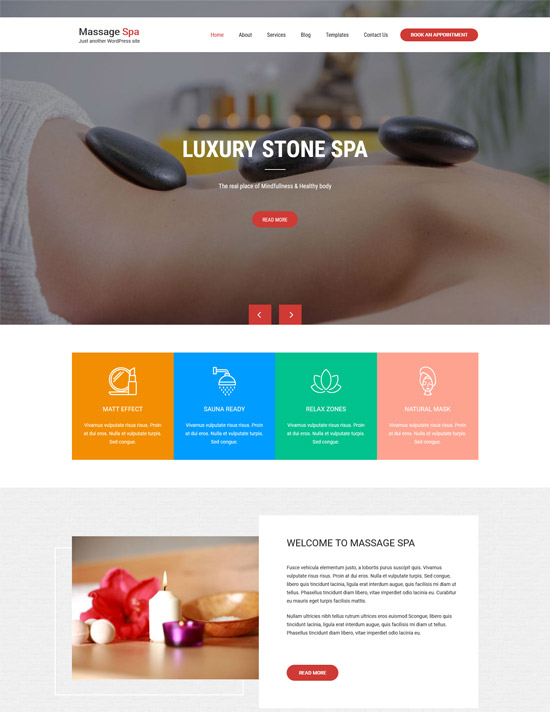 More info / download Demo Get Hosting