If you're looking for a great WordPress theme for your blog, why not try one of the free themes available? There are some really great designs out there, and you can't beat the price! Plus, using a free theme can help you save money on your blog's hosting and design costs. So why not give one of these free themes a try?
Juju Blog
WordPress blog template Juju Blog was created to satisfy every need for a full-featured blogging website. The theme functions best for all types of websites, including personal blogs, fashion and lifestyle blogs, photography websites, and even start-up small businesses.
In order to give the site a contemporary appearance without sacrificing the content, it is also designed with lovely layouts and practical features. The theme includes powerful customization tools to improve the appearance and functionality of the blog site.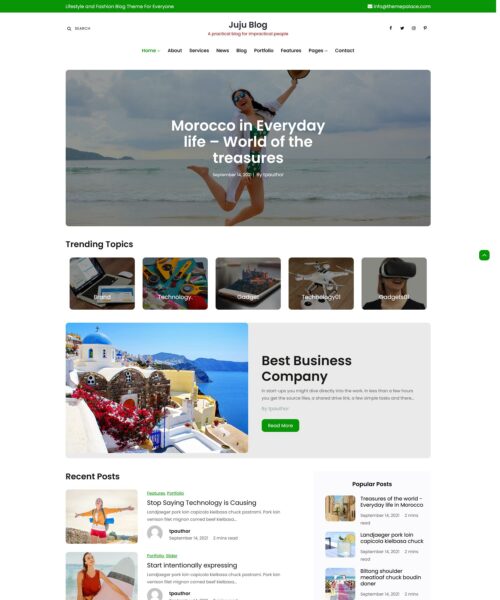 More info / download Demo
The Styled Blog
The best way to show off your content, images, and videos to your audience in the most elegant and well-organized way is with a stylish blog theme. This theme is good for blogs about lifestyle, fashion, photography, sharing videos, food, beauty, cosmetics, or any other niche.
It has separate sections for products and subscription features, so it can be used for both eCommerce and subscription sites. SEO experts were consulted when making the theme.
To make the theme friendly to search engines and mobile devices, features like lazy loading for images have been turned on. These features will help your web pages rank higher in search engines and load faster on users' devices.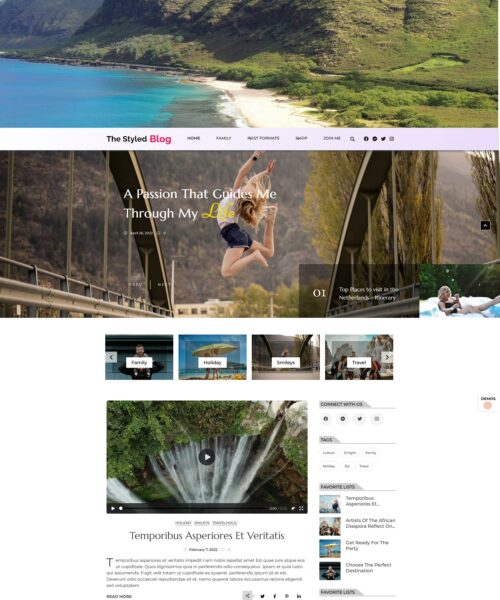 More info / download Demo
Blogme
The Blogme WordPress theme is an uncomplicated alternative that stands out from the rest of the options. It was intended to be a blog that runs efficiently and can be customized in a wide variety of different ways when it was designed.
The theme has a pleasant visual presentation, makes use of clean code, and enables pages to load quickly. It is a blog theme for the content management system WordPress that comes in both light and dark color schemes. It is carried out in a manner that is both expertly done and aesthetically pleasing to the eye.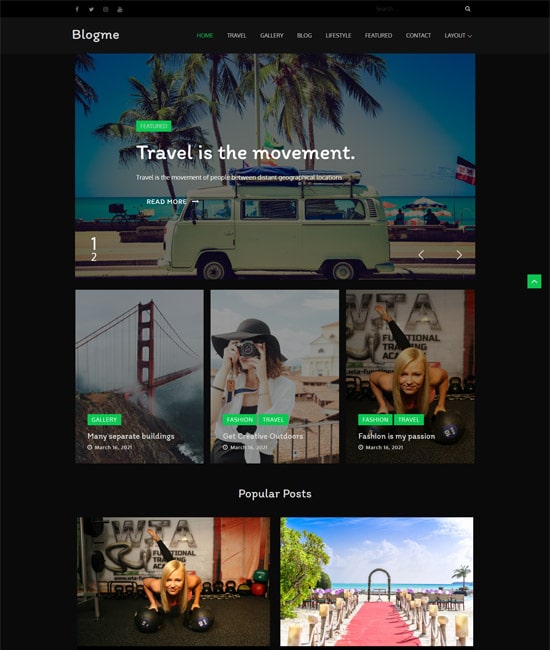 More info / download Demo
StoryBook
A WordPress theme to create a magazine, news or blog website. StoryBook is fast, secure, and search engine friendly. Makes your website fully responsive to work on any device such as mobile smartphones, tablets, laptops, and PCs.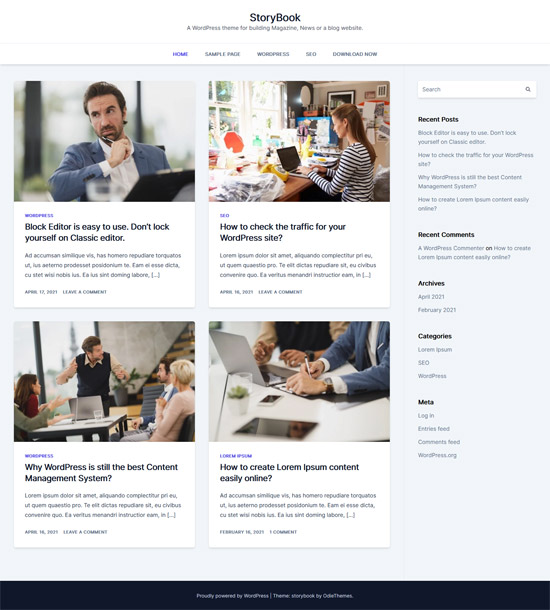 More info / download Demo
EnjoyNow
EnjoyNow is a modern and clean blog wordpress template for content-based blogs and websites. It provides a great showcase for your content, perfect for personal bloggers and content creators.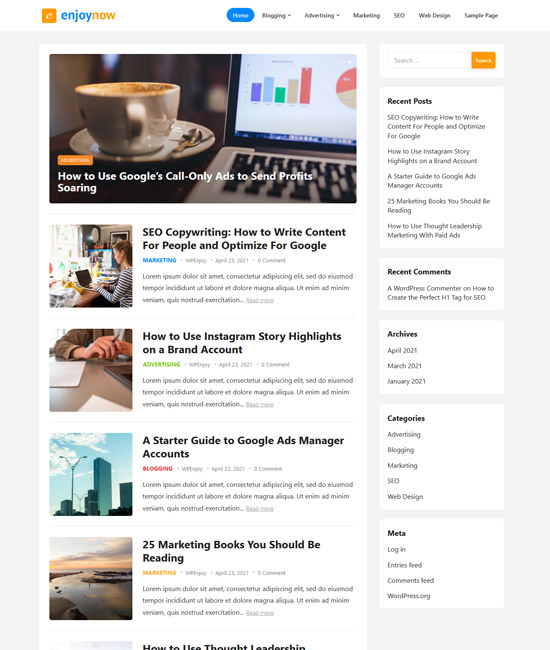 More info / download Demo
BuzzPress
BuzzPress is a responsive multipurpose magazine blog theme, it is clean and compatible with many devices.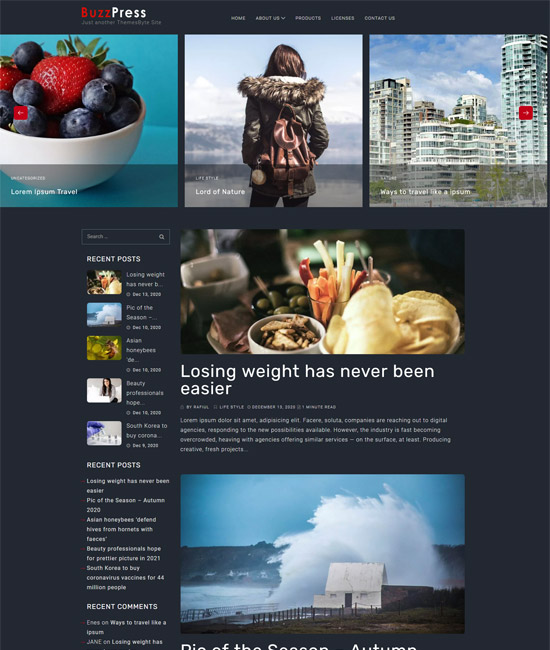 More info / download Demo
IT News Grid
A simple but effective grid-based WordPress blogging theme is IT News Grid. You can construct the website you've always wanted with a simple, elegant design that works on any device and supports page builders.
The theme is incredibly lightweight and offers different header layouts, multiple content layout choices, custom widgets, and a flexible footer layout. As a whole, it is a highly adaptable WordPress theme that will elevate your site.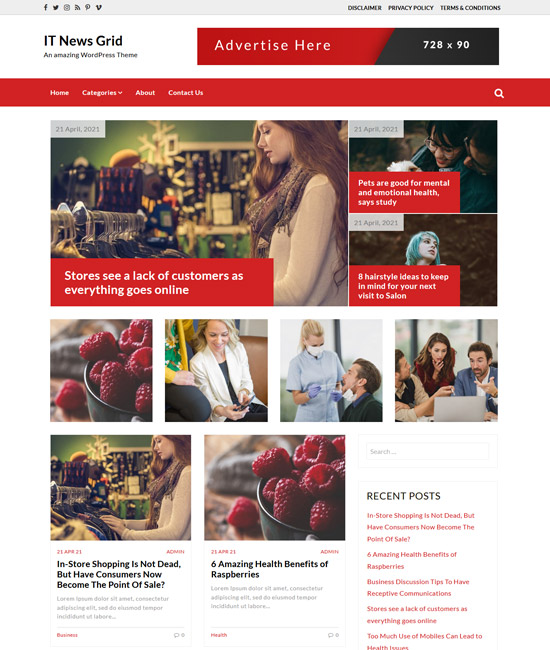 More info / download Demo
Artistic Blog
The clean, minimalist Artistic Blog Dark blog theme is ideal for authors who want to build a personal blog site with straightforward creative features and effects that make it enjoyable for readers to read articles and blog posts. If you are a blogger, then the Artistic Blog theme is a great option for you if you don't need to have any experiments to set up your WordPress Artistic Blog because it is incredibly simple and easy to set up.
You will get a blog from this theme that is a mix of the modern, the classic, and the minimalist styles. Excellent typography ensures that your readers and followers pay close attention to every word you write. It is high quality, responsive, and well designed right out of the box for writers to only concentrate on writing content.
The child theme, on the other hand, has a dark color scheme. Because they are considered a bold design trend and are aesthetically pleasing, dark color schemes are currently quite popular and trending on top charts. If you prefer a dark theme for your corporate website or blog.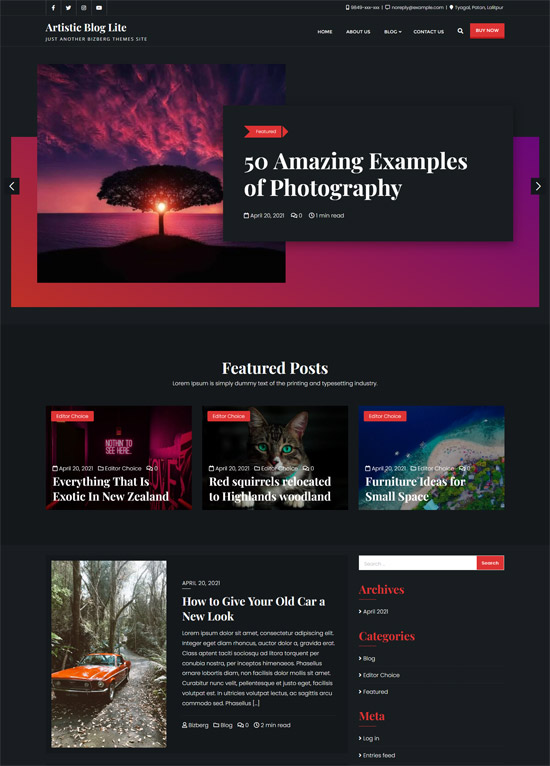 More info / download Demo
Guten Blog
Guten Blog is a robust theme built on top of Gutentor. Our theme is built in Gutentor, which is a lightweight and easy-to-use drag-and-drop WordPress page builder. The theme is best suited for lifestyle bloggers, travelers, food bloggers, personal bloggers, and more.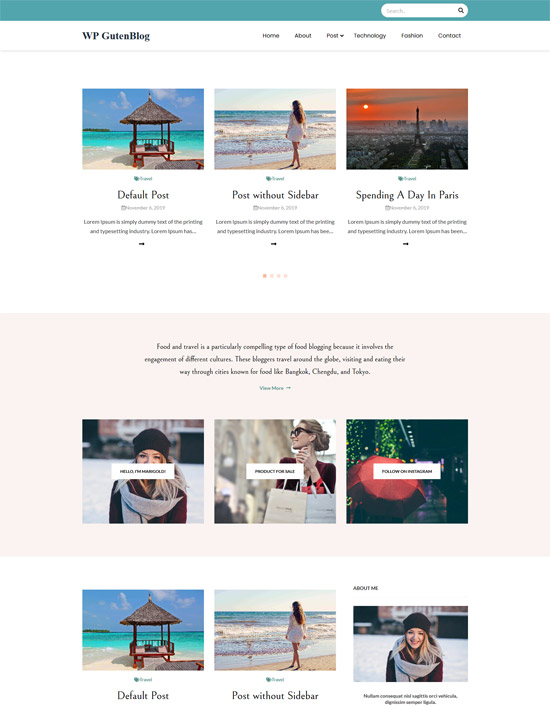 More info / download Demo
RebeccaLite
A responsive theme for a WordPress blog. Rebecca Lite is a blog topic for professional bloggers that is about a woman. The theme is mobile-friendly, SEO-optimized, Schema-compliant, and loads faster, all of which will help search engines rank your website higher.
Rebecca Lite is for you if you want to share your fashion tips, travel stories, or favorite recipes, or if you want to start a lifestyle, beauty and makeup, workout, or any other type of blog.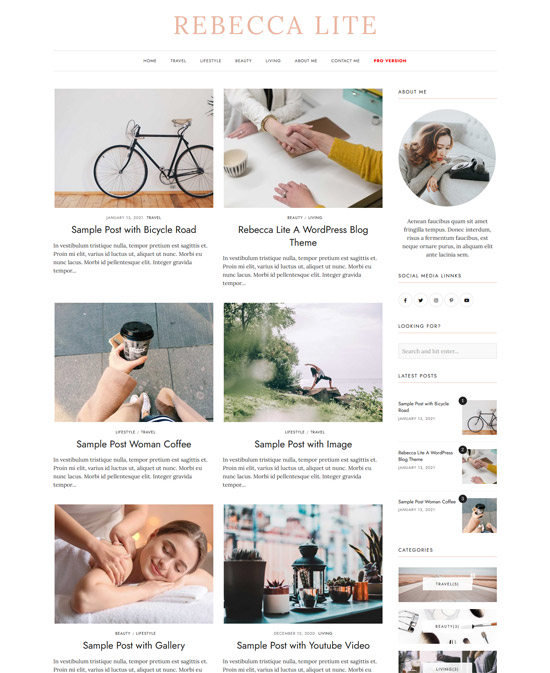 More info / download Demo
Silaslite
The Silas theme has been condensed into SilasLite. Some features, such as Promobox, Featured Slide, and Popular Widget, will be absent. It only has a straightforward blog design theme. SilasLite is fully responsive and based on the most recent Bootstrap technology, so it will look great on a variety of gadgets like tablets, laptops, smartphones, etc.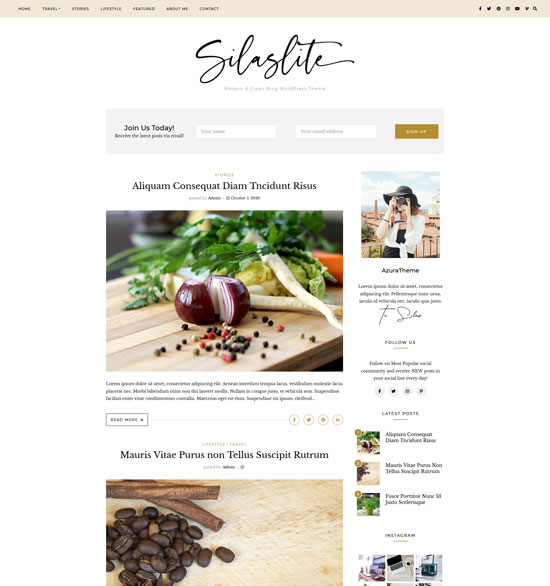 More info / download Demo
Empt Lite
A trendy blog WordPress theme with wide spaces and clarity is called Empt Lite. Best-in-class simplicity with a variety of choices to enable you create your website as you choose. There are virtually infinite color combinations available thanks to the more than 50 color selectors.
Quite simply, we provide you certain typographic choices inside the customizer (often in our premium themes), and we offer live previews when you make your adjustments! Whether you are operating a company, a professional, or a personal blog, Empt Lite is ideal for you. Give your website a contemporary look.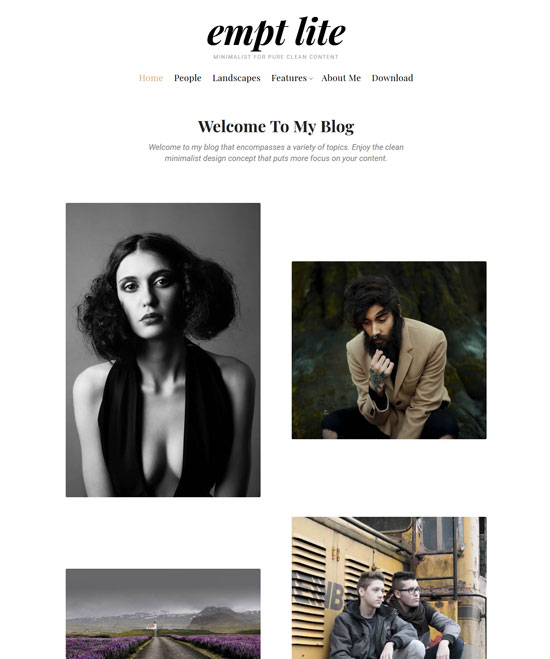 More info / download Demo
Polite Grid
A theme that works well for online magazines and blogs. This theme is excellent and minimalist, and it has both a masonry layout and a multiple blog page layout. It might be considered a subtheme of the Polite theme.
This theme comes with a search option, an off-canvas sidebar, numerous sidebar choices, footer options, a featured slider, a promotion box, footer widgets, and a lot of other features. In addition to that, this theme has a variety of other custom widgets that you can use to display author information, featured articles, social icons, and so on.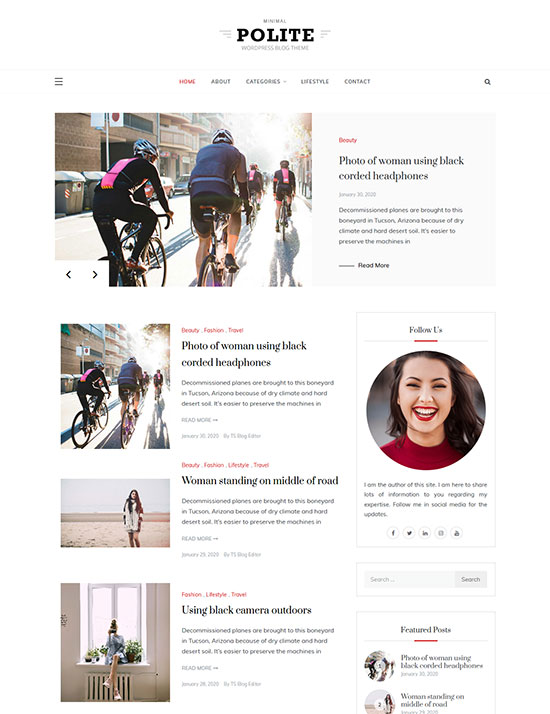 More info / download Demo
Matrimony
One of the most recent WordPress themes for a pattern marriage is called Matrimony. It is a bold and exceptionally creative product that preserves your precious moments with your loved ones. This theme's components are all very simple to comprehend and work with to create a visually appealing website.
On the slider home page, the developers undoubtedly kept the space to display all of their exquisite, high-quality images. Through the blog, you can also find a place to express your love, emotions, and experiences from being present at significant moments in your life.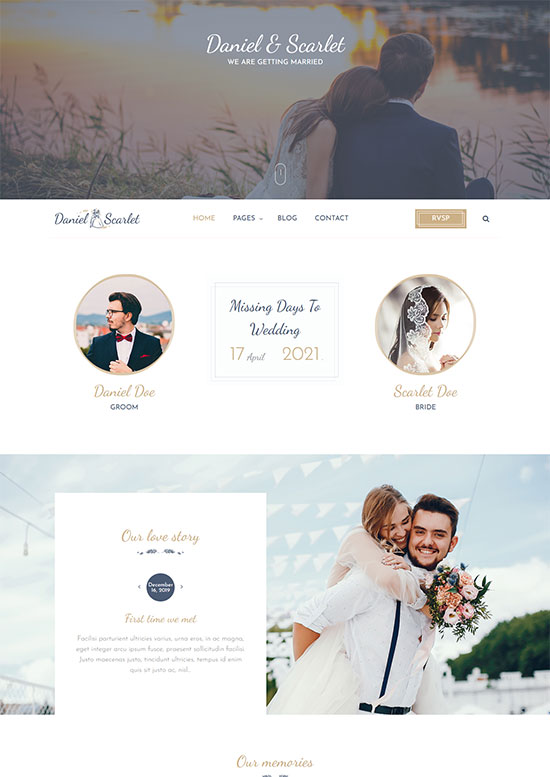 More info / download Demo
Stunning
Stunning is a free WordPress theme perfect for online bloggers, writers, travelers, and photographers. This theme has an awesome home page and single page layout. This WordPress is a clean and responsive theme with list and grid post styles that give the website a clean and sturdy look.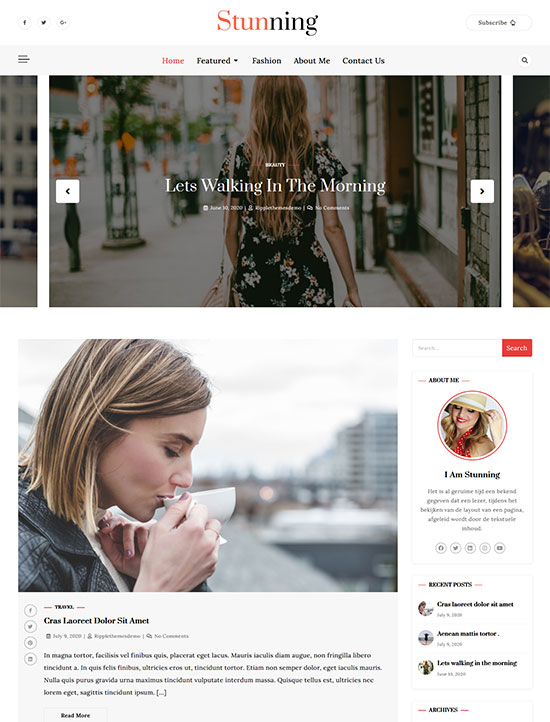 More info / download Demo
Wishful Blog
For bloggers and magazine users, Wishful Blog is a contemporary, lovely, and interactive free blog WordPress template. This theme offers a contemporary, refined, and clean design in addition to a fully responsive layout, making it ideal for the development of a news portal, magazine, or personal blog.
The best way to share your opinions on a variety of subjects, including travel, lifestyle, food, fashion, and more, is through Wishful Blog. It is a theme that helps your website perform well in search engine rankings because it is speed and SEO optimized. It also works with all browsers and displays beautifully on all gadgets and screen sizes.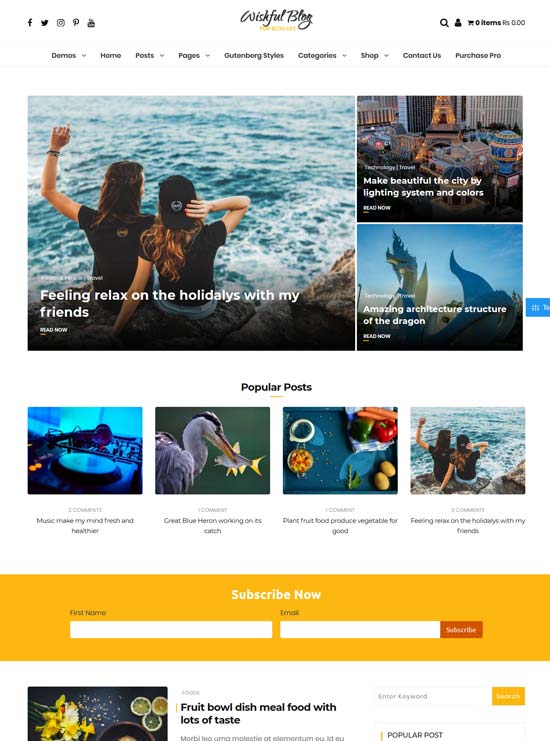 More info / download Demo
Masonry Blog
The masonry blog is a real work of art on the design of the layout of the masonry grid. It has all the tools necessary for bloggers. In this Masony Blog theme, you have author widgets to write on yourself, you also have a typography option which helps you to select Google fonts, including their size, the basic color option and d other useful options.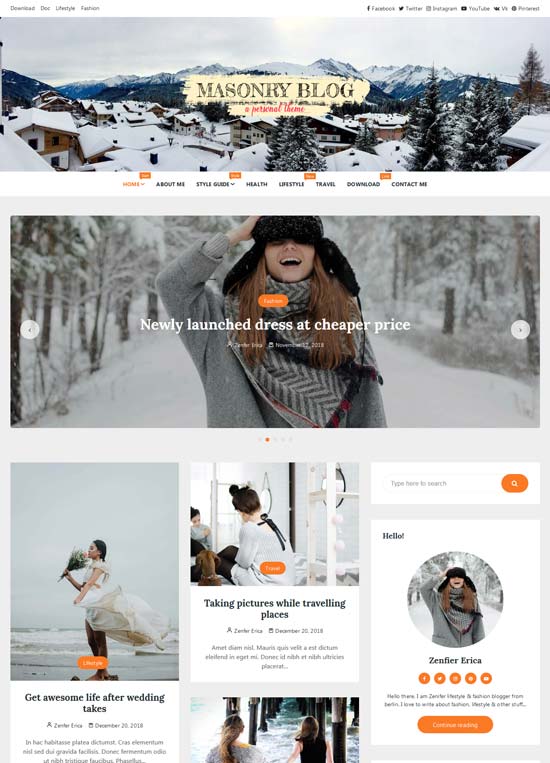 More info / download Demo
Nasio
Atanas Yonkov in the year 2020 developed a very lightweight WordPress theme without using any kind of framework. Excellent for use on blogs and online portfolios. Because of its extensive documentation and numerous available theme options, it is extremely simple to configure, even for users who have no prior experience with computer programming.
The overall speed of the website as well as its performance in Google's search results have been improved thanks to the theme's optimization. It does not use Bootstrap or any other CSS framework (only custom CSS!) in order to provide a one-of-a-kind user experience that is of a very high quality.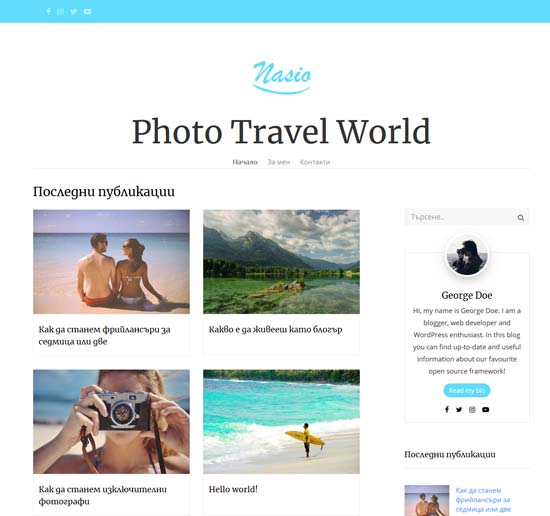 More info / download Demo
Blocksy
Blocksy is a free, fast, lightweight WordPress theme built with the latest web technologies. It has been built with the editor Gutenberg in mind and has many options that make it expandable and customizable. You can easily create any type of website, such as a blog, portfolio, landing page, and so on. It works like a charm with the makers of popular WordPress pages, including Elementor, Beaver Builder, Visual Composer and Brizy.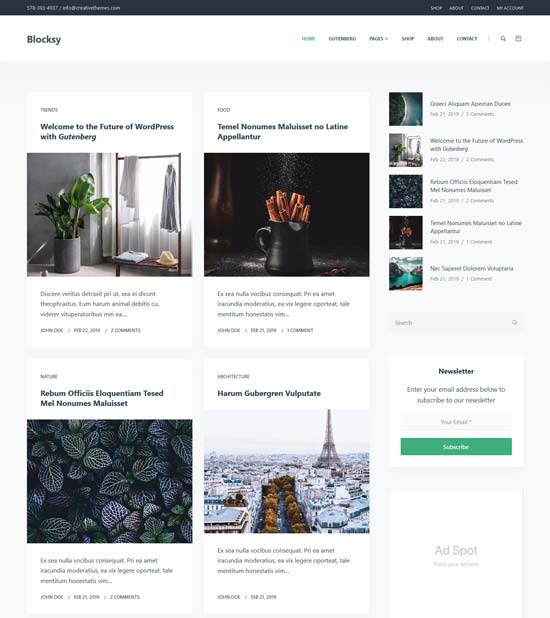 More info / download Demo
Noto
Noto is a free blogging theme inspired by notebooks, designed for your creative ambitions. Among the variety of colors, the use of subtle motion effects and visual cues, it's the perfect way to explore the rhythm and dynamics of your textual content.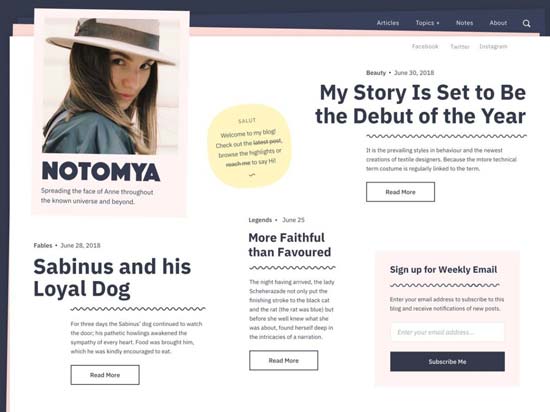 More info / download
Neila
Neila is the free and ideal WordPress theme for those who wish to start a lifestyle, fashion, travel, craftsmen or personal blogging website. Stylish and clean, this fully responsive and mobile-friendly theme offers a touch of design and functionality that's very appealing, while maintaining a clean look that will not waste your website.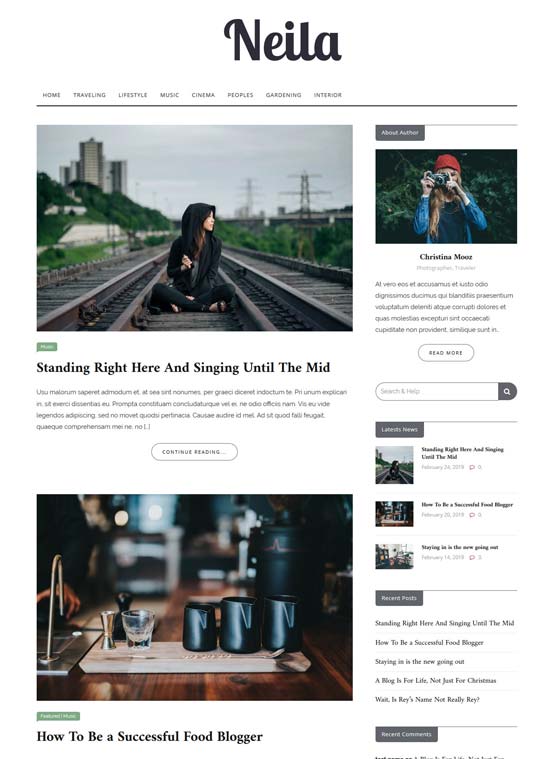 More info / download Demo
Myself
Free WordPress theme for personal use I designed for myself. Myself is a great choice for personal websites, biographical websites, portfolio websites, independent websites, and other types of websites. Myself is a great way to show off your skills and wide range of experience, as well as to show off your impressive portfolio.
Since Myself is fully responsive, you don't have to worry if your site visitors are using an iPhone, iPad, or computer to look at it. Myself has a beautiful look, is very easy to use, is responsive, gives you different layout options depending on where you put the sidebar, and lets you change the colors in any way you want.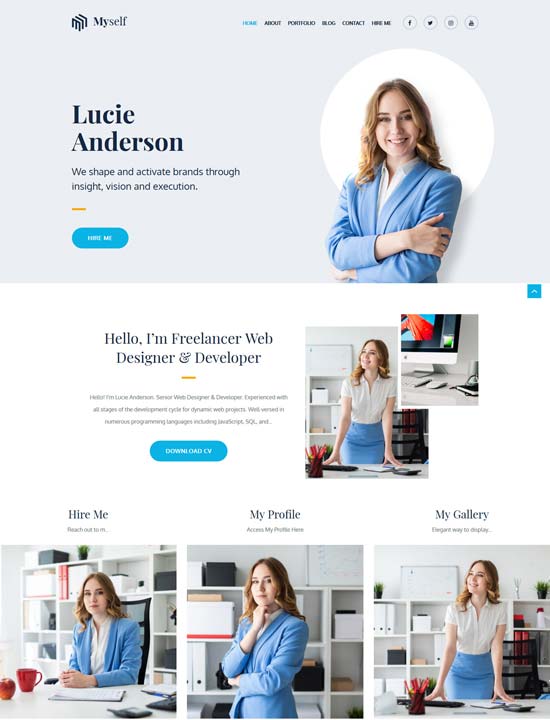 More info / download Demo
Kent
Kent is a clean free personal blog themes designed for writers who want to focus on writing content. It's the perfect theme for people who want to tell stories. Kent includes custom header, social links, and footer widget options to allow you to lay out your site exactly as you wish.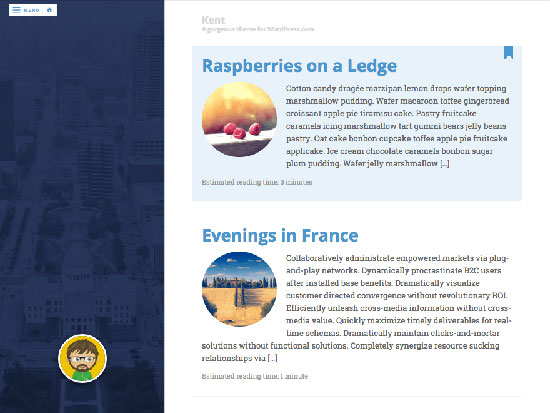 Demo More info / download
Radiate
Radiate is a free clean, creative and light retina ready responsive WordPress theme supporting parallax header image. It integrates primary color option, custom background, custom css and few other features through WordPress customizer. The theme is translation ready and you can get free support or Find the perfect theme blog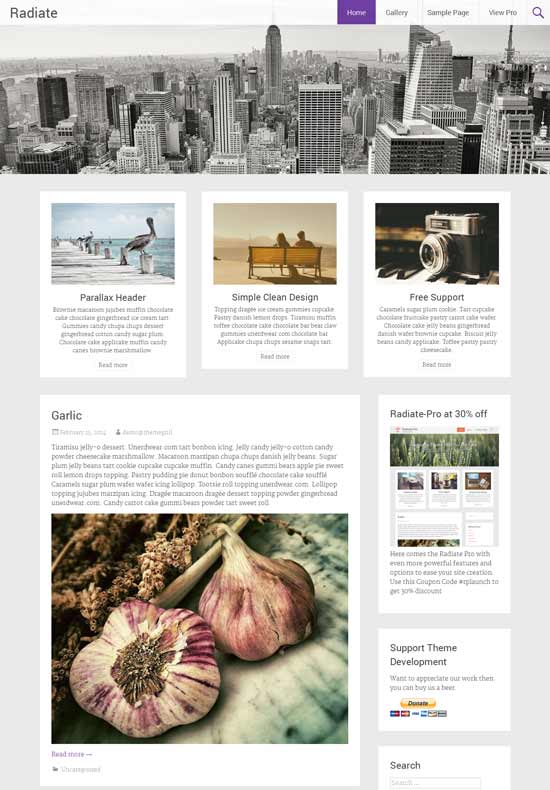 Demo More info / download
DW Timeline
DWTimeline is a WordPress theme for blogging and portfolio. Supporting Bootstrap 3 and Theme Wrappers.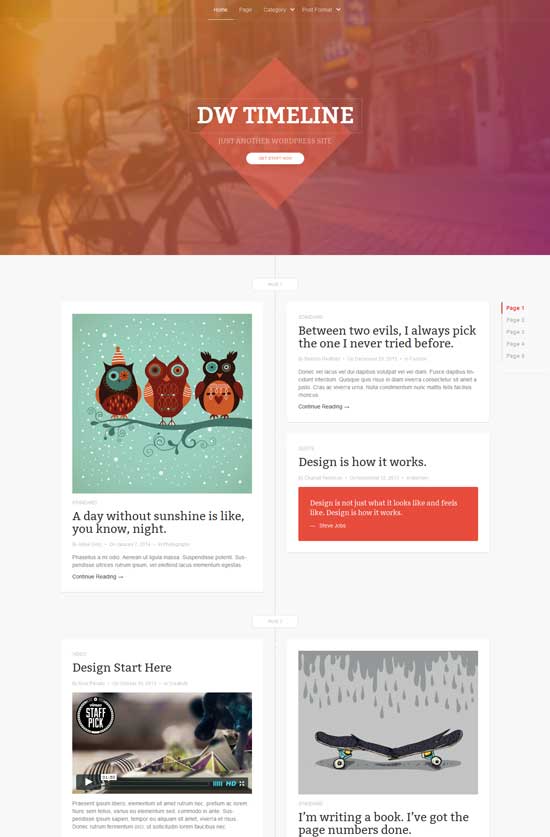 Demo More info / download
Ignite
Ignite is a clean responsive WordPress theme for blogging. Customize your site with Ignite's built-in social media icons and logo uploaded. Then, make your logo pixel-perfect with the logo size and position tools. Additional features are available with Ignite Plus.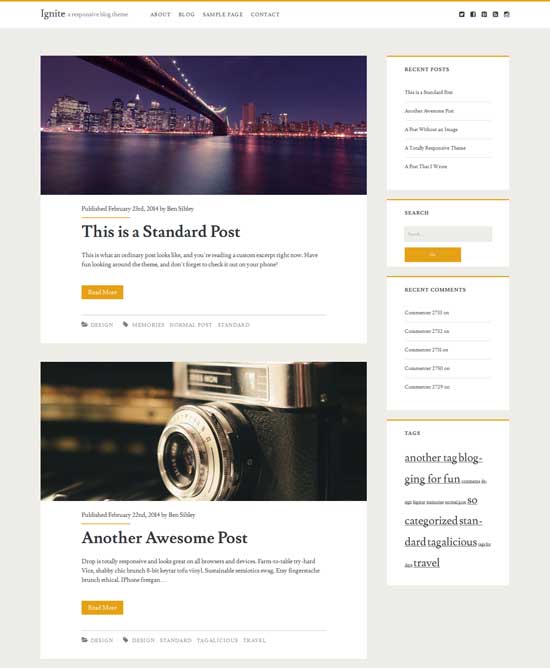 Demo More info / download
Tracks
Tracks is totally WordPress theme for blogging meaning your content will look great on desktops, tablets, phones, and everything in-between.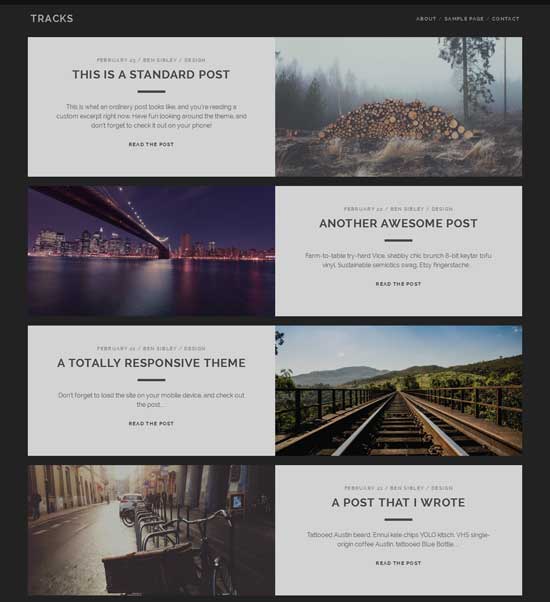 Demo More info / download
Shift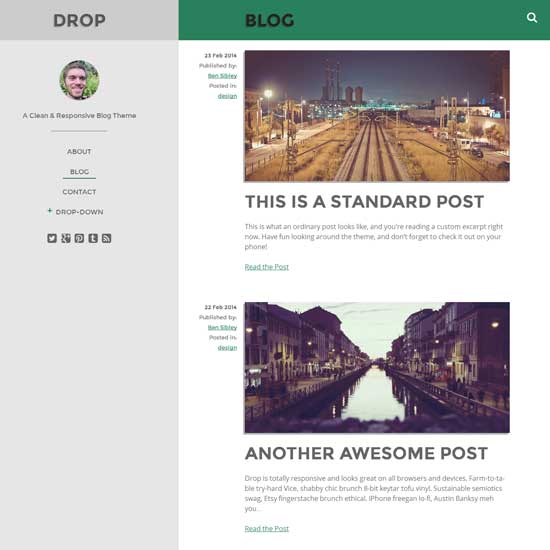 More info / download
Ex Astris
Ex Astris is a WordPress theme for the excellent Stargazer theme from Theme Hybrid. This bold theme was designed for blogger. Make it your own with a customer header and custom background.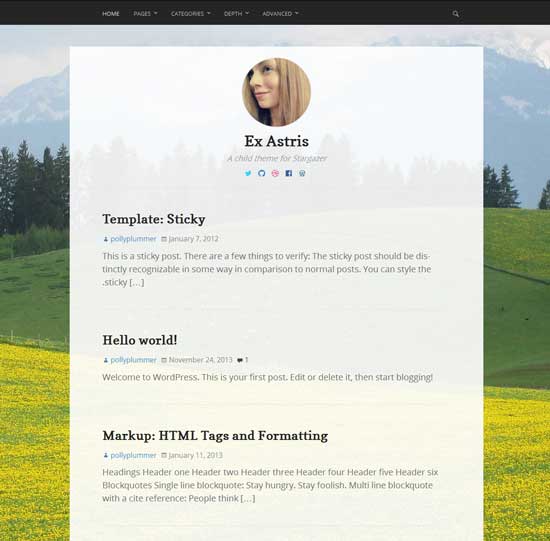 demo more info / download
DW Minion
DWMinion is a WordPress theme that is designed with minimal and simple layout. Perfect for personal blog and mobile ready.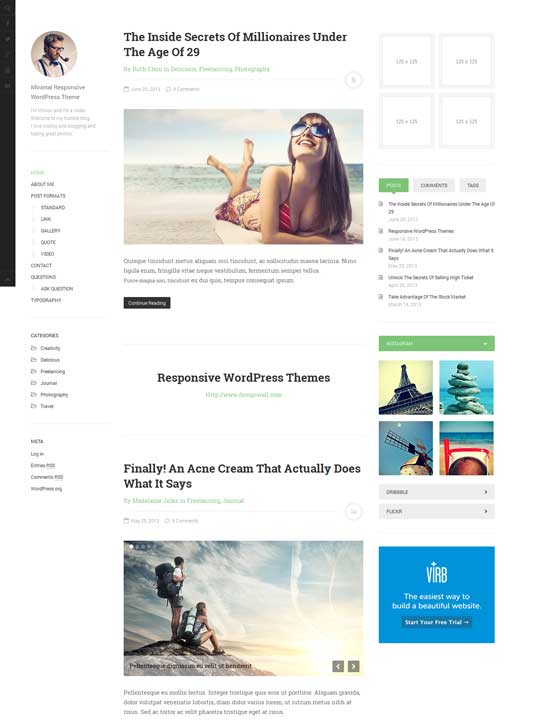 Demo More info / download