In this post, we are going to show you best free bootstrap admin templates for create admin bootstrap websites and it's ease to use for control panel, admin dashboard of your web application. Those admin html5 templates was design with professional layout and coding as HTML5 , CSS3, jQuery plugin and also improve more user friendly interface easy for using both user and developer.
The free bootstrap admin templates is built with the bootstrap 4, HTML5, CSS, and JQuery framework. It works on all major web browsers, desktops and all smart phones. It is very easy to customize and the user friendly template of developer. It has a huge collection of UI components with the latest jQuery & bootstrap plug-ins. It can be used for any type of web applications eCommerce dashboard, custom admin panel, project management admin, crm, cms, etc. This is the easiest and fastest way to create your web application project.
In fact, web designer and developer may need of a great free bootstrap admin panel dashboard templates. It becomes highly necessary for the admin templates to be very flexible and fixed all screen solution both mobile and computer version in every respect. The admin panel design must be simple, professional and easy to use. For an free admin templates the important thing is not the design but the functionality.
Azia
Start your development with Azia, a free Dashboard template built with Bootstrap 4. Create your website with the huge number of UI components and sample pages available in Azia.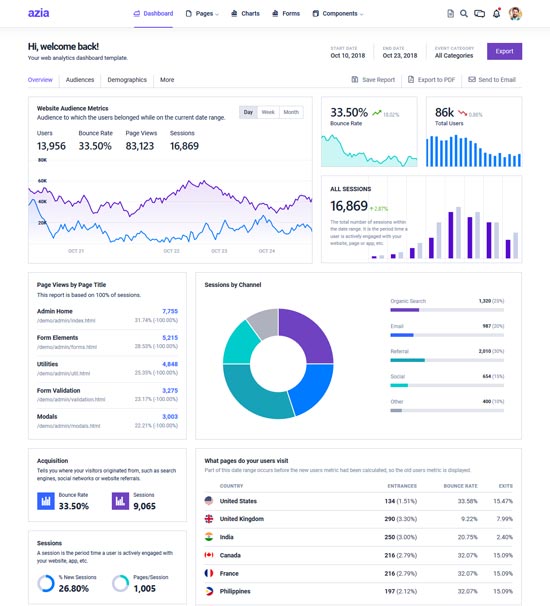 more info / download demo
Mega Able
Mega Able Bootstrap 4 Free / Lite Admin Template is a complete solution for creating your board. It comes with a default layout version, with limited options, optimized Google, font integration, high speed, mature and sophisticated, the extremely well organized code makes Mega Able Bootstrap 4 Lite a completely flexible solution for any type of application project back-end.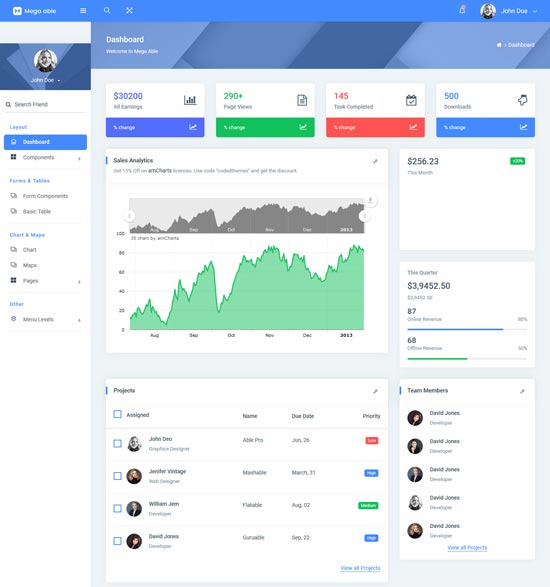 more info / download demo
Volt
Volt is a free and open source Bootstrap 5 admin panel template with 100+ components, 11 example pages, and 3 plugins with Vanilla JS. Volt was built using the latest version of Bootstrap 5 and because jQuery is no longer required as a dependency, Volt was built using only Vanilla JS.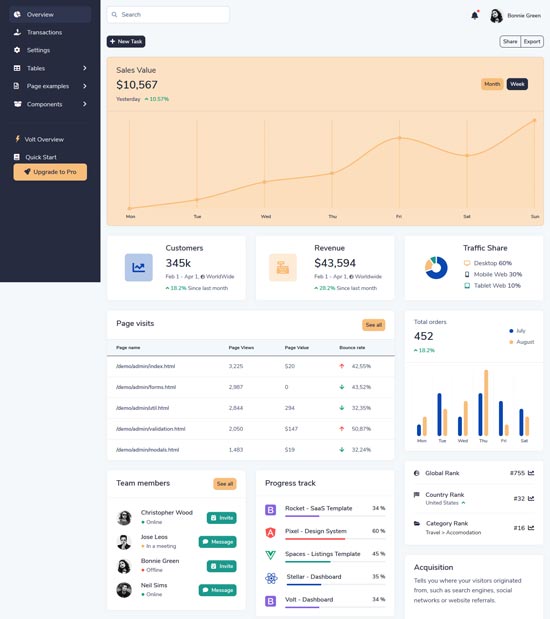 more info / download demo
Dashio
Dashio It is a fully free bootstrap admin template built with Bootstrap Framework. Flat color, custom graphics, easy to customize and user-friendly code for developers Dashio offers more than 35 well-designed pages to create a complete admin for your application. It is highly adaptive with any window size, including iPhone, iPad, Android phone and tablet. Dashio comes with an easy-to-comment code that can be used by beginners. It's incredibly designed and comes with many features, many reusable UI components and more to make you an excellent dashboard.
The design of the Dashio template is highly adaptive and comes with a different-sized viewpoint that supports all popular devices, including mobile devices. It is suitable for almost any web applicator, such as the admin dashboard, the project management system, the custom admin panel, the CRM, the CMS, and the application backend.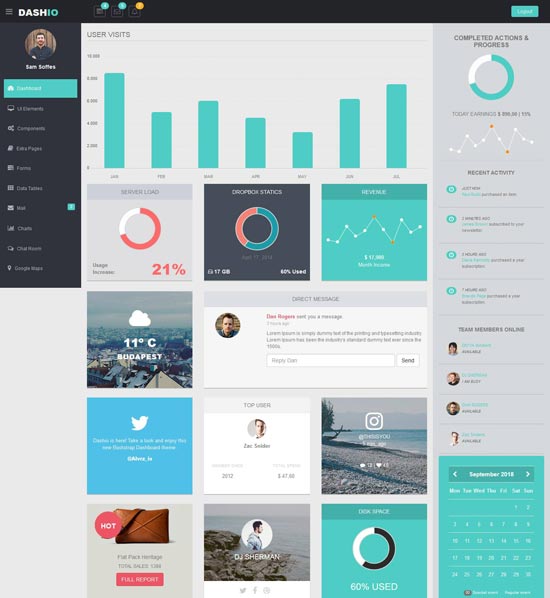 demo more info / download
StarAdmin
Star Admin is a free bootstrap admin template designed with Bootstrap 4. The template has a colorful, attractive but simple and elegant design. The template is well designed, with all the components carefully and carefully designed and arranged in the template.
Star Admin has all the features that fit your needs, but not the cramped ones with components you would not even use. It is an ideal tool for creating administrative panels, e-commerce systems, project management systems, content management systems or CRM solutions.
Although the template has a unique design, it is easily customizable to meet your needs. Star Admin comes with a clean and well-commented code that makes it easy to use the template. This makes it an ideal choice to start your project.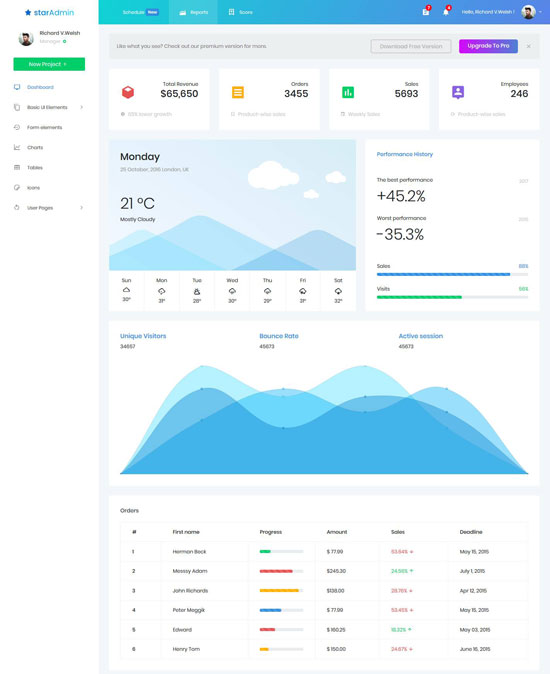 more info / download
Stisla
Stisla is a free bootstrap admin template and will help you speed up your project, design your own dashboard user interface and users will like it. Integrated with more than 30 third-party libraries and many components, you can easily create a dashboard layout.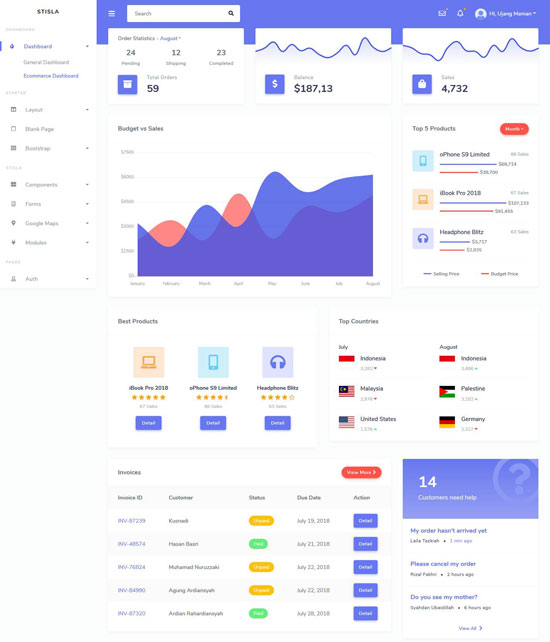 demo more info / download
AdminKit
AdminKit is a free professional Web UI Kit & Dashboard template based on Bootstrap that comes with hundreds of UI components, forms, tables, charts, pages and icons.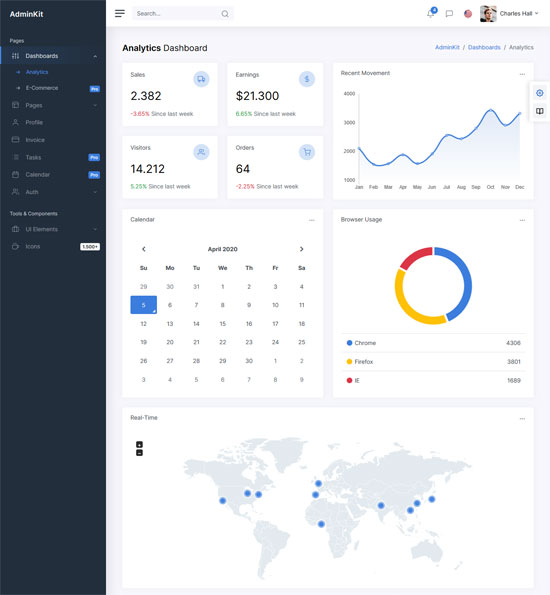 more info / download demo
Regal
The free and responsive Regal Bootstrap admin template has easy-to-understand code and detailed documentation. The template is incredibly flexible and easy to customize, as the SASS preprocessor is used for styling. The template is powered by the Bootstrap, jQuery, HTML, CSS and SASS framework. It also comes with several layouts, user interface elements, tables, graphics and other components.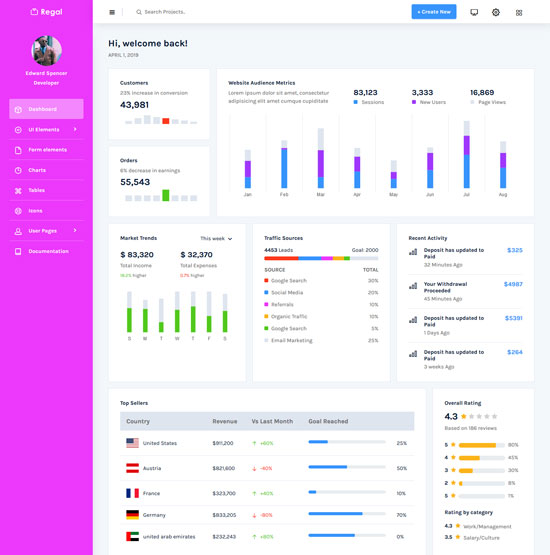 more info / download demo
Purple
Purple Admin is a free bootstrap admin template built with Bootstrap 4. The template is colorful, attractive but simple and elegant. The theme is well designed, with all the components carefully and carefully designed and arranged in the template. Purple Admin contains all the features that meet your needs but are not cluttered with components that you would not even use. It is an excellent choice for building management panels, e-commerce systems, project management systems, CMS or CRM.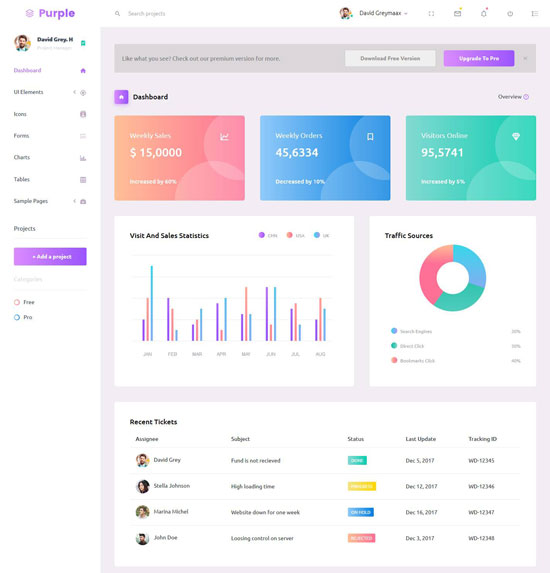 demo more info / download
Kapella
Kapella is a responsive Bootstrap admin template that presents an elegantly designed horizontal menu. Built with Bootstrap 4, SASS, jQuery, HTML5 and CSS, Kapella offers a nice selection of layouts, widgets and essentials. The simple design, clean code and detailed documentation of the Kapella admin template are sure to impress you. Kapella emphasizes functionality, aesthetics and user-friendliness to guarantee an optimal user experience.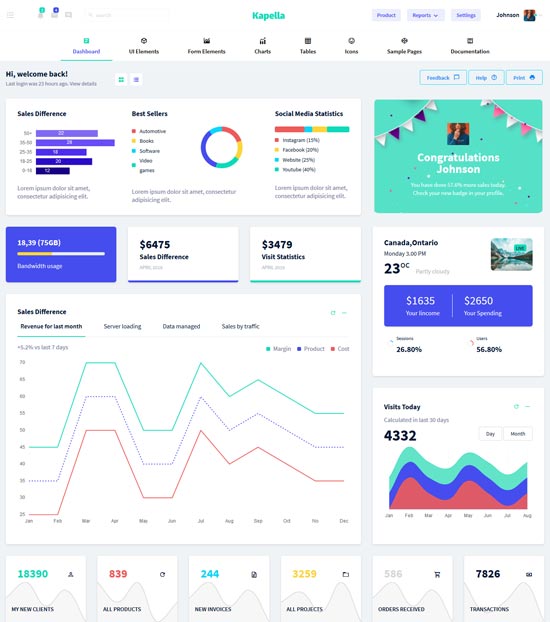 more info / download demo
Bubbly
Bubbly is the newest member of the Bootstrapious admin template family. Its design language follows current trends – subtle shadows, pastel colors, rounded corners and Main dashboard with 10 different widget types. This free bootstrap admin template contains 5 responsive HTML pages, all in 6 color variants.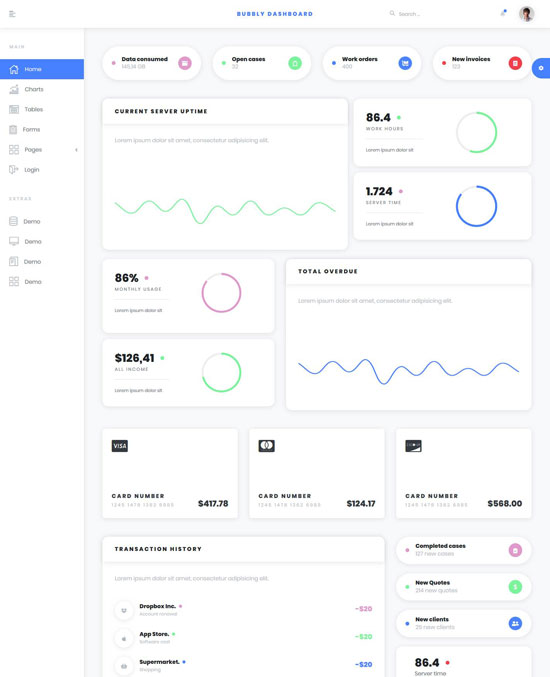 demo more info / download
Majestic
Majestic Admin is a simple but powerful free Bootstrap admin template that is built with the Bootstrap framework, SASS, jQuery, HTML5 and CSS. The spectacular design, usability and ease of customization of Majestic Admin make it suitable for building different types of admin websites. This well-documented template has high responsiveness to make websites look great on desktops and mobile devices.
The wide range of useful dashboard elements and other essential features available with this template will make the process of creating and customizing websites much easier. The clean, well-written code of the Majestic admin theme is easy to understand even for beginners.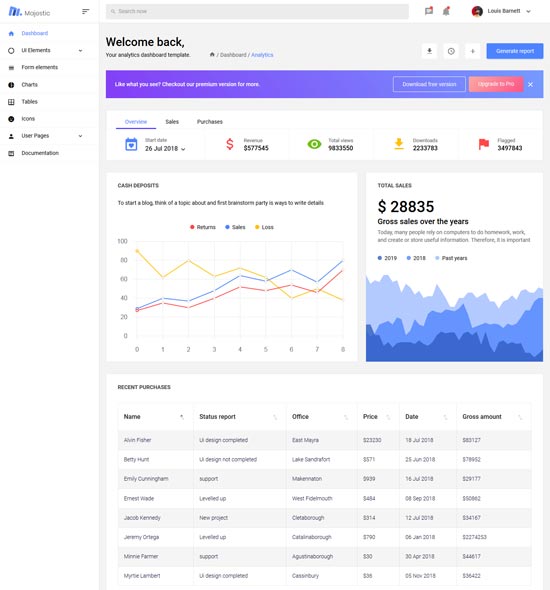 more info / download demo
Robust
Robust is a free bootstrap admin template, you will also find a user interface for your project. For those who are starting out well, this best free admin template will help you launch your project without any financial investment. You can choose from the selection of components, items, and maps that are available in template packages when you create your custom dashboard. Robust is mobile responsive, so it should work on both small and large screens. Robust includes animation effects and other elements of the user interface to make your dashboard more appealing.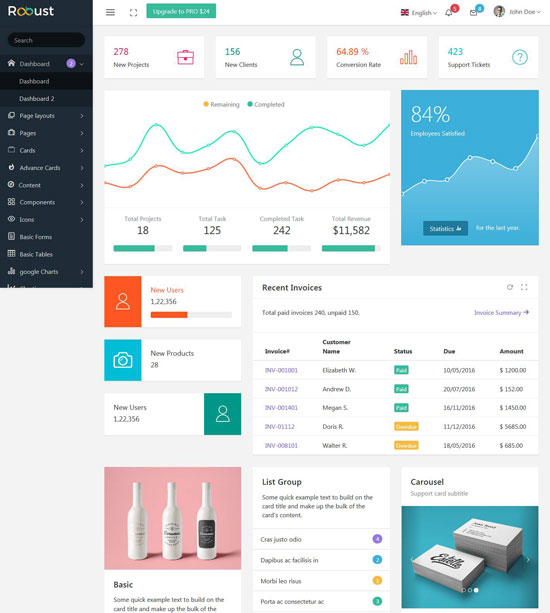 demo more info / download
RoyalUI
RoyalUI is a very responsive model built with the latest version of Bootstrap, CSS, HTML5, jQuery and SASS. There are many practical dashboard elements, useful tools, and other features in this template. This Bootstrap administration model also has excellent documentation, high reactivity and clean code. The breathtaking design of RoyalUI Admin Template and its excellent customization options make website customization a fairly simple process. Multi-browser compatibility of the responsive RoyalUI ensures a smooth user experience.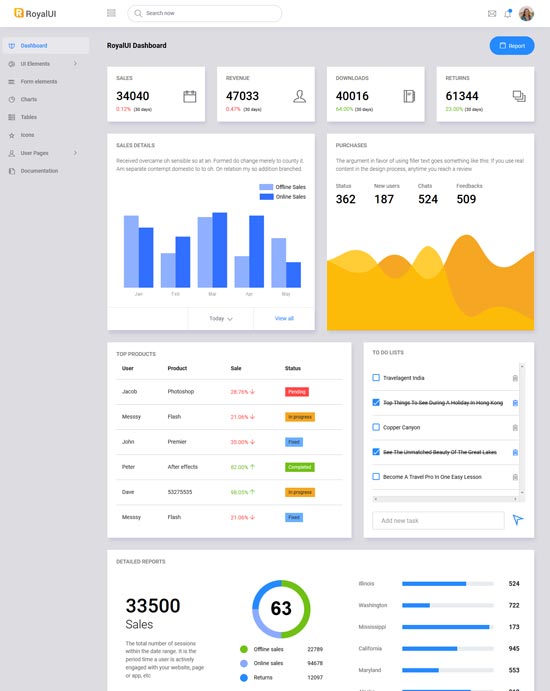 more info / download demo
Arbano VueJS Admin
Arbano is a free bootstrap admin template built with Bootstrap 4 and VueJS. It comes with a clean code of high quality and superb design; Therefore, you can develop a big project quickly. Arbano's fully responsive layout supports any size display. This is a free ViewJs admin template with a modular base.
The admin template created with Vuejs contains more than 30 custom items, such as forms, charts, maps, progress bar, and more. It's very easy to customize. Menu items can be added or edited from a single nav.js file. You do not need to touch other files.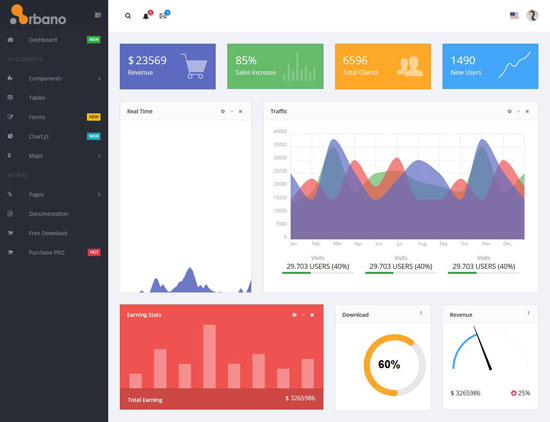 demo more info / download
AdminLTE
AdminLTE is the post popular open source and free bootstrap admin template. Built on top of Bootstrap 3 framework, AdminLTE provides a range of reusable, responsive, and commonly used components.
Features:
Verified HTML5 and CSS3 syntax by W3C services.
Mobile first design. Fits many resolutions, from large desktops to small mobile devices
1000+ Icons, Featuring Font Awesome, Ion Icons, and Glyphicons.
6 Skins, Choose a skin that matches your branding or edit the LESS variables to create your own and more.
Material Admin
Material Admin is a free bootstrap admin template built entirely using Google's Material Design for the Web framework, which complies with the guidelines for material design. It comes with the basic components and a set of predefined pages needed to lay the foundation for any application. And a set of more advanced components and features are available in Material Admin Pro.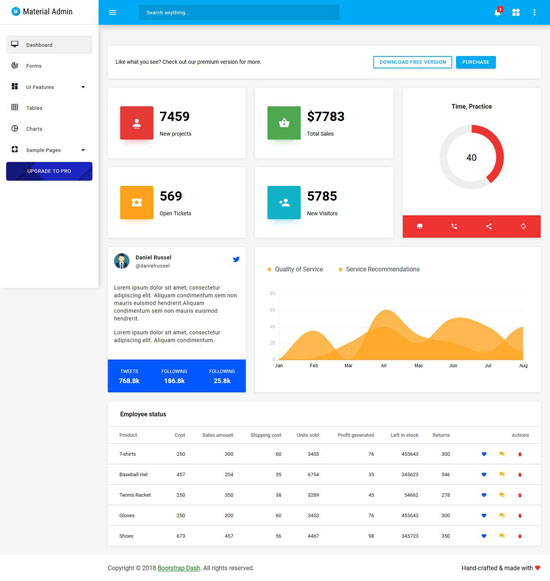 demo more info / download
SimDash Admin
SimDash is a free bootstrap admin template created with HTML, JavaScript and CSS3. This free HTML dashboard template will help you create a sleek administrator. This free admin template has many features for recovery. You can view the demo link on the page to get an idea of what the free dashboard template will look like. If you choose SimDash, you will be able to use many widgets and add many panels to your dashboard. Some of the options include an online ordering list, a menu list, order progress, and a to-do list. Some sliders can be filtered by custom ranges, sales numbers, and more.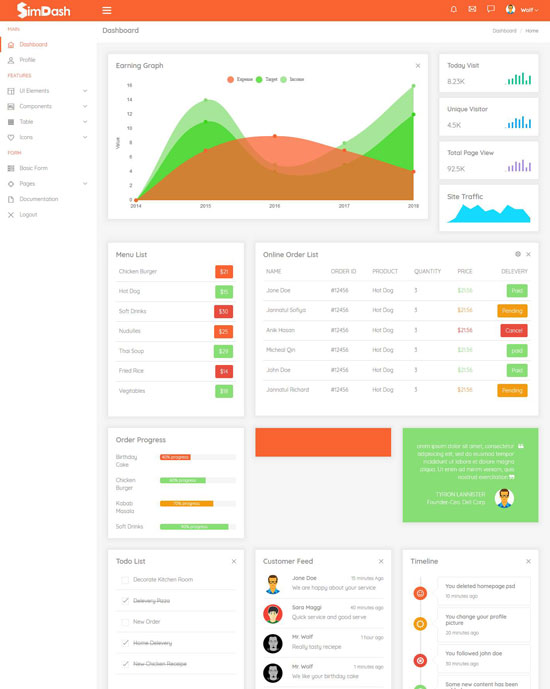 demo more info / download
CoreUI
CoreUI is a Open Source free bootstrap admin template. CoreUI is come with 3 powerful js framework version AngularJS, ReactJS and VueJS. It goes well beyond the template so far of manage through a transparent code and file structure. And if that is not enough, it's just add the CoreUI consists bunch of unique features and over 1000 high quality icons.
CoreUI is an open source project under MIT license and completely free. However, the efforts needed to maintain and develop new features for the project are not sustainable without adequate financial support. You can support development by donating to PayPal or by purchasing one of our premium bootstrap 4 admin templates.
CoreUI was designed as its own extended version of Bootstrap. Built according to the latest standards. Based on the most popular components and web frameworks.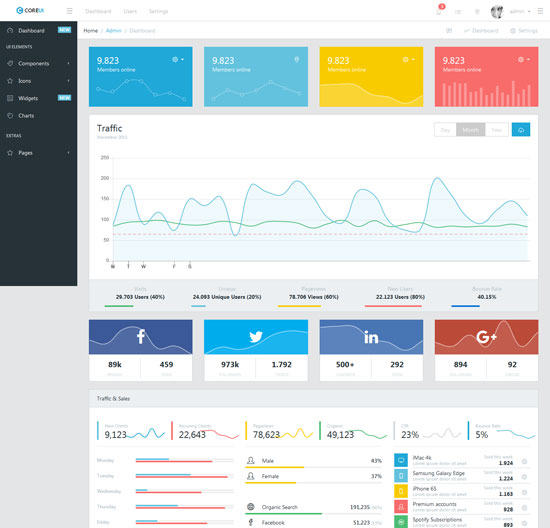 demo more info / download
Stellar Admin
The Stellar free bootstrap admin template is based entirely on the latest version of Bootstrap 4. Stellar Admin is designed to reflect the simplicity and slender composition and elements of the user interface and is coded to perfection with a well-organized code . This makes it easy to change its appearance to anything you want on your admin panel. Stellar Admin is a perfect choice for creating any kind of simple or complex back end applications or other web applications.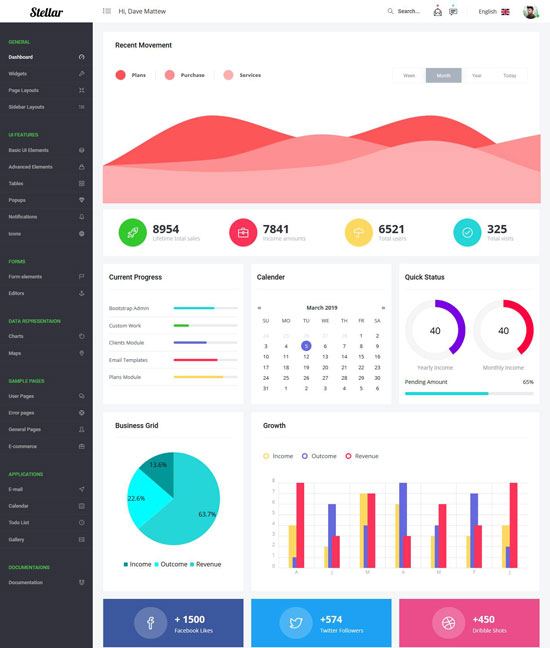 demo more info / download
Focus Admin
Focus admin is a lightweight, sophisticated, resourceful, reliable, easy-to-use and free bootstrap admin template. One of the biggest differences between Focus and the other templates is that Focus brings together some great features in the Graphics departments. There is an extended form wizard feature that you can use to create your own step-by-step forms. In the Graphics section, you can choose from several huge jQuery graphics libraries that will simplify data analysis.
The goal is much more than a dashboard, it's a fully functional management platform. Focus includes impressive analytics capabilities for graphing and graphing capabilities to simplify reporting and analysis, making your data usable. Focus Admin can give your back-end an exact appearance from the first day. The adaptive modular design of Bootstrap ensures that Focus Admin is properly rendered on all devices and browsers.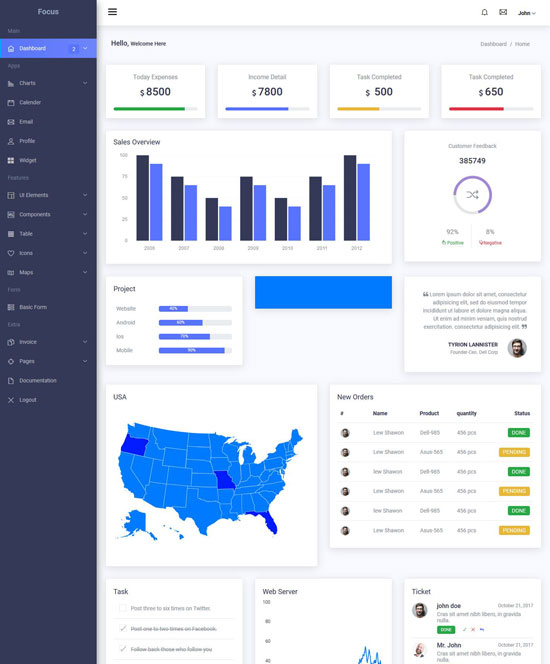 demo more info / download
Nixon Admin
Nixon is a free bootstrap admin template built with HTML, CSS and Javascript that you can use to power your application. Although it is a free html dashboard template, it presents a quality design. There is a good mix of colors and fonts that makes it attractive. The layout is spacious, giving your users the space they need.
Nixon has many features that will help you achieve a superior dashboard. This handcrafted template includes three page templates to help you add essential areas to your dashboard. You'll also find 11 UI components to add useful content to your pages, including quick alerts, nested objects, portlets, nested objects, and tasks.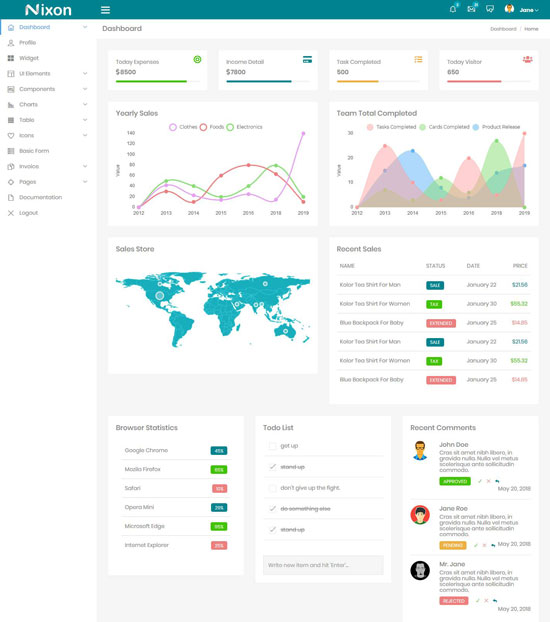 demo more info / download
Angular Material Dashboard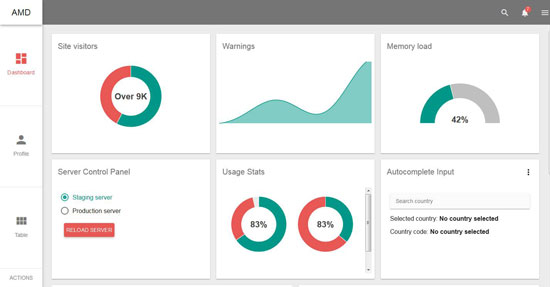 demo more info / download
SB Admin 2
SB Admin 2 is an free bootstrap admin template, dashboard or free web application interface with powerful jQuery plug-ins for extended functionality. SB Admin 2 Bootstrap admin theme, dashboard template, or Webapp user interface. The theme includes a variety of custom jQuery plug-ins to add extended functionality beyond the built-in features of the Bootstrap UI.
Basix Admin
Basix admin is a beautiful and free bootstrap admin template built by Vue.js and Bootstrap. It is registered under a MIT license. It has more than 60 widgets and over 2000 free icons that give you the flexibility to create a nice admin panel. It contains all the necessary components to help you create any type of admin panel.
More than 60 widgets in this template give you great flexibility to create any type of design according to your choice. Customization is very easy, like drop-down menus, separators, badges, etc. We have defined navigation as a component. You must open any file. All you need is on nav.js. It features more than 80 component variants that help you enrich your dashboard to a new level. The Basix administrator template is packed with features that will help you easily create websites.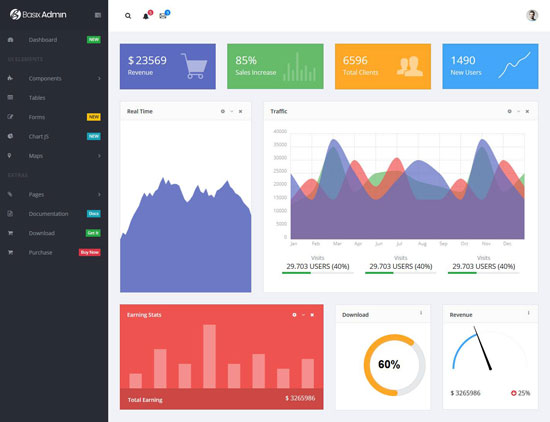 demo more info / download
Monster Admin
Monster free bootstrap admin template with a fully responsive layout design built with Bootstrap 3. Whether you're working for a CMS, CRM or SAAS-based project, Monster Admin has the necessary amplification of the latest tools to offer you the right experience. It includes custom forms and graphics libraries for dynamic data management and an easily accessible code base for making additional changes and adjustments. With a lightweight design, the Monster Admin template offers some relief to all the sophisticated and sophisticated dashboard templates you've already reviewed.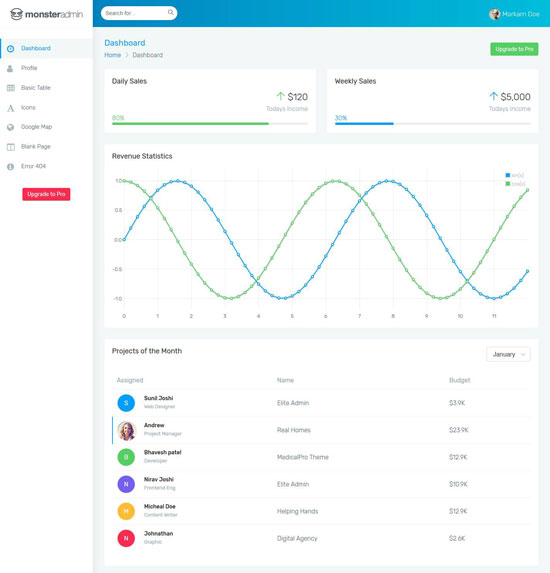 demo more info / download
SB Admin
SB Admin is a free bootstrap admin template, it have 4 styles along with a variety of powerful jQuery plugins to create a powerful framework for creating web apps, admin panels, or back-end dashboards. It is 100% free and open source, use it for any purpose.
Matrix
Matrix admin is a free bootstrap admin template with Clean, Minimal, Flat and Metro. You will find too many options with this theme. It's absolutely free to download and you can use it for a personal project or client.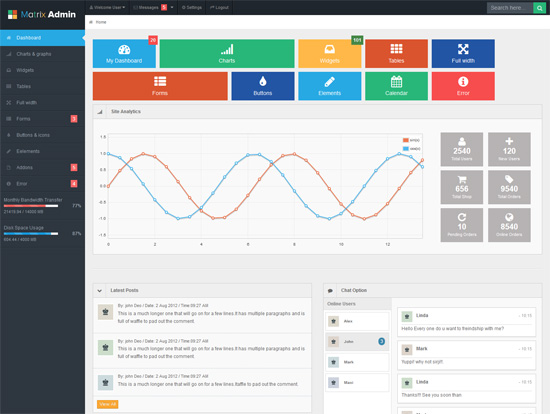 more info / download demo
Modular Admin
Modular Admin is an open source free bootstrap admin template built modular on Bootstrap 4, facilitating scaling, editing and maintenance. This is a comprehensive dashboard for web applications, designed to speed up the process of developing the background. The main goal is to accelerate Web development efforts by providing configurable and ready modules. It is coded in different modules to allow you to choose the ones you want and to avoid unnecessary spaces and to update them individually without any problem.
Totally modular, with many unique features, it will help you build your next awesome product. This framework is easily customizable and the theme features are responsive layout, Bootstrap 4.x, Sass, graphics, template engine, pages and more. The template engine uses Handlebars js, which makes it easy to write a small template with HTML and reuse it in the project. There are Flot & Morris chart options that you can use to create the GUI of any statistical data. This support also facilitates the deployment and maintenance of updates.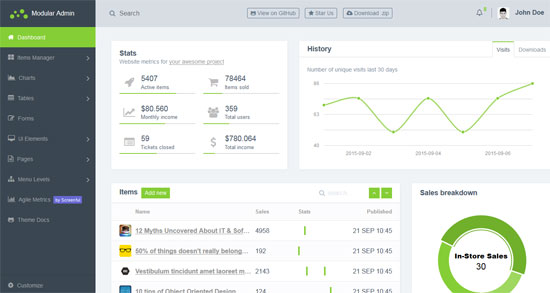 demo more info / download
ReactJS
React Director is a free bootstrap admin template powered by Facebook's ReactJS and Bootstrap. It has a huge collection of composable React UI components (most Bootstrap components have been ported to React).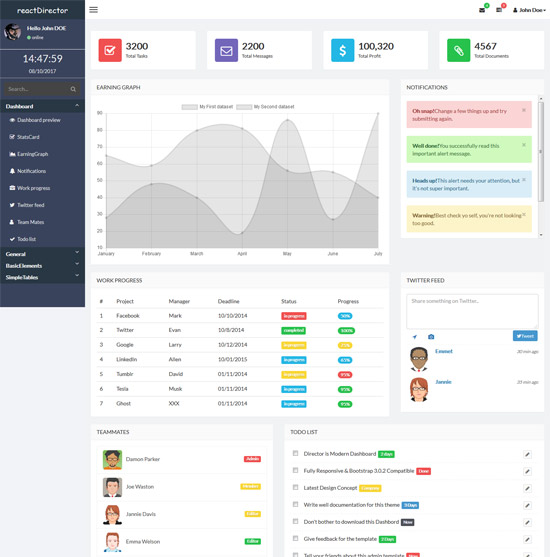 more info / download demo
Nice Admin
Nice Admin is a powerful free bootstrap admin template based on Bootstrap framework, it provides a clean and intuitive design that is focused on User Experience. The custom plugins include carefully customize to fit with the overall look of the theme, working seamlessly across all browsers, tablets and phones. It includes advanced examples of charts, form validation and maps.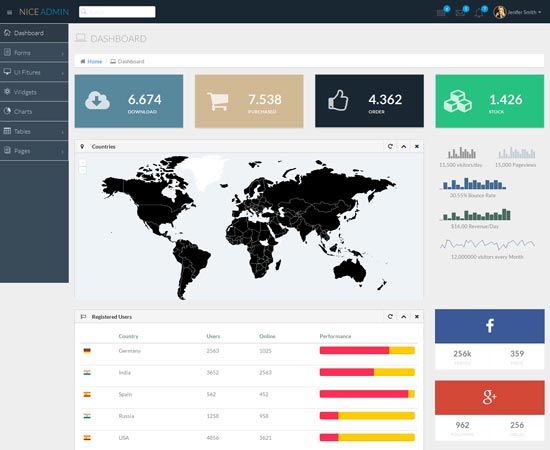 demo more info / download
Miminium
Miminium is a free bootstrap admin template with a new design, inspired by Google's material design. We are very excited to introduce our concept on materials through an easy to use and very beautiful set of components. Dashboard material was built on the popular Bootstrap framework and it comes with a couple of third-party plugins redesigned to fit with the rest of the elements.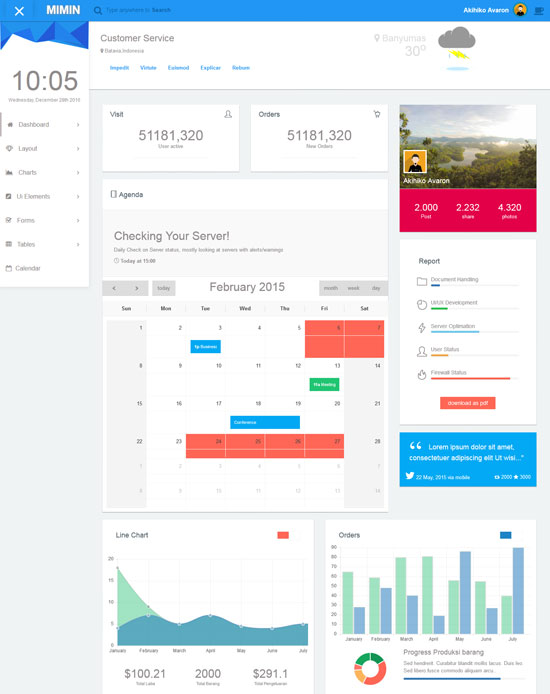 more info / download demo
Colored
Color is the name of an free bootstrap admin template built with fascinating looks and robust functionality using the Bootstrap framework to meet your business needs.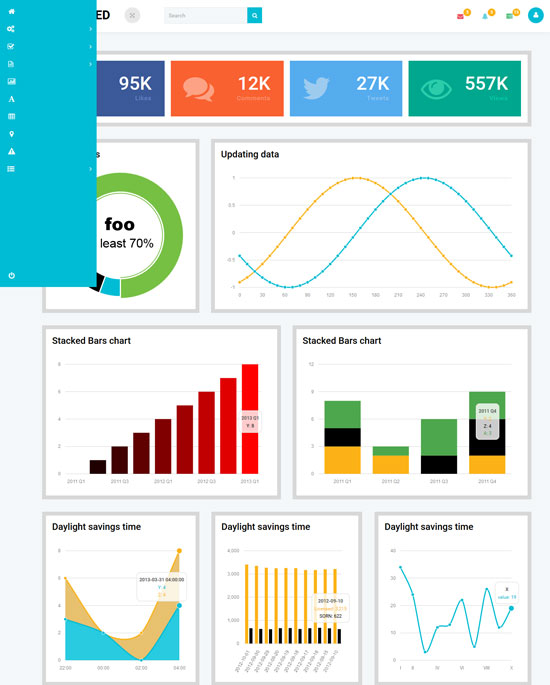 more info / download demo
Shoppy
SHOPPY is a Web based free bootstrap admin template built on HTML5, CSS3 and Bootstrap. This dynamic and versatile admin template surely makes the top-of-list in its category with cleverly coded and visually stunning nature, and it has a plethora of elements embedded evenly and in fact a stand-out choice.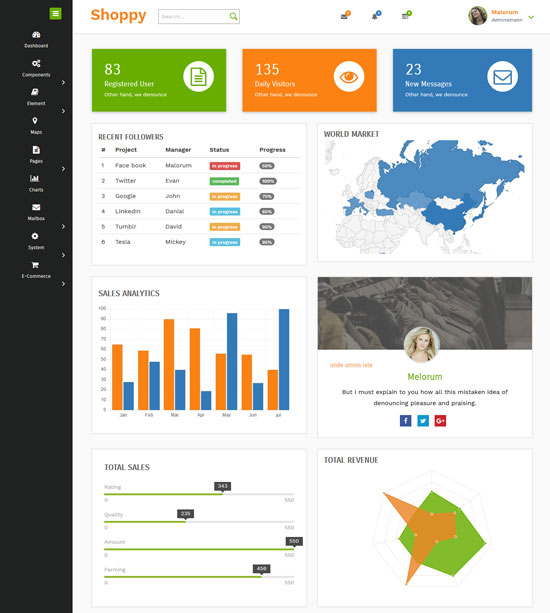 more info / download demo