In the ever-evolving world of web design, Bootstrap continues to be one of the most popular frameworks. It provides developers with a solid foundation for creating responsive and visually appealing websites. With the start of 2023, it's time to explore the latest and greatest free Bootstrap templates available. In this blog post, we'll showcase the top 10 free Bootstrap templates that offer stunning designs and cutting-edge features for modern websites.
Bootstrap Build
Find beautiful and responsive Bootstrap templates for every website project. We have a growing collection of free HTML5 website templates that you can download, customize, and use for free. Create your next project with one of these free HTML5 web templates from Bootstrap. All of the layouts include responsive design, allowing them to adapt to any screen size. Each template also includes a code snippet for you to copy and paste into your page. No more having to re-create an entire design from scratch!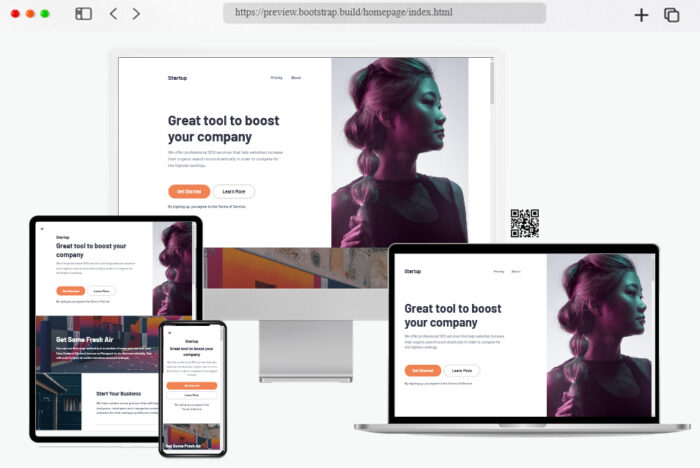 More info / download Demo
Personal Bootstrap
Personal is a free website theme perfect for professionals, creators, or even businesses looking to have a modern website designed with Bootstrap. This theme includes a working contact form that uses our new, SB Forms service, along with pages for your resume, projects and more.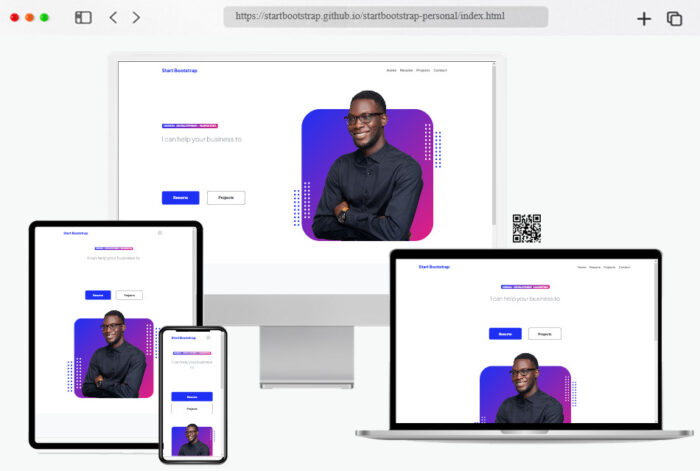 More info / download Demo
PhotoFolio
PhotoFolio is an elegant, innovative and creative photography HTML template built from scratch with the Bootstrap framework. It's a perfect website template for photographers, designers and those who need an easy, attractive, and effective way to share their works online.
More info / download Demo
DevCourse
For developers looking to market their courses effectively, having a well-designed and responsive landing page is essential. DevCourse, a free course landing page template, is specifically designed for developers to create their own bespoke course marketing pages. Built on Bootstrap 5 and SASS, this template offers flexibility in customizing colors and rearranging sections to suit individual needs. With its responsive design, DevCourse ensures a seamless experience for users across different devices, including mobile.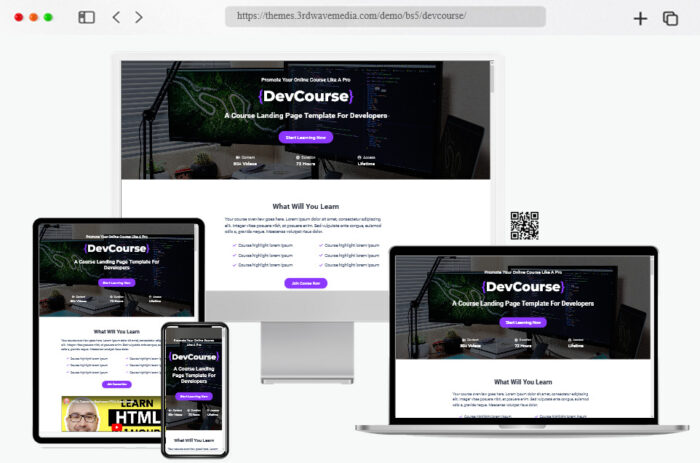 More info / download Demo
FlexStart
FlexStart is a creative and modern Bootstrap website template designed for individuals and companies seeking to build websites for a wide range of industries, including software, startups, mobile apps, digital agencies, SaaS, internet services, fintech, and related products and services.
With its developer-friendly approach, clean design, lightweight structure, and well-documented source code, FlexStart provides a flexible and hassle-free solution for customizing and integrating it into your next web development project. Packed with numerous features, blocks, and sections, FlexStart empowers developers to create professional websites quickly and efficiently.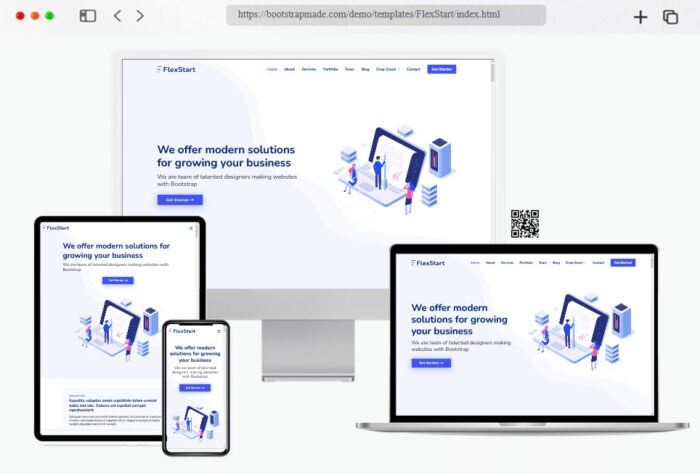 More info / download Demo
Ayro
Ayro Business is a free Bootstrap 5 HTML template created by UIdeck specifically designed for business or portfolio landing pages. It's important to note that this version is the free variant, which includes reduced page sections and requires users to provide their email address to UIdeck during the checkout process to access the freebie. While the free version retains UIdeck's credit and doesn't come with a commercial license, it offers a valuable starting point for building engaging and professional business or portfolio landing pages.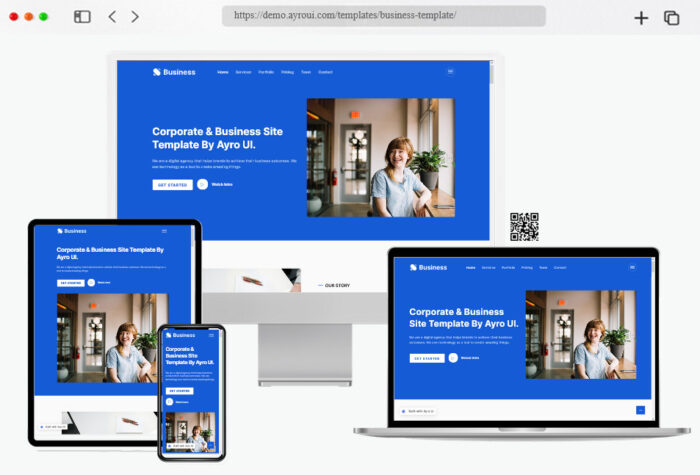 More info / download Demo
AppVilla
AppVilla is a comprehensive landing page template designed for app, software, and SaaS websites, available in both free and premium versions. Built using the latest version of Bootstrap 5, this stunning template offers 7+ essential pages, including contact, blog, and pricing plan sections. With its simple, colorful, and high-quality design, AppVilla easily captures the attention of viewers.
The template is fully responsive and can adapt to any screen or device, ensuring a seamless user experience. Additionally, AppVilla provides customization options to align with the latest design trends or individual preferences, making it an ideal choice for creating visually appealing and mobile-friendly landing pages.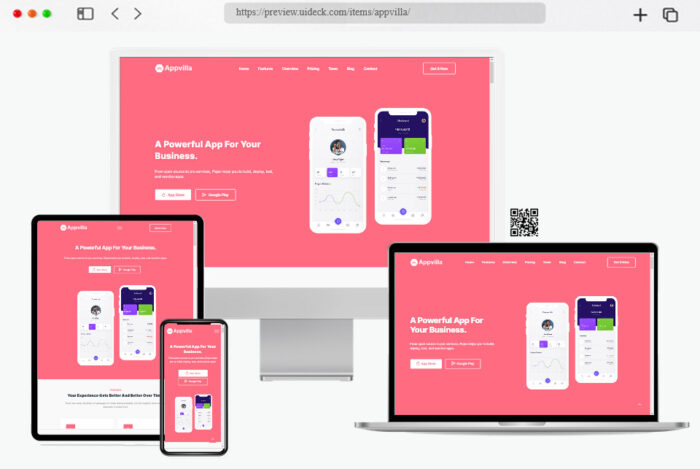 More info / download Demo
Quick
Quick is an exceptional free Bootstrap theme designed specifically for building modern, creative, and responsive corporate business websites. Packed with a plethora of features, Quick offers more than 50 customized components, 2 ready-to-use plugins, and 4-page layouts, all of which can be easily customized to fit your specific needs.
With its high-quality design, intelligent code markup, and user-friendly customization options, Quick ensures a seamless development experience. It incorporates advanced features and extended components that guarantee smooth functionality across various screen resolutions. Built with Bootstrap 4, Quick also provides standard toolings like NPM and Gulp for enhanced development efficiency.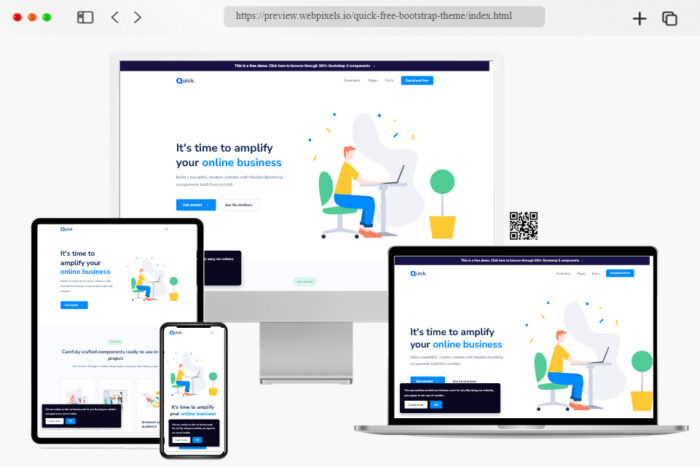 More info / download Demo
Edica
Edica is a free Bootstrap 4 landing page template with 5+ essential website pages. It includes essential sections such as services, portfolio and contact. With a beautiful color palette, Edica will be an excellent choice to promote your website or mobile app.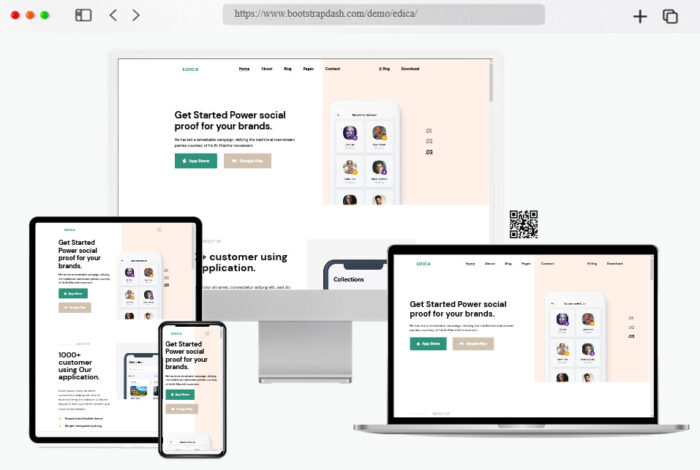 More info / download Demo
ConsultBiz
ConsultBiz is an eye-catching template with various design effects and features. It allows you to customize the design and structure without any HTML or CSS knowledge. With its simplicity and versatility, you can effectively inform customers about your company and provide them with all the necessary information. Additionally, the template includes social options and a blog for seamless client communication.
Please note that the .psd files are not included in this template package. To experience the excellence of this free template, visit the product page and witness its quality firsthand. With ConsultBiz, you can create a professional and engaging website for your consulting business without the burden of additional costs.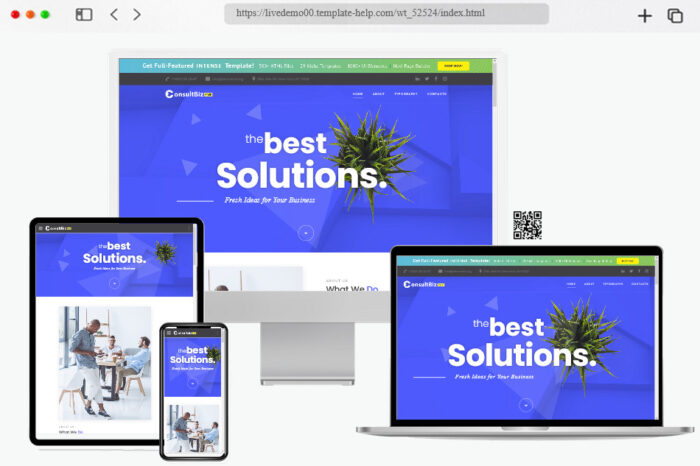 More info / download Demo
These top 10 free Bootstrap templates for 2023 offer an excellent starting point for creating visually stunning and feature-rich websites. Whether you're in technology, healthcare, food, travel, fashion, education, or real estate, there's a template that suits your specific needs. Take advantage of these templates to enhance your online presence and deliver an exceptional user experience to your visitors.