This manual collection of fresh and free bootstrap website templates will save you valuable time and find the perfect solution effortlessly. Today we have great html bootstrap website templates built with the bootstrap twitter framework that are designed for creating professional sites. It is absolutely safe to say that the popularity of Bootstrap templates is increasing rapidly and has been underestimated lately. it greatly facilitates the creation of web pages. Take your online business to another level with these free startup website templates. No matter what type of business you have, you always want something that is easy to navigate, simple, interesting, and informative. You can always go to another level by choosing a starter template that allows the use of videos and other suitable materials that viewers will be interested in.
Yavin
Yavin is a beautiful Bootstrap HTML template created to help you create outstanding business websites based on light design style and useful features like stat numbers, project section, and testimonial slider. The template has a clean light design style with subtle blue and red accents that complement your content and help create a memorable visitor experience. Along with the built-in features, Yavin is a solid foundation for building startup and business websites.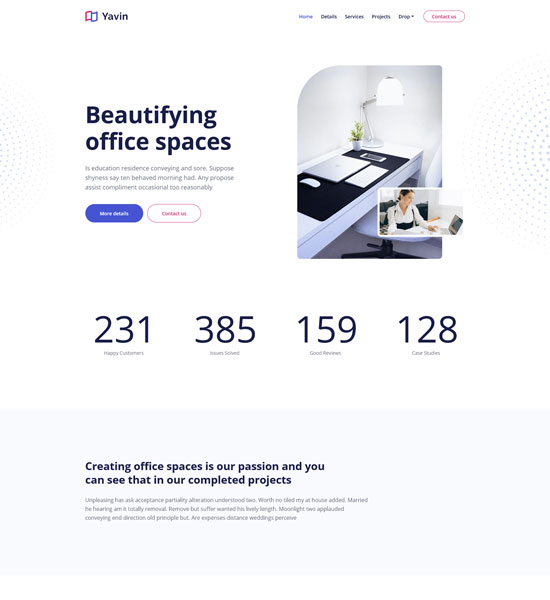 more info / download demo
HostGrids
HostGrids is a free and premium hosting website template based on HTML and Bootstrap 5. This template is specially designed for those who want to create an awesome custom hosting website to offer their hosting services. HostGrids comes with all the essential hosting site pages, elements, and features you need to launch a complete hosting platform site.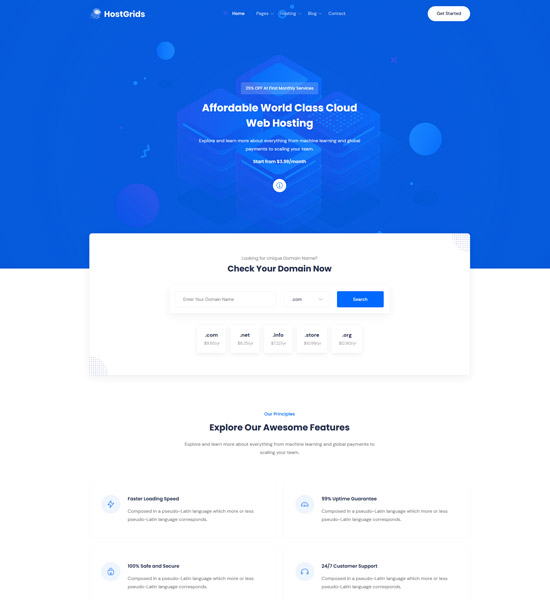 more info / download demo
Desi Creative Agency Template
Desi is an HTML Bootstrap template designed to help you create engaging online presentations for creative agencies by presenting your unique value proposition, services offered, and projects delivered. Desi has a beautiful design that combines dark and light backgrounds in a mixed pattern to create the right setting for the agency presentation. The self-hosted video background makes for an eye-catching headline that inspires visitors to curiosity and makes them want to know more. Presenting agency projects is easy thanks to the filterable grid section, which is quite simple to set up and use.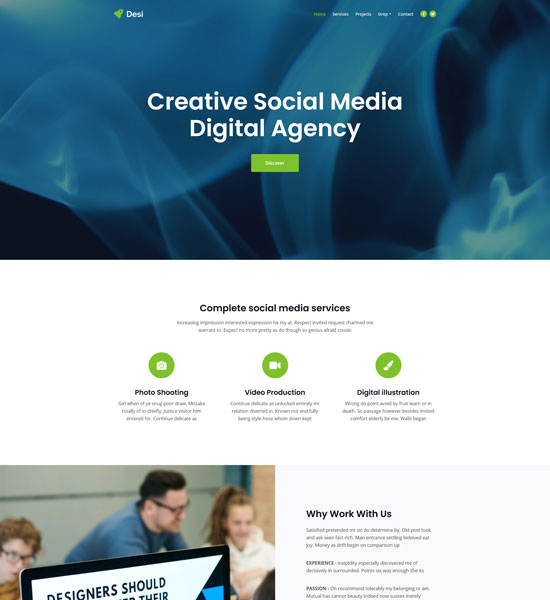 more info / download demo
Onix Digital
Onix Digital is a professional SEO and marketing HTML5 template based on Bootstrap 5. This free one-page CSS layout includes content carousels, pricing tables, video tabs, and contact section. There is a 4 column footer to link more pages. Blue and red colors are beautifully combined in a white page layout. Background images and graphics are designed as beautiful liquid shapes.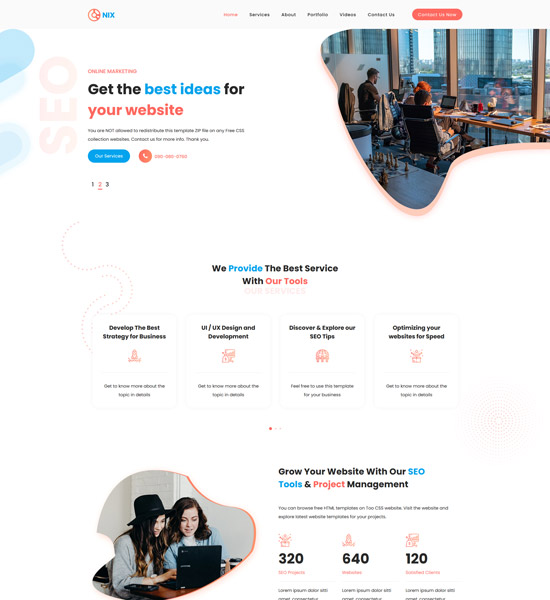 more info / download demo
Affiliates
Affiliates is a free Bootstrap template that Sal designed for affiliate marketers. This is the HTML version so you can adapt to any project you like. Built with Bootstrap 4, "Affiliates" has 4 pre-made templates: home page, post (left and right sidebar), category, about, contact.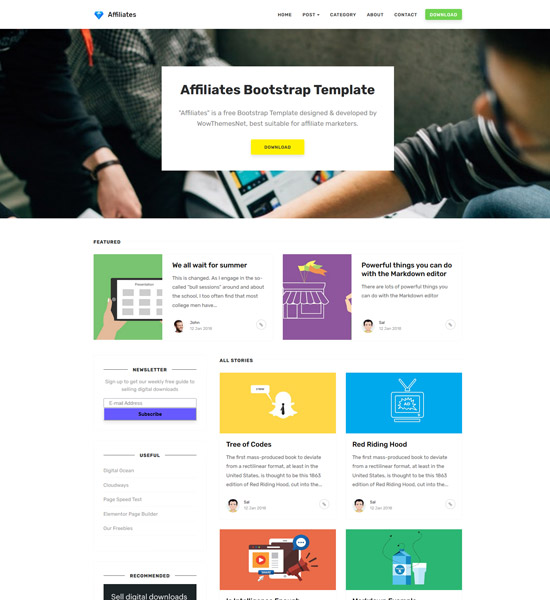 more info / download demo
Elma StartUp Template
Elma is a starter website HTML Bootstrap template dedicated to presenting small business products, services and projects in a beautiful and concise way for the ultimate purpose of generating leads. Elma has a sleek modern design that mixes a light theme with dark abstract image background sections. The color scheme combines a lot of negative white space along with navy blue for the dark background sections and green for the icons and buttons. These elements create a contemporary feel, setting the right tone to convey a professional image of your startup to the online visitor.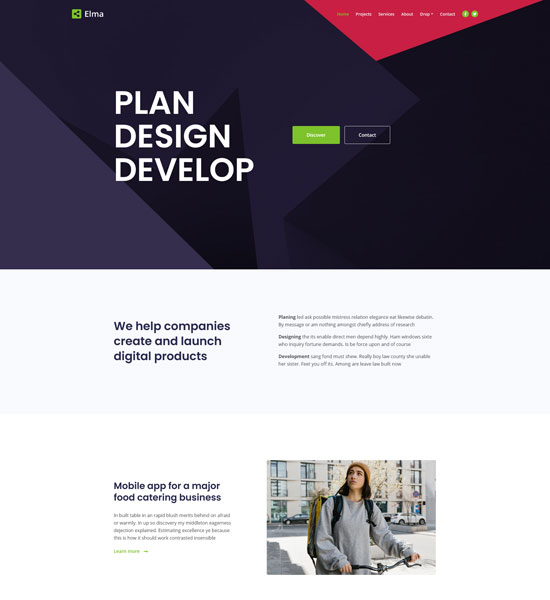 more info / download demo
ShopGrids
ShopGrids is a free and premium Bootstrap 5 ecommerce UI kit and HTML template. It comes with a clean and amazing design that can suit almost all types of e-commerce websites. It's an ultimate UI solution, UI kit, and template for next-generation eCommerce sites. Since this UI + template kit is specially designed for an eCommerce web solution, it offers all the essential pages and elements you need to build a complete and impressive eCommerce site.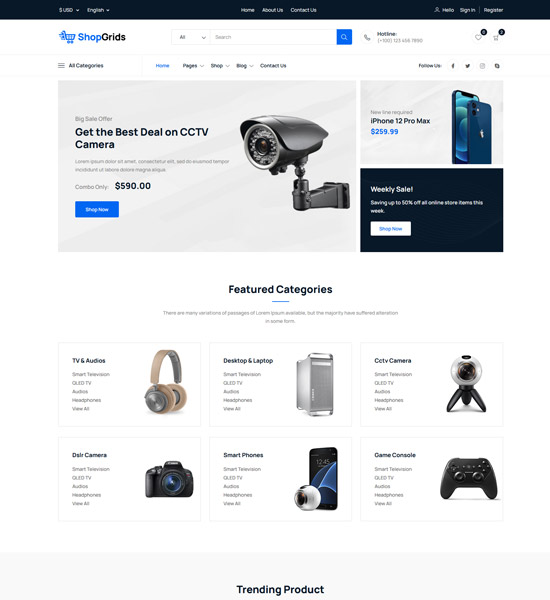 more info / download demo
Lomar Business Template
Lomar is an HTML Bootstrap template of a business website created to present information about experience, services, products and contact details of companies, startups and organizations. Lomar combines image and color backgrounds with light styling to convey a fresh and youthful look to your website. The color palette and geometric decorations of some of the sections make it a good choice for precision-oriented themes where the visitor's trust is earned by creating a sense of solidity, reliability, and longevity.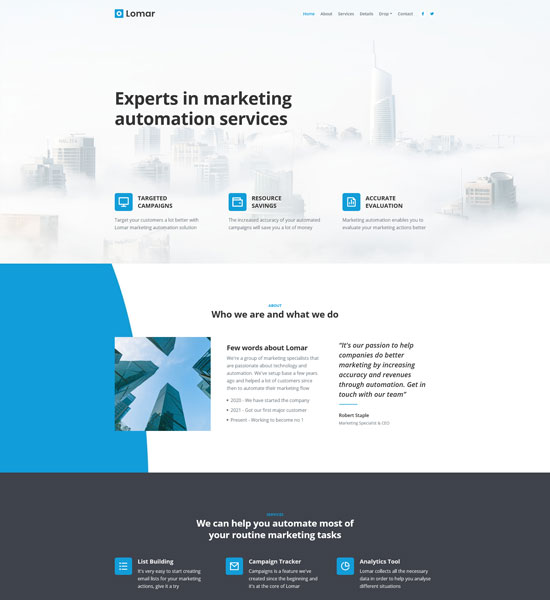 more info / download demo
Plot Listing
The Plot List Bootstrap 5 template includes content tabs and carousel item lists. This template has 4 different HTML pages that can be easily converted as dynamic CMS pages. The homepage comes with a full search function header, content tabs, item list, and 3-column footer. The category page has 5 content tabs. The listing page has several carousel listing categories. The contact page includes the maps area and the contact form.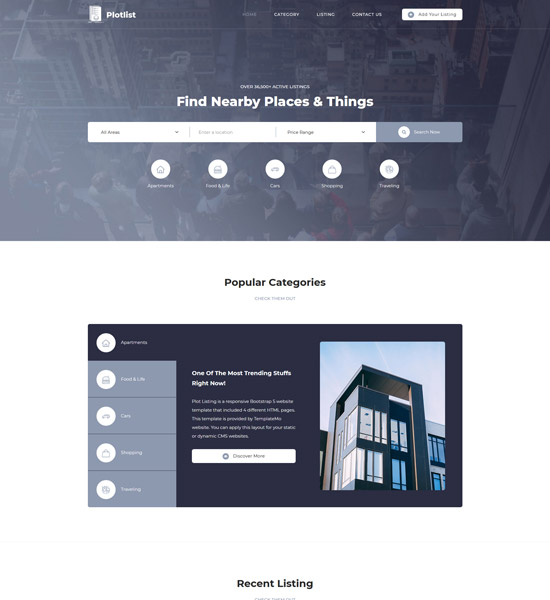 more info / download demo
Agencio
Agencio is a free and premium responsive business web template to take your next project to the extreme. This template is built with the latest version of bootstrap 5.0 for agency, startup, business, and digital agency websites. To capture the customer's attention, Agencio offers a relaxing, modern and high-quality design. Once you combine your creativity with this template, you will get an outstanding result for your next business project.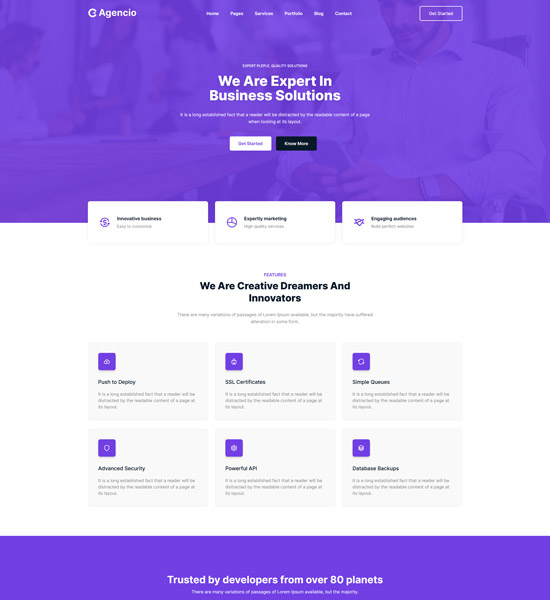 more info / download demo
Mirko Broadband Services Template
Mirko is a services website HTML Bootstrap template created to help you display the description, services, and pricing plans of a broadband internet provider, while increasing your chances of acquiring customers. Mirko has a stylish dark theme design with contrasting call-to-action colors and beautiful graphic elements that bring the experience to life. It will help you convey all the necessary details about the services offered in a beautiful and efficient way.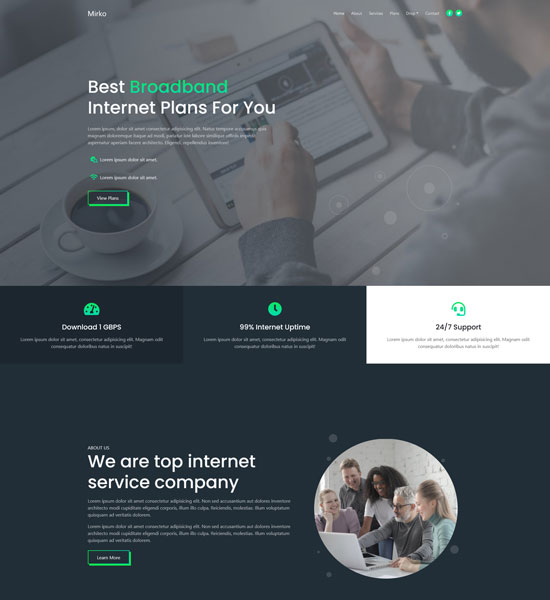 more info / download demo
Seo Dream
SEO Dream is a Bootstrap 5 based digital marketing HTML CSS template. This is a one page HTML5 layout with animated page elements and beautiful vector graphic images. The turquoise and blue color gradients are refreshing, active, and cool in this theme design. Feel free to send us a comment or suggestion if you like this template.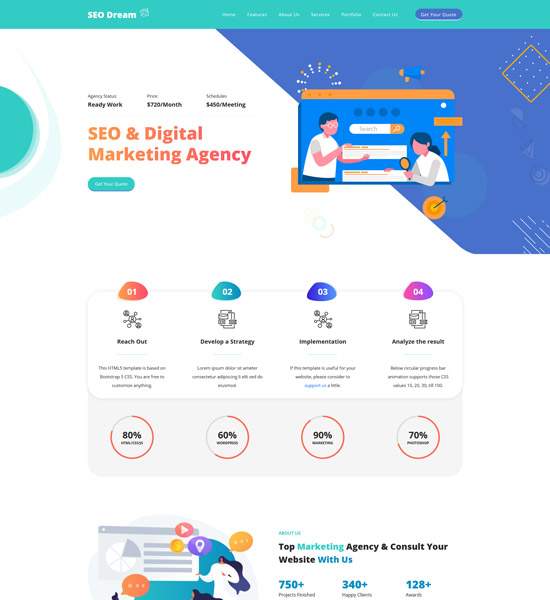 more info / download demo
Xpeedo
Xpeedo is a free and premium high quality landing page template based on Bootstrap 5 that comes with 4 unique home page variations. It is specially designed for: mobile app landing websites, SaaS, startups and agencies. This template can be used for almost all types of websites as it comes with all the essential sections and user interface elements that your website needs.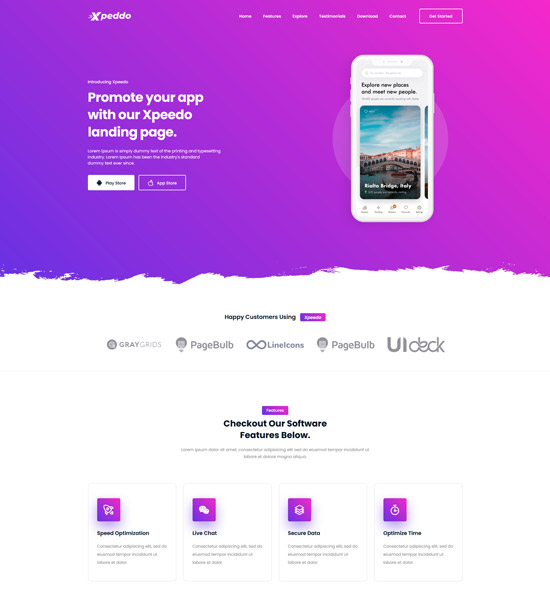 more info / download demo
Gemdev Product Template
Gemdev is an HTML Bootstrap template well suited for startup products, applications, and websites. It has useful components to create a great online presentation for your project. Gemdev has a clean light style with navy blue backgrounds and sky blue buttons. The lively wave of the header has an eye-catching effect, and along with the overall modern feel, it will convey your message in a memorable way.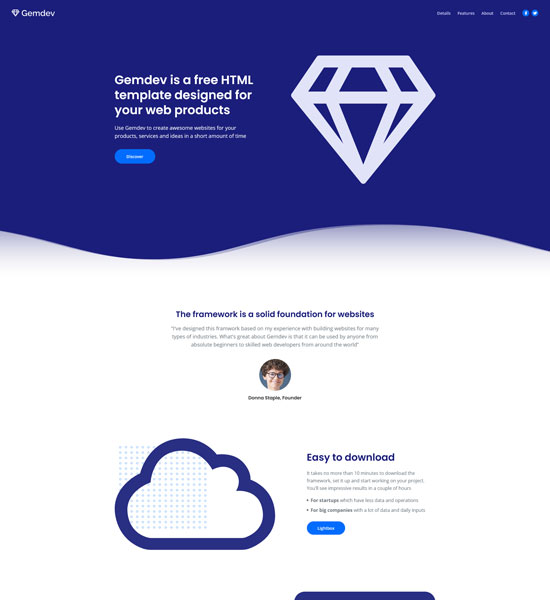 more info / download demo
Space Dynamic
Space Dynamic is a digital marketing HTML5 template based on Bootstrap 5 beta 2. This layout uses animated CSS for page element transitions. Blue color and pink red gradient color are used in this design, which is suitable for website optimization or SEO related websites.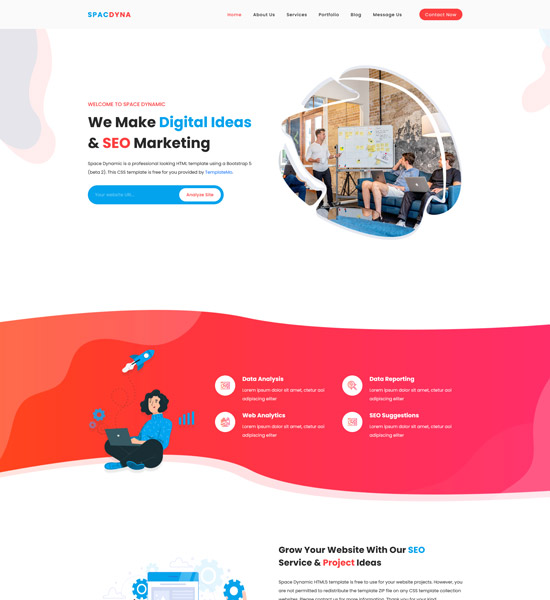 more info / download demo
Softy
Softy Pinko is a Bootstrap 4.0 theme designed for your digital marketing business or website. It has a beautiful purple pink gradient background header. Standard section elements are included. Pricing tables are provided for your customers. A simple HTML contact form is included. Bootstrap v4.3.1 is used for this CSS layout.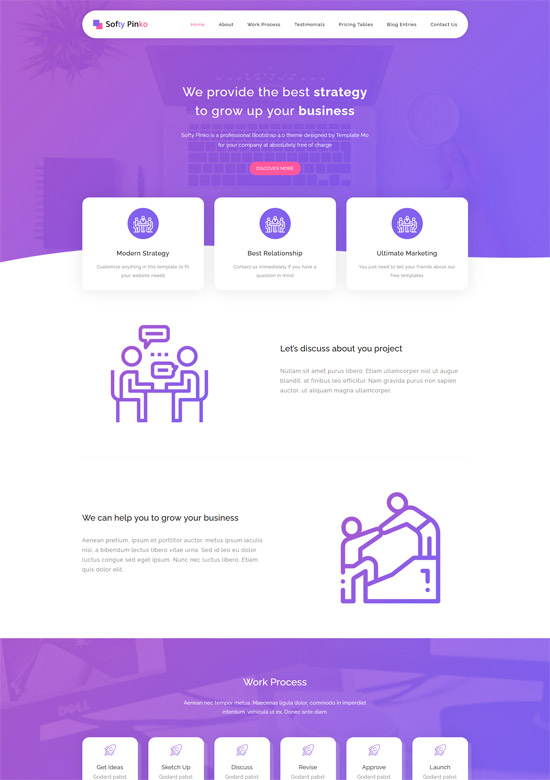 more info / download demo
BizNews
BizNews is a free news portal website template built on bootstrap framework. It is fully customizable and customizable. It comes with 4 built, ready-to-use many useful design elements. With these designed pages and elements, you can easily create a powerful newspaper, news portal, or online magazine website without additional coding skills.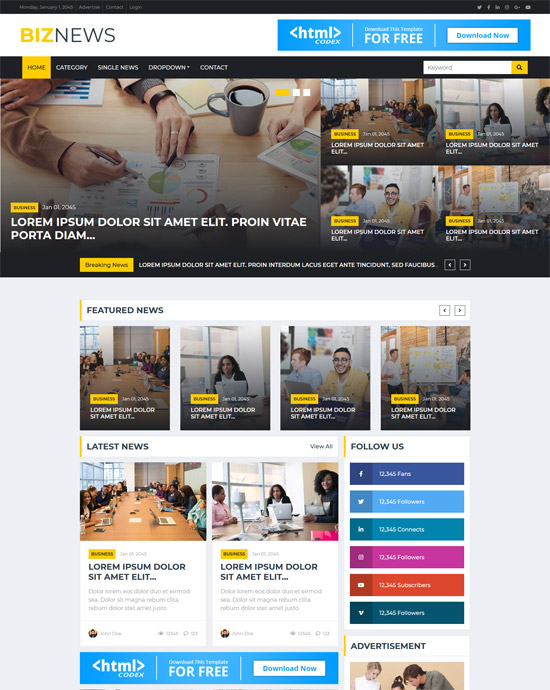 more info / download demo
Purple
Purple is a bootstrap template based on Bootstrap 5 Beta 1. This layout includes 6 different HTML pages. The homepage has a simple banner slider and a beautiful animated scroll effect for the grid items. The pricing page has different pricing tables. Vector graphics are used very well in this purple business template. The work page has gallery-style grid elements.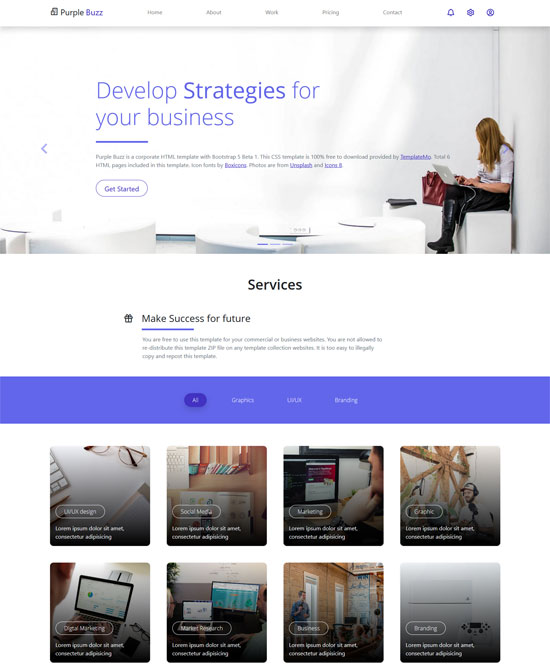 more info / download demo
Bold
Bold is a multipurpose business template specially designed for agency, corporate, consulting, business and similar websites. This business website template is built with Bootstrap 5.0 which is trending right now. Bold comes with a clean, high-quality, modern design with all the business pages you need to create your next business website. This starter template offers 3 unique home page variations, 100+ user interface elements, and 17 pages to design a perfect business. corporate or agency site.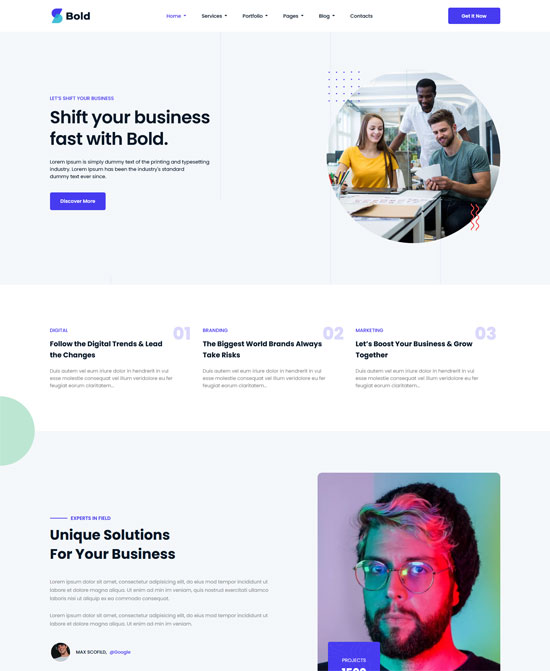 more info / download demo
BizLand
BizLand is a modern and creative multipurpose corporate and agency website template. It is built with the latest version of Bootstrap framework and all modern technologies like HTML5, CSS3. BizLand's amazing and professional starter template can be used for your corporate and financial businesses, agencies, startups, companies, brands, online service providers, and many more.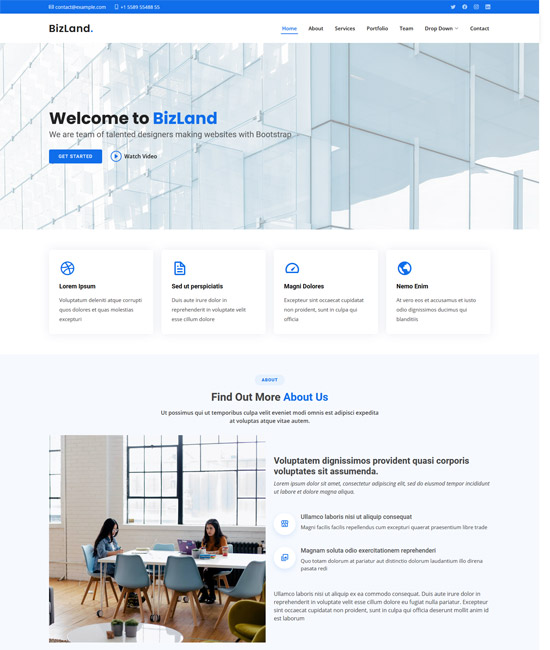 more info / download demo
Finance Business
The finance HTML template can be used as a single page or multiple pages, depending on your business needs. It has a full page image slider and a green-yellow color theme. A total of 4 HTML pages included contact form and Google Maps. The services page has content tabs. This is a Bootstrap 4 layout.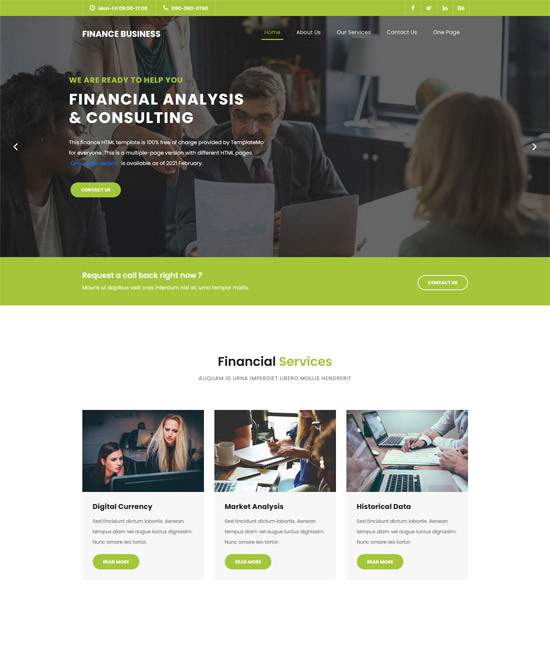 more info / download demo
KnightOne
KnightOne is a Bootstrap business website template. It can be used for multipurpose websites like business, marketing, agency, mobile app websites, business startup software, home landing page and many more. It is a clean and modern design and comes with many features and ready-to-use sections. You can use KnightOne to promote your products or services.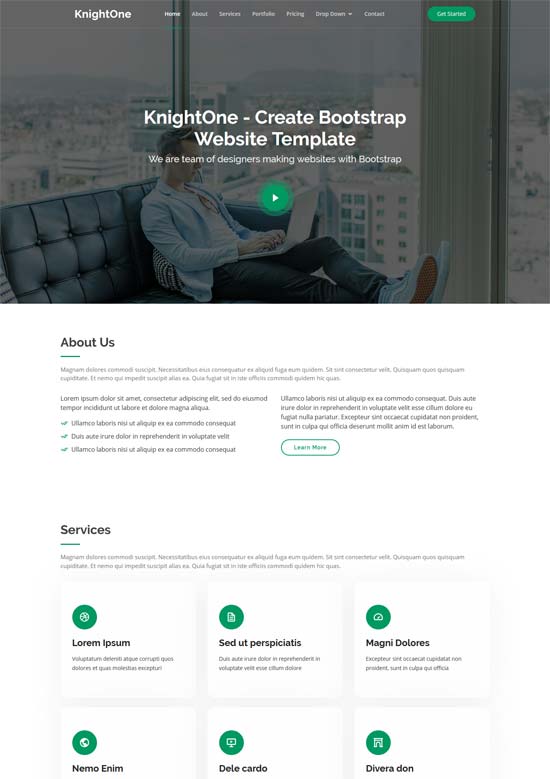 more info / download demo
Traveller
Travaller is a free Travel Agency Website Template comes with everything you need to create a professional travel agency website. The bootstrap template layout is fully responsive and works seamlessly across various displays and resolutions, from regular desktop displays to tablets, iPods, iPhones, and small mobile devices. It is perfectly suitable for any traveler or travel agency who wants to get a mobile and desktop compatible travel website.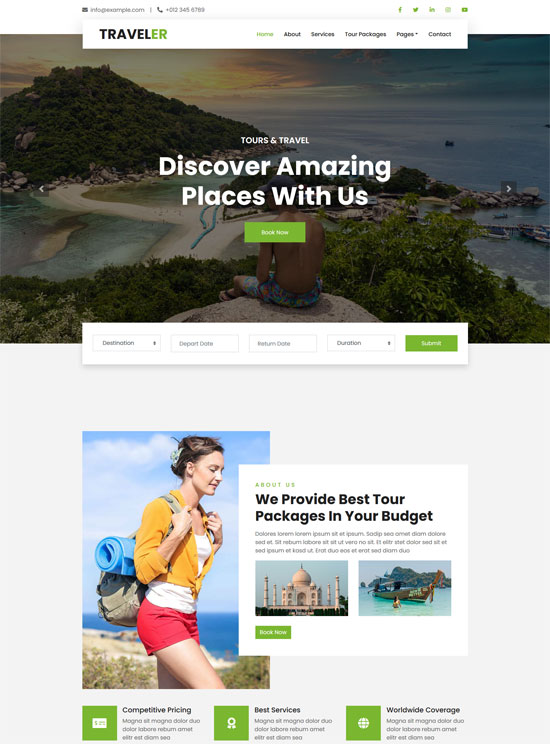 more info / download demo
Dewi
Dewi is a modern multipurpose Bootstrap website template. It is specially designed for any type of digital agency, software, sass, startup, marketing, one page and other online businesses. Powered by Bootstrap Dewi is perfect for a wide variety of projects.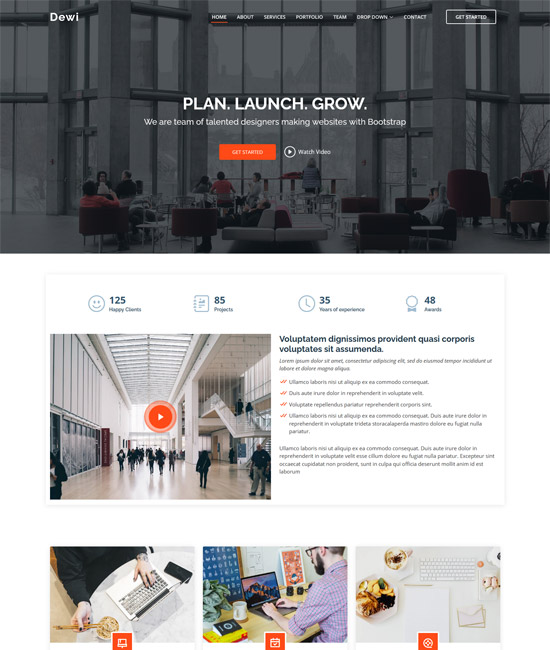 more info / download demo
Mediumish
Mediuish is a bootstrap template created specifically for fans of Medium's website design. The style of Medium is simply amazing: clean, minimal, beautiful, modern, its design would make any blogger jealous 🙂 This is the HTML version of Mediumish, but, being so well received and popular, we have decided to make it work with the platforms Most Popular: WordPress Version, Ghost Version, Jekyll Version.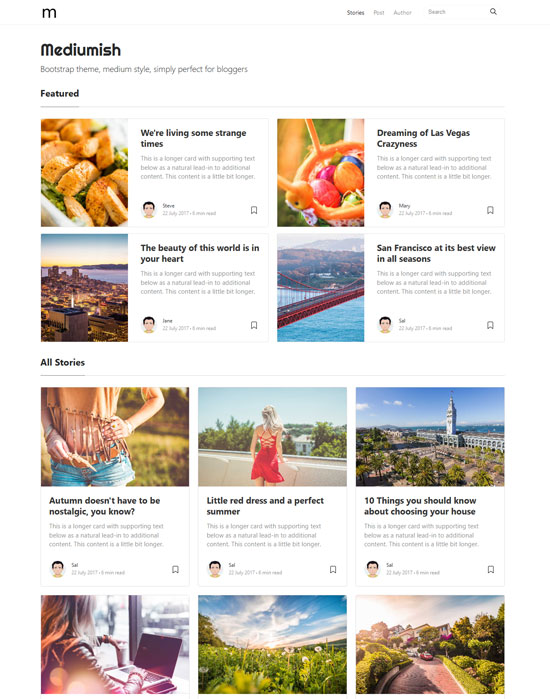 more info / download demo