This manual collection of fresh and free bootstrap website templates will save you valuable time and find the perfect solution effortlessly. Today we have great html bootstrap website templates built with the bootstrap twitter framework that are designed for creating professional sites. It is absolutely safe to say that the popularity of Bootstrap templates is increasing rapidly and has been underestimated lately. it greatly facilitates the creation of web pages. Take your online business to another level with these free startup website templates. No matter what type of business you have, you always want something that is easy to navigate, simple, interesting, and informative. You can always go to another level by choosing a starter template that allows the use of videos and other suitable materials that viewers will be interested in.
Restoran
Restoran is a free, clean and modern Bootstrap Restaurant Website Template specially designed for Restaurants, Bars, Cafes, Bistro, Coffee Shops, Asian Food, American Fast Food, Pizza, Italian Cuisine, Burgers, Sushi, Pasta, Fish Markets , bakery and any other food related websites. Build your food business website with this free Bootstrap food menu and order template easily.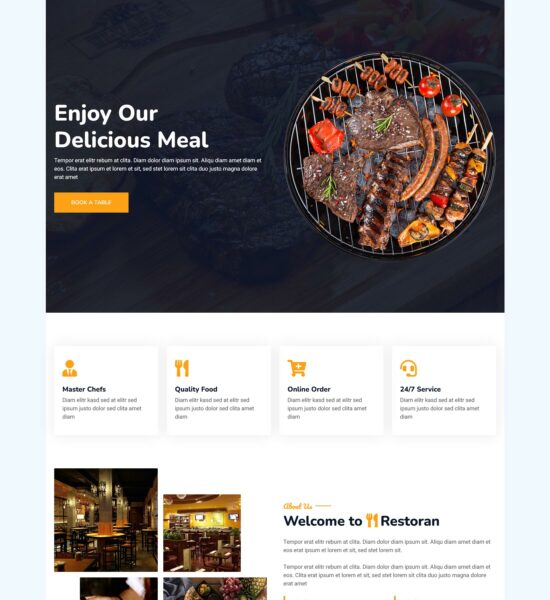 more info / download demo
Developer
Developer is a free Bootstrap theme designed to help developers promote their work. It can be used as a professional portal for your other online portfolios or websites (eg Linkedin, Blog, GitHub, etc.) in a modular way. The theme comes with all the source SCSS files included, so the style/color can be easily customized to your liking.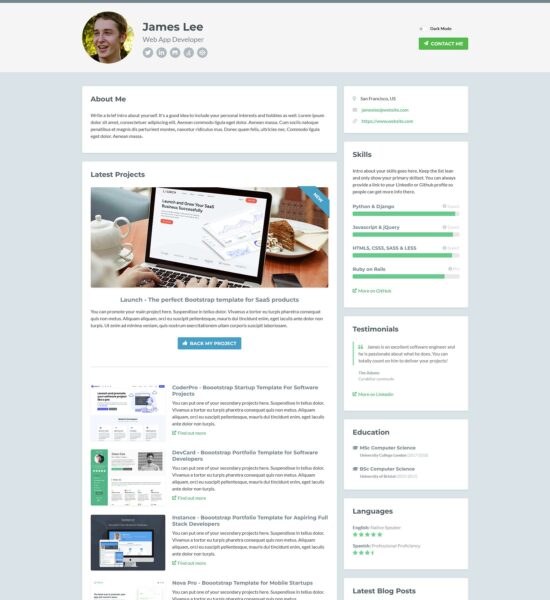 more info / download demo
ZenBlog
ZenBlog is a clean and lightweight Bootstrap blog template. It is a stylish, modern, clean and modern blog-magazine template suitable for personal blogs, magazine websites, newspapers or any specific category like fashion, travel, travel agency, beauty, health, lifestyle or any magazine site .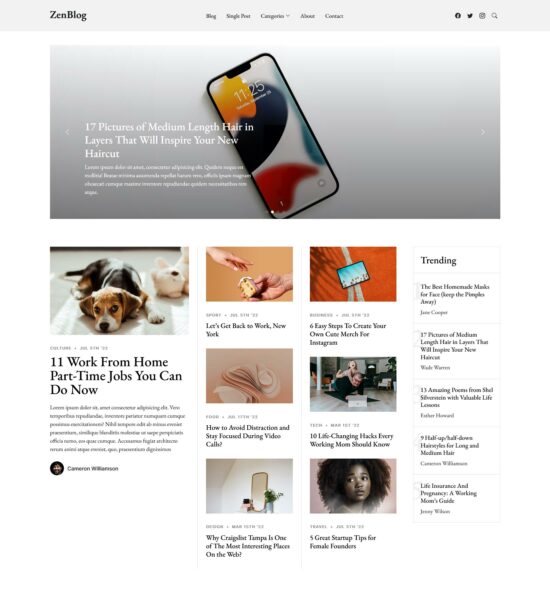 more info / download demo
Hostcloud
Hostcloud HTML5 template is a single product multi-variant page website template designed in Bootstrap v4 with an HTML5 CSS3. The HTML CSS code is well organized and named, making it very easy to customize and update. It is very easy to work with the design and modify it to adapt it to any need.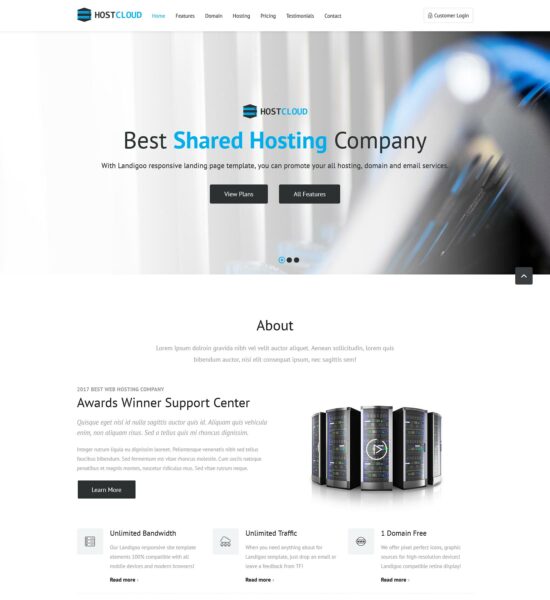 more info / download demo
DevCourse
DevCourse is a free course landing page template designed for developers. It's the perfect foundation for creating your own bespoke course marketing page. Based on Bootstrap 5 and SASS, you can easily change the color and rearrange the sections to suit your own needs. The design is responsive and works well on mobile devices.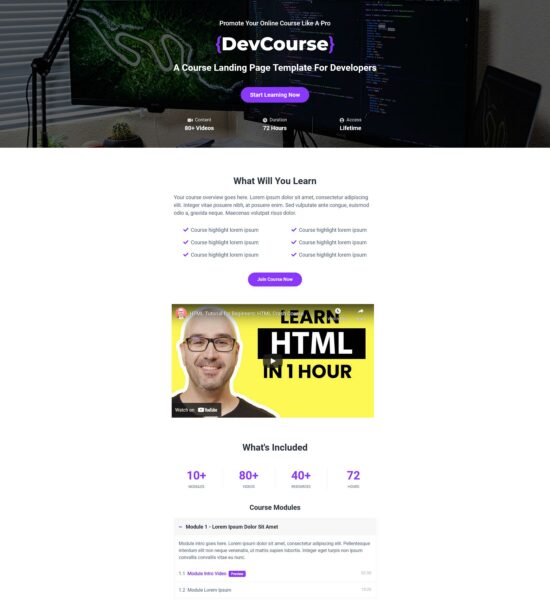 more info / download demo
Medilab
Medilab is a clean, free and responsive starter template perfect for hospitals, doctors, clinics, medical, healthcare and more. This is a fully dynamic, well structured, easy to use and beautiful HTML5 template. This free website template was specially developed and designed for medical purposes. This template includes special features like appointment forms, services, doctors, gallery articles, testimonials and much more.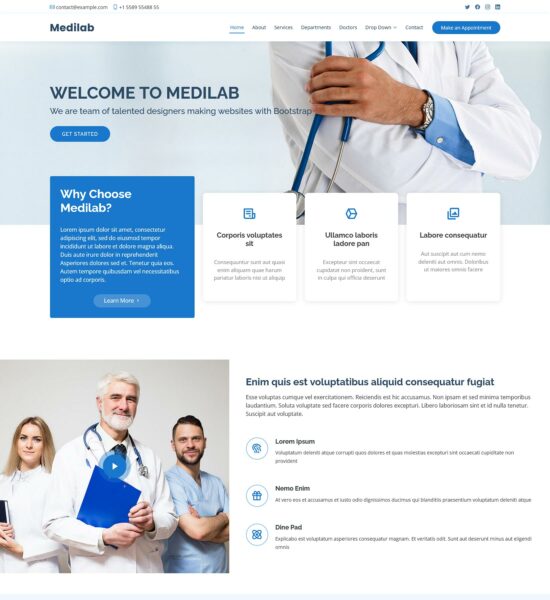 more info / download demo
DarkCV
DarkCV's free HTML CV resume template is fully responsive and looks stunning on any device, from a widescreen monitor to a mobile phone. It is an amazing solution for personal CV, resume and vCard websites. It comes with all the necessary sections for a complete resume, such as about, skills, education, experience, service, portfolio, testimonial, and contact. You can easily showcase your professional approach and skills in the best possible light.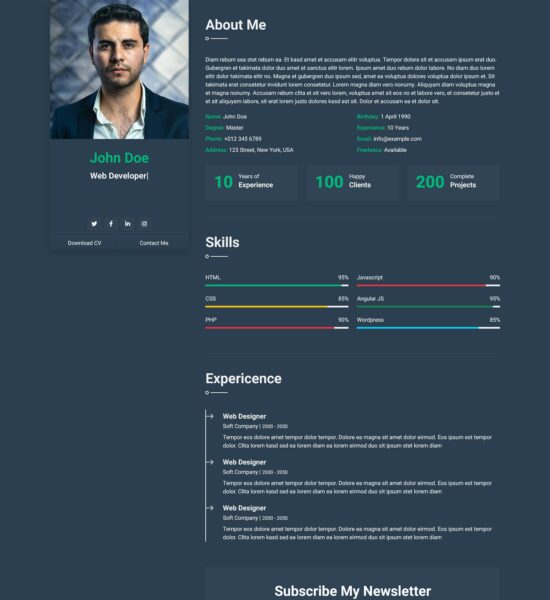 more info / download demo
Funday
Funday Free Restaurant HTML5 One page template designed for restaurant, cafe, food, in food industry and HTML5 template easy to customize for your purpose, beautiful on any responsive device be it a laptop screen, iPad, iPhone, Android Mobile or tablets. Restaurant built with modern technologies like HTML5, CSS3, jQuery, Bootstrap3.x, Font Awesome 4.x.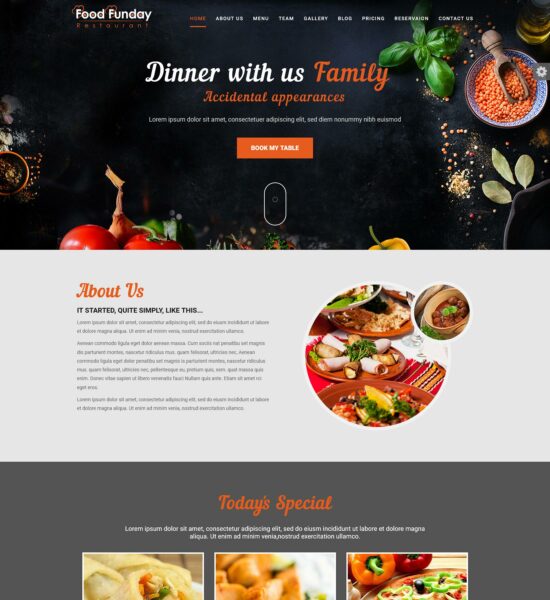 more info / download demo
Pillar
Pillar is a free Bootstrap 5 resume / CV template designed specifically for developers. The template comes with 6 color schemes and is quick and easy to change via the source SASS files. Built on top of Bootstrap 5, this template is included in our Premium Bootstrap Theme Instance. If you are a developer and need to develop your online presence, you should check out the Instance theme as it has all the winning ingredients to get you hired by your potential employers or clients.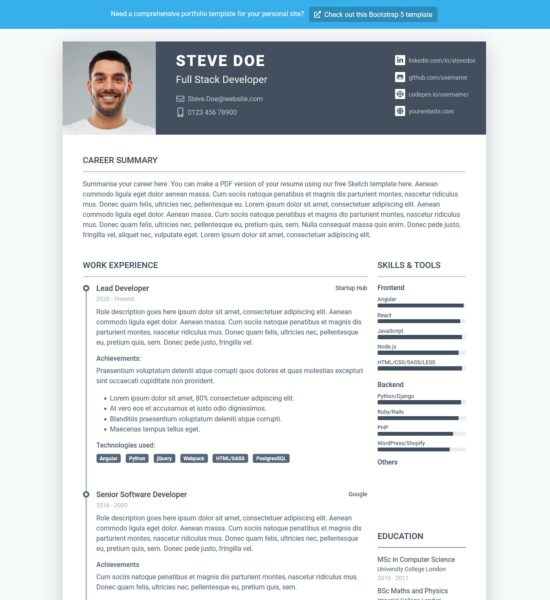 more info / download demo
Mentor
Mentor is a modern and creative education website template based on the Bootstrap framework. It is perfect for any type of education, online learning center, academia, and any education related activities. Mentor consists of well-organized components that are easy to customize. This free website template also includes different page styles, about, courses, trainers, and other pages. This free responsive template that has the highest quality of code, extended and easy to read code, fast and qualified support are the key features that MENTOR stands out with.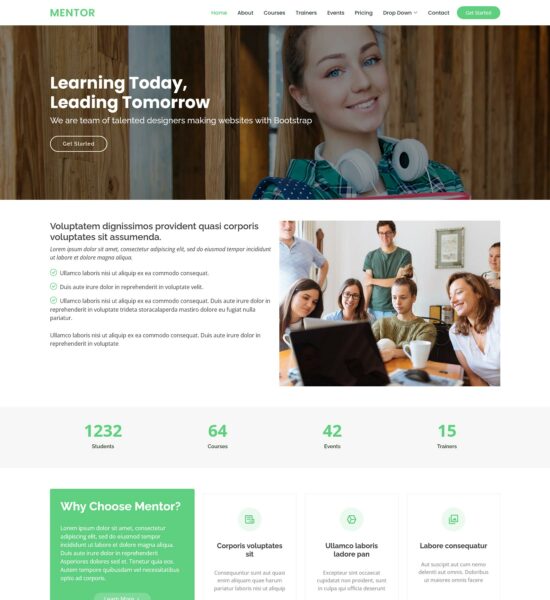 more info / download demo
DevDocs
DevDocs is a free, powerful, modern and fully responsive Bootstrap 5 documentation template specially designed for designers and software developers. It comes with a clean and easy to use interface. Users can easily navigate to a specific section and get a clear overview of the documents structure easily. The template is fully responsive and works seamlessly on desktop and mobile devices. You can easily create professional product documentation for your software.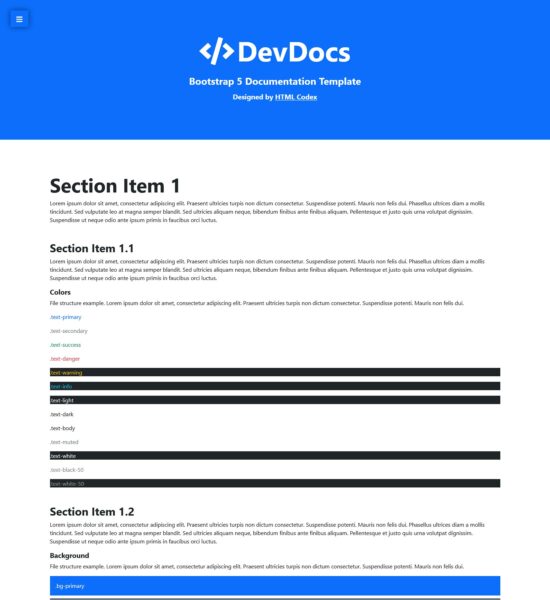 more info / download demo
DevResume
DevResume is a free Bootstrap 5 resume template built for software developers. The design is super professional and is the perfect foundation to build your online resume on. Built on top of Bootstrap 5, this template is included in our Bootstrap 5 DevCard premium vcard and portfolio theme. If you are a software developer and want to build your personal brand and attract better customers, DevCard theme can help you! Want to change the color or style of the resume? All the source SCSS files are included, so it's really easy to make your own customizations.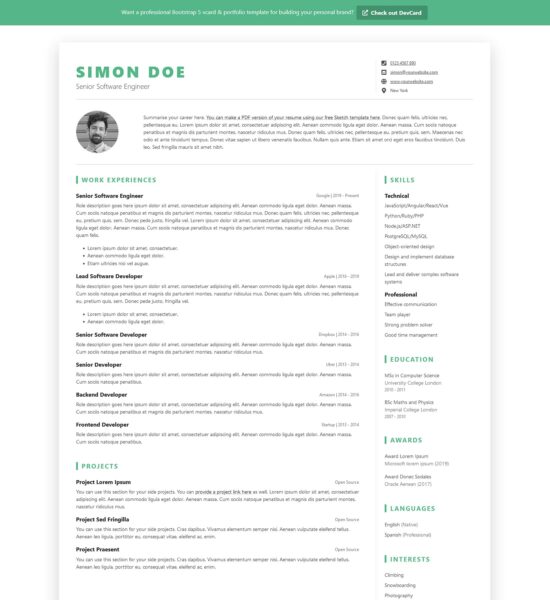 more info / download demo
Medicio
Medicio is a creative and modern medical website template. It is suitable for the medical and health industry, such as doctors, clinics, dentists, dental practice, dentist, dentistry, doctor, health, hospital and other medical and health service company. It comes with all the essential features to create an impressive medical website. Medicio is fully responsive and works on all screen sizes and devices such as mobile phones, tablets, laptops, etc. It is easy to customize and edit. All files are well structured, source code is clean and documented.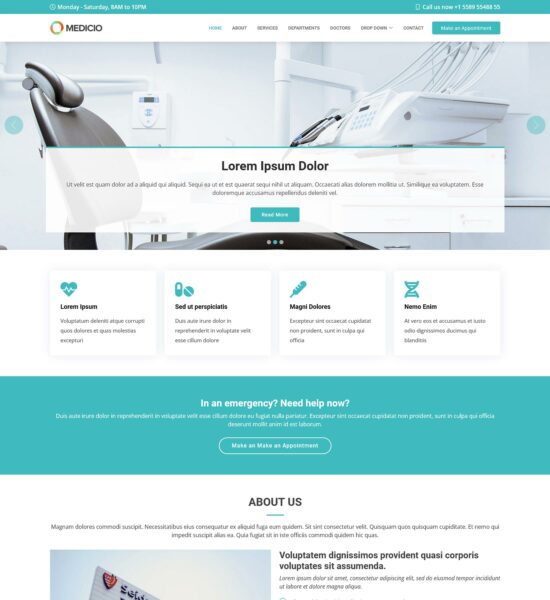 more info / download demo
Elearning
Elearning is a free education website template built with Bootstrap 5. It is a clean, modern and free eLearning HTML template with a beautiful design and unique and impressive features. This free bootstrap template is 100% responsive and compatible with all the latest browsers and devices. This template is designed to give you the best possible user experience. Its minimalist and refreshing design can easily impress anyone. It is designed for educational web portals like universities, online course websites, LMS, colleges, schools, and others.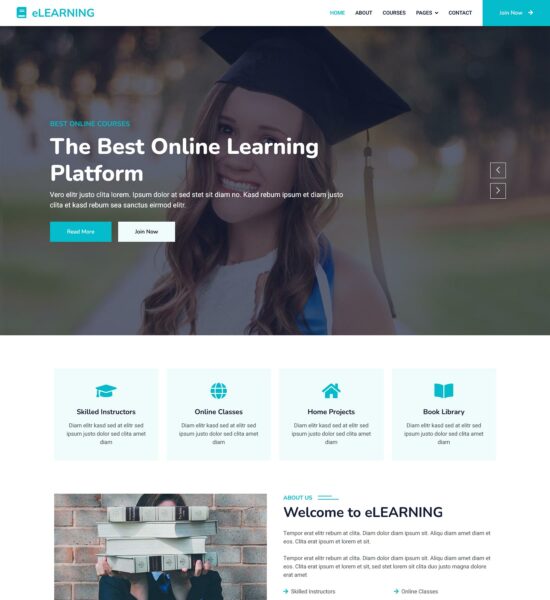 more info / download demo
NEWSROOM
NEWSROOM is a lightweight, easy to use and fully responsive free Bootstrap magazine template perfect for creating professional news websites, newspapers, news portals, news pages and magazines. If you are going to create a magazine website for your news portal, newspaper or news channel, you can easily use this free HTML template without having any coding knowledge.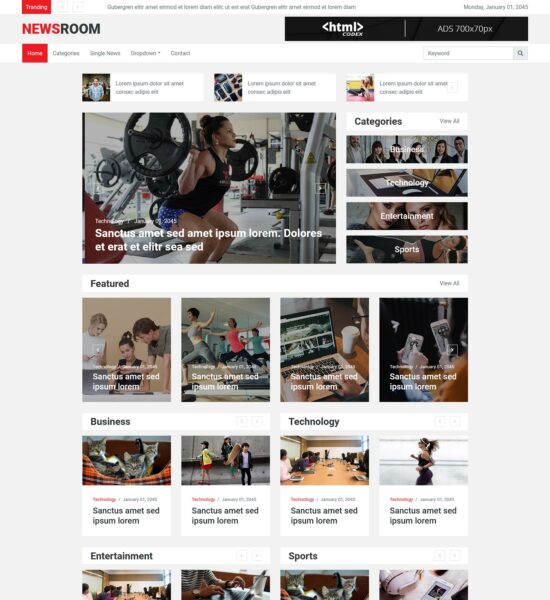 more info / download demo
MyResume
MyResume is a creative Bootstrap resume and portfolio template. It is best suited for digital professionals, designers, programmers, photographers, freelancers, and anyone else who wants to showcase their work online. MyResume is perfect for promoting your work or services in an easy and elegant way. MyResume is a fully customizable website template. You can easily edit each and every part of this website template according to your needs.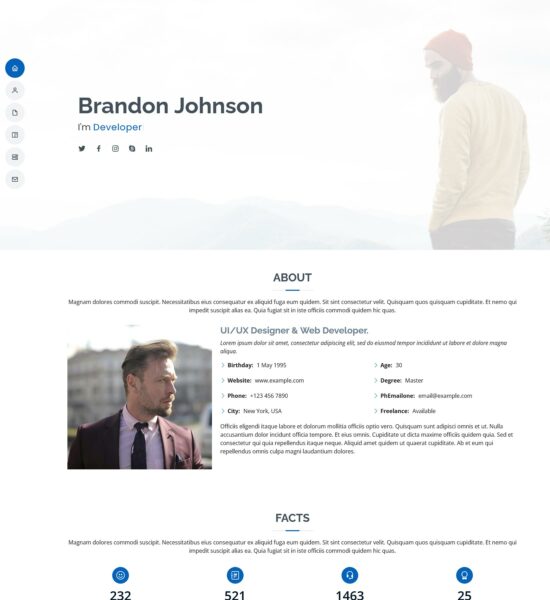 more info / download demo
Orbit
Orbit is a free Bootstrap resume/CV template designed for developers. Looking to impress your potential employer? Get this template and you can submit a resume online instead of a Word/PDF attachment. You can easily make different versions of your online resume to suit different jobs as well. The template comes with 6 color schemes. Source SCSS files are included, making it quick and easy to change the style and color scheme.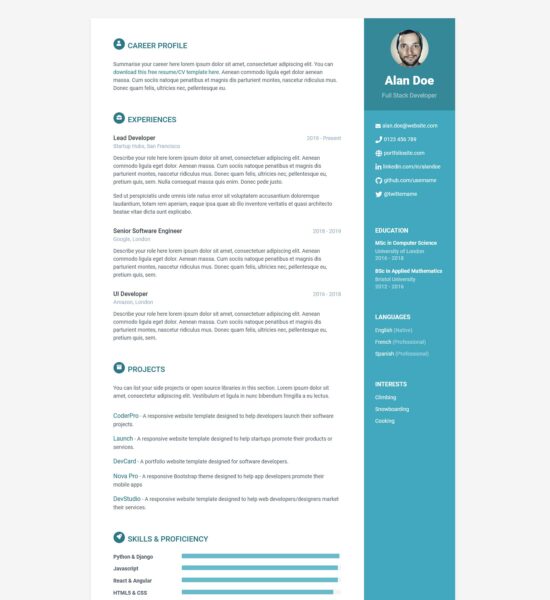 more info / download demo
Feane
Feane is a highly flexible free Bootstrap template for restaurant business. It comes with a black background in the hero header area that makes your images and content stand out with a clean, minimalist look. Feane is 100% responsive and looks great on all devices, be it a small smartphone screen or a large desktop screen. All the features and functions of this HTML5 template give it a sophisticated look.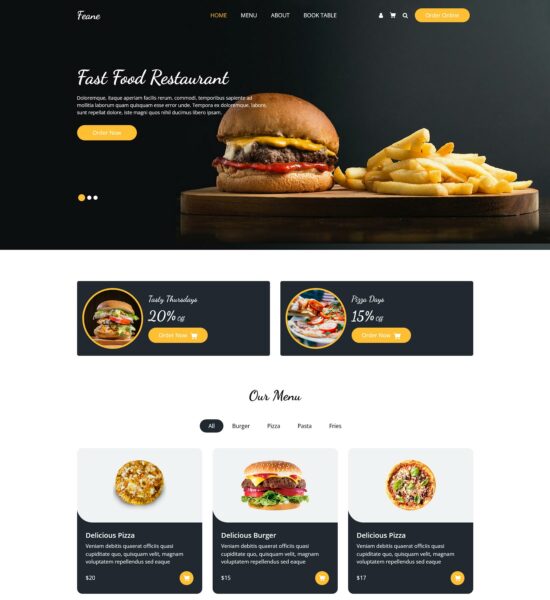 more info / download demo
Kelly
Kelly is a professional, clean, flexible and customizable portfolio, resume and bootstrap CV template. It's great for everyone to showcase their work online. She is quite smart, minimalistic and displays her information in style and yet remains professional. Built with clean and modern HTML5 + CSS3 code and is easy to customize. Kelly's template is perfect for creatives, designers, freelancers, artists, illustrators, photographers, or anyone who needs a clean and attractive way to share their work and services online. It is fully responsive and works perfectly on all devices and screen sizes.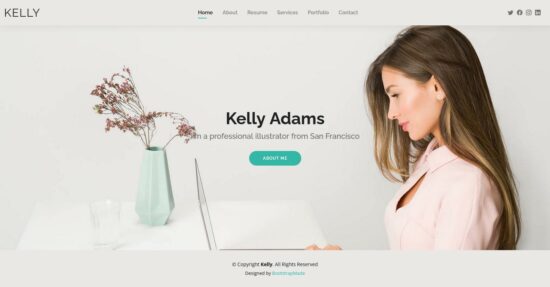 more info / download demo
DevBook
DevBook is a free Bootstrap 5 book/ebook landing page template made for developers and programmers. It's perfect for promoting or selling your book/ebook online as it contains all the essentials to convert your visitors into readers. You can easily use platforms like Gumroad to handle payment and delivery for your book with this landing page. When your site visitors land on your page, you need to make it very clear to them what your book is about and what you want them to do (a great call-to-action button). If you have book reviews and recommendations from readers and industry leaders, you can add the best ones right below the CTA button to display social proof and grab a visitor's immediate attention.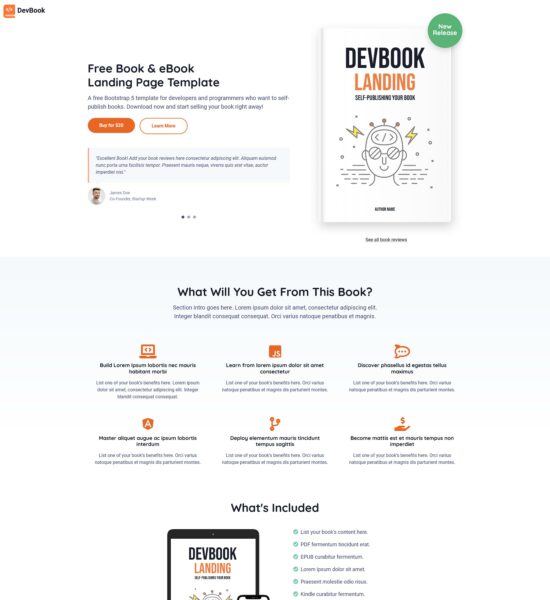 more info / download demo
HeroBiz
HeroBiz is a modern, clean and lightweight Bootstrap business website template. Best for corporate and agency websites such as software companies, digital agencies, consulting firms, financial advisors, accountants, investment firms, and more. You can easily find a nice design that fits your needs.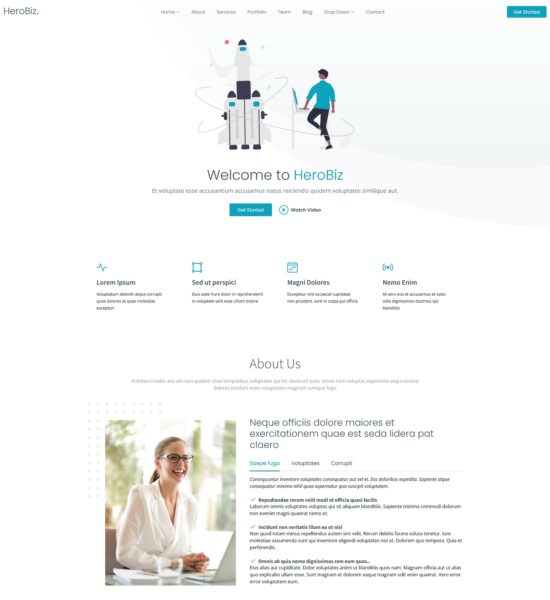 more info / download demo
Anime
Anime is a free Bootstrap template for gaming and anime websites. To have access to all fans of gaming and anime, nothing is more efficient than an online presence, and it gets extra wings when the Anime template adds to that. The web skin is 100% responsive, well optimized and compatible with all available devices and retina displays. Anime is a contemporary, bold and fully customizable page canvas that you can use with your dream project.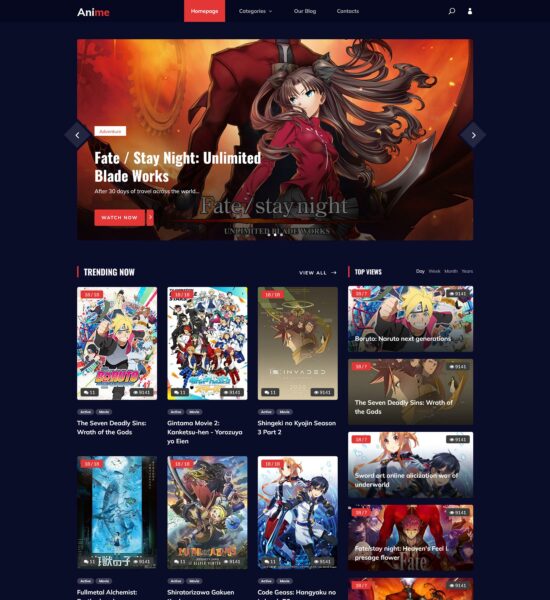 more info / download demo
Alif
Alif is a free premium bootstrap template for businesses and startups. This template is the perfect starting point for any business or startup. Alif comes in a modern and clean design that includes many beautiful icons! Alif allows you to create any kind of website without coding. Alif is a line of beautifully crafted Bootstrap templates for businesses and startups. A template that impresses your audience with its clean design!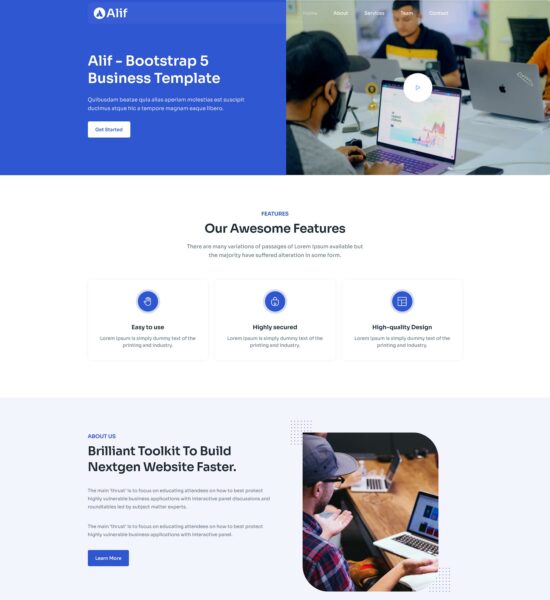 more info / download demo
Spot
Spot is a free Bootstrap 4 product landing page template made for developers. You can use this template to promote any digital or physical product. It has all the essential elements (eg product carousel, countdown timer) and sections (eg features/benefits section, reviews section) for an effective product landing page. It is designed to entice your prospects to make a purchase or take the desired action. It's particularly good for a single product promotion campaign, as you can easily customize the template to focus on a single product. If you have a range of products on sale, you can use the product landing page as a marketing portal and link to related products.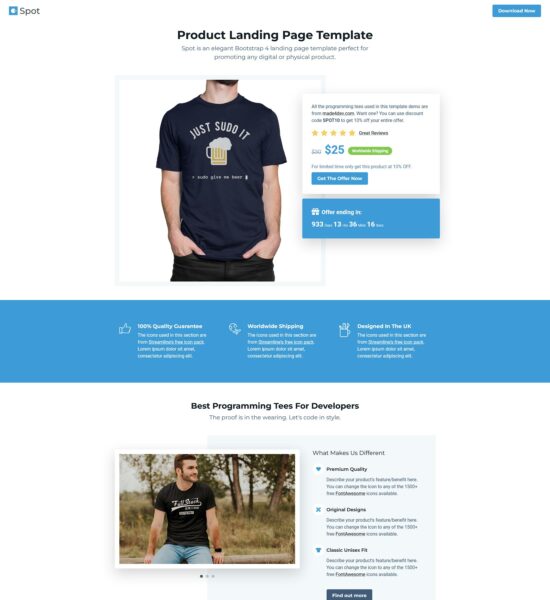 more info / download demo
Fruitkha
Fruitkha is a food related free Bootstrap 4 website template. This template is specifically designed for an eCommerce food business where you can sell fresh and organic fruits, but it can be used for other purposes as well. It has a clean, minimalist look and is very responsive thanks to its zero latency. Fruitkha is not a fully functional template, but it has the ability to be functionally improved.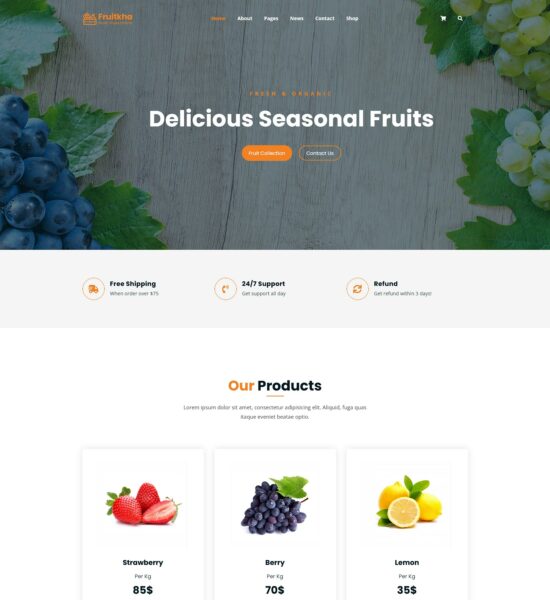 more info / download demo
Eduwell
Eduwell templates are 100% free for anyone to download. You can download, edit and use this Eduwell HTML CSS layout for your commercial or non-commercial education website site.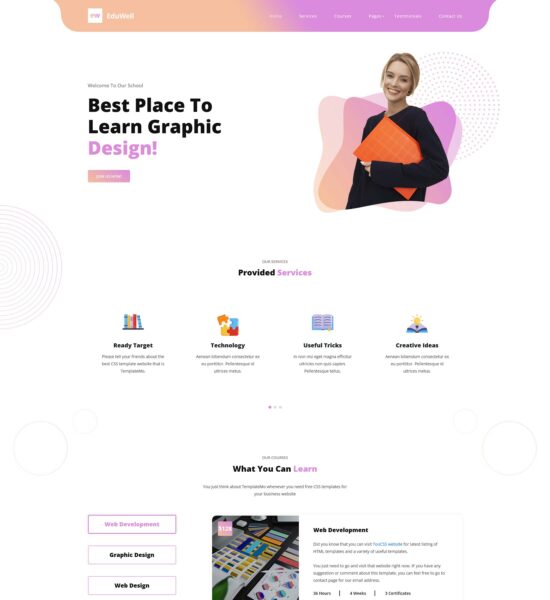 more info / download demo
Restaurantly
Restaurantly is a modern restaurant Bootstrap website template. It is elegantly designed in dark mode. Prefect for restaurants, bakeries, cafes, bars, caterers, food businesses, personal chef portfolio websites, and any other food related websites. It comes with all the essential features and sections to create an impressive website for your restaurant.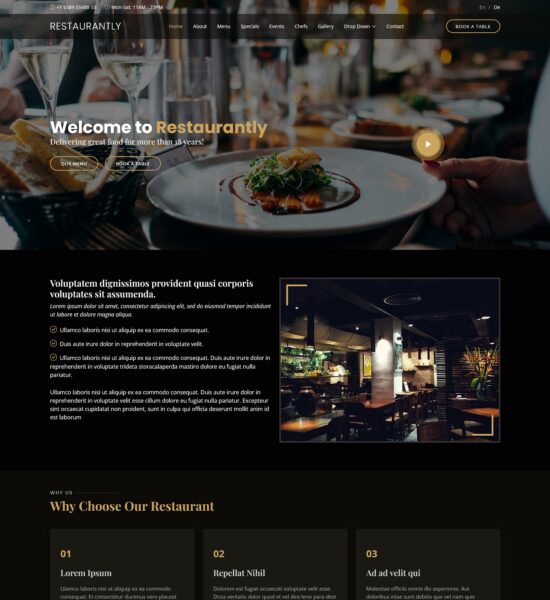 more info / download demo
CoderDocs
CoderDocs is a free Bootstrap 5 documentation template created for software developers. Writing good software documentation is hard, so let our template help you so you can focus on writing the best information for your users. We've included all the source SCSS files in the free download, making it super quick and easy to customize the color scheme or layout to suit your software project. This template comes with a modern home page where your users can get a clear overview of your documents structure so they can navigate to a specific section with ease. A prominent search box on the landing page can help users find what they're looking for without having to guess.
more info / download demo
Edu Meeting
Edu meeting is an awesome Bootstrap 5 template for educational websites. It has a minimalist and gorgeous design with a beautiful transparent background image. This design also has a video background, which can be seen in the header section of the hero. This dark template is 100% responsive, elegantly suitable for today's devices, and highly adjustable in any browser.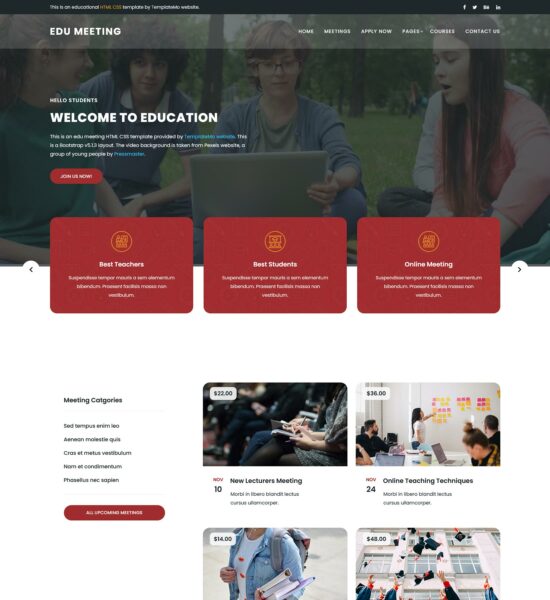 more info / download demo
Novena
Novena is a free HTML5 Bootstrap 4 template for responsive healthcare websites. This is great for any medical or doctor related website. It is fully responsive and optimized for most modern browsers. The design is clean, simple and attractive and can attract a lot of visitors. In addition, it comes with many fashionable options and accessories.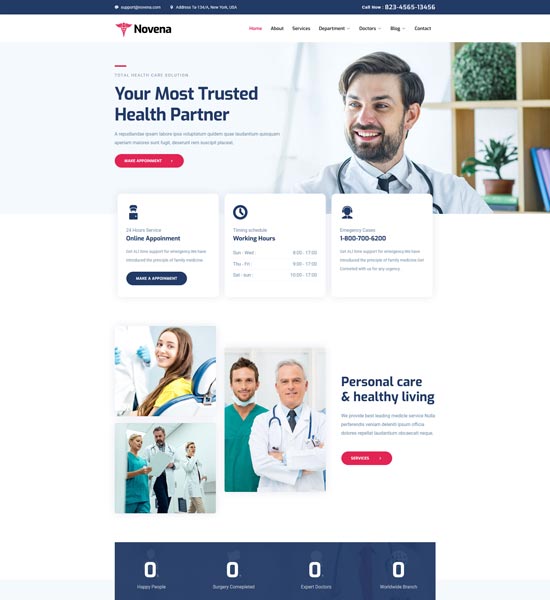 more info / download demo
DevConf
DevConf is a free Bootstrap 5 conference template perfect for creating marketing sites for conferences and tech events. This one page template contains all the essential sections and elements to effectively promote your conference or event. The design focuses on getting your site visitors to join your conference or event. Site visitors can grab essential information (eg, topic, date, location, and statistics) about the conference as soon as they land on the page. If you have professional conference photos from previous years, you can add them to your main slideshow to entice visitors to learn more about your event.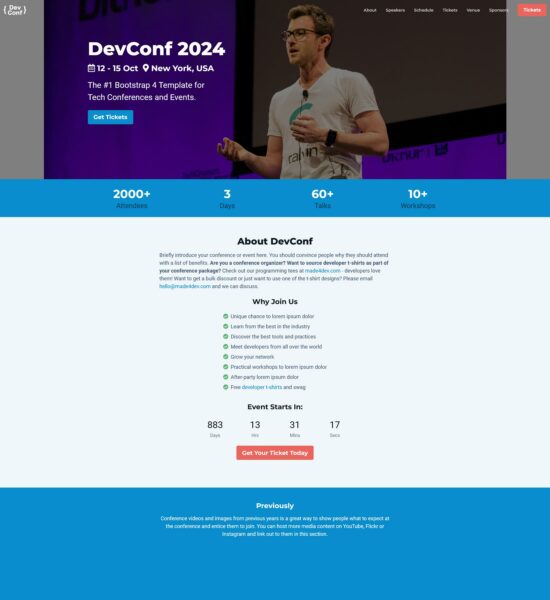 more info / download demo
Makan
Makan is a clean and accessible Bootstrap 5 template for real estate websites. Professionally designed HTML5 website template is ideal for real estate agencies, real estate agents, real estate companies, real estate firms, property listings, property sales, property agency, property development, real estate broker real estate, rental of houses, sale of apartments and any other business related to the real estate industry.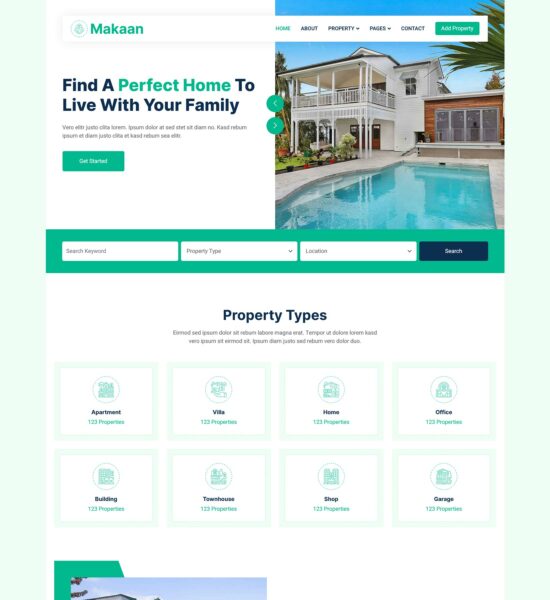 more info / download demo
EventGrids
EventGrids is a free and premium HTML website template for events, seminars and conferences. This template includes everything you need to create a high-quality design and perfect event website. EventGrids is based on the latest Bootstrap 5 and has all the essential sections and pages you need.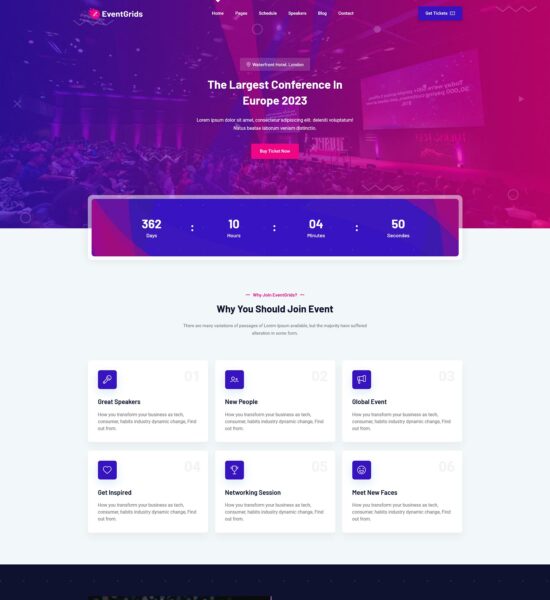 more info / download demo
DevBlog
DevBlog is a free Bootstrap blog template made for developers. It provides a great reading experience for desktop and mobile users. It comes with 8 handpicked color schemes, you can easily customize the color/style of the theme via the source SCSS files. Blogs are a great way for developers to share their ideas and promote their work or side projects. This template can help you set up a professional-looking blog in no time. No need to rely on a third party blogging platform; instead drive all the traffic to your own site. Want to get your blog online and start building your audience? Don't miss out on this template!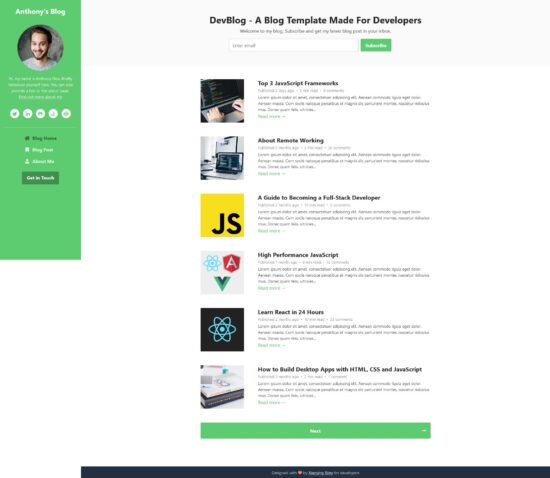 more info / download demo
CakeZone
CakeZone is a free HTML5 template for any commercial bakery, cream or coffee website. This customizable template is ideal for showcasing your menu, products, services, and taking your business to the next level. With a sticky and mobile-friendly navigation bar, this free HTML5 website template enhances the user experience. The Bootstrap 5 template has a flexible design to customize the website as needed.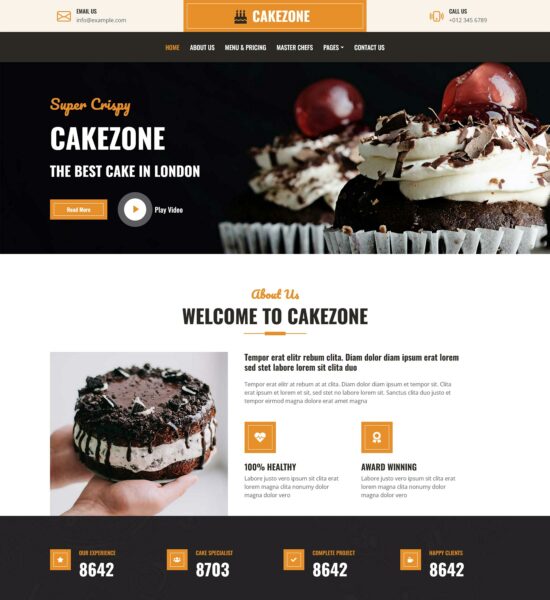 more info / download demo
HostGrids
HostGrids is a free and premium hosting website template based on HTML and Bootstrap 5. This template is specially designed for those who want to create an awesome custom hosting website to offer their hosting services. HostGrids comes with all the essential hosting site pages, elements, and features you need to launch a complete hosting platform site.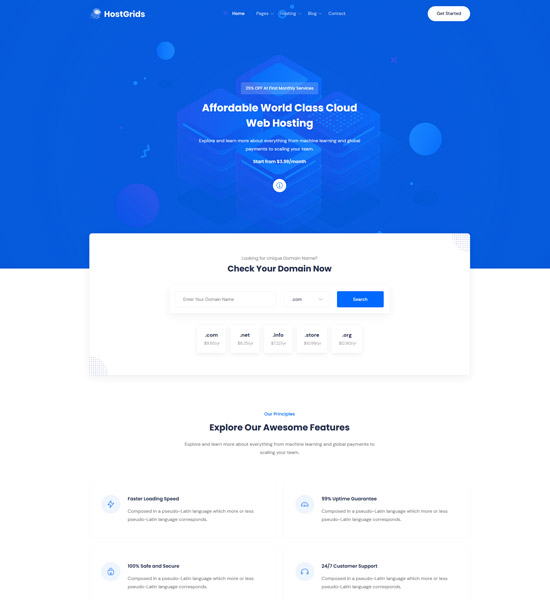 more info / download demo
Constra
Constra is a free HTML5 Bootstrap 4 business website template. It has a sophisticated design and a professional look to attract people. Constra is also fully responsive and compatible with all contemporary browsers. This multi-page template is very flexible and looks beautiful and flawless on any device regardless of different screen sizes. It is a perfect theme for websites like industries, agencies, and other related organizations.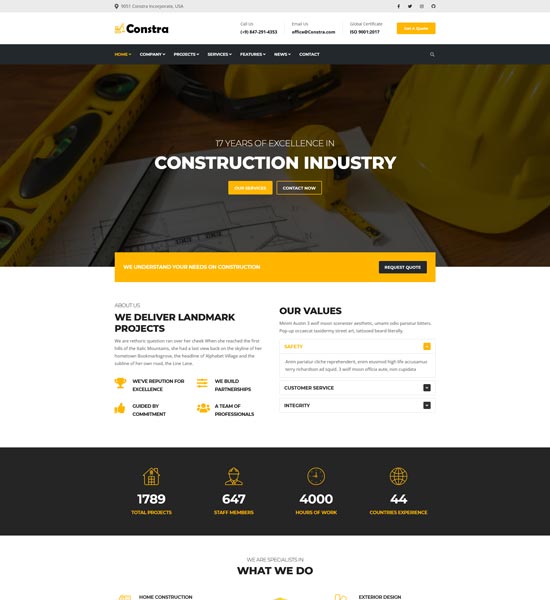 more info / download demo
Nova Landing Page
Nova is a free Bootstrap 5 landing page template built for app developers. With this template, you can get your application site online quickly. It's perfect for any app marketing campaign. The design focuses on encouraging visitors to download your app. Built with Bootstrap 5 and Sass, it's very easy to customize the template to suit your needs.
more info / download demo
Kross
Kross is a creative, stylish and modern personal portfolio website template with a beautiful appearance. It appears with amazing and impressive graphics. The minimal interface with the necessary sections will surely help the visitors to have a complete idea about your works. For beginners in mind, kross is very easy to use and built with a clean and valid international standard encoding structure. It is an easy-to-use template due to its responsive characteristics.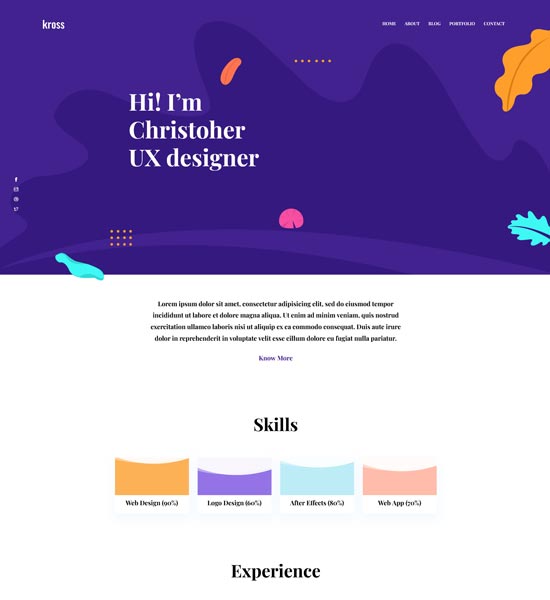 more info / download demo
Onix Digital
Onix Digital is a professional SEO and marketing HTML5 template based on Bootstrap 5. This free one-page CSS layout includes content carousels, pricing tables, video tabs, and contact section. There is a 4 column footer to link more pages. Blue and red colors are beautifully combined in a white page layout. Background images and graphics are designed as beautiful liquid shapes.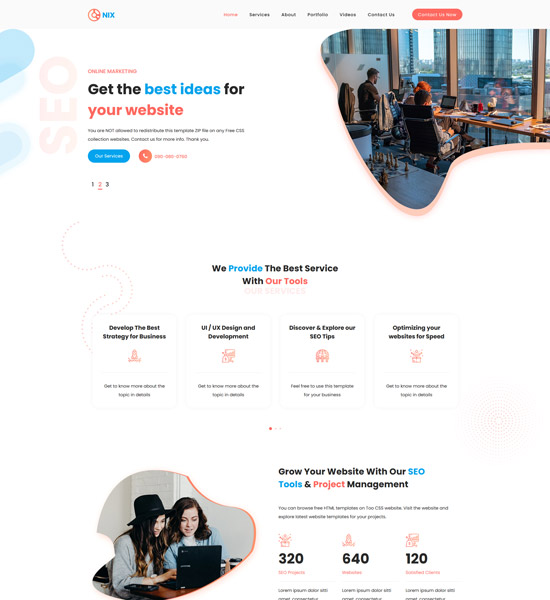 more info / download demo
PrettyDocs
PrettyDocs is a free Bootstrap 4 project documentation theme designed for developers and startups. It comes with 6 color schemes and has many useful components. You can use the template as is or integrate the front end design with your own online documentation system. Source SCSS files are included so you can easily customize the layout. Although the template is designed primarily for project documentation, you can also adapt it for other uses as you see fit.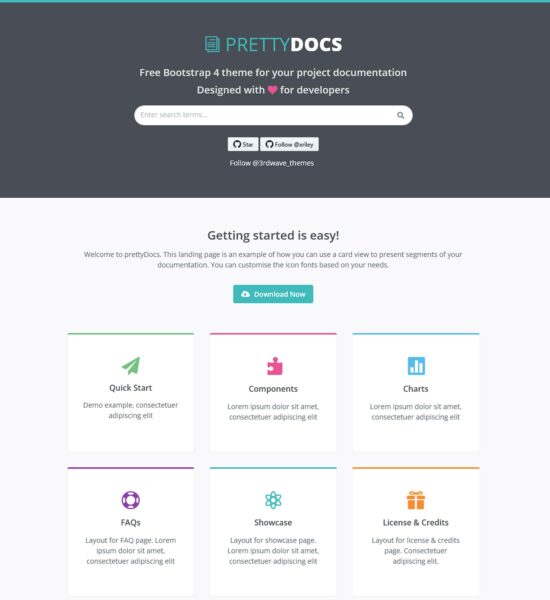 more info / download demo
Promodise
Promodise comes with an attractive, tempting and pleasant interface that will suit your business company or digital marketing agency. It features the single-page and multi-page website template with an impressive appearance. You have the flexibility to choose your desired home page from the three variations according to your needs and situation. In addition to the powerful home page variation, it features detailed About, Service, Blog, and Contact pages. In addition to these impressive features, the modern scrolling effect and animation enhance the visual appeal of your entire website.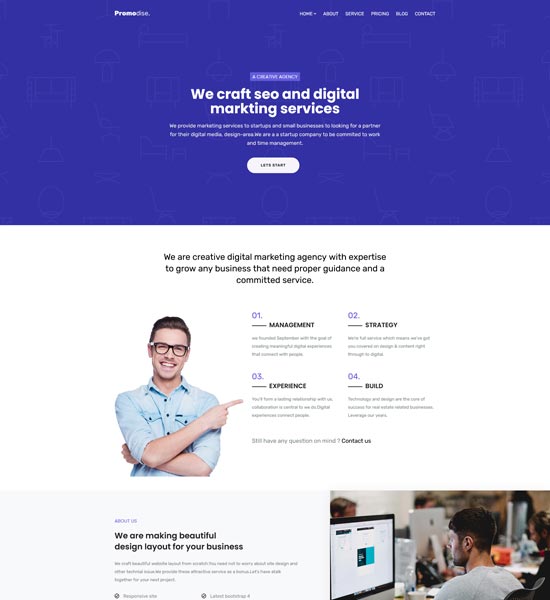 more info / download demo
Affiliates
Affiliates is a free Bootstrap template that Sal designed for affiliate marketers. This is the HTML version so you can adapt to any project you like. Built with Bootstrap 4, "Affiliates" has 4 pre-made templates: home page, post (left and right sidebar), category, about, contact.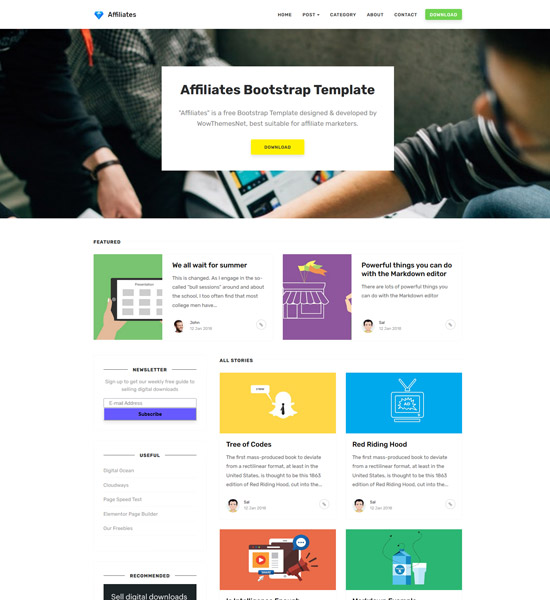 more info / download demo
Rappo
Rappo is set of landing and support pages aimed at helping companies promote new products and business launches.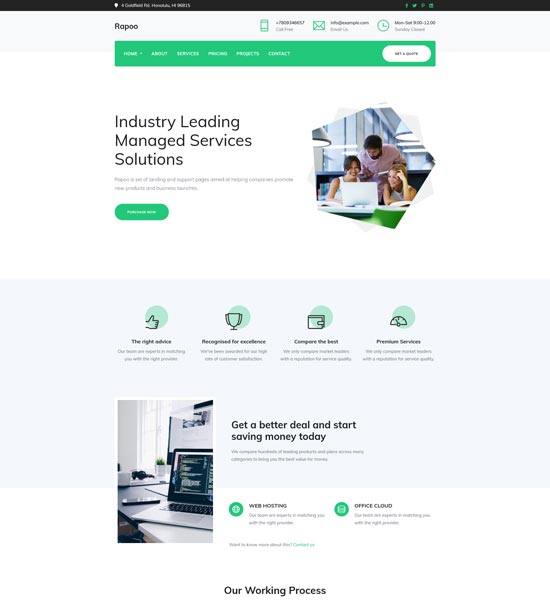 more info / download demo
Educenter
Educenter is an educational website template with opulent, contemporary, modern and trendy features for your majestic web presence with a simple user interface. It is a multi-page website template consisting of must-have features like home, about, courses, events, blogs, and contacts that will add enormous value to your website and take it to a new height. In addition to the aforementioned sections, Educenter also has a built-in page with detailed teacher information, notice, research, scholarships, course details, event details, and blog details that will add absolute value to your website.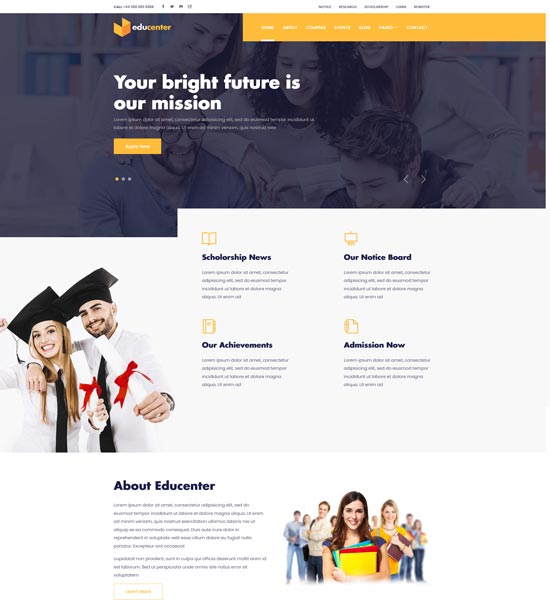 more info / download demo
ShopGrids
ShopGrids is a free and premium Bootstrap 5 ecommerce UI kit and HTML template. It comes with a clean and amazing design that can suit almost all types of e-commerce websites. It's an ultimate UI solution, UI kit, and template for next-generation eCommerce sites. Since this UI + template kit is specially designed for an eCommerce web solution, it offers all the essential pages and elements you need to build a complete and impressive eCommerce site.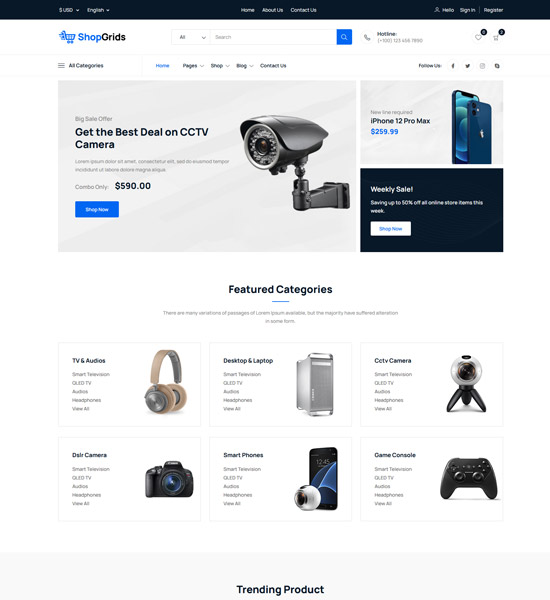 more info / download demo
Eventre
Whether you host a local or international business event or conference, having a dedicated website for it is a must. Without having a website, in this day of technology, you are losing a lot of money on the table. With an attractive website template like Eventre, you can add a new dimension to your business.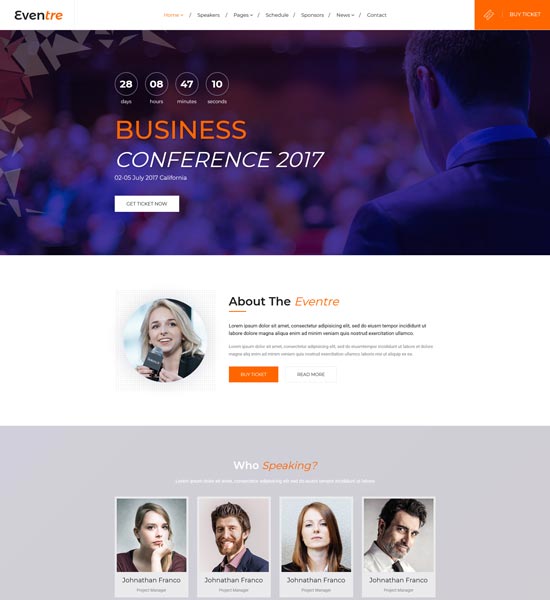 more info / download demo
Medics
If your goal is to create a professional medical website, look no further than Medic. The Medic can be implemented on any health clinic, dentist, private physician or surgeon website. Medic allows you to design a page that perfectly suits your dreams. The layout is clean and fresh, and the layout is completely responsive. Deploy multiple elements and sections, there are eight pre-made pages in total.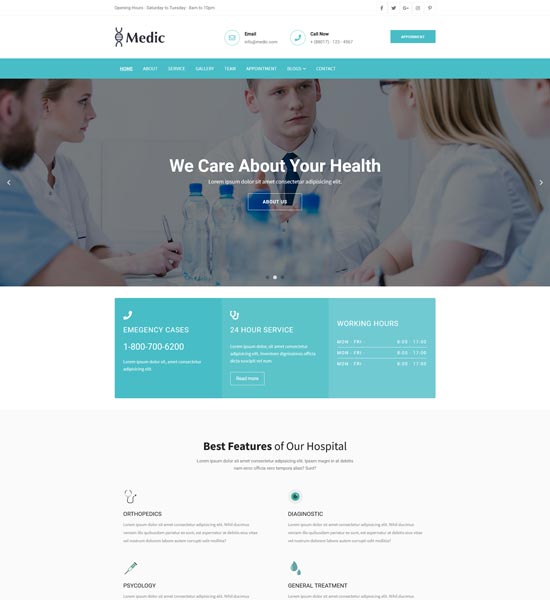 more info / download demo
Plot Listing
The Plot List Bootstrap 5 template includes content tabs and carousel item lists. This template has 4 different HTML pages that can be easily converted as dynamic CMS pages. The homepage comes with a full search function header, content tabs, item list, and 3-column footer. The category page has 5 content tabs. The listing page has several carousel listing categories. The contact page includes the maps area and the contact form.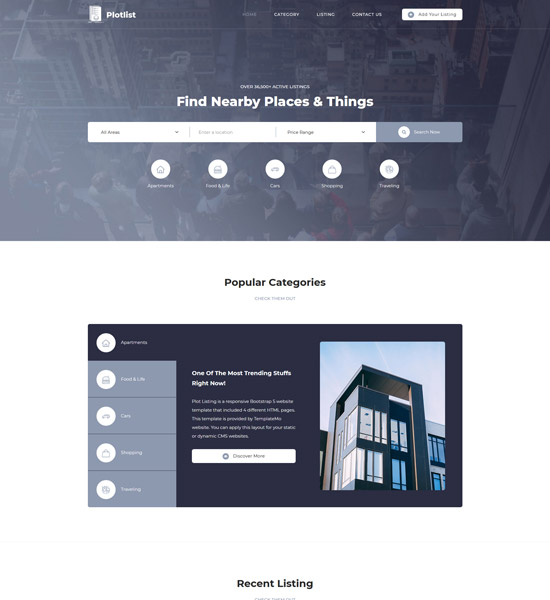 more info / download demo
Bitbank
Cryptocurrencies are gaining more and more popularity these days and every day people show a lot of interest in this topic. BitBank is our new HTML template created for the exchange and trade of cryptocurrencies, digital currencies, bitcoin mining websites, and financial and business consulting. With the growing public interest in Bitcoin and its growing popularity, the internet has begun to see a new era of websites built around these cryptocurrencies.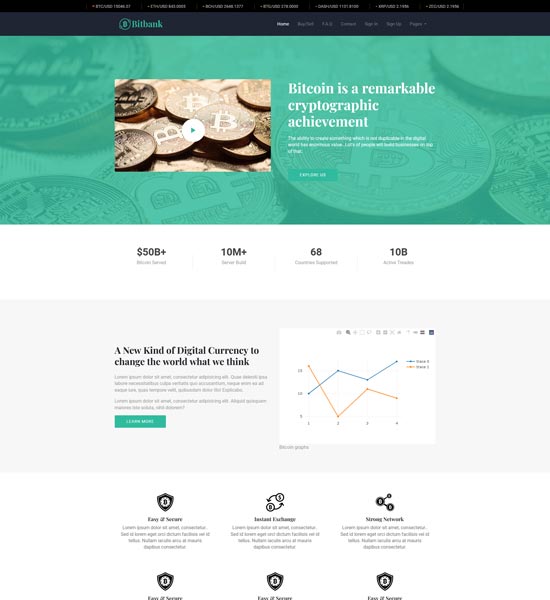 more info / download demo
Agencio
Agencio is a free and premium responsive business web template to take your next project to the extreme. This template is built with the latest version of bootstrap 5.0 for agency, startup, business, and digital agency websites. To capture the customer's attention, Agencio offers a relaxing, modern and high-quality design. Once you combine your creativity with this template, you will get an outstanding result for your next business project.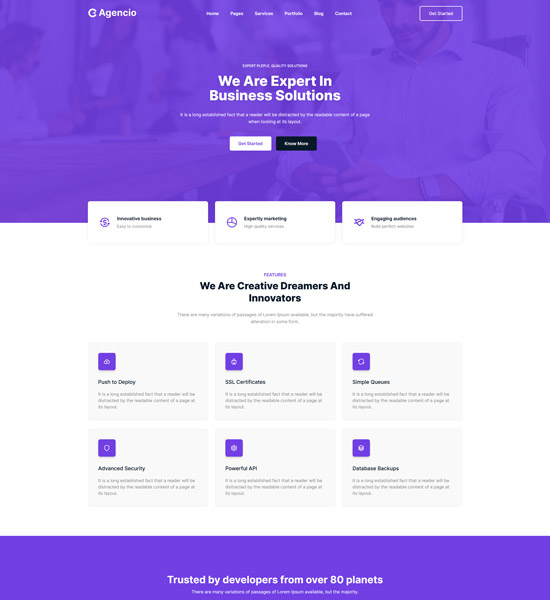 more info / download demo
Megakit
Megakit is a well-designed, versatile, and unique one-page Parallax HTML5 website template ready to hit the big leagues. It is a multipurpose free HTML template that exceeds all expectations. Its wonderful features can be used to enhance the websites of corporate companies, digital agencies, and creative professionals. The design is very powerful, intuitive and easy to use. While using Megakit, in no time even a novice user can become an expert.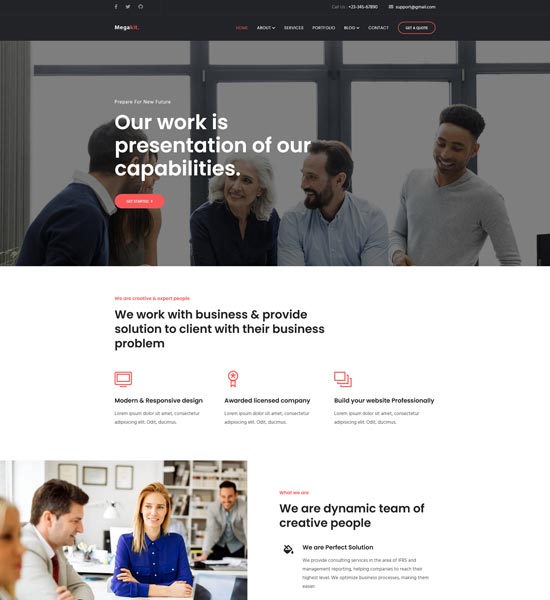 more info / download demo
Food Code
Food Code is a clean and modern HTML theme for Cafe & Restaurant and any food related business website. Built with Bootstrap 3 framework. Food Code supports responsive layout so it looks great on all devices with a clean and well organized code structure. Easy to use for your needs.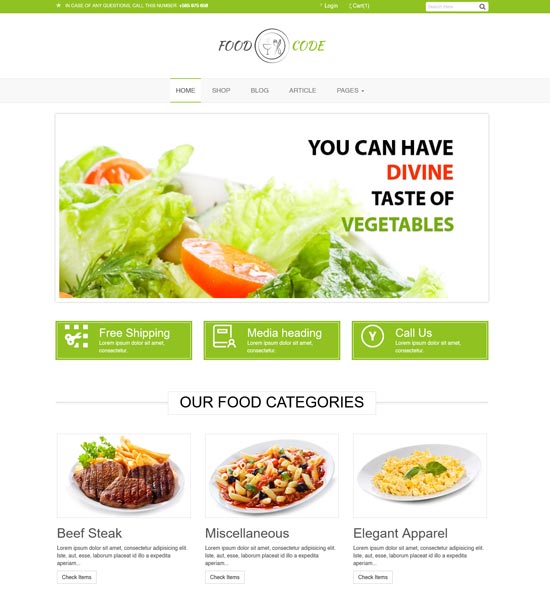 more info / download demo
Seo Dream
SEO Dream is a Bootstrap 5 based digital marketing HTML CSS template. This is a one page HTML5 layout with animated page elements and beautiful vector graphic images. The turquoise and blue color gradients are refreshing, active, and cool in this theme design. Feel free to send us a comment or suggestion if you like this template.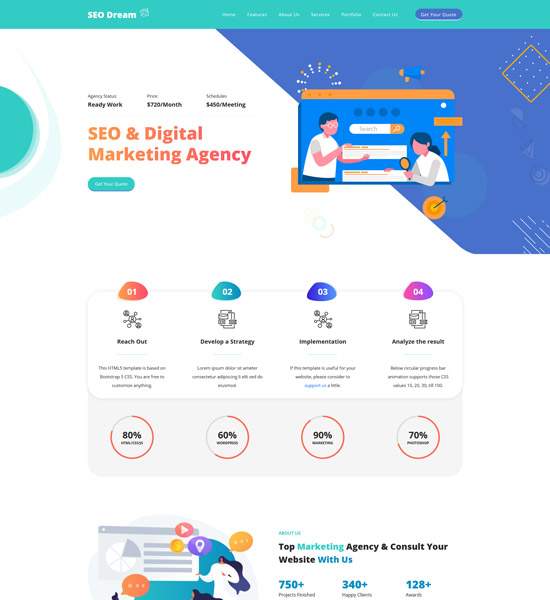 more info / download demo
Aviato
Aviato is the latest Bootstrap 3-based ecommerce user interface solution. Along with the design of all the default components of the popular framework, it introduces many new and flexible elements that you can use throughout the website. In total 25+ components. In addition to the fully designed store front (home page, catalog, categories), Aviato includes user account, cart, checkout pages, etc. to ensure that your online store provides a smooth and engaging user experience.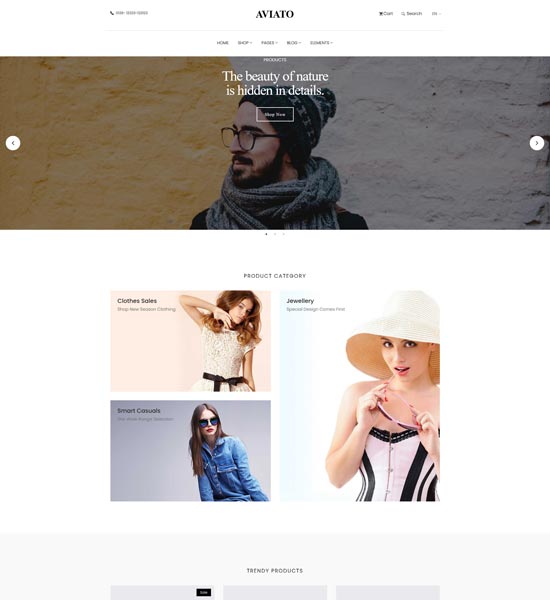 more info / download demo
Xpeedo
Xpeedo is a free and premium high quality landing page template based on Bootstrap 5 that comes with 4 unique home page variations. It is specially designed for: mobile app landing websites, SaaS, startups and agencies. This template can be used for almost all types of websites as it comes with all the essential sections and user interface elements that your website needs.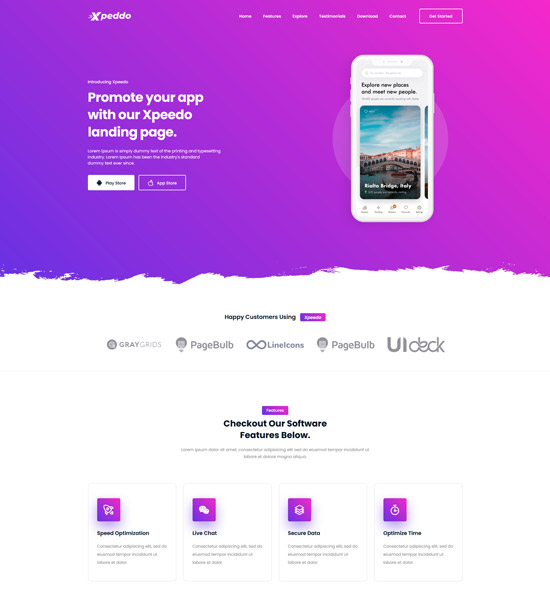 more info / download demo
Fiction
As Elliott Abrams puts it, "First impressions matter. Experts say we evaluate new people sometime between 30 seconds and two minutes." As true as it may be for people, it may be more true for your digital presence. Getting that first impression splendid isn't easy. A cluttered, outdated look for a business that flaunts its postmodern undertones is perhaps the worst thing that can happen to an online business. So how do you ensure that anyone who posts eyes on your website get absorbed immediately? Check out the latest creation from Themefisher: Fiction, a template based on the powerful Bootstrap 3 that is JUST SUITABLE for your agency website.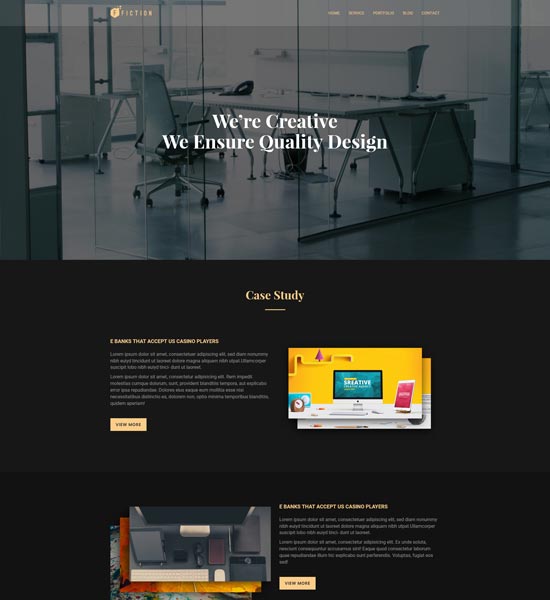 more info / download demo
Vex
To provide a quick overview of your product to customers, a landing page is the most important thing to do successfully. Vex Bootstrap 4's Single Product Landing Page Template can help you convert your reader into customers with minimal effort. Most business owners like to have well-designed landing pages to describe their products. Vex Bootstrap 4 landing page template is such a well designed landing page. That helps you create a meticulously designed landing page that looks nice on your website.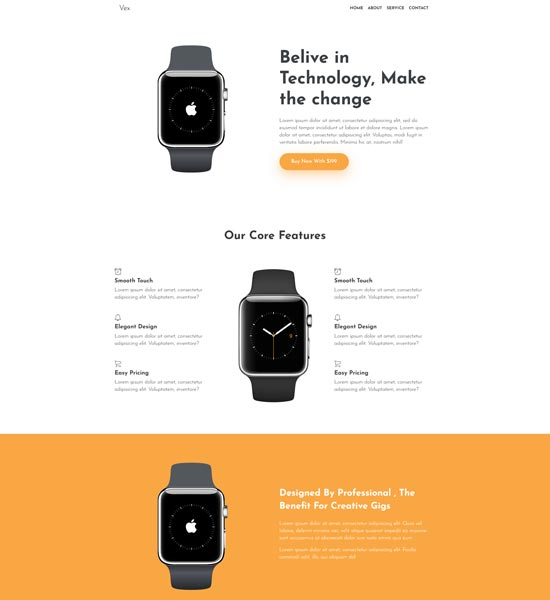 more info / download demo
Space Dynamic
Space Dynamic is a digital marketing HTML5 template based on Bootstrap 5 beta 2. This layout uses animated CSS for page element transitions. Blue color and pink red gradient color are used in this design, which is suitable for website optimization or SEO related websites.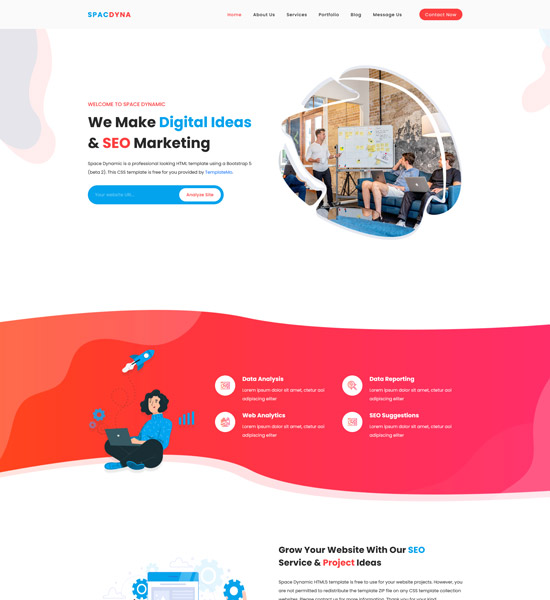 more info / download demo
Bingo
BINGO is a powerful Bootstrap business template from the Themefisher team. It is the product of a long and persistent attempt at perfection and elegance and is a creation of the entire team. By using this theme, you will be able to create your startup website / business website and more. Easy and effortless website or page setup is the foundation of this template. The versatile Bingo Bootstrap business template is perfect for any business segment you dedicate to. Whether it's one page or multiple pages, the template helps deliver the best and most beautiful designed experience.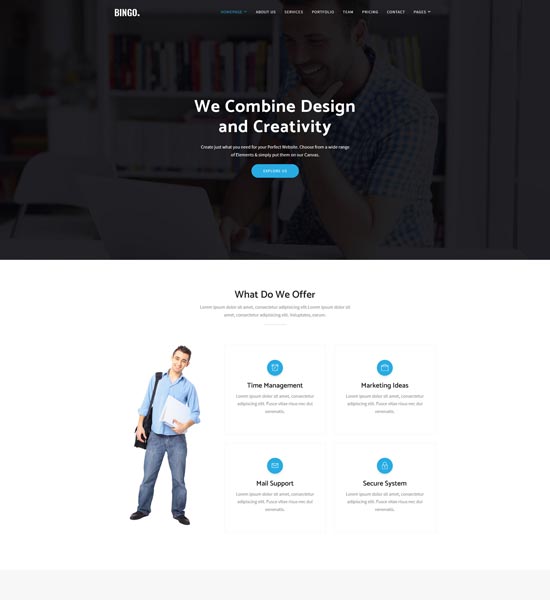 more info / download demo