Xpeedo
Xpeedo is a free and premium high quality landing page template based on Bootstrap 5 that comes with 4 unique home page variations. It is specially designed for: mobile app landing websites, SaaS, startups and agencies. This template can be used for almost all types of websites as it comes with all the essential sections and user interface elements that your website needs.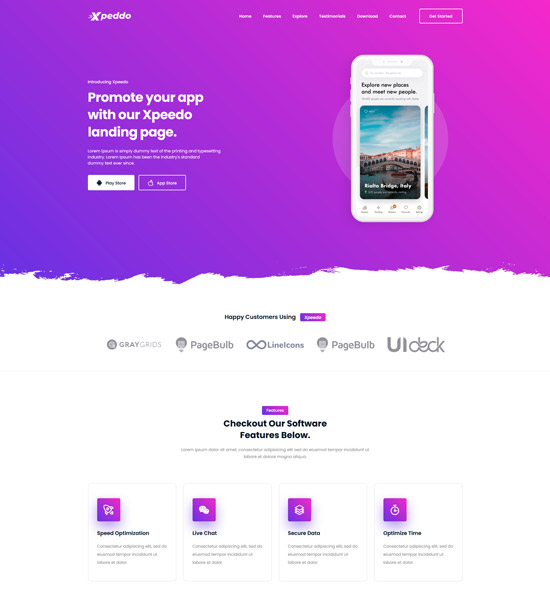 more info / download demo
Fiction
As Elliott Abrams puts it, "First impressions matter. Experts say we evaluate new people sometime between 30 seconds and two minutes." As true as it may be for people, it may be more true for your digital presence. Getting that first impression splendid isn't easy. A cluttered, outdated look for a business that flaunts its postmodern undertones is perhaps the worst thing that can happen to an online business. So how do you ensure that anyone who posts eyes on your website get absorbed immediately? Check out the latest creation from Themefisher: Fiction, a template based on the powerful Bootstrap 3 that is JUST SUITABLE for your agency website.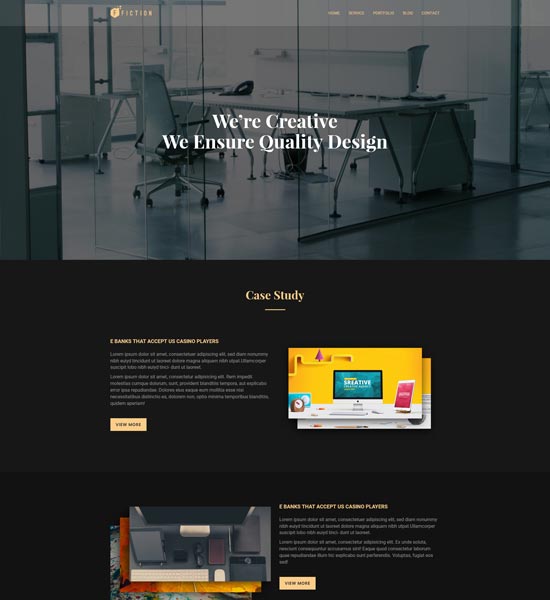 more info / download demo
Gemdev Product Template
Gemdev is an HTML Bootstrap template well suited for startup products, applications, and websites. It has useful components to create a great online presentation for your project. Gemdev has a clean light style with navy blue backgrounds and sky blue buttons. The lively wave of the header has an eye-catching effect, and along with the overall modern feel, it will convey your message in a memorable way.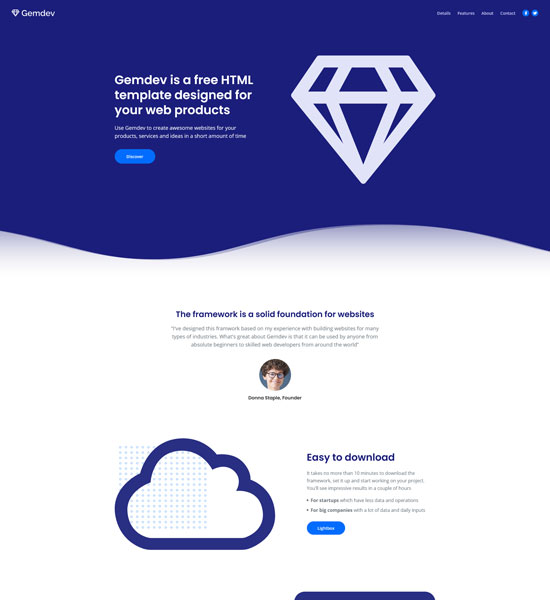 more info / download demo
Vex
To provide a quick overview of your product to customers, a landing page is the most important thing to do successfully. Vex Bootstrap 4's Single Product Landing Page Template can help you convert your reader into customers with minimal effort. Most business owners like to have well-designed landing pages to describe their products. Vex Bootstrap 4 landing page template is such a well designed landing page. That helps you create a meticulously designed landing page that looks nice on your website.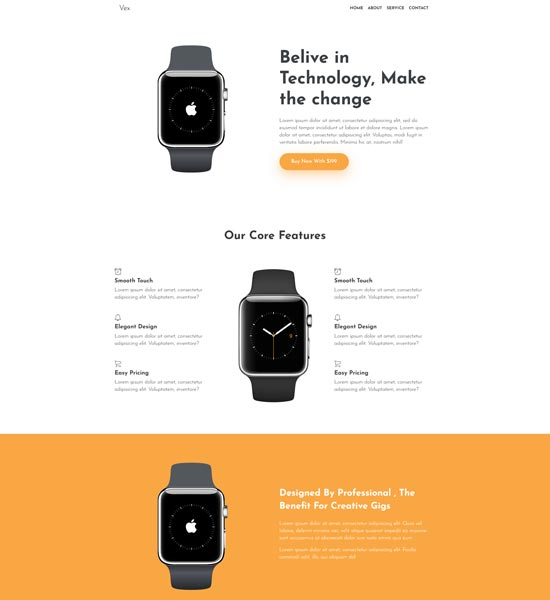 more info / download demo
Space Dynamic
Space Dynamic is a digital marketing HTML5 template based on Bootstrap 5 beta 2. This layout uses animated CSS for page element transitions. Blue color and pink red gradient color are used in this design, which is suitable for website optimization or SEO related websites.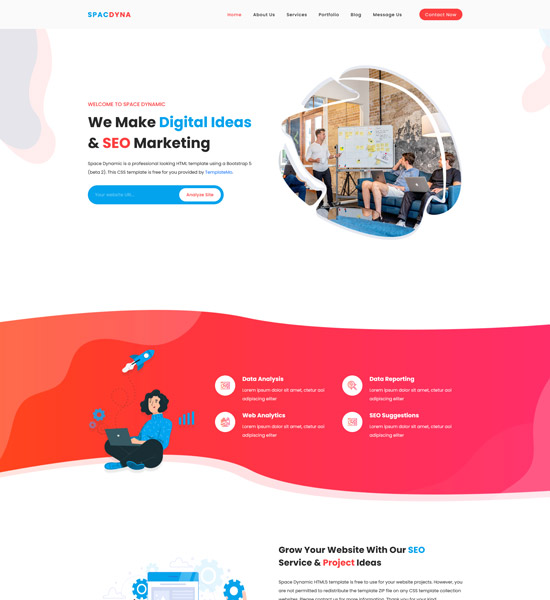 more info / download demo
Bingo
BINGO is a powerful Bootstrap business template from the Themefisher team. It is the product of a long and persistent attempt at perfection and elegance and is a creation of the entire team. By using this theme, you will be able to create your startup website / business website and more. Easy and effortless website or page setup is the foundation of this template. The versatile Bingo Bootstrap business template is perfect for any business segment you dedicate to. Whether it's one page or multiple pages, the template helps deliver the best and most beautiful designed experience.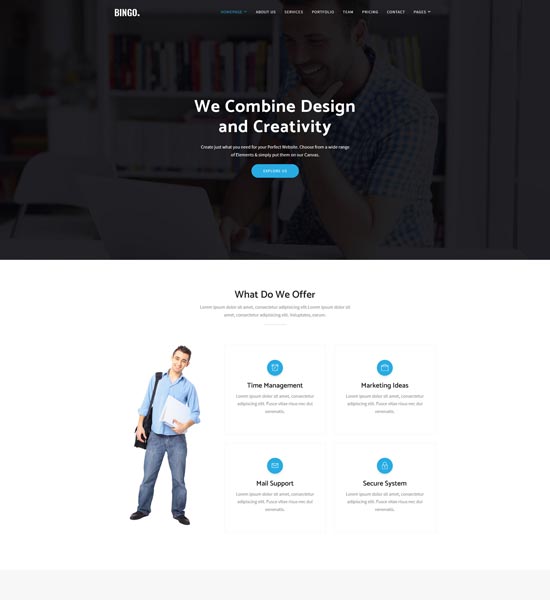 more info / download demo
Softy
Softy Pinko is a Bootstrap 4.0 theme designed for your digital marketing business or website. It has a beautiful purple pink gradient background header. Standard section elements are included. Pricing tables are provided for your customers. A simple HTML contact form is included. Bootstrap v4.3.1 is used for this CSS layout.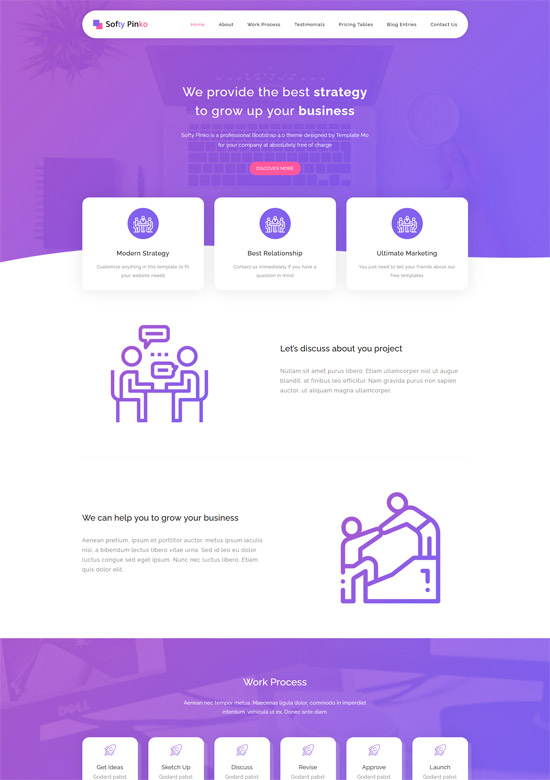 more info / download demo
Phantom
Phantom is an exciting professional HTML5 CV template. The squad is clean, charming, mind-blowing. It is exclusively designed to convince employers in an impressive way. Bootstrap's resume / cv template is the best for showcasing your professional, educational details, and those that keep you one step ahead of the competition.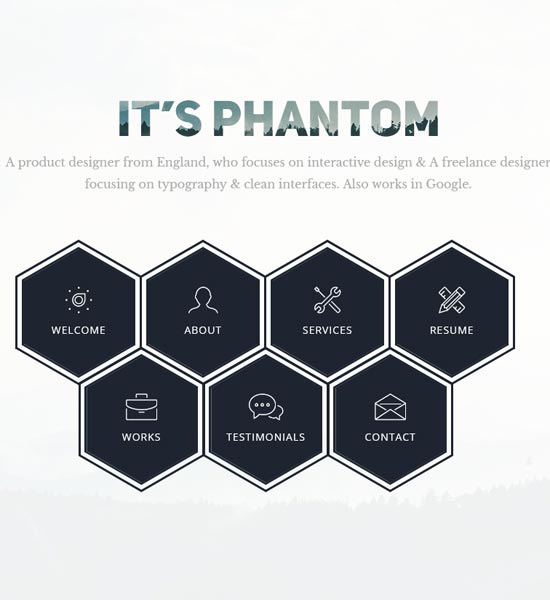 more info / download demo
BizNews
BizNews is a free news portal website template built on bootstrap framework. It is fully customizable and customizable. It comes with 4 built, ready-to-use many useful design elements. With these designed pages and elements, you can easily create a powerful newspaper, news portal, or online magazine website without additional coding skills.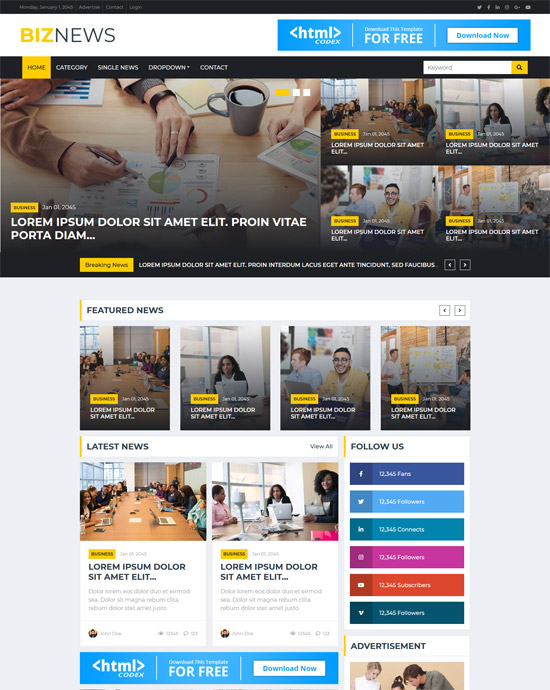 more info / download demo
Themelight
Themelight is an incredibly fast and responsive one page business website template, packed with a fantastic interface and great professional features to run corporate business smoothly. The design of this theme is amazing, it can impress the visitors at the first impression. Themelight is responsive, designed following the mobile first approach so that the theme can easily fit both within the wide variety of large screen monitors and small mobile devices.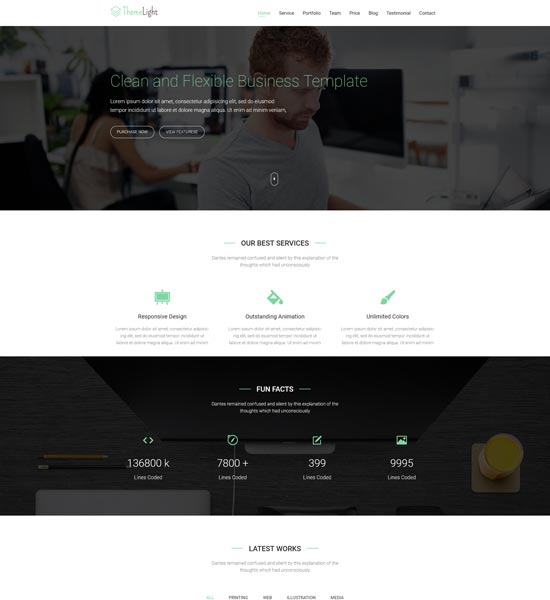 more info / download demo
Purple
Purple is a bootstrap template based on Bootstrap 5 Beta 1. This layout includes 6 different HTML pages. The homepage has a simple banner slider and a beautiful animated scroll effect for the grid items. The pricing page has different pricing tables. Vector graphics are used very well in this purple business template. The work page has gallery-style grid elements.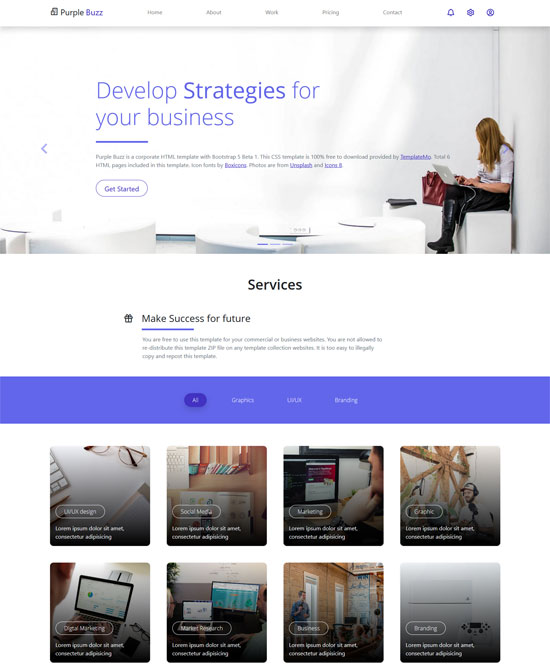 more info / download demo
Airspace
Airspace is a clean, unique, and free bootstrap website template that is another amazing contribution to the Thermefisher community. The beautiful template is built with refined and corporate commercial elements and saturated with rich typography, it allows to convey a perfect message on the first visit in accordance with the motto of the niche.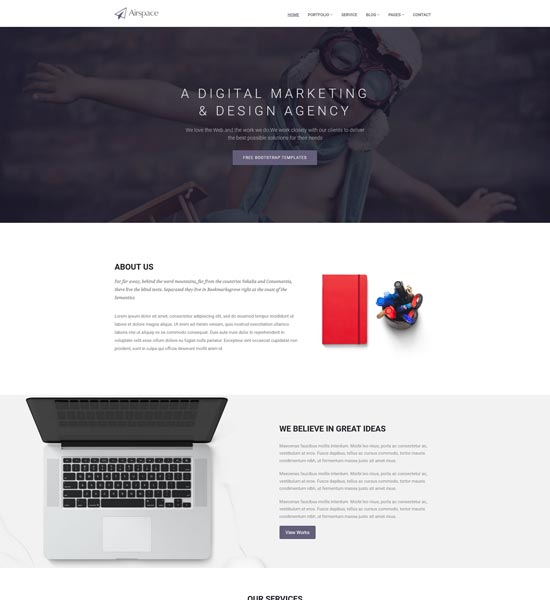 more info / download demo
Bold
Bold is a multipurpose business template specially designed for agency, corporate, consulting, business and similar websites. This business website template is built with Bootstrap 5.0 which is trending right now. Bold comes with a clean, high-quality, modern design with all the business pages you need to create your next business website. This starter template offers 3 unique home page variations, 100+ user interface elements, and 17 pages to design a perfect business. corporate or agency site.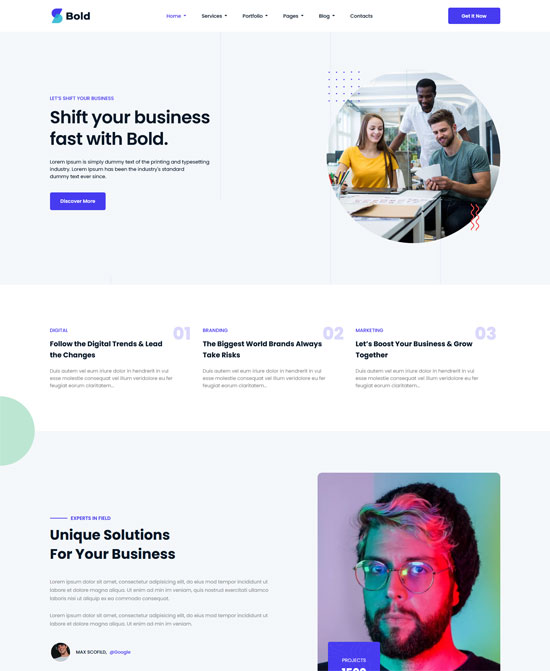 more info / download demo
Navigator
The free Material Design Inspired One Page HTML5 Template comes with all the visitor loving components placed amazingly. The theme is designed with the popular Bootstrap 3 framework for a mobile-friendly interface that allows easy tolerability and scalability with Iphone, Ipad, tablet, laptop, desktop, feature phone, smartphone, and more. The color is amazing, perfectly suited to extraordinary tagline such as business, corporate house, portfolio showcase, Bootstrap landing page, portfolio, creative artist, freelance, resume, showcase, affiliate marketing IT company, software companies, technology companies, etc.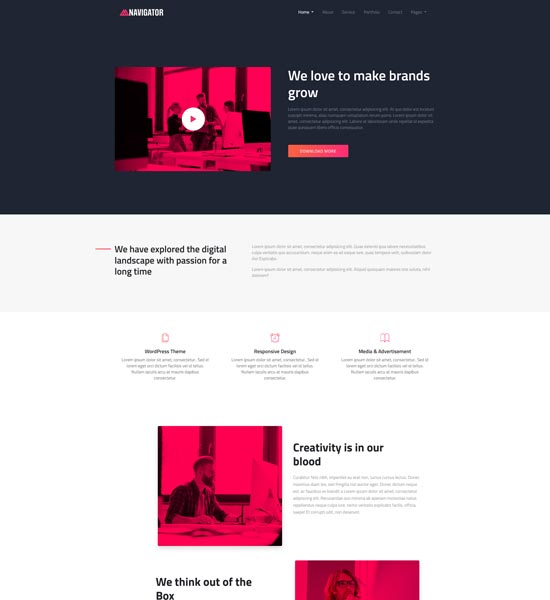 more info / download demo
BizLand
BizLand is a modern and creative multipurpose corporate and agency website template. It is built with the latest version of Bootstrap framework and all modern technologies like HTML5, CSS3. BizLand's amazing and professional starter template can be used for your corporate and financial businesses, agencies, startups, companies, brands, online service providers, and many more.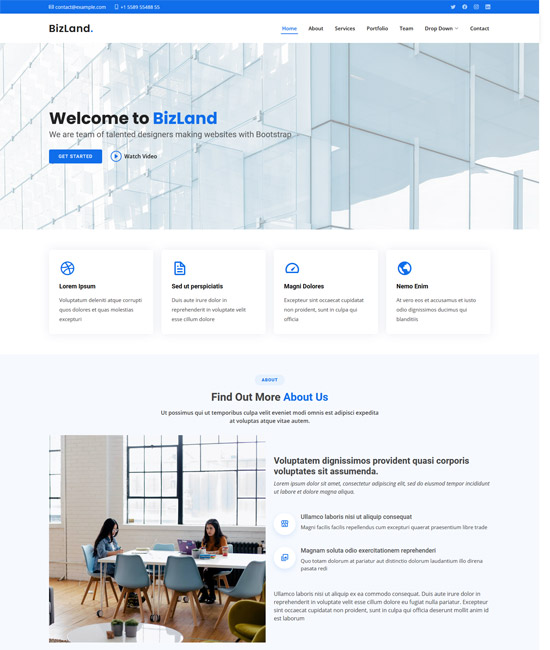 more info / download demo
Finance Business
The finance HTML template can be used as a single page or multiple pages, depending on your business needs. It has a full page image slider and a green-yellow color theme. A total of 4 HTML pages included contact form and Google Maps. The services page has content tabs. This is a Bootstrap 4 layout.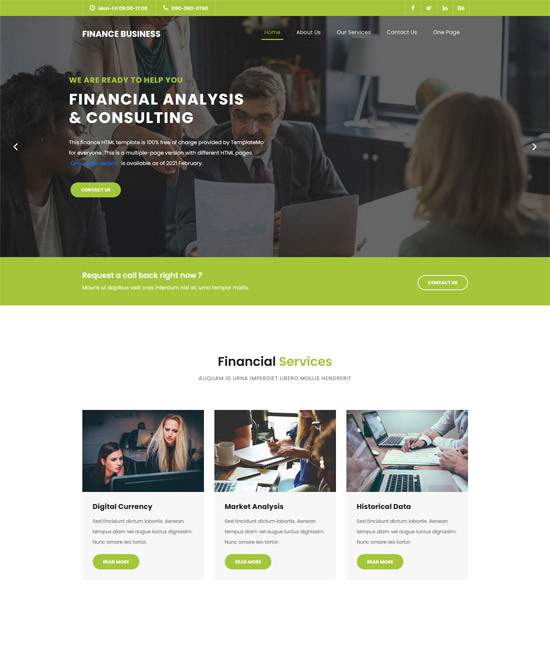 more info / download demo
Sulfur
Sulfur is a simple and free HTML template, carefully designed to fit multi-purpose niches online. Perfectly suited for creative, corporate, commercial work, IT firms, portfolio showcases, and surprisingly more. The Bootstrap 3 based website template is built on modern technology and trends, it comes with automatic support for various display screen widths and mobile devices. So you don't need to worry about creating separate layouts for mobile devices, tablets, desktops, laptops, iPhones, feature phones, smartphones, and other devices that need support for retina-ready HTML templates.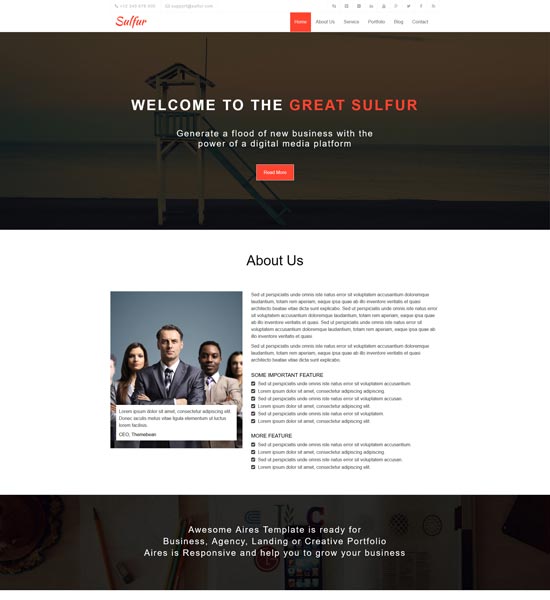 more info / download demo
KnightOne
KnightOne is a Bootstrap business website template. It can be used for multipurpose websites like business, marketing, agency, mobile app websites, business startup software, home landing page and many more. It is a clean and modern design and comes with many features and ready-to-use sections. You can use KnightOne to promote your products or services.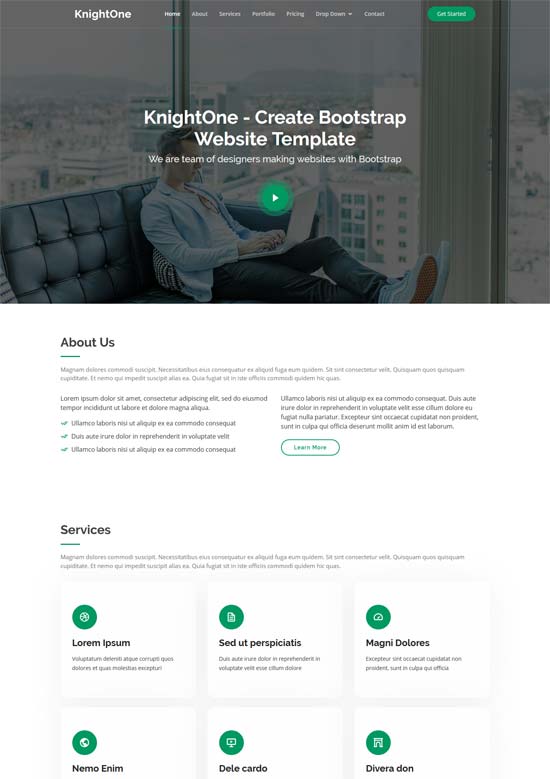 more info / download demo
Timer
Timer – Multi-page starter template that uses HTML5 / CSS3 functions and is suitable for creative companies, agencies, and freelancers who need a professional way to showcase their projects, services, and sell their products. The timer has been designed and built with a "user first" approach; Timer offers a beautifully elegant, simple, and well-spaced template that follows design principles. This flexible template uses a fresh and clean design and allows you to change its appearance to your liking with just one click.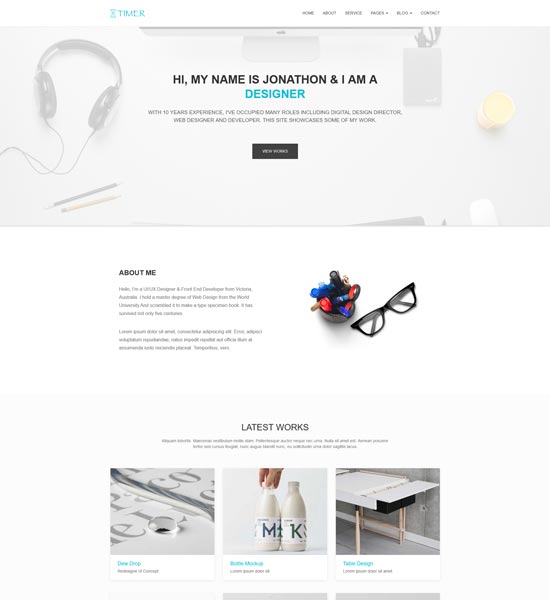 more info / download demo
Traveller
Travaller is a free Travel Agency Website Template comes with everything you need to create a professional travel agency website. The bootstrap template layout is fully responsive and works seamlessly across various displays and resolutions, from regular desktop displays to tablets, iPods, iPhones, and small mobile devices. It is perfectly suitable for any traveler or travel agency who wants to get a mobile and desktop compatible travel website.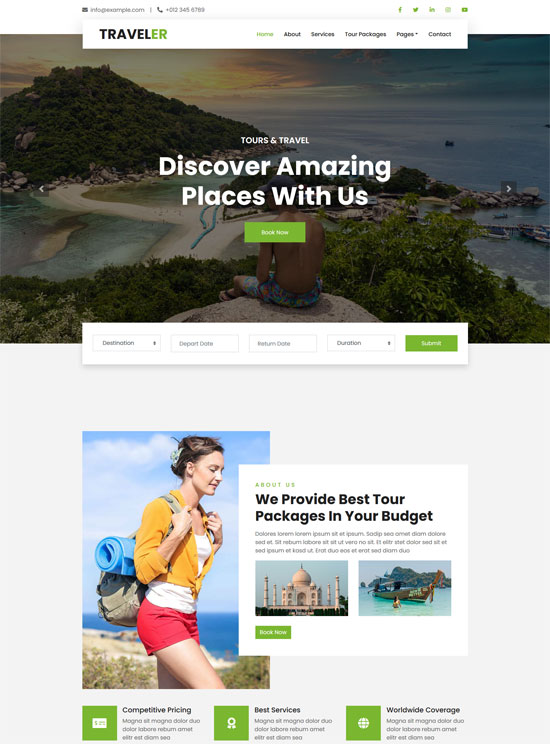 more info / download demo
Brandi
Meet Brandi, the free responsive one-page starter business template. Twitter Bootstrap 3.x framework powers the template. No extra code, no extra feature giving end users commanding power to create any awesome website with ease in mind. The bootstrap-based one-page HTML template is lightweight and fast-loading and perfectly suited to the site whether you have high or low traffic. Business, Corporate, Portfolio, Agency, Blog, Application Presentation, Photography, Resume, Creative Agency, Portfolio Presentation, and Creative Platform are the perfect place to fit this HTML theme niches.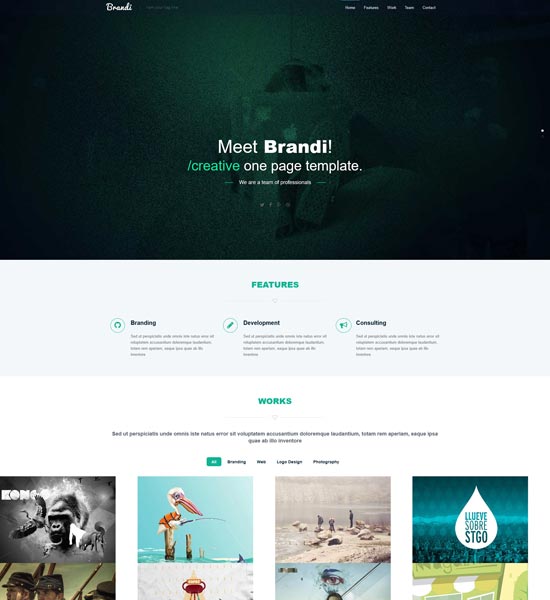 more info / download demo
Dewi
Dewi is a modern multipurpose Bootstrap website template. It is specially designed for any type of digital agency, software, sass, startup, marketing, one page and other online businesses. Powered by Bootstrap Dewi is perfect for a wide variety of projects.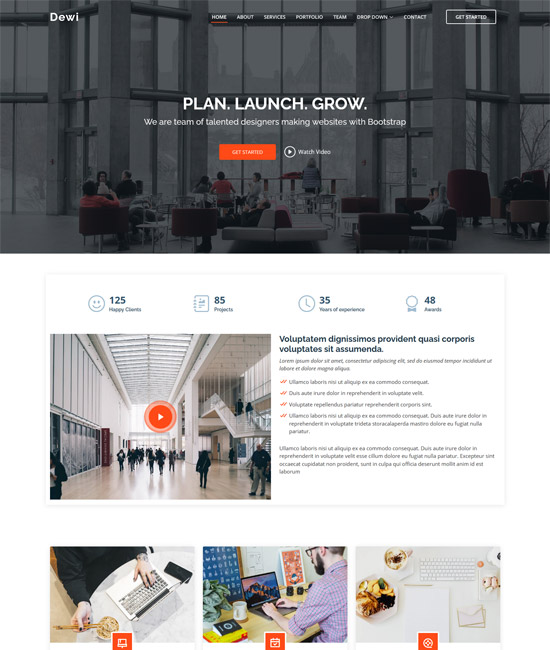 more info / download demo
Meghna
Meghna is a free responsive one page business template built with HTML5 / CSS3, JavaScript, and JQuery. The HTML template is minimalist, lightweight and fast loading, it has been shipped with the latest technologies and an incredible design trend. Mehna has successfully passed the W3C validation and speed test. Bootstrap-based HTML crafted with eye-catching design (UI) and ideal for a well-researched user experience (UX), perfectly suited for companies, agencies, startups, corporations, portfolios, exhibitions, photography studios, SMEs, and non-profit organizations. profit. , government fashion agencies. and many more.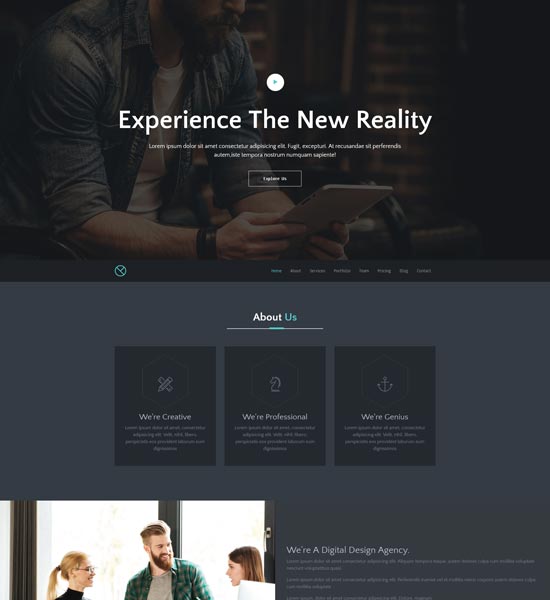 more info / download demo
Mediumish
Mediuish is a bootstrap template created specifically for fans of Medium's website design. The style of Medium is simply amazing: clean, minimal, beautiful, modern, its design would make any blogger jealous 🙂 This is the HTML version of Mediumish, but, being so well received and popular, we have decided to make it work with the platforms Most Popular: WordPress Version, Ghost Version, Jekyll Version.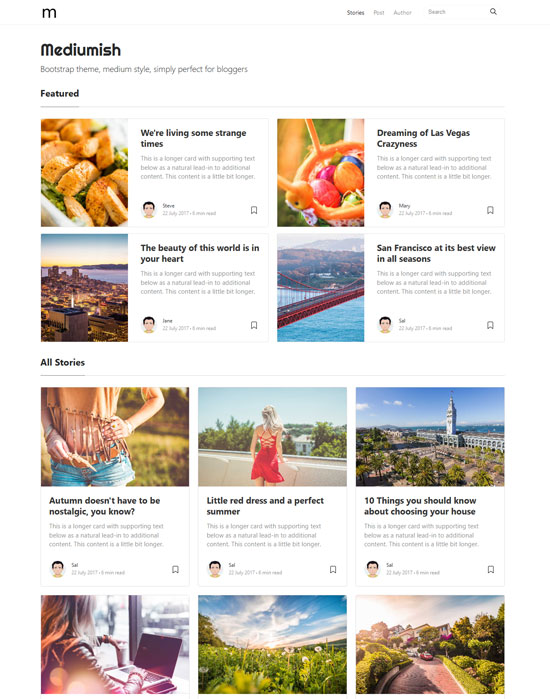 more info / download demo
Lumia
Lumia is a clean, modern and unique multipurpose responsive website template that can be used for a variety of business websites. It is more suitable for companies, agencies, creative companies, startups, individuals or small businesses to launch their online presence and show their products or services to the world.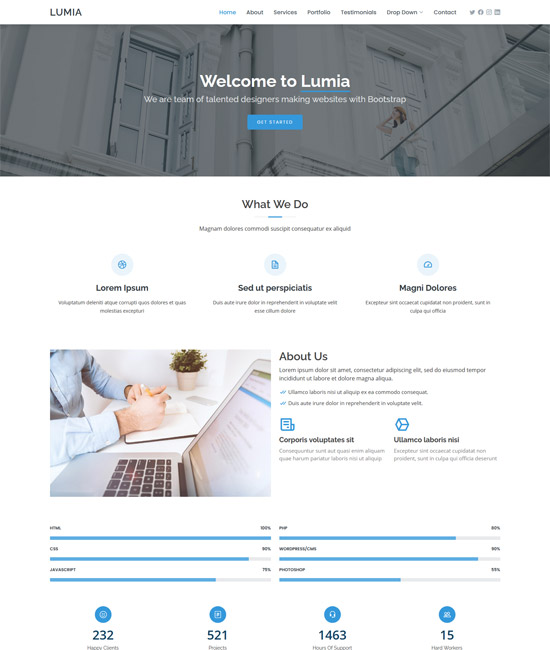 more info / download demo
Infinite Loop
This is Infinite Loop Bootstrap 4.0 HTML Template with a parallax effect. It has a fast scroll easing from section to section. Carousel items can be used for multiple purposes. Gallery section pops up a larger image. Simple contact form is included.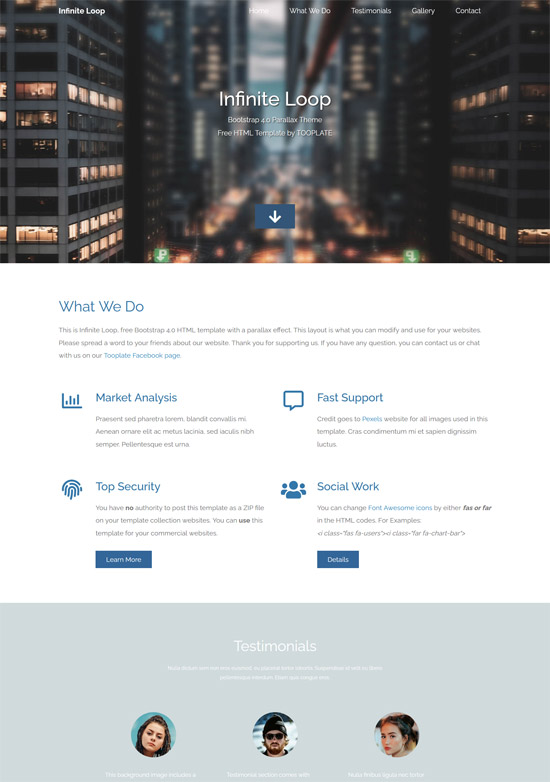 more info / download demo