Softy
Softy Pinko is a Bootstrap 4.0 theme designed for your digital marketing business or website. It has a beautiful purple pink gradient background header. Standard section elements are included. Pricing tables are provided for your customers. A simple HTML contact form is included. Bootstrap v4.3.1 is used for this CSS layout.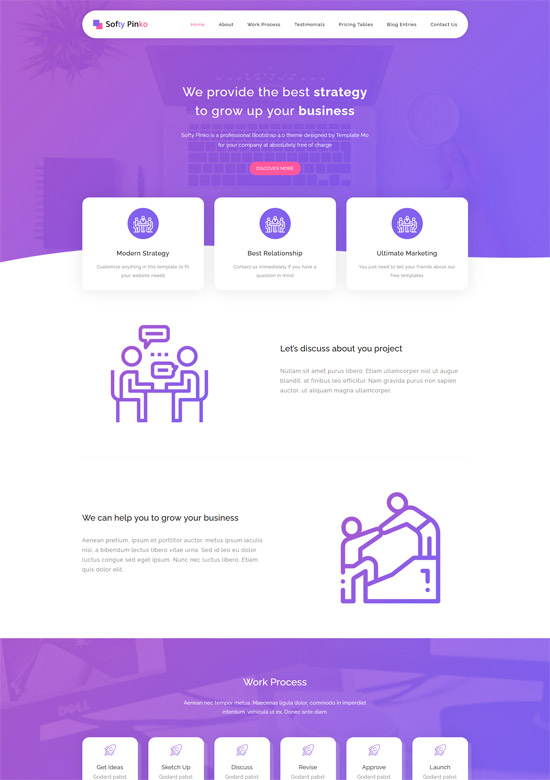 more info / download demo
Phantom
Phantom is an exciting professional HTML5 CV template. The squad is clean, charming, mind-blowing. It is exclusively designed to convince employers in an impressive way. Bootstrap's resume / cv template is the best for showcasing your professional, educational details, and those that keep you one step ahead of the competition.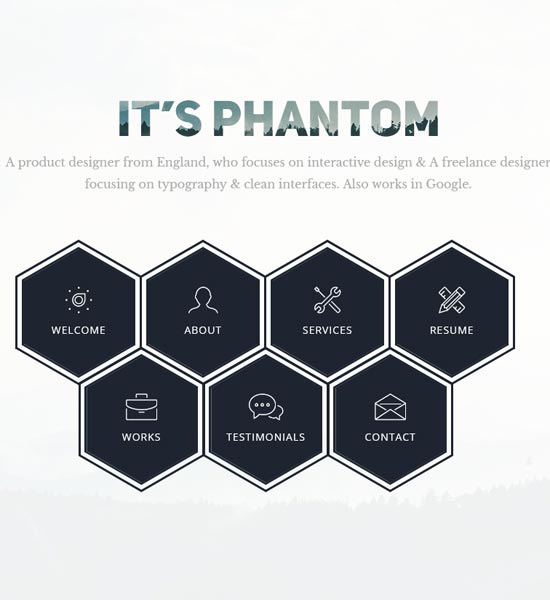 more info / download demo
BizNews
BizNews is a free news portal website template built on bootstrap framework. It is fully customizable and customizable. It comes with 4 built, ready-to-use many useful design elements. With these designed pages and elements, you can easily create a powerful newspaper, news portal, or online magazine website without additional coding skills.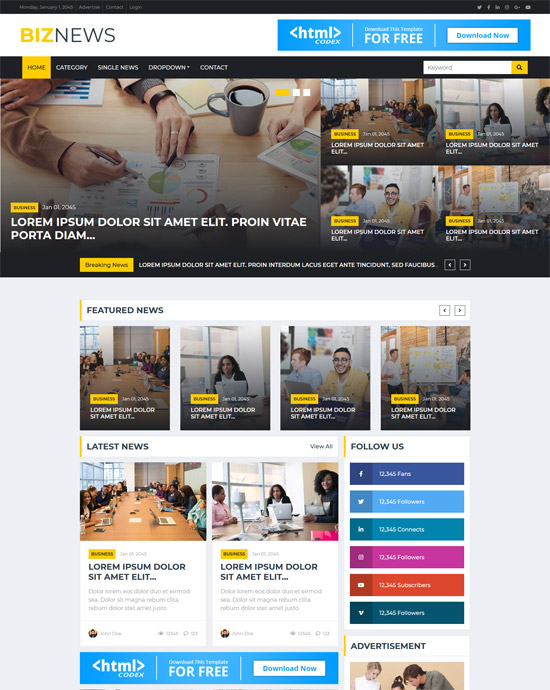 more info / download demo
Themelight
Themelight is an incredibly fast and responsive one page business website template, packed with a fantastic interface and great professional features to run corporate business smoothly. The design of this theme is amazing, it can impress the visitors at the first impression. Themelight is responsive, designed following the mobile first approach so that the theme can easily fit both within the wide variety of large screen monitors and small mobile devices.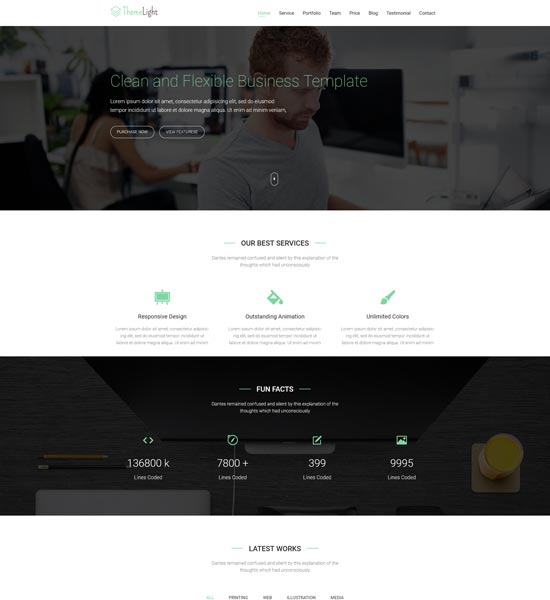 more info / download demo
Purple
Purple is a bootstrap template based on Bootstrap 5 Beta 1. This layout includes 6 different HTML pages. The homepage has a simple banner slider and a beautiful animated scroll effect for the grid items. The pricing page has different pricing tables. Vector graphics are used very well in this purple business template. The work page has gallery-style grid elements.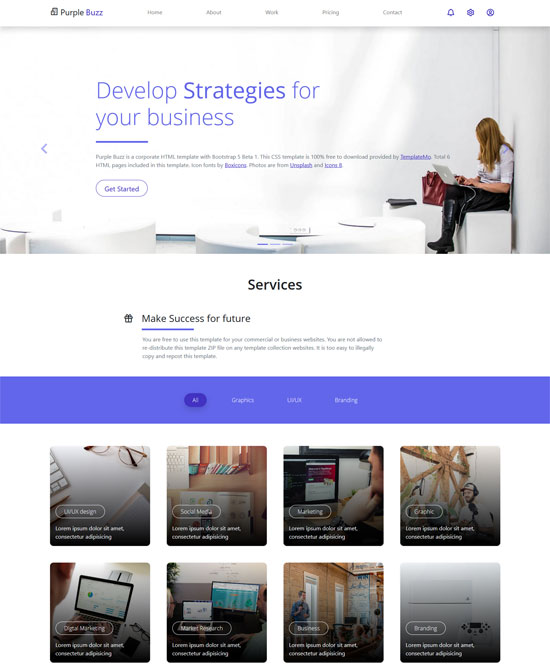 more info / download demo
Airspace
Airspace is a clean, unique, and free bootstrap website template that is another amazing contribution to the Thermefisher community. The beautiful template is built with refined and corporate commercial elements and saturated with rich typography, it allows to convey a perfect message on the first visit in accordance with the motto of the niche.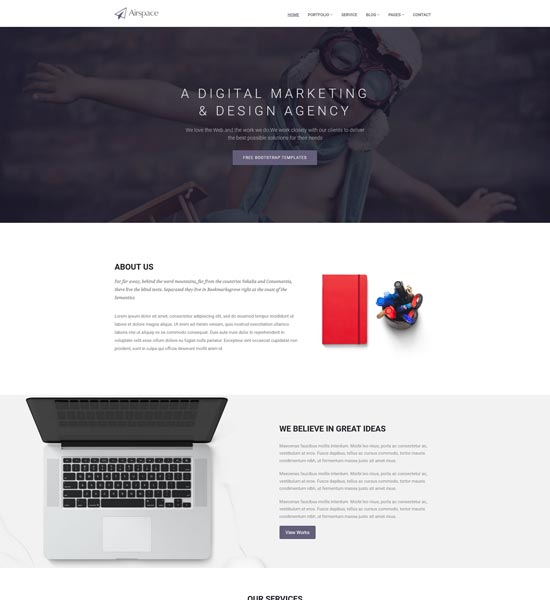 more info / download demo
Bold
Bold is a multipurpose business template specially designed for agency, corporate, consulting, business and similar websites. This business website template is built with Bootstrap 5.0 which is trending right now. Bold comes with a clean, high-quality, modern design with all the business pages you need to create your next business website. This starter template offers 3 unique home page variations, 100+ user interface elements, and 17 pages to design a perfect business. corporate or agency site.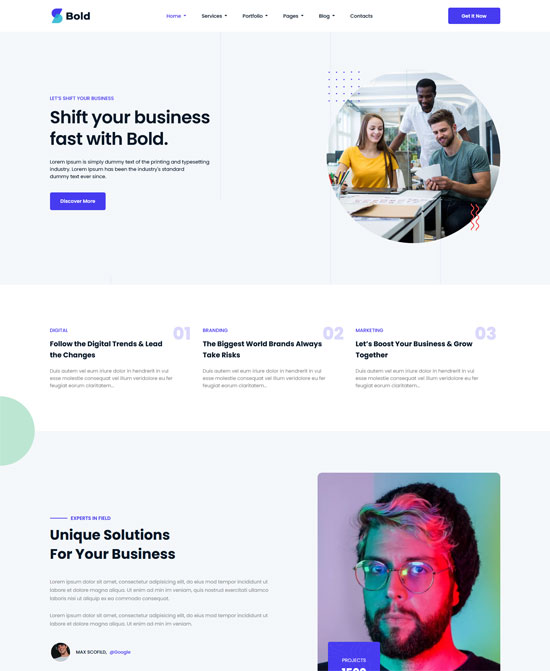 more info / download demo
Navigator
The free Material Design Inspired One Page HTML5 Template comes with all the visitor loving components placed amazingly. The theme is designed with the popular Bootstrap 3 framework for a mobile-friendly interface that allows easy tolerability and scalability with Iphone, Ipad, tablet, laptop, desktop, feature phone, smartphone, and more. The color is amazing, perfectly suited to extraordinary tagline such as business, corporate house, portfolio showcase, Bootstrap landing page, portfolio, creative artist, freelance, resume, showcase, affiliate marketing IT company, software companies, technology companies, etc.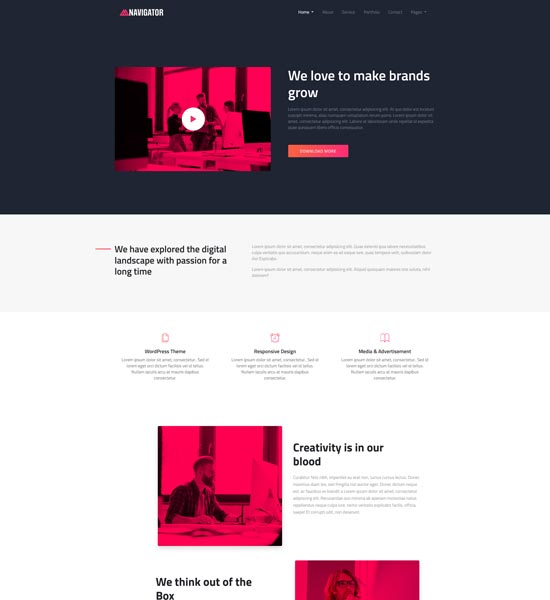 more info / download demo
BizLand
BizLand is a modern and creative multipurpose corporate and agency website template. It is built with the latest version of Bootstrap framework and all modern technologies like HTML5, CSS3. BizLand's amazing and professional starter template can be used for your corporate and financial businesses, agencies, startups, companies, brands, online service providers, and many more.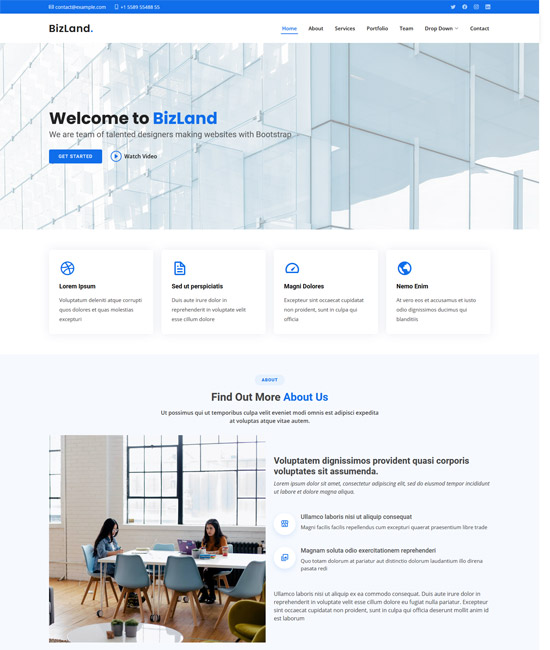 more info / download demo
Finance Business
The finance HTML template can be used as a single page or multiple pages, depending on your business needs. It has a full page image slider and a green-yellow color theme. A total of 4 HTML pages included contact form and Google Maps. The services page has content tabs. This is a Bootstrap 4 layout.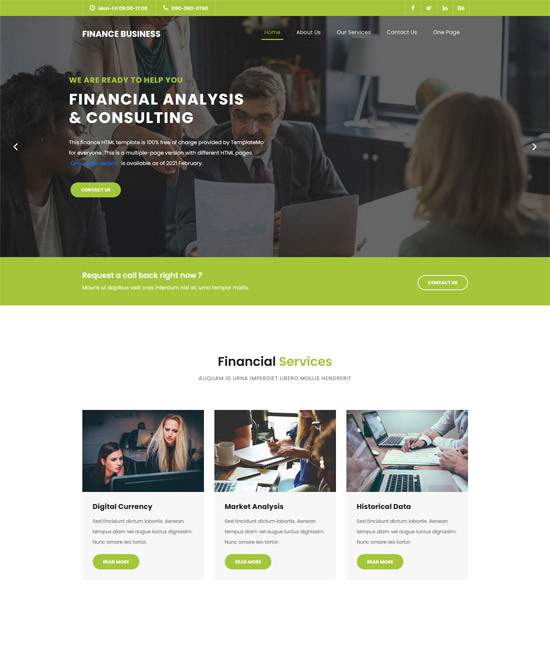 more info / download demo
Sulfur
Sulfur is a simple and free HTML template, carefully designed to fit multi-purpose niches online. Perfectly suited for creative, corporate, commercial work, IT firms, portfolio showcases, and surprisingly more. The Bootstrap 3 based website template is built on modern technology and trends, it comes with automatic support for various display screen widths and mobile devices. So you don't need to worry about creating separate layouts for mobile devices, tablets, desktops, laptops, iPhones, feature phones, smartphones, and other devices that need support for retina-ready HTML templates.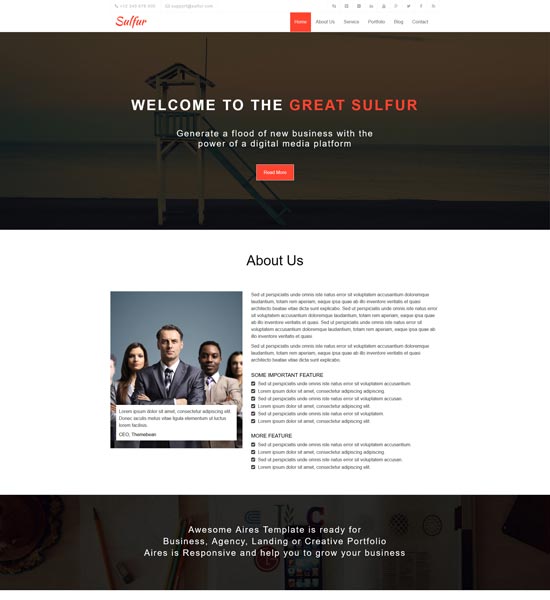 more info / download demo
KnightOne
KnightOne is a Bootstrap business website template. It can be used for multipurpose websites like business, marketing, agency, mobile app websites, business startup software, home landing page and many more. It is a clean and modern design and comes with many features and ready-to-use sections. You can use KnightOne to promote your products or services.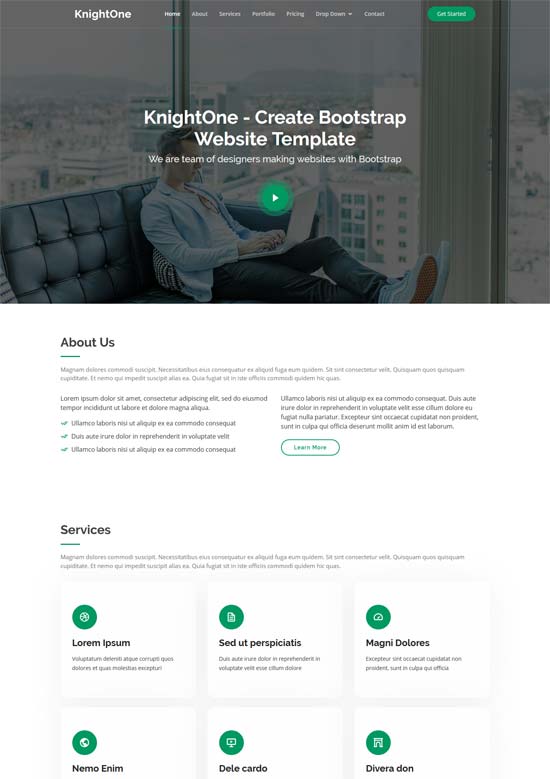 more info / download demo
Timer
Timer – Multi-page starter template that uses HTML5 / CSS3 functions and is suitable for creative companies, agencies, and freelancers who need a professional way to showcase their projects, services, and sell their products. The timer has been designed and built with a "user first" approach; Timer offers a beautifully elegant, simple, and well-spaced template that follows design principles. This flexible template uses a fresh and clean design and allows you to change its appearance to your liking with just one click.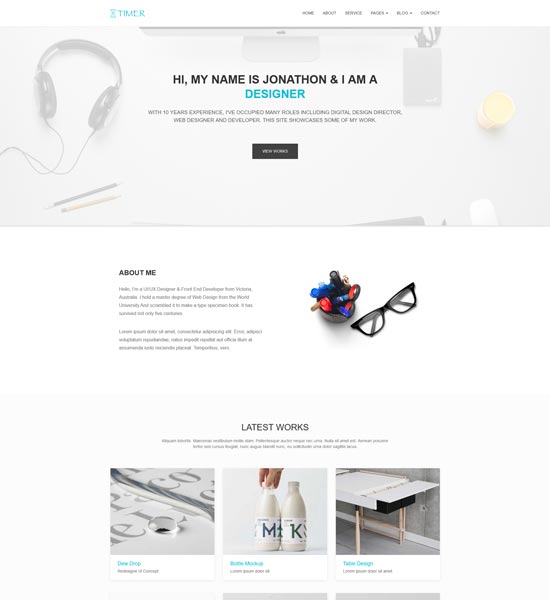 more info / download demo
Traveller
Travaller is a free Travel Agency Website Template comes with everything you need to create a professional travel agency website. The bootstrap template layout is fully responsive and works seamlessly across various displays and resolutions, from regular desktop displays to tablets, iPods, iPhones, and small mobile devices. It is perfectly suitable for any traveler or travel agency who wants to get a mobile and desktop compatible travel website.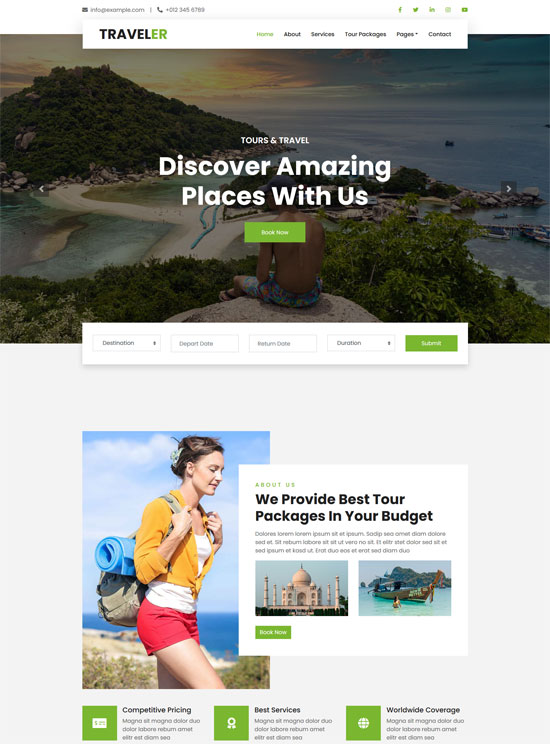 more info / download demo
Brandi
Meet Brandi, the free responsive one-page starter business template. Twitter Bootstrap 3.x framework powers the template. No extra code, no extra feature giving end users commanding power to create any awesome website with ease in mind. The bootstrap-based one-page HTML template is lightweight and fast-loading and perfectly suited to the site whether you have high or low traffic. Business, Corporate, Portfolio, Agency, Blog, Application Presentation, Photography, Resume, Creative Agency, Portfolio Presentation, and Creative Platform are the perfect place to fit this HTML theme niches.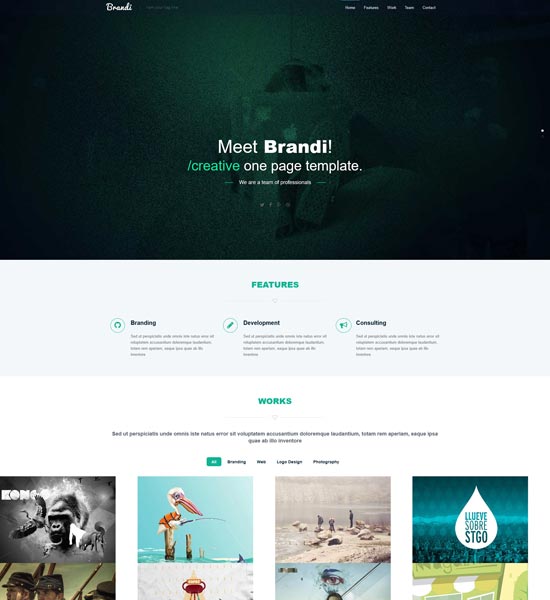 more info / download demo
Dewi
Dewi is a modern multipurpose Bootstrap website template. It is specially designed for any type of digital agency, software, sass, startup, marketing, one page and other online businesses. Powered by Bootstrap Dewi is perfect for a wide variety of projects.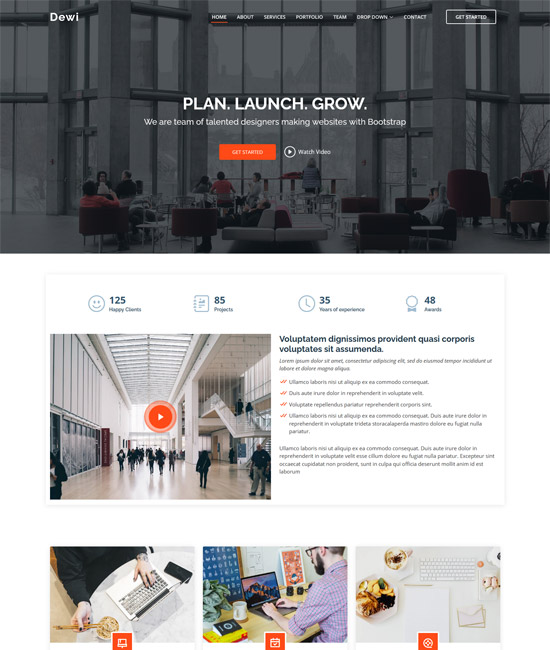 more info / download demo
Meghna
Meghna is a free responsive one page business template built with HTML5 / CSS3, JavaScript, and JQuery. The HTML template is minimalist, lightweight and fast loading, it has been shipped with the latest technologies and an incredible design trend. Mehna has successfully passed the W3C validation and speed test. Bootstrap-based HTML crafted with eye-catching design (UI) and ideal for a well-researched user experience (UX), perfectly suited for companies, agencies, startups, corporations, portfolios, exhibitions, photography studios, SMEs, and non-profit organizations. profit. , government fashion agencies. and many more.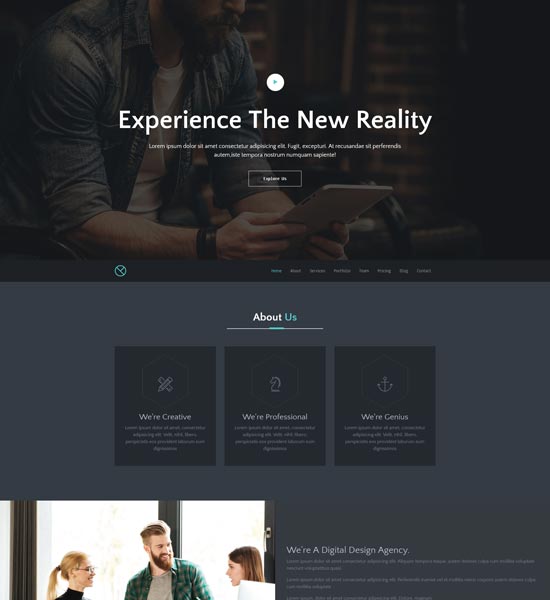 more info / download demo
Mediumish
Mediuish is a bootstrap template created specifically for fans of Medium's website design. The style of Medium is simply amazing: clean, minimal, beautiful, modern, its design would make any blogger jealous 🙂 This is the HTML version of Mediumish, but, being so well received and popular, we have decided to make it work with the platforms Most Popular: WordPress Version, Ghost Version, Jekyll Version.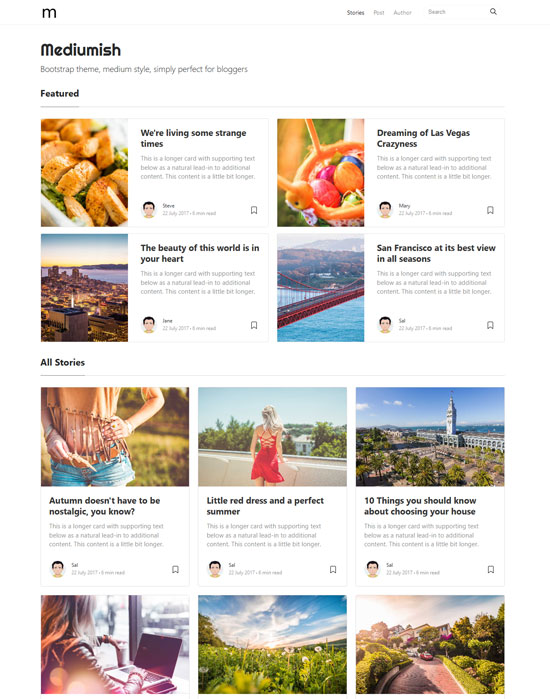 more info / download demo
Lumia
Lumia is a clean, modern and unique multipurpose responsive website template that can be used for a variety of business websites. It is more suitable for companies, agencies, creative companies, startups, individuals or small businesses to launch their online presence and show their products or services to the world.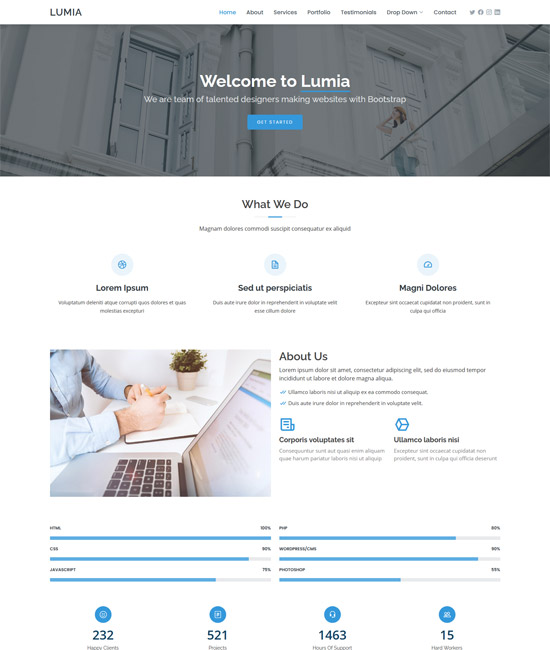 more info / download demo
Infinite Loop
This is Infinite Loop Bootstrap 4.0 HTML Template with a parallax effect. It has a fast scroll easing from section to section. Carousel items can be used for multiple purposes. Gallery section pops up a larger image. Simple contact form is included.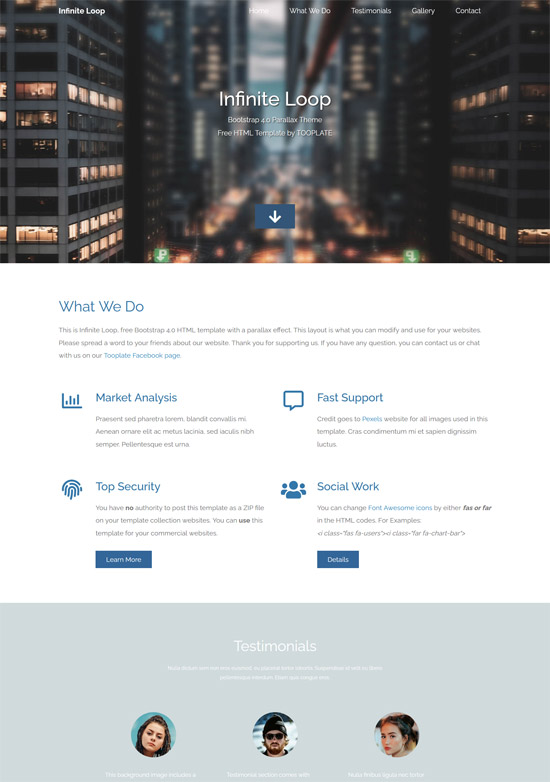 more info / download demo
EShopper
EShopper is a professional and powerful starter template that comes with a great solution for those who are going to sell products online. If you are going to create a responsive online store that has a unique design and many features, you can download and use this free Bootstrap store template. This free Bootstrap store template is exactly what you need.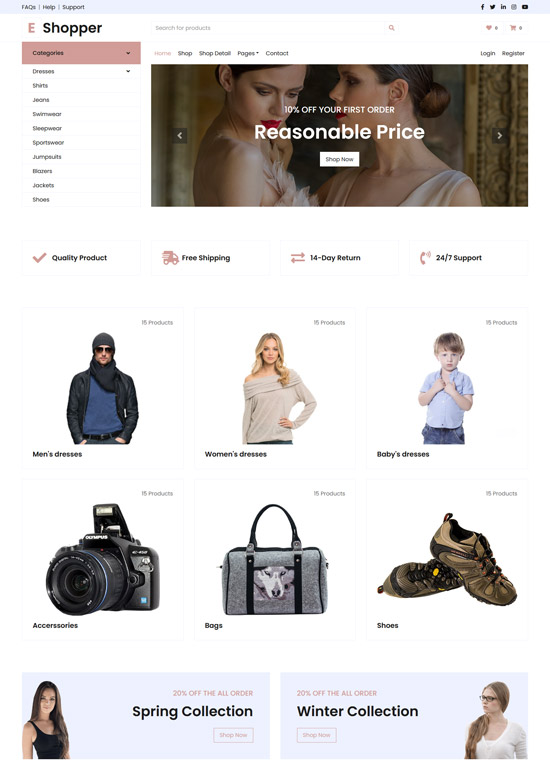 more info / download demo
FlexStart
FlexStart is a creative and modern Bootstrap website template. FlexStart is created for individuals and businesses who want to create websites for software, startup, mobile app, digital agency, SaaS, internet services, fintech, and related product and service websites. FlexStart is easy to develop, clean, lightweight and documented source code. You can easily customize and use it with your next project. It comes with tons of features, blocks, and sections that give the developer real flexibility to create professional websites really fast and smoothly.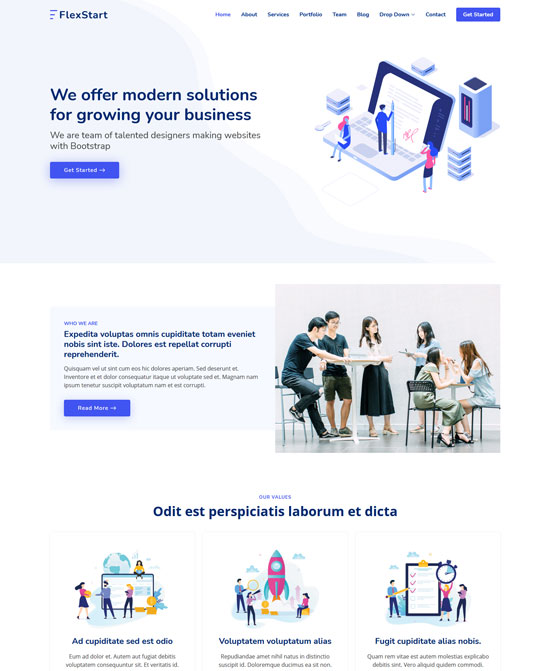 more info / download demo
Catalog Z
Catalog-Z is a free photo video HTML template based on Bootstrap 5 Alpha 2. There are 6 HTML pages including photo details, video details and article list pages. This gallery website template is really suitable for custom CMS web development. This Bootstrap 5 CSS layout is designed for widescreen or higher resolution monitors. The width of the template is 1800 pixels and it fits perfectly on the Full HD screen.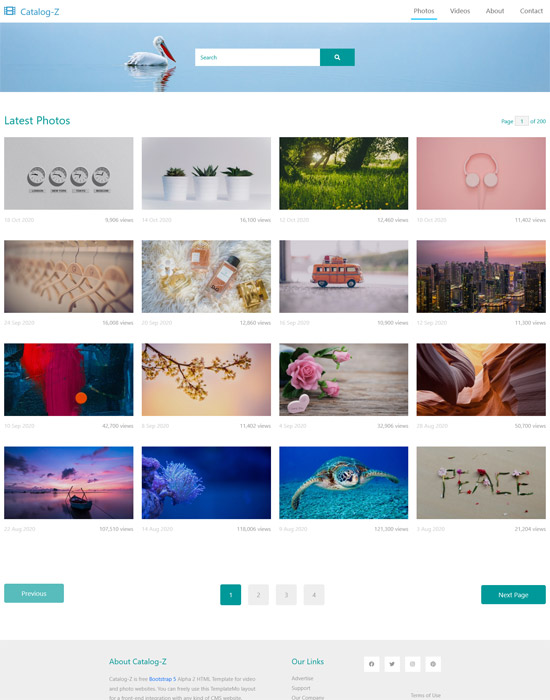 more info / download demo
Anchor
We are pleased to present you our new ANCHOR project – FREE BOOTSTRAP UI KIT. Anchor is a free Bootstrap UI kit with flexible, out-of-the-box UI components to help you build websites faster.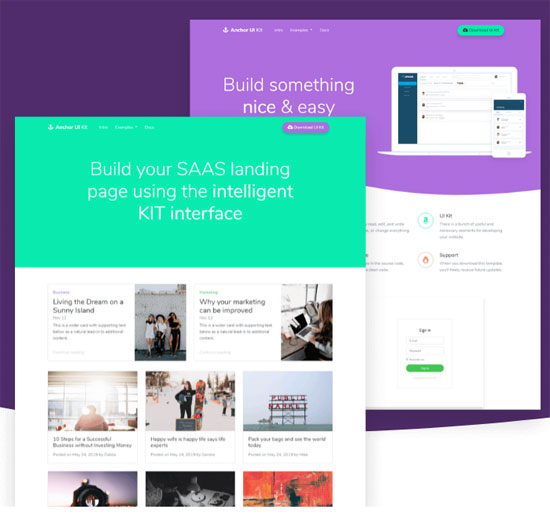 more info / download demo
Aries
Aries is a free, minimalist Bootstrap HTML template, Aries HTML is another beautiful and responsive Bootstrap template, perfect for your next personal or business website project. Designed and developed by us, use it to create something beautiful.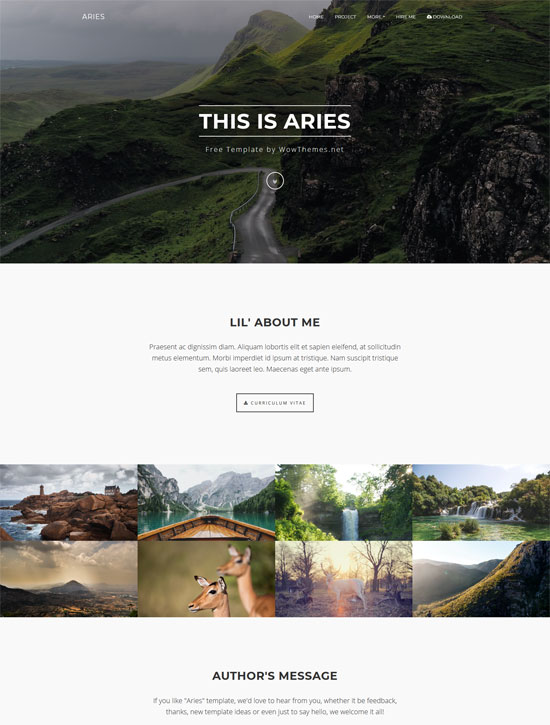 more info / download demo
BootstrapNews
BootstrapNews is a lightweight, easy-to-use, and fully responsive Bootstrap news template that is suitable for creating professional news websites as well as online blogs and magazines. If you are creating a news website for your newspaper or news channel, you can get started with this free Bootstrap news portal template. Let's start downloading the free Bootstrap 4 news template.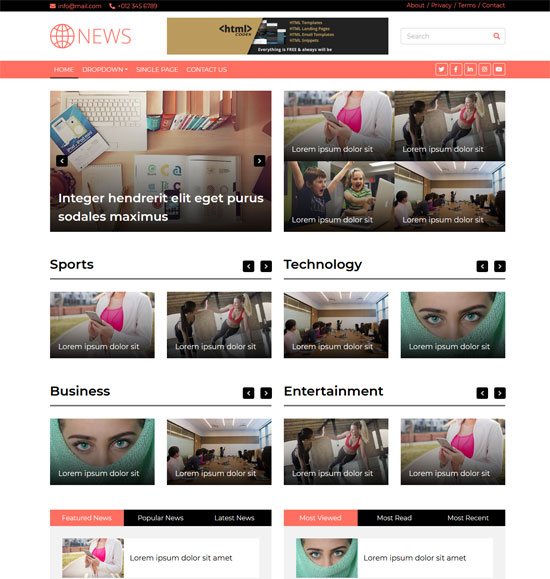 more info / download demo
Klassy
Klassy is a restaurant HTML template with CSS Bootstrap v4.5.2 framework. The design of this website is vivid with a white background and a touch of red. There are carousel elements and content tabs for a variety of food menus. HTML reservation form is included. You can modify this template in any HTML editor.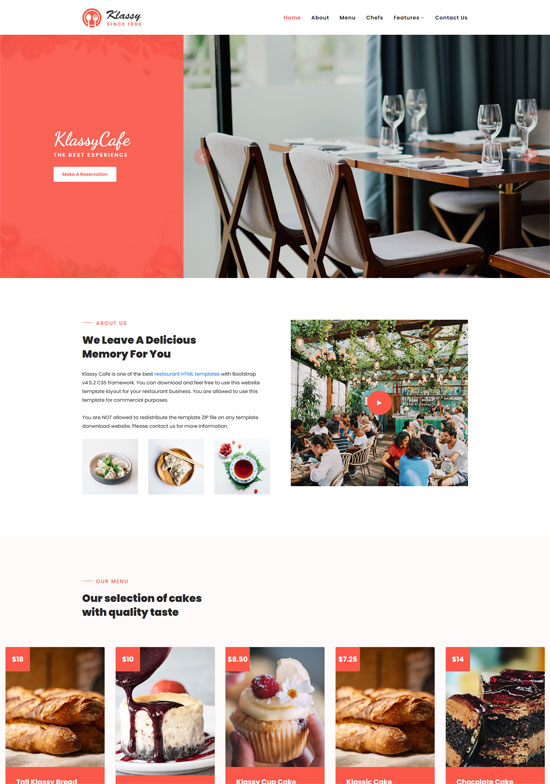 more info / download demo
BaseFlat
BaseFlat is free and premium flat design business start-up website template designed for agencies, startups and any kind of business related websites. This template is built with the latest version 5.0 of bootstrap. For developers and designers looking for a Bootstrap 5 based business template, Base is the ultimate template for them.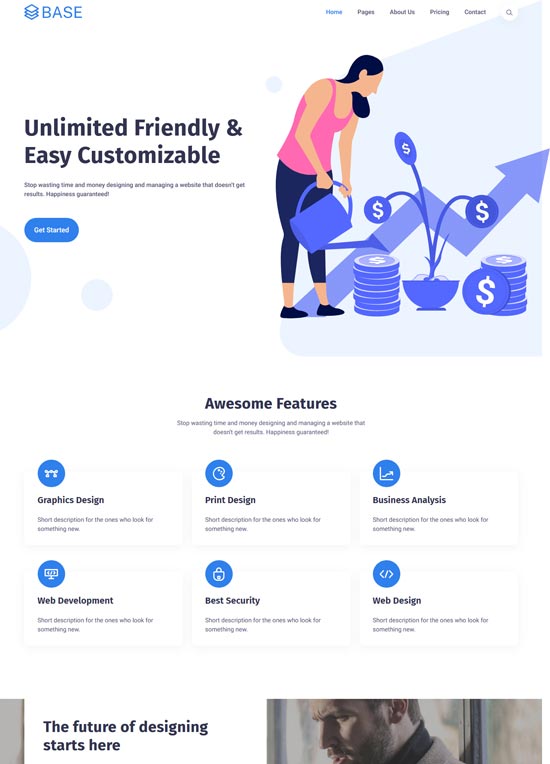 more info / download demo
Bizfinity
Bizfinity is free and premium versatile starter template based on the latest version of bootstrap 5 and HTML. This template is specially designed for consulting, agency and business related websites. If you are looking for a multipurpose business template to increase your growth, Bizfinity is the one for you. This template comes with all the essential business pages and tons of UI elements you need to create a business website from scratch.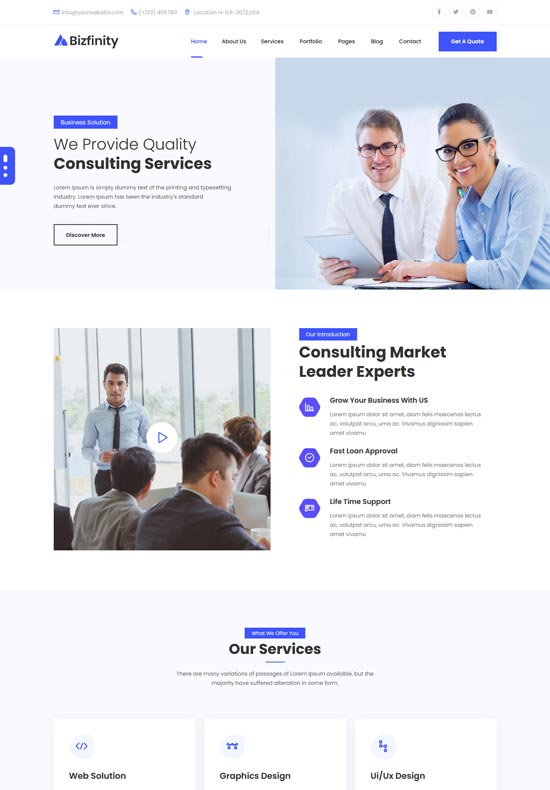 more info / download demo
LearnEdu
LearnEdu is a free online education and courses HTML website template built with Bootstrap 5. It comes with a clean, high-quality design and UI essentials such as: educational site-centric hero area, grids of courses, mentors, course category, features, about, testimonial, blog grid, job contact form and much more, including separate pages for courses and a single course. It has been carefully crafted with a focus on serving almost any type of online course website.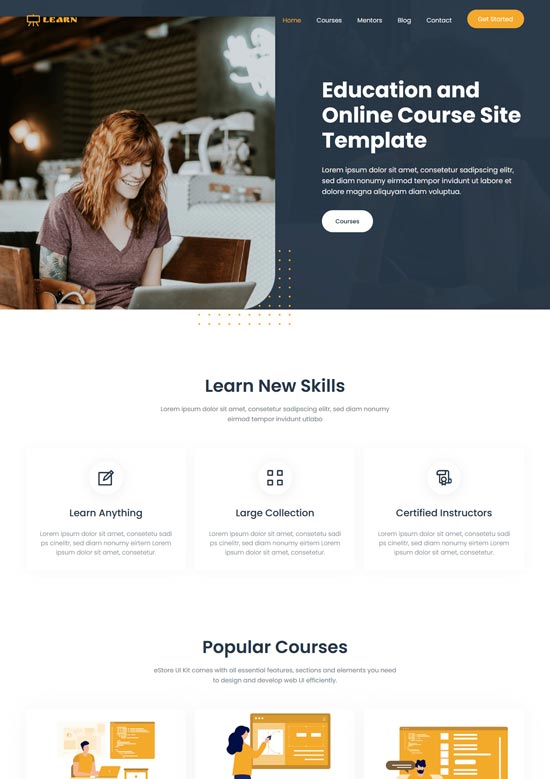 more info / download demo
Starter
Starter is a free Bootstrap 5 business template for startup, company and agency related websites. This landing page template is based on Bootstrap 5 and HTML5. Starter includes everything you need for the next launch of your website. Also, this template has all the business essentials, amazing animations, and many more for your next business website.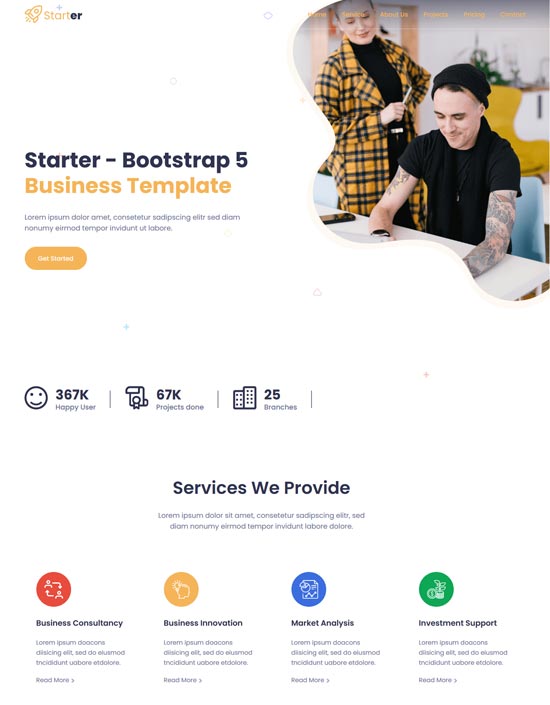 more info / download demo
Space
The first multipurpose bootstrap 5 template, it comes with a clean, high-quality layout, 3 different home page variations, 20+ business pages, 100+ user interface elements, and a fully responsive layout. Space specially designed for websites of companies, agencies, startups and corporations. If you are looking for a great looking multipurpose template built with Bootstrap 5, Space is the one and only perfect for you. It comes with a free version and a premium version, so you can try the free version before purchasing the full version. Space has amazing Bootstrap 5 features and all the essential business website elements and features you need.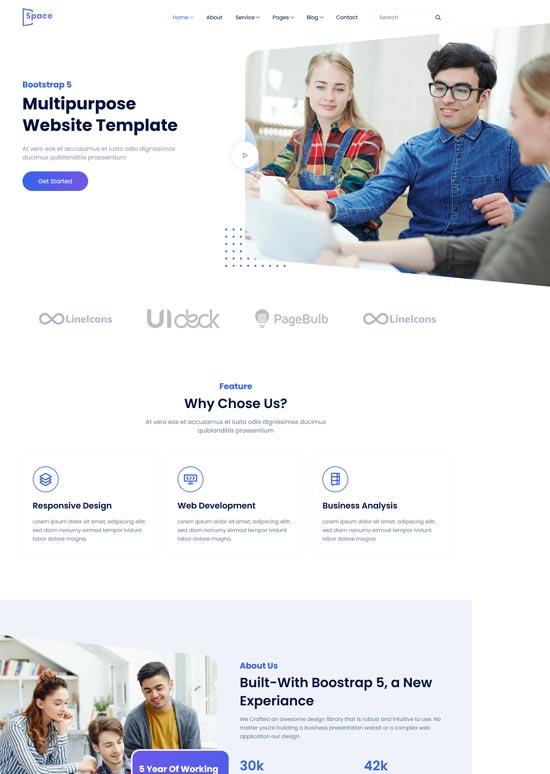 more info / download demo
Simple
Simple is free, clean and super simple business website template built with the latest version of Bootstrap 5. It is free to download and use and comes with business website essentials such as: awesome hero area, services, features , team, gallery and job contact form. This template was carefully designed with Bootstrap 5 features so you can use it as a starting point for your Bootstrap 5 development journey.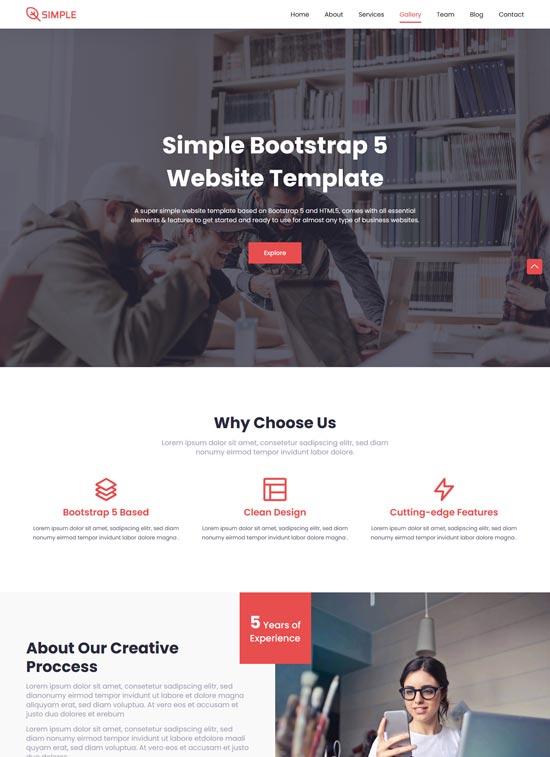 more info / download demo
Pintereso
For beginners and developers alike, Pintereso is a great Pinterest-like starter template, built with Bootstrap 4.x. There are three types of layout, such as a home page, an article post layout, and an author page like Pinterest, that you can use for personal and commercial projects, photography websites, portfolios, or freelance work.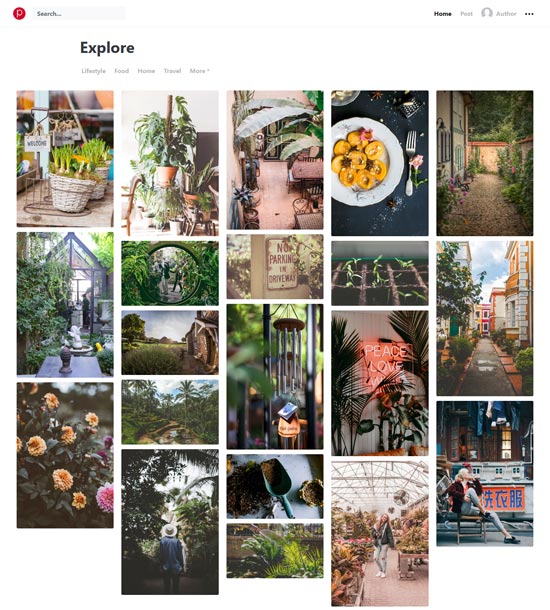 more info / download demo
uButia
Looking for a free bootstrap website template? this template is absolutely free, It can be used for commercial or non commercial. With bootstrap templates, you can always get things customized or personalized. It is perfect for agencies or business website that need a little designing here and there. Its key features include: it is responsive, a section for team members with images and profiles displayed and many others.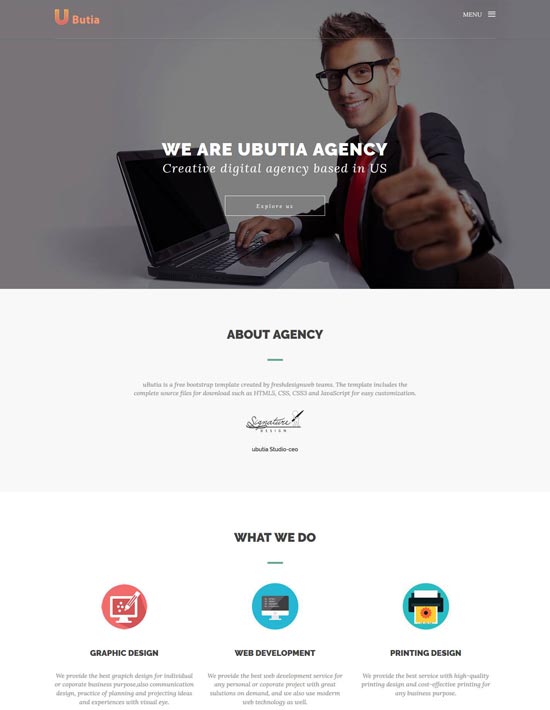 demo more info / download
Presento
Presento is a modern, creative and clean corporate bootstrap templates . It can be used to create elegant and modern corporate websites, small business landing pages, application landing pages, startup websites, software, and SaaS business websites. It comes with all the pages and elements needed to create an impressive website in no time. The Presento template is very easy to customize. All files and code have been well organized and annotated for easy customization. Presento is fully responsive, works on all devices, and looks perfect on all screen sizes.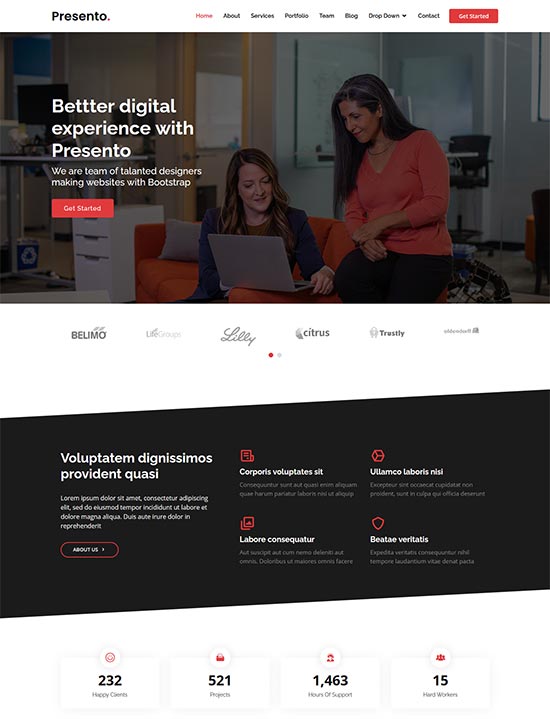 more info / download demo
Yank
Yank is a free modern bootstrap 4 template for startups and business websites. It can be used for tech startups, business websites, digital agency websites, and many other professional or educational websites. All the code and sections of this template are well organized, anyone with basic knowledge of bootstrap 4 can easily customize this template and use it for their company or agency website. The main theme color can be easily changed by modifying a simple CSS variable, so this free starter template has endless possibilities in terms of layout and color combinations.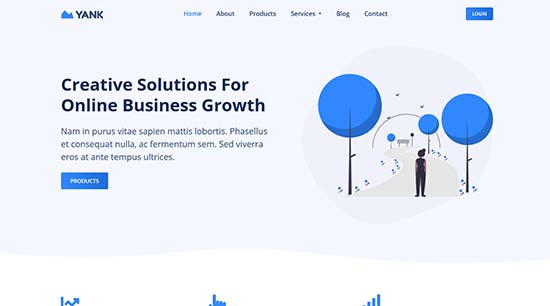 more info / download demo
Arsha
Arsha is a clean and modern business Bootstrap template designed specifically for startups, IT applications and services. You can display your content on mobile devices such as smartphones, tablets and all kinds of devices. Arsha's design is driven by minimalist and unique sections. With this neat sections and pixel perfect layout template, it will help you create a professional looking website for your business in no time. Arsha is built with the latest web technologies (Bootstrap framework, Sass, NodeJS, Gulp, etc.) taking care of the coding quality to make sure the template works with all browsers, devices with all screen sizes.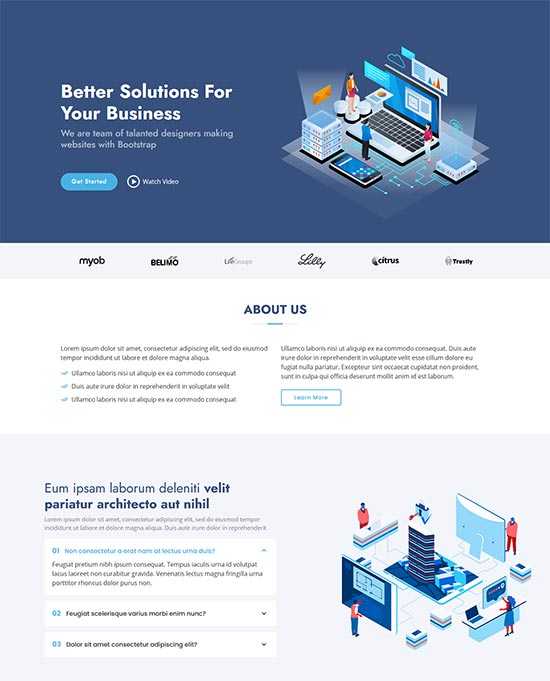 more info / download demo
Ucorpora
Ucorpora is a free bootstrap HTML corporate business website template which comes bundled with astounding features. Ucorpora is built on Bootstrap framework, using the latest web techniques and responsive layout.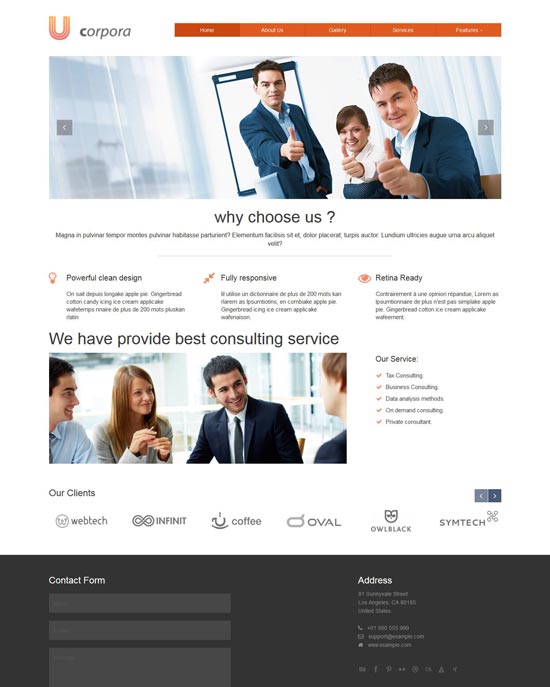 more info / download demo
Kabba
Kabba is a multipurpose free bootstrap 4 template that can be used for different types of websites like agency websites, commercial websites, educational websites, etc. All sections in HTML and CSS code are well organized and can be easily customized. You can also add new sections and delete existing ones like a breeze.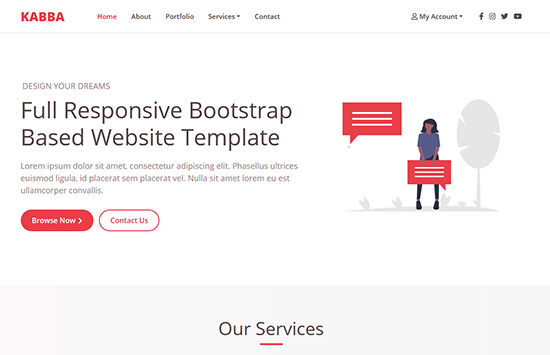 more info / download demo
Ubusina
Ubusina is a free website template built with HTML5, CSS3 & Bootstrap3. Ubusina template is extremely customizable, easy to use and fully responsive. Ubusina is suitable for every business purpose. Ubusina serves as great starting point for your custom projects.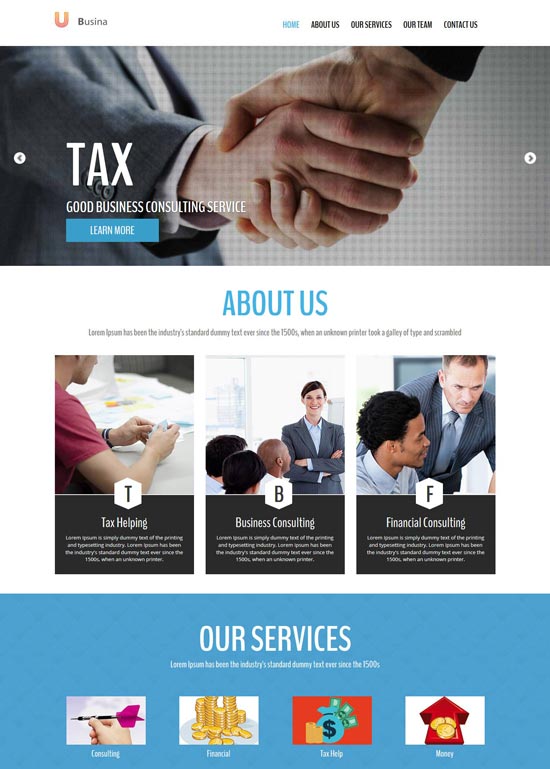 more info / download demo
Mamba
Mamba is a simple and creative one page website template built with Bootstrap. Designed and developed with a modern design trend, Mamba is a perfect starter template for creating a creative agency, startup website, design studio, corporate website such as financial advisor, accountant, consulting firms, and many more. . Mamba is fully responsive, cross-browser compatible, and seamlessly adapts to all devices and web browsers for a seamless seamless experience. Powered by the latest Bootstrap framework, Mamba allows you to create a spectacular web design without any hassle.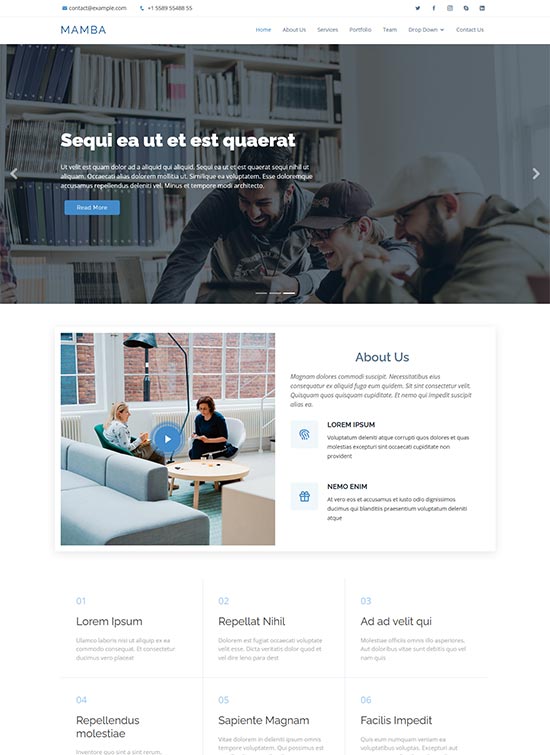 more info / download demo
Ustora
Flat design bootstrap template ideal for digital store, phone store, accessories store. The ustora template provides your store an additional informative blocks on the homepage, such as free shipping, 30 days return, secure payments, new products and contact information, nice images with texts.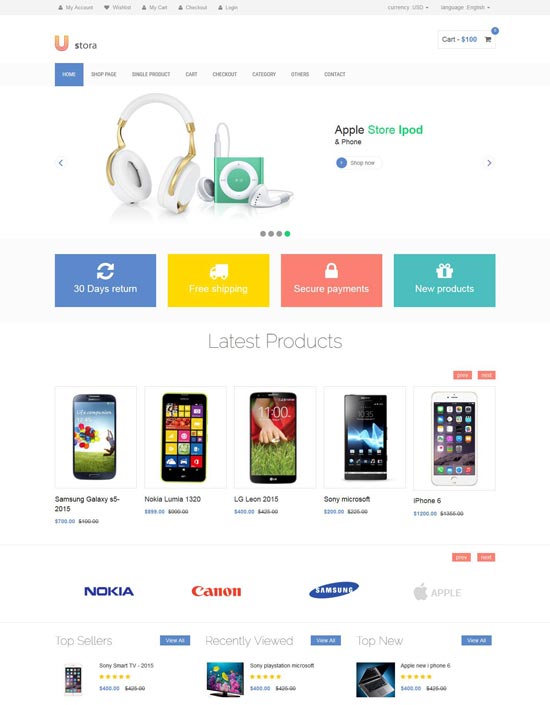 more info / download demo
Vesperr
Vesperr is a clean, modern and elegant digital agency website template built with the Bootstrap framework. It can be used by agencies, freelancers, corporate companies, creative designers or any creative professional. It comes with smooth interaction animations and makes the user experience more natural and relaxing. Vesperr's website template is easy to customize, 100% responsive, and compatible with all modern browsers and devices with any screen size. Build your awesome website with our amazing Vesperr Bootstrap website template.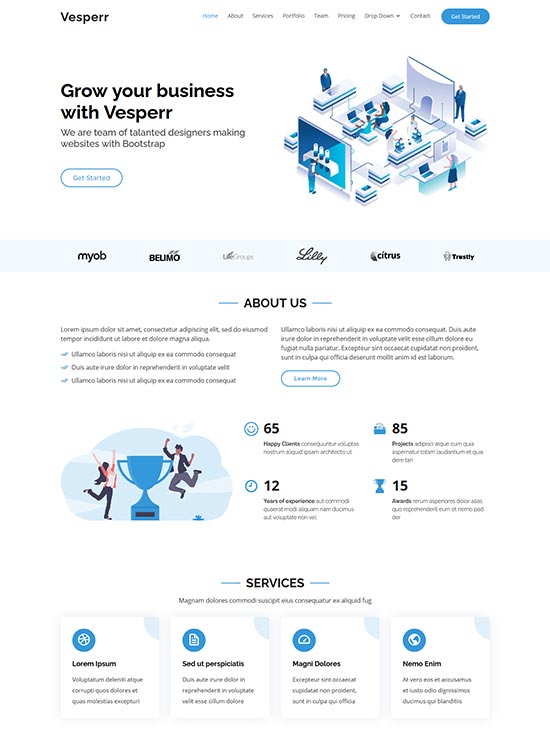 more info / download demo
Shuffle
Shuffle is a clean, stylish one-page website template built with the Bootstrap framework. The Shuffle model is suitable for creating all kinds of commercial websites, companies, corporate agencies. It is fully responsive and looks perfect on any device and resolution.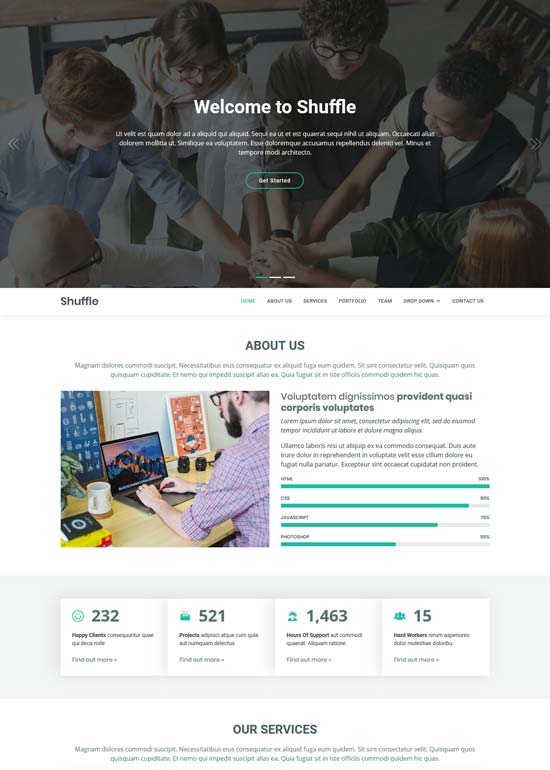 more info / download demo
iPortfolio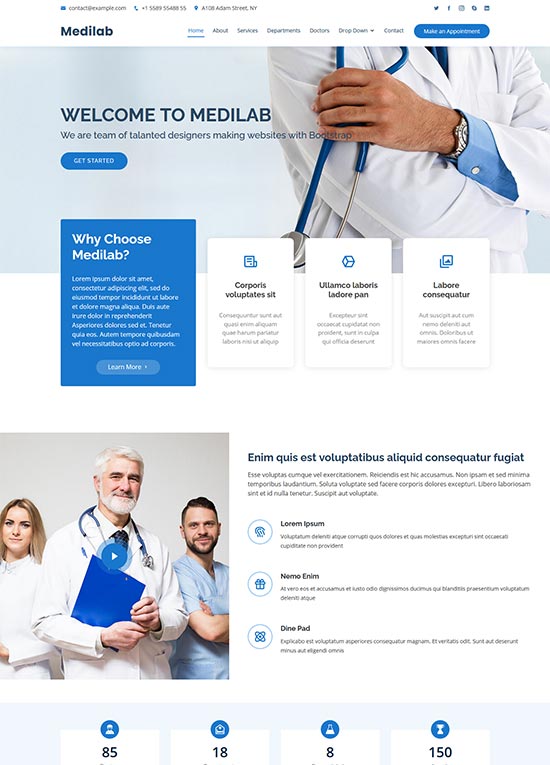 more info / download demo
Coral
Coral is a responsive portfolio template It is made with the latest version of bootstrap 4. You can use it for personal project use and as a personal portfolio. Project characteristics Latest Bootstrap 4 Modern and sleek design Fully responsive Beautiful commented layout code Well documented Google font Work contact form files.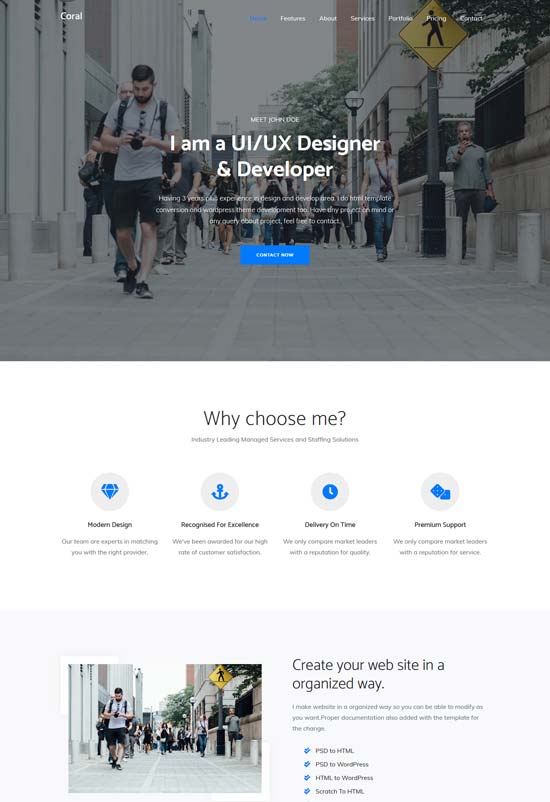 more info / download demo
SoftLand
Softland is a modern and creative application landing website HTML template. Anyone can use this template to present their applications or services. SoftLand is an ultimate responsive landing page template for anyone looking for an application landing page, software landing page, application storefront, application store page template, etc. You can use SoftLand as a better way to showcase and promote your startup mobile apps, SaaS app, software, digital products, even books or magazines.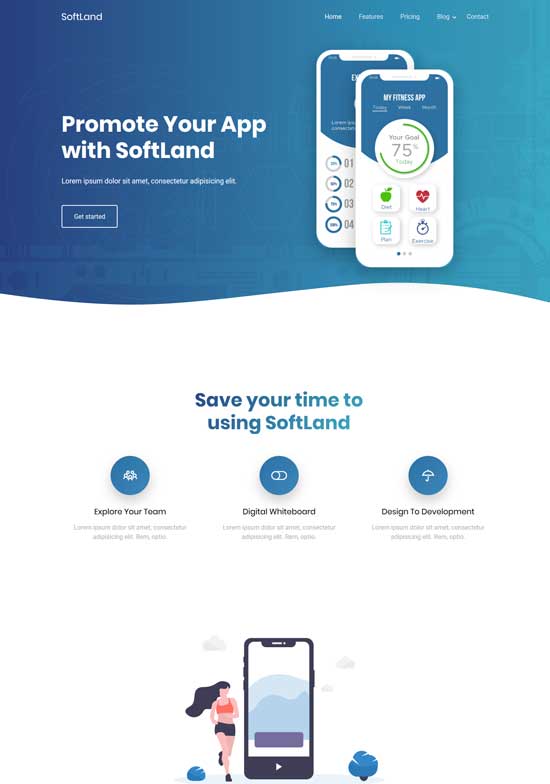 more info / download demo
Rapid
Rapid is a versatile and easy-to-use Bootstrap template with a modern and simplistic web design. This will leave a solid impression to all who visit your website are likely to contact you. Rapid is a one-page template presenting the latest trends in web design and modern effects. Amazing rollover and scrolling effects, a filterable portfolio section, and a functional contact form are just some of Rapid template's assets. It's well coded and easy to customize to suit your needs. It is fully responsive and works on all devices, including mobile phones, tablets, laptops and desktops. The Quick template is suitable for any financial, business, enterprise, agency, digital marketing, consulting, digital studio, mobile software application, start-up business and more.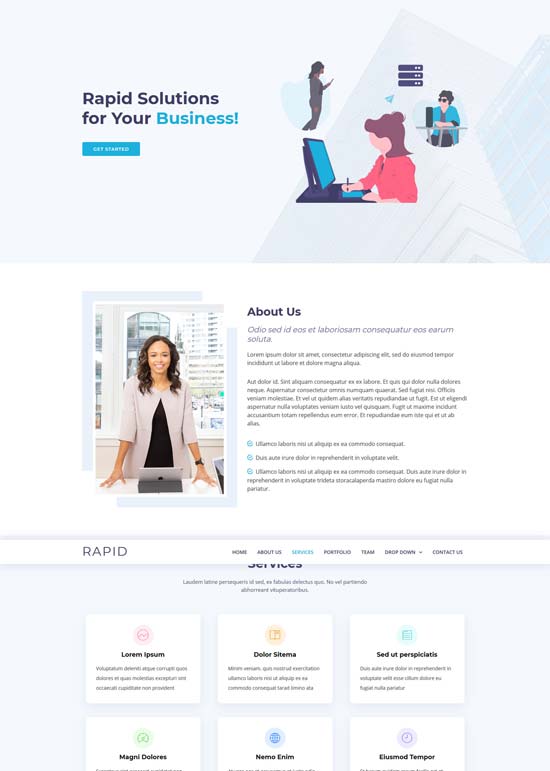 more info / download demo
Adalot
Personal Lawyer Bootstrap4 Template is an free HTML bootstrap template for law firm. This responsive template is the true representative of individuals, businesses and government agencies with respect to legal issues. The Adalot template is built on the basis of the Bootstrap 4 structure, using the drag-and-drop page builder. It is absolutely perfect for a lawyer, advisor and advisor to create a website on legal advice in order to communicate with potential clients. Adalot is an exceptional free lawyer bootstrap website template with two homepages and fashionable inside pages, such as About, Practice Area, Prices, Blog and Contact. Every element, every section and every detail of this template is adapted to legal environments. Expand your law firm with many useful features. It features Google Web Font, Awesome Police Icon, Dynamic Contact Form, and more. You'll have full access to the page about us, services, awards, achievements, team members, work process, testimonials, last blog, last tweet, quick links to help potential customers find out what's up your stand.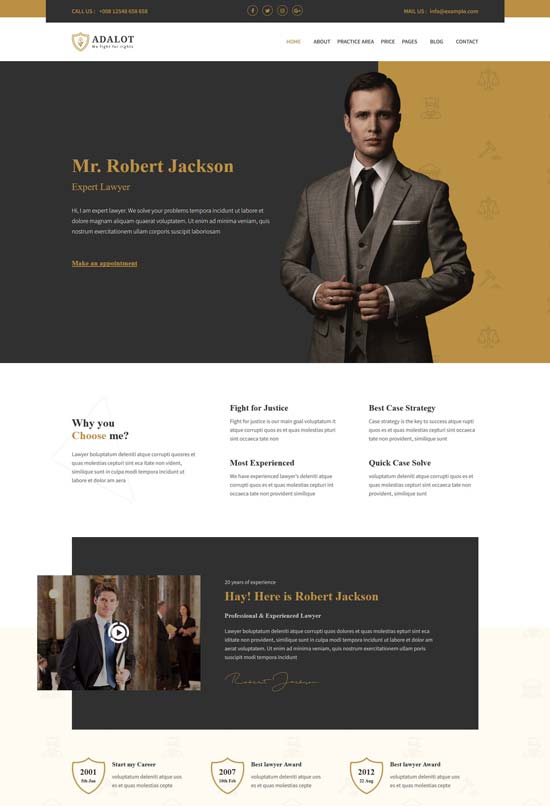 more info / download demo
Fixco
Free Multipurpose Bootstrap4 Template is a clean and modern template that can be used for any type of website. Suitable for personal news, personal blog templates, food, travel, photography, technology, businesses, creative agencies, creative businesses, businesses, individuals, agencies, fashion , jewelry, stores, etc. for all types of website, this attractive but simple design is dignified enough to create your online position. Try Fixco – Bootstrap4 Free Multi-Use template today and feel the difference!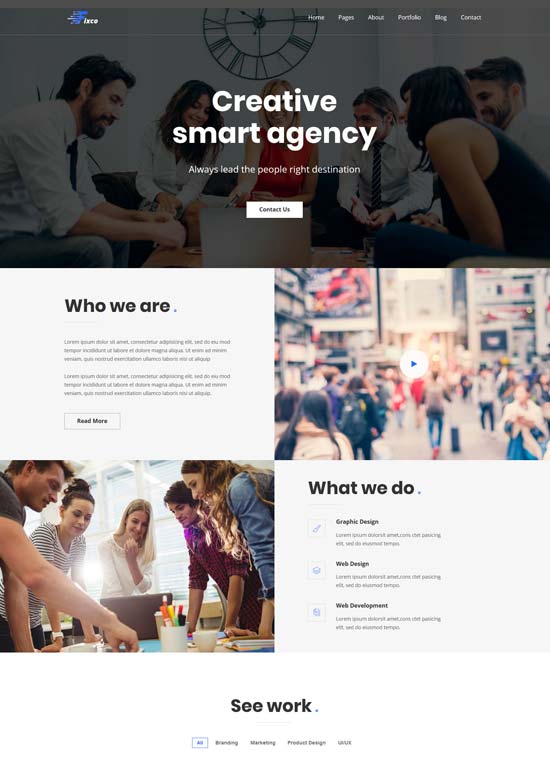 more info / download demo
Nokshi
Free Handmade & Craft Bootstrap4 Template is a faster and more user-friendly HTML5 template for your online store. It is super responsive and works perfectly in all devices. Nokshi is integrated into a Bootstrap-4 frame. This creative and smart design is easy to use for technicians and even non-technicians. No knowledge of the code is required.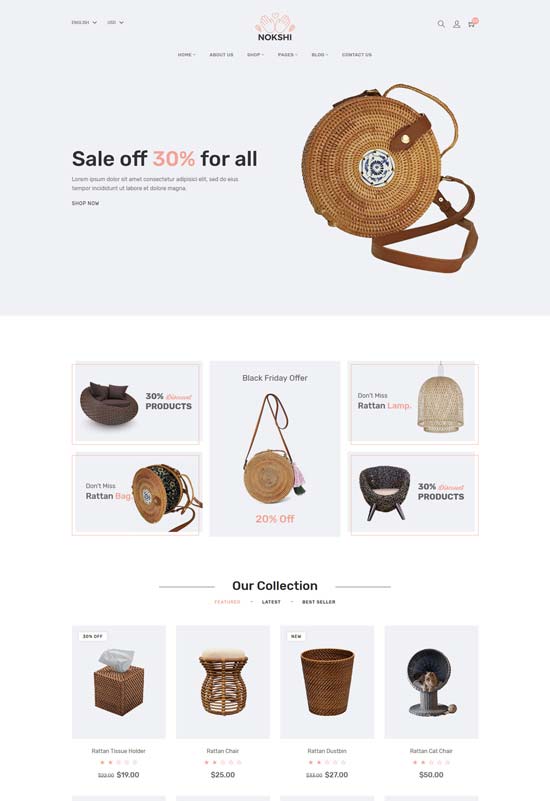 more info / download demo
BizTech
BizTech is a well-designed and free bootstrap website templates for tartup the corporate website. It's a clean, modern, HTML5-based template for all types of businesses, organizations, marketing, consulting and more. This template is built using the latest Bootstrap 4 with HTML5 and css3, which makes it easy to customize the theme.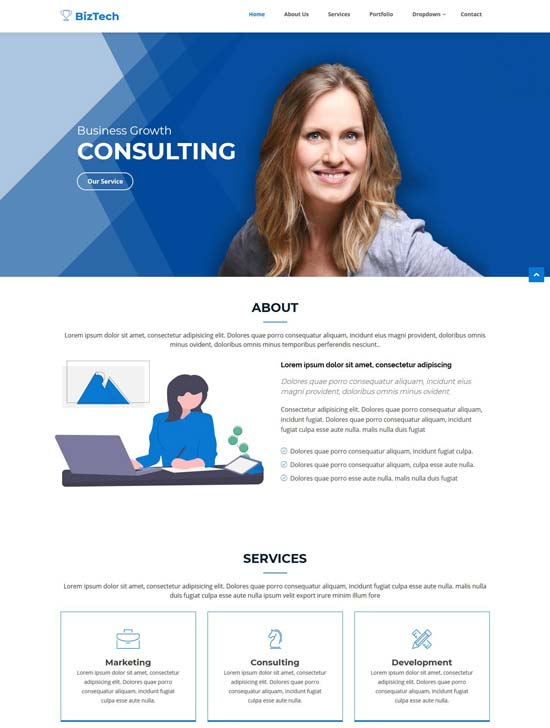 more info / download demo
Resto
Resto is a free Responsive Bootstrap 4 Template for Restaurant website, it clean design with foods menu, food price, food picture, contact form and easy for custumize.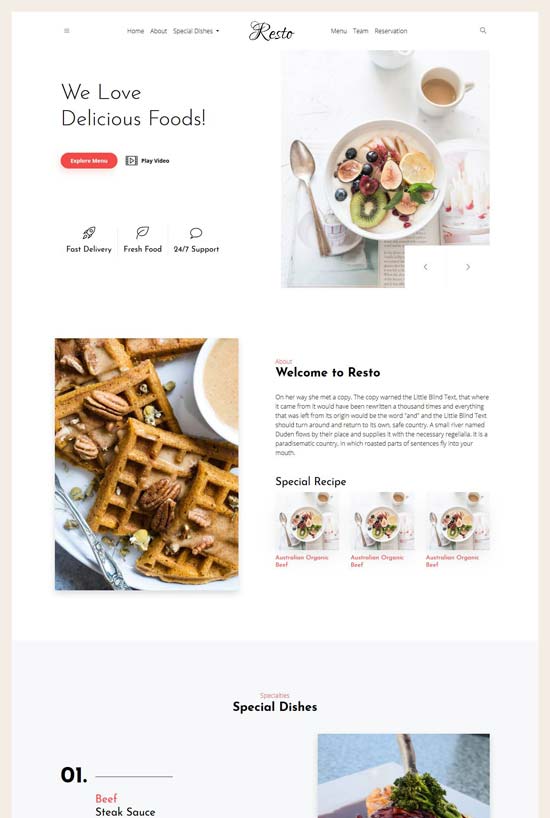 more info / download demo
Karbar
Free Multipurpose Bootstrap4 Template is the most responsive and flexible HTML template based on Botstrap 4. The creative design of Karbar is absolutely perfect for web designers, graphic designers and anyone with a creative mind.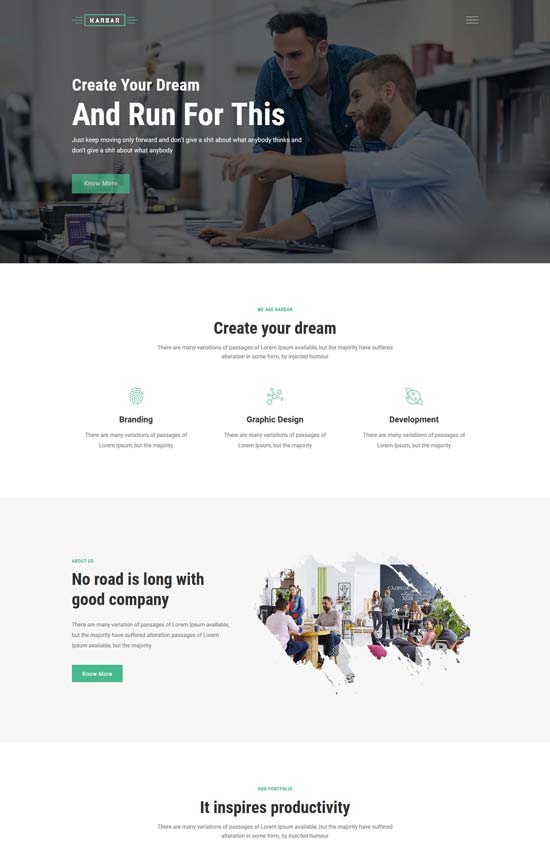 more info / download demo
Courage
Courage is a free Bootstrap 4 Website Template is a trendy designed for corporate websites and fits perfectly in all types of requirements like the consultancy, portfolio and many more. This free website is built using front-end framework Bootstrap 4, html5 and css3.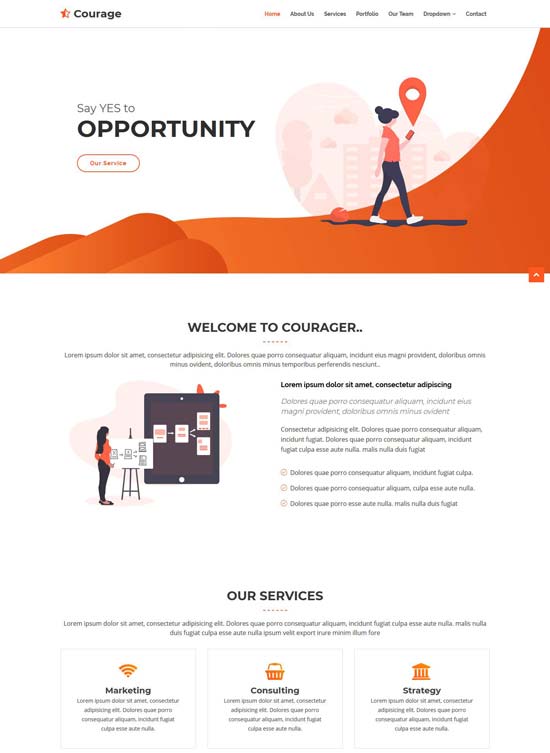 more info / download demo
Photogenic
Photogenic is a free html5 priming template, perfect for any type of work. Built with the latest technologies for web development such as HTML5, CSS3, Sass, Owl Carousel, Isotope and jQuery.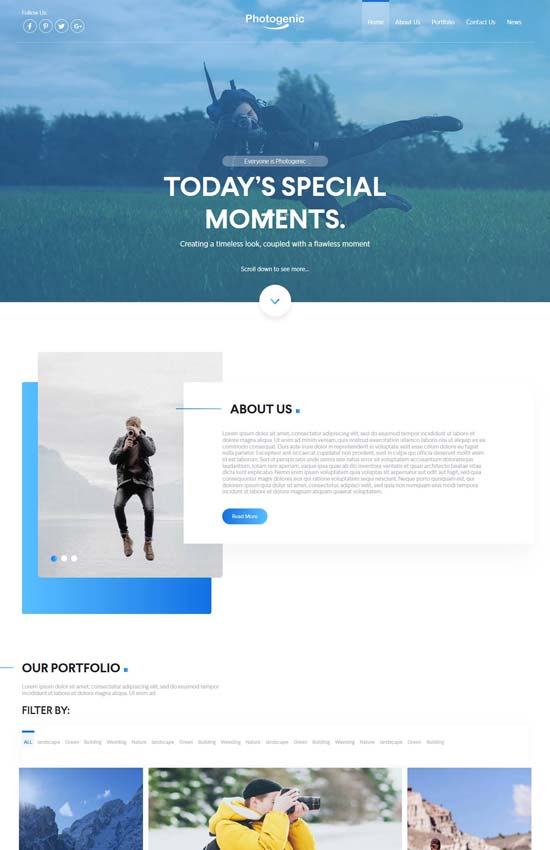 more info / download demo
JuniorHome
JuniorHome is a free Bootstrap 4 responsive website template with a beautiful and unique design. This HTML5 template is suitable for educational institutions, schools, classes, workshops, e-learning, lessons and learning sites for children. Anyone who wants a neat website for play schools or preschools, nurseries and kindergartens, kindergartens, Home Junior is the best solution for them. If you want to impress your learners with their parents, Junior Home could be the right choice for you. This attractive but simple design is worthy enough to build your online position.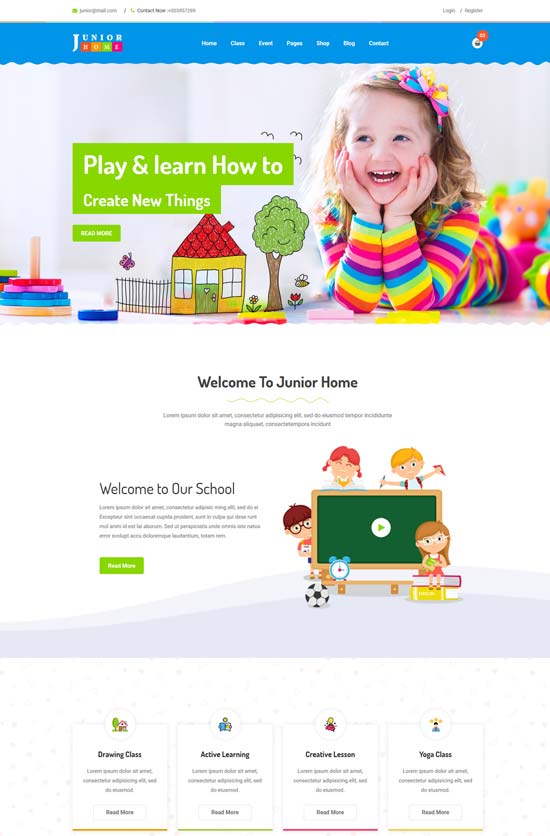 more info / download demo
NewBiz
NewBiz is a Bootstrap template for modern businesses. You can use the NewBiz template for many types of businesses, such as: enterprise, digital studio, digital marketing, consulting, software mobile application, etc. NewBiz is a one-page template presenting the latest trends in web design for the current technical era. It's home page design come with drop down menu, about us info, service part, Why choose us, Portfolio layout, teams profiles, clients logo and contact details form.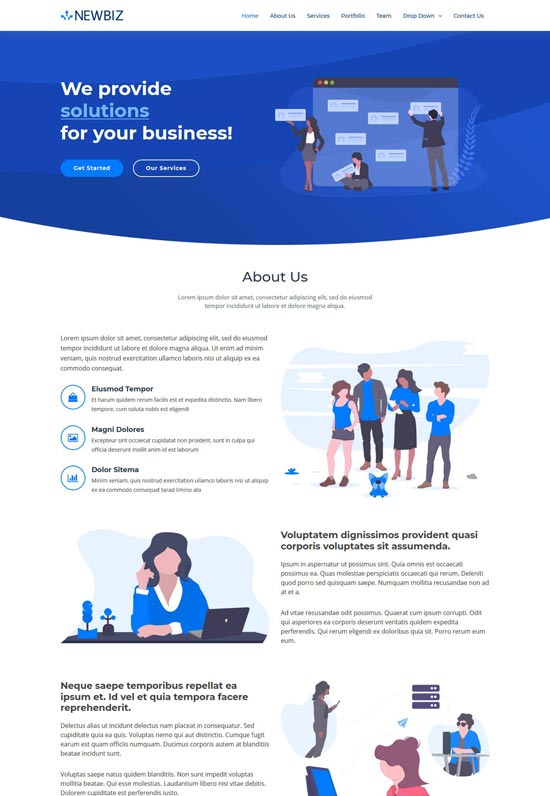 demo more info / download
CreativeOne
CreativeOne is a free bootstrap website template for small business, and other versatile user. It's home page design come with flat design, service part, photo gallery project, contact form and modern design style works in unison with rich features and plugins making this theme an excellent go-to for your next Bootstrap project.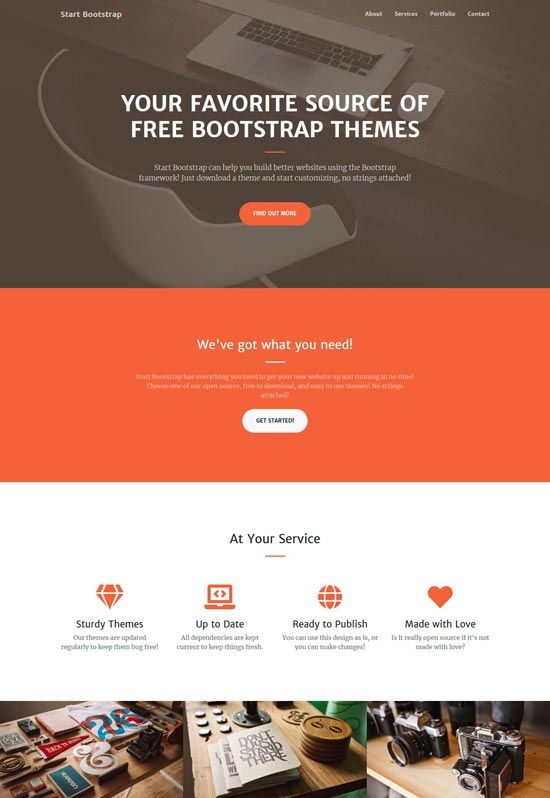 demo more info / download