Rapid
Rapid is a versatile and easy-to-use Bootstrap template with a modern and simplistic web design. This will leave a solid impression to all who visit your website are likely to contact you. Rapid is a one-page template presenting the latest trends in web design and modern effects. Amazing rollover and scrolling effects, a filterable portfolio section, and a functional contact form are just some of Rapid template's assets. It's well coded and easy to customize to suit your needs. It is fully responsive and works on all devices, including mobile phones, tablets, laptops and desktops. The Quick template is suitable for any financial, business, enterprise, agency, digital marketing, consulting, digital studio, mobile software application, start-up business and more.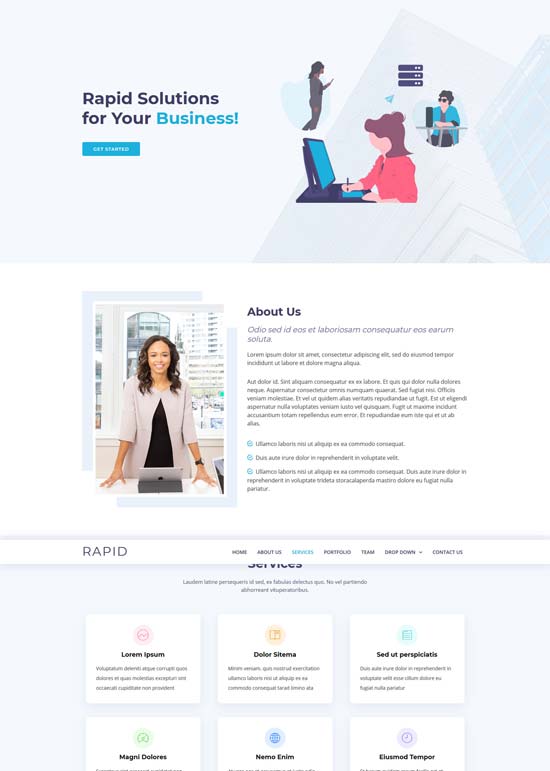 more info / download demo
Adalot
Personal Lawyer Bootstrap4 Template is an free HTML bootstrap template for law firm. This responsive template is the true representative of individuals, businesses and government agencies with respect to legal issues. The Adalot template is built on the basis of the Bootstrap 4 structure, using the drag-and-drop page builder. It is absolutely perfect for a lawyer, advisor and advisor to create a website on legal advice in order to communicate with potential clients. Adalot is an exceptional free lawyer bootstrap website template with two homepages and fashionable inside pages, such as About, Practice Area, Prices, Blog and Contact. Every element, every section and every detail of this template is adapted to legal environments. Expand your law firm with many useful features. It features Google Web Font, Awesome Police Icon, Dynamic Contact Form, and more. You'll have full access to the page about us, services, awards, achievements, team members, work process, testimonials, last blog, last tweet, quick links to help potential customers find out what's up your stand.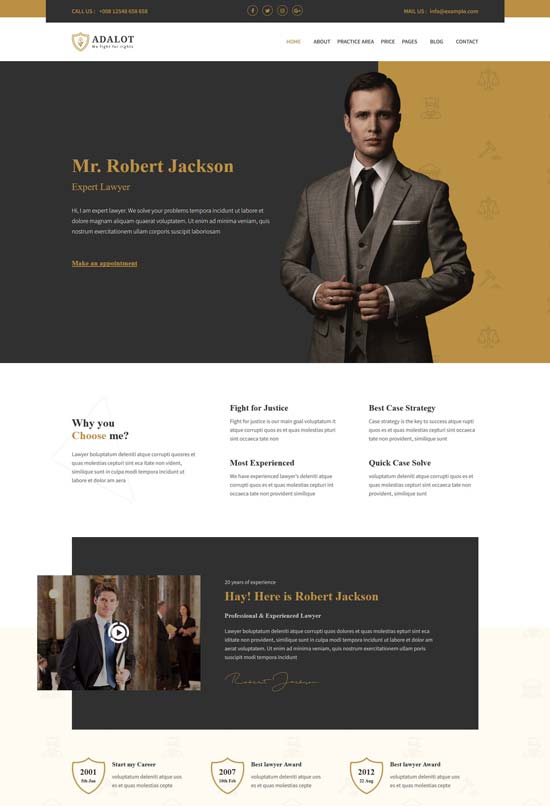 more info / download demo
Fixco
Free Multipurpose Bootstrap4 Template is a clean and modern template that can be used for any type of website. Suitable for personal news, personal blog templates, food, travel, photography, technology, businesses, creative agencies, creative businesses, businesses, individuals, agencies, fashion , jewelry, stores, etc. for all types of website, this attractive but simple design is dignified enough to create your online position. Try Fixco – Bootstrap4 Free Multi-Use template today and feel the difference!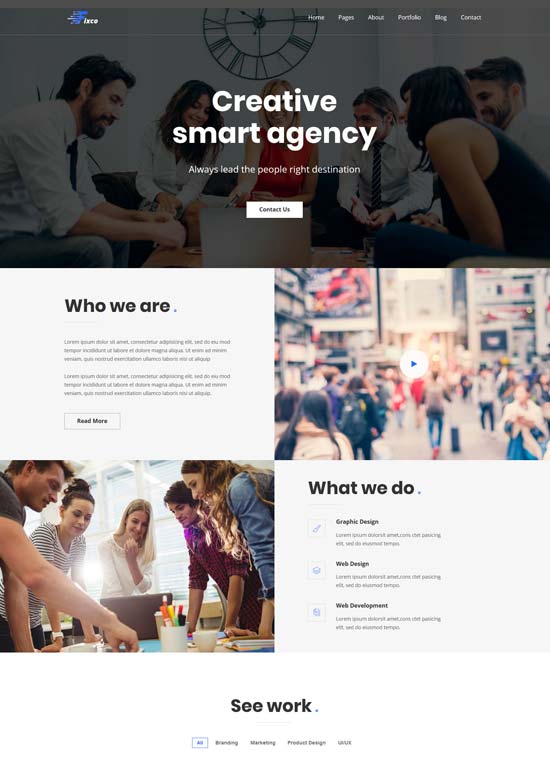 more info / download demo
Nokshi
Free Handmade & Craft Bootstrap4 Template is a faster and more user-friendly HTML5 template for your online store. It is super responsive and works perfectly in all devices. Nokshi is integrated into a Bootstrap-4 frame. This creative and smart design is easy to use for technicians and even non-technicians. No knowledge of the code is required.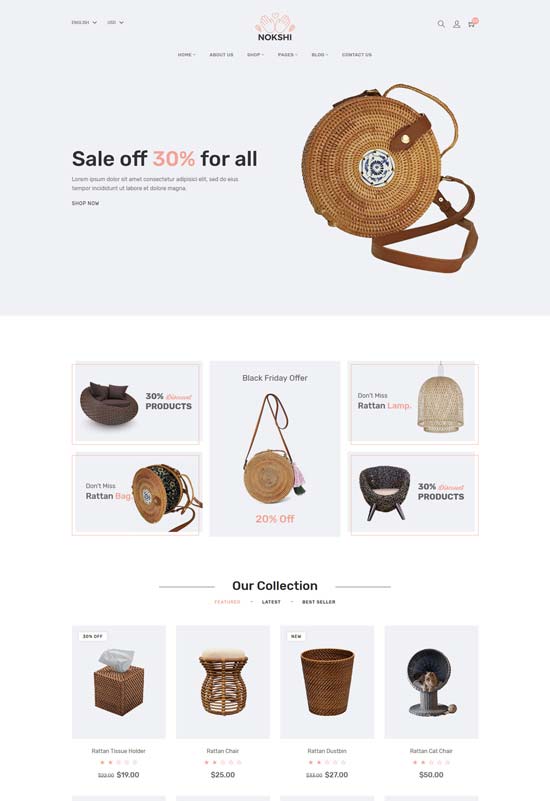 more info / download demo
BizTech
BizTech is a well-designed and free bootstrap website templates for tartup the corporate website. It's a clean, modern, HTML5-based template for all types of businesses, organizations, marketing, consulting and more. This template is built using the latest Bootstrap 4 with HTML5 and css3, which makes it easy to customize the theme.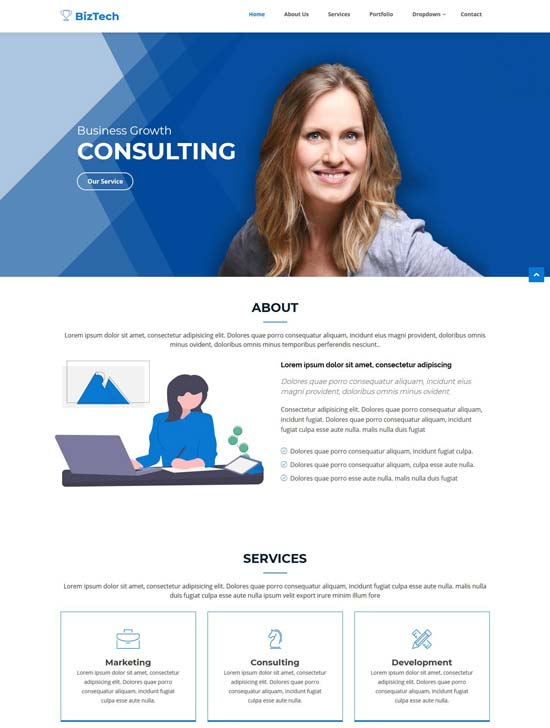 more info / download demo
Resto
Resto is a free Responsive Bootstrap 4 Template for Restaurant website, it clean design with foods menu, food price, food picture, contact form and easy for custumize.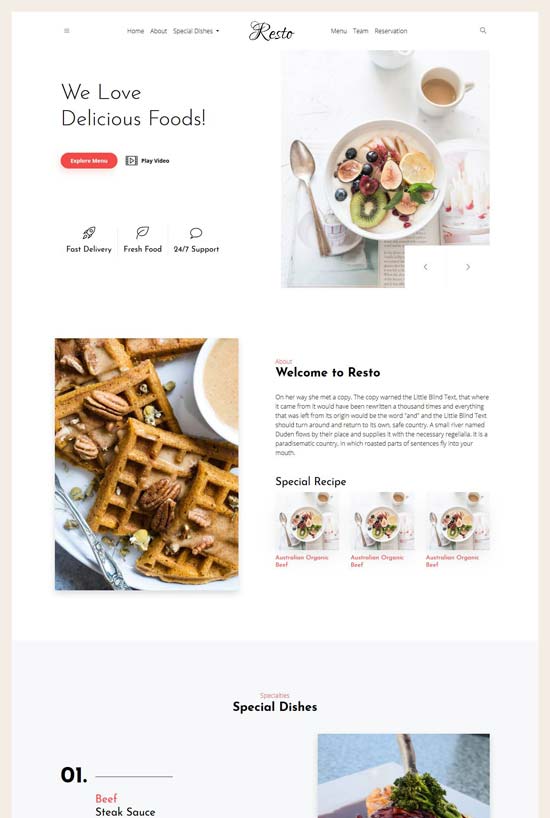 more info / download demo
Karbar
Free Multipurpose Bootstrap4 Template is the most responsive and flexible HTML template based on Botstrap 4. The creative design of Karbar is absolutely perfect for web designers, graphic designers and anyone with a creative mind.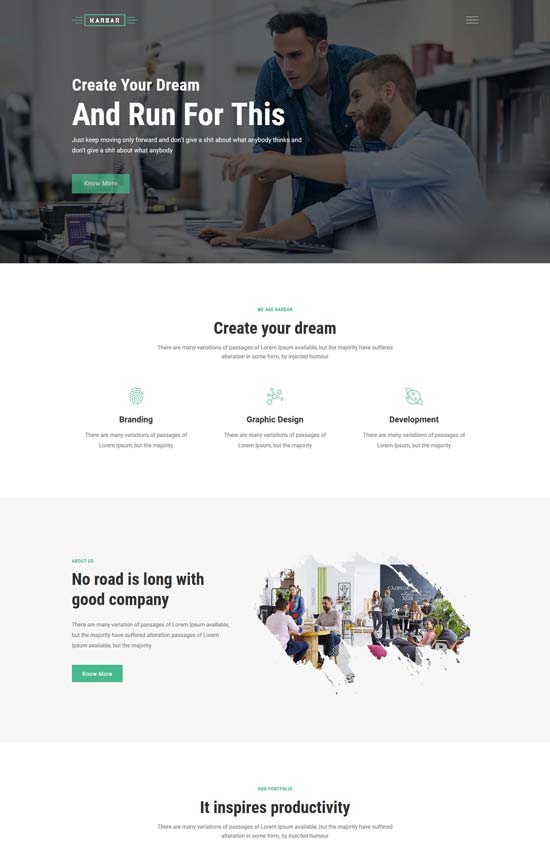 more info / download demo
Courage
Courage is a free Bootstrap 4 Website Template is a trendy designed for corporate websites and fits perfectly in all types of requirements like the consultancy, portfolio and many more. This free website is built using front-end framework Bootstrap 4, html5 and css3.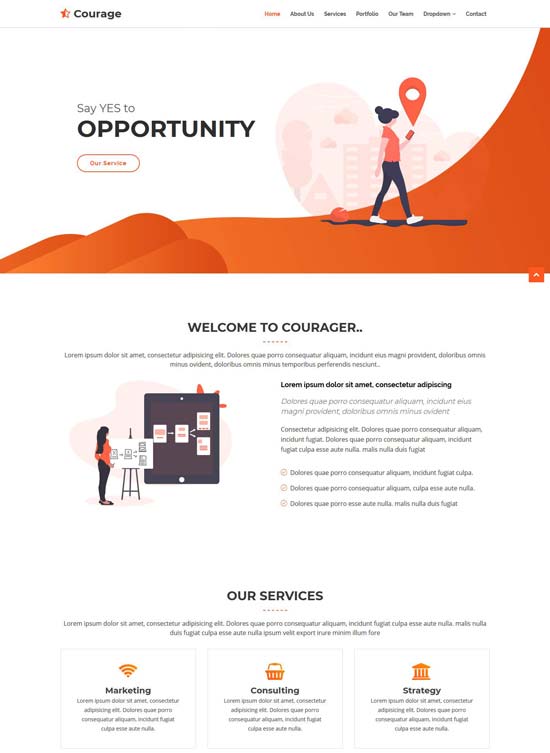 more info / download demo
Photogenic
Photogenic is a free html5 priming template, perfect for any type of work. Built with the latest technologies for web development such as HTML5, CSS3, Sass, Owl Carousel, Isotope and jQuery.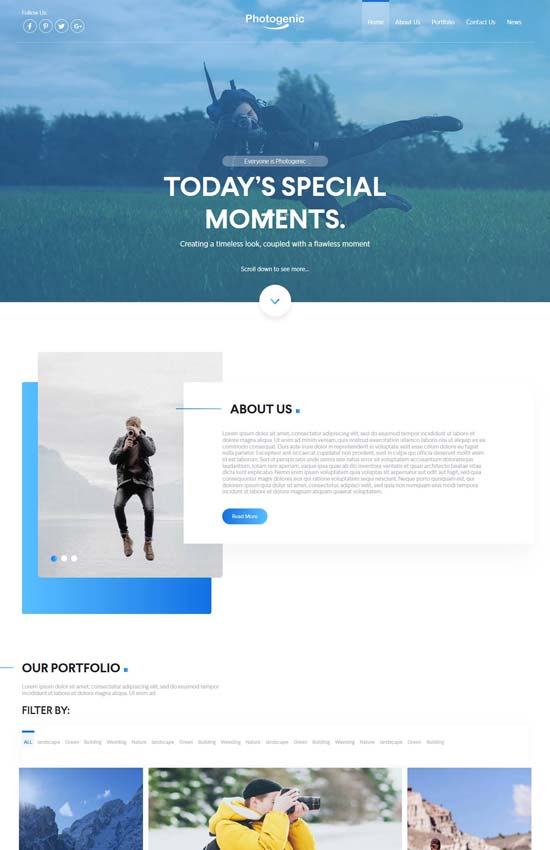 more info / download demo
JuniorHome
JuniorHome is a free Bootstrap 4 responsive website template with a beautiful and unique design. This HTML5 template is suitable for educational institutions, schools, classes, workshops, e-learning, lessons and learning sites for children. Anyone who wants a neat website for play schools or preschools, nurseries and kindergartens, kindergartens, Home Junior is the best solution for them. If you want to impress your learners with their parents, Junior Home could be the right choice for you. This attractive but simple design is worthy enough to build your online position.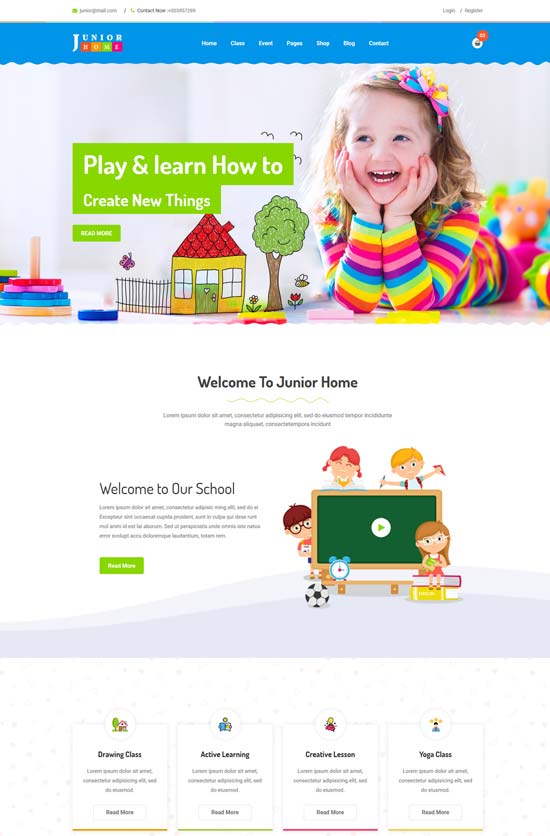 more info / download demo
NewBiz
NewBiz is a Bootstrap template for modern businesses. You can use the NewBiz template for many types of businesses, such as: enterprise, digital studio, digital marketing, consulting, software mobile application, etc. NewBiz is a one-page template presenting the latest trends in web design for the current technical era. It's home page design come with drop down menu, about us info, service part, Why choose us, Portfolio layout, teams profiles, clients logo and contact details form.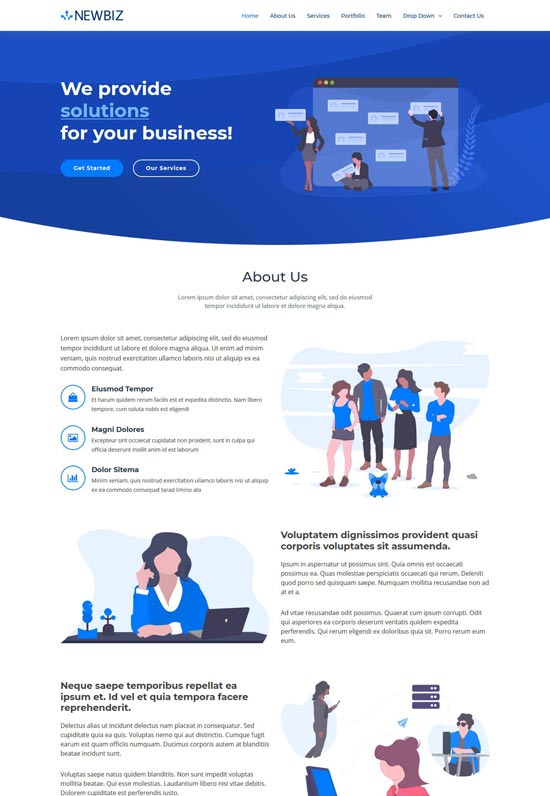 demo more info / download
CreativeOne
CreativeOne is a free bootstrap website template for small business, and other versatile user. It's home page design come with flat design, service part, photo gallery project, contact form and modern design style works in unison with rich features and plugins making this theme an excellent go-to for your next Bootstrap project.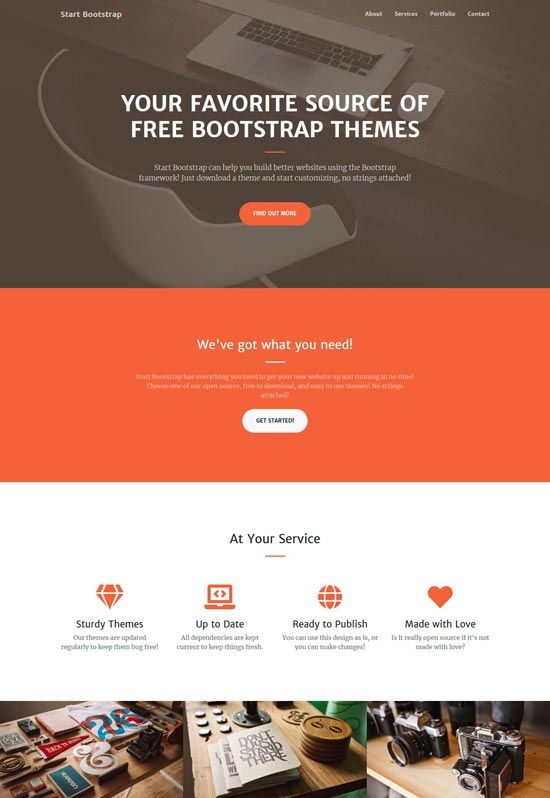 demo more info / download
Aahar
Free Food Delivery Service Bootstrap4 template is designed for all players in the food delivery industry. Aahar has been designed for the owners of food delivery services and services, banquet rooms, catering companies that meet the needs of the food niche.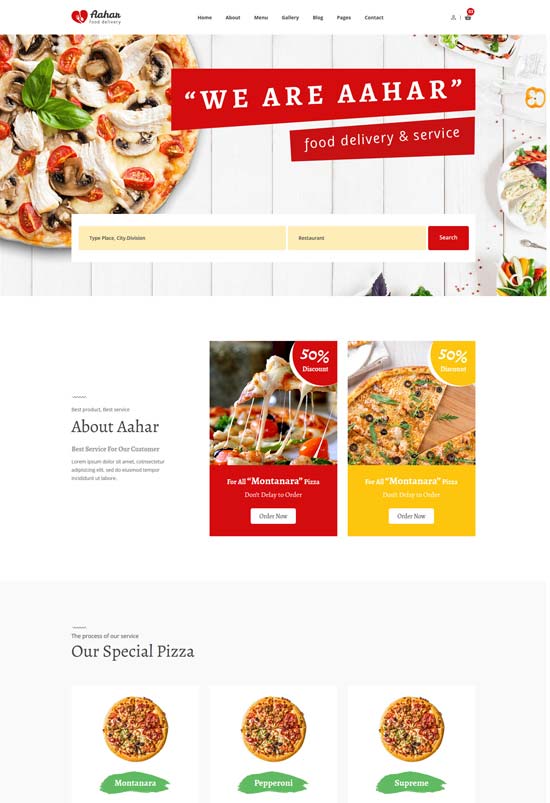 more info / download demo
Italiano
Italiano is a modern bootstrap template and it can use to build an elegant website for a restaurant, café or bistro website. This home page template comes with a lot of useful elements that you might need, full screen slider, About Restaurant, service provide info, special foods list, Special Offers list, creative foods menu, upcoming events, photo gallery, order booking form and contact form.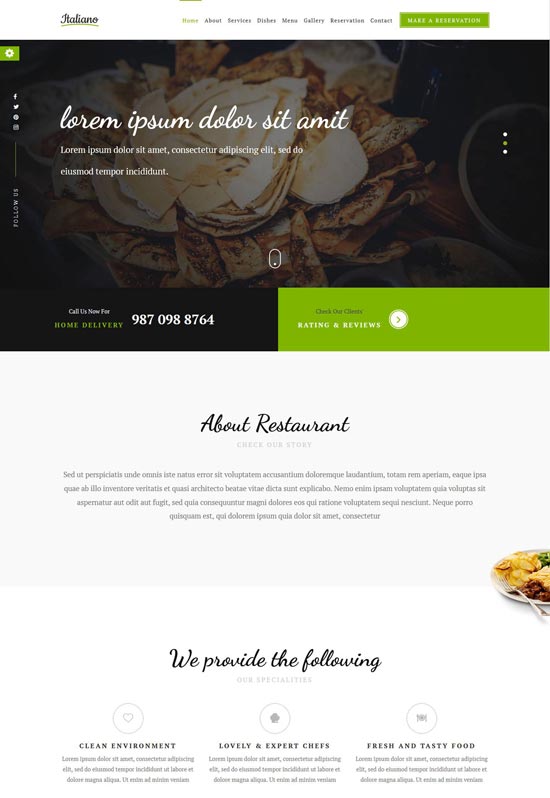 demo more info / download
City-Church
City-Church is a bootstrap template that can be acquired by anyone wanting to start a website without wasting a lot of effort Bootstrap themes are highly recommended by various web developers and designers around the world. They offer different benefits and features that are highly appreciated by their users. Bootstrap templates create a convenient opportunity to create a website without committing financial or non-financial resources.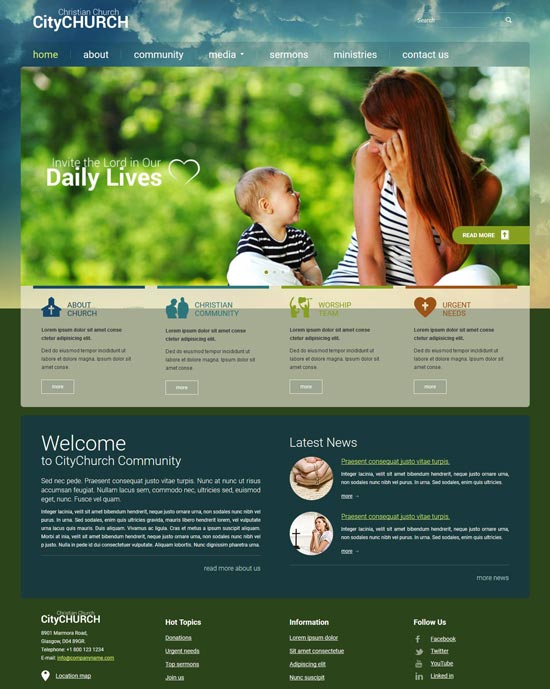 demo more info / download
TheOptimal
TheOptimal is a fully responsive lightweight, made with the Bootstrap structure. Its design and developed with real experience of the site. We include every section, every line, every component a user needs. The optimal template is specially designed to suit almost any hosting project. You can synchronize easily and quickly all modules. This is OK tested with all major browsers and devices (ipad, iphone, galaxy tab, etc.). Theoptimal is a fully responsive HTML5 / WHMCS hosting template fully responsive to your web hosting business. It comes with unique 56 pages HTML pages and light and dark styles. Impressive bright colors, more than 10 unique color variations. Light color themes of version 10 in WHMCS. Easy to customize and fully featured, latest modern design.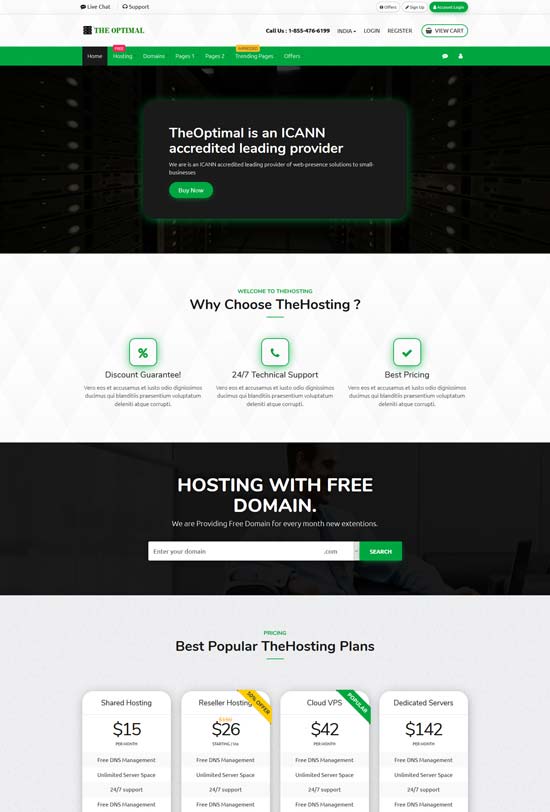 more info / download demo
BootstrapBlog
BootstrapBlog is a free bootstrap website template. Its design is minimalist, almost all elements are in black and white, only a few have a touch of primary color. It contains 3 HTML page templates, all in 7 color variants. The default color variant is this time in gray. As usual, you can change the main color of the style sheet to pink, red, purple, blue, green or navy blue.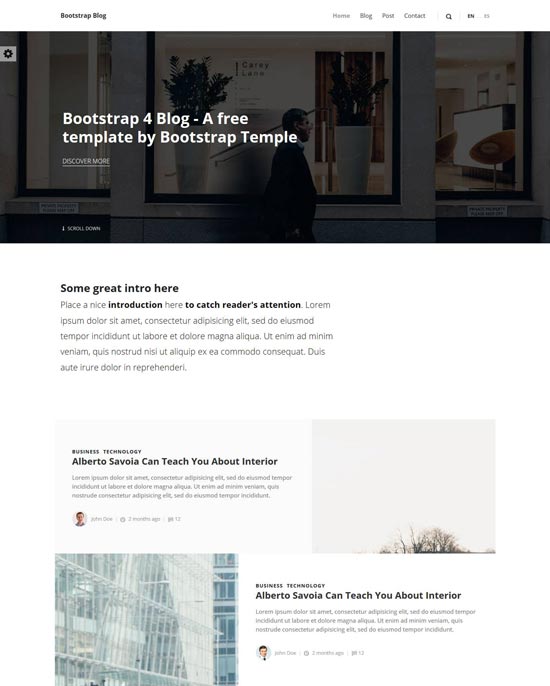 demo more info / download
Portfolio
Free and responsive portfolio template with beautiful full-page Intro and different types of galleries. Built with the latest Bootstrap 4 and Material Design.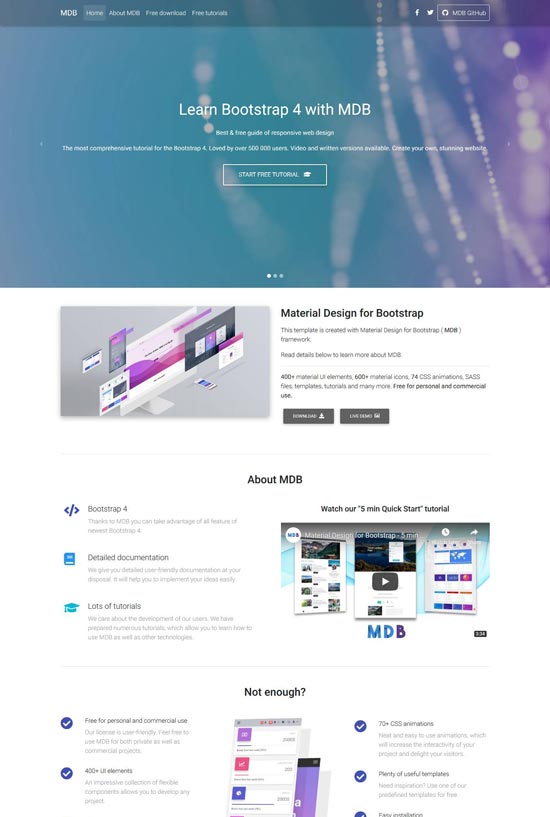 demo more info / download
Bitcoin
Bitcoion is a creative, clean and high quality free Crypto Currency Bootstrap template. Build with Bootstrap v3.3.7. The main sites of use are Bitcoin mining sites, trade and trade in cryptocurrency, finance and business consulting, digital currencies. You can easily present your ideas with a perfect style. well commented HTML and CSS code for user-friendly use. Specially designed for cryptocurrency. Fully customize HTML and CSS files.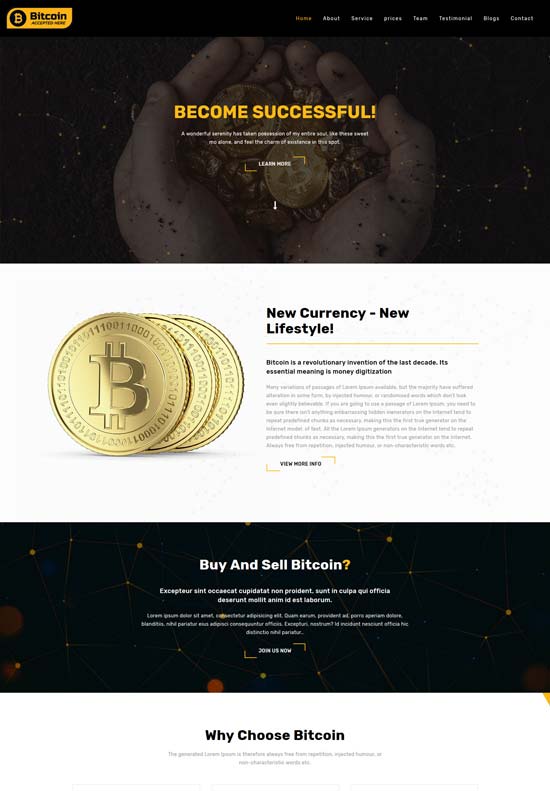 more info / download demo
Dope
Dope is a multipurpose free bootstrap 4 website template for marking or landing page, it's home page contain about, feature, price template and Testimonial.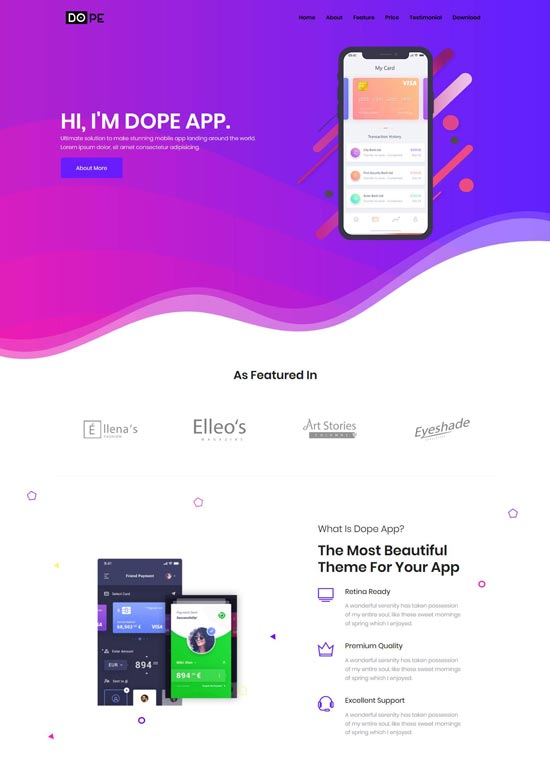 demo more info / download
EngineeringCi
EngineeringCi is an HTML start template for civil engineering. The reason we introduce it is that the homepage is FREE. Civil engineering is a very large undertaking. It is a professional engineering discipline that deals with design, roads, buildings, railways, airports, etc. This bootstrap template is very useful and popular among these companies. Each customer has the opportunity to use the design of this template for commercial reasons.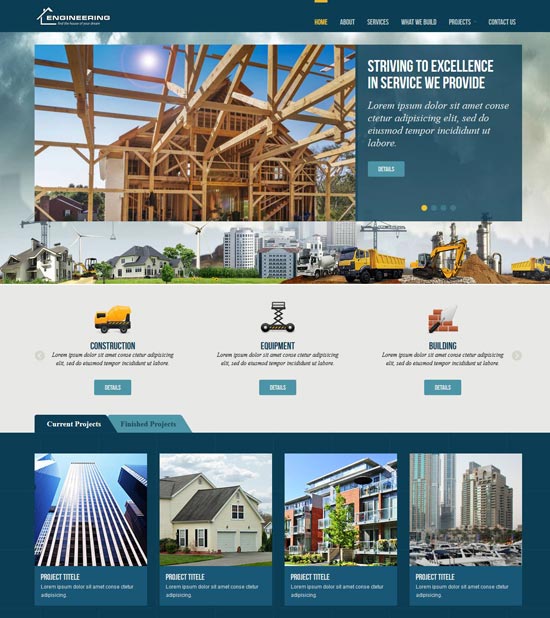 demo more info / download
Boighor
Boighor is a free bootstrap website template for book library store, it is a simple, neat and well-designed bookstore website template. This bootstrap template is ideal for your e-commerce project. Boighor's fully responsive template looks great on all types of displays and peripherals. Boighor is ideal for the library, book publishers, authors, writers and bookstores.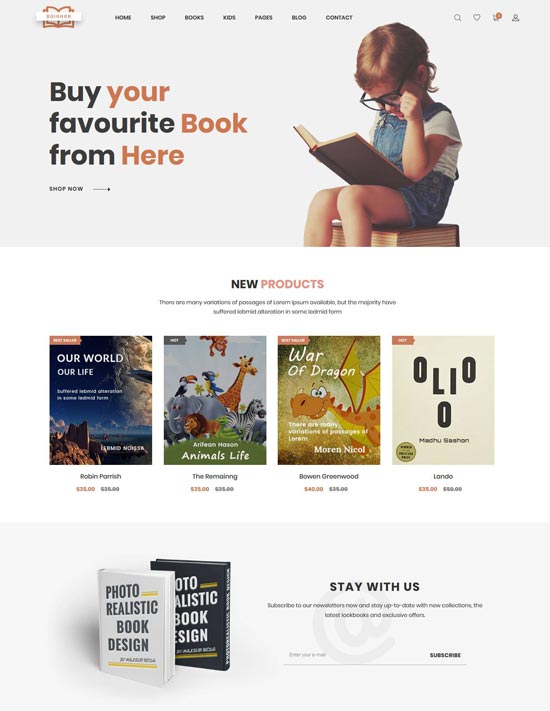 demo more info / download
Neha
Minimalist free eCommerce Bootstrap 4 Template is a sleek and stylish design – suitable for the sale of clothing, fashion, haute couture, menswear, women's fashion, accessories, digital, kids, watches, jewelry, shoes, kids, furniture, sport, tools. It has a fully responsive width that automatically adapts to any screen size or resolution. We've included 6 layouts for the home page to offer you the best selections for customization. You can mix all the home page layouts to get a different layout for your own website. The home page is designed to attract attention with a large slideshow above and below the Mega Menu. The slideshow is great with smooth transitions of texts and beautiful images.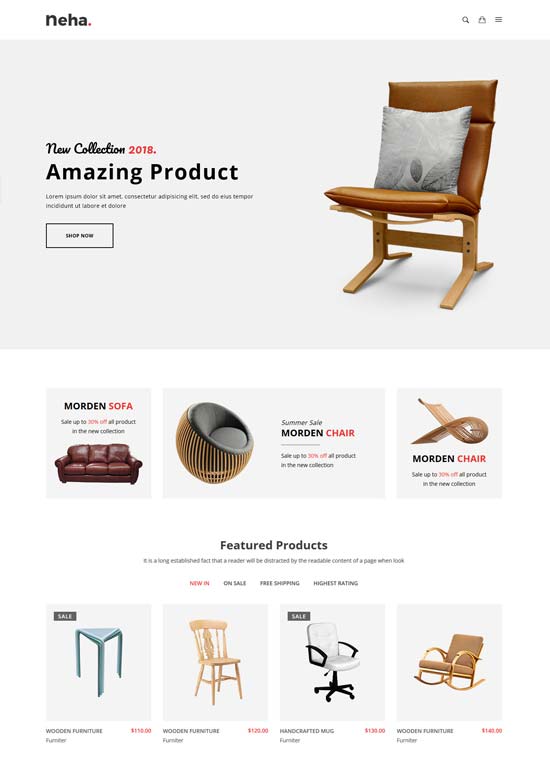 more info / download demo
DevFolio
DevFolio is a free portfolio HTML bootstrap website template created with the Bootstrap framework. Whether you are a creative, a developer or an artist, DevFolio will be very useful. Create a unique portfolio, CV, or personal website in line with this sleek, easy-to-use boot template. No matter what your talent is, DevFolio is one of the easiest ways to sell you on the Web, attract more customers and grow your business. Developers, web designers, artists, illustrators, marketers, you can all create a stylish personal website with DevFolio. DevFolio comes with six predefined colors and is built with the latest version of Bootstrap. It is also fully responsive and works on all major devices. Create your website today and offer your services to the world with the DevFolio template.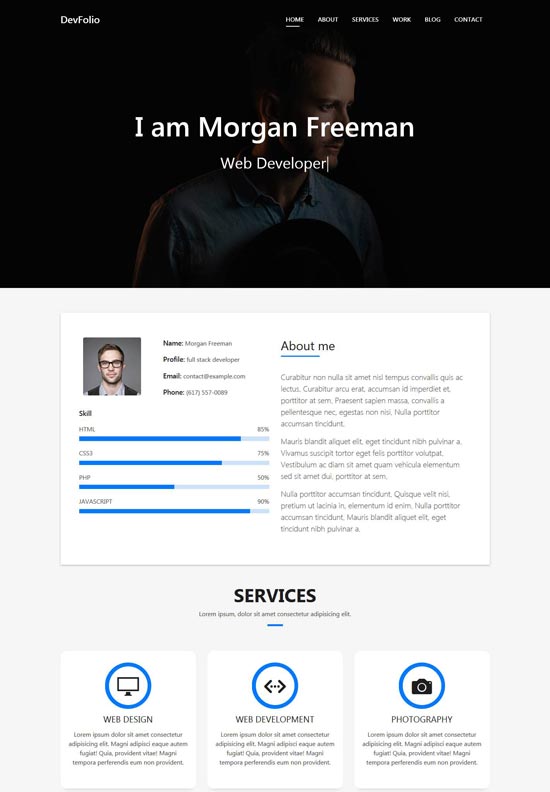 demo more info / download
TheEvent
TheEvent is a free bootstrap website template for events, conferences and webinars. This is a one-page responsive HTML template, created with the latest version of the Bootstrap framework. It is designed to provide detailed information about your event. TheEvent is also ideal for any event, meeting, summit, camp, seminar, convention, exhibition and more. TheEvent comes with all the important sections needed to create an event website, such as: introductory page of the complete page with button to load a video in a light box, event information, list of speakers, calendar, information on the event venue and map, list of hotels, image gallery, sponsors, FAQ, newsletter subscription, purchase of tickets with modal order form, contact form and others. It also comes with a separate template page for detailed information about the speaker. TheEvent is designed as a page template with easy and fluid navigation. The template code is organized in sections. It allows you to easily navigate and read the code clean and well structured.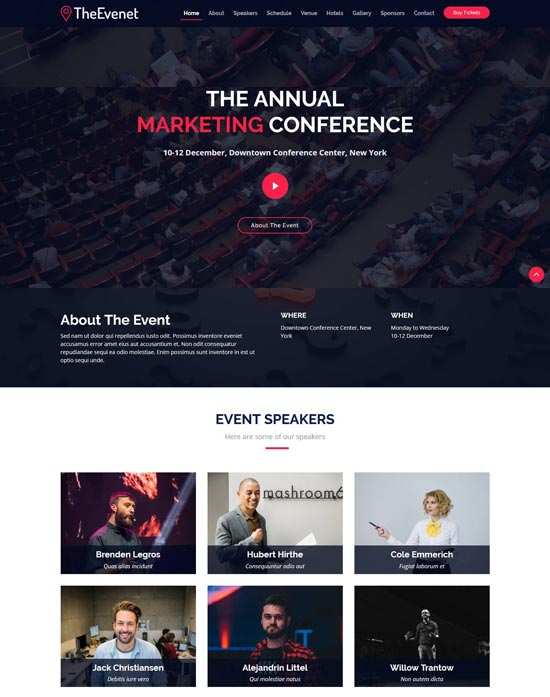 demo more info / download