MaxiBiz
MaxiBiz is a multi-page business bootstrap website template built with Bootstrap. It is suitable for all agencies, businesses and businesses and can be used to design any website template as it includes all the required elements. The template design is flat and unique and includes all the features that allow you to present your products and services in the most professional way. You can creatively include your company's services and products and provide details about each service through this template design. MaxiBiz comes with 7 predefined color schemes each in separate CSS files for easy change. Other features of the MaxiBiz include: ecommerce templates, blog templates and many other page templates. It also applies a sticky menu when you scroll down. It has very smooth transition effects, amazing fonts and many other amazing features that are wonderful for starting your site. With Maxibiz, you have the guarantee of a site that will have a great flow of audience and, of course, good sales.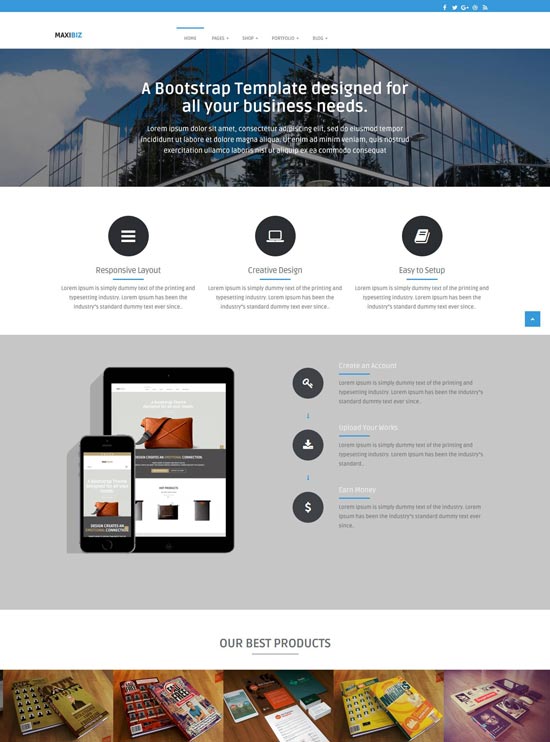 demo more info / download
eStartup
eStartup is a sleek, modern business Bootstrap template for creating websites for startups, application websites, and more. It comes with many customizable and reusable items designed to meet as many needs as possible. eStartup can also be used for an agency, business, finance, consulting, etc. It's a one-page template with a smooth scrolling effect. eStartup is a fully responsive template built with the Bootstrap framework. It looks perfect on all major browsers, tablets and phones. Some of the notable features and ready sections are: about us, features, carousel screenshots, team members, price charts, list of blog articles and contact form. eStartup is very easy to use. change your text, images, colors and prepare your website in no time. Whatever product you launch, eStartup will help you get it online as quickly as possible.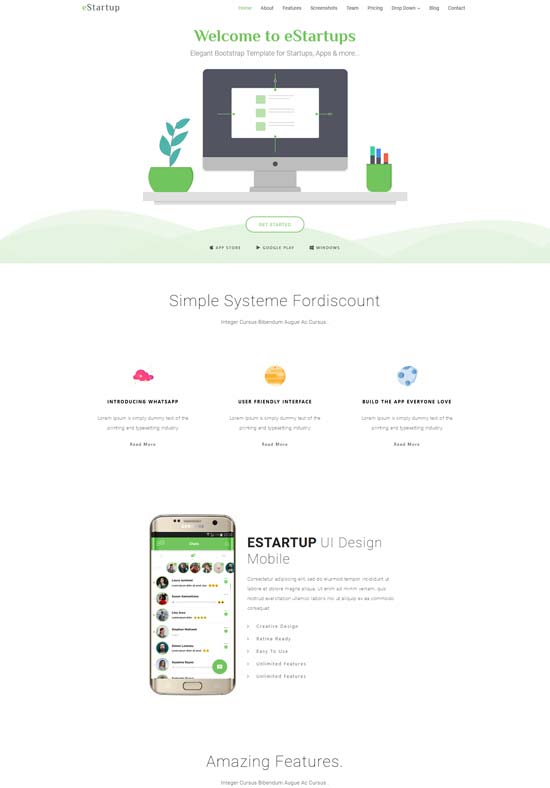 more info / download demo
ClassiX
ClassiX is a directory bootstrap template for ads and classified business purpose. Specially designed for classified ads, ads, directories and work portal sites. Whether you want to create a platform on which visitors can sign up and publish ads for their products, services and job postings or an online directory where businesses and attractions can be listed. ClassiX contains everything you need to create scalable and perfect classified ad sites, ads, directories, and professional portals. It comes with more than 23 mandatory pages, including 3 variants of the homepage. ClassiX is a scalable, professional, easy-to-use tool and one of the best classified ad and HTML ad templates with all the latest features.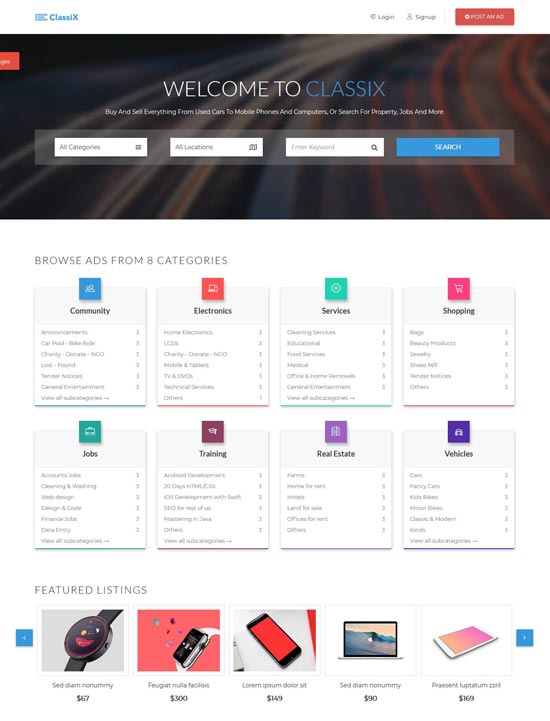 demo more info / download
Folio
Folio is a simple, elegant and creative free bootstrap 4 website template for showcase your portfolio or personal information.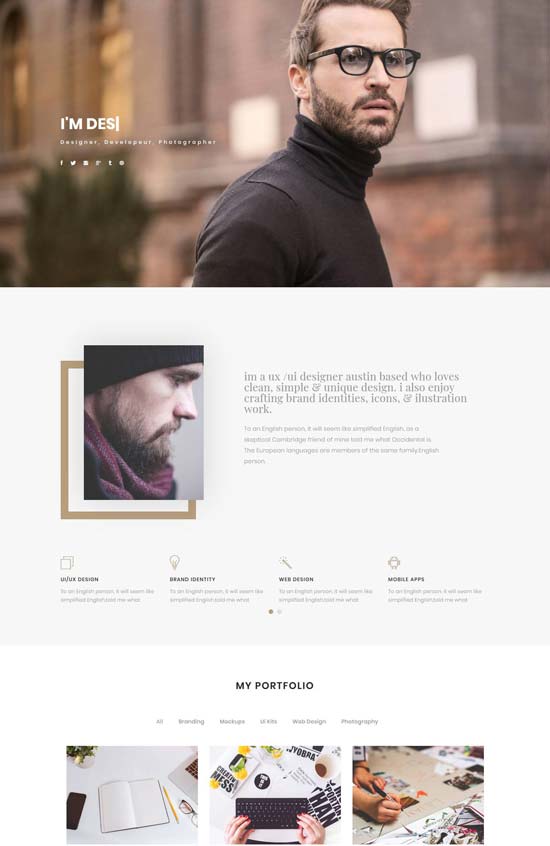 demo more info / download
Polaroyd
Polaroyd is an elegant and simple agency free bootstrap website template, suitable for multiple uses. This template is suitable for agencies, businesses and other businesses. Polaroyd comes with many indispensable elements for designing an excellent website. It also comes with unique features such as: the unique animated header gallery, the full screen menu, the blog page templates and many more. Polaroyd is the perfect agency template design for all agencies and compatible with all browsers and works on all major platforms. It is ready for the retina and can be viewed on all major devices, regardless of size. The Polaroyd template will be a good way to start your website because it presents an amazing presentation and superb design.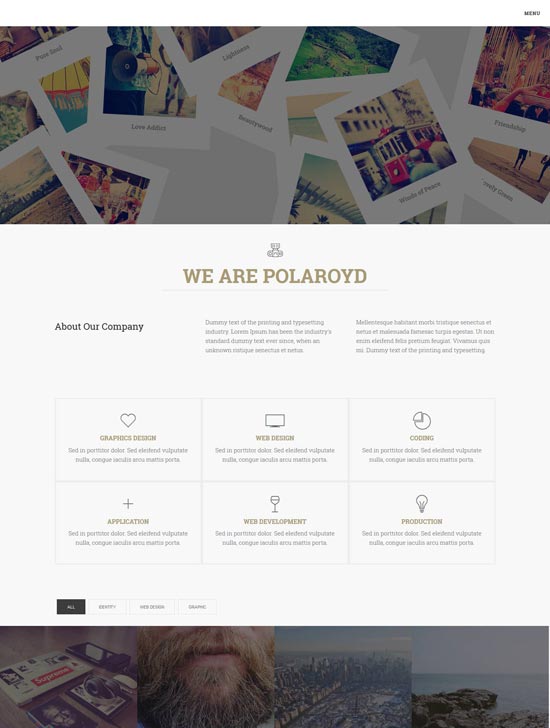 demo more info / download
Pluto
The bootstrap template based on materials design. Pluto's components are based on Google's graphical user interface. Pluto is best suited for enterprise, application, product, agency, startup, enterprise and portfolio websites. Pluto comes with all the advanced features with clean and refreshing design elements, probably the best bootstrap template based on the design materials design on the market.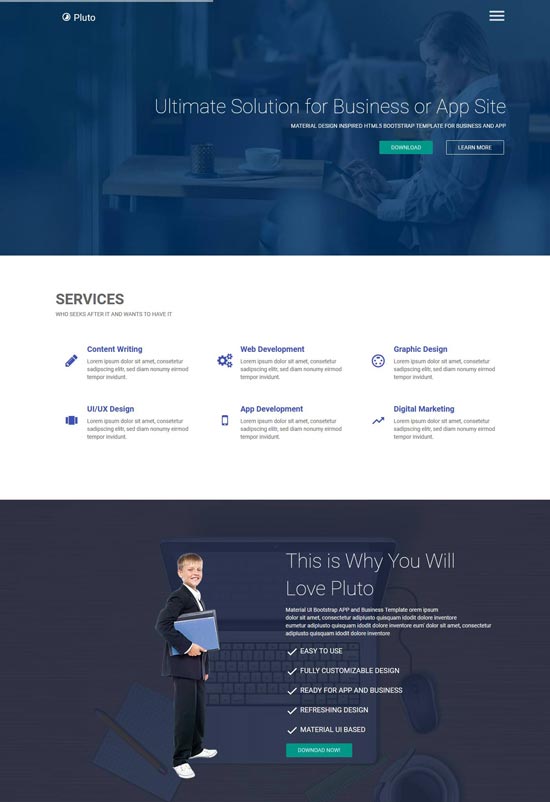 demo more info / download
zDancing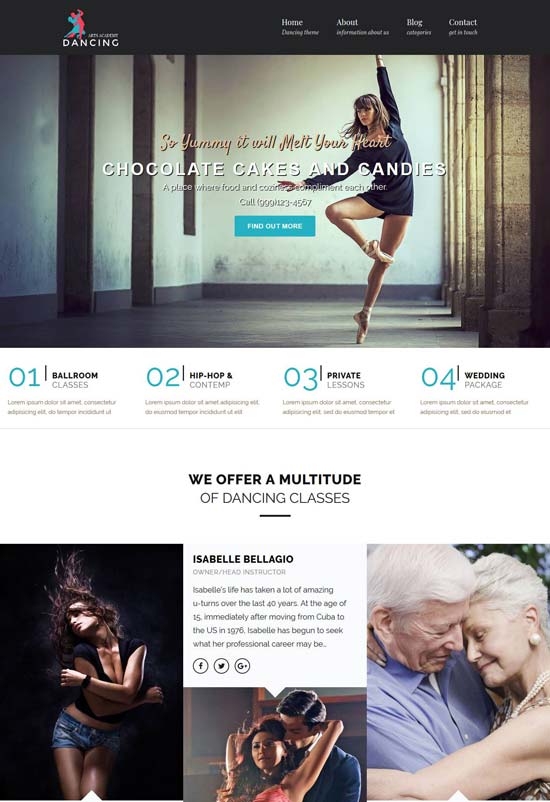 demo more info / download
Alstar
Alstar is a bootstrap template, with beautiful animation and parallax effects. This theme will be adapted to freelancers, agencies, creative to highlight their profile or their works.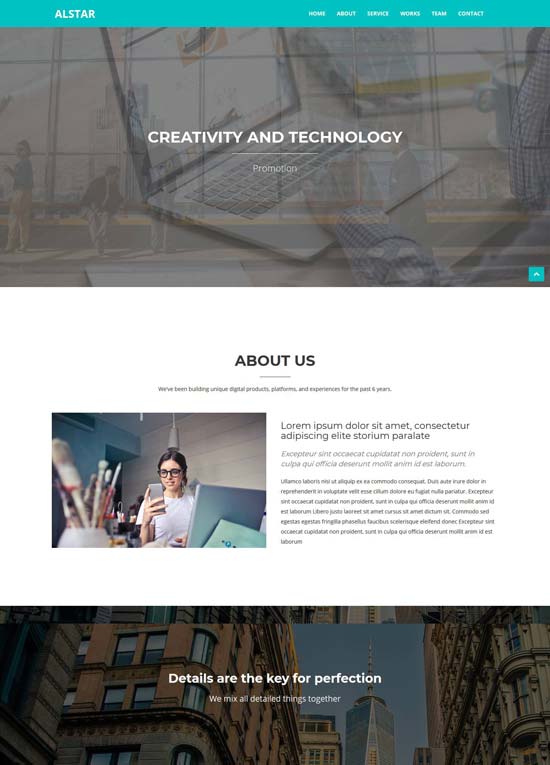 demo more info / download
DesignStu
DesignStu is a reliable and responsive web site landing page template based on Bootstrap. This free bootstrap website template is perfect for agency sites, personal websites, and even other related services websites. The template is highly responsive and compatible with cross-searches. The template comes with many new items that are perfect for agency website design. It is based on the minimalist and elegant style of Bootstrap.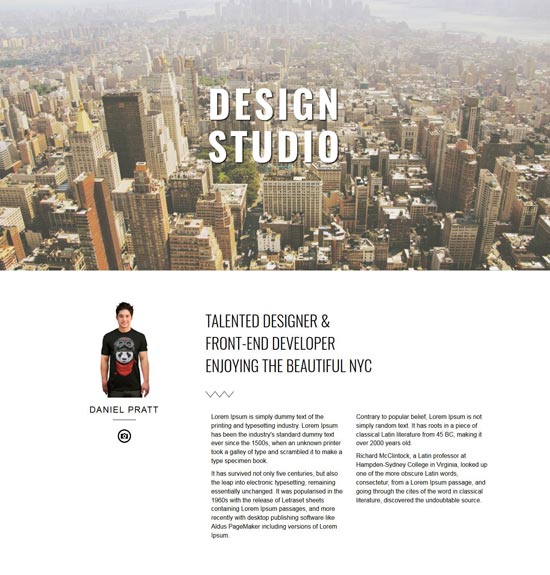 demo more info / download
Reveal
Reveal is a marketing Bootstrap template for creative businesses. It's best suited for corporate, corporate, and corporate websites. Reveal follows the latest trends and modern design ideas in the webdesign industry. Build your elegant and professional website using the Reveal website template. The theme can also be used by creative people, agencies, consulting companies, startups or anyone who wants a quick web presence. Create it with the Reveal Free Website Template to give your future online presence an intuitive, modern and stylish look! The Reveal startup template is built with the latest Bootstrap 4 release and is a new addition to our Bootstrap 4 template collection. We follow the section-based code organization in this template. It allows you to easily navigate and read the code clean and well structured.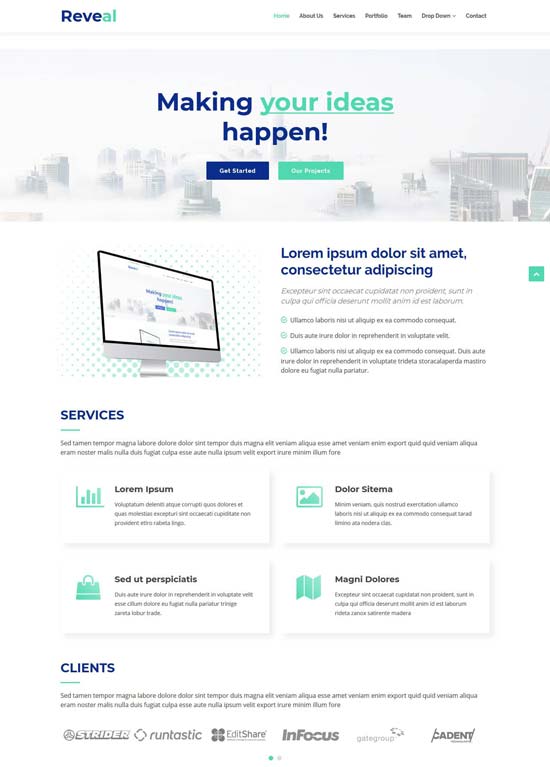 demo more info / download
BizPage
BizPage is a modern, visually stunning and creative free HTML bootstrap website theme built with the Bootstrap framework. The sectioning code structure method is used to create the BizPage theme that allows you to easily navigate the code and customize it effortlessly.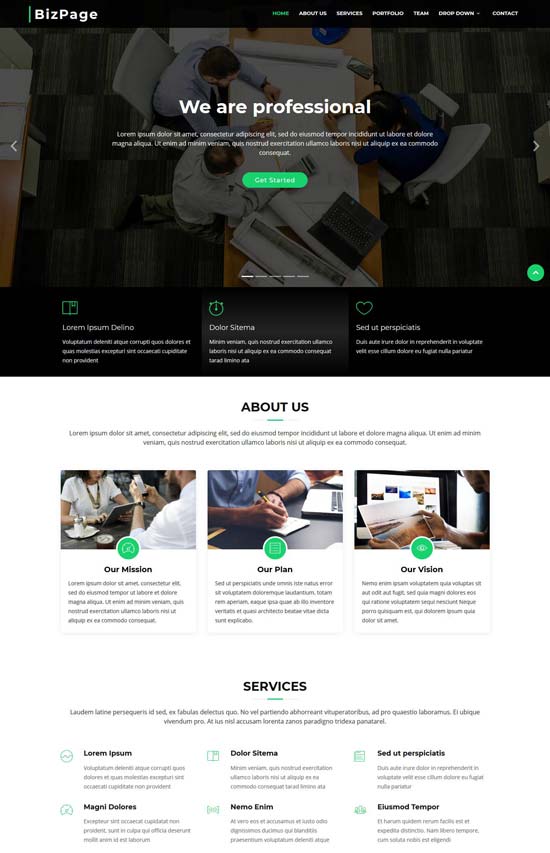 demo more info / download
Avilon
Avilon is a clean, stylish and modern landing page template for Bootstrap. This bootstrap template can be used to present and promote any product such as a mobile application, desktop application, SaaS applications, digital products, software or any other product that requires a single page layout on the web.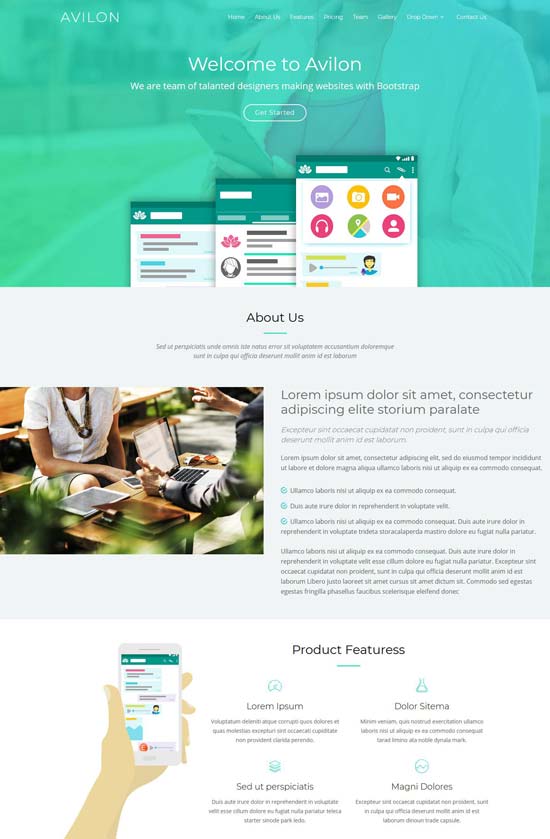 demo more info / download
BizPage
BizPage is a modern, visually stunning and creative bootstrap website theme designed with the Bootstrap framework. The sectioning code structure method is used to create the BizPage theme that allows you to easily navigate the code and customize it effortlessly.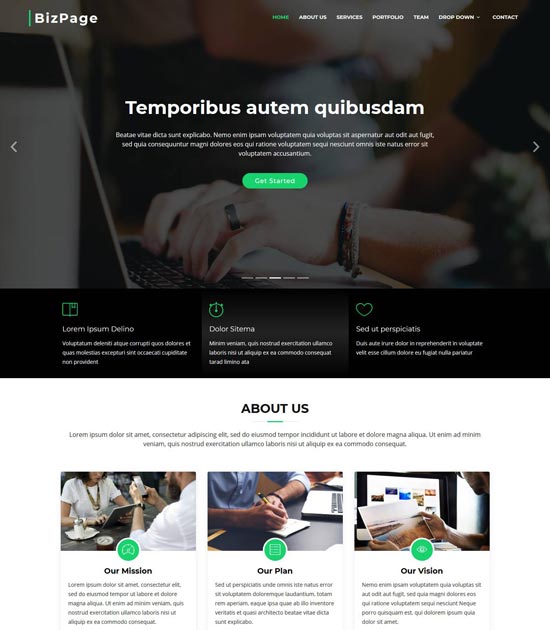 demo more info / download
Bell
Bell is a unique free Bootstrap 4 page theme. Bell can be used for versatile websites, including agencies, businesses, businesses, factories, real estate services, construction, finance, consulting, cleaning service. or any other type of website. Just change your text, your image and your colors to get your website. Everything is already done for you!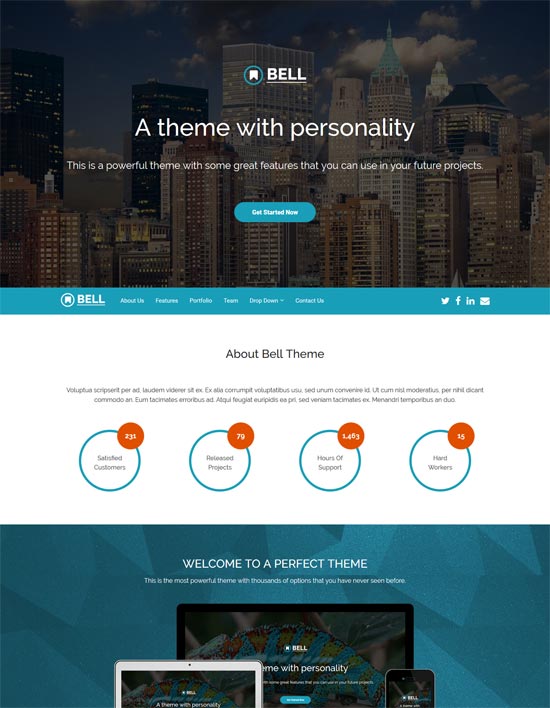 more info / download demo
Flexor
Flexor is a multiple purpose free bootstrap website template best suitable for studios, creative agencies, digital agencies or other similar businesses. It comes with 4 color schemes. Parallax effects on scroll, mega navigation menus are some of the key features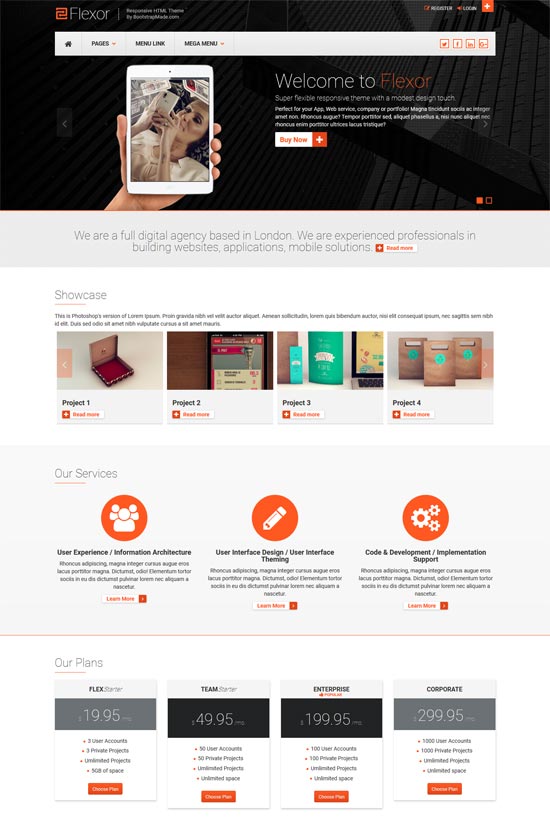 more info / download demo
Regna
Regna is a stylish free Bootstrap 4 template designed for any type of business, corporate or agency website. This is a one-page template with clean design, totally responsive and beautiful on all devices. It is very easy to use and customize, with trendy features and a unique design. Regna's appearance will give your website a sophisticated and appealing look, or a useful template for your work.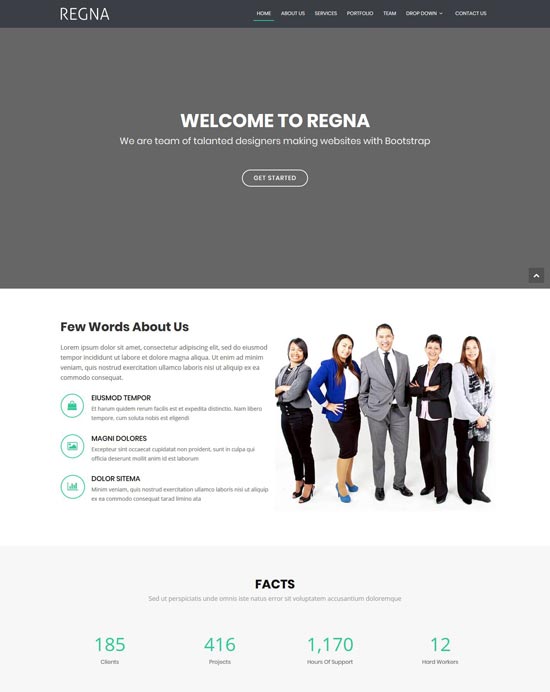 demo more info / download
Imperial
Imperial is a modern and creative free bootstrap website template, ideal for studios, creative agencies, digital design agencies or other similar businesses. The header comes with a full screen part of the hero, where you can present your business. Imperial also comes with a modern mobile off-screen menu for better navigation and a better user experience.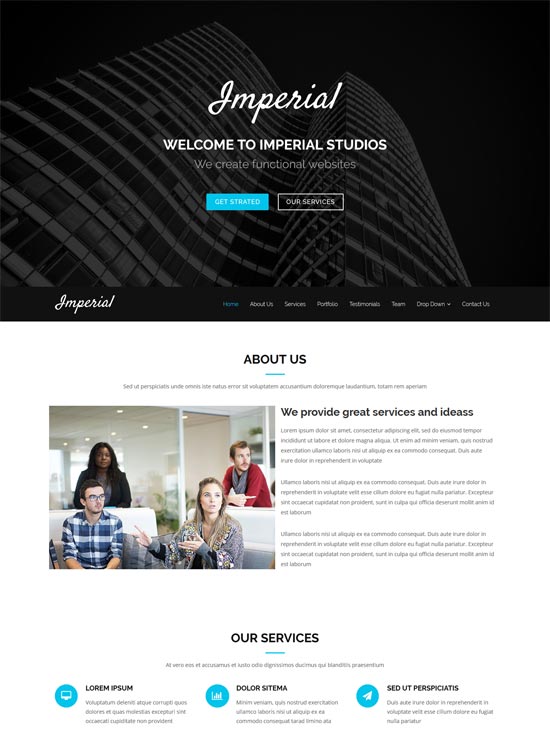 more info / download demo
Flosix
Flosix is a clean minimal style designs bootstrap template for creative agency or personal portfolio site. Easy editable website template for multipurpose use. It design with one page layout build with Bootstrap 3.0 and prefect for any small business company.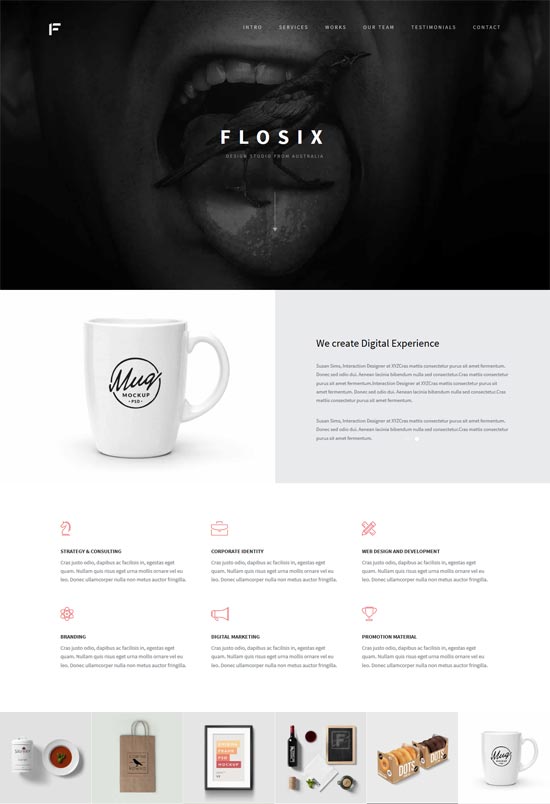 more info / download demo
Maxim
Maxim is a unique, modern and stylish bootstrap website template. This theme will be adapted for independent people, agencies and creatives to show their profile or their works. Maxim built with the latest twitter bootstrap, the latest trend style and with many impressive features.
Sailor
Sailor is a HTML bootstrap template for the company's business. A lot of features and designed for several types of websites such as corporate business, portfolio, product showcase..etc. This template built with the latest Bootstrap 3.2 and coming with the layout box and wide, 10 colors predefined templates, 10 pattern backgrounds, WOW animation effects, and much more.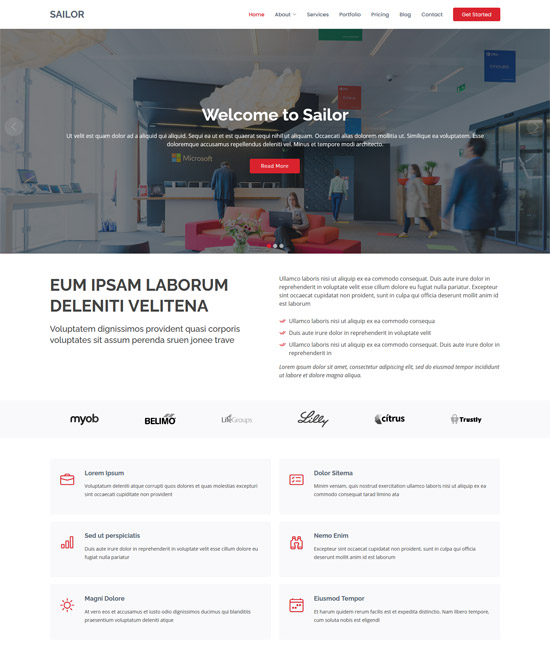 more info / download demo
Valera
Valera is an impressive bootstrap templates with many modern features such as minimalist slider, video background, parallax and CSS3 animations. If you are looking for an easy to customize template then Valera is a good choice. It allows the use of Google Maps, a parallax banner, a showcase of portfolio and a project counter. Because of the bootstrap template, customizing it is made easy. It is for free by Creative Commons. It is equipped with modern designs, easy to customize, it helps you save time and has a user-friendly interface. For those who want to try out bootstrap templates then they can start with one of the easiest with Valera.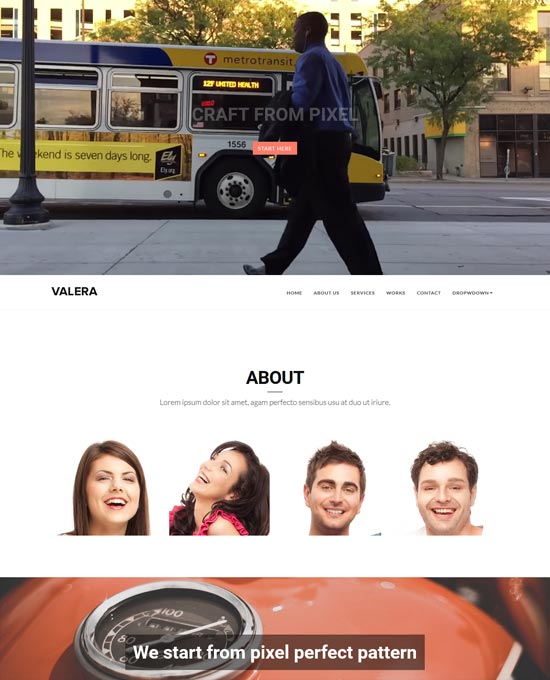 more info / download demo
Spirit8
Spirit8 is a HTML bootstrap template suitable for digital and agency website. It is responsive, and user friendly theme. Coded by Jenn Pereira and Designed by Robert Berki. Use this for any use free Themes & Template – personal or commercial.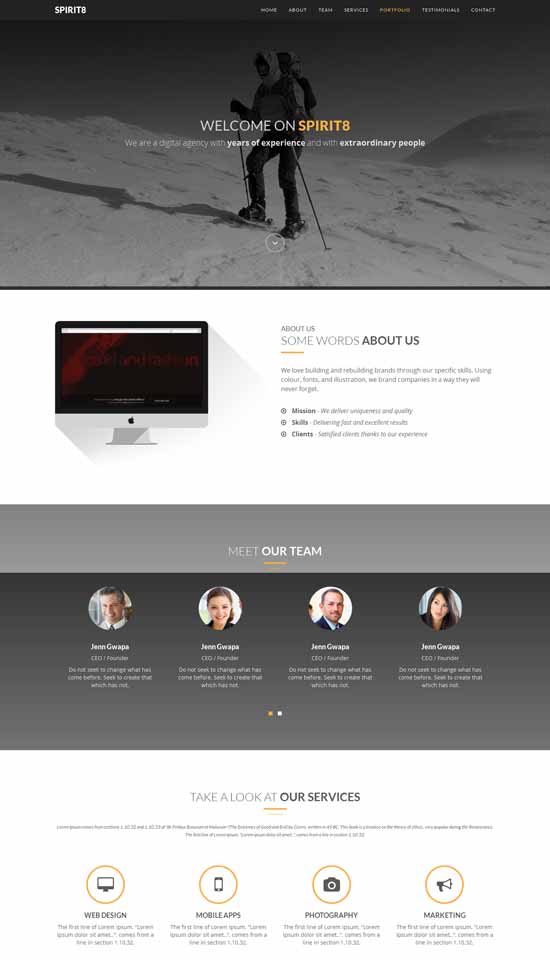 demo more info / download
Elevator Metro
Metro UI Inspired responsive bootstrap 4 template like admin theme layout. It is Multi-purpose template with all Necessary Business Web elements like: Contact form, Team, Service etc. Elevator has creative UI with single page navigation. It is perfect choice for any kind of single page Business and Portfolio sites. It is a responsive bootstrap template that is offered for free. It is compatible with Bootstrap 3.3.5. and can be used with a touchable slider, with organized codes, equipped with business elements and other useful features.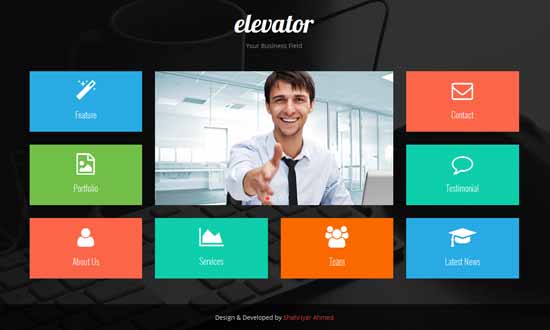 demo more info / download
Margo
Margo is a quality multi-purpose bootstrap 4 template. It is great, professional and easy to use template with all necessary features including short-codes, pages & more. You can use it for, business, portfolio and agency sites. It offers ten variations of homepages, thirty plus pages for business, Google maps and other important features that are truly useful. Customer support is available 24/7 which can attend to all queries from its users.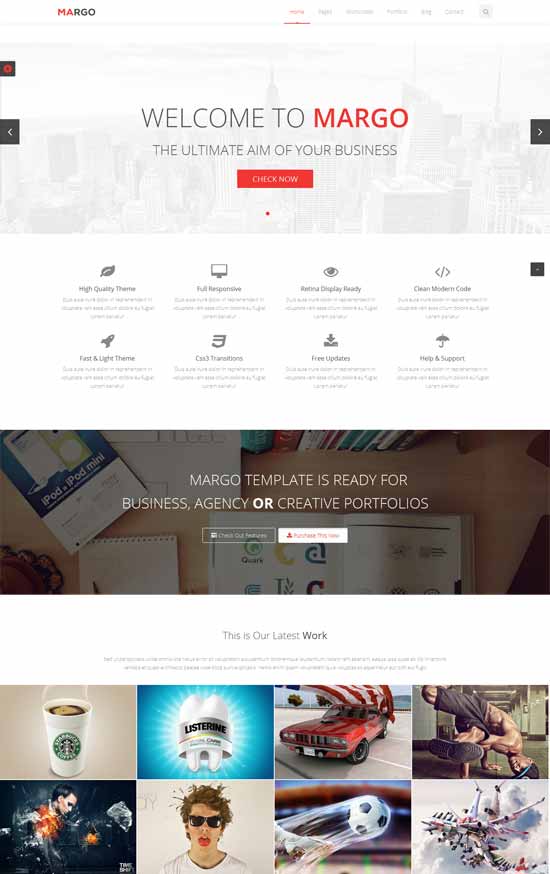 demo more info / download
Basic
Basic is a 2 pages themes created to showcase your work and basic information. Ideal for freelancers. Modern design, with an elegant aesthetic. Getting started will require the basics. Whatever business you may have or whatever personal portfolio you want to organize and showcase, Basic bootstrap is for you. It is simple, easy to navigate, creative and customizable. Whether you have texts to post, videos to show or images to share, there is one theme that will definitely suit your need.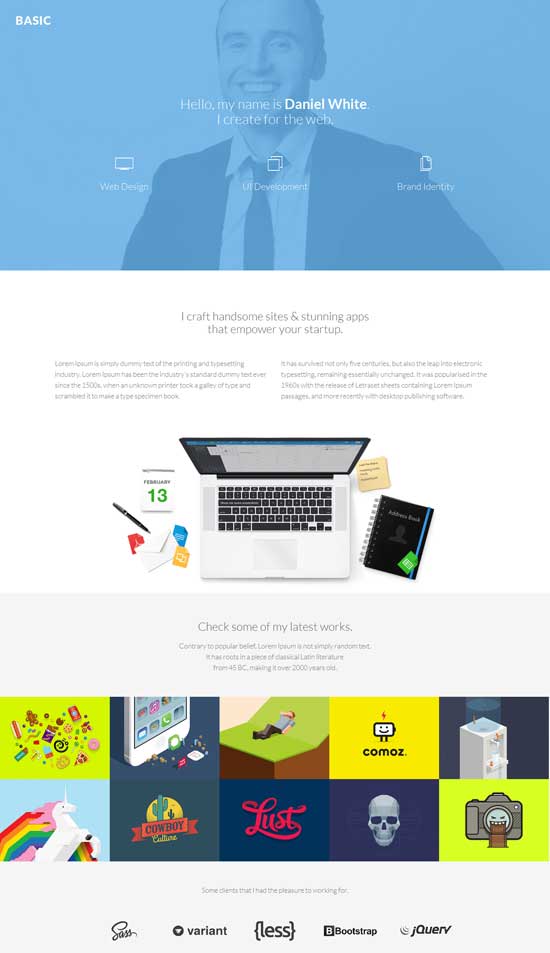 demo more info / download