Free & premium html beer brewery website templates dedicated to pub, beer and brewery business company- those brewery beer template come with html5 css3 template, WordPress themes and joomla templates. Please feel free to download it and use it for your beer brewery related projects, just make sure you don't resell it. Beer is a favorite beverage of many people. Drinking beer in moderate portions is even good for digestion. The tradition of brewing dates back to ancient times. The best brewers carefully save their secret recipes that came to us from times even our grannies don't remember. However, breweries today look cardinally different. They are equipped with modern technological lines, so it's safe to say that in brewery business best old traditions blend with the latest technical innovations. This feel is perfectly conveyed by the author of our template. Uncommon text block slider solution draws the sight. Content blocks are of different colors, which separate them from one another. Contact form is in the bottom of the home page, so the customers don't need to search for it elsewhere. General style of the design is flat and minimal according to current web design trends. Such professional approach will definitely benefit your business, so use this chance.
This event is a pretty nice chance to present you this Free and premium Beer Website Template that can help you to make most of your brewery, 'cause using this theme you can start your own project that deals with beer and share your passion for this product with other like minded people. Enjoy every day of the year and make your life bright.
Free Brewery HTML5 Website Template
Brewery beer and drinks web template can be used to start a website for brewery company, bars, pubs or else.
Free Beer Website Template
Brew Craft Beer Brewery HTML5 Template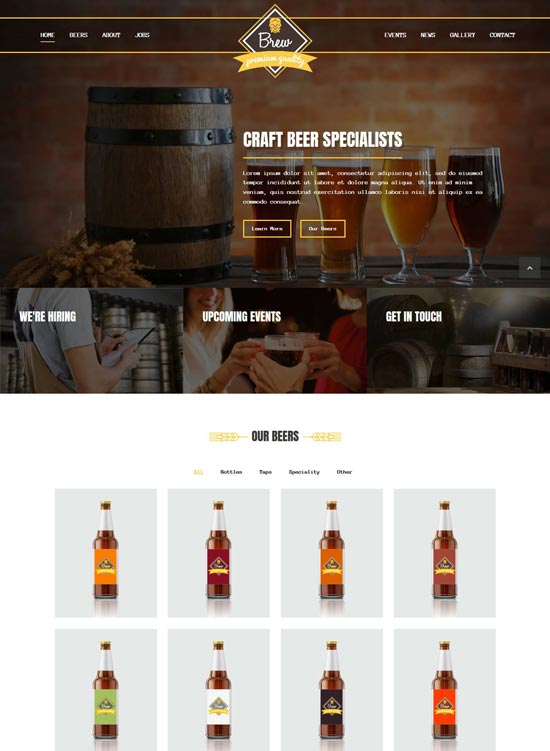 more info / download demo
Craft Beer HTML Template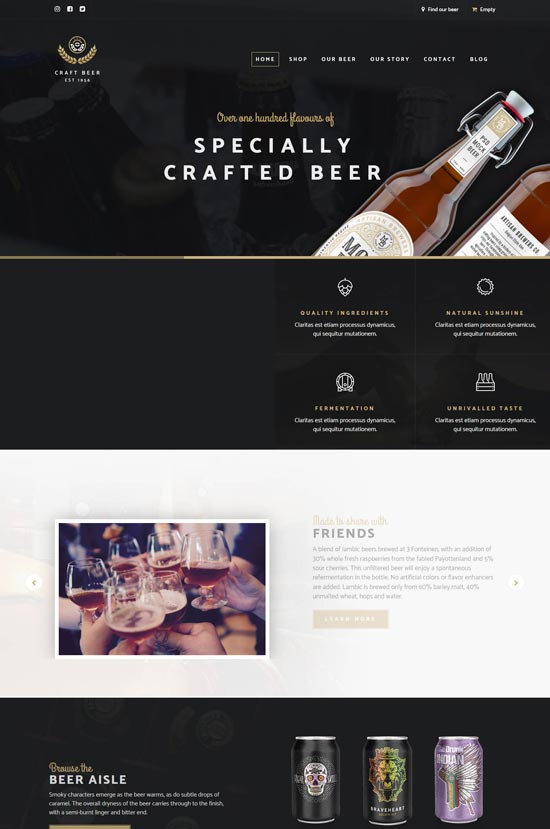 more info / download demo
Jz Pub & Bar
JZ PUB & BAR is a stylish and modern HTML template with great structure and friendly UX. It is built specifically for bars and pubs. The model is built on Bootstrap Responsive Layout 3.0.0+
This model Responsive HTML5 designed for bars and pubs can also be used for restaurants and many other possibilities with responsive design and quality. HTML Template built with multiple features, with JZ Bar, you can cover all your needs and you can present your services as needed.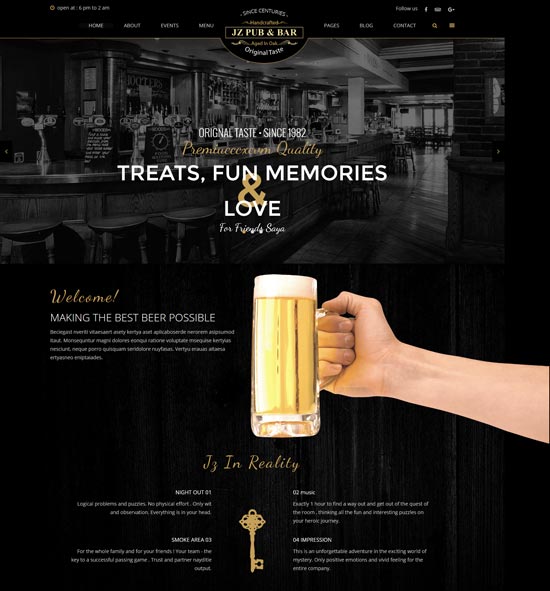 more info / download demo
The Pub Traditional Beer Website Template
The Pub is a modern and creative beer  HTML5 CSS3 template. It contains the following pages: Home, Events, Event Detailed, Menu, Gallery, Reservation, Reviews, Contacts, 404, Content. The Pub is an easily customizable template, it features developer-friendly & clean code.
BeerPub HTML Template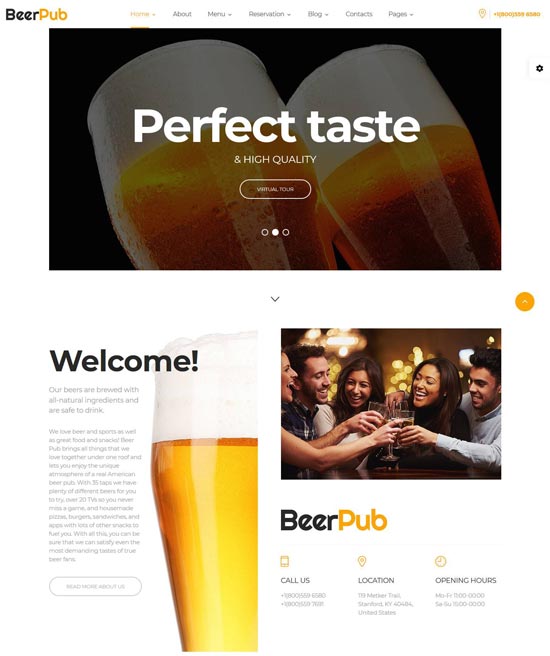 more info / download demo
Sports Bar Beer HTML Template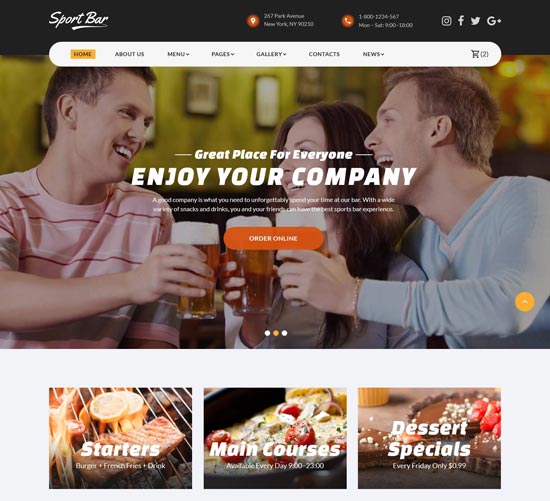 more info / download demo
Beerista Beer HTML Template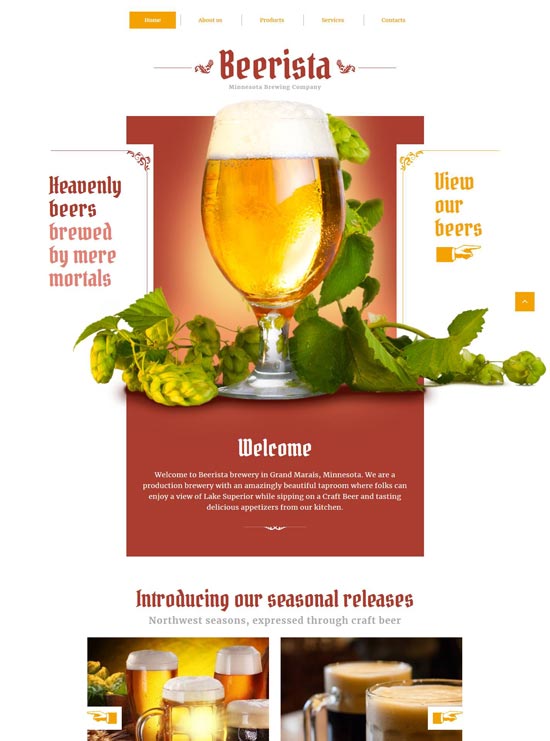 more info / download demo
Old Pub
Working on a beer related website is a real fun for web developers since in such projects they can apply all the latest web design trends and let their creativity flow. That's exactly what our designer did to bring this particular product to life. What each of you will mention on reaching a website built with this beer theme is the thematic background dipping us into the old pub atmosphere. Beer lovers will find any sort of beverage to their liking thanks to the clever placement of banners at the top of the page. Those who want to take a closer look at the technology and company history can scroll down the page to enjoy reading informative texts. Being a great blend of aesthetics and functionality, the offered design is the perfect match for online brewery stores.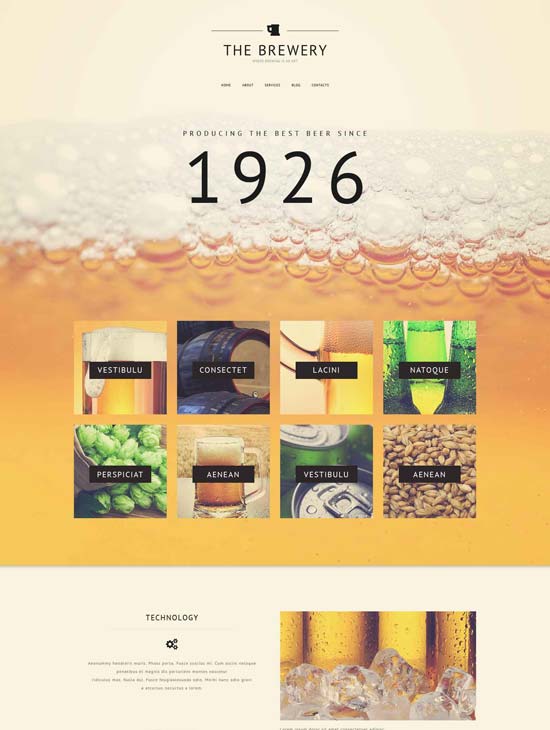 demo more info / download
Brewery Responsive Website Template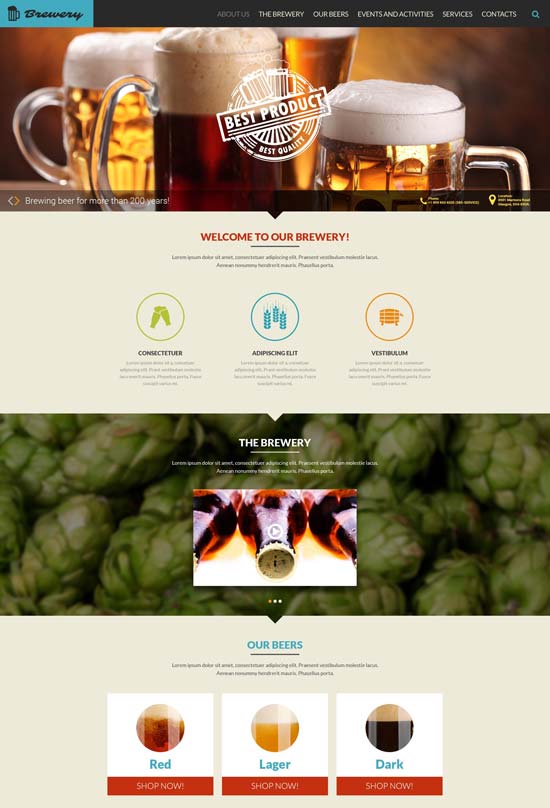 demo more info / download
Brewery Responsive Website Template
Red Goblin–HTML5 Template For Bars And Pubs
Red Goblin  is a nice, very special website template for bars beer, pubs, night clubs. Can be easily adopted for any other themed website due its neutral design.
Pub Beer Website Template
Royal Pub Beer Website Template
Beer Brewery Joomla Templates
Brewery Responsive Joomla Template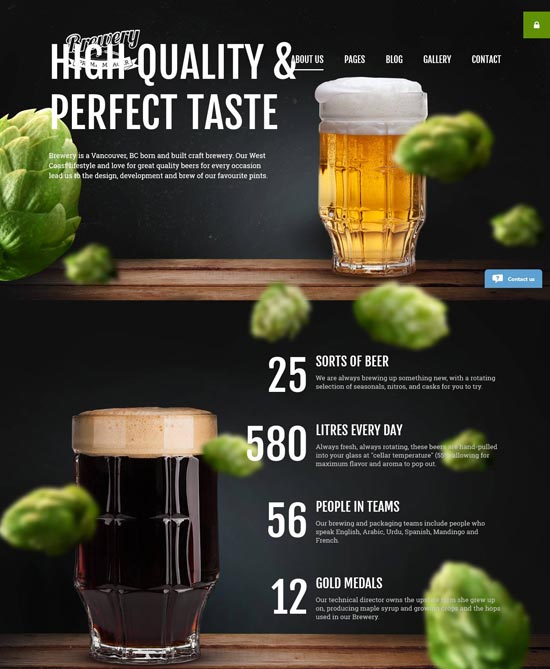 more info / download demo
Brewhouse Brewery Joomla Template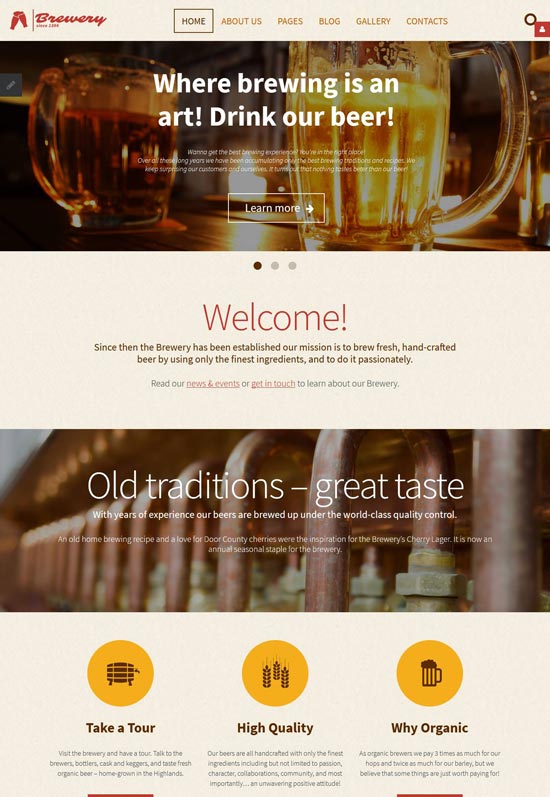 more info / download demo
Sam's Brewery Joomla Template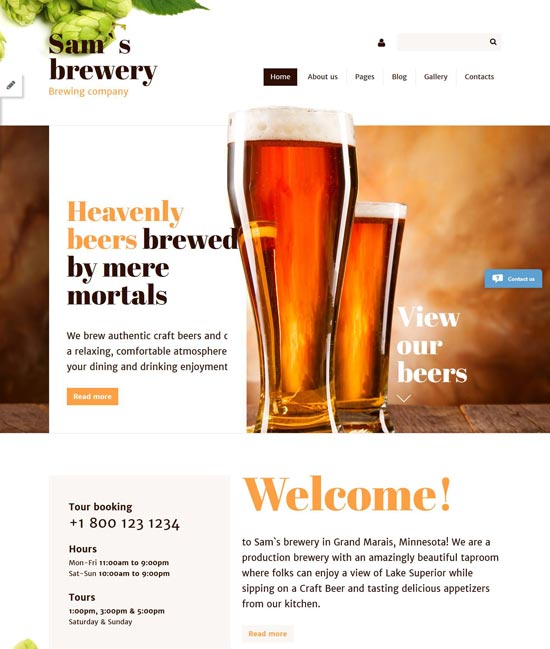 more info / download demo
Curtis Brewery Joomla Template
The art of brewery is one of the oldest and one of the finest. There are millions of brewery and beer fans all over the world who adore this beverage. They know all breweries that craft their favorite drink and visit their sites quite often. To become noticeable in this business, you have to make a bold statement with highquality products and professional website promoting them online. Here is a contemporary design specifically tailored for a site presenting brewery, telling its story and showcasing products. Its sappy layout in bright green and red colors with large inviting visuals of beer welcomes people to try this drink. Go on and get this theme for efficient business presentation online.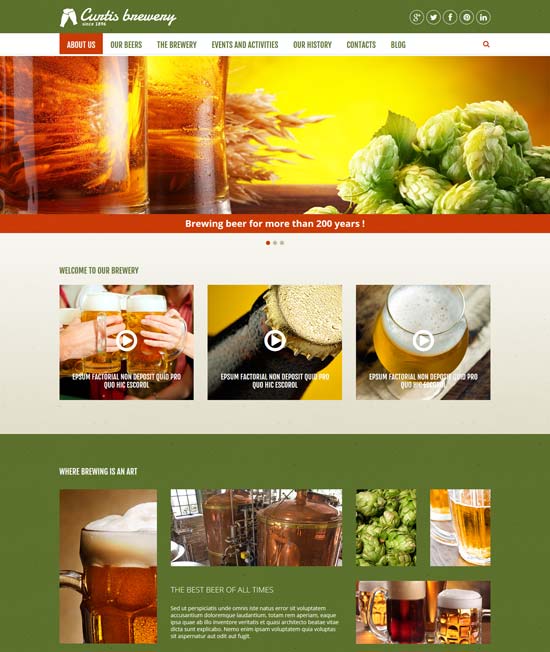 demo more info / download
Beer Pub Responsive Joomla Template
Magnificent Beer Pub Joomla Template
Hail to beer! Become the one who continues the glorious tradition of beer drinking. A grungy design of this beer joomla template is developed specifically to improve the reputation of this ancient drink. Moreover, your customers will be satisfied with simple and intuitively understandable navigation. This will supercharge growing of your company.