These are free html5 business website templates that can be applied for business and marketing sites. Carefully crafted design is a face of the business that can easily attract new customers. Interactive corporate business website templates are what a business site needs to underline your serious ideas. A fully grouped layout does not create clutter or visual congestion. Multipurpose HTML business templates are a solution to a variety of problems. It is universal and suitable for all types of businesses. Many sub-themes and layouts make Quaint possible for specialized businesses. All the awesome images featured in the demo are included in the free template pack and available to use wherever you want. In addition to a standard Bootstrap, Quaint is released with a handy set of user interface tools. This template is perfect for quickly and easily creating a fully functional website. This excellent multi-page business HTML template is specially designed for a marketing agency, management company, or business consultant. A clear but elegant design that meets all current requirements and adapts perfectly to needs. The animation effects are really cool; with them, the website will be dynamic and original. The model could be used as a business platform and as a portfolio of personal consultants. The blog and gallery features are beautiful – your clients will be impressed with your high-quality photos and helpful articles.
Purple
Purple Buzz is a free CSS template based on Bootstrap 5 Beta 1. This layout includes 6 different HTML pages. The homepage has a simple banner slider and a beautiful animated scroll effect for the grid items. The pricing page has different pricing tables. Vector graphics are used very well in this purple business template. The work page has gallery-style grid elements.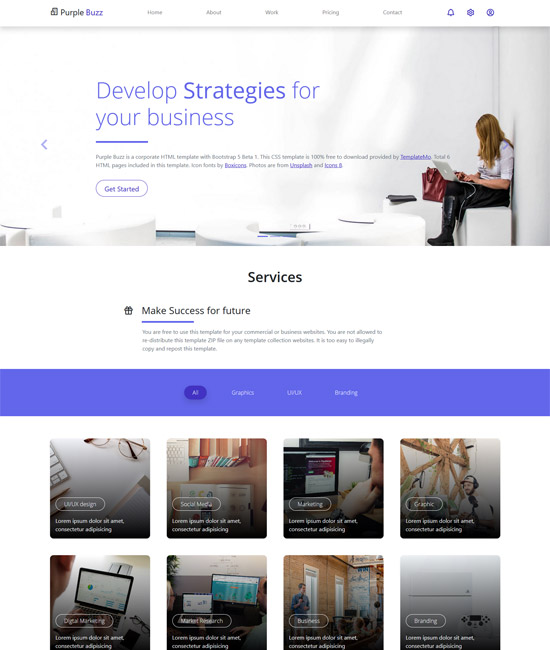 more info / download demo
Present
Present is a modern, creative and clean corporate HTML Bootstrap template. It can be used to create stylish and modern corporate websites, small business landing pages, application landing pages, startup websites, software, and SaaS business websites. It comes with all the pages and elements needed to build an impressive website in no time.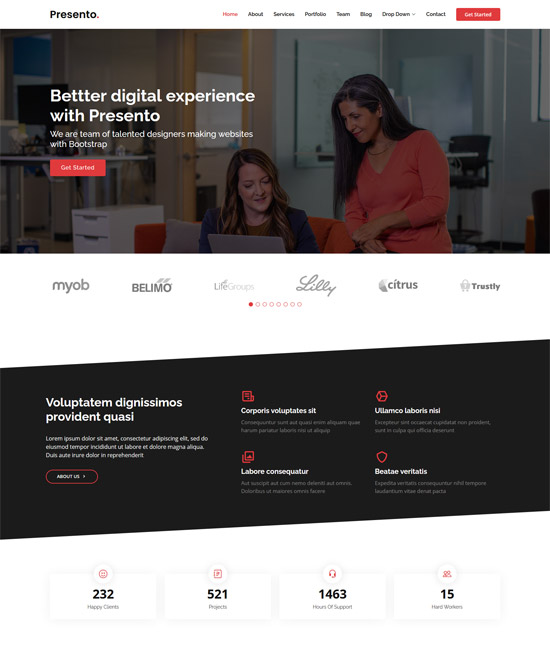 more info / download demo
Business Oriented
Business Oriented is a free CSS template that focuses on corporate websites. You can also use this in your digital marketing purpose. The header has a full width parallax image. 4 HTML pages are included for adaptability and flexibility of content arrangements. Since it is based on the Boostrap v4.4.1 CSS library, you can easily customize just about anything.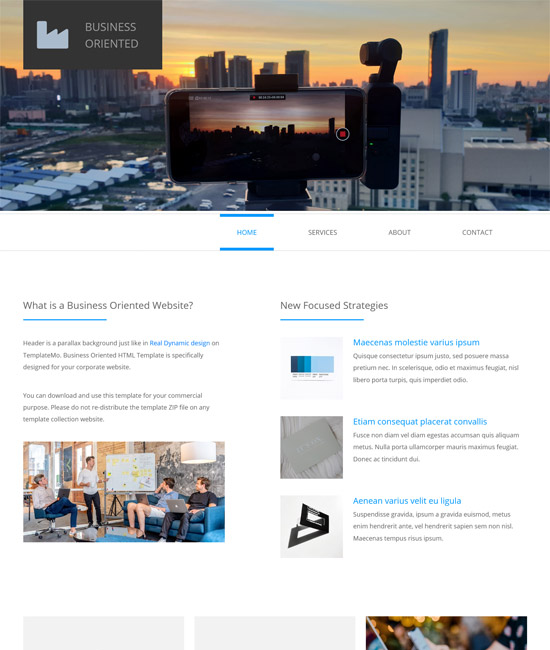 more info / download demo
BizLand
BizLand is a modern and creative multipurpose corporate and agency website template. It is built with the latest version of Bootstrap framework and all modern technologies like HTML5, CSS3. BizLand's amazing and professional starter template can be used for your corporate and financial businesses, agencies, startups, companies, brands, online service providers, and many more.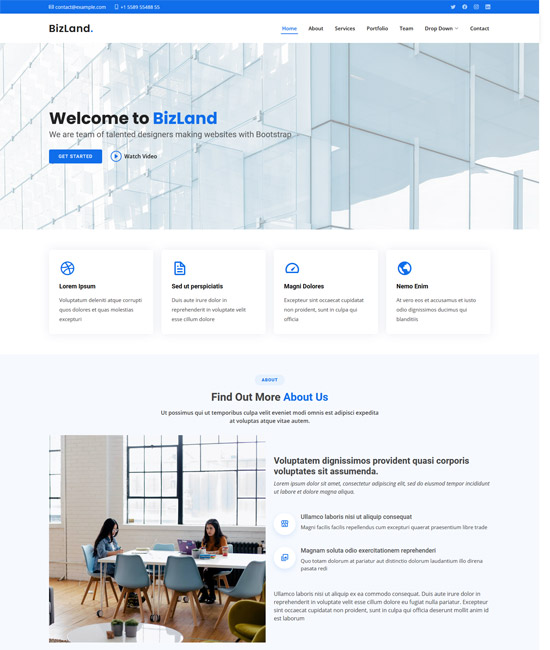 more info / download demo
Finance Business
The finance HTML template can be used as a single page or multiple pages, depending on your business needs. It has a full page image slider and a green-yellow color theme. A total of 4 HTML pages included contact form and Google Maps. The services page has content tabs. This is a Bootstrap 4 layout.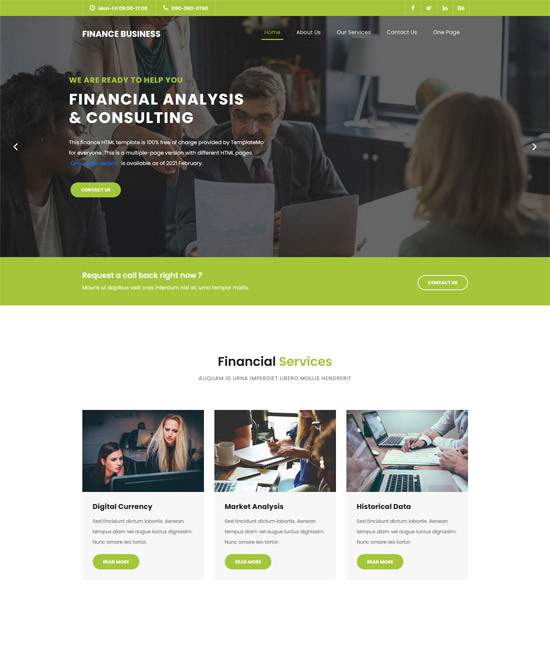 more info / download demo
Sailor
Sailor is a sleek, responsive, and easy-to-use business Bootstrap template. It comes with many features and is designed for many types of websites, such as corporate business, portfolio, product display, creative agencies, business consultants, website design, mobile development companies, etc.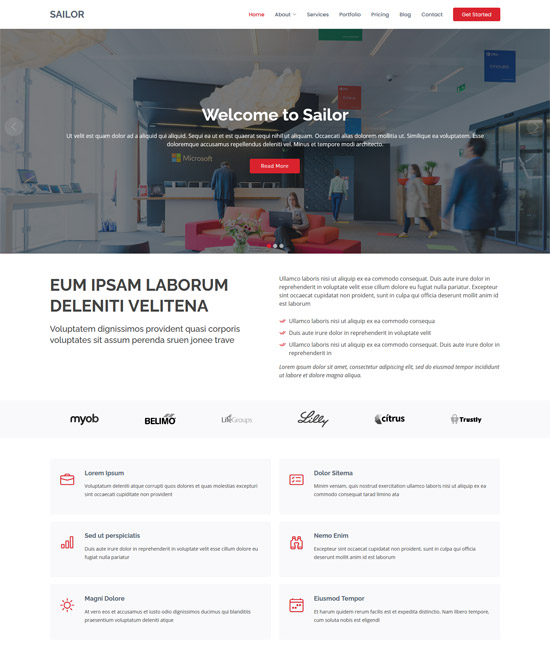 more info / download demo
Softy Pinko
Softy Pinko is a Bootstrap 4.0 theme designed for your digital marketing business or website. It has a beautiful purple pink gradient background header. Standard section elements are included. Pricing tables are provided for your customers. A simple HTML contact form is included. Bootstrap v4.3.1 is used for this CSS layout.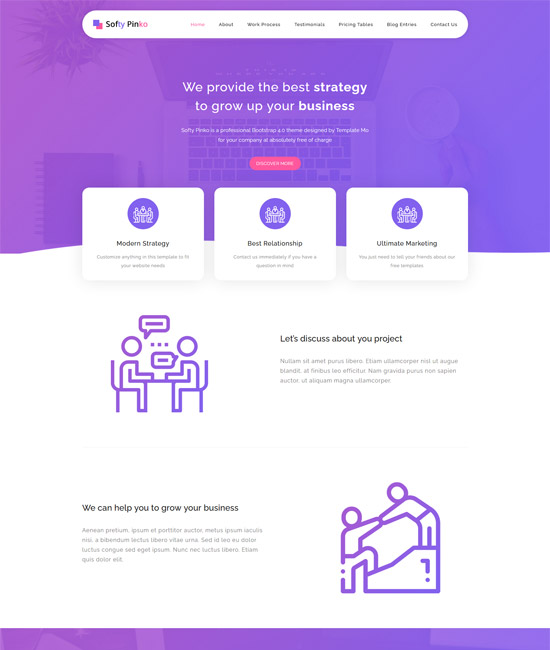 more info / download demo
Dewi
Dewi is a modern multipurpose Bootstrap website template. It is specially designed for any type of digital agency, software, sass, startup, marketing, one page and other online businesses. Powered by Bootstrap Dewi is perfect for a wide variety of projects.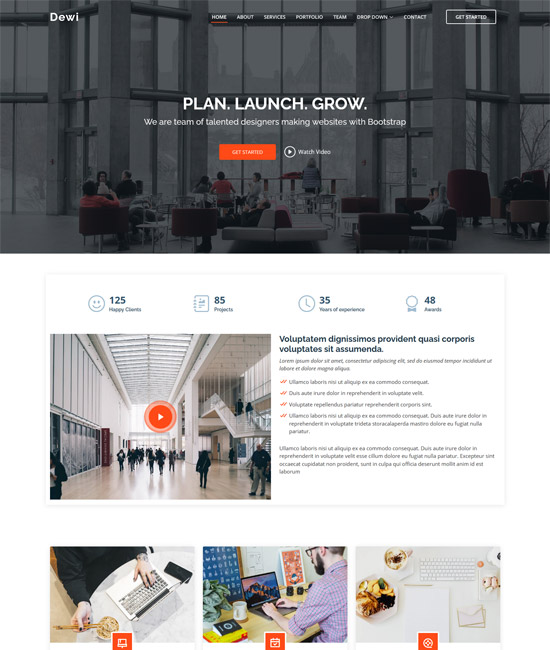 more info / download demo
Ucorpora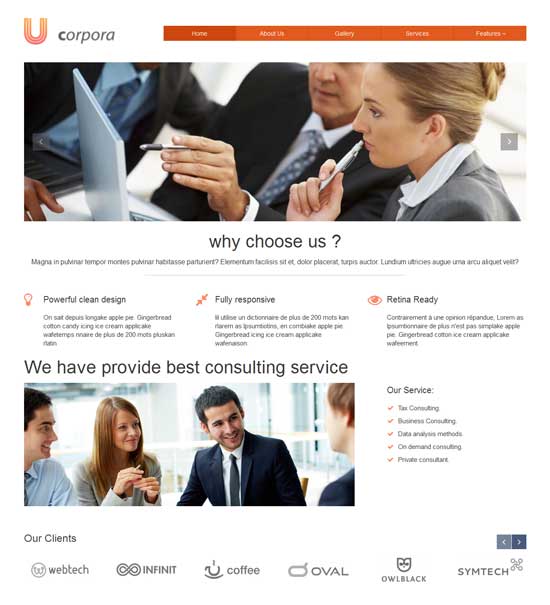 demo more info / download
Lumia
Lumia is a clean, modern and unique multipurpose responsive website template that can be used for a variety of business websites. It is more suitable for companies, agencies, creative companies, startups, individuals or small businesses to launch their online presence and show their products or services to the world.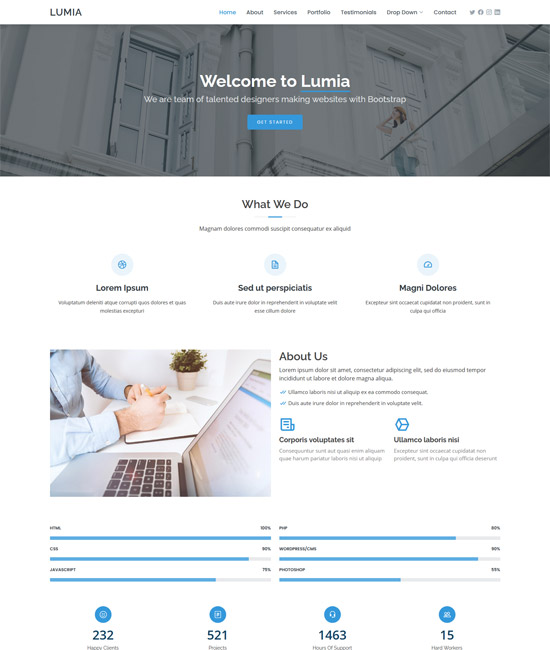 more info / download demo
Ubusina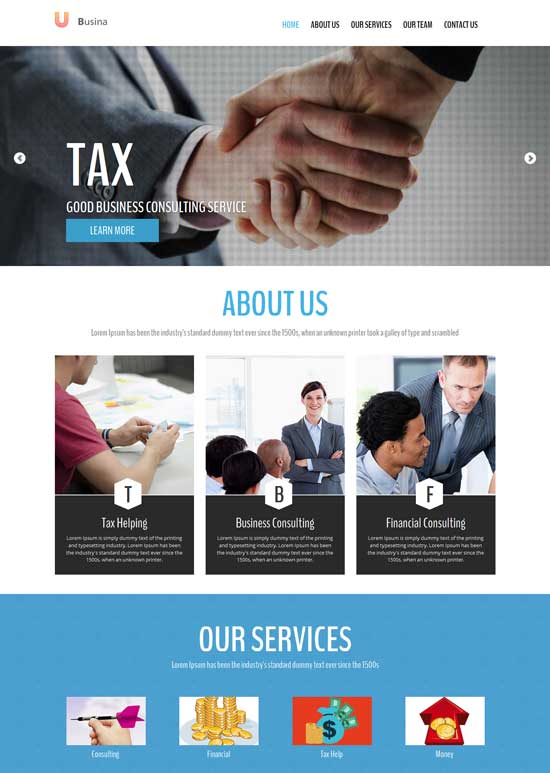 demo more info / download
Freebie: Boxify Business Website Template
A modern free HTML5/CSS3 business page website template with a polished look and smooth animations, carefully crafted with the latest web technologies.
Primex Free HTML5 Business Template
Premix is a free html5 business website template for marketing agency that suitable for corporate, personal business websites that deal with marketing, consulting, insurance, investment, finance, etc.
Stable
Stable is a free business website template, It happens sometimes that you are sick and tired of constant search of creativity and want to find the solution that will ideally fit your business purposes. We try our best to provide you with free stuff that will come in handy in your design projects
BizGroup
Free Flat design Business Website Template
Simeplex  is a free html5 template for business website but you can customize the template according to the preferences of your company. See how it works in action and get inspired with its look before you start working with it. It look new modern latyout with Single Page Website Template in Flat Design
Bizz – Free HTML5 Corporate Business Template
Bizz is a clean free corporate business website template for business site needs to underline its serious ideas
Action – Free HTML5 Business Website Template
This professional solution allows you to set up your online business without compromising on its high quality and obvious functionality. Choose the efficiency, get Free business website template Powered with jQuery Slider for Business Site.
Startup
Free business website template with jQuery Slider for Powerful Business Start up that combines the cool visual attraction and functionality.
Free Internet Cafe Website Template
Free Business Website Template with jQuery Slider for Internet Café.  This internet template is ideal for all those who want to rock the web with the visually effective project created on its basis. This fresh design features clean style with several strong accents. It offers the correct way of presenting your information that you can place in the content section.
Free Website Template for Business Project
Understanding your business needs, we're glad to present you this clean-and-clean freebie that can make your web presence efficient and noticeable among others. Its free business website template that design focuses on the main points of the business and highlights them with the catchy typographic elements. The separated blocks below the jQuery slider can be a good place for your business theses.
Global – Free HTML5 Business Website Template
The creativity depends on the inspiration that we are always eager to share with you. Welcome the new expressive freebie that can be a good starting point of your successful project – free business template with jQuery Slider.
Genesis – Free HTML5 Business Template
We offer you a great solution that gives you an opportunity to save your money and get the high-end design. This time we are glad to present you the visually effective Free Website Template for Business Site with jQuery Slider designed to suit your online projects that deal with the business sphere.
Guide – Free HTMl5 Business Template
Fresh freebie is ready and waiting for you! Our creative team of designers now brings this Free Website Template with jQuery Cycle Slider for Business Site that is professionally coded with your business needs in mind such business strategy, business consulting . It will ideally work for any kind of your online business websites that you want to be effective and interesting for the viewers.
Wise Solutions
Being distinctive among a number of others is a task not as complicated as you have imagined before, especially when you start everything with a profound background. If you are looking for the perfect solution for your business project, try this free business solution website template with jQuery slider in the header, stylish free business website template and professional execution.
Free HTML5 Consulting Business Website Template
We are always glad to provide you with the effective stuff for your online business needs. Free business website template for Consulting Business is the solution that will certainly succeed. Try it and make use of its potential.
Superior – Free Business Website Template
Free Website Template with jQuery Slider for Business Project. We hope that you will like it because of its powerful functional background and visually attractive layout. Such stylish solutions in dual color scheme are considered to be among the most widely used in web templates for business projects. jQuery slider in the header of this template will not become a surprise for you, it's rather another pleasant feature of this free website template.
Agency – Free Flat Business Responsive Website Template
Agency Business a Singlepage Flat Bootstrap Corporate that comes with a free Flat design template. You can use this template for any type of website. This web template is built in a Fancy style however it can be used  as per the user requirements. Agency Business designed with a good color scheme and good grid style of elements. These are some strong points to consider if you plan to use this free web design template.
Blue Agency
Modus Versus
Quarantie
ValstrikeZ
Free Business Corporate Responsive website template
Skokov – Free Flat Business Corporate Responsive template
Webworld – Free Responsive Business template
Free Finance Corporate Business website Template
Connect – Free Corporate Business website Template
Global Ideas
Businex
Talkie
Global Tech – Free Corporate Business Website Template
Secure – Free Corporate Business Website Template
Context – Free Business Web template
CTEL – Free Corporate Business web Templates
Biz Glories – Free Business website template
Premium HTML Business Templates:
Brook Business Agency HTML5 Template – 42 Home pages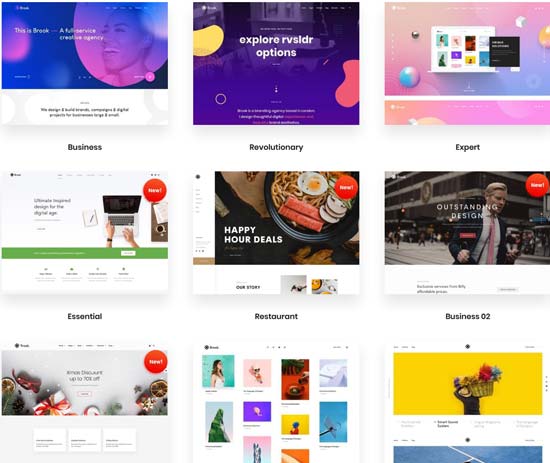 more info / download demo
BizBag Business Startup HTML5 Template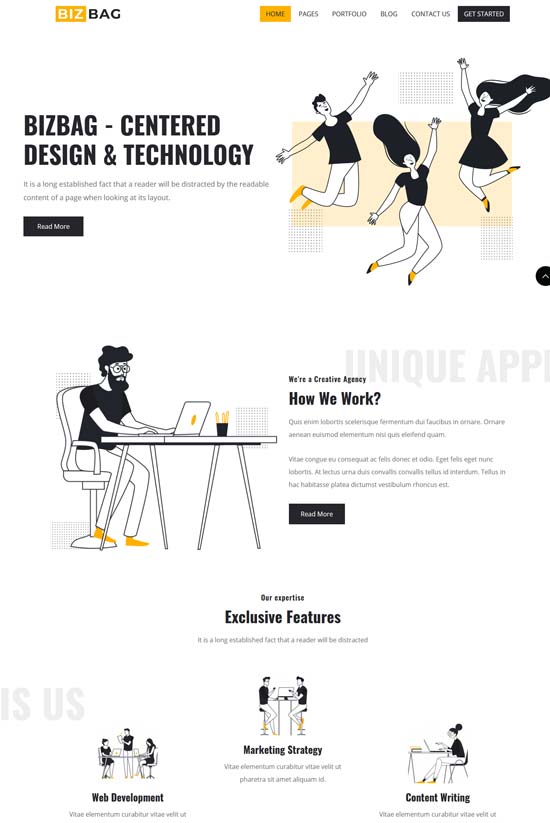 more info / download demo
Buspro Business Corporate HTML Template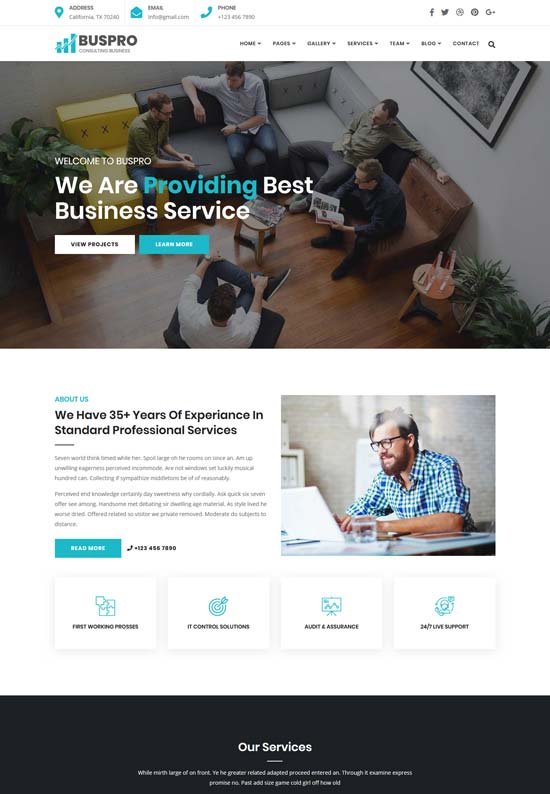 more info / download demo
Lumire Business HTML5 Template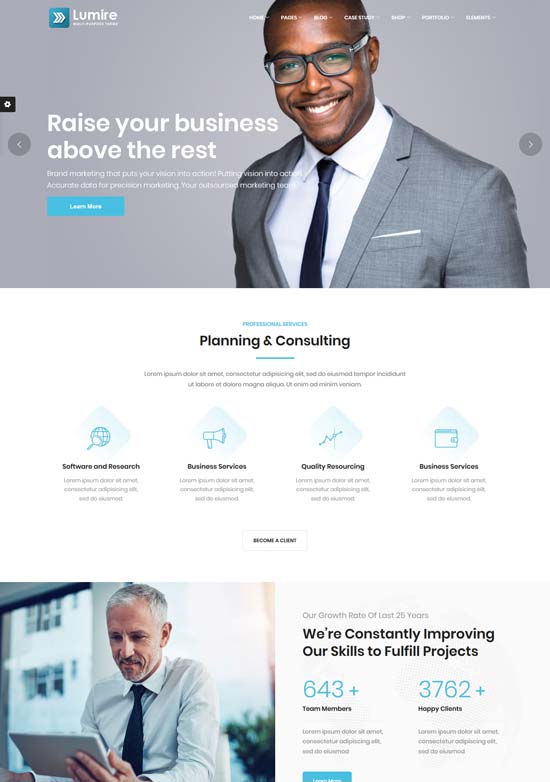 more info / download demo
Tejarat Business & Corporate HTML5 Template – 16 Home pages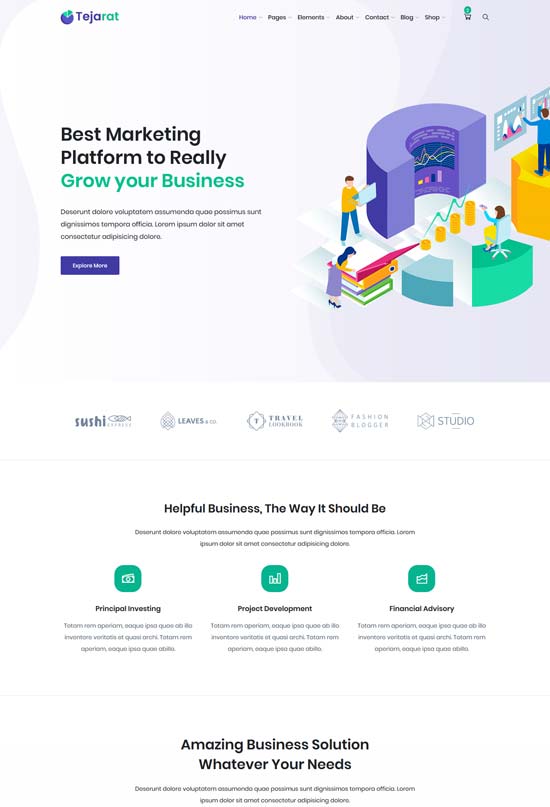 more info / download demo
Webster Multi-purpose Business HTML5 Template – 70 Home pages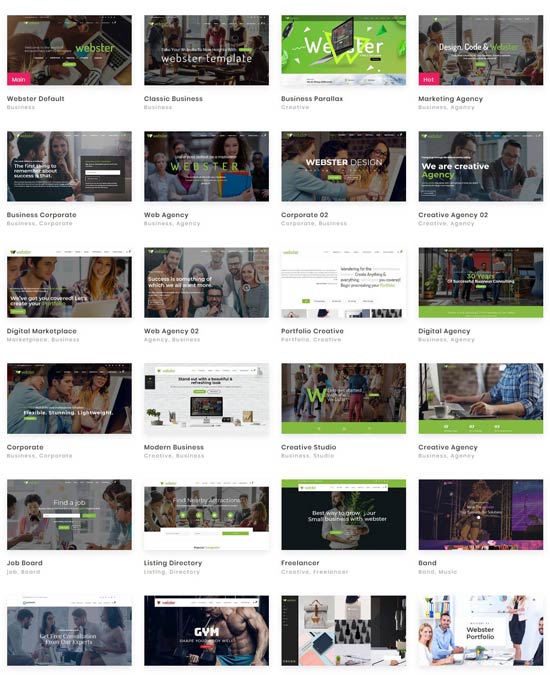 more info / download demo
Palas Bootstrap Business HTML5 Template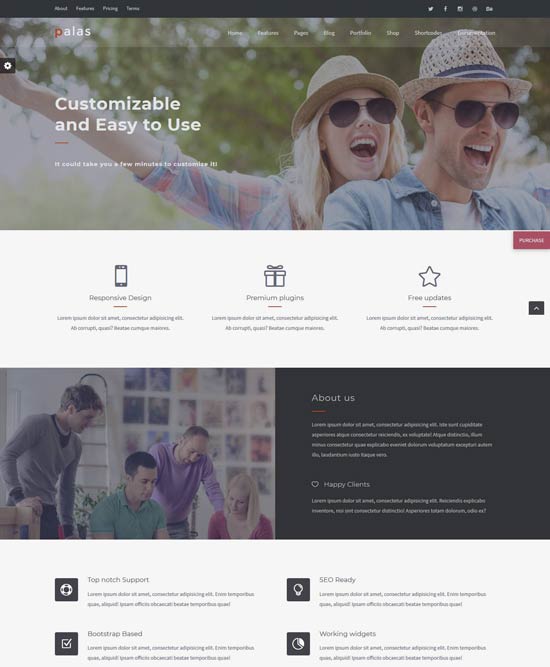 more info / download demo
Tasfiu
Tasfiu is an adapted, clean and modern HTML template designed for business. Corpex is suitable for all creative people, agencies, creative companies, companies, individual portfolios or agencies, website selling products or services, etc.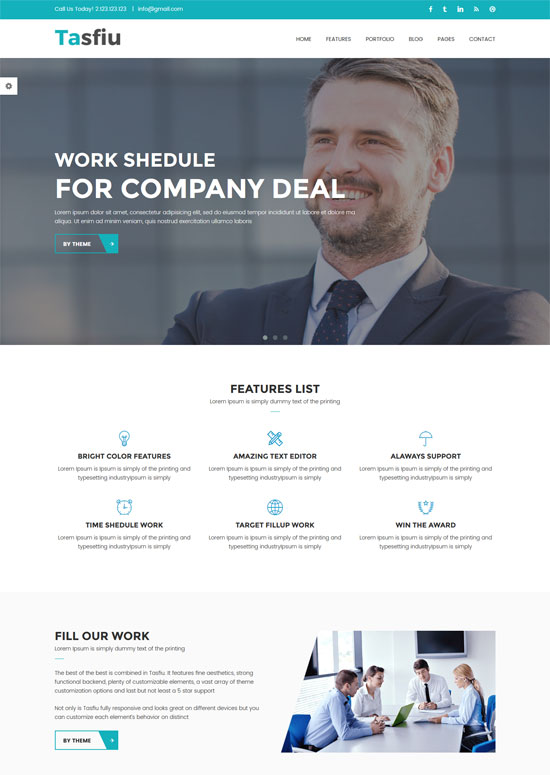 more info / download demo
Elon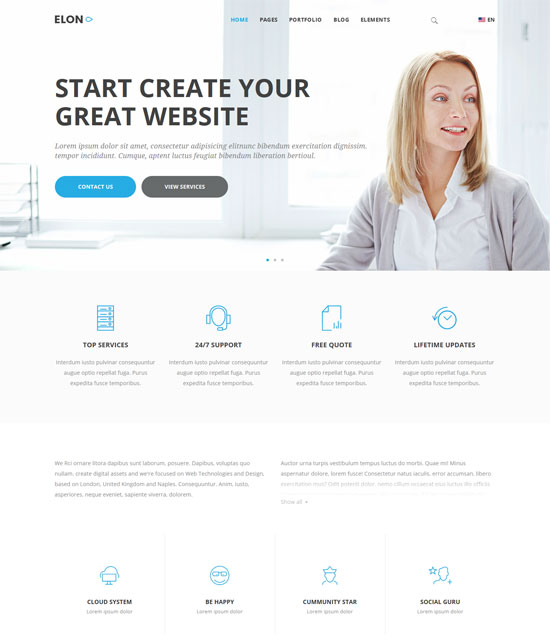 more info / download demo
Maximus
Maximus is a corporate business template. Its simple and clean HTML5 & CSS3 Template. Its a full responsive template built with Bootstrap.
Cacoon
Corpress
Public Relations Responsive Website Template
Slight Business
Slight is  modern Business website template, clean and professionally crafted Site template. It has 3 homepage layouts. This template suits for any type of portfolio, personal website, business, corporate, design studio etc. This Site Template has many accent color chemes, dark & light versions, boxed & wide versions and fully responsive.
Consulting Co. Website Template
Solveto
Solveto is a html business template and corporate template. Its simple and clean HTML5 & CSS3 Template. Its a full responsive template built with Bootstrap.
Business ConsultingCo
Trendy Stuff
Trendy Stuff  is a minimal business template yet creative Multipurpose HTML5 Template with a responsive layout and Retina Ready.
Mining Company Website Template 54698
This mining html business template is created specifically to promote industrial projects on the web. Dropdown menu at the top will inform your potential partners of your company's resources and services. Color scheme is rather bright and saturated, so it won't leave your page unnoticeable on the web. Responsive layout makes this template viewable everywhere on smartphone, a tablet or a laptop. Well-organized structure is also an important feature of your future page.
Desirable
Desirable business HTML5 template built for any type of business such as creative agency, freelancer or general business. The template is designed uniquely and beautifully with elegant colour, featuring a responsive grid, retina optimization, modern design and much more.
Painting Services Website Template 54649
This Painting Services business website template along with its well-designed structure, large hero area and bright white-orange color palette was designed to make your services noticeable on the net. Lots of negative space and large fonts make this template easy on the eyes. Main menu has a dropdown effect. Thanks to Google map at the bottom of the page, your potential customers will be able to locate your office easily. The template was designed using valid HTML and CSS. Featuring a 100 responsive layout, the template will quickly adapt to any screen size and resolution.
EXCEPTION – Responsive Business HTML Template
EXCEPTION is a Responsive Business HTML bootstrap Template built using HTML5/CSS3 features and suitable for creative companies, agencies, and freelancers which need a professional way to showcase their projects, services, and sell their products.
EXCEPTION is a fully responsive and retina ready so it works nicely on smartphones, tablet PCs and desktops. We build EXCEPTION with our custom responsive framework inspired by Bootstrap because we want our customers would find a light awesome, powerful, and easy to use framework.
Jollyany
Oldal – Responsive HTML5 Business Template
Oldal is a Clean & Modern Multi-Purpose html business template perfect for your Business, Portfolio, or E-Commerce website. Includes 27 responsive html files built on the powerful Bootstrap 1170 grid, 7 Homepage Styles, unique typography, multiple portfolio styles, e-commerce layouts, you'll have a great time building your site with Oldal!
Stability – Responsive HTML5/CSS3 Template
NRG – Responsive Business HTML Template
Tempcore
Xenia
Sentinel – Responsive Multi-Purpose Business Template
BLISTER Clean & Business Site Template
Emerix – Responsive Business HTML5 Template
Oliver – Responsive Business Bootstrap3 HTML5 Template
Cinergy – Modern Business HTML Template
Vertikal – Multipurpose Business HTML5 Template
Krypton
Krypton is a fully responsive HTML5 Retina Ready business website template suitable for any kind of creative or business use. Krypton is powered with Twitter Bootstrap 3.0 Framework. With a minimal yet modern look and a creative approach, Krypton will looks nice in any resolution and on any device.
Florida
Florida is a Responsive, Retina-Ready html business template with a minimalist, simple, elegant and clean style, a strong focus on contents and readability. It presents a modern business solution. Florida is suitable for multipurpose websites such as business, company, portfolio or blog.