Looking for a great way to promote your cafe or restaurant? WordPress is a popular, easy-to-use platform that can help you get the word out about your business. And there are plenty of free WordPress themes available that are specifically designed for cafes and restaurants. So check out some of the free cafe WordPress themes below and find the perfect one for your business.
Related Article
Food Delivery
The Free Restaurant WordPress Theme is a beautiful, elegant, and flexible theme that will make it easy for you to make a good website about food and hospitality services. It has a lot of features and functions. You can display the services you provide and your restaurant menu in a unique way.
It is made with all the needs and characteristics of a restaurant in mind. It works in all browsers and loads perfectly in each one. It shows how well it works with the latest and most important WordPress plugins, like Elementor, Contact Form 7, WooCommerce, Mailchimp, and many more. With the social media option, you can link all of your social media pages to show how well-known you are and give your work more credibility.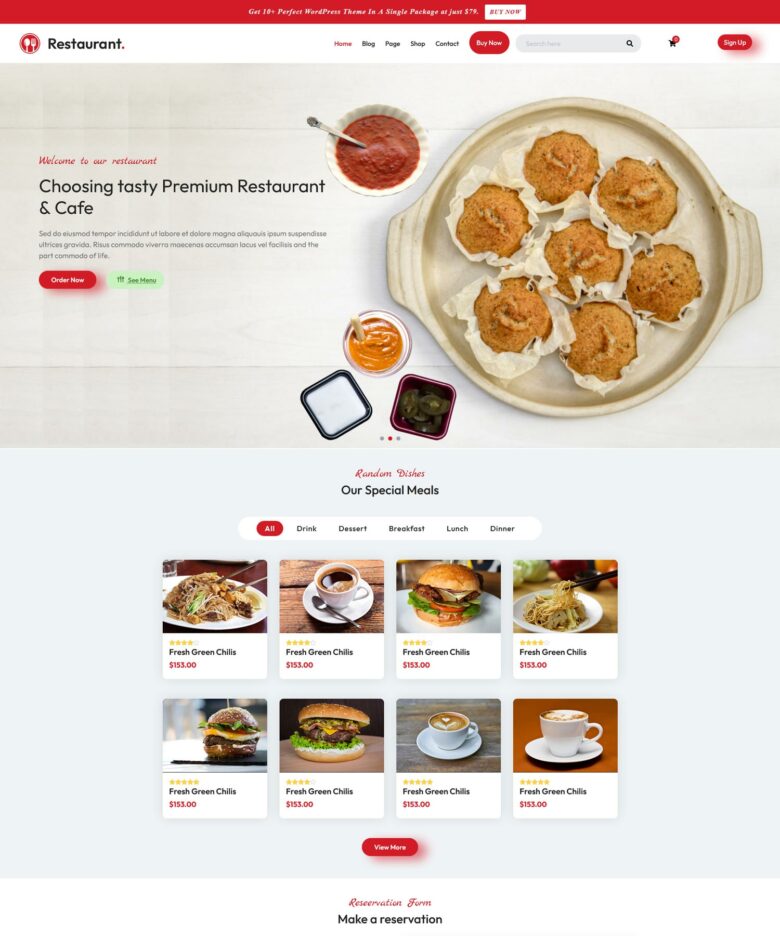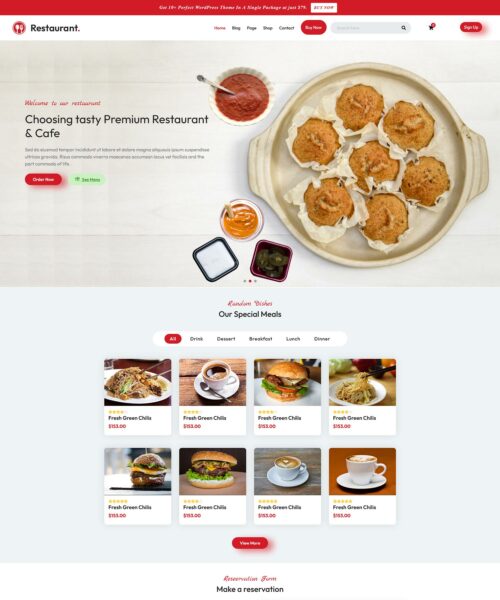 More info / download Demo
Classic Restaurants
Classic Restaurants has a stylish design and a lot of ways to change it to make a blog and eCommerce site for a restaurant. You can do this with any type of blog. This theme has a unique look and is made to work well on all devices.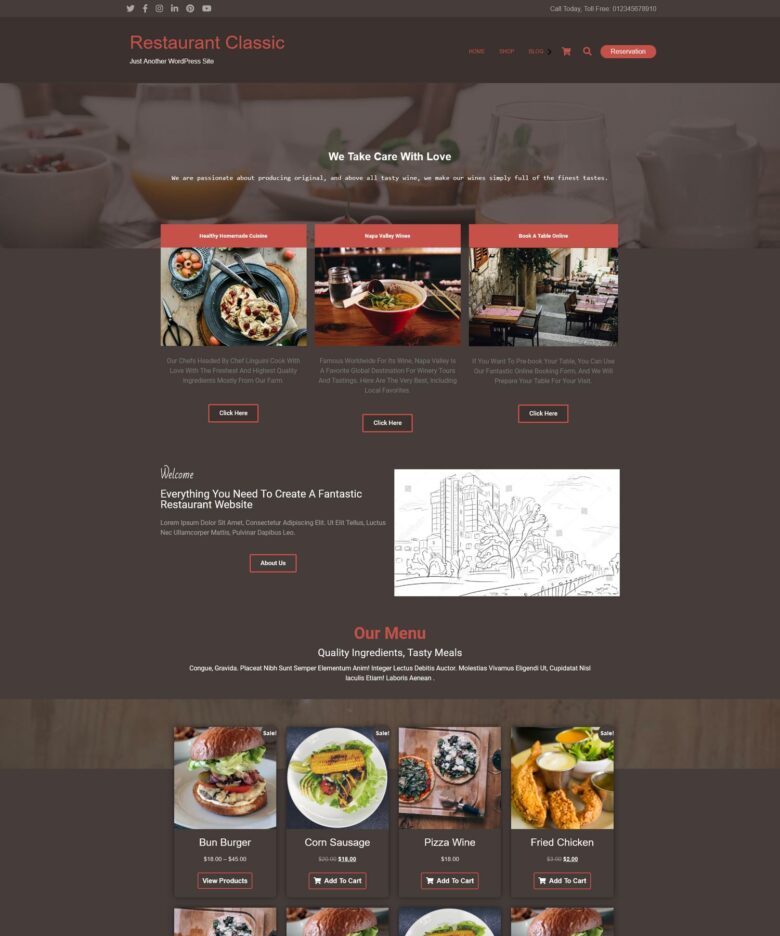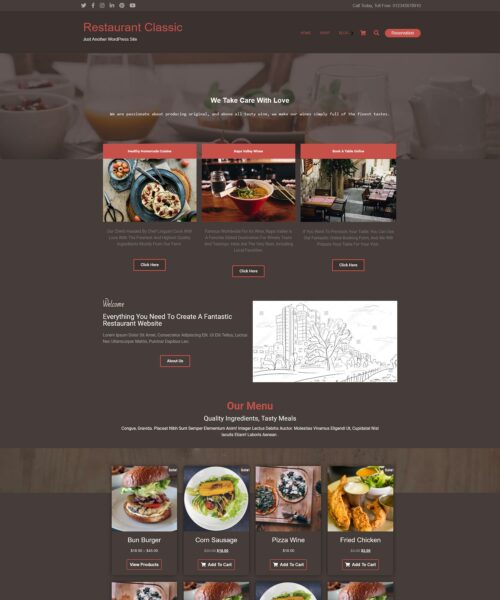 More info / download
Digi Restaurant
The Free Digi Restaurant WordPress Theme is a great way to make a website about food and take online orders or reservations for tables. The theme is SEO-friendly, which means that it will make it easier for major search engines to find and list your website. It's ready to be translated and works with layouts that go from right to left.
If you know how to code, you can add shortcodes and custom css/js. It looks great on any screen, whether it's a desktop, a phone, or a tablet, thanks to its mobile-friendly design. It also has a lot of ways to change things so you can make a website that is exactly what you want.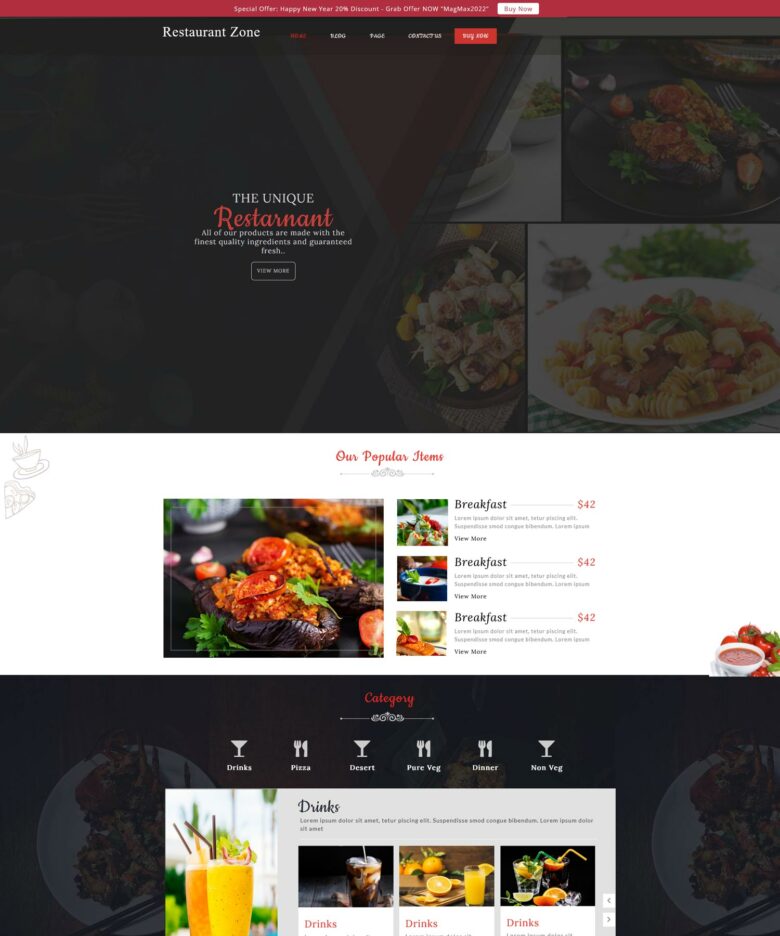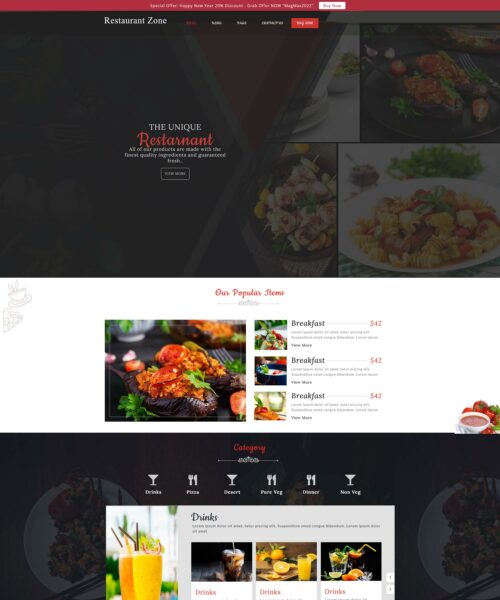 More info / download Demo
Marmot Restaurants
Marmot Restaurants is a theme that can be used for many different things, like restaurants, bars, fast food, bakeries, online stores, and blogs. Pretty, quick, and completely customizable.
With a drag-and-drop theme builder, you don't need to know how to code to make changes. You can choose from tens of professional widgets.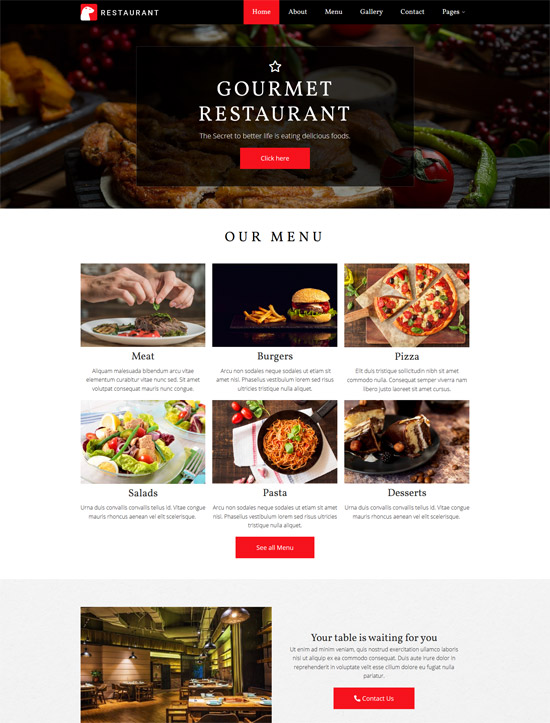 More info / download Demo
Elemento
Element Restaurant Theme is a WordPress business theme that is simple, clean, and responsive in a beautiful way. It doesn't have many features, but the ones you use most often will help you set up your website quickly and easily. Full-width layout, featured slider, service/feature layout, blog layout, testimonial, and full-width page layout.
Element Restaurant Theme is fully responsive, works with all browsers, and is SEO-friendly. It can be used for any kind of business. The most compatibility with the most popular WP plugins.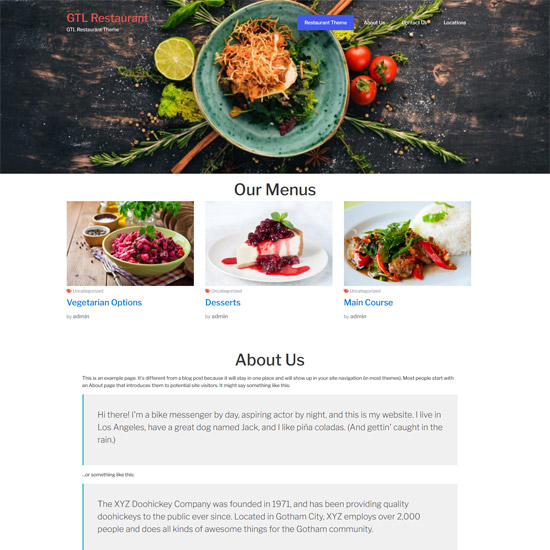 More info / download Demo
Restaurant Zone
A flexible theme that works well for restaurants, cafes, bakeries, kitchens, fast food, pizzerias, drink shops, and other businesses related to food. It can also be used as a business model for a hotel, resort, lodge, home stay, or any other hospitality business. You won't be able to take your eyes off of this premium theme's modern, luxurious, elegant, and sophisticated design.
Your website will be fast and light if it has a simple design and a responsive layout. Your website's ranking will be taken care of by how well it works with SEO. You can change things as much as you want, and there are a lot of cool features.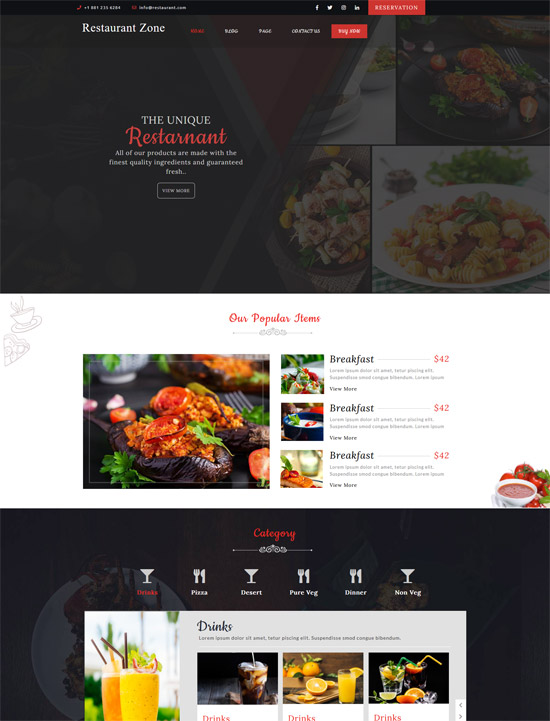 More info / download Demo
Mia Ittalloni
This clean and elegant design will make your site's visitors happy and will show off any online food project to its best advantage. It can be a website for a restaurant that serves European food, a coffee shop, a cocktail bar, a culinary school, a recipe blog, or anything else that has to do with the food and drink business.
You can warmly welcome your online audience and give them a tour of the venue with this theme by making sure it looks modern and is easy to use. On the other hand, you'll find it easy and intuitive to change this template based on the Cherry framework, which is a theme that gives you power and has modern markup and easy installation. Feel free to use this design to make a website that looks good and works well.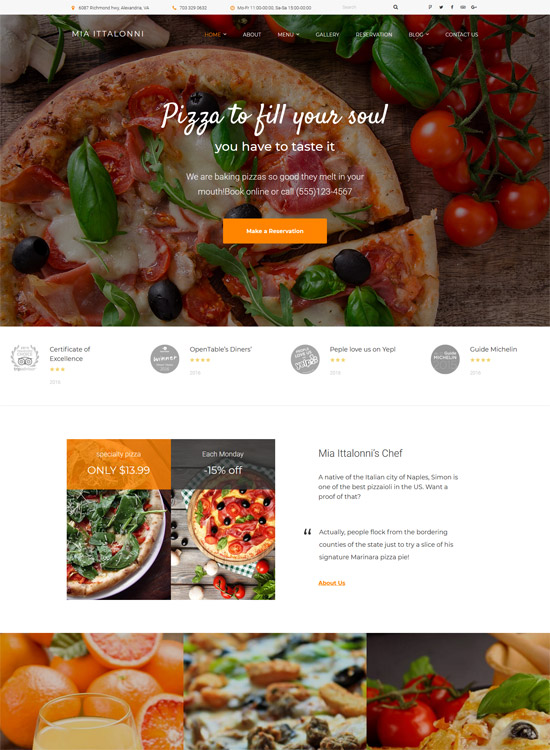 More info / download Demo
Ours Restaurant
A stylish WordPress theme for websites about restaurants, bars, coffee shops, and other places that serve food. It has a restaurant menu page that is made up of widgets and is easy to set up and change without having to write any code. It was made by a team of experienced developers and designers who wanted to make it easy for webmasters in the food service industry to make amazing, modern websites quickly and without having to write a single line of code.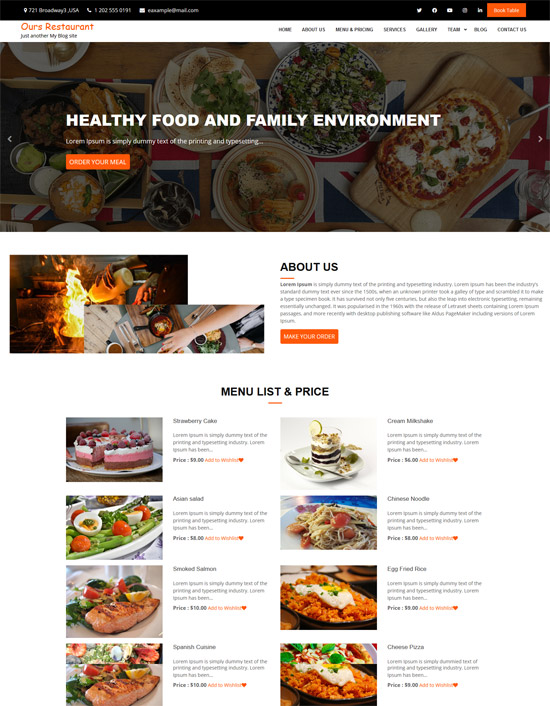 More info / download Demo
Di Restaurant
A responsive and advanced WordPress theme for a restaurant. It's a beautiful restaurant theme that can be used for a WordPress site for a restaurant, cafe, hotel, or any other food business. The Di Restaurant theme works with WooCommerce and lets WordPress websites load quickly. This theme works with the WooCommerce plugin, which makes it easy for users to sell their services or products online.
The Di Restaurant WordPress Theme comes with more than five ready-to-use templates that you can import, change, and add to. Di Restaurant Theme can be used for many different kinds of food-related websites, like those for pizza places, tea shops, cafes, burgers, bars, pubs, hotels, restaurants, and more.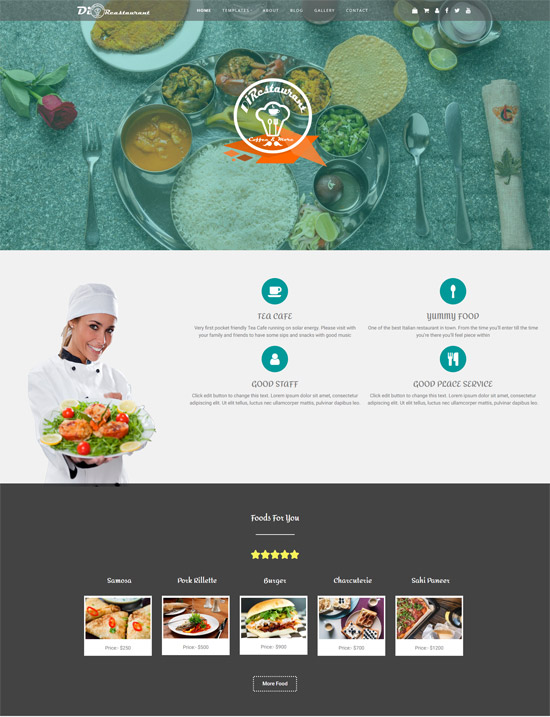 More info / download Demo
GloriaFood Restaurant
This theme is great for quickly making a website for a restaurant that lets people order food online. The design is meant to sell, so it focuses on what a restaurant customer really wants. With the GloriaFood plugin, which is part of the theme, restaurants can take online orders and make free table reservations.
It's easy to set up the theme and plugin. Together, they give you access to great (free) features, like being able to order online, print receipts, and see statistics about your website.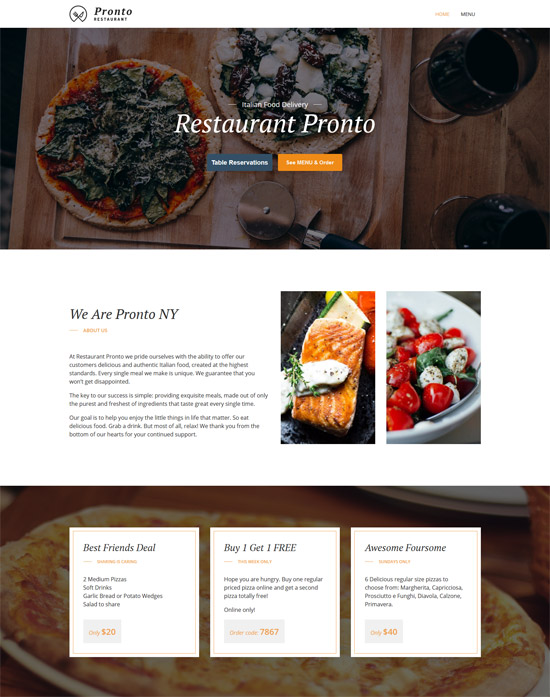 More info / download Demo
Restaurant Recipe
Restaurants and cafes can use this beautiful and modern WordPress theme. Its goal is to make it possible for owners of any kind of restaurant, big or small, to set up an online presence for their business and grow it.
It is a theme that responds well to all screen sizes. Other features include an impressive featured section, a responsive slider image, advanced logo options, the ability to be translated, color options, custom sidebar areas, layout controls, social media integration, browser support, and much more. It can also be easily changed and customized to fit the needs of the user. So, a theme that can be changed and is easy for everyone to use.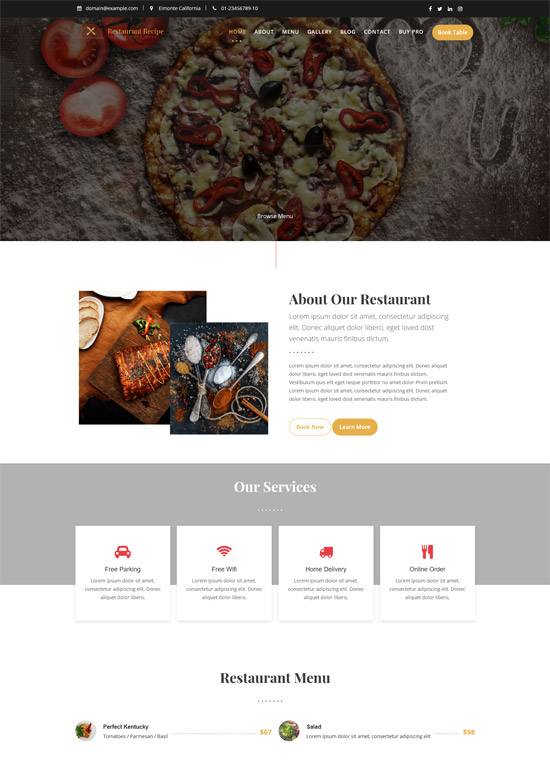 More info / download Demo
Best Restaurant
Best Restaurant is a modern, clean and professional WordPress theme that is perfect for restaurants, cafes, bakeries, kitchen, fast food, pizzerias, drinks and food related businesses. The theme is specially designed based on the requirements of the food business and contains all the necessary functionalities including food menu, reservation, gallery, opening hours and map.
Also, the theme has other amazing functionalities to help you create an amazing website such as HTML5 video background, parallax scrolling effect, portfolio, newsletter subscription, and many more. Using the latest Bootstrap Framework, HTML5 and CSS3 techniques, the theme is fully responsive on various devices.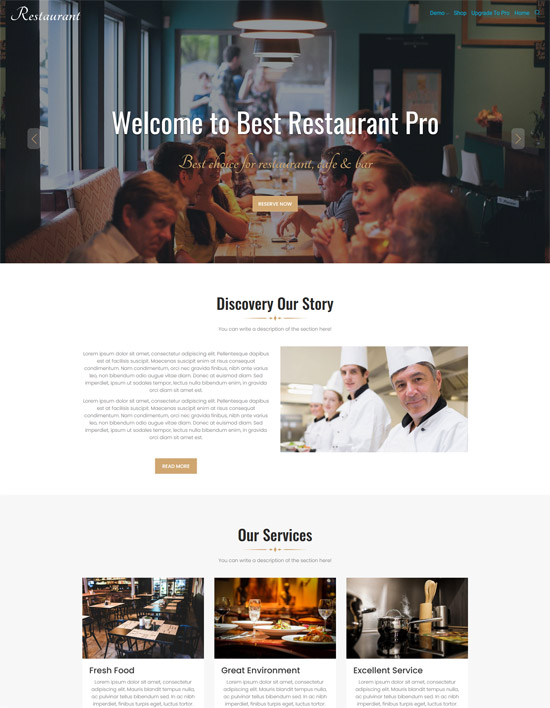 More info / download Demo
lzrestaurant
A multipurpose WordPress theme specially developed for websites dealing with coffee, coffee, pastries, bakery, cooking, recipes, fast food, Chinese dishes and other catering businesses. This is the must-have theme for food critics and bloggers to set up beautiful websites for bakeries, pizzas, parties, cuisine, barbecues, hotels, food establishments, Italian restaurants, inns, and steakhouses.
The clean restaurant theme is purely mobile friendly and compatible with all screen size devices. The theme is so easy to use and customizable that even if you are not a professional developer, you can still work on it. You get extensive customization options to modify the theme in your choice of look and feel.
The theme has an elegant banner that allows you to present your business in the best light on the home page. The testimonials section makes it more attractive as it shows the comments of the people who have visited your WordPress website.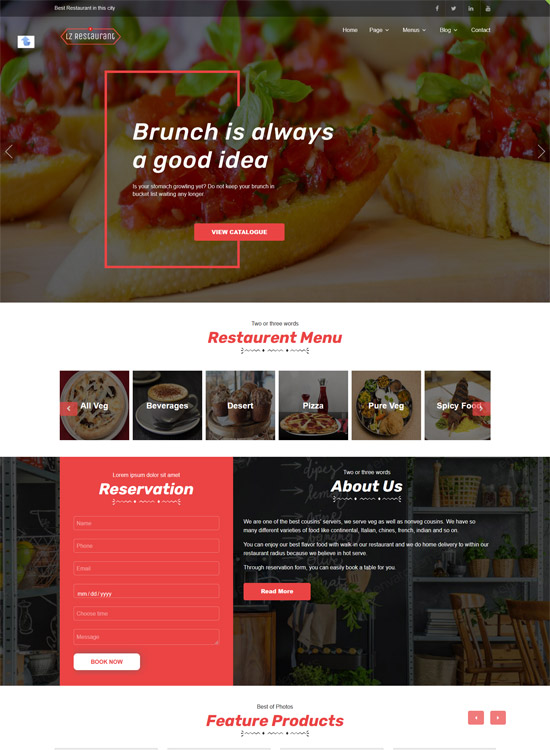 More info / download Demo
SEOS Restaurant
A clear and easy to customize WP template. Seos Restaurant is a modern multipurpose HTML5 theme with a responsive 2-column layout. The theme includes the 29 most popular social icons, custom sidebar width and position, custom images, and cover boxes.
It is excellent for a restaurant, restaurant, newspaper, images, photos, publications, news, blogs, businesses, portfolios or other editorial websites. For more information on the topic, go to the topic uri and read the documentation.
More info / download Demo
Food Restaurant
A mobile friendly WordPress theme that can be used for multipurpose food businesses such as restaurants, coffee shops, coffee shops, hotels, food places, barbecues, steakhouses, fast food restaurants, pizzerias , etc.
It is built using Bootstrap, therefore you will not have a problem regarding the responsiveness of your website. Created with optimized codes, this professional and easy-to-use theme offers faster page load time and an incredible user experience.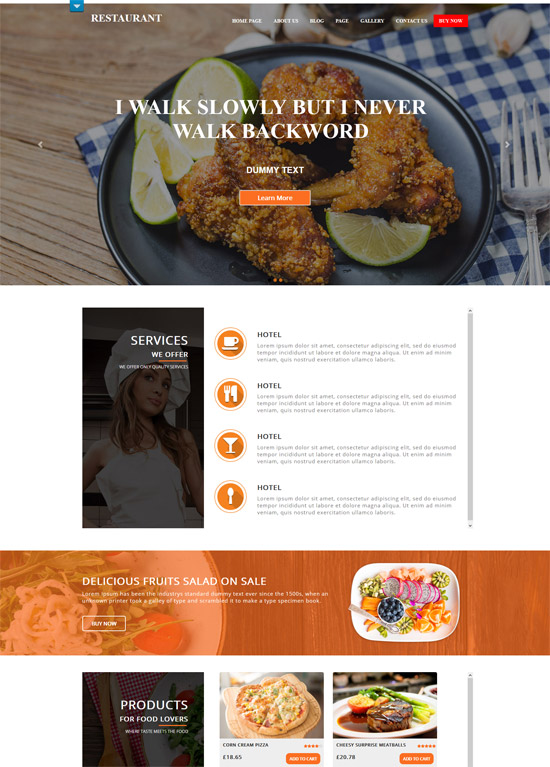 More info / download
Bar Restaurant
The Bar Restaurant theme is a high quality WordPress theme specially designed for bar, pub and restaurant websites. It is an easily customizable theme that uses WordPress customization options for logo, colors, etc. The Bar Restaurant theme is based on the Twitter boot, so it looks good on mobile devices, iPads, and all other computing devices.
The Bar Restaurant theme uses the SiteOrigin page builder (a very powerful but free plugin available at WordPress.org), to easily create a variety of page layouts to suit your business.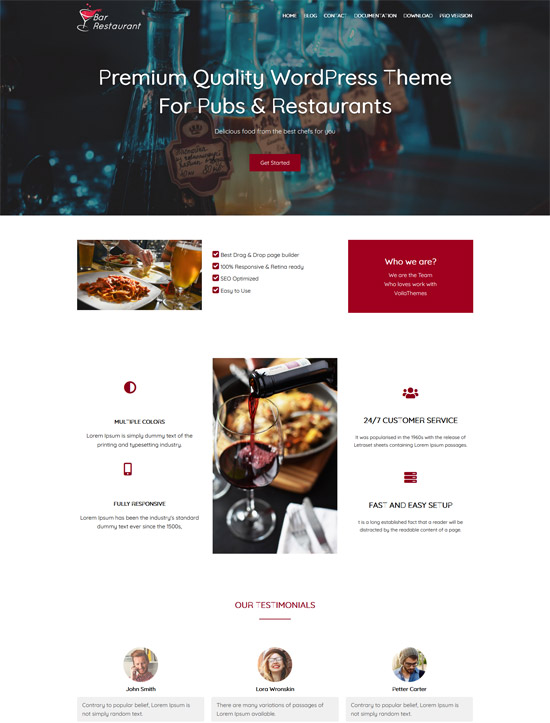 More info / download Demo
VW Restaurant Lite
You want to install the perfect restaurant WordPress theme for free. You are in the right place, the best free WordPress restaurant is what you are looking for, then VW will satisfy all your needs. No more research, you will definitely choose to go with us after knowing what we have to offer.
Best wp food theme with useful features and professional design. Our free food WordPress theme has homepage and internal layouts, testimonial sections, blogs, awesome pages, and post layout. All packed in a theme that is compatible with other browsers and woocommerce with RTL language support and social media integration.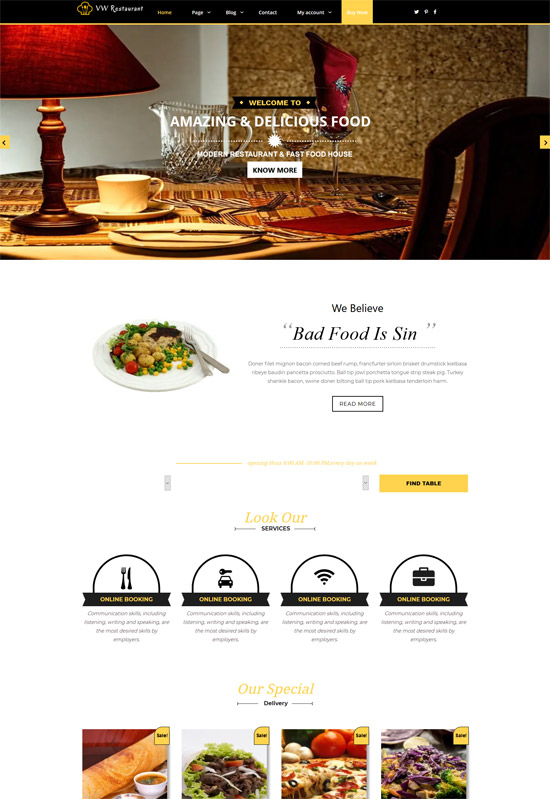 More info / download Demo
Restaurant and Cafe
A perfect solution for restaurants, cafes, or any food and beverage business. Whether you have a coffee shop, a bakery or a large fancy restaurant. The restaurant and cafe theme will meet your expectations and give your customers a great experience!
The restaurant and cafe theme comes with a banner section, a features section, an information section, a services section, a testimonial section, a restaurant menu section, a reservation section, and a blog section. on the front page or on the front page.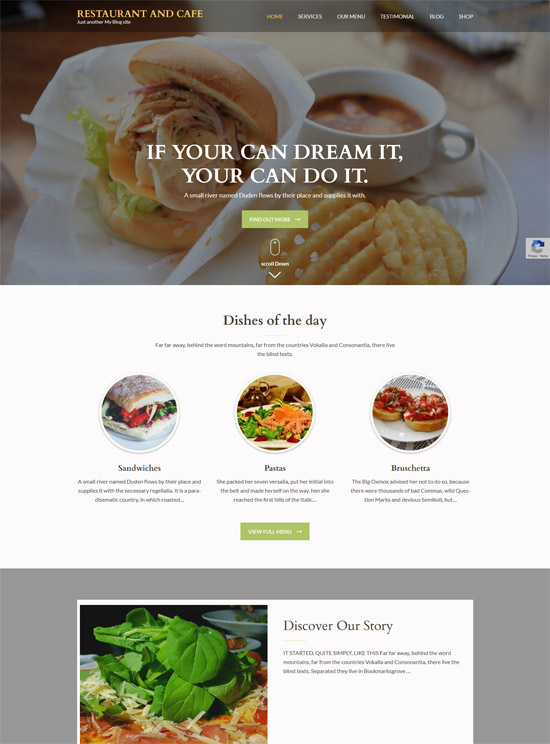 More info / download Demo
Restaurantz
Restaurantz is a clean and professional restaurant WordPress theme, perfect for restaurant, cafe, coffee shop, or any food business. The theme works with Site Origin Page Builder, so the drag and drop feature will be very useful to customize the page layout as you like. The theme is compatible with the Jetpack food menu, which you can easily display on your site.
It has a Theme Options panel based on a powerful customization API that makes the theme quite easy to customize and configure.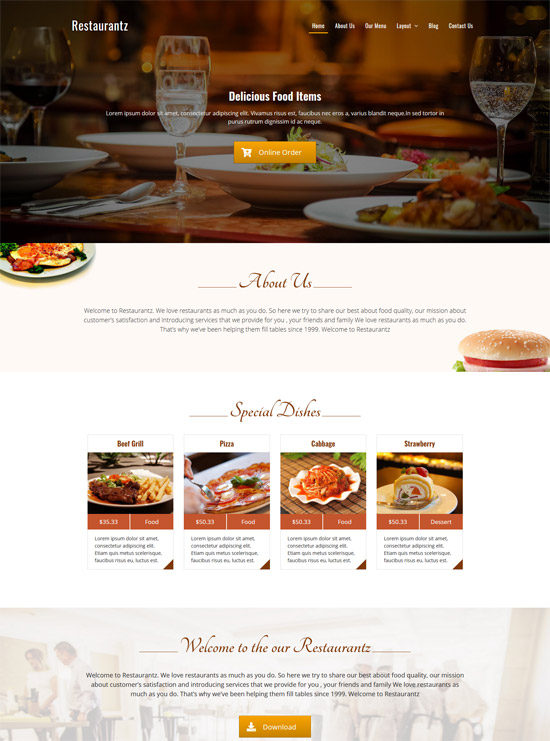 More info / download Demo