In recent years, there have been big changes in how websites are designed, how responsive site prototypes are made, and how e-commerce works. The builder's standard landing page is built on top of an HTML template that was made with an online storefront in mind. This is because having a website that is either completely responsive or has a wide range of features is becoming more common and popular.
A landing page is often a template demo from a site that gives away free CSS templates or a site that gives away free CSS templates. A landing page can also be made right from a website that offers free CSS templates. It has a choice of color schemes and a library of trendy web design templates and elements that can help it get people's attention. It also has a library of cool templates and elements for web design.
Also, please keep in mind that most of the page templates use basic HTML. You can still use them for free, and you can even watch a presentation of them in real time. You can also make a presentation online about the many ways to use a website with only one page by clicking a few buttons. This will let you build the presentation online.If you want to start a website with an free HTML template, you will need content, and it doesn't matter if that content is free or if you have to pay for it.
Before you use a photo as part of a page template or WordPress theme, you should check to see if there are any privacy issues with it. You need to do this before you can use the picture. Templates are often used to build websites that use the latest web technologies, such as HTML, CSS, JavaScript, and bootstrap. Because of this, it is now possible to turn a simple free HTML page into a full eCommerce website system that can be used by any business, no matter what kind of business it is.
Related Article
Ucorpora
Ucorpora is an amazing free HTML CSS website template, and it uses new web methods and a responsive design.
More info / download Demo Get Hosting
Grad School
The HTML template called "Grad School" was made especially for building educational websites. In addition to the three rollover content boxes on the homepage, there is also a full-size video banner that can be seen by scrolling down to where it is. When making more HTML pages, one choice that can be made is whether or not to use a dropdown menu.
With the help of this template, you will be able to make either a large, dynamic website or a custom content management system template. The carousel includes both a JS countdown timer and information that is shown in the tabs. Also, there are things on the carousel. Bootstrap is used in this case in its version 4.5.2 form.
More info / download Demo Get Hosting
Invent
There is a free Invent HTML Bootstrap 4 template that can be downloaded, and websites that deal with IT solutions, IT firms, or corporate IT can use it. Due to its high level of adaptability, this template can be used for a wide range of other projects as well. Because it is built on Bootstrap 4's grid, it will look good on a wide range of computers and mobile devices.
Even though the grid doesn't change, this is still true. This is true for both mobile phones and desktop computers. You can choose from a variety of options, such as pricing, a menu that goes off the screen on mobile devices, and other features. The events in the hero section happen in a way that makes sense.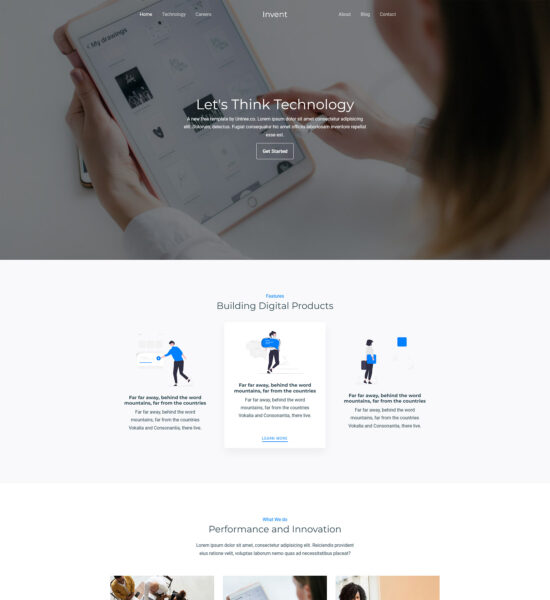 More info / download Demo Get Hosting
Hexashop
HexaShop is an HTML/CSS template that you can use for your online stores in order to get started making money. You can find more information about HexaShop here. This is the location where additional details on HexaShop can be found. The Bootstrap v4.5.2 CSS framework, which was utilized in the process of constructing this layout, serves as the basis for its design.
You are free to make any modifications to the layout that are required to get it to function properly with a different content management system. There are a total of five core pages that make up the homepage, two of which are the product listing page and the product description page.
If you want to make it better, you have the power to do so, and the ability to do so already exists. In addition to that, you can navigate the website with the help of menus that slide down from the top of the screen when you mouse over that area.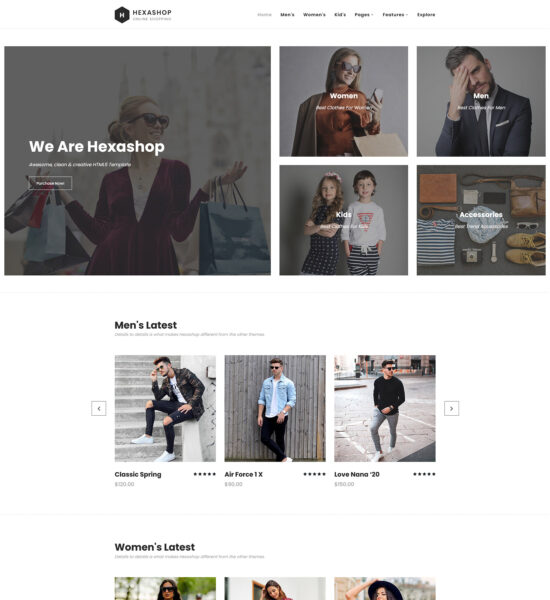 More info / download Demo Get Hosting
Financing
Financing is a free HTML bootstrap template that can be used for a wide range of website topics, such as consulting, advising, business, consultant, corporate, finance, and financial concerns. Any web server can download this template and use it.
You can start building your website right away if you use this perfect and up-to-date Bootstrap template. You can choose from a lot of different features, such as a drop-down menu, a slider, a pop-up movie, and animation that changes as you scroll down the page.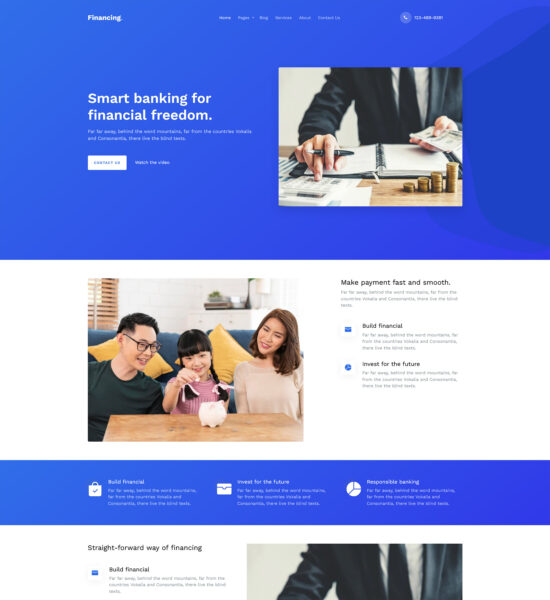 More info / download Demo Get Hosting
Elegance Template
The Elegance HTML Template has a blue-gradient video that can be played in the background. This video is also in the background of the template. You can move from one part of the website to another by using the up and down arrows on your keyboard. Different pages use carousel components.
This Bootstrap v4.1.3 CSS layout can be changed in any way you want in the future. If you want to use the Elegance Template, you can get it easily, download it for free, and start using it right away.
It is also easy for them to get This HTML CSS layout of Elegance can be downloaded, and once it has been changed to fit the needs of a specific website, it can be used on the websites of both for-profit businesses and nonprofits.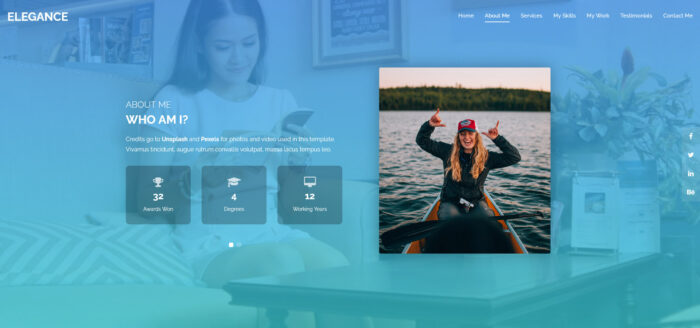 More info / download Demo Get Hosting
Architect
No matter how long you've been in the architecture business, you still need to build a website for your business that does a great job of showing off the work you do to stay in the game. Getting in touch with potential customers is a lot easier when you use a website template that has been made just for your architecture firm.
Putting your portfolio together in a sophisticated and stylish way is a great way to increase the number of potential clients you can reach and the number of business opportunities you can take advantage of. Some of the great features in this template will give you an edge over your competitors.
This is true because this template has those things. With features like the smooth slider, the dynamic counter, and the ability to add videos, your content will be brought to the attention of more people.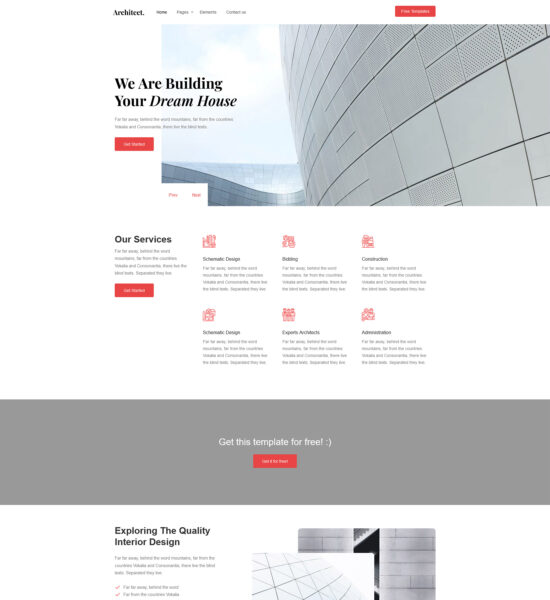 More info / download Demo Get Hosting
Victory Template
The CSS template called Victory puts most of its focus on places to eat and drink, especially restaurants. When making reservations, you can use a simple HTML form. It also serves meals that change every so often. On this website, there is a section for a blog, which you can find here.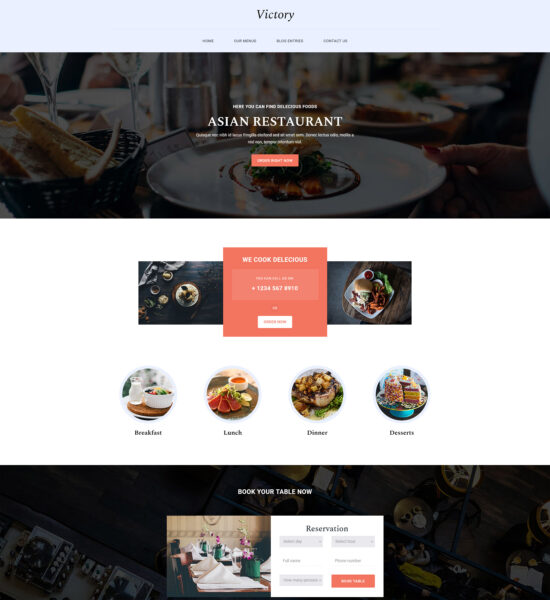 More info / download Demo Get Hosting
Impact Agency and Startups
Impact is a free HTML Bootstrap 5 template with a beautiful design that is perfect for businesses that want to stand out online. It was made by Bootstrap, and the HTML 5 version comes with it. With the help of this template, which can be downloaded for free, brands will be able to set themselves apart in a way that works to their benefit.
It has a huge number of useful features that will help businesses build their online credibility and reputation. One of the most important things about it is that it can bring in new leads. These things include, but are not limited to, using videos to introduce the brand, providing a sleek slider for showing testimonials, and giving blog posts a clean layout. But these are not the only things that are included.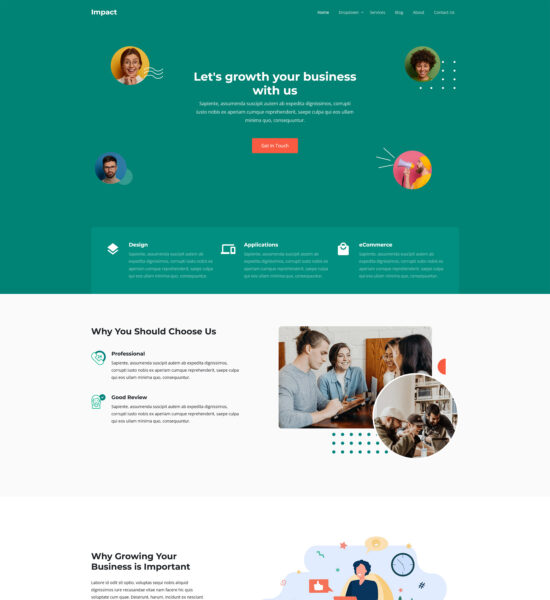 More info / download Demo Get Hosting
Liberty Market Template
Liberty NFT Market uses NFTs. It's a Bootstrap 5 HTML CSS template with 5 HTML pages to customize and lively colors. This Liberty Market HTML CSS layout is commercial grade.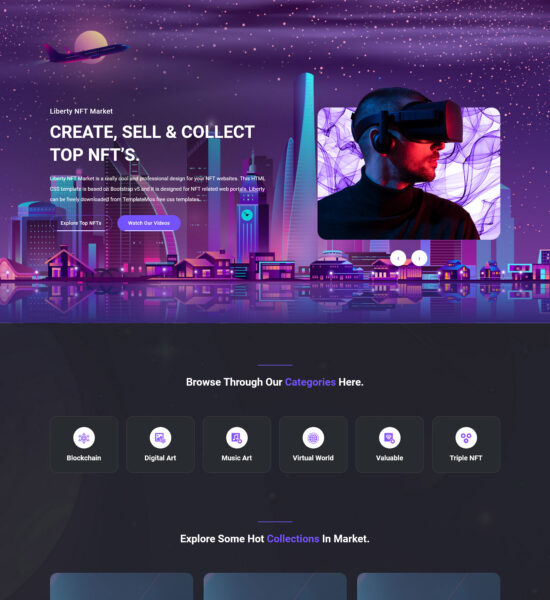 More info / download Demo Get Hosting
Denschool
Denschool HTML school template for kindergarten, elementary school, college, high school, and university. Free for personal and commercial usage under Creative Commons 3.0.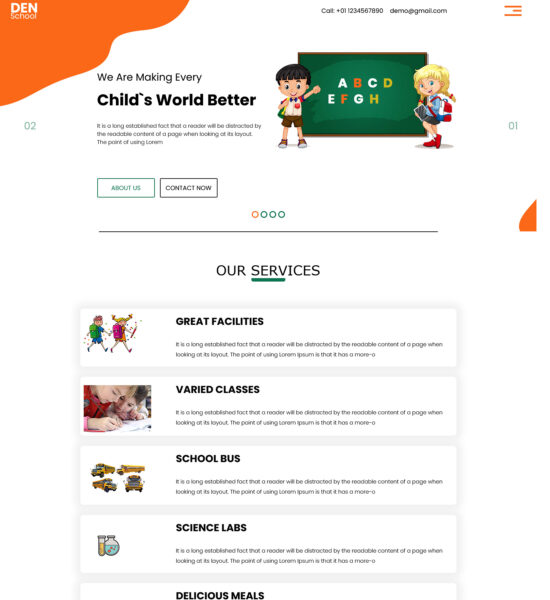 More info / download Demo Get Hosting
KidKinder
KidKinder is a free HTML preschool template. User-friendly CSS pages. Easy to use with a hero header and user interface components including a contact form, footer navigation, and subscription form.
The KidKinder template uses Bootstrap 5, HTML5, and CSS3. Developer friendly code is included. KidKinder's lettering is beautiful amd html document.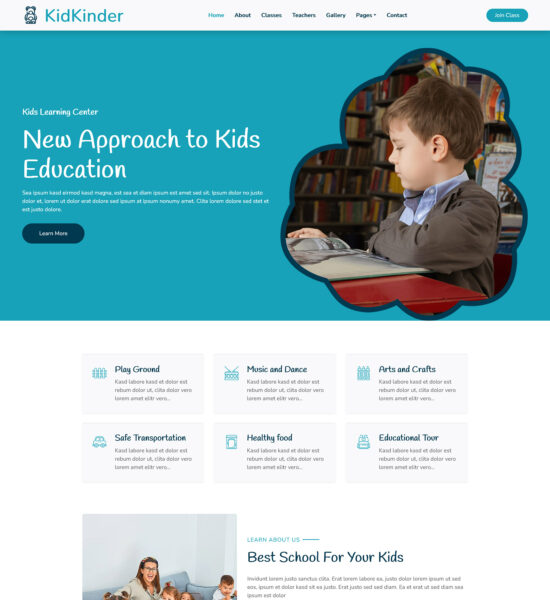 More info / download Demo Get Hosting
Tween Agency
Tween Agency is a CSS based HTML marketing template.  It has an image fader and about features 3 full-width tabs, and FAQ has an accordion slider, simple popup picture in project area, two columns have pricing and HTML contact form supplied.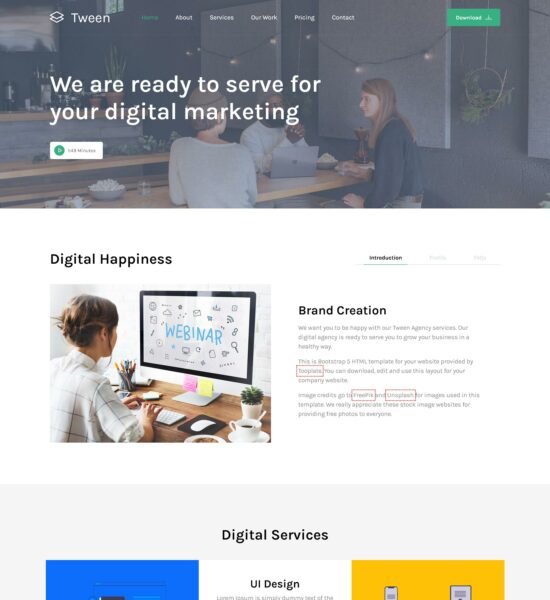 More info / download Demo Get Hosting
Tooplate Fashion
Tooplate Little Fashion HTML Template is professional looking. Home, about, products/product details, FAQ, contact, registration/login pages are included. The home page has a full-page in/out image slider and usage rights information.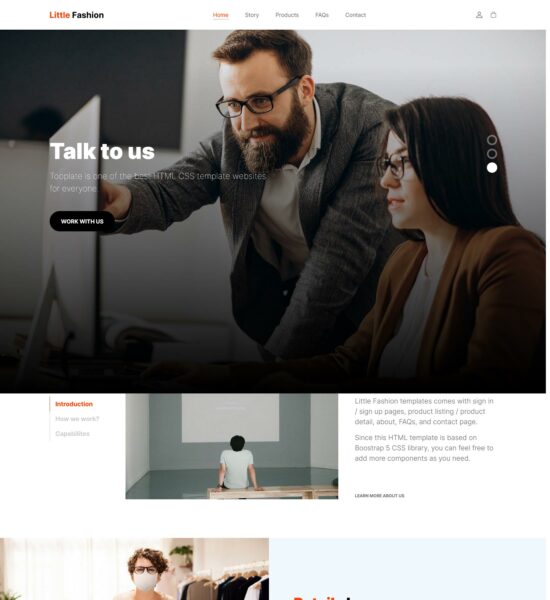 More info / download Demo Get Hosting
Pavo Landing Page
Pavo is a template that you can download for free and use right away. It was made so that it could be used in a lot of different ways. With the help of Tailwind CSS, which is a first-use CSS and template based on the Bootstrap brand and has a number of classes, it can build designs right in its own style. This lets it make designs under its brand directly. Because of this, it can now make designs under its brand without going through a third party.
Pavo's liviano design with blue grades is attractive and effective. It's well optimized for most navigators. Tailwind CSS-designed, it has a hero enclosure, fixed navigation bar, portable menu, display effects, grid, pricing table, and more. It will grow with well-managed, ordered code.
More info / download Demo Get Hosting
Inodino
The Inodino interior design website template is an HTML template for interior design, house and office remodeling, excellent for construction companies. Free for personal and commercial usage under Creative Commons 3.0. with doctype html.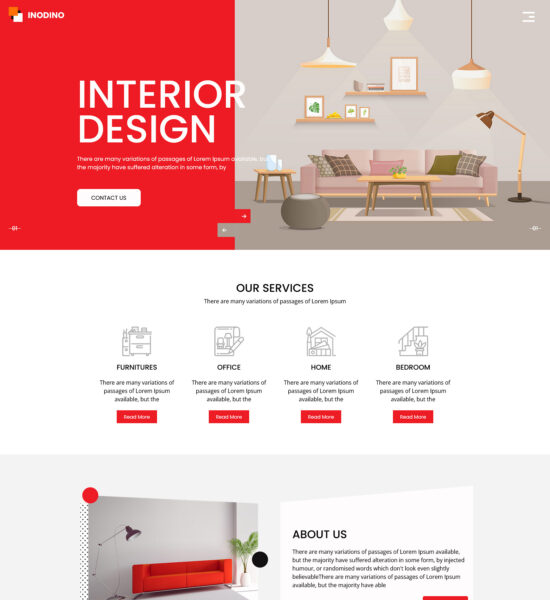 More info / download Demo Get Hosting
Antique Café
This is a one-page HTML cafe template. There's a 2-column hot and cold coffee menu, include About and Contact. Background pictures may be changed easily.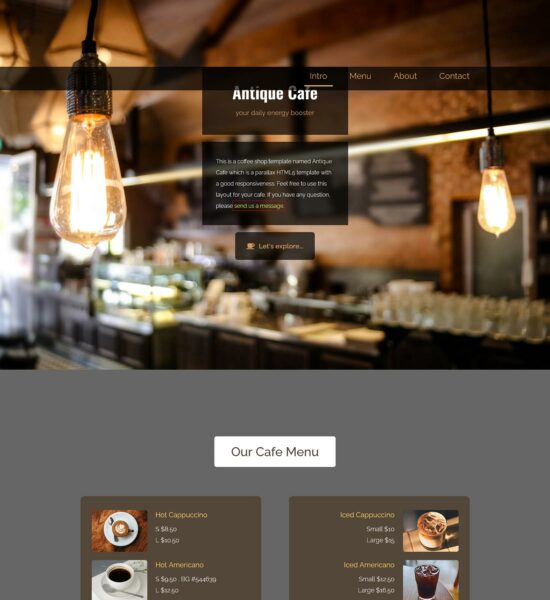 More info / download Demo Get Hosting
Wave Café
Wave Café is a video-background HTML template. This responsive template is mobile friendly. Wave Café template use rights are explained.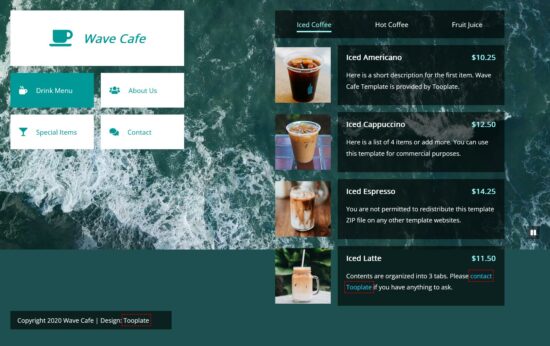 More info / download Demo Get Hosting
POSH Auto Parts
Posh Auto Parts  eCommerce HTML Template can be used by any kind of online business, whether it sells car accessories, replacement parts, or something completely different. This is because it can be downloaded for free and used. This HTML template is perfectly designed and organized for all types of auto parts business sites.
Creative design and best added features html document like product part finder, countdown limited time offer, color and image swatches, price slider filter on shop page with lazy loading effect, account pages, and all ecommerce pages are included. Use this eCommerce template to sell car components.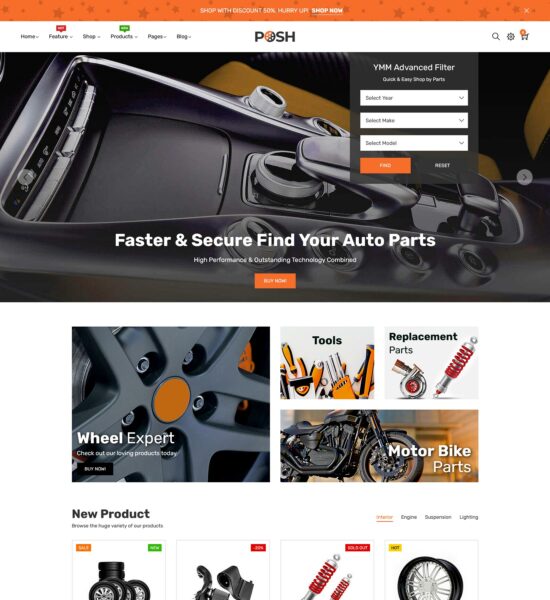 More info / download Demo Get Hosting
Faith in Christ Church
Faith in Christ Church is a unique, modern and beautiful HTML website template for any Christian church. With its beautiful, modern look and 15+ HTML files, this free church template gives you plenty of design options and creativity. This free church template is fully responsive to create a basic the last pixel, allowing your users to access your website from any device. Give your church website a fresh new look with the Faith in Christ Church template.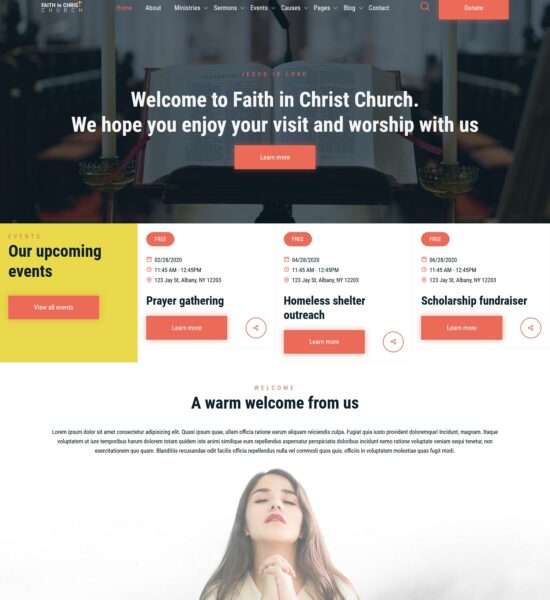 More info / download Demo Get Hosting
Life News
Magazine template is a professional website design for health with Responsive, cross-browser template. The CSS based design includes background video, google fonts, events, gallery contact and newsletter registration forms.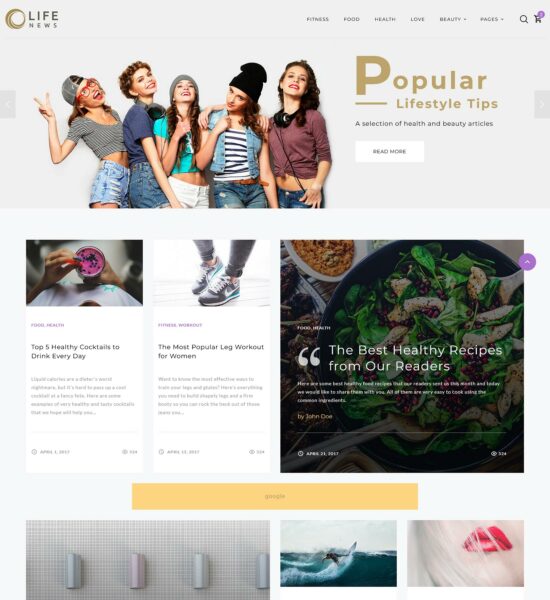 More info / download Demo Get Hosting
AAnglo Lifestyle Personal Blog
Aanglo is a professional and stylish personal lifestyle blog HTML template. It has included the necessary features that are needed for a personal blog or blog site. This HTML template is super optimized and fast to render, an SEO friendly template.
We use modern and popular development tools like HTML, CSS, SASS, etc. This is a really stylish and elegant blog template. It is comfortable for various types of blog sites. This HTML template gives you the ability to create your perfect blog with its cool 15 HTML pages with eCommerce pages.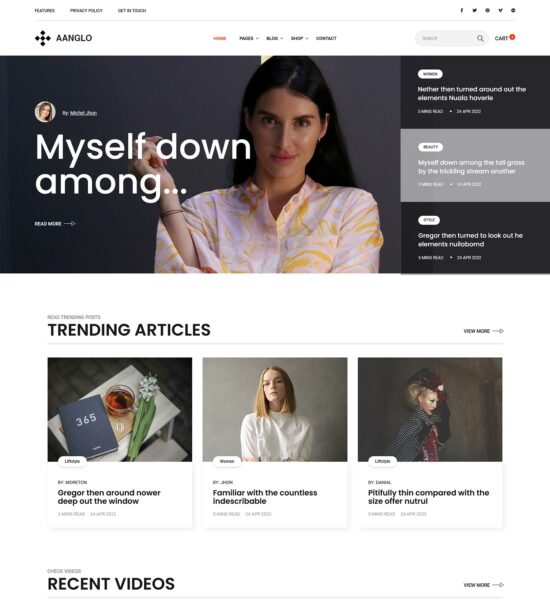 More info / download Demo Get Hosting
Tacko Auto Parts
Tacko Modern Auto Accessories HTML Template is a terrific vehicle accessory for any online company. Accessories Clean HTML design. Tacko designs eCommerce and CMS homepages.
Must-have template. Tacko's RTL capability makes Arabic and Hebrew websites easier. This template has a well-commented contact form, customize code, and documentation. This helps customize and utilize the template.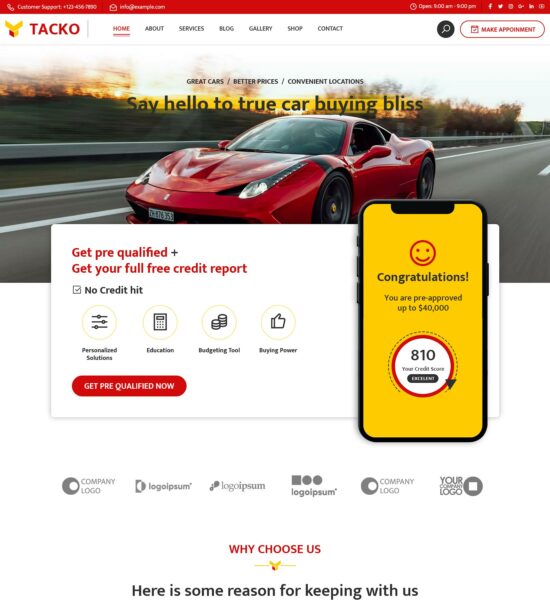 More info / download Demo Get Hosting
Free Rise Church
Free catholic church themes. Here are several website pages. Cross-browser compatible and responsive template. The css-based design offers backdrop video, google fonts, events, gallery work contact and newsletter registration forms.
It's optimized for speed, background video, google fonts, events, gallery contact & mailing forms.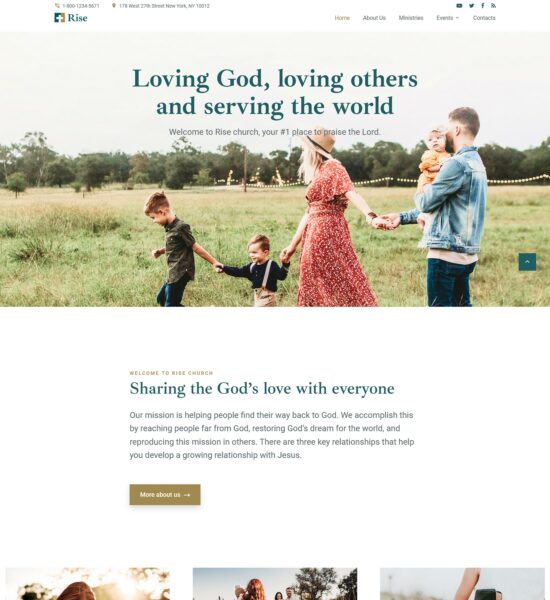 More info / download Demo Get Hosting
Leadership Event
Leadership Event is an HTML CSS meeting and event website template and digital marketing html template based on css framework. This one page template design can be expanded to multiple pages for your business or corporate website. The home page features a full-size video background. The programming section consists of 4 days of tabulated content.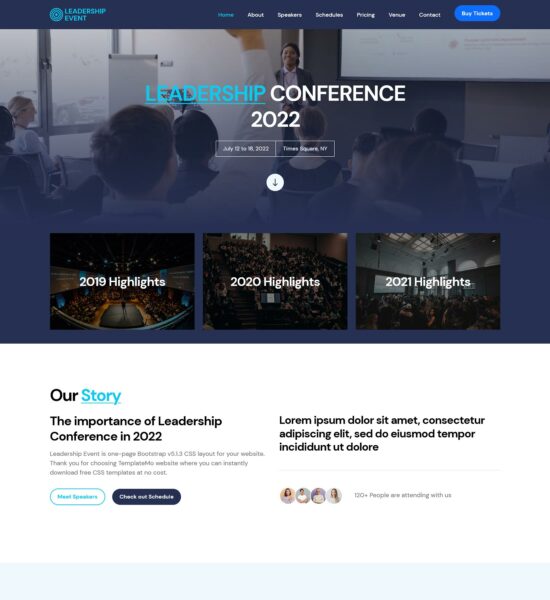 More info / download Demo Get Hosting
Mexant Financial
Mexant is a cryptocurrency HTML CSS template and Digital marketing or business website builder. Four websites are included sub menus from the main menu expand pages. Provided forms and maps and sections have tables and tabs.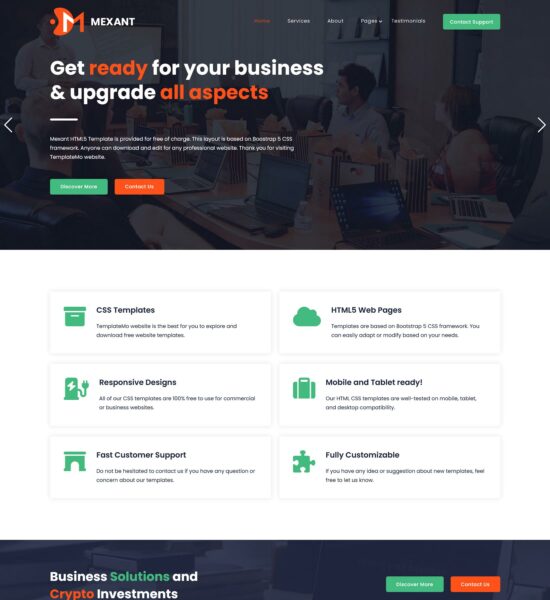 More info / download Demo Get Hosting
Snapx Photography
SnapX Photography offers 5 HTML page templates with login/signup forms and drop-down menus. The header is dark gray and the content is bright blue.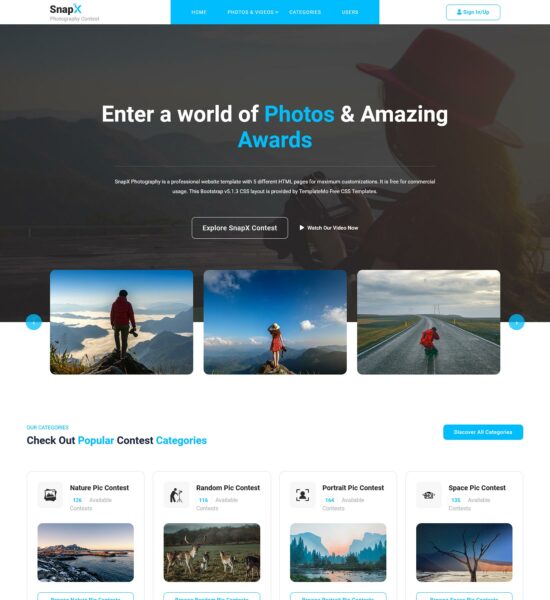 More info / download Demo Get Hosting
Fanadesh Education
Fanadesh Free School Html Template responds to an educational web template. With this html element template, you can easily create a website for kindergarten, university, homeschool, online education, and more.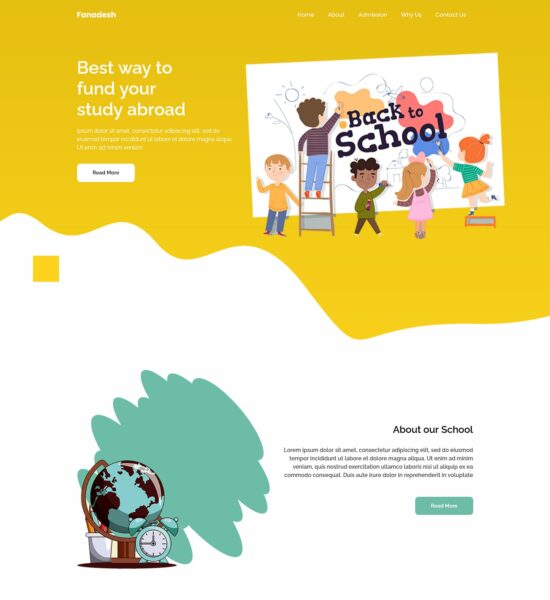 More info / download Demo Get Hosting
ECOURSES Online Courses
ECOURSES is a clean, contemporary, creative, responsive and professionally designed free HTML website template for educational websites. This Free Online Courses HTML Template might help. It includes pre-built HTML pages and CSS bootstrap templates for a successful website.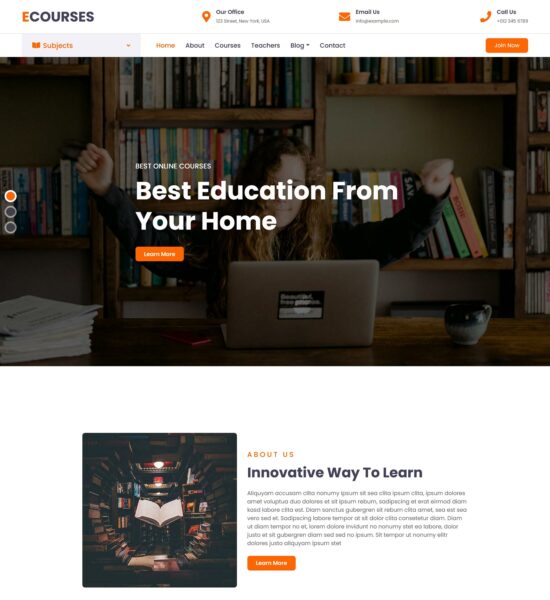 More info / download Demo Get Hosting
Zoofari Safari Zoo
Zoofari free wildlife website template is best web page design suited for creating any safari and zoo related website. This template has a beautiful and unique design and web design services with a 100% responsive and mobile friendly design. Save time and money creating a safari and zoo website with this free HTML template.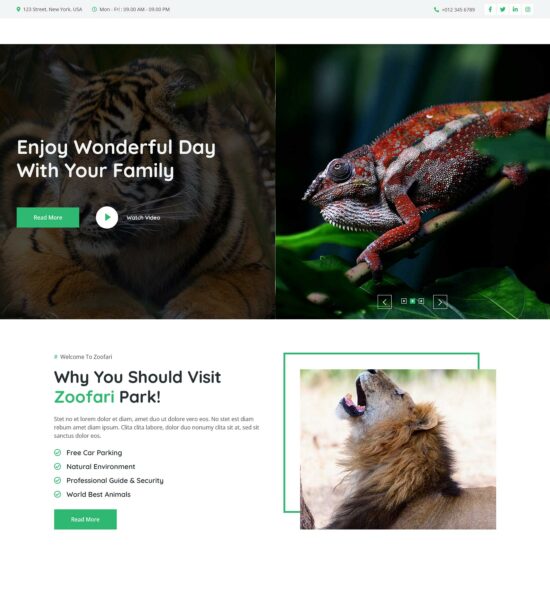 More info / download Demo Get Hosting
Apex Home Repair
Apex house remodeling free website template uses correct HTML, CSS, SASS, bootstrap, and jQuery. It's mobile friendly, customize, and fully responsive. It works on desktop and mobile screens. The template allows you create a lightweight, elegant, responsive home improvement website rapidly.
Apex Free Home Remodeling Website Template has a variety of UI components to customize your website. The template contains 9+ pre-built demo pages for Home, About, Service, Feature, Quote, Team, 404 Error, Contact Page, etc. These pre-built demo pages are ready to be customized and launched immediately.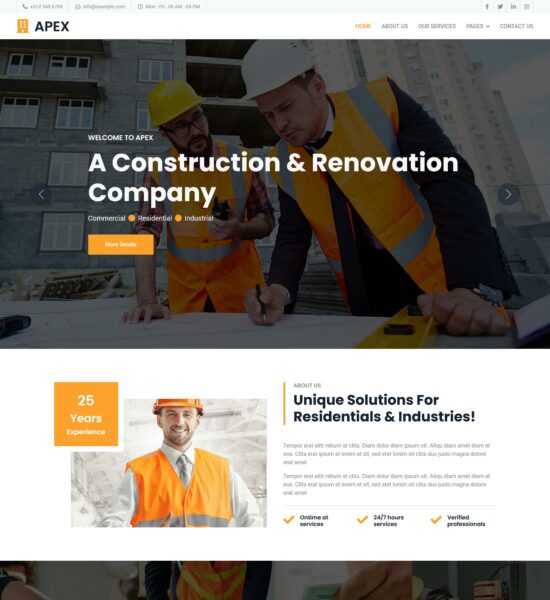 More info / download Demo Get Hosting
Drivin Driving School
Drivin is a great website template for driving schools because it is free, has an attractive design, and uses the latest and most advanced technology. This format is supported by almost all of the most popular web browsers on the market today, as well as a wide range of mobile devices.
The Free Website Template for Driving Lessons can be used by any kind of driving school or individual driving instructor to market themselves online. With this free template and the Bootstrap framework, you can make a website with HTML5, CSS3, SASS3, JQuery, and CSS3. You can change how you use it and use it again and again in any way you want.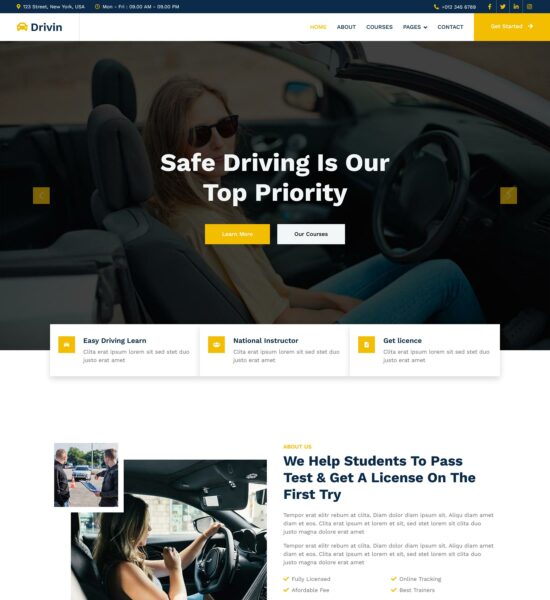 More info / download Demo Get Hosting
Foody Organic Food
Foody is a sleek, modern, free organic food website template that's responsive. The template is great for agriculture, farmers, organic, organic food, food retail, farm, contemporary fresh farming, organic shop, vegetables, and others.
Foody can help you find free HTML website templates. The text and image template is ready to use. Organic food Free Website Template contains various time-saving options. Foody graphic design will boost your organic food company.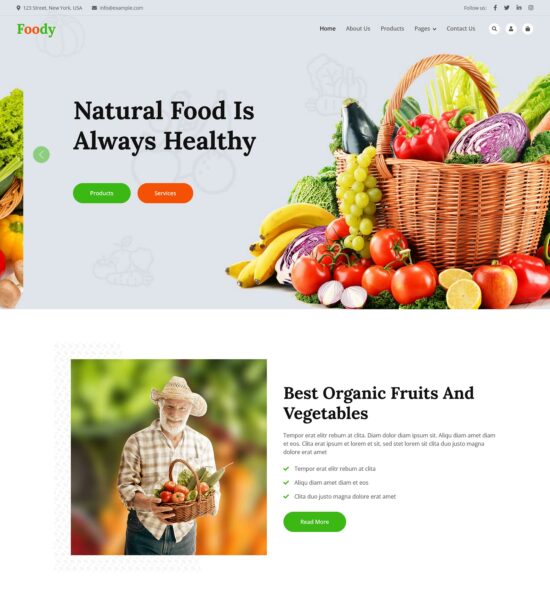 More info / download Demo Get Hosting
Transpolar
Web designers with a lot of experience made the Transpolar website template so that it could be used to make websites about transportation. It has a user interface (UI) that looks good and works well for the highest level of industrial transportation facilities.
The transpolar is a cutting-edge method that shows how the transportation industry could be made better. By starting their websites using this template, businesses can focus on the many services they offer.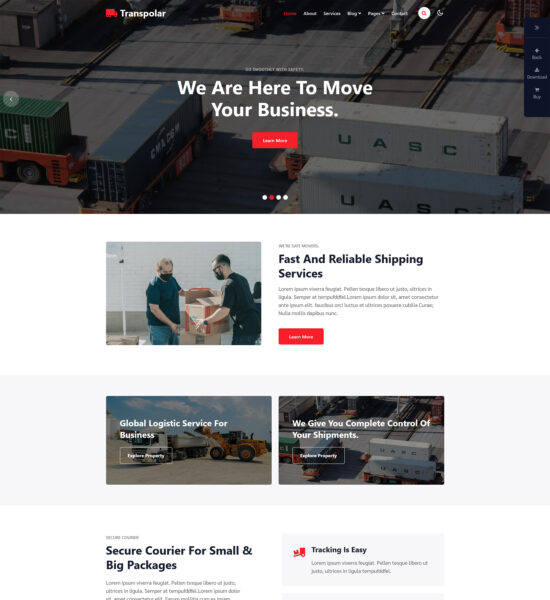 More info / download Demo Get Hosting
Baker Cake & Bakery
Free bakery and pastry template is developed for food company websites. It's beginner friendly and straightforward to use. Baker Free Bakery Site Template has 8+ pre-built HTML pages including Home, About, Service, 404 Error, etc. Baker is the greatest solution for quickly launching a cake and bakery website.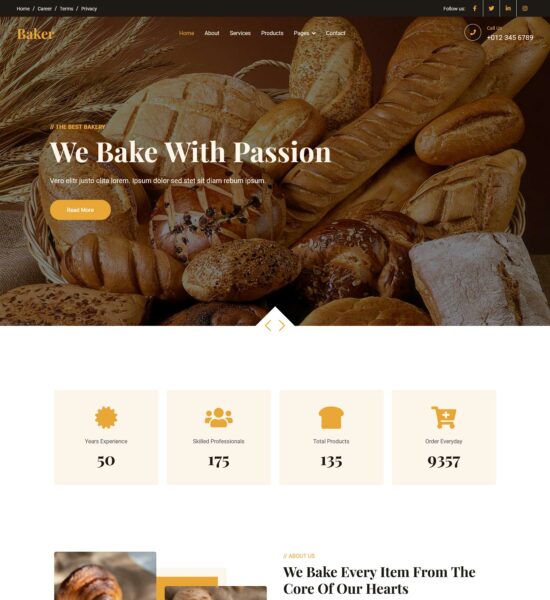 More info / download Demo Get Hosting
Even for simple applications like a personal portfolio template gallery or a single page with updates, a blog, and upcoming events, like for a clothing store, using adaptable design template samples can make the design process both faster and more creative. This is especially true for simple applications like a template gallery for a personal portfolio. By using our free HTML templates, you can quickly make HTML email templates, as well as website layouts and HTML pages for an online store that are built on bootstrap templates. These templates are flexible and can be used in many different ways.
Site templates, which are usually shared in the form of HTML or CSS files, are flexible and can be changed to fit a wide range of different types of content. You can find these files all over the web. There are many different kinds of website templates, such as an agency template, a free HTML page portfolio, and WordPress website templates. There are a lot of other kinds of website templates as well. You can also use it as a model for a website about fashion consulting, social media, food, or any other topic you want.
This could be the case. You can make responsive templates by putting photos, text, and free art in the files that go with those templates. After that, these templates will be updated to reflect the most recent changes in digital technology. When making HTML websites or landing pages, it's common to get HTML themes for free and then use them as templates. This is a typical way to do things. The best way to do this is to go to a website whose sole purpose is to offer HTML themes.
It was decided to download some HTML landing page templates so that they could be used as examples. This was done so that the templates would be easy to find. They had pictures and photos that could be used as examples for a portfolio. If you give the right product criteria, you can make a template for a clothing company, a software company, or the best possible design for a template. You can also make a template that other people can use to make templates.
Today, if you want to make a great-looking HTML website for personal or business use, such as a travel, wedding, fitness, hotel, health, interior, industrial, or other category website, you will probably need to look for a free responsive template to download. This can be the case whether you want to make a website for a travel, wedding,  fitness, hotel, health, interior, industrial, or other category.
This could be the case if you want to build a site for a travel, wedding, health, interior, industrial, fitness, hotel, or other category. This is true whether you are making a website for a wedding, hotel, health, interior, industrial, fitness, or any other industry. You can get a bootstrap or builder HTML framework from GitHub, and the source code for a minimalist HTML website template is usually free online. Also, one of these two options can be used to build the template's framework.
We have a large collection of WordPress plugins, an HTML website template with style presets and effects like parallax, video, and contact form elements, and services to help you use WordPress plugins to make your creative ideas come to life. Also, we have a group of free WordPress plugins that you can download. We also have an HTML website template with a lot of style settings and effects, like video elements, contact forms, and parallax scrolling.
These resources are for web designers who already have a good understanding of the field. HTML-based website templates give users a lot of freedom when it comes to making their websites look and feel the way they want. Google Maps lets you make free HTML website templates that you can then use to make more free templates. You can also use Google Maps to get free CSS templates that you can use with templates. More information about these two things is given below.
Both of these things will be talked about in more depth later. CSS isn't a good way to learn how to build a website, and HTML doesn't have a free landing page template you can download. You can't do either of these things. You can't have both of these things at the same time. There is a good chance that the paragraph's ideas are already known to the designers. Today, many people who give HTML code templates look forward to getting feedback that shows how much the contributors care about the contribution and how much they value it.
In particular, this kind of feedback should show how much the contributors value the contribution. This is because it has the potential to be a good starting point or transition for many careers and professions. This is why it appeals to a wide range of people.