In today's digital era, it is essential for businesses and individuals to have a website that is both visually appealing and well-designed. Creating a website from inception can be time-consuming and difficult, particularly if you lack experience in web development. CSS/HTML website templates come to the rescue here! In this article, we will examine ten free CSS/HTML website templates that will save you time and effort while delivering a remarkable online presence.
First Portfolio
First Portfolio is a visually captivating one-page CSS template designed specifically for personal portfolio pages. With its beautiful blend of green, purple, white, and light gray colors, this template exudes a modern and elegant aesthetic. It features seamless hover effects on the service and project sections, adding an interactive touch to the overall design.
Built on the Bootstrap 5 CSS and JS framework, First Portfolio offers full customization options, allowing you to tailor it to your unique preferences and branding requirements. Whether you're a developer, designer, or any professional seeking to showcase your work, this template provides an ideal platform for creating an impressive online portfolio.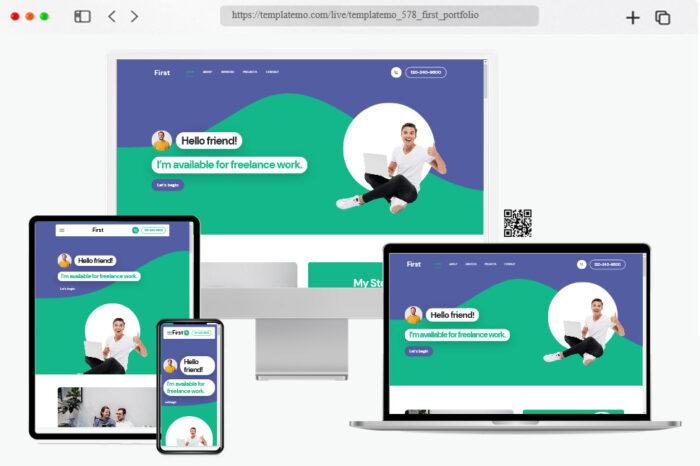 More info / download Demo
Tween
Tween Agency is a dynamic digital marketing HTML template built on the Bootstrap 5 CSS layout. Its homepage boasts a sleek fade-in/out slider featuring three captivating images, instantly grabbing visitors' attention. The About section incorporates three full-width content tabs, providing an organized presentation of information.
Additionally, the FAQs tab includes an accordion slider for easy navigation. In the Projects section, a simple pop-up image feature allows for a visually engaging display of your work. The template also includes two different pricing options in a two-column layout, offering flexibility for presenting your services. With a standard HTML contact form included, communicating with your audience becomes hassle-free.
More info / download Demo.
Famms
Famms is a highly versatile eCommerce HTML template that caters to a wide range of online businesses, including fashion stores, electronics retailers, furniture shops, garment sellers, shoe vendors, sunglasses and watch stores, cosmetics providers, gadget sellers, and more. With its flexible design and functionality, Famms offers a robust platform for creating engaging and visually appealing online stores. Whether you're selling fashion apparel, electronics, furniture, or beauty products, this template provides the necessary features and layout to showcase your products effectively. Famms enables you to create a seamless shopping experience for your customers, enhancing their browsing and purchasing process.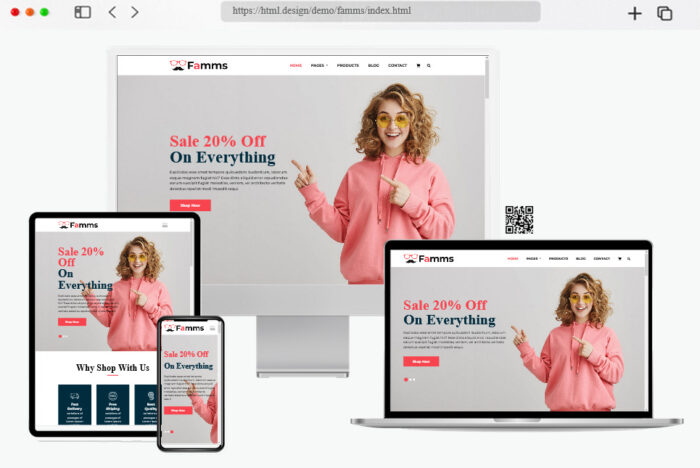 More info / download Demo
Spurgeon
Spurgeon is a free HTML blog template specially crafted for lifestyle bloggers and influencers seeking a clean and minimalistic design. This template's standout feature is its simplistic elegance, which places a strong emphasis on your site's content. By prioritizing your blog posts and articles, Spurgeon captivates site visitors, enabling them to immerse themselves in your compelling blog content.
With its uncluttered layout and thoughtful design elements, this template creates an inviting and enjoyable reading experience. Whether you're sharing fashion tips, travel stories, or lifestyle insights, Spurgeon provides an ideal platform for showcasing your expertise and capturing the hearts of your audience. Choose Spurgeon to enhance your blog's aesthetics and engage readers with its charming simplicity.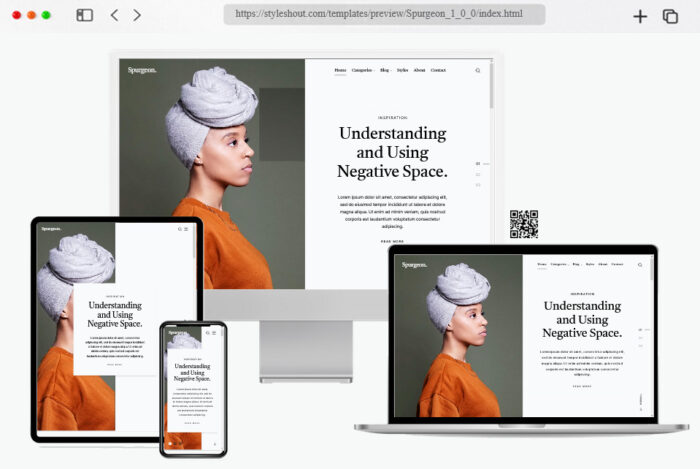 More info / download Demo
Agnes
Cruip's free Landing Page HTML template Agnes has an eye-catching design that blends good looks with usefulness. The template starts with an enticing preview screenshot of the product or service, which gives viewers a sneak peek. Then, it shows a feature list that is well-organized and highlights the most important parts and benefits of what you give.
Agnes ends with a three-tiered pricing table that looks good and makes it easy for possible customers to understand and compare your prices. Agnes's general design is not only beautiful, but it was also made in a way that is meant to engage visitors and get them to buy something. Use Agnes to make a landing page that draws people in and sells your product or service well.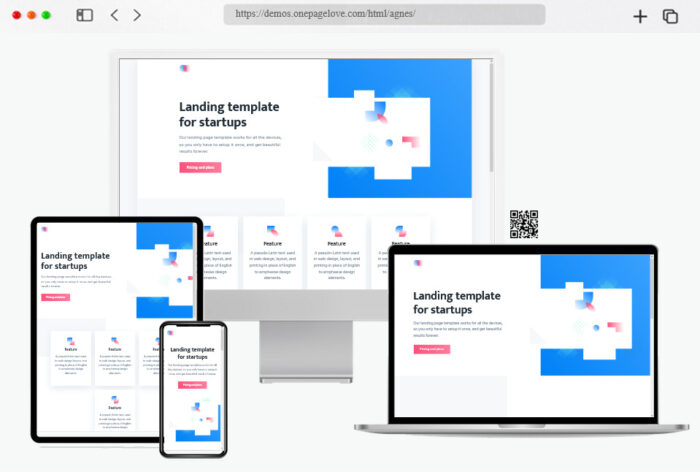 More info / download Demo
Restoran
Restoran is a free Bootstrap website template for restaurants and other businesses that have to do with food. Restoran is the best way to build your online profile if you own a restaurant, bar, café, bistro, coffee shop, Asian food place, American fast food place, pizzeria, Italian restaurant, burger joint or any other food business. This template has a clean, modern look that makes it a good choice for showing off your food and giving users an engaging experience.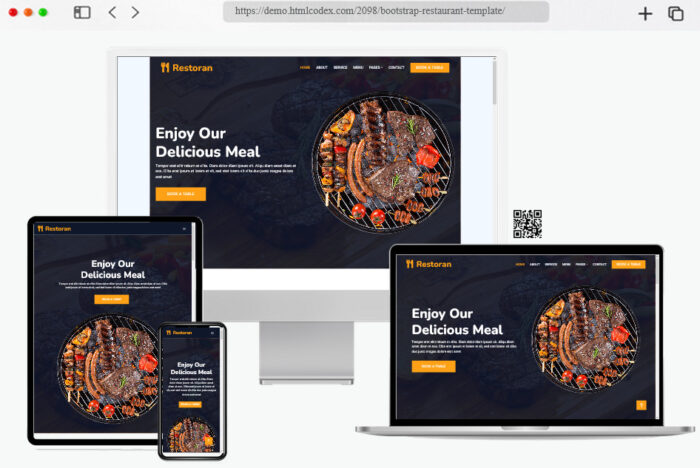 More info / download Demo
Jadoo
Jadoo is a free and open-source website template designed specifically for travel agencies. It offers an interactive and user-friendly experience to captivate visitors. Developed using Bootstrap 5 and Gulp Based Workflow, Jadoo ensures a seamless and efficient project development process. The template makes effective use of images to encourage user engagement, creating an enticing visual experience.
Jadoo is 100% responsive, SEO-friendly, and optimized for compatibility with the latest devices and browsers. It also provides the flexibility to incorporate video content in the hero header section, allowing you to showcase package holidays and highlight the services your agency offers. With its impressive features and captivating design, Jadoo is an excellent choice for building a compelling and informative travel agency website.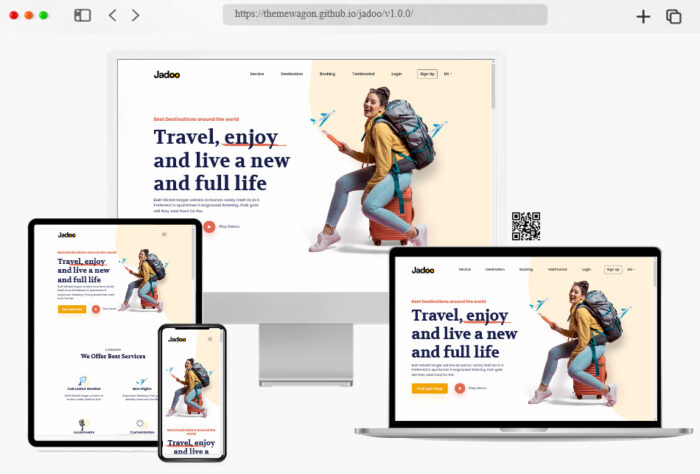 More info / download Demo
Educenter
Educenter is a template for an educational website that has a lot of features and is meant to make educational institutions look great online. With its rich, current, modern, and trendy features, Educenter has an attractive style and an easy-to-use interface. This multipage template has important parts like "home," "about," "courses," "events," "blogs," and "contacts," so your website will have everything it needs to keep people interested.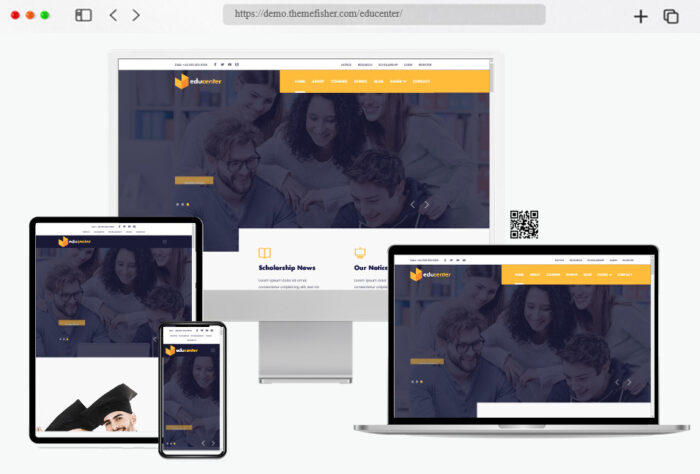 More info / download Demo
GoGym
GoGym Fitness Bootstrap Theme is a carefully made bootstrap theme that is great for corporate business websites in the fitness industry. This HTML5-based template has a clean and modern layout that is good for exercise studios, gyms, yoga centers, and more. Built with the most recent versions of Bootstrap 4, HTML5, and CSS3, this theme is easy to change to fit your needs.
It meets high standards of quality and is fully responsive, which means it works well on all devices and computers. GoGym Fitness Bootstrap Theme is a professional and visually appealing platform for your fitness business. You can use it to show off services, promote exercise classes, or give information about your center.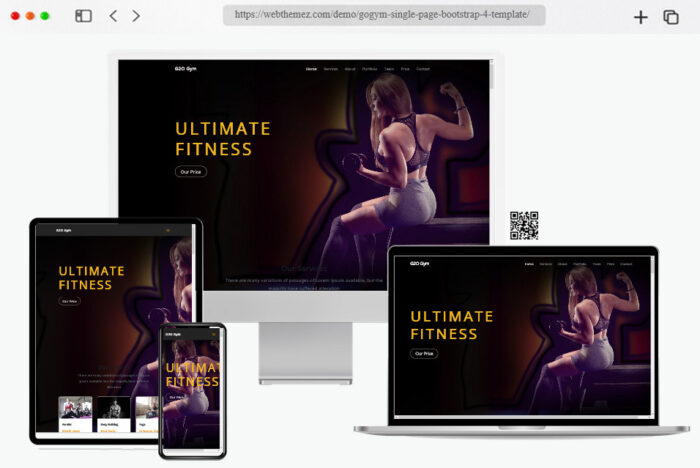 More info / download Demo
Technews
Technews is a free Bootstrap HTML5 magazine website template specifically designed for technology news portals. With its simple, clean, and minimalist design, this template offers a highly professional look and feel. It is lightweight and efficiently coded, ensuring optimal performance and fast loading times. Technews is optimized for search engines, making it easier for your website to rank higher in search results. The template is compatible with modern browsers and has a mobile-friendly and responsive design, providing a seamless experience across different devices.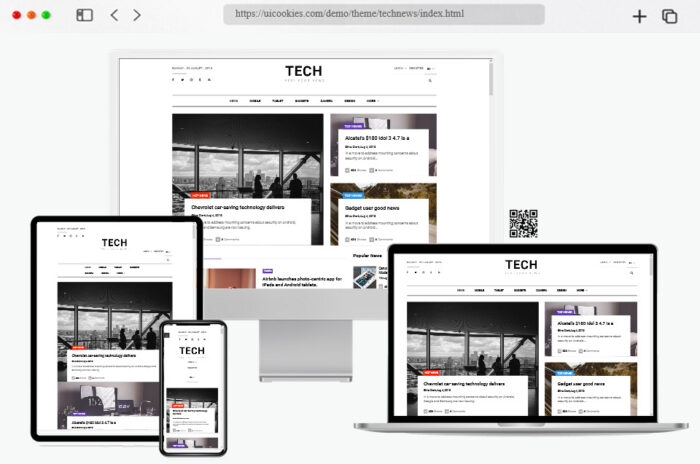 More info / download Demo
Charity Cause
Charity is a free website template built using Bootstrap, designed specifically for non-profit organizations. While it is tailored for non-profits, the template can be easily customized to suit various needs. It features smooth scrolling animations, a Google map integration, a multi-level drop-down menu, and an off-canvas menu for mobile devices.
Utilizing the latest web development technologies such as HTML5, CSS3, jQuery, and Sass, Charity offers a modern and robust foundation for creating a compelling website. With its versatile design and user-friendly features, this template is a valuable resource for non-profits looking to establish a strong online presence. Download and share the Charity template to support and promote your charitable cause.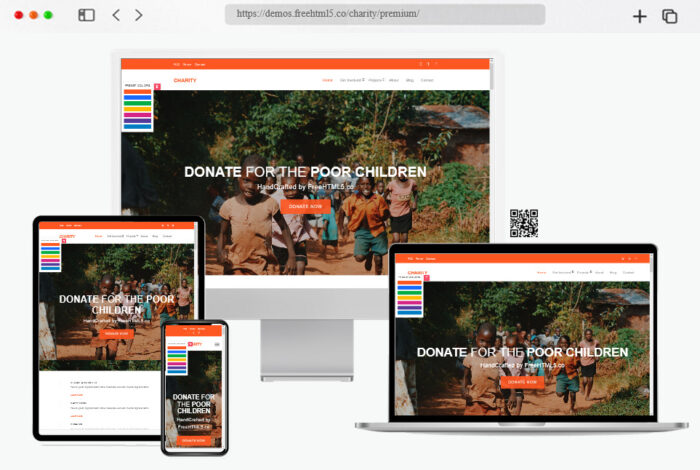 More info / download Demo
Event Planner
TheEvent, a free one-page website template for events, conferences, and webinars. This trendy responsive HTML template uses the latest Bootstrap framework. It is perfect for meet-ups, summits, camps, seminars, congresses, exhibitions, and more because it is designed to give event details. The Event template makes it easy to display your event's agenda, presenters, registration information, and other features. TheEvent has the tools to promote and highlight your conference or summit, no matter the size.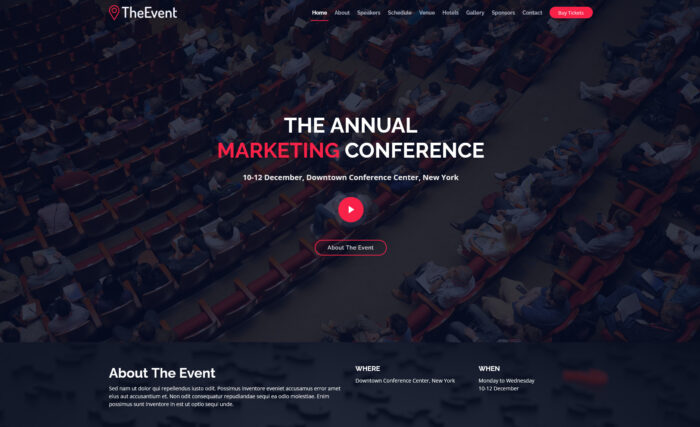 More info / download Demo
Real Estate Showcase
Real Estate Showcase is a beautiful template that was made to give potential buyers a tempting look at their dream houses. This template has property listings, picture galleries, and contact forms that can be changed. This lets real estate professionals show off properties in a way that is engaging and interesting.
Real Estate Showcase helps you attract and connect with possible buyers by using the power of pictures. This blog post will talk about the features and benefits of this template. It will focus on how it can make property listings more visually appealing and dynamic. Find out how Real Estate Showcase can help you sell your real estate better and get potential buyers' attention.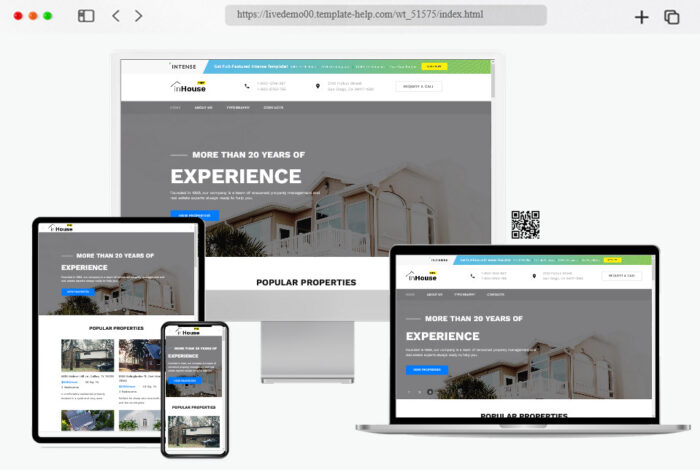 More info / download Demo
Spering
Spering is a creatively designed free website template specifically crafted for creative portfolios, digital agencies, and freelance web developers. It provides an ideal platform for creating a portfolio service website, allowing individuals and agencies to showcase their work and services. With its visually appealing design and user-friendly layout, Spering enables freelancers and creative professionals to present their skills and expertise effectively.
Whether you're a web developer, graphic designer, or any other creative professional, this template offers a seamless solution for building an impressive online presence. Harness the power of Spering to create a captivating portfolio website and attract potential clients to your freelance services.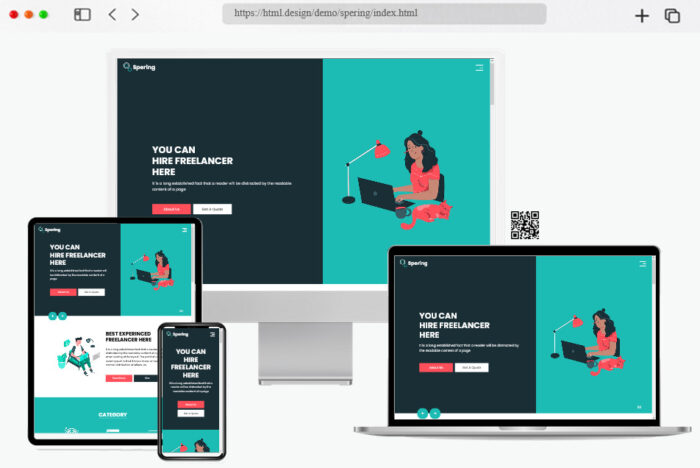 More info / download Demo
ENTRO Music Band
ENTRO is an ideal HTML template for any type of music business website, specifically tailored for music bands. It offers unique and latest bootstrap features and layouts, enabling you to create a professional online music band store website. Whether you're a musician, a band, or a music-related business, ENTRO provides a platform to showcase your music, promote your services, and sell merchandise.
With its modern design and user-friendly features, this template offers a seamless experience for visitors, allowing them to explore your music and engage with your brand. Leverage the power of ENTRO to establish a professional online presence for your music business and captivate your audience.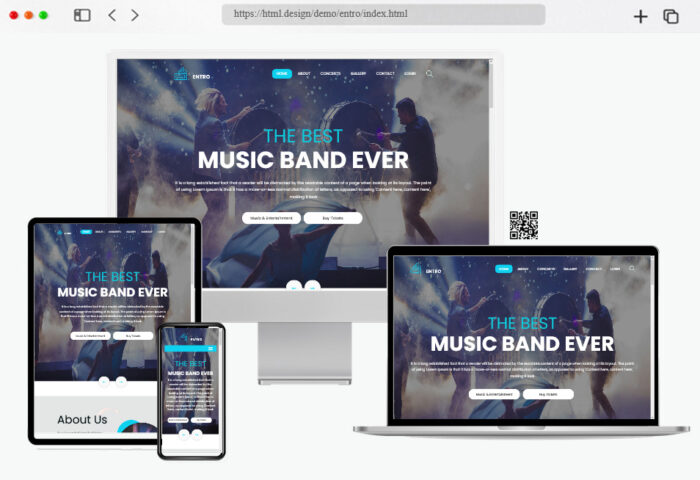 More info / download Demo
With these free CSS/HTML website templates for 2023, you have a diverse range of options to kick-start your web projects. Whether you're a designer, developer, blogger, or entrepreneur, these templates offer professional and visually stunning designs to help you create impactful online experiences. So go ahead, explore these templates, customize them to fit your needs, and make a remarkable impression on.