If you're in the business of selling clothes, you know that fashion is always changing. To keep up with the latest trends, you need a clothes Magento themes that's designed specifically for clothes retailers. With a clothes fashion Magento theme, you'll have a website that's always on trend, and that will attract new customers and keep existing ones coming back for more.
Clothes Fashion Magento Themes
Claue
The Claue Clean, Minimal Magento 2&1 Theme is an excellent clean and modern eCommerce store template that includes 20+ homepage layouts in addition to a ton of options for storefront, blog, portfolio, store locator layouts, and other helpful page designs. Claue is flexible enough to accommodate and work with any kind of e-commerce website that you can think of.
In addition, Claue is constructed on the foundation of Front-End Page Builder and comes with a plethora of extensions, including Mega Menu, Store Locator, One Step Checkout, Daily Deals, Advanced Reports, Quick View, Color Swatches, Ajax Cart, Product Questions (magento 1), shop by brands, etc., all of which collectively save more than $699.
As a result, it will provide you with the ability to transform your ideal shop into a mystical online result that is unconstrained by physical boundaries. Give Claude the opportunity to expand his company and realize his full potential right now.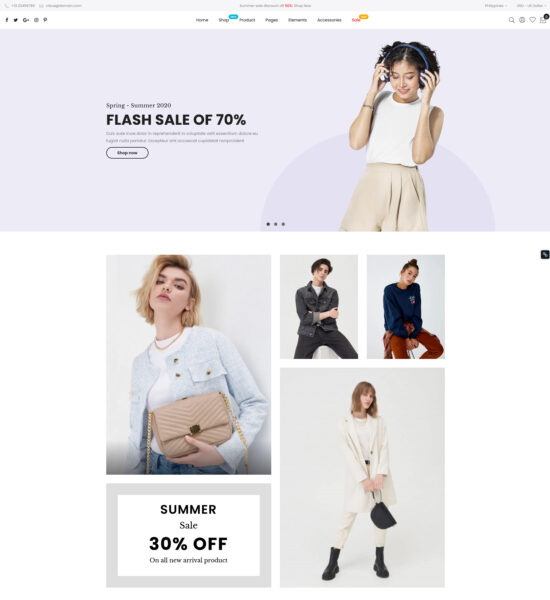 More info / download Demo
Milano
Milano is a premium responsive Magento theme with a large number of admin options that are very configurable. Milano is an excellent option to consider using for your online shop if you are searching for a theme that is simple in appearance but has all of the essential functions.
Milano is packaged with the following features and benefits: Perfect Responsive Multistore, 9+ Demo, Unlimited Color Options, Power Management Panel, 10+ Extensions, and Magento 2 RTL Compatibility. Milano is simple to use and much simpler to personalize, making it an ideal choice for a wide variety of retail establishments.
You may instantly show items that are popular and selling well, new products, highlighted products, random products, the newest and most special products, and sale products with a countdown timer on the front page of your business to make it more appealing.
Without needing to know how to code, you can quickly create and set many customized tabs, multiple rows, grids, sliders, lookbook pin goods, and more. Excellent as a foundation from which to build your own unique projects.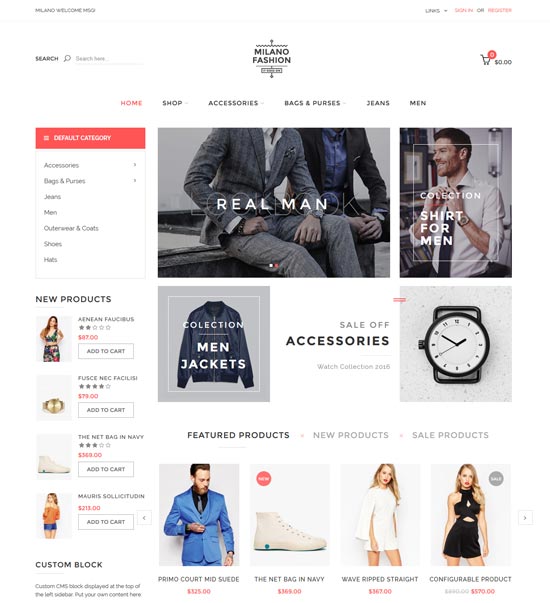 Demo More info / download
Supro Fashion
The Magento 2 theme known as Supro is well suited for use by online merchants. It features an AJAX design that is uncluttered and straightforward. Supro will make your online store seem more wonderful and inviting to users by using a standard UI/UX design and placing a significant focus on the products that you sell.
Because of this, Supro will lend a hand to you in swiftly improving the proportion of site visitors who end up making a purchase. In addition to this, it is designed to provide support for a much greater number of e-commerce websites, such as online apparel stores, online furniture stores, online décor stores, and so on.
Supro is built on top of the Magento default theme and contains a Front-end CMS Page Builder that is stocked with more than 36 block components in addition to MGS Customize Theme Settings. As a consequence of this, Supro is very compatible with the extensions provided by third-party companies.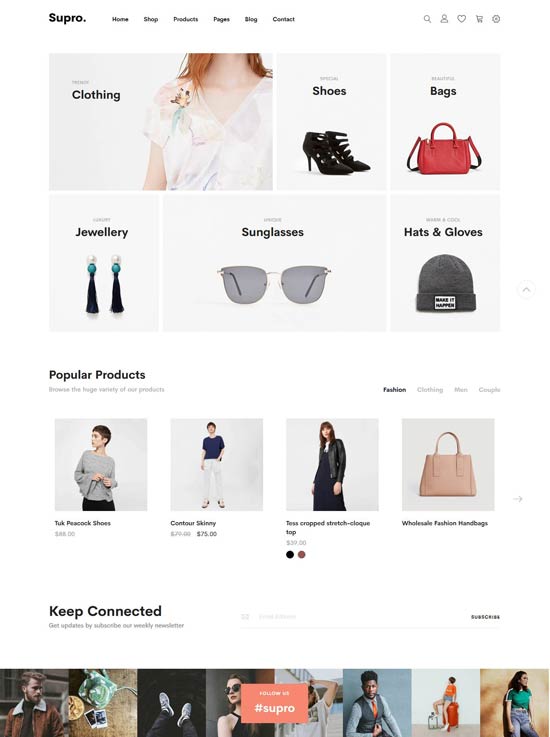 More info / download Demo
Sagitta
Sagitta is a responsive Magento theme that has a powerful theme framework for the fashion and haute couture industries, including women's fashion, men's fashion, clothing, shoes, bags, jewelry, and other accessories. The design of static blocks is sophisticated, and they are completely exceptional and remarkable in their own right.
Additionally, a gorgeous image slideshow such as banner sequence, banner7, or banner8 extensions with animated effects, as well as a brand slideshow, will assist Magento store in attracting more customers.
Sagitta template integrated a number of powerful features that help you improve the performance of your website, such as a slider for new products, a vertical slider for best-selling products, a slider for sale products, and a slider for most-viewed products that displays the most popular products. The responsive design approach does not restrict itself to a specific screen size but rather fluidly adjusts itself to the resolutions of a variety of devices.
Magetique
Magetique amp-ready multipurpose If you utilize our Magento 2 theme, you will get the most cutting-edge Magento 2 experience available. This is because our Magento 2 theme includes all of our design and technology knowledge. It comes with a comprehensive toolkit that covers marketing, design, and administrative tasks respectively.
The package includes five distinct designs, each of which has been painstakingly crafted to address the requirements of a certain sector of the market. They come with an intuitive user interface, which makes it very easy to configure and administer them. As a result, getting them up and keeping them in working order is not at all difficult.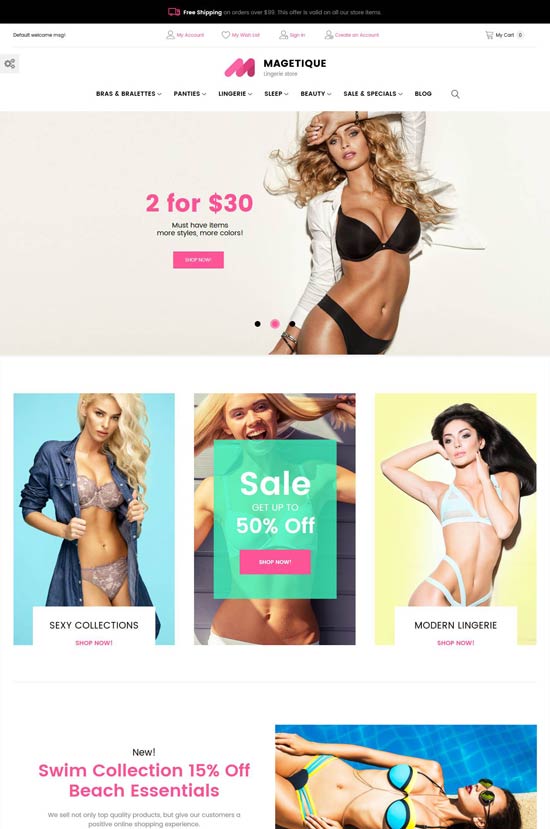 More info / download Demo
Ketty Store
This Clothing Company Magento Theme, which was developed by industry experts and is based on the most recent developments in web design, will provide an air of chic sophistication to any fashion clothing store. Your products and services are presented in the most favorable light possible by using a grid-based content block structure, photos that are retina-ready, and current typefaces.
Your customers will be able to get familiar with a comprehensive selection of clothing and accessories in a way that is simple to understand thanks to Mega Menu. Your company's specific requirements may be quickly and easily included into the design of the template thanks to the specialized admin panel.
This theme will assist you in constructing a reliable online store as it is fully responsive, SEO-friendly, and compatible with a wide variety of browsers. The theme bundle has two versions: one based on Magento engine 1.9.2.4, and the other on the most recent version of Magento (2.3.2).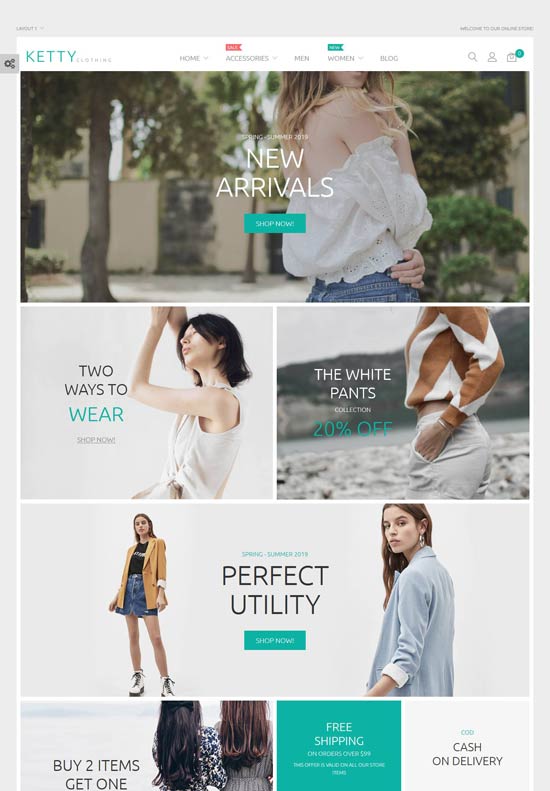 More info / download Demo
Apparel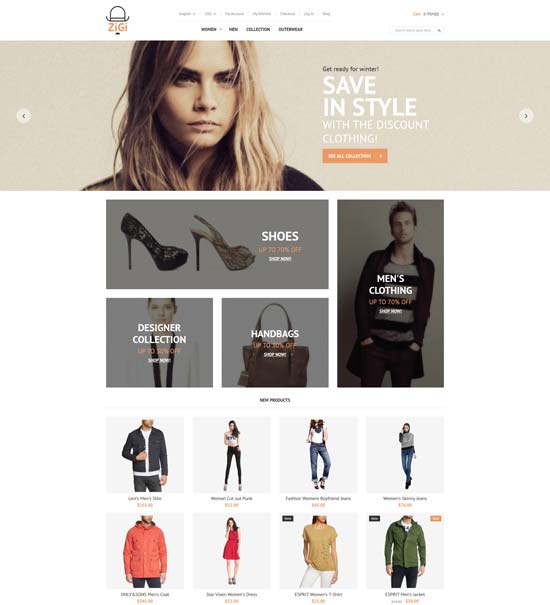 Demo More info / download
Ketty Store Fashion
Ketty Store is a universal Fashion Shop Magento Theme that is intended for bringing an elegant and refined look to your eCommerce project. Thanks to its fully responsive layout, you will be able to provide mobile shoppers with seamless and enjoyable browsing on-the-go. The template was created using valid HTML5 and CSS3 practices. Easy in navigation, it provides a number of configuration options, which allow you to tweak the design just the way you wish. In addition to the powerful customization options, the theme has a visually pleasing layout enhanced with the parallax scrolling effect, cool animation, bold visuals, and impressive sliders.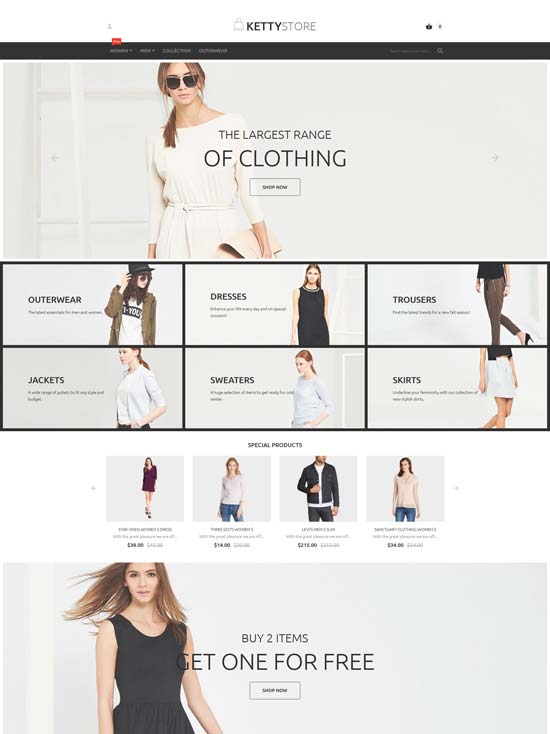 Demo More info / download
Stilex
Stilex is an elegant Fashion Store Magento Theme with a powerful back-end, designed with valid HTML5 and CSS3 code. It features a smart admin panel that is easy to navigate. Coming loaded with plenty of customization options, it allows you to change the look and feel of the theme with ease.
The template features a user-friendly MegaMenu and integrated live search in order to let customers come across the desired items in no time. Banners and product images have a cool hover effect that reveals product details, star ratings, price tag and several calls-to-action on a mouse over. Stilex will be a perfect fit for any eCommerce site, especially fashion, beauty, accessories, wedding , etc.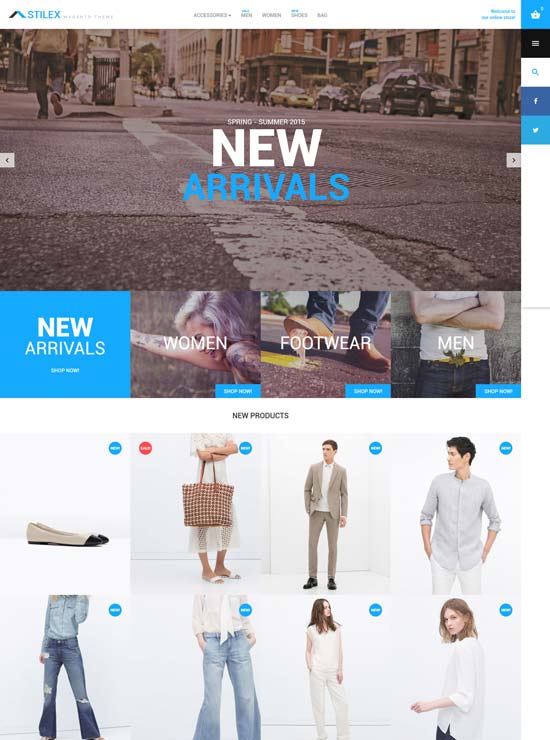 Demo More info / download
Fashion Clothes
Professionally done and inspired by the latest web design trends, this Clothing Store Magento Theme will set a voguish tone to any fashion apparel store. Grid-based content block layout, retina-ready images and modern fonts showcase your offers in the most favorable light.
Mega Menu will make your visitors acquainted with a full range of clothes and accessories in an easy-to-perceive manner. Due to custom admin panel, the template can be easily adjusted to suit the needs of your business. Fully responsive, SEO-friendly and cross-browser compatible, this theme will help you build a solid online shop.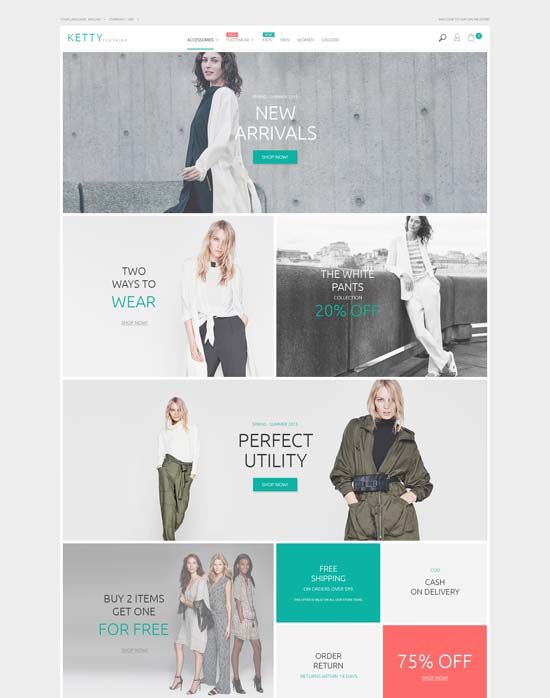 Demo More info / download
T-Shirts
Use this modern Magento theme for urban clothing to do it quickly and well. The best T-shirts from the most recent collections are shown on its slider. Big banners draw people's attention and tell them about sales and new collections. More information about four columns of new products shows up when you hover over them.
Buyers can look at more photos of the product, read its description, price, star rating, three "call-to-action" buttons, and "info tags." The items are also shown in a slider, so you can put as many of them on the home page as you want. The third slide shows logos from well-known brands, which can help you build trust with your audience.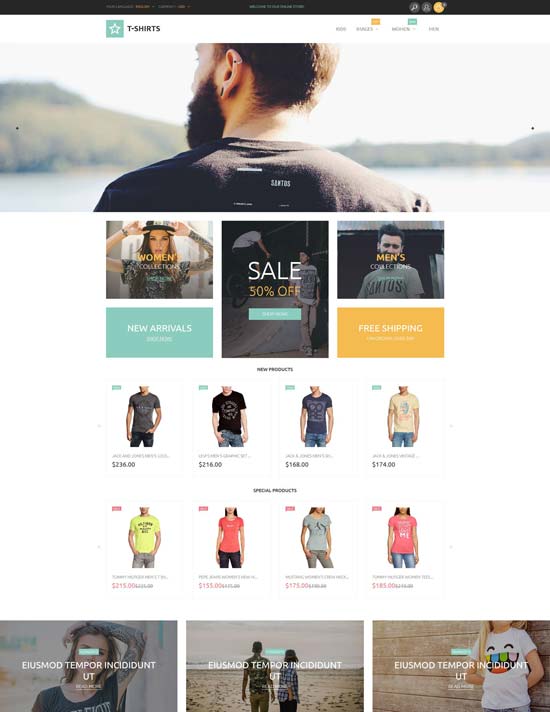 Demo More info / download
SAHARA
Sahara is a responsive magento fashion theme. Responsive feature allows web layout change from normal to mobile version automatically which makes customers purchase and view products and website effectively and usefully. Besides that, Sahara supports multi-lingual, multi-store, compatible with most of popular browsers IE 8,9,10, Chrome, Firefox, Safari, iPhone, iPad, SamSung devices.
Apparel
Free Magento Store
Here is a pro designed free Magento sample for online clothes stores. It offers a powerful set of features that add usability and style to any website. This particular theme offers a clean layout with a minimal design and a variety of cool effects including parallax scrolling, animated pictures, full-width sliders and images.
Hover effects fixed menu, etc. In other words it is ready for eCommerce, you only have to upload your content and make several adjustments and it is good to go.Responsive design is a must-have feature for any modern website whether it is a news blog or a powerful online shop. It automatically adjusts the content of your site to any screen resolution it has been displayed on.
So more people will be able to reach you page even from their smartphones and tablets. FYI. This free sample is forbidden for commercial use and designed for educational purposes. However it can be used as a prompt for designing your own site.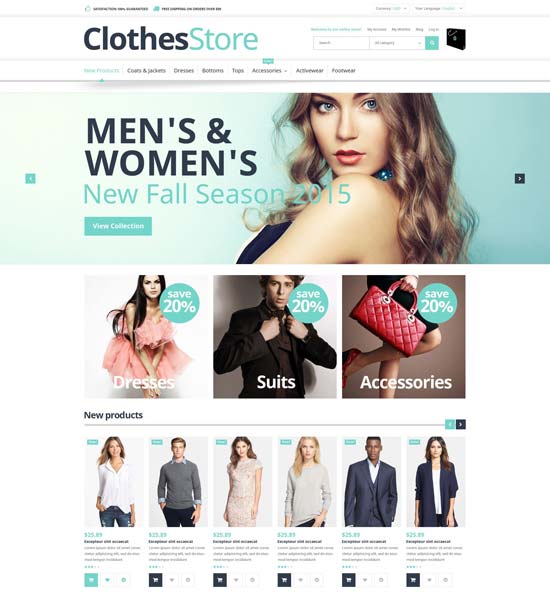 Demo More info / download