Looking to spruce up your garden or landscaping business website? Check out our selection of free garden WordPress themes specifically designed for garden and landscape businesses. With a range of stylish and modern designs to choose from, you're sure to find the perfect theme for your business.   Start browsing our collection of free free landscape WordPress themes today.
Related Article
Gardener Lite
Gardener Lite has a great layout with the right places for elements and content, as well as images that go well with your gardening services. Landscapers, landscaping experts, and garden service providers will love the simple design it brings to flower gardens and gardens in general.
This theme has an easy-to-use interface that makes it simple for a beginner to set up a website with little work. This theme has easy customization options and a well-designed skin right out of the box, so you don't need to know how to code to use it. The layout is simple so that you can focus on details and important information, and its retina-ready screen shows beautiful pictures.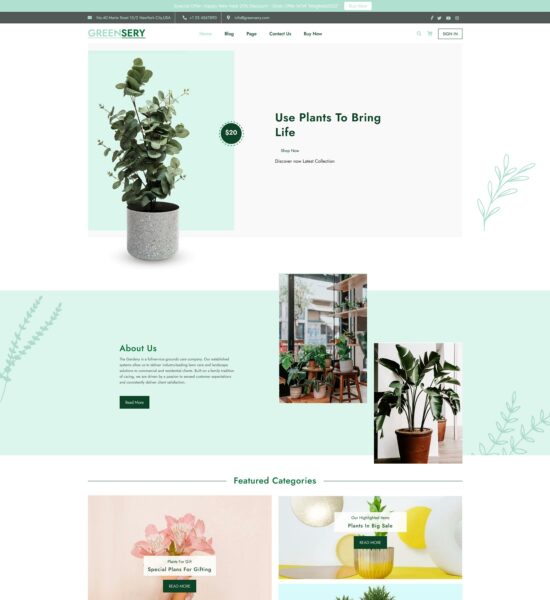 More info / download Demo
Garden Landscaping
With the Garden Landscaping WP Theme, it couldn't be easier to put together a website. It works with the most recent version of WordPress, for starters. In addition to other features like SEO and responsive design, this WordPress theme offers free customer support for more than a year.
It has enough space to hold all of the information you need for your project. You will be given a slider that lets you upload an unlimited number of photos and videos of your favorite plants, conservation efforts, environmentally friendly practices, green renewable energy sources, non-profit organizations, NGOs, ecology, gardening, the earth, the environment, wind, hydro, recycling projects, and green initiatives.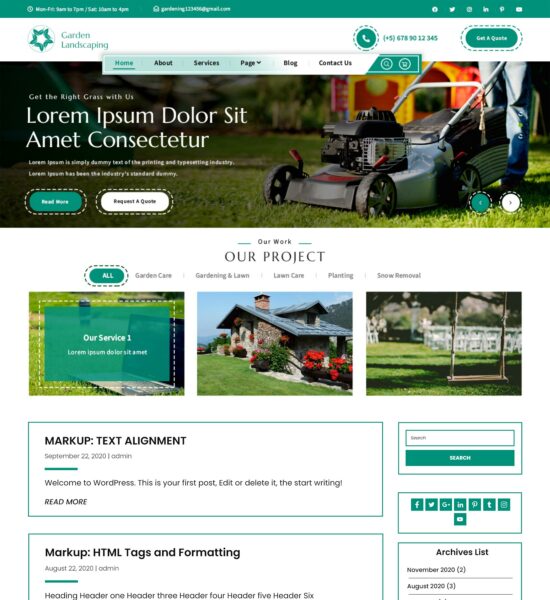 More info / download Demo
Garden Lite
Garden lite is a fully responsive WordPress theme that was developed for businesses in the fields of landscaping, garden service, flower, ecology, landscaping, gardener, landscape architect, landscaping business, lawn, lumberjack, florist, firewood, large or small gardener businesses, agriculture, and businesses that provide relevant services. This theme features an exceptionally one-of-a-kind design that does an excellent job of showcasing the work that your landscaping business does.
The color scheme that was used for the theme was designed to produce gestures that are appropriate for gardening websites. This theme includes some homepage sections that allow you to display all of your gardening work, as well as services, testimonials, equipment, and the most recent news, amongst other things. This theme comes with an attractive popup gallery that you can use to showcase your most recent finished project.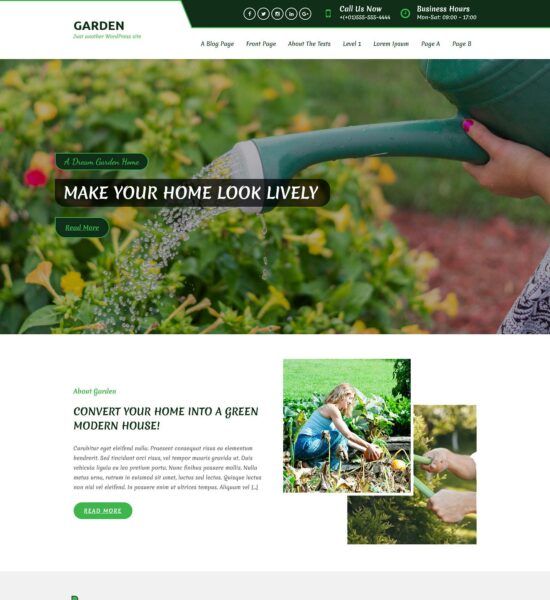 More info / download
Garden Care
Gardeners, landscaping business owners and landscaping agencies, and lawn care service providers who want to take their businesses to new heights can benefit from the modern design that is included in the Garden Care WordPress theme. This design is appropriate for all of these types of businesses.
This aesthetically pleasing and professionally designed theme makes it possible for you to create your own web space even if you do not have any prior experience with web development or knowledge of coding. It is a purpose-oriented theme, and as such, it has a layout that is simple to customize through the use of options that can be customized with a single click.
Its layout was designed with the requirements of contemporary landscaping and gardening businesses in mind, and it includes everything that you would like to see on your landscaping website.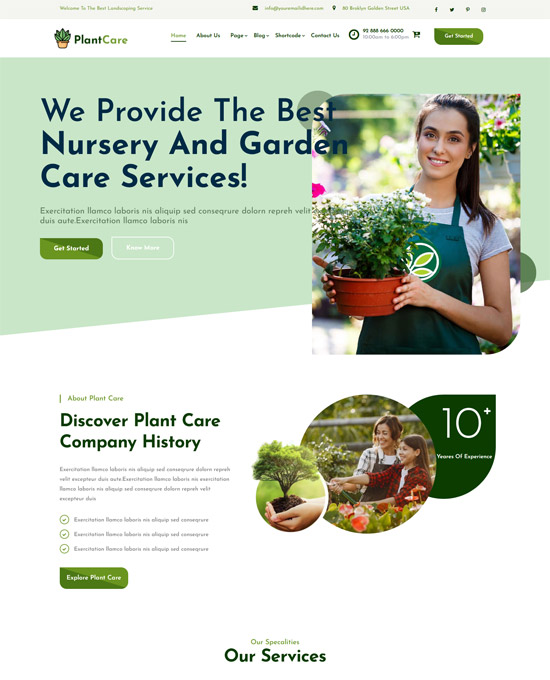 More info / download Demo
VW Gardening Landscaping
For landscaping services, lawn mowing services, gardening and landscaping, lawn decorators, agricultural producers, garden designers, florists, naturopathy, organic herbal medicine, grocery store, supermarket, organic store, landscape architects, environmentalists, forest department and forest guards, green tourism industry, landscaping contractors, and landscaping companies, VW Gardening Landscape is a gardening and landscaping WordPress theme that is energizing, clean, reliable, robust, dynamic, and packed with features. It is ideal for use by landscaping services, lawn
It offers multiple layouts for websites, including boxed, full-width, and full-screen, as well as unlimited color options and more than one hundred Google fonts. It is already prepared for translation and is compatible with the RTL writing style. It comes with a number of predesigned internals and comprehensive documentation, in addition to a staggering number of advanced features and functionality that are all thoroughly explained.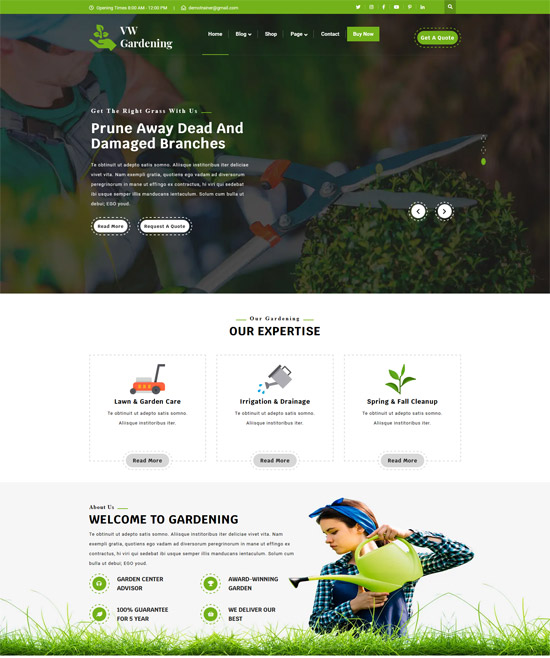 More info / download Demo
SKT Gardening Lite
This is a green theme called SKT Gardening Lite, and it focuses on nature, being eco-friendly, having herbal, organic, natural, and fresh products, solar energy, landscaping, conservation, environment, agriculture, renewable, recycling, planting, garden, flowers, and trees. The environment, the woods, the waters, the ground, the animals, and the products they produce.
A non-profit NGO, charity, business that focuses on nature, wildlife, heartwarming resorts, far-flung tours and trips, and nature photographers are some examples of organizations that can use it. Plugins for eCommerce that are multilingual, ready for translation, and compliant with WooCommerce. Calls to action plugin with user-friendly contact form integration. You currently have over 63 Elementor templates available for import, which can be used to create additional layouts.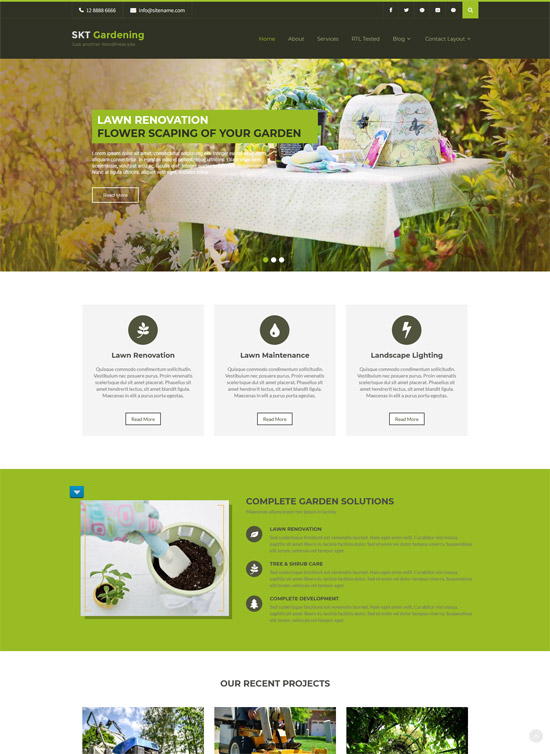 More info / download Demo
Energico
The Energico WordPress theme was designed with gardening websites in mind from the very beginning of its development. It comes with a comprehensive documentation package and has been enhanced for search engine optimization. Create an expert website with this garden care theme presented with Cherry Services to display all of your offerings in a professional manner, Cherry team members to display your experts in gardening, and Cherry's testimonials to appear on your website.
the level of excellence achieved by Cherry's services. Create a website that exudes professionalism by using the garden care theme that is offered through Cherry Services. Doing so will put you ahead of the competition in the gardening business. You can save time by selecting from a variety of pre-made pages, or you can use Power's page builder to create pages that are uniquely yours. Both options are available to you.
With the assistance of the WordPress Live Customizer, multiple blog layouts, versatile header and footer styles, a wide range of user interface elements, and even more, you will have an easier time showcasing your expertise and personalizing your theme. Additionally, you will have more options to choose from. Continue to create beautiful gardens by applying this idea to your landscaping projects.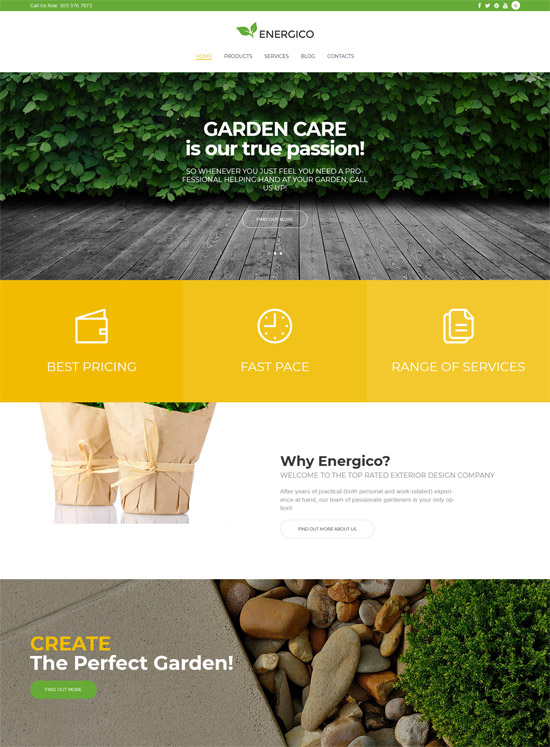 More info / download Demo