If you're looking for a great free fitness WordPress themes, you can't go wrong with our selection of free themes. With clean designs and ample customization options, these themes are perfect for any fitness website. Plus, they're all completely free to download and use. So why not give one of them a try today? You might just be surprised at how easy and affordable it is to get a great fitness website up and running.
Related Articles
Fitness Crossfit
The Free Crossfit WordPress Theme is a beautiful and very flexible theme with a design that shows off your services as a fitness gym, fitness center, workout trainer, and more. You can show off your products in a variety of ways with this theme. It makes it easy for you to make great websites for your business without having to deal with the time-consuming process of building the sites yourself.
The people who made this theme paid a lot of attention to it so that everyone who sees it will have a good first impression of it. The smooth transitions and great effects on your website have given it a whole new look and feel. You'll get code that has been made better for search engines. Using these codes will get you all the traffic and attention you want on the Internet.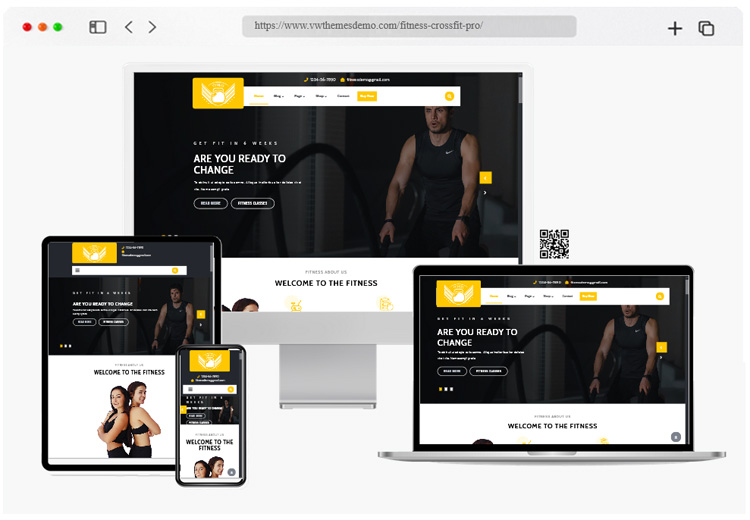 More info / download Demo
Bootstrap Fitness
You are more than welcome to make use of this amazing WordPress theme known as Fitness Gym for your own personal fitness or gym website. It has a quick response time and already has a large number of functions pre-installed. You may give the design of your website a very polished and professional appearance by including dynamic sections that incorporate text, graphics, and icons on your website.
You will be able to achieve this as a result of this. Because the Fitness GYM WordPress theme has a clean and modern look, it will be easier for visitors to find their way around the site and for users to find what they are looking for quickly.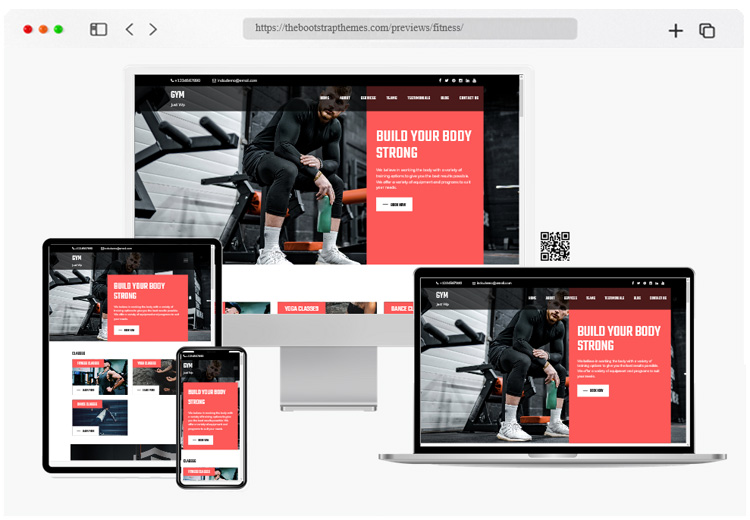 More info / download Demo
Real Fitness
Real Fitness is a WordPress theme that works very well on websites about bodybuilding, fitness centers, health, sports, and leisure, yoga, crossfit, and fitness clubs, aerobics, workouts, boxing, martial arts, and other similar websites. Because it is optimized for search engine optimization (SEO), your website will rank higher on Google and the other big search engines a lot faster because of this theme.
The theme makes the place look and feel modern, rich, elegant, and sophisticated, respectively. It works well with an RTL layout and is ready to be translated into a different language. By putting shortcodes on your website, you can make it possible to add more features to it in the future.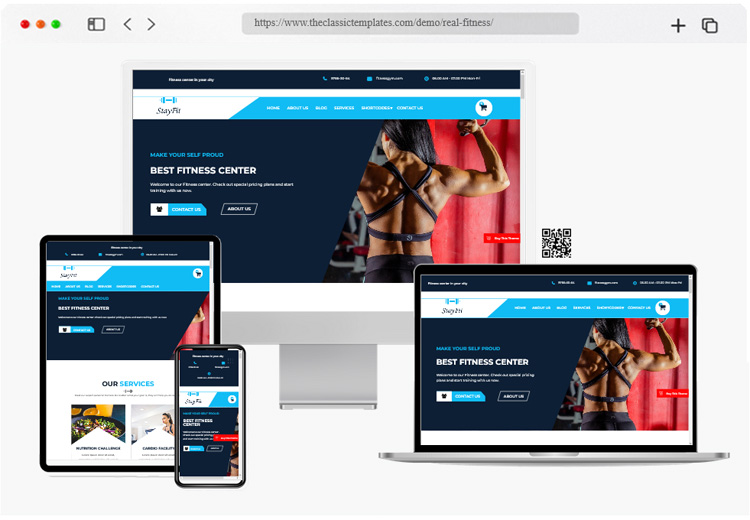 More info / download Demo
Fitness Club Gym
Its Bootstrap framework makes your website robust and user-friendly. A minimalist and elegant design makes this free theme responsive to all screen sizes and devices.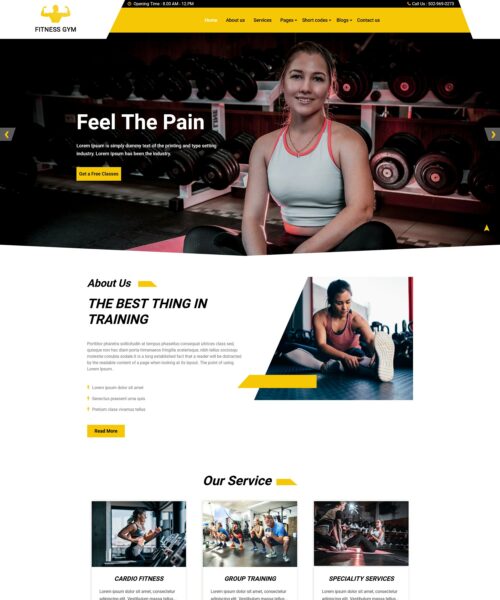 More info / download Demo
Personal Gym Trainer
Personal Gym Trainer is a unique design theme for personal trainers, fitness lovers, health experts, sports clubs and others. Its bootstrap structure simplifies usage. The layout is responsive and professional, fitting any device. It includes several customization possibilities and is user-friendly. It's multilingual. Safe, clean, efficient code.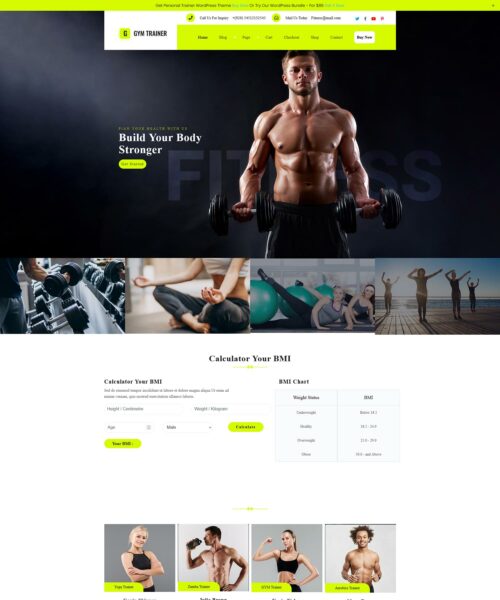 More info / download Demo
CrossFit Gym
CrossFit Gym Lite is a minimalist, contemporary, stylish, and elegant free gym WordPress theme. It works well for gyms, fitness clubs, fitness periodicals and blogs, wellness facilities, personal trainers, and health-related enterprises.
Spas, medical clinics, yoga studios, weight loss facilities, aerobics classes, gyms, indoor and outdoor workouts, sports, and other similar types may utilize this versatile theme. This free gym WordPress theme has extensive features and a great user experience.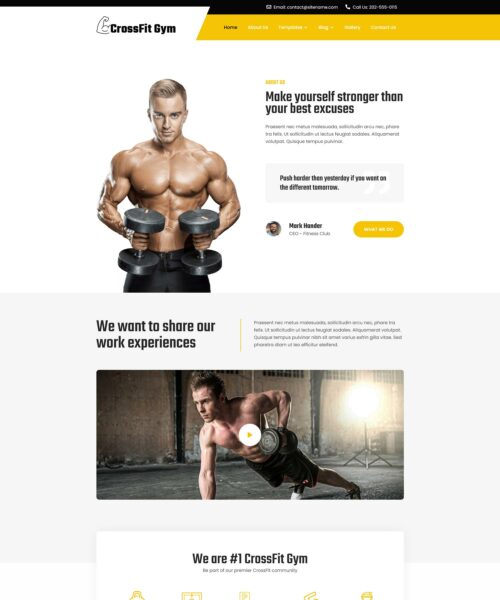 More info / download Demo
Yogis Lite
Yogis lite is a fitness and yoga WordPress theme specially designed for website of yoga classes, fitness center, sports, gym, meditation center, Zumba classes and more. This theme brings a nice and clean layout where you can display your gym information. By using this theme, you can create a powerful and dynamic website with great features and elements.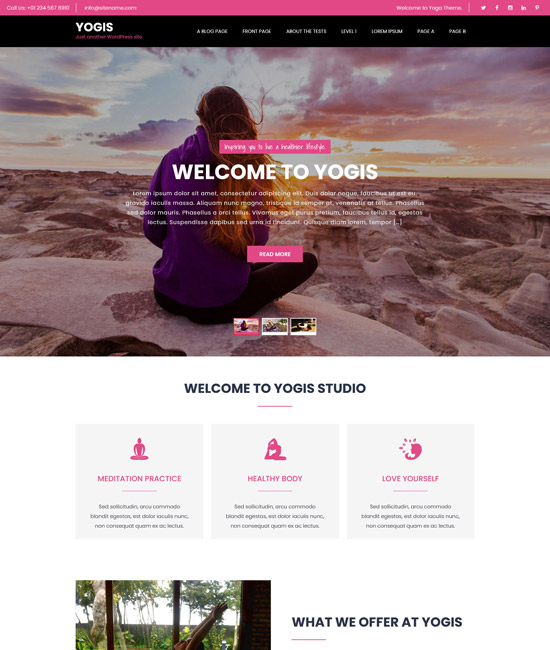 More info / download Demo
Blossom Studio
Blossom Studio is a WordPress theme that produces leads for your yoga, dance, fitness, and meditation studio with different CTAs. This theme may also display your coaching, music, wellness, photography, gym, and other services. SEO-optimized, mobile-friendly, Schema-compliant, and fast-loading, the theme helps you rank higher in search engines.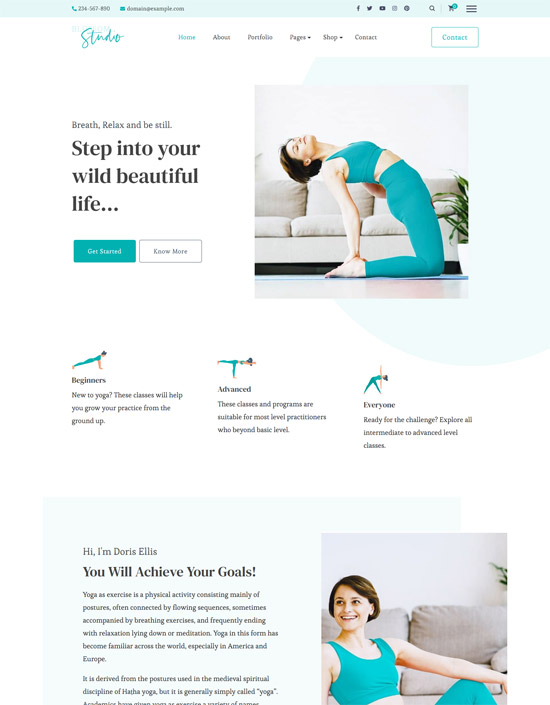 More info / download Demo
Netnus Cardio Lite
. Any sport—aerobics, boxing, crossfit, karate, dance—works with it. Advanced developers and non-programmers may utilize it. It is multifunctional and has a ready-to-import Elementor template plugin that lets you import more than 63 design templates for home and internal pages. Create commercial, personal, blog, and e-commerce websites using it. It's quick, easy, adaptable, and configurable.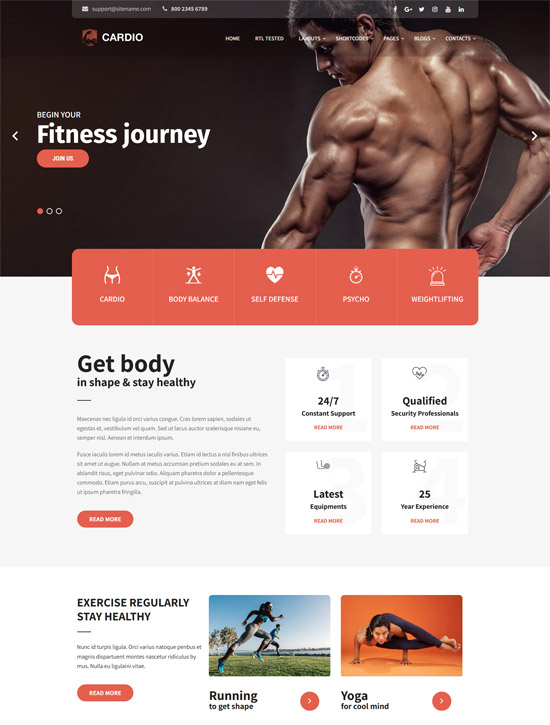 More info / download Demo
FitnessBase
. This theme supports WooCommerce, Elementor, Contact Form 7, Jetpack, Yoast SEO, Google Analytics, and other major WordPress plugins and has professionally designed layouts. It's also a lightweight theme that loads quickly with one click.
Your users may view your site from any device with the responsive theme. Its unique features include customization and clean code, complex typography, sticky menu, logo upload, header image, Bootstrap 4 framework, SEO-friendly and translation-ready, and a sophisticated bonus (WPML, Polylang).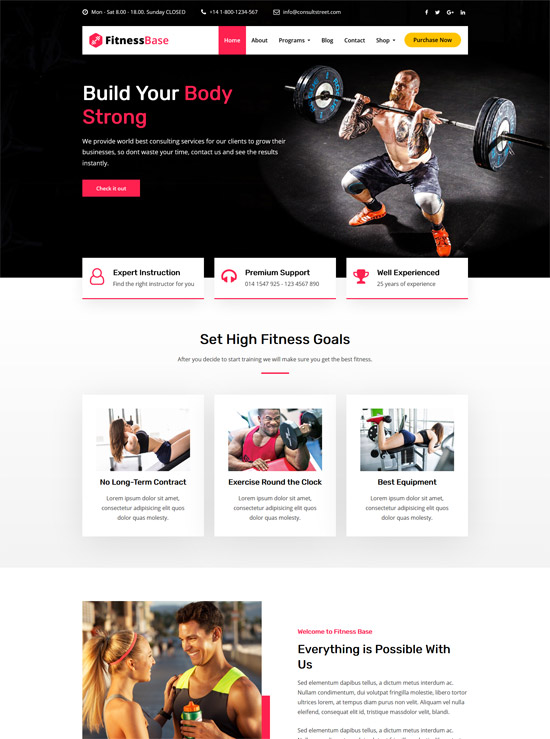 More info / download Demo
Gymzone Fitness
GymZone is a flexible and stylish WordPress theme for gyms, fitness centers, personal trainers, and yoga studios. GymZone is one of the easiest free WordPress themes to use, even for non-developers. This SEO-friendly theme integrates social media. GymZone's responsive theme fits smartphones, tablets, and devices of all sizes.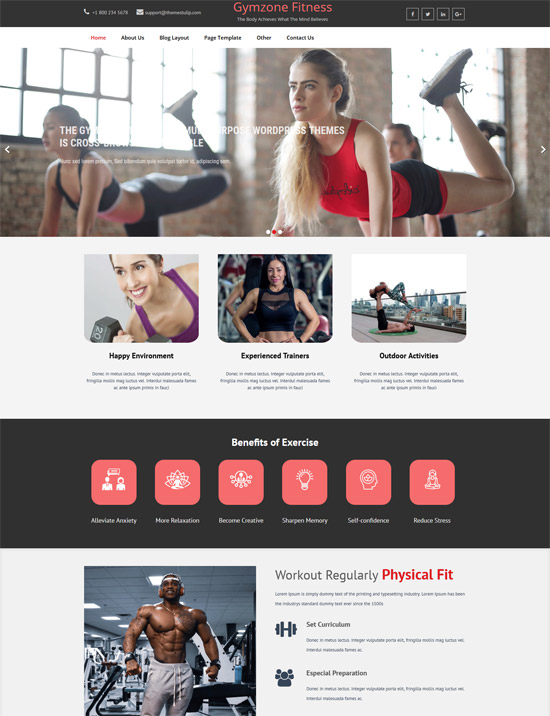 More info / download Demo
Fitness Insight
. This responsive theme fits all smartphones and screen sizes. Advanced typography, call to action section, sticky menu, and SEO-friendly choices make it simple to use. Cleanly coded pages load quicker. Boot-based and social network-integrated.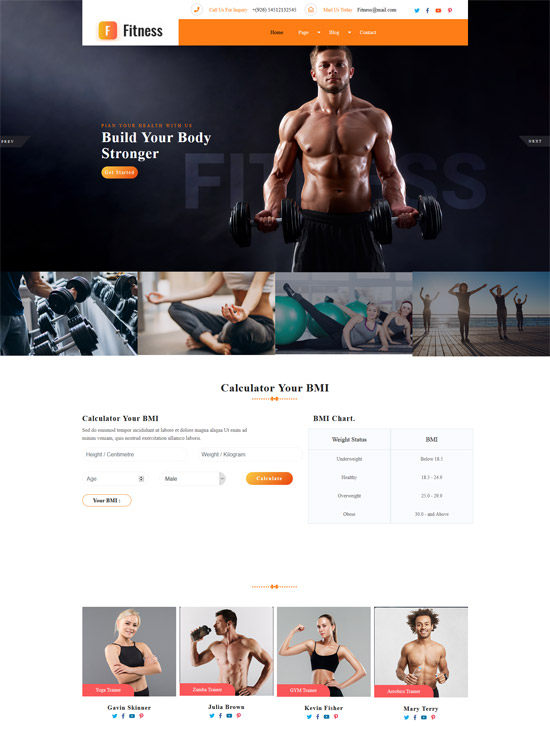 More info / download Demo
VW Fitness Gym
The VW fitness gym is a unique WordPress theme for fitness enthusiasts and business owners. It's good for yoga, fitness, personal training, and health.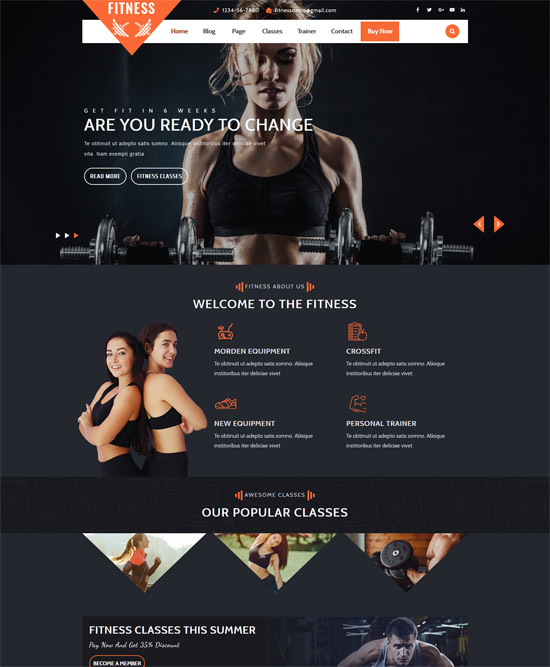 More info / download Demo
SKT Gym
SKT Gym beneficial for fitness, yoga, personal trainers. Gutenberg, SEO, WooCommerce, Multilingual. . Create commercial, personal, blog, and e-commerce websites using it. Fast, versatile, easy, and entirely configurable.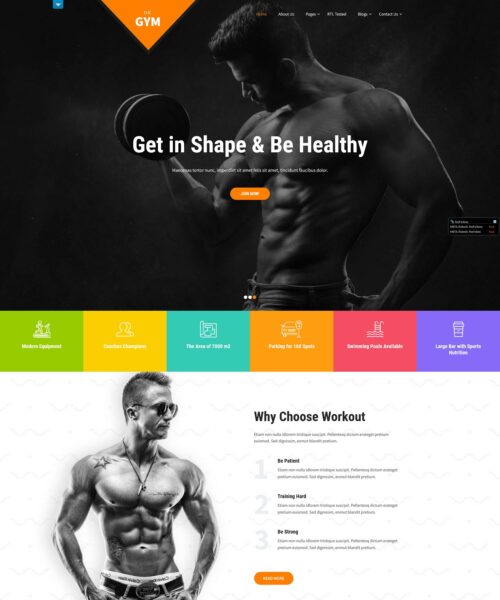 More info / download Demo
Fitness Park
Fitness Park is one of the easiest free WordPress themes to customize for all users without coding. Fitness Park themes provide one-click demo data import, customizer-based theme choices, page builder-friendly layout, and layout options for individual pages and posts. Free Fitness Park WordPress theme is responsive, cross-browser compatible, translation-ready, and SEO-friendly.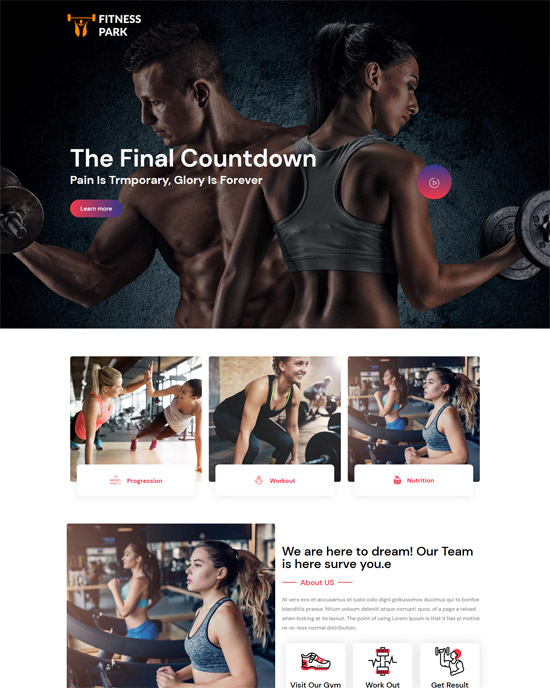 More info / download Demo
Fitness Club Lite
Fitness Club Lite is an intuitive, creative, powerful, appealing, dynamic, tech-savvy, and responsive personal trainer WordPress theme. It builds great, contemporary gym, fitness, yoga, and CrossFit websites. Health clubs, gyms, spas, wellness centers, indoor and outdoor exercise, and other sports and health websites may utilize this versatile theme.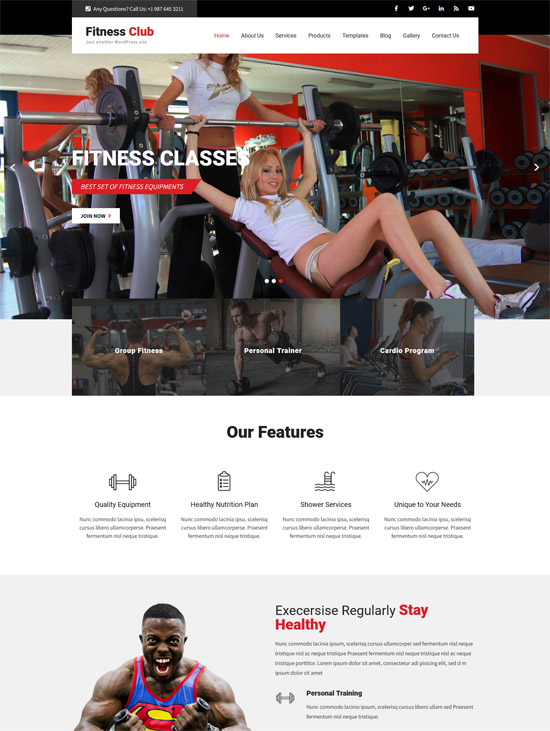 More info / download Demo
VW Yoga Fitness
VW Yoga Fitness is a well-polished, aesthetically attractive, trendy, adaptable, and clean fitness and yoga WordPress theme for yoga classes, fitness centers, gyms, fitness clubs, and related websites.
You may choose your logo, color scheme, sticky post, fonts, wide blocks, menu layout, slider settings, backdrop, and much more. This yoga and fitness WordPress theme is retina-ready, cross-browser compatible, RTL writing style, social media integrated, and responsive.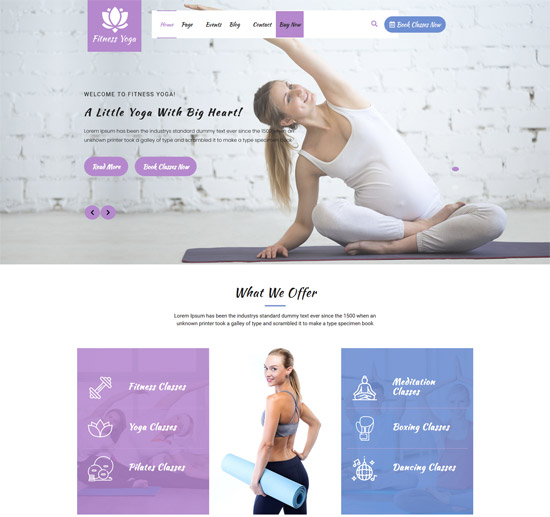 More info / download Demo
Fitness Business
Business Consultr's exquisite Fitness Business child theme. Adds support for Montserrat typeface, blue and green color scheme. Fitness Business suits gyms, fitness periodicals, bloggers, and health-related enterprises. The Theme Options tab in the WordPress Customizer enables you to change your content in real time.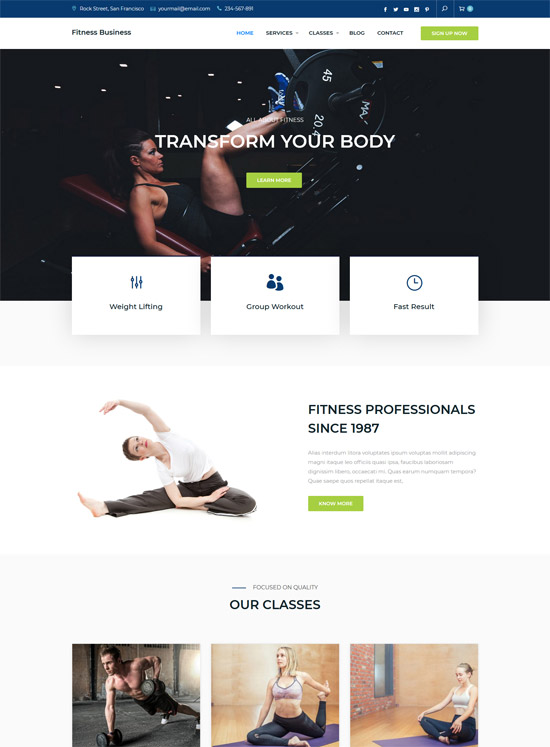 More info / download Demo
Fitness Hub
Fitness Hub is a versatile and contemporary WordPress theme for fitness centers, gyms, and institutions, fitness, gym, health. This theme lets you develop a beautiful website for your fitness club's outstanding programs and services. Your business may be promoted globally and online. It works on smartphones, tablets, and other devices due of its responsiveness.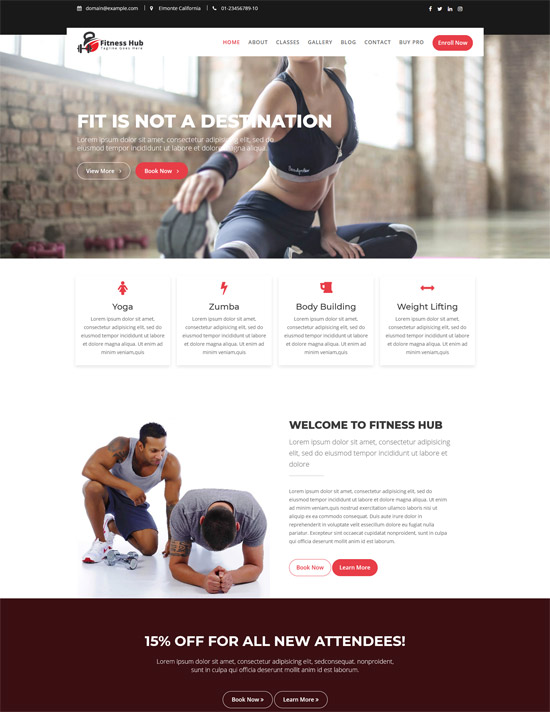 More info / download Demo
Advance Fitness Gym
Advance Fitness Gym is a bold, strong, intuitive, and dynamic fitness WordPress theme for gyms, fitness clubs and other fitness nuts that want to make people fit and healthy. This versatile theme is attractively designed to draw attention to your website.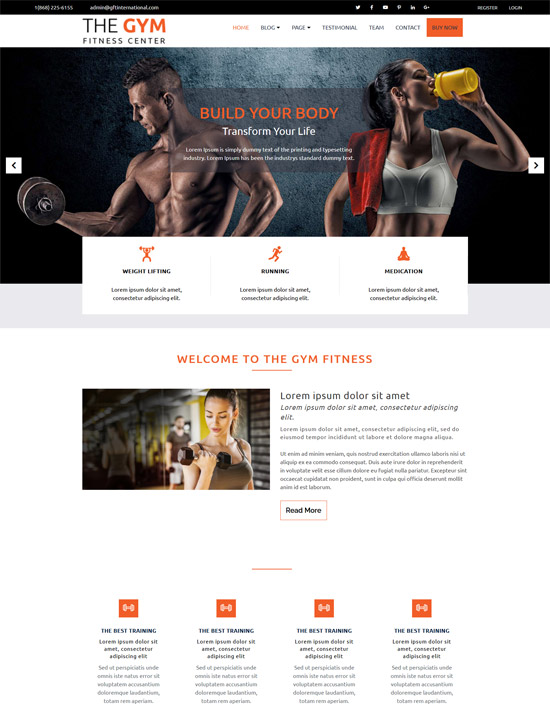 More info / download Demo
Akhada Fitness Gym
It's great for spas, health and wellness centers, physical therapy, health consulting, and fitness sites. The theme's clean design and simple interface enable users discover what they need instantly. The responsive theme looks great on mobiles, tablets, and desktops. This fitness theme is cross-browser, translation-ready, retina-ready, and crisp on all devices. Customizes much of the theme.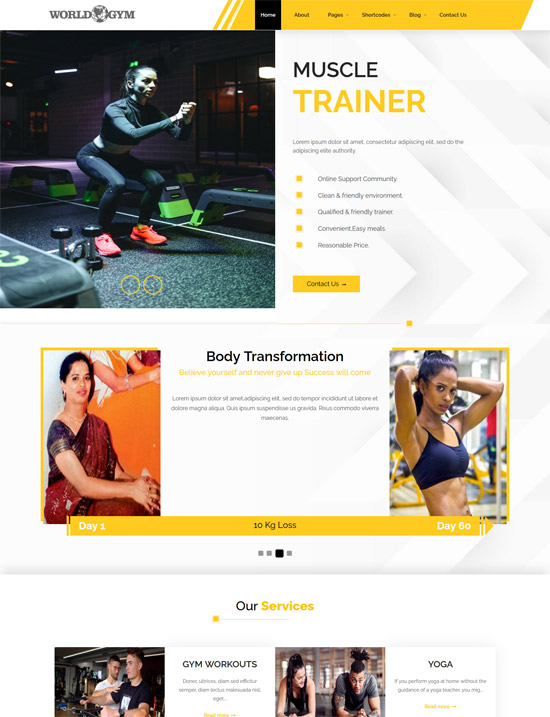 More info / download Demo
Fitness Gymhouse
Fitness Gymhouse Theme is an excellent WordPress theme for gym, medical supplements. It's user-friendly and adjusts to different screen sizes. To attract clients, use full-width photos, wide blocks, health, personal trainer, sports, yoga, custom menu, post styles, CTA buttons, and testimonial sections. Social networking will help you reach everyone.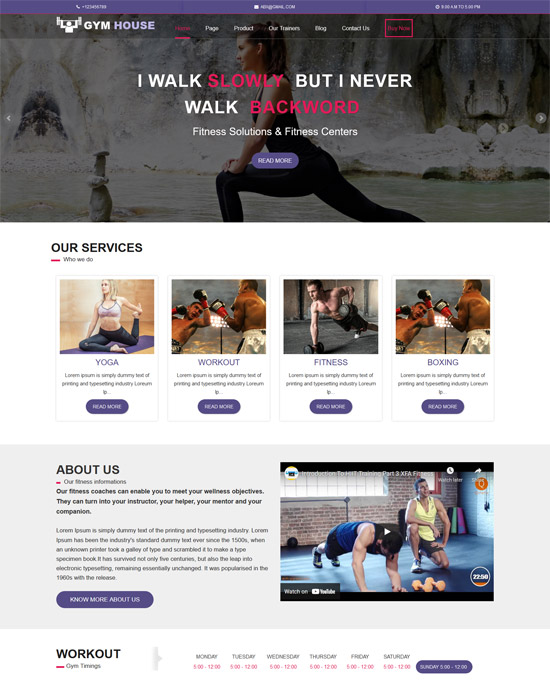 More info / download Demo
The WP Fitness
WP Fitness is a clean and contemporary WordPress theme created for fitness lovers, personal trainers and health clubs. This simple WP Fitness theme offers many features. The well-designed Appointment Form section simplifies gym appointment scheduling.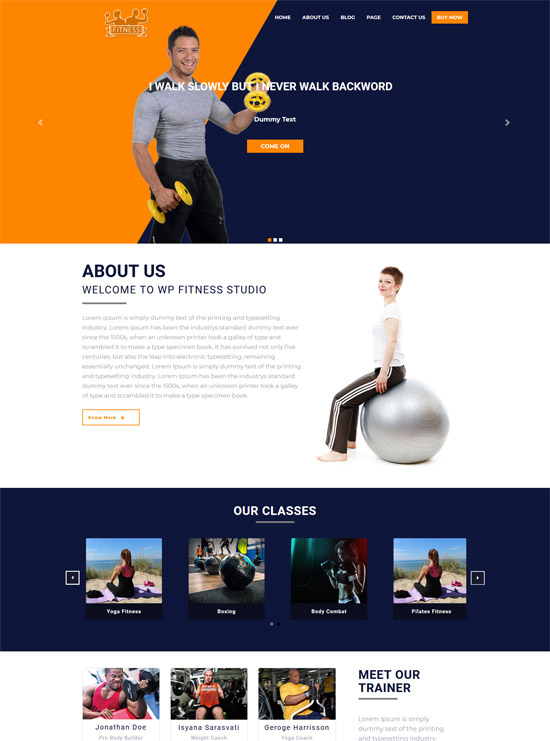 More info / download Demo
VW Fitness
VW Fitness is a free, responsive multipurpose WordPress theme for personal trainers, fitness trainers and spectacular websites. The customizable Bootstrap theme lets you build a great website. Its coding is secure and optimized for page load speed. Shortcodes enhance page and post functionality.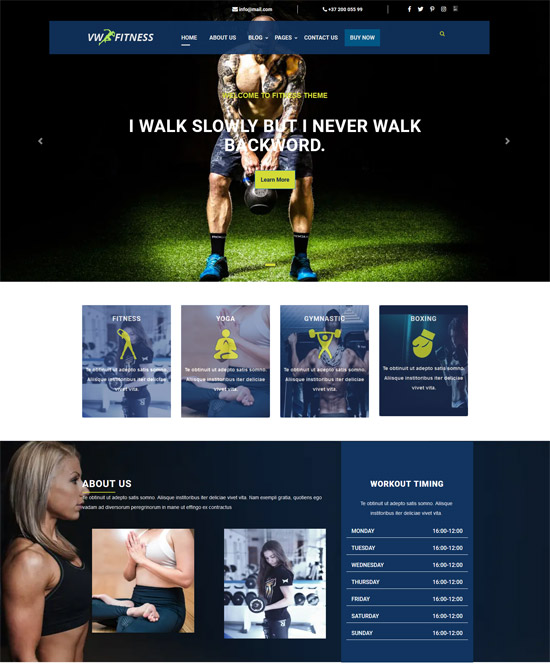 More info / download Demo