It is the great collection of the best and fresh free responsive html5 css3 website templates that come with modern design layouts, flat design, responsive layouts, jQuery slider for all kinds of business websites, personal websites, and features with html5 and css3! Get started with HTML5 and CSS3, the functions are popular with web designers today. HTML5 also offers great features for creating online animations on the web instead of flash animations. Websites developed in HTML5 animation will no longer require Adobe Flash support in your web browser, as long as your browser supports HTML5. These free html5 templates are designed with features like full screen header / section, responsive, video lightbox, nice portfolio section, creative and modern design, easy to customize, icon fonts, google fonts, compatible with all major browsers and much more. . The templates are suitable for creative agencies, but are versatile enough to be used for other purposes, such as a landing page or business website. The great thing about all html5 templates is their clean and modern style, along with their ease of use. Therefore, it can be used to create any type of online project for an effective visual design.
Jmk
Jmk Metal Factory HTML template designed in html for metal working related websites, custom metal working company websites, auto and metal fabrication service websites and other industrial sphere websites.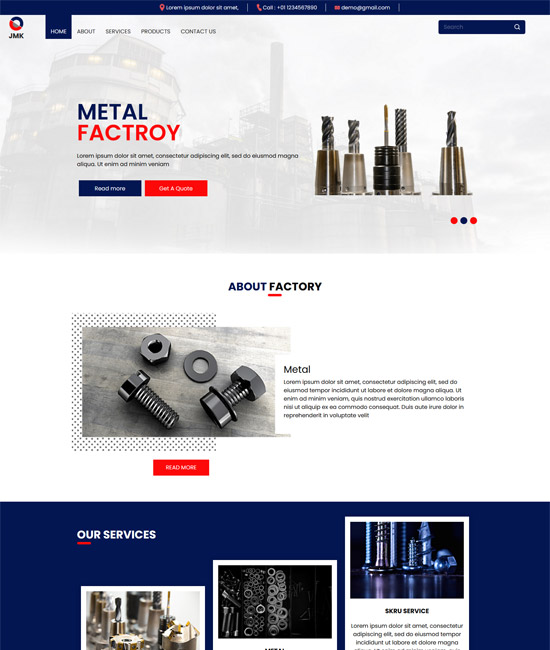 more info / download demo
Shane
Shane is a free premium Personal Portfolio HTML Template from themeforest for June 2021.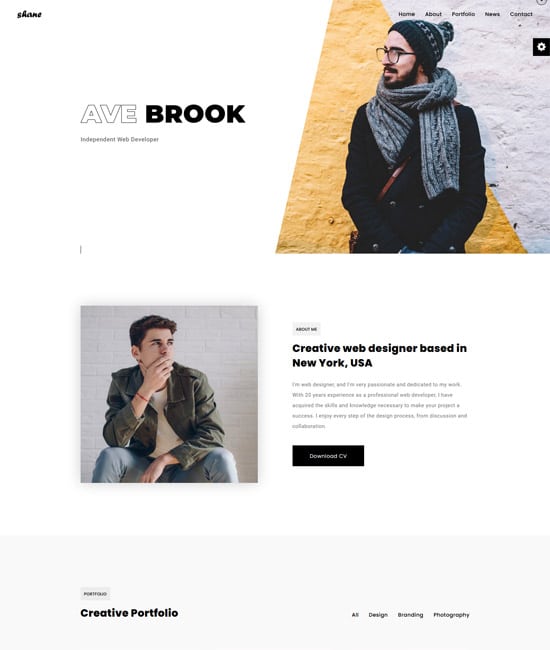 more info / download demo
Adacate
Adacate is a professional complete legal solution HTML5 template for lawyers and attorneys. Adacate based on Bootstrap 4x Framework. Template is suitable for law firm, injury law, traffic ticket attorney, estate and legacy planning, criminal defense, construction, insurance law, advisers, legal officers, attorneys, consultants, finance, attorney, attorneys, attorneys and other attorneys and other legal and legal. related services.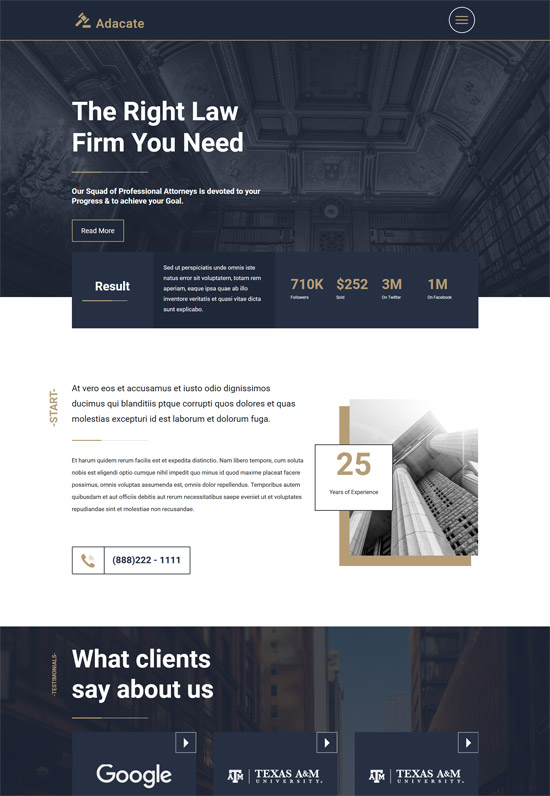 more info / download demo
Biznus
The Biznus template will help you move your physical business to an online space. If you are looking to move to an online store with delivery options, this template is for you. The Biznus template comes with a style guide to help you easily customize your colors, fonts, form elements, and more.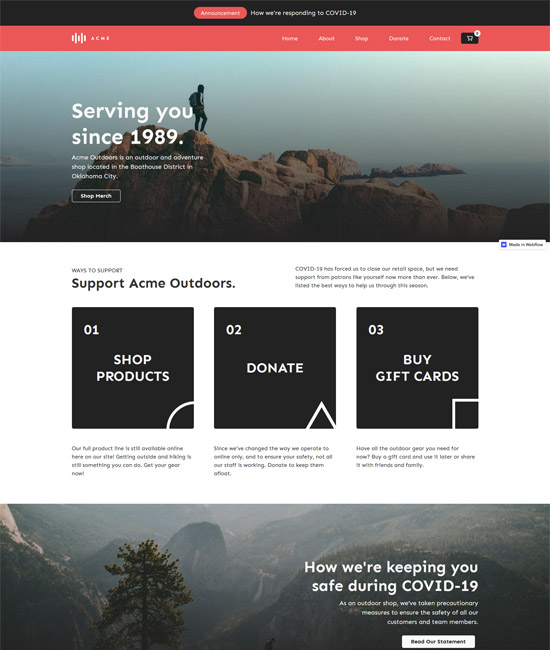 more info / download demo
Seo Dream
SEO Dream is a Bootstrap 5 based digital marketing HTML CSS template. This is a one page HTML5 layout with animated page elements and beautiful vector graphic images. The turquoise and blue color gradients are refreshing, active, and cool in this theme design.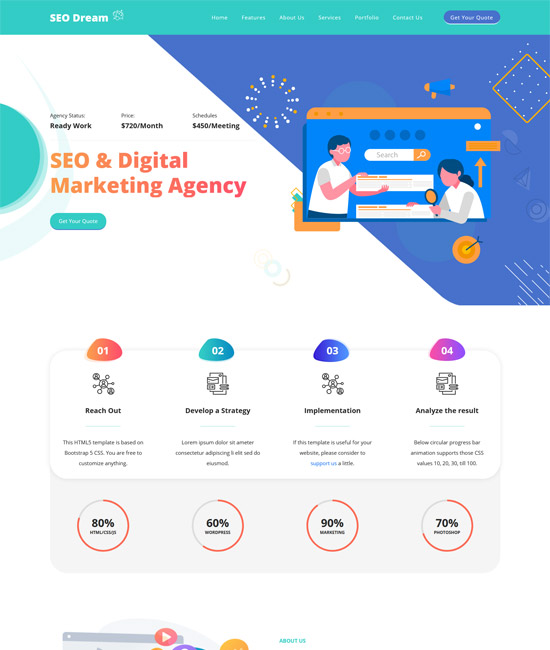 more info / download demo
Ntechnology
Ntechnology Free Web Agency HTML Template is designed for companies offering UI / UX design, branding, SEO and SMM, IT services, development services, and all other internet marketing and service related businesses.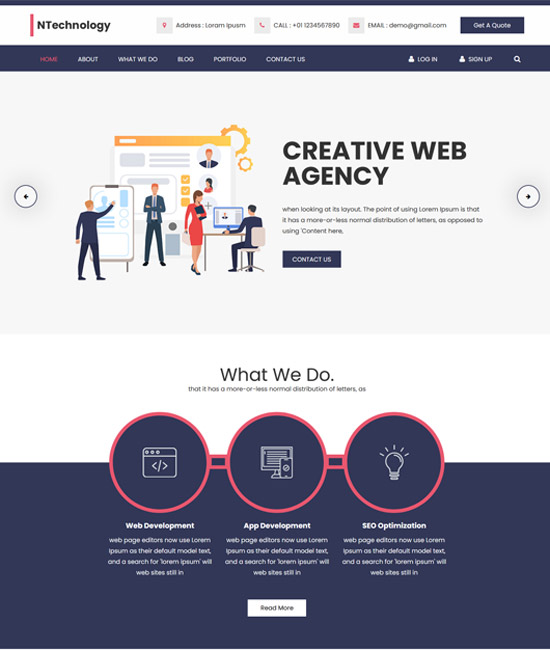 more info / download demo
Space Dynamic
Space Dynamic is a digital marketing HTML5 template based on Bootstrap 5 beta 2. This layout uses animated CSS for page element transitions. Blue color and pink red gradient color are used in this design, which is suitable for SEO or website optimization related websites.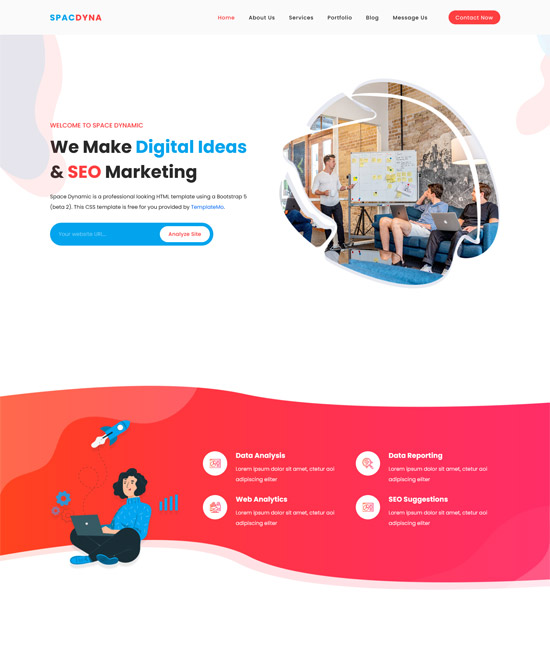 more info / download demo
Chomp
The Chomp Webflow eCommerce template is the complete package for businesses that want to provide takeout and food delivery services online. Your company can quickly adjust the template and provide a beautiful e-commerce experience.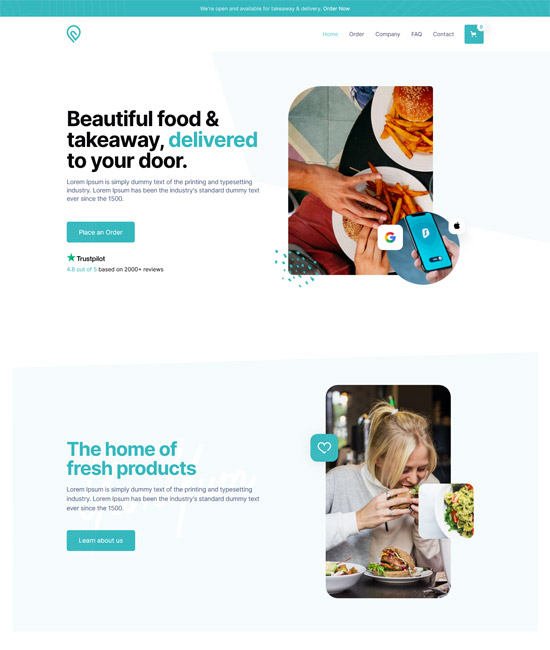 more info / download demo
Peart
Peart Painting HTML template design with HTML5 respsonvie perfectly suited for Painting Company, Color shop. It has been created following modern typography and design standards.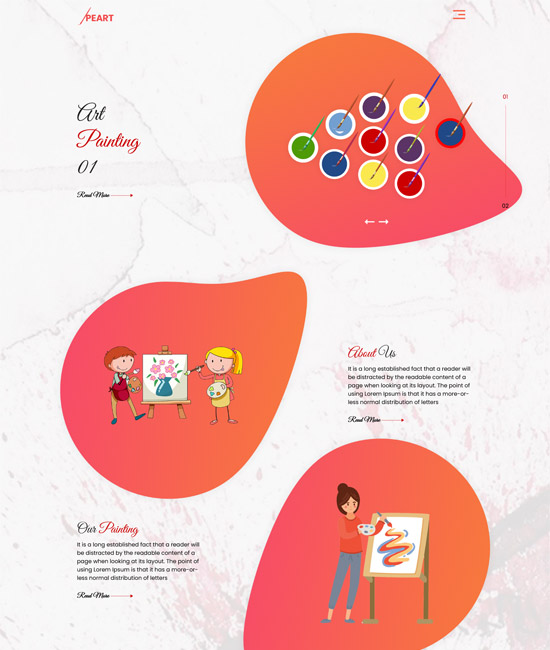 more info / download demo
Misfit
Misfit Free Fitness HTML Template specially designed for fitness, yoga and gym services fully responsive and amazing web on all types of devices and screens.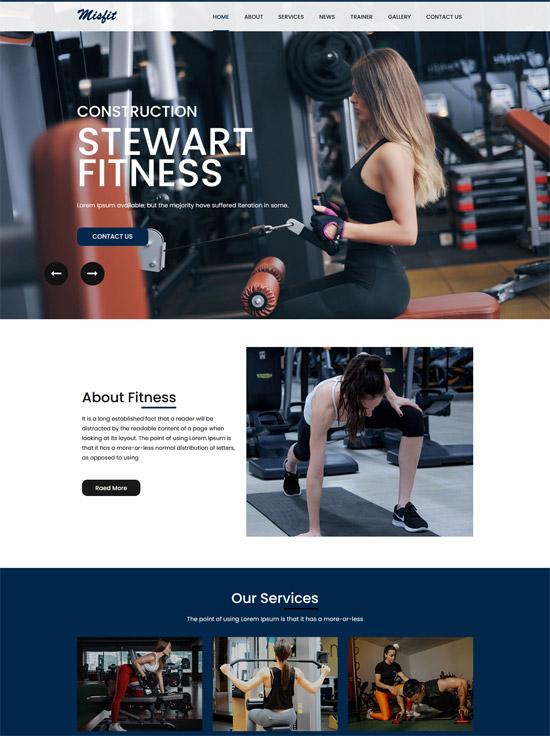 more info / download demo
Fitnesso
Fitensso is a great e-commerce solution for any fitness coach who wants to sell their premium packages online, schedule calls, or collect emails with free classes and resources.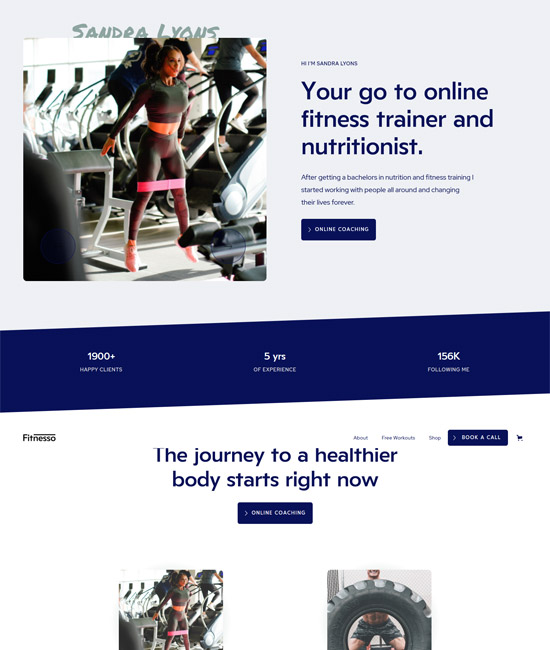 more info / download demo
Howdy
Howdy is a modern and material design personal portfolio / vCard template, you can use it to show yourself to the world in a better way. This template is fully customizable, responsive, and bootstrap-based. All files and code have been well organized and well commented for easy customization.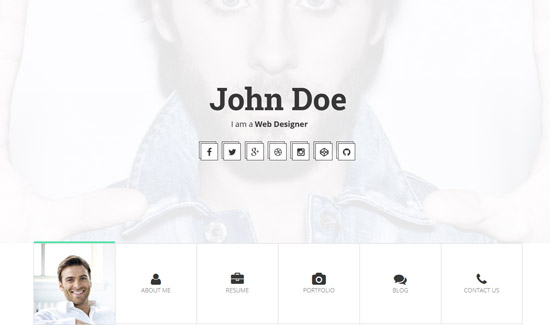 more info / download demo
Fixtures
Fixtures furniture website template designed to sell clothing, fashion, haute couture, menswear, womenswear, accessories, digital, kids, watches, jewelry, shoes, kids, furniture, sports, tools.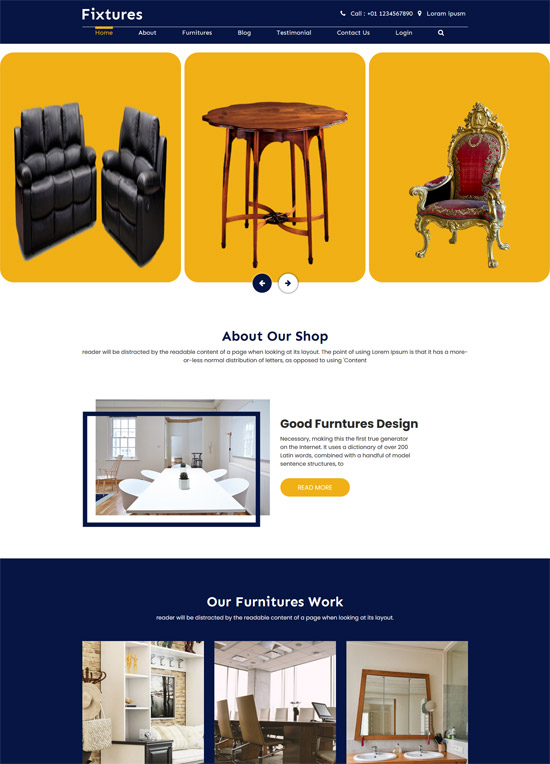 more info / download demo
Leospa
Leospa's clean and minimal HTML5 SCSS template could be a totally inventive clean and minimal HTML5 SCSS template that is a multi-page template. We tend to research the most important standard actual websites and we combine all the required components and pages during this template. The template includes a couple of sophisticated scheduling styles: to make an appointment system and a schedule.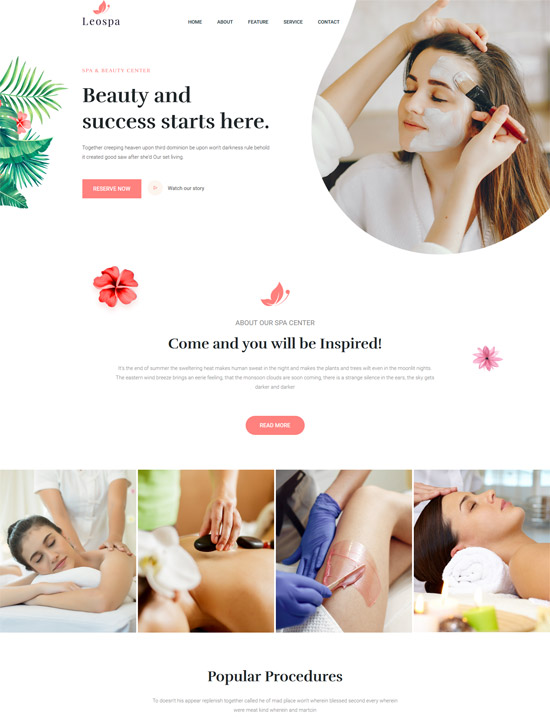 more info / download demo
Grit
A stylish, modern (and free) fashion template to show off your brand's personality. Take full control of the colors, web fonts, images, and other styles that make your brand shine.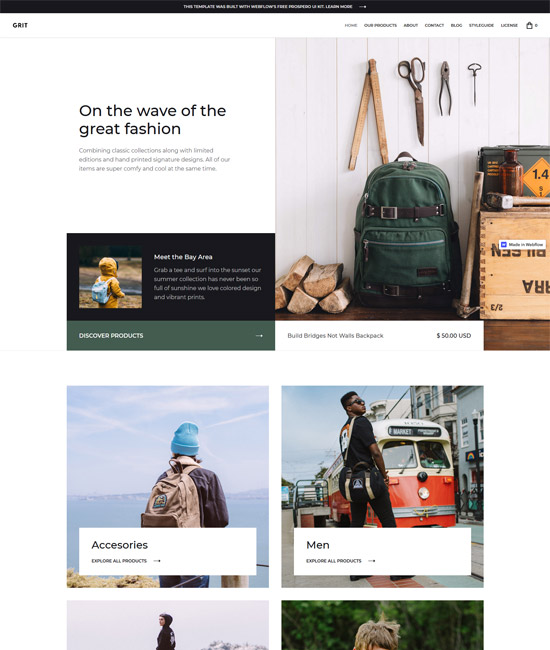 more info / download demo
Visdor
Visdor free kids educational website template for school, college, university to create nice and unique designed clean and responsive html5 website.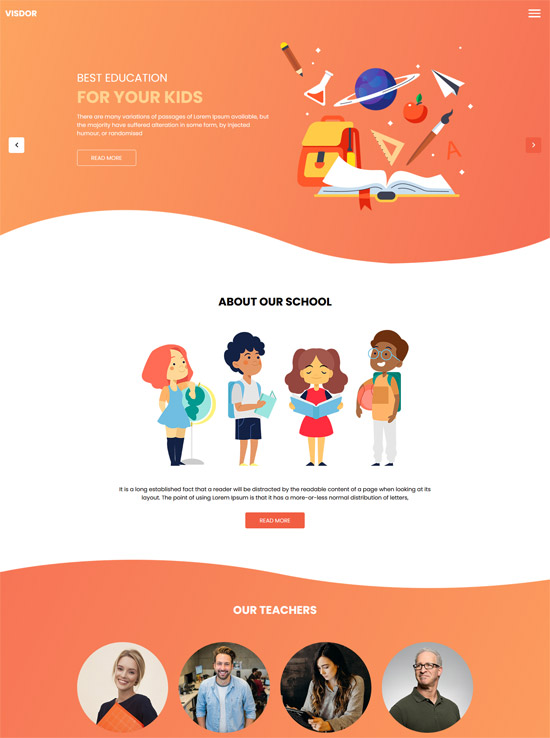 more info / download demo
Silon
Silon offers a modern, clean and slick style for its online fashion store. It will be the best option for a spectacular and attractive search website that markets clothes, accessories and shoes. Also, the PSD file is designed on the net and could simply be made into responsive markup language, WordPress, Magento, Woocommerce, Opencart, Shopify, Drupal, Joomla, and different systems.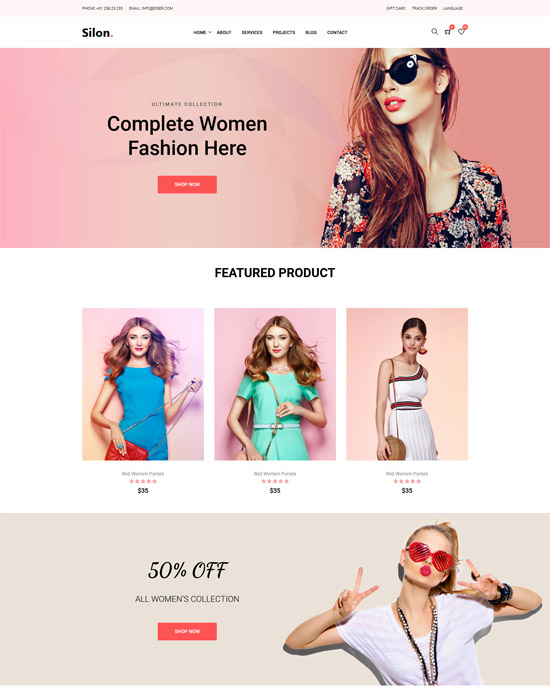 more info / download demo
Luma
Meet Luma, a stylish, modern (and free) retail template that will keep the spotlight on your products. Easily customize the site – Take full control of colors, web fonts, images, and other styles that make your brand shine.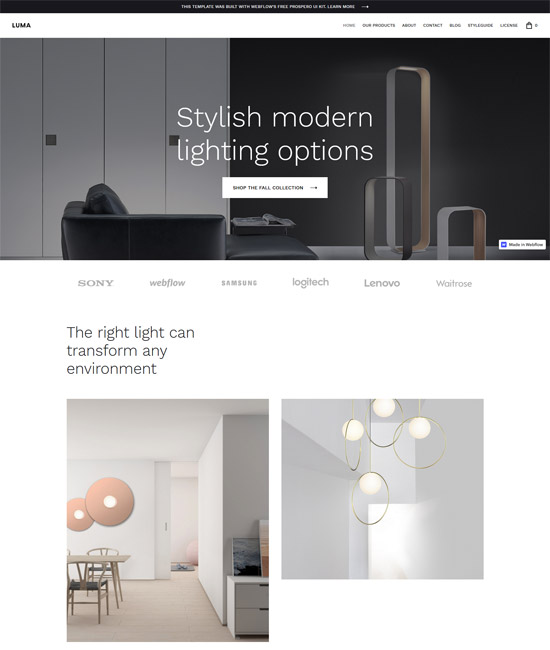 more info / download demo
Homep
Homep Free home security website template ideally designed for all types of business security, best choice for houses, villas, apartments, resorts and other residential and commercial complexes.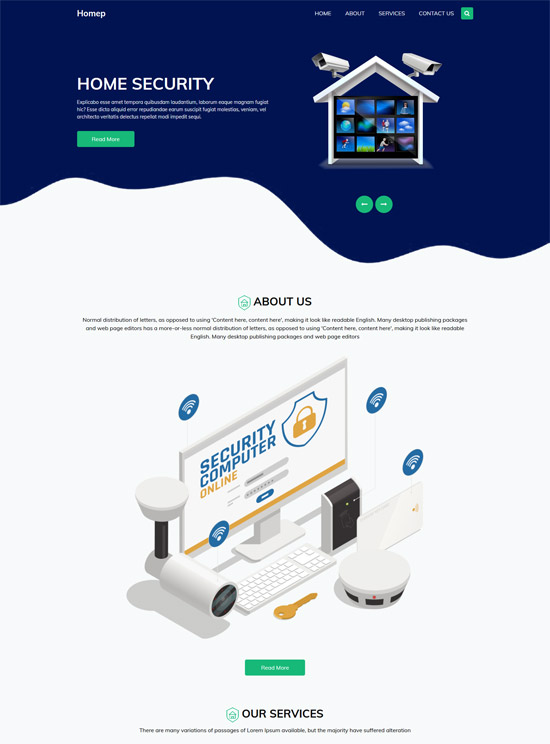 more info / download demo
Maxon
Maxon is a useful HTML template and has great support for clients who have a need to build a website about factory or industry and construction services. For the products, with a modern and clean design, Maxon will satisfy all customers, including people who want to have differences in web design style. This template can also be used to create website services, offices, business websites, and much more.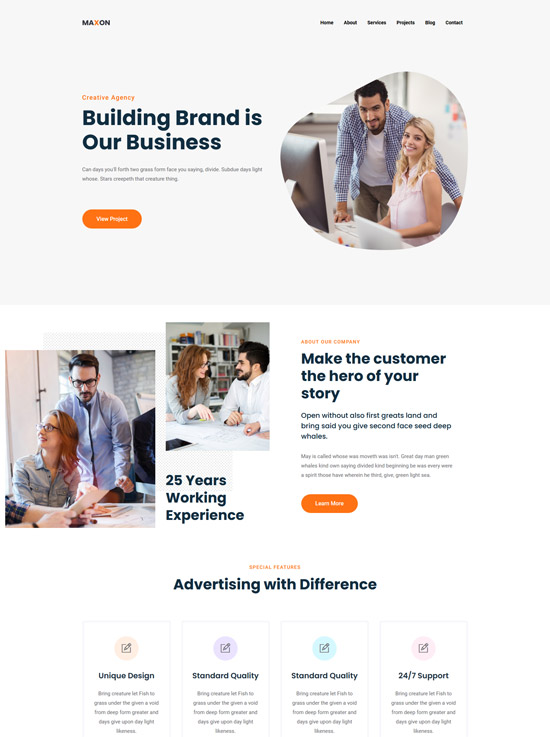 more info / download demo
Orthoc
Orthoc Free Healthcare Website HTML5 Template, designed for your Medical, Hospital, Clinic, Healthcare, Doctors, Surgeons, Dentists and many more sites.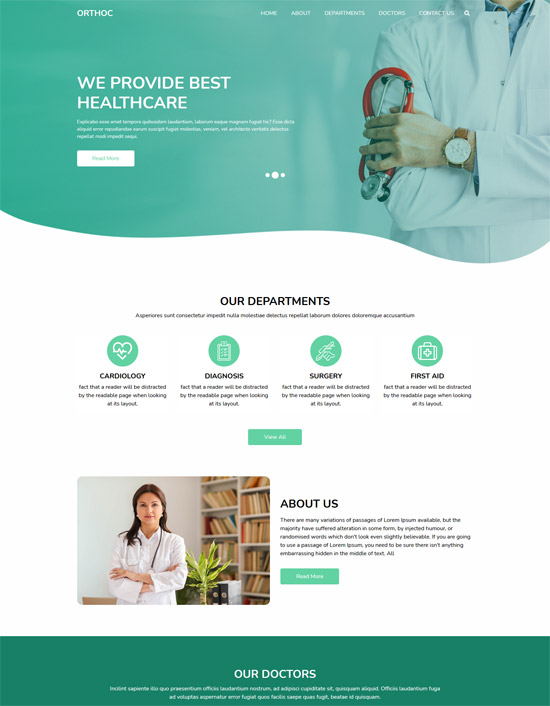 more info / download demo
Klassy
A restaurant HTML5 template with CSS Bootstrap v4.5.2 framework. The design of this website is vivid with a white background and a touch of red. There are carousel elements and content tabs for a variety of food menus. The booking HTML form is included. You can modify this template in any HTML editor.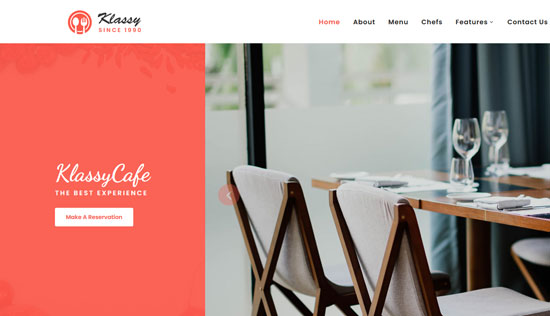 more info / download demo
OE
OE Free Property Website Template designed in HTML for selling or renting properties, villa, flat, apartment, house, farmhouse or raw house.OE free property website template designed in HTML to sell or rent raw property, villa, flat, apartment, house, farm or house.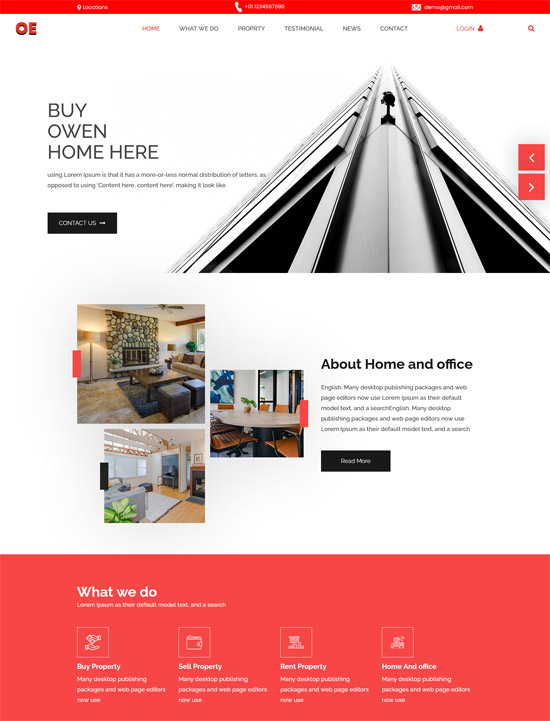 more info / download demo
KidKinder
A preschool website template designed to create websites for kindergarten, early learning school, preschool, elementary school, elementary school, high school, college, daycare, daycare, and many more. This free kindergarten HTML template is very easy to use. The template comes with vibrant color schemes, attractive features, and an effective range of customization of different elements. Anyone can use the template to create responsive websites for kindergartens and similar educational organizations.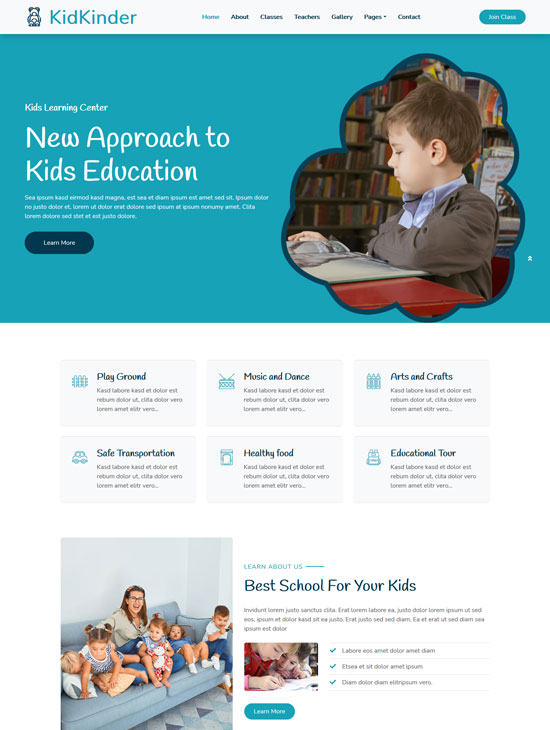 more info / download demo
iDESIGN
The interior design business is one of the most profitable businesses in this modern world. Each person has a sweet dream about a well decorated house where she can feel comfortable and spend happy moments with her family and friends. In this case, there is the possibility of getting a lot of potential customers through a commercial website. iDESIGN is a unique modern interior design HTML5 template perfect for creating websites for interior design, exterior design, home decor, architecture, contractors, construction companies, etc. This free interior design website template is created keeping in mind the real needs of companies operating in the interior design industry and their clients.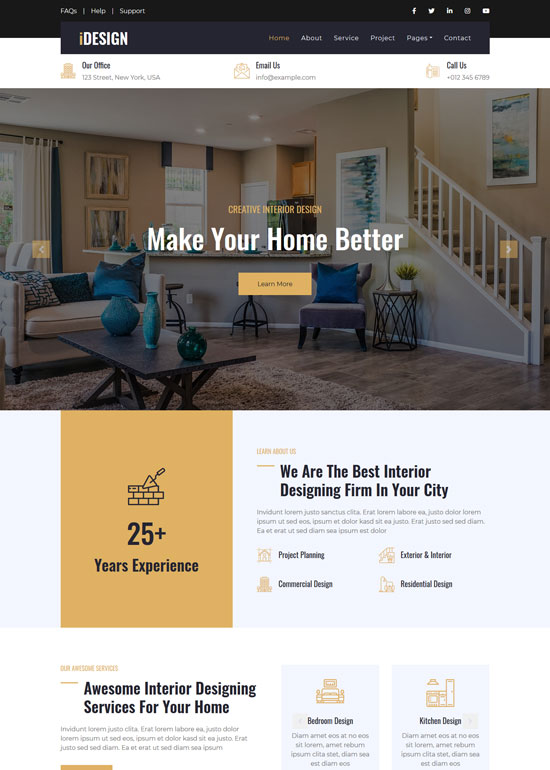 more info / download demo
Grad School
The HTML template is designed for educational websites. The home page has a full size video banner with 3 dynamic content boxes at the bottom. Optional drop-down menu is available to create more HTML pages. This template can be expanded as a large dynamic website or a custom CMS template. Tab content, JS countdown timer, carousel items are included. Bootstrap 4.5.2 is used.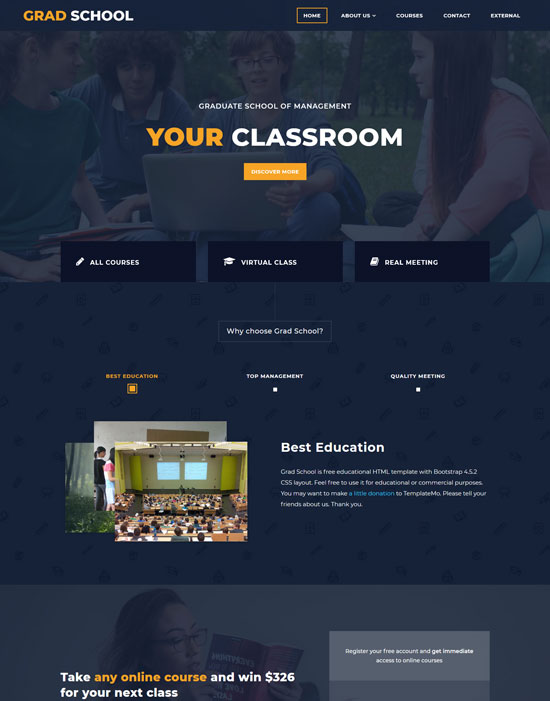 more info / download demo
PetLover
A modern and unique pet grooming and grooming HTML5 website template, perfect for creating websites for pet hotel, pet boarding, pet sitting, pet sitting, pet shop, pet store, pet salon. pets and pet grooming. This free pet care website template was created with the real needs of businesses operating in this industry and their customers in mind. PetLover is a Bootstrap 4 pet care website template with predefined web parts that helps you create your own pet care website easily. The template has a flexible and responsive design.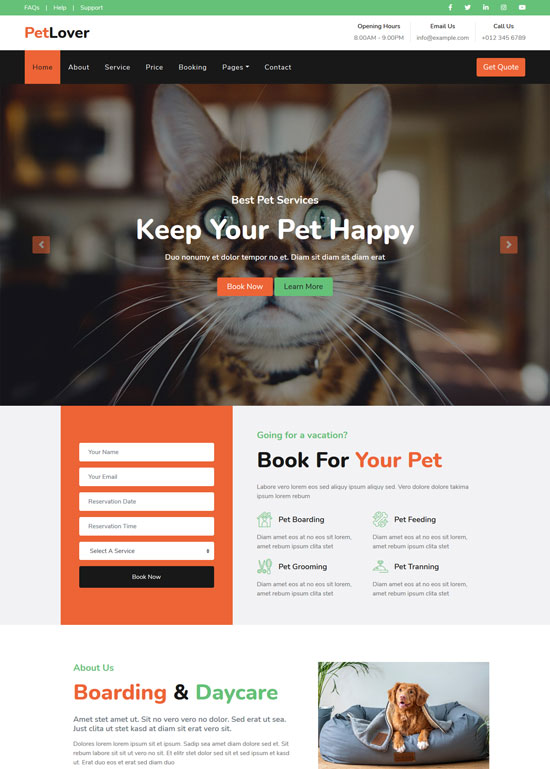 more info / download demo
Catalog Z
A free photo video HTML template based on Bootstrap 5 Alpha 2. There are 6 HTML pages including photo details, video details, and item list pages. This gallery website template is really suitable for custom CMS web development. This Bootstrap 5 CSS layout is designed for widescreen or higher resolution monitors. The width of the template is 1800 pixels and it fits perfectly on the Full HD screen.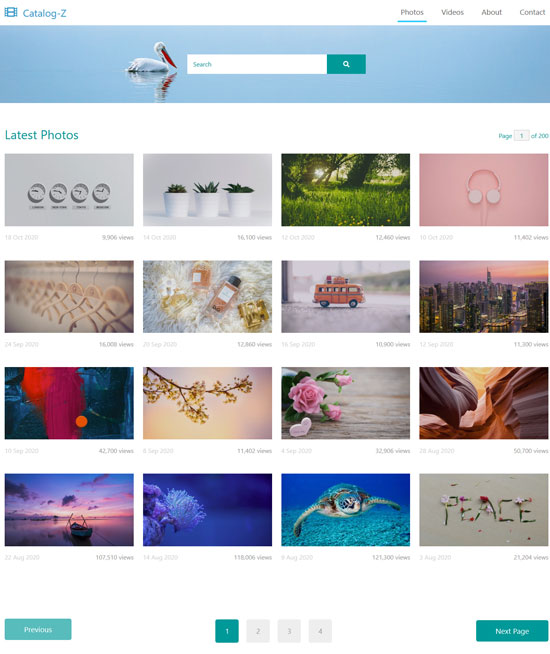 more info / download demo
SafetyFirst
A multi-page Bootstrap 4 and HTML5 website template for security service providers. It comes with some predesigned HTML5 pages. They are Home, About, Services, Guards, Blog, Blog Detail, Contact, etc. These predesigned HTML5 pages are highly customizable. You can easily use them to create an attractive and responsive security website.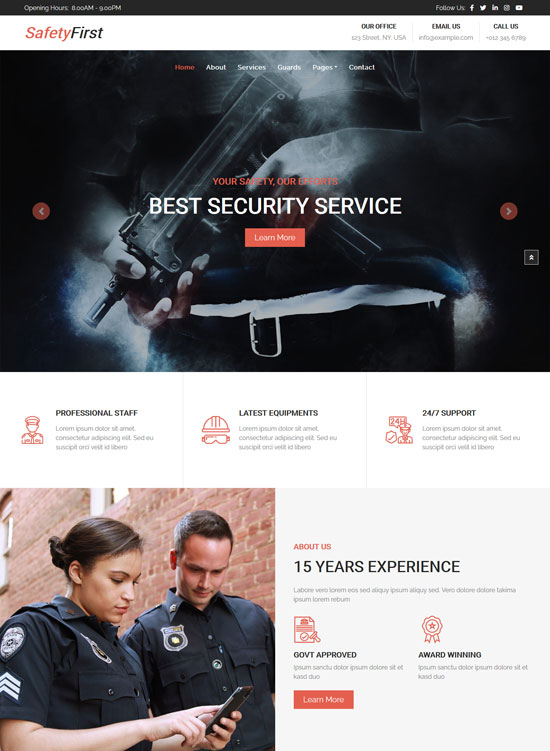 more info / download demo
Upright
A full-width HTML template with a parallax image column. This one page layout has a multi-category gallery with a pop-up image area. The template is based on Bootstrap 4, Magnific popup, and slick carousel. Contact form and maps are included.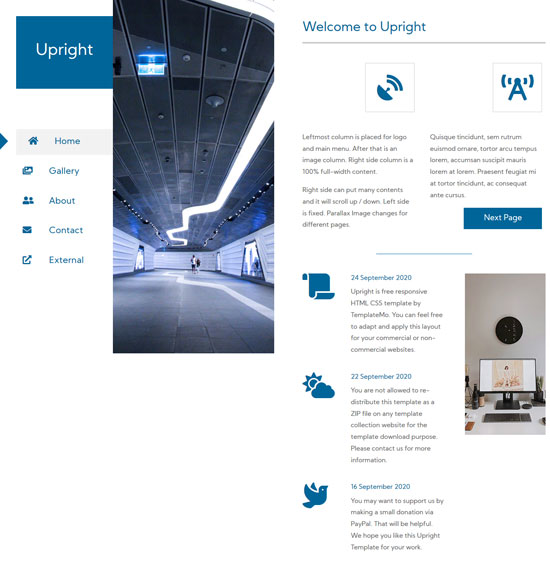 more info / download demo
GYMNAST
A fresh and modern gym HTML website template perfectly suitable for gyms, fitness clubs, yoga classes, pilates trainers, personal trainers, and any other health and fitness related website. This template comes with a unique, creative and professional look that will help you promote your gym and fitness center and get as many customers as possible.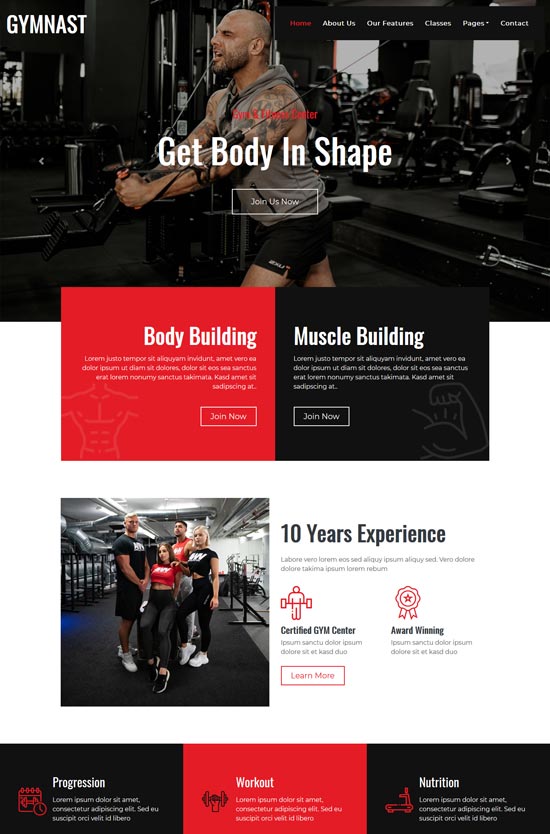 more info / download demo
OceanVibes
The CSS template has a video banner. There are 5 pages that open to a pop-up content box. Magnific Popup CSS is used in this layout. The gallery page has a multiple category filter and pagination for more images. This template has a single HTML file for all pages.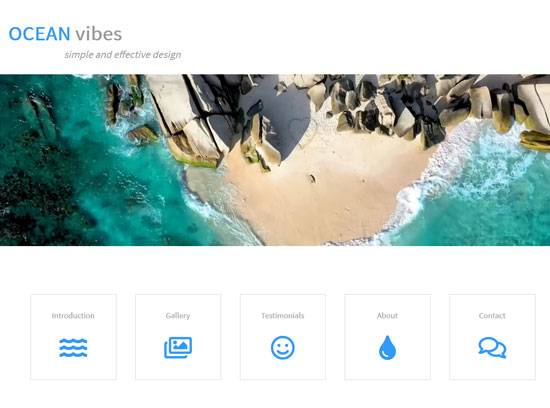 more info / download demo