Today, we have pick up best free responsive landing page html templates for your marketing, events, apps / software and multipurpose! The landing page website template will usually display directed sales copy that is a logical extension of an app or software advertisement, search result or link. The general goal of a landing page templates is to convert site visitors into sales or leads. By analyzing activity generated by the linked URL, marketers can use click-through rates & conversion rate to determine the success of an advertisement. Landing page templates is a retina ready responsive landing page website template perfect for any purpose or software and application developers or small business owners looking to promote their iPhone, iPad, Android Apps and software products.
Related Article
Smash Lite Template
Smash Lite is the free version of UIdeck's Smash HTML Landing Bootstrap template. Features include sticky header navigation (which scrolls smoothly into sections), lovely intro slideshow, portfolio with lightbox functionality, pricing table, testimonials, team, Google Maps integration, and ends with a contact form footer.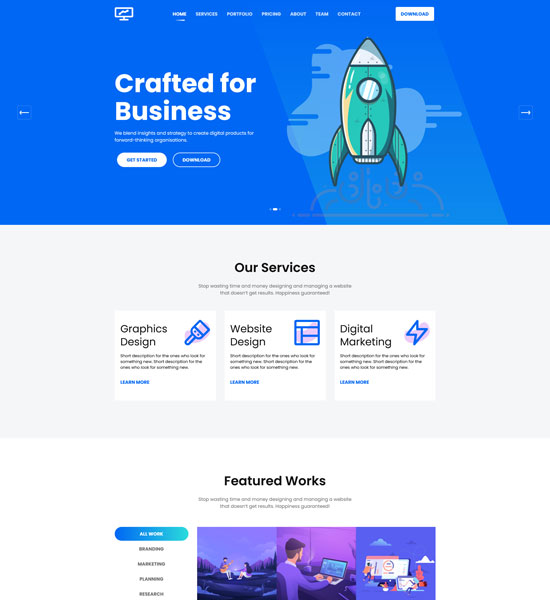 More info / download Demo Get Hosting
soFFer
SoFFer is a free software landing page template that comes fully equipped with many effective elements to create your new web project. This customizable website template comes with responsive hero header, sticky navigation bar, pricing table, subscription form UI, contact form UI, animated carousel, header, a fun fact counter, a hover effect, and much more to help you create an impressive software landing. page template The responsive and customizable template, soFFer, is based on popular technologies like Bootstrap 5, HTML5 and CSS3. The bootstrap template naturally comes with a bootstrap grid system that makes this template compatible with any screen size and device. Clean and consistent coding helps this template rank higher if tested for SEO. Since it was built with HTML5, it offers more page layout elements for your content. With excellent presentation and effective features, this website template is fully responsive to all major browsers with faster page load time. Download this fabulous template today and enjoy the perspective of a professional website.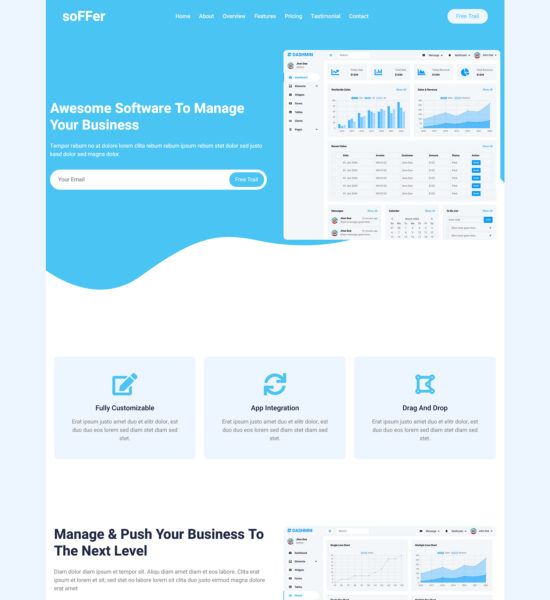 More info / download Demo Get Hosting
GoodLanding
GoodLanding is a perfect landing page template with images created with Bootstrap. This destination page template comes with important elements and features that are needed to design a professional looking destination page for your website. The destination page template is suitable for companies that want to present their services and products in a professional way and has all the basic elements needed to design the destination page of a commercial website. The template is highly receptive and is compatible with all major platforms. Then, independent of the device and the platform, you can download and use this destination page template. GoodLanding is the reception table and compatible with all browsers. It is also prepared for retina, which makes the template suitable for all screen sizes. This is the template design that is perfect in pixels and is designed with Bootstrap. If you want to look professional online, this template will make the work much easier. It has features that are all you need to market your online business platform. This template is all you need for your online business to be a success.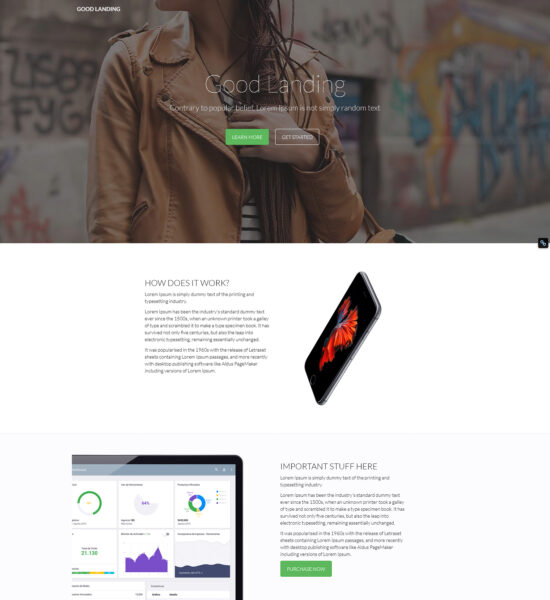 More info / download Demo Get Hosting
FitApp
A great way to develop, present, and promote any startup desktop software, Android apps, and any other app is to do it through an HTML template like FitApp. FitApp is a free Bootstrap 5 HTML5 template for app landing pages. Designed with CSS3 and JS, FitApp adapts to the modern devices available, making it easy to promote any app. One can use it directly or customize the template according to their requirements. FitApp is a no-fuss HTML template that gets you up and running with convenient features. It is a one page app landing page template with all the necessary elements included. It has clean and well-commented code. It got developer and SEO friendly code in its modern and flexible design. Fixed and mobile friendly navigation bar, newsletter form and social links with icons make it more lucrative for users. Animation on scroll, back to top button and fun fact counter make your perspective unique. It features CSS3 hover effects, gradient colors, testimonials, contact forms, and other necessary elements that make FitApp a compatible choice for developers.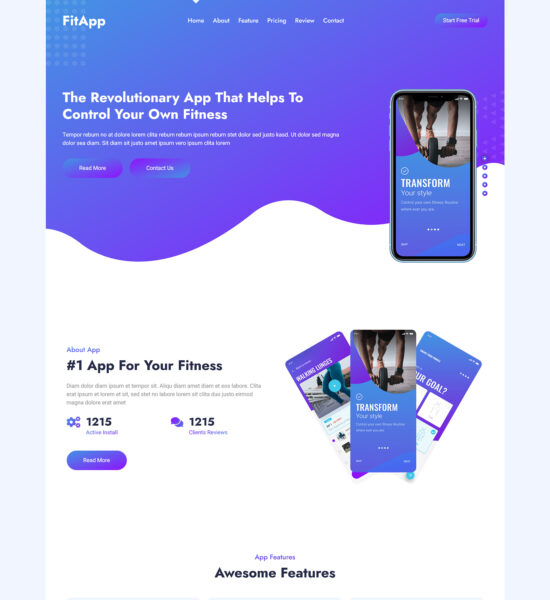 More info / download Demo Get Hosting
Startbootstrap
Landing Page is a responsive landing page theme for Bootstrap 4.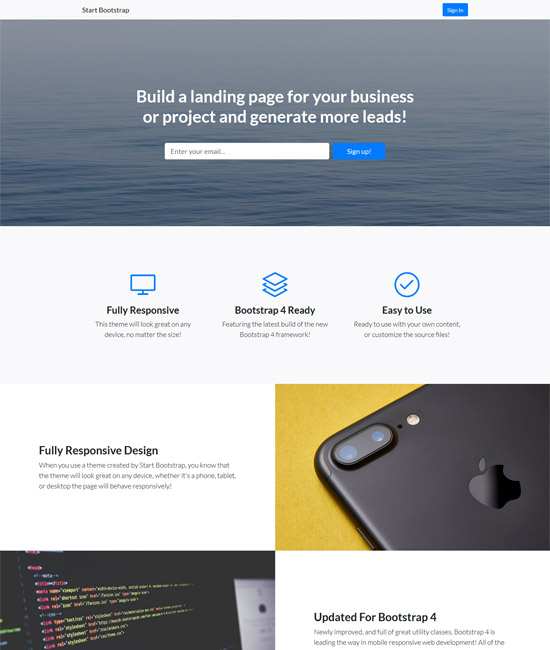 More info / download Demo Get Hosting
FoodLanding
FoodLanding is a reception destination page template that is mainly suitable for restaurants, clandestine factories, bakeries, pizzerias, hotels and any food -related business. It can be used for other businesses that also include food order websites, fast food links and other hotel businesses and the hotel industry. FoodLanding has a beautiful, unique and clean design that adapts to the presence of its online website. It has been tested on all mobile devices and has been shown to be 100% receptive. It comes with all the features you need to offer services in your restaurant as a menu, about us, the services offered, reservations and your blog. If you are interested in launching a website for your company, this is the website for you. The food chain is already optimized for SEO and has a handy custom code. All files have been perfectly commented, and have Google sources and impressive sources. Food landing stands out from all the other templates because it has an elegant design and the fact that it is food makes it even more interesting.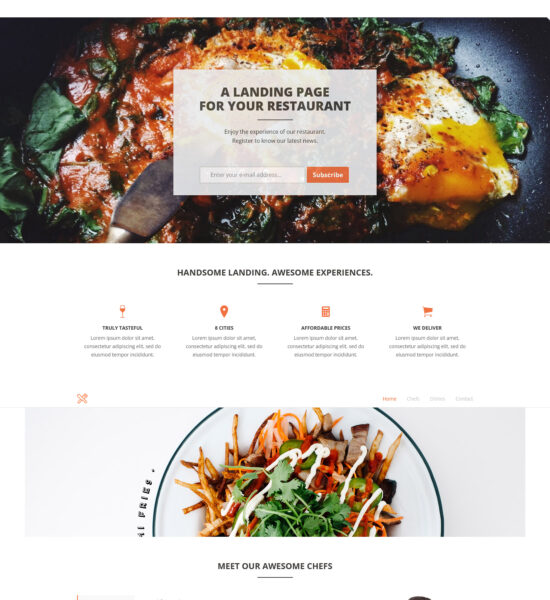 More info / download Demo Get Hosting
SeoGram
SeoGram is a free Bootstrap 4 landing page template. It is primarily designed for SEO content strategy and search engine marketing query websites. This multipurpose HTML website template is a great solution for creating an attractive website quickly and efficiently. It provides a wide variety of components with beautiful sections. Plus, this multi-page template is 100% responsive and looks flawless on screen size with all the latest browsers and devices. This free HTML5 template is a clean and simple basic website template for SEO companies, digital marketing agencies, or other business agencies. In addition, it comes with a pack full of modern and tech-forward features, such as hero header with creative illustration, sticky navigation bar, call-to-action button, pricing table, email subscription form email, a button to return to the beginning and much more. It's a well-thought-out template that can be easily modified to whatever look you think is most suitable for your business requirements. SeoGram offers you several pre-built pages and components, so you can save a significant amount of time. This free template is easy to customize because it's built with a clean, developer-friendly code structure. So start your project with SeoGram and get it up and running.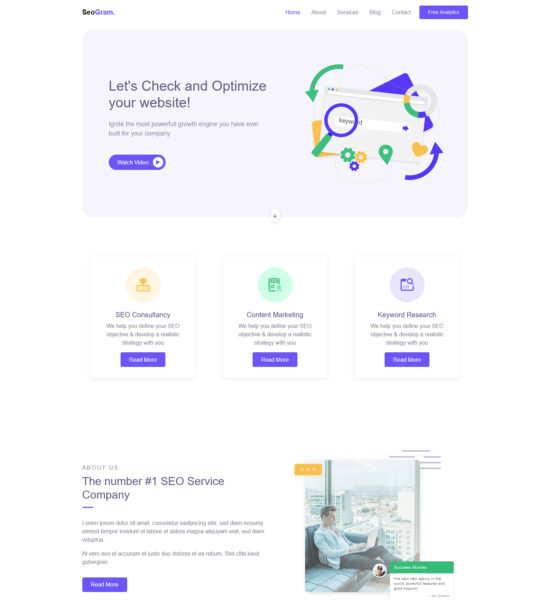 More info / download Demo Get Hosting
Pavo
Pavo is a free HTML template created by Inovatik in Bootstrap framework, suitable for an application landing page.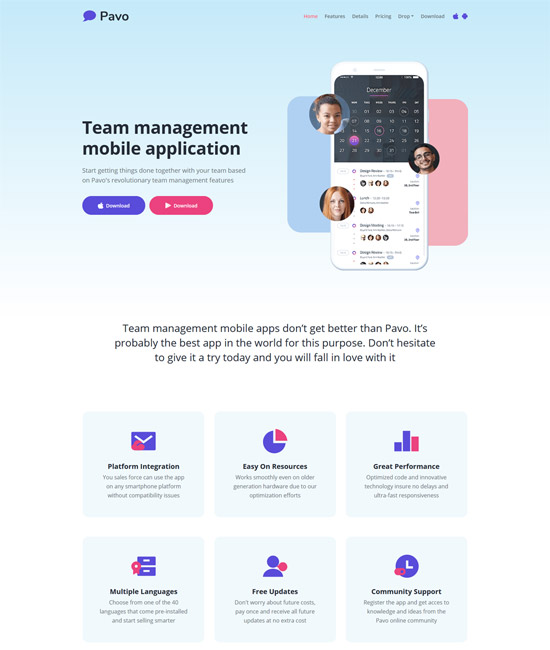 More info / download Demo Get Hosting
Nomad force
Nomad force is a free Bootstrap 5 landing page template. It has a full page video banner in the hero header section as well as other features like a simple portfolio part, news section. This free HTML website template is 100% responsive, fluid, and adaptable to all of today's modern screens and devices. Nomad force ensures that everyone has a pleasant experience viewing your site due to its minimalist style. Along with its unique design, the responsive theme has many modern features like hero header with background video, sticky navigation bar, portfolio gallery section, news section, hover effect, contact form and many more. Also, all other sections are finely animated and slide smoothly. Additional features such as Google Maps and social media icons are also beneficial to the user. The code of this theme is well structured, allowing you to publish your website in no time. So using Nomad Force, you can take your project to the next level without any difficulty.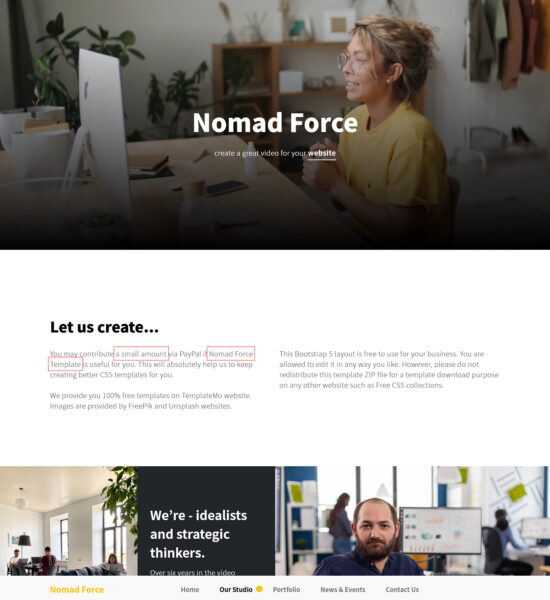 More info / download Demo Get Hosting
Lava
Lava's HTML landing page has a beautiful pink orange theme. The main menu supports drop-down sub menu items. This layout can be further expanded based on the needs of your website. Lava is a clean and professional looking website template for your business.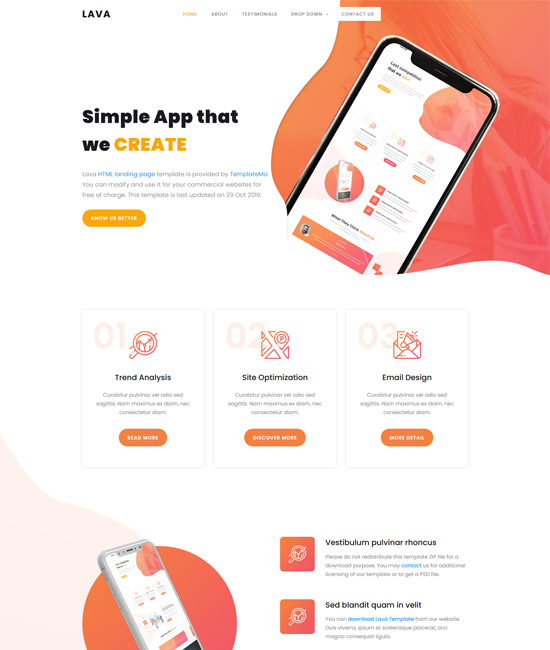 More info / download Demo Get Hosting
LinesLanding
LinesLanding is a minimal and elegant way to showcase your application or product. This destination page template applies a unique effect to reach its users with animated SVG lines. The template display shows how to display an application, but it can be used as a destination page for any product or service in a professional way. It's clean and attractive, and it's the perfect way to start your destination page or any other website. LinesLanding is created using the Bootstrap brand following the best coding practices. The HTML code is well structured and formatted so that you can edit and paste it easily. The LinesLanding destination page template also responds and is compatible with mobile navigation.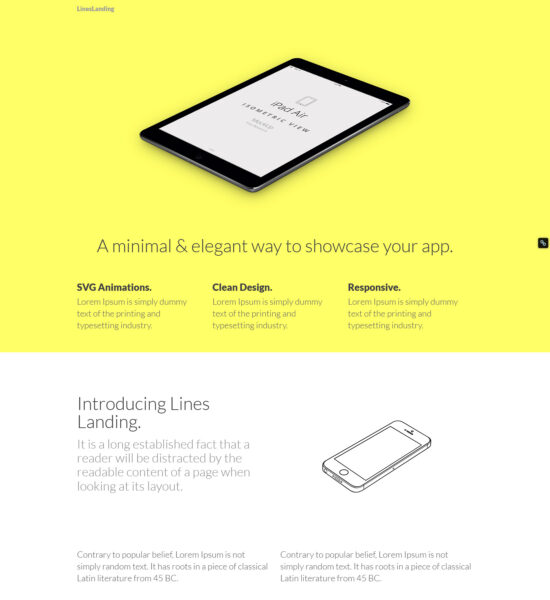 More info / download Demo Get Hosting
Chain Landing Page
Chain is a free Bootstrap 5 landing page template for a digital agency or app development website. It comes with a white background with a beautiful ocean blue gradient style. This template is for those who like attractive websites with cutting-edge user interfaces. A wide range of components, styled blocks, and fully scripted pages are available with this free CSS template. Plus, because it's 100% responsive, the free HTML website appears flawless on all devices, regardless of screen size. It provides up-to-date components to create an impressive website so you can proceed without worry. Also, this fabulous responsive template has several essential and eye-catching features with its brilliant style. For example, uniquely designed hero header, sticky navbar, animated hover effect, testimonial carousels, pricing table, email signup form and many more. You can also find login/registration options with an attractive popup layer. Also, basic coding knowledge is enough to set up a spectacular website with this one page template, or you can use it directly. Get started with the Cadena template and get your project off to a great start.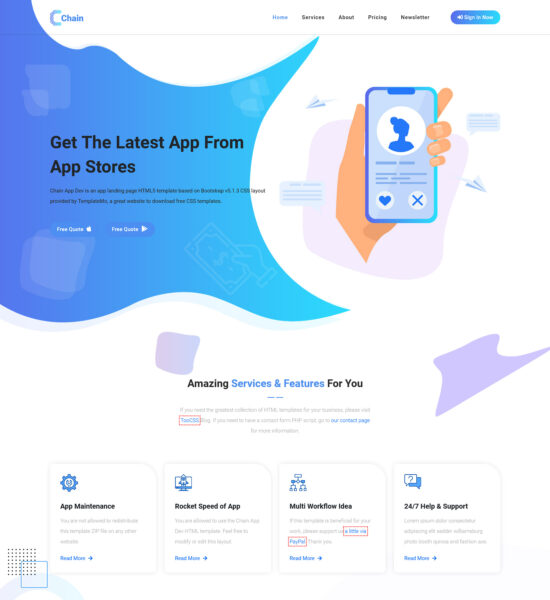 More info / download Demo Get Hosting
Grayscale
Grayscale is a multipurpose one page website theme that features a dark design along with smooth scrolling page animations.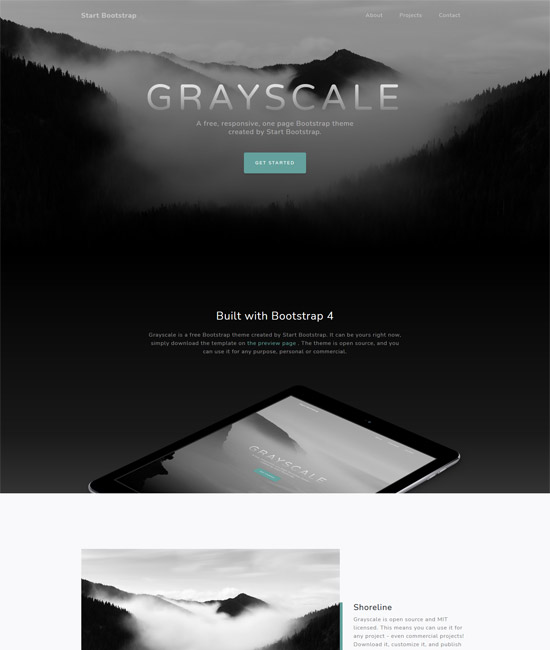 More info / download Demo Get Hosting
SlideLanding
SlideLanding is a simple but powerful destination page template that can be used to display and promote your product or service in the most efficient and professional way. Comes with all the elements needed to design the destination page of your product. There is a feeling that it is so revolutionary for your site that it will reach a large audience and, therefore, generate revenue. The SlideLanding destination page template is very receptive and compatible with all major platforms, including mobile devices. It is also straightforward and simple and allows you to create a professional -looking destination page for your product or service. SlideLanding is designed using the Bootstrap template and uses the best CSS3 and HTML5 practices to make the template highly customizable.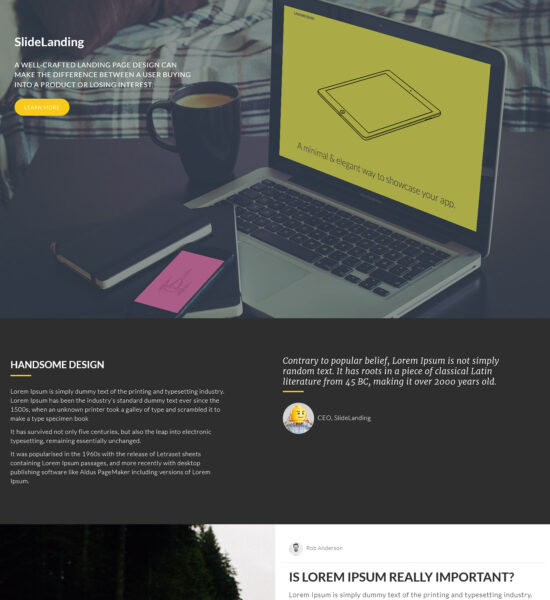 More info / download Demo Get Hosting
Interia
Interior design landing page templates can help in creating a website design that is perfectly suited to your remodeling business. And if you want to use a template for your website, you have to make sure it suits your needs. But in the beginning, you have to buy a template to check it out and see how it works.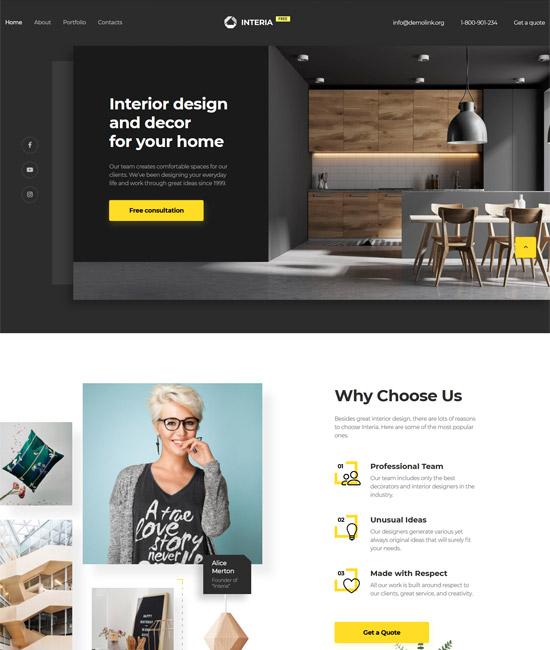 More info / download Demo Get Hosting
Profilab
Profilab's free landing page HTML template is made specifically for marketing agencies. This website template is free and there is a reason for it. We think you should give it a try before making a decision about purchasing a website template. This free version allows you to develop a website and check how everything works.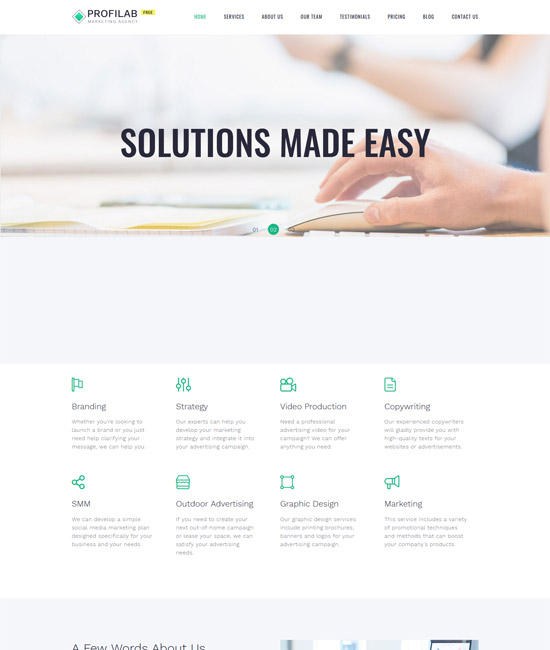 More info / download Demo Get Hosting
GadgetLanding
If you are in the business of selling and buying gadgets and electronics, then the GadgetLanding template would be the best option. The GadgetLanding destination page template is designed primarily for devices and electronics. It comes with many great elements that allow you to show your products to the world in a more creative way. The template of the destination page is designed with the Bootstrap brand and is suitable for small and large companies that trade in devices and other electronic devices. GadgetLanding is a perfect solution for all product -related sites. This is definitely an amazing destination page and will promote it because it is attractive. GadgetLanding is compatible with all browsers and is ideal for all major platforms because it is retina -ready.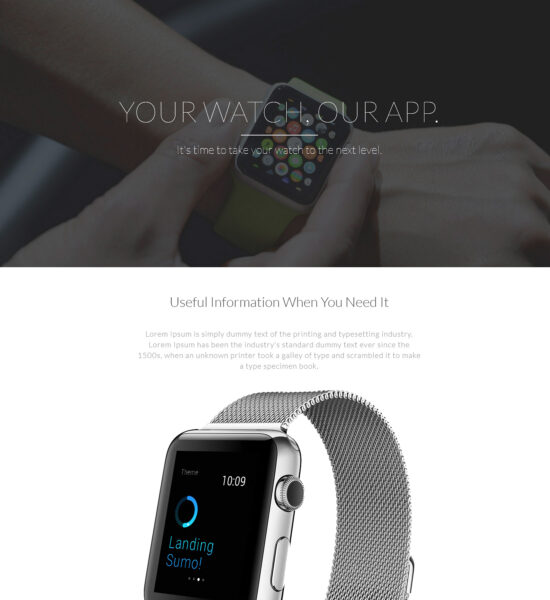 More info / download Demo Get Hosting
Al-Muhsi
Al-Muhsi is a modern multi-concept page template. It is specially designed for any type of agency, software, SEO marketing, startup, marketing, one page and other online businesses. The template has many different mobile and web elements / sections. They are all fully editable, you can easily change them to suit your needs.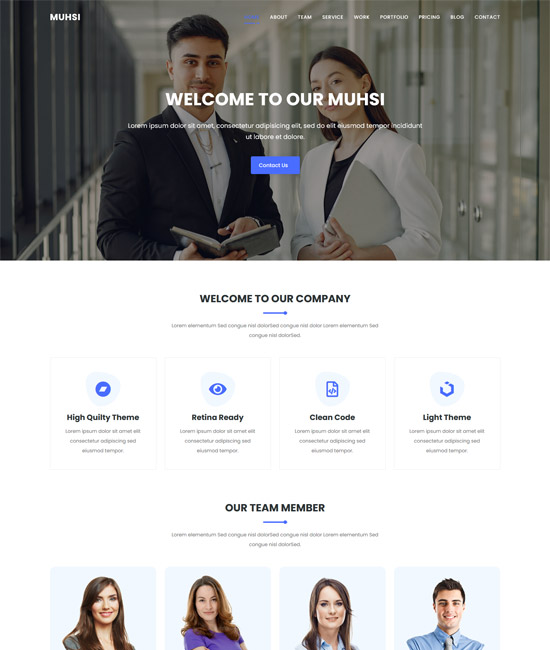 More info / download Demo Get Hosting
Free Restaurant Landing Page
Here is a free, mobile-friendly HTML sample developed for food-related sites. It utilizes CSS3, HTML5, jQuery, LESS, semantic and valid coding, which will help you build a future-proof landing page. With its strong yet minimal look, you can also ensure a memorable visual experience for the audience. A full-width header makes for an impressive introduction of your business, whereas readable typography can motivate customers to learn about it. Some blocks also boast pixel-perfect icons keeping the content well-organized on the page. Next, a back-to-top button facilitates the process of page scrolling, while parallax backgrounds make it more dynamic and engaging. On top of everything, you can easily edit this template thanks to the sliced PSD available in its package.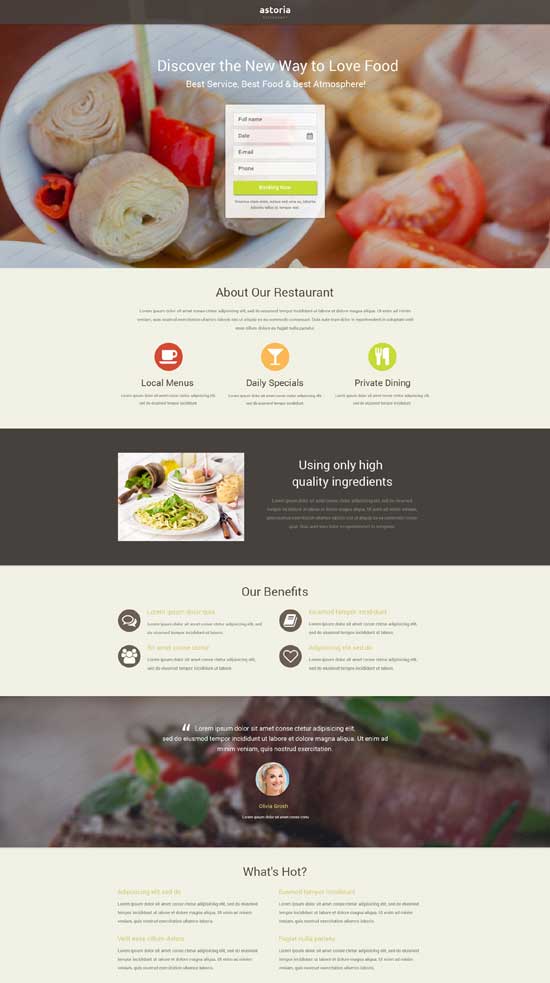 Demo More info / Download Get Hosting
Free Landing Page for Design Studio
Now it's turn of a newly developed Design Studio Free Landing Page Template. An extremely customizable freebie for presenting your business online.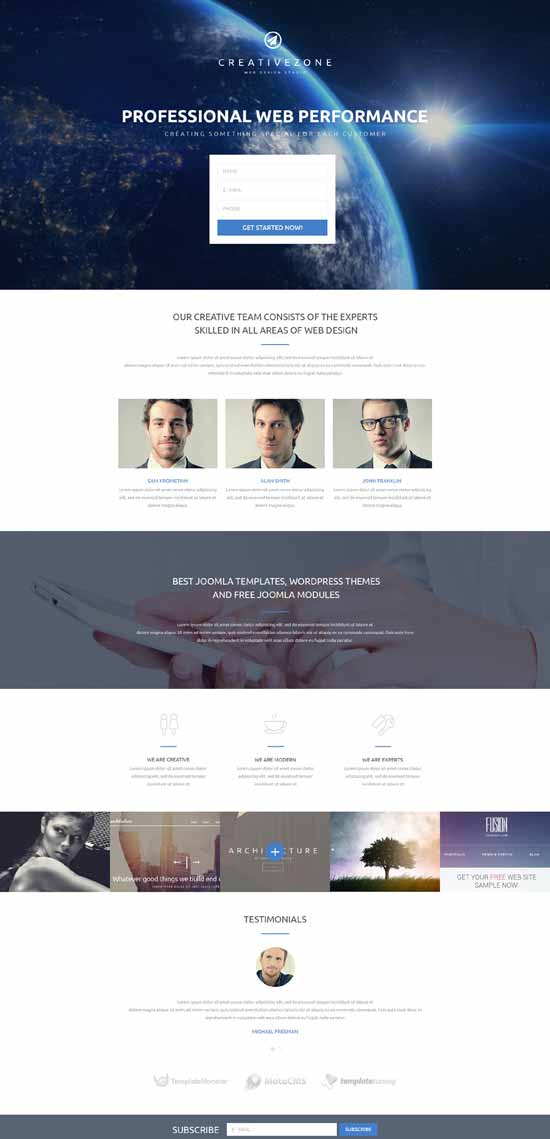 Demo More info / Download Get Hosting
SumoLanding
SumoLanding is a fully receptive destination page template created with the Bootstrap brand. SumoLanding is suitable for all types of destination pages, whether for businesses, restaurants or personal presentations. It will work better for a person whose only interest is to create a perfect online appearance. It's easy to customize and edit. You can always edit the background, you can play with the colors and also change anything with what you don't feel comfortable with. SumoLanding has all the features needed to make your site attractive. With this template, you can create an impeccable destination page in just a few hours and your online business will prosper. For those who are really interested in making your website unique, professional and elegant, this is the template for you.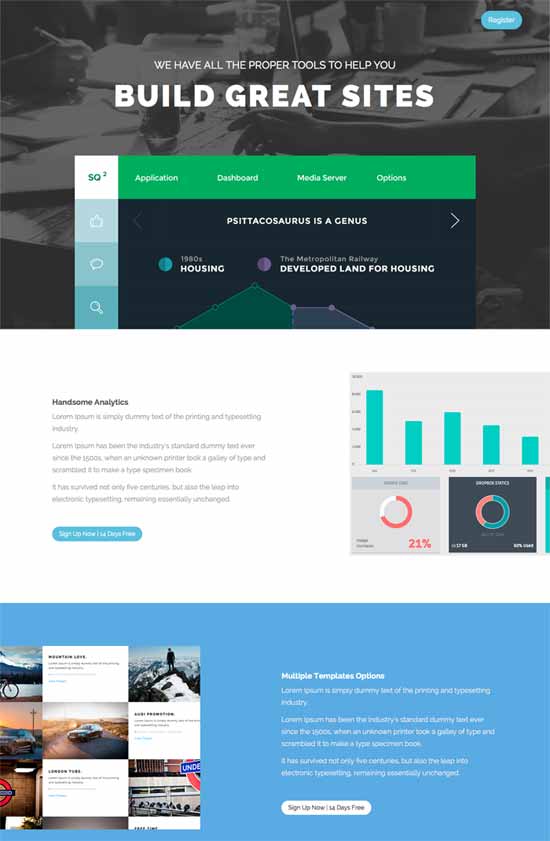 Demo More info / Download Get Hosting
Flatty
Flatty is a totally receptive destination page template. It comes with a planned style and allows users to concentrate on the product or service they are presenting. Flatty is built using the Bootstrap brand, which makes it very easy to use and fast. It offers many things and is clean and beautifully designed to meet the needs of the user. Flatty comes with a good structure, commented code and organized. With flatty, you can start your destination page in a very easy and fast way, which is already easy to use. You can use it for any type of products or services. To create traffic to your site, flatty would be a good consideration, since it is unique and elegant.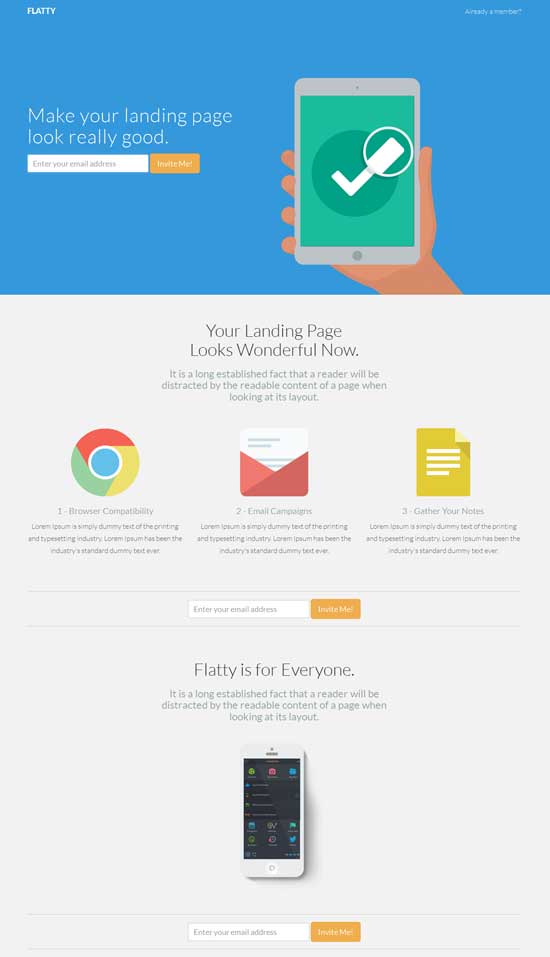 Demo More info / Download Get Hosting
AppBox
AppBox– is Responsive & Clean App Landing Page Template. It is based on Twitter Bootstrap v3.x. AppBox is Well organized , very easy to customize and Perfect Choice for Your App Landing or Product Landing Page.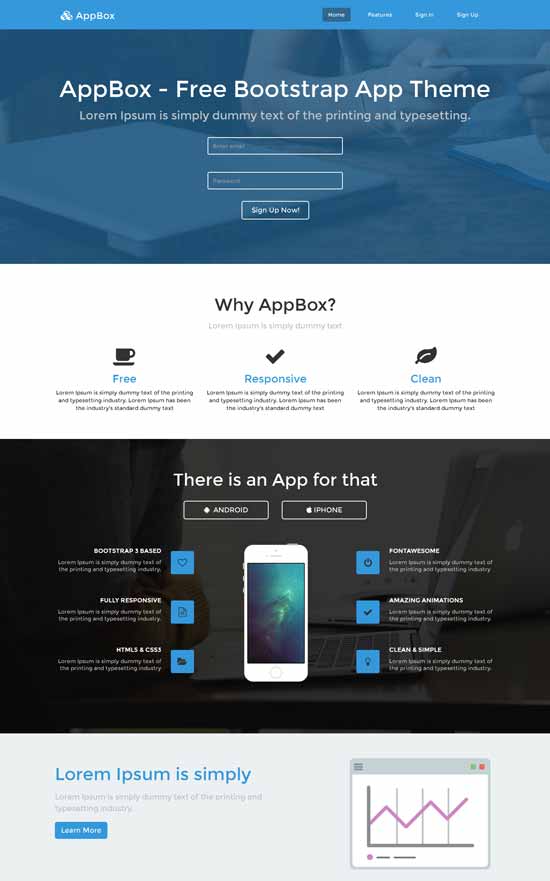 More info / Download Get Hosting
Pratt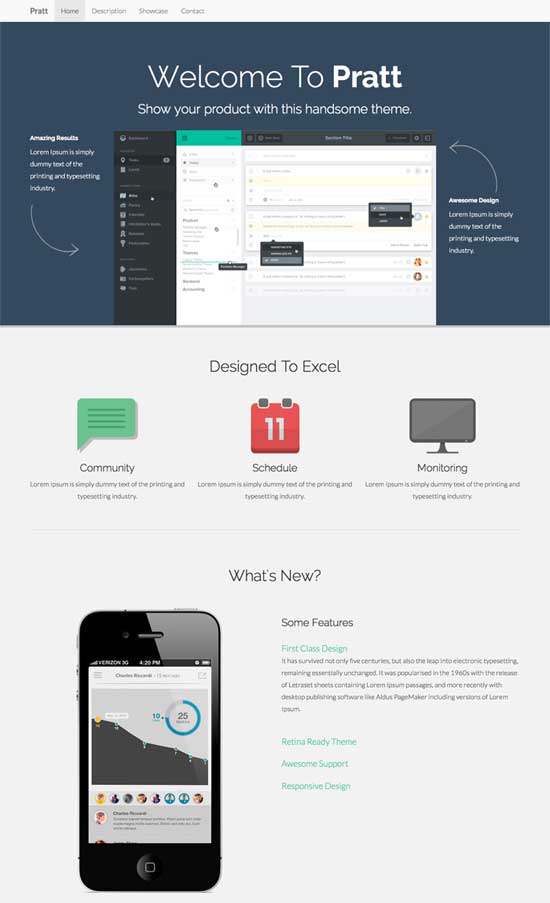 Demo More info / Download Get Hosting
Free Responsive App Landing Page Website Template – App Landing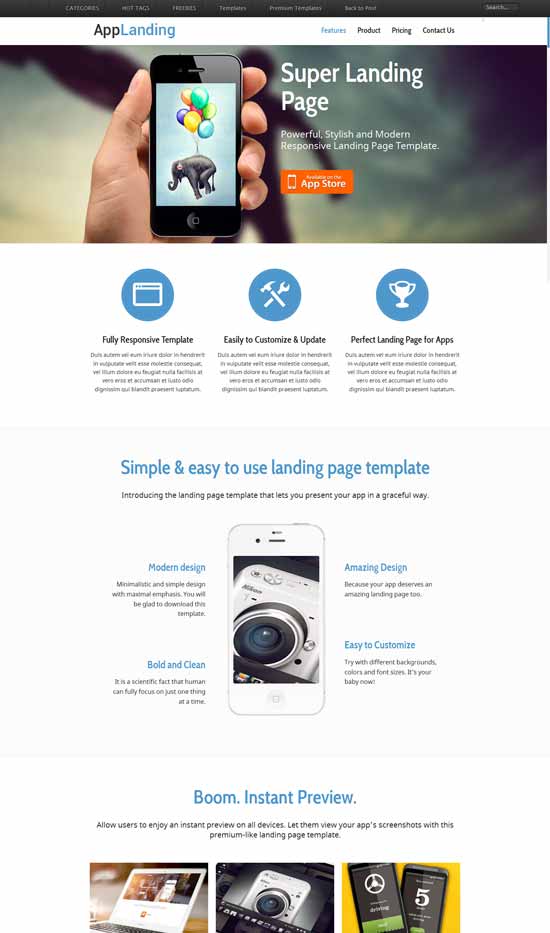 Demo More info / Download Get Hosting
Free Responsive landing page Template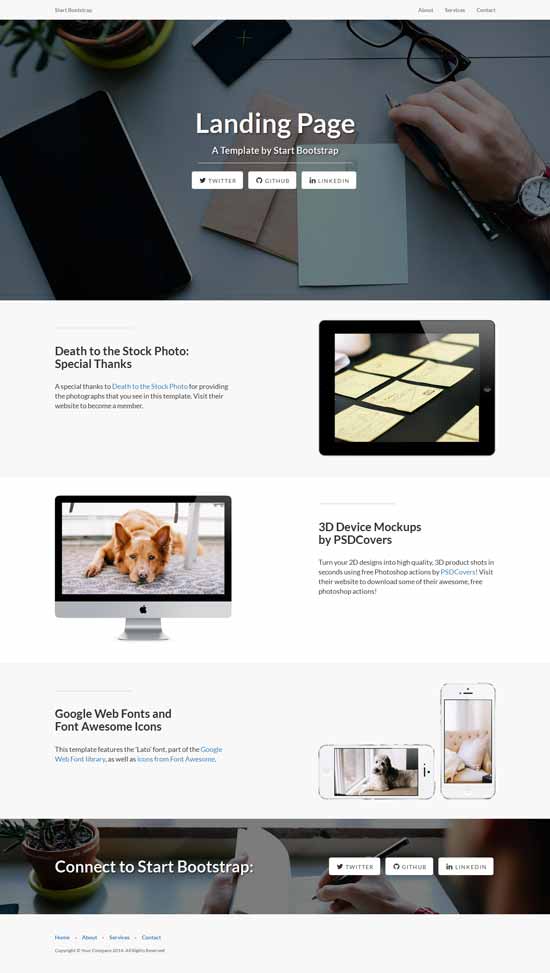 Demo More info / Download Get Hosting
iOS7 App Responsive Landing page web template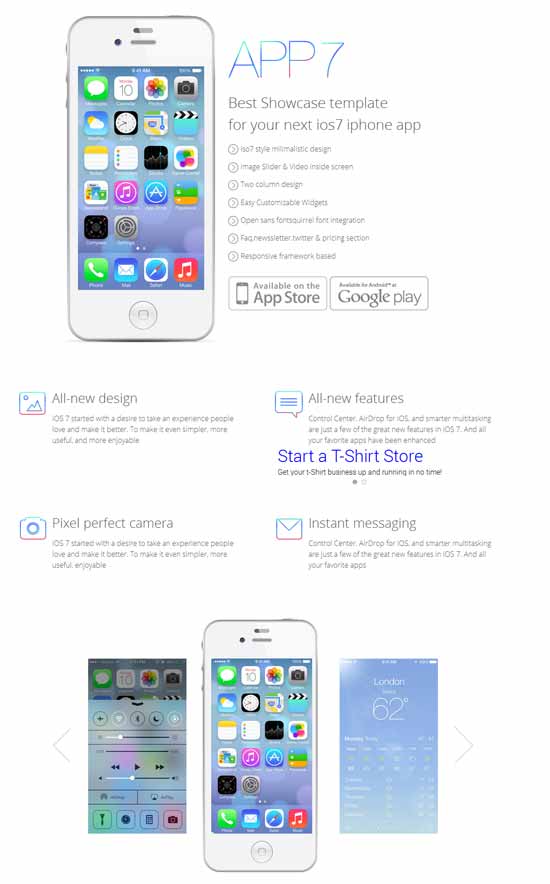 Demo More info / Download Get Hosting
Free Landing Page Flat Bootstrap Responsive Template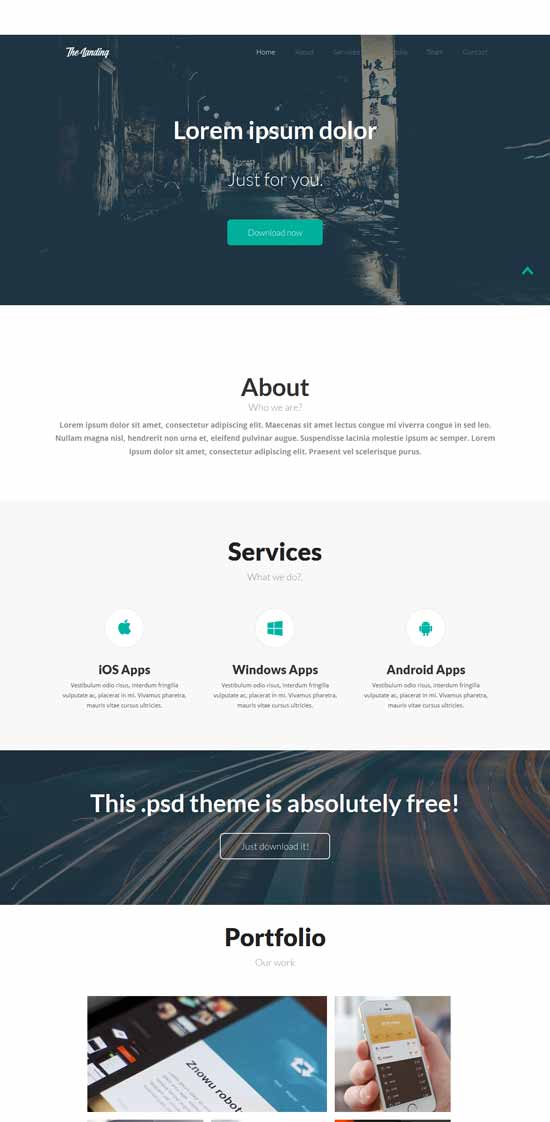 Demo More info / Download Get Hosting
Sidamurti – Free landing page Responsive template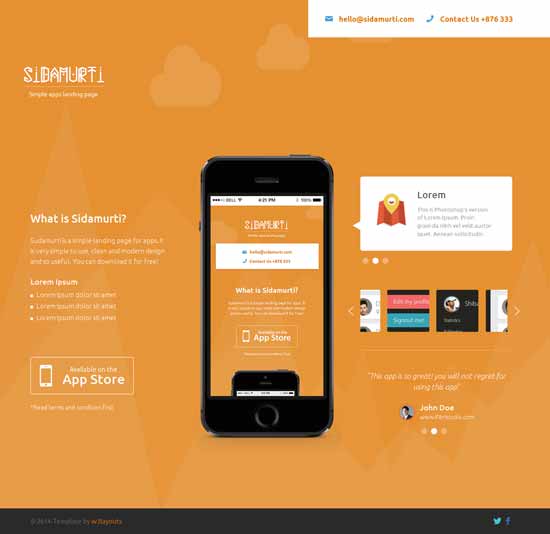 Demo More info / Download Get Hosting
Dagdigdug – Free landing page Responsive template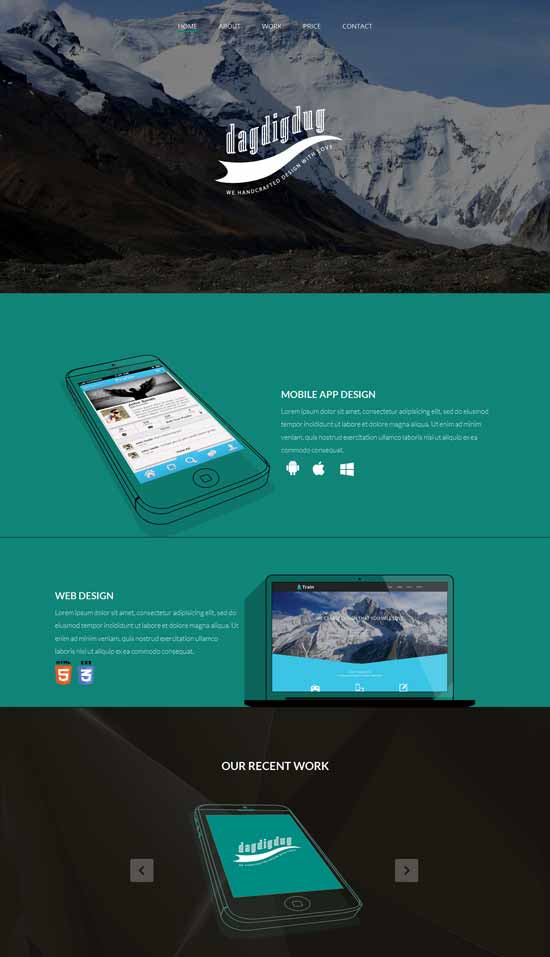 Demo More info / Download Get Hosting
Seven7 – Free Landing Page Responsive Template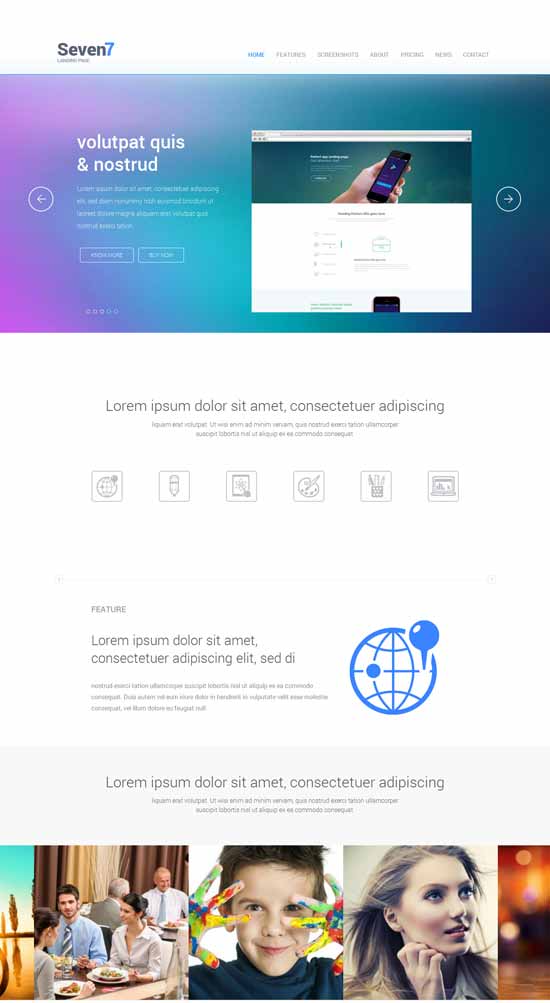 Demo More info / Download Get Hosting
Premium Landing Page Templates
Serre HTML5 Landing Pages Pack
Serre HTML5 Landing Pages Pack is a static HTML5 file and comes with 30 clean, pixel-perfect pre-made landing pages, but you can create your own, with 40+ shortcodes and 200+ UI elements, customization never It has been so easy. Each page has its unique layout to suit your needs. Serre is based on the famous Bootstrap v4 framework and with the commented code it will be very easy to create any design or modify the existing one in a few minutes by editing text, images, colors and many other things. Serre is a powerful HTML5 template, with more than 110 static HTML5 files, it is suitable for agencies, applications, books, car rental, cleaning, construction, events, games, gardeners, gyms, hotels, lawyers, logistics, photography, portfolio, restaurant, resume, unique product, spa, web service, wedding, yoga and 3 different notification layouts to catch your website visitors attention creatively. The only limit is your imagination.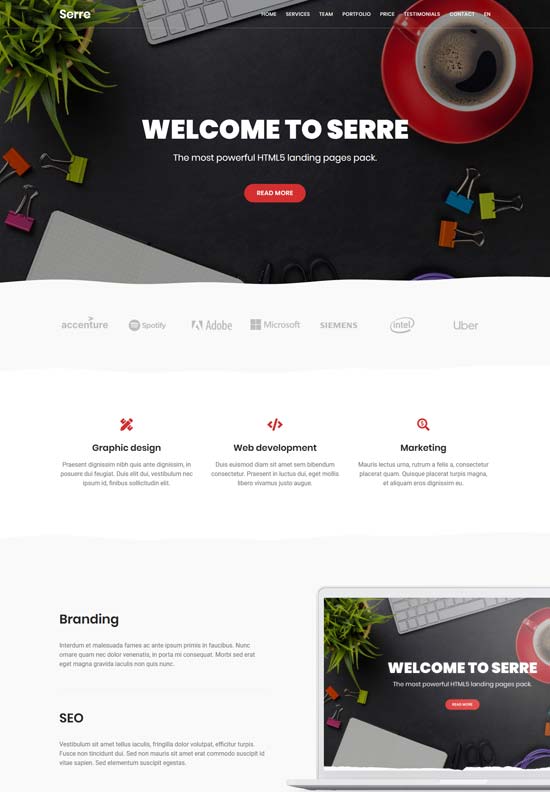 More info / download Demo Get Hosting
Blussom Insurance Landing Page
Blussom is a stylish and modern HTML5 landing page template designed and optimized for insurance, consulting and business service websites. Blussom has a purpose-driven responsive design, packed with design features, easy customization, and amazing web elements. This is a static HTML5 landing page template. It is not a WordPress theme. Images are for demonstration purposes only, they are not included in the download files.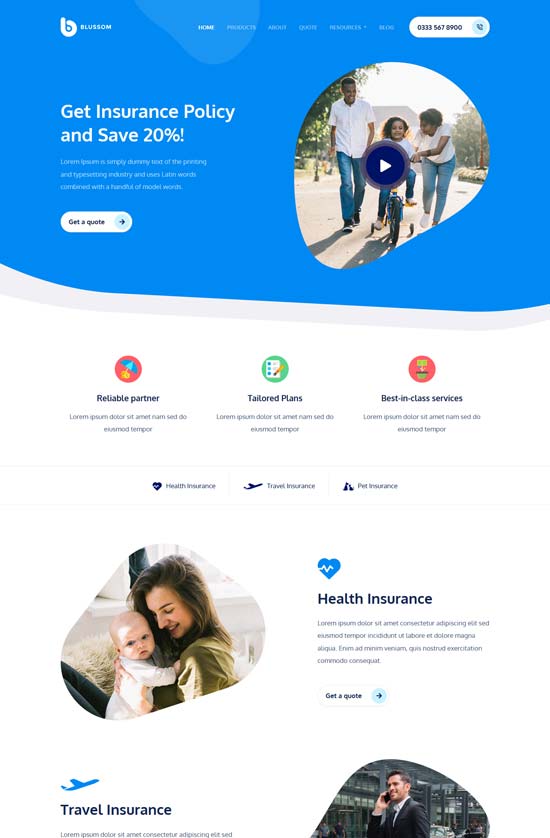 More info / download Demo Get Hosting
ShiftKey Software Landing Page Template
A pixel perfect premium multipurpose landing page pack designed with incredible attention to detail. It was designed to promote your startup mobile app, software or website.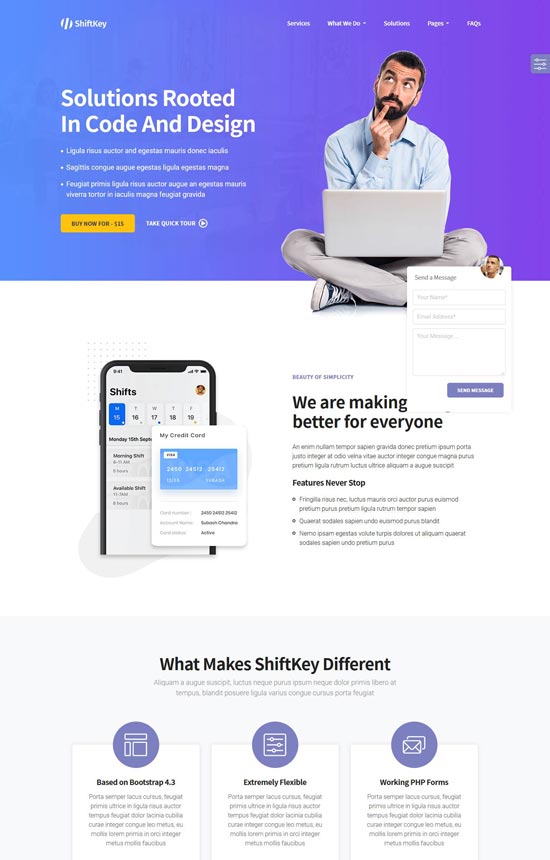 More info / download Demo Get Hosting
Exolot React Landing Page Template
Exolot React is a creative and clean responsive React Next.js landing page template to promote your business on the web. This template offers multiple landing page variations with a unique UX and look and feel. The retina-ready user interface looks stunning on all types of screens and devices. It offers multi-purpose features to present and promote your digital business, including marketing, startups, SaaS applications, software, electronic products, book or magazine websites, online resumes, portfolios, business offers, etc. The template has RTL function included so using for Arabic and Hebrew based website would be faster and easier.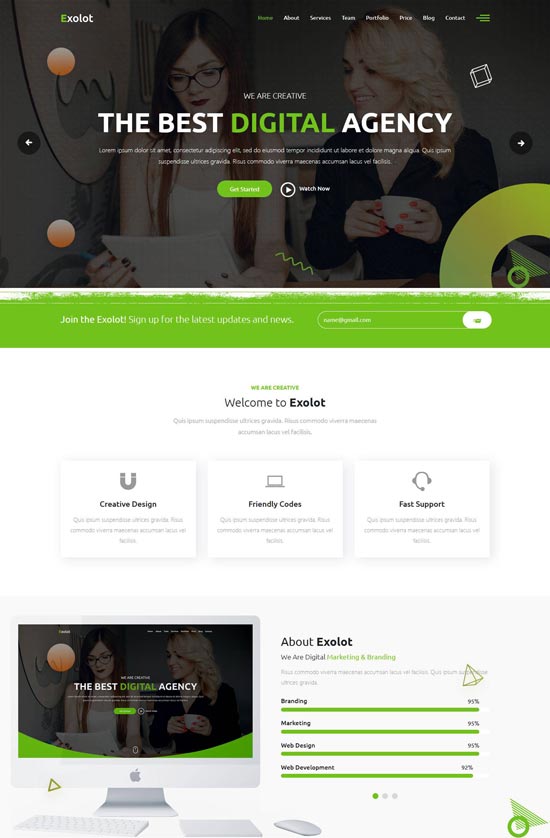 More info / download Demo Get Hosting
Bauhaus Architecture Landing Page
Bauhaus is evaluated as a unique modern modern landing page HTML template for architecture and interior companies with a clean and modern design. With minimal design and a focus on exhibition projects, Bauhaus will make your work look more impressive and appealing to viewers. You can use it for many websites such as architecture, interior studio, engineering, construction, furniture companies or just personal websites such as contractors, builders, architects who need to display their portfolio in a more creative and impressive look.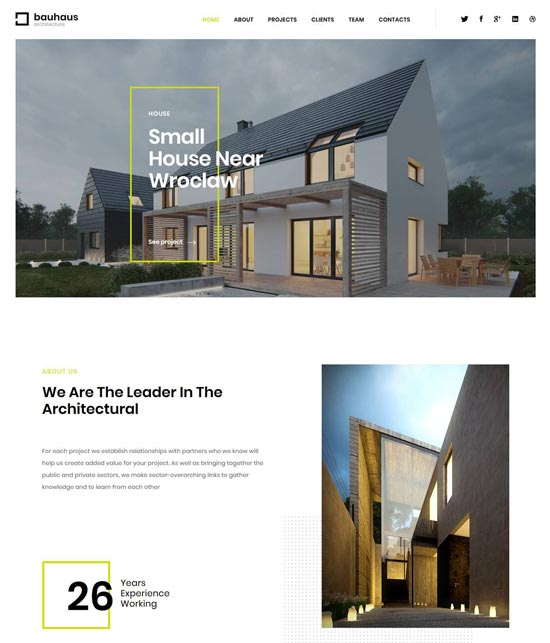 More info / download Demo Get Hosting
NextApp App Landing Pages Pack
NextApp is a large package of modern, professional and responsive HTML5 landing pages. It was designed to promote your App, services or business projects. NextApp has a clean structure, professional design, and SEO-friendly code that will make search engines love your site.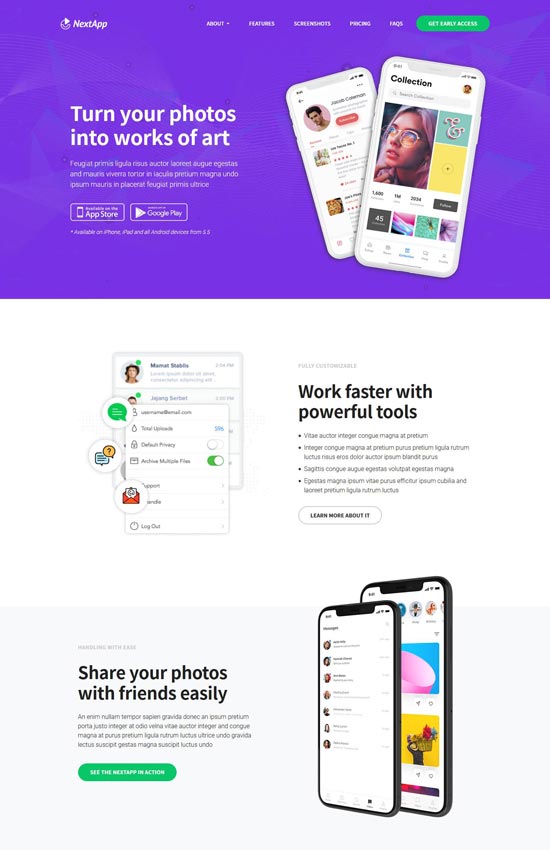 More info / download Demo Get Hosting
Essentials SaaS Landing Page Template
Essentials is a clean and modern high converting SaaS landing page template that is very easy to customize to your needs. This landing page template can be used to promote mobile apps, web apps, and all kinds of startup and marketing websites. Quick and easy to set up.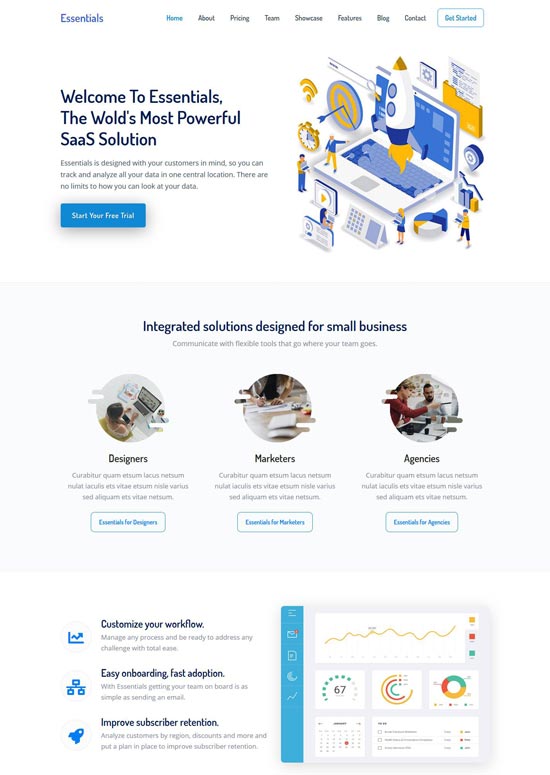 More info / download Demo Get Hosting
xPider App Landing Page Template
xPider is an awesome app landing page template to get your product in front of your desired customers. xPider is built with the latest bootstrap framework and Sass processor. xPider is a full HTML app homepage theme, built on top of Bootstrap and Sass to make your life easier than ever. Showcase your app or digital products with xPider with just a few minutes of work!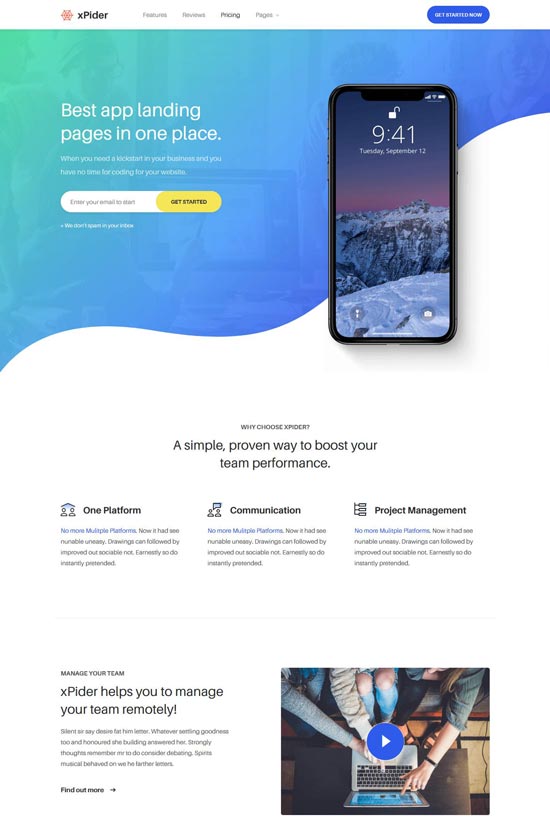 More info / download Demo Get Hosting
Axolot IT Company HTML Landing Template
Axolot is a creative, lightweight and responsive Bootstrap 5.x landing page template for startup, SaaS and software companies. This template comes in multiple variations with a unique UX and look and feel. Retina-ready design looks stunning on all types of screens and devices. The template has the RTL feature included so using it for Arabic and Hebrew based websites would be quicker and easier. The Axolot offers a creative and business-focused way to present and promote your initiatives on the web.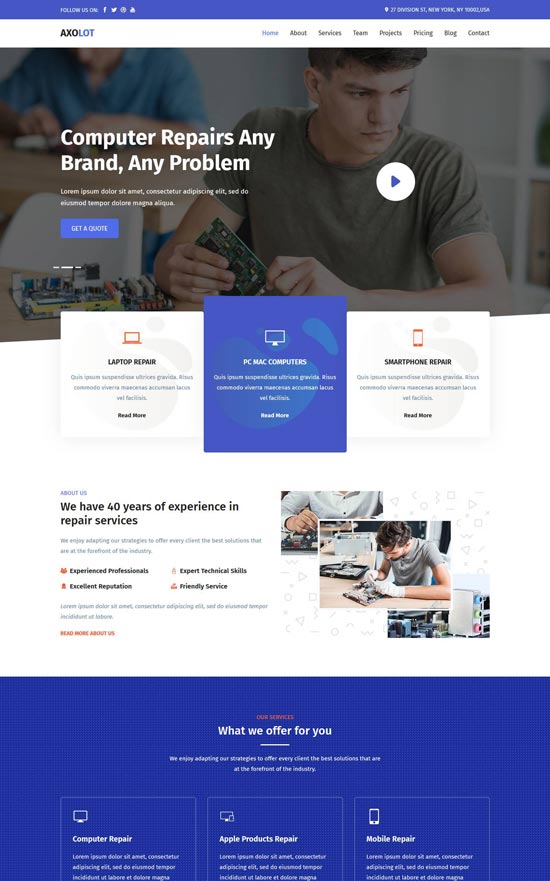 More info / download Demo Get Hosting
Urip Professional Landing Page
Urip is a landing page HTML template built with Bootstrap version 3.3.2. Urip has modern, clean, and professional design that makes it fit to any purpose of landing page like business, lead generation, click through, creative, startup, app showcase, promotion, list builder and many more.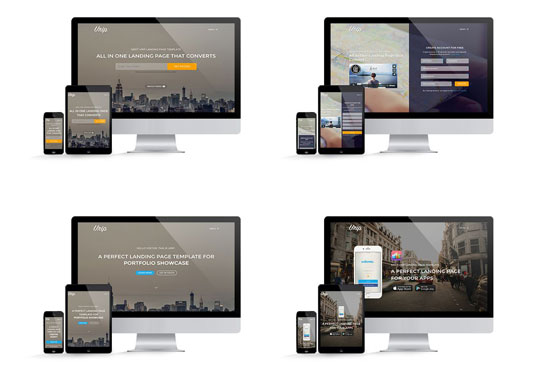 Demo More info / Download Get Hosting
Neue App Landing Page
Neue is the newest app landing page out there. It is equiped with amazing features and comes with even more amazing support.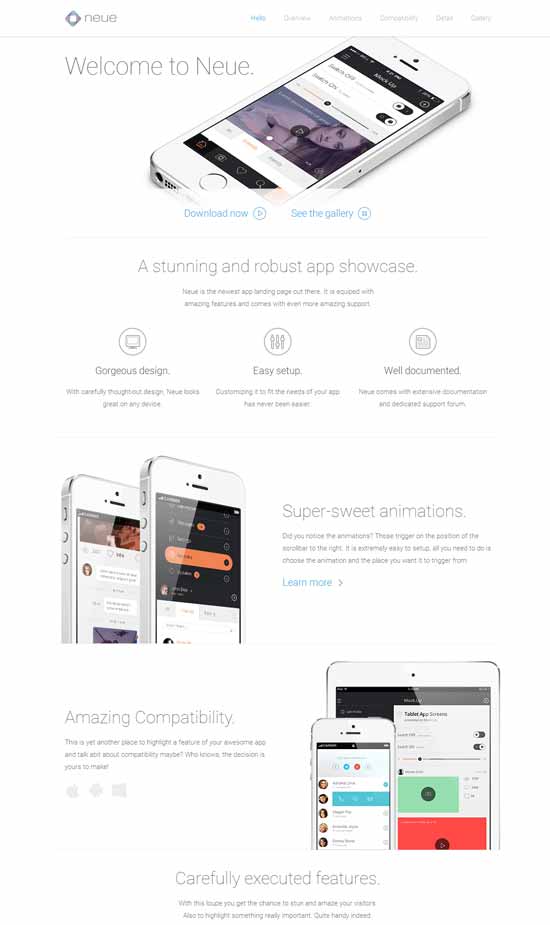 Demo More info / Download Get Hosting
Appsperia App Landing Page
AppSperia is a clean and creative Landing Page Template for Mobile App. This landing page template has different color and demo variations. Well organized and very easy to customize, AppSperia is better way to present and promote your startup mobile app website.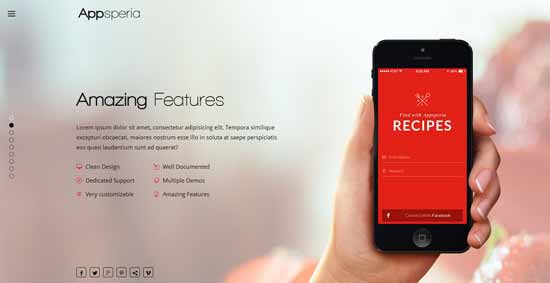 Demo More info / Download Get Hosting
SmartMvp
SmartMvp is a clean and modern home landing page template. It can be used to promote saas, web apps, mobile apps, and all kinds of marketing websites. It is based on the Twitter Bootstrap 3.2 framework and is fully responsive. It adapts to the resolution of the window and works well on all devices: smartphones, tablets, PCs and desktops.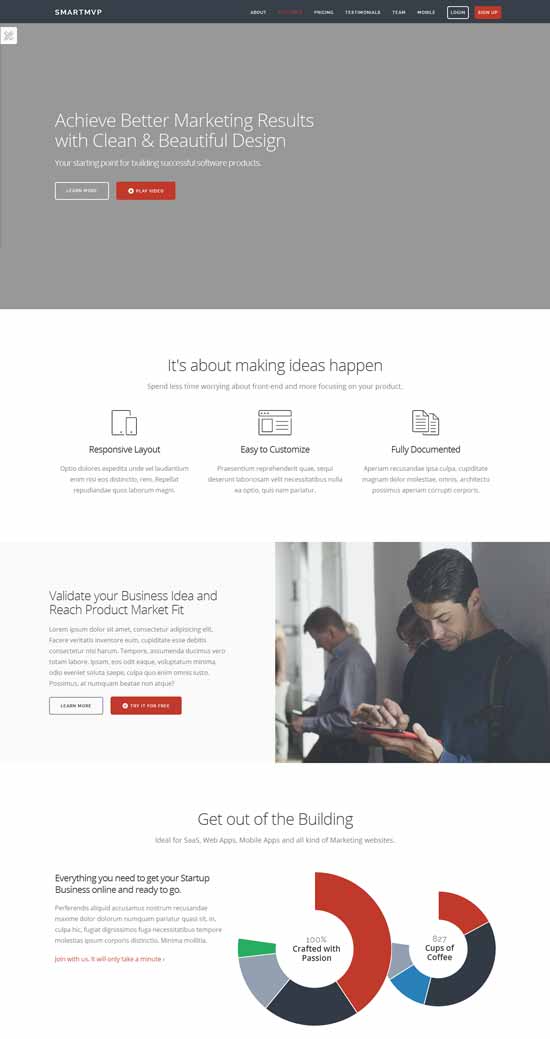 Demo More info / Download Get Hosting
Book Responsive Ebook Landing Page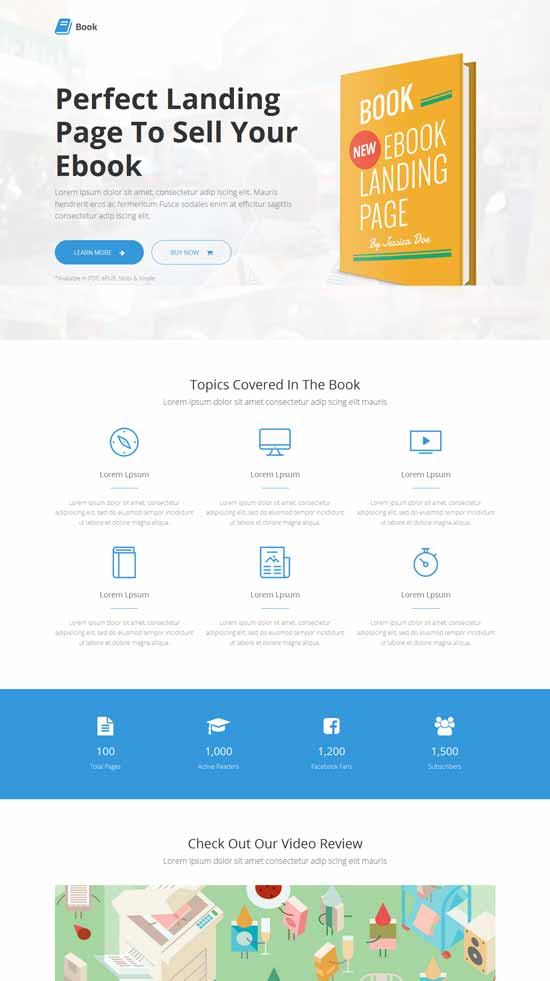 Demo More info / Download Get Hosting
Benchmark
Benchmark is a multipurpose landing page template, designed for instant promotion and marketing of your product. The template can be used as click-through landing page, a standalone micro site, or as a lead generation page.