There are many free WordPress themes available online, but not all of them are created equal. Some are better designed and more user-friendly than others. Landing pages are a crucial part of any website, and you want to make sure yours is up to par.
That's why we've compiled a list of the best free landing page WordPress themes for you to choose from. These themes are all high-quality and perfect for creating a professional landing page. So take a look and see which one is right for you.
Related Article
VW Landing Page
VW Landing Page is a WordPress theme for landing pages that is clean, modern, well-designed, and looks good. Its flexible layout makes it good for a wide range of websites and businesses, such as digital marketing agencies, web design agencies, corporate companies, consulting firms, authors, athletes, medical professionals, cafes, spas, equipment bands, real estate agencies, parallax hotels, and product launch videos. It can also be used to start selling, promoting, or publishing products online.
This landing page theme is fully responsive, which means it will load correctly on any device, like a mobile phone, tablet, laptop, or desktop computer. It also has SEO built in, which will give it a higher search rank. It can be linked to social networks, which will make it easier to talk to people, and it can be used with a number of browsers and in more than one language.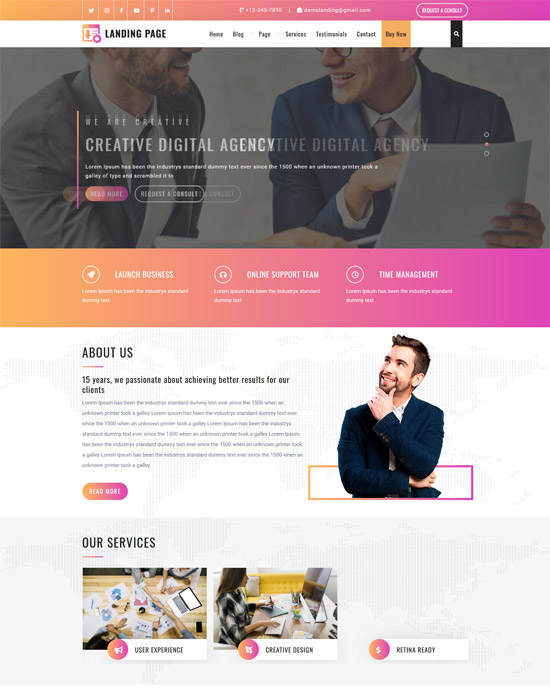 More info / download Demo
Builders Landing Page
The Builders Landing Page child theme was made from the free WordPress theme Construction Landing, which is the parent theme. With this theme, you don't have to write a single line of code to make a professional website for a construction company that works on all devices. To do this, you can make a lead that creates a website.
With the Builders Landing Page theme, you can make a website that is focused on conversions for other construction-related businesses, like architects, interior design services, plumbers, movers and packers, landscapers, and other creative agencies. You can make a website for any of these businesses with this theme.
You don't need any experience or technical skills to build a fully functional website with this theme. It comes with both advanced and easy-to-use options and features. The beautiful and appealing design of this theme will keep people interested in your website and make it more likely that they will buy from you.
Author Landing Page
The parent theme is the free Book Landing Page WordPress theme, and the Author Landing Page WordPress theme is a child theme. Because this theme has a landing page with a high conversion rate, you will be able to get people interested in your book and make more sales.
When you use this theme, you won't have to write a single line of code to make a landing page for your book launch that works well on mobile devices and looks like it was made by a professional.
Since this theme works well with the popular WooCommerce plugin, you will also be able to sell your books through your website. Because of this, you'll be able to sell your books online.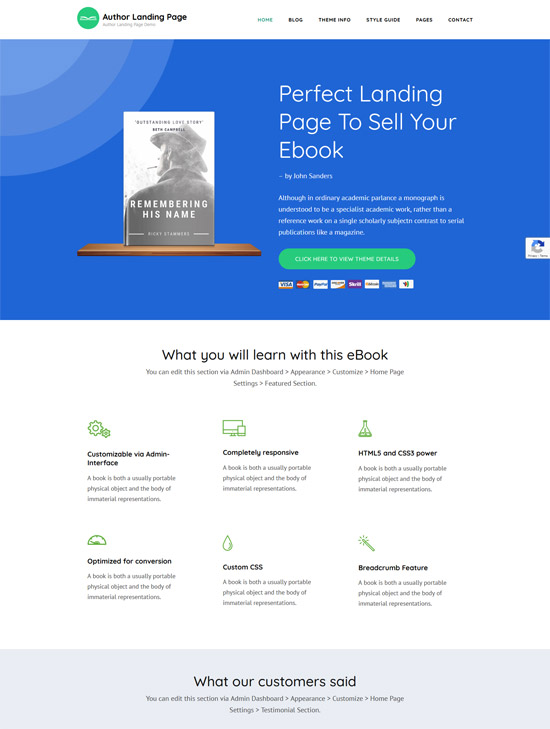 More info / download Demo
App Landing Page
The WordPress theme that was used for the app's landing page was made by a company called Rara Theme. It will help you show off your most recent application in a way that is both creative and attractive, with your help.
This theme has a lot of features that will make your audience happy, like screenshots of the app, a video demo, and links to download the theme from the Apple Store and the Google Store, respectively.
The theme has been made better for use on mobile devices and is now ready to be translated into other languages.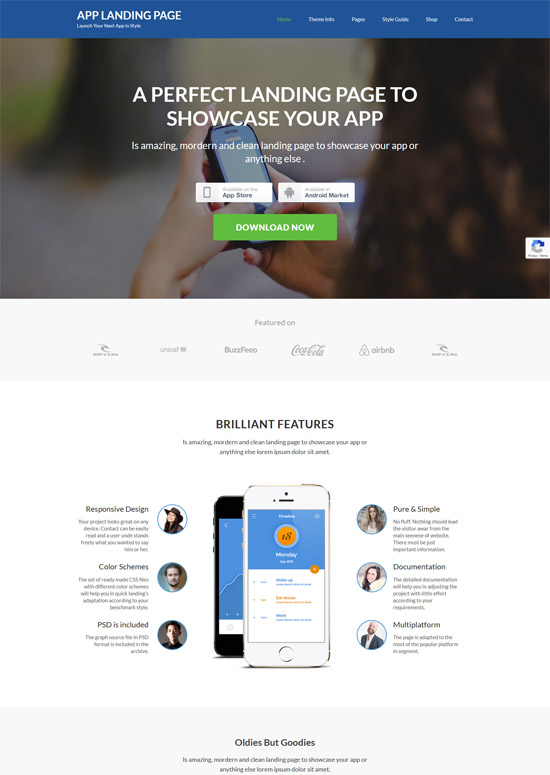 More info / download Demo
Lawyer Landing Page
Lawyer Landing Page is a WordPress theme that is classy, professional, and well-built. It is made for lawyers, law firms, and websites with legal content. The theme can be used by a wide range of businesses, corporations, and freelancers because it is very flexible and easy to use.
The Lawyer Landing Page has a number of features that work together to make a website that is easy to use, fun to interact with, and looks good. These features include a personalized menu, an eye-catching banner with a contact form, an About section, a Service section, a Testimonials section, a Team section, and social network integration.
The theme has been thoroughly tested, and it has been cleaned up and improved so that it loads pages faster and works more quickly overall. The idea behind it is also ready to be translated.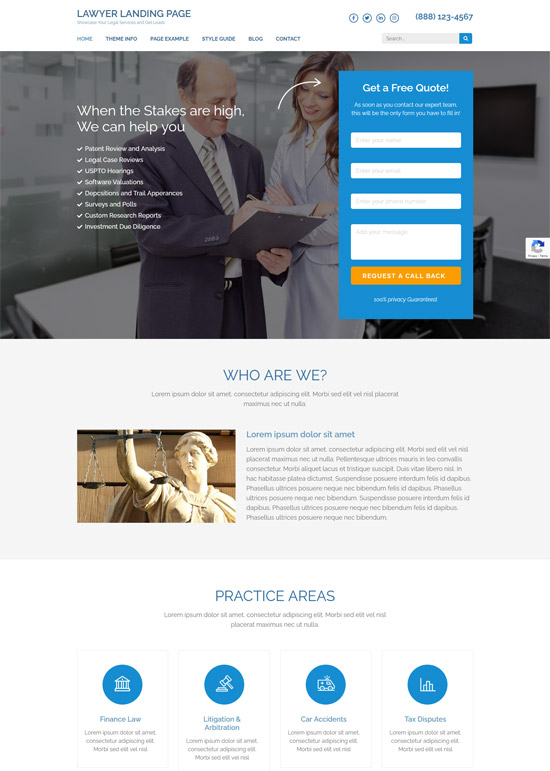 More info / download Demo
Construction Landing Page
If you run a construction company or business, you can download Construction Landing Page, a free WordPress theme. The theme was made for your industry in particular. Companies in the building and construction industry, interior design, architecture, plumbing, moving and packing, landscaping, and any other business related to building or construction would benefit greatly from using this theme.
This free website template has a pull-out contact form that is a great way to get more emails from people who want to get in touch. This theme is perfect for both big and small businesses that want to build a landing page that is good at getting leads and keeping those leads. The flexibility of this theme makes it a great choice for these kinds of businesses.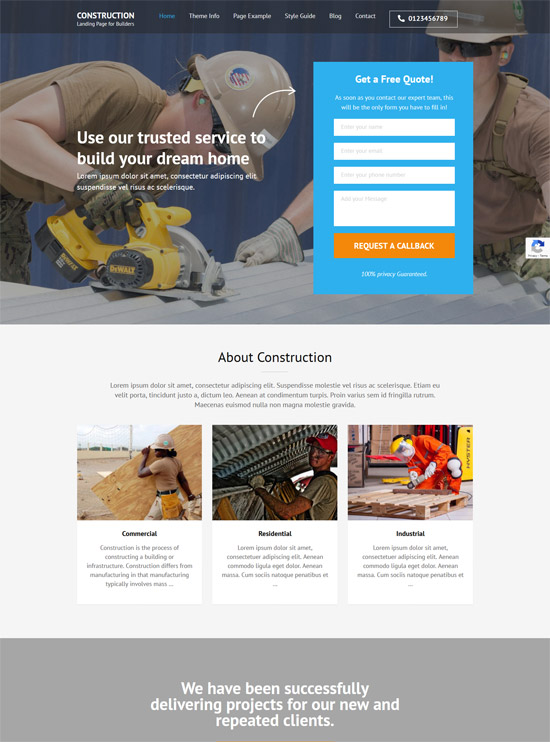 More info / download Demo
Book Landing Page
You can make a landing page for your book with the free Book Landing Page WordPress theme. This is where you can get it. The homepage has been completely redesigned with the goal of getting more potential customers and selling more books overall. The user doesn't need to know anything about coding in order to use the theme in any way, shape, or form.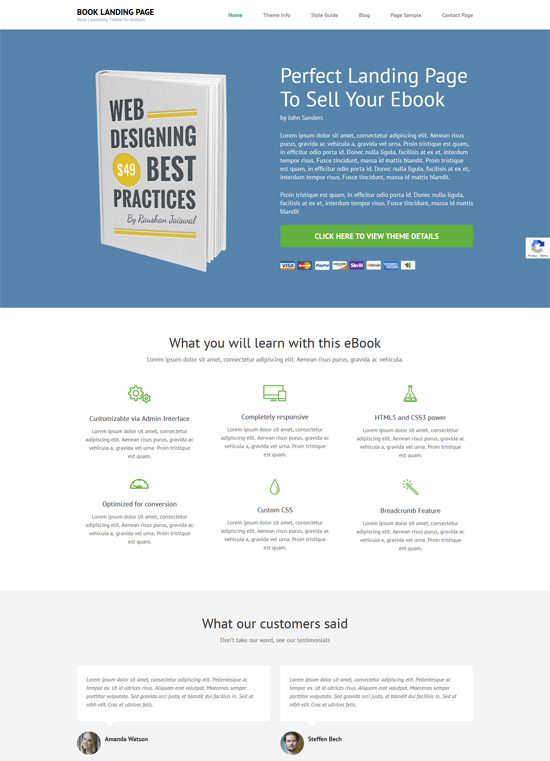 More info / download Demo
Marketing Agency
The Marketing Agency theme is a high-quality product that was carefully made by professionals to help you make a sophisticated website for your digital marketing agency. This free theme has a sleek, minimal design that puts the focus on your main content.
It can be used to make featured websites for SEO and advertising agencies or any kind of online marketing business, such as cooperatives, advertising, digital market, e-books, music, tutorials, videos, code snippets, resume, corporate agency, portfolio, startups, companies consulting, online marketing., web marketing.
Because there are so many customization options, you can change the look of your website and give it a personal touch in any way you want. Social media options are built into the platform, and you can use them to show off all of your marketing skills and give your company a boost in the process. Its architecture is set up for the retina, which lets images that are projected onto them show up clearly.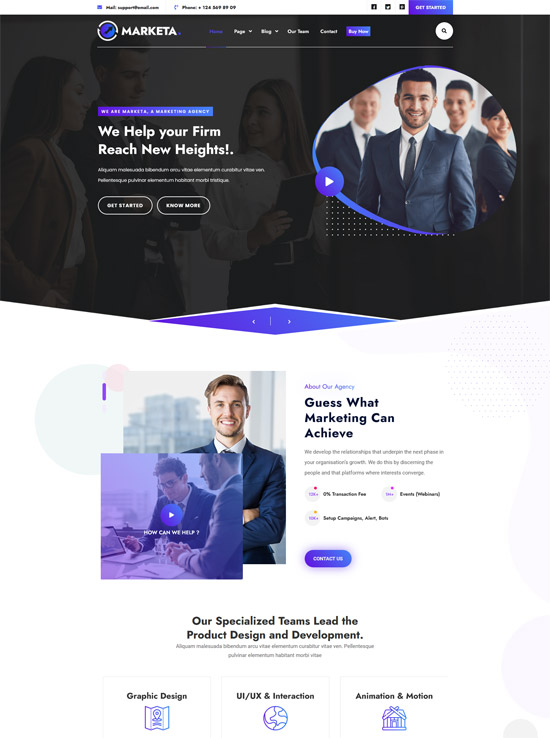 More info / download Demo
Batpa
Batpa is an enterprise-grade and flexible WordPress theme. Choose this WordPress theme if you want to make websites that look perfect to the last pixel. It is fast, stylish, and easy to change.
It is perfect for businesses, agencies, consulting firms, digital agencies, creatives, companies, construction companies, corporate marketing departments, finance departments, marketing departments, multipurpose websites, portfolio websites, sports websites, software websites, startup websites, restaurants, cafes, food menus, hotels, pizzas, booking websites, online event conferences, zoom meetings, news and magazine websites. You don't need to know how to code to design a great website that can completely change your business.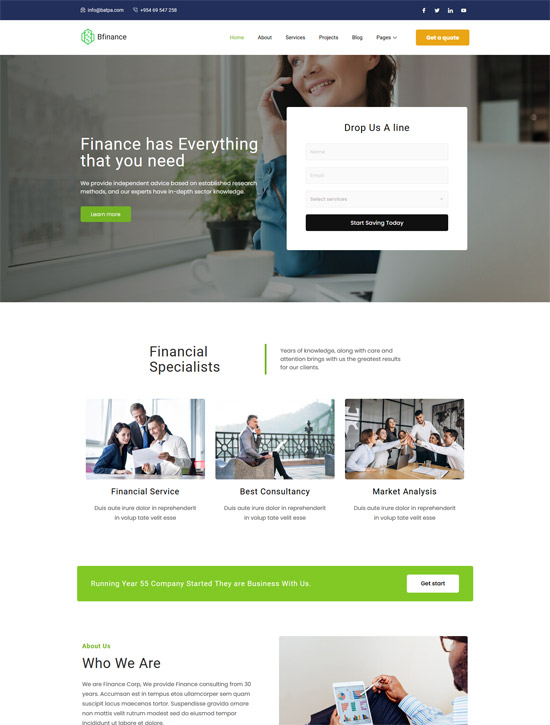 More info / download Demo
Digital Marketing Lite
The Digital Marketing Lite theme was made with the professional, advertising, IT, startup, firm, enterprise, and consulting sectors of the digital marketplace in mind. Among these areas are: It is now being sold at prices that make it possible for a wide range of people to buy it on the global online market.
It's a great choice for both digital agencies and freelancers, and it has a number of unique and trendy features. Digital Marketing Lite is a great option among many others. Some of these qualities are the item's ability to be used in different ways, its understated elegance, and its small size.
Other features include the ability to respond to user input, support for displays with a retina resolution, support for translation, support for mobile devices, support for Bootstrap, options for customization, and clean code, among many others. One other feature is the ability to respond to what the user types in.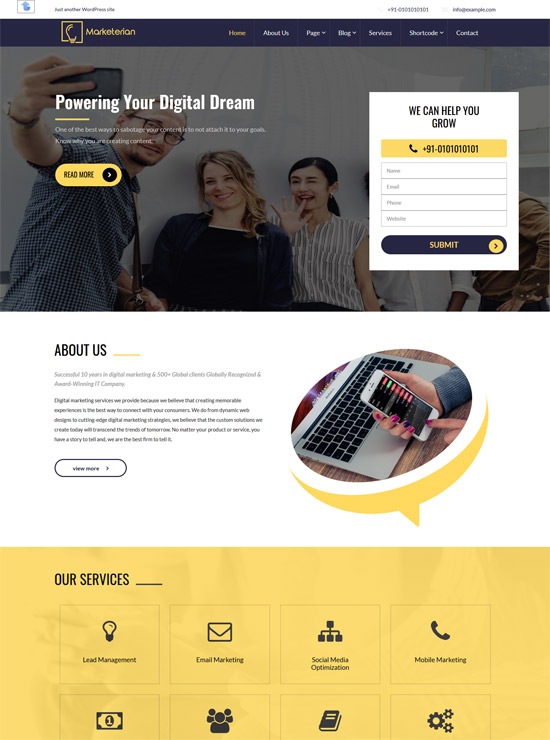 More info / download Demo