Music is an important part of everyone's life. It can make you feel happy, sad, or even help you focus. That's why we've created the perfect music website templates for any mood or occasion. In this blog post, we'll show you the best music website templates that will help you get started!
Our selection of music website templates is second to none, and we're sure you'll find the perfect web design template for your needs. Whether you're a musician, artists musicians, a record label, or a music fan, we've got the perfect template for you.
Related Article
Munote Podcast
Munote is a contemporary HTML template based on music and audio podcasts. It offers three trial versions. It is an excellent option for musicians, artists, concerts, club bands, podcasts, and anyone else in the music industry.
Munote is an excellent HTML template that may be utilized in a variety of ways. This HTML is compatible with all types of devices. Munote includes many distinguishing characteristics, including albums, a showcase, and a unique media player.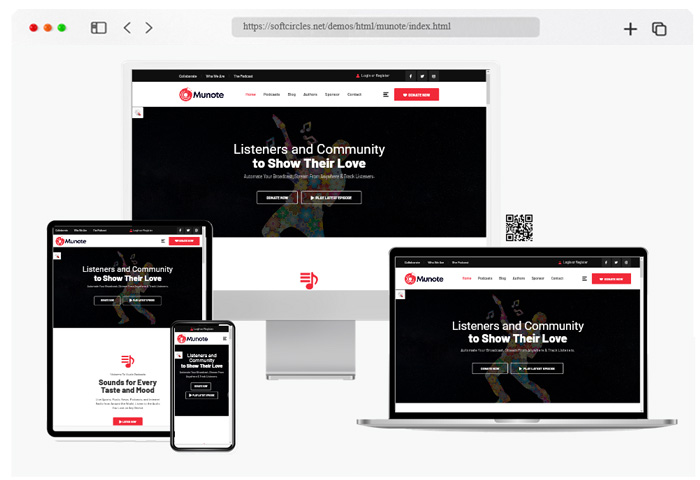 More info / download Demo
Rockfest
Rockfest is a responsive, well-designed, and pixel-perfect template for music-related events, including concerts, festivals, nightclubs, and more. Rockfest includes a variety of styles and elements to help you create a beautiful and contemporary website quickly. The Rockfest website is developed using cutting-edge technology such as HTML5, CSS3, jQuery, Bootstrap, CSS3 Animation, and more.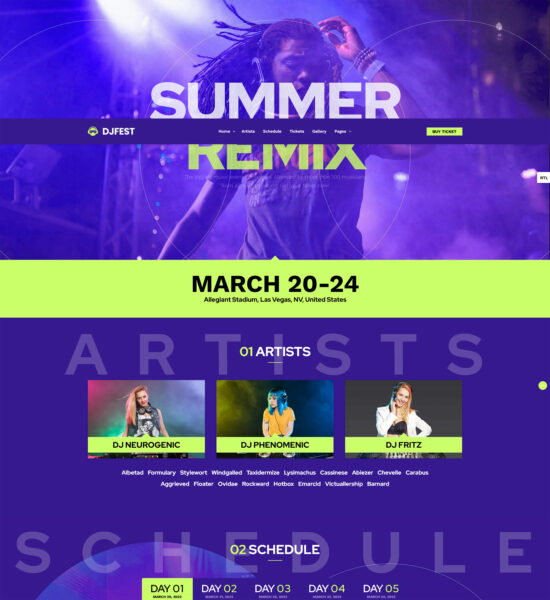 More info / download Demo
Musize
MUSIZE is a template for music bands, professional deejays, vocalists, and any artist associated with the music industry that wants to show the world his ability and sounds.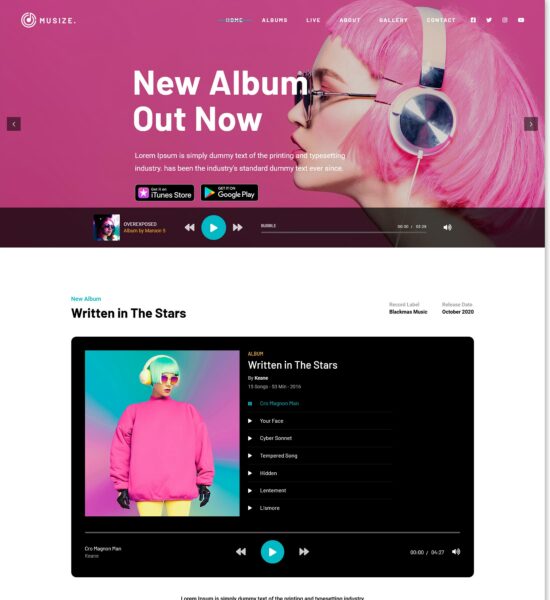 More info / download Demo
Remix DJ
Remix is an HTML5 and CSS3 Music & Band template. It is modern and imaginative With 660 retina icons, a website is retina-ready, grids framework grid system, Versions in both light and dark, infinite color palette, 5 blog pages, and 3 CSS3 galleries, CSS3 nice portfolio, 57 HTML5 file present.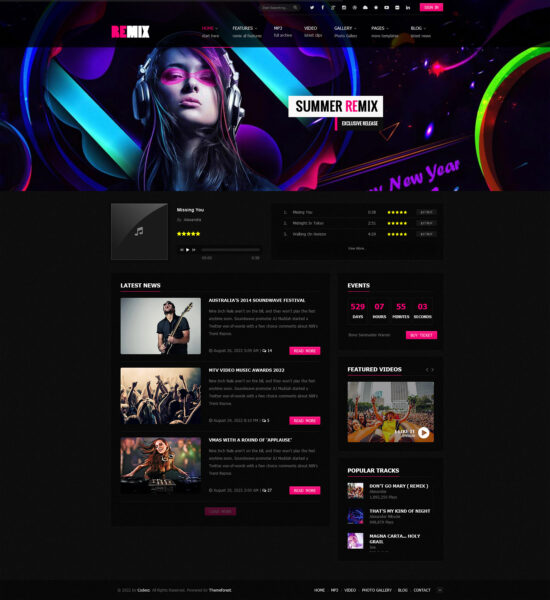 More info / download Demo
Volna
Volna is a responsive and trendy HTML template. It has a creative layout, an audio player, and numerous pages for a music website. It is appropriate for online music, record labels, streaming music, internet radio, music blogs, and recording studios.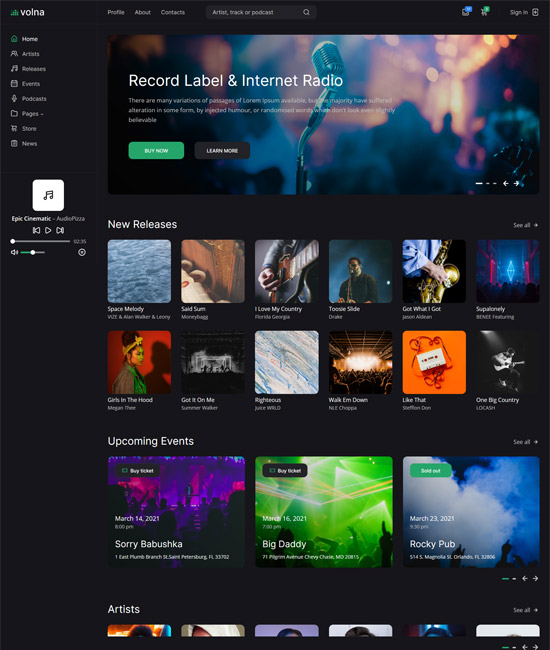 More info / download Demo
Ushno
Ushno is an outstanding online FM Radio Station HTML Template or MP3 Stream Player Website. It will be an excellent option for an FM Radio, MP3 Stream, Music Player, and Video Player, and it will be compatible with any web-based FM Radio Station and Public MP3 Stream.
More info / download Demo
Bandico
A HTML5 music and band template provides a robust collection of capabilities for constructing a unique website. If you intend to create a high-quality website for your music group, you will require a well-developed website.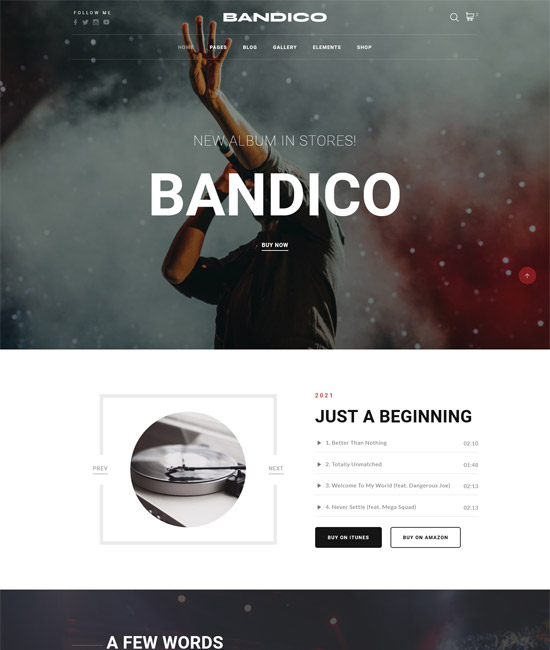 More info / download Demo
Symphonius
The Symphonius HTML template is a simple, one-page design that you can download whenever you want. This HTML template could be used by musicians, entertainers, creative organizations, or creative people to make a personal website.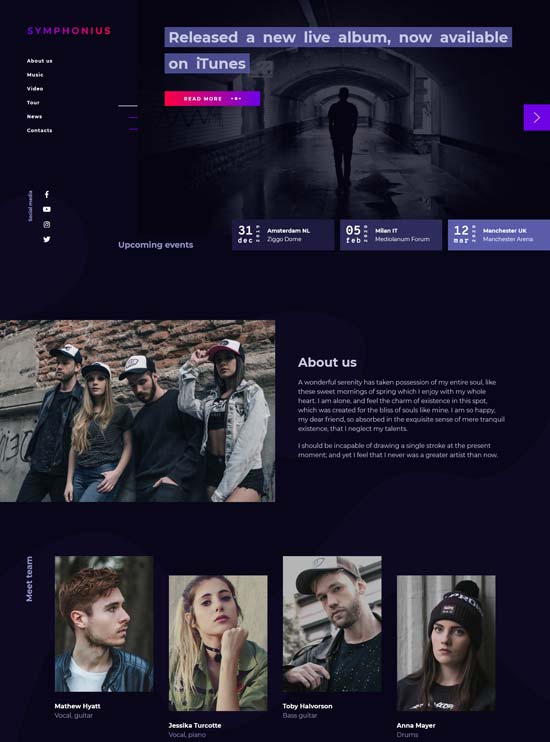 More info / download Demo
Tunein
Tunein Music Store HTML Template is appropriate for websites pertaining to modern internet radio, radio station companies, music bands, trendy DJs, attractive singers, artist bureaus, cultural events agencies, and entertainment companies.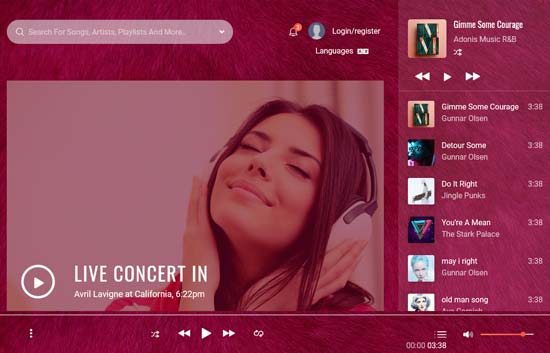 More info / download Demo
Voyceo Recording
oyceo is a high-quality HTML template. It is retina-ready, fully responsive, and mobile device compatible. This item is intended for recording studios, sound studios, musicians, singers, vocalists, DJs, and music bands, among others.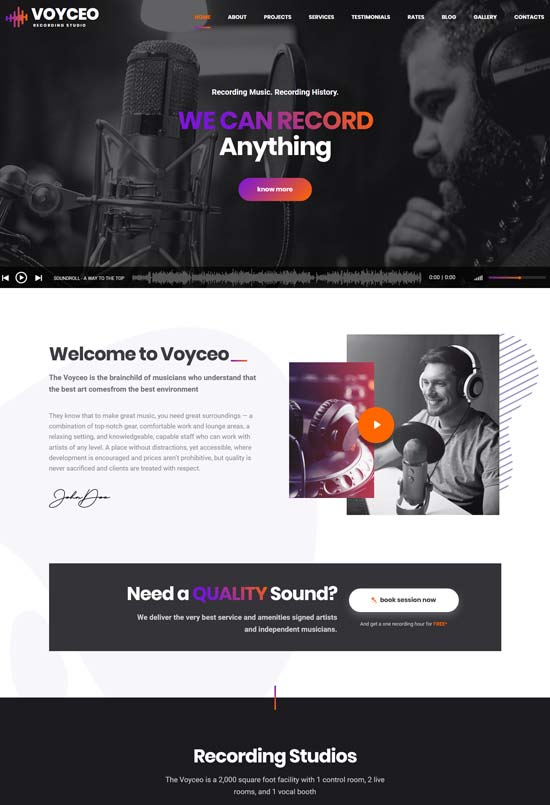 More info / download Demo
Rekord
Record is a bootstrap-based HTML template. Suitable for vocalist bands and event managers. It has a modern, flat appearance with numerous skins and line icons.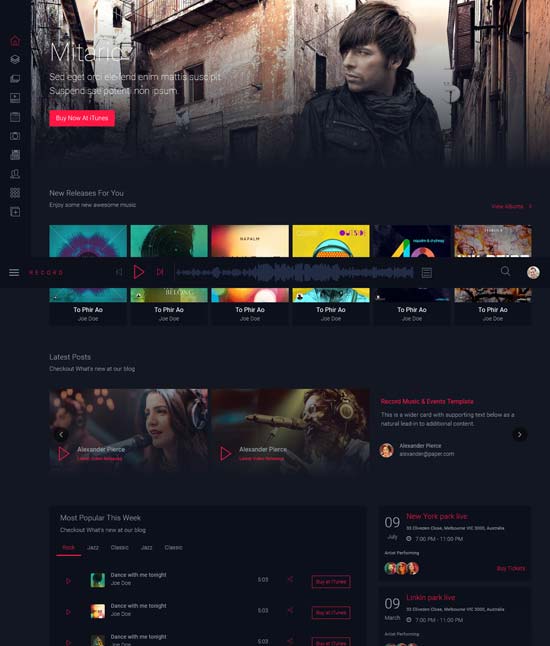 More info / download Demo
Bepop
Bepop is an HTML template for musicians, record labels, and bands. It contains categories, charts, and artist pages with a continuous music player, making it ideal for a music website or audio platform.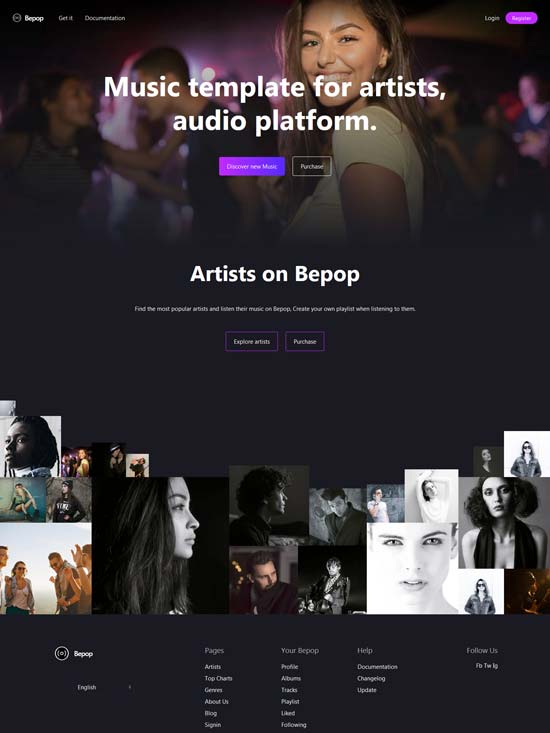 More info / download Demo
Listen Streaming
Listen App is a web-based music streaming application that utilizes Bootstrap, SASS, HTML, and jQuery components. It is a modern, clean, and straightforward HTML template that is appropriate for Music Business and Online Music Streaming Apps.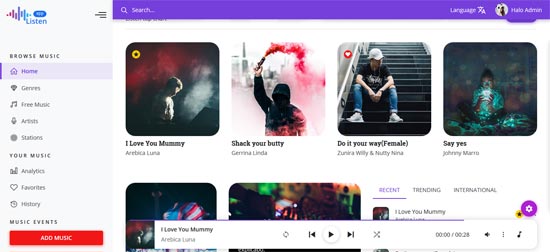 More info / download Demo
Miraculous
Miraculous Online Music Store is a clean, responsive HTML template designed for online music streaming or the music company.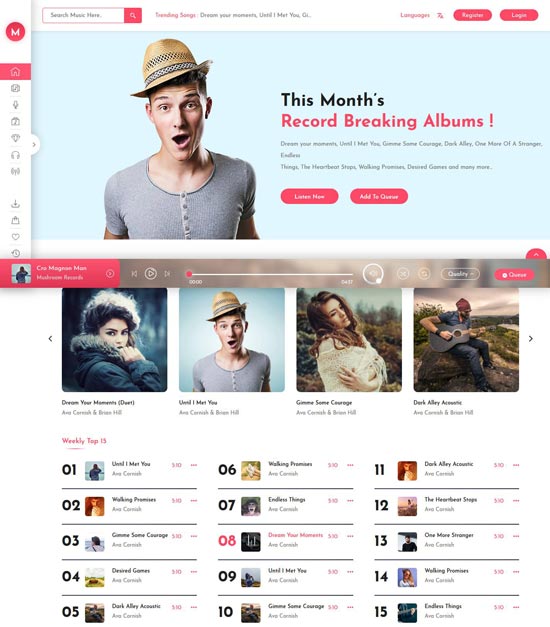 Demo More info / download
Adonis Community
This template features six alternative player layouts. This player will play music concurrently and uninterruptedly while you navigate pages. Users will like animated elements during loading, viewport, and Ajax-powered loading.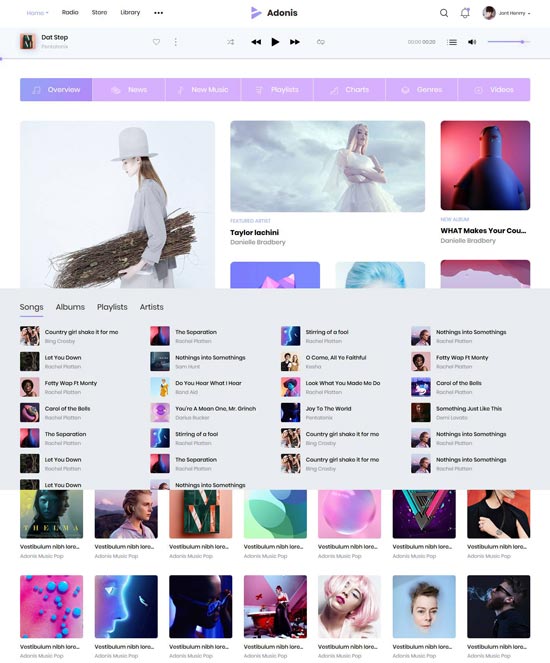 Demo More info / download
Blast
Blast is a responsive HTML record label, music streaming, and recording studio template. It has a creative layout, an audio player, and numerous pages for a music website. The organization of the components facilitates easy customization.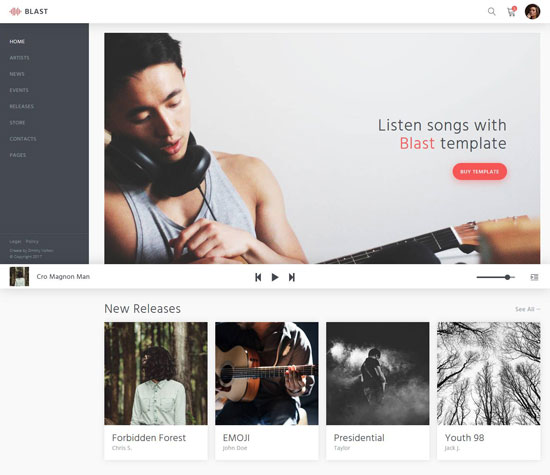 Demo More info / download
Musician
Musician is a music website template suitable for band websites, artist websites, blog websites, and store websites. If you are a DJ, a music band, a musician, or a music blogger, this music website template is for you.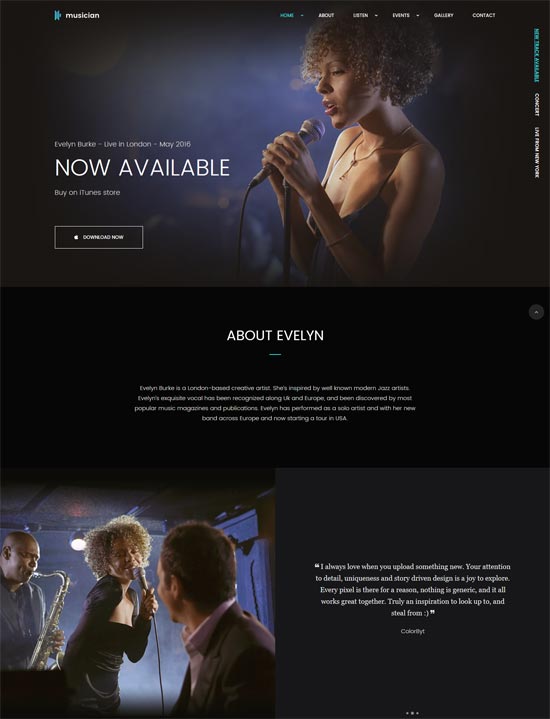 More info / download Demo
ON AIR 2
This HTML template is ideal for a Radio Station website, as it has a functional MP3 Stream Radio Player that is compatible with any web radio with a publicly accessible mp3 stream.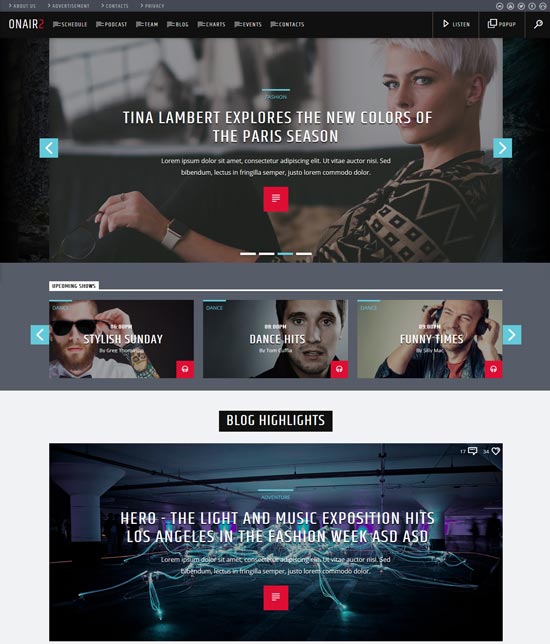 More info / download Demo
SONIK
Using the new Sonik HTML One Page template, you can create an effective and impressive music website for any DJ, Producer, or band.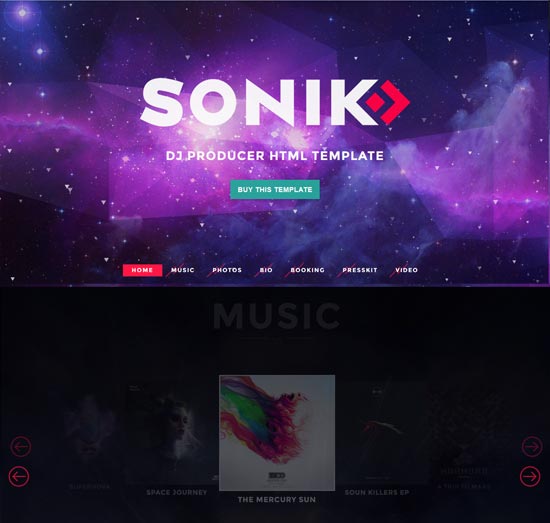 More info / download Demo
Playbit
Playbit is a responsive and professionally designed website template that is ideal for use in the music industry. Playbit is appropriate for musical ensembles, DJs, musicians, music producers, musical events, and any other musical festivals.
More info / download Demo
pulse
It is simple to use and modify. This template includes light, gray, dark, and black themes, as well as a website template, an application template, and a landing page.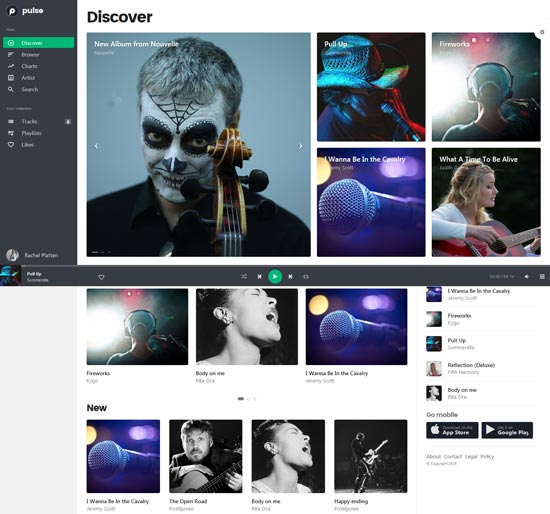 More info / download Demo
Muziq
Muziq is a template that may be used by music bands, professional deejays, singers, and any other artist in the music industry that wishes to showcase his ability and sounds to the world.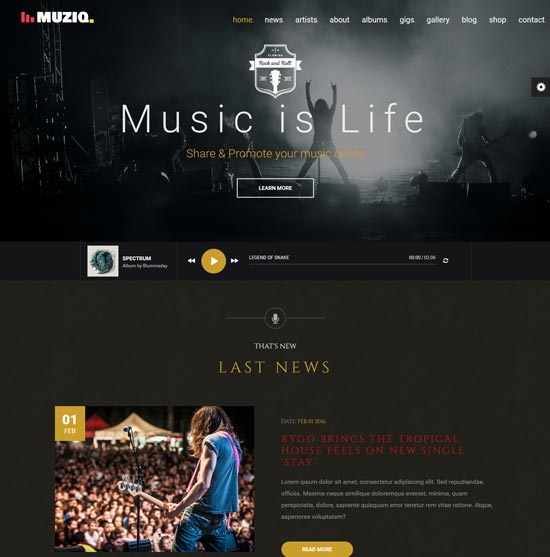 More info / download Demo
AQURA
AQURA is an appealing and user-friendly parallax HTML theme for musicians and DJs that enables you to tell your tale in a dynamic, narrative, and engaging manner.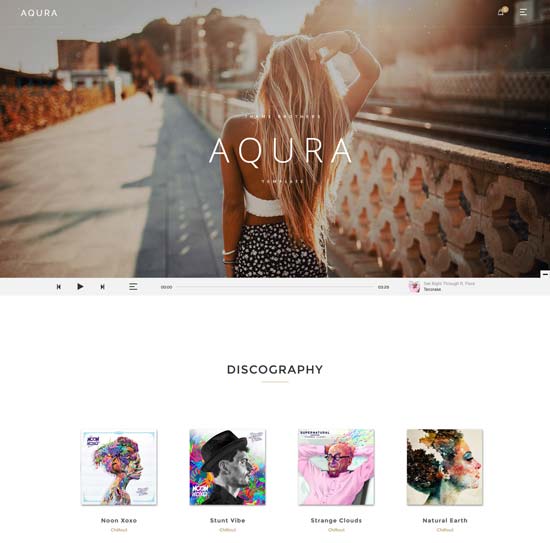 Demo More info / download
Poison
Poison is a bootstrap-based HTML template that is responsive. It is especially effective for concerts, bands, and clubs.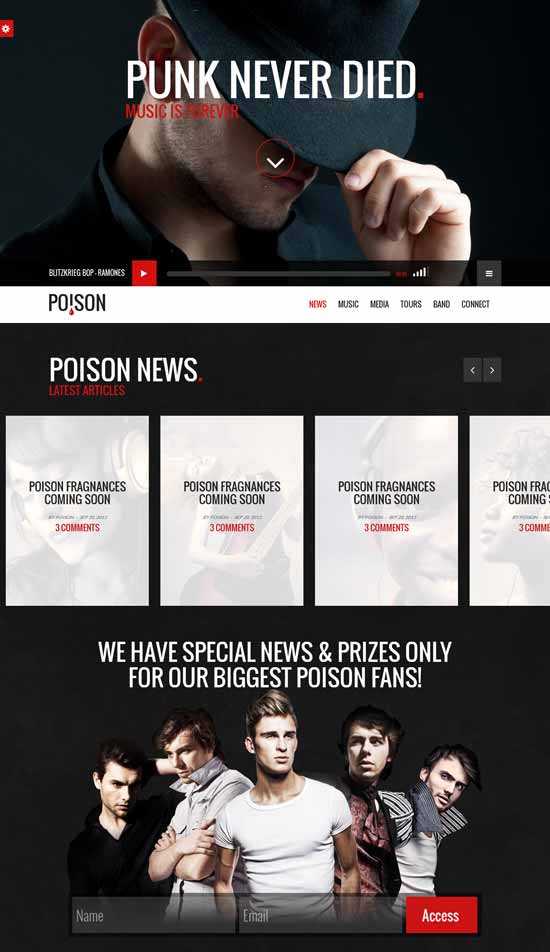 Demo More info / download
Groovy
Groovy is a template for an AngularJS music app. Built using AngularJs and Bootstrap, it offers a fully complete music app with playlist capabilities, Albums, Artists, user profile pages, sign in pages, the home page, and much more.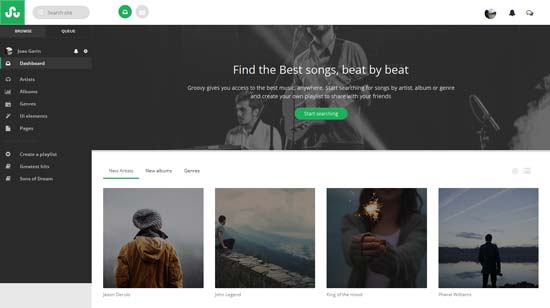 Demo More info / download
Free Music Website Templates
Entro Free
The ENTRO Music Band Html Template is ideal for creating a website for any type of music-related enterprise. The ENTRO free Music website template is an excellent method to create a website for any type of music business.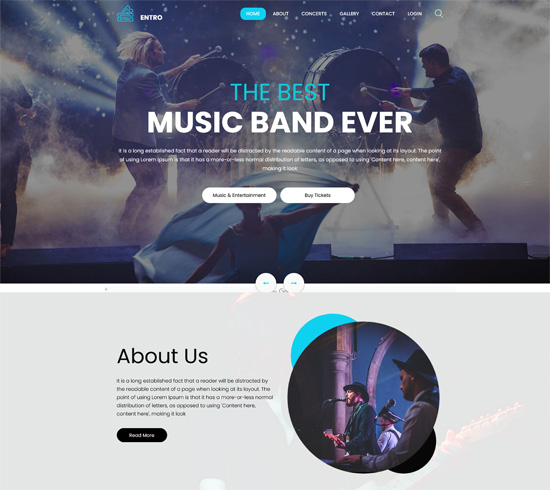 More info / download Demo
Entertaint Free
A location that features not only musical performances but also a variety of other entertainment options. Free HTML template for musician websites showcasing the newest and most cutting-edge design trends, with the most spectacular design imaginable.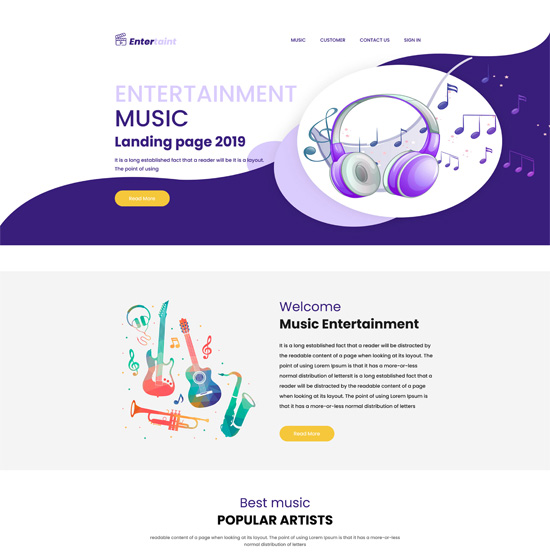 More info / download Demo
Rock Free
Rock Free Music HTML Template is an attractive, free music website template that will assist you in launching your own music project rapidly. If you want to create your own music project but don't know where to begin, your search is over.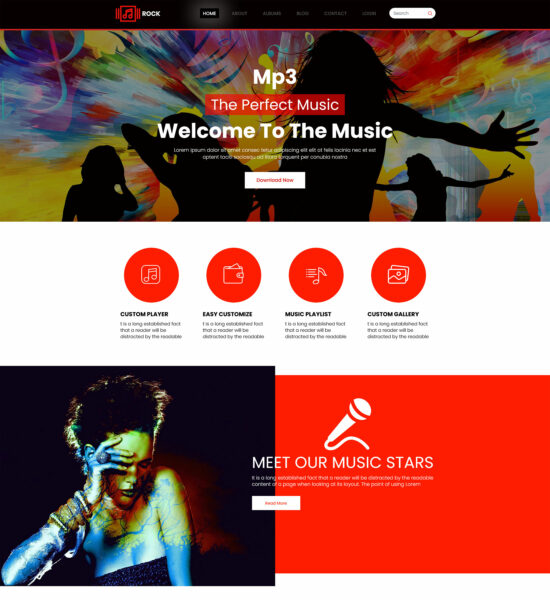 More info / download Demo
DJFox Free
DJs have access to a vast selection of pre-made website designs. And it can be difficult to choose which one meets your needs the best. It is possible that you will need to invest both time and money to complete this task.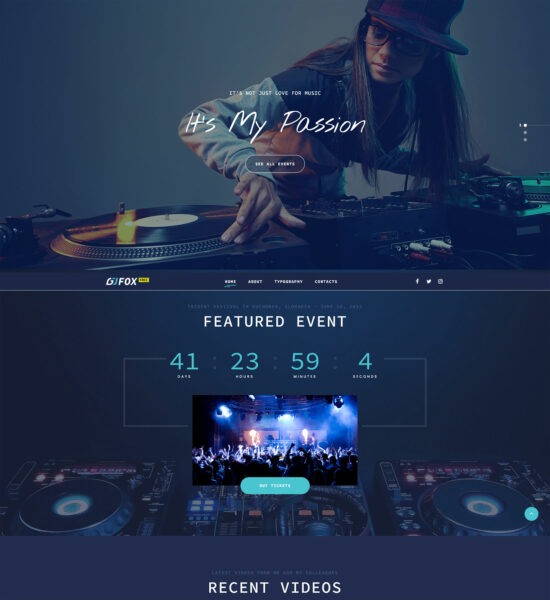 More info / download Demo
OnWave Free
The OnWave template is a free HTML5 music radio responsive template that may be used for the website of a music radio station. Download this template from this page if you wish to use it.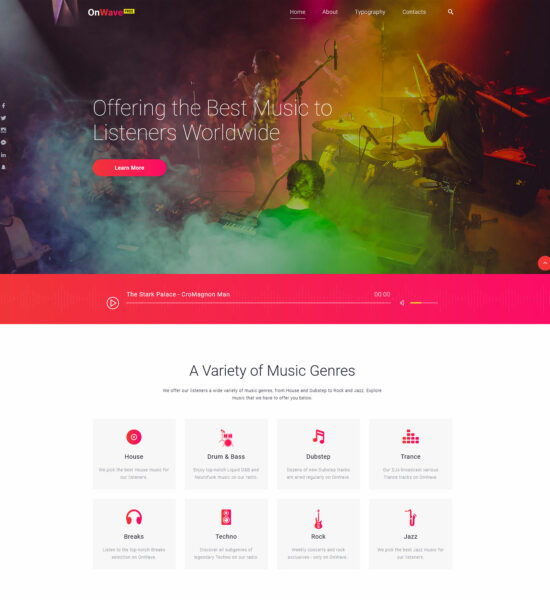 More info / download Demo