If you're looking for a great WordPress theme for your music website, look no further than our selection of free music WordPress themes. These themes are perfect for music bloggers, bands, and anyone else looking to create a great-looking music website. With a variety of designs and features to choose from, you're sure to find the perfect theme for your site. So what are you waiting for? Get started today and create your dream music website!
Related Article
Music Guru
The Music Artist WordPress Theme is a great option for musicians, bands, DJs, and just about anyone else who works in the music industry. The Music Guru WordPress Theme is a child theme of the parent theme, Music Artist WordPress Theme. If you choose our best WordPress theme for musicians, you'll be able to make an interesting playlist and draw attention to your most recent releases at the same time.
The product comes with a number of newsletter options that work with mailchimp, as well as other features. You can also get your website up and running right away by using our One-Click Demo Import, which only takes a few minutes. The right choice for you is the Music Artist WordPress Theme. It is the best possible choice. You don't need to know a lot about technology to connect your social network accounts, make events, sell tickets, and add your own music to the website.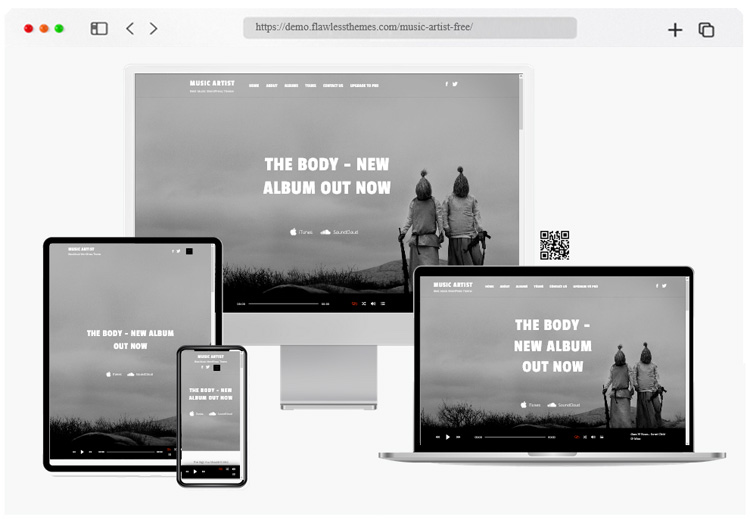 More info / download Demo
ExS Music
Fast and extremely customizable multipurpose child theme for ExS WordPress theme. If you need a dark or black website for a music group or a single musician, then this theme is for you. It would be a great option for individual musicians and music groups. It is designed to have 100% of the speed of Google Page and LightHouse. It has extra small size of CSS and JS assets, 100% SEO optimized and valid code and is 100% mobile friendly. It also has compatibility with WooCommerce and Easy Digital Downloads (EDD) plugins, so it will be the perfect solution for your online store and eCommerce business.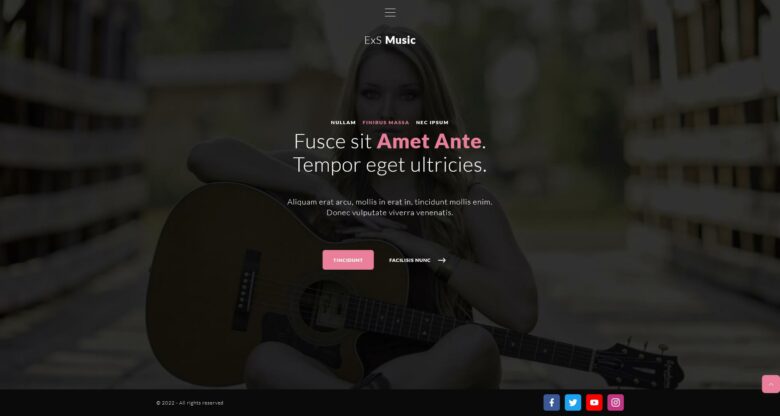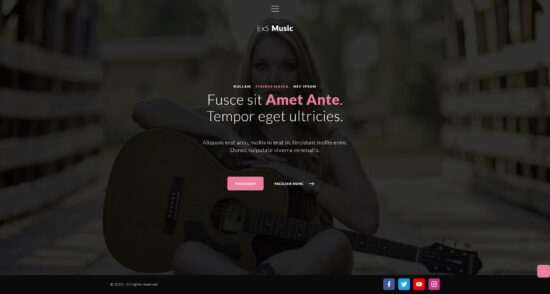 More info / download Demo
Music Recording Studio
With Music Recording Studio you can showcase your artistic skills and showcase your work in a compelling way to your fans. Without a doubt, this is the most functional, proficient, mobile friendly and visually appealing WordPress theme. This WP theme works well with websites that promote albums, artists, audio companies, DJ artists, music labels, popular music bands, music stores, festivals, and many more websites that deal with the music business. This multipurpose theme is built on a solid foundation, allowing you to create a fully functional and feature-rich website.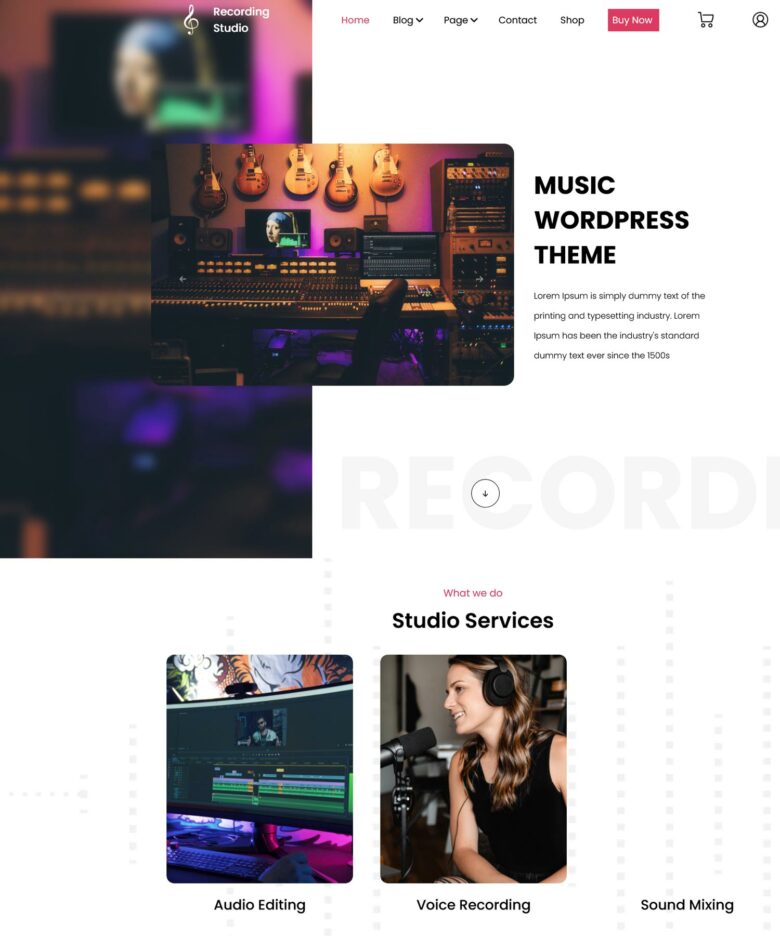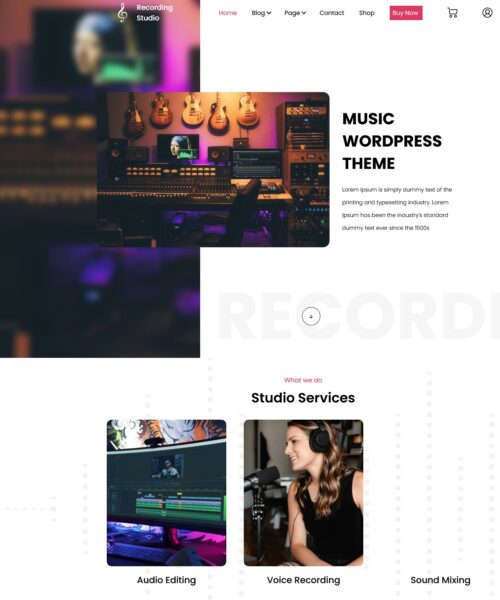 More info / download Demo
Music Zone
Music Zone is a beautiful and very attractive, polished and professional, robust and easy to use, highly responsive music WordPress theme. And one of the efficient ways to bring your music lover to her music endeavor is to create an attractive and engaging music website. Having a website is crucial to promote your profile and events as many people visit your website in this digital age.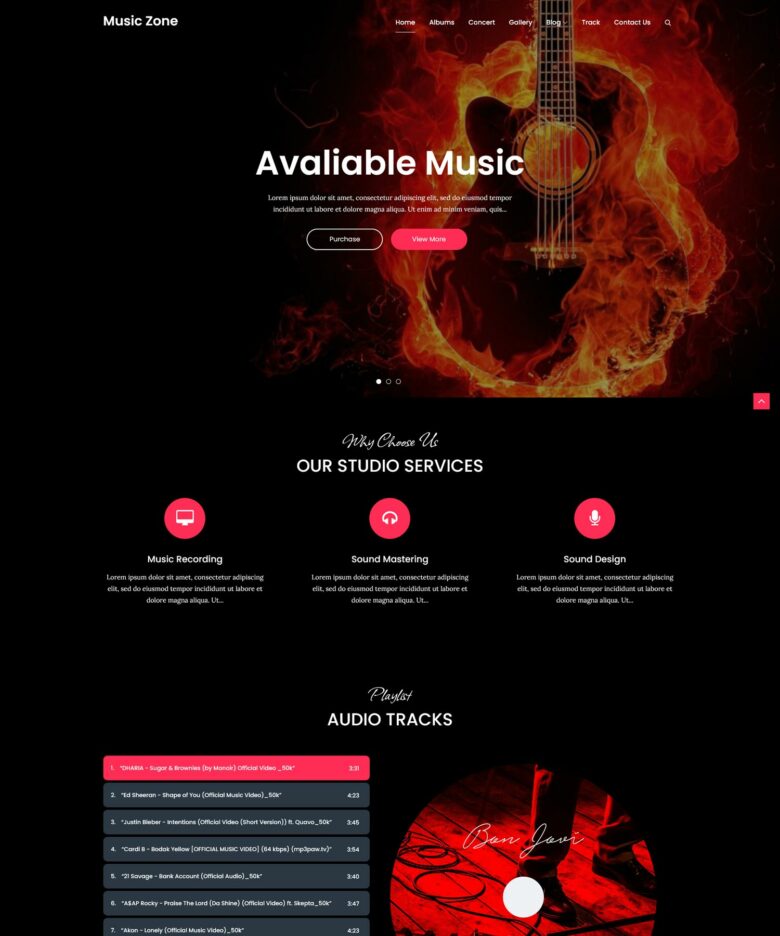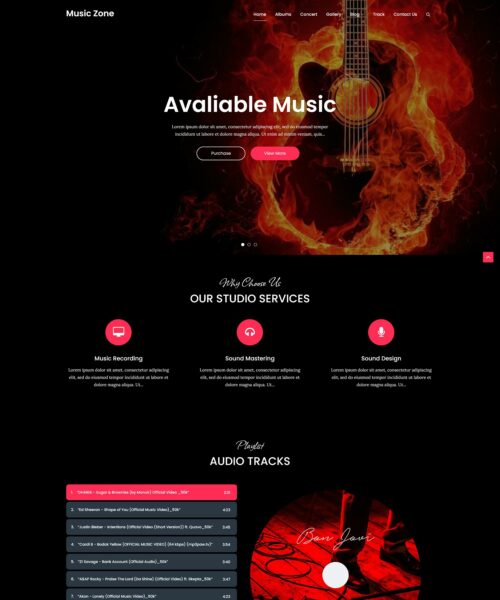 More info / download Demo
Music Star
Music Star is a multipurpose WordPress theme. Beautiful and highly customizable theme. The perfect musical theme for your project. Gutenberg Compatible, WooCommerce Compatible, Fully Responsive, Content Options, Header Options, Back To Top Button Social Icons, Microdata, Header Image Zoom, Translation Ready, Animations, and Custom Colors. Music star theme is very fast and SEO friendly. The music star theme can be used by NEWS, bloggers, magazines, portfolios, photography, newspapers, e-commerce, news and many more. The theme is for any business.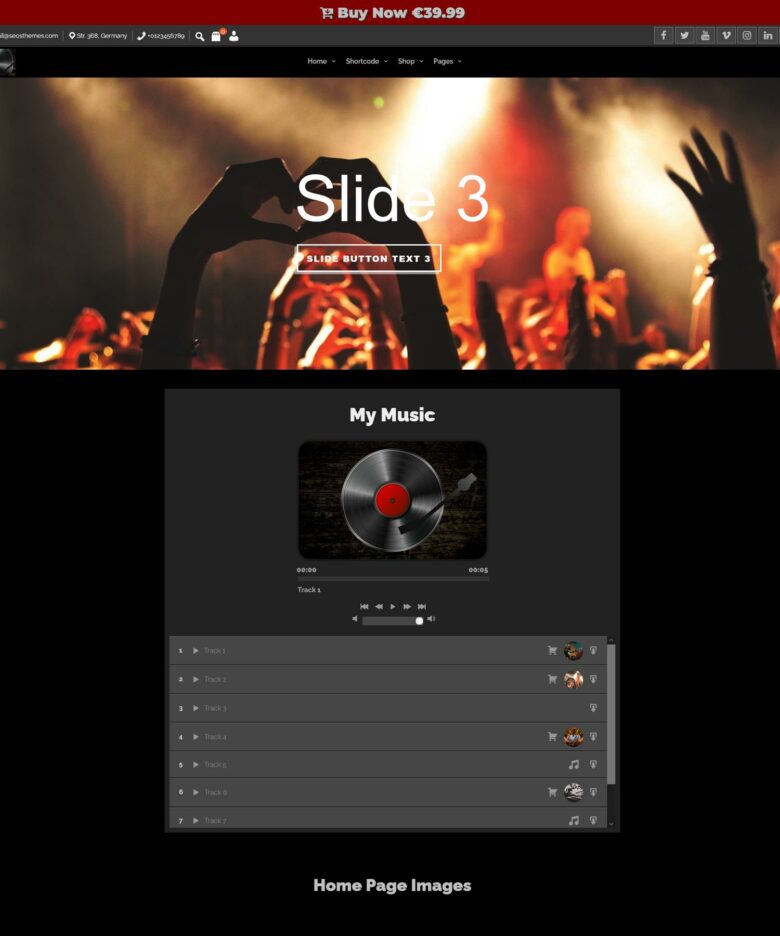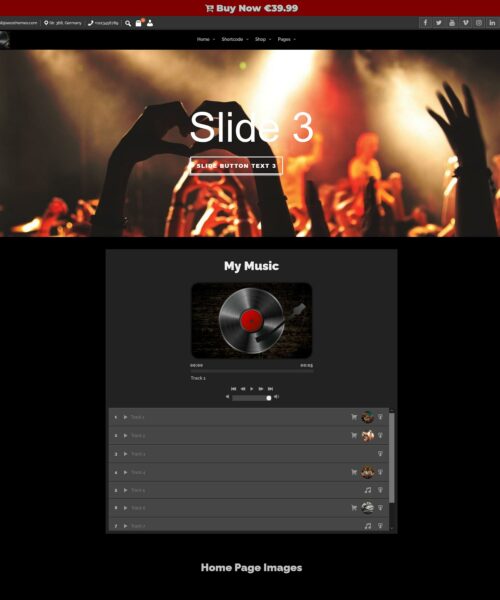 More info / download Demo
Chique Music
Chique Music is a free multipurpose music WordPress theme that is ideal for all types of music websites and blogs. The theme is ideal for musicians, bands, artists, and other creative minds. It is a child theme of Chique, a multipurpose fashion WordPress theme. Chique Music inherits its main features from its main theme. However, Chique Music is dedicated exclusively to music businesses and blogs to give your music site the exposure it deserves.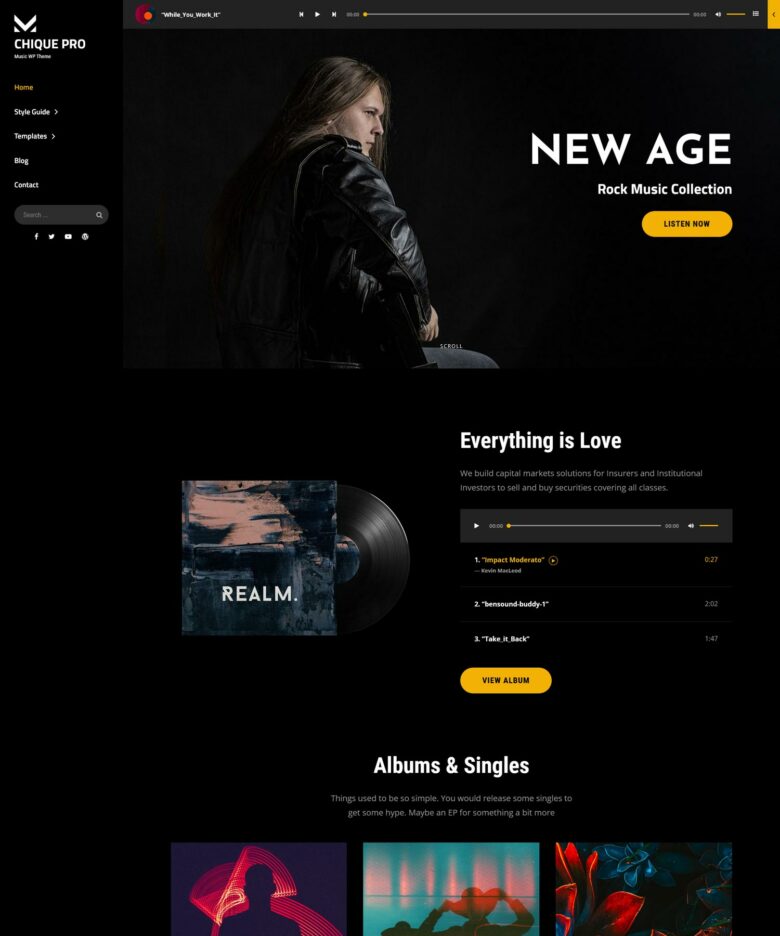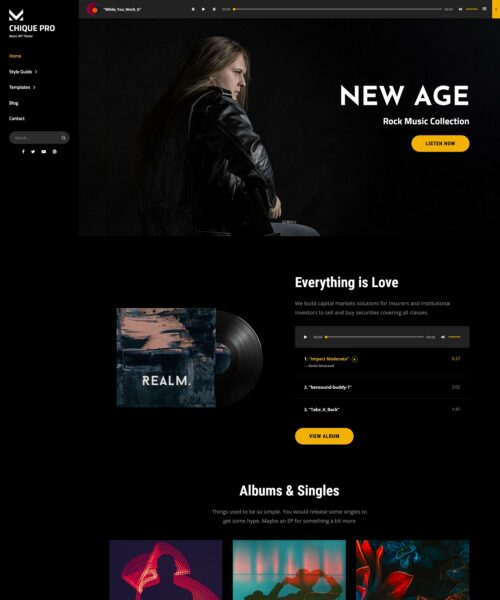 More info / download Demo
Scapeshot Music
ScapeShot Music is a clean and minimal music WordPress theme for all kinds of music websites. The theme is ideal for all artists and bands that are in the music industry. It is a child theme of a multipurpose fullscreen photography theme, ScapeShot. While the theme song is a full theme, ScapeShot Music is dedicated solely to music and business promotion alike. It is fully responsive and your music website looks absolutely beautiful and stunning on all screen sizes. ScapeShot Music comes with a responsive music design with many features and extensive functionalities.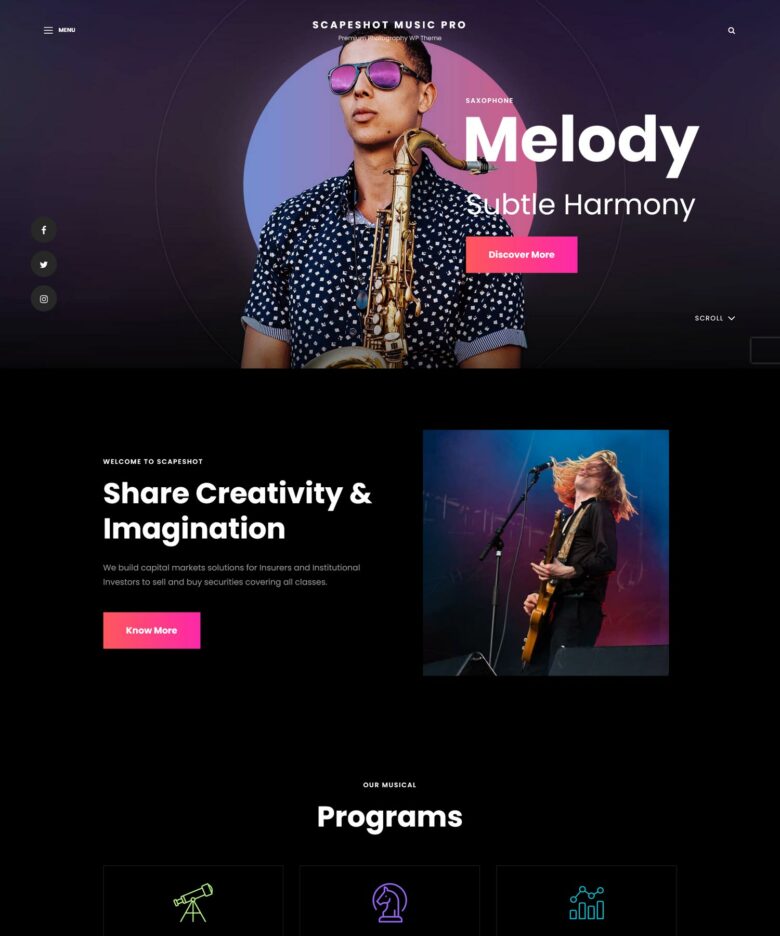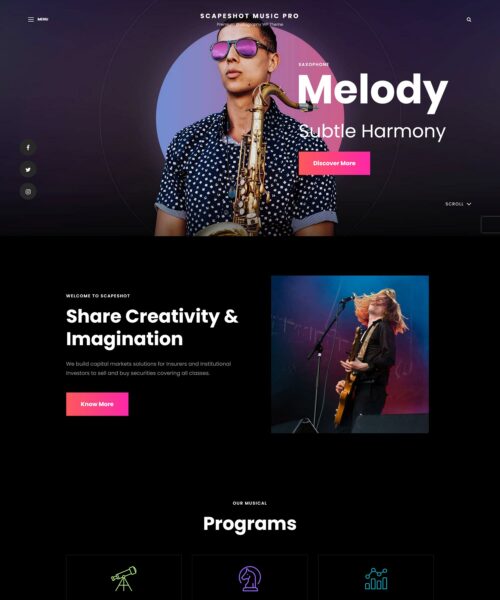 More info / download Demo
Signify Music Dark
Signify Music Dark is an aesthetic Dark Music WordPress theme that is absolutely free. The theme is dedicated to all musicians, bands and other music businesses. It is a child theme of Signify, a popular WordPress multipurpose theme. Signify Music Dark focuses on providing the best for all music sites to showcase all that it has to offer. The design is primarily focused on providing a professional music look. The dark theme adds extra grace, elegance, and class to the already elegant look of Signify Music Dark. Sections like Sticky Playlist, Playlist, Featured Slider, Featured Content, Hero Content, Portfolio, Services and Testimonials have been added to Signify Music Dark.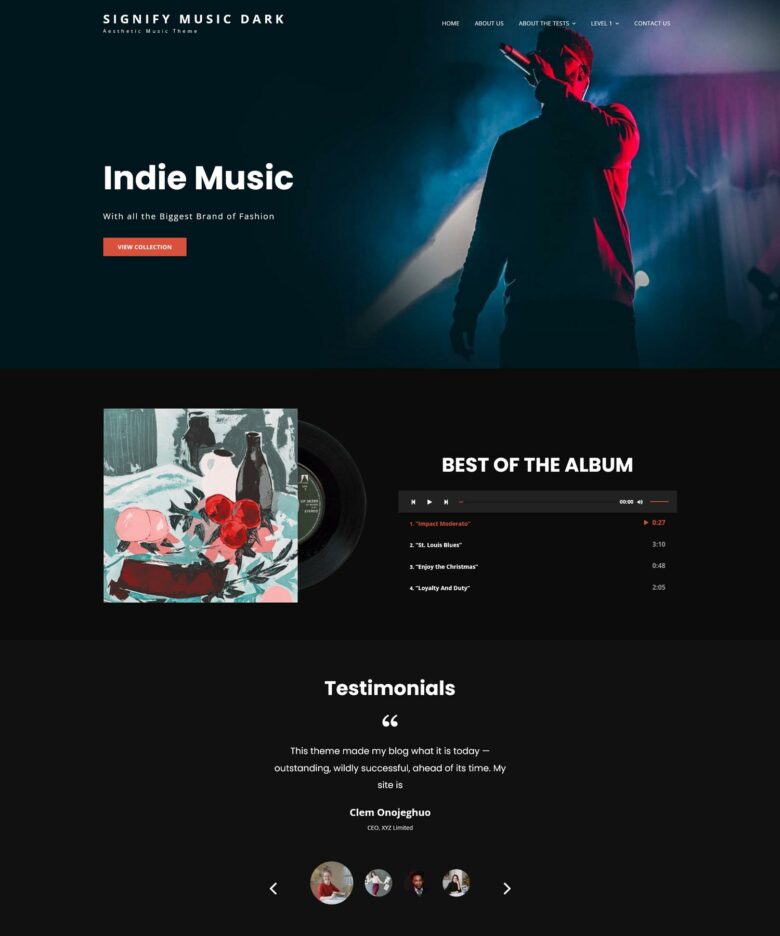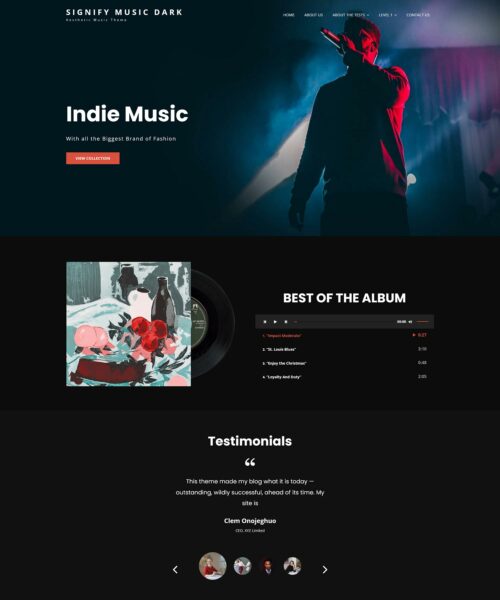 More info / download Demo
MusicFocus
MusicFocus is a clean and minimalist music WordPress theme with an aesthetic design and customizable music features and functionalities. It is a child theme of PhotoFocus, a multipurpose photography theme. While PhotoFocus prioritizes creative photography sites, this subtopic is dedicated to all personal and professional music sites and businesses.
This theme has been created to comfortably fit music sites and grow your business. It is fully responsive and retina ready, ensuring that your music website looks absolutely flawless and flows with a musical vibe. MusicFocus comes with crucial features and functionalities for music websites.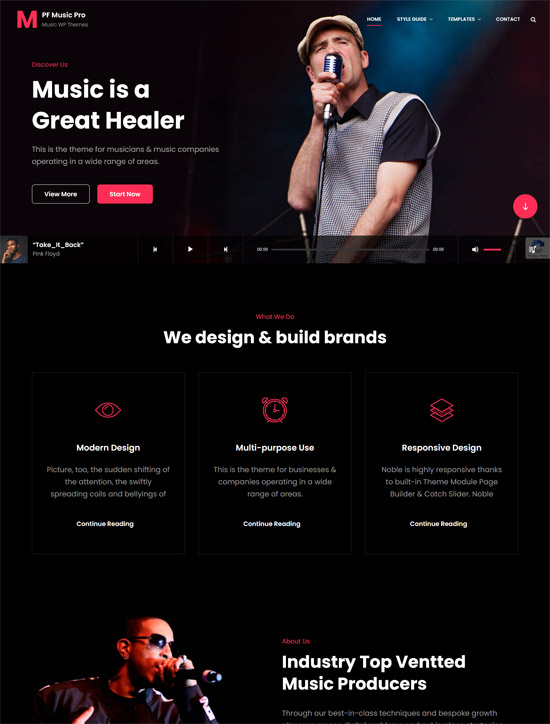 More info / download Demo
Zubin
A dark-themed multipurpose music WordPress theme. Musicians, bands, artists, and other creatives love the theme. Zubin is its parent theme. Zubin Music, a secondary theme, takes its traits from the main theme.
Zubin Music displays all your music. Live Customizer creates responsive content. This topic covers Sticky Playlist, Hero Content, Dark Style, Portfolio, Boxed Header Width, Featured Content, Services, Featured Slider, Testimonials, Header Media, and more. .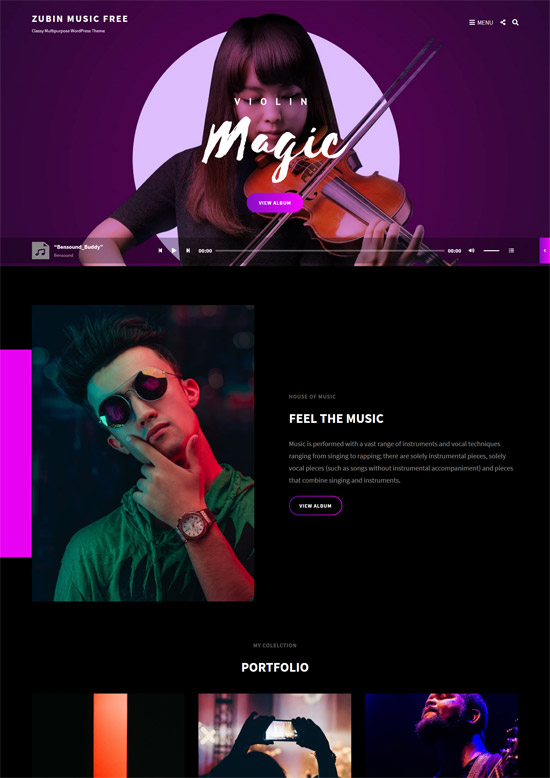 More info / download Demo
Music Artist
A beautifully designed WordPress theme specifically for musicians, bands, podcasts, and rich multimedia websites. It features an impressive home page layout to capture the attention of your website visitors and a modern look with tons of features for a music website.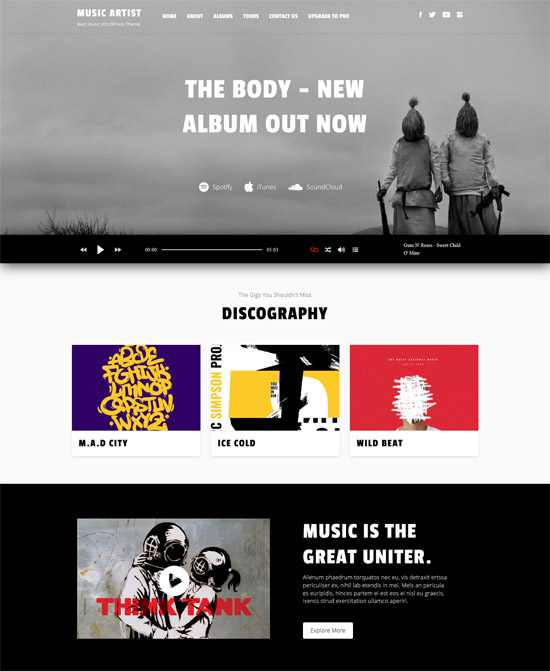 More info / download Demo
Mero Music
A responsive WordPress blog theme. It includes all the features you need to create a professional blog website. It is a great option for writing personal blogs, food blogs, travel blogs, etc.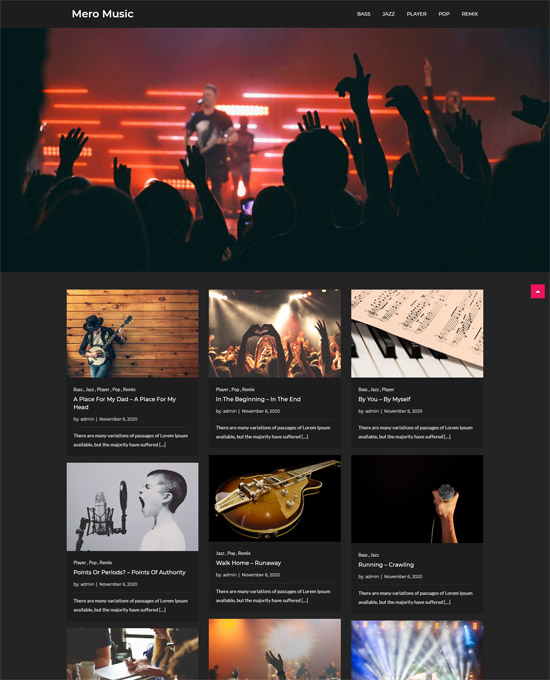 More info / download Demo
JetBlack Music
This theme uses our first JetBlack WordPress theme. Users liked JetBlack, so we created JetBlack Music, a dark and attractive sub theme with the same functionality and characteristics. We added an "Associated logo" section and changed the slider, featured content, and what we do.
Its dark and bold design creates a modern website. Its customizable features and smooth layout will also draw new visitors. The theme is fast-loading, responsive, and has a one-click demo importer plugin.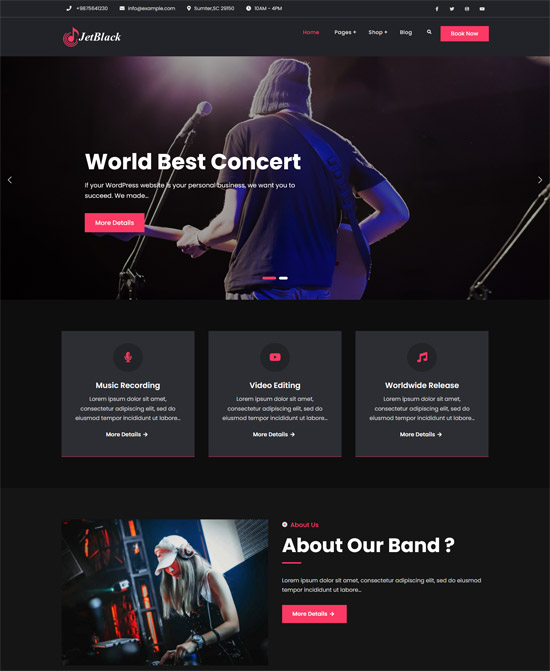 More info / download Demo
Music Journal
A minimalist free music WordPress theme. . Photo Journal, a popular multipurpose photography WordPress theme, is its parent. Music Journal uses Photo Journal's main features. Music Journal has a music-focused layout. . Fixed playlist, playlist, featured content, slider, hero content, portfolio, testimonials, services, and more. All functions are responsive and customizable.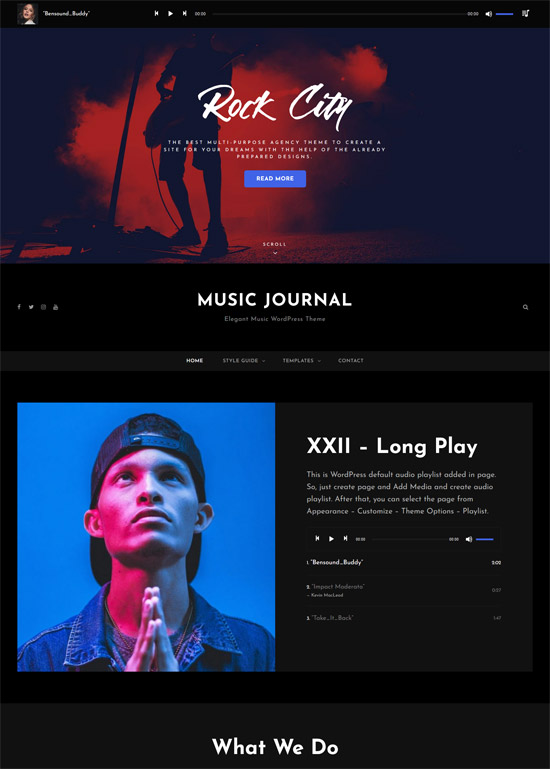 More info / download Demo
Loud Music
A responsive WordPress theme for musicians, singers, producers, and bands to share their music, songs, and videos with fans. Loud Music uses modern WordPress technology. Loud Music supports music industry-specific responsive layouts, so it looks great on all devices. .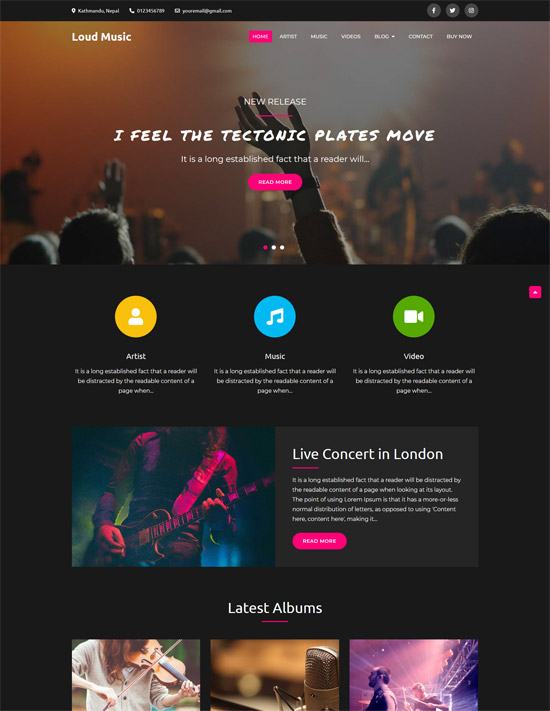 More info / download Demo
Musicaholic
Creative music WordPress theme. The theme is tailored to musicians and other creatives. Musicaholic offers minimalist theme music. DJs, musicians, and others love it. . It's cross-browser, mobile-friendly, and responsive. Musicaholic sells via WooCommerce.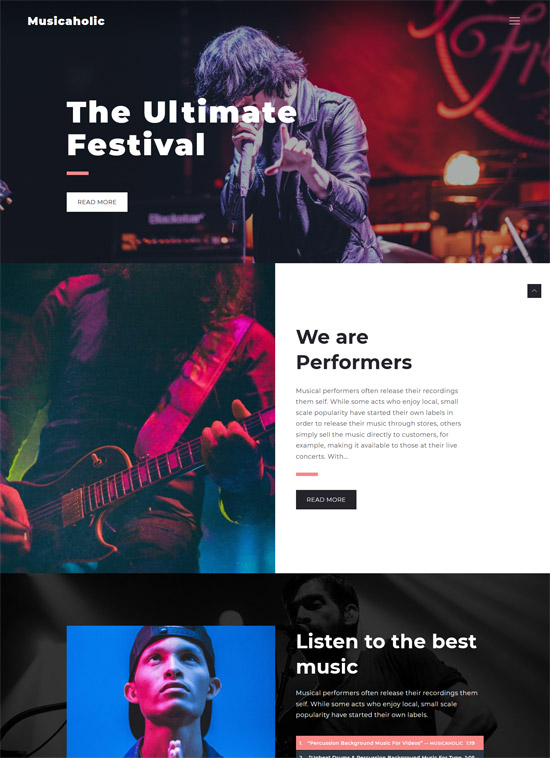 More info / download Demo
Music Freak
Free and creative, this theme lets you share music. Customizable and device-compatible. Any musician can use this theme.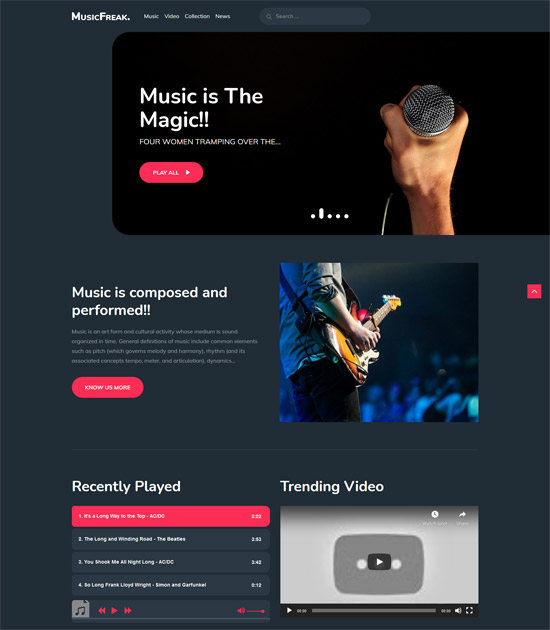 More info / download Demo
Creativ Musician
The adaptable, intuitive, and feature-rich Creativ Musician theme is a strong and complete music business solution.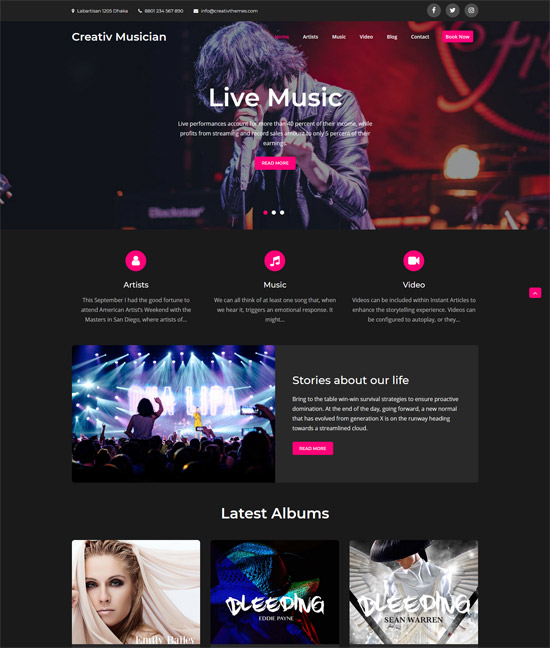 More info / download Demo
Musicsong
Musicsong is a polished, professional, easy-to-use, responsive WordPress music theme. An engaging music website is a great way to get your music lover involved. .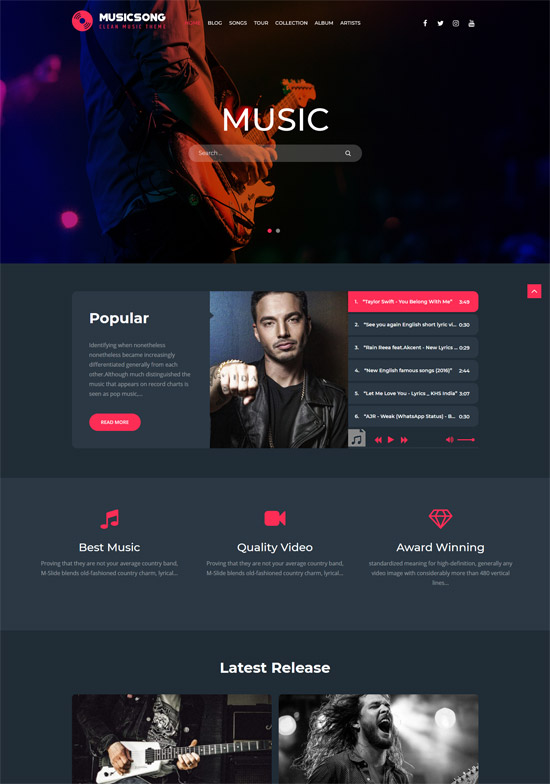 More info / download Demo
Music Club Lite
Elegant and stylish free music WordPress themes, bold and daring, fast loading, clean, modern, professionally designed, responsive, and easy to use. . This theme is designed to create a professional website for musicians, bands, orchestras, radio and music studios, nightclubs, singers and artists, DJs, music magazines, and other music projects.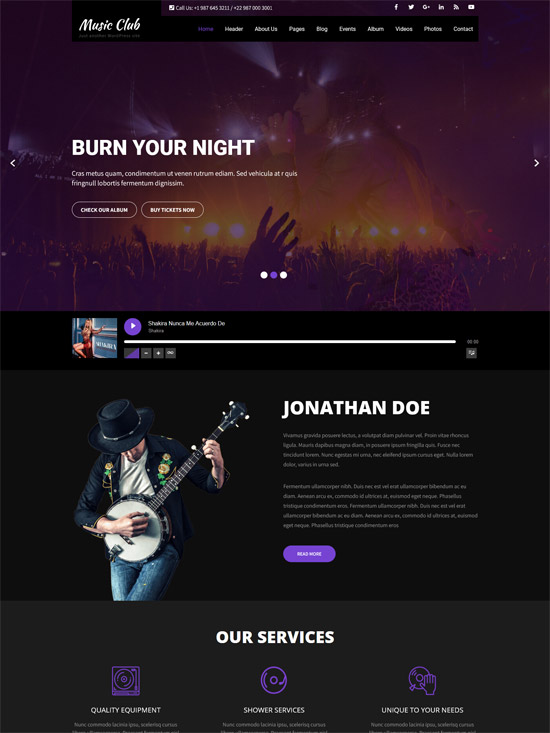 More info / download Demo
Musical Vibe
A minimalist, responsive WordPress theme. Musicians and bands will love it. It's simple and lets you fully customize your website without code. For music websites, the theme is stylish and attractive. It offers useful functions and theme options to customize your site. The theme is translation-ready and performance-optimized.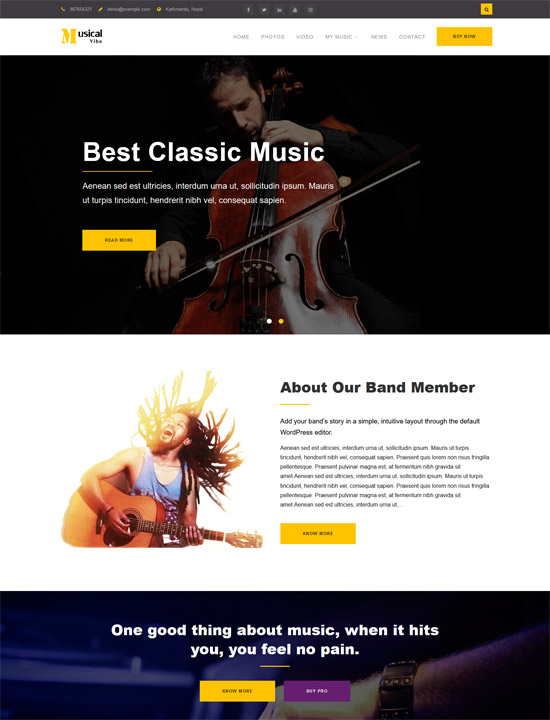 More info / download Demo
My Music Band
My Music Band is a basic, clean, and easy-to-use free music WordPress theme created for artists and bands to market their music. The theme is beautiful, strong, original, elegant, and flexible—perfect for music websites. It creates attractive musician websites quickly.
Music Band, a responsive WordPress music theme, fits all devices. Your website may be seen on any device. To keep your music website current, this theme includes a featured slider, featured content, playlist, hero content, portfolio, and more. .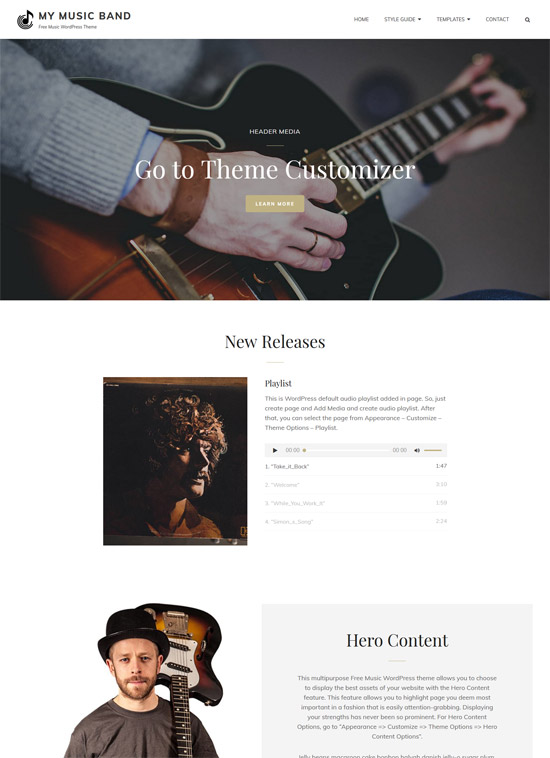 More info / download Demo
Music Lite
. Our premium music theme's lite version has more customization, page templates, and functionality. Music Lite works well on mobile devices. The theme's full-screen home page adapts to the browser window. The homepage can feature upcoming tour dates and a background image or video. The WordPress customizer also allows real-time theme configuration.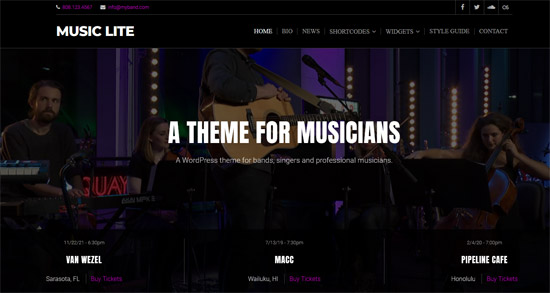 More info / download Demo