Website monitoring and server monitoring online tools are important to watch out when your hosting fails and your site is down, that it is easy ways to lets you about your website or blog down time, so you can know and fix your site error quietly. Maintaining 100% uptime is critical to your business' success. That's why it's a good idea to sign up for a service that will monitor your uptime and notify you the minute your site is down.
In fact a website or web application's high availability is very crucial, visitors who constantly encounter problems accessing the content of a site will not likely come back. For web applications – poor uptimes means users won't be confident about your product: if they constantly experience issues with your apps's availability, they will likely look for another solution that isn't as problematic.
It's essential that your sites and web apps are constantly accessible to your visitors. In this article, you will find free and useful website and network monitoring tools to help you know when your website or web application becomes unavailable. This will enable you to monitor your online business as soon as possible to minimize the downtime. Browse a few and get your most important sites signed up for 24/7 monitoring.
Hyperspin Pte Ltd (formerly Hyperspin Internet Services) is a registered company in Singapore, and has been providing website monitoring services since 2002. With our technically advanced monitoring system, we have helped our customers in improving the availability of their internet-based systems, and ultimately achieving higher sales and ROI. Currently, we serve our worldwide customers from a global monitoring network.

More info / download
Monitor.us
Monitor.us is a free Website Uptime Monitoring and Response Time Monitoring tool is so simple that in just three minutes you can have the calm and peace of mind of an eagle meditating at 1,000 feet It'll monitor your website 24/7/365 – and if there's any probs it'll squawk at you.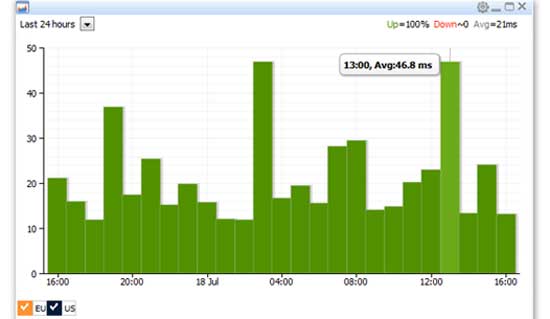 more info / download
SiteUptime is a website monitoring service that checks your website or server at regular intervals and notifies you via email or SMS if a problem is detected. Free and Paid plans are available.
More info / download
ServiceUptime is remote website uptime monitoring designed to help you detect website downtime which can mean lost revenue and profits. The worst thing is users may never return to your website again if they experience difficulties opening your webiste.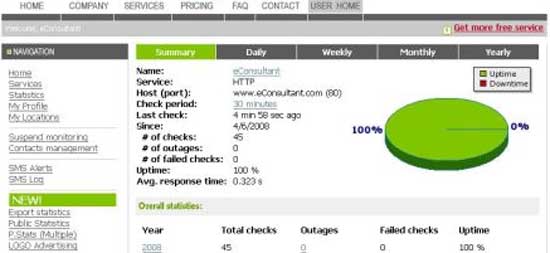 More info / download
Uptrends is a leading provider monitor your website, server and transactions from a global and end-user perspective. with more than 2,500 customers in 45 countries.

More info / download
UptimeSpy.com is to provide free and affordable ping monitoring for your website or online presence. It is easy to set up performance monitoring your website or blog.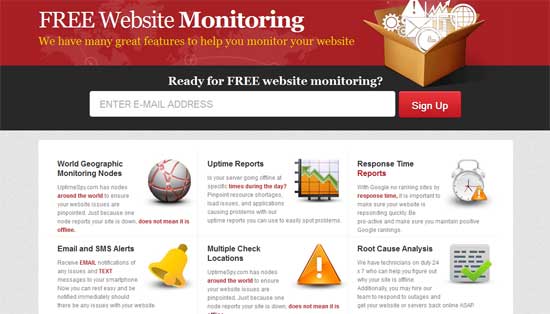 More info / download
Pingdom
Pingdom has the infrastructure to do website monitoring from all over the world, as often as every minute. When something breaks, because it will, you're immediately alerted. We always double-check issues to avoid unnecessary disturbance. Once alerted you can notify your customers and dig in to see server response codes and web server output to analyze the situation.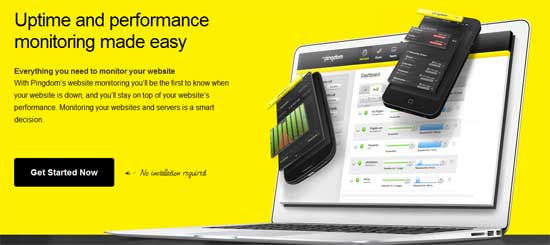 More info / download
Uptime Robot
Uptime Robot is all about helping you to keep your websites up. It monitors your websites every 5 minutes and alerts you if your sites are down (actually, it is smarter).

Port Monitor is an easy and online tool that checks 24/7 if your sites and servers are up and working fine. You'll be the first to know when problems occur!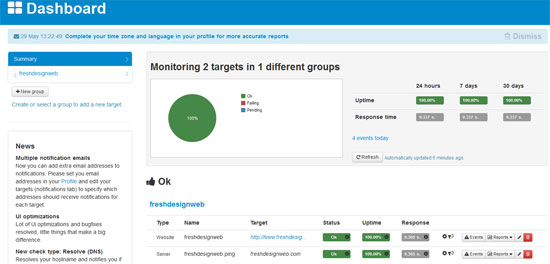 More info / download
Website Monitoring from a Global Perspective Easy, fast and effective web server monitoring, server monitoring and website monitoring service. Supports: HTTP(S), FTP(S), DNS, PING, TCP, SSL, SMTP, POP, etc.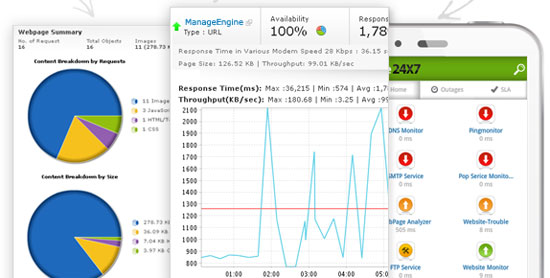 More info / download