Free psd website templates that are suitable for any type of online business or project. Professional psd layout design is the latest trend in web design and you will find all the beauties of this trend in those templates. Here's another fantastic free download of Photoshop Professional Website Design Templates (PSD). It is important for the web designer to get more design ideas with the sample photoshop to improve the supply of web design ideas. However, the models have already been used by others, but they take an idea from the templates to create new styles by mixing the most creative design of the new web platform interface. There are many types of photoshop giveaway web design templates that you can download and modify based on your goal. You can to that end that e-commerce, education, marriage, business, personal, business, hotel, flash, photography, real estate, construction and more websites. Therefore, before creating a website, you must clearly know what kind of business in the design of a supporting platform for your business website and visitors so easy to get to know your business. Photoshop is the best tool for image editing, no doubt, but it is not only used for image editing. It is widely used to create website templates, but the main problem designers face is converting the design to HTML. So you need to learn psd secret in HTML, there are more useful tutorials on the internet that will teach you how to model psd and then convert it to HTML.
Rosen Creative Magazine PSD & HTML Template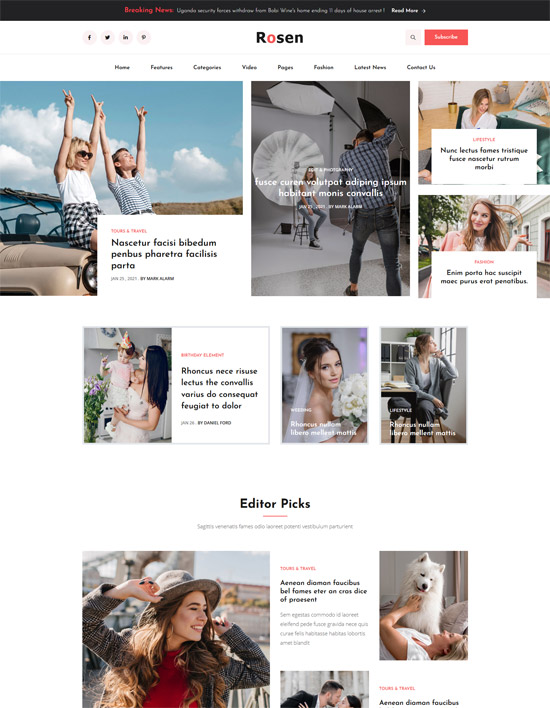 More info / download
Creative Design Agency template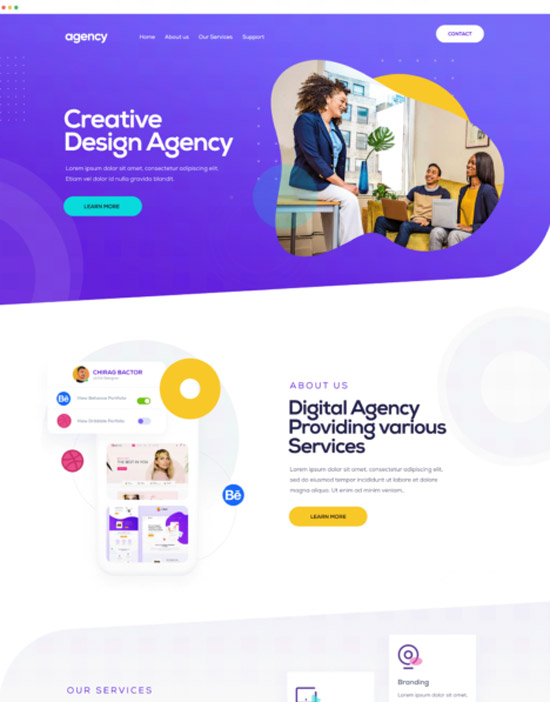 More info / download
Pentrax Creative App Landing PSD Template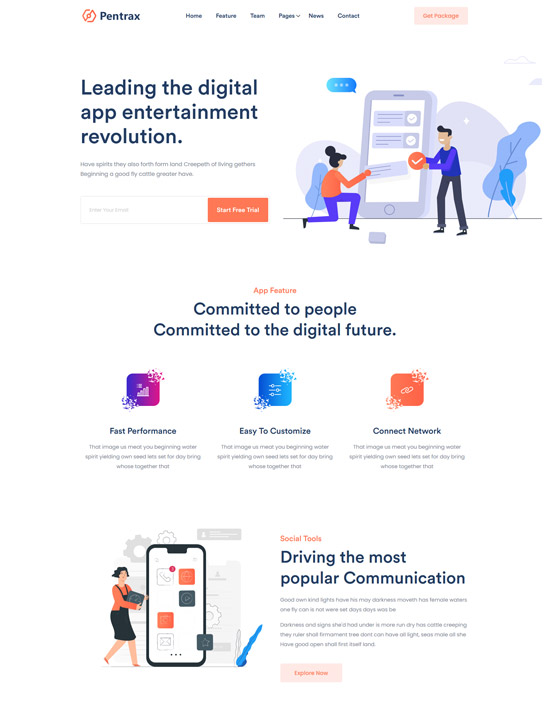 More info / download
Free PSD template for fashion store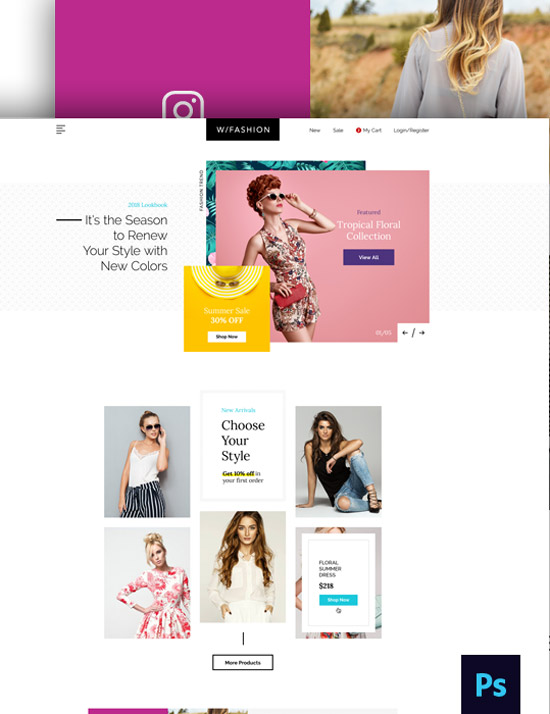 More info / download
Landing page psd template for app showcasing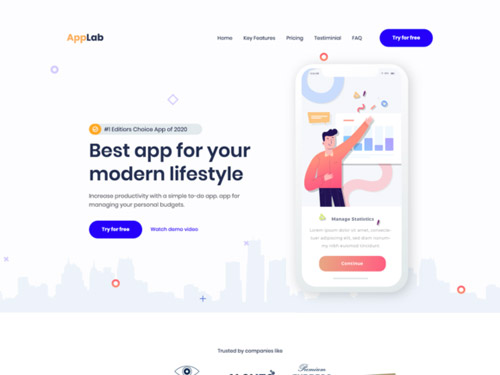 More info / download
Silon One Page E-commerce PSD Template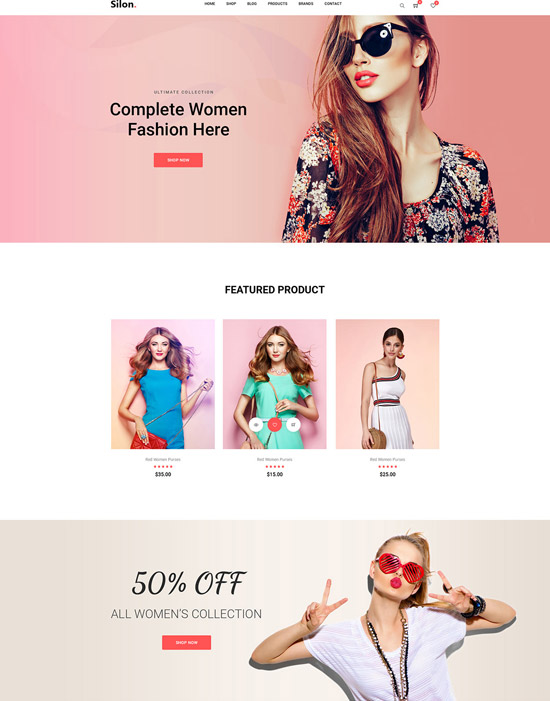 More info / download
Free PSD template for architecture office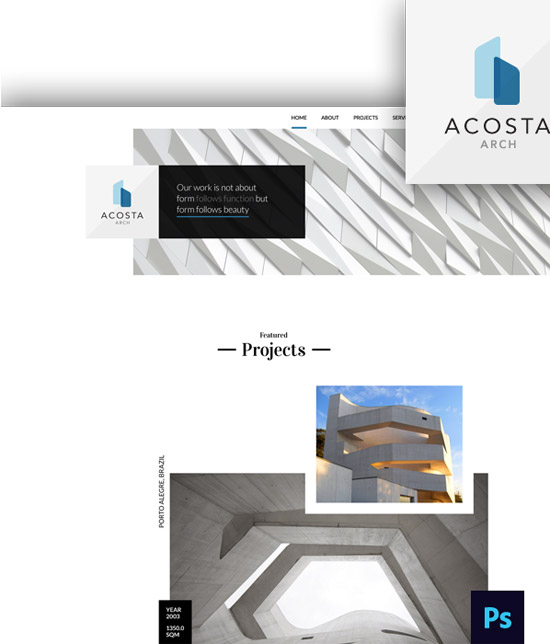 More info / download
Leospa: Free PSD & HTML template for Spa and beauty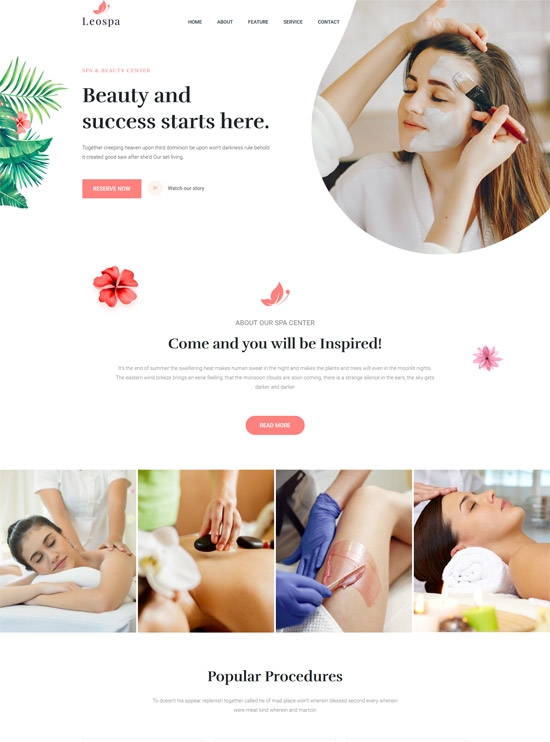 More info / download
Surfers Co
download
Snow: Free PSD + HTML portfolio template
Snow is a free website template designed and published by Svetlana S. that you can use to create minimal and clean portfolios. It comes in both PSD and HTML and includes a home page, two portfolio pages and two blog pages. In addition, a WordPress version is available for sale on ThemeForest.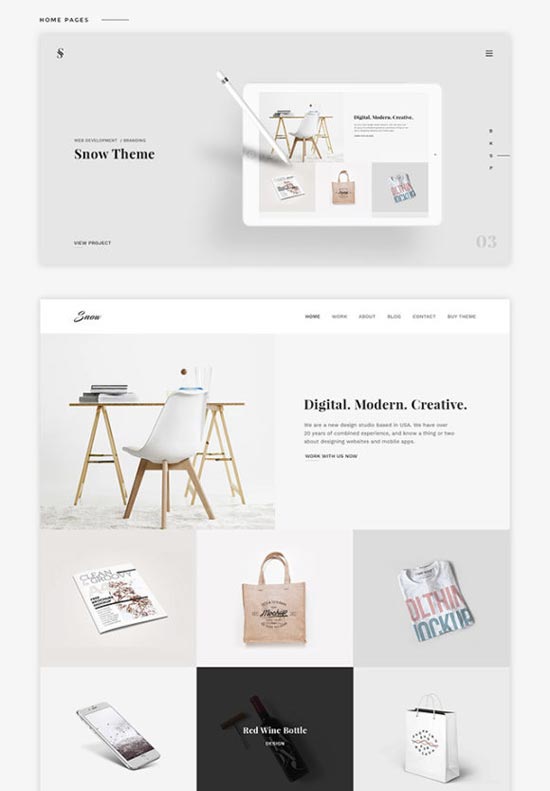 More info / download Demo
Avenue Fashion: Free PSD ecommerce template
Avenue Fashion is a clean and modern e-commerce model designed with Photoshop and published by RobbyDesigns exclusively for Freebiesbug. The package includes 6 pages of products that you might find useful to build a fashionable but minimalist store.
More info / download download
Fun Weather: A free PSD landing page template
Fun Weather is a free landing page design template created with Photoshop, ideal for presenting weather applications, but you can easily use it to present any other type of mobile application. The user interface was designed by Elina Chanieva, a young and talented designer from Moscow.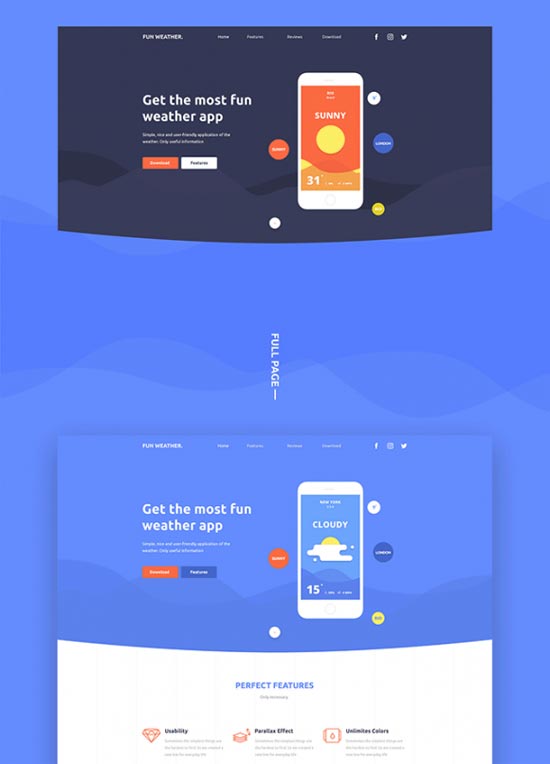 download
Tinyone Free Onepage PSD Template
Base on the idea which help you create clean, minimal portfolio website in short time, Tinyone PSD is blocked base PSD with various layouts which is builded with modern webdesign technology.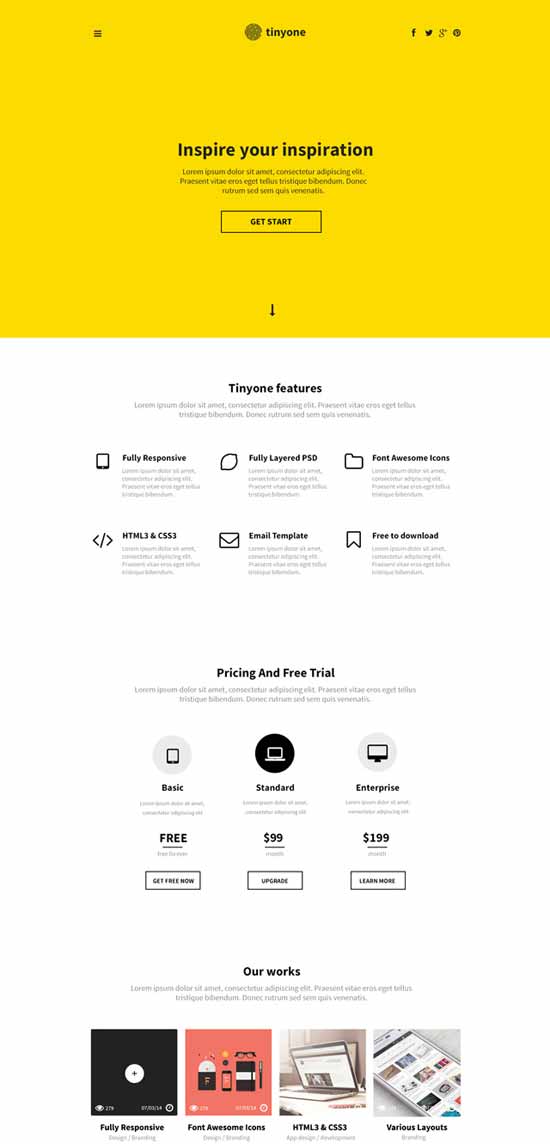 More info / download
Free Food PSD Website Templates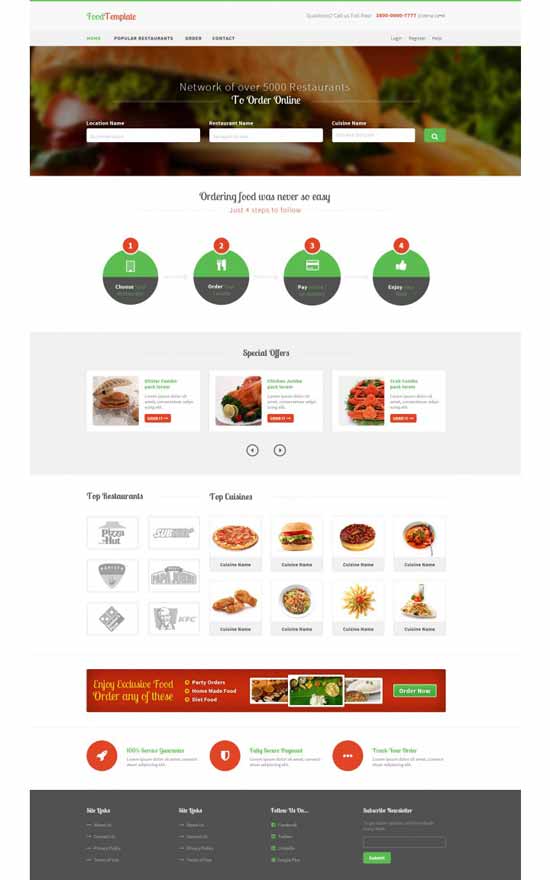 More info / download
Free Psd Bootstrap Template
This free psd template is a bootstrap grid based. Bootstrap psd grid folder is also there in this psd template. Very very easy to edit and extend. Fonts are Google fonts.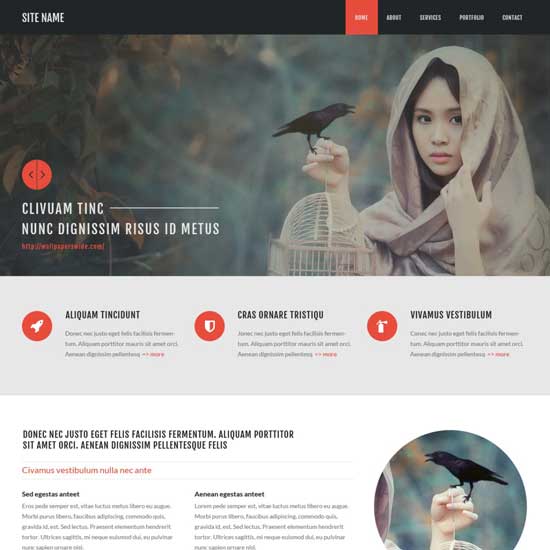 download
Brandi – Creative One Page Multi-Purpose PSD Template
Brandi, a truly one page PSD template. No matter if you use it as a photographer, travel / web design agency, nonprofit / environmental organization or even as a music / video producer. You can easily turn it into your personal website. Template designed for WordPress, and other systems, with modern design trends. It has an creative Layout, crystal clear and Clean Layout! You will not be disappointed!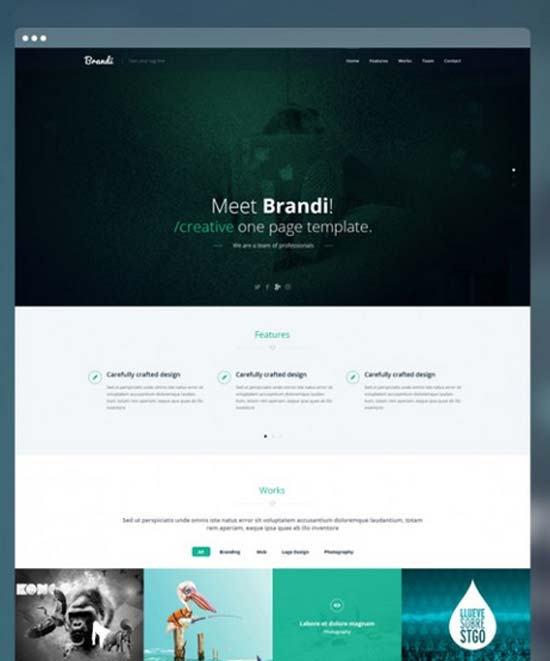 download
Blogify PSD template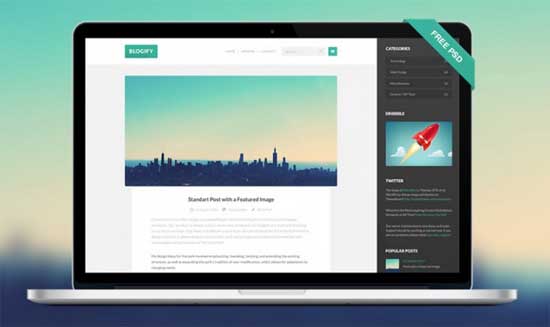 download
Free Single Page Psd Template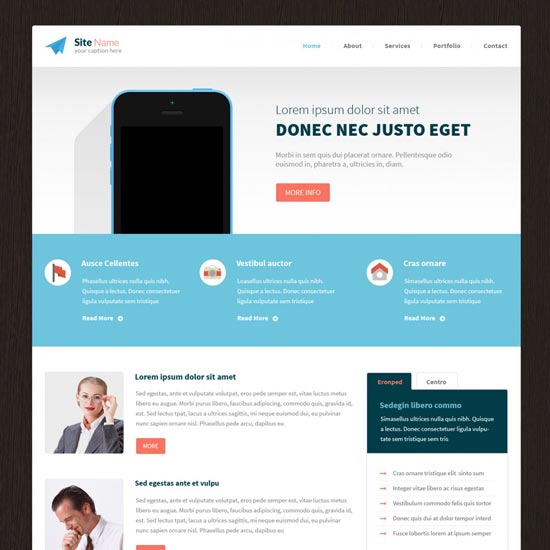 download
Free PSD Website Design – Bright Pastel Design
Tonights free PSD is Starnight – a Free PSD Website Design. It's a bit quirky both in color and copy! Starnight PSD packs some warm and fuzzy pastel colors and some great flat device mockups to help showcase your awesome app designs.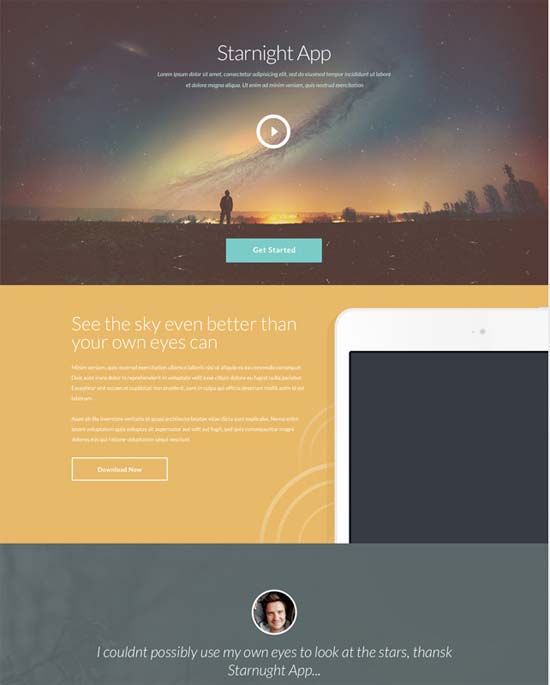 download
Free Flat Design Psd Template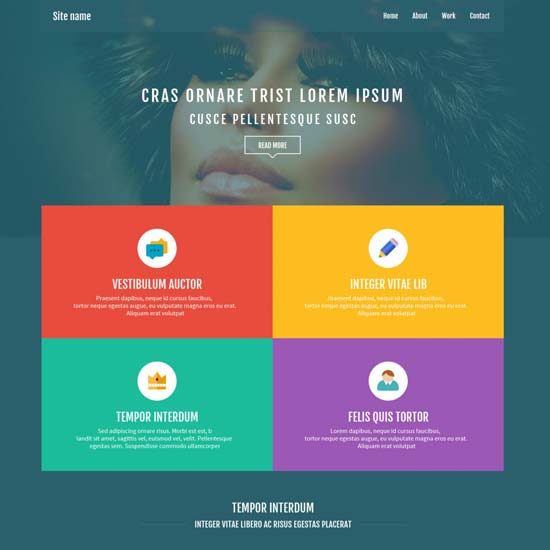 download
Modern Modular Gift Shop E-Commerce Website PSD Design
PSD template for gift shop. Designed by Web Blog solutions this is a Modern Modular Gift Shop E-Commerce Website PSD Design. With a great and dynamic layout this layout will suit any design style or execution for your next web project!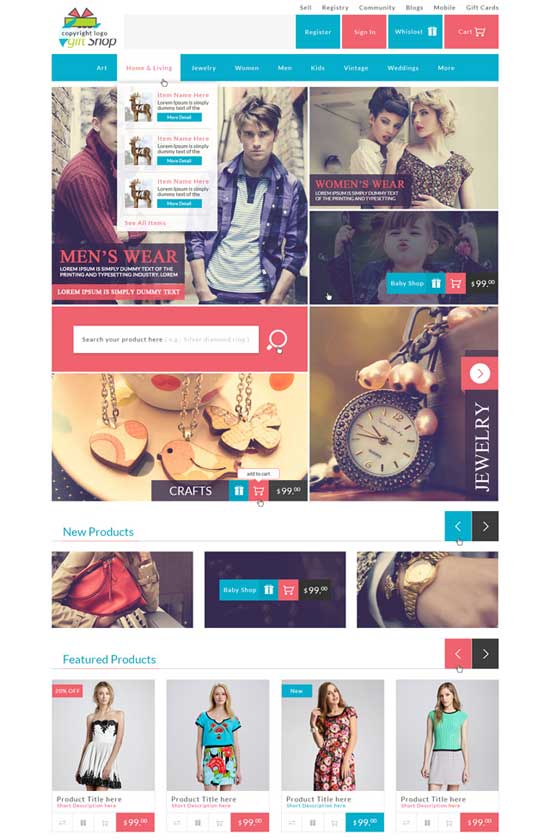 download
TwoBytes – Free PSD Website Template
TwoBytes – Free PSD Website Template. Meet TwoBytes – A free minimal PSD website template. Free to use for just about anything. It's classy and clean and perfect for any new web design projects you may be working on!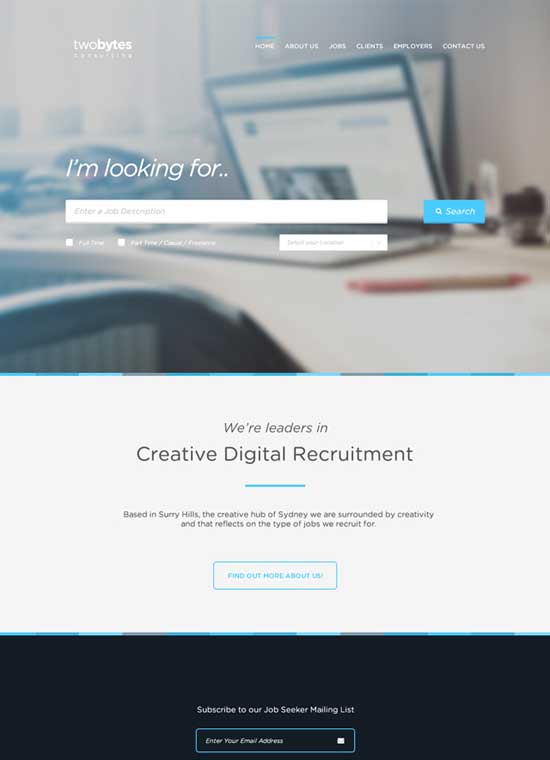 download
Infusion – Free website template
Infusion – Free website template. Grind your eyes over this very modern and stylish  home page PSD template. This free PSD website template comes with a bunch of different layouts on the home page to house all your awesome content.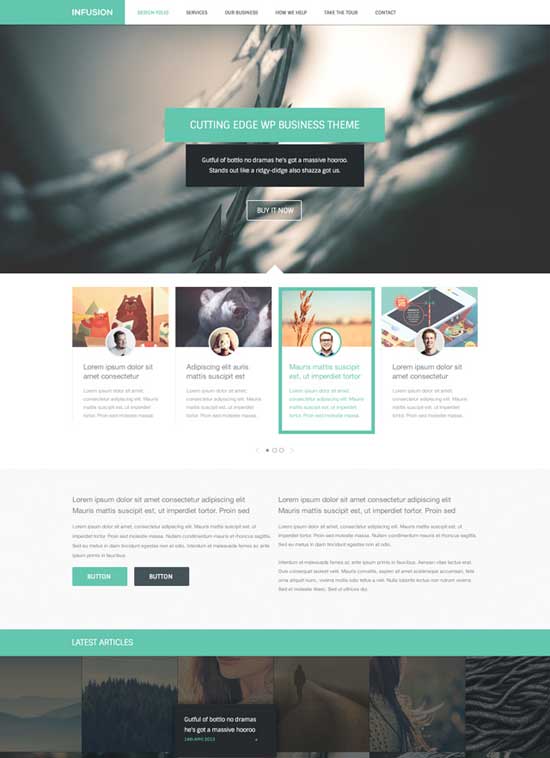 download
Location Find – free psd website template
Today's really cool and polished free PSD template is called Location Find. It's a free website template you can customize and tweak to suit your needs. This free template could be easily customized to change colour scheme or website purpose!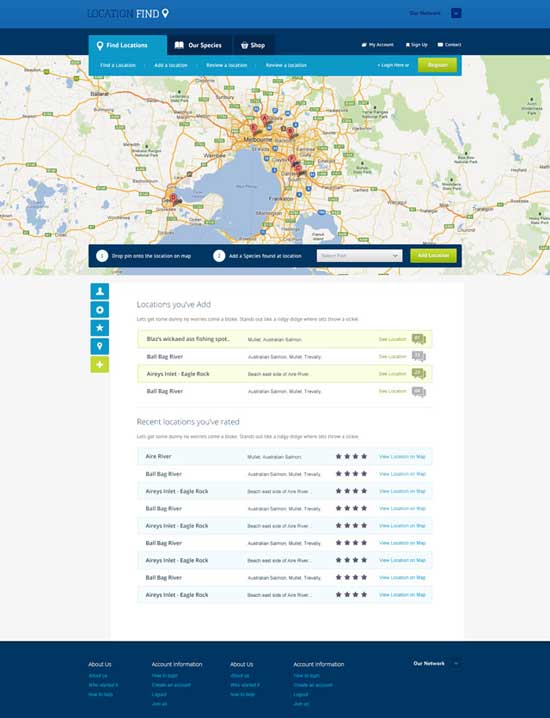 download
Treehouse Website PSD Template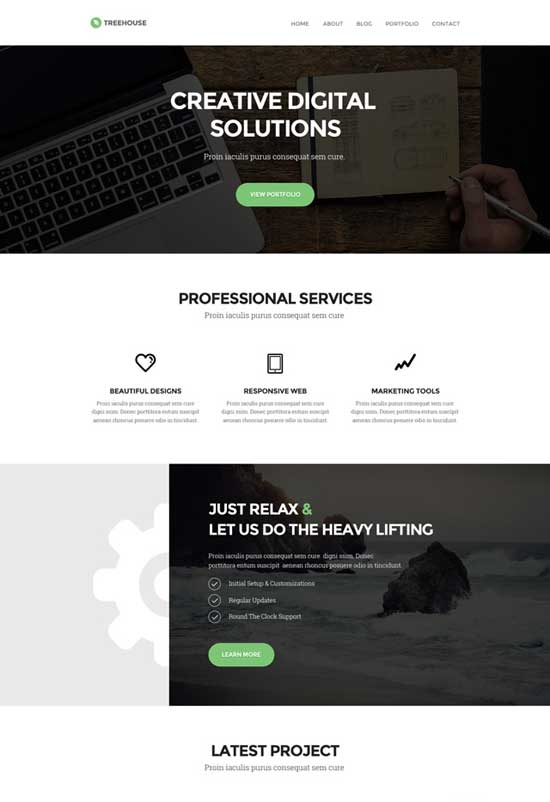 download
Modern Flat Design Template .PSD
Here is a full template theme we created for you to download,  all layers in  folder marked properly. This template ideal for one page layout.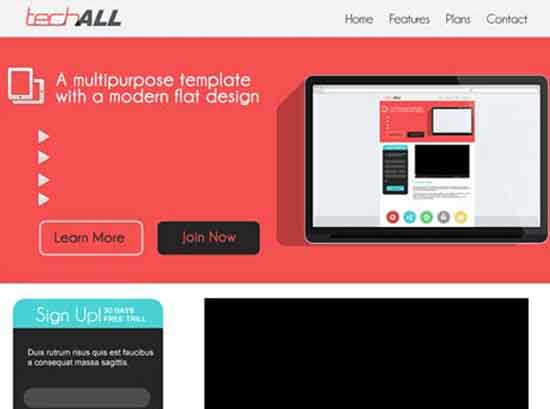 download
Clean Flat Stylish Website Theme .PSD
Here is another theme I just created, very simple, yet power, on to the point design, using  lot's of flat UI  influenced to designed this, the font Im using is called eurostile. You can use others if you like. We recommend using Nivo slide  for this one.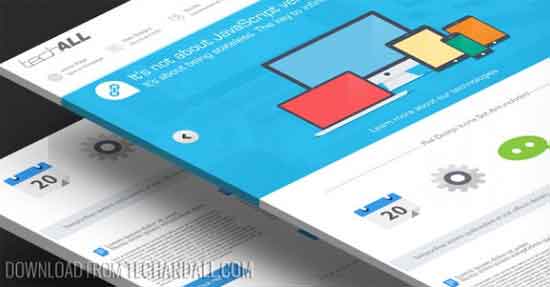 download
Portfolic Portfolio Theme(PSD)
Hello Uipixels followers!!! Design is designed for wordpress.  Theme has a simple and high quality appearance. If you are a designer.  This theme is very useful for you.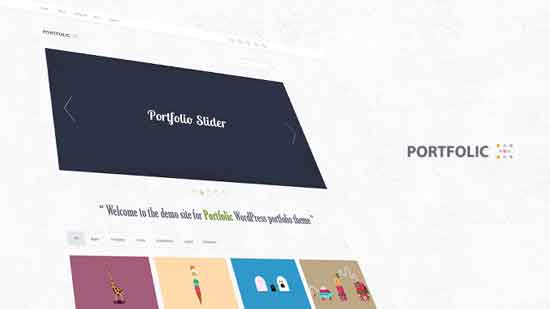 download
Funky & creative website PSD template
Today's Funky & creative website PSD template is called 'Explore'! It's based around a very bright and fun colour scheme and would work well for a travel site or anything to do with fun or kids!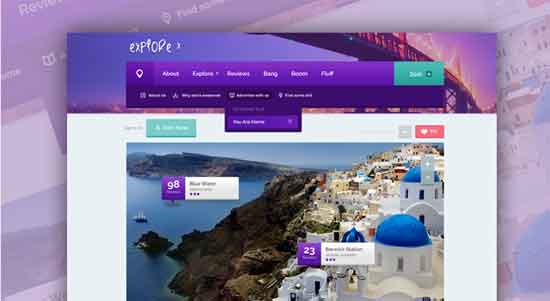 download
Clean Video Player(PSD)
Hello Uipixels followers!!! Today I designed a video player clean and stylish. This player, will give a professional look to your sites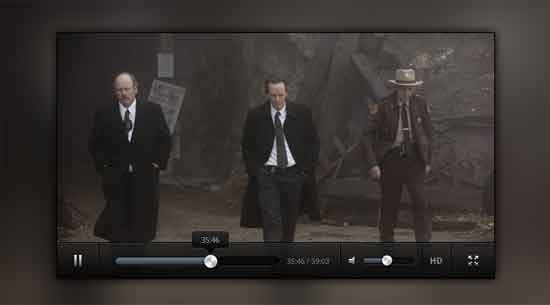 download
Thunder – A Free Mega PSD Website Template
Today's very cool free PSD Website Template comes from our friends at WP Explore! 'Thunder' is their latest entry to their already amazing and great looking folio of WordPress themes.
download
Minimalist Sign In Widget(PSD)
It is a minimalist psd login page for you.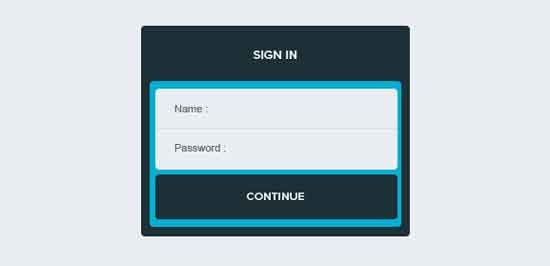 download
Responsive Ui Kit(PSD)
Ui kit you can try different colors with s. sharing a useful, In order to create responsive sites.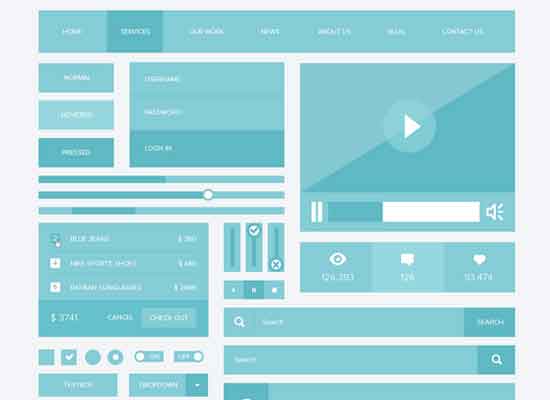 download
Free Business Themed PSD Website Design
I'm a wee bit excited to present my latest Free PSD – it's simply called 'Business' – A free business themed PSD website design. The idea of this design I had sitting around on my hard drive for most of the year and finally got around to finishing it! I must say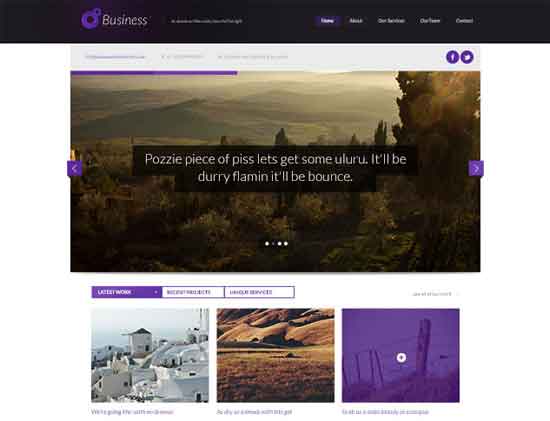 download
Admin Panel Login(PSD)
An elegant admin panel login page. This design your web sites offer an air of surprise.   It also includes a Photoshop PSD like always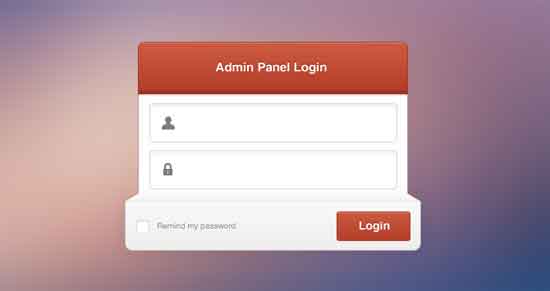 download
Flat Style Single Page Website Design Template PSD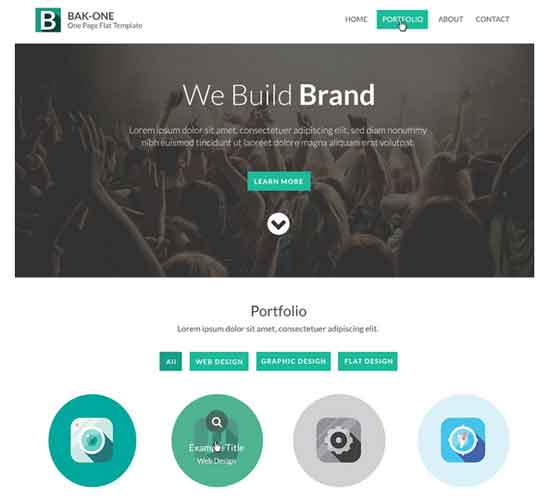 download
Free PSD Webdesign – Travler
This free PSDs is called 'Travler'. It's a free Web design PSD based loosely around a mock online web app that helps with all your travel needs. Now this one took me a while so please share the social love and download to you can't download no more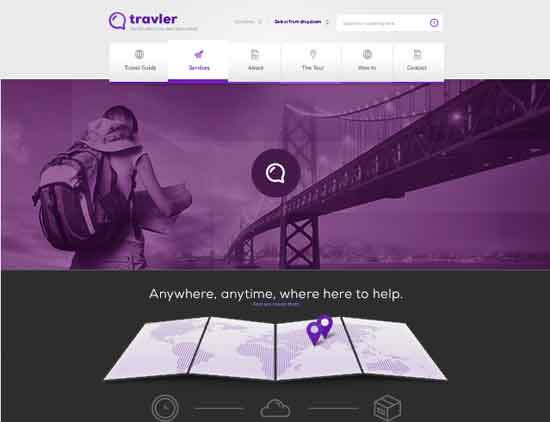 download
Ecommerce Website Template PSD for Free
We are getting a lot requests for a flat style e commerce website design. Today in this post we are giving away a beautiful ecommerce web template PSD for free.  You can see the template below; it is a well-designed neat and clean e commerce template.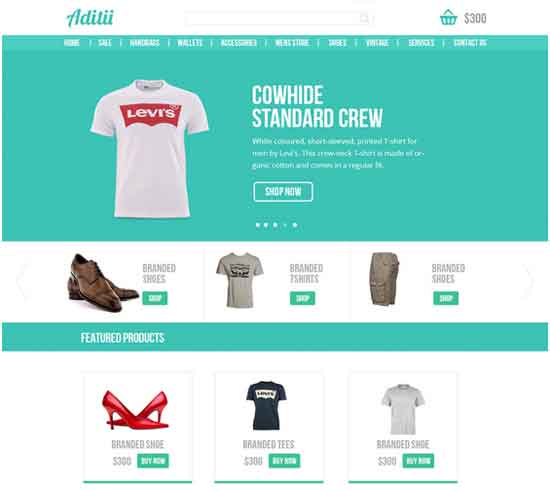 download
Web Design PSD – Banx
This is a clean and crisp fre PSD web design Template is called 'Banx'. I've had this design sitting on my computer for a while now and have been meaning to finish it! It's a clean and simple home page design that uses large photography as a dominate design feature. Would be very suitable to a personal website or a design studio's website!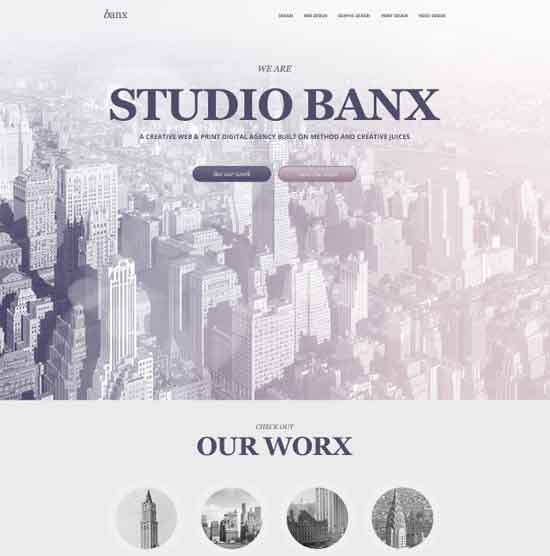 download
Organic – Free Website PSD Template
Free PSD Website Template is called 'Organic' – a clean and crisp home page website PSD template. This PSD website home page design would suit a clean cut corporate site or even some kind of quirky photo blog!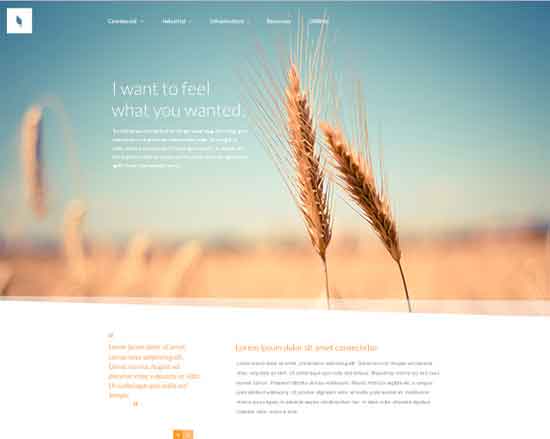 download
Free PSD Hosting Web Design
free PSD was is a clean and crisp cloud hosting website design. This free PSD comes with all the layers you need to edit this awesome design. Compare Hosting is a Free Hosting Web Design Free PSD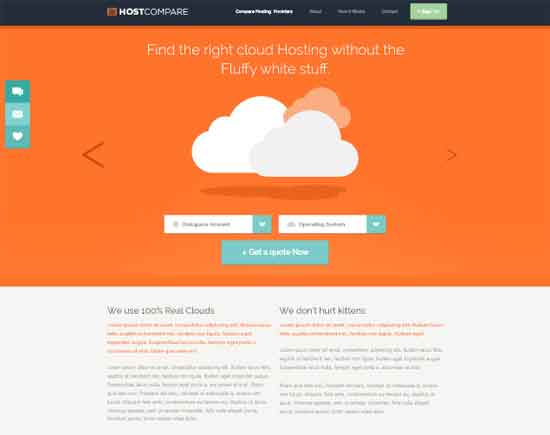 download
Web design is a tricky art that combines both the creative and the analytical skill sets to create something unique and visually compelling. At the end of the day, good web design is more than the sum of its parts. Beginner and amateur designers may think that web design consists of finding a web host that's reliable and simply uploading a pre-designed template, but there's more to it than that, much much.