If you're in the market for a new real estate WordPress theme, look no further than our selection of free themes. Whether you're looking for a simple, minimalist design or something more robust and feature-rich, we've got you covered. Plus, all of our themes are responsive, so they'll look great on any device. So why spend a fortune on a premium theme when you can get a great free one right here?
Related Article
Aarambha Real Estate
Aarambha Real Estate is one of the generic themes that comes with fantastic features that can be used for a variety of purposes and can be quickly adjusted to display Marketplace properties, real estate agents and agencies, as well as real estate and corporate websites. The theme comes with a header and footer builder that works with drag and drop, which makes it simple for users to construct any kind of header and footer in a matter of minutes.
In addition to this, it offers a number of different layout variants and templates that may be used to present online properties and services. Support for real estate agents and agencies is simplified by the theme's incorporation of a robust and essential real estate plugin. This helps develop new agents and makes it possible for existing agents to contribute property listings to your website.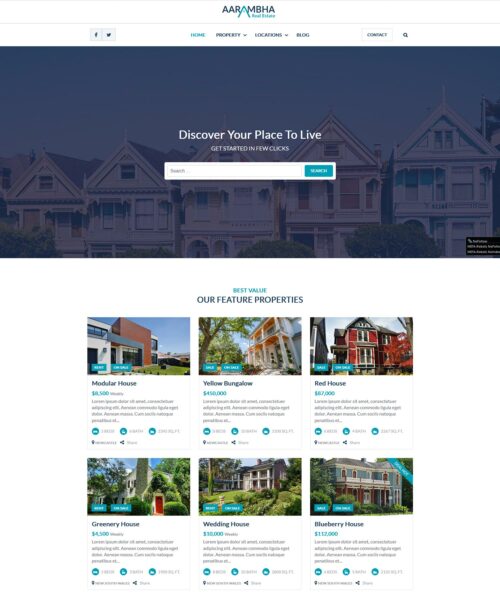 More info / download Demo
Real Estate Realtor
Real Estate Realtor is created for real estate dealers, real estate firms, real estate agents, builders, architects, interior designers, real estate consultants. You are going to fall in love with the streamlined and adaptable style of this theme, which was designed to meet the requirements of companies in this sector.
It includes a layout that is retina-ready so that it can show sharp pictures of properties and other photos connected to your business. Your website is going to have a fantastic and professional appearance as a result of the excellent color scheme, the mix of light and dark, and the appropriate photographs you chose. It is a free theme that provides you with a large number of resources to speed up the process of getting your website up and running.
Because there are so many different ways in which the product may be personalized, making adjustments does not need writing any new code or even updating the current lines of code. CSS animations give the website a livelier appearance, and in order to increase visitor numbers, the developers have already included highly optimized and search engine friendly coding into the design.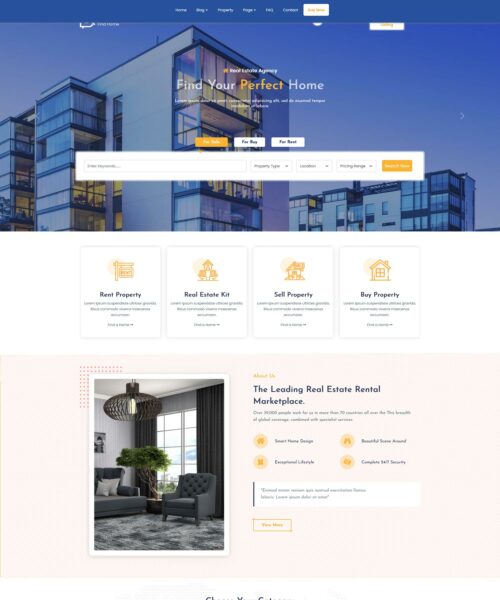 More info / download Demo
Real Estate Agency
This cutting-edge and adaptable HTML5 theme was designed specifically for real estate agencies and was built with their unique needs in mind. The theme makes use of a format that is uncluttered and straightforward to customize in any way you see fit. The real estate agency responds to inquiries in a very timely manner and is optimized for use with search engines such as Google.
Compatibility with Gutenberg, compatibility with WooCommerce, a fully responsive design, content options, header options, sidebar options, social icons, breadcrumbs, read more button options, a back to top button, microdata, and more are also included. Just give it a try and take a deep breath.
This theme performs exceptionally well for websites that are focused on commercial or residential real estate, businesses, photography, blogging, newspapers, portfolios, images, photos, publications, blogs, and news, as well as other editorial websites.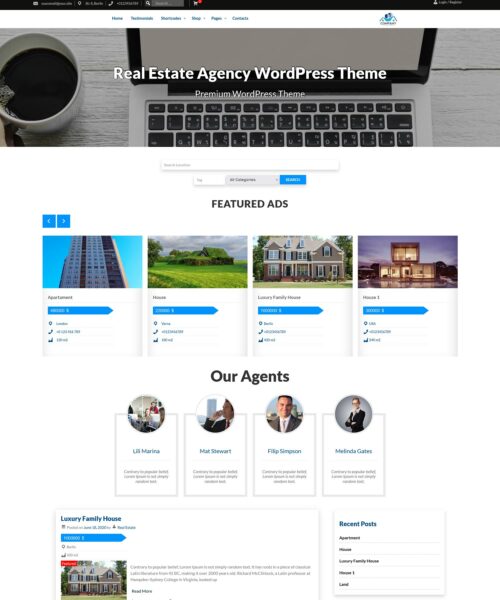 More info / download Demo
VW Real Estate
For real estate agencies, builders, agents, directories, google maps, homes, property listing, agency maintenance, invoices and all, idx broker agency, listing, MLS, real estate, designers indoor., Land Advisor, Member of Commercial Investments, Residential Specialist, Office Realtors, owners, personal property, freehold, land, land, property dealers, architects, and construction companies.
VW Real Estate is a clean, elegant, and responsive theme. Because of its simple and multifunctional style, it will produce an elegant business website that will help your company reach the pinnacle of its potential for success. It is designed to showcase the most important aspects of your real estate company in an artistic manner so as to draw attention to these aspects.
It is possible to use it for a variety of reasons thanks to its versatile layout, which provides a number of different customization possibilities. These include the opportunity to have a custom menu, settings for the theme, an option to search lists, and many more. When you use this theme, you won't have to worry about writing any code at all.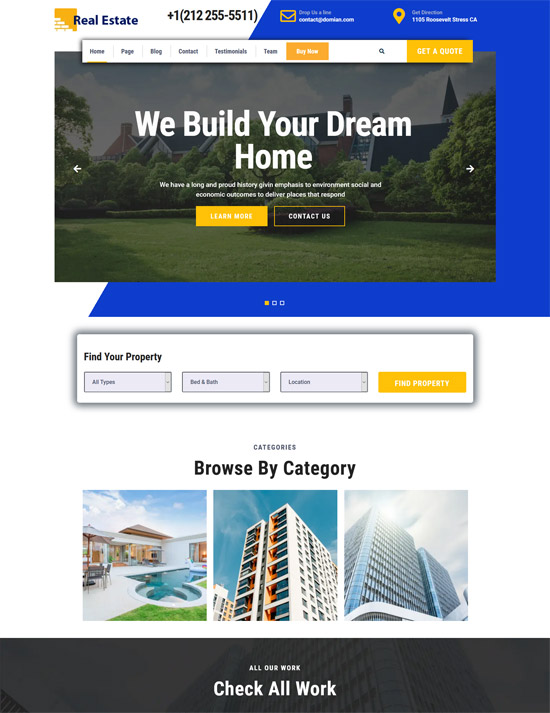 More info / download Demo
Real Estate Salient
The Real Estate Salient theme is a free WordPress template that can be completely adjusted to match the demands of real estate businesses and brokers. The template is available for download on the WordPress website. On the WordPress website, you can get the template in the form of a downloadable file.
It has been crafted with a slick slider that is incorporated into its design, options for customization, in addition to a specialized home page. The power of this theme is amplified by the Essential Real Estate Plugin, which makes it possible to manage a wide range of responsibilities associated with real estate.
These responsibilities include, among other things, property listings, agency maintenance, and invoices. Your user has the ability to add properties if they so choose, which is a wonderful functionality on their end, but only if they have that ability.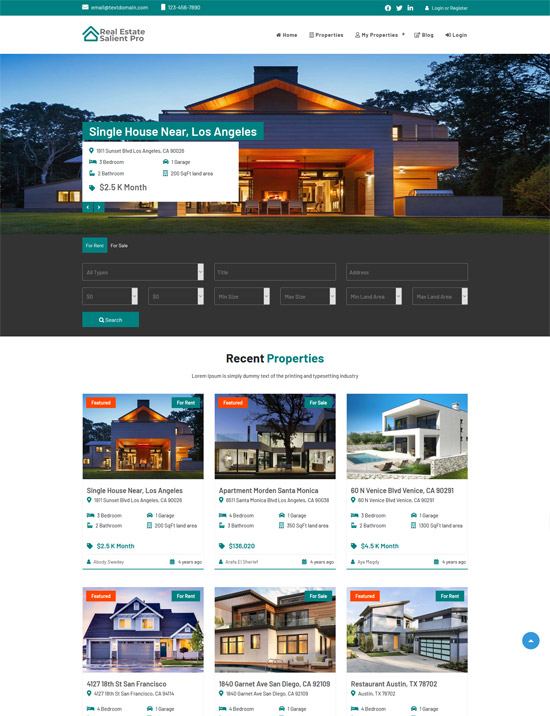 More info / download Demo
Neptune Real Estate
You will be able to sell that property and ensure that your company continues to generate a profit if you use Neptune, a free real estate WordPress theme that places an emphasis on having a straightforward design. Neptune also places an emphasis on having a user-friendly interface.
After downloading the theme for free and installing your free real estate plugin, you will be able to start using the theme straight away. This will make it possible for you to begin using the theme straight away. Do you want to improve the level of professionalism at which you manage your real estate company?
If you immediately upgrade to the Pro edition, you will be able to design a website for real estate that is genuinely customizable to the specific requirements of your business. You will now have access to an advanced search, a property slider, customized home page layouts, and 10 more blocks of content as a result of purchasing this.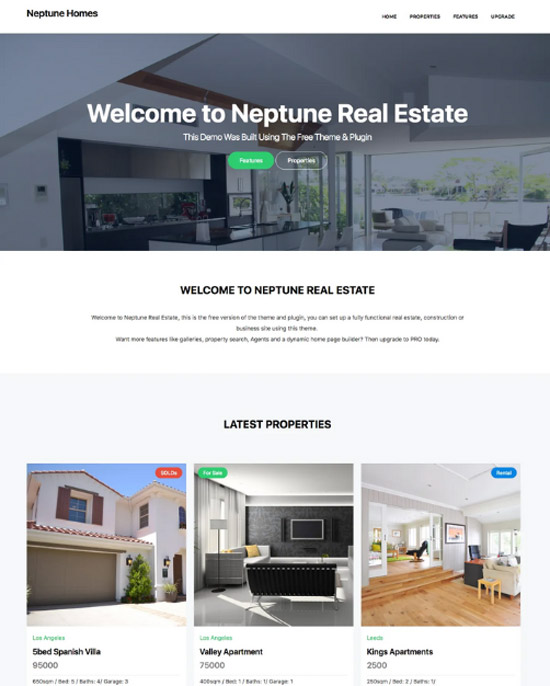 More info / download
Nexproperty
The professional listing directory topic was primarily focused on real estate, which will help you run any type of directory business.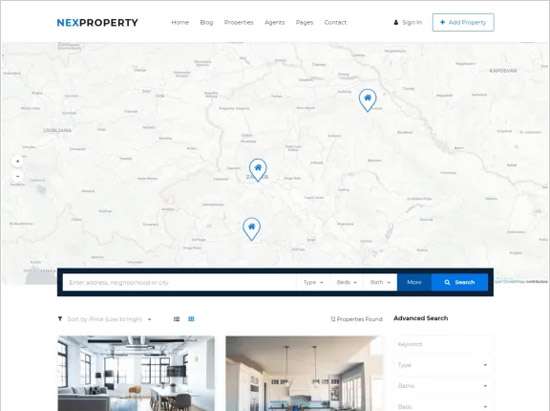 More info / download
Real Estater
Real Estater is a real estate WordPress theme that is perfect for apartments, houses, listings, map listings, properties, real estate, real estate apps, google real estate maps, real estate listings, rent, and rental listing. It is clean, well-structured, bright, easy-to-use, flexible, dynamic, and attention-grabbing, and it has an elegant feel. Real Estater was designed with an elegant feel.
It is completely responsive and can effortlessly adapt itself to the screen size of any device. In addition, what you get is a wide selection of practical components that are intended to make the user experience of your website exceptional. You will be provided with a tidy and professional workspace, in which you will have the ability to put all of the essential supplies at your disposal.
Here is a quick rundown of the features that are available, even though we are at a loss for words to adequately describe how incredible this theme is.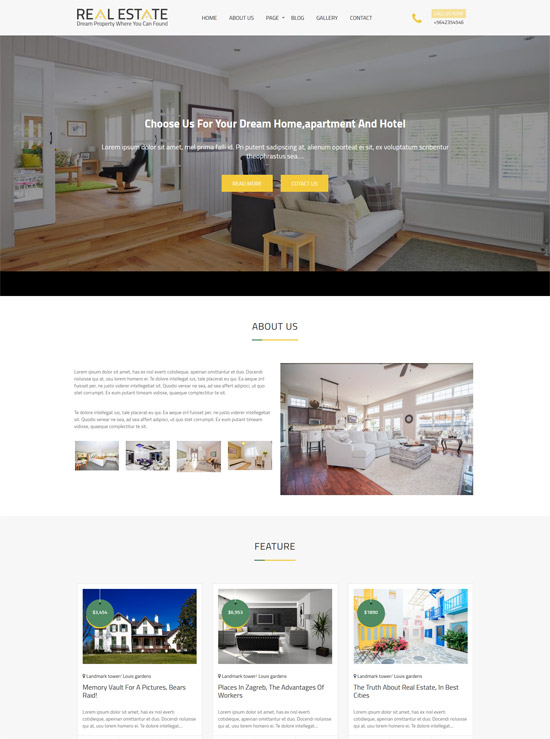 More info / download Demo
Sesame
The theme known as Sesame comes extremely recommended for use on real estate websites. It doesn't matter if you're a broker, an agent, or just someone interested in the real estate industry—you can use Sesame. Provide assistance to your online property listings and generate leads. The theme enables real estate agents and owners to submit listings for properties that are available for purchase or rental.
Due to the fact that everything in Sesame is kept straightforward and intuitive, coding is not required. The most recent standards for WordPress were utilized during the design process, and the theme is fully compatible with the most recent release of WordPress. The sesame seed can be bent. You have the option of incorporating CRM software as well as blogs, the Multiple Listing Service (MLS), IDX feeds, Google maps, property portal searches, listing views, neighborhood pages, building or complex pages, and more.
You can search for homes on Sesame based on the property type, number of bedrooms and bathrooms, and most importantly, the area in which the home is located. Sesame's home search feature is quite lovely. The look can be altered to your liking. Features widgets for recent content or customer testimonials, a drag-and-drop interface for the Elementor design tools, and optional filtering.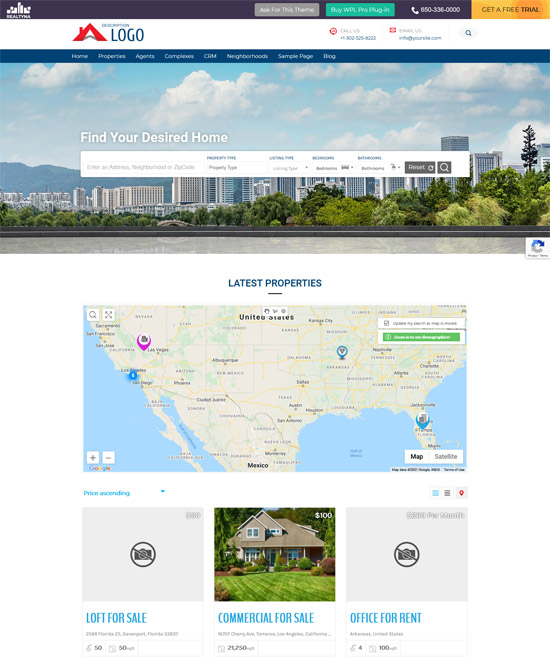 More info / download Demo
Real Estate Right Now
Real Estate is a theme that offers support for multiple languages as well as multiple currencies, making it ideal for real estate agencies, agents, and brokers. With the assistance of the cost-free plugin that is specifically designed for real estate, you will have the ability to generate your very own custom property fields.
You now have an unlimited capacity to manage, search, and filter any custom fields that are used by any organization. There is no coding that needs to be completed in any way. Property search with additional features, such as a range slider for the price that is being asked for the property. Responsive, social menu accessible and complete color control.
There are three widgets in the footer, options for a full or boxed layout, a sticky header, and a button to return to the top of the page. You have the option of selecting a light or dark skin tone with just the click of a button. consisting of an accompanying online tutorial, support, and a demonstration.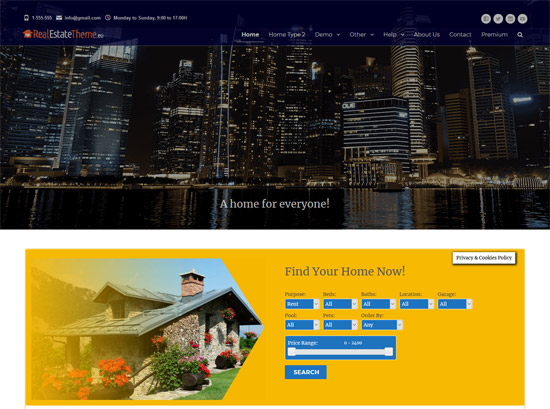 More info / download Demo
Realestate Base
Realestate Base is the name of a WordPress theme that is available for use in the real estate industry. This theme is both pristine and aesthetically pleasing. It is a flexible theme that would work well for real estate agencies, agents, builders, interior designers, architects, and brokers. All of these professions could benefit from using this theme.
In addition to this, it is beneficial for websites that are blogs, businesses, corporate, or portfolios. It comes pre-installed with a wide range of powerful custom widget and theme options, which make the process of customization easy to understand and straightforward. You can create sophisticated and unique websites in a matter of minutes with the help of this tool.
It does not matter how much experience you have had in the past with coding or development; it always produces results that are clean and polished. This theme looks great on displays of any size, from the tiniest mobile phones to the largest monitors, thanks to its responsive nature, which allows it to adapt to the screen it is being viewed on.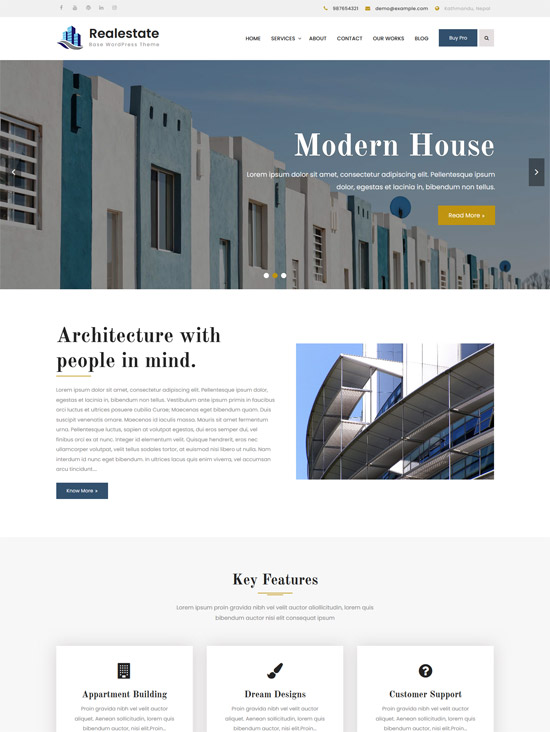 More info / download Demo
fRealEstate
For real estate, there's a WordPress theme. There is an animation effect, a custom logo, a multi-level drop-down menu, a home page widget area, a custom background, a 3 column footer widget, search engine optimization, a Menu footer, copyrighted footer text, cross-browser compatibility, and it is ready to be translated.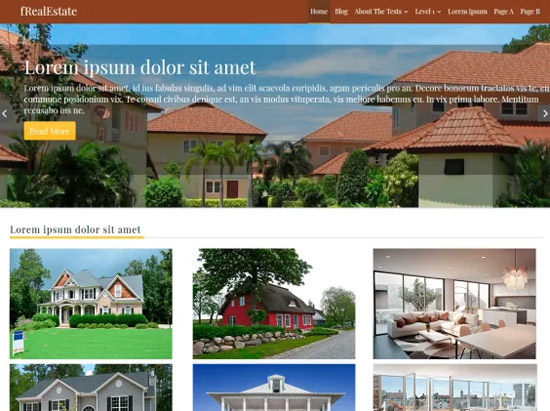 More info / download