If you're in the market for a new real estate WordPress theme, look no further than our selection of free themes. Whether you're looking for a simple, minimalist design or something more robust and feature-rich, we've got you covered. Plus, all of our themes are responsive, so they'll look great on any device. So why spend a fortune on a premium theme when you can get a great free one right here?
Related Article
Best Free Real Estate WordPress Themes
Table of Contents
Aarambha Real Estate
Aarambha Real Estate is one of the generic themes with great multi-purpose features that can be easily customized to showcase Marketplace properties, real estate agents/agencies, real estate and corporate websites. The theme includes a drag and drop header and footer builder to make it easy for users to create any type of header and footer in minutes. Additionally, it provides several layout variations and templates for displaying online properties and services. With the integration of a powerful crucial real estate plugin, the theme makes agent/agency support easy. This helps create new agents and allows them to add property listings to your website.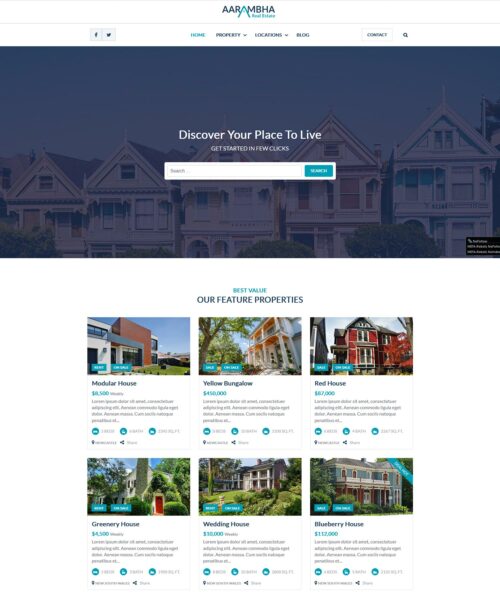 More info / download Demo Hosting
Real Estate Realtor
Real Estate Realtor is designed for real estate dealers, real estate companies, real estate agents, builders, architects, interior designers, real estate consultants. You will love the clean and responsive design of this theme that matches the expectations of such businesses. To display crisp property images and images related to your work, it has a retina-ready layout. Since you used a good color scheme and a light and dark combination along with relevant images, your website will look wonderfully professional. It's a free theme that gives you plenty of resources to get your website up and running in no time. With many customization options available, it's very easy to make changes without implementing any new code or even modifying existing ones. CSS animations make the website look more interesting and to get more traffic, the developers have already included highly optimized and SEO friendly codes in the design.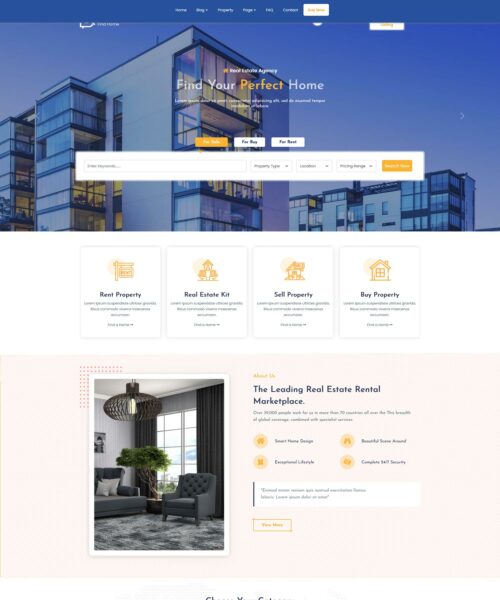 More info / download Demo Hosting
Real Estate Agency
Real Estate Agency is a modern multipurpose HTML5 theme for real estate agencies. The theme is a clean and easy to customize template. The real estate agency is very fast and SEO friendly. Gutenberg Compatible, WooCommerce Compatible, Fully Responsive, Content Options, Header Options, Sidebar Options, Social Icons, Breadcrumbs, Read More Button Options, Back To Top Button, Microdata, Custom Colors, Menu options and more. Just try and enjoy. The theme is great for real estate agency, business, photography, blog, newspaper, images, photos, publication, news, blog, portfolio or other editorial websites.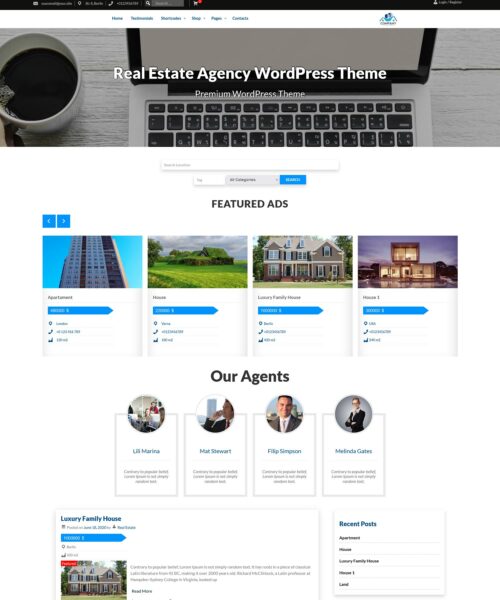 More info / download Demo Hosting
VW Real Estate
VW Real Estate is a clean, elegant and responsive theme for real estate agencies, builders, agents, directories, google maps, homes, property listing, agency maintenance, invoices and all, idx broker agency, listing, MLS, real estate, designers indoor. , Land Advisor, Member of Commercial Investments, Residential Specialist, Office Realtors, owners, personal property, freehold, land, land, property dealers, architects and construction companies. Its minimalist and multipurpose design will result in a sophisticated business website for your business to reach the zenith of success. It is made to highlight the key features of your real estate business by displaying them creatively. The flexible layout allows it to be used for different purposes by offering various customization options such as the custom menu option, Theme options, the list search option, and many more. You don't need to write any code while using this theme.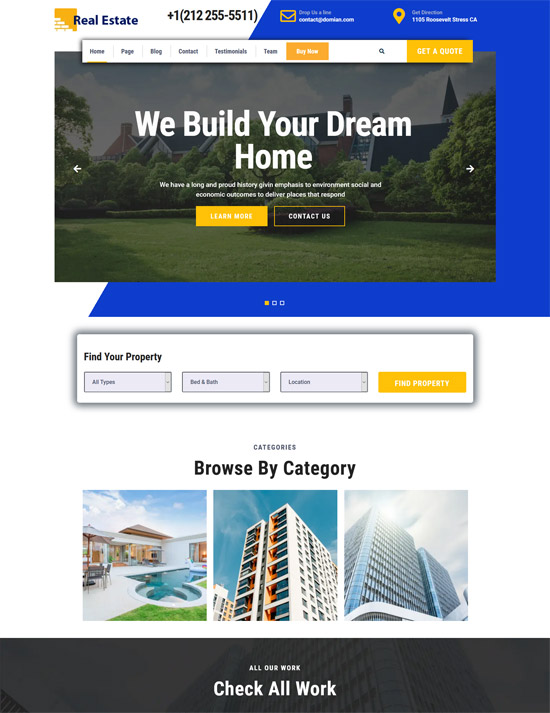 More info / download Demo Hosting
Real Estate Salient
Real estate salient is a fully customizable free WordPress theme for real estate agencies and brokers. It has been built with a stylish built-in slider, customization options, and a dedicated home page. Essential Real Estate Plugin helps make this theme powerful to handle all property listing, agency maintenance, invoices and everything. A great feature is that your user can also add properties if they want.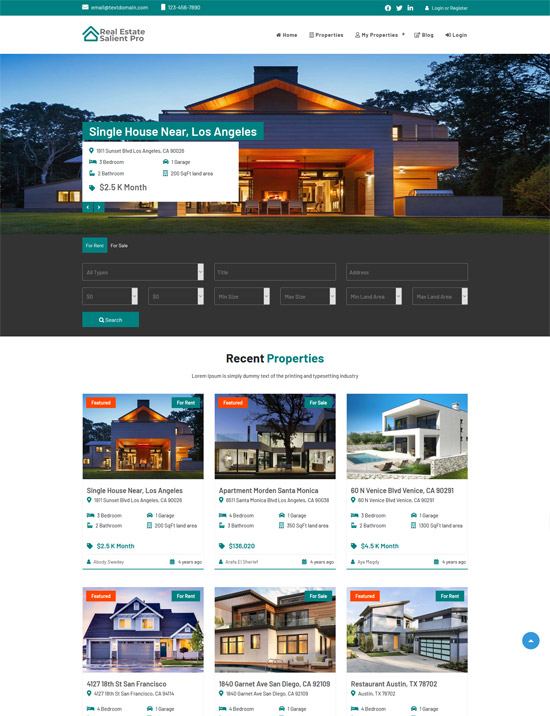 More info / download Demo Hosting
Neptune Real Estate
Neptune is a free real estate WordPress theme, with a focus on simple design that will help you sell that property and keep it in business. Download the theme for free today with your free real estate plugin for basic features. Do you want to get serious about your real estate business? Then upgrade to the pro version today, it comes with advanced search, property slider, custom home page layouts, and 10 other blocks of content so you can build a truly customizable real estate website.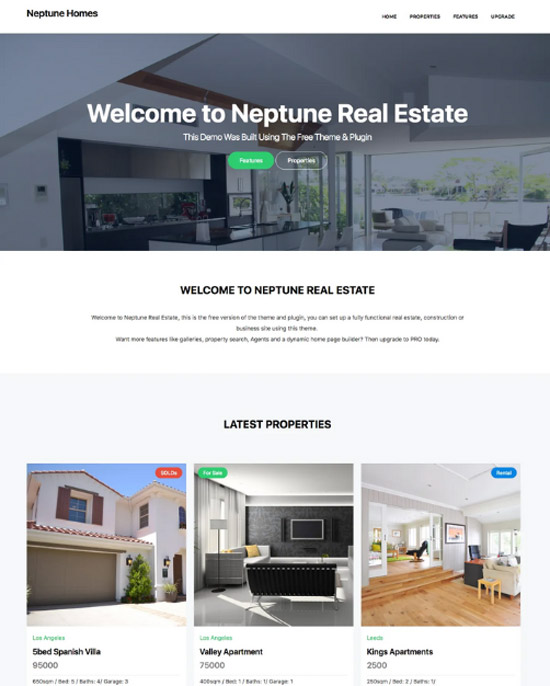 More info / Download Hosting
Nexproperty
The professional listing directory topic was primarily focused on real estate, which will help you run any type of directory business.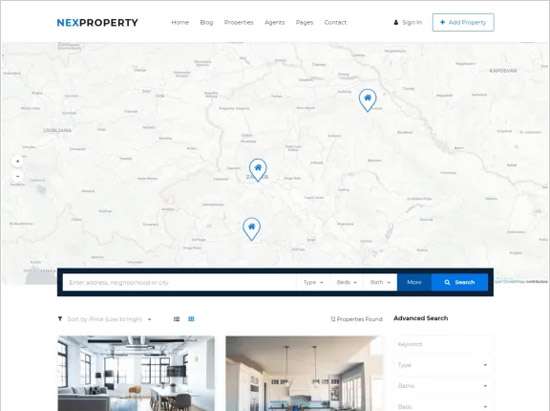 More info / Download Hosting
Real Estater
Real Estater is a clean, well-structured, bright, easy-to-use, flexible, dynamic and attention-grabbing real estate WordPress theme with an elegant feel that is perfect for apartments, houses, listings, map listings, properties, real estate, real estate apps, google real estate maps, real estate listings, rent, rental listing. It is fully responsive and easily adjusts to the screen size of each device. Also, what you get is a variety of useful components that are designed to make your website experience amazing. You get a clean and professional workspace where you can add all the necessary ailments at your disposal. While we can't put into words how amazing this theme is, here is a brief introduction to the features it offers.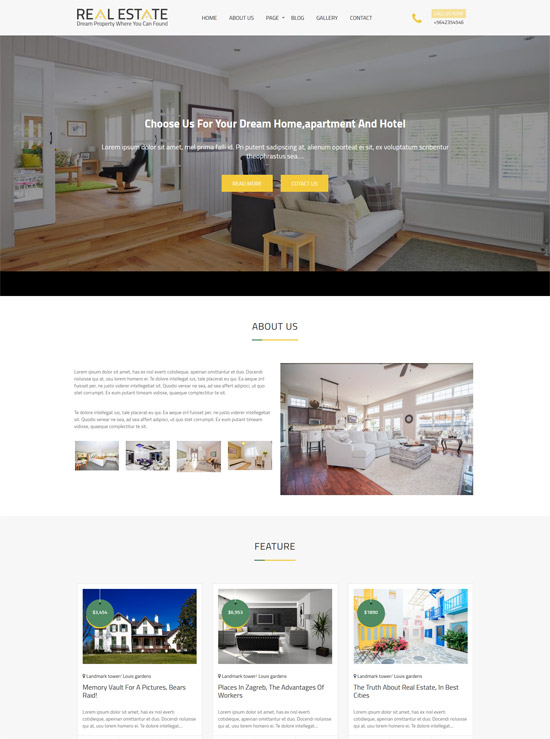 More info / download Demo Hosting
Sesame
Sesame is a highly recommended theme for real estate websites. Sesame can be used by brokers, agents, or anyone else interested in the real estate industry. Help your property listings online and generate leads. The theme allows agents and owners to submit properties for sale or rent. Everything in Sesame is kept simple and original, so there is no coding required. The theme was designed according to the latest WordPress standards and is compatible with the latest version of WordPress. Sesame is flexible. You can incorporate MLS, IDX feeds, Google maps, property portal searches, listing views, neighborhood pages, building or complex pages, CRM software, and blogs. Sesame has a beautiful home search option that allows you to search for properties based on property type, bedroom, bathroom, and most importantly location. The theme is customizable. Includes drag and drop Elementor design tools, widgets for recent content or customer testimonials, and optional filters.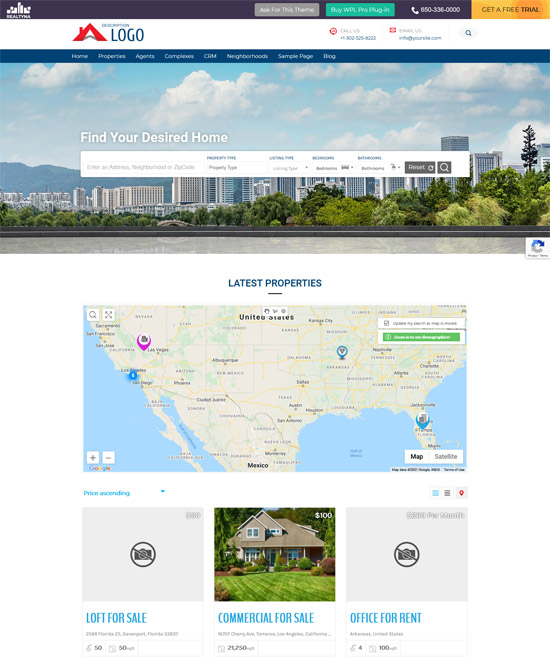 More info / download Demo Hosting
Real Estate Right Now
Real Estate is a multilingual, multi-currency theme for real estate agencies, agents, and brokers. With the free dedicated real estate plugin, it allows you to create your own property fields, giving you unlimited ability to manage, search and filter custom fields for any agency. No coding is required. Advanced property search, range slider for price. Responsive, social menu available and full color control. 3 footer widgets, full or boxed layout, sticky header and back to top button. Choose a light or dark skin with one click. With online guide, support and demo.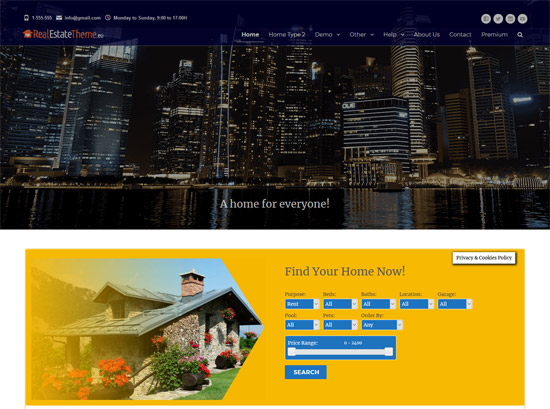 More info / download Demo Hosting
Realestate Base
Realestate Base is a clean and beautiful real estate WordPress theme. It is a flexible theme suitable for real estate agencies, agents, builders, interior designers, architects, brokers and also useful for blogs, business, corporate or portfolio websites. It comes with powerful custom widget and theme options that make customization easy and intuitive. In minutes, it helps you set up sophisticated custom websites. Regardless of your previous coding or development experience, it delivers sharp, polished results. Since this theme is responsive, it looks great on devices of all sizes, from small phones to large monitors.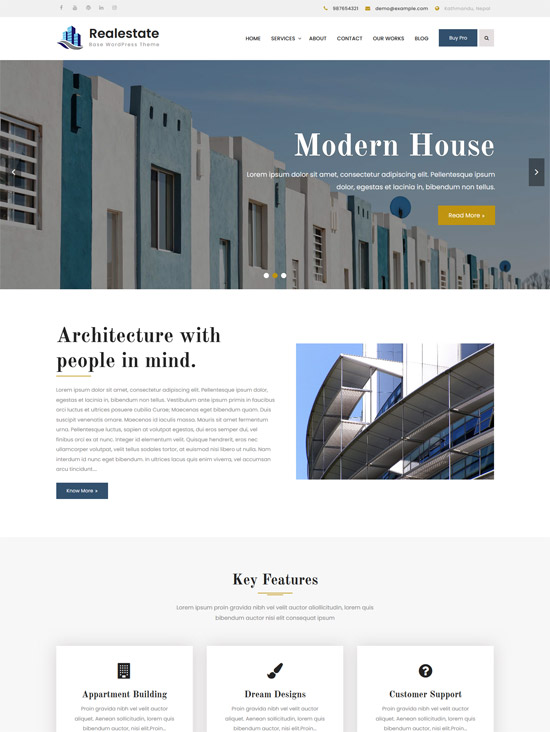 More info / download Demo Hosting
fRealEstate
WordPress theme for real estate. Features include built-in home page slider (displayed only on static home page), animation appearance effect, custom logo, multi-level drop down menu, home page widget area, custom background, 3 column footer widget, search engine optimized, Menu footer, copyrighted footer text, cross browser compatibility and translation ready.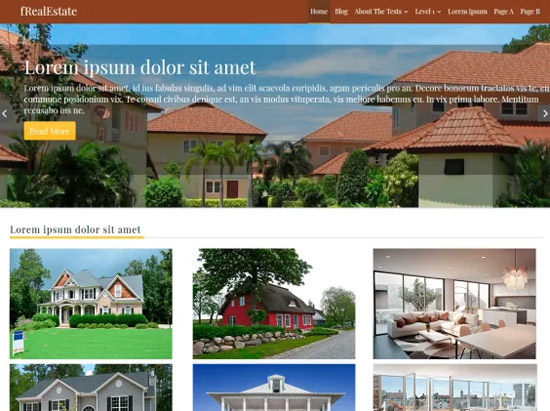 More info / Download Hosting