Looking professional joomla templates, we have pick up best free responsive joomla templates for multipurpose design layouts to help you creating responsive joomla website. Today have collect professional free joomla templates available free download. Freebies always important beginner web developer because they can download to test and learning about those templates. But you should read license before using public. New free responsive joomla template come with css3 HTML5 and responsive layout.
All high quality free joomla templates has designed for corporate business and will suit any type of business. Fully-packed with Bootstrap features, it empowers the site with everything it needs to perform well online. Being SEO-friendly, it's optimized for great online performance. It's cross-browser compatible and responsive, providing site visitors with a pleasant user experience. If you're looking for a template that is trendy, visually simple, user-friendly and easy to use, this free theme is for you.
SCOPE Investment Company Joomla Template
An investment company is a serious and demanding business. And if you want to create a website for your investment business or finance company, it must appear trustworthy and your website must advertise it out of the box. That is why we are introducing you to a SCOPE Joomla theme. Developed by professionals, this theme has a corporate design done in clean style. Due to this style, you can make an accent on valuable information and events. Also, you can blog about your projects and tell more about your professional experience. SCOPE also has a gallery. It will be a useful tool for presenting visual content. So don't waste your time and buy this theme to increase your customer base and tell the whole world about your skills.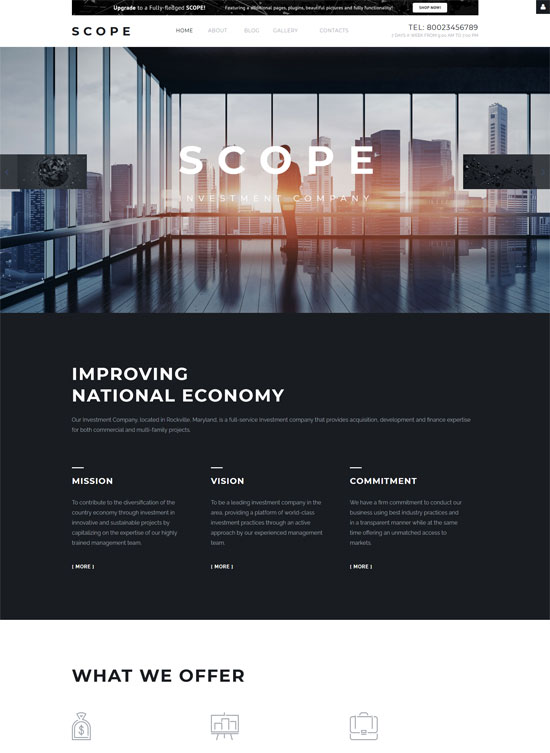 more info / download demo
Free Education Joomla template
ESP University is a simple e-learning theme for Joomla. Suitable for creating sites on various educational topics. The theme design is neat and understated, but at the same time, it is neither boring nor monotonous. The topic can be seen as an example of a successful educational topic that will definitely attract new visitors. And promote the development of an educational resource worthy of any size. It is a simple theme so that even novice Joomla users have no trouble editing it. In the control panel, there are all the necessary functions. The theme structure is flexible and is complemented by an adaptive interface.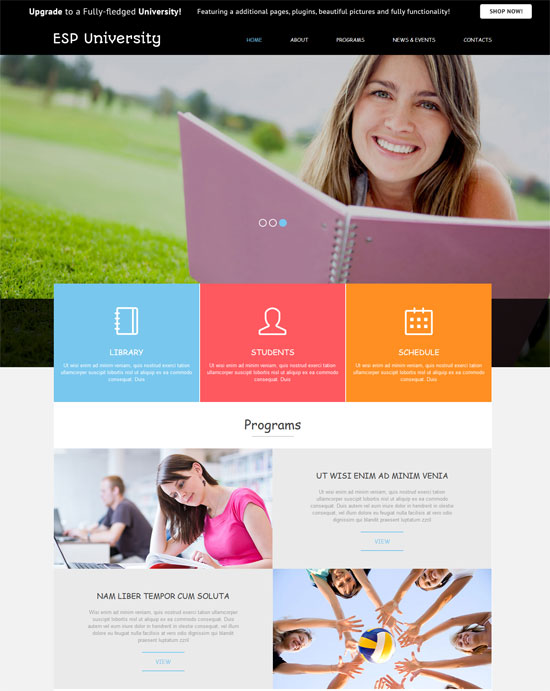 more info / download demo
ET Govern Free Joomla Political template
ET Govern is a sleek and modern political Joomla template that is on a mission to give your site a beautiful look with full features. This theme will perfectly match the official website of the government, law firms, prosecution services, etc. Well developed based on the powerful Helix Ultimate framework, which supports 8 available preset colors to suit any of your site concepts. Also, organizing the content is never a problem for you, as ET Govern has provided you with an outstanding design with an eye-catching look, all you need to do is edit the content as well as make any changes if necessary to make your site. more beautiful.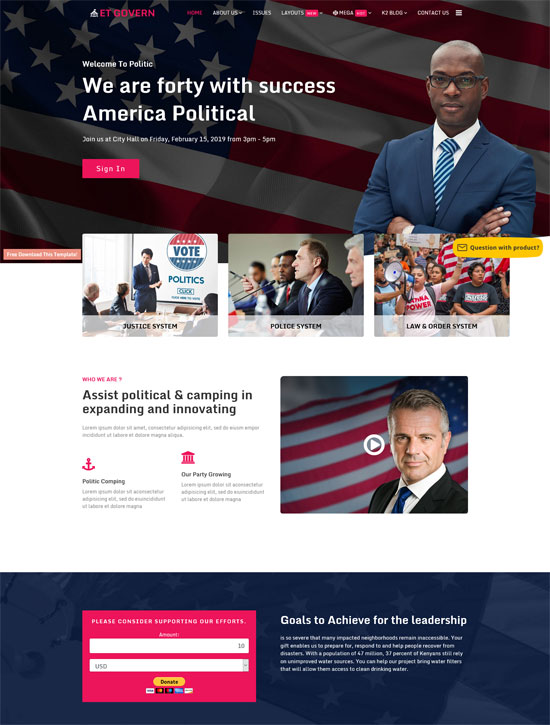 more info / download demo
JD Paris
JD Paris is a simple, clean, and free Joomla template best suited for schools and educational institutes. This template includes Astroid Framework for easy management.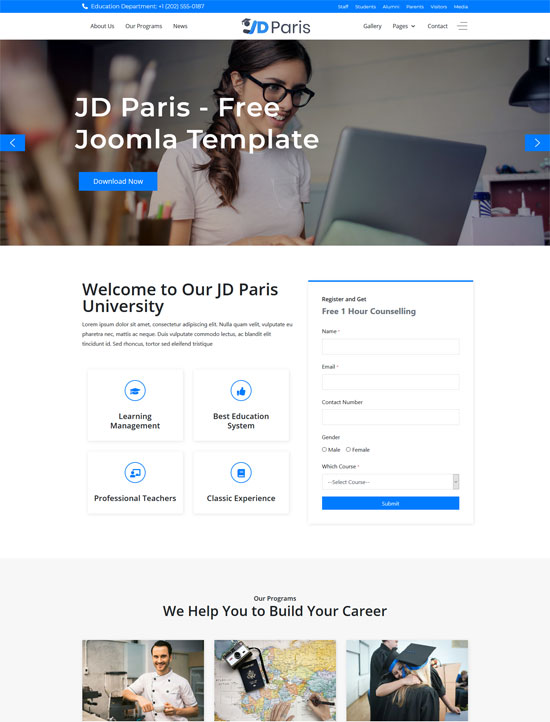 more info / download demo
JSN Hospital
JSN Hospital is a responsive Joomla healthcare template. It includes almost everything you need to create a beautiful healthcare and medical website. The template is SEO friendly and has a code base optimized to work better, the intuitive JoomlaShine template framework with built-in core features will help you manage the site with ease.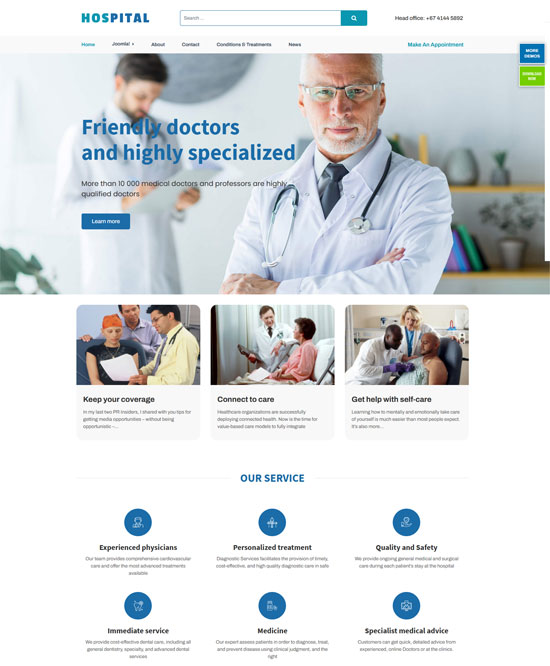 more info / download demo
Wegy Consulting Joomla Template
If you need a website for your startup, you should check out this Wegy Joomla topic. Due to the bright design and many eye-catching visuals and effects, this theme will attract more visitors. At the same time, the corporate style creates an atmosphere of trust. That is why Wegy is a good option for you. And after starting a business company, it will be your reliable online tool. He has a blog and you can fill it with varied content. You can insert texts, visuals and present your startup in the most preferable way. It also includes a social option to spread information and testimonials to collect feedback. Wegy is a perfect tool to increase your customer base and make it easy to use.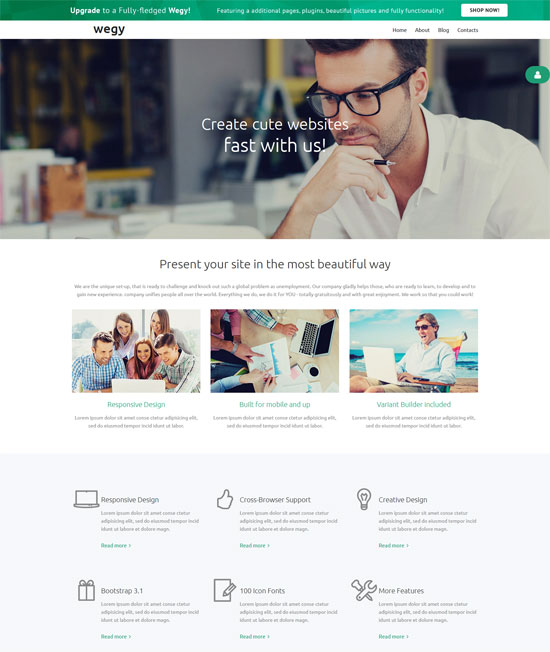 more info / download demo
ET Rocker Free Joomla Music template
ET Rocker is a stylish and modern Joomla Music template that was specially created to help you develop an amazing website to present yourself to a greater number of audiences on the internet, as well as perform your new soundtracks on a beautiful platform. Based on the strong support of Helix Ultimate Font Awesome, the K2 extended style and various widgets and modules, all of them can be easily accessed and customized from the CMS Panel. ET Rocker will give your audiences a great new experience to enjoy your products online, with a beautiful appearance of your site.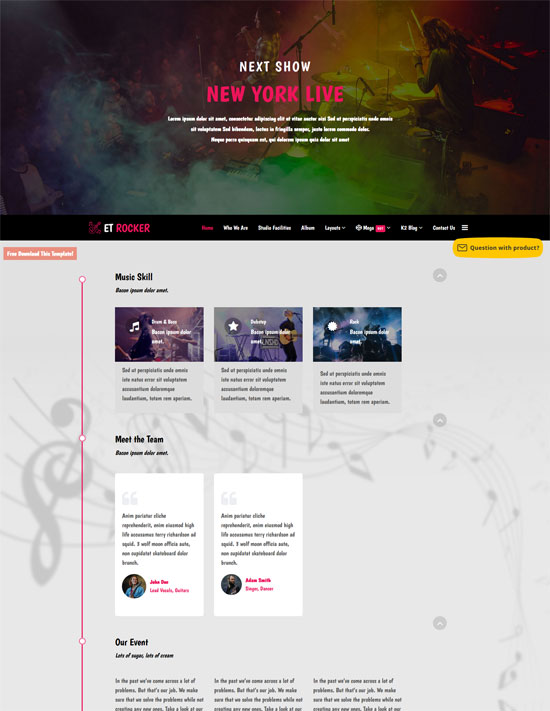 more info / download demo
Interior & Furniture Free Joomla template
If you need a theme for a design agency, you should check out this Creo Furniture Joomla theme. It will be a good choice if you have a business related to interior or exterior design items and accessories. Also, due to the hard work of the developers, this theme includes reliable code and works perfectly on all devices. It looks great on PCs, tablets, and smartphones. The elegant design was developed to attract customers and present your products in the best possible light. You can also use a blog to tell more about furniture, renovations, and decorating styles. Creo Furniture includes many other useful features such as Google maps, testimonials, social options, and many more. Creo Furniture is a great option for any design company and you should check out the demo to see all the information.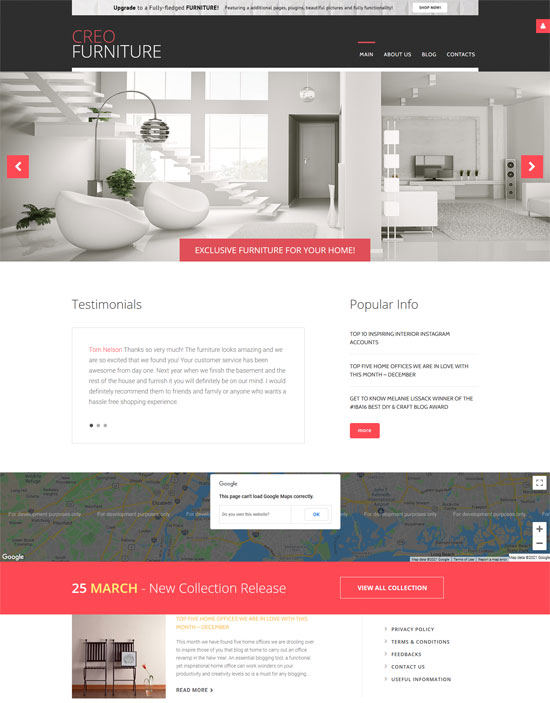 more info / download demo
Tracky Transportation Free Joomla Template
This free Tracky Joomla theme is a perfect example of a good shipping company website. It has a clean but eye-catching design, packed with useful features like Google maps to advertise your locations and a blog to inform customers about your business and services. You can also use the social options to stay in touch with clients and the gallery to impress them with visual content. As you can see, Tracky provides you with many useful functions. All you have to do is use them to create a perfect website for your transportation company.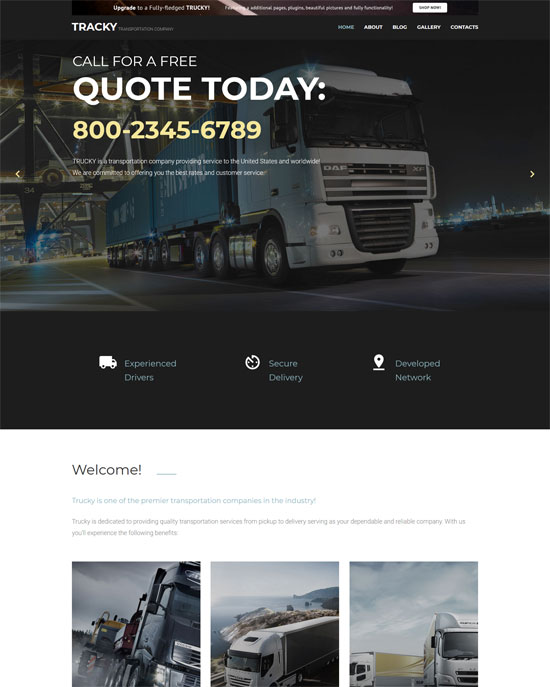 more info / download demo
Focus Photographer Free Joomla Template
It is important for every photographer to create an impression of a professional and current portfolio in the best possible way. And in modern times you have a powerful tool that allows you to advertise your services and tell more about your professionalism and skills. All you need is a good website. And if you want to save time and money, you should use the website theme. It is a fast and reliable way to create a website. Also, a website developed with the Focus Joomla theme will be easy to edit and you can do it without any coding skills. However, the pre-designed structure fits perfectly into the photographer's portfolio and allows you to present fashion projects, wedding photos, nature, animals or portraits. Thanks to the support of high-quality images, you can impress customers and make your website eye-catching.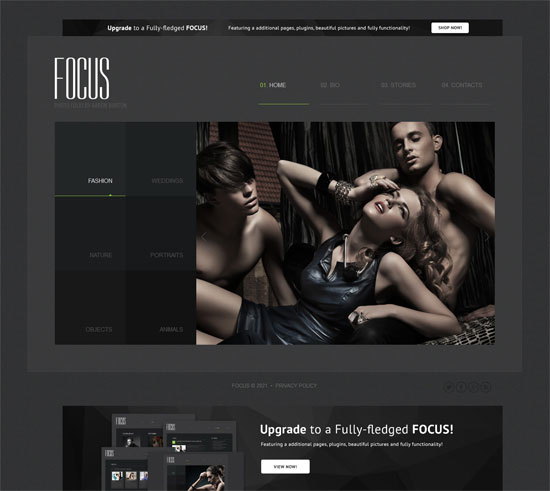 more info / download demo
University Joomla Template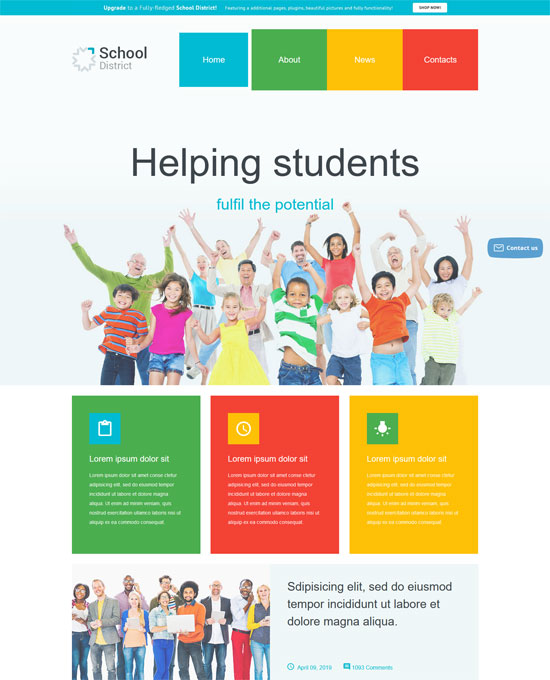 more info / download demo
LT Golf
LT Drones is a free responsive joomla template 3.8 for golf sites. All the provisions we have to offer are clean and pleasing to the eye, making them perfectly suited to a golf tournament site. The Golf Joomla template will help you give your spectators the opportunity to sign up for a golf lesson or a complete golf course. Our updated styles are not only eye-catching, they're easy to customize to your taste with color options and integration with Google fonts. Whether you need a Google map on your page about us or a contact form in your footer, you'll find what you need in your Joomla dashboard.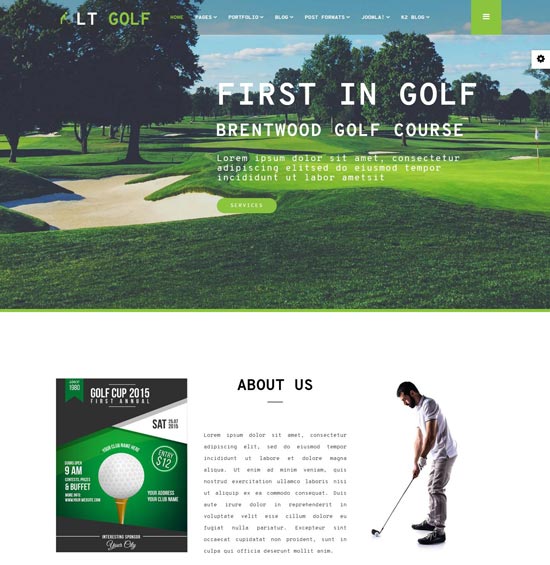 demo more info / download
Taxi 3030
This free Joomla taxi template is designed in a minimalist style with lots of empty space, minimal content and great typography that catches the eye. Different blocks have different colors so that each type of your content could stand out. The minimalism of the layout does not compromise its information value. You can highlight your pricing policy, types of transportation, testimonials, contacts, available drivers, and much more. All of these details are displayed with tables, counters, notebooks and other UI elements for a more dynamic look and better content layout.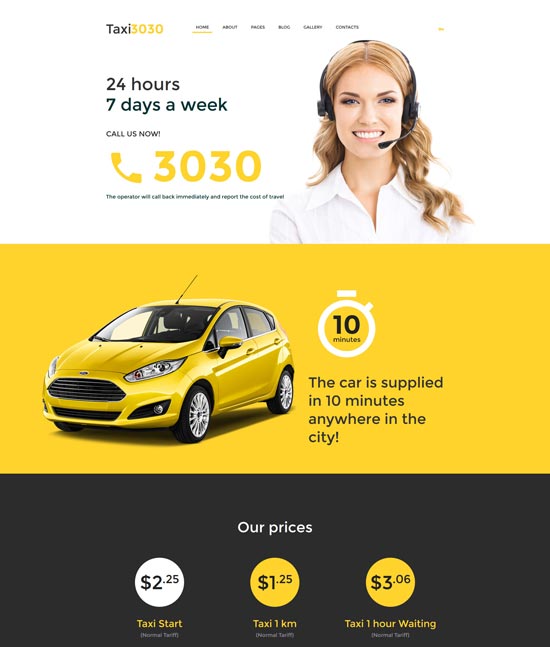 demo more info / download
JA Simpli
JA Simpli has been created with the Joomla templates in mind. We tried to add missing features from the default Joomla templates. No frameworks, default Bootstrap version but with tons of features, no coding skills are required. JA Simpli is perfect free responsive Joomla template that should meet all your requirements: from a simple to complex Joomla projects, lading page, personal blog, business portfolio site. The template layouts is flexible for any purpose with easy. With 4 premade Home variants, you have more choices to start with.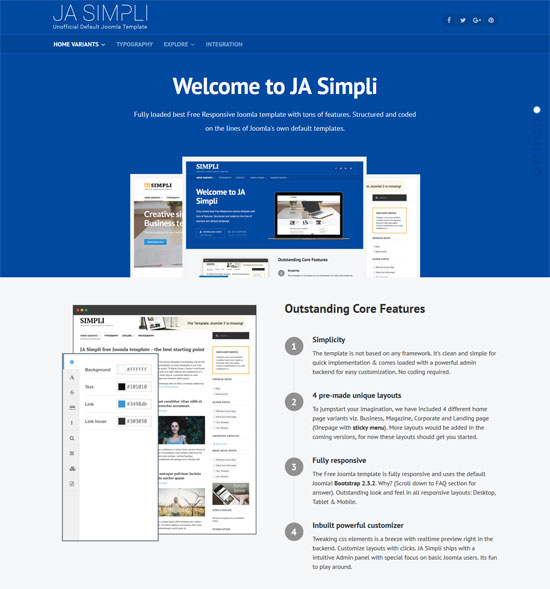 Varianto
Varianto is a responsive and search engine-friendly free Joomla template designed for advertising, consulting, finance, management and other corporate sites. Its modern design combines minimal text, large images and a contrast of blue, light and dark backgrounds. They visually divide the content blocks whose diagonal borders add an avant-garde touch to the layout. This Joomla management company template is packaged with dynamic user interface elements, including progress bars and counters. To connect to your site more quickly, visitors can use a social connection, while navigation is a breeze thanks to a multi-column drop-down menu. Through an integrated feedback system, they can share their comments with each other.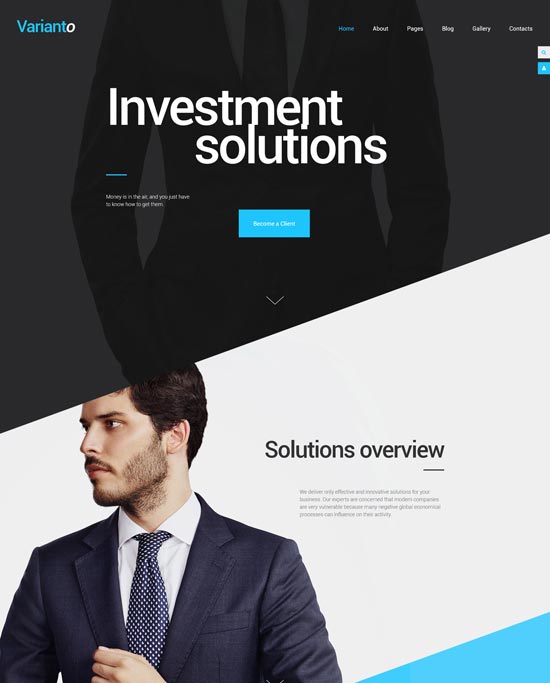 demo more info / download
Video Watch Free Joomla Template
It is new free joomla template for movie blog and easy for using.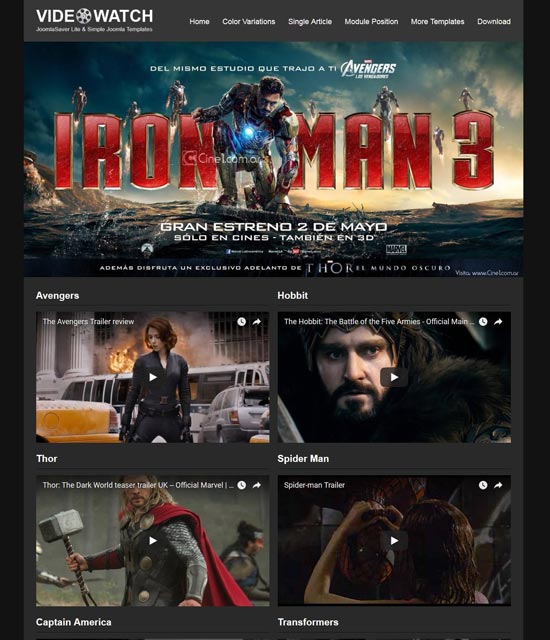 demo more info / download
ATV Club
ATV Club is a beautifully designed Joomla Motor Sports template that is designed to work perfectly on a variety of desktop and pocket gadgets. He looks elegant and professional. A dark color layout style is enhanced with eye-catching orange design elements. Non-standard content placement provides users with more interactive page navigation. The theme's header is enriched with a drop-down menu and an integrated live search. A contact form, a set of contact information, and an integrated Google map are located at the bottom of the theme's home page. The theme is fully customizable and can be adjusted perfectly to your brand identity.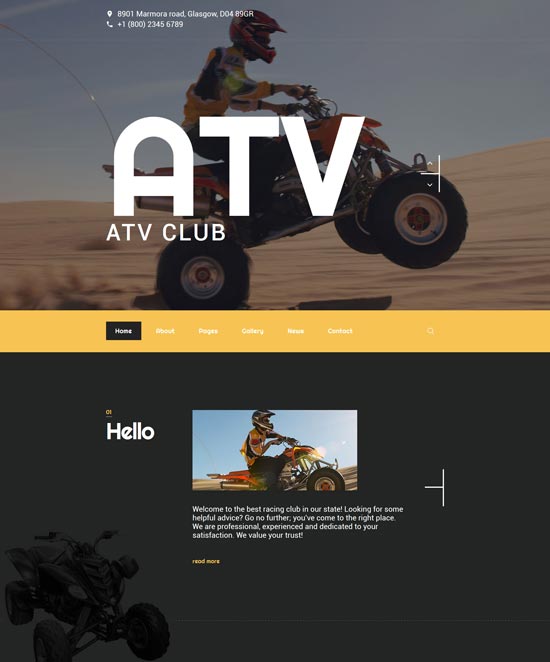 demo more info / download
LT Nail
LT Nail is a beautiful free Joomla salon template that is intended for website design of barbershop, nail salon or beauty salon. Joomla Salon Template is the perfect solution for all your needs, giving you the opportunity to advertise your services, increase your customer base and create a truly impressive web presence. The template frame comes with Page Builder for Layout, Shortcode for Current Content Easily, Support Awesome Font, Compress Files and so on. Plus, you benefit from inter-browser compatibility and other features that make it easy for you and your customers to use your website. This means you can change every aspect of the theme, creating a new design with powerful features and great SEO tools.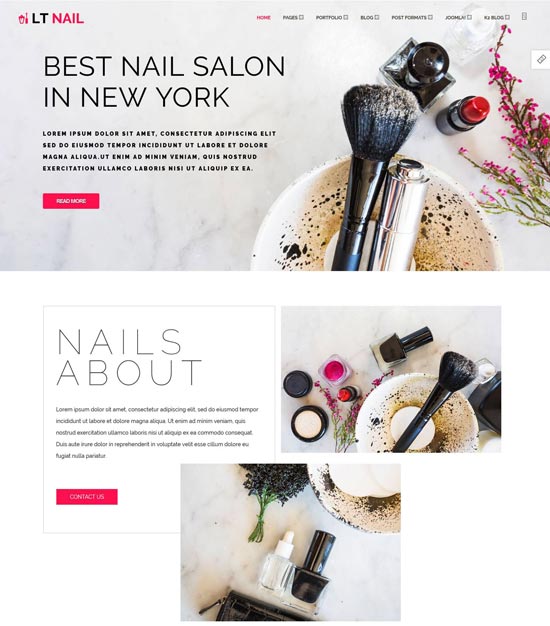 demo more info / download
Exterca
Exterca is a Joomla template suitable for interior and exterior design companies. The content is presented in a clean and pleasant background for the eyes, which offers perfect readability. To present your projects, you will find a tiled image gallery. In flight, each image is displayed with a small portion of text in an elegant frame. This Joomla outdoor designer model puts an extra emphasis on navigation. In addition to the header, a burger menu icon is duplicated over each block for instant access. The integration of Google Maps allows you to reveal your exact location. The template also comes with a pack of user interface elements for different purposes.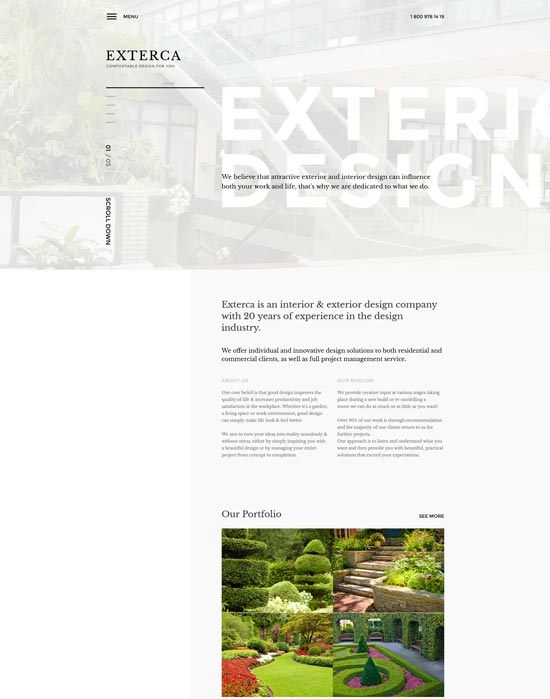 demo more info / download
Traffic Signs Company
This responsive Joomla School template will give you a hand at creating a driving school, or any similar site. Its design is simple and direct, which allows you to put your services in the foreground. In the lower part of the template's home page, just above the footer, is an interactive Google Map widget. With his help, you can easily show your visitors how to reach your office. To increase the credibility of your website, use customizable testimonials, which are displayed in a slider. Overall, this template is one of the most effective ways to launch a business website because it is extensible, easy to use and developed for a popular and proven CMS.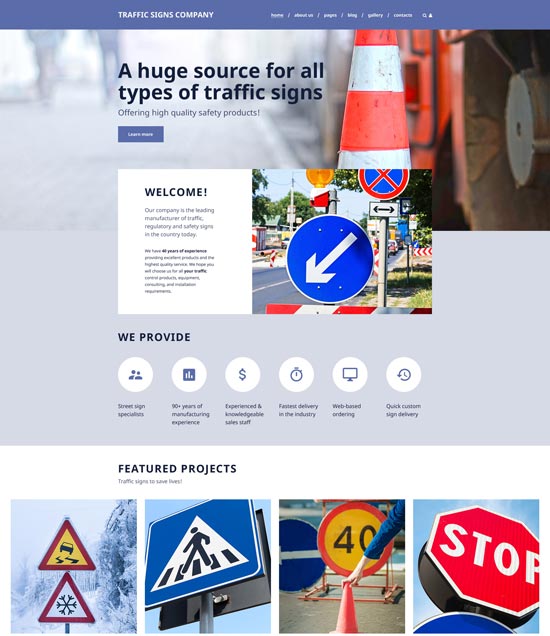 demo more info / download
Family Center
visario is the best free responsive joomla template download related website should show a visually pleasing tone that imbues the entire layout with cheerful vibes. It welcomes people in and helps with communicating the key ideas of a project. Consider using this appealing modern theme to set up your desired site in a jiffy, and convey warm greetings to the target audience.
Purity III
Purity III is the best free responsive joomla template with responsive layout that you won't get enough of for almost everything: from a simple to complex Joomla projects, personal blog to professional business portfolio site, or just about any Joomla projects you have in mind. Purity III is completely FREE. It's our dedication to the Joomla community to welcome the new 2014 with even more challenges and excitement in Joomla template development.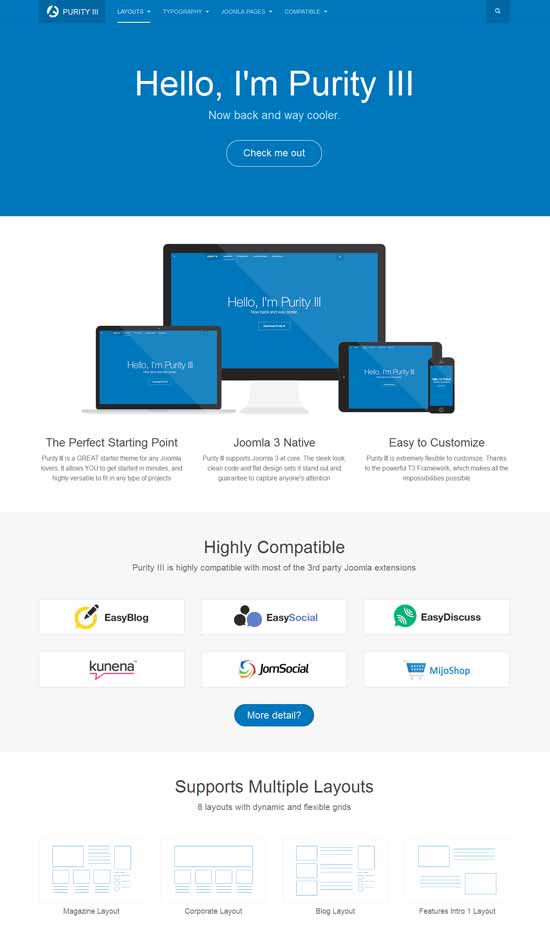 more info / download
JA Elastica
JA Elastica – free responsive joomla template and is completely free licensed under GNU/GPL V3.
Interior
If you are still in doubt whether free Joomla 3 template is that good, just download this free sample of the product and carry out your own unbiased research. Find out every single change both from visitor's and administrator's ends. Feel this unparalleled comfort of managing your website from your tablet or smartphone. Assess how easy became the process of customization. Use only the best and the most advanced technologies that automatically adjust to all popular screen resolutions. Make any updates you need on the go. Find all the improvements that were not mentioned here. Notice the enriched aesthetic appeal and functionality of each element. Step into designer's shoes and try to make the template perfect for your corporate goals.
Shoe Store
Shoe Store is clean and minimal free joomla template for eCommerce website template based on new VirtueMart 3 eCommerce solution. This Joomla template was designed specially for shoe webstore, but also will fit perfectly for online store like clothes, cosmetics, accessories and any other webshop. This eCommerce website template is 100% responsive and can be easily usable with any device – desktop computer, smartphone or tablet. Click demo button to see all the features of the free ecommerce website template Shoes Store right now!
Shaper Radon
Radon is a free responsive joomla template for business clean, modern design multi-purpose Joomla 3.3 3.x and 2.5 template can be used for any type of professional and modern websites. It fully equipped by latest technology such as Bootstrap, HTML5/CSS3 and Mega Menu built-in. The template has full support for RTL language and will work on any device. Take a quick look at the Radon features below to discover more.
RealEstate
Free Estateis clean free joomla template for real estate template for Joomla 3.3. In the base of free real estate website that you can view on the demo is OS Joomla Blank Template and Real Estate Manager (free version). Also in free Quickstart Package was included free Joomla image slider, search module, Joomla google maps module, dummy data and more.
SJ Vinda
SJ Vinda – a wonderful free joomla template for entertainment Joomla! template for both Joomla 2.5 and Joomla 3.x, integrating K2 Component as a powerful content platform.
SJ Vinda is built with Flat design, neat typography and well-structured layout. Along with 6 color schemes and 8 bonus pages, supporting RTL language and various content types. This template would be great for entertainment, media, event, movies websites, you can also style other types of websites as the way you want, of course.
OS Section
OS Section is a free joomla template, that can be used to create various types of business, corporate or marketing sites – agency, portfolio, photography and blog websites. Fully responsive layout works perfectly on every screen. OS Section comes with portfolio page, responsive gallery, Google location map, advanced typography features, a blog and contact us section.
SJ News
SJ News – free joomla template has been released. With a new eye-catching design and many extensions which integrated in, the template is the present of Smartaddons to thank you for your continued support. Please visit demo of us, we're sure SJ News will make you really satisfy.
Wedding
Watches Shop
OS Watches is free joomla template using Virtuemart. OS Watches is fully responsive theme, that adapts to the screen resolution of the devices – smartphones, tablets and desktops. This Joomla template may be used especially for watches store, but you can use OS Watches Joomla template for any other type of stores. Template includes lots of useful built-in features to help you build an awesome online store.
Feuerwehr
Music
Our original free joomla template for music themes offers an up-to-date responsive tile layout that adjusts effortlessly to fit the viewport size. With multiple modules creating article links and dynamic tabs with tag clouds, latest comments and more, Music Free is a contemporary theme for the modern, multi-device world that great for news or entertainment websites.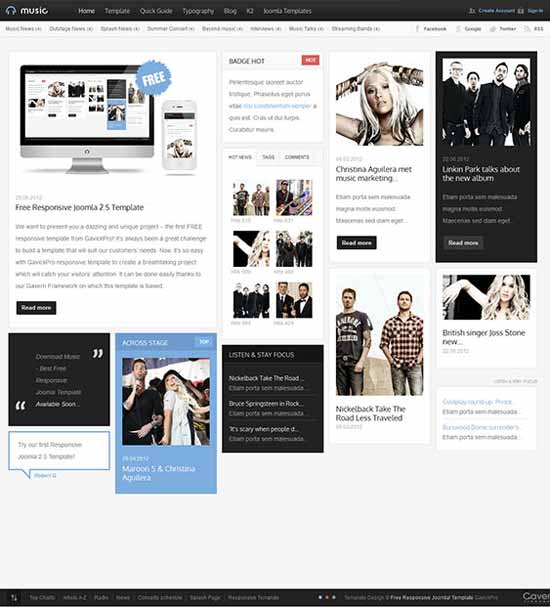 more info / download