Magazine
The best responsive and free joomla template for magazine blog or news website
Business
This template is a free joomla template that designed for purpose business consulting, law and cooperation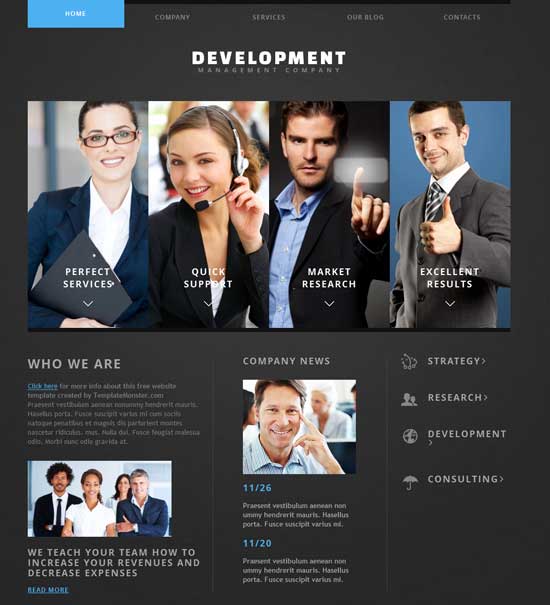 more info / download
Automatic
The modern design of free joomla template is a perfect fit for automatic Car site business online. The layout in contrasting colors speaks for the solid business ideas and products of the premium quality.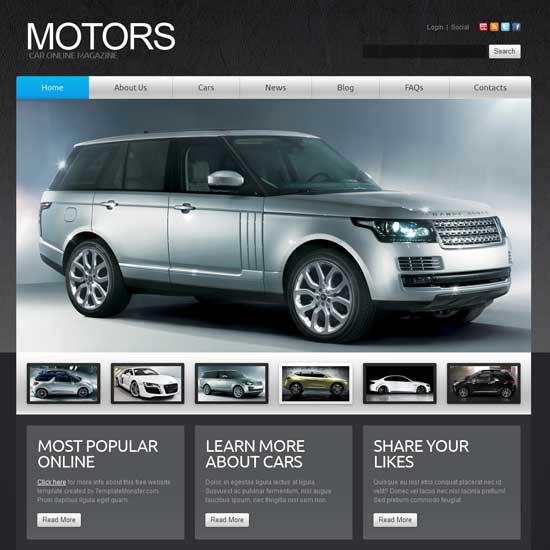 more info / download
Photography
This free joomla template is best design for personal blog related to photography who photographer may like this create their own blog to show and share photos or know knowledge by online.
Luxury
This sample free joomla template was created specially for your convenience and in order to simplify your future work with Joomla 3.0 Templates that have a powerful working potential. It is a perfect chance to discover Joomla template for purpose of interior design company.
Helix
JoomShaper is proud to release the Shaper Helix – II template. This free joomla template is the first template with JoomShaper's Helix framework version 2. It is released under GNU/GPL license and is free to download.
Shaper Helix – II comes with neat and clean professional designs with complete set of features at par with our commercial templates. This is first free template certainly in Joomla world that comes with lots of shortcode such to create video, gallery, slideshow, tabs, accordion etc. without install any module.
Global
002071 is a free joomla template! template is the idea that will help you to start the desired web presence in no time and make it successful. It is based on the Bootstrap Framework. The Bootstrap Framework makes it fully responsive to all screen resolutions and aspect ratios. Moreover, thus it carries a lot of useful features, for instance additional HTML5 elements, set of CSS components, grid system and much more.
JSN One
JSN One is an free joomla template for eCommerce site with an impressive, modern and vivid design. Inspired by street style, JSN One is designed with great creativity, modernity and youthful energy. If you are interested in a powerful and magnificent shopping-cart extension, JSN One would be a wise choice with J2Store Extended Style.
JSN Glamo
JSN Glamo is free joomla template for fashion & retail joomla website template 3.3, 3.x that you can download free edition version, it is specially equipped with an extended style for RedShop. It has a feminine, attractive and modern design which visually captures the clients interest due to the vibrant color variations, clean layout and mobile-friendly.
Baseline
Baseline is  flat design free Joomla template will demonstrate the best features of YJSG template framework. Baseline comes with responsive layout , 3 template styles , custom module styles, additional team page and custom style for YJ Module Engine. As all our YJSG based templates, Baseline template core is enhanced with custom typography styles, Twitter Bootstrap and huge variety of template shortcodes.
Favourite
Eximium
Eximium  is our first free joomla template by Yjsg v2 Joomla Template Framework based theme. To live up to it's extraordinary name, Eximum is engineered for every possible website layout, great speed and remarkable flat design.
Harvest Hills
JSN Yoyo
JSN Yoyo is a distinctive free joomla template that has the one-page interface which allows delivers a brand-new experience to the visitors when a website acts as a storyteller. Besides the extended styles for K2 & Kunena, it also works intuitively on all devices with the responsive layout.
SJ Plus
SJ Plus – free joomla template with bootstrap, responsive layout, SEO optimized and LESS has been released. This template used most innovative designs and code libraries to bring developers a powerful and flexible template, but FREE entirely! With support from in-house modules, that are provided free as well, we can use this as a base for building high quality Websites based on Joomla!
Avatar Tahoma
Avatar Tahoma is a free joomla template with responsive layout features. It is built on Avatar Framework but have implemented & improved for many purpose.
Real Esta
The new free joomla template "Real Estate, November" is released. Template was specially created for real estate and property websites. It combines clean modern design and powerful functionality. "Real Estate, November" is based on OS Joomla Blank Template and has fully responsive layout that match to all screen resolutions. Note that we provide not only free template, but free Joomla Quickstart package that includes template, Real Estate Manager Basic, sample data (for newcomers) and also updated Real Estate slideshow module with touch functions. And all this you can get absolutely FREE!
Meet Gavern
Designed to exhibit the flexibility of our Gavern Framework, this free joomla template is a free option that can be adapted to a range of requirements thanks to the extensive layout possiblities this framework provides. Run a simple blog, or expand the features with our free modules to offer new unique stylizations for a wonderful website.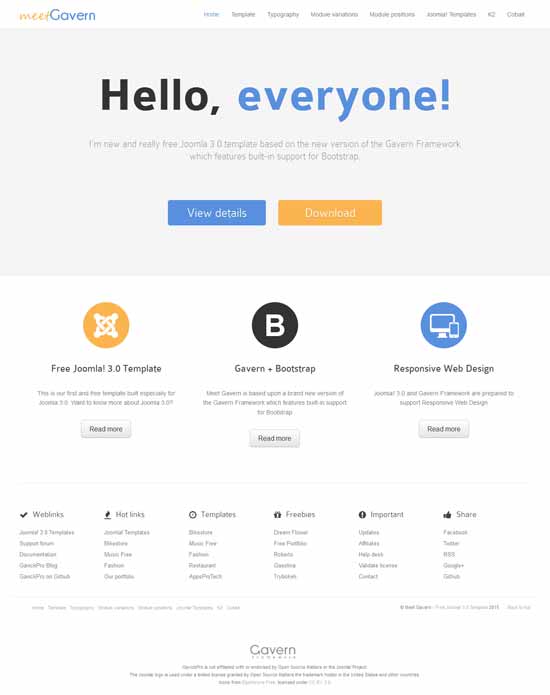 more info / download
Avatar Nine
Avatar Nine is a free responsive joomla template with great features. It is built on Avatar Framework but have implemented & improved for many purpose.
Etro
Avatar vincent is fully free joomla template 2.5 & 3.x template, you can download this template by sign up free account.
JSN Kido
JSN Air
The new released free joomla template JSN Air. JSN Air is a clean template and easy to customize. The "install sample data" mechanism and template parameters are just incredibly functional.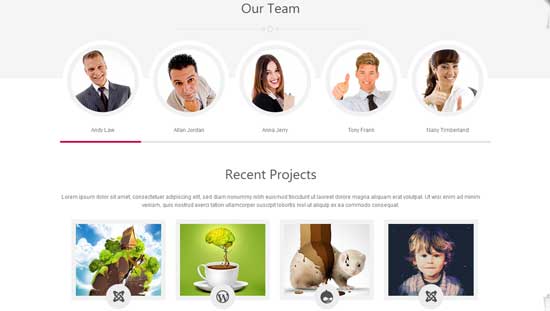 download
JA Puresite (Joomla 2.5)
JA Puresite is designed free joomla template with Responsive layout which help you bring your high portfolio website into tablets and other mobile devices in an easy way.
JSN Vintage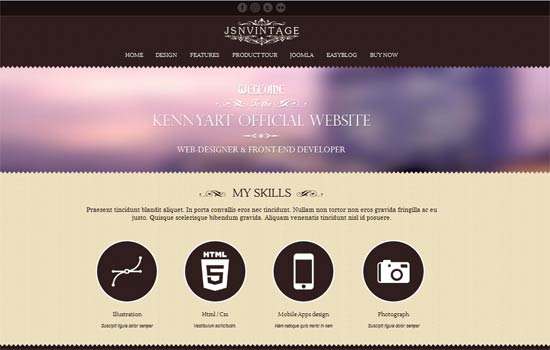 download
Architecture
Feel free to get the efficient Joomla foundation that will be great for a variety of projects that deal with architectural business. If you are setting up such kind of a project, make use of all that powerful Joomla features integrated in this theme.
Premium Joomla Templates:
Blak Joomla Template with Page Builder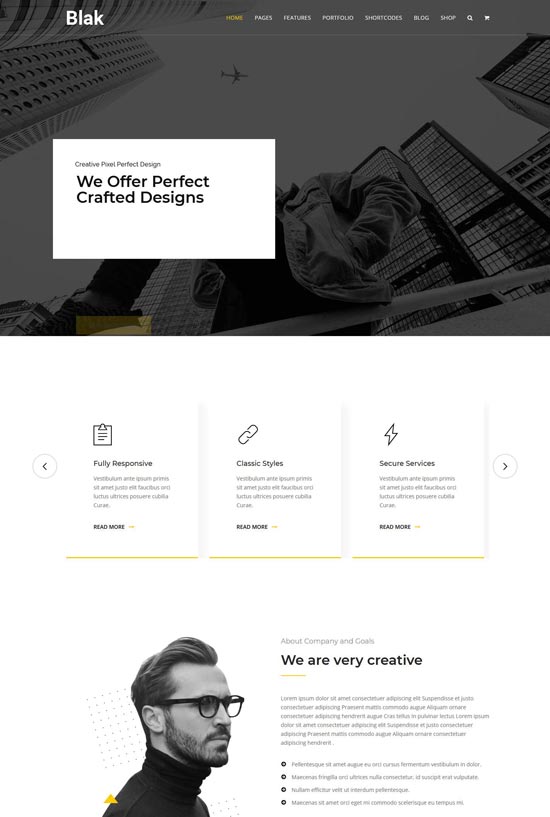 more info / download demo
Mumbrass Full Screen Personal Portfolio Joomla Template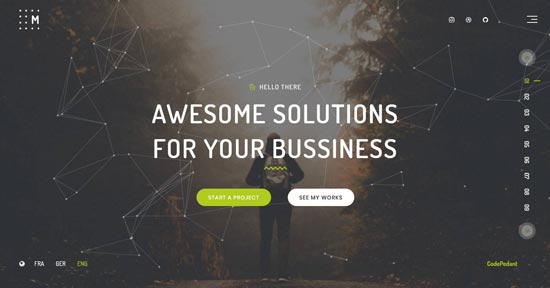 more info / download demo
Aaika
Aaika – is clean multipurpose free joomla template. It is great, professional and easy to use. You can use it for Corporate, Creative, Fashion, Photo Studio, Freelancers, Portfolio Theme, etc.
Housebuild
Housebuild- is clean construction & business free joomla template and retina ready. It is great, professional and easy to use template. You can use it for, business, construction, renovation, electricy, isolation etc.
Oyster
If you are looking for the best free joomla template for photo blog – our new Oyster Joomla Template will help to break a new ground for your web project! Modern design and responsive framework in combination with maximum flexibility allows to customize this template in the way you like. We have included a great variety of viewing options, so you can set your photo projects in the different styles and variations. Check out the Live demo to see this awesome template in action. Reinforce your creative ideas with Oyster Photography Joomla Template! Discover the power of CTHthemes products.
Envor
Envor is Fully Multipurpose and Responsive free joomla template for corporate and portfolio sites. Can be used for hosting sites and online stores in particular. 50 pre-built pages and 100 ready to use pages are able to let you make any custom website you want. Try it!
Azura – Joomla Pagebuilder new version 2.0 – new look and new features. Stable and very easy to use version.
Azura Pagebuilder for Joomla will save you tons of time working on the site content. Now you'll be able to create complex layouts within minutes! It's build on top of the modern technologies – get the best for your lovely website!