The huge collection of best and free responsive WordPress themes that suits you to create a professional personal blog, news, magazine, business or corporate website. Yes, we spent a lot of time searching for some of the best WordPress themes available on the internet. So when you create a new website, you might be inspired by seeing other sites with unique layouts. All are well designed and look really professional. You should be able to find the right one for business and blog.
You'll find a multitude of free WordPress themes applicable to leading content management systems, e-commerce engines, Flash Web projects! To experience the quality of these products and to try them before the final purchase could be of great help! Do not think twice before downloading these premium layouts absolutely for free for educational purposes only.
The WordPress themes freebies are here again. It allows the site to obtain an effective visual framework can be used in the same fourth-screen devices, projects related to the business, thought – designed to provide a discreet style to rescue and response capabilities. These free responsive WordPress themes are easy to install, customize, just at the beginning, deploy and download.
Deep
Deep is a free, fully responsive, and Retina-compatible WordPress theme with a minimal layout that allows visitors to focus on content. An ideal WordPress theme for novice users and designers that offers endless possibilities to create your site in no time. It is a fast, fully customizable and SEO friendly theme that you can use to create any type of website.
more info / download demo
Edufront
Edufront is ideal for educational establishments both online and offline. Works for: grades, preschool, elementary, high school, high school, and higher education. Also for college, university or academy, informal learning, institute and even Learning Management System, Business and Purchasing. Edufront is compatible with Elementor and comes with many features that a modern educational WordPress theme must have. We think Edulife is one of the perfect WordPress themes for educational organization websites.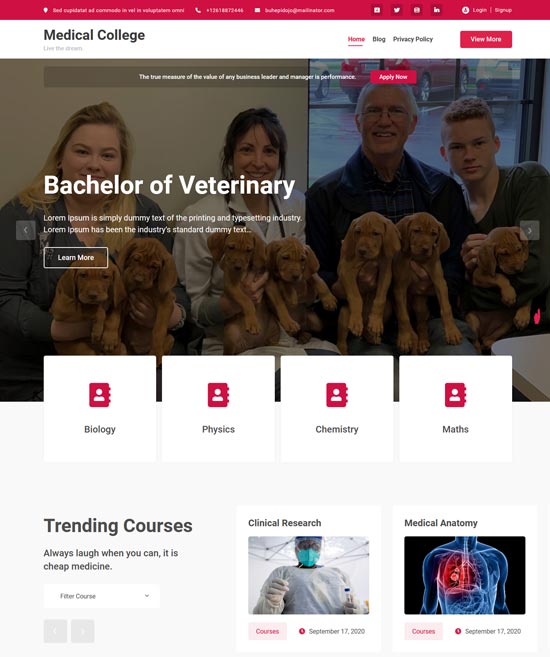 more info / download demo
Business Accounting
This free accounting WordPress theme is one of a kind! Trust us when we talk about WordPress accounting theme, you won't get as perfect a product as this one. This free accounting WordPress theme has all the premium features. Elsewhere, you may have to pay a significant amount for them. But here you can have it for free! While managing business or service finances is important, keeping track of accounts is important. This free accounting WordPress theme can make things easier for you.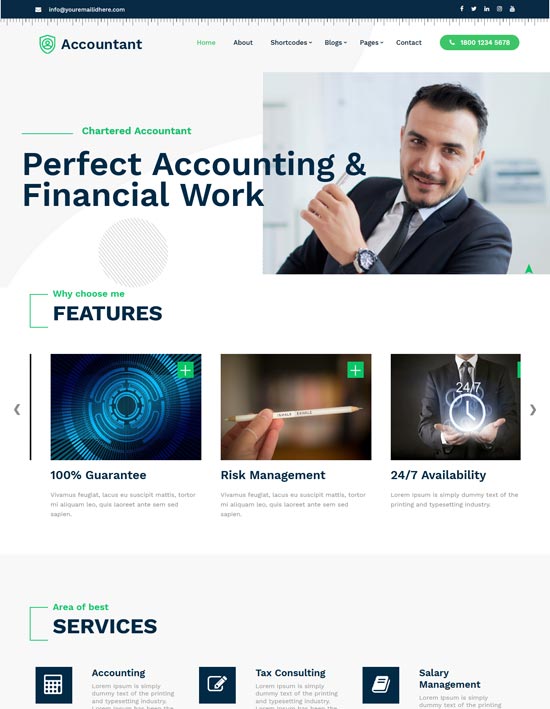 more info / download demo
UltraPress
UltraPress is a super fast, lightweight, fully customizable, multipurpose and beautiful WordPress theme. It's perfect for blogging, personal portfolio, small business (restaurants, wedding planners, plumbers, sports / medical stores), startups, agencies as well as WooCommerce showcase sites and most types of projects. Ultrapress works perfectly with Gutenberg and the most popular page builders (Elementor, Brizy, Beaver Builder, Visual Composer). Ultrapress is also WooCommerce ready, responsive, Retina ready, SEO compliant, RTL and translation ready.
more info / download demo
Payton Free Download Theme
Payton Business Creative and free WordPress Theme is a fast theme for business, business, creativity, e-commerce, car rental, car services, responsive, spa, beauty, restaurant, high performance with modern creative design to delight a crowd of creative users to build your websites.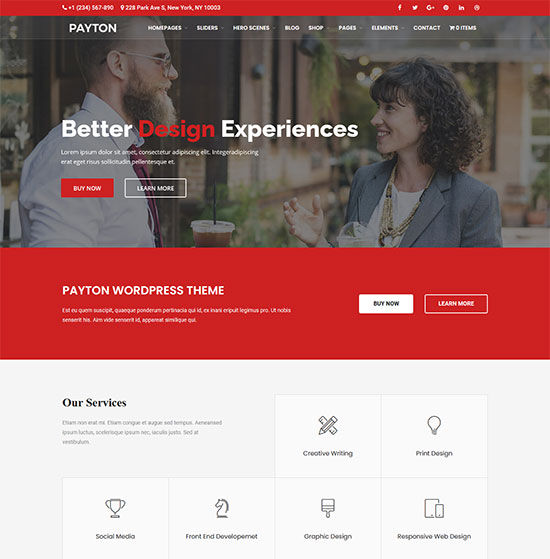 more info / download demo
WPCake
WPCake is fast, lightweight, highly extensible, and a beautiful theme suitable for blog, personal portfolio, business website, and WooCommerce storefront.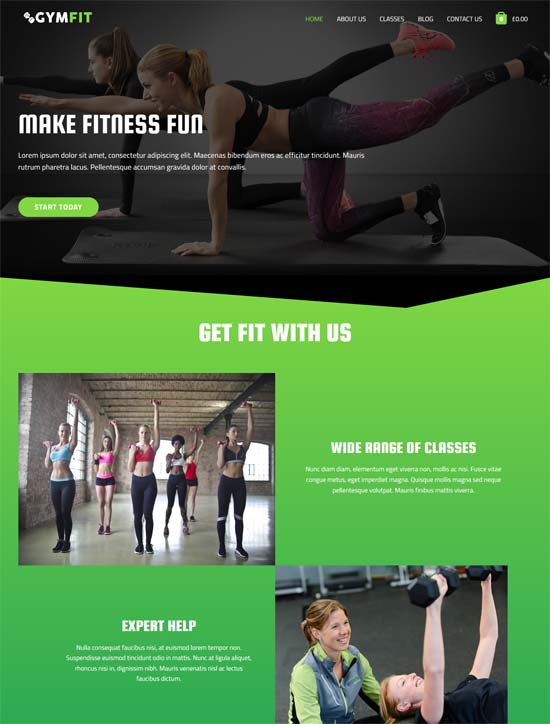 more info / download demo
Talkie Free Download Theme
We introduce you to Talkie. Make your websites efficient in conversation and interaction using our WordPress chatbot theme. With the internet providing instant access to a wealth of data at your fingertips, Talkie is a perfect theme for creating event and promotional website websites, content marketing agencies, bank loan application bot services, broker chatbot, lead generation for professional real estate bot services, legal bot services, mortgage app bots, automation and other industry specific businesses.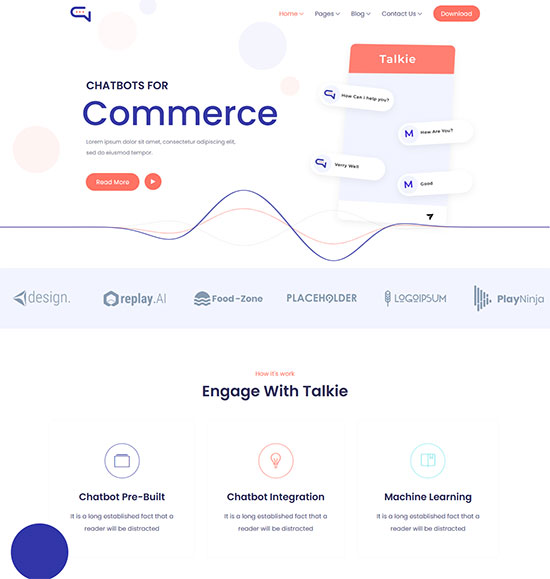 more info / download demo
Travel Master
Travel Master is a free WordPress theme developed for travel agencies and tour operators of all sizes. Also ideal for tour operators and travel agents specializing in day trips, tour packages, vacations, hiking and camping, city tours, cruise packages, etc. It is one of the most proficient and ingenious WordPress themes with a powerful admin panel. You can easily personalize the site with personalization tools. You can add or delete anything, modify styles, logos, with little or no code knowledge.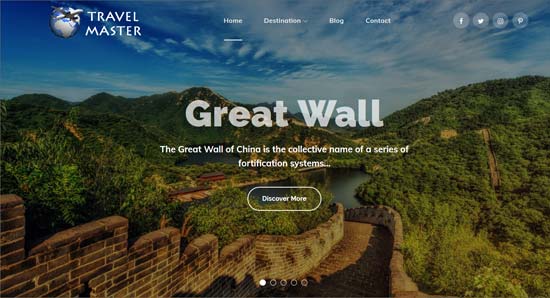 more info / download demo
Batiment Free Download Theme
Batiment is a modern and clean construction and building WordPress theme. This theme is suitable for any small, medium and large construction related business such as construction, construction, renovation, architecture, business, enterprise, electricity, engineering, industry, interior, insulation , maintenance, painting, projection, etc. with high quality multipurpose demos and a page template and many built in internal pages such as service pages, project pages, team pages, testimonial pages, multiple blog layouts, etc.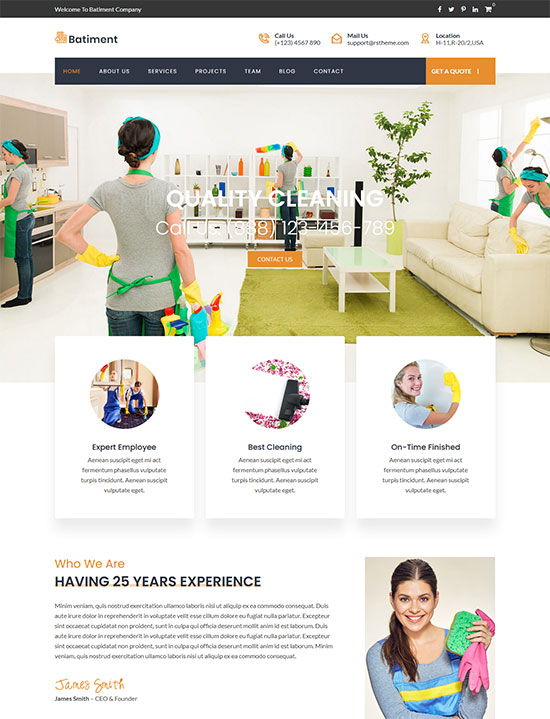 more info / download demo
Traversify Lite
Traversify is a free WordPress theme designed for travel agencies, travel organizers and tour guides. This is probably the best theme for selling trips and tour packages online. It incorporates WP travel engine plugins that allow the user to easily book travel packages and display them in a clean and attractive way. Traversify is fully responsive, optimized for SEO and compatible with all browsers.
more info / download demo
HivePress
HivePress is a free WordPress theme that allows you to create any type of directory and list websites. It is incredibly easy to use and highly customizable.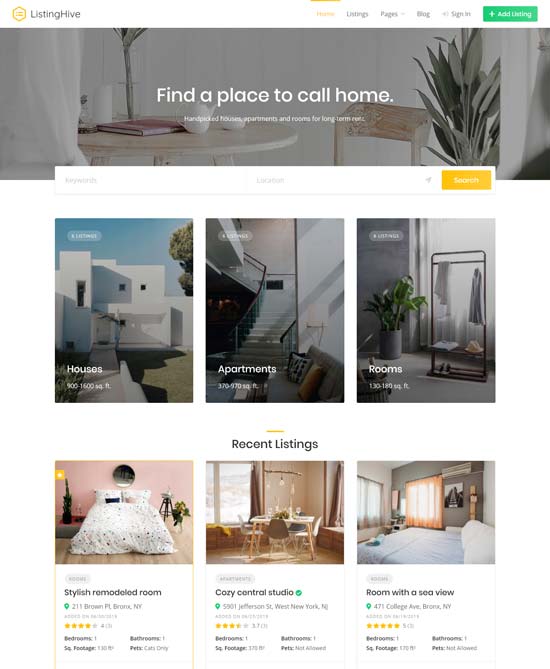 more info / download demo
Worky lite Free Download WordPress Theme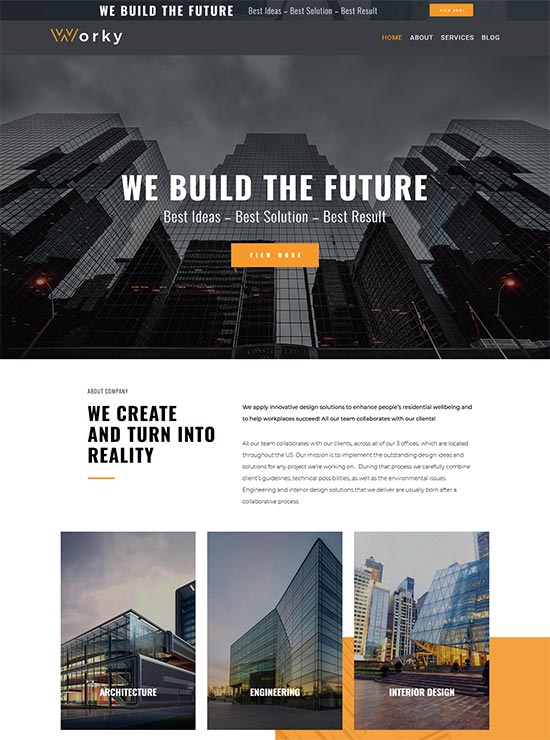 more info / download demo
BusinesStar
BusinesStar is a free WordPress theme with virtually unlimited customization options, making it a great choice for any business. This theme comes with 2 home page designs, many features such as column layout options for the first page sections. It can be used to create any type of website such as consulting, finance, business, travel, education, medical.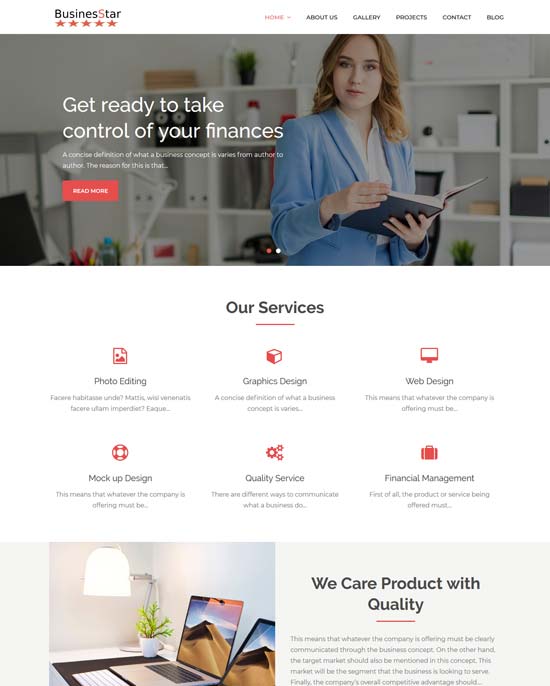 more info / download demo
Tourizto Free Download WordPress Theme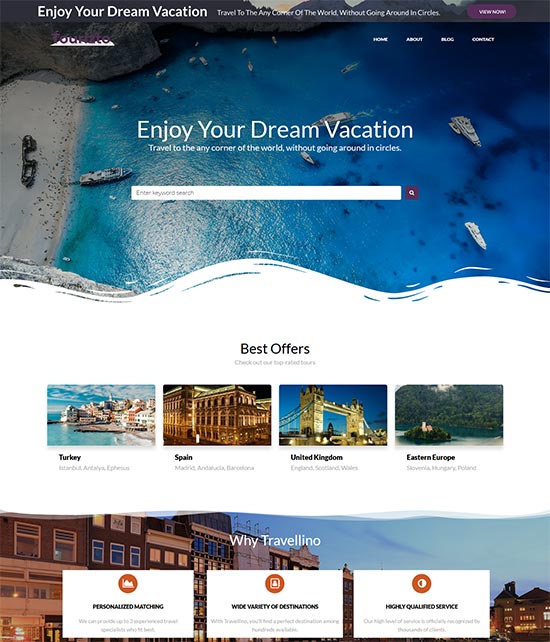 more info / download demo
Envo Storefront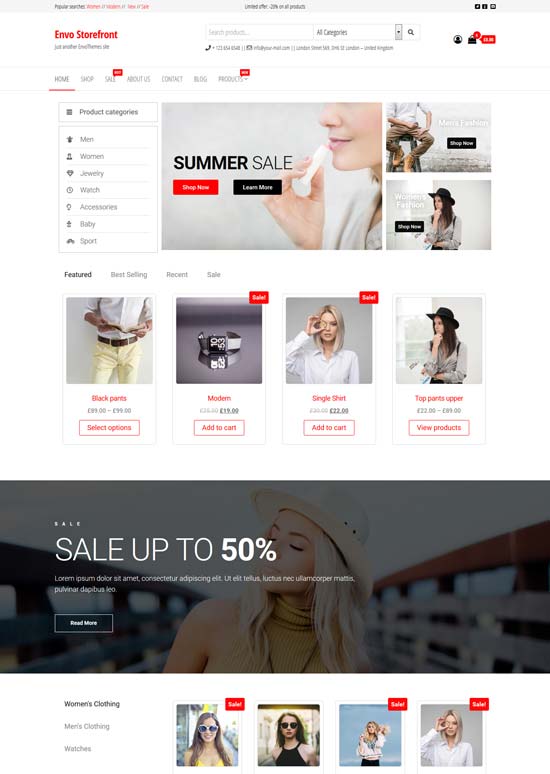 more info / download demo
Epa Green Free Download WordPress theme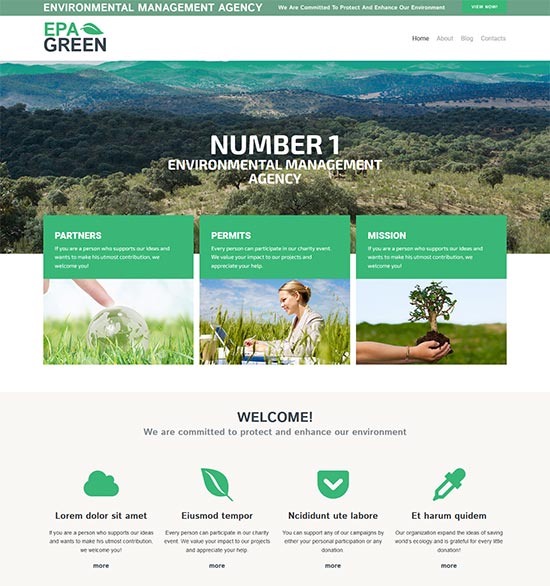 more info / download demo
Newsium
Newsium is a WordPress theme for Best Responsive News magazine that allows you to easily write articles and blog posts. Using live customization options and custom widgets to create a great news website, you can design your website the way you want and preview the changes. It is compatible with Gutenberg and RTL with the WooCommerce plugin which helps you integrate an online business with our newspaper model. Since it includes many useful features that require creating an impressive looking news portal, the theme is perfect for blogging and excellent for a news, newspaper, magazine, publishing or journal site.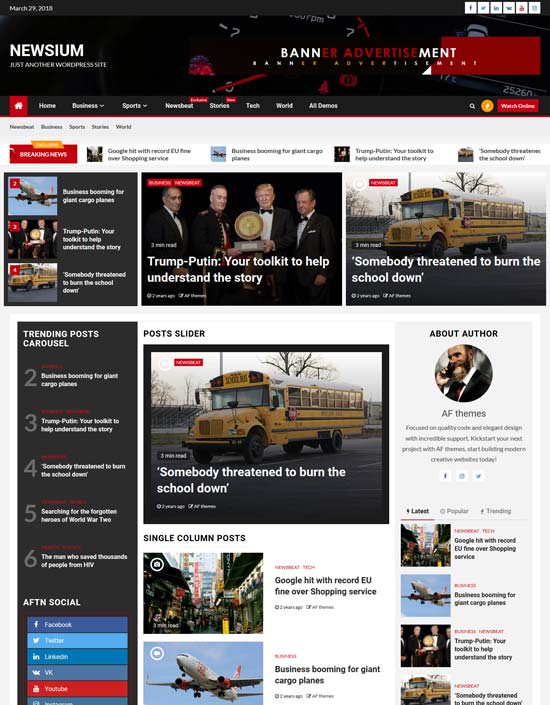 more info / download demo
Unos Magazine
Magazine Vu is a topical content-driven theme for journals, affiliate sites, fashion magazines, travel blogs, education, journals or blogging. Unos Magazine Vu is ready for translation and multilingual with SEO-optimized code that works with all popular plugins like Woocommerce, Jetpack, Yoast SEO, Contact Form 7, Page Builder, etc.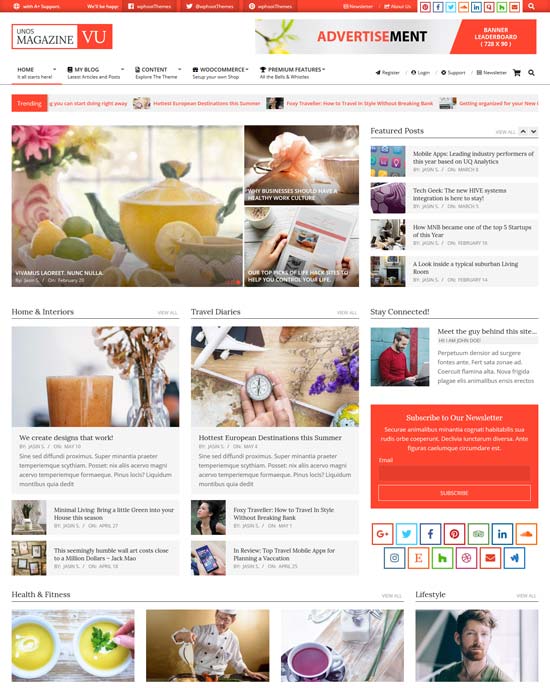 more info / download demo
Grace Mag
Grace Mag is a free WordPress theme that is perfect for your news and magazine sites. Grace magazine is suitable for the creation of magazines, blogs, news and personal sites. Grace magazine is sensitive to all types of screens. Grace News and the magazine theme are highly customizable from the WordPress live customizer. This theme is simple, well optimized for SEO and requiring no personalization effort. The responsive theme layout gives your website an excellent overview of all screen devices and resolutions.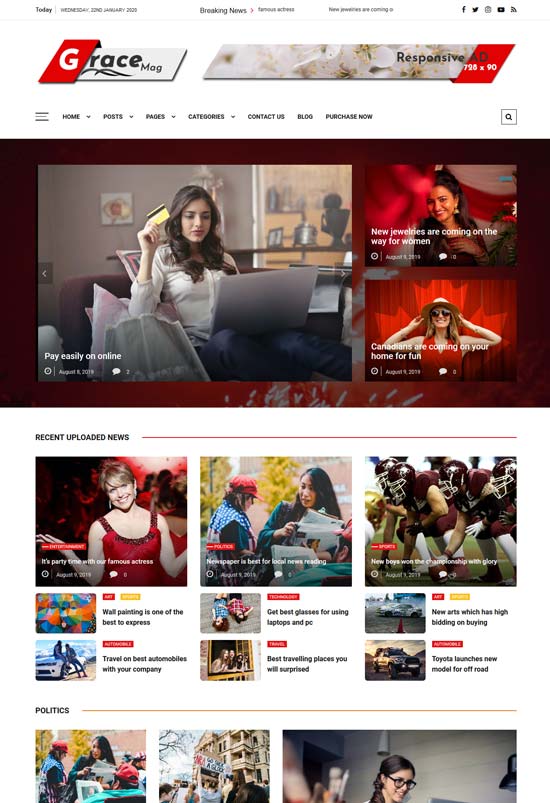 more info / download demo
Power Blog
Power Blog is a child theme of Reblog. Power Blog is the best free WordPress theme ever made for Blogger. Power Blog has nice, beautiful and professional layouts. Power Blog is very simple and completely responsive. It has a sleek design and a fluid presentation. People who like a simple but attractive way of presenting their articles will choose the Power Blog Child theme.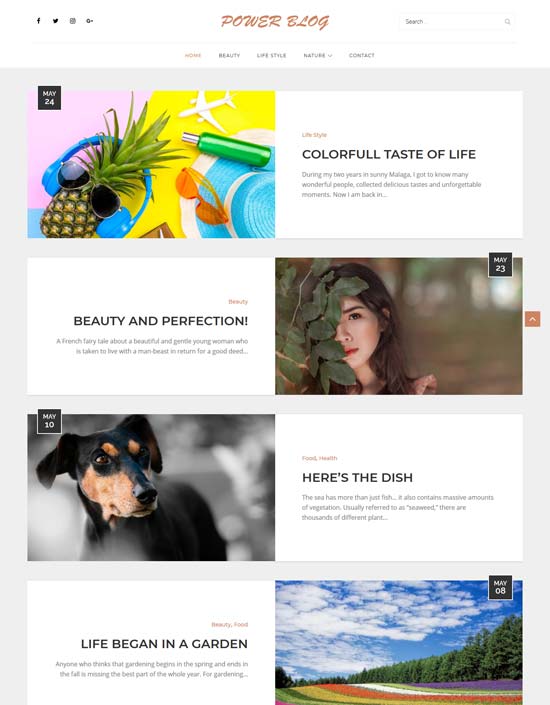 more info / download demo
Stoready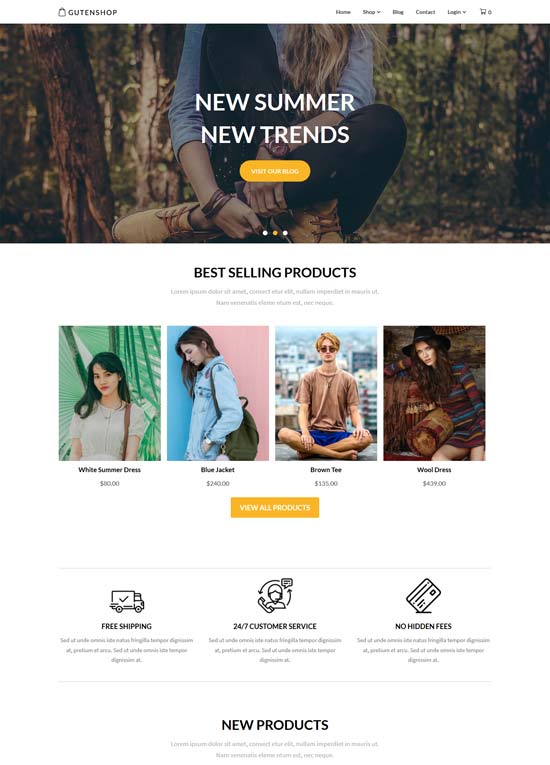 more info / download demo
Indite Free personal blog theme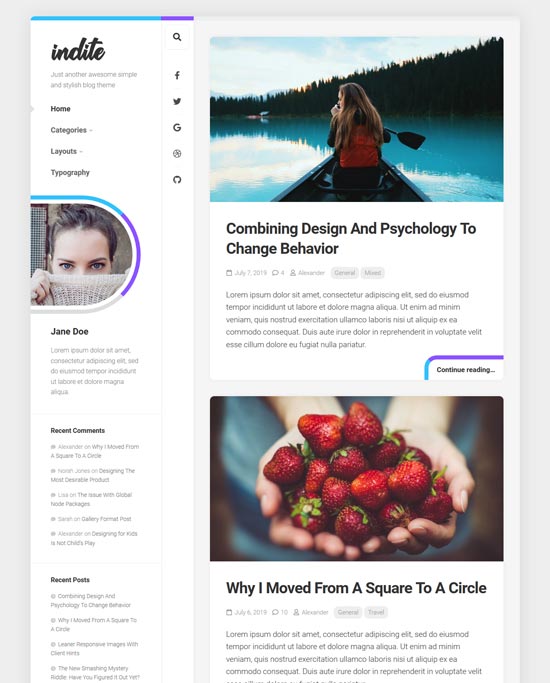 more info / download demo
NS Minimal Free WordPress theme for bloggers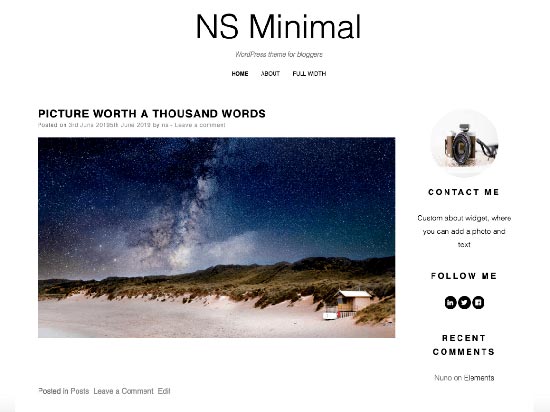 more info / download
Gridzone Free portfolio WordPress theme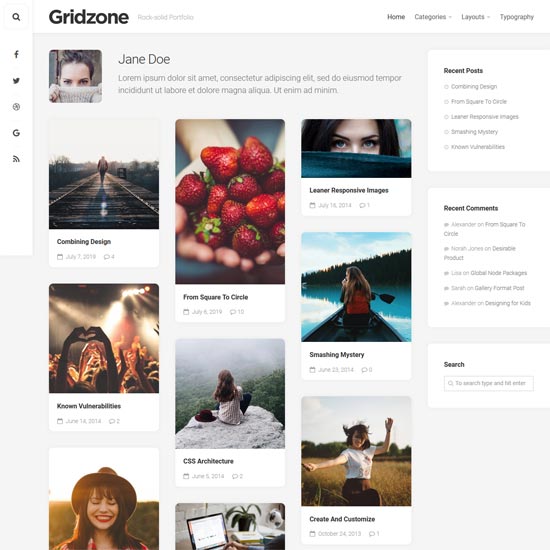 more info / download demo
BlogGem Free Professional WordPress theme for blogging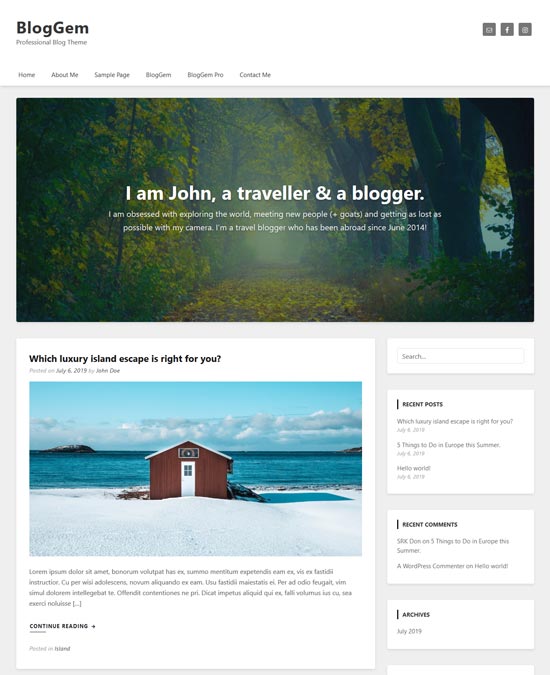 more info / download demo
Intrinsic Free Personal Portfolio WordPress Themes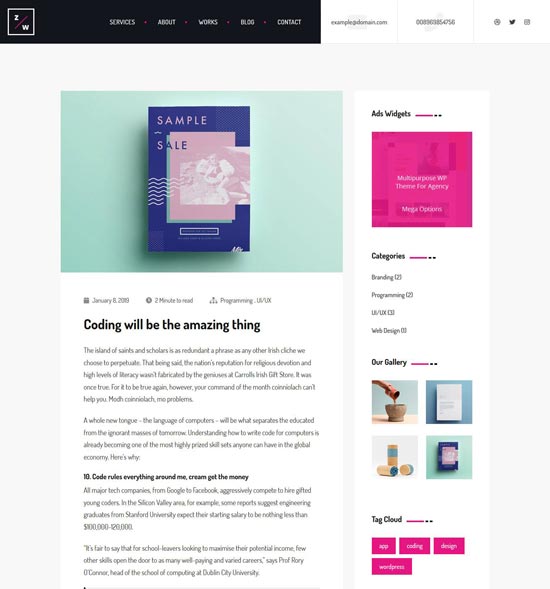 more info / download demo
Aragon Free Multi-Purpose WordPress Theme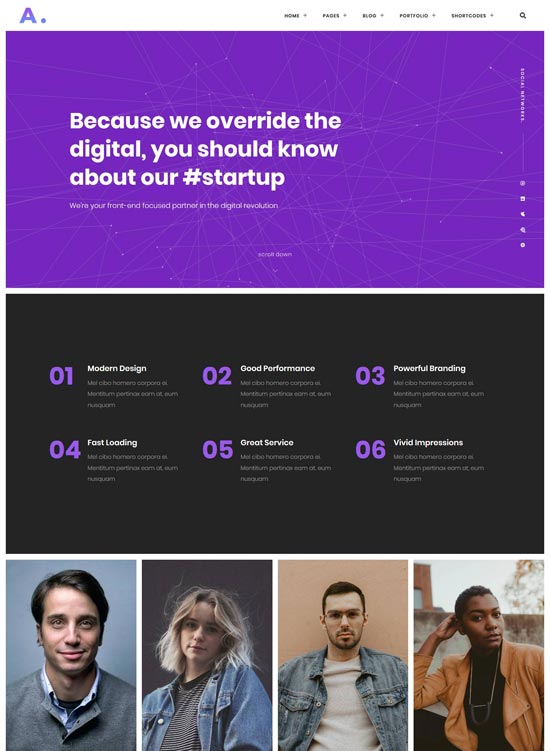 more info / download demo
Blogtay Free minimal WordPress blog theme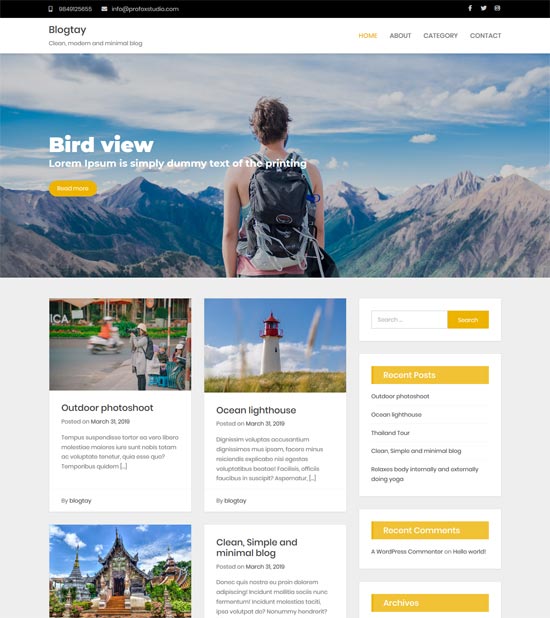 more info / download demo
infinity Free WordPress Theme for News Site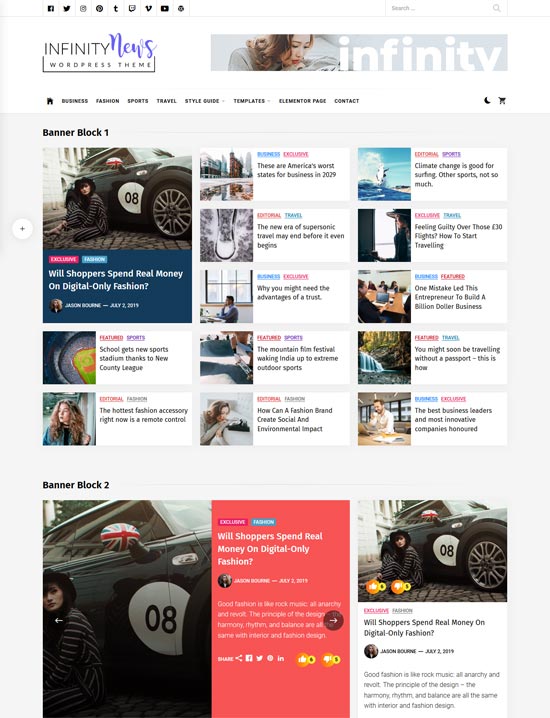 more info / download demo
Travelore Free WordPress theme for Travel Magazine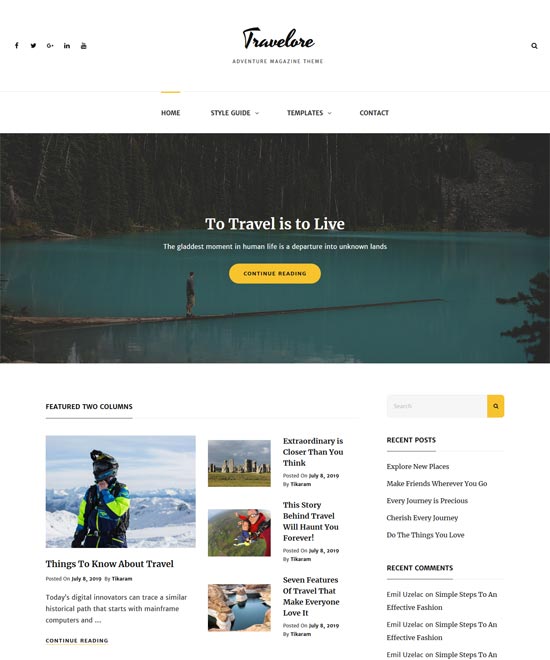 more info / download demo
Magazinely Free WordPress theme for editorial magazine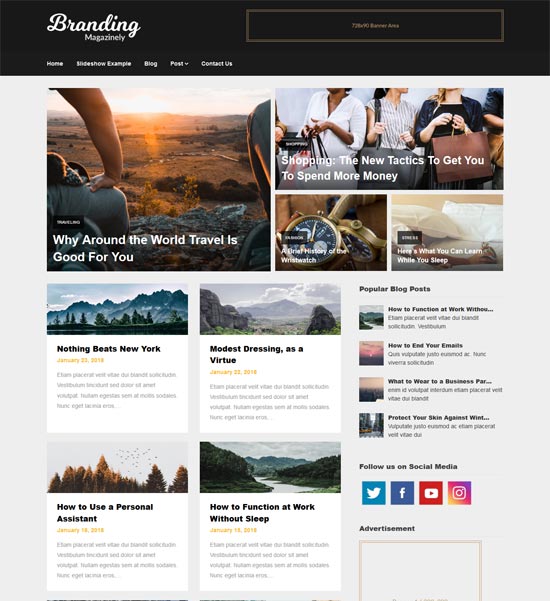 more info / download demo
Fashion designer Free WordPress Theme for Fashion industry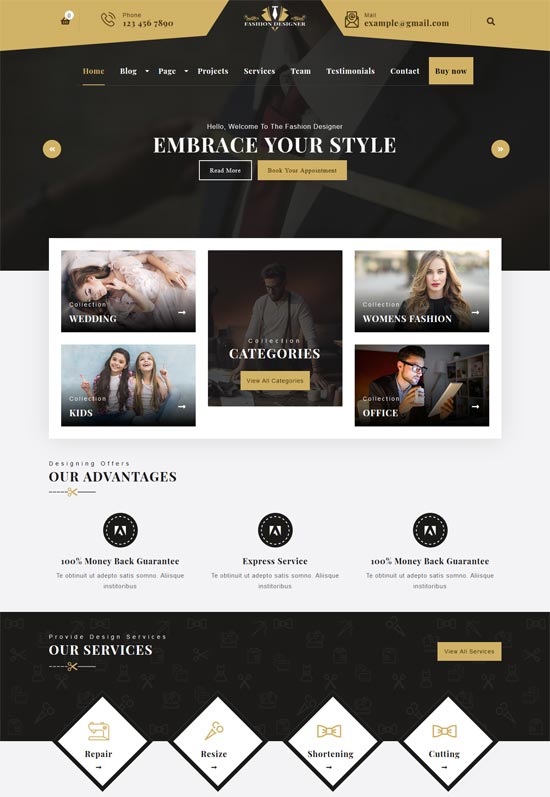 more info / download demo
Minimer Free minimal personal blog theme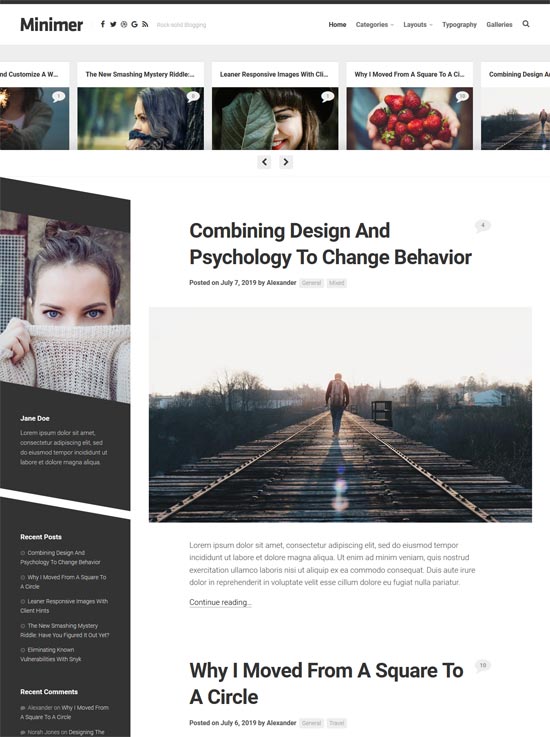 more info / download demo
Dr. Life Saver Free WordPress health theme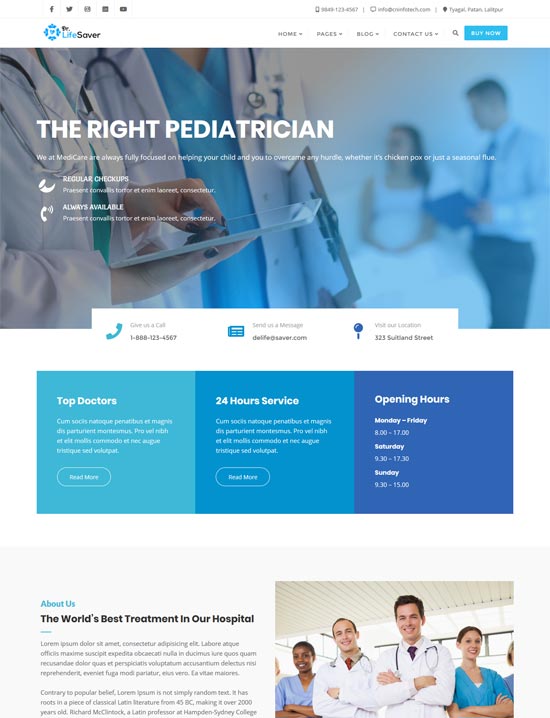 more info / download demo
News Potrika Free Magazine WordPress Theme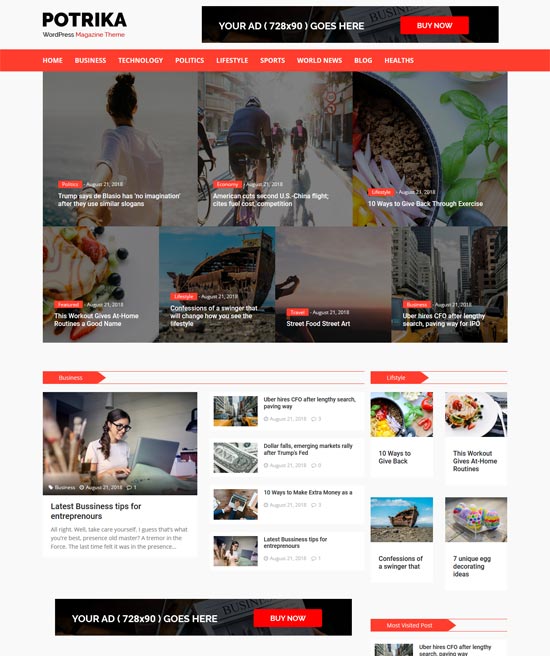 more info / download demo
Best Charity Free Charity WordPress theme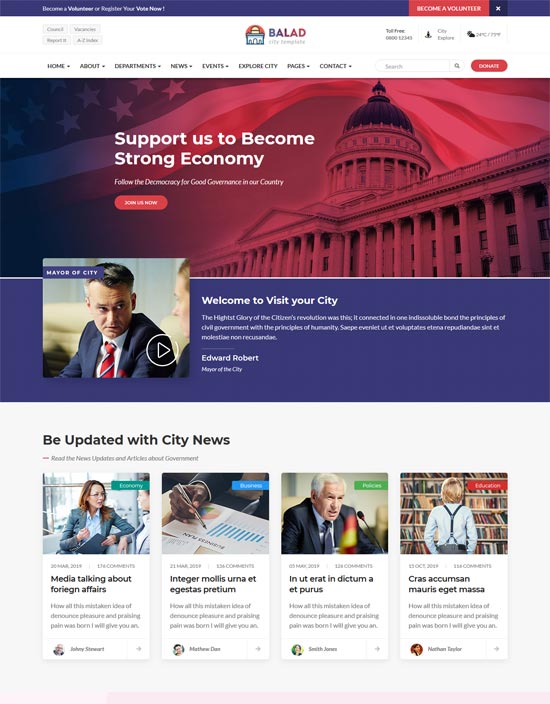 more info / download demo
Mobile App Free WordPress app theme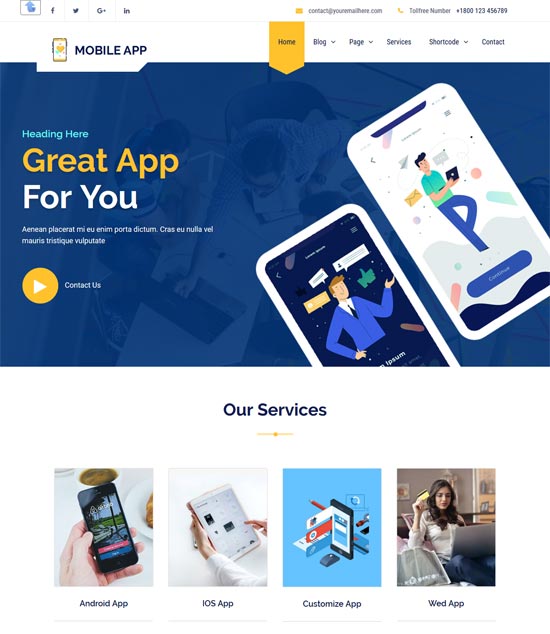 more info / download demo
Online Courses Free WordPress theme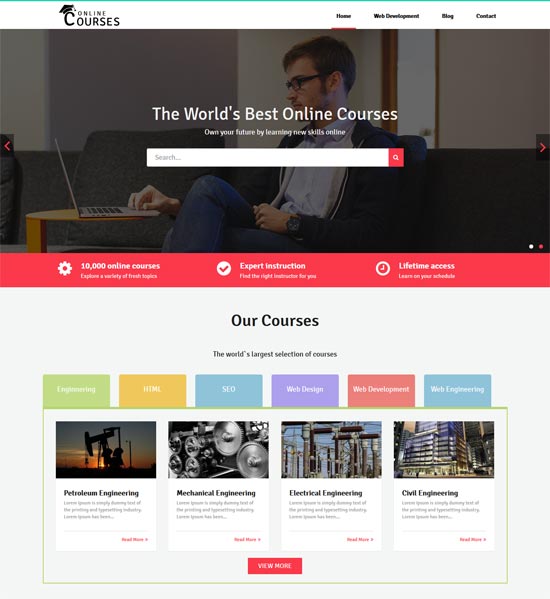 more info / download demo
Tattoo Expert
The free WordPress Tattoo theme is available on the market with zero investment and meets all your needs for the consulting or body piercing sector. It has special features that go with the premium theme in this category and the best of which is zero pocket expense. Among its interesting and extremely useful features include minimal nature, retina ready, translation, Bootstrap, CTA, fast page loading time, testimonial section, optimized codes, secure code, customization options, and more. tattoo making, piercing as well as body art studios.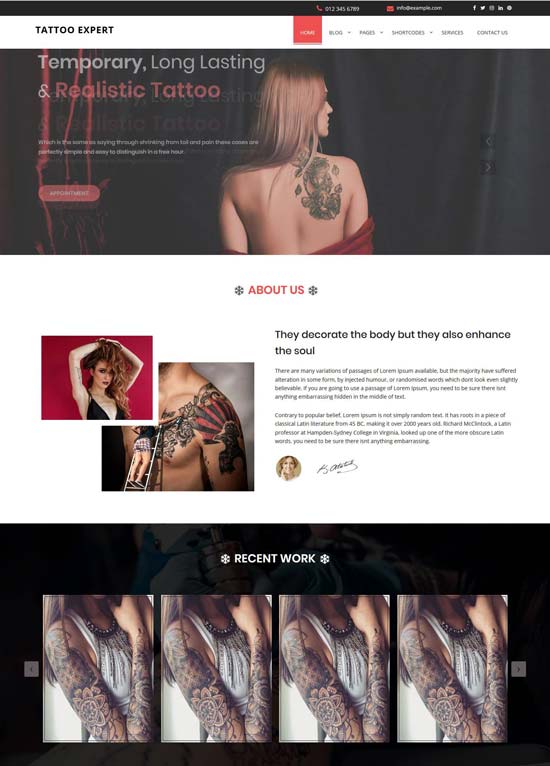 more info / download demo
Savana
Savana is a clean and stylish free WordPress theme, ideal for creating your personal website, travel, beauty, lifestyle, news and photography. Savana is easily customizable thanks to the WordPress Live Customizer section. It is also compatible with WooCommerce and fully compatible with the most popular page builder like Gutemberg, Elementor or Visual Composer.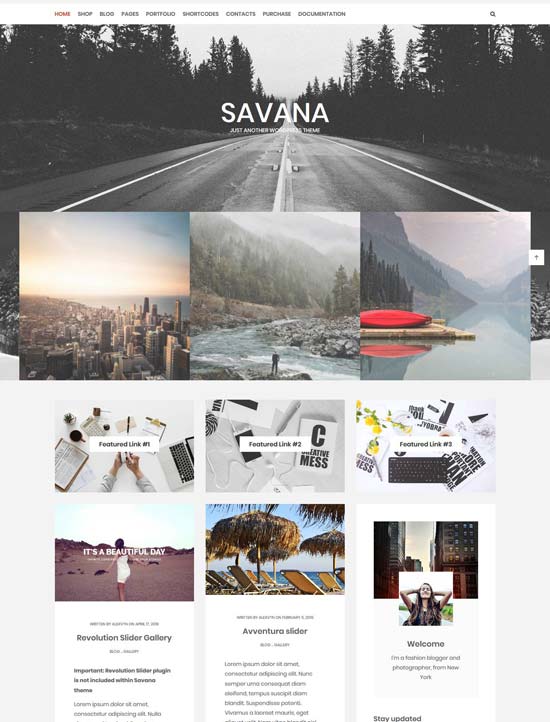 more info / download demo
Image Gridly
Image Gridly is your friendly and free responsive wordpress theme for photo portfolios, blogs, newspapers and journalists. The code is clean for your website to be fast and load quickly with high page speed. Authors and bloggers can easily create a simple, minimalist blog and personalize it in a niche with the header, so you can write about anything related to travel, fashion, lifestyle, criticism or other entertainment niches.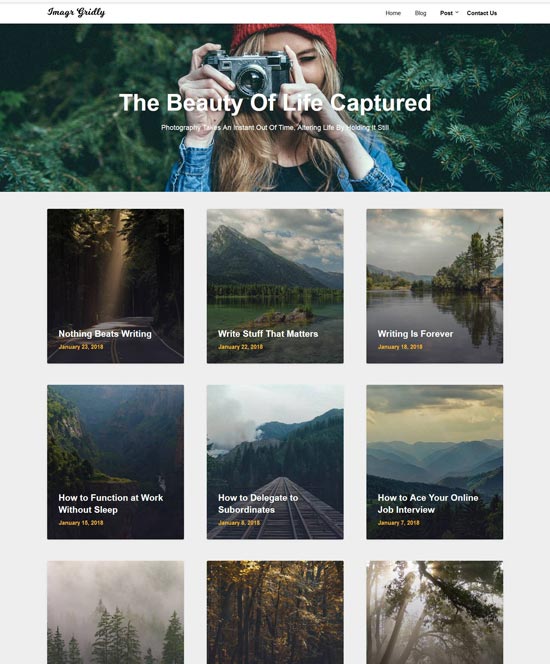 demo more info / download
Personal Club
Personal Club is a free, easy, clean, easy-to-use and user-friendly personal blog free responsive WordPress theme. This theme is developed for the creation of personal websites or blogs. It can also be used for fashion, wallet, beauty and spa blogs, lifestyle, news, travel, photography and food blogs.
This theme is built in a user-friendly and easy-to-use WordPress customizer that allows you to see live preview while customizing your website. The theme comes with great future and tools to create your professional blog or personal website. It has an unlimited number of color change options with Google fonts.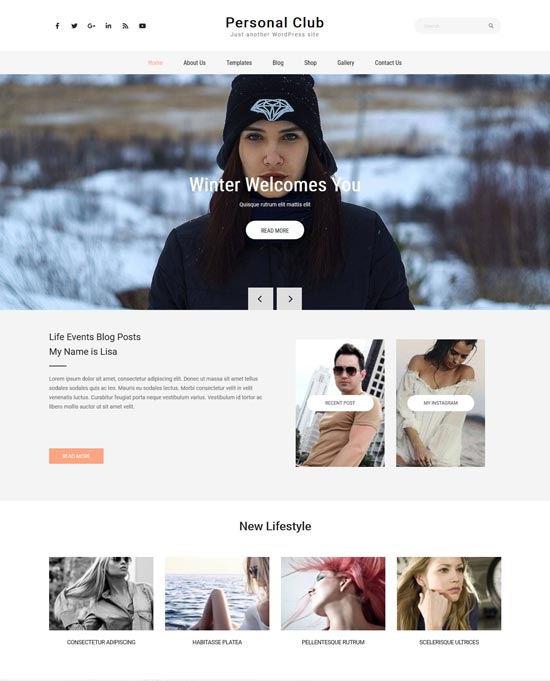 demo more info / download
NewsQuare
NewsQuare is a children's free responsive wordpress theme from CoverNews. The theme comes with a different layout from the main section of the banner, a main navigation background and a new badge color. Most importantly, the child theme has also added a section of banner widgets, which will make it easier to add other widgets with advertising scripts. In addition, the theme has also changed some of the default values of the front layout.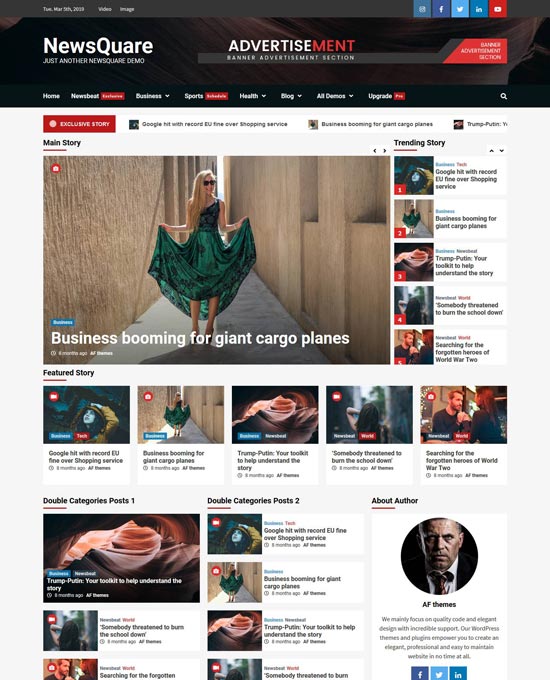 demo more info / download
Gist Masonry
Gist Masonry is the theme of Gist's child. He has the masonry layout on the blog and the archive page. This theme is the best free WordPress theme ever designed for blogs, news and magazines. It's a simple, easy-to-use, modern, creative and easy-to-use WordPress theme with typography, font and color options. In addition, Gist Masonry is a responsive child theme compatible with multiple browsers. Gist Masonry comes with added custom widgets for social networks and authors, permanent sidebar options, a footer widget, sidebar options, a meta option, a copyright option, options social, etc.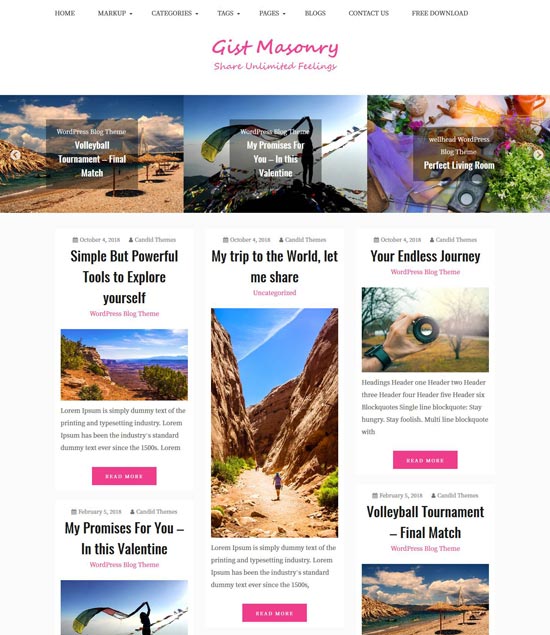 demo more info / download
Fusion Blog
Fusion Blog is a new generation free responsive WordPress theme, which can offer your readers an immersive browsing experience. The polished and superbly balanced pages of the Fusion Blog theme make it an ideal WordPress theme for almost any type of blog. The Fusion Blog theme is ready to be used with WordPress version 5.0+ and fully compatible with Gutenberg Content Editor.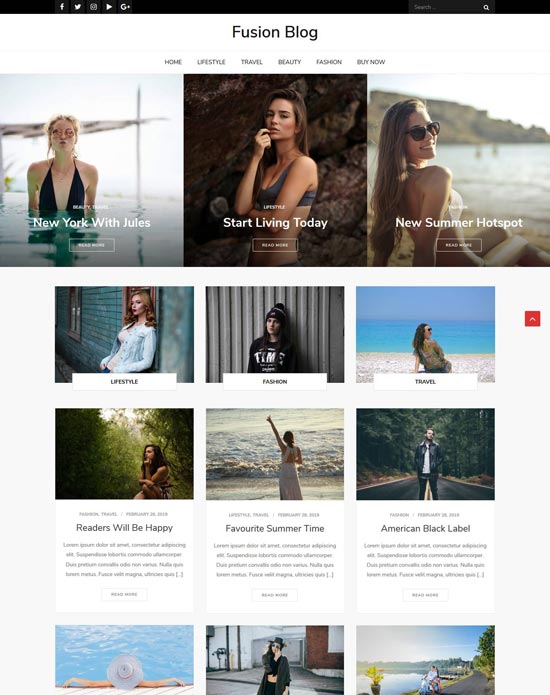 demo more info / download
Advance IT Company
If you are planning to start an IT business or if you are already an established business in this sector, this free retheme is a very good choice for you because it allows you to zoom in on your business globally. It includes a user-friendly interface in addition to some distinct features such as clarity and absence of bugs. Because of the lightness of this theme, you have the guarantee of speed when loading the site. It is easy with regard to navigation and not only SEO, but also a clean code.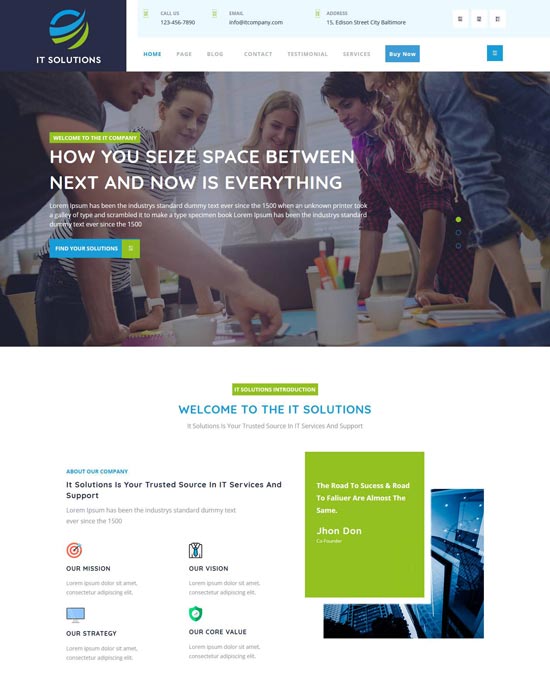 demo more info / download
News Headline
News Headline is a child theme of the free resposnive WordPress theme of the modern magazine Vibrant News, with creative design and powerful features allowing you to write articles and blog posts with ease. It uses SEO best practices, responsive HTML5 and, in addition, it is fast, simple and easy to use. Use the customizer to add your own background, layout, site width, etc.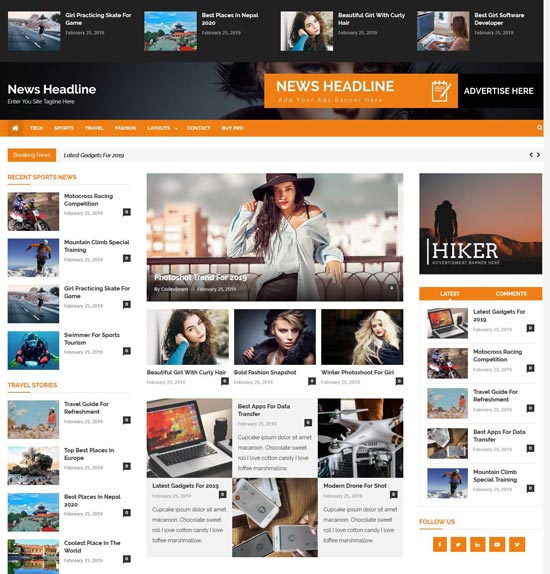 demo more info / download
Hueman
The Hueman theme helps you increase your traffic and engage your visitors. It loads quickly and is 100% mobile according to Google. Top rated theme for blogs and magazines on WordPress.org. Power 70K + websites worldwide.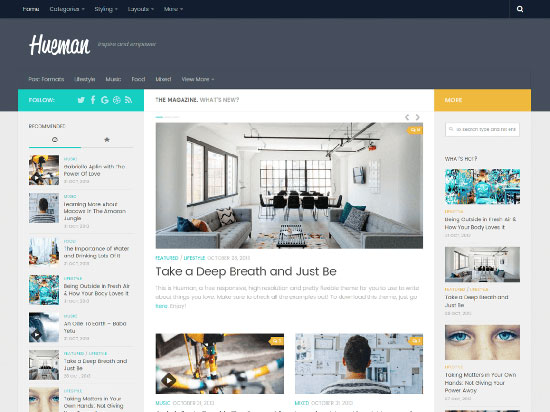 demo more info / download
Stout
Stout WordPress Theme is a child theme of the WordPress Primer theme, Copyright 2016 GoDaddy Operating Company, LLC. Primer WordPress Theme is distributed under the terms of the GNU GPL. This program is free software: you can redistribute it and / or modify it according to the terms of the GNU General Public License published by the Free Software Foundation, version 2 of the License. , or (at your option) any later version.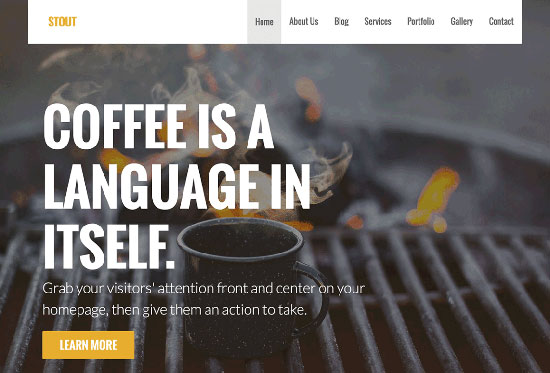 more info / download
Astra
Astra is fast, fully customizable and beautifully suited to the blog, personal portfolio, corporate website and WooCommerce store. It is very light (less than 50 KB on the frontend) and offers unmatched speed. Designed for SEO, Astra integrates the Schema.org code so that search engines love your site.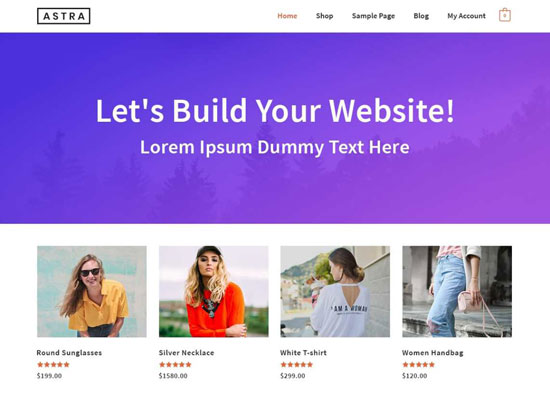 more info / download
Mins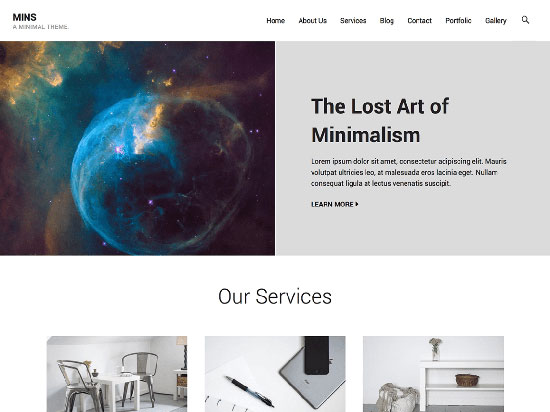 demo more info / download
Blogto
Blogto is a simple, clean and minimal free responsive WordPress theme. Blogto is suitable for personal or professional blogs, News, Magazine, Company and Creative Portfolio. Blogto is built with Responsive Layout on Bootstrap and comes with fully customizable options. Blogto contains all the necessary features for a complete blogging website. No coding required If you want the clean and simple code of Blog to be loaded, you will not have to wait.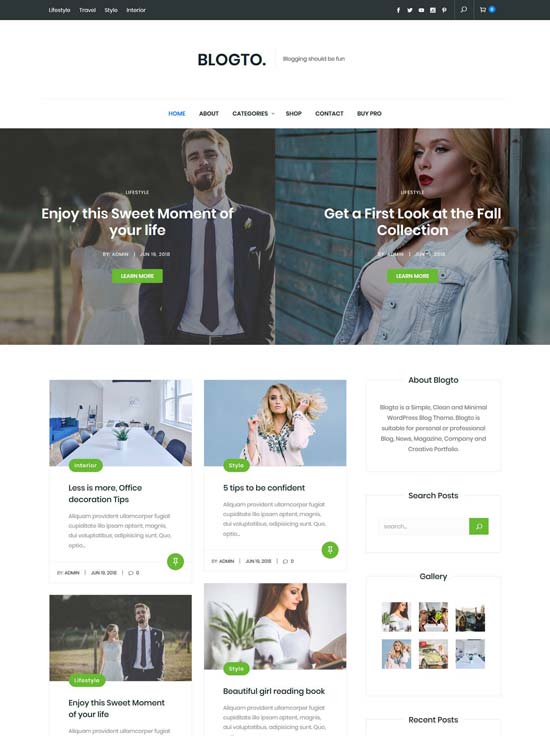 demo more info / download
Educenter
Educenter is a beautiful free theme designed for educational web, training center, training center, college, academy, university, school and kindergarten. The theme is highly customizable and easy to use. It allows you to build your website seamlessly. Take advantage of the power of the theme to create your institution's website that features clean, professional design and functionality to communicate your message professionally to your future students.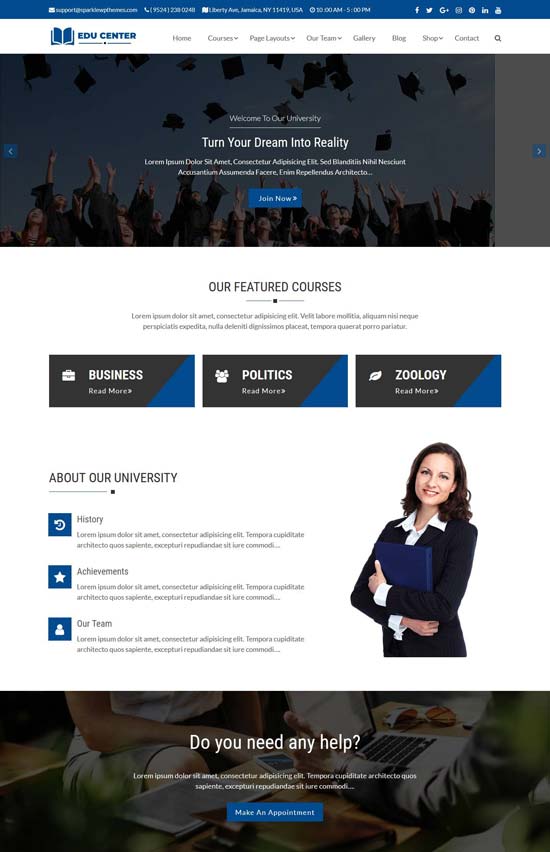 demo more info / download
Photo Fusion
Photo Fusion is an adaptive free respsonsive WordPress theme based on Photo Fusion Pro by ThemePalace. This theme is specially designed for photography, photo blogging, photo sharing and is perfect for managing your personal, travel, food and fashion blog. You can manage the options of this theme from the powerful Customizer WordPress Theme. Photo Fusion is a responsive theme compatible with all types of devices. It supports all major modern browsers and this theme is ready for translation.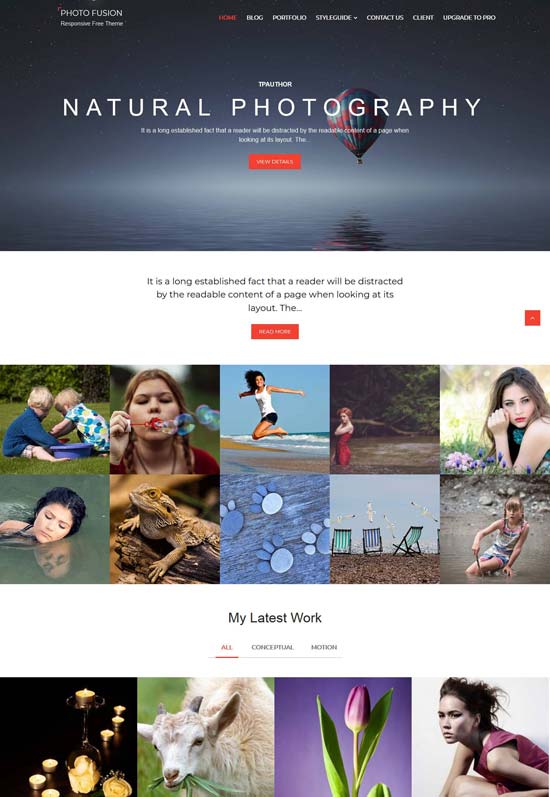 demo more info / download
Styleisharya
Styleisharya is a free WordPress theme for fashion, lifestyle or any similar business website. This beautiful theme comes with many advanced features such as trendy design, responsive content-driven design, ecommerce compatibility, social media integration, a well-written code, and more. You can easily sell anything directly to your website through woo-commerce integration. Styleisharya comes with a mega menu, unlimited color variation, google fonts and a custom font loader, and much more.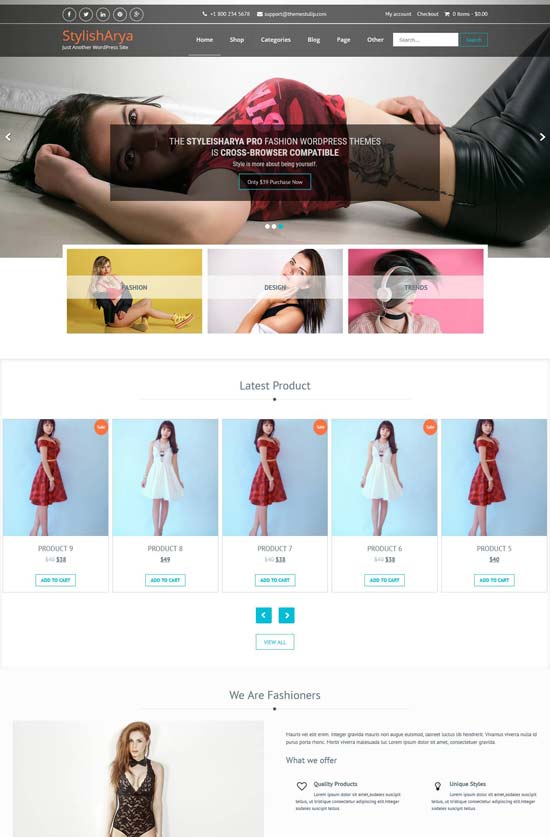 demo more info / download
Fotografie
Fotografie is a blog and the corporate free responsive WordPress theme has been specifically designed to put your website in the spotlight by focusing more on the content domain. It is a child theme of our popular WordPress photography theme "Fotografie". Corporate Fotografie comes with a range of key features for your corporate website such as Headers, Sticky Menu, Portfolio, Hero Content, Featured Content and more to make you stand out. Corporate Fotografie is certainly a theme for Blog and Corporates, but it is not limited; this can work well for all websites. With the integration of WooCommerce, you can create an awesome online shopping portal and as it is a child theme of a photographic WordPress theme, it also inherits features tailored to a photography website.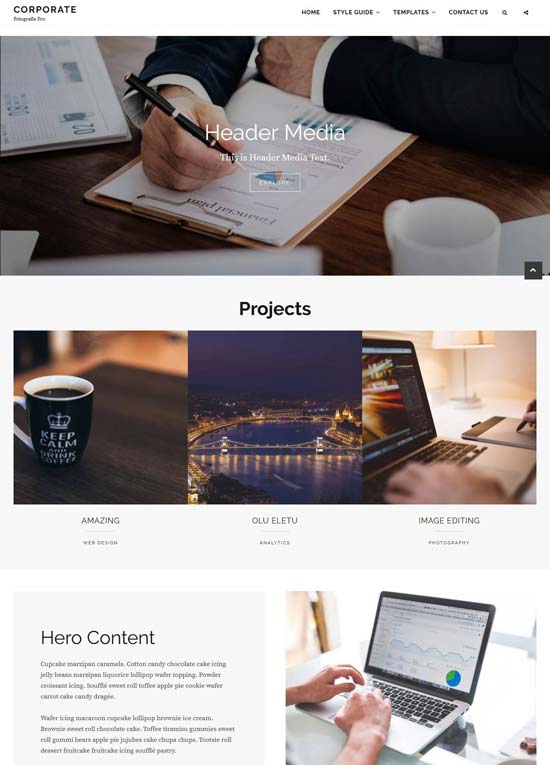 demo more info / download
Hestia
Hestia is a versatile free responsive WordPress theme for startups that use a sleek, elegantly coded material design, a page layout with smooth scrolling and a modern, artistic look. Hestia also comes with eCommerce support for the online store, so you can write more details about your product. Keep the user engaged by providing more information. Remember that at this point, the user is curious, otherwise he would not scroll to get here.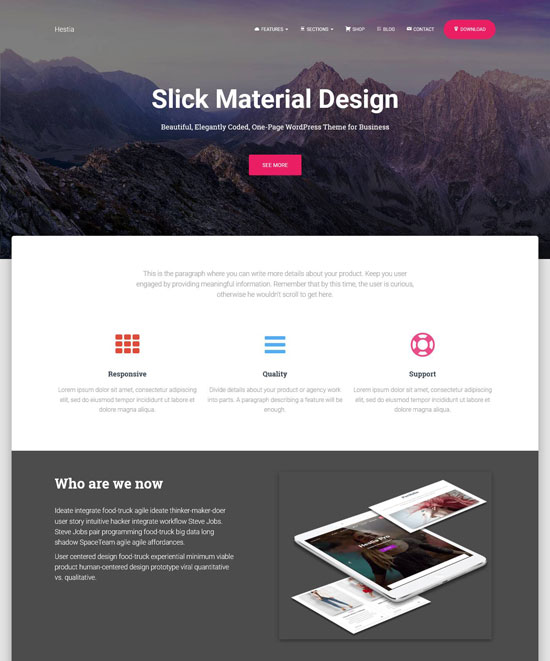 demo more info / download