Frokost
Frokost is a fully responsive HTML5 page is clean for any restaurant / cafe business. The theme includes many fun elements that are very easy to modify.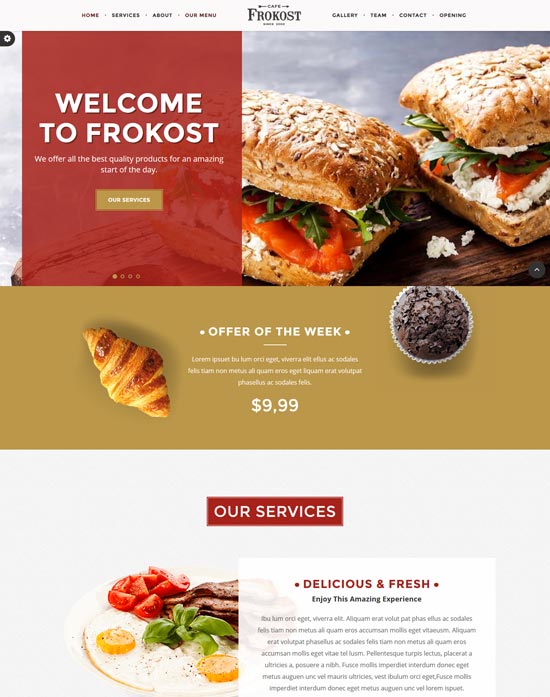 more info / download demo
Gaucho – Food & Restaurant HTML Template
Gaucho is an exquisite food & restaurant HTML template with a unique concept. Gaucho comes bundled with astounding features like page pre-loader, pre-built pages, full page slider, 6 preset styles and much more.
The underlying UIkit framework gives the template an immeasurable weight of flexibility and agility and optimized files without the blot of many popular frameworks.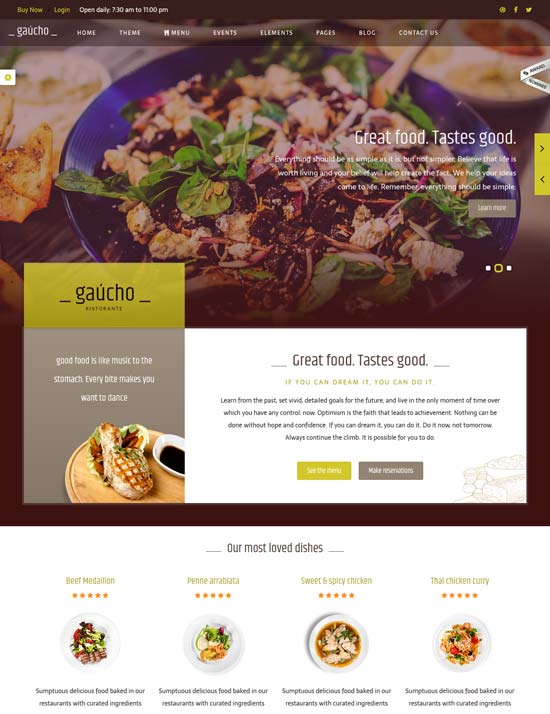 demo more info / download
Tomato Restaurant Website Template
Tomato is a Modern, Creative & Responsive HTML5 Restaurant Template. It can also be used as Cafe Website Template, Recipe Website or any other Food Related Website. Running a Restaurant? or have a website related to Food, Cafe, Bakery, Bar, Pizza, cooking and so on. The possibilities are endless. its a carefully crafted Restaurant Website Template to meet your needs.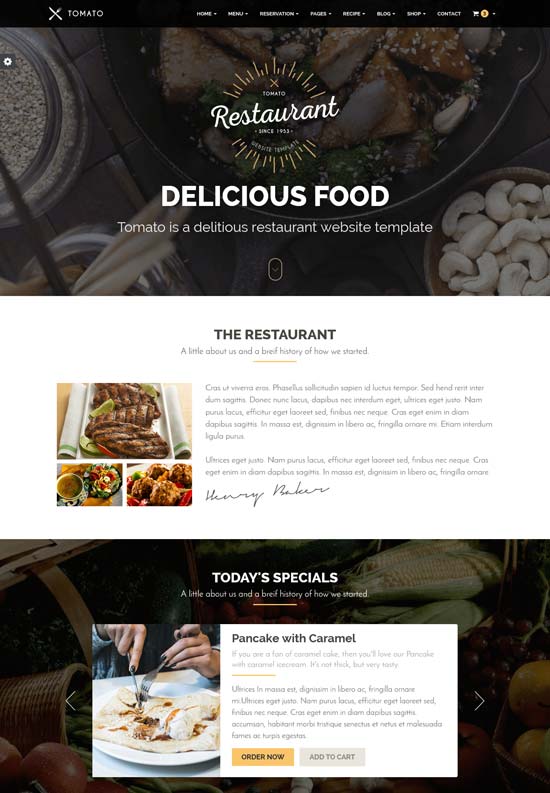 demo more info / download
The Retation – Coffee, Bar and Bistr Template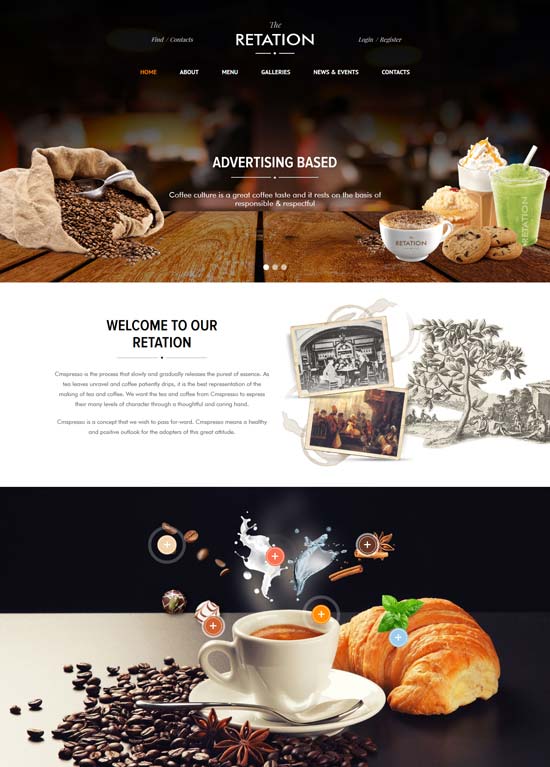 demo more info / download
Elixir – Restaurant HTML Responsive Template
Elixir is a clean and professional html restaurant template perfect for cafe, Bakery, any food business and personal chef web sites. Built on the Advanced Bootstrap 3 framework with HTML5 / CSS3. Its responsive too – Will fit great on all devices.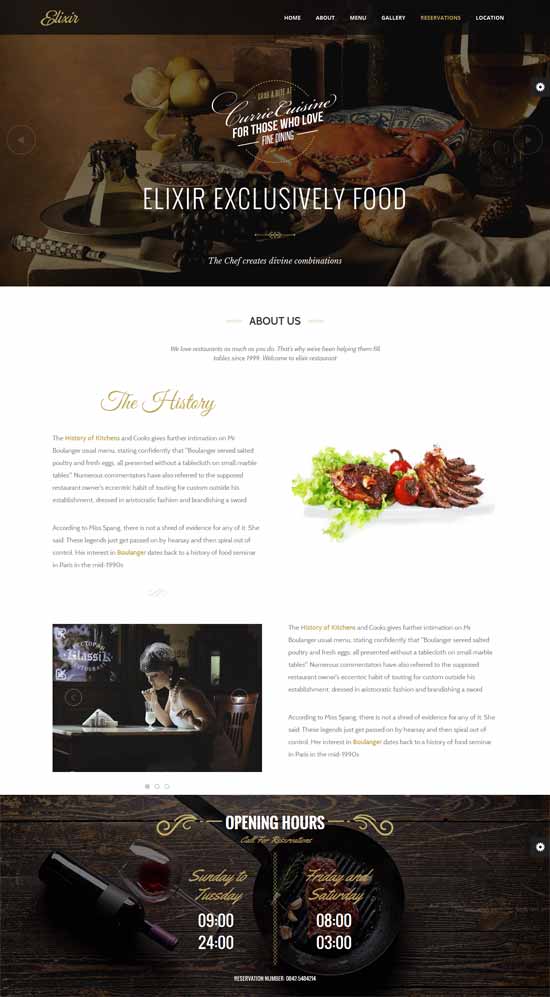 demo more info / download
Barnelli – Restaurant HTML5 Responsive Template
Barnelli is a minimal and highly responsive HTML5 restaurant website template designed for all you restaurateurs out there, this is not a generic "theme" that can fit into all businesses. We focused on one restaurant segment to get things done the proper way. Our theme is specifically designed and coded for food business. If you are running small restaurant, fast-food or a kebab then this is a theme for you. We have all the restaurant specific elements cover so you don't need to worry. Barnelli understands and addresses all your needs in one simple and elegant package.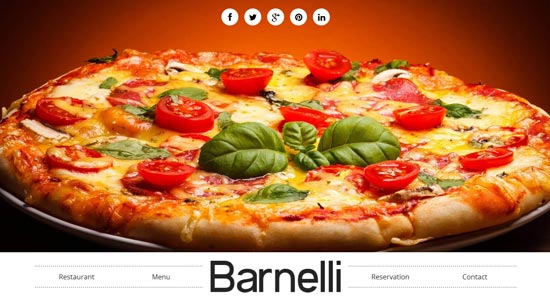 demo more info / download
Urbanrgill – HTML5 Restaurant Template
Urbanrgill – responsive HTML5 Restaurant Template for your restaurant website and various other services that you do using web.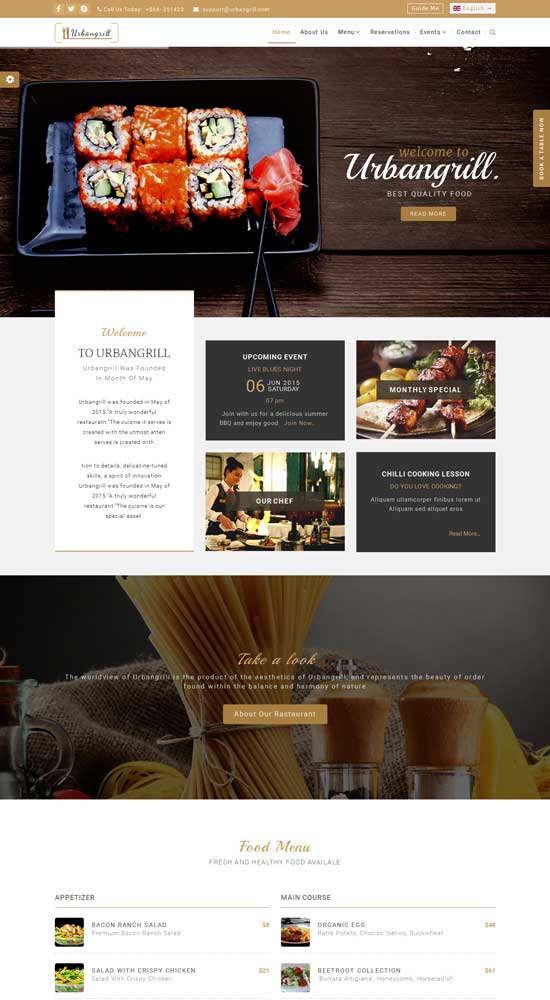 demo more info / download
Majesty – Responsive Restaurant HTML5 Template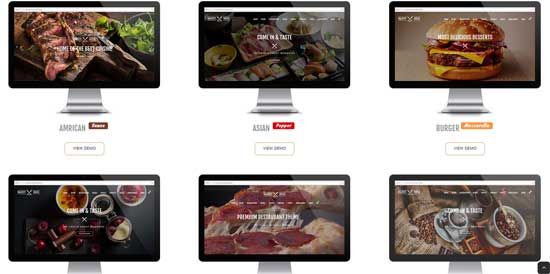 demo more info / download
Lambert – Restaurant / Cafe / Pub Template
A "Lambert – Responsive Restaurant / Pub / Cafe Template" is perfect if you like a clean and modern design. Lambert is a clean and professional site template, perfect for Restaurant, Bakery, any food business and personal chef web sites. More features with 6 Homepages (Video , Carousel , Slideshow) – one and multi page version for versions for each option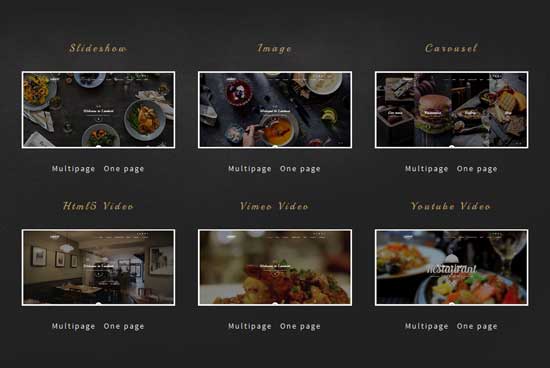 demo more info / download
The Spice Lounge – Restaurant / Cafe HTML5 Template
The Spice Lounge is a Responsive HTML 5 Bootstrap restaurant template designed for Restaurants, Cafe, Bars websites. Html files make everything clear and easy to customize. In this template there are 16 different vibrant colors to choose from.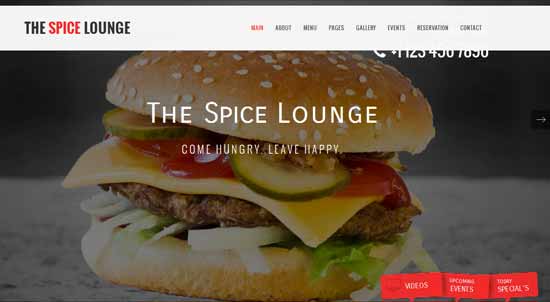 demo more info / download
Berg – Restaurant Dedicated HTML5 Template
Berg is no ordinary HTML restaurant template for your restaurant business. We have put a lot of time, thoughts and effort into making this template.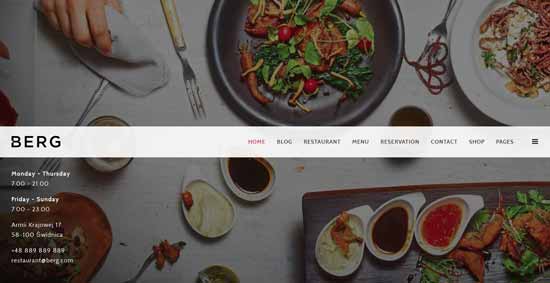 demo more info / download
Sweet Cake – Responsive HTML5 One Page Theme
Sweet Cake is a one page Responsive HTML5 CSS3 Theme perfect for your business. The graphic is very sweet and creative, is ideal for bakeries, ice cream shops, restaurants and cake designers but if you want you can change the colors to adapt the theme for all activities.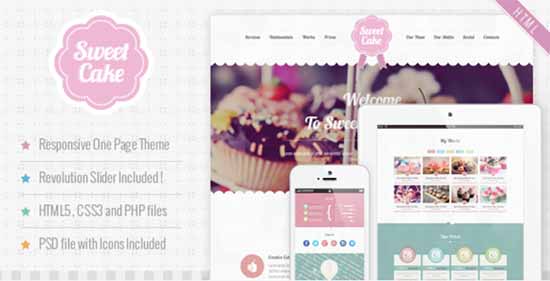 demo more info / download
Food Ordering Service
FoodDelivery is an HTML5 restaurant template beautifully designed for food ordering and online food delivery services. FoodDelivery is a perfect choice to showcase restaurant dishes, pizzas, drinks, desserts and other culinary delights in a beautiful and appetizing way. The template features a collection of pre-designed items and pages that can be useful for any restaurant. Enjoy image banners, menus, image galleries, blog layouts, and more. The template includes popular pages and sections of the website such as testimonials, contacts (Google Maps included), about us, 404 pages, our team, maintenance page, upcoming page, careers, FAQs and more. FoodDelivery also comes with pre-designed ecommerce pages, so your customers can order the dishes online.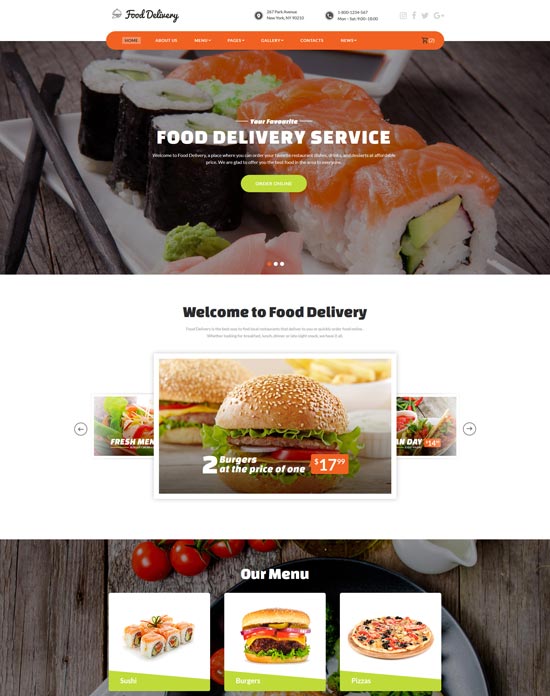 more info / download demo
Quick Food
If you need a tasty look for your fast food website, try our Quick Food which has it all so that your audience never leaves your site. This bootstrap template features a large number of ready-to-use HTML pages that allow you to describe your fast food restaurant in the best light by introducing your chef team, comments from people on your restaurant and more! Enjoy a rich UI kit to complement your site with all the desired content and highlight all your successful quick dishes with restaurant menu and versatile gallery styles. Provide your customers with all the special meal offers with a fully responsive web slide and let them be up to date at all your events and promotions with a Newsletter subscription. Capture every audience with super tasty design backed by delicious origins, tones and Parallax animation! Head to the fast food restaurants with this coffee and restaurant style!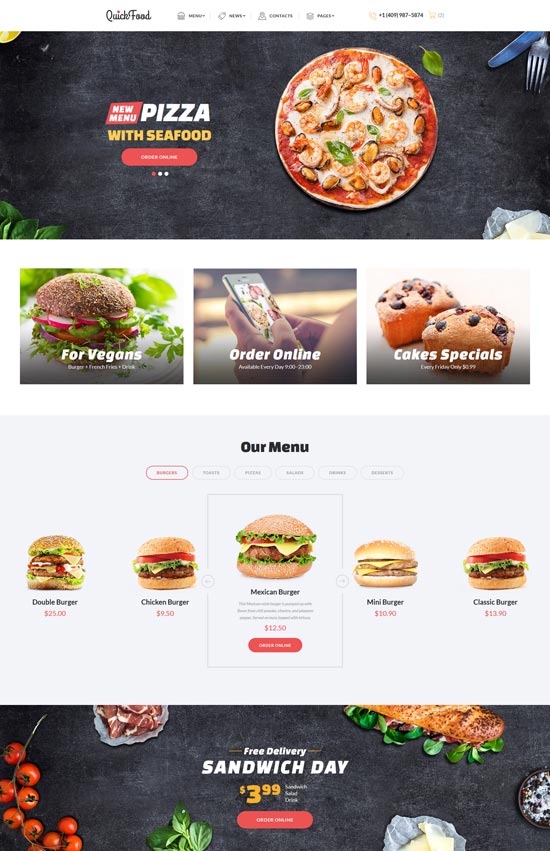 more info / download demo
Big Good Burger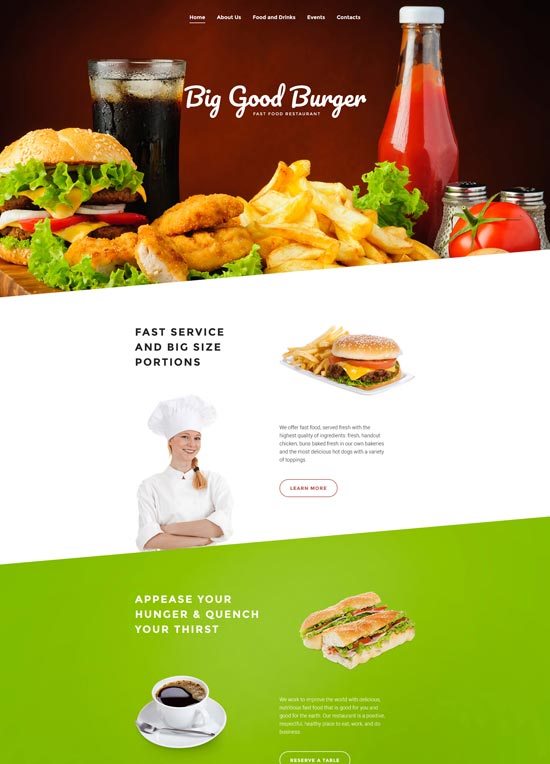 more info / download demo
Italian Restaurant
If you need to create an Italian restaurant, designing this Italian kitchen website template will be very helpful. A palette of brown color makes appear comfortable, elegant and appetizing, while an unusual layout makes it unforgettable for your customers. Apart from that, transparent banners and a careful combination of text and images invite viewers to click, read and order, while you will enjoy a high conversion rate. Display a physical restaurant address on the map to your customer and let them use a drop-down menu to choose the items they need. Place all your calls to action on the ghost buttons and make sure that clients of all devices will see them, as this HTML template restaurant responds.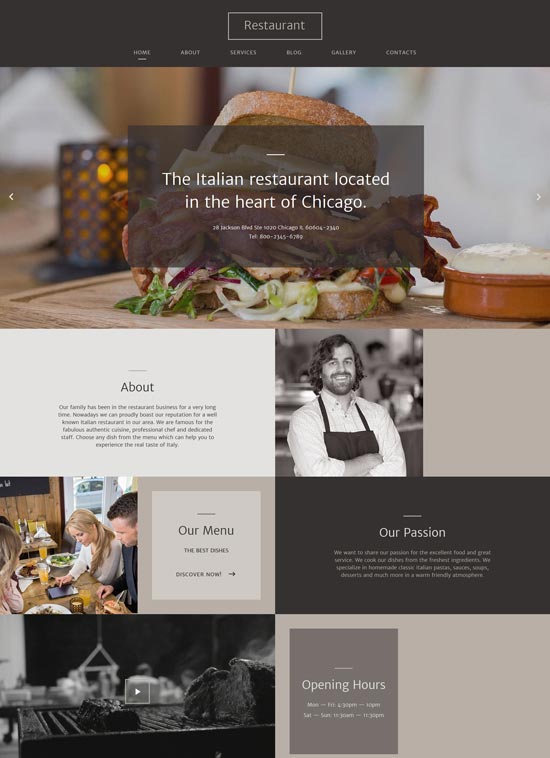 more info / download demo
Good Food
Good food is a perfect theme for recipes, or food and beverage blogs. The author placed pattern elements on the photo of grunge wood planks, which adds a unique touch to the layout. The full-screen image of Food and Beverages The site template features a plate with a mouth-watering salad.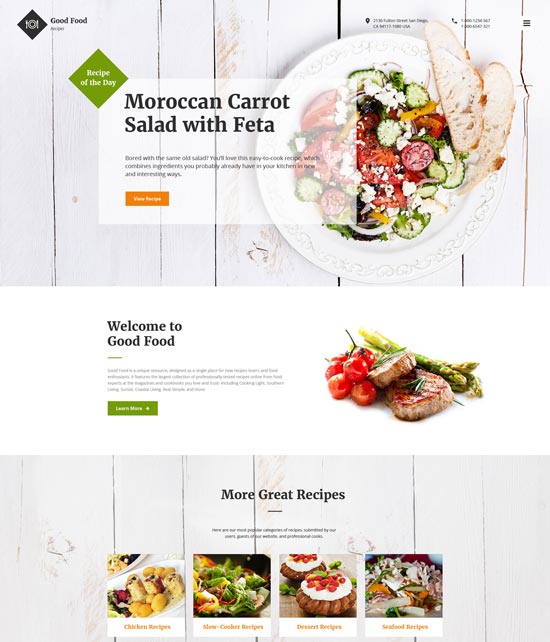 more info / download demo
Food & Wine
This site template café and restaurant is a great way to present your comfortable public place on the web. It is a versatile HTML template designed to bring joy to your visitors. They can book the best table at your online restaurant right from the home page, and with Google Map embedded in the theme they will have no problem with finding the place later.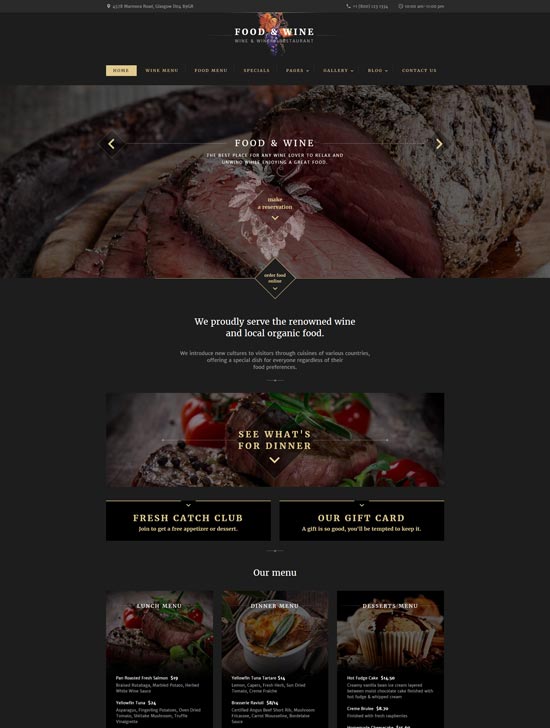 more info / download demo
Tasty Cafe
Tasty Cafe was developed for websites of cafes and restaurants. Slider, Parallax effect and background video make the layout of Cafe and Restaurant Site Template truly impressive. Chalk fonts are a brilliant addition to the general web page style. The main menu sticks to the top of the page when you start scrolling down, and stays there all the while while the visitor is on the site. The menu of the restaurant is presented with prices, which makes the site even more useful and usable.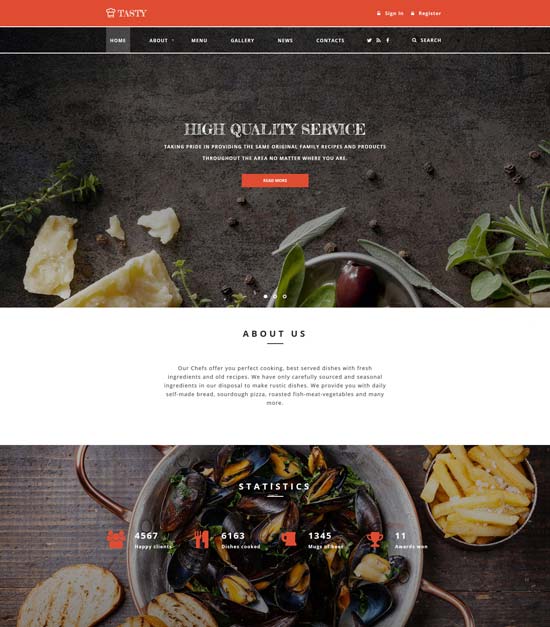 more info / download demo
La Resto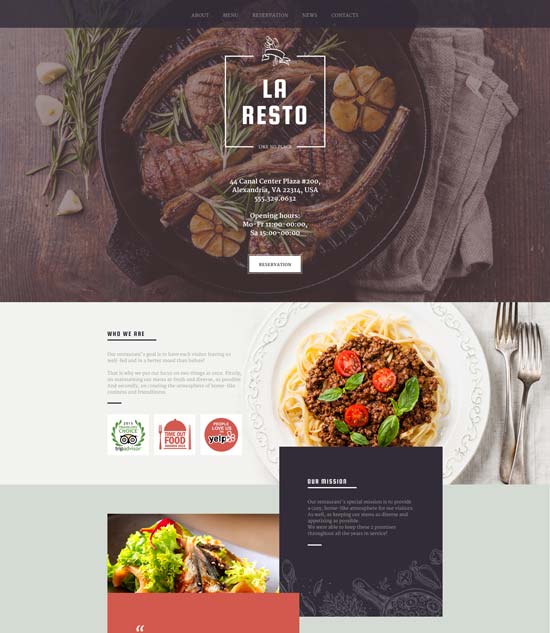 more info / download demo
INTENSE Restaurant
Restaurant Web Template European captivates with its appealing design. The layout is rich in daring images in media and galleries, introducing users to the dishes on the menu. Featuring a balanced and thoughtful structure, the first template of the page has enough space to tell a brief history of the company make a gallery basic maps, post your menu, a list of upcoming events and place a quick booking. A contact form is also available. The theme provides an audio and video support.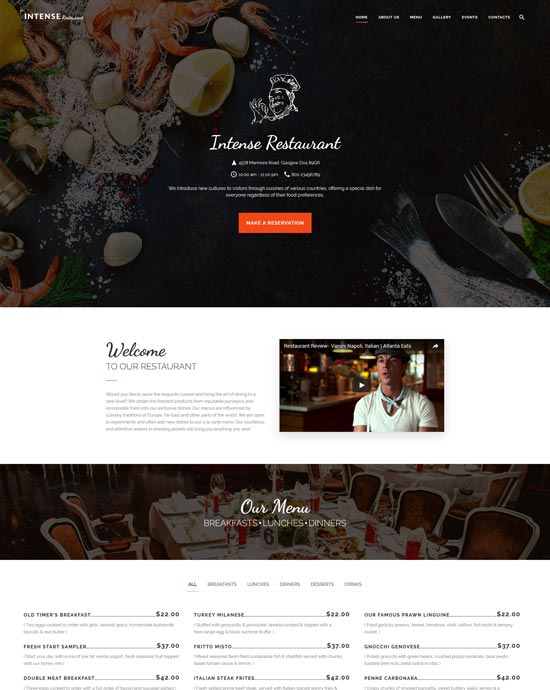 more info / download demo
Manch Website Template
Manch is a powerful and stylish Cafe and Restaurant Website Template. Every single element of this design was finely tuned to reflect a sense of elegance and beauty of your establishment. The template is fully responsive and looks amazing on any type of device from desktops and tablets to smartphones. Coming loaded with a number of handy features, the theme can be used for crafting not only cafe and restaurant but also photography, portfolio, personal, business websites, etc. A full-width layout comes with refined menus, sliders, galleries, testimonials, services, contact details, and other elements to make your web resource both informative, easy-to-browse and visually pleasing.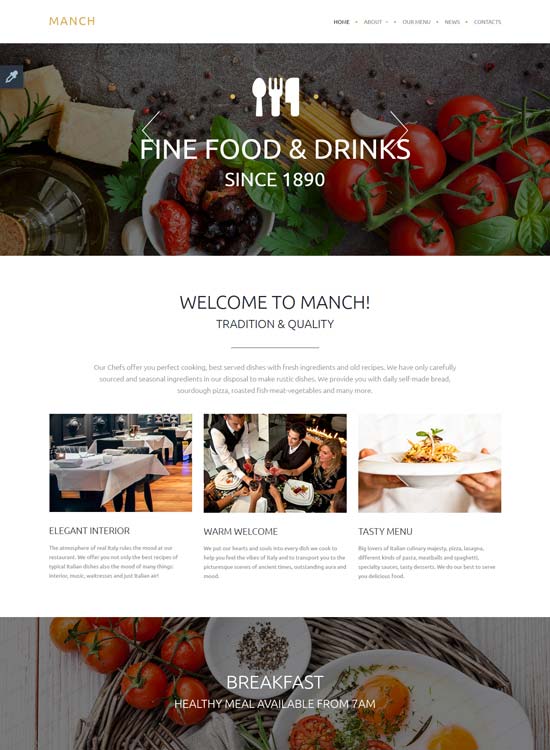 demo more info / download
Cafe and Restaurant Responsive Website Template 55158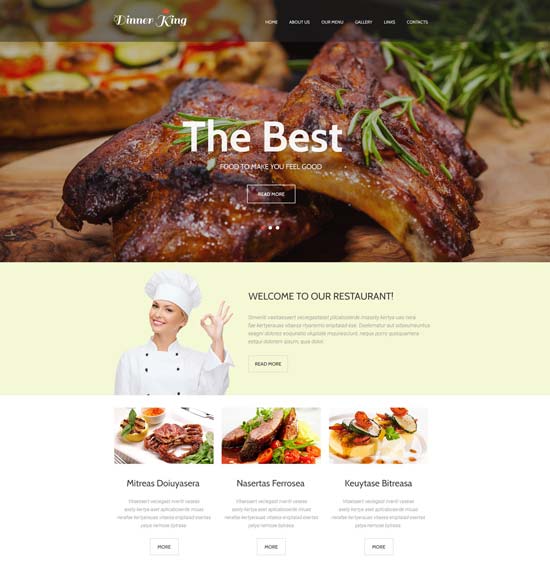 demo more info / download
European Restaurant Responsive Website Template
BBQ is a premium design best suited for html website templates for cafe and restaurant. Using it you'll be able to impress your potential diners with breathtaking visuals, sleek looking food menu, and great sliders. The template is fully responsive and comes packed with a custom mobile menu, which makes it a truly cross browser compatible solution. Integrated Google map and easy to reach contact details guarantee users will reach you in the most convenient way. Valid code, HTML plus JS animation and a number of other handy options make it easier to maintain the theme.
BBQ Restaurant Responsive Website Template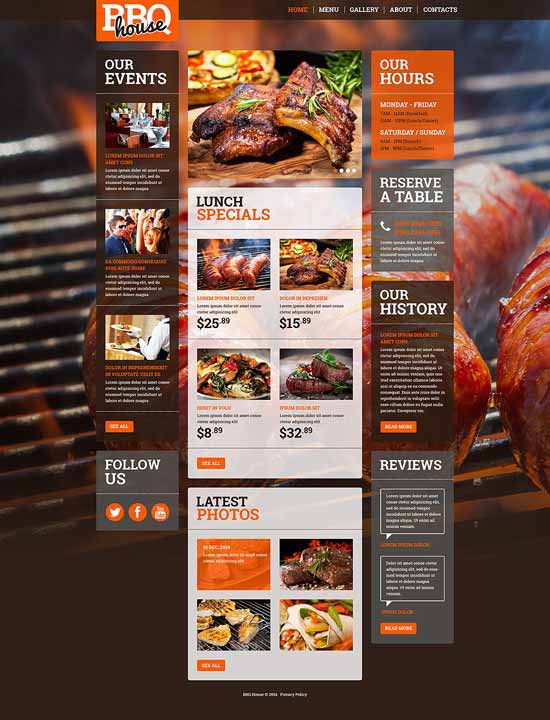 demo more info / download
Mexican Restaurant Responsive Website Template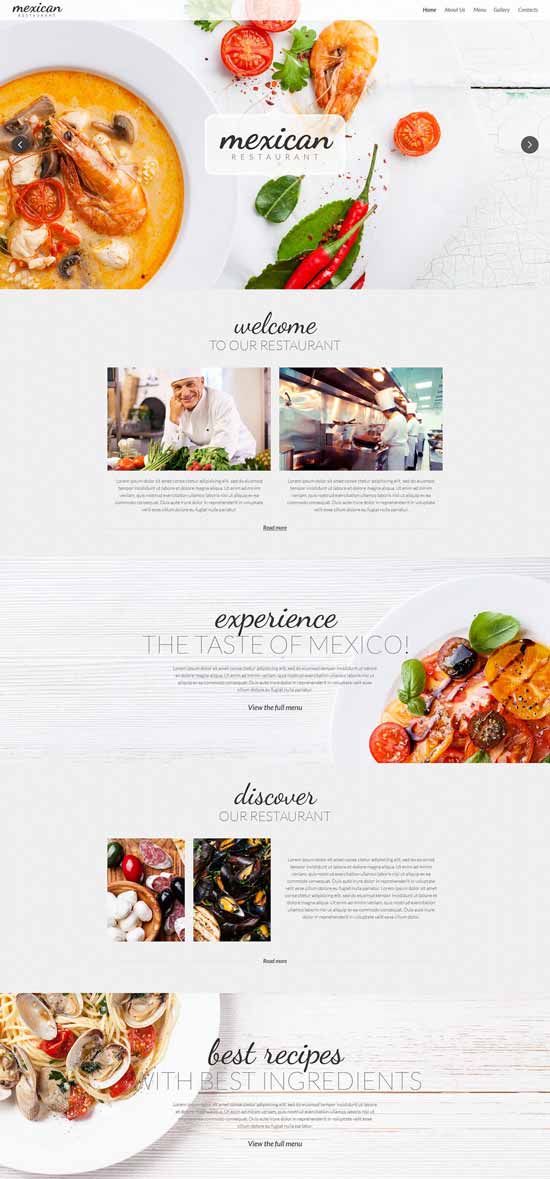 demo more info / download
Free cafe and Restaurant Website Templates:
Restaurant – Free Restaurant Cafe HTML5 Template with Bootstrap 3
Restaurant is a free restaurant website template with Bootstrap 3, HTML5, CSS3 and jQuery! A very elegant, responsive, one page restaurant page template. Very clean and professional design! With awesome jQuery effects and CSS animations. This is one of the best free restaurant cafe html5 template so far with bootstrap!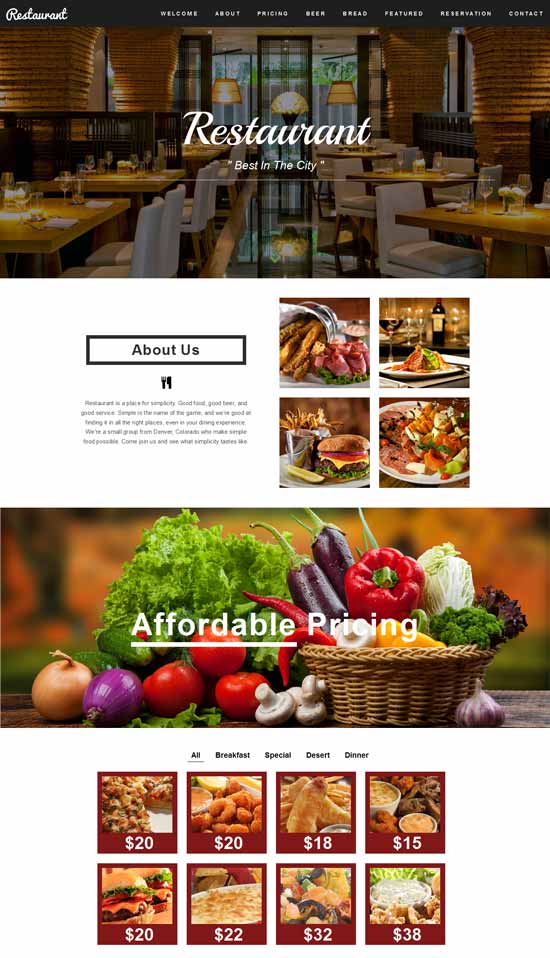 demo more info / download
Cafe & Restaurant Free Website Template
Cafe & Restaurant Free Website Template – the tasty morsel that has just been released and is ready to use. This design will show off your restaurant or any other entertainment place in a professional way. It will inform people about its services and offers and drive traffic towards your site and business. The theme will work great for food & drink, brewery, gifts, hobbies & crafts and many other websites.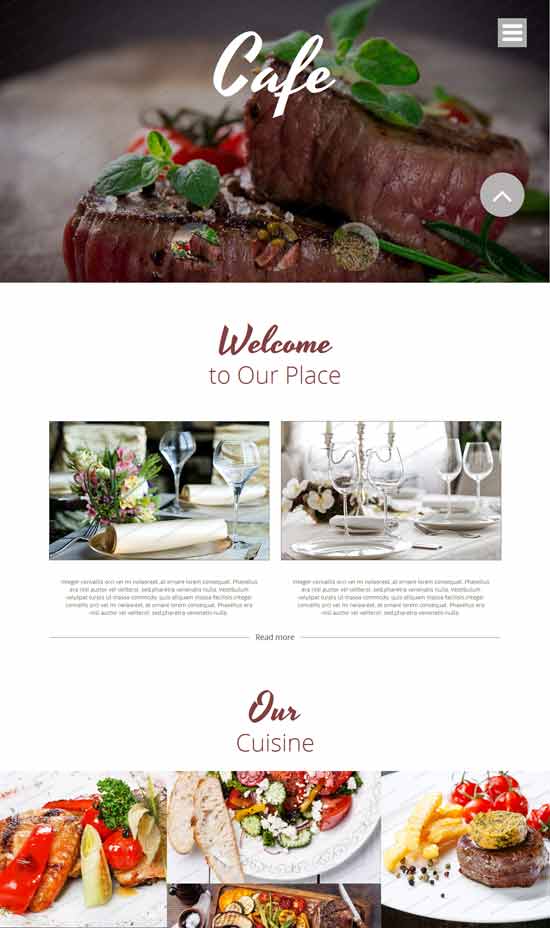 demo more info / download
Italian Restaurant – Free HTML5 Restaurant Template
Feel free to grab clean and chic Free HTML5 restaurant templates featuring harmonious balance between professional execution and artistic touch.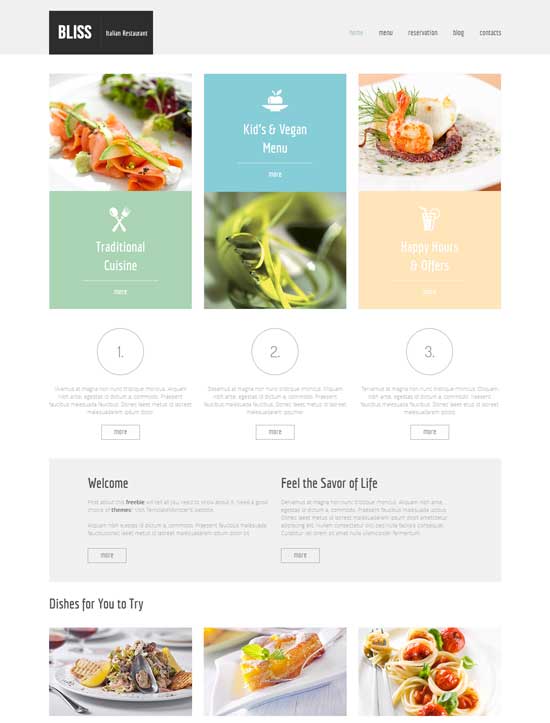 demo more info / download
Meatking – A Restaurant Website Design Template
MeatKing is a responsive free html5 restaurant template. It's an ultra responsive HTML Template for Restaurants or Food based shops. A very unique and super elegant responsive template created from powerful Bootstrap 3 Framework. Modern design essence and CSS3 animations makes it very stylish and eye catchy.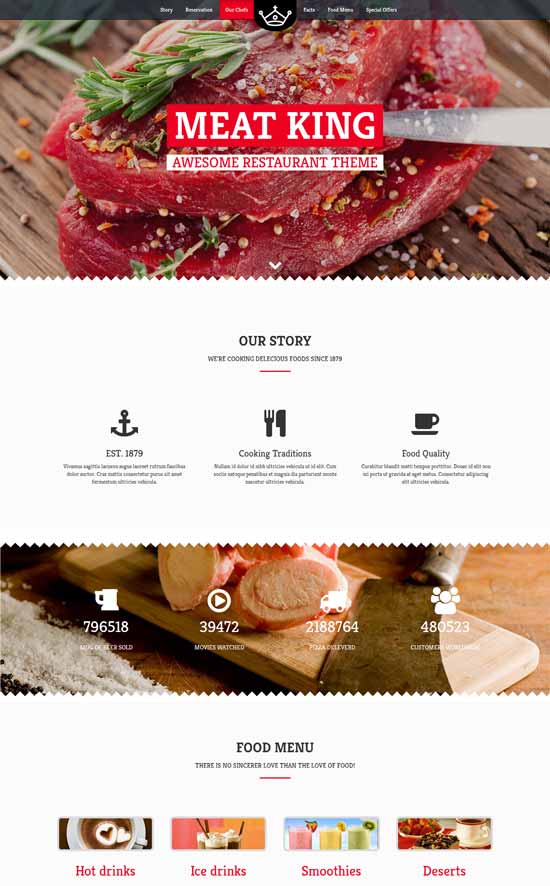 demo more info / download
Scandinavian Chic – Free HTML5 Restaurant Template
Welcome the fresh goodie that is complimented with a Scandinavian design, that is popular today for its simplicity and beauty. Function and aesthetics are the key points of this Free HTML5 template for Restaurant Site that will certainly raise the interest of your potential clients. I hope, you'll like a well-balanced look and good functionality of this template.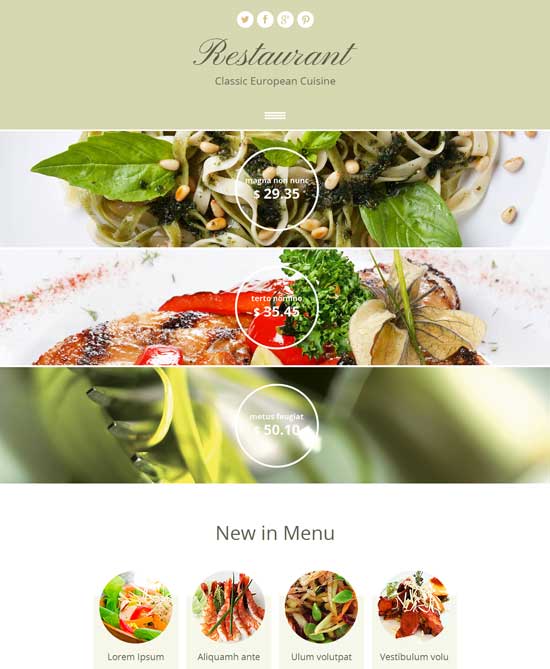 demo more info / download