Free sports WordPress themes is a professionally designed and visually appealing themes with the perfect combination of colors and layout for creating, footfall, tennis, water sports related sports websites. The design of this theme is simple but effective in drawing the attention of visitors to your website. If you are interested in any business related to water sports, this is the perfect theme to show what you have to offer. Easily accommodates all screen sizes, making the overall look nice. Clean HTML codes built into the core of the theme make your website perform outstandingly without causing unnecessary bloat. Free Water Sports WordPress Theme lets you decide if you want to go with the default look or if you want to change the colors and typography. However, you never need to be a coder or you don't need to have any professional development experience to use this theme as you get ready-to-fit options. All you need to do is click on the options and make the changes in just a few clicks. Its Bootstrap-based design is capable of handling heavy inbound traffic and still offers a great user experience. So give this free water sports WordPress theme a try and have a website up and running in minutes.
Related Article
VW Sports
VW Sports will give your sports or sports club website a good start as it is geared towards any type of sports related site. You get an absolutely sophisticated online look with the responsive design of this theme as well as mobile friendly and expertly crafted that hardly needs to be modified. This theme is suitable for fans of sports like football, cricket, water sports, arcade games, basketball, etc. It's clean, elegant, and easy to use for beginners and experts alike. Sports coaches will also find the theme useful for displaying their portfolio. All the information related to the facilities of your team or your sports club can be displayed in a professional way. Offering a perfect design for modern sports, sportswear, sports shop, water sports, sports style, sportswear, gaming clubs, this theme incorporates secure and clean codes along with translation files that make your website translation ready.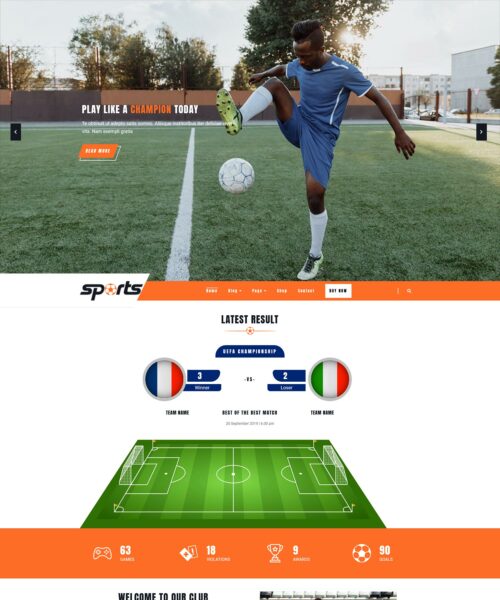 more info / download demo hosting
Sports Lite
Sports Lite is a flexible, clean and modern free sports academy WordPress theme designed for your sports club, academy or organization. It is also more suitable for soccer, basketball, rugby, tennis, hockey and cricket. It offers you many customization options and design features to create a professional website for your sports academy. In this theme, you can easily display and manage players, teams, matches, league points, and results. This theme has an attractive, beautiful and fully functional homepage design that works well for any type of sports website. Each section of the home page is carefully designed and tailored to match your sports academy.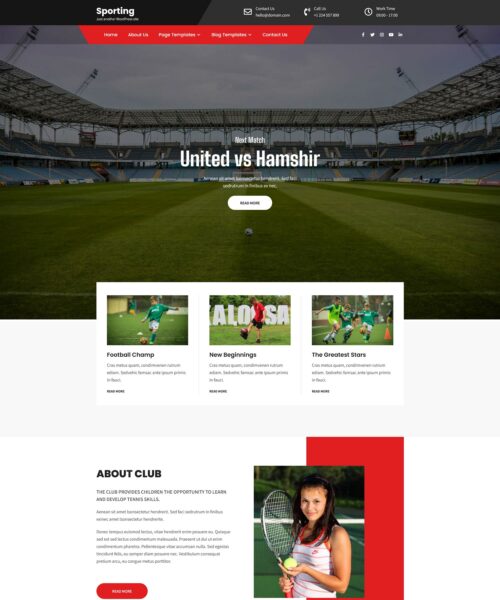 more info / download demo hosting
Water Sports Club
The Water Sports Club theme showcases beach sports and water sports club in style. For those who are experts in sailing, canoeing, surfing, swimming, beach, boating, diving or any other water sport and working as an instructor for these sports, you can use this theme to design a fabulous website promoting your skills and services. Creates a pleasant aura on the screen due to its sleek, modern and sophisticated design. Also, this theme is retina ready, making the website look pixel perfect on all screen sizes. Having an easy-to-use theme options panel will be of great benefit as it allows users to adjust the theme and change various aspects of the theme without falling into complicated coding procedures.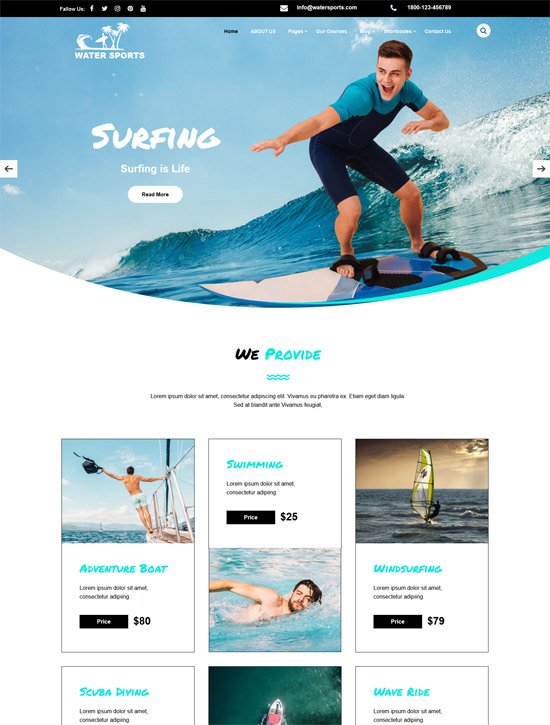 more info / download demo hosting
Multi Sports
This Multi Sports theme is an extraordinary theme that is perfectly suited to any type of sport. Be it cricket, rugby, soccer, hockey, tennis, basketball, soccer, volleyball, baseball, games or any other sport, this theme is able to serve all sports and any sport related website including clubs sports and sports training academies. Its design is clean and elegantly designed to give your site a professional look. Each section is designed with simplicity and adapts to your tastes, as it has a theme customizer that offers many customization options. It is 100% responsive and makes your site fit perfectly on all screen sizes. Packed with safe and clean code, it can attract a lot of visitors to your site due to its SEO-friendly design. The Multi Sports theme is optimized to offer fast loading pages and an extraordinary web experience to your visitors. Bootstrap-based design not only provides a solid foundation for your website, it also gives you enough flexibility.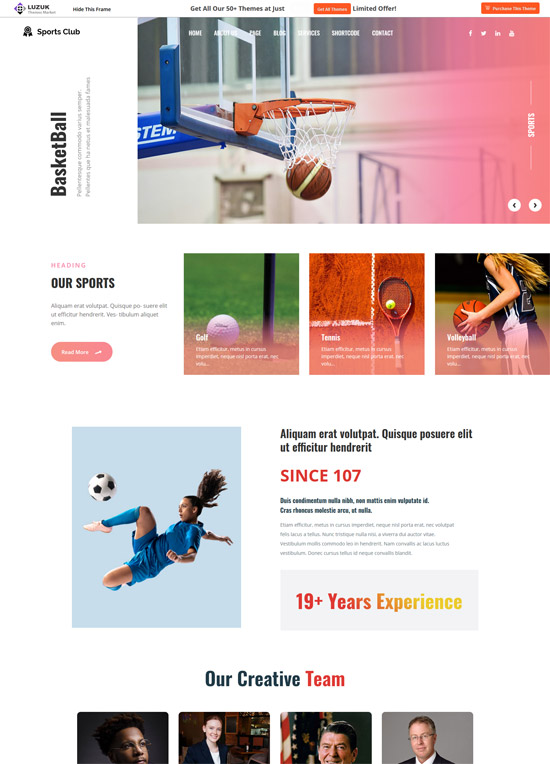 more info / download demo hosting
Kodiak Football Sport
Green grass background theme designed to build sites for outdoor sports such as soccer, European football, rugby, tennis, golf, grass balls and others.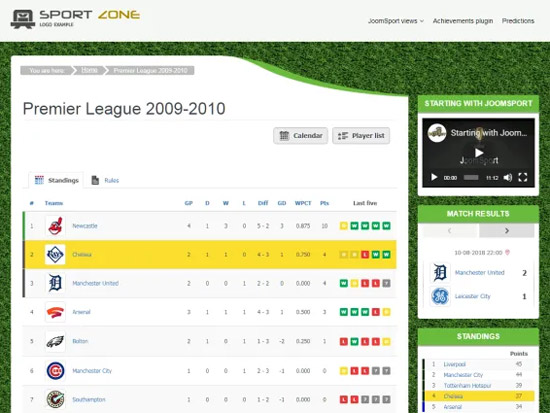 more info / download hosting
Sportion
Sportion is a Newsphere child theme that is an ideal responsive news magazine and WordPress themes that allows you to write articles and blog posts easily. Primary navigation. Make an outstanding news site with the help of live customization options and custom widgets, you can structure your site to your liking and view live progressions. It supports Gutenberg and RTL along with the WooCommerce module that encourages you to coordinate an online business with our design. Incorporating many useful highlights that require building a great-looking news portal, the theme is great for blogging and great for a newspaper, magazine, syndication, or review website. The theme is fully enhanced, which places your site at the top of the web indexes and users will receive exceptional help from the support team if there is any problem using the theme.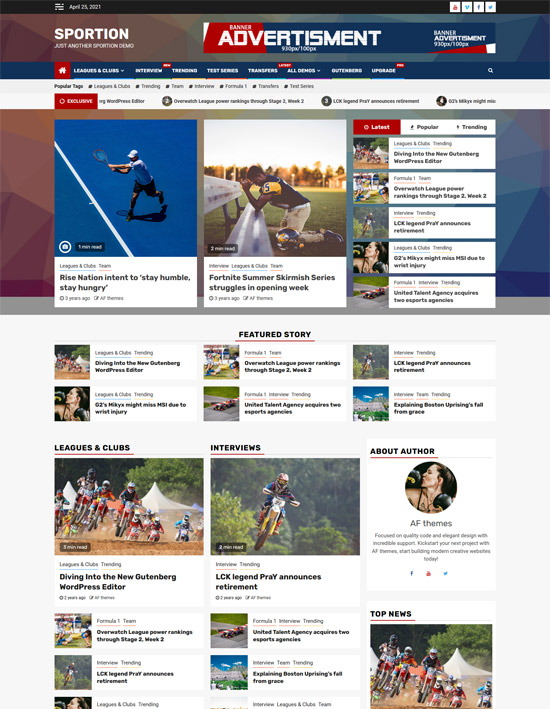 more info / download demo hosting
Sports Club Lite
Sports Club Lite is a slick, modern and attractive, youthful and lively, useful and versatile, highly responsive sports league WordPress theme. This sports theme has been designed to provide an easy and specialized platform for the optimized development of professional, amazing and tech-savvy websites for various sports clubs. This flexible theme can be adjusted for use in rugby, soccer, basketball, volleyball, hockey, tennis, baseball, or any other individual sport. This highly customizable and feature-rich multisport WordPress theme can also be used to create a fully functional website template for fitness clubs, gyms, dance schools, martial arts, personal trainers, and any other health-related business and fitness.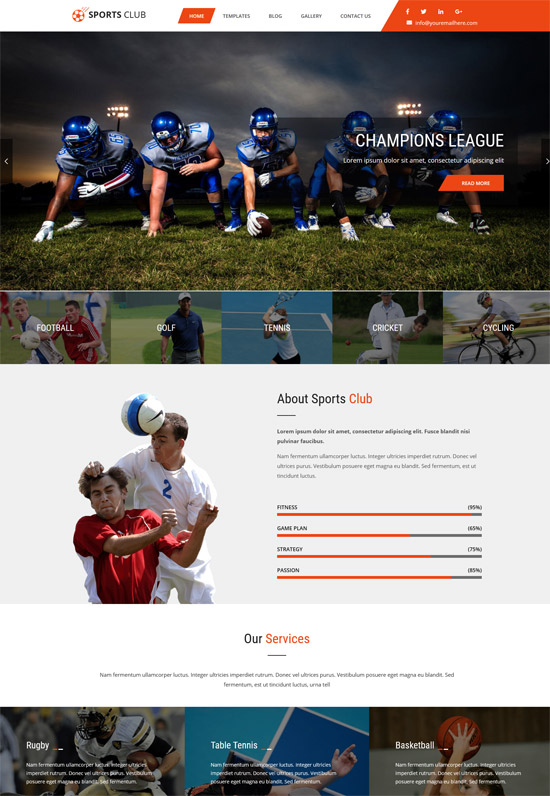 more info / download demo hosting
Sports Blog
Sports Blog is a modern and clean WordPress Blog theme, carefully designed to help you create extraordinary blogging sites very easily, with a lot of different styles and options. It offers a great user experience for almost any need and is extremely easy to customize.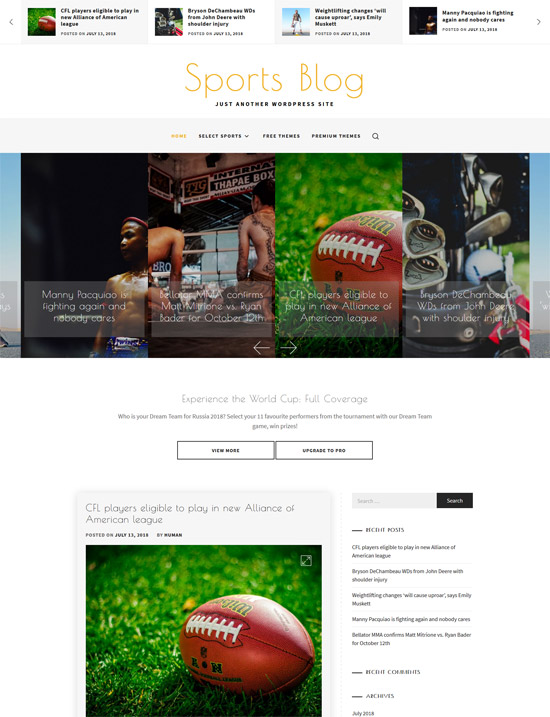 more info / download demo hosting
Newsport
NEWSPORT is a child theme of CoverNews. The theme comes with a different main banner section layout, as well as changes to some essential fonts and color settings. Additionally, the theme also altered some of the home page layout defaults. With the help of the customization options available along with the widgets, you can implement layouts like a clean and minimal blog site, a modern sports blog, a fashion blog, a photography blog, a wedding blog and magazine and much. more. The theme is SEO friendly with optimized code and amazing support.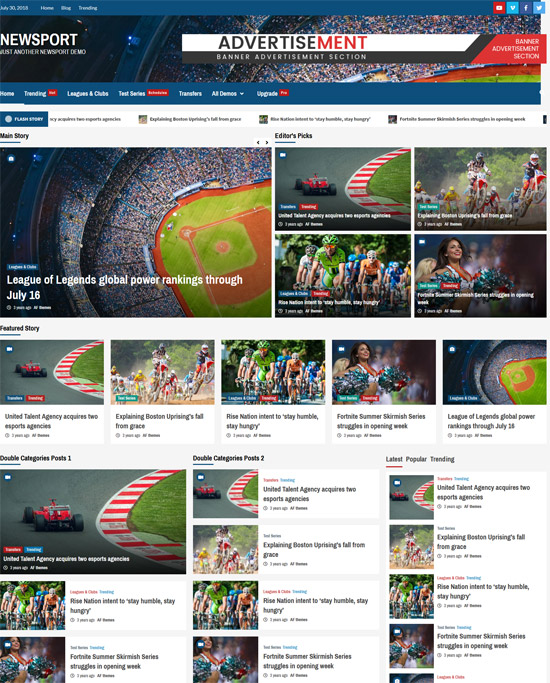 more info / download demo hosting
fSport
Sports WordPress theme. Features: Header widget area, homepage widget area, 2 footer columns, sidebar widget area, custom logo, multi-level drop down menu, custom background, search engine optimized, footer menu page, footer copyright text, opening hours widget support, multi-browser support and translation ready.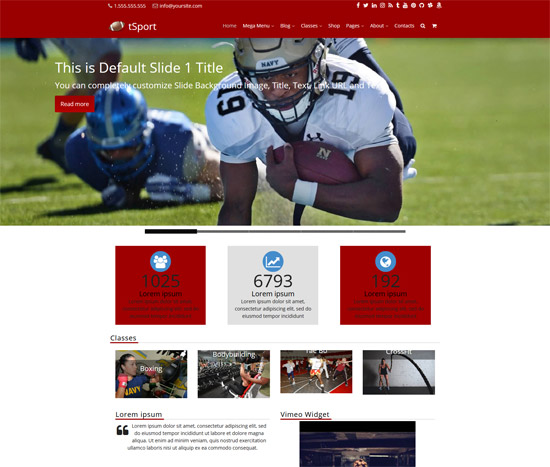 more info / download demo hosting