Looking for a free logistics WordPress themes? Look no further than our collection of themes perfect for any transportation website of company . Whether you're a bus company, taxi service, or private transportation provider, we have a theme that's right for you. Our selection themes are fully responsive and easy to customize, so you can get your website up and running in no time.
Choose from a variety of color schemes, layouts, and features to create the perfect website for your business. So why wait? Browse our collection of free transportation WordPress themes and find the perfect one for your business today.
Related Article
Movers and Packers
The Movers and Packers theme is a modern, free WordPress theme with a design that works well for logistics services, courier agencies, international shipping firms, packers, and movers. The WordPress site is where you can get this theme. It's built in a simple way and looks great, so it will make the website you're working on look great.
Because the design is clean and well-organized and has been made to work best with retina displays, it will be easy to see how flexible the company's processes are. Because the user interface is so simple, you don't need to know how to code in order to build websites with this tool.
All you have to do is point and click. As long as your website is responsive, it will look good on any screen, no matter how big or small it is. It looks like it was made by a professional and gives you a lot of ways to change it to fit your needs.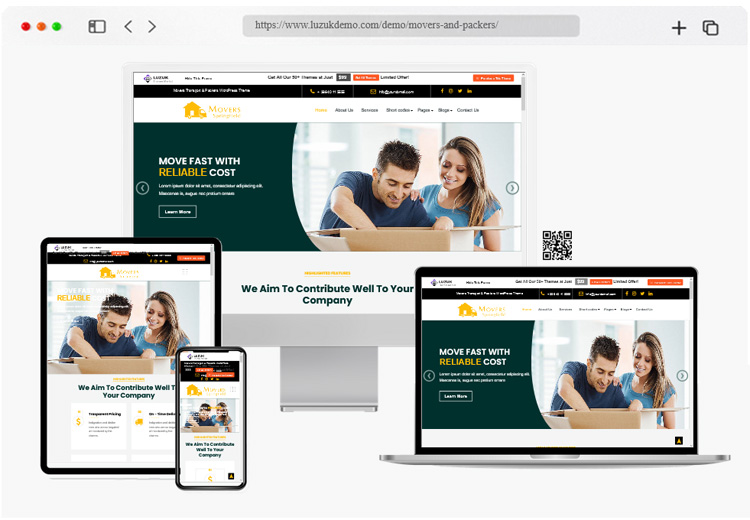 More info / download Demo
Transportation Shipment
The implementation of a specialized website created with the aid of the Free Transportation Theme will greatly benefit your shipping and transportation business. This theme offers you a pre-made skin along with a wealth of useful features that will help you build a highly functional website, making it an excellent choice for quickly and effectively building your website.
Additionally, using this theme is a great way to save time. Through extensive research, our developers have worked hard to ascertain what the shipping requirements are. Transport and logistics businesses have begun implementing fresh approaches to help them present their work on their websites in an appealing manner.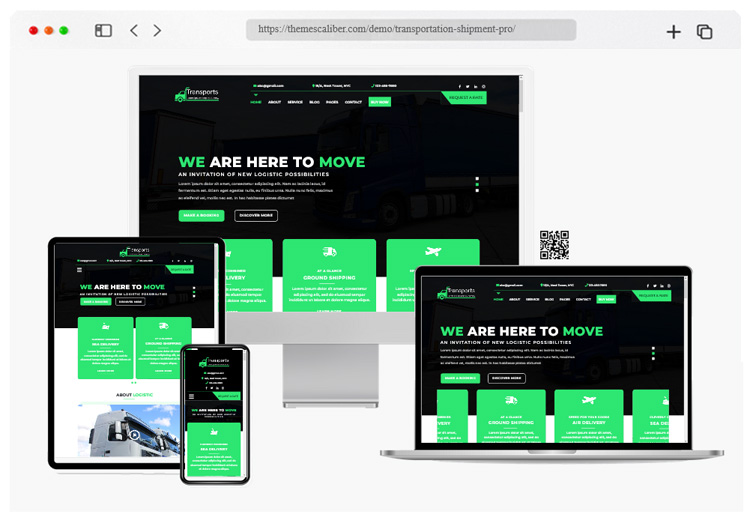 More info / download Demo
Warehouse Cargo
The professional and modern design helps advertise cargo services to potential customers. Provides the option to select from beautiful and attractive home page options, which helps to create an attractive website for the cargo provider and related services. Responsive to adapt to all devices, be it desktop, smartphone or tab.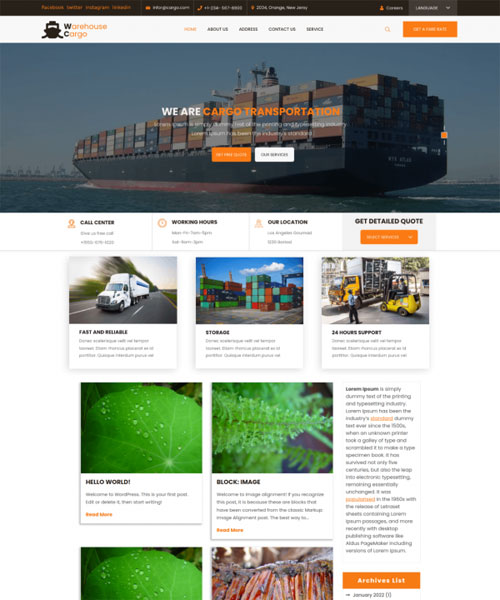 More info / download Demo
Logistic Transport
Logistics Transport is a beautiful, smart, dynamic, reliable, and strong WordPress theme for transport and logistics. It proves to be the best skin for making a website look professional and interactive, and it never lets you down with how well it works and how many options it gives you to make designing the website easy.
It has many features, such as being responsive, having footer widgets, having a full-width template, having a sticky post, having a single-line page layout, and more.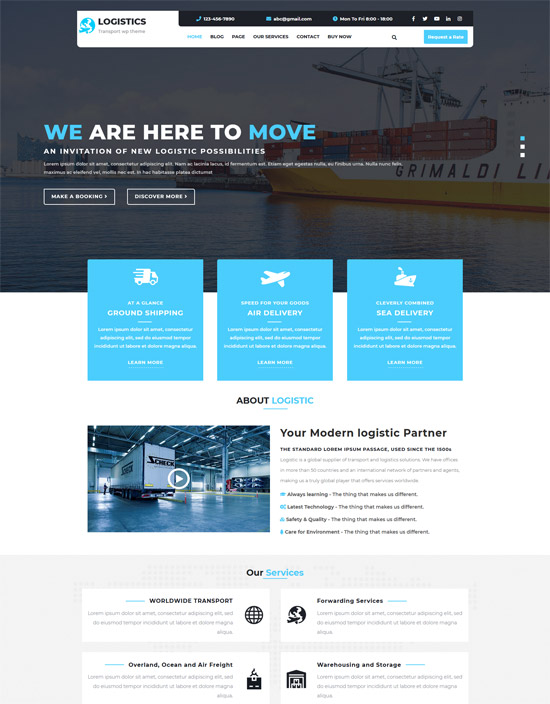 More info / download Demo
Transportation
Transportation is a WordPress theme made especially for companies in the transportation, shipping, and logistics industries. It is a fully responsive theme. Transport has everything you need to make a website even if you don't know how to code. It comes with a demo installation that only takes one click, so no other imports are needed.
With our theme options, you can choose almost any color you want. Everything about your theme can be changed. The theme comes with a default slider that has options for transitions and animations. It has an easy-to-use customizer that lets you change everything about the theme.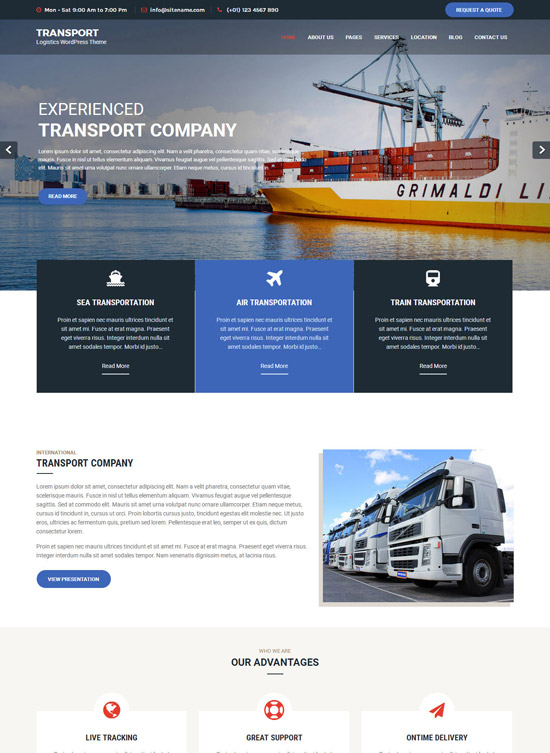 More info / download
Shifters Lite
Shifters Lite is an attractive, elegant, easy-to-use, responsive, and multipurpose logistics WordPress theme that can be used for logistics, transportation, and general moving services. If you run a business that offers services like shipping and delivery, this theme is a great option for a digital presence that will keep your customers happy and interested.
It is geared toward business and has a few features that make it a great choice for transportation and business services. This logistics WordPress theme can be used for many different kinds of transportation-related businesses, like trucking, air cargo, air freight, movers and packers, warehousing, general logistics, and other similar businesses.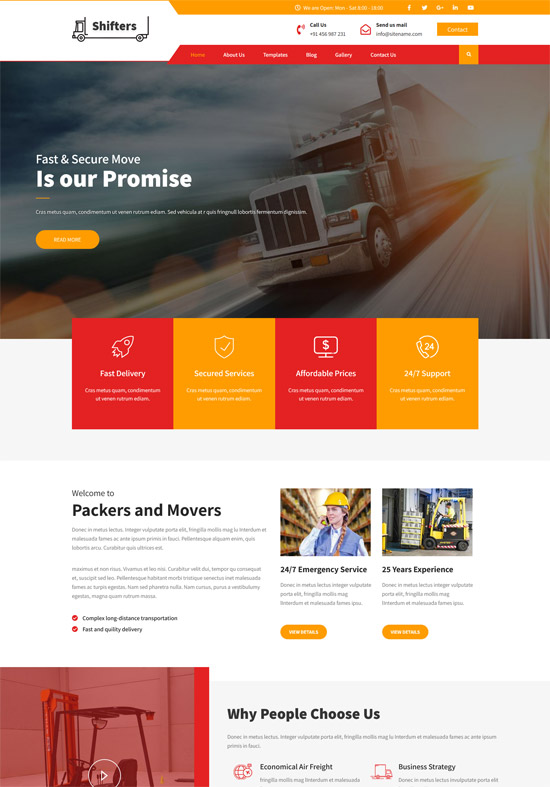 More info / download Demo
Moving Company Lite
Moving Company Lite is an excellent logistics WordPress theme. It features Bootstrap Framework, Custom Background, Post Formats, Retina Ready, Right Sidebar, Footer Widgets, Grid Layout, Translate Ready Social Media Icons and more. It benefits career services, logistics, and transportation and shipping industries.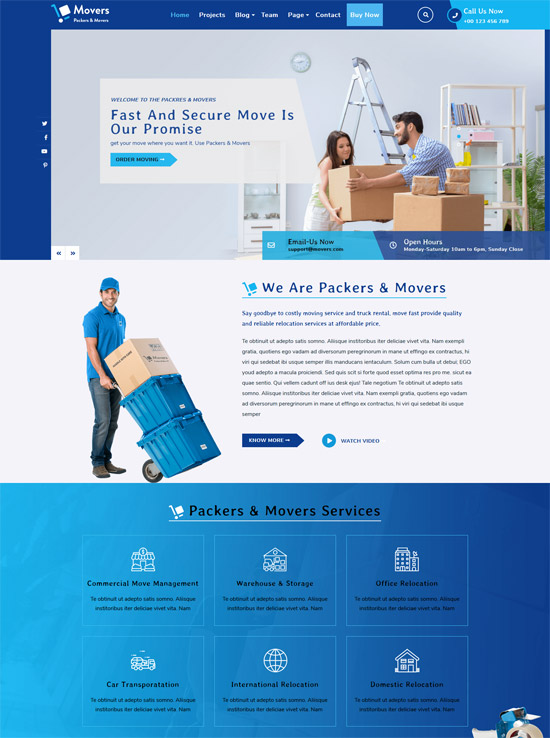 More info / download Demo
Expert Movers
Expert Movers is a multipurpose WordPress theme for moving companies and packers. Expert Movers is ideal for logistics companies, warehouse packers, transportation companies, and shipping, trucking, and freight companies. It's great for delivery services.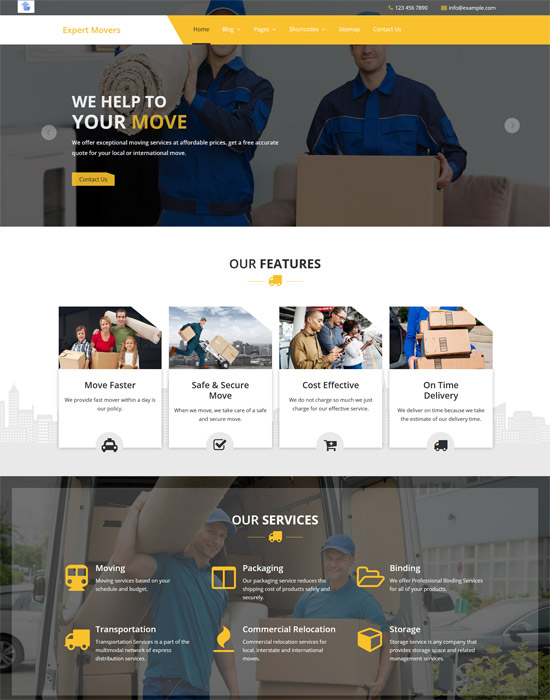 More info / download Demo
VW Transport Cargo
VW Transport Cargo is one of the best-designed, feature-rich, elegant, powerful, and versatile transportation WordPress themes. Its three layout options may transform your website from slick to contemporary and back again.
This transport WordPress theme is totally responsive, cross-browser compatible, featured pictures, multilingual, right sidebar, custom logo, editor style, theme settings, tech-savvy, and retina ready.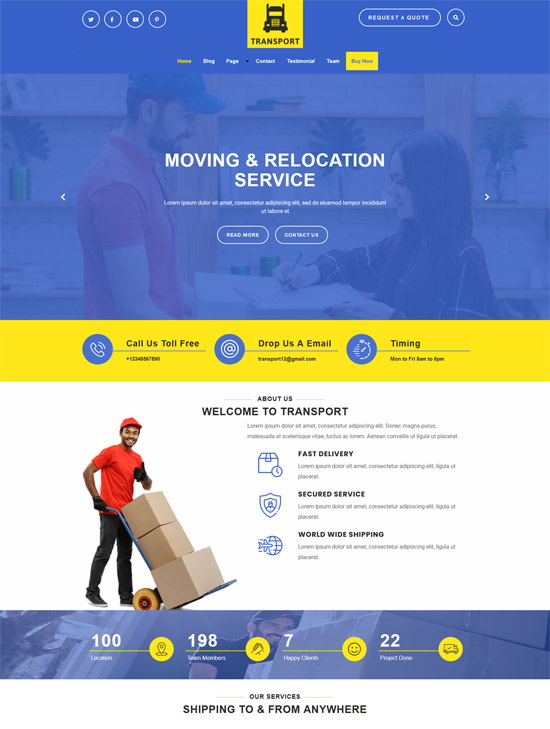 More info / download Demo
Transport Gravity
Transport Gravity is for freight businesses, packers and movers, logistics services, transportation, shipping firms, road transport, air transport. Freight, maritime transport, creative portfolio, display, corporate, multi functional company.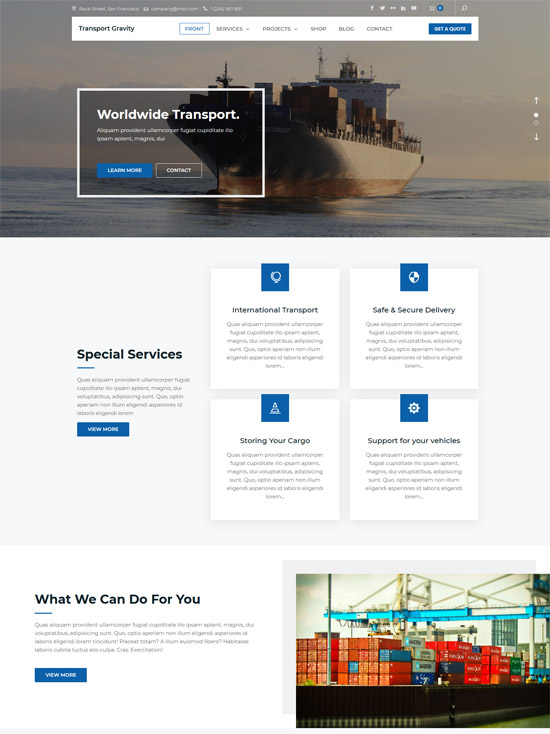 More info / download Demo
Transport Lite
Transport Lite is a flexible, powerful, and responsive WordPress theme for shipping, logistics, warehousing, moving, and packing companies. It is a simple, responsive free shipping WordPress theme. This theme works with the latest WordPress and most popular plugins.
More info / download Demo
Transit Lite
Transit is a WordPress theme for transportation and logistics organizations. Any transportation or manufacturing business can use it. All those features and our great support are unbeatable. The WordPress Transit Lite theme is retina-ready and responsive to high-resolution screens, mobile devices, and tablets.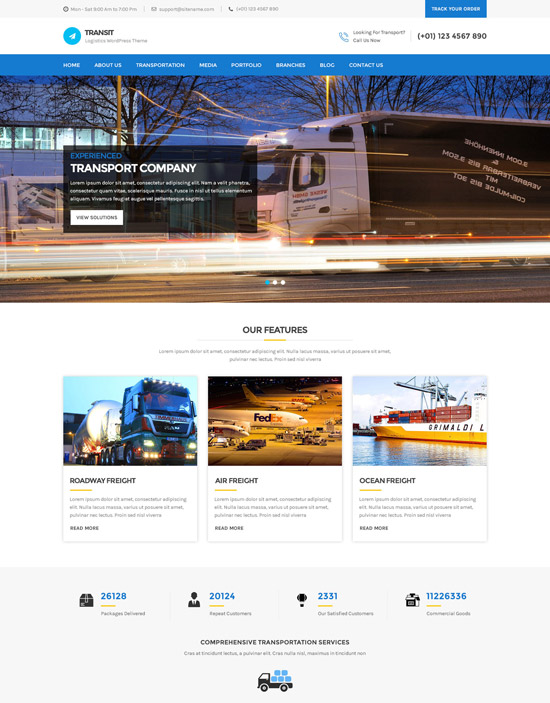 More info / download
Deliverex
The ideal Deliverex Business WordPress theme for a company (transportation, logistics, warehouse packers, moving, supplier, cargo, delivery, express delivery, etc.). You can also use it for anything. It comes with all the features, this kind of store page, blog page, home page, slider, service, call, etc.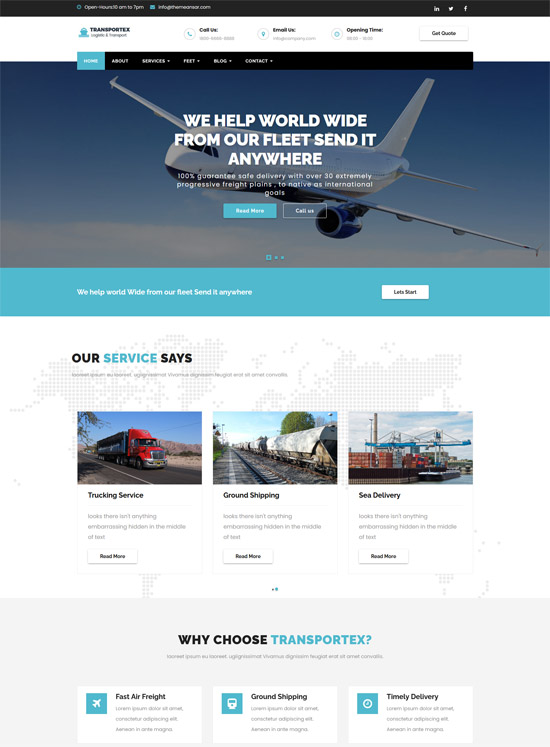 More info / download
Cargoex
Cargoex is a great WordPress business theme for a business. You can also do anything with it. It has everything, like a store page, blog page, home page, slider, service page, call page, and so on.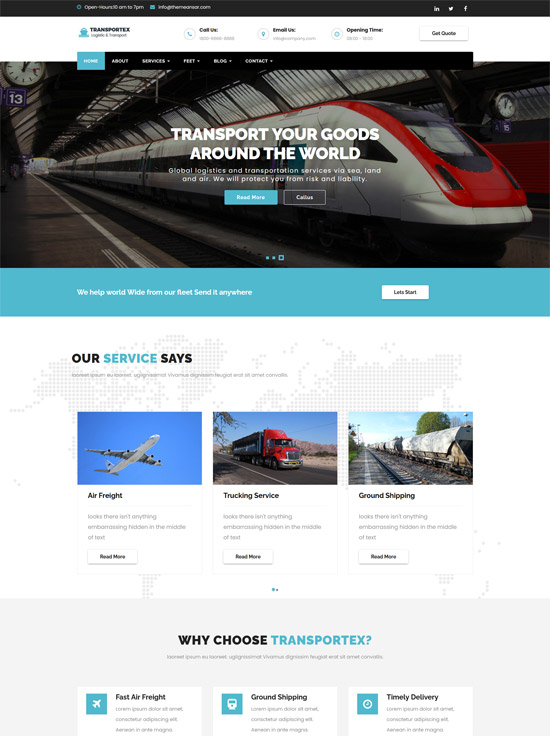 More info / download
Transport Movers
Transport Movers is a WordPress theme for transport and logistics companies' online presence. The theme can be used by transport companies, transport services, logistics companies, and Browser compatibility is checked for this responsive theme.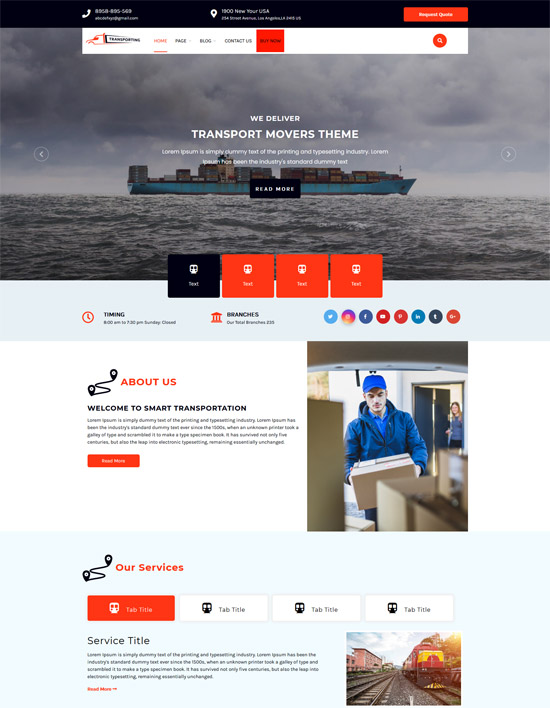 More info / download Demo
Fetch
WordPress business theme Fetch. It builds transportation, logistics, and transportation websites. It applies to manufacturing and transportation companies. It is a vibrant, responsive, easy-to-use, modern WordPress theme with great flexibility.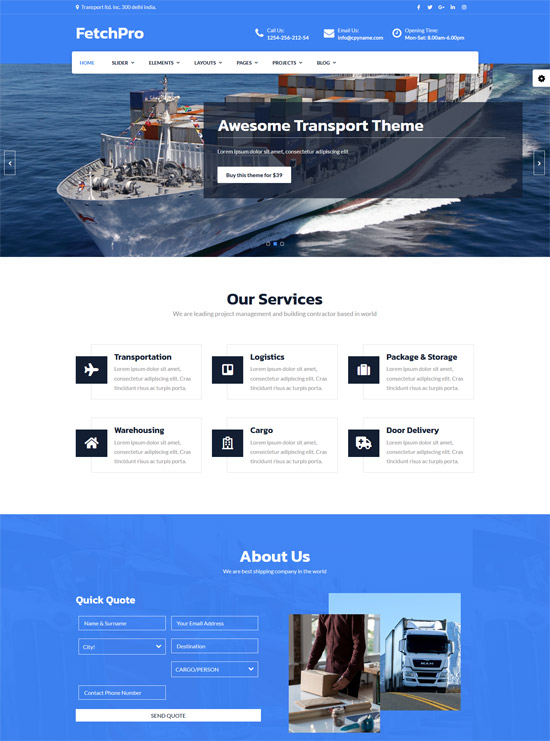 More info / download