This free wedding WordPress themes will tell your love story in the most elegant way with its minimalist design and will invite your guests with all the warmth to make a successful wedding event. It has a fresh feel, clutter-free layout, and smooth scrolling navigation so your guests have an overall good experience using your website. So you need a simple and easy-to-use WordPress wedding theme to help you share your journey with your family and friends. A wedding website can save you a lot of time by making the wedding process less stressful.  Apart from being used for wedding events, this themes can also be used for anniversaries, birthdays, family functions, and other parties and celebration events. It can be used as a portfolio and can be used for wedding photographers, venue decorators, and wedding bands. These themes are fully responsive, making your website more visible and accessible on any type of display device. This is a great themes to build your beautiful and fully functional wedding website or blog for your wedding.
WeddingFocus
A simple and clean wedding WordPress theme that comes with a fresh and minimal wedding design and crucial wedding features. As the name suggests, WeddingFocus aims to provide the best of everything for wedding websites and businesses alike. WeddingFocus is a child theme of a popular multipurpose WordPress theme, PhotoFocus. While PhotoFocus prioritizes creative photography sites, this subtopic is dedicated to all professional and personal wedding sites and businesses. This theme has been created to comfortably fit wedding sites and grow your business. It's fully responsive and retina-ready, ensuring your website looks absolutely flawless.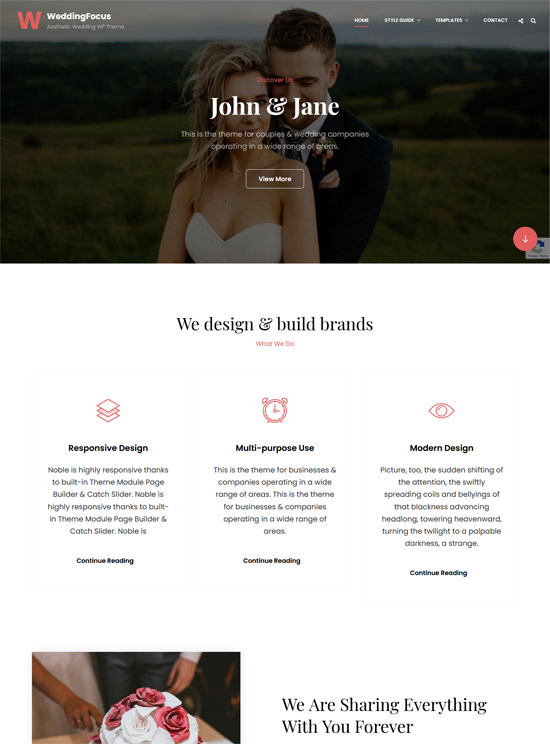 more info / download demo
Signify
Signify Wedding is a free wedding WordPress theme for wedding and business websites alike. It is a child theme of Signify, a popular multipurpose WordPress theme. Signify Wedding comes with cool features and functionalities that are tailored for wedding websites. Wedding websites should be clean, elegant, and visually aesthetic, while displaying important information. Signify Wedding helps you create a stylish and elegant wedding website in just a few minutes. With a sophisticated design and advanced functionalities, Signify Wedding is hands down the best theme for wedding websites.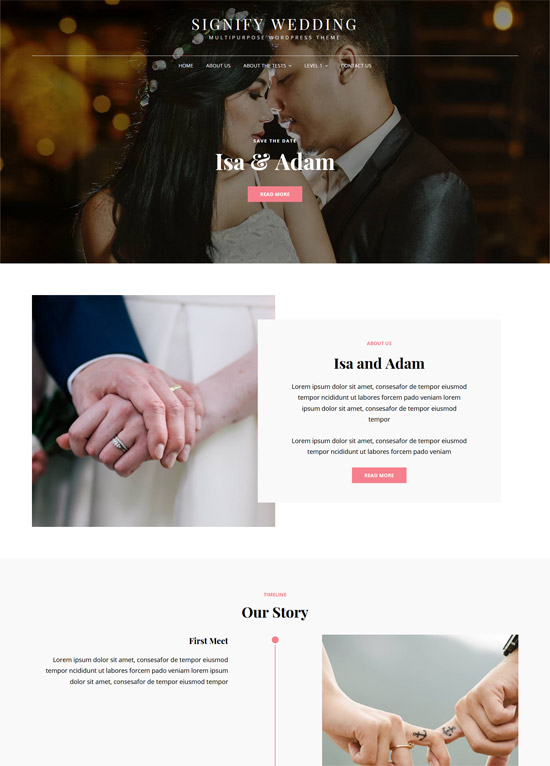 more info / download demo
Iridescent
Wedding Album Free WordPress Theme from templatemonster.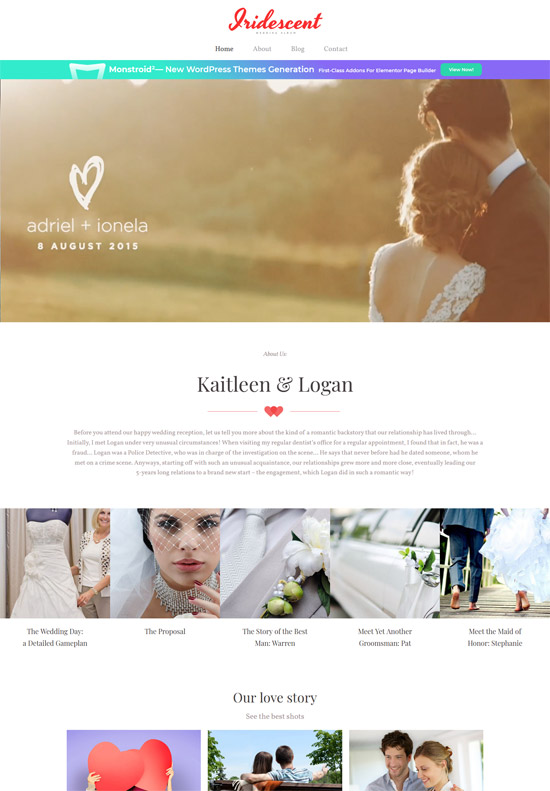 more info / download demo
Blossom
Blossom Wedding is a beautifully designed, feature-packed, and fully responsive free WordPress theme for wedding websites. You can create a visually appealing and eye-catching wedding website with this theme without writing a single line of code. This theme comes with unique features for a wedding website to help you connect with your guests as well as share your wedding information and happy moments. It is optimized for speed to provide an excellent user experience for your website visitors. Also, you can show your romantic journey and inform your guests about wedding events, party times and RSVP with this theme in a classy way.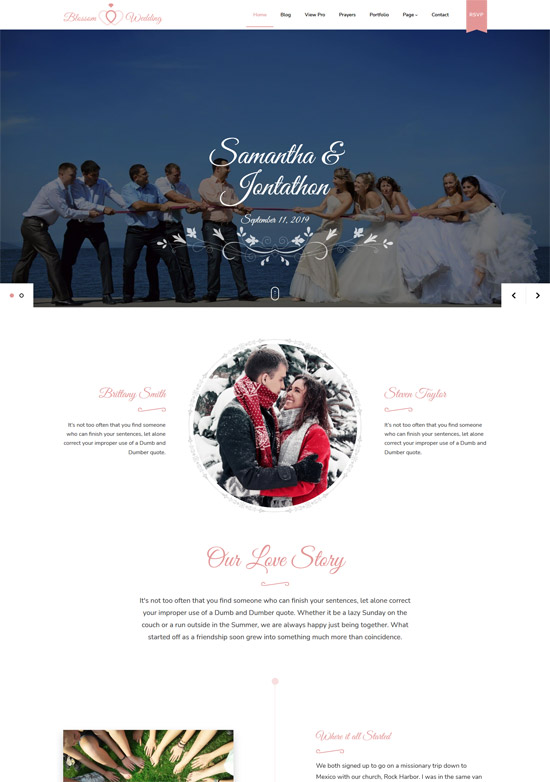 more info / download demo
Happy Day
A child theme of Bizberg WordPress Theme. With Happy Wedding Day, you can create a website for any wedding related business, save the day, wedding venue, wedding flowers, wedding workshop and set up your site in few easy steps. It can also be used for anniversaries, birthday parties, family functions, wedding bands, or for art and design websites. You can design a portfolio from it to make your love trip even more memorable. It's a feature-rich theme with a gorgeous design. The very foundation of the theme is based on the Bootstrap framework, which makes the theme very useful and easy to use.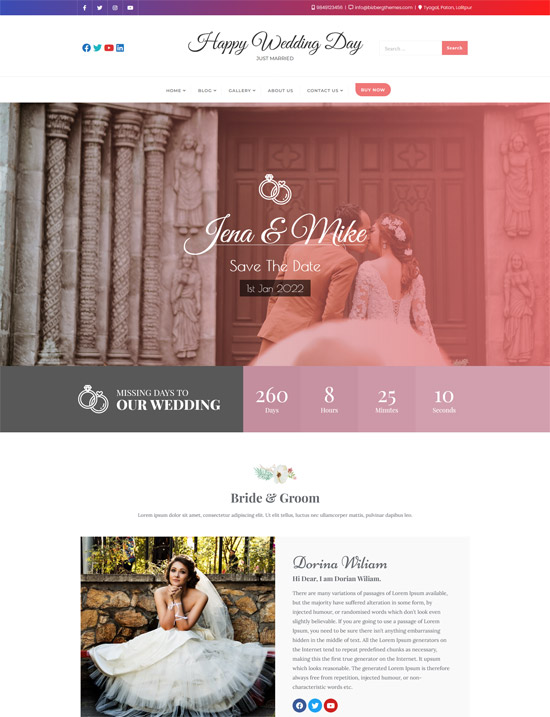 more info / download demo
Nikah
This free wedding WP theme can adjust its layout on all device sizes; your guests can load it in any browser and it is multilingual. It has clean code to create an error-free website. Since the theme is integrated with social media icons, it is easy to connect with your guests on different networking platforms and make your site content shareable on them. This free wedding theme has well-performing SEO so guests can easily find it on search engines. Your header and footer are beautifully designed; the footer area has a calendar to display all the important dates of the wedding event.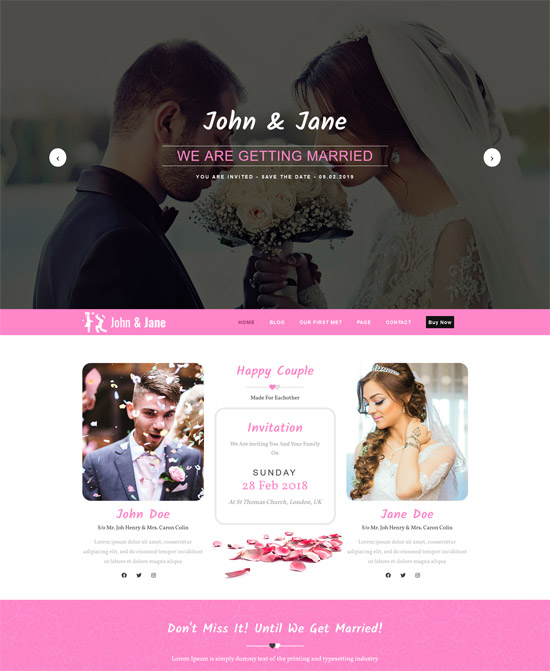 more info / download demo
Catch Wedding
Catch Wedding is a free, simple yet feature-rich wedding WordPress theme that comes with a responsive design and cool wedding features. Provides crucial wedding features such as accommodations, featured content, featured slider, header media, hero content options, and more. It is a unique and systematic wedding WordPress theme that follows a simple and minimal design. With the fully responsive design, your website looks flawless on all devices. Fulfill her wish to create a whimsical wedding theme of her choice. It is a simple, attractive and modern wedding WordPress theme for people getting ready to get married. The theme is extraordinarily dazzling, aesthetic, and eye-catching, perfect for displaying your wedding plans elegantly.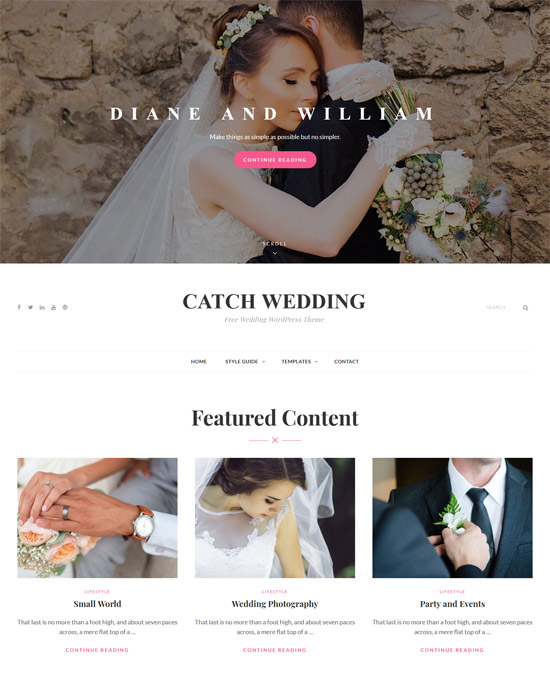 more info / download demo
Wedding Bells
Wedding Bells Lite is a clean, fresh, minimal and beautiful free wedding WordPress theme that is specially designed for creating wedding related websites. This simple and modern wedding theme comes with great features and functionality that allow you to post all the information about your wedding, upcoming event, couple, photo album, guest list and it serves as a means to stay connected with your family and loved ones. . This free theme can also be used for wedding photography, wedding decorations, wedding event planner, and other wedding related business.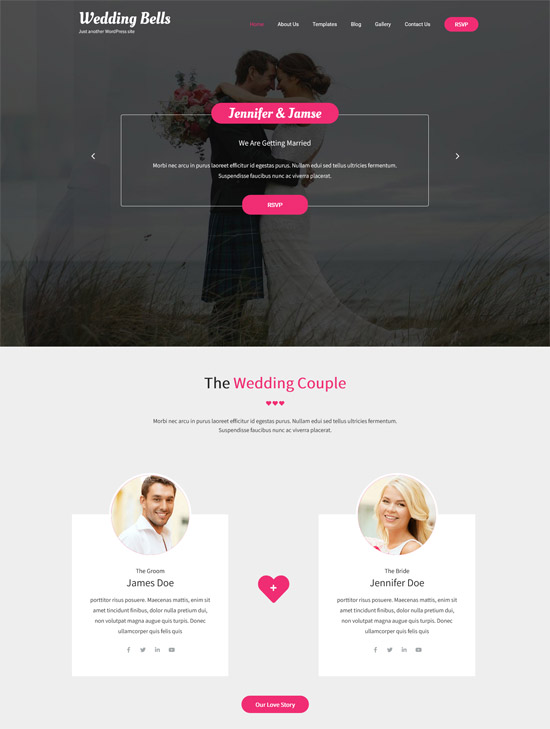 more info / download demo
VW Wedding
This free WordPress wedding theme has a gorgeous and attractive design. The theme is specially designed for couples to use in their engagement and wedding. But it can also be used by other people who work in different niches of the wedding industry, such as wedding bands, wedding photographers, and decorators. In addition to being used for weddings, it can be used for birthday parties, anniversaries, and family functions. It is more suitable for designing portfolios to show your love journey through photos. Your code conforms to WordPress coding guidelines. This free wedding theme is responsive, cross-browser compatible, and SEO friendly. It can be customized to a certain extent. It comes with complete documentation to assist you in each and every step of using it.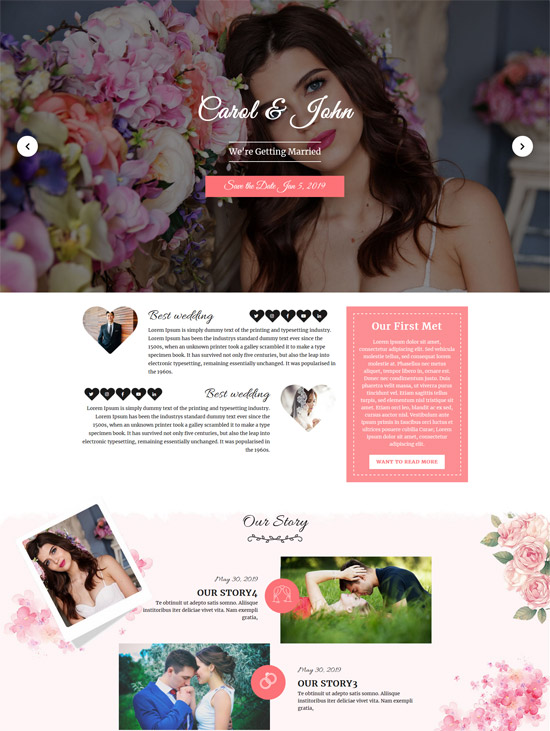 more info / download demo
Vivah
This free, attractive and welcoming wedding WordPress theme is made for couples who want to design an attractive and beautiful personal wedding website for their wedding or engagement. The same theme can be dubbed for use at birthday parties, anniversaries, and family functions or you can use it as a portfolio, art and design site, and photography website. The theme is fully responsive and cross-browser compatible. You can easily invite people to your wedding in your local language as it is ready to translate. Customization of some parts is allowed, such as loading the logo and changing the slider settings. You can make these changes through the theme customizer.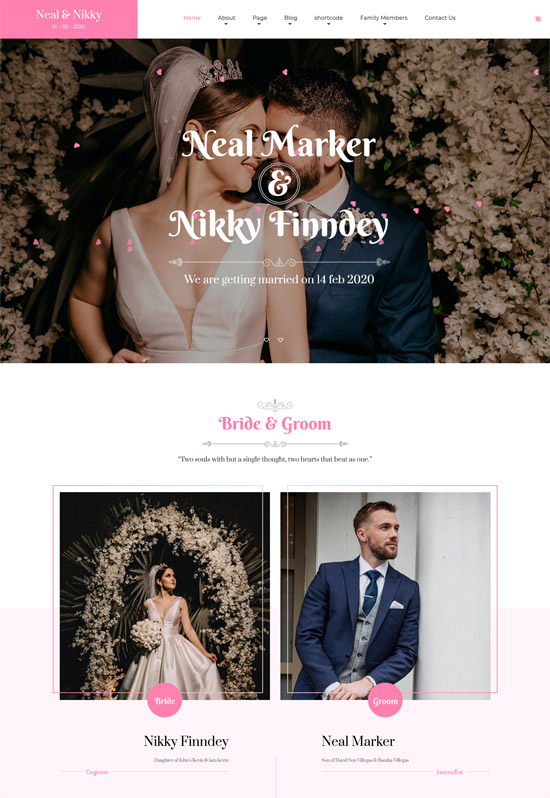 more info / download demo
BB Wedding Bliss
BB Wedding is a free wedding WordPress theme for building function and event websites. It is the best free WP wedding theme that offers you a beautifully designed theme that will go well with your website and make it impressive that will surely amaze all your visitors. This free invitation WordPress theme has been created in a format that can be used to send interactive wedding invitations that would contain all the information about the wedding in a well structured way. This free wedding planner WordPress theme can be used in numerous things like engagement marriage, personal couples even, wedding planners, wedding band, personal, portfolio, art, design, business, event management, photography, girl blogs or female and photography websites and soon.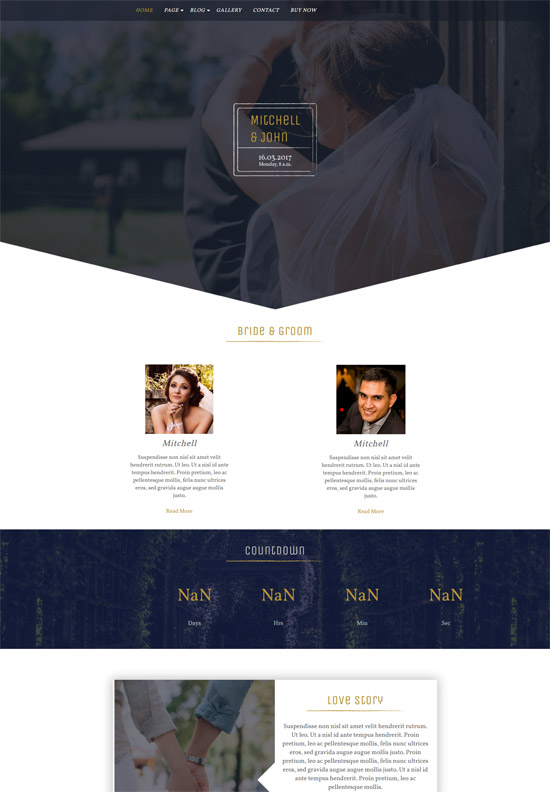 more info / download demo