GTL News
GTL News is a simple, clean and elegant WordPress theme for your news or magazine site. This theme comes with unique widgets, a promo section, copyright options and social options. In addition, this theme added a custom widget for the recent post, the author and the social menu. Use this awesome WordPress theme for your blog site, you will never look for an alternative.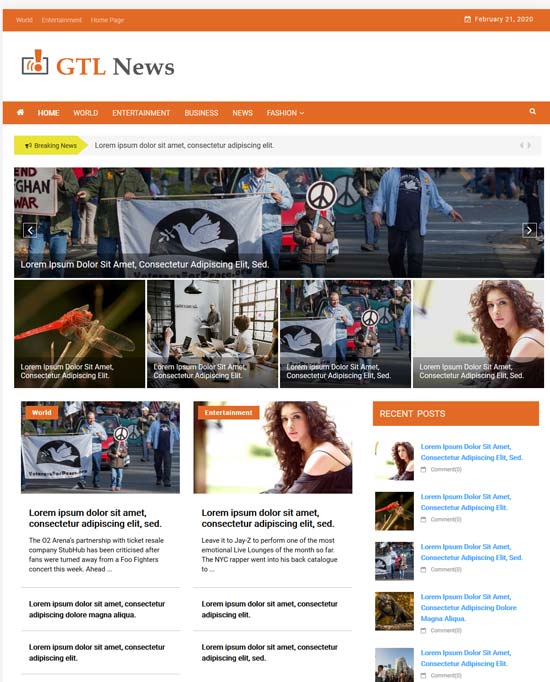 more info / download demo
Mismo
Mismo is an ultimate magazine theme that is perfect for creating magazine, copywriting, news, publishing and blogging websites. It has a responsive design that displays a sleek and elegant look on all mobile and office devices. It is a highly customizable theme that comes with multiple site layouts and page templates. In addition, it is compatible with popular plugins such as wooCommerce and the compact form 7 to quickly set up your website. The feature-rich theme features a sticky header sidebar, large ad space, a carousal, a wow animation effect, a widgetized footer, a dynamic color scheme, including category colors.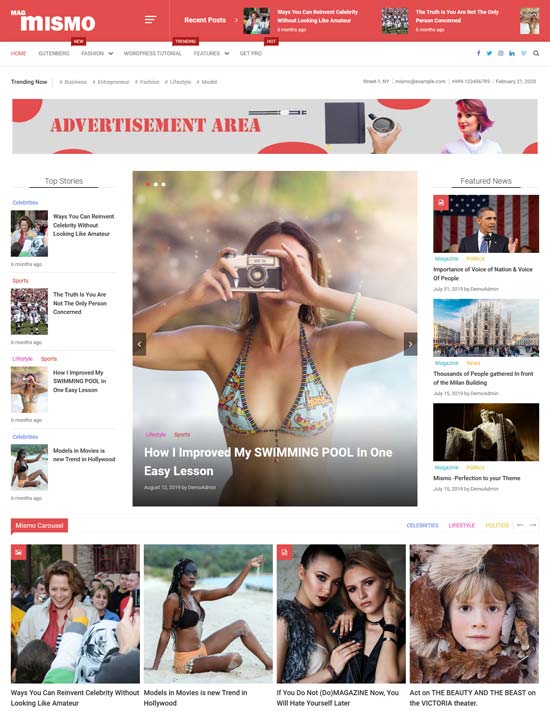 more info / download demo
Newsphere
Newsphere is a WordPress theme perfectly suited to news and magazines that allows you to write articles and blog posts with ease. Create a quality website with the help of live customization options and custom widgets. You can design your website as you want and preview live changes. It is compatible with Gutenberg and RTL with the WooCommerce plugin that helps you integrate an online business with our journal template. As it includes many useful features that require the creation of a superb news portal, the theme is perfect for blogs and great for news, newspapers, magazines, publications or critical sites. The theme is well optimized and helps to rank your website among the best search engines. Users will receive exceptional support from the team in case of difficulty when using the theme.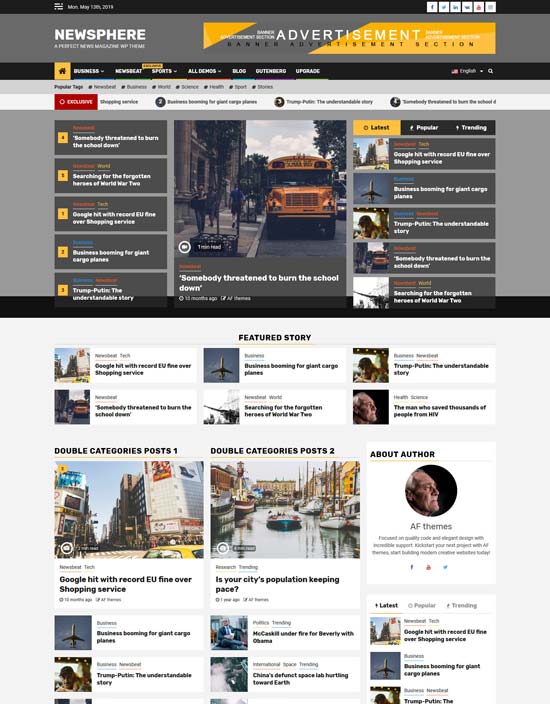 more info / download demo
Magazine Power
Power Magazine is a clean, responsive and useful WordPress theme with a creative perspective focused on news portal and magazine sites. It offers many unique features that make it a solid choice for your website, especially if you focus on magazines or news. Theme helps you display your content in an organized, engaging and elegant way. To give you a head start, it provides an example of demo content with a one-click import feature. With this you can get a quick overview of what the theme is. The theme is responsive and multi-browser, which will make your site attractive and attractive in all browsers and different variations in the screen size of the devices.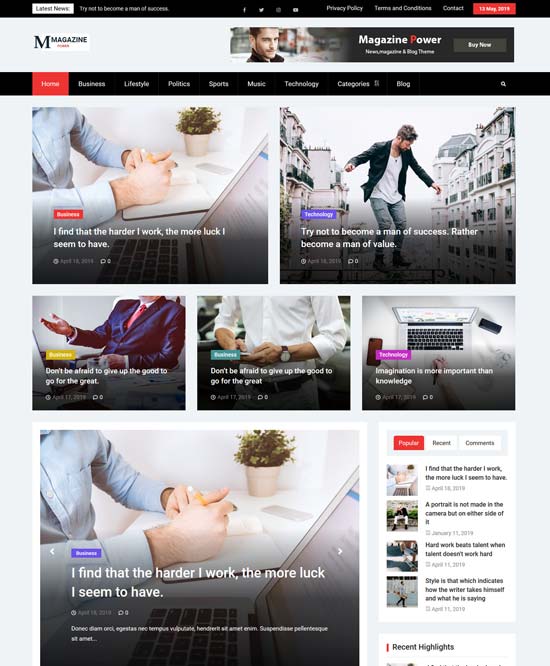 more info / download demo
Everest News Lite
Everest News Lite is a WordPress children's blog theme specially designed, developed and developed specifically for personal blogs. Everest News Lite is developed according to the WordPress standards. It is compatible with all browsers and is beautiful in any multimedia device.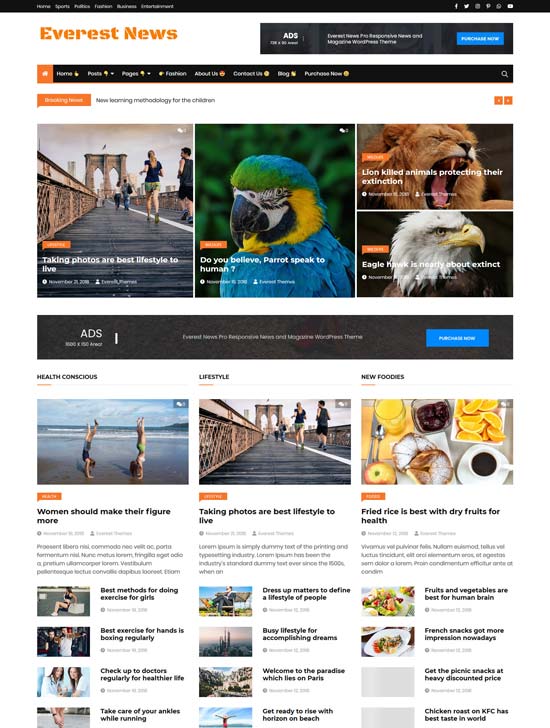 more info / download demo
Royale News Lite
Royale News Lite is a child theme of the WordPress theme, Royale News. Royale News Lite is clean, responsive, friendly and easily customizable. Royale News Lite is lightweight and can be used to create and manage a news portal, online magazine and other online publishing websites. In one click, you can import your demo and easily configure your website. Royale News Lite is ready for translation.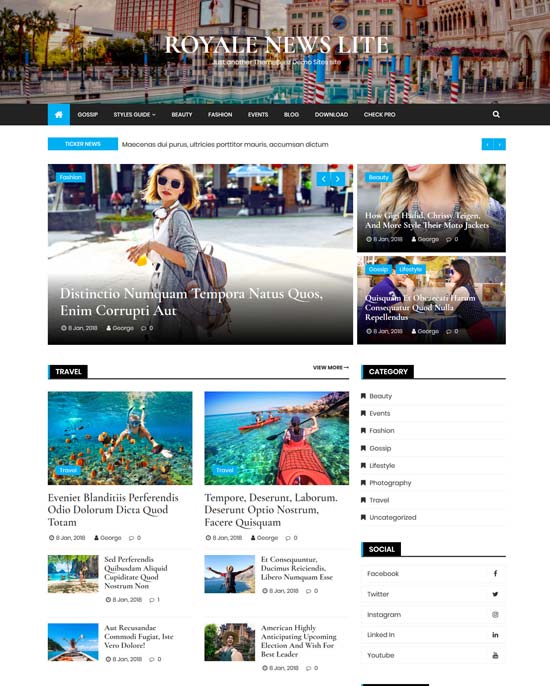 more info / download demo
Newsly Magazine
Newsly Magazine is an ideal WordPress theme for magazines, personal blogs, newspapers, product reviews and content publishers. It can be used for niche sites with selected content. It does not matter if you want to create a classic website, an online editorial magazine, a personal blog about the modern lifestyle or a website of affilaite reviews. Newsly Magazine offers unlimited customization. The theme is a perfect combination of beautiful and professional. There is a ton of advertising space. You can use the header widgets to place ads and adsense banners in case you need to make money as an affiliate. DFP ads, adsense and more.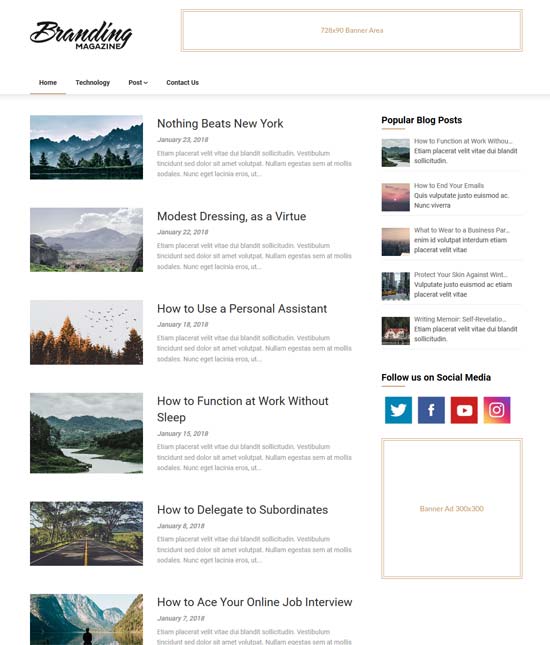 more info / download demo
Shopical
Shopical is a free, powerful, versatile and advanced theme developed by WP that seamlessly integrates with the popular e-commerce plug-in. WooCommerce. After a huge search on modern online sales sites, it was designed with ecommerce features in mind. It's a fully responsive WooCommerce WordPress theme with sleek design, full functionality and an amazing user experience. You can start creating a great store with options, widgets, and dynamic customization settings. It can be implemented as a fashionable clothing store, gadget store, online store for home appliances and interiors, auto shop site, book store, photo store, movie store, online ordering sites for food and restaurants, etc.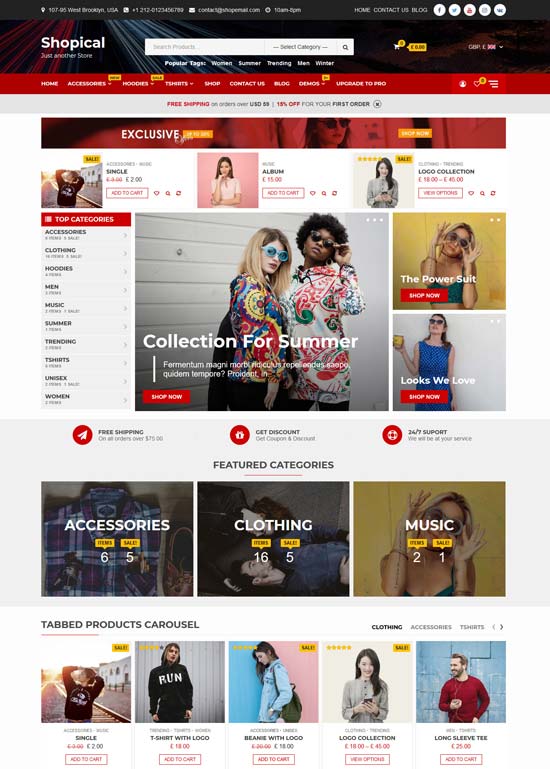 more info / download demo
Lifestyle Blog
Lifestyle Blog is a child theme for the Lifestyle Magazine WordPress theme. It's perfect for lifestyle bloggers, style guides, personal bloggers, women, travelers, newspapers, photographers and is very easy to use and personalize with a live preview. It supports the Woocommerce plugin and is optimized for SEO.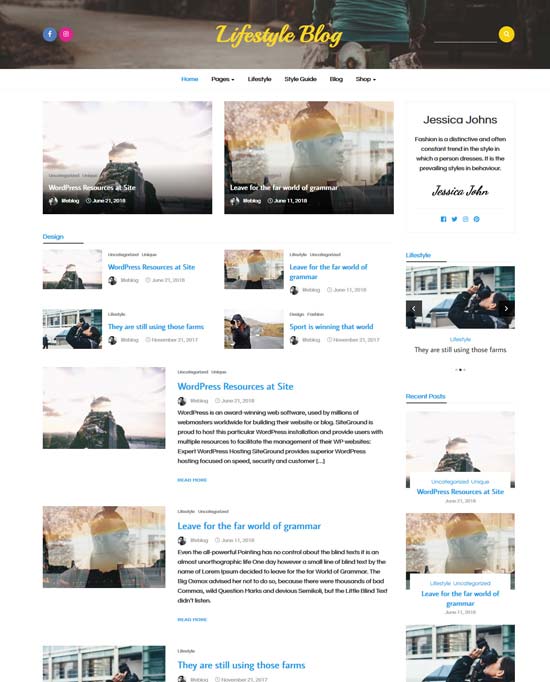 more info / download demo
MaxWP
MaxWP is beautiful, 2 columns, responsive / mobile friendly, easy to use blogging magazine theme for WordPress. Its customization theme options allow you to easily configure it. The theme has 2 navigation menus, a cursor, 3 styles of publication, a full width layout for publications / pages, a sticky menu and a sticky sidebar, a header widget area, a right sidebar, a footer of 4 columns, network buttons, scroll button up, etc.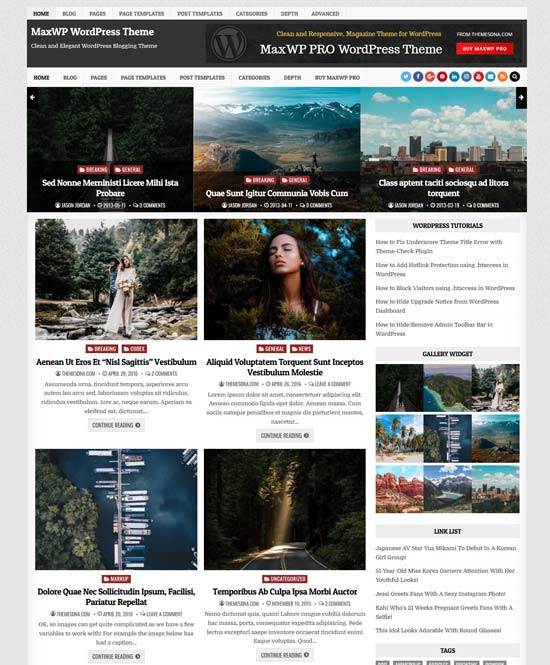 more info / download demo
Fluid Magazine
Fluid Magazine is a beautifully designed online magazine theme that will help you create a wonderful WordPress site that your visitors will love. This beautifully designed theme has completely fluid responsive layout design that would fit different screen sizes and make it superb on every device. Fluid Magazine comes with several features to make it user-friendly, interactive and visually stunning website.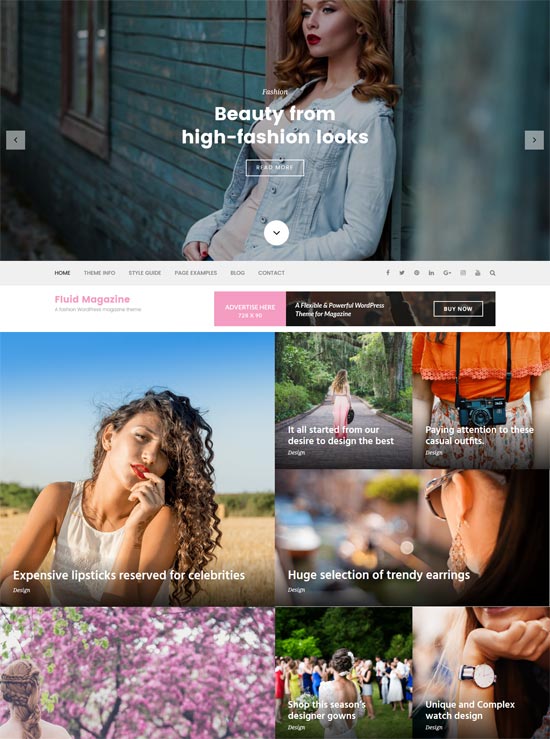 more info / download demo
The NewsMag
The NewsMag is the WordPress theme that perfectly fits your need by creating magazine and news sites easily. It is suitable for creating blog and personal sites. This theme supports almost all of the post format available in WordPress to display the message only in your site. This theme shows the display of the last post as title and supports the customized social menu. All magazine style in this theme is controlled by the widget to make them display uniquely.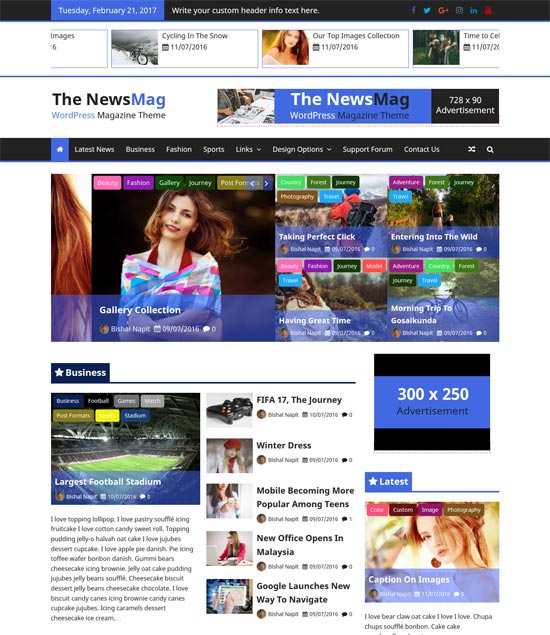 more info / download demo
eMag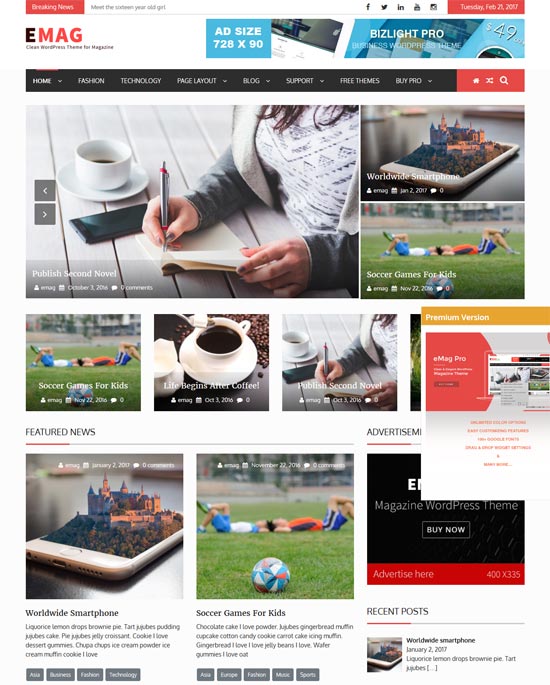 more info / download demo
Monograph
Monograph is a modern blog / magazine theme that displays messages in a 2 column grid. The Home page allows you to highlight (feature) your most important messages as well as functionality up to 5 different item categories.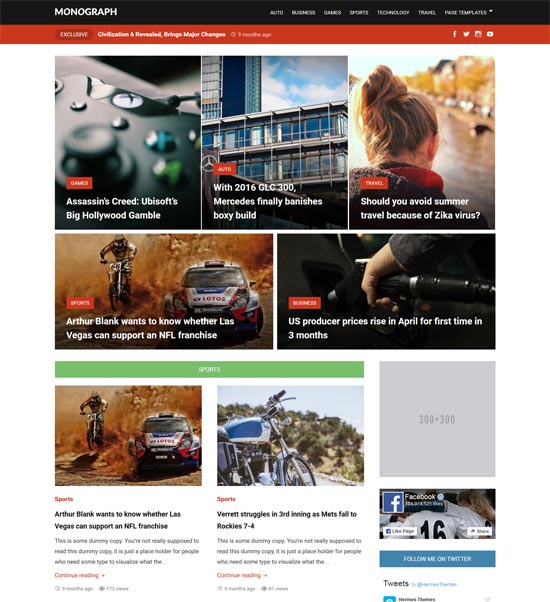 more info / download demo
Magazine Plus
Magazine Plus is a stylish and attractive, modern and responsive WordPress theme created for the magazine or news site. It is a solid and reliable platform for the design and development of sophisticated and technologically ingenious websites that serve roles in online magazine and publishing industries. For those who wish to create their own professional news or magazine website, this is an ideal choice. Your site will be incredible on any device, regardless of the size of its screen. The theme is optimized for search engines, making it easier for readers to find your site.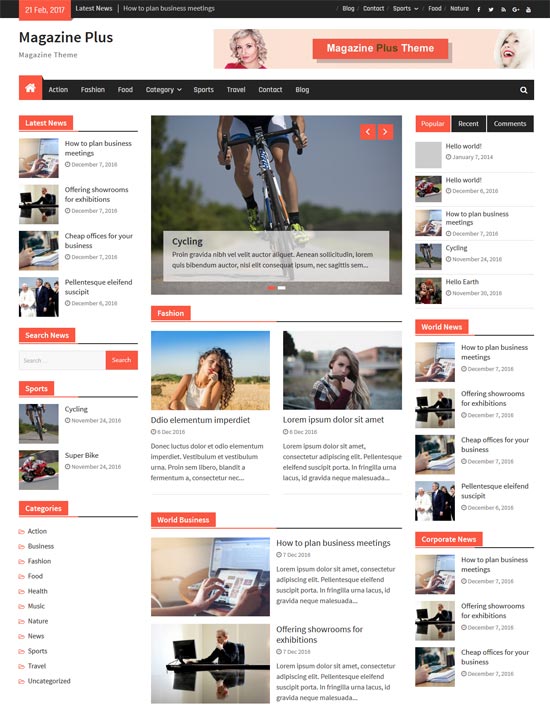 more info / download demo
Editorial
Editorial is a responsive ultimate magazine style WordPress theme Free. Suitable for online magazines, newspaper, publishing, personal blogs and all types of sites. It is built entirely on Customizer allows you to customize most of the theme settings easily with live previews.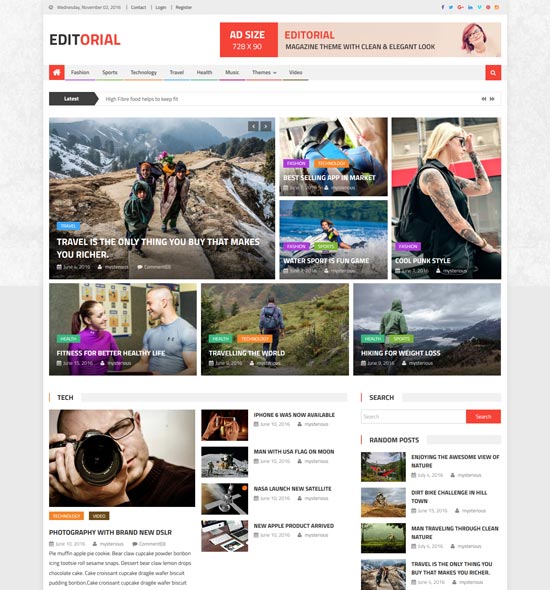 more info / download demo
Numinous
Numinous is a magazine style clean WordPress theme suitable for news, magazine, food, technology and viral content websites. The theme is easily customization using the options available on the customizer. Designed with visitor engagement in mind, the theme has a clean layout and great typography to create a beautiful looking website and adds to a great user experience. The theme is developed keeping SEO in mind so that you can easily climb the Google ranking.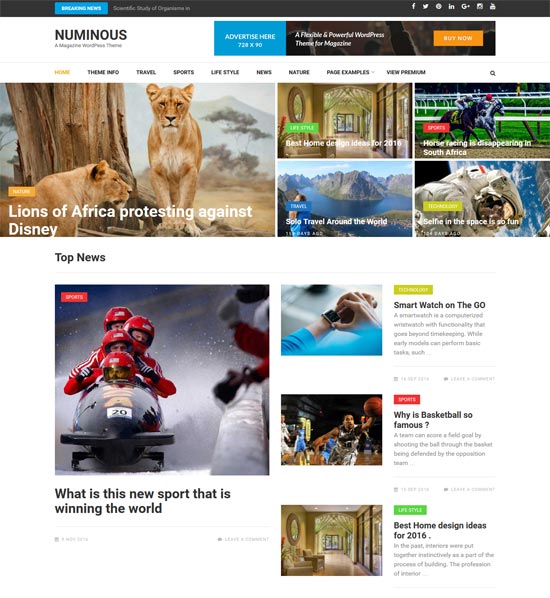 more info / download demo
ColorMag
ColorMag is a free magazine WordPress theme for 2016. Suitable for news, newspapers, magazines, publications, companies and all types of sites.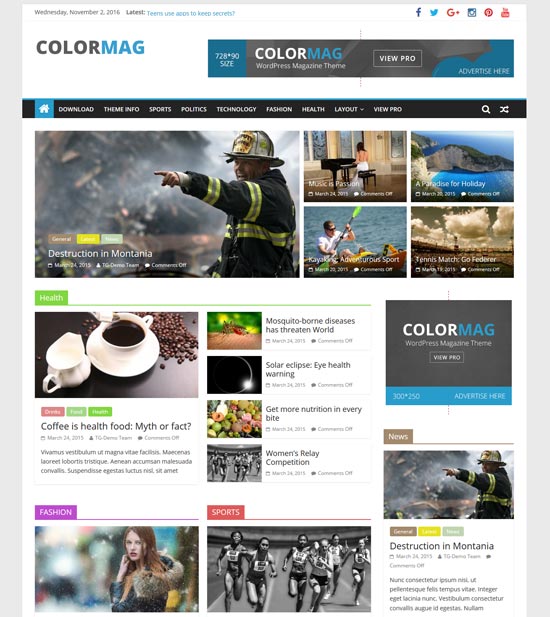 more info / download demo
ColorMag
ColorMag is a simple free magazine WordPress themes for news, newspaper, magazine, publishing, business and any kind of sites.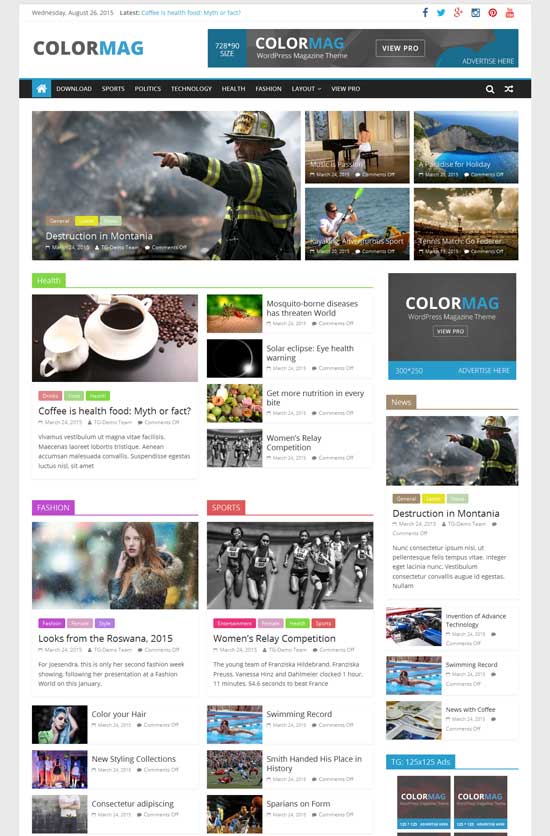 demo more info / download
AccessPress Mag
AccessPress Mag is a clean & modern free magazine WordPress themes. It is ideal for newspaper, editorial, online magazine, blog or personal website. It is a cutting-edge, feature-rich FREE WordPress theme and is fully-responsive. Its feature includes: 2 post layout, news ticker, sticky menu, author block, large featured images for page/post, social media integration for wider social reach
demo more info / download
Glades
Glades is a modern free WordPress magazine theme for a local news magazine or any other content focused website. The magazine-styled homepage is built with WordPress core features like Customizer and Widgets, which makes the setup super fast, flexible and easy. The theme comes with a beautiful Featured Content area and responsive design, looking great on every device.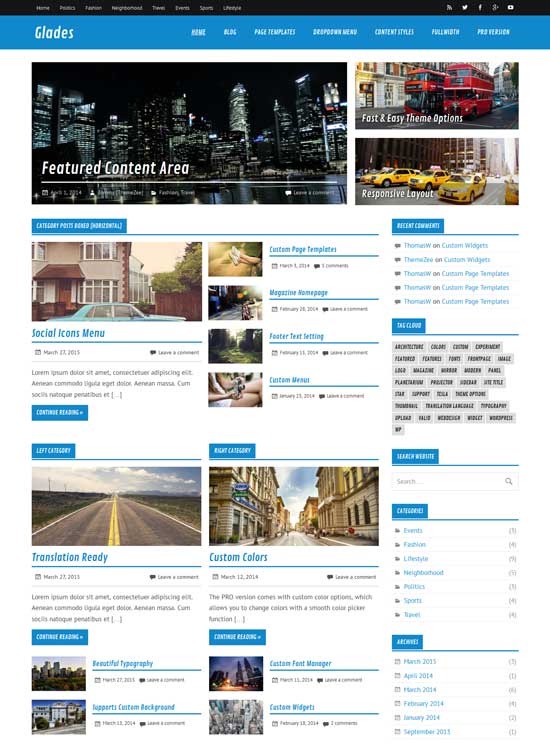 demo more info / download
FlyMag
Flymag is a free responsive WordPress magazine theme for magazine modern layout look. Flymag lets you use any of the 600+ Google Fonts, provides color options for a lot of the theme elements and also offers you some useful page templates. With Flymag you can easily build your front page magazine-layout using the built in widgets specifically designed for this task.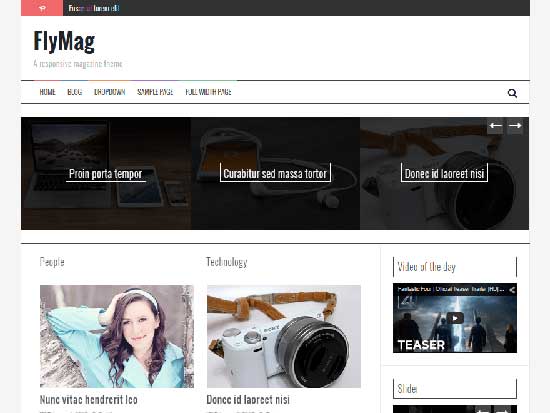 more info / download
Awaken
Awaken is a elegant, clean, responsive, retina free magazine WordPress theme created for magazines and blogs. If you are looking for a modern style theme with great customization and monetization options this would be perfect for you. It has a great magazine layout with three different style post block widgets, enabling you to display posts in different categories or display latest posts. "Awaken Options" theme option panel which is made with Redux Framework features you to easily customize the site without any extra effort.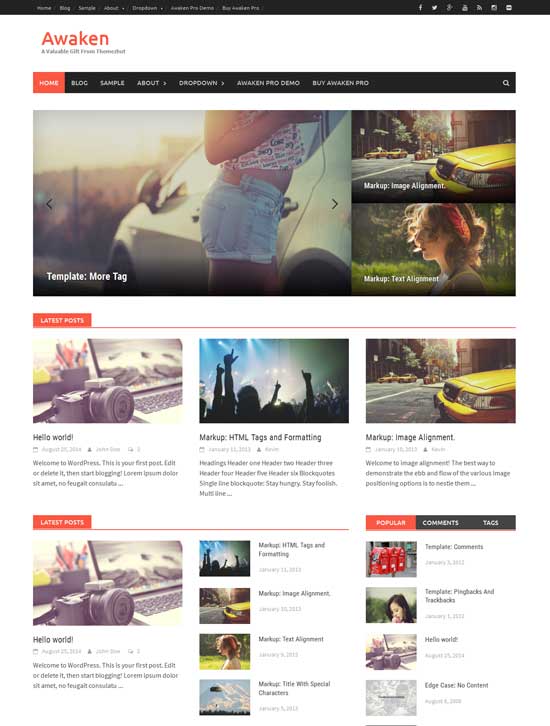 demo more info / download
MH Magazine lite
MH Magazine lite is a free WordPress magazine theme for news or magazine blog. This WordPress theme for modern online magazines, news websites, professional blogs and other editorial websites. If you would like to have more features, custom widgets and options to customize your website, you can upgrade to the premium version of MH Magazine. You can also learn more about this dynamic WordPress theme on the MH Themes website.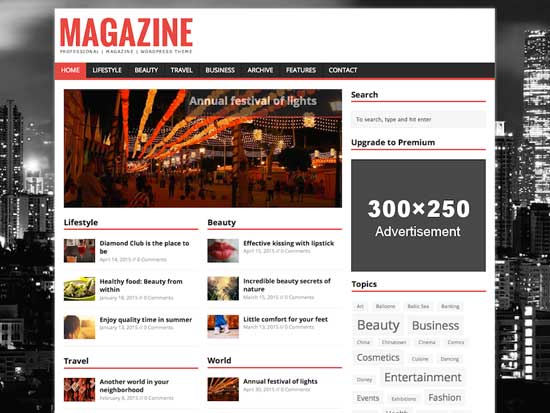 more info / download
FastNews
FastNews is a minimalist free magazine WordPress theme with clean, minimal yet highly professional design. With our KOPATHEME framework, you can create a professional website in just few minutes!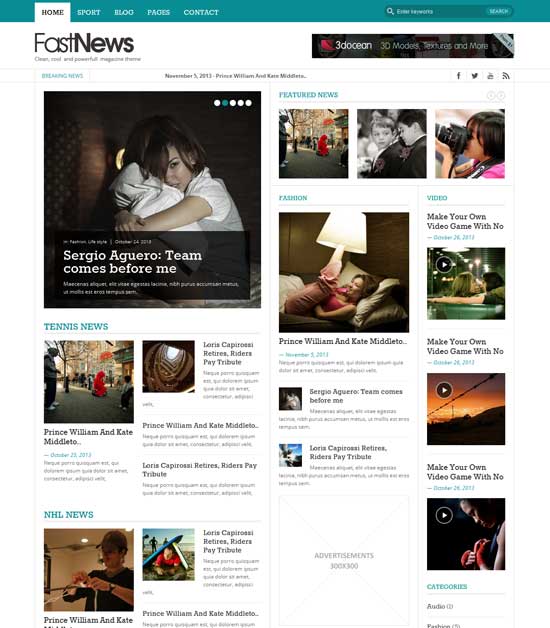 demo more info / download
Hueman
Hueman – free magazine WordPress theme is a fully featured WordPress theme with responsive high resolution magazine & blog theme without compromise. Hueman presents what you love to write about in a visual & user-friendly way on all devices.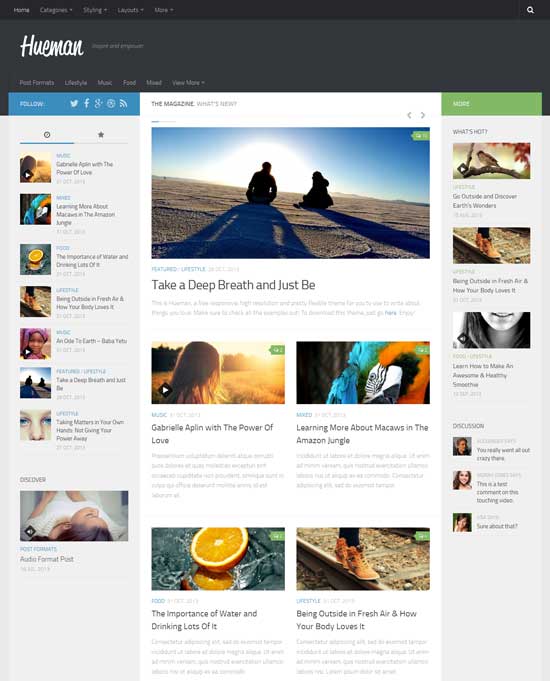 demo more info / download
WallPress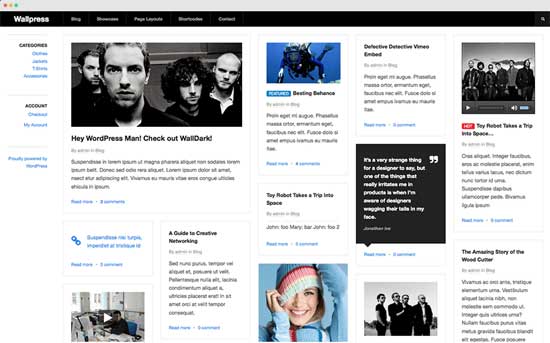 demo more info / download
Resolution
Resolution is a bootstrap free magazine WordPress theme from the Twitter Bootstrap Framework and comes with a number of features that increases the usability of any website powered by it. Built on the powerful Kopatheme Framework, the Resolution Multi Purpose WordPress Theme is just ideal for any WordPress based web project that you may have in mind.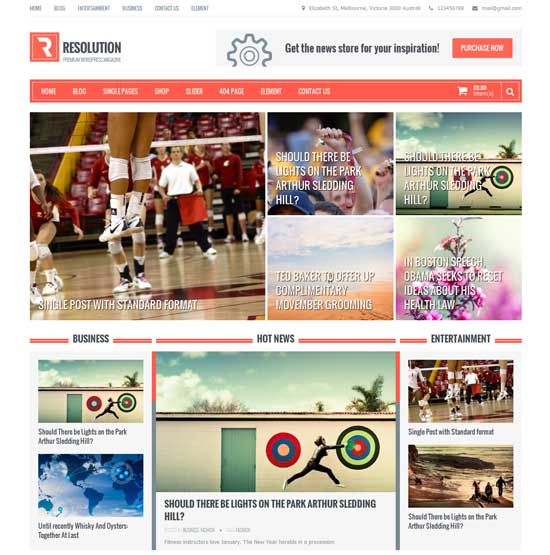 demo more info / download