At this point, you can take pictures in any way you want. The designs of WordPress themes are simple, straightforward, and minimalist. They can help photographers make websites or blogs about photography that are up to the level of professionalism needed. If you are a photographer who wants to build your own website or blog to show off your work online, then these themes are exactly what you need. If you want to do that, these free photography WordPress themes will help you do it.
If you're interested in that kind of thing, you're the kind of person who can get a lot out of these ideas. When it came to choosing design themes for photography websites, I only looked at those that required the user to think creatively about how to solve a problem. Use this subject as a way to show off your pictures. This is a good strategy that will help you be both productive and flexible. It is easy to set up and has a wide range of functions that can be used.
Your photos should be the main focus of a professional website that is just for showing off your photography, and the visitors to your site should be able to get a sense of how you like things to look. So, if you want to get the result you want, you need to make sure that the theme you choose for your website will help your photos stand out. This is very important if you want to get the result you want.
There are a lot of good free themes for photographers on WordPress, and we've chosen the best of those good free themes for photographers on WordPress in this article. WordPress has many nice free WordPress themes for photographers. The fact that you don't have to pay to download any of them is by far the best thing about them. You won't have to worry about going over your budget in any way. Since this is the case, you no longer have to worry about money problems.
Related Article
Gutenify Photography
Gutenify Photography is a modern, block-based theme that lets users build their own photography websites using the WordPress Blocks Editor to give their sites a unique look. This theme can be downloaded for free. The free Gutenify Photography theme has a block-based layout and is easy to download. It can be used for many different things. It was made to work with the Full Site Editing features that were added in WordPress version 5.9, and it was made to meet the requirements for compatibility.
This lets you change the colors, fonts, and layout of each page on your website so that it looks the way you want it to. You can do this by making changes to the template of the page. The Gutenify Photography Theme's real power comes from the fact that it can be changed to fit your needs with the Gutenify Plugin. This is where the name of the theme comes from. With the help of the Gutenify Plugin, you will be able to create a wide range of templates that fit your specific needs.
You can also use the template kits that come with the program and then change them so that they meet the needs of your specific situation. Also, by combining different blocks with the solid extra blocks that come with the Gutenify Plugin, each website will look like it was made just for it. The package comes with these blocks. We want each website to look different, so we plan to use strong typography and clean design.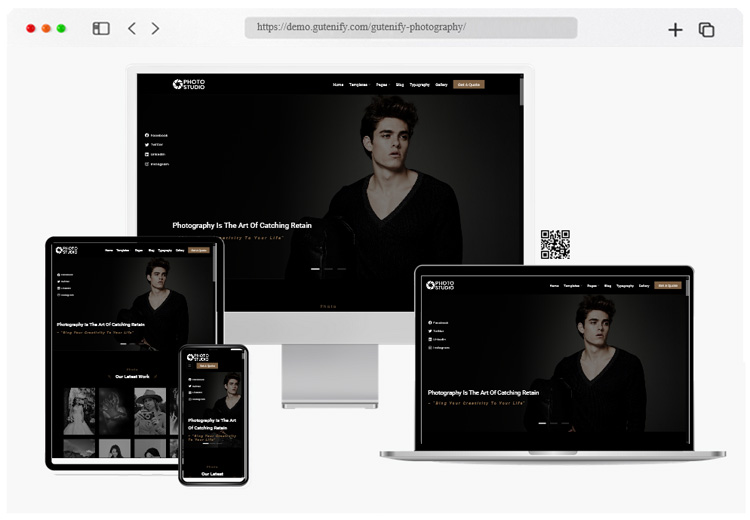 More info / download Demo Get Hosting
Dark Photography
You can look at photos without having to pay anything. During the design phase, this WordPress theme was made with both amateur and professional photographers and freelancers who wanted to do work related to photography in mind. Also, this theme was made for freelance photographers who want to do work related to photography. You can show off your work in a way that is sure to impress potential clients, thanks to its clean and simple design that works well on retina displays.
This will give you an edge over the other people in your field. On the website, which has some very interesting content sections, the most important information is shown in the parts of the site that are best suited to show it. You can make extra changes to the settings of the system's parts if you want to. You can choose from a wide range of color palettes, and adding Google Font Awesome gives you more choices for the font style you want to use in your design.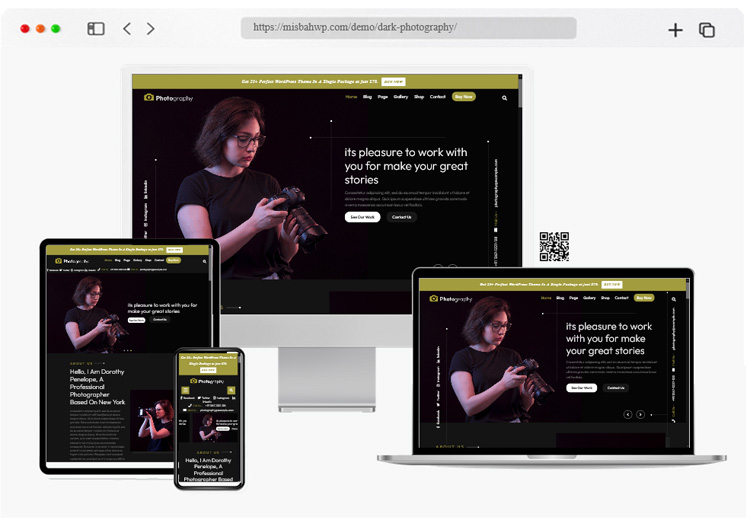 More info / download Demo Get Hosting
WEN Travel Photography
WEN Travel Photography is a clean, minimal and elegant photography WordPress theme. The theme is suitable for all kinds of modern photography blogs and websites. WEN Travel Photography is a child theme of WEN Travel, a multipurpose travel WordPress theme. This theme has a modern photography design that suits all kinds of photography blogs and other related businesses. This free photography theme includes many features and sections that are absolutely essential.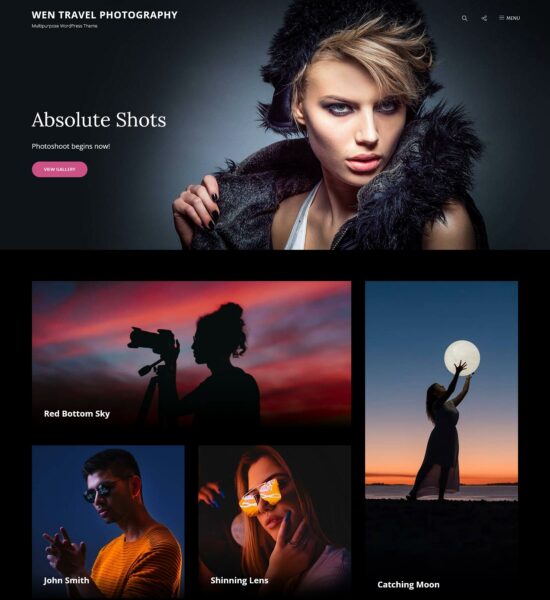 More info / download Demo Get Hosting
Chique Photography
Chique Photography is a free WordPress theme for Light Photography that comes with a photography layout and color scheme. The theme is most suitable for all kinds of photo bloggers, professional photographers, graphic designers, and other creative personalities focused on photography. It is a child theme of Chique, a popular multipurpose WordPress theme. The photography color scheme and light design make your photography blog elegant, minimalist, and visually aesthetic. It is an ideal option for those photo bloggers who love minimalism and simplicity.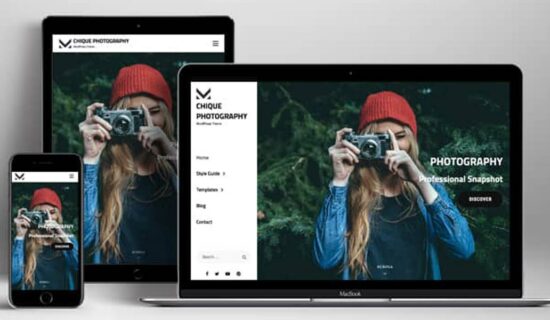 More info / download Demo Get Hosting
Fashion Photography
Free Fashion Photography WordPress Theme is a good choice for creating photography and any related editorial website. Showcase your work professionally with this theme. The theme has an attractive, modern, luxurious and sophisticated design and layout. It is based on a bootstrap framework which makes it convenient to use. The free fashion photography WordPress theme can be translated into numerous languages and supports RTL layout. It is compatible with many notable WordPress plugins like Contact Form 7, WooCommerce, etc.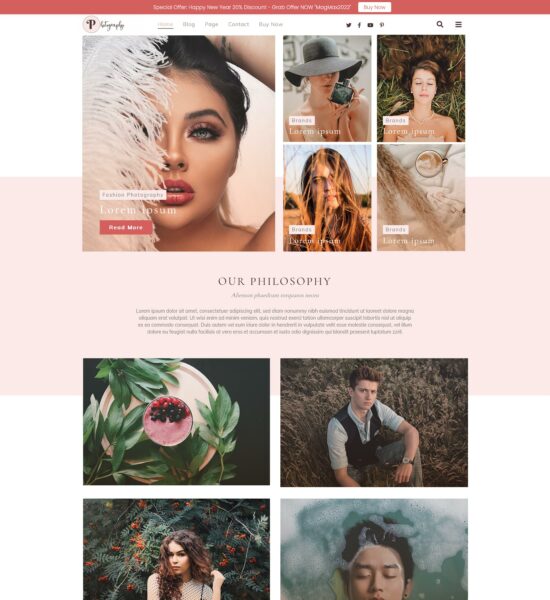 More info / download Demo Get Hosting
Zubin Photography
Zubin Photography is a clean, simple photography WordPress theme that is modern and trendy. This theme is a child theme of Zubin, a multipurpose WordPress theme. So what makes it different from its main theme? Aesthetic photography design does it! Zubin Photography comes with an updated photographic layout for sections like Portfolio and Testimonials. Zubin Photography is exclusively dedicated to photo blogging and creative minds like photographers, graphic designers, artists, illustrators, bloggers, and other minds alike. All companies that wish to showcase their high-quality work with minimal interference can benefit from Zubin Photography. Also, the theme is fully responsive and looks perfect on all screen sizes. Well-organized layout and content placement add additional charm to your photography site. Most importantly, Zubin Photography is extremely easy to customize and requires no coding skills. It comes with amazing features and functionalities to get the best out of your creative photography website.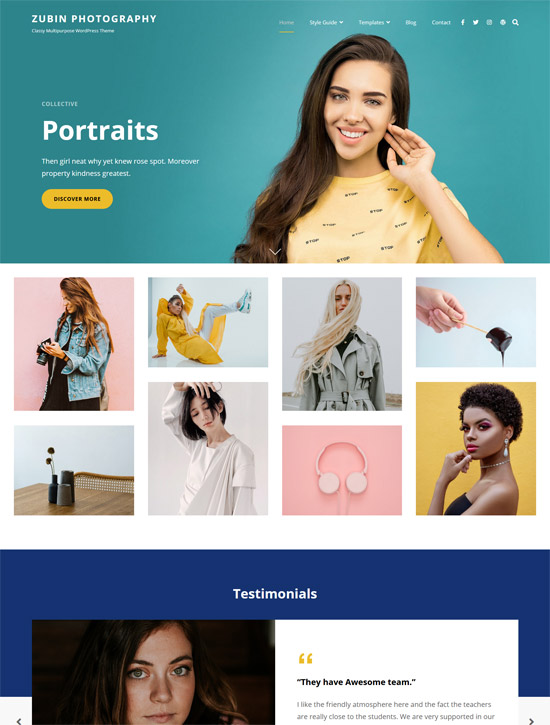 More info / download Demo Get Hosting
Minimal Photography
Minimal Photography is a minimalist WordPress personal blog created for creative people, photographers, and bloggers. It is a perfect option for a minimal blog and can also be used for travel and lifestyle. Minimal photography looks great on any device, from mobile to desktop and beyond. Responsive Super Clean design adapts to any screen. Try resizing your browser window and see for yourself!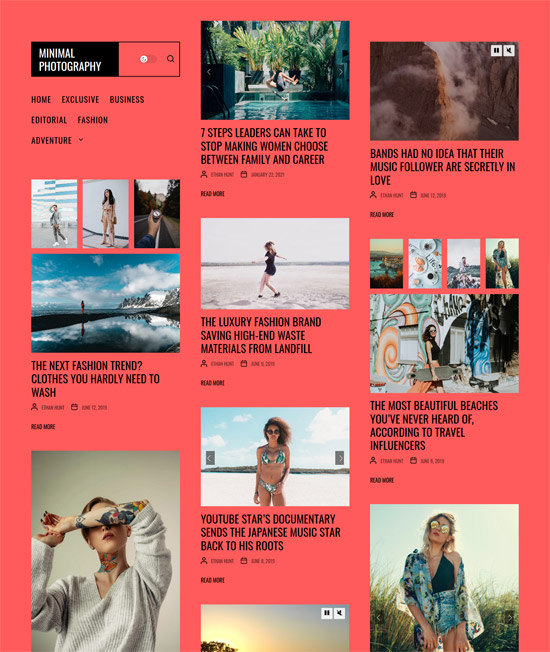 More info / download Demo Get Hosting
AcmePhoto
AcmePhoto is a masonry design based WordPress photography theme, a perfect theme for all photographers, as well as a portfolio site for your creativity. A really beautiful feature section with different options and advanced masonry design, make this theme amazing and top quality. Are you a professional photographer, photoblogger, or just looking for a beautiful theme for your next project, then take this AcmePhoto theme and make it amazing!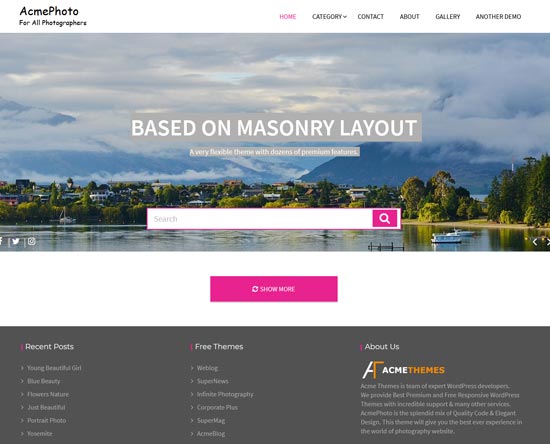 More info / download Demo Get Hosting
PhotoFocus
PhotoFocus is a free photography WordPress theme for photographers, photography bloggers, freelancers, and other websites focused on creative photography. It sure was specially designed for photography websites. However, since it is a multipurpose theme and includes advanced features, you can use PhotoFocus for all kinds of websites, such as corporate, personal blogs, portfolios, and more. Its design is powerful and adaptable, managing to perfectly combine solid aesthetics with high functionality.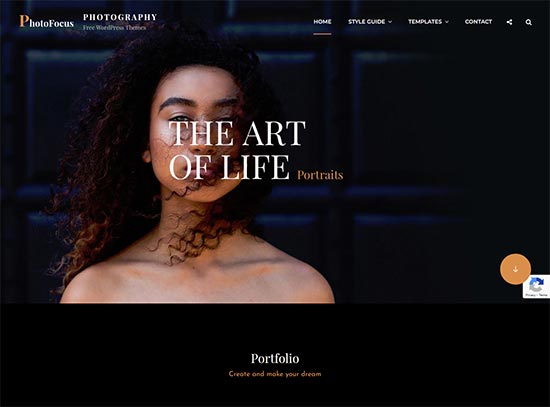 More info / download Demo Get Hosting
Photo Journal
Photo Journal is a free dark photography WordPress theme that has been designed with simplicity and creativity in mind. The theme focuses on providing the best for creative people like photographers, photography bloggers, graphic designers, and other creative freelancers who want a touch of class and minimalism. Dozens of dedicated and customizable portfolio and gallery settings will ensure that your high-resolution images and photos really stand out in a memorable and auspicious way. The dark concept in the subject adds an additional charm to your photography exposure. Features like Featured Content, Featured Slider, Hero Content, Portfolio, Testimonials, Services, and more have been added to Photo Journal.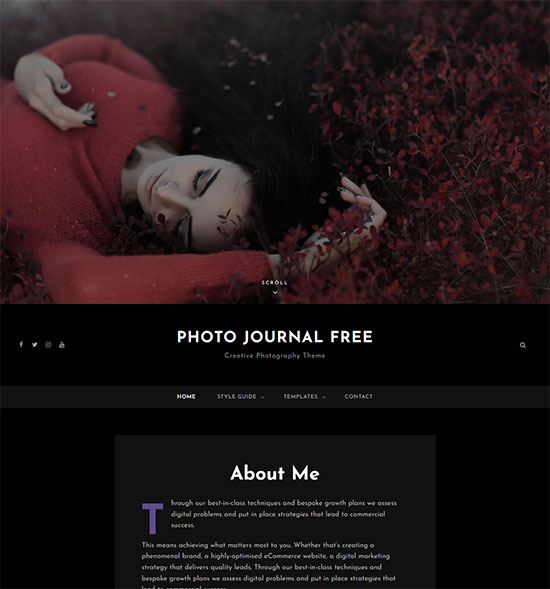 More info / download Demo Get Hosting
Keenshot
Keenshot is an amazingly designed photography WordPress theme with an exceptional and modern look, color and layout that is best for any photographer to display their work. It's SEO friendly, super responsive for any device and browser, lightweight, and easy to customize. It is compatible with Gutenberg, Elementor, Visual Composer and any other popular page builder. The best thing about Keenshots is the author's support.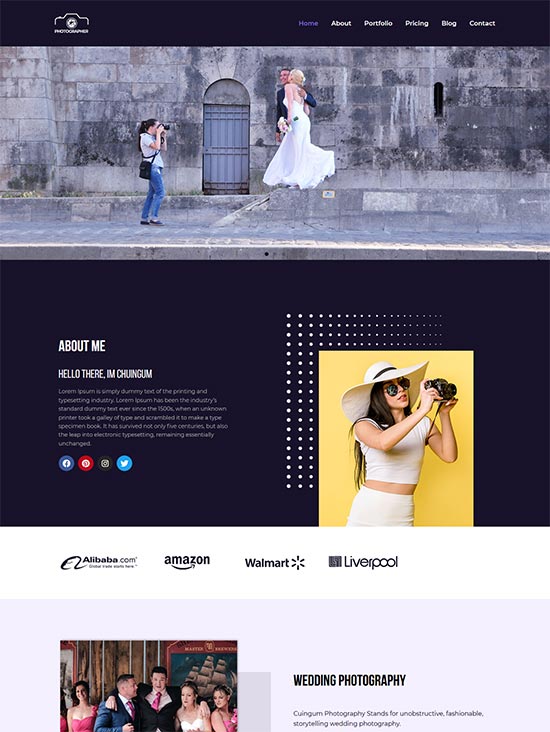 More info / download Demo Get Hosting
ePortfolio
ePortfolio is a free, minimal, optimized and multipurpose WordPress portfolio and personal theme. It is an ideal choice for creating portfolio sites for photographers, digital marketers, agencies, graphic designers, video producers, web designers, web developers, professional bloggers, and other freelance artistic or creative workers. This theme is compatible with Gutenberg, Elementor, and other page builder plugins that help you deliver your content smoothly.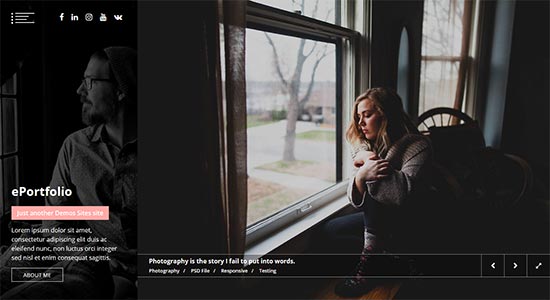 More info / download Demo Get Hosting
Bootstrap Photography
An Elementor-based WordPress theme built within Bootstrap, it is perfect and best suited for photographers, travel bloggers, and writers. While the theme comes packed with unique features for photographers to explore, it is extremely lightweight and easy to use. You can customize the entire website with Drag and Drop in a live preview.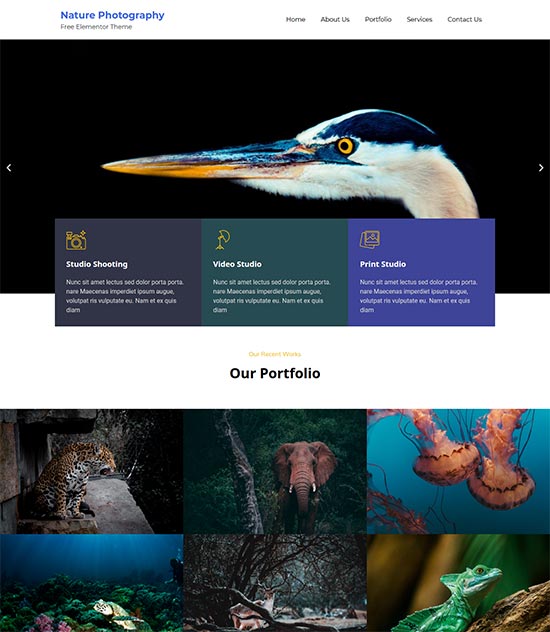 More info / download Demo Get Hosting
Bold Photography
Bold Photography is a free dark multipurpose photography WordPress theme that comes with a sleek design and impressive functionality to unleash your photo creativity. It has been specially designed to show another level of photography websites with its dark and bold look. However, you can use it for any type of website and offer a gloomy look. Bold Photography includes both the look and the amazing functionality to further intensify the website. The new dark multipurpose photography theme, Bold Photography, is packed with crucial features like Portfolio, Services, Testimonials, and many more.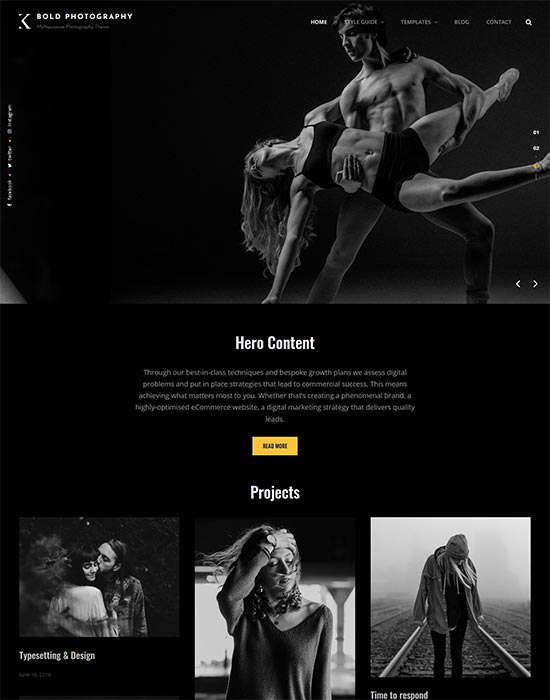 More info / download Demo Get Hosting
Elemento Photography
Elemento Photography Theme is a responsive, simple, clean and beautifully designed responsive WordPress business theme. It's minimal, but the most used features will help you set up your website easily and quickly. Full-width layout, featured slider, blog layout, testimonial. the Elemento photography theme is versatile and suitable for any type of business. Highest level of compatibility with most used WP plugins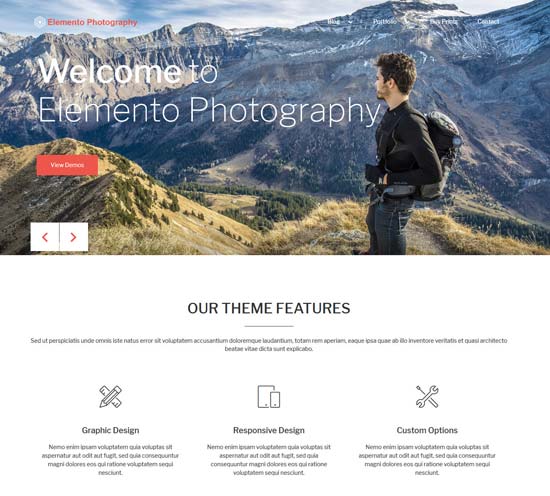 More info / download Demo Get Hosting
TS Photography
A simple option to add the free photography WordPress theme is all you need. Theme Shopy now features free photography WordPress themes with a wide range of free photography portfolio themes that make every passionate photographer's work simple to display their work. This free photography WordPress theme is fully responsive and comes with several page WordPress templates for photographers to display their photos with elegance.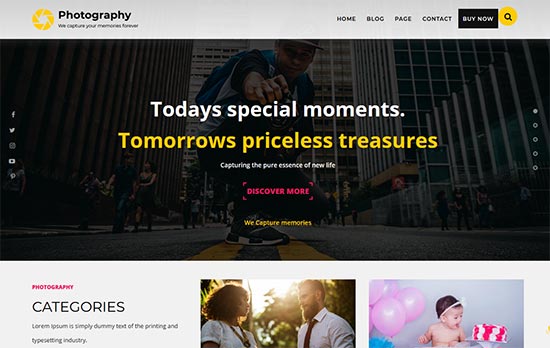 More info / download Demo Get Hosting
Fotocover
Fotocover is a children's theme of Fotogenic Free WordPress Theme designed for your blog, gallery or photo collection. It has a unique, modern, lightweight and sleek design that will make your website awesome. It's built entirely on Customizer, which allows you to easily customize most theme settings with live previews. This theme comes with 3 different archive configurations and other interesting features that allow you to customize the theme easily without programming knowledge.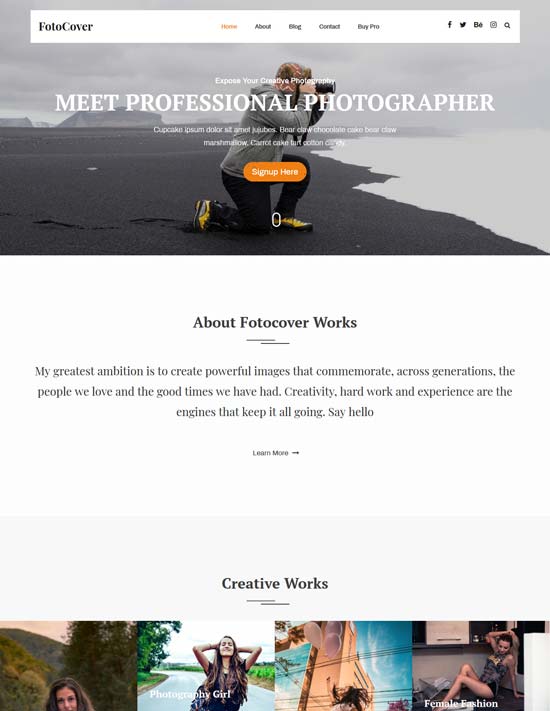 More info / download Demo Get Hosting
ClickPic
Clickpic is a free photography WordPress theme with beautiful design. It's a simple but effective way to present your photos and portfolio. It offers you a beautiful layout of the gallery, on the page template, the social menu and many more. This theme is ideal for photography sites where the quality of the image is more important than anything else. It's a WordPress theme totally adapted to mobile photography.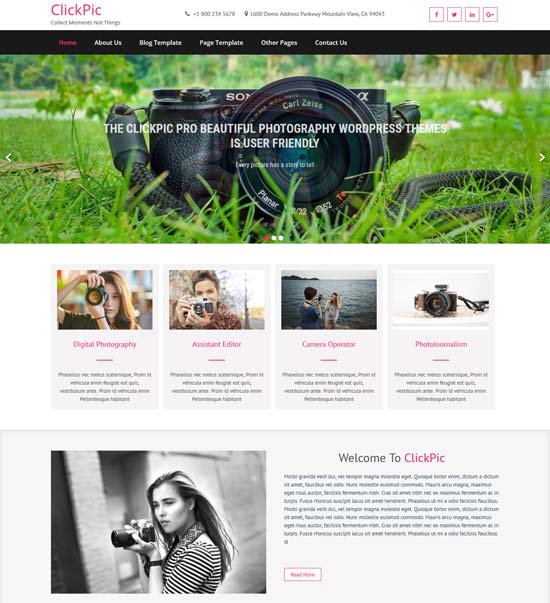 More info / Download Get Hosting
Photography Gridly
Photo Gridly is friendly and responsive theme for photo portfolios. The code is clean for your website to be fast and load quickly with high page speed. Authors and bloggers can easily create a simple and minimalist blog and personalize it in a niche with the header. You can write about travel, lifestyle, photo gallery or other.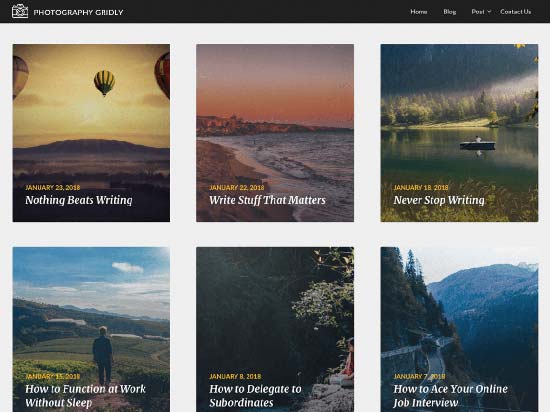 More info / download Demo Get Hosting
Photostat Lite
Photostat Lite is a free, clean, modern, creative and beautiful WordPress photography theme. Photostat is a versatile WordPress theme for professional and attractive photography that has been designed to provide a complete and complete solution for professional photographers to quickly and effortlessly create their own unique, distinct and beautiful photographic website.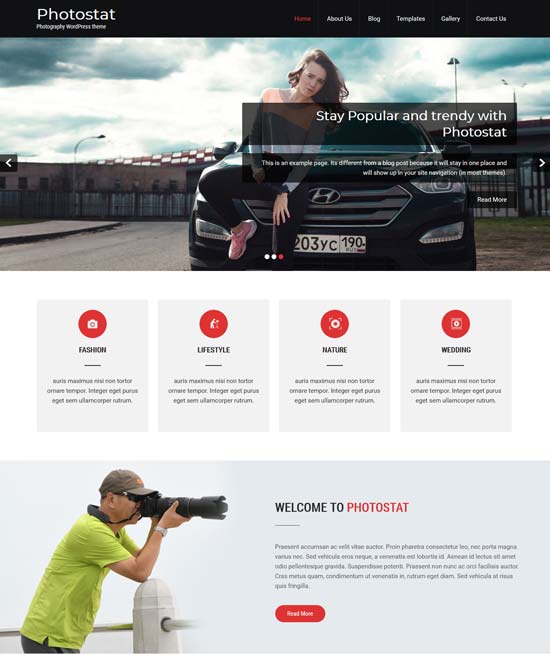 More info / download Demo Get Hosting
Multipurpose Photography
Versatile photography is an awesome, colorful, fresh and lively  free WordPress photography theme that showcases your creative talent. It's an ideal theme for professional photographers, photo bloggers, portfolio designers, travel enthusiasts, adventure travel bloggers, wildlife, and all types of photographers, graphic artists and sites and professions. Similar. With its welcome slider on the homepage, the website will have a significant impact on viewers.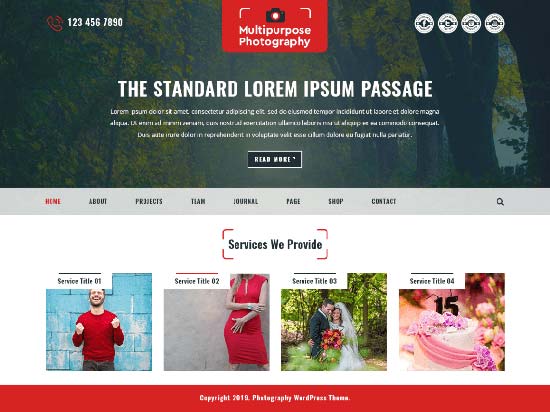 More info / download Demo Get Hosting
PhotoFrame
PhotoFrame is a beautiful and free Photography WordPress theme for fine art, bridal, family, portrait and wedding photographers that need a stylish website focused on delivering a great experience. A great deal of effort and attention went into making PhotoFrame a theme that will surprise you with its style and features.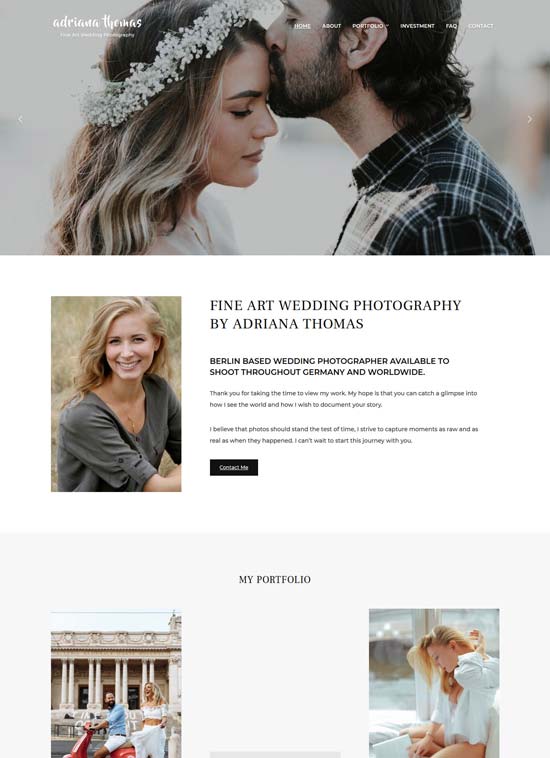 More info / download Demo Get Hosting
VW Photography
VW Photography, free WordPress photography themes is clean, minimalist, well organized and stylish. It has a creative layout to display your beautiful art of photography in the most attractive way to get the most attention. It can be used by photographers of different niches such as weddings, wildlife, nature, etc. It can be used by bloggers who want to use photos and images as a candy to turn visitors into a website.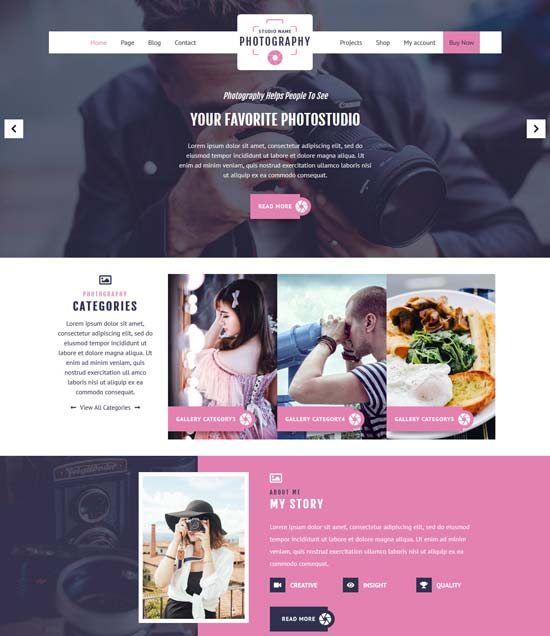 More info / download Demo Get Hosting
Photozoom
Photozoom is an elegant and minimalist WordPress theme for photographers, painters and other artists and professionals. Photozoom theme makes it easy to display 3 of your most important pages on the homepage, such as your professional services.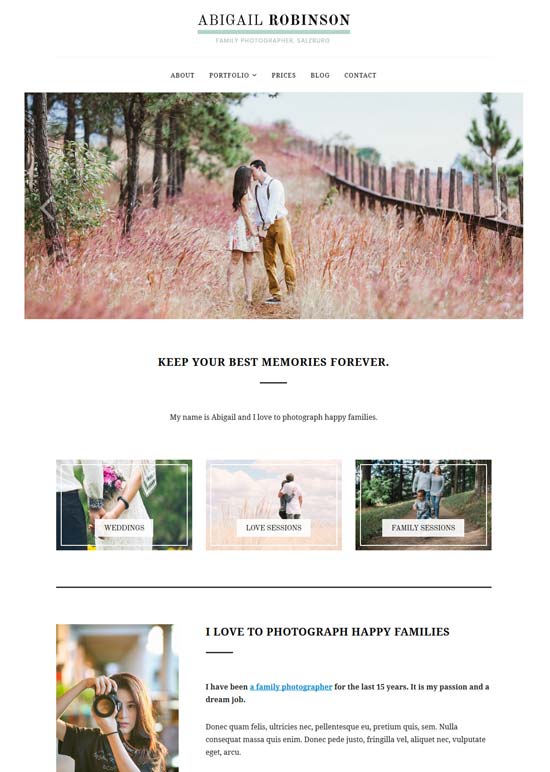 More info / download Demo Get Hosting
Morphology Lite
Morphology Lite is a modern blog photography theme free and business concept which is designed with mobility adapted to your audience the experience of all aspects of your site with a fresh, clean, minimalist, and all around wonderful style.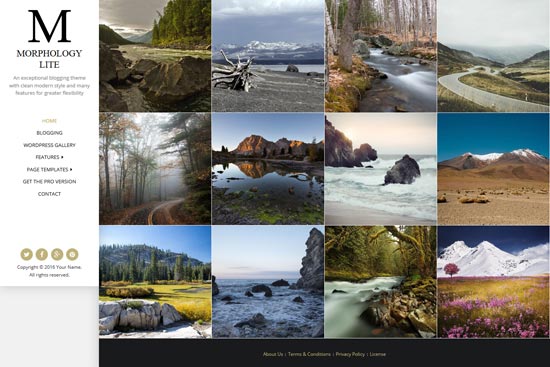 More info / download demo
Photolog
Photolog is a free WordPress theme with alternating pictures "sticky" feature for bloggers, photographers and writers.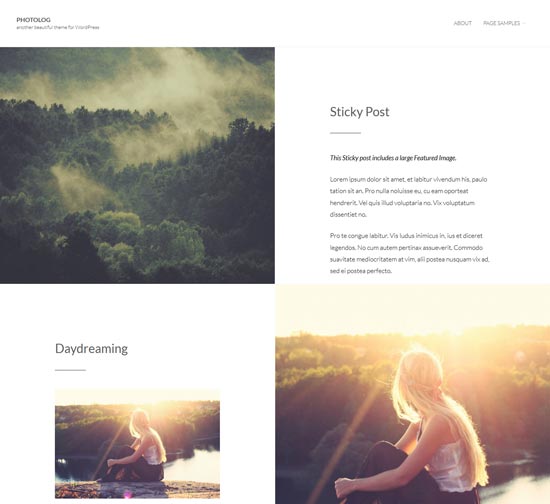 More info / Download Get Hosting
Pixgraphy Free
Pixgraphy free is an easily customization WordPress theme and a photograph suitable for creating websites of professional photography. It is fully responsive and adapts to all devices and make each pixel perfect look. The theme is optimized and tested for fast loading time of the page and a secure code, minimalist and clean.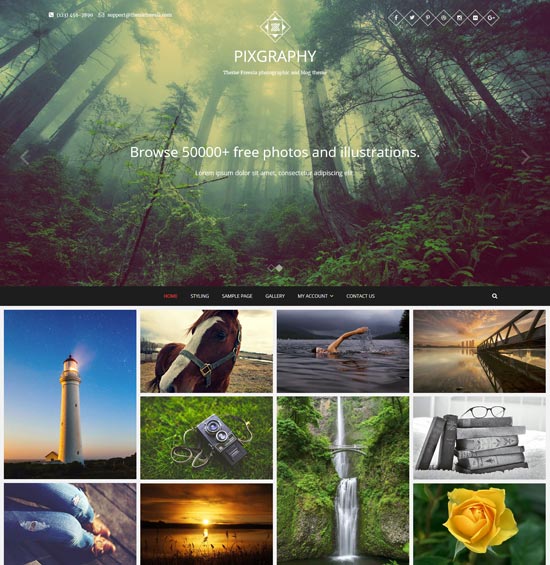 More info / download Demo Get Hosting
Freedom
Freedom is a free simple, clean and responsive stylish photography WordPress theme. The theme supports custom header, custom background, custom menu, widget areas and has built-in options panel to configure primary color, site logo, slider, site layout, sidebar layout, category layout and many more.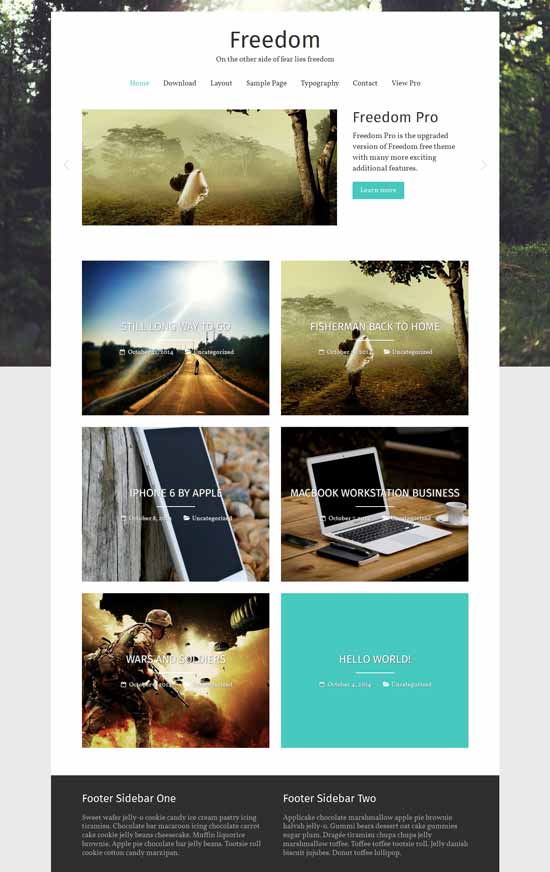 Demo More info / Download Get Hosting
Melissa
Melissa is a free simple photography WordPress theme was imagined as stylish modern ready-made design where functionality and easy on the eye look were put on a pedestal. It awaits you to indulge in getting it and starting your sites on its basis.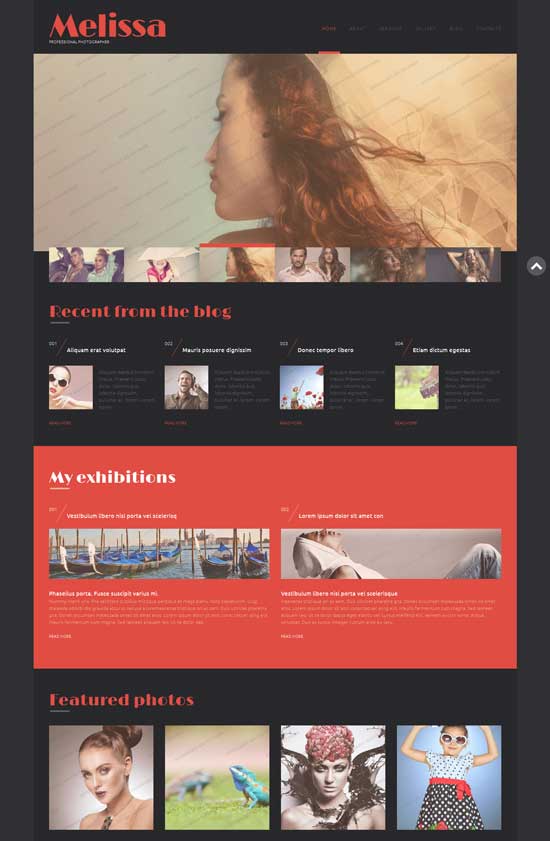 Demo More info / Download Get Hosting
Fifteen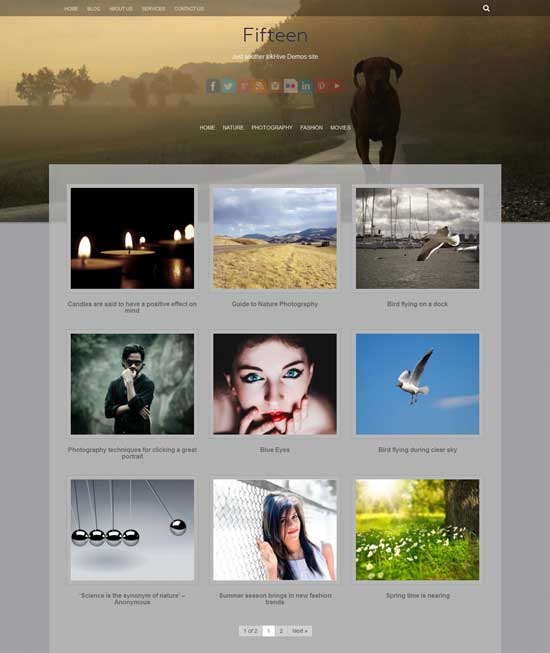 More info / Download Get Hosting
Pronto