The best free WordPress themes come with custom widgets that can be used to make a theme that can be translated and works well on mobile devices. Learn how to make a basic blog, color photos, information, woo-commerce support, a magazine theme, terms and video pages, a front page with multiple featured images, or documentation that is ready to host and can be changed in real time with a drag-and-drop page plugin. Learn how to find free WordPress themes.
This information is on the WordPress website. We know how important it is for people to be able to use website builders (like Visual Composer or Elementor) or theme customizers to make professional websites. The best themes come with a great responsive theme, full screen, a unique header and logo, WordPress hosting, and the ability to make great business themes that are ready to start taking orders and making sales.
This great and professional free WordPress theme could be used for a wide range of projects. All of the free WordPress themes and websites can be changed to fit your needs and are mobile-friendly. All of them can be changed in different ways. Your WordPress site will look great on any mobile device, no matter how big or small the screen is.
You can add things like a search bar, a contact form, the design of your online shop, or the design of a magazine if you have them. You can also hide things you don't need, such as the drag-and-drop search engine page builder, header, footer, and example content. You won't be able to do any of these things if you don't have them. If you don't have any of these things, you can hide them all.
Related Article
Tutor Starter
Under the name "Tutor Starter," you can get a free learning management system (LMS) theme for WordPress. This learning management system is powered by Tutor LMS, a popular eLearning plugin for WordPress. The main selling point of Tutor LMS is meant to be its interface, but the rest of its features can be changed to better fit each person's needs.
Because it was made on the same Unified Design System as the Tutor Learning Management System (LMS), the Tutor Starter eLearning theme is the best choice for use with the Tutor LMS.
Tutor Starter is also built very well from the point of view of how quickly and efficiently it works. Your whole eLearning website has been optimized so that it can get a high PageSpeed score on Google, which will help your company do well. When pages are made with Tutor Starter, they are automatically optimized for search engine optimization (SEO) and schema.
This makes it easy to get high rankings in search engines.
Also, it has a great blog that fits on one page and is easy to read. With full support for both Elementor and Gutenberg, Tutor Starter tries to appeal to the most people who use both older page builders and newer ones that use Gutenberg. This is done by giving the same amount of support to all of these platforms.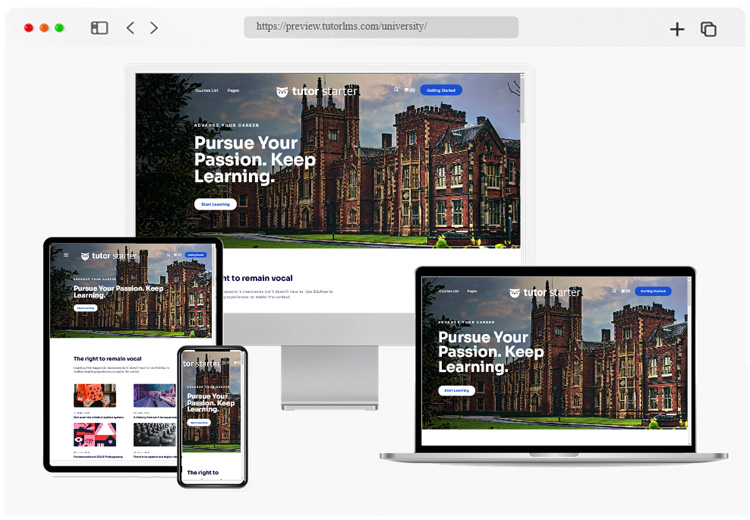 more info / download demo hosting
Inspiro Theme
The Inspiro WordPress Theme is a full-width portfolio theme with a modern design. Its main goal is to give photos and videos a professional look. It also has a slider that takes up the whole screen that lets users show their work in a grid format. Also, it has a slider that takes up the whole screen and lets the user organize their work in a grid.
It also has a slider that takes up the whole screen, which users can use to show off their work. Inspiro is a great choice for showing off your portfolio, photos, and videos because it comes with features like a gallery module, interaction with Page Builder, and a fullscreen slideshow that works with videos from YouTube, Vimeo, and your own site.
This is because Inspiro has things like this built in. It is a great choice because it has these features. This is because Inspiro is a great way to show off not only your photos and videos, but also your portfolio.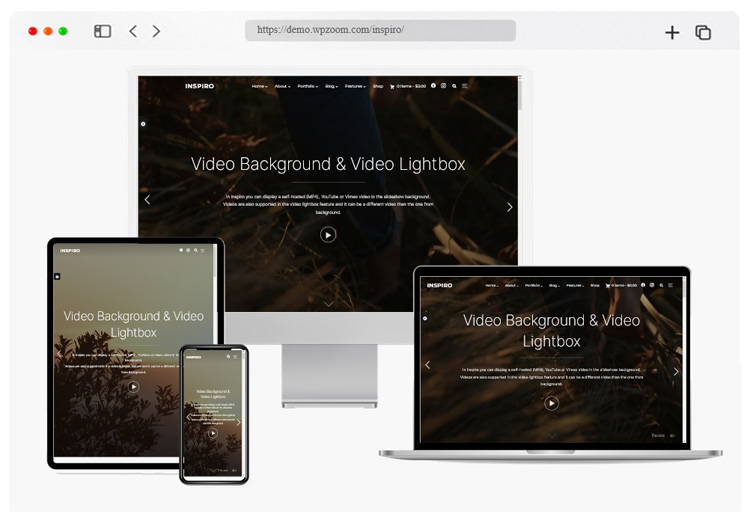 more info / download demo hosting
Ohio is a carefully made, minimalist, beautiful, versatile portfolio and creative showcase theme with a sharp user experience. It has everything you need to build a modern, functional website and start selling your products and services. It comes with the most popular page builder for WordPress, WPBakery Page Builder (formerly Visual Composer), and the ACF Pro plugin for setting up the theme.
Create fast, modern, and slick WooCommerce, shop, portfolio, and blog websites without having to know how to code. With our built-in One-Click Demo Import plugin, you can easily start using any demo as soon as you buy it. Customer service with a 5-star rating is always happy and ready to help you with any problems you might have while installing the theme.
Powered by the ACF Pro engine, which gave us the freedom to create a lot of different options for your site. You can show off your projects and collections with minimal portfolio grid and project page layouts using custom post types that are beautifully designed.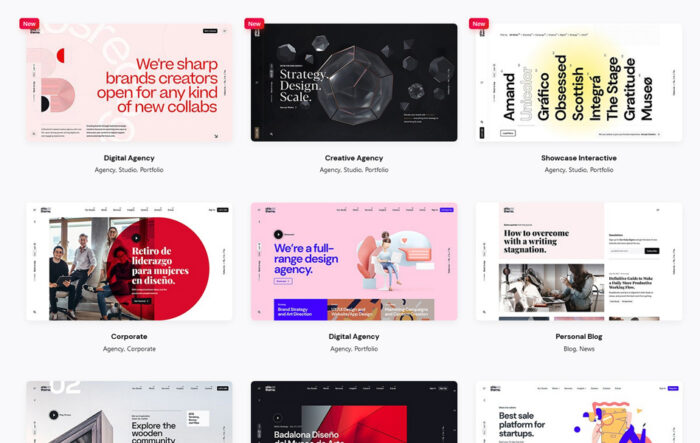 more info / download demo hosting
Hestia Theme
Material design is one of the services that Hestia offers, and it has already been used for the most important parts of your website. Inside the customizer, you can change either the homepage or the blog designs that have already been made. Use the flexibility of a full-standing theme, which can be used to make websites as simple or complicated as the user wants.
You will like how much easier it is to use popular page builders like Divi Builder, Elementor, Brizy, Beaver Builder, Visual Composer, and Beaver Builder, in addition to Gutenberg. It will be fun for you to take part in this discussion. User interface design has come a long way in the past few years, making it easier than ever to make changes to your website.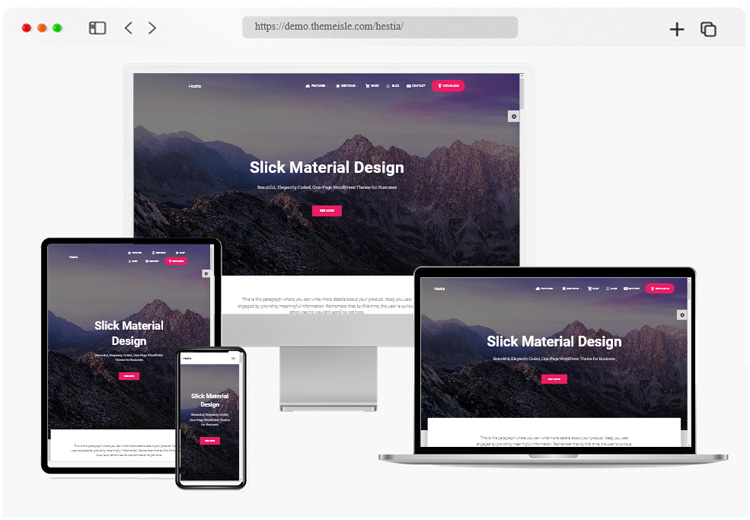 more info / download demo hosting
Blogic
Most blogs have an open, simple, and not too crowded theme. It's a great tool for writers who want to make a personal blog site with a few easy-to-use creative elements and effects that will make their blog posts and articles more fun to read. Blogic is a great tool for writers who want to make a personal blog site with just a few simple creative features and effects.
It's also great for a blog that talks about fashion, lifestyle, travel, food, photography, and a lot of other things. Its main goal was to make it easier for people to start professional blogging websites.
This is why it was made in the first place. It works perfectly on all kinds of devices, like cell phones, tablets, laptops, and desktop computers. It's a simple WordPress theme that's easy to use and looks modern and fresh. It's perfect for lifestyle bloggers who want to add stylish themes to their blogs, whether they do it for fun or to make money.
If you use code that search engines like Google and Bing like, it will be easier for people to find your website. In the long run, this will cause more people to visit your site. Since the HTML codes for this theme are clean and safe, your website will work well on a number of platforms. The pages on your website will load much faster now that these codes have been fixed. Remember this as you work.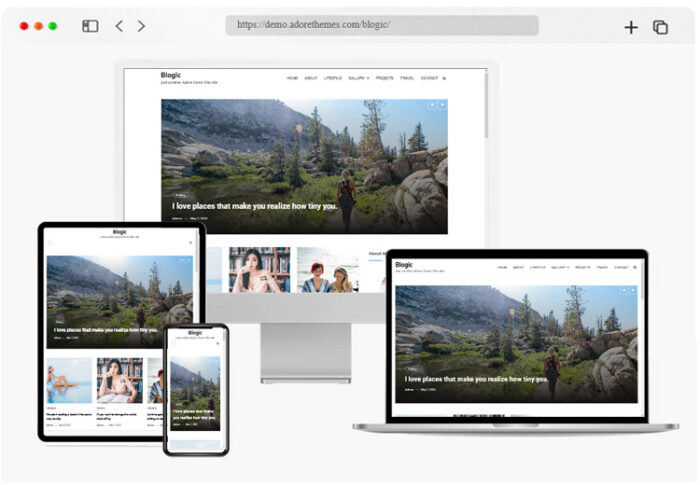 more info / download demo hosting
ChromeNews Theme
The ChromeNews WordPress theme is a strong solution that works well for blogs and magazines that are published online. You can use it however you like. The theme comes with a number of free starting pages that can be easily added to a website to make it an interesting news hub. These pages come with the theme as part of the package it comes in.
You can use the dashboard that comes with the theme to get to these pages. The theme makes good use of widgets and comes with more than 15 separate widgets that can each be changed separately. You can also change the way widgets are arranged. Because of this feature, users can change the website's content to match their own tastes.
Also, it gives you the option of reading articles and blog posts in either a light or dark color mode, so you can do it in a way that is both stylish and useful. It also gives users access to a large number of helpful customizer options that can be used to make a news website that looks good.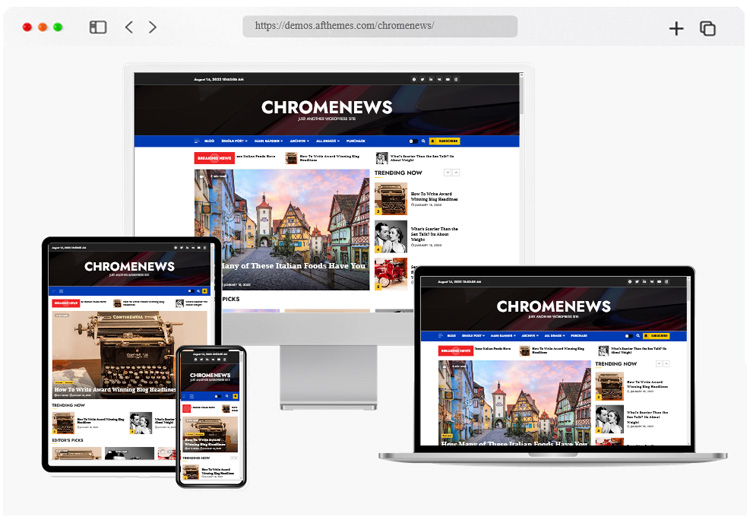 more info / download demo hosting
Zakra Theme
The Zakra theme also loads pretty quickly after being turned on, which is a direct result of how amazingly light it is. It was made with speed in mind from the beginning, so every part of its performance was fine-tuned to make the most of what it could do. When we used the tools that are usually thought to be the most important for figuring out how well a website is doing, we actually got great results for Zakra.
You can get started on building an online store with the help of Zakra's WooCommerce plugin, which is well-integrated. Zakra's easy-to-use interface makes it easy to change the look of WooCommerce pages while keeping their functionality. Zakra's user interface has been carefully made so that it automatically adjusts to the size of the screen of any device, no matter what size the screen is.
It is a fully responsive WordPress theme that will make your website look great on both desktop computers and mobile phones. This will make it easier for people to tell their friends and family about your website. To be more specific, it will make both of them look just as beautiful as your website.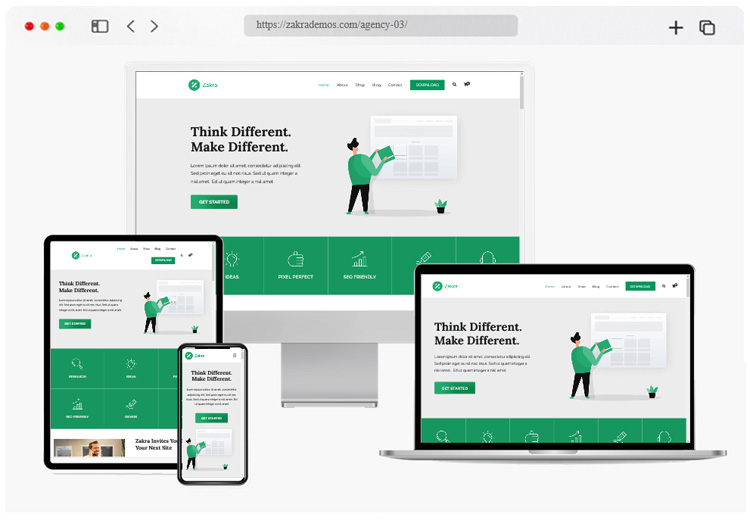 more info / download demo hosting
OnePress Theme
OnePress is a free WordPress theme for a single page that is great, new, and flexible in how it can be used. On top of that, it has a lot of different configuration options. It is a great choice for business websites, portfolios, digital agencies, product showcases, freelancers, and anyone else who cares a lot about how their site looks.
OnePress is a flexible content management system that adapts to the screen sizes of a wide range of devices, such as desktop computers, laptops, tablets, and smartphones. Show off your organization's services and customers, as well as videos, a gallery, the most recent blog posts, and a contact form. All of this content should be ready to be translated.
When you choose backdrops for your website that use parallax scrolling, your site will not only stand out from other sites in your industry, but visitors will also be able to enjoy the beauty of the content you offer. You can customize the look of the website in a number of ways.
You can change the colors and layout of your homepage, as well as choose from a number of other options. The Theme Customizer is where you can find all of the different theme options you can choose from right now. You can find these options in the Theme Library.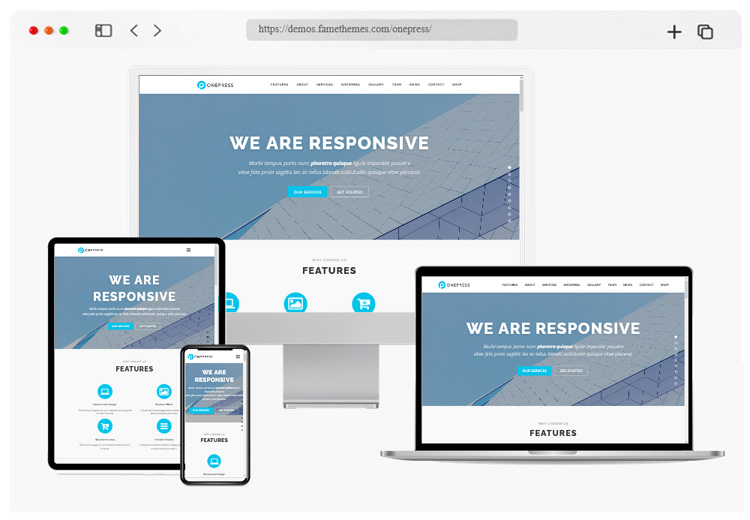 more info / download demo hosting
Zeever Theme
Zeever is a free responsive WordPress theme with landing page builder that was made especially for digital agencies, creative agencies, online portfolios, designers, and freelancers who want to show off their work on a beautiful page. It was made so that digital agencies, creative agencies, online portfolios, designers, and freelancers can use it on their websites.
Zeever was made so that digital agencies, creative agencies, online portfolios, designers, and freelancers could use it on their own websites. The package makes it easy to have both the core version and the Gutenverse version of the Bible at your fingertips at the same time. The core block pattern and the Gutenverse block pattern have both been around for a long time.
By making changes to your templates, you can get a head start on merging the different parts that are in them. This includes both a pre-built design that shows the client what you can do and a design that is easy for them to change. Both of these features are included in the same package. Also, the package comes with both a design that is already made and one that is easy for them to change.
You can make your own web form by adding different fields to your website and then using the form you made. The drag-and-drop form field makes it easy, quick, and error-free to fill out the form.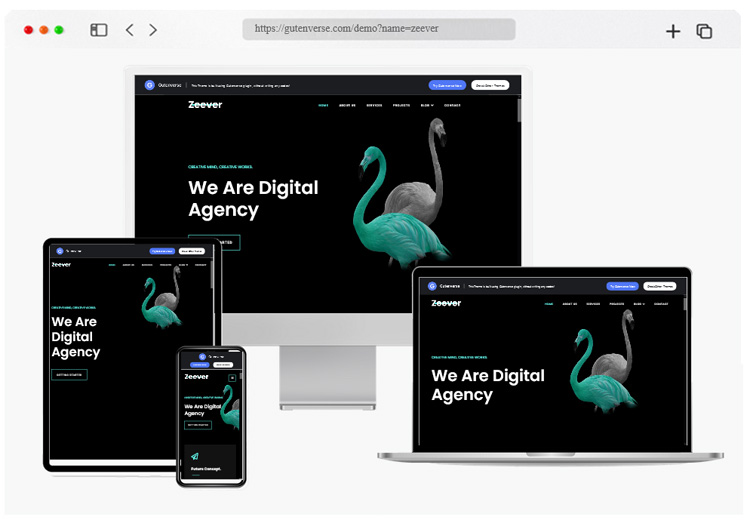 more info / download demo hosting
Ashe Blog Theme
The Ashe theme, which can be used on personal WordPress blogs, can now be downloaded for free. It lets more than one person write for it. A great alternative for personal blogs, blogs about lifestyle, blogs about food, blogs about travel, blogs about photography, and pretty much any other great site you can think of.
Even people who have never used WordPress before should be able to figure out how to use it thanks to the clear and thorough explanation. It looks clean and modern on the outside. If your design responds to what the user does, your content will look great on any device. All you have to do is start writing, and then everything will go well.
With the sophisticated Featured Posts Slider that comes with this theme, you can show off up to five of your most recent blog posts in the header of your website. Using WordPress websites is the most effective way to make sales on the Internet. Your own store could be a place where you sell everything from electronics to coconuts. You can link to up to three interesting photos in the website's header.
It's possible that each of these banners or custom links has been made on its own. We made sure to use all of the best SEO practices when writing the code for the theme. It is compatible with the most popular plugins that are used to improve search engine results.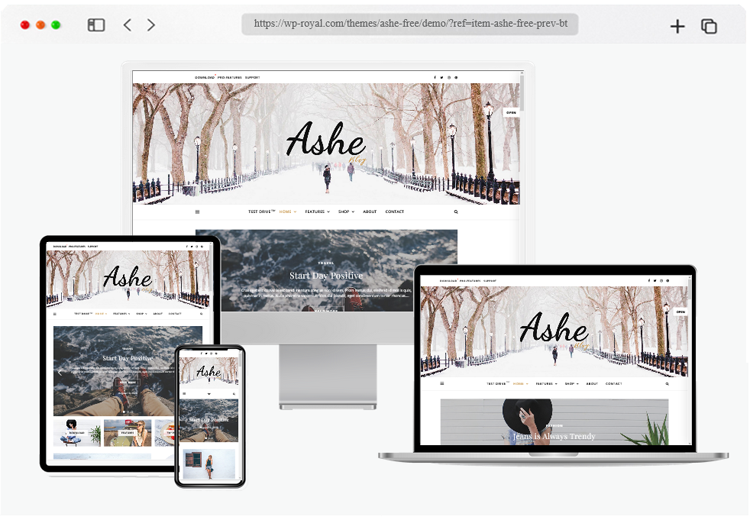 more info / download demo hosting
Bravada Theme
As a full-screen WordPress theme, Bravada is unbeatable in terms of how well it looks and what it can do. It looks good and works well, and it can also be changed to fit screens of any size. This is a perfect example of what it means to have brava, and it's happening right now. It is a free WordPress theme that doesn't care what you do to it and is easy to change to fit many different styles.
It will look great, work very well, and adjust well to any screen size. You are free to use bravada no matter where you are, who you are with, or what you are doing. The water in Bravada is special because it seems to be completely clear, is completely clean, and has a crisp, refreshing taste. It's made so that the CSS animations that run through it will bring your users to their knees, which is exactly what you want to happen.
The product is very responsive, in part because it was made from the start with mobile in mind. Bravada is very easy to use, even though it has a lot of options for customization and can be used in many different ways. It comes with a lot of different ways to make it your own.
Google fonts are supported, but if you have trouble with GPPR, you can replace them with fonts you made yourself. You can make instant changes to the typefaces that are used on your website in relation to a wide range of different parts of the website.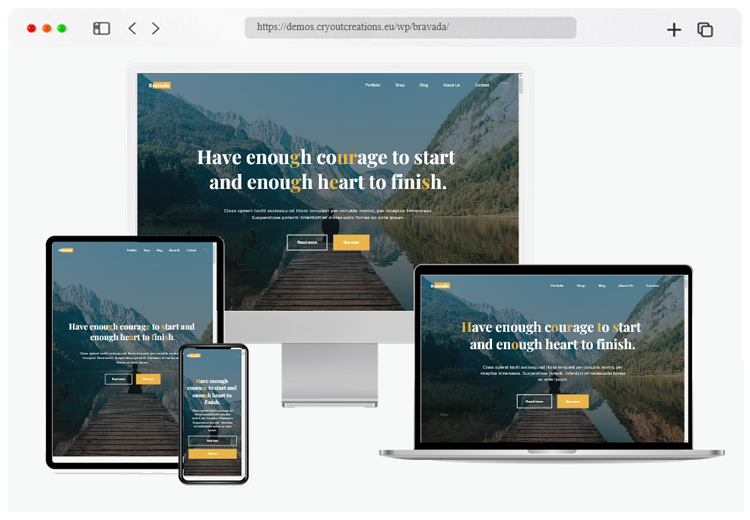 more info / download demo hosting
Customify Theme
Customify is a free WordPress theme that is easy to use and comes with a wide range of ways to customize it. It's in the WordPress theme repository, where you can get it. Let's take a look at some of the other choices we have, shall we? Build a header or footer that meets your needs and gives users a good experience on all of their devices and operating systems.
This will let you make the content as easy to read and navigate as possible. There are already a lot of websites online, and you can choose to add content from other websites to your own. You are the only one who can decide which page builder you want to use to make changes and improvements to your website. You can use any page builder you want to do this.
Using the customizer that comes with WordPress, you can change the way things look to make them better fit your needs. This will let you make your website more about you.
When the theme's framework was made, it was done so with the goal of using the best search engine optimization techniques possible. It's not hard to make headers and footers that are unique and, when put together, give customers a great experience on all devices and platforms.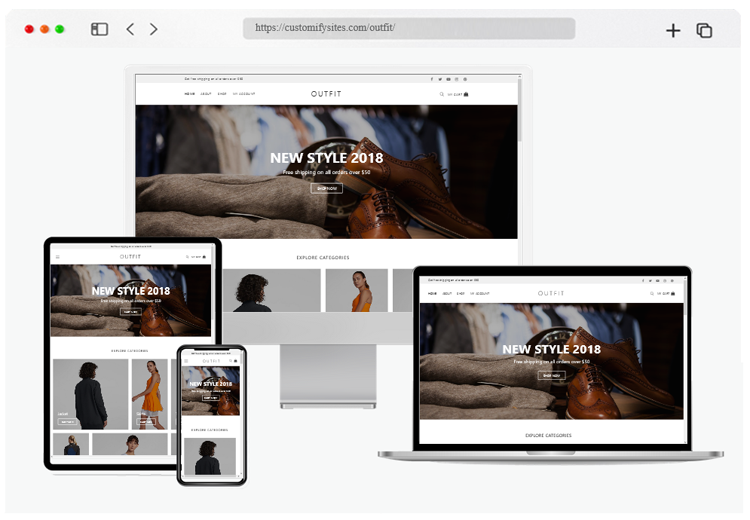 more info / download demo hosting
Lightning Theme
Lightning is a great option for anyone looking for a free responsive WordPress theme with a business look that is inspired by Japan. Its roots can be found all the way back in Japan. Once you've downloaded the theme, you can find it in the themes section of WordPress's administrative interface.
This is also where you can install and activate the theme once you've got it. You will be able to find it quickly. There are many different kinds of block patterns, and companies can use any of them on their websites in any way they want. You can make your pages quickly. Access analysis and connecting to social networking sites are just two of the many things that are part of the current set of capabilities.
There are already ways to do this (SNS). There are more than 70,000 active installations of Lightning at the moment, and it is listed in the official directory on WordPress.org (*March 2022). We use the latest versions of WordPress and the block editor (Gutenberg).
It is always being updated, made better, and kept up to the highest standards that can now be reached. It can be used for personal or business reasons, and a lot of WordPress sites are already using it in some way.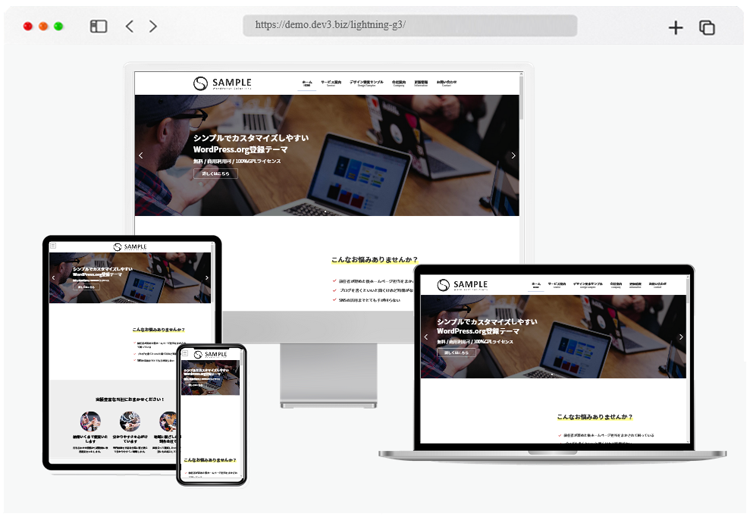 more info / download demo hosting
Rife Theme
Rife Free is a Creative Multipurpose Free WordPress Theme that comes with 7 beautiful designs (demo sites) that you can import and use, as well as auto-updates and a lot of ways to change it. You can get Rife Free for free by downloading it. You don't have to pay anything to download Rife Free because it's free.
Because it is completely free, downloading Rife Free won't cost you a dime. You don't have to pay anything to download and use Rife Free, and you can do it whenever you want. We've made designs for Rife Free that you're welcome to use as a starting point and change so that it fits the needs of your business. Here is where you can get these designs.
This is where you can find these patterns. All of these were made with the help of the Elementor page builder, which has a lot of features and the theme's unique ways to make it your own. You can start working on your website right away if you use our importer, which only needs one click before you can start.
All it takes is one simple click. Absolute madness! You can use this beautiful layout in any way you want. The pages that make up this website are the homepage, "About Us," "Contact Us," "Blog," and "Portfolio."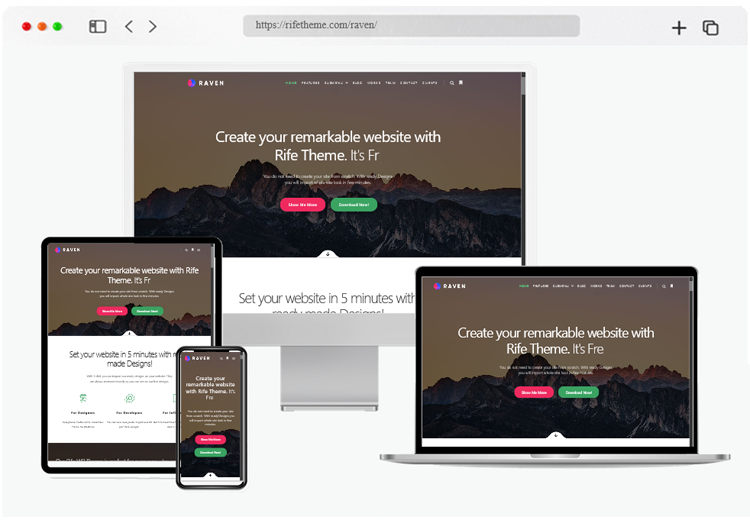 more info / download demo hosting
Total Theme
Also, Total works well with Elementor and is compatible with it. At the moment, Elementor is the most powerful page builder that works with WordPress and can be used with the content management system. Page builders are the answer. They are the fastest and easiest way to put your ideas into action. They are the way to make your ideas come true.
The Total theme works with all of the most popular page builders, like Elementor Page Builder, Visual Composer, WPBakery, Site Origin, and Beaver. Because you're using a theme, you have access to a wide range of extra customization options that let you change how each component looks.
The background of your website is completely up to you. You can make it any color you want, upload an image or video, or even make it a color gradient. Also, the structure and format of each segment are different depending on what it is. Any combination of the following can be used to make these changes: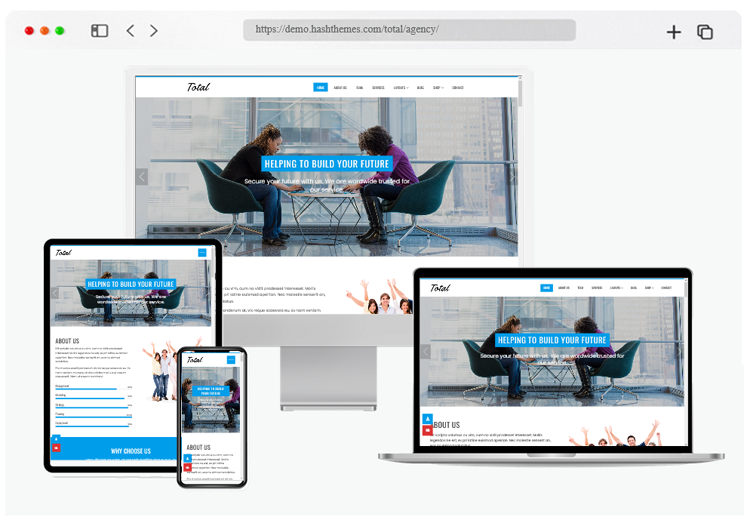 more info / download demo hosting
Blogstream Theme
The Blogstream theme is easy to use and follows web design standards. This strategy works well for posts that have both text and photos as the main visual element. designed to look good and work well on any screen you can think of. The clarity is amazing, and it looks even better on retina displays and other high-resolution screens.
There is no talk about different points of view anywhere. The themes are made to look great on any platform, from a desktop computer with a full HD resolution to a mobile phone with a much lower resolution. In addition to a simple, easy-to-use interface, this style uses typefaces that are both unique and sophisticated.
By using one of these themes on your website, you will not only be able to make it look better and more modern, but you will also be able to get more people to visit your site. The source code for a WordPress theme that makes new users feel welcome and can be changed in a number of ways.
It doesn't have a lot of code, but it works well and goes straight to the point without wasting time. excellent programming that makes sure the system is safe and stays up-to-date.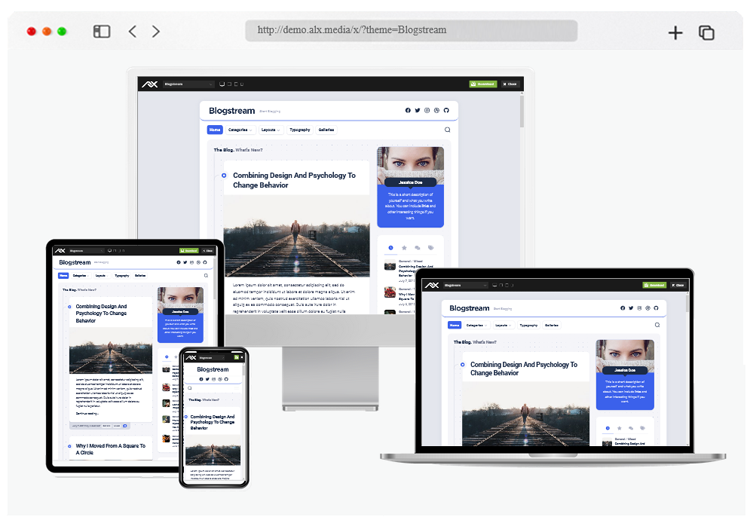 more info / download demo hosting
Futurio Theme
Dozens is a free WordPress theme that lets you change the look of your website in a lot of different ways. It can be used for a wide range of different purposes. There are already a lot of websites up and running, and you can use them on your own site. With the push of a button, you can load any requested demonstration.
With Elementor, you can make as many different blog layouts as you want. With the nine different blog widgets that come with the Elementor for Blogs package, you can change the look of your blog and make it fit your needs. These widgets have a featured image, title, content, date, categories, tags, a "Read More" button, and comments.
Widgets are only on your website, are easy to use, and can be changed to show either your most recent posts, links to your social media accounts, or information about the author. Elementor, a well-known and often-used free website builder, just added a large number of new widgets.
These widgets are very powerful and can be changed however you want. Make websites that are unique and look professional while cutting the time it takes to make them in half.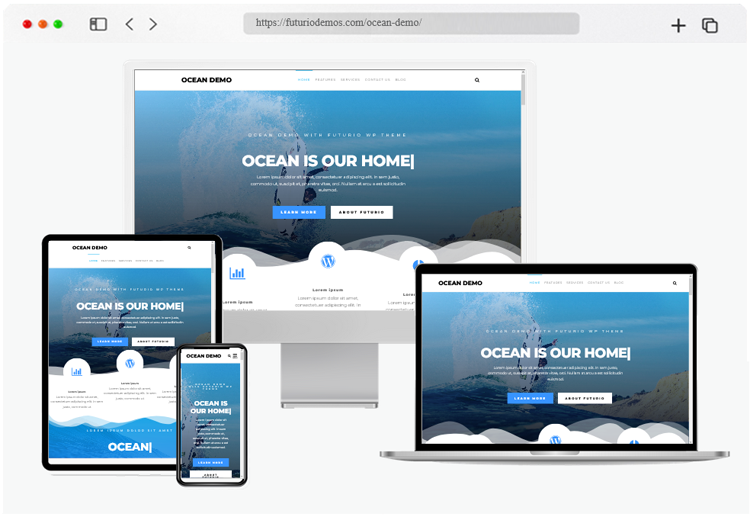 more info / download demo hosting
Startupzy Theme
If you are an entrepreneur, run a tech company, or are in the process of starting a new business and need an attractive landing page for your business, the templates that Startupzy has to offer are perfect for you to use. People who are starting a new business can also use templates from Startupzy.
It comes with both the basic version and the Gutenverse version, and both can be updated separately so that the templates for your project can be used with those of other people's projects. Include things that don't require extra work, like a pricing plan, testimonials from happy customers, a list of your services, and so on.
With the tools and resources that are available now, it is no longer necessary to have education and worked as a professional web developer in the past to be able to make an attractive website. Even if you have never coded before, you can still design a page by using the Drag and Drop feature. No matter how skilled you are, you will be able to do this.
When you're trying to organize the content on your website, use different kinds of dividers. There are several different kinds of these dividers. There are a lot of forms to choose from, and you can easily change any of them to fit the style of the rest of your website.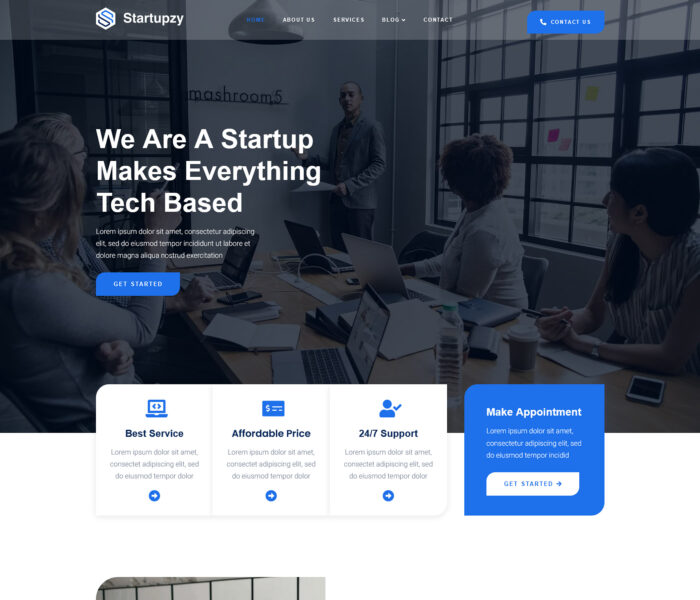 more info / download demo hosting
Woostify Theme
The free WordPress template, Woostify theme for WooCommerce, can help businesses make more money. The WooCommerce plugin can be used with this template. Because of how it was designed, it was built to work quickly and accurately, which led to a higher conversion rate.
Because of these decisions, it could be changed at a better rate. Woostify is already fully optimized to help your website load as quickly as possible while using as few resources as possible. You don't need to do anything else to improve it. This is true whether or not you do anything else to improve things on your end.
Woostify has a structure that is ready for search engine optimization (SEO), as well as clean, well-optimized source code. You can find both of these things on the platform. Each of these features makes a difference in how well the platform works as a whole. Because of this, you will get the best possible SEO scores, which will give you a high ranking in the search results.
As a direct result of this The Woostify theme was built from the ground up to be fully compatible with WooCommerce. This means that theme and plugin conflicts will never happen. This is true even if WooCommerce does software updates, which could make some themes and plugins not work with each other.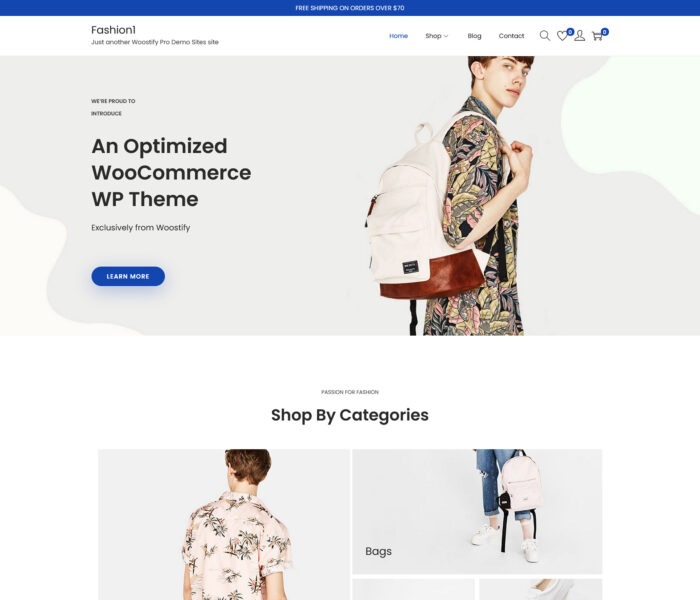 more info / download demo hosting
Aasta Theme
Aasta is a modern, powerful, and multipurpose business WordPress theme with a high-quality look that can help any organization, company, or industry build a good-looking website. Aasta comes with a number of ways to change the theme so that it fits your needs. It has a lot of ways to change how it looks, so it's easy to make it look the way you want.
The light-and-dark layout of the Aasta theme will help you finish your work faster because it works so quickly. This will help you in the long run. Because the Aasta theme makes the WordPress live customizer easier to use, you will be able to change the look of any page on your WordPress site without affecting the look of the other pages. Because of this, you can change the look of any page on your WordPress site.
This theme has layout options for portfolios with 2, 3, or 4 columns. It can show off your work in a way that fits your tastes, no matter what device or screen size the person looking at it is using. Also, your work can be shown in a way that works for you no matter how big the screen is. It can also show your work in a way that fits the person who is looking at it, no matter what size screen they are using.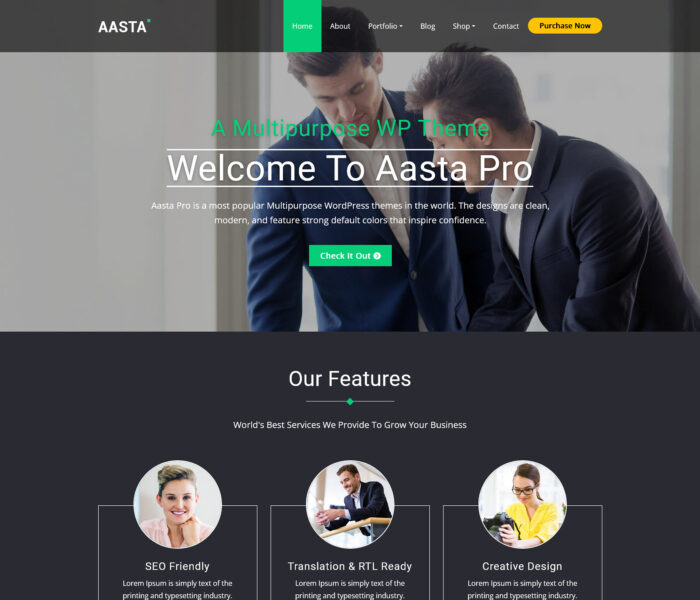 more info / download demo hosting
Avril
Avril is a WordPress theme that is fast and light, can be used for many different purposes, is easy to change, and focuses on giving the end user a great experience. All of these things are true about Avril. Also, dealing with personal matters is easy and doesn't take a lot of time.
If you make it easy for customers to find the information they're looking for on your website, your business will stand out from the websites of other companies in your market. Avril is perfect for any business because it comes with everything you could ever need to make a great website.
It gives a great answer and is a great choice for any business. Avril is a great choice because of this.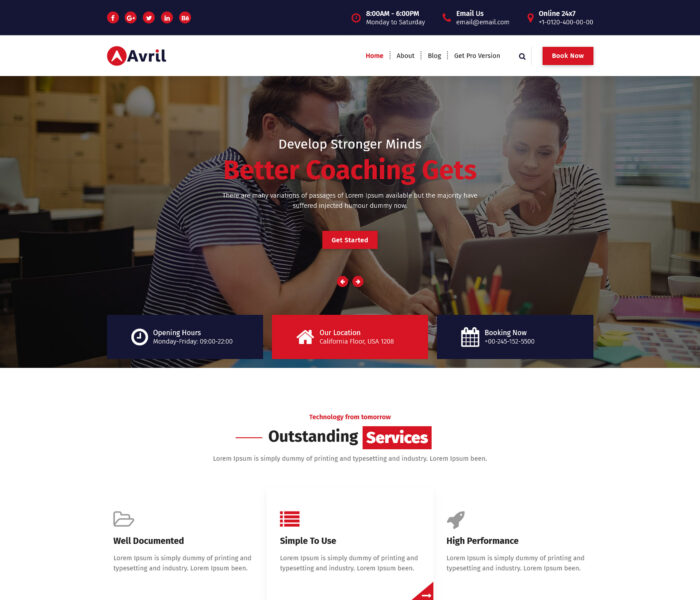 more info / download demo hosting
Nisarg
Nisarg is a brand-new free magazine theme that was made to be fully responsive and is already ready to be translated. It lets you make blogs and websites that look great. The theme is flexible and works well for websites and blogs that focus on creative things like travel, photography, cooking, design, art, and personal websites.
If the user wants to, they can use any picture they want as their header picture. You can make any choice you want about the size of the header image. Still, 1600 pixels wide and 400 pixels tall are the recommended sizes for an image. Any picture that a user uploads to his or her account can be used as the website's background.
The user can choose any color for the text in the header, the background of the header, and the background of the site. Any color they want can be used. The user can draw attention to certain parts of his website by using any color he or she wants as an accent color.
On the page that shows a list of all the blog posts, the user can choose to show either the whole post or just a part of it. Because it is fully responsive, your website will look great on any device and screen size you choose. This will be true no matter what the screen size is.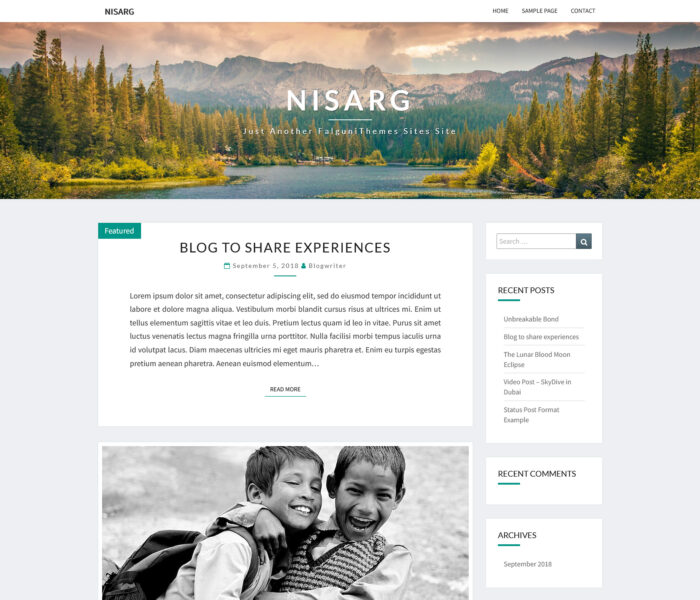 more info / download demo hosting
BuddyX Theme
BuddyX is a theme for WordPress for a social network that works like Facebook. This is the easiest WordPress theme to use with BuddyPress and the BuddyBoss Platform to make a website for a social marketplace, membership site, social learning environment, or online community.
You can create a public or private membership community quickly, no matter if it is open to the public or not. Businesses can now use social networking sites to grow their business thanks to the Popup platform.
BuddyPress and WordPress plugins for learning management systems (LMS), marketplaces, events, gamification, and membership can be used in many ways. BuddyPress and the BuddyBoss Platform are both platforms for social networking that can be used with WordPress.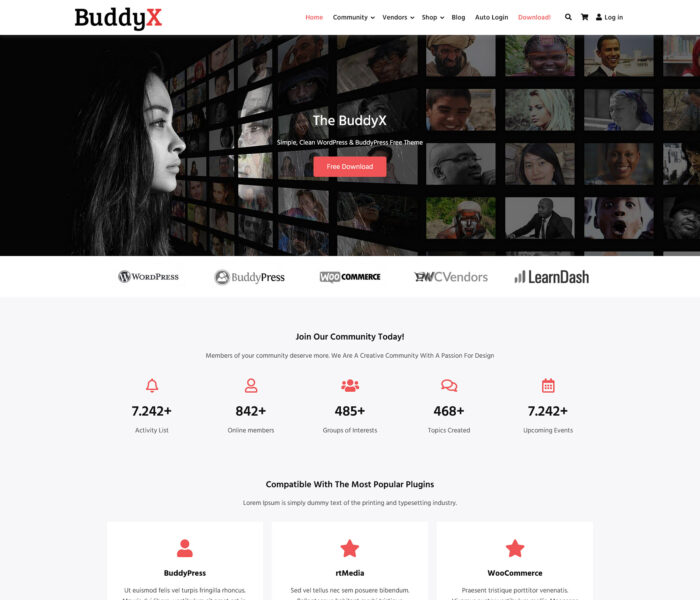 more info / download demo hosting
Signify Theme
Signify is a responsive WordPress theme free with a modern, clean design and a number of advanced features. On the WordPress website, you can find a link to download Signify. The design is flexible enough to work well for both personal and business sites.
Because Signify is easy to use and has a large number of features, you can quickly build any kind of business website you can think of. You just have to click your mouse a few times. The Signify WordPress Theme is made up of many different parts. Some of these parts are call Featured Content and Menu Options, respectively.
This free business theme also has a feature called "Featured Slider" that lets you show off the best things about your business in as little time as possible. You can also change how the interface looks by putting widgets wherever you want. With the help of Signify's one-of-a-kind widget, you can show off your social media, products, ads, and other content in the most interesting and engaging way possible right now.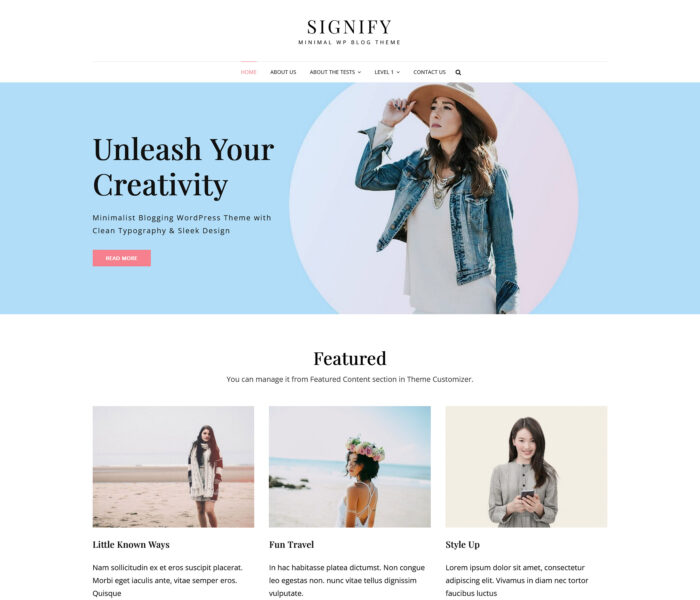 more info / download demo hosting
WPCpet
With the help of the WooCommerce theme that WPClever gives you, you will be able to set up an effective and caring pet store as well as a brand-new animal store right away. The WPCpet theme is the newest addition to our range of topics. It works well with other WPC plugins and has floating buttons from WPC Smart Quick View, Smart Wishlist, and Smart Compare. Users can set up an interactive retail wall that can show images that can be bought separately.
This is in addition to the other Ultimate features that are already available. The best way to show your loved ones, including your friends and their pets, how much you care about them and how much you care about them is to do things for them. We've worked hard to make sure that WPCpet gives you access to everything you need to get your store up and running.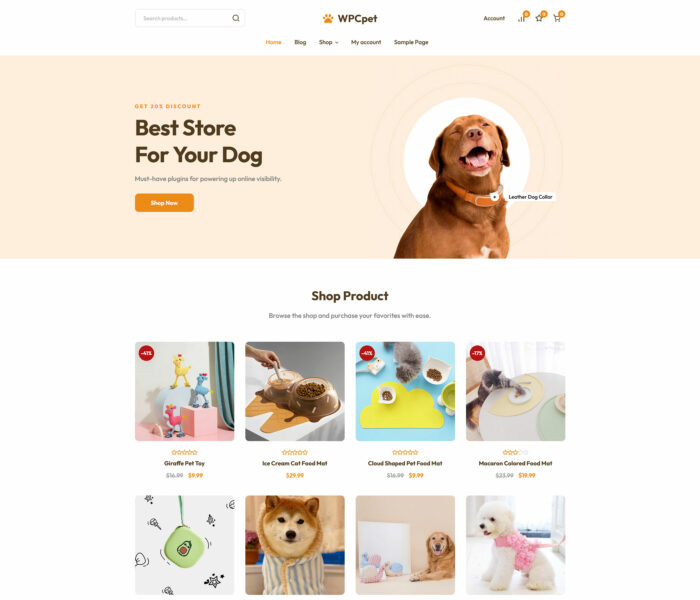 more info / download demo hosting
A responsive WordPress theme makes the user experience better because it loads quickly and is easy to change. Users will think that a website is easy to use, stylish, and respectful of their rights if it gives them a wide range of customization options and features, such as many ways to change the way the page looks.
In fact, we chose to write the essay in the first place for the same reason we chose to write it now. Our team has put together a list of the best free WordPress themes for blogs, online portfolios, business websites, and online stores, among other types of websites. Some of them can also be used on more than one type of website, which means you can use them in any market area you want.
In any case, feel free to get in touch with us​ ([email protected]) if you want us to add your expert WordPress theme to this collection. We hope to hear from you soon. We'll look into what you've asked us to do and get back to you as soon as we can.