As the year 2023 unfolds, it's crucial for bloggers and website owners to stay up-to-date with the latest trends and advancements in website design. WordPress, being one of the most popular content management systems, offers a vast array of free themes to help you create a visually appealing and functional website. In this blog post, we'll explore the top 10 free WordPress themes for 2023 that will elevate your website's aesthetics and user experience.
This is shortlist of Top 10 Free WordPress Themes for 2023
Björk
Björk is a clean and minimal blogging theme with a sticky sidebar menu on desktop that allows your readers to navigate quickly through your content. With its modern aesthetic and simplistic design, Björk gives your content a purposeful focal point, while being easy on the eyes. This WordPress theme comes with seven different styles to choose from, as well as over 15 different blocks that can be used to create unique page layouts for each post.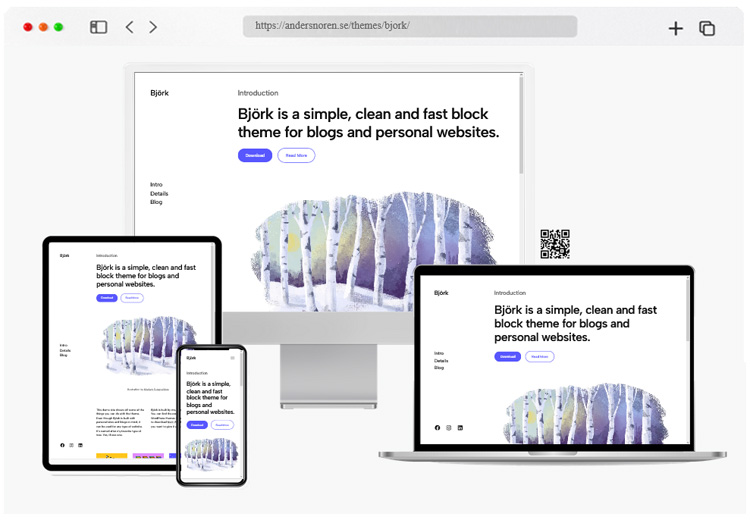 More info / download Demo
Sullivan
Sullivan is a versatile WordPress theme specifically designed for WooCommerce-powered stores, but it also works seamlessly for regular business websites or blogs. With its beautiful design and extensive features, Sullivan offers a range of customization options and support for various functionalities.
The theme provides custom styling for all WooCommerce pages and features, ensuring a cohesive and professional look for your online store. It also offers Block Editor support, allowing for easy content creation and customization. One notable feature is the search field that displays instant results, enhancing user experience and search functionality.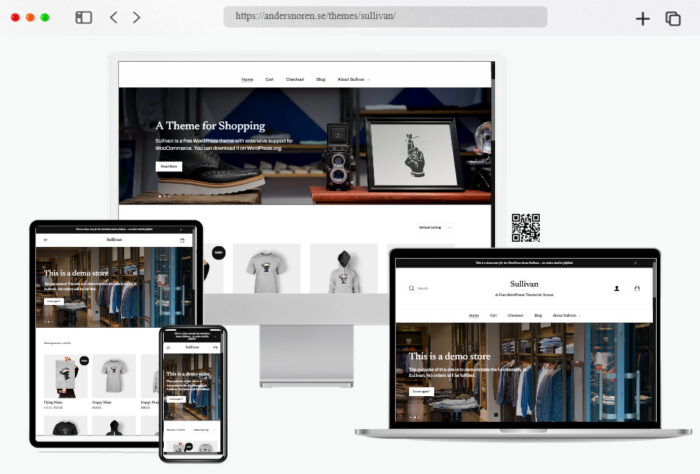 More info / download Demo
Abisko
Abisko is a stylish blog theme that places a strong focus on bold typography and ample whitespace, creating a visually appealing and modern design. With its clean and elegant aesthetics, Abisko offers a seamless reading experience for your blog visitors.
The theme provides 5 different theme styles to choose from, allowing you to select the one that best suits your brand or personal preference. Additionally, Abisko offers over 30 diverse block patterns, enabling you to swiftly build unique and dynamic page layouts without the need for complex coding.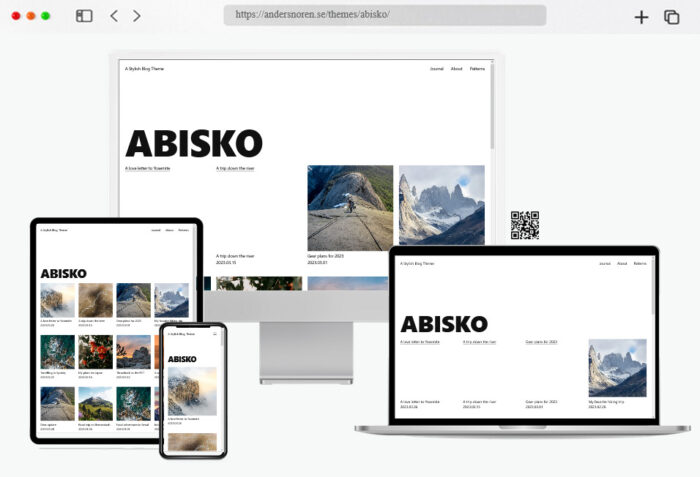 More info / download Demo
Tove
Tove is a vibrant and versatile block theme that fully embraces Full Site Editing. While initially designed with cafes and restaurants in mind, Tove's flexible layout features make it adaptable for any type of website.
This theme offers a delightful and colorful design, adding a sense of fun to your website. With its Full Site Editing capabilities, Tove provides extensive customization options, allowing you to effortlessly tailor it to suit your specific needs.
Tove comes bundled with over 40 Block Patterns, including six diverse header designs and seven distinct footer designs. These pre-designed blocks provide a convenient starting point for building your website and give you the freedom to create unique and captivating page layouts.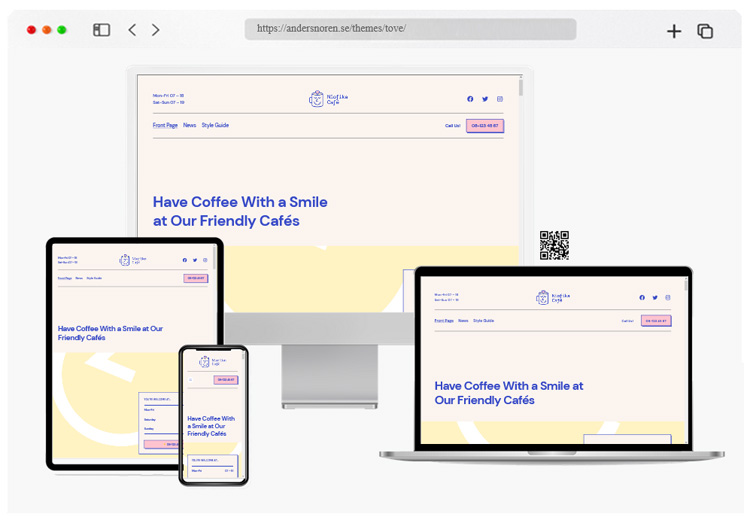 More info / download Demo
ChromeNews
ChromeNews is a robust WordPress theme designed specifically for news, blogs, and magazines. With its extensive features and customization options, it provides an excellent platform for creating a compelling news hub.
The theme offers multiple free starter sites that can be easily integrated to build a stunning news website. It is fully widgetized, offering 9+ custom widgets and widget sections, allowing users to customize their site content according to their preferences.
ChromeNews provides both light and dark color modes, ensuring a stylish and visually appealing reading experience for articles and blog posts. It also includes a range of useful customizer options, allowing users to create an aesthetically pleasing news site. With the live customizer, you can preview and adjust the theme to suit your needs before making any permanent changes.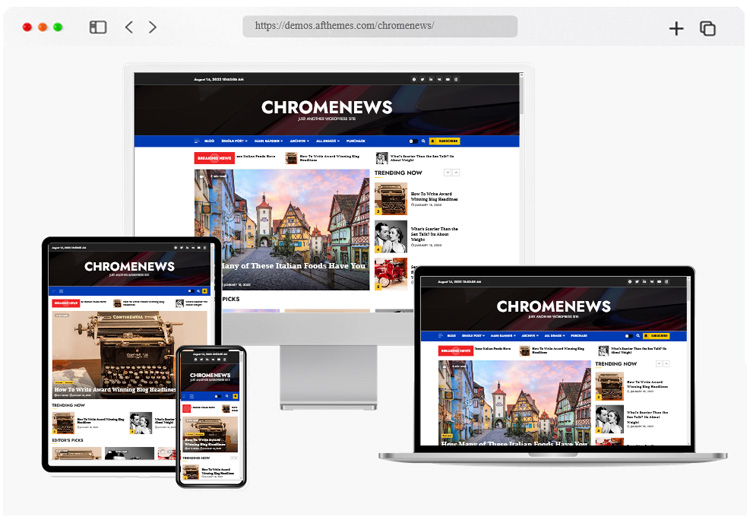 More info / download Demo
Hitchcock Photo
Hitchcock is a minimal portfolio theme designed specifically for designers, photographers, and other creative professionals. With its clean and responsive design, Hitchcock provides an elegant platform to showcase your work.
The theme offers Block Editor support, allowing for easy customization and content creation. It also includes a social icon menu, enabling you to integrate your social media profiles seamlessly into your portfolio website.
Hitchcock features JetPack infinite scroll, providing a smooth and continuous browsing experience for visitors. It offers customization options such as a custom accent color and a custom header image, allowing you to personalize the theme to match your brand or artistic style.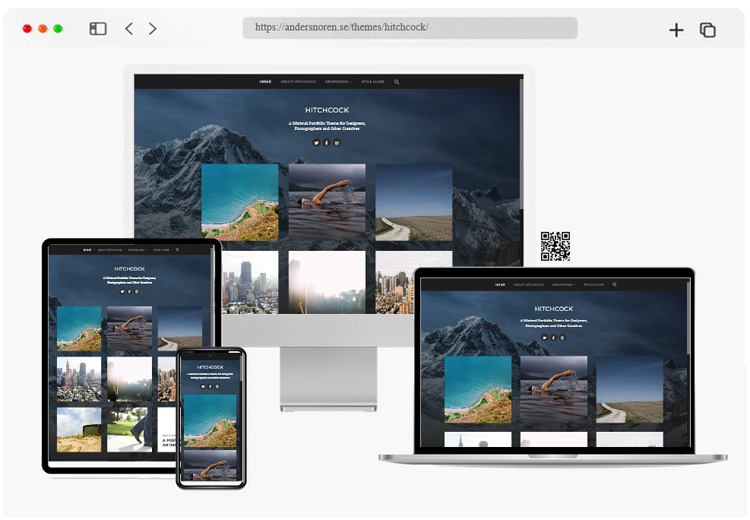 More info / download Demo
Oaknut
Oaknut is a block theme specifically designed to assist you in creating profile pages reminiscent of Linktree. With its user-friendly features, Oaknut allows you to quickly set up and customize your profile page to showcase your links and information.
The theme offers 23 prebuilt theme styles, providing a range of ready-to-use designs for your profile page. Alternatively, you can unleash your creativity by utilizing the 14 available fonts and 8 button styles included in the theme, allowing you to create a personalized and unique design.
Oaknut prioritizes speed, ensuring that your profile page loads quickly to provide an optimal user experience. It is designed to be easy to use, allowing you to navigate and customize your profile page effortlessly.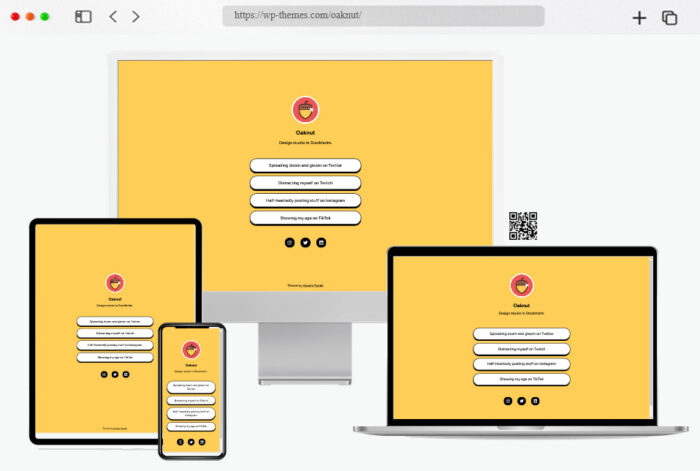 More info / download Demo
Beaumont
Beaumont is a minimalist block theme designed to showcase your words and content effectively. With its clean and straightforward design, Beaumont offers a seamless platform for presenting your writing in a beautiful and engaging manner.
The theme provides a selection of block patterns that assist in creating visually appealing layouts. These patterns simplify the process of arranging content elements, allowing you to effortlessly create captivating page designs.
With ten distinct theme styles to choose from, Beaumont offers versatility in customization, enabling you to select the style that best aligns with your personal preferences or brand identity. Additionally, the theme offers seven different layouts for the blog archive, providing options for displaying your blog posts in various formats.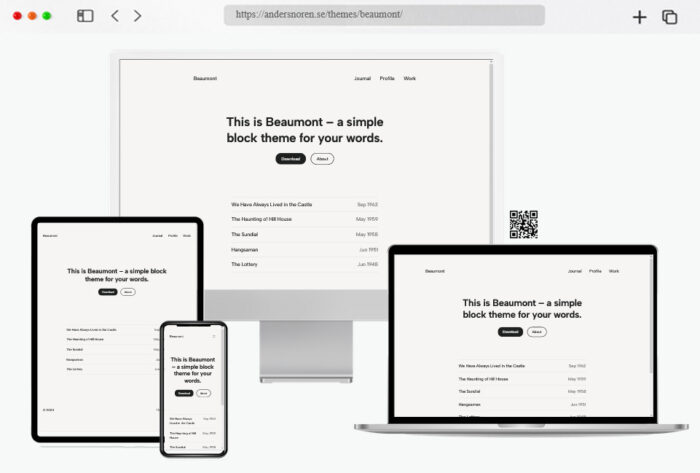 More info / download Demo
Eksell
Eksell is a feature-rich portfolio and blog theme, with deep support for the block editor and full color settings. It includes extensive block styles and multiple prebuilt block patterns. Using it, you'll get a great idea of what your content will look like when you're creating your site.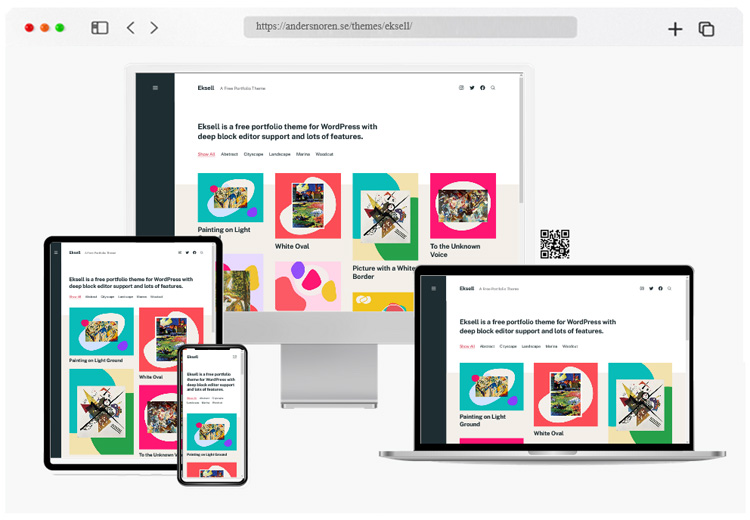 More info / download Demo
Chaplin
Chaplin is a powerful and developer-friendly WordPress theme that offers extensive control over fonts and colors, allowing you to create a visually appealing and personalized website. Built with the new Block Editor in mind, Chaplin makes it effortless to design attractive layouts for both posts and pages.
This theme's flexibility makes it suitable for a wide range of websites, including business sites and portfolios. With Chaplin, you have the freedom to customize fonts and colors according to your preferences, thanks to the intuitive Customizer. You can modify all fonts available on Google Fonts and choose from ten pre-built color schemes or create your own from scratch.
Chaplin empowers you to design a unique and professional-looking website within minutes. Its seamless integration with the Block Editor ensures a smooth editing experience, enabling you to craft visually stunning and engaging content.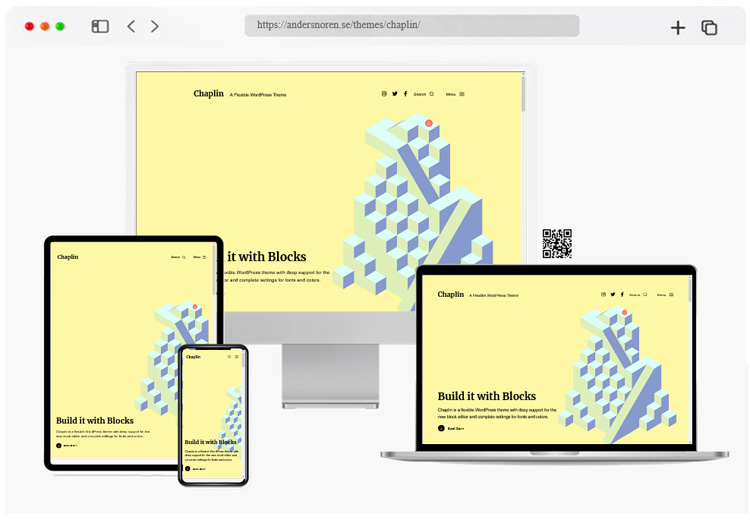 More info / download Demo
Conclusion:
Choosing the right WordPress theme is crucial for the success of your website. With the top 10 free WordPress themes for 2023 listed in this blog post, you can effortlessly enhance your website's design and functionality. Whether you're a blogger, online store owner, photographer, or simply someone looking to create an engaging online presence, there's a theme on this list to suit your needs. Stay ahead of the curve in 2023 and give your website a fresh, modern look with these incredible free WordPress themes.