Monstroid 2 Lite
Monstroid 2 Lite is an awesome theme designed for blogs. It has pixel-perfect typography, content-oriented design, and a wealth of options for maximum control over the look and feel of your site. In addition to this great set of widgets is on board. Monstroid 2 Lite is a free version of Monstroid 2 – another great WordPress GPL theme for business, e-commerce and online publishing.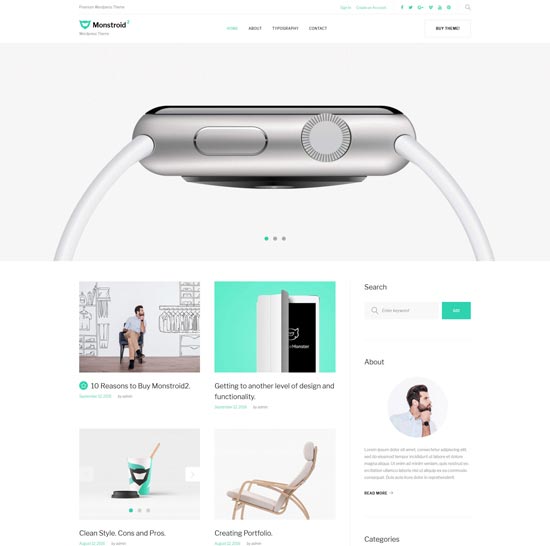 demo more info / download
Energico
Energico is a well-researched and user-friendly free resposnive WordPress theme produced for agriculture and gardening websites. If you want to get a head start in the gardening business, create a professional website with this yard care theme with cherry services to present all your offers in a pro manner, Cherry's team members to show your gardening experts the quality of your services.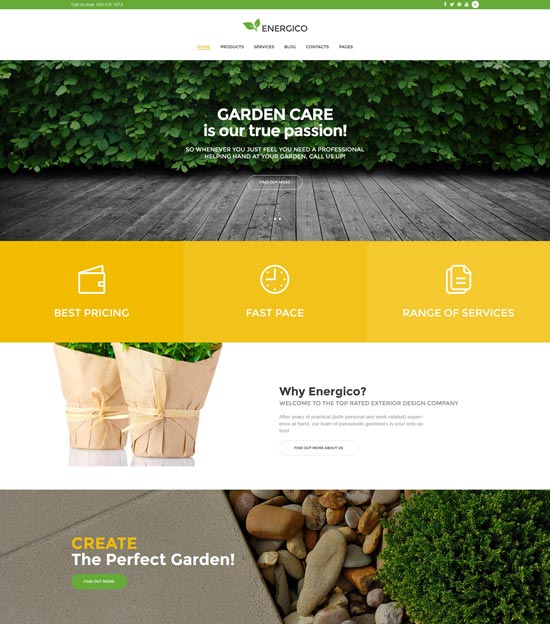 demo more info / download
Pilates
Pilates Center is a responsive, fully editable, browser-friendly and SEO-friendly WordPress fitness theme based on the Cherry Framework 5 and manufactured for yoga centers & pilates sites. The process of customizing your site has never been easier with WordPress Live Customizer, which allows you to see the changes you make to your live site, without reloading your page. Meet the new generation multiple use theme with version 3.0 of the GPL license.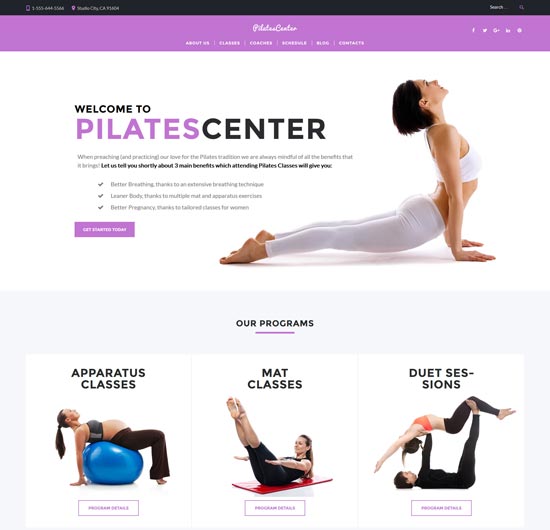 demo more info / download
Cherry Framework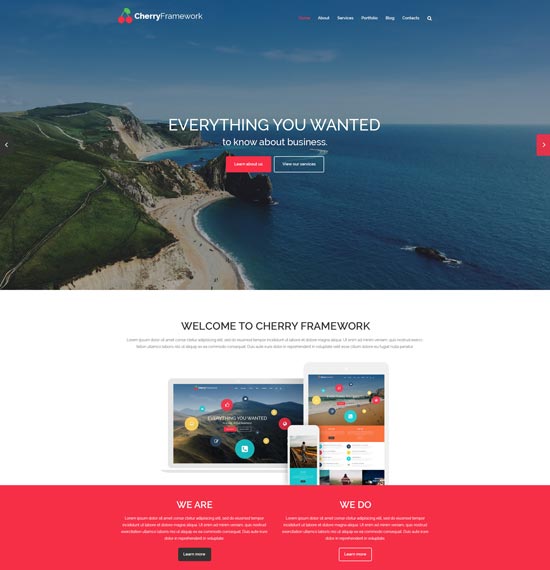 demo more info / download
Mia Ittalloni WordPress Restaurant Theme
This sleek design will impress visitors to your site and will perfectly present any project related to food online. It can be a European cuisine restaurant, a café, a cocktail bar, a culinary school, a recipe blog, and any other site dealing with the food industry.
Calio WordPress counseling theme
Calio is a therapy and counseling free responsive WordPress theme, the theme features a clean and spacious layout, which allows for better UX and more seamless sustainability of the content provided on the pages. The theme includes features that will build corporate blogs and portals on its base. Running on the grid-based Bootstrap framework, the theme ensures that every design element and content element provided on its pages adapts to all screen sizes on the move.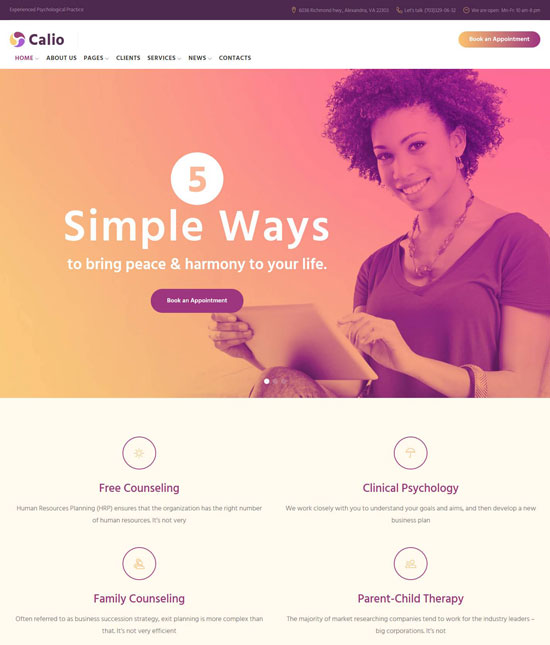 demo more info / download
Hazel WordPress BusinessTheme
Its sleek layout in white and blue colors holds the theme of the site, sets the tone and, more importantly, provides a thoughtful structure for presenting information about the business. Visitors will easily get an idea of your business while surfing a site with well-organized content blocks and sliders. The parallax effect adds to the visual efficiency of the design, and the intuitive navigation provides a pleasant experience for the user. Try this template to start an attractive web presence with an ever increasing number of visitors.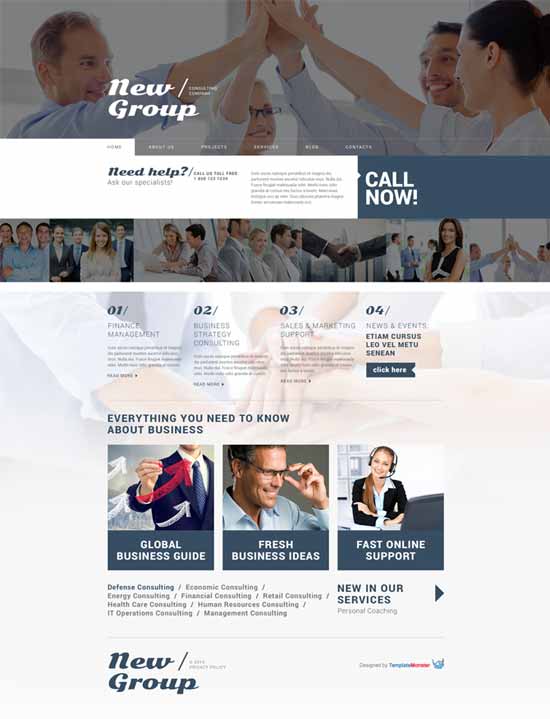 demo more info / download
Photolab WordPress Photo Blog Theme
Photolap is a photo blog WordPress theme that you can easily create a beautiful and compelling blog, portfolio or resume. It has a clean and flat layout that allows you to adjust the site to any project and make it more personalized. The theme is not overloaded with visual effects and allows visitors to focus on content rather than design. However, some options are still included to emphasize the style of this WordPress theme. In the header section, you can see a full width slider with parallax, in the content section there are a number of images and buttons with a hover effect. A fixed menu and a tag cloud in the footer ensure excellent navigation and user-friendliness.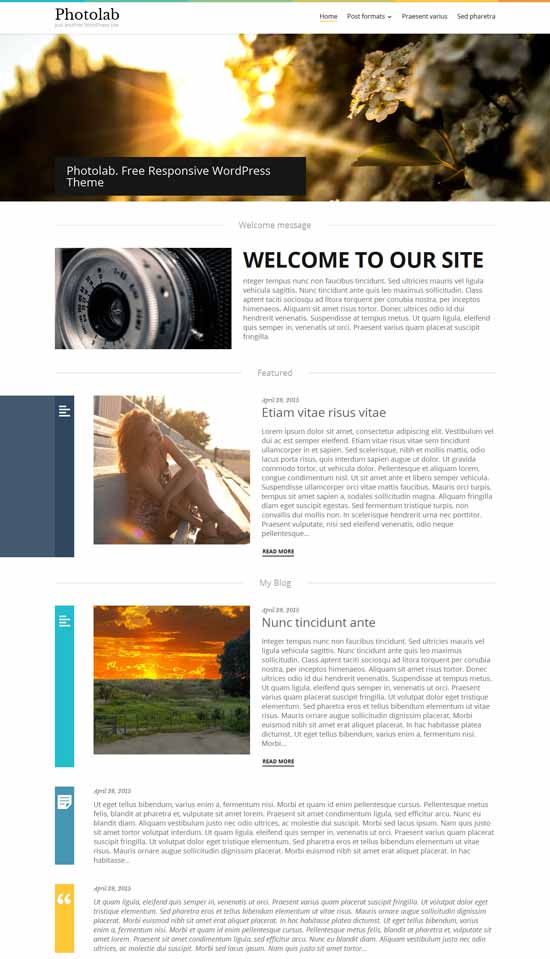 demo more info / download
Globaly WordPress Business Theme
Globaly is a modern WordPress theme for the business company website. It has been designed to offer a discreet style to projects related to business, thoughtful structure and responsive function, so the site will have an effective visual setting and will behave on the fourth screen devices. This easy to install, customize, deploy WordPress Business Theme is just launched, and is ready to download.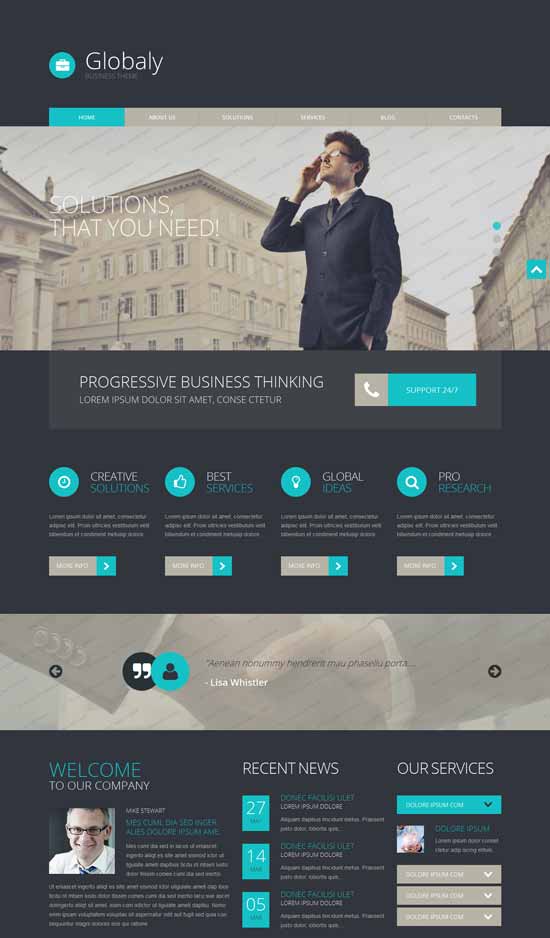 demo more info / download
MODI WordPress Company Theme
Are you ready to sample our Cherry WordPress theme sample? It's a new hot product that comes from the TemplateMonster manufacturing. You'll be impressed by its great structure and diverse functionality that is implemented in the heart of Cherry's WordPress feature to simplify your editing work.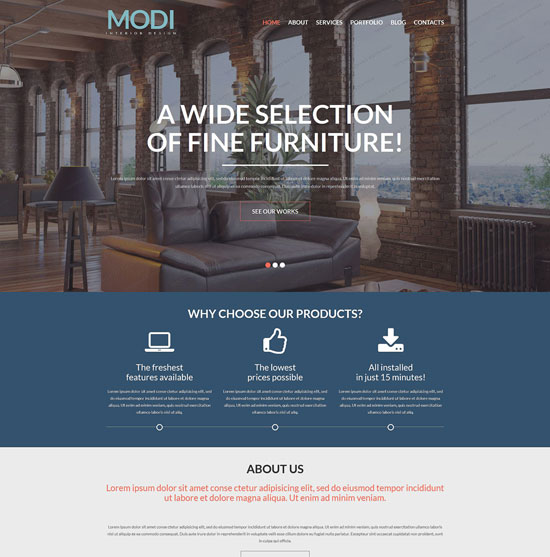 demo more info / download
Photographer
Consider this professionally done photographer portfolio WordPress theme to convert your creativity and business ideas into a solid online design.
Cherry Framework 4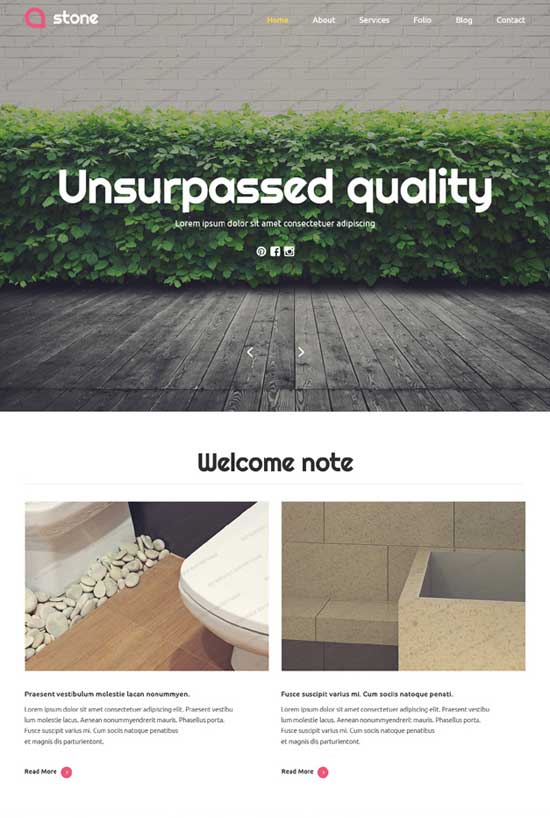 demo more info / download
Melissa
Melissa is a fully responsive and SEO-oriented Photo Studio WP theme, created for photography sites. Show off your photography skills with TM Gallery, which offers you a great portfolio creation and showcasing all your offers and the philosophy of your photo studio with a full width Slider to create a WOW effect on every audience.