Photography is an art form that requires the perfect platform to showcase its beauty. Fullscreen photography WordPress themes offer an immersive experience for visitors, highlighting the visual aesthetics of your work. In this blog post, we will explore the best fullscreen photography WordPress themes, each designed to captivate your audience and elevate your photography to new heights. Whether you're a professional photographer or an enthusiast, these themes will provide a stunning canvas for your artistic vision.
Choosing the right fullscreen photography WordPress theme is crucial to present your artistry in the best possible way. Each theme mentioned in this blog post offers a unique approach to displaying your work, ensuring an unforgettable experience for your visitors. So, unleash your creativity and select the theme that resonates with your artistic vision, as it will be the canvas that helps your photography reach its full potential.
SceneOne
SceneOne is a feature-rich Fullscreen Photography Theme designed for professional photographers. It offers a range of functionalities, such as proofing, events, stockphoto galleries, fullscreens, and portfolios, allowing photographers to create a unique and visually captivating website.
Kinatrix
Kinatrix is a feature-rich Fullscreen Gallery Theme tailored for professional photographers. With proofing, events, fullscreens, photo stories, portfolios, and galleries, it empowers photographers to craft a distinctive and visually engaging website.
Wiso
WISO is a stunning and top-notch Fullscreen Theme, offering a range of features like albums, portfolios, galleries, events, fullscreens, proofing, and blogs, catering to photographers seeking to build a distinctive website. However, its versatility extends beyond photography, making it suitable for creative agencies, weddings, fashion sites, and art blogs.
WISO is fully responsive, emphasizing high-end photography, making it an excellent choice for mobile-friendly websites and applications, ensuring an amazing user experience on tablets and mobile phones. The theme boasts professionally designed layouts and page templates, setting a new standard for responsive visual environments in the market.
Blacksilver
Blacksilver is a Fullscreen WordPress Template specifically designed for professional photographers. Its minimalist yet attractive design keeps the focus on your photos. The template includes various page layouts for fullscreen slideshows, portfolios, proofing, events, blogs, and landing pages.
One of its standout features is the lazy load images, which improves page load times by intelligently loading large image sets as the user scrolls. This ensures faster loading and a seamless browsing experience. The galleries can handle a large number of images while displaying them quickly.
Blacksilver is powered by Elementor Pagebuilder, enabling easy customization of each block, typography, fonts, colors, and backgrounds. With its use of large images, it provides a beautiful showcase for your photographs and comes equipped with built-in sliders and gallery designs, offering different approaches to display your work.
SOHO
SOHO is a professional and creative Responsive Photography Theme designed for photography and videography. Its fullscreen layout provides an ideal showcase for photo and video artworks. The theme incorporates the latest technologies and an advanced version of the built-in GT3 page builder. It also features an optimized system for improved website performance, easy content and color editing, and more. SOHO is a comprehensive solution for photography niche websites, offering everything needed to create stunning and engaging online portfolios.
Rockford
The Fullscreen Portfolio Theme offers a visually captivating experience with full-screen images used throughout the theme. It allows easy management of portfolios and showcases through photo albums, offering customization options for full-screen picture displays, video support, and various page header layouts. Users can choose to use full-screen images at the top of their pages or disable the header entirely, providing flexibility in design choices. Additionally, private albums and galleries can be created for a more personalized touch.
TwoFold
TwoFold is a Professional Photography Theme designed to meet the needs of photographers. With its visually engaging and versatile layout, it provides an excellent platform for showcasing photography portfolios. The theme emphasizes user experience, offering multiple gallery styles, fullscreen images, and customizable page layouts. It caters to photographers of all levels, from enthusiasts to professionals, and ensures that their work is presented in a visually stunning and captivating manner.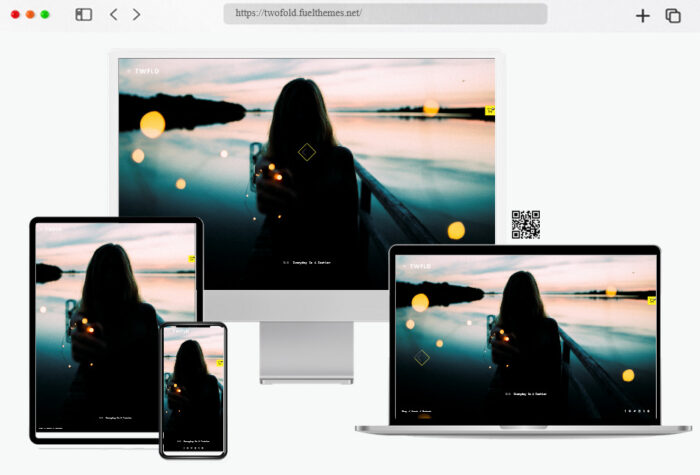 Zyra
Zyra is a Fullscreen Photo Gallery Theme that allows users to showcase their work effortlessly. It comes with a comprehensive help file to aid customization and offers additional features such as a Fullscreen Slideshow and Unlimited Color Schemes. With its user-friendly design and versatile capabilities, Zyra provides an ideal platform for displaying photography portfolios with ease and style.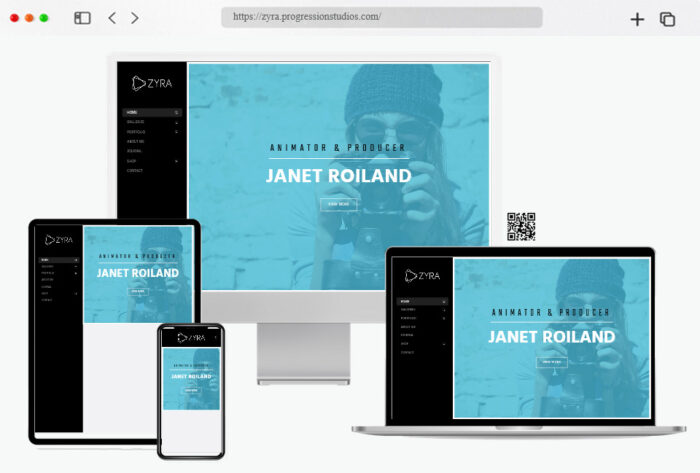 More info / download Demo