This great interior design and furniture store magento themes starting point for you. It's design is perfect for furniture shop, deco Store, interior Stores, home design store! Creating a great design doesn't mean using complicated design elements. Simplicity will be the best choice. Those clean themes with a neat clean on part of background is perfectly tailored for promoting products of interior furniture companies. Green accents, large image slider with top products and featured ones in a row below, new items in a list in the center of the content part everything is neatly arranged in this layout. A wise search will help clients find whatever they need just in a moment. Be first to get this template!
Furni Decor & Furniture Magento 2 Theme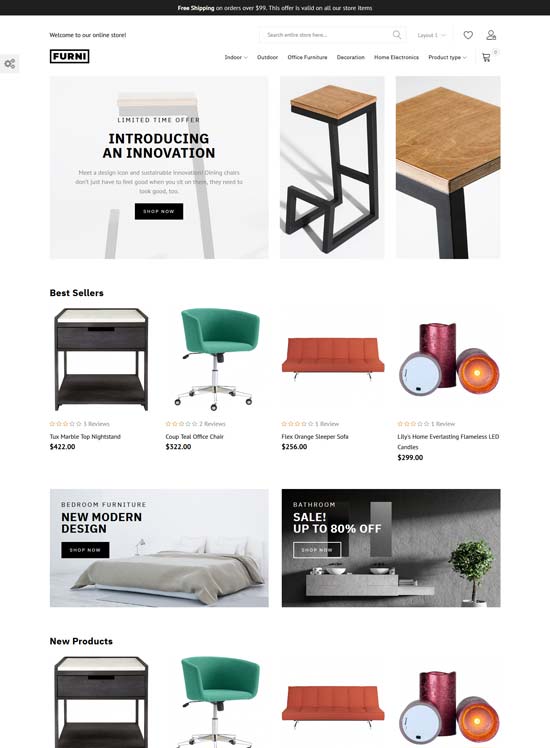 more info / download demo
Living Space Furniture Magento 2.3 Theme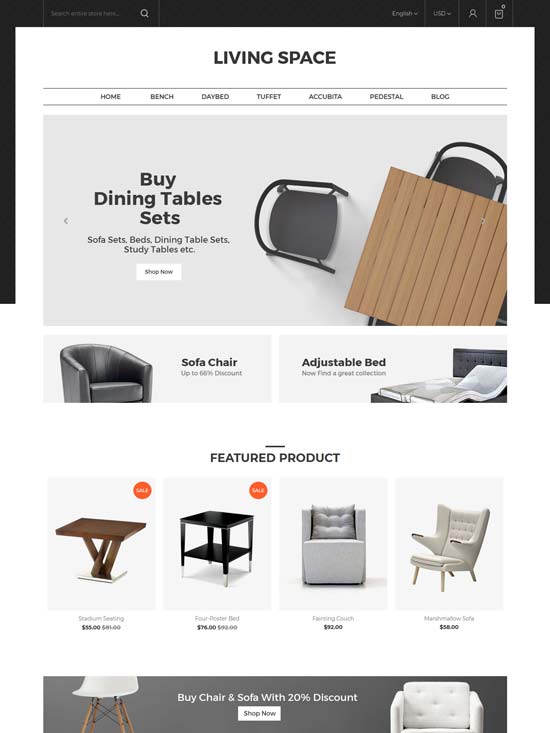 more info / download demo
Hebes Furniture Magento 2 Theme – 16 Homepage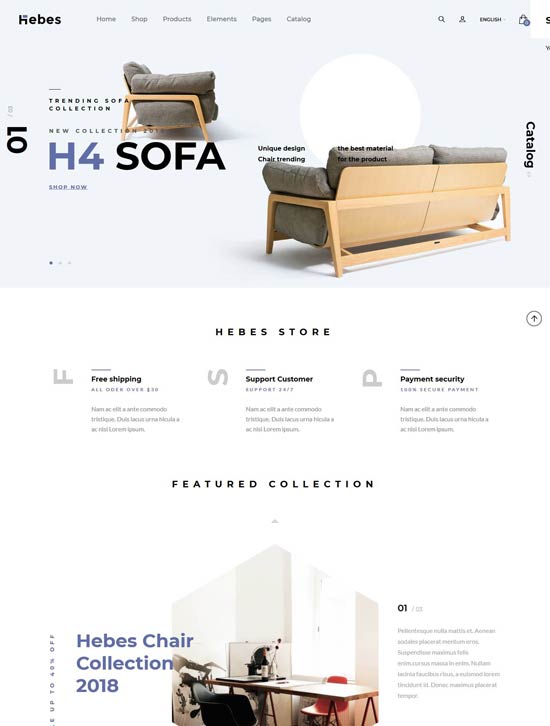 more info / download demo
Market Furniture Store
Market is a Responsive Magento 2 & 1.9 Theme which is fully customizable and suitable for online stores, especially for multi-category store with multiple branches and products such as online market store, furniture store and more store or mega stores.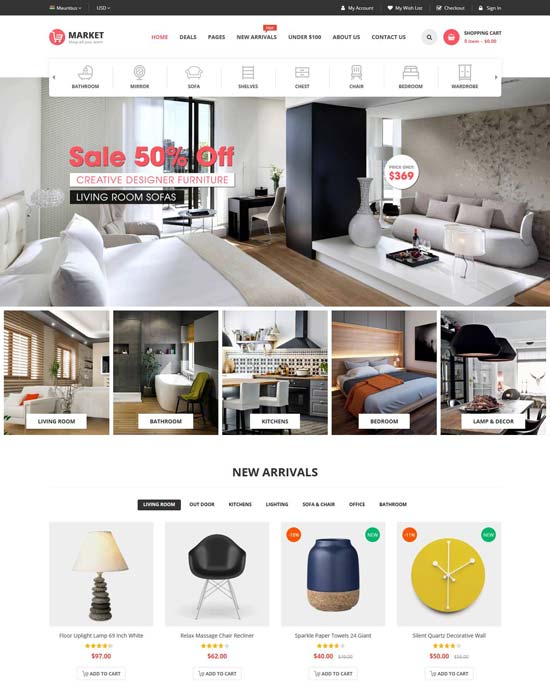 demo more info / download
Unero
Unero Minimalist Magento 2 Theme is an excellent model for online shops. With minimal design and focus on products, Unero will make your online store more impressive and more appealing to visitors. This theme is suitable for many e-commerce sites such as fashion stores, furniture stores, decoration stores, etc.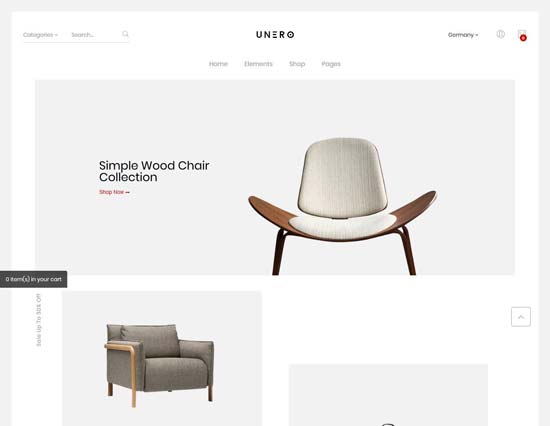 demo more info / download
Furnitu – Interior & Furniture
Furnitu – Interior & Furniture Responsive Magento 1.9x This is a perfect solution for indoor furniture, manufacturing and interior design companies. Let customers choose the presentation they prefer by switching between list or grid category views.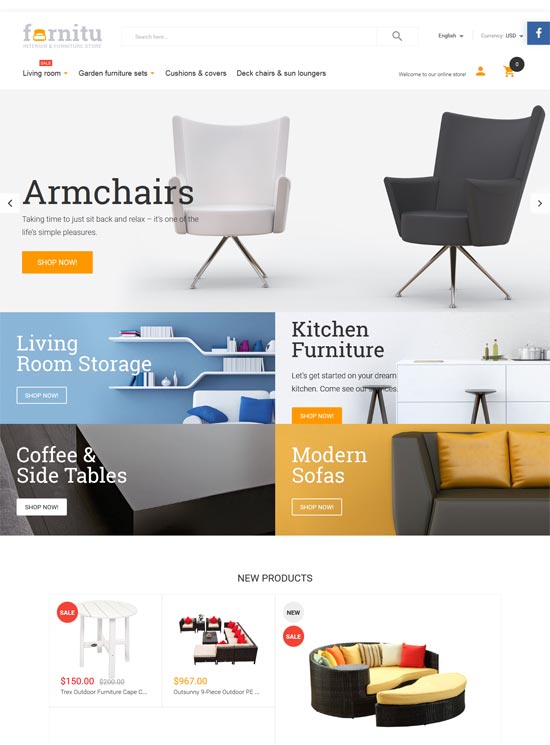 more info / download demo
Verito – Furniture Store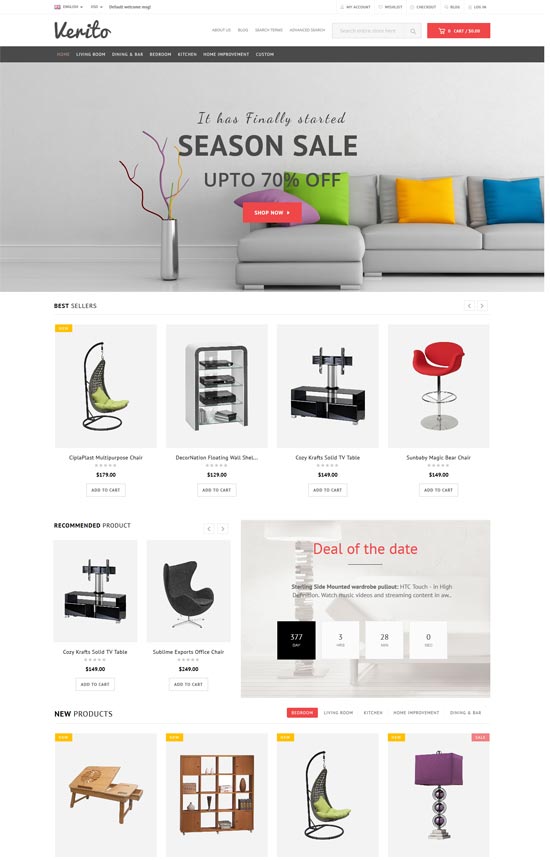 more info / download demo
Thebell – Furniture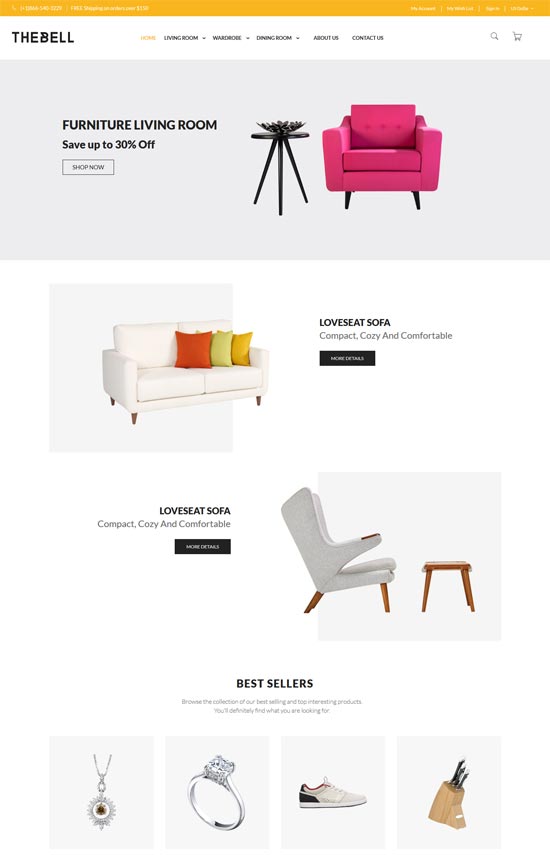 more info / download demo
Grand Furniture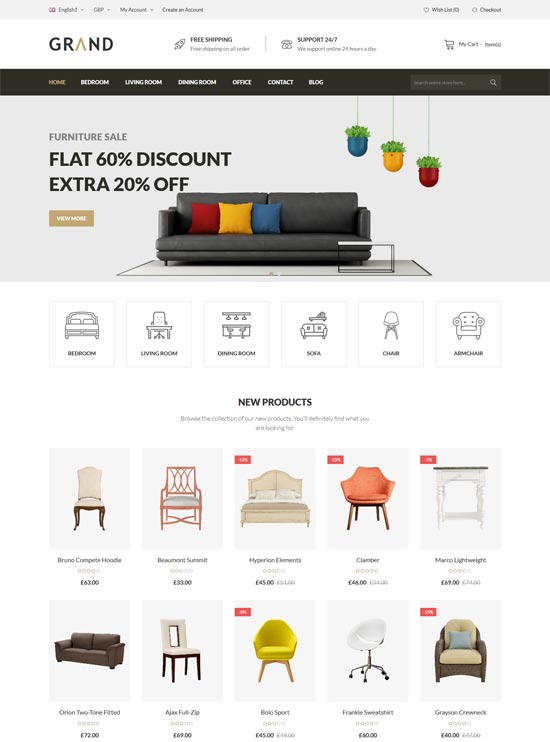 more info / download demo
Delphinus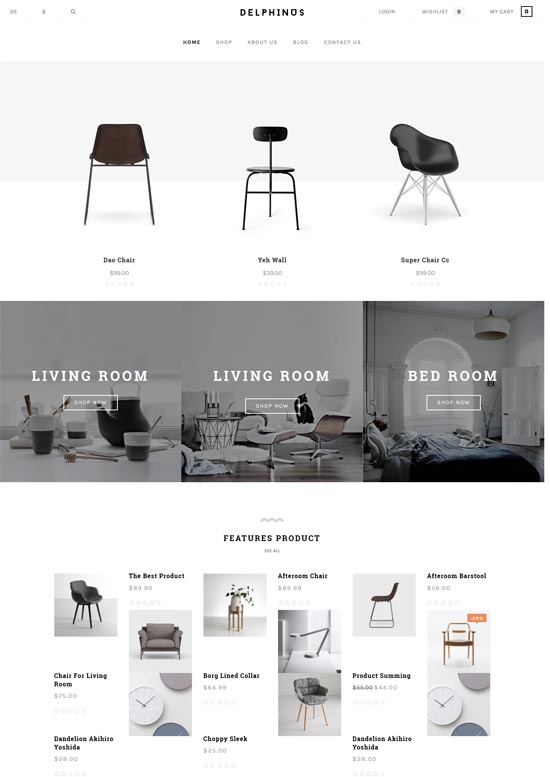 more info / download demo
Vonia
Vonia Responsive Magento Theme 2 is dedicated to interior design and furniture portfolio. This design is simple, elegant and professional. It is also fully responsive on mobile, supporting electronic commerce page article detailed portfolio and more.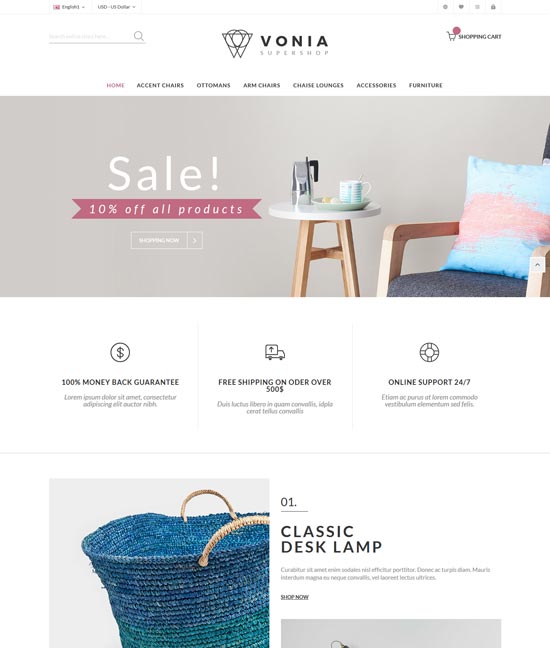 more info / download demo
Furnicom
Furnicom is a modern, luxurious and professional Magento theme that is comes into your mind when our new display theme. This Magento theme 2 & 1 delicate Store comes with 10 styles of setting home page, which adapted to the furniture store theme, interior stores.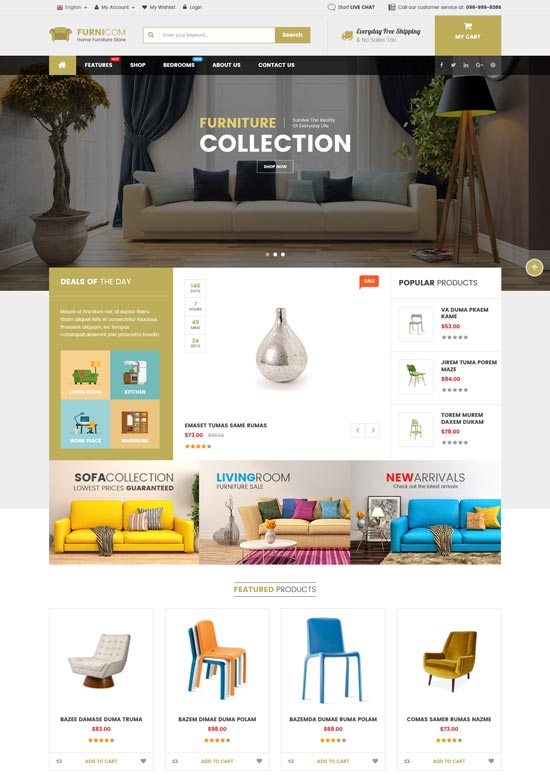 more info / download demo
Magetique Furniture Magento Theme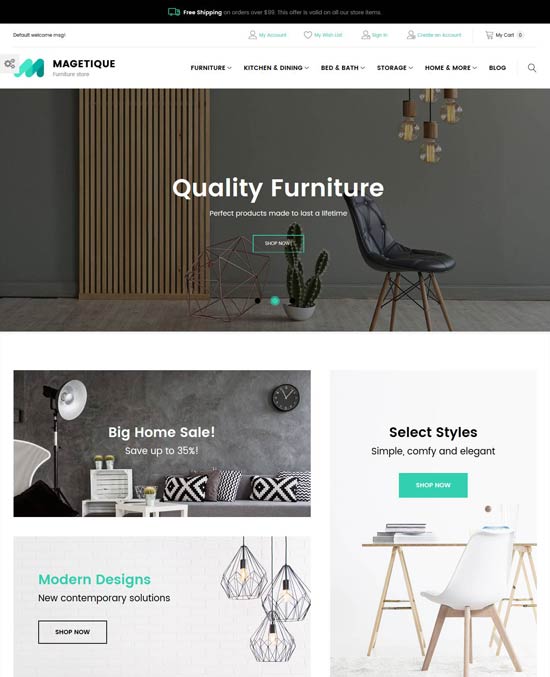 more info / download demo
ILEA Decor Furniture Magento Theme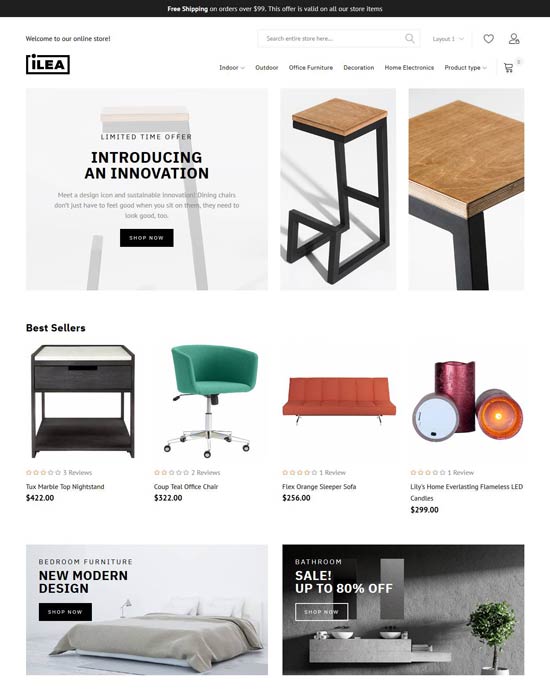 more info / download demo
Quistre
Quistreis is a Magento template Interior completely customization and feature-rich that will help you start your business online without hassle. Running on a fully responsive framework, the theme is designed to clean and minimalist, which is intended to put products in your store to the forefront.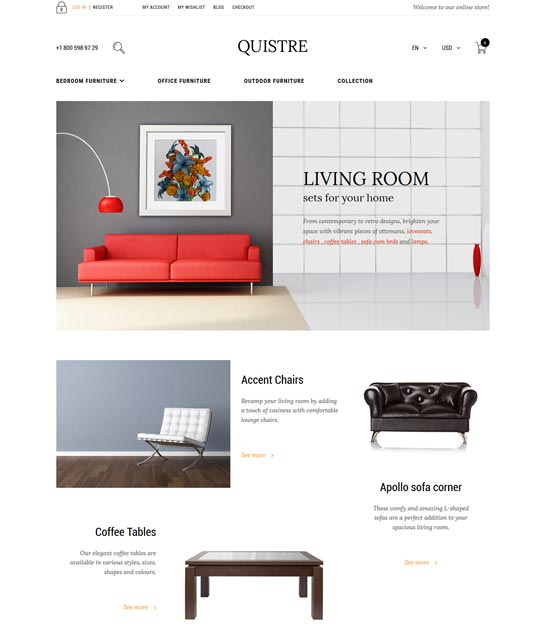 more info / download demo
Garden Furniture
Garden Furniture is a clean and elegant design of the exterior design Magento theme seems very aesthetic and calls Sami emotions. Visitors will enjoy the pleasant visual experience by browsing your site based on this theme. Easy purchases will be offered by a wise arrangement of all products in the grids, their division into categories, the site wide search, and intuitive navigation.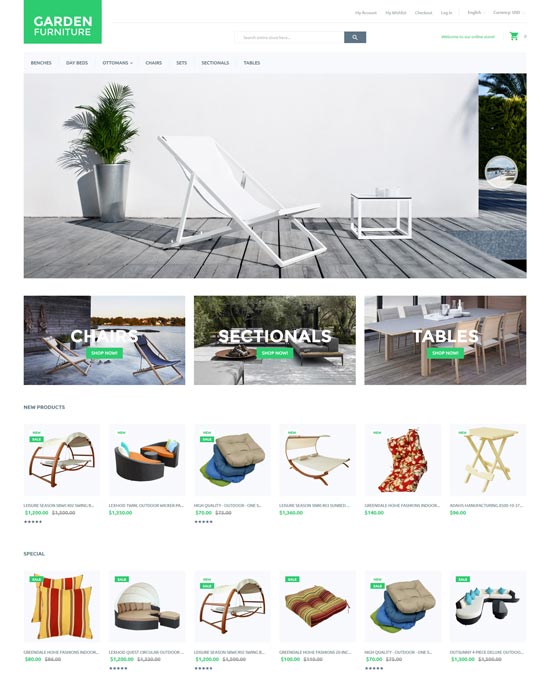 more info / download demo
Kitchen Tools Magento Theme
A store selling kitchen wares should be aesthetically appealing housewives tend to evaluate not only the goods they are buying, but the place where they are buying them as well. That's why it is so important to create a feel of coziness to your potential customers. This Magento theme will help you with this task. It is made in soft pastel colors, and its minimalist vintage looking logo and menu are stripe-shaped to add a hue of festivity and luxury. Devoid of unnecessary bells and whistles, it allows you to focus the attention of your visitors on your products completely.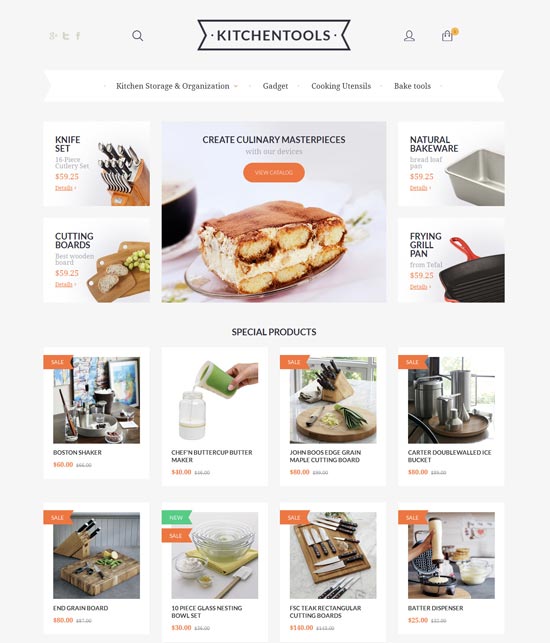 demo more info / download
Flooring Magento Theme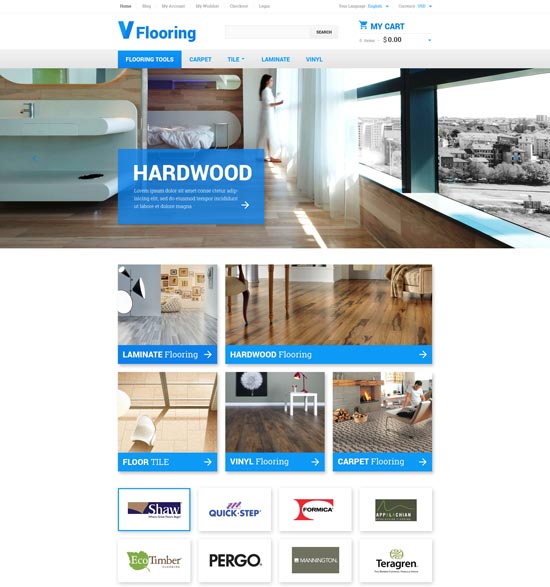 demo more info / download
Furniture Store Magento Theme 53791
Showcase the products you sell and let your customers acquire them online with this responsive Furniture Magento Theme. Mega menu, banners with nice hover effect placed under the header slider and informative footer facilitate navigation. You can add customizable badges to products, which will help your potential customers quickly find items according to their preferences new, top selling or discounted. Moreover, Cloud Zoom feature will give your customers the virtual experience of viewing the products in fine detail.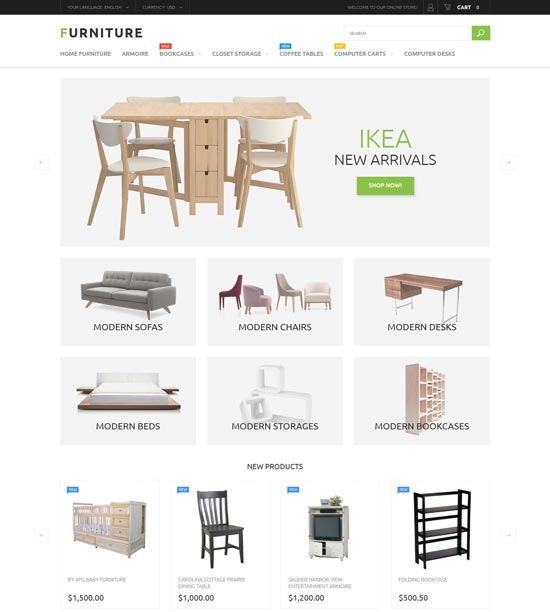 demo more info / download
Wood
Hey guys! Are you looking for something to turn your web performance into a top amazing website in this 2015? This November, IcoTheme is so proud to introduce you with a completely new Magento theme, named Wood. That will be a smart solution for any shop master to improve their business. Wood Theme is amazing and ideal for any fashion, watch, jewelry or any types of shops. It is made up of many dynamic features, modern extensions, especially Ultra Mega Menu, Color Swatches, and Blog integrated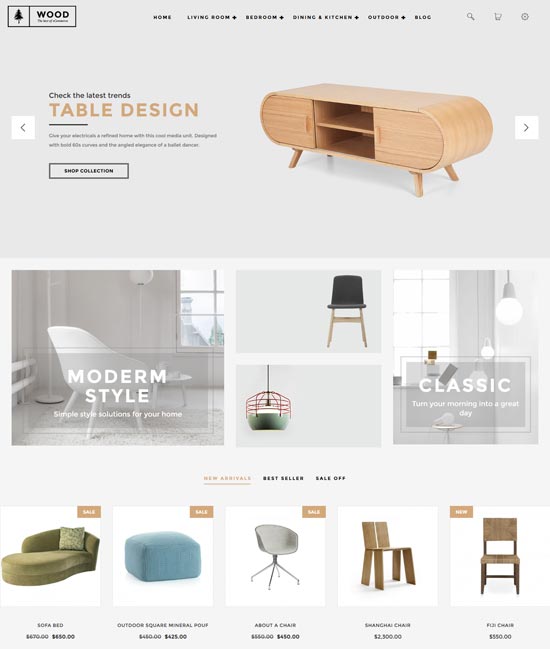 demo more info / download
Garden Furniture Sheds
A comfortable home with a nice garden is the dream of millions. When it comes true, people face with a number of questions like how to decorate their homes and what garden furniture to choose. Online stores offering a variety of solutions come in handy and help get what they need. The basis for such a site with a grid structure and comprehensive item presentation is for your attention here. Its clean layout, with so magnetizing images promoting products, invites people to look through the whole list of items offered by the company. Both wise search and intuitive navigation enable a friendly site experience, so important for a pleasant shopping. Give it all to people using a well-done site based on this theme.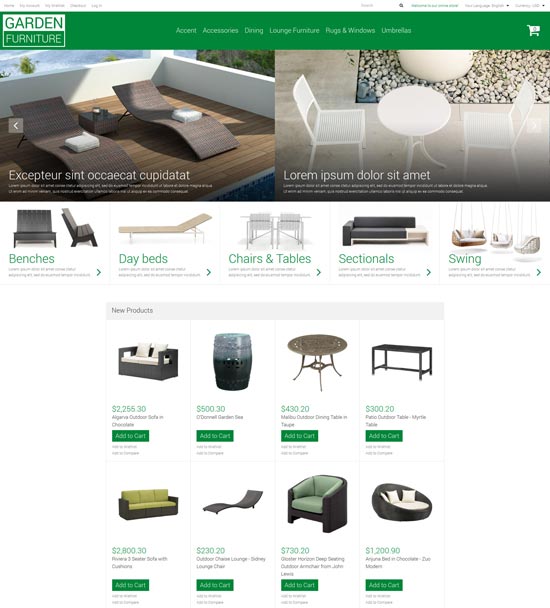 demo more info / download
Amazing
demo more info / download
Luxury Linen Store Magento Theme 52810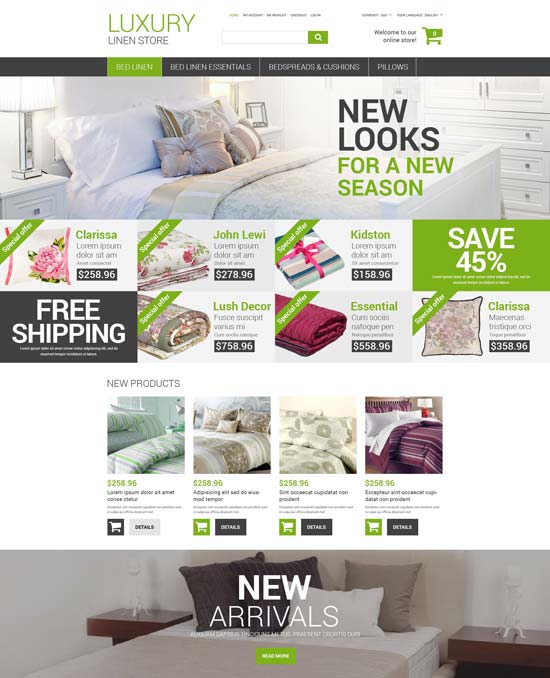 demo more info / download
Supershop
Supershop is a Magento shopping theme with an exquisite clean design. Supershop is a perfect choice for furniture store, digital store, watch store, luxury jewelry and accessories store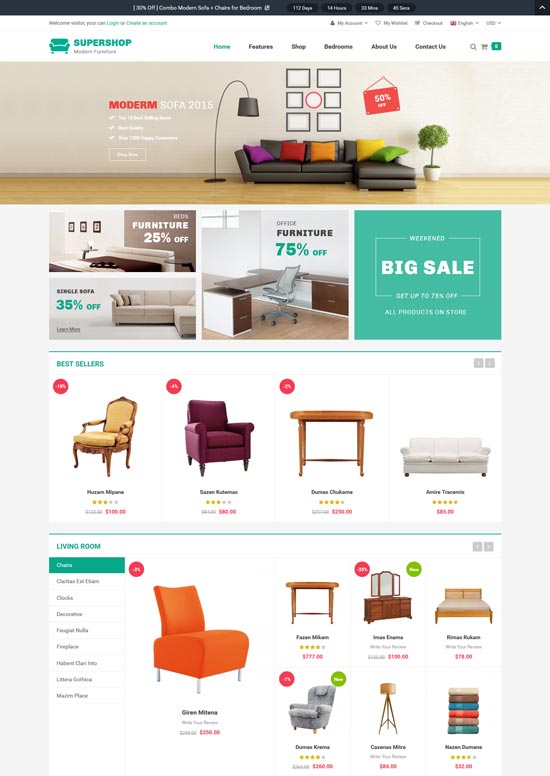 demo more info / download
Interior & Furniture Responsive Magento Theme 52693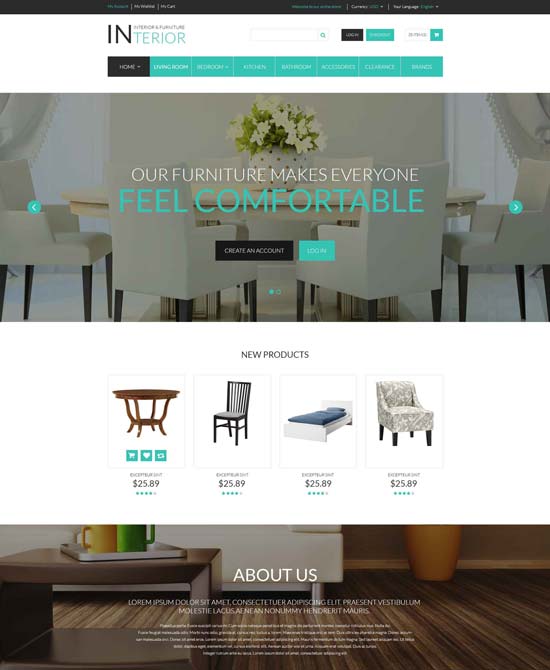 demo more info / download
Furniture Responsive Magento Theme 52645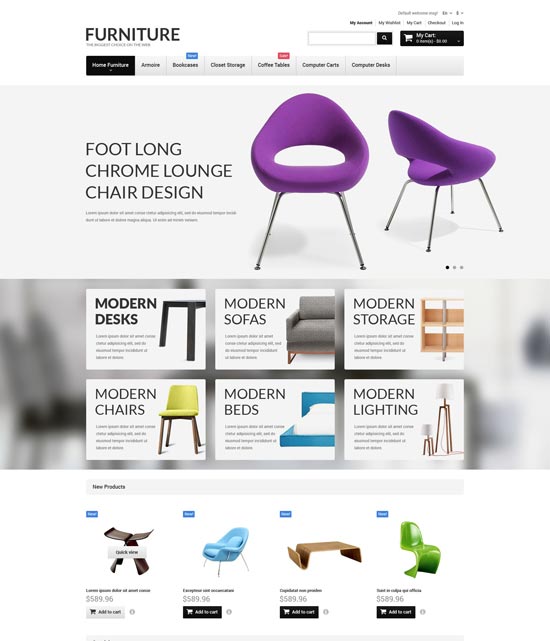 demo more info / download
Champions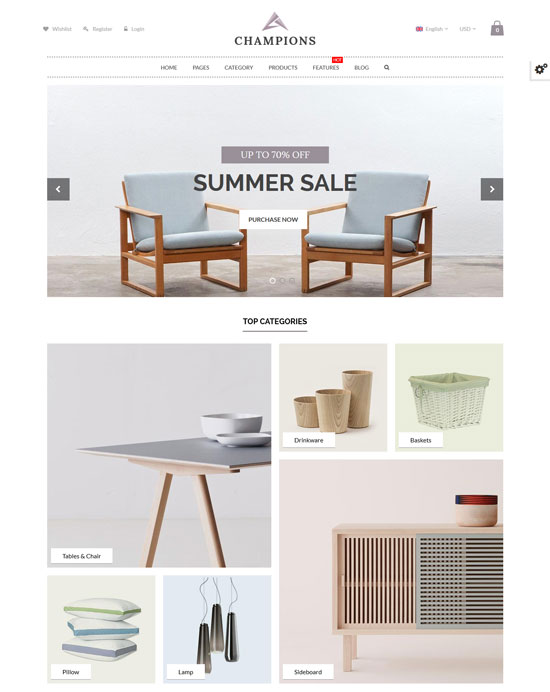 demo more info / download
Kitchen Utensils Magento Theme 52485
Kitchen Utensils Magento Theme 52485All of us like tasty food and aesthetic tableware. It's a proven fact that the quality of kitchen utensils affects the flavor of the dish. That's why professional and simply good cooks use dishware manufactured only by the reputed manufacturers. The aim of this template was to show that all offered products are of the highest quality, their choice is varied and the items are goodlooking. The designer coped with the task excellently. All images are of HD quality. Different colors in the background ideally match one another and make the design more interesting.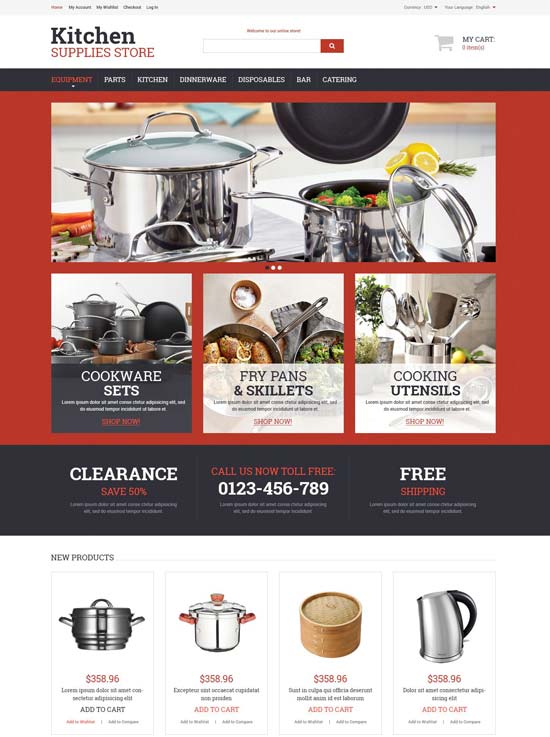 demo more info / download
Arise
Arise Magento Responsive Theme is specially designed for fashion designer clothes, furniture, wine, food, jewellery, beauty store, watches and cosmetic stores. Arise Magento Responsive Theme is available in six different layout and colors combination. All sub pages are customized. It is very nice with its clean and professional look.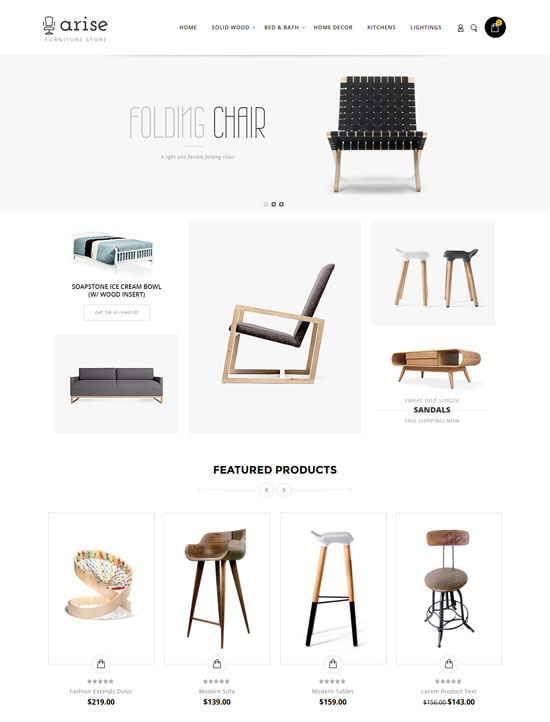 demo more info / download
Universal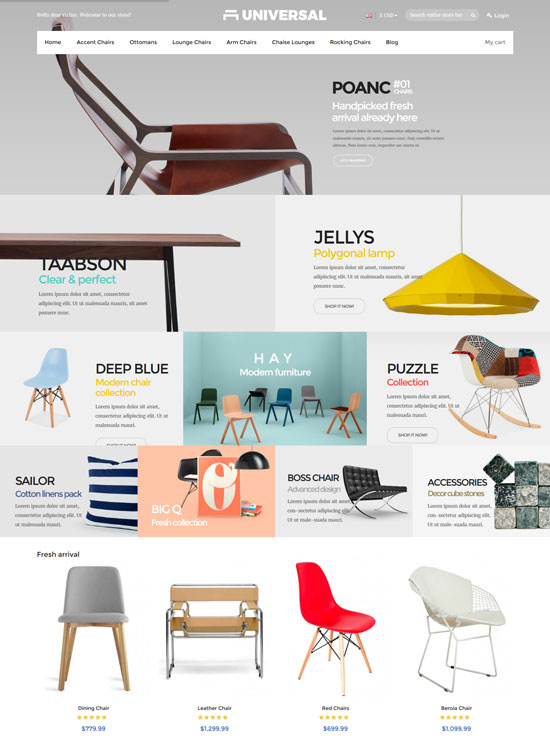 demo more info / download
Sebian
ARW Sebian is a multi-purpose powerful magento theme, with +10 of unique layouts, exciting color style in design, ARW Sebian magento theme is borned to bring new breath and happy color to your store.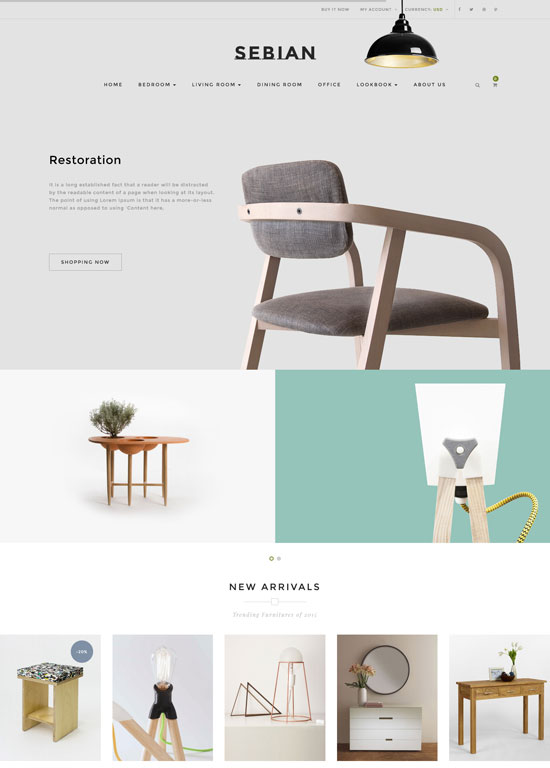 demo more info / download
Megashop – Multipurpose Furniture Responsive Magento Theme
Megashop is a multi-purpose responsive magento theme that has everything you need for stores with wide range of products, especially designed for furniture store… Coming with an eye-pleasing design interface, clear layout, light tones, unlimited color scheme and extremely flexible, so you can change anything in this theme: color, background, layout, fonts, language…to make it really become the store you wish.
SM Saphi – Furniture Store Responsive Magento Theme
Luxury Linen Furniture Store Magento Theme
For most of people the linen is not a simple cloth, but an important part of interior. Such details make our life more comfortable and help to convert a house into a sweet home where every little thing is carefully picked out according to our taste and preferences. We are sure that users will highly appreciate your website's design its elegant slider and banners images and giant, easily readable fonts. 'New products' section is rather reserved in comparison with the rest of the layout. Calltoaction buttons appear on hovering the item, which is rather uncommon and not trivial. Template's navigation is simple and intuitive which will surely contribute to website's popularity. The template has been made for your business.
Floor Materials Furniture Store Magento Theme
Outdoor Furniture Responsive Magento Theme
Flooring Store Magento Furniture Theme
Home Decor Responsive Magento Furniture Theme
Durable Flooring Furniture Store Magento Theme
Grey wooden texture in the background imparts depth to the layout. Four big nice promo banners divide store products into smaller categories and make browsing easier. Search form is built into the main menu bar. New products are supplied with three icon-based buttons. Tooltips make the navigation more understandable. Three service banners are right above the footer.