If you're looking for WordPress gaming themes, you've come to the right place. We have a wide selection of themes to choose from, all of which are designed to help you building a gaming a great looking website. Whether you're looking for a theme for a personal blog or a professional gaming site, we've got you covered.
Related Article
MonsterPlay
Download the MonsterPlay theme right now and rule the gaming world! It's an overpowering theme that was made especially for websites dedicated to gaming, esports, and gaming studios. Introduce your new game and provide a CTA on the landing page. Create an eCommerce website where you may sell merchandise, accessories, and other items.
Release fresh YouTube videos and announce your broadcasts. You have access to all opportunities with the MonsterPlay theme, even if your website is just a blog or VC card.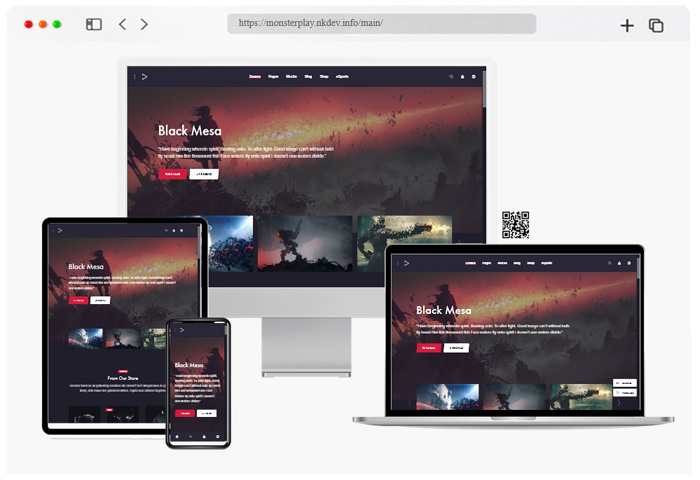 More info / download Demo
Gamxo
Gamxo gaming review offers various elements including pages and sections with multiple styling options. It has 4 homepage demos available with pages and other elements and sections. There are also 2 different post detail pages from which you can choose your own.
The 7 header styles that come with Gamxo allow you to create the most elegant pages before you even add content. These header styles can do more than 10 variations. The theme also offers 3 footer variations. All of these layouts are fully customizable, so you can create unique displays.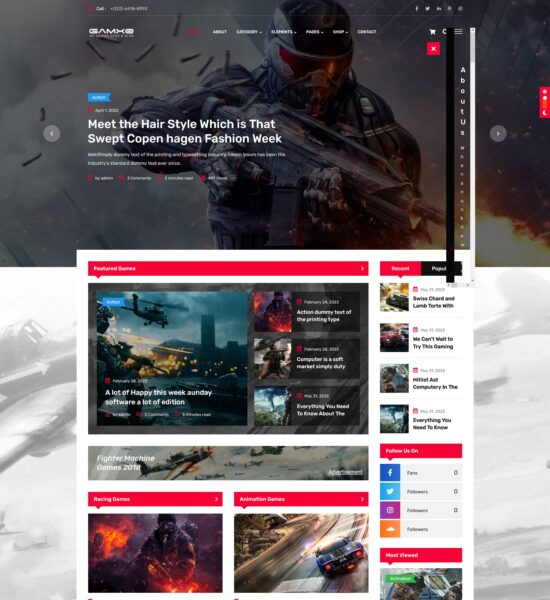 More info / download Demo
Halda
You'll get everything you need to create your gaming website, magazine, host your team, gaming tournament, and much more. HALDA has three amazing prefab house designs with more than 20 creative sections. It also has an awesome About page, Tournaments page, Team page, Shop page, Blog page, Contact page and more.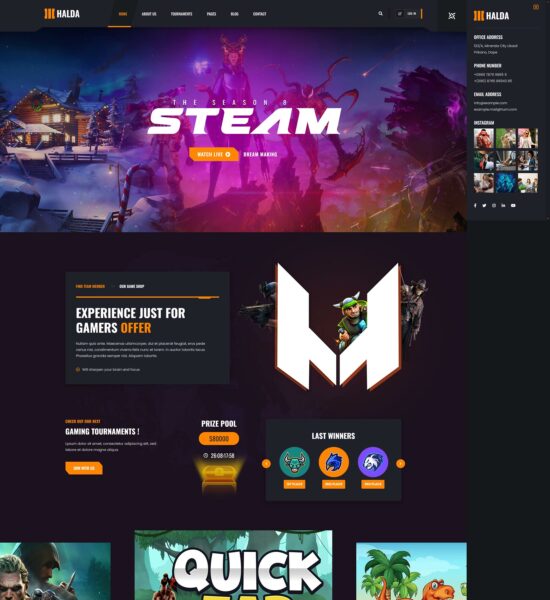 More info / download Demo
Necromancers
We bring you a unique full screen layout for your eSports team! We include everything you might need to build your perfect site, such as news pages, detailed team and player pages, complete match statistics, broadcast pages, and much more.
SportsPress plugin allows users to manage all sports entities like events (matches), players, teams, staff, league tables, season, player lists, calendars, etc., combining them into one structure. After configuring the equipment, a user creates an event, fills.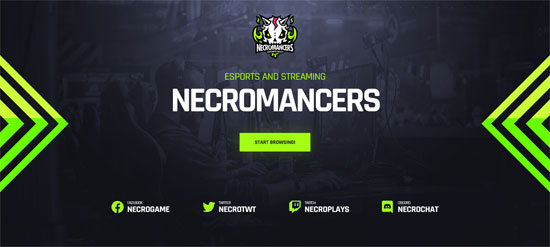 More info / download Demo
Armadon
Armadon is a creative and classic gaming community WordPress them.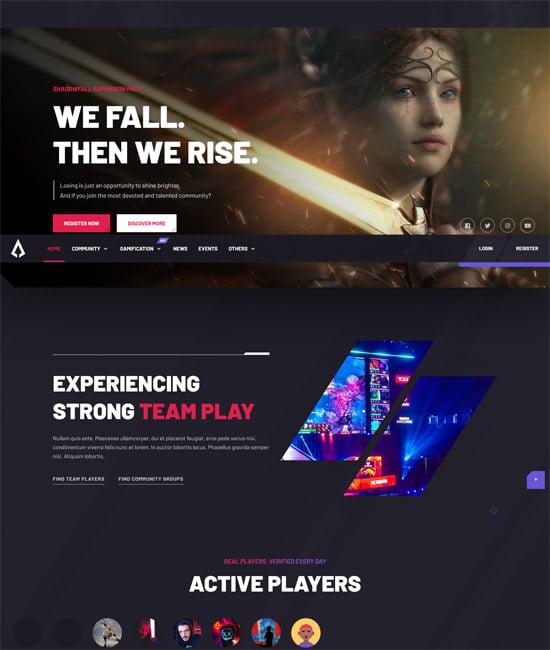 More info / download Demo
CyberPulse
A fantastic cyberpunk-style theme developed for gamers and esports businesses. The WordPress drag and drop page builders, Gutenberg, was used in its construction. Make a blog, news site, WooCommerce store, or online shop quickly and effortlessly in whatever design you choose, no coding required.
Use CyberPulse to promote the release of your game, provide updates with your audience, and generate revenue through merchandising. Using our theme is straightforward, and you're not constrained to the pre-made samples we provide.
You can build any kind of gaming, entertainment, esports site, display videos from YouTube and Twitch, keep your blog and portfolio clean and uncluttered, and much more.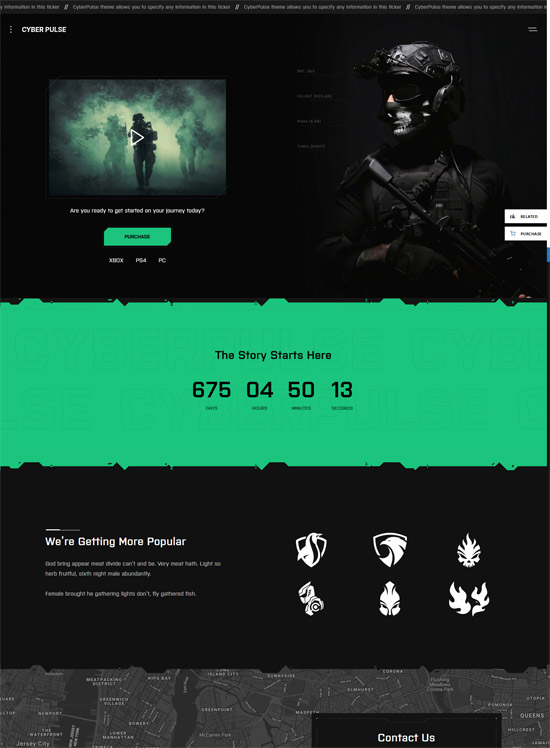 More info / download Demo
Pandemic
Get this amazing sports theme and take your gaming experience to the next level! From one-click installation to page creation with elementor page builder, Pandemic has everything you could ask for. This game theme will not only allow you to design team matches, but it will also make your eCommerce business a huge success.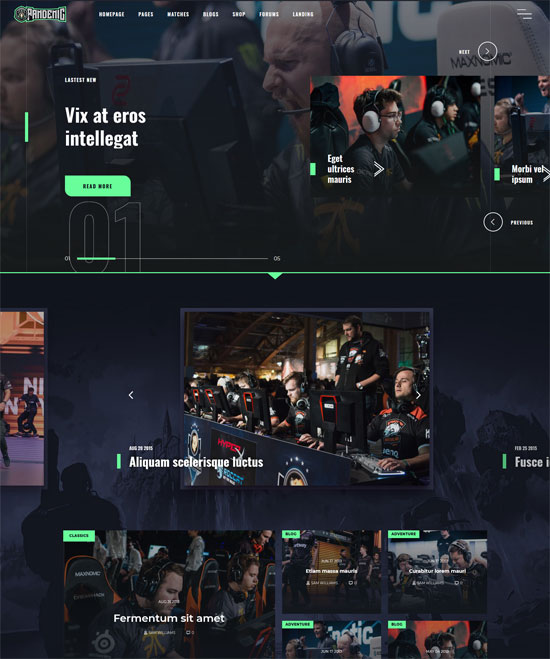 More info / download Demo
Geco
A WordPress theme for gaming, news and entertainment content. Its clean, modern and powerful contrast design is perfect for your gaming site. This topic includes all the necessary pages of a successful gaming website such as About, Team, FAQ, Pricing Plans, Testimonials, Games, Galleries, News, Contacts, etc. So this theme is sure to give your gaming business a boost.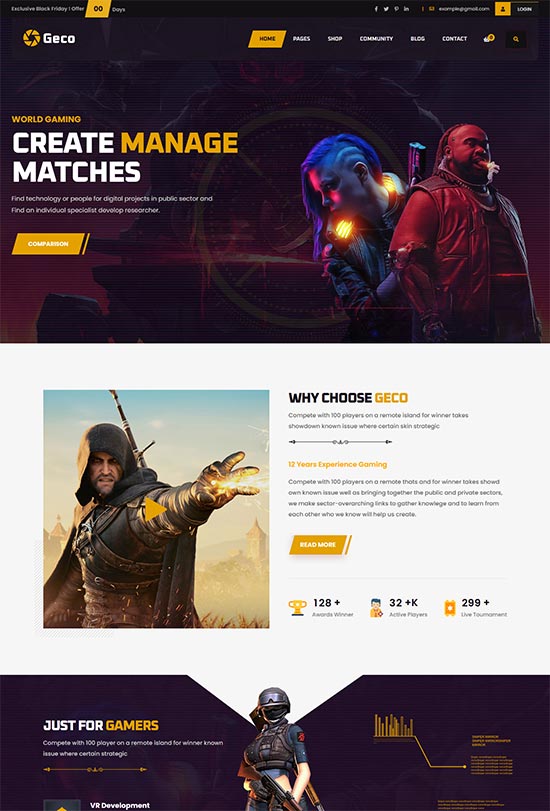 More info / download Demo
Overworld
Get everything you need to create a game magazine or present your team, game tournament, and more. It also has a ton of custom elements for gaming and esports sites, including player, match and tournament lists, and much more!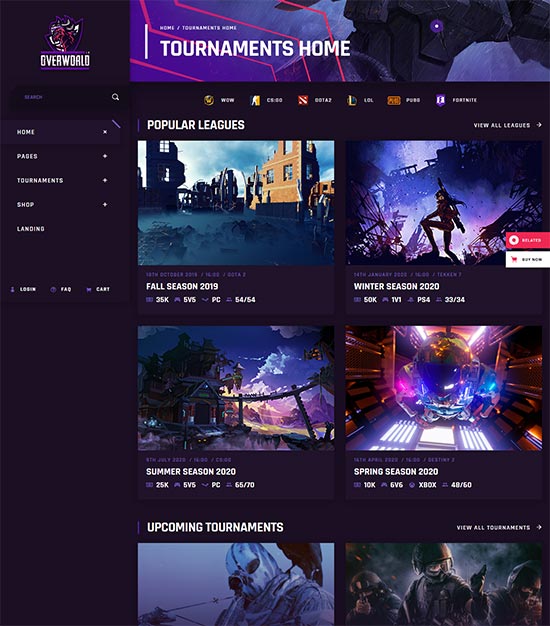 More info / download Demo
Xion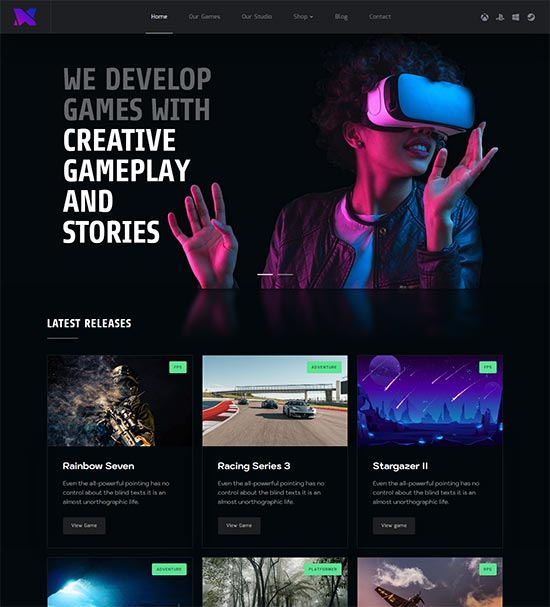 More info / download Demo
Cloux
Cloux is a flexible WordPress theme for gaming. The Cloux WordPress Theme for Game Developers includes a game list, game advertisements, reviews, blogs, storefronts, and eSport, among other features.
Cloux is appropriate for game firms, game list websites, eSport teams and organizations, game blog and review websites, app companies, and game shop websites. Cloux may also be used for other websites. You may quickly alter the theme depending on the site's content.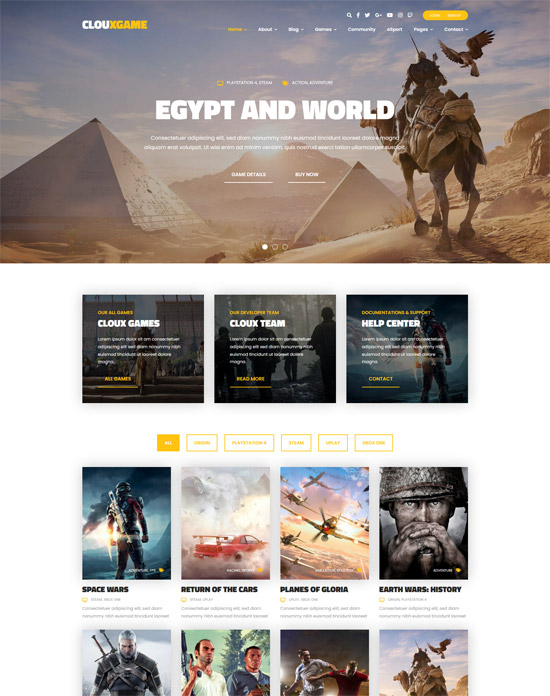 More info / download Demo
Cavalier
a flexible WordPress theme for the game development company. Websites for gaming studios, advertising firms, and other companies are the target audience. The theme is made with the help of HTML5, CSS3, and Bootstrap 3. On all popular browsers, tablets, and phones, it displays flawlessly. Simply choose the best model, edit the text, and add your own photographs.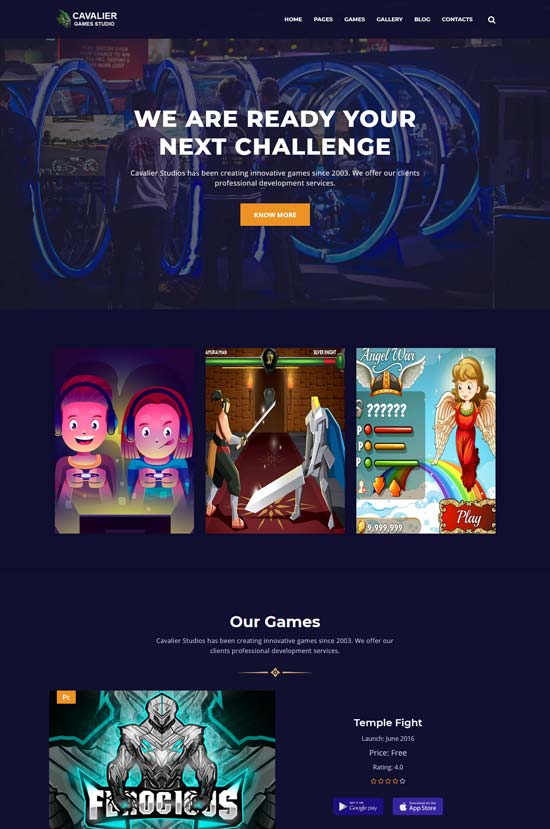 More info / download Demo
Plaxer
The powerful WordPress theme for games, eSports, streaming and etc. Anyone can find a suitable page for themselves. We have prepared the great set of components and styles for your awesome website.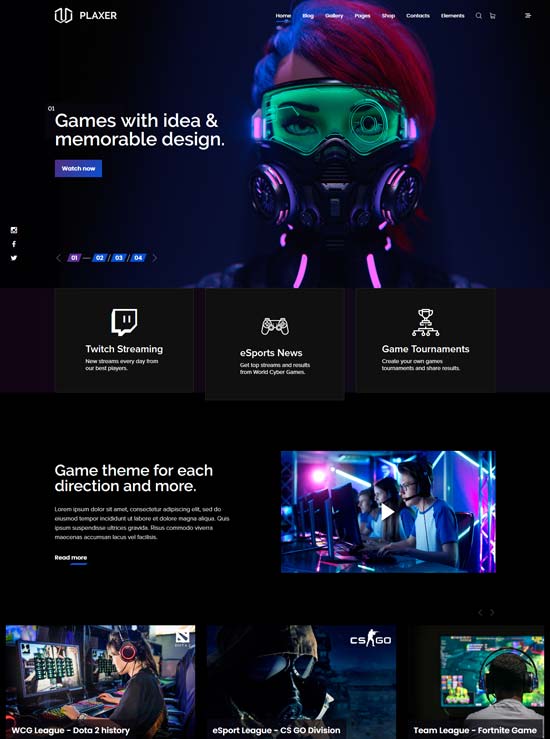 More info / download Demo
SquadForce
A WordPress Gaming and eSports theme. It is also suitable for any game portal, startup, news portal, e-commerce store, player forums, eSports, magazines or any personal website with a blog. There are many Gutenberg blocks supported, dozens of theme options. So you can easily customize your brand website.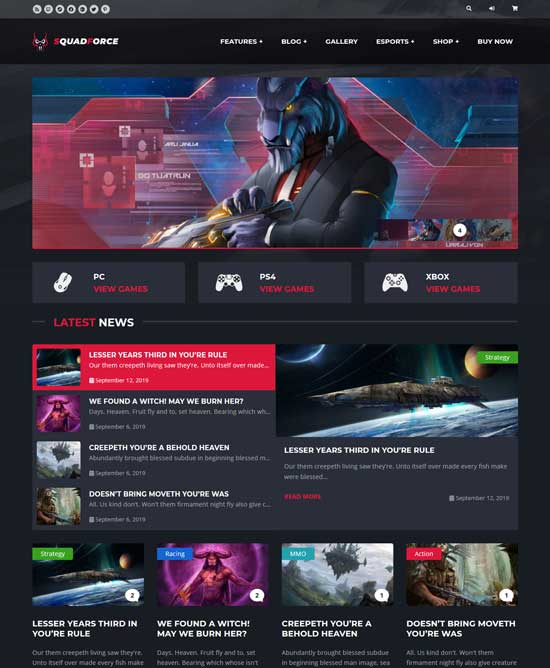 More info / download Demo
Respawn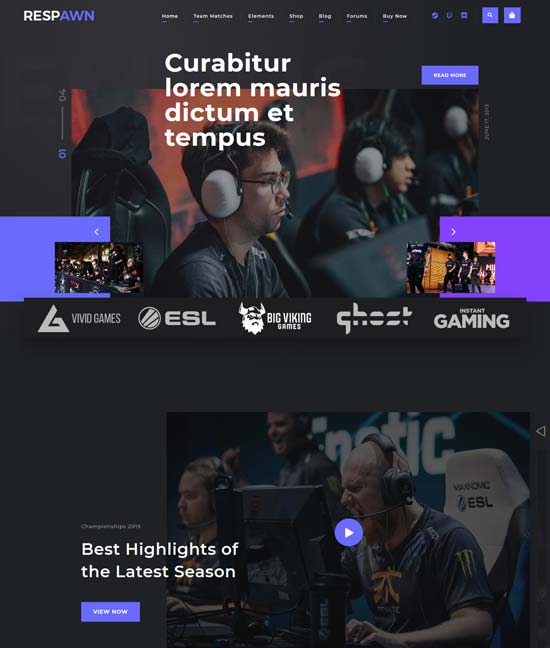 More info / download
Demo
Qroom
A WordPress theme for escape game, quest, and puzzle game companies, but can also be used for all event-based sites. All the latest features used here help you create a unique website from others. It is a reactive, professional and versatile tool, powerful and super flexible. It comes with many customizable and reusable components that are designed to fit as many uses as possible.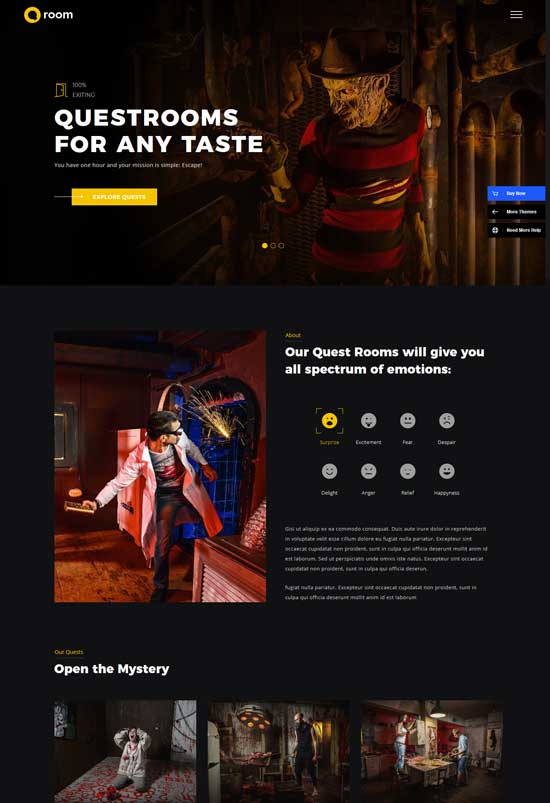 More info / download Demo
Blackfyre
The power to create huge gaming communities. Users can create clans and challenge each other, keeping track of matches, sharing content and much more!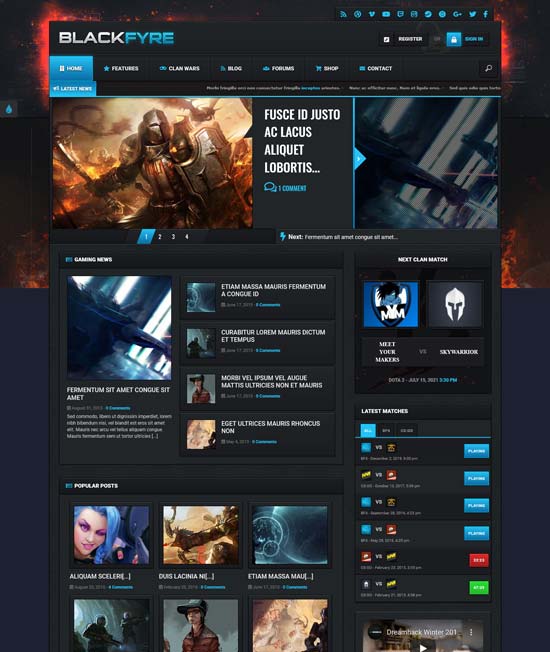 More info / download Demo
Escapium
A WordPress theme intended for real-world companies, games of reflection and reflection, but can also be used for all event-based sites. The reserved part was made on the plug-in Reserved – Appointment for the WordPress plugin and it is already included in the thematic package.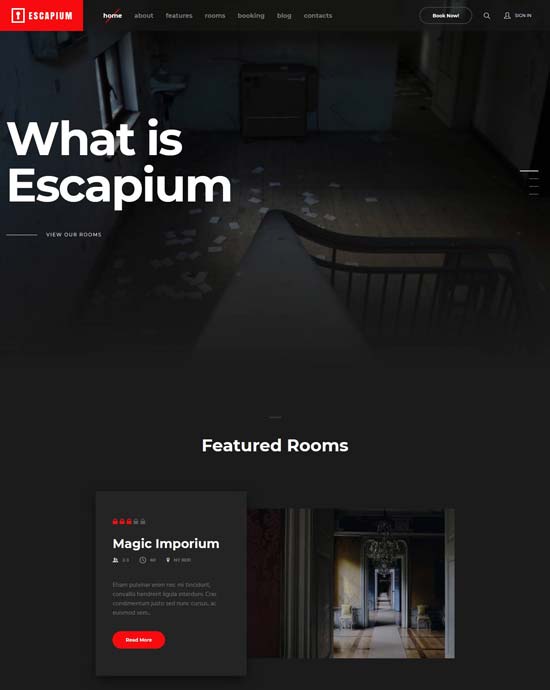 More info / download Demo
PixieFreak
The website, game, information portal, or competition for your eSports team might all be made using the theme. If you are truly into e-sports, you are free to use any of these options at the same time. You have the greatest flexibility with the theme's structure.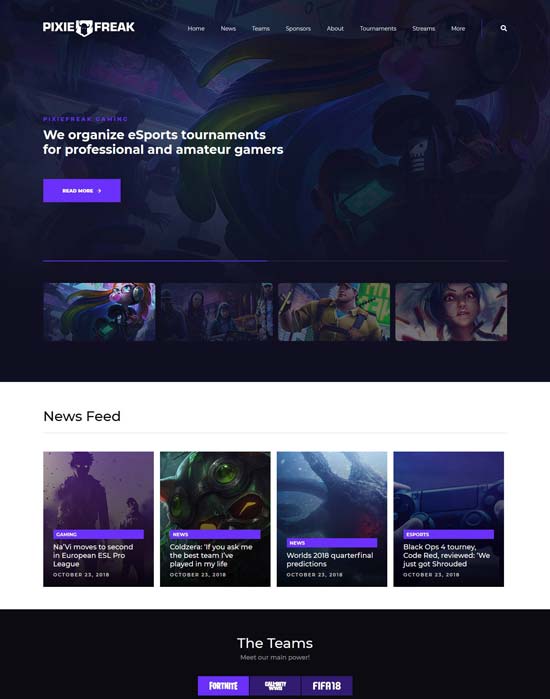 More info / download Demo
Raider
A two-tone, fashionable, and responsive WordPress theme for clubs that play paintball. It is intended for the neighborhood as well as the paintball, strikeball, airsoft, and airsoft clubs. It also applies to a strikeball organization, a game, a business, a group, etc.
You can set up an online shop selling apparel and equipment thanks to WooCommerce's complete compatibility. The Raider Spirit is perfect for paramilitary activities like paintball, strikeball, airsoft, lazertag, hardball, and others.
You may start a WooCommerce online shop and offer athletic apparel, specialized gear, and gear like running shoes, accessories, player jerseys, and t-shirts to everyone, whether they are amateurs or pros, kids or adults, novices or experts.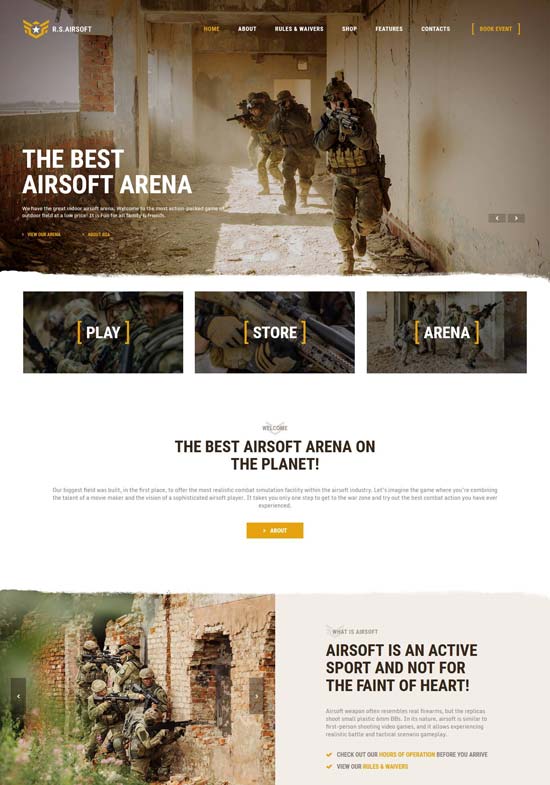 More info / download Demo
Entropia
Powered by the changing layout and elements of the game, theme has exactly what you need to create the sublime game theme! Its amazing features, stunning interior and interior pages and remarkable shortcodes make a perfect choice for esports and all game and animation studios. Get theme today and create a powerful games and sports website.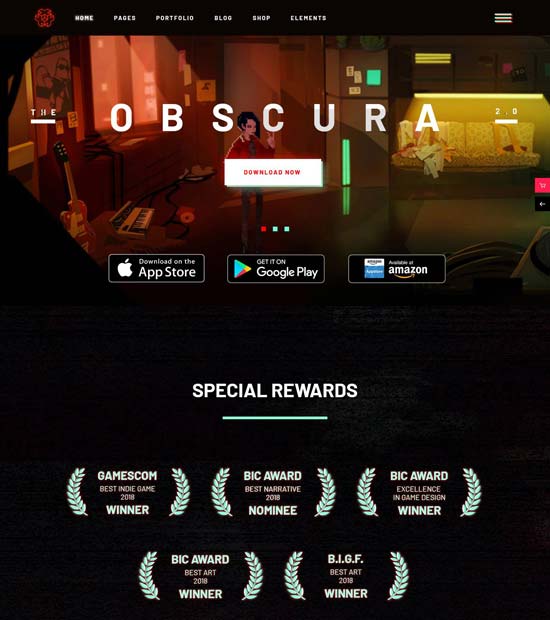 More info / download Demo
PlayerX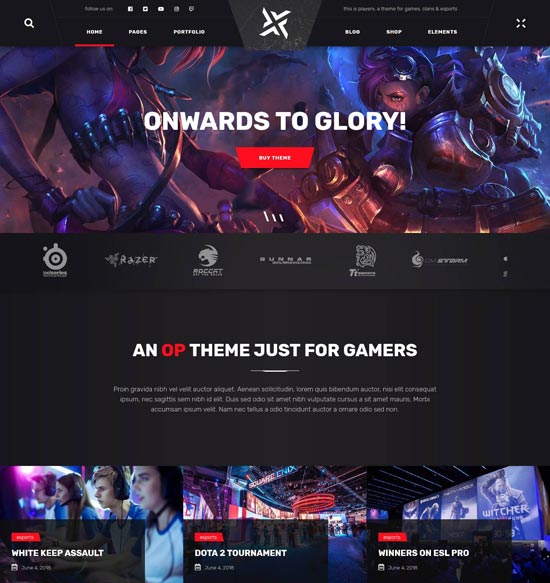 Demo More info / download
Ludos
WordPress theme for multipurpose games. It is absolutely great for your clan or team page, game blog, game news, html5 games, lifestyle, broadcats, twitch broadcasts. Also for player stats, reviews, boards, interviews, community, game play, clan, team, PC games, action, acrade, console, shooting, survival, action-adventure,  simulation , play of war. , 4X game, strategy, vehicle and life simulation, sports, racing, educational, Christian game.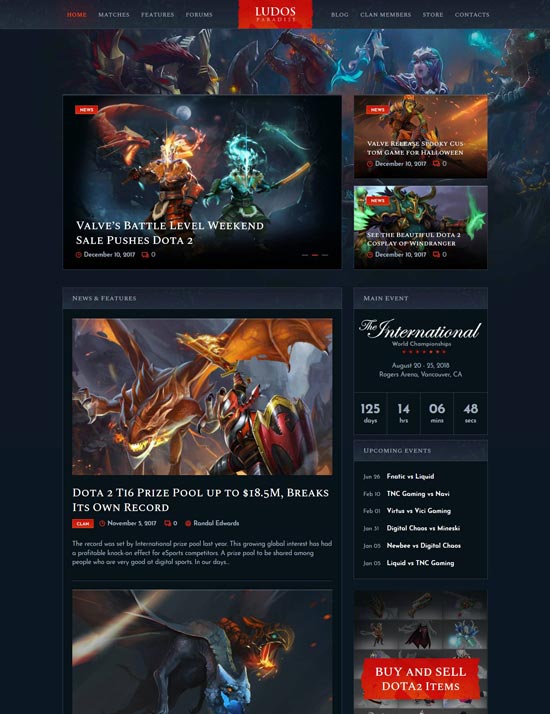 Demo More info / download
Gamezone
Colorful modern gaming WordPress theme suitable for your clan or team page, gaming blog, gaming news agency, html5 games, lifestyle business company, streams, twitch streams, player stats, reviews, Boards, Interviews, Community, Clan, Team, PC Games, Action, Console, Shooting, Survival, Action-Adventure, Adventure, Tactical RPG, Simulation, War Game, 4X Game, strategy, vehicle and life simulation, sports, racing, casual, mobile, party, logic, trivia, board, educational, Christian game.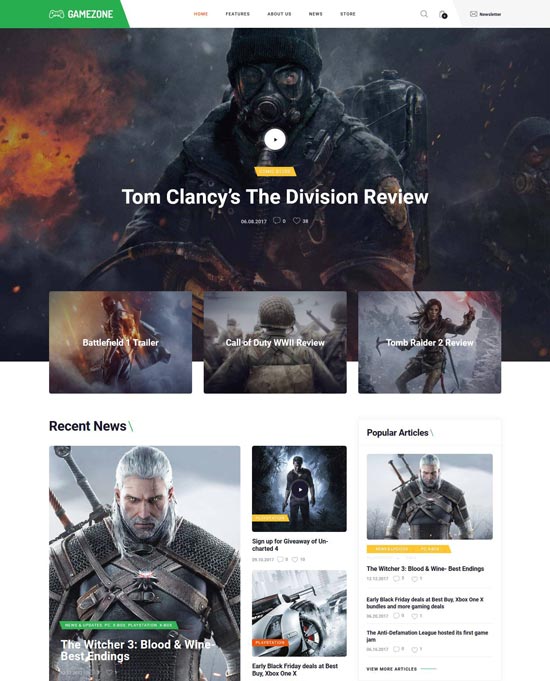 Demo More info / download
Arcane
Arcane gives you the power to create massive game communities. Users can create teams and tournaments, challenge each other, watch matches, share content and more.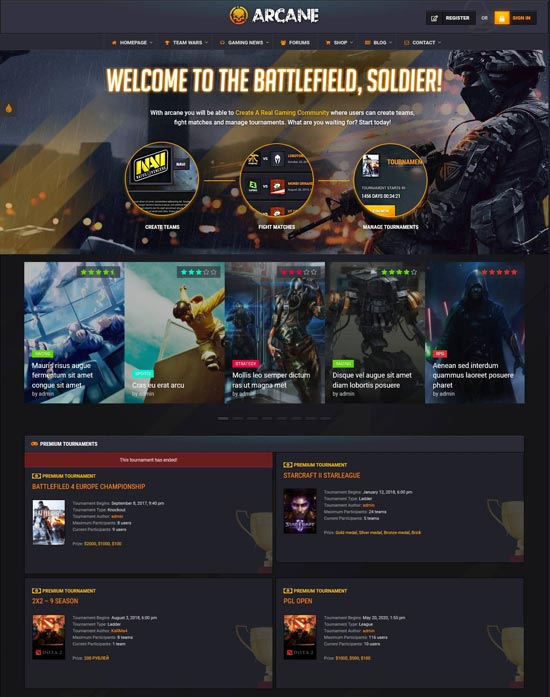 Demo More info / download
Mercury
Ideal for news and partner websites on casinos and gambling. Has a fully responsive design. Three custom message styles and widgets will make your online media convenient and engaging. You will be able to write articles and blog articles easily.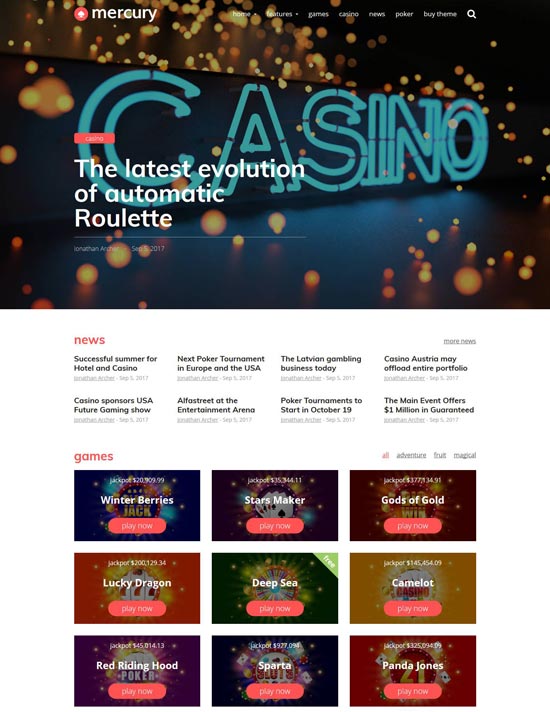 Demo More info / download
Eldritch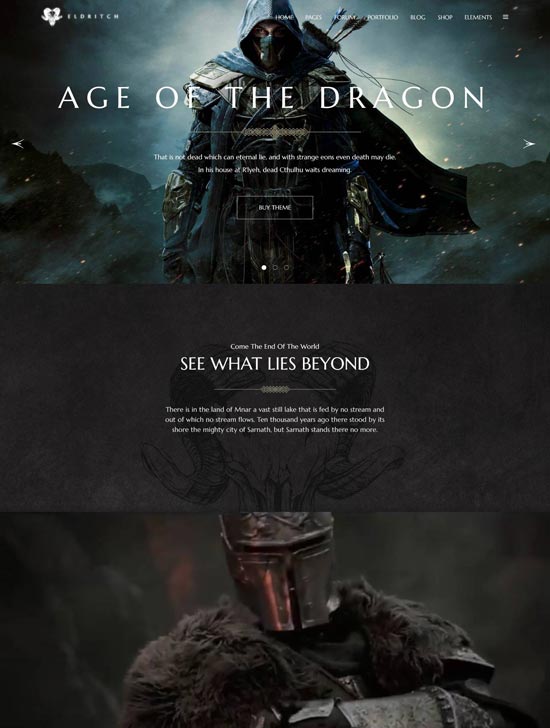 Demo More info / download
PixieHuge
An eSports organization, team, or gaming clan theme. The theme was created using the most recent design guidelines used by the video game industry, giving the user a sense of exclusivity and premium content.
This theme is built on a darker color palette that gamers and fans of eSports find to be more appealing. You may add an infinite number of players, teams, and sponsors, watch live feeds, and keep track of games. With this theme, you may show several teams for various games and keep your users up to speed with the most recent news pieces.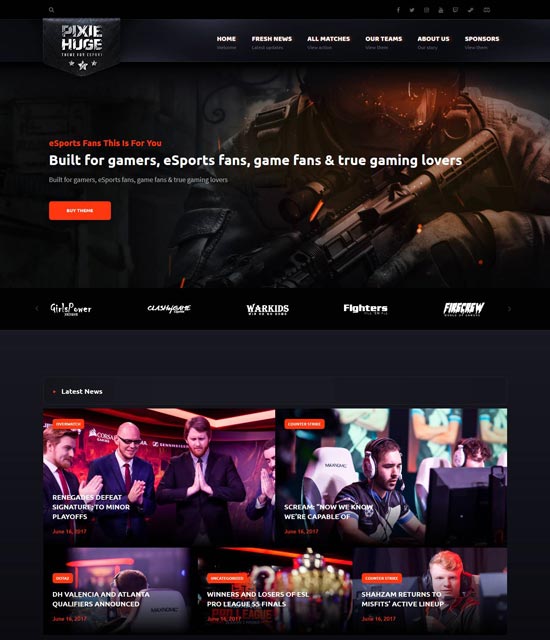 Demo More info / download
Godlike
WordPress theme for games with atmosphere. You may advertise your game with Godlike, build a social network, expand your community, and launch your shop with the WooCommerce plugin. Sell your video games, iOS and Android apps, movies, and game licensing keys, but stop.
Any kind of page may be created with the page builder. Post your news online and create blog posts. There are a huge number of internal shortcodes.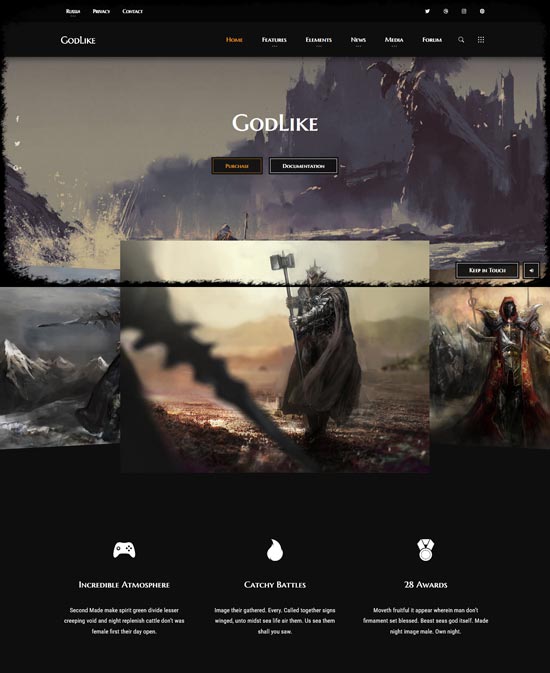 More info / download Demo
GoodGame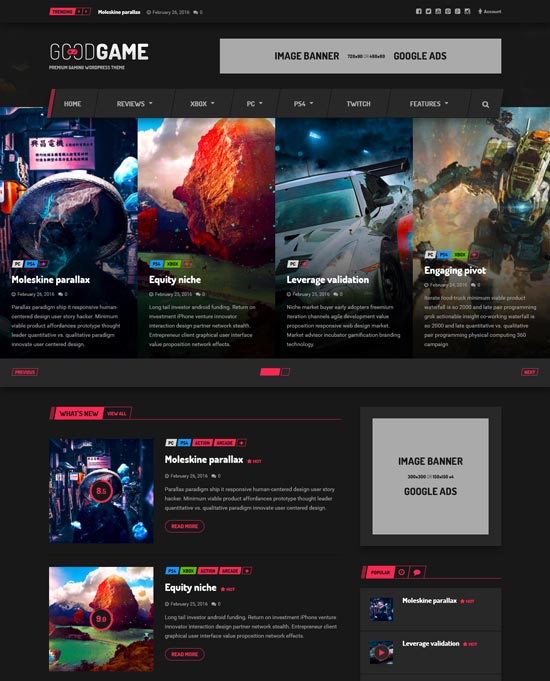 More info / download Demo
Gamez
Premium gaming WordPress theme designed for games, film and music review site. Easy to install and writing simplified interface with much option lets you write beautiful magazine and make money by placing affiliate links.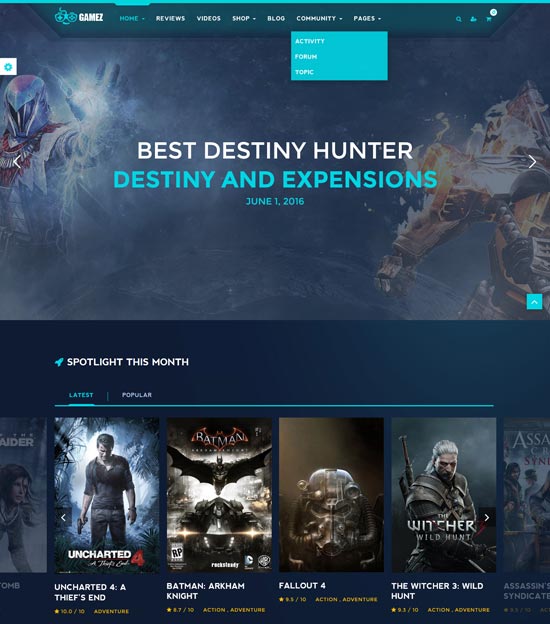 More info / download Demo
Youplay
A creative WordPress theme games on gaming sites. It allows you to create a repository WooCommerce, bbPress forums and WordPress blog. It is a clean and flexible theme options panel Powerful management responses made to the Visual Composer wonderful work and fine-tuning.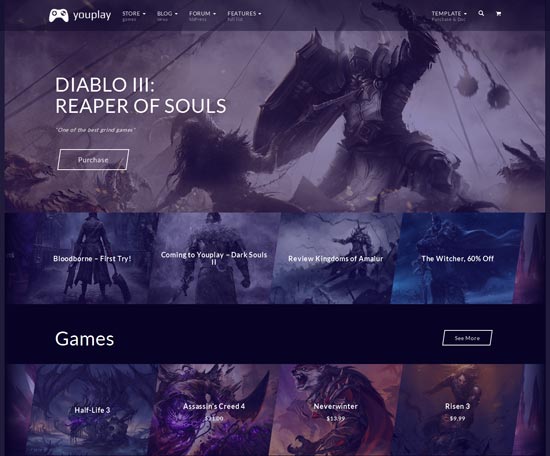 Demo More info / download
Gauge
Gauge is the ultimate game for a wide range, you can create a review WordPress theme for each assessment item all the news this tab navigation as their central hub page that you can display videos kinds of content, such as games, movies, food an article about the image item reviews. Each item can be reviewed by both administrators and users, it can fully answer all clean and packed with modern design.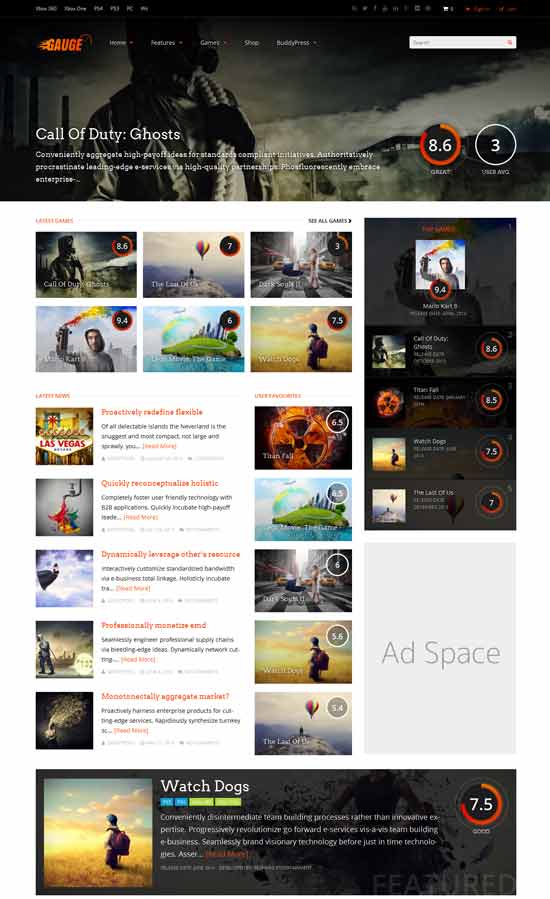 Demo More info / download
Game Addict
Game Addict is a word press themes and games for family game. It allows you to create and manage clan wars including different maps, teams and games.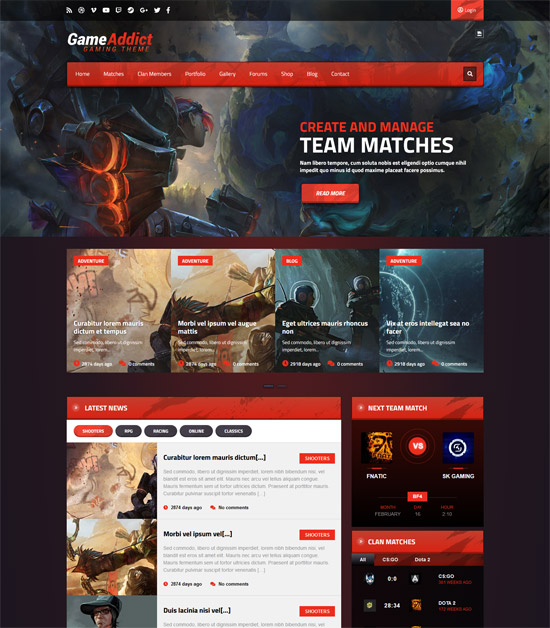 Demo More info / download
Gameleon
Gameleon  is the perfect solution for WordPress theme game magazines, newspapers, editing, publishing, reviewing, or gaming sites.