Looking for create a website for a Gardening or Landscaping website template? Look no further than our selection of beautiful and professionally designed templates. Perfect for any gardening or landscaping business, these web design templates will give your website a polished and professional look and seo optimized page. With easy to customize features, you can add your own logo, photos, and content to make your professional website unique.
Crafting a stunning online presence for gardening and landscaping businesses is now easier than ever with the abundance of website templates available. By selecting the right template and customizing it effectively, businesses can showcase their skills, attract clients, and foster a strong online community passionate about the beauty of nature.
Gardon
Gardon is a versatile and contemporary HTML template designed for a variety of purposes, including landscaping, gardening, and related businesses. It caters specifically to landscapers, lawn care services, flower shops, garden businesses, landscape designers, and others in the landscaping and gardening industry. The template is tailored to meet the needs of these businesses, providing a visually appealing and functional platform for showcasing their services and expertise.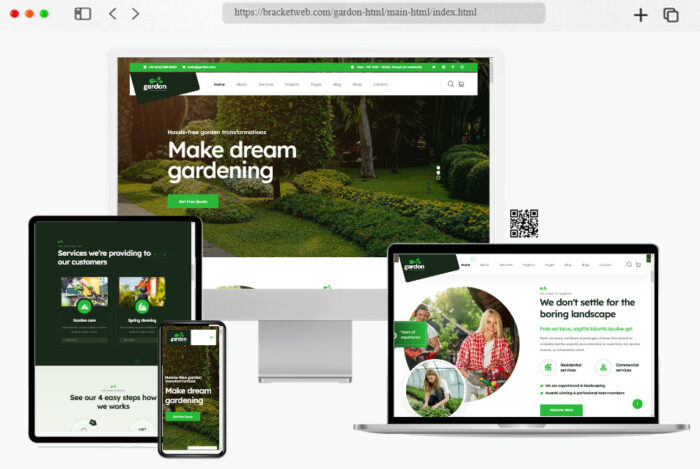 More info / download Demo
Gadden
Gadden is a contemporary HTML5 template crafted for Garden & Landscaping businesses, including groundskeeping, lawn services, flower shops, and related services. It features a distinctive and visually pleasing design tailored for online presence. The template is fully responsive, ensuring compatibility with various devices, and has been tested across major handheld devices.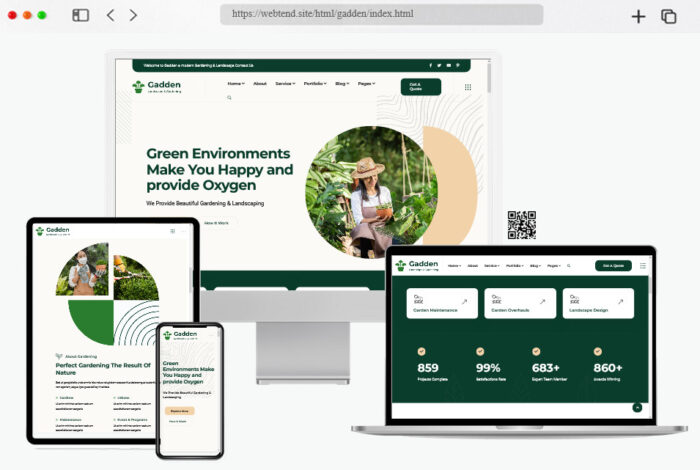 More info / download Demo
Gardnma
Gardnma is a sophisticated and neat HTML5 Responsive Template for Gardening and Landscaping. Created for Gardening businesses, Landscape Architects, and related services, it boasts a unique and elegant design. Ideal for online presence, it offers a beautiful layout across various devices. With user-friendly code and comments, updates are easily manageable.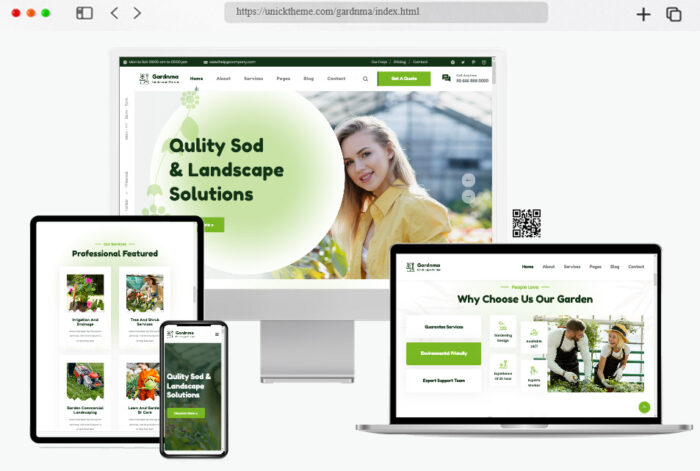 More info / download Demo
Gardomia
Landscape and Gardening in Gardomia Sites about landscaping and gardening can use the React Next js Template. Gardomia is great for websites about gardening, organic farming, organic food, plant biotechnology, organic stores, groundskeepers, ecology, vegetables, etc. With Gardomia, you can make many different, up-to-date websites.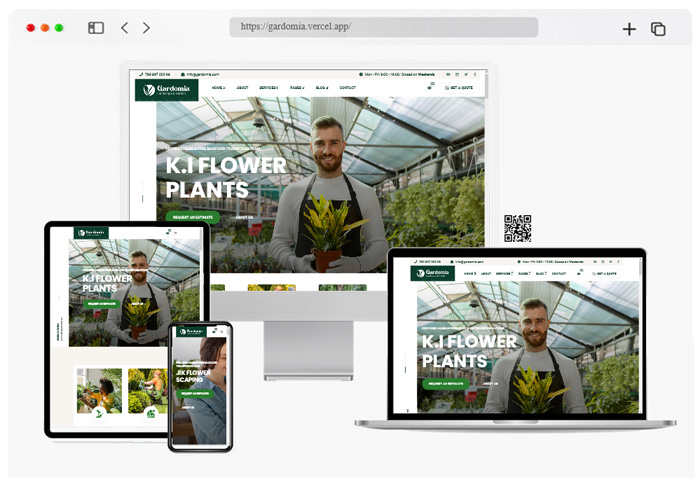 More info / download Demo
Landi
Landi is a clean, modern HTML template for websites about gardening and the services that go with it. It's good for any business website that has to do with gardening, landscaping, decorating, gardeners, lawn care services, landscaping services, natural food farms, or vegan food farms.
With Landi, you can make many different and up-to-date websites.  Bootstrap 5.2.x Grid 1320px is the basis for this template.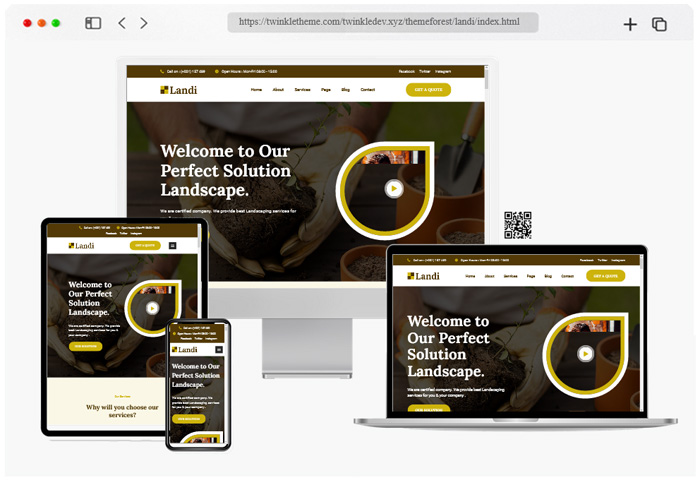 More info / download Demo
Uthan
Uthan Gardening and Landscaping HTML Template is made for Gardening, Landscaping Companies, Lawn Services, Agriculture, Landscape Architects, and all types of Gardners Businesses and people who offer services related to gardening. Garden Care Template has a beautiful and unique design that will work best for your online web presence.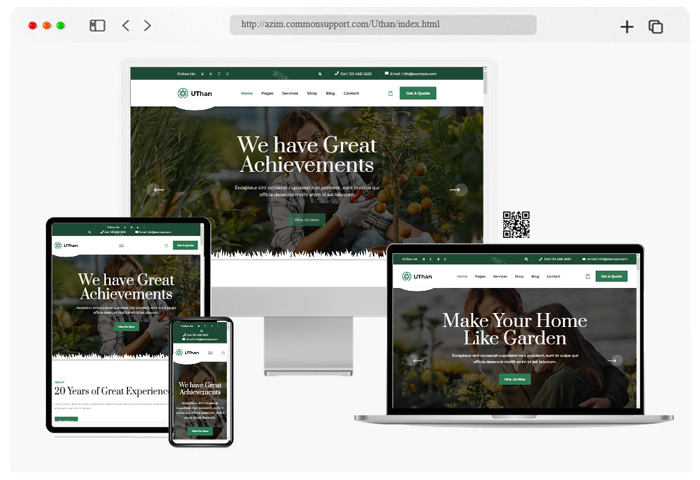 More info / download Demo
Musion
Musion is a premium HTML Bootstrap 5 template known for its modern and innovative design. It is tailored for various gardening-related businesses, including landscaping companies, lawn services, agriculture, and landscape architects. The template offers an impressive platform to create a website that effectively represents gardening businesses and services."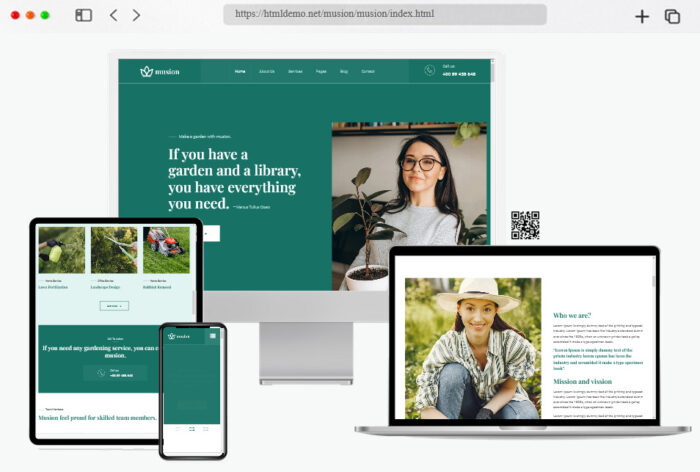 More info / download Demo