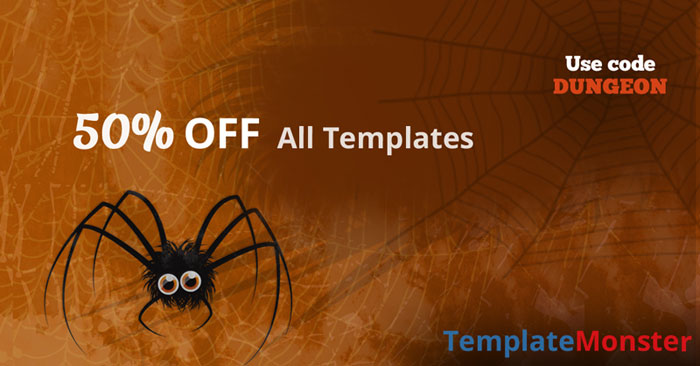 Halloween is coming. You've probably noticed that this holiday is fun for many reasons: mystery, decorations, costumes, candies, etc. Another great reason to love Halloween is an opportunity to enjoy Halloween promotions. That's how you can save on just anything, even if it's just for a few days.
Today we're excited to announce one of those Halloween promotions that you might like, but this promo is mainly aimed at designers, bloggers, photographers, online retailers and anyone looking to build a website.
The idea of the promo is quite simple: save 50% when you buy website template(s) at TemplateMonster.
If you're new to TemplateMonster, it's a web design company which has been offering HTML5 templates, CMS templates (WordPress themes, Joomla templates, etc), eCommerce templates (Magento themes, PrestaShop themes, etc) and other types of website templates since 2002. As of now, the company has more than 40,000 templates to choose from.
In other words, whether you need a design for a personal blog, online portfolio, web shop or any other website, TemplateMonster has something to offer. But maybe the best thing about TemplateMonster is that you have free customer support which is available 24 hours/day, 7 days a week.
So, what about getting TemplateMonster template(s) at half price?
If you like the idea, then go to templatemonster.com, find your perfect template and enter this code at checkout – DUNGEON
That's it 🙂
For your convenience, here are some links to TemplateMonster top selling categories
But please, keep in mind that this is a time-limited offer; it'll be running through Monday, November 3, meaning you have less than one week to enjoy the huge sale at TemplateMonster.