Hospitals and medical facilities are recognizing the importance of a strong online presence to connect with patients, streamline processes, and provide valuable information to the community. A well-designed hospital website can serve as a virtual front door, offering patients a glimpse into the quality of care and services they can expect. The foundation of a remarkable hospital website lies in its template – the design blueprint that shapes its visual identity and functionality.
In this blog post, we'll take a deep dive into the world of hospital website templates, providing valuable insights into choosing the perfect template to match your institution's unique needs.
Medica
Medica is an HTML template specifically crafted for health and medical websites. With a focus on doctors, dentists, hospitals, health clinics, surgeons, and various medical organizations, Medica offers a purpose-driven design and a responsive layout. Its standout features include appointment forms, services listings, doctor profiles, a gallery section, testimonials, FAQs, news updates, and other essential pages. Whether you're a healthcare professional or an institution, Medica provides the ideal framework to establish a strong online presence that caters to your specific needs."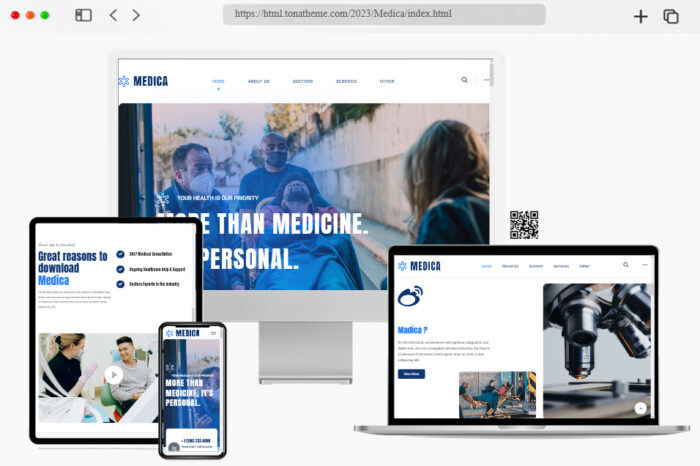 More info / download Demo
KiviCare
KiviCare is an HTML template designed for clinics and patient management, enabling effortless creation of health and medical websites. It offers predefined web elements for easy setup. With simple customization, you can access numerous features to craft a professional and visually appealing website that fully showcases your clinic's offerings. Suitable for various medical fields like General Doctor, Dentist, Eye Care, Skin Specialist, Fertility Clinic, or ENT Clinic, KiviCare is a perfect choice to establish your online presence.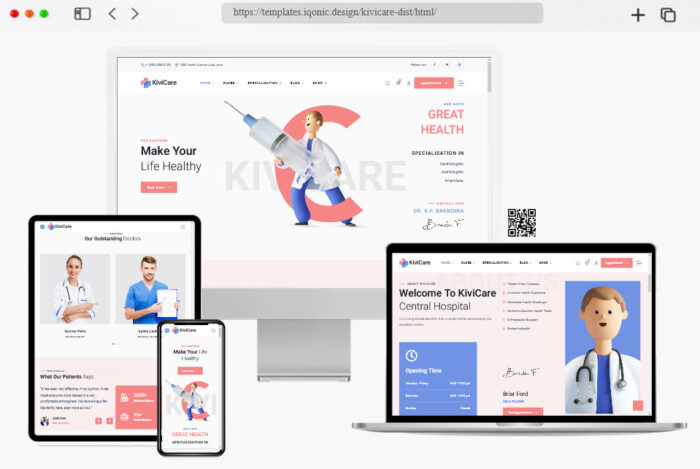 More info / download Demo
Mediba
Mediba Medical & Health HTML5 Template is a high-quality template with a distinct style and clean design. It serves multipurpose needs, catering to companies, agencies, and corporations involved in various sectors such as desktop and mobile application development, software, cyber security, engineering, business, merchandising, and more.
Notably, the template includes comments for each section, simplifying customization to align with specific requirements. With well-structured PSD files, customization is user-friendly, allowing seamless picture replacement for personalization.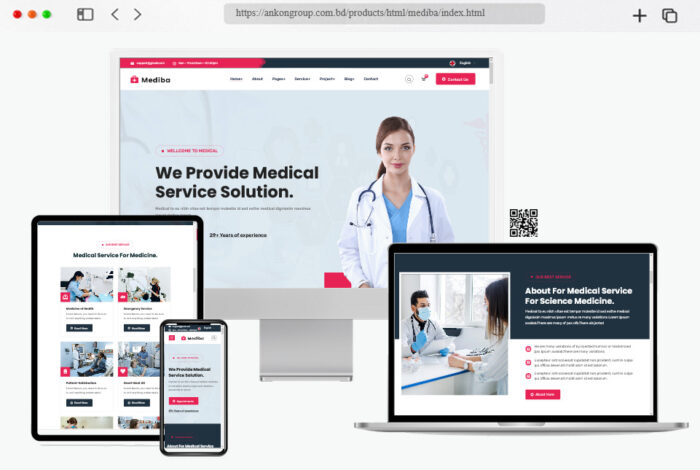 More info / download Demo
Medinosi
Medinosi Health & Medical HTML5 Template is designed for Health Care, Hospitals, Dentists, Eye Care, Plastic Surgery, and Online Pharmacy websites. It comes with a documentation folder for code guidance. The template is highly customizable and offers excellent display on tablets and mobile devices. It incorporates web development best practices, allowing you to create attractive website layouts using Bootstrap or a 1200px grid.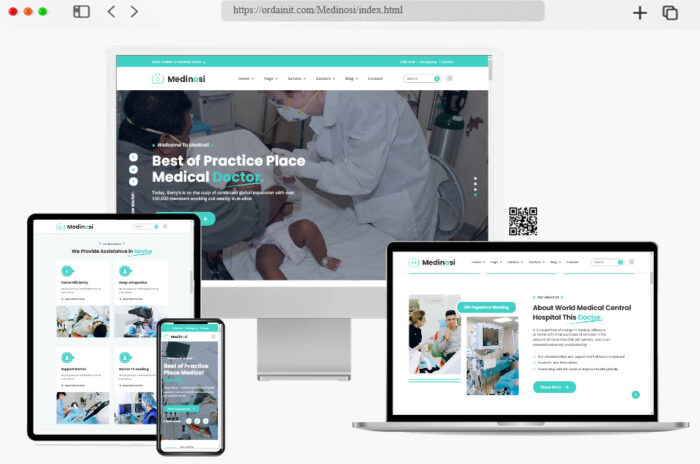 More info / download Demo
Mivaan
Mivaan – Health & Medical HTML Template is a modern and unique HTML template designed for health and medical purposes. The HTML files are well-structured and named for easy customization. The template includes a total of 18 HTML files, featuring 3 different homepage layout styles. It is based on Bootstrap 5, ensuring a responsive and adaptable design.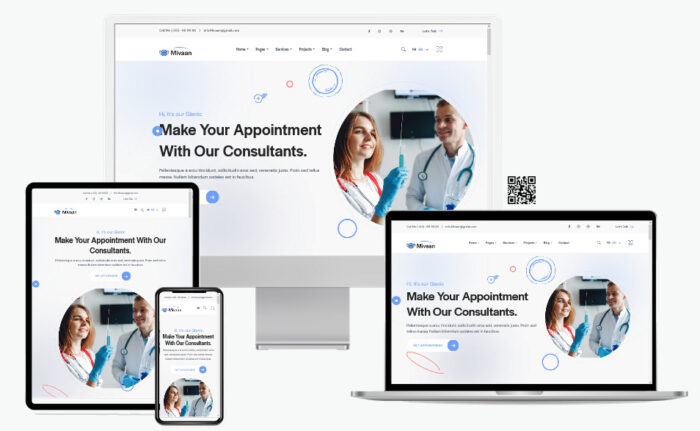 More info / download Demo
Medixi
Medixi – Ambulance, Medical Hospital, Health Care Doctor Clinic HTML Template is designed for websites related to Ambulance, Health Care, Hospitals, Dentists, Gynecologists, Physiatrists, Psychologists, and Laboratories. The template includes a documentation folder for code guidance.
Medixi offers high customization potential and delivers a great user experience on tablets and mobile devices. The template follows a component-based design approach and adheres to web development best practices, making it easy to create an outstanding website layout using Bootstrap or a grid system.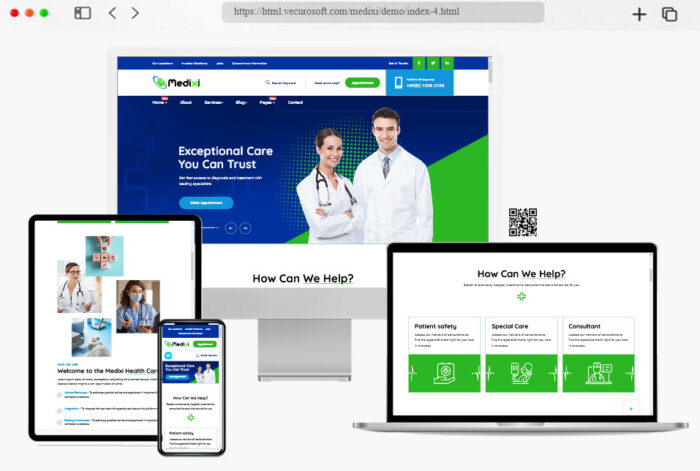 More info / download Demo
Inba
Inba is a contemporary and responsive Angular template designed for Medical Health & Doctors websites. Developed using Angular, TypeScript, Bootstrap, and Sass, it caters to a wide range of health-related websites including doctor's chambers, clinics, hospitals, consultation centers, surgery centers, laboratories, dental clinics, pharmacies, and more.
The template is also well-suited for healthcare professionals like general practitioners, surgeons, dentists, veterinarians, psychiatrists, psychologists, ophthalmologists, physiotherapists, and gynecologists for creating their online presence.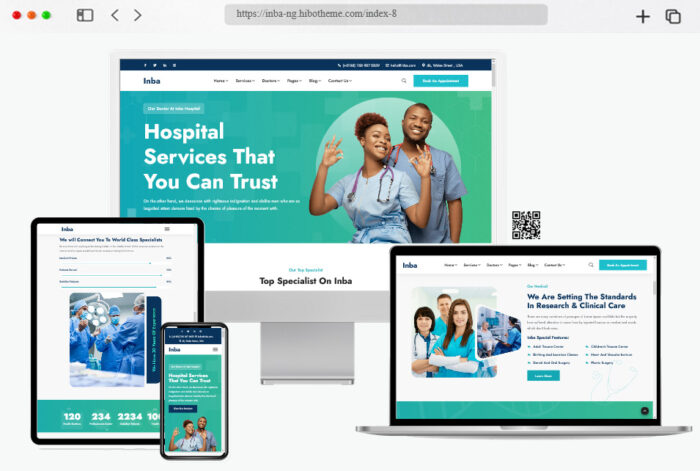 More info / download Demo
Medicate
Medicate HTML Template offers easy customization and numerous features to create a professional and visually appealing website for medical clinics. With an attractive design, it effectively presents all aspects of your medical facility. The template enables showcasing detailed doctor's timetables and includes functionalities to share information about laboratories, hospitals, or clinics.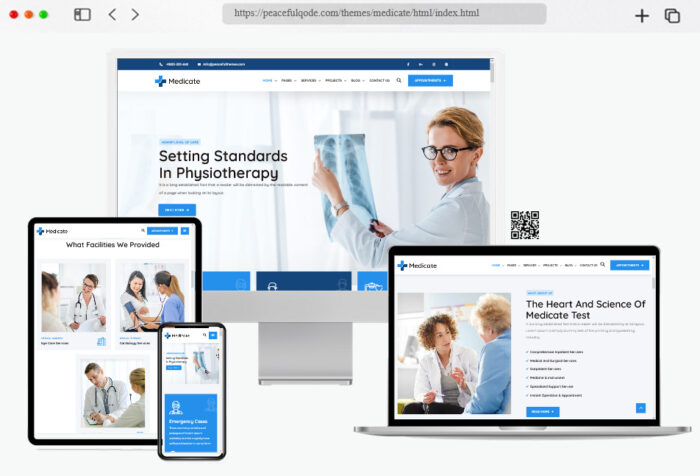 More info / download Demo
Doctery
Doctery is a medical website templates designed for businesses in the medical industry, such as hospitals and healthcare facilities. You can combine parts that were originally made for use on different layout pages when you make a new layout. This gives you more design options.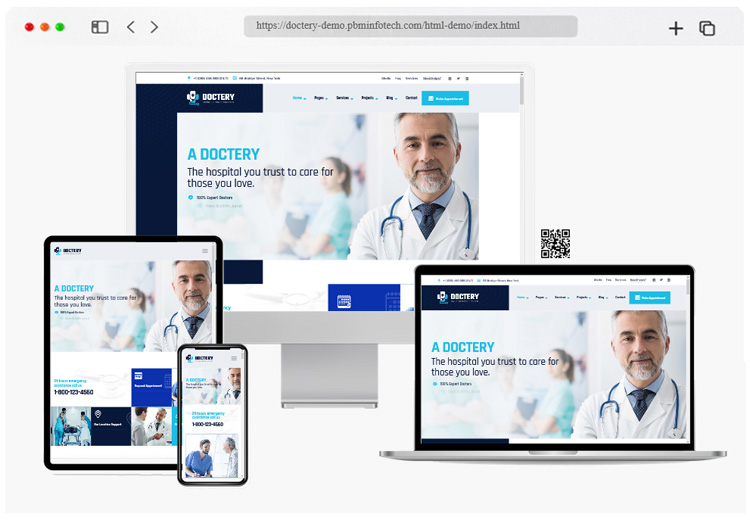 More info / download Demo
Teli
Teli is a contemporary, responsive HTML template designed for Digital Healthcare Services websites. Developed with Bootstrap 5 and Sass, it caters to online-based healthcare services, virtual doctors, online clinics, hospitals, and medical professionals' websites.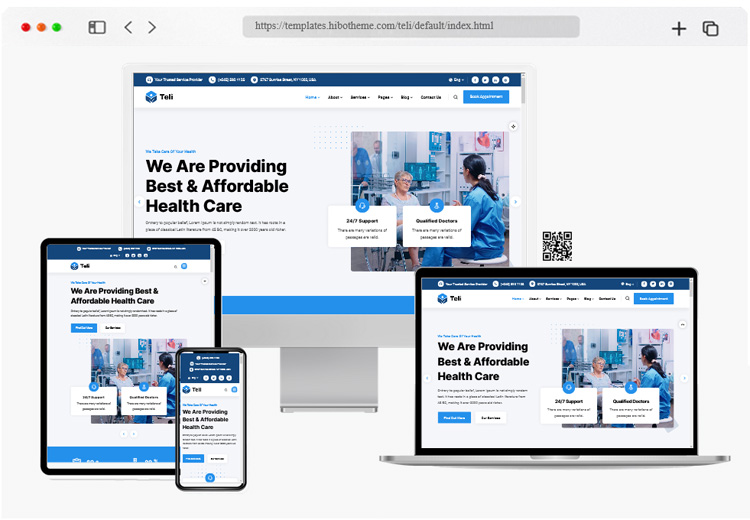 More info / download Demo
Medcity
Medcity is a versatile HTML5 template designed for Health, Medical, Hospital, and Clinic websites. It offers a professional and visually appealing design, catering to various aspects of the healthcare industry, including Doctor, Health Care, Hospital, Medical Care, Dental, Pharmacy, and Veterinary services. The template's layouts and blocks are carefully crafted based on in-depth industry research to meet the needs of the medical field.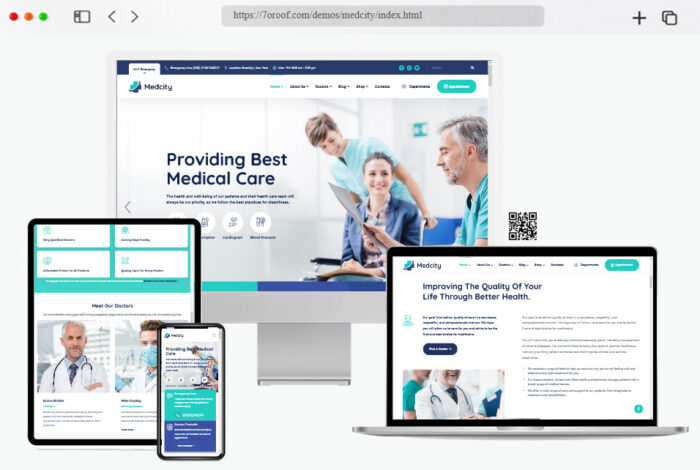 More info / download Demo