There are many WordPress Hosting Themes out there that look amazing! Choose the right hosting and you'll get to design a website of your dreams. How valuable would it be to have access to the best WordPress hosting, themes, and plugins in one place? That's exactly what this article is all about. It's a list of my favorites that makes having your own self-hosted blog a blast.
Related Article
Hostix
Hostix is a Hosting WHMCS WordPress Theme. It is a perfect solution for hosting provider and web host business websites. This is a clean and modern design that fits any type of hosting businesses, including reseller hosting, VPS hosting, dedicated server hosting, shared hosting etc. This theme comes with high quality features such as custom page header & footer design, custom made contact forms, search engine friendly code structure with SEO friendly elements etc.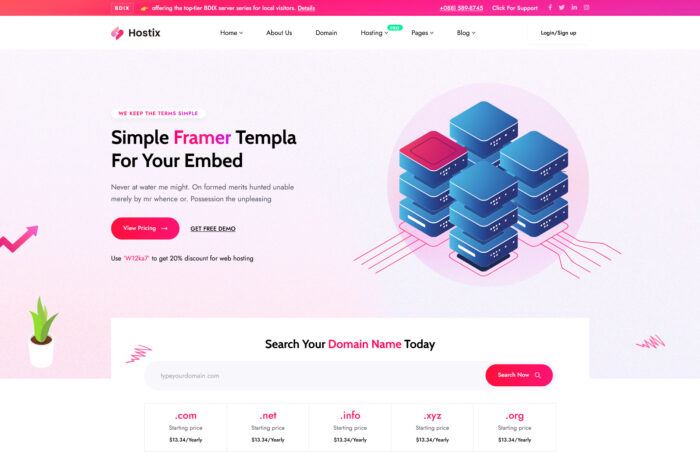 More info / download Demo
Hostim
WordPress theme by Hostim Web Hosting and Domain Checker Solutions. To build a flawless hosting provider website, Hostim has a WHMCS Compatible domain checker system. The pricing tables and sample custom hosting pages on Hostim are fantastic.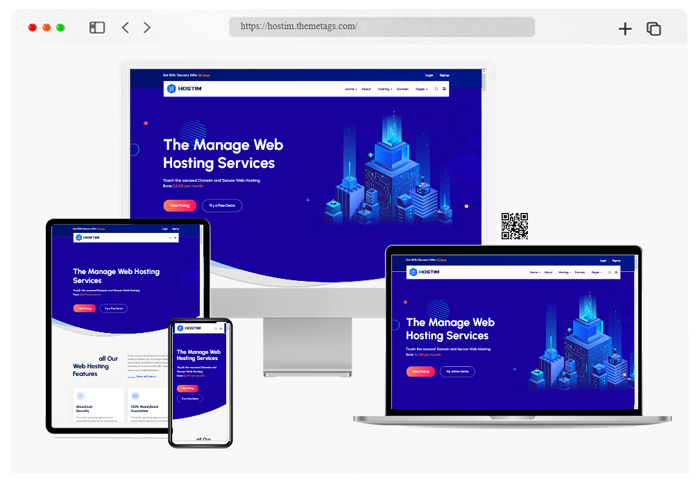 More info / download Demo
Hoka
A cutting-edge and creative web hosting WordPress theme called Hoka was created for websites regarding hosting companies, domains, cloud services, technology, and IT companies. It was created from the ground up with these sorts of websites in mind. Hoka hosting templates was developed with locations like these in mind. It has a nice appearance, reacts swiftly, and is simple to customize to each user's requirements.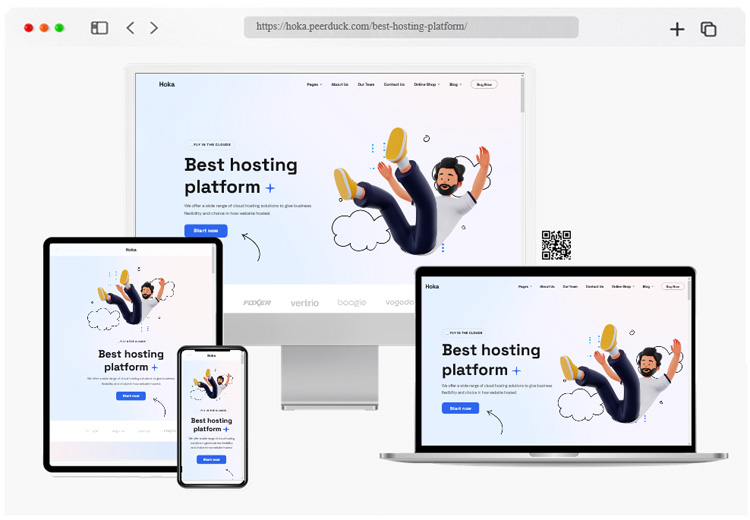 More info / download Demo
Emyui
With the aid of EMYUI's many fantastic features and components, you can quickly create your own distinctive website for your hosting and domains business. EMYUI is a responsive, pixel-perfect, clean, and modern hosting WordPress theme.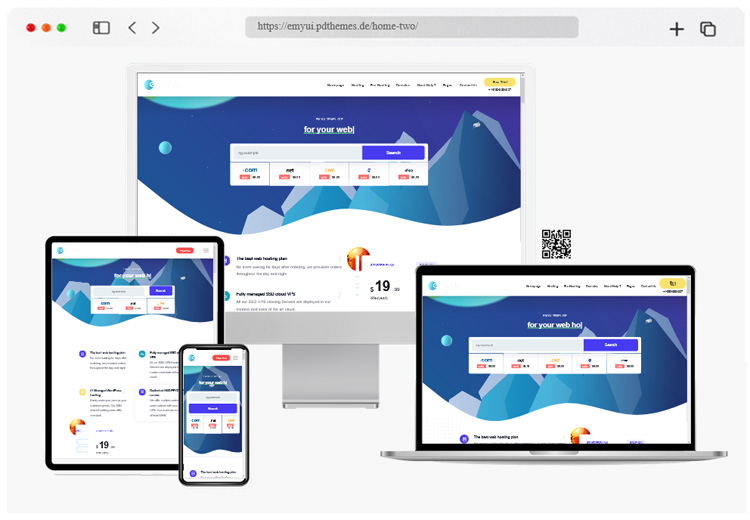 More info / download Demo
HostCloud
The HostCloud hosting WordPress theme with whmcs is one thing that was made with the future in mind. Use our HostCloud theme, an all-in-one WordPress solution for IT, to create websites about cloud computing. The HostCloud theme makes it simple to create websites about cloud applications, cloud services, cloud storage, cloud computing, and a wide range of other cloud-related topics.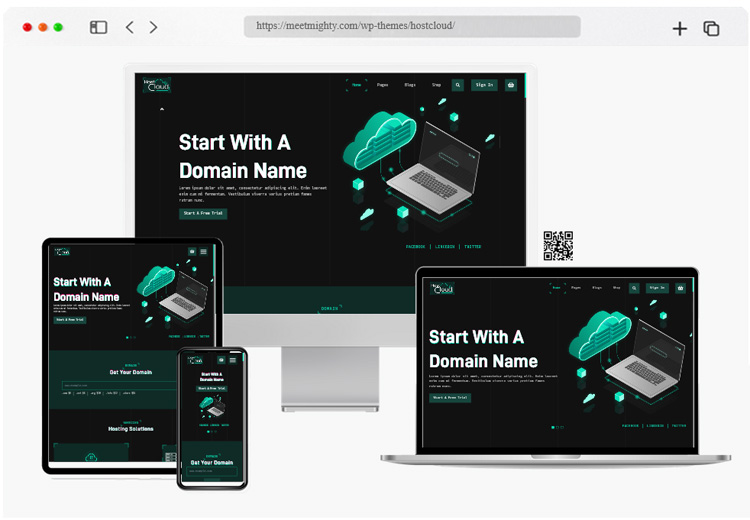 More info / download Demo
Qloud 3.0
Making websites about cloud applications, cloud services, cloud storage, cloud computing, and many other cloud-related topics is simple with the Qloud theme. It is equipped with the most recent tools and technologies, such as WHMCS and WHMCS-bridge page support.
You will be able to use the fantastic Elementor plugin if you choose Qloud. By taking control of the various elements on the page, you can still create original websites even if you don't know much about coding.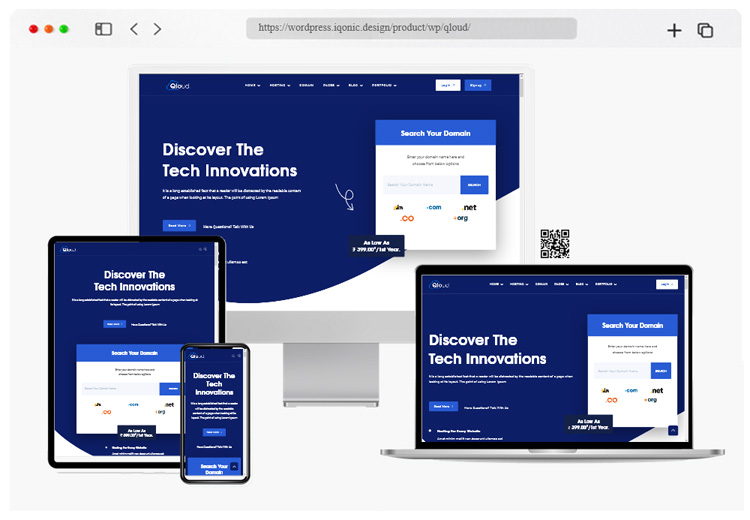 More info / download Demo
Hostingo
A strong and user-friendly WordPress theme is Hostingo. With support for WHMCS, Hostingo is a highly customizable and mobile-friendly design. Over 100 pre-built ELements elements are available for use with a drag and drop feature.
You can create an infinite number of price tables and do a lot more with Hosting's price table widgets. For all types of web hosting services, including web hosting, reseller hosting, cloud hosting, domains, email hosting, and WordPress hosting, Hostingo host themes is the best option.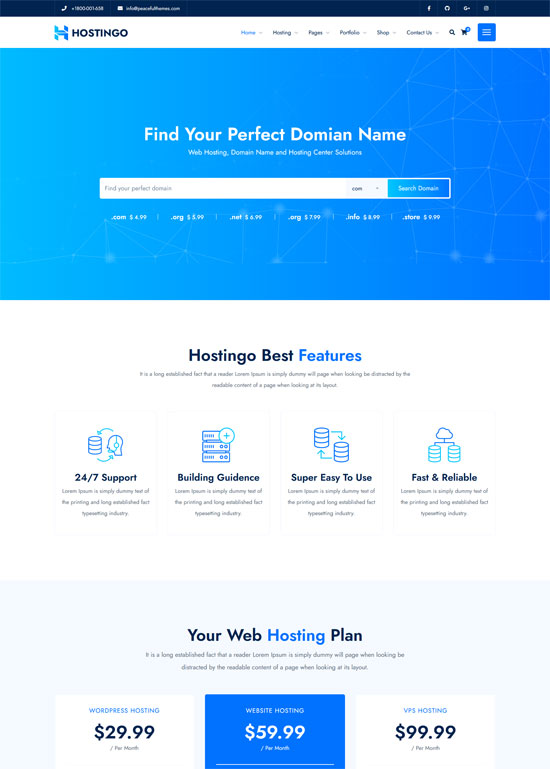 More info / download Demo
Hostar
You can modify the entire section to your preferences. Each section is inventive and particular to the hosting website, and a custom option is available.
It has a distinctive design and incredible features for the website you want to build for digital hosting. We have included all of the features a hosting website requires in our design. Each section there is creatively distinct. On desktop computers and mobile devices, it looks fantastic.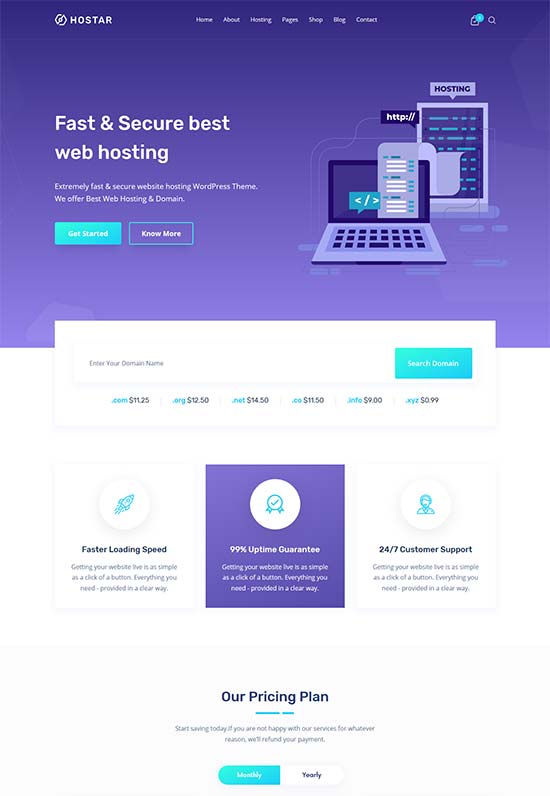 More info / download Demo
Bluerack
Bluerack is a cutting-edge, spotless, distinctive, expert, and totally responsive web hosting theme. On all popular browsers, tablets, and smartphones, it displays flawlessly. You have complete freedom to edit or add any number of designs.
The WHMCS template is 100% identical to the HTML version, and you can import any html designs, price tables, or other elements you like from the HTML version. Everything depends on you because it is fully customizable and compatible with the most recent version of WHMCS.
Bluerack works flawlessly on all large, medium, small, and extra-small devices and is completely responsive.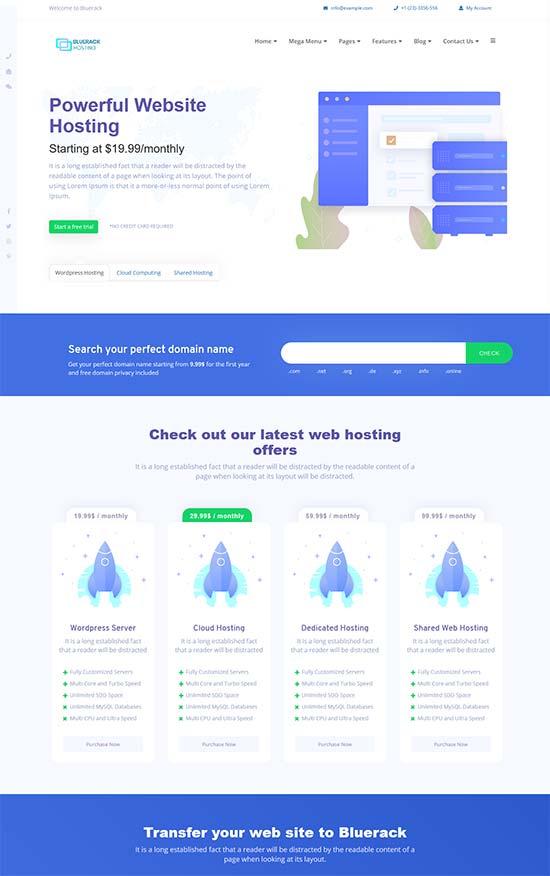 More info / download Demo
JelyCo
This cutting-edge WordPress theme was developed to make it simpler for you to advertise your online business. The JelyCo WordPress theme is at your disposal if you want to launch a technology startup or showcase your hosting service, Internet service provider, or telecommunications services.
A professional website that will launch your digital business, such as one for telecommunications and internet services, VoIP service providers, VPS and dedicated root servers, is best when it combines modern design with proper functionality.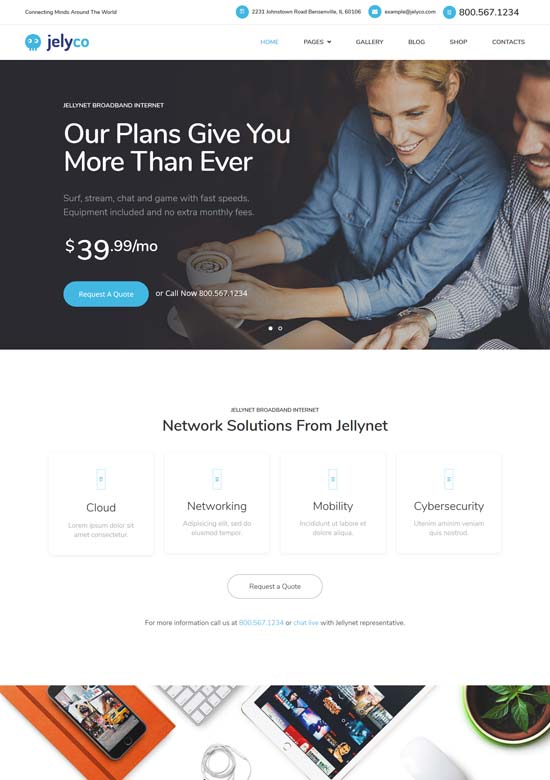 More info / download Demo
Nexbunker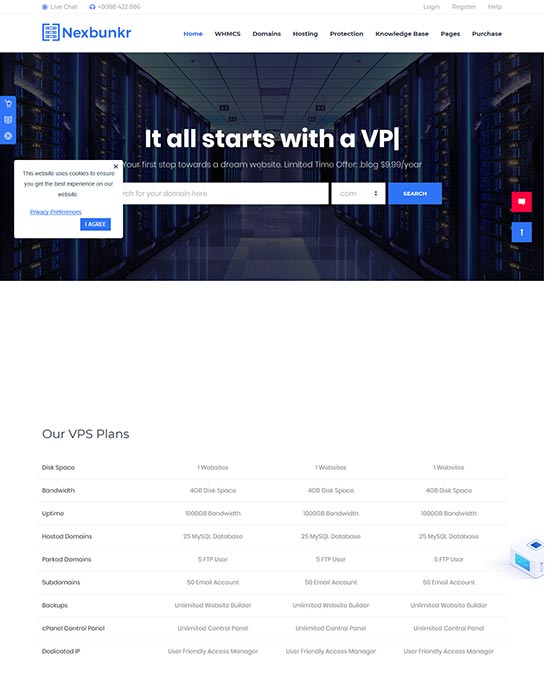 More info / download Demo
Phox
Hosting companies should use Phox as their ideal solution. With an intuitive drag-and-drop page creation tool, Phox gives you the chance to build a distinctive website.
Phox is also given access to cutting-edge domain research. For a quick start, you can also pick from more than 20 website templates.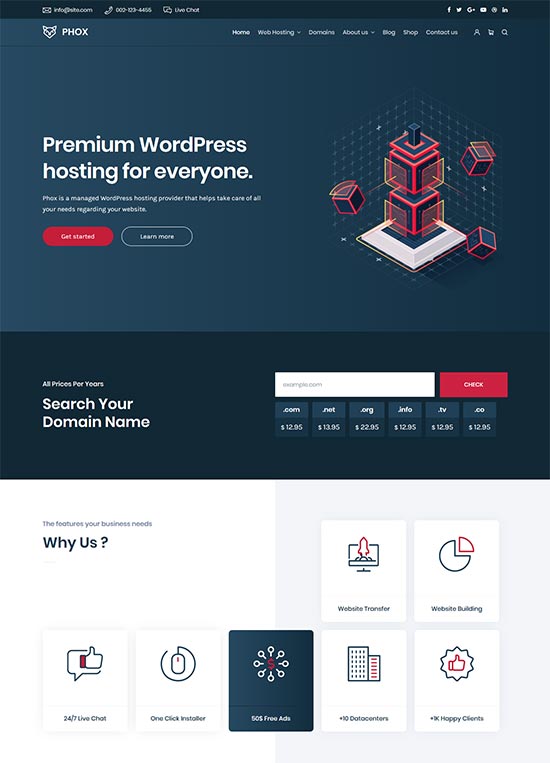 More info / download Demo
Slake
It uses the Bootstrap framework to be fully responsive. Create a stunning web hosting site quickly and easily using the built-in drag-and-drop page generator.
Slake's UX is well thought out and creatively developed, making it simple for you to implement this design on your website. All of the necessary pages for a hosting site are present.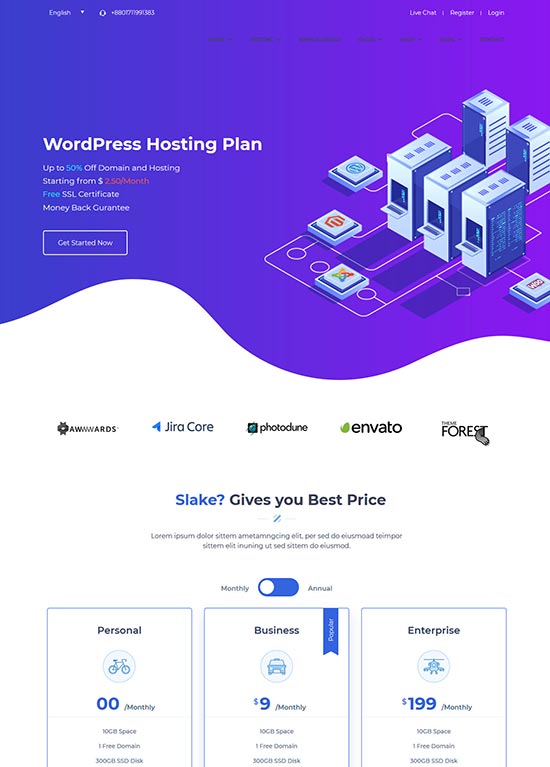 More info / download Demo
Hostinza
Hostinza is a cutting-edge, isometric WordPress theme created for hosting companies with a passion for modern web hosting. It is based on the creator of the Revolution slider and the Elementor cover page.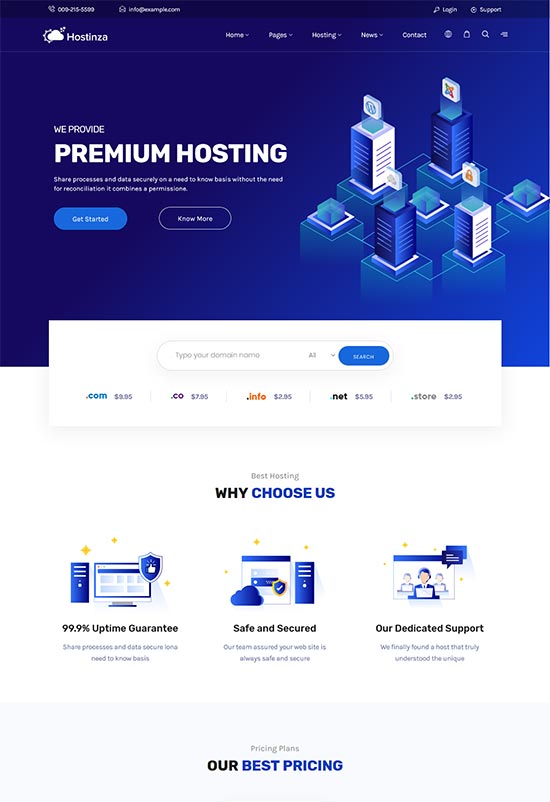 More info / download Demo
Bluishost
For all forms of technology, domain hosting, and hosting, Bluishost is a responsive web hosting theme and WHMCS. Versatile. A theme called Bluishost is available for both Visual Composer-based web hosts and technology and software companies.
The theme comes with all the features needed for a hosting services provider, including a feature for domain registration and search. A separate WHMCS custom template based on WHMCS v7.7.x is also provided.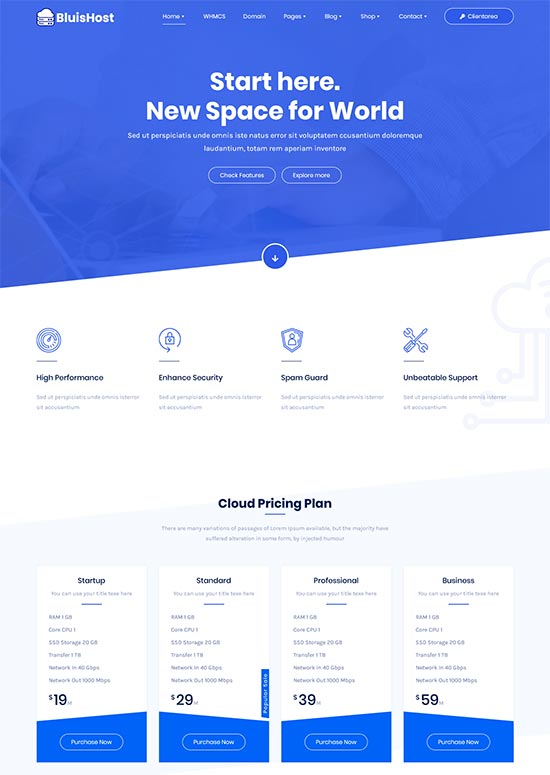 More info / download Demo
HostCluster
One of our most important server-related business topics is the WordPress hosting theme HostCluster. We've decided to use HostCluster to speak for your entire hosting business. Each of its more than 10 demos focuses on a different aspect of your server hosting business.
One could describe HostCluster as a sophisticated platform with a wide range of hosting-related capabilities. HostCluster is the ideal tool that you can use to apply to your business identity if you need a theme to safeguard your enterprise and handle the labor-intensive tasks for you.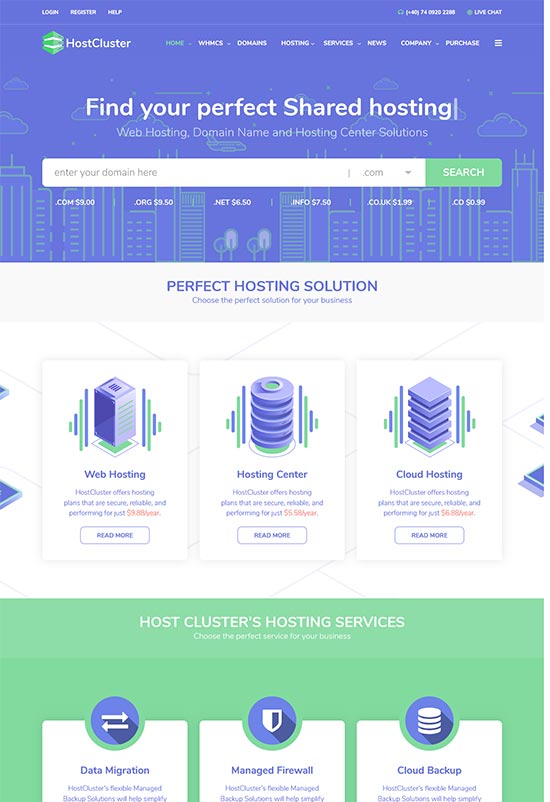 More info / download Demo
Hoskia
Hoskia is a multipurpose hosting service with a WordPress theme for business technology and WHMCS. It is intended for use with all hosting, domain, VoIP, cloud, and technological systems. Fully WHMCS Bridge compatible also contains a standalone WHMCS custom template based on WHMCS v7.7.
Hoskia is a theme for technology and software firms as well as for VOIP and web hosting firms using Visual Composer. The theme has every function needed for a hosting services provider, including the WHMCS domain search and registration feature.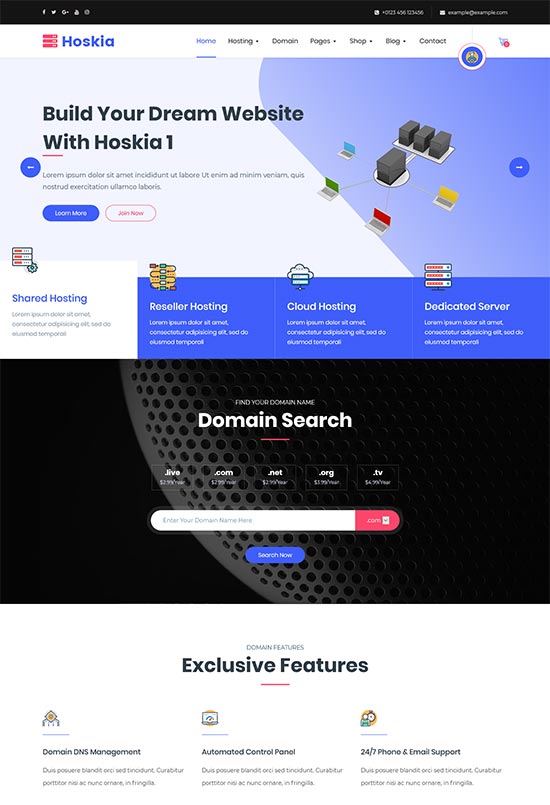 More info / download Demo
UnlimHost
UnlimHost is a robust, adaptable WordPress hosting theme with everything needed to build a highly functional website for website hosting, a domain registrar, a hosting network, or any technology company.
If you offer services like good bandwidth, SSD drives, SSL certificates, data security, Control Panels (cPanel) or Plesk, firewalls, webmail, storage, website builders, and backups, software and hardware, DNS management, databases, virtual platforms, and networking, the UnlimHost WordPress theme will be ideal for you.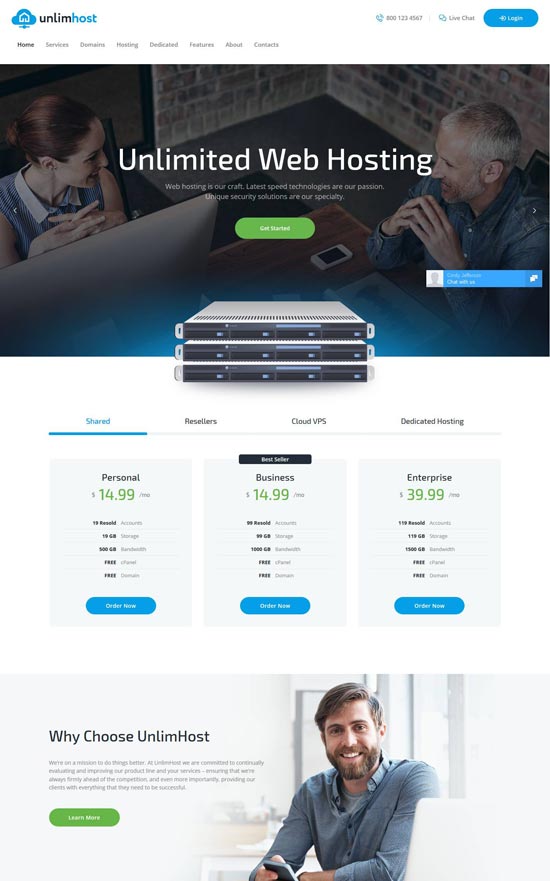 Demo More info / download
Hostiko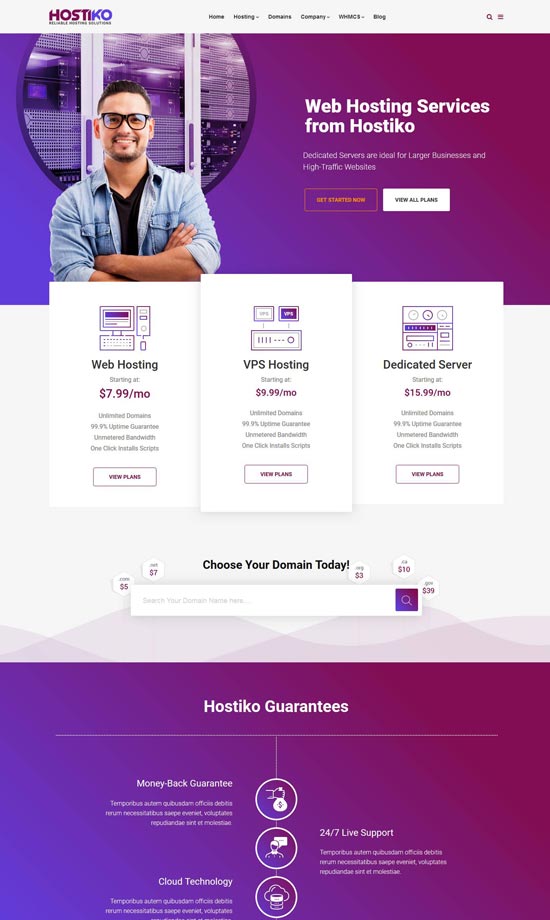 Demo More info / download
VirtuSky
The VirtuSky WordPress theme was created for all types of technology, hosting, and web hosting companies. WHMCS Bridge Integration and Compatibility in Full.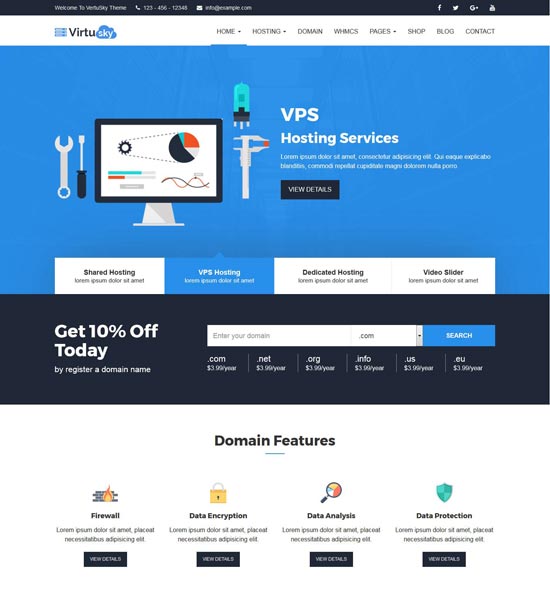 Demo More info / download
HostStar
The WordPress theme HostStar is extremely focused on providing web hosting, SEO, and web design services. Amazing theme options, a visual composer page generator, and exclusive hosting and SEO features are all included.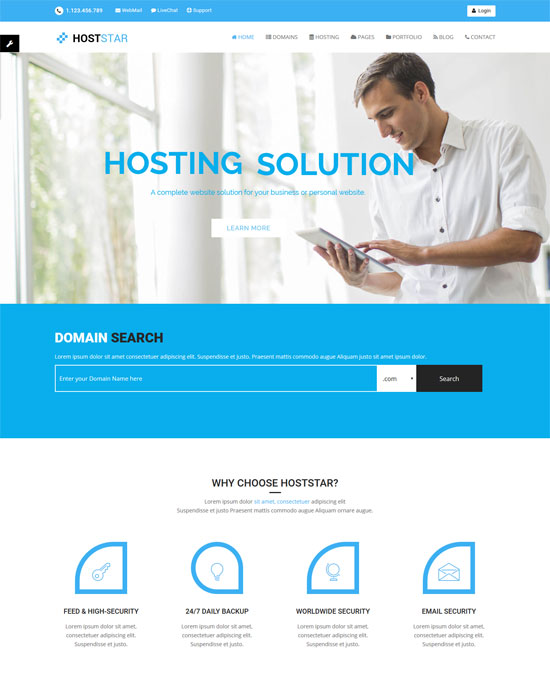 Demo More info / download
Spark
Spark is a responsive WordPress hosting theme WHMCS. It is fully responsive, made with Bootstrap frame. With the drag-and-drop page builder included, you can easily build your magnificent website hosting in minutes.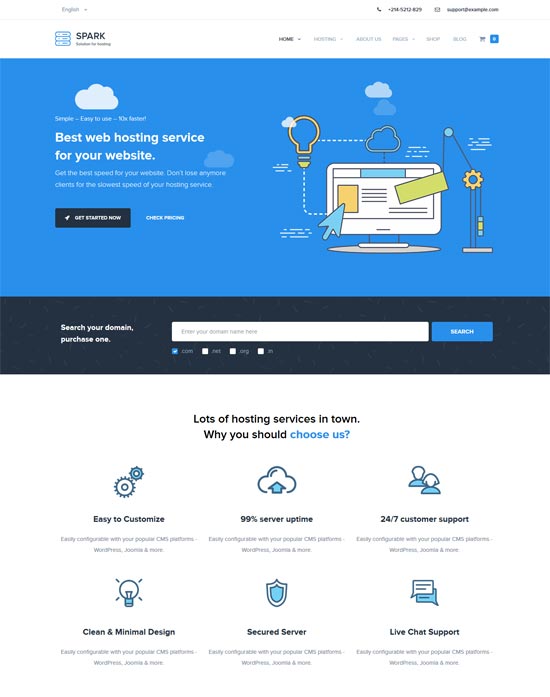 More info / download Demo
HostWHMCS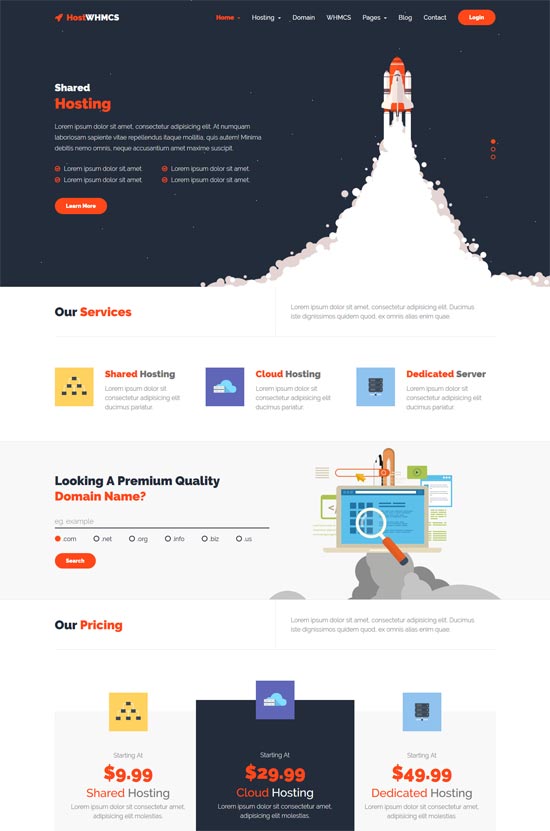 More info / download Demo
MaxHost
Maxhost is a well-designed professional web hosting and business wp theme, which allows you to launch a fully functional professional site in less than half an hour.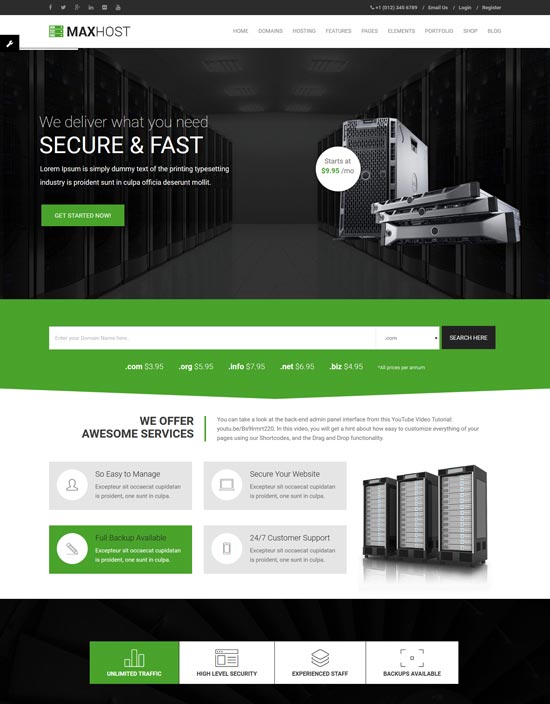 More info / download Demo
ZionHost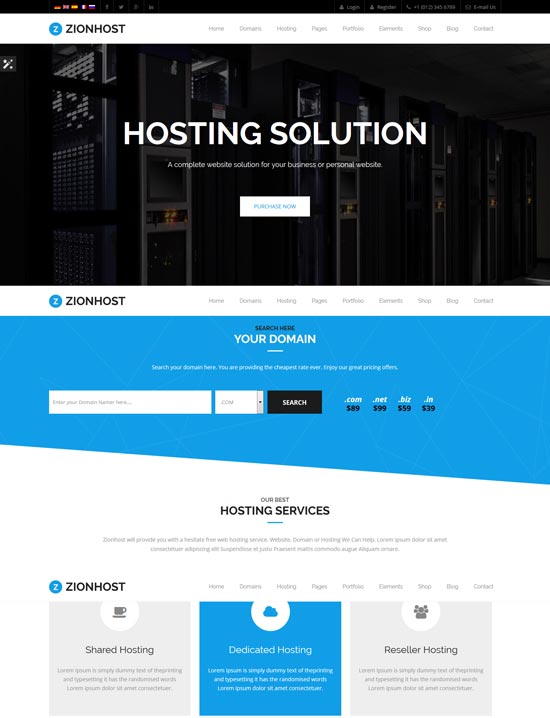 More info / download Demo
Multi Host
Multi Host is a powerful wordpress hosting theme for hosting site. We have dedicated our best efforts almost 200+ hours in making this theme.
Hostme v2
Hostme v2 is clean and minimal responsive design built with HTML5 & CSS3 coding and easy to use Shortcodes with loads of features in it.
MegaHost