uHost
uHost is the complete stylish WordPress theme for hosting with fully compatible with WHMCS that allows you instant domain search and domain purchase capability. uHost is recommended for web hosting websites, the software company as well as the agency or organization of the hosting provider. The ability to drag and drop gives you a head start on your competitors.
demo more info / download
Uptime99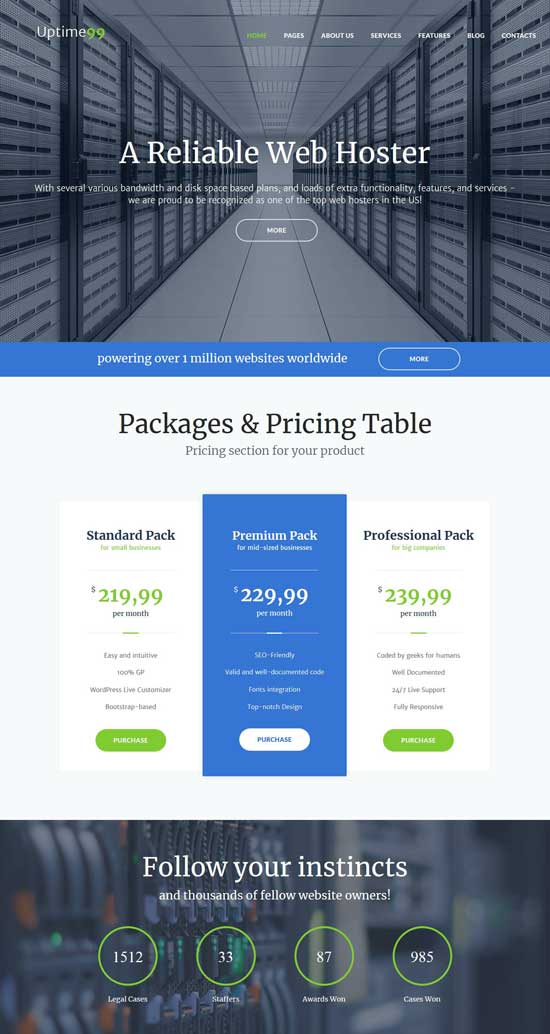 demo more info / download
HostPro
Web Hosting Services WordPress Template is a perfect fit for a variety of business websites. You can use it as a base for business, electronics, hosting, finance, computers and many other web projects. By being completely user friendly, it allows a pleasant user experience while working with a site. Contemporary design with a well organized layout and intuitive navigation make this web hosting service WordPress template easy and enjoyable to use.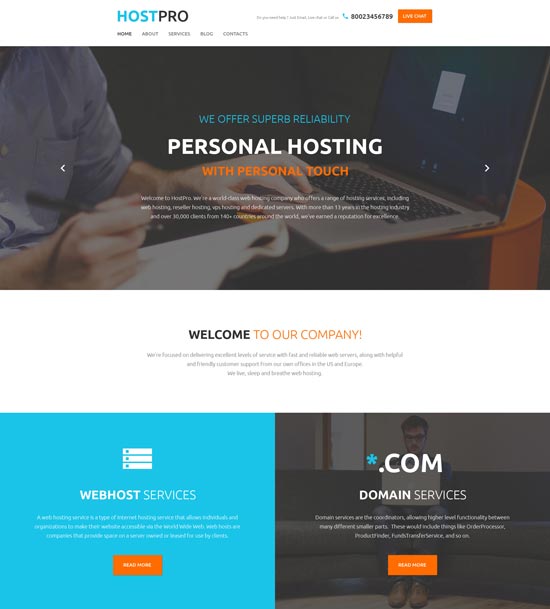 more info / download demo
Hosting24
Hosixy
This hosting WordPress theme is designed in high tech style, which can be a perfect fit for hosting businesses. Bright logo, icons, buttons and text opposed to a decent background were designed to catch users' attention. Each service comes with descriptions and pricing details to let your potential customers scan the hosting plans you provide in an easy-to-perceive manner. Furthermore, its responsive layout will be properly displayed on handheld devices. The theme is also WPML ready, so it will be very simple to understand your website for customers from all over the world.
HostingComp
Hostyx
Desiring to benefit from the Internet marketing, start ups resort to hosting companies in order to get their own web page. Owners of newly established enterprises are quite selective in this aspect, as outcomes of their business often depend on their online presence. Such a serious attitude impels providers of the mentioned services to demonstrate themselves as reliable partners, which can be easily achieved with this hosting WordPress theme.
HostingEco
Free Hosting WordPress Themes:
LT Hosting
LT Hosting is Responsive WordPress theme well-suited for hosting corporate websites. This excellent theme comes with a clean and creative design that make it suitable for setting up any business-related website. It is a type of Internet hosting service that allows individuals and organizations to make their website accessible via the World Wide Web. The template framework comes with VPS Hosting, reseller hosting for making money with your own web hosting business. It comes with unlimited color and a color picker in the admin panel.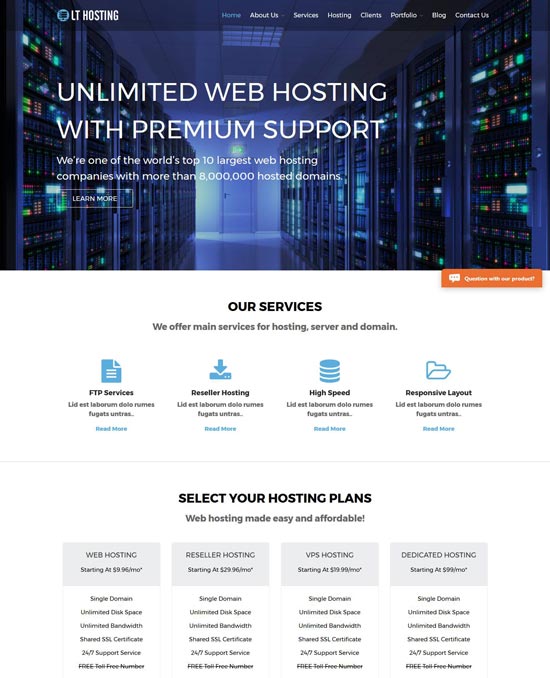 demo more info / download
Aurora
Aurora web hosting WordPress theme was intended to be used for more simple websites, with just a few pages, all with a simple layout. However, in the development process here at ResellersPanel, we liked the theme so much we decided to make it support all of the layouts that we offer, both for index and inner pages. The New Aurora web hosting theme supports 4 different color styles – green, red, blue and purple.
Just as the Next Level WordPress theme, New Aurora supports each one of the 100+ pages we have developed. Each pages comes with 100% unique, SEO-optimized content, both for the body and for the meta data. The theme supports multiple index and inner page layouts. Again like the Next Level, the New Aurora web hosting WordPress theme is really easy to set up – installation, setup and connection with our service API take no more than 5 minutes. Once you have connected your website with our system, any changes you make in your reseller hosting account with ResellersPanel will be automatically reflected on your custom site, without the need for manual updates on your end.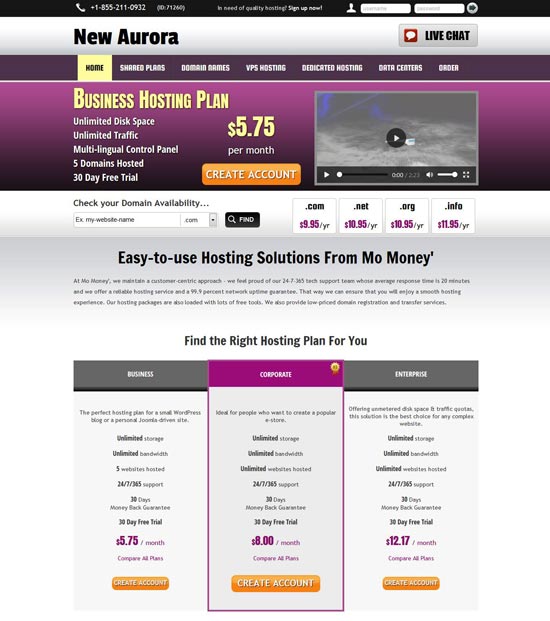 demo more info / download
Simplistic
The Simplistic WordPress hosting theme has a much simpler design compared to many of our other WordPress hosting themes. It doesn't have one particular signature banner color, relying instead on different shades of grey and white. Green buttons and blue box titles in turn compensate the absence of a dominant background color. This stripped-down color palette allows the text to clearly stand out.
The Simplistic WordPress hosting theme also offers native support for more than 100 web pages, most of which support multiple design modification options. The different page layouts can be changed with just a click, which means that you can give your hosting store a new look in a matter of seconds.
demo more info / download