Your WordPress Blog database is the Heart and Soul of your Blog.Learn How you can Perform Backups of your Blog database and schedule them periodically.
Back up Blog Database From PHPMyadmin In your C panel


To back up your blog database using Phpmyadmin is not any rocket science.Just follow these 4 simple steps:
1. Login to your Hosting Control panel and Find PHP-My-Admin.Generally the icon is placed Under the Database tab.

2. Select your database from the left Column.You Must select Your Blog database if in case you have created Multiple databases for other Issues.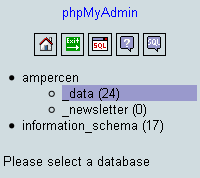 3.Click on Export from the Top Menu

4.All the tables In your database Will be preselected.Select The Export Mode as "SQL" and the compression Mode as "Zipped".After That Hit the "Go" button. You have Your Database Back up ready to Be downloaded in your computer.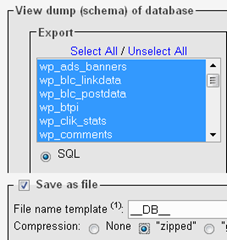 Back Up Blog Database With a WordPress plugin
The Wp-Db back up plugin is the simplest way to back up your WordPress blog database.You can download the backup file In Your computer or Schedule The back up file In your email .You can also Save the back up file in Your server.

1.At first download the WordPress database backup plugin and Upload it to Wp-content/Plugins Directory.After that Activate the plugin from the plugins Menu.
2. After you have Activated the plugin click on Tools From the Left Sidebar.Then Select Back Up.
3.From the Back up Options Select My computer and save the back Up File In your computer.remember To exclude the Spam comments To keep your database File size low.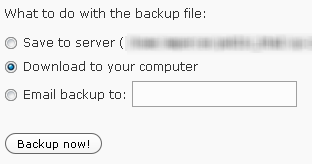 Instead of saving the Back up File in your computer You can also choose to Save the Back up in Your server.For that Select "Save to Server" and Hit Back up Now.
Schedule Your database Back up
Using the same plugin you can also Schedule your database Back ups in an email address of your choice.this is very Important Because If something Goes Wrong You Can restore your Blog if you have the database back up ready.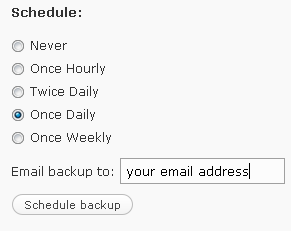 Scheduling of Back ups is also dead Simple.Just Specify an email address and choose how often you would Like to receive the back up file In Your email address. I Have scheduled a Daily back up of My database in One of My email address and I receive the backup everyday at Midnight.
Do You Perform Schedule Database backups ?