Blogger has a good  function that allows you to monitor comments made on your Blogger post. If someone posts a comment you don't want other bloggers to see, you can catch it before it is published. Here's how to review and delete unwanted comments posted to your blog. Please follow step bellow :
Log in to Blogger.com. Go to "Dashboard."
In "Dashboard," click on "Manage Posts."
Select the "Settings" tab, and then click on "Comments." This page allows you to change your settings for comments to your blogger post.
Go to "Enable Comment Moderation" and click "Yes." Enter your email address in the box that appears. All comments will now go to your email address. Leave this blank if you don't want to receive comments in your email.
Click "Save." Incoming comments will go to the "Moderate Comments" link located on your "Posting" tab.
Go to "Manage Posts." Click on the "Posting" tab, and then click on the "Moderate Comments" link. You will see any comments that readers made to your post, listed by name of author and time posted.
Click on the triangle to read an entire comment. You will also see the "Publish" and ""Reject" links; select either of these to regulate the publication of comments.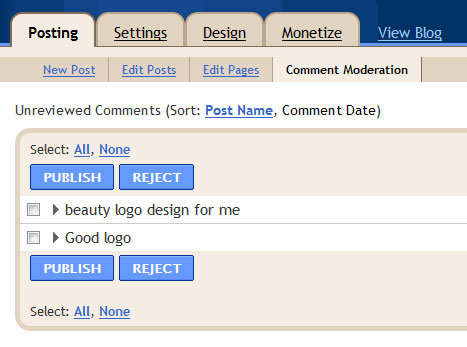 To simultaneously delete multiple comments, use the checkboxes to the left and at the top and bottom of the list.