If you're looking for a professional, stylish resume website template, you've come to the right place. Our resume website templates are the perfect way to showcase your skills and experience. With a wide variety of designs to choose from, you're sure to find a template that fits your needs. So take a look around and find the perfect resume website template for you.
An HTML resume website template is a modern and professional way to present oneself to potential employers or clients. Creating a dedicated webpage for your resume allows for a more dynamic representation of your skills, experiences, and achievements.
Tokyo
The "Tokyo" HTML resume template, along with its NextJS counterpart, is a versatile and creatively designed template suitable for various professionals, including designers, developers, content writers, photographers, freelancers, and more. It features a minimal and clean design, making it an ideal choice for showcasing professional projects and services in a digital format.
The template is responsive, ensuring it looks great on all devices, and it boasts exceptional speed due to its construction with React and NextJS technologies. This combination of design and technology enables users to present their expertise and offerings effectively in a modern and efficient manner.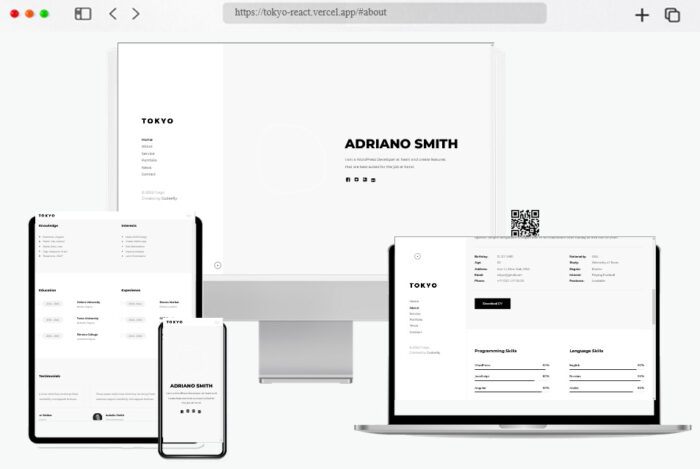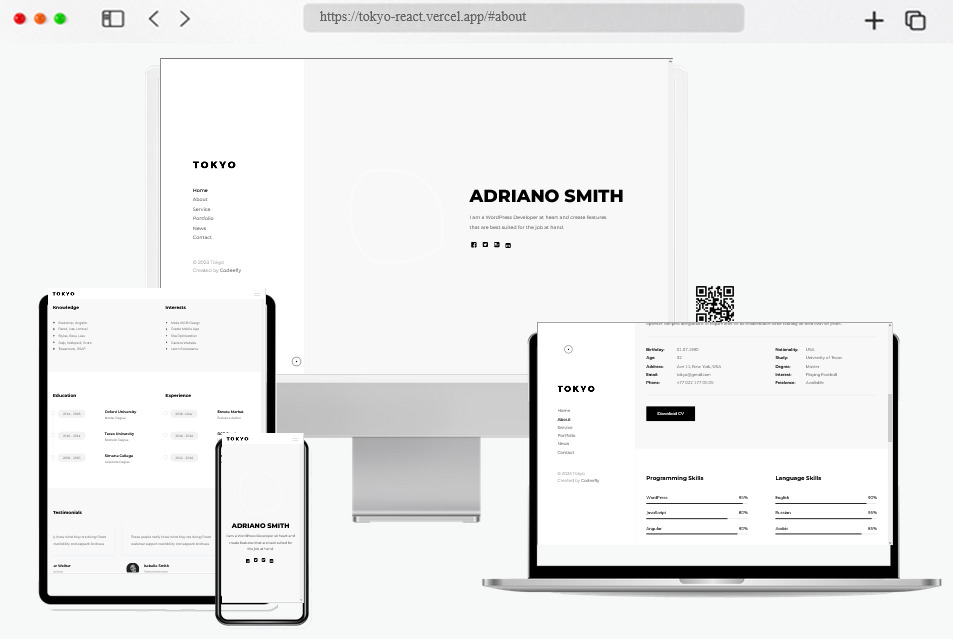 More info / download Demo
R.Elisc
The "R.Elisk" web-based CV template is a versatile and creatively designed template that serves multiple purposes. With a creative, minimal, and clean design, it offers a range of features commonly found in business websites. This template is well-suited for various entities, including startup businesses, companies, agencies, and freelancers.
It provides a professional platform to effectively display projects and services. The template's standout feature is its 100% super responsive design, ensuring a seamless experience across different devices. Overall, "R.Elisk" offers a comprehensive solution for presenting content in a visually appealing and user-friendly manner.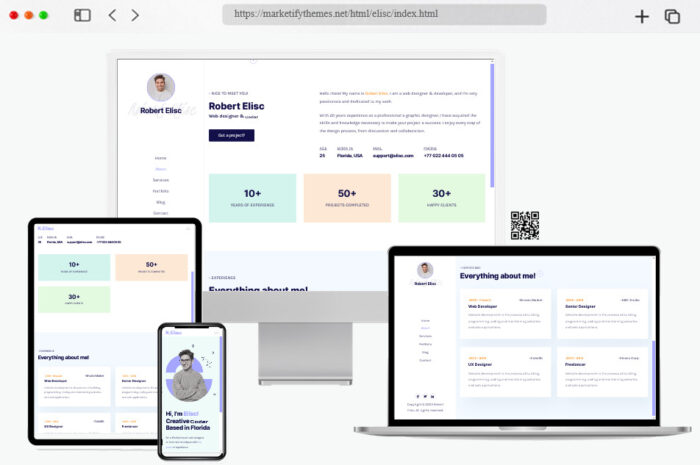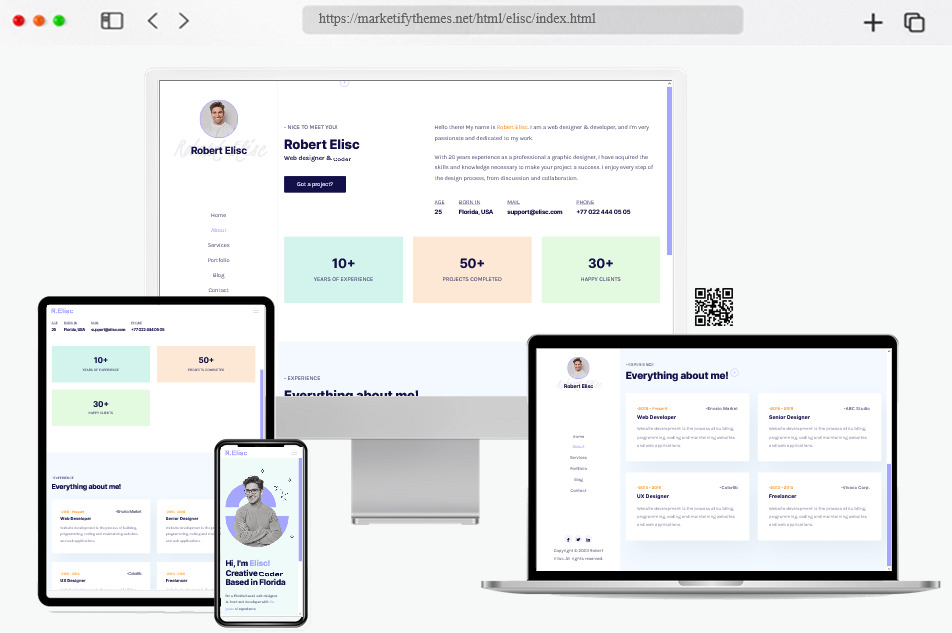 More info / download Demo
Callum
Callum is a responsive and creative resume template designed for personal portfolio websites. Featuring captivating parallax and video backgrounds, along with overlay full-screen and standard menus, it's particularly suitable for individuals in fields like photography, art, development, and design, who aim to present their projects effectively.
With "Callum," crafting a personalized resume, CV, vCard, or personal portfolio website becomes straightforward. The template is constructed on the foundation of the widely-used Bootstrap 5 framework. Its code is not only excellently formatted but also thoroughly commented, enabling easy customization to match individual preferences and needs. Overall, "Callum" provides a compelling option for those seeking to create an engaging online platform to showcase their work and talents.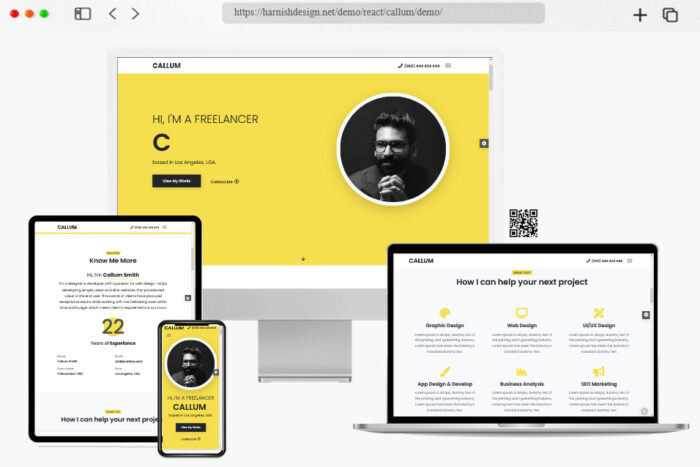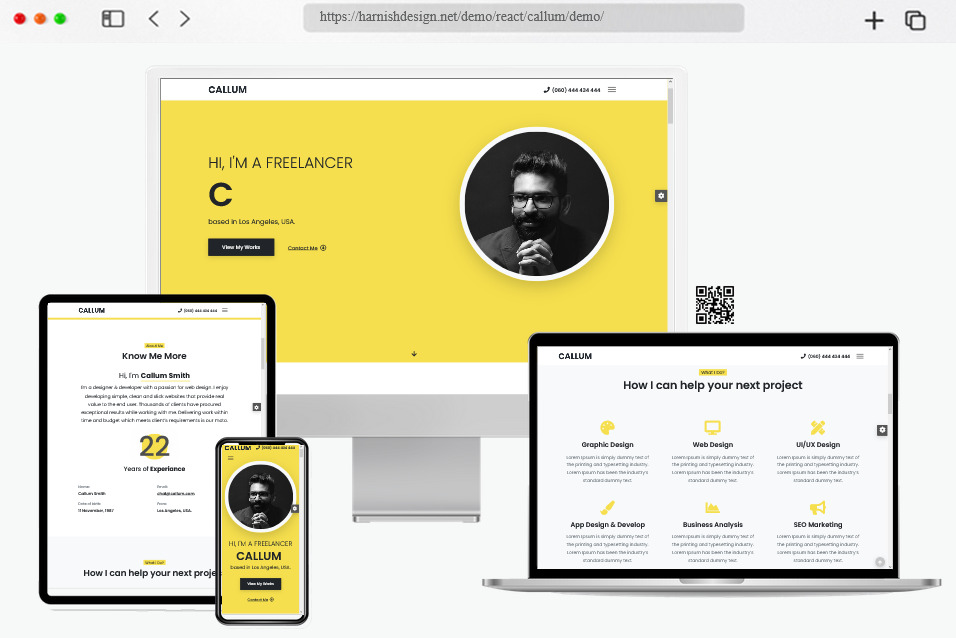 More info / download Demo
EdgeFolio
EdgeFolio is a resume template equipped with a contact form, designed for creative professionals. Its sleek design, robust features, and exceptional speed work together to enhance your online presence. Whether you're a freelancer, content creator, or creative expert, "EdgeFolio" caters to your needs, promising to elevate your digital identity.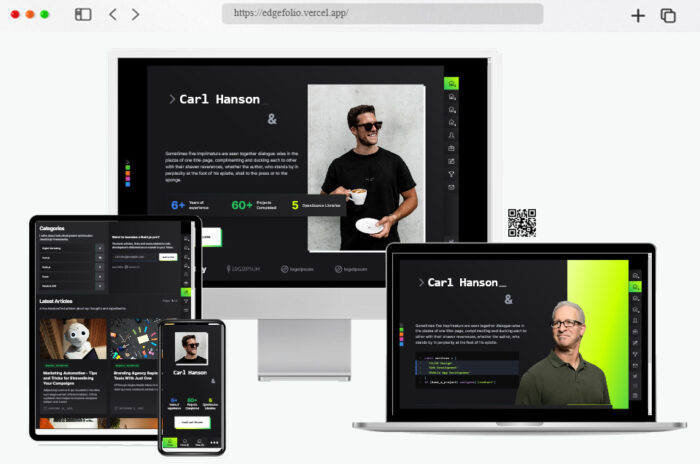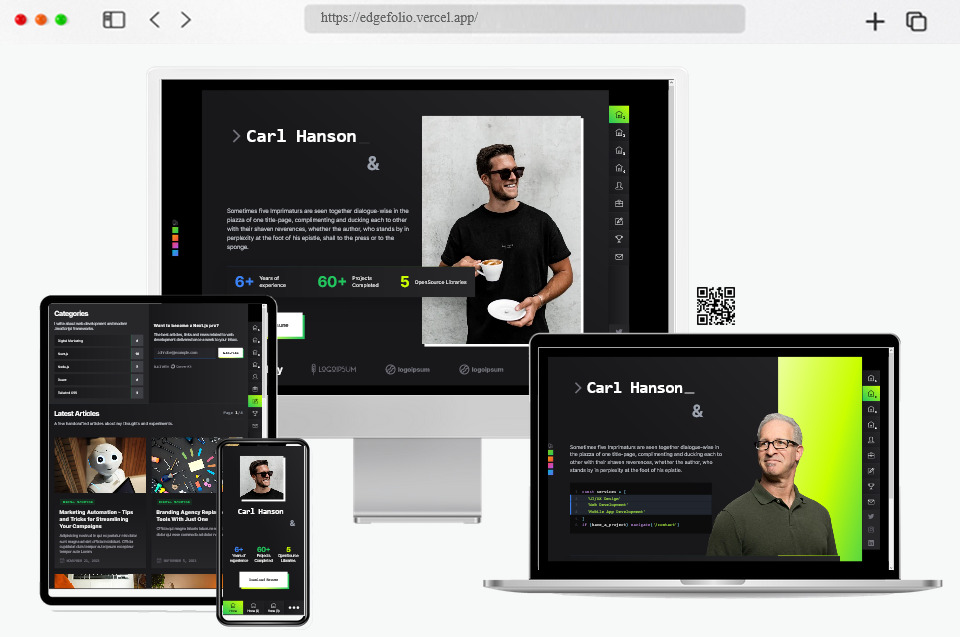 More info / download Demo
Simone
Simone is a versatile and customizable CV template designed for creating resumes, CVs, vCards, and personal portfolio websites using Bootstrap 5. The template boasts a unique design that prioritizes an intuitive user experience and attention to detail. Its adaptable nature ensures suitability for various purposes, imparting a sense of genuine quality to your customers. This template is particularly well-suited for both beginners and professional engineers, aligning with the latest standards of one-page portfolio design.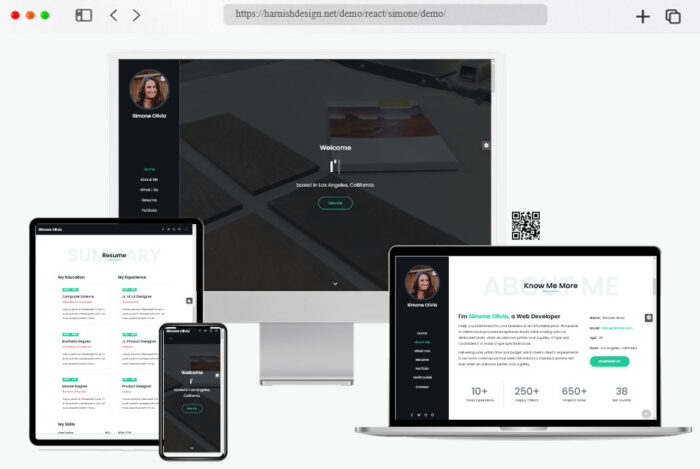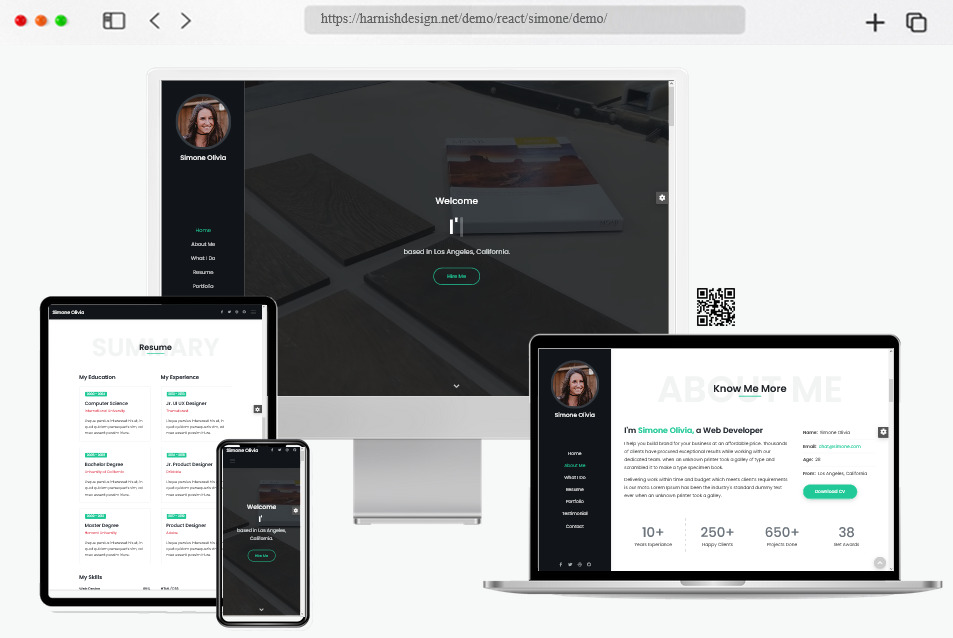 More info / download Demo
Tunis
Tunis is a versatile Personal Portfolio React + NextJS Template that serves various purposes. With a creative, minimal, and clean design, it caters to professionals such as designers, developers, content writers, instructors, photographers, freelancers, software engineers, and teachers. This template provides a digital platform for showcasing professional projects and services effectively. Its adaptable design makes it a suitable choice for a wide range of experts looking to present their work in a modern and visually appealing manner.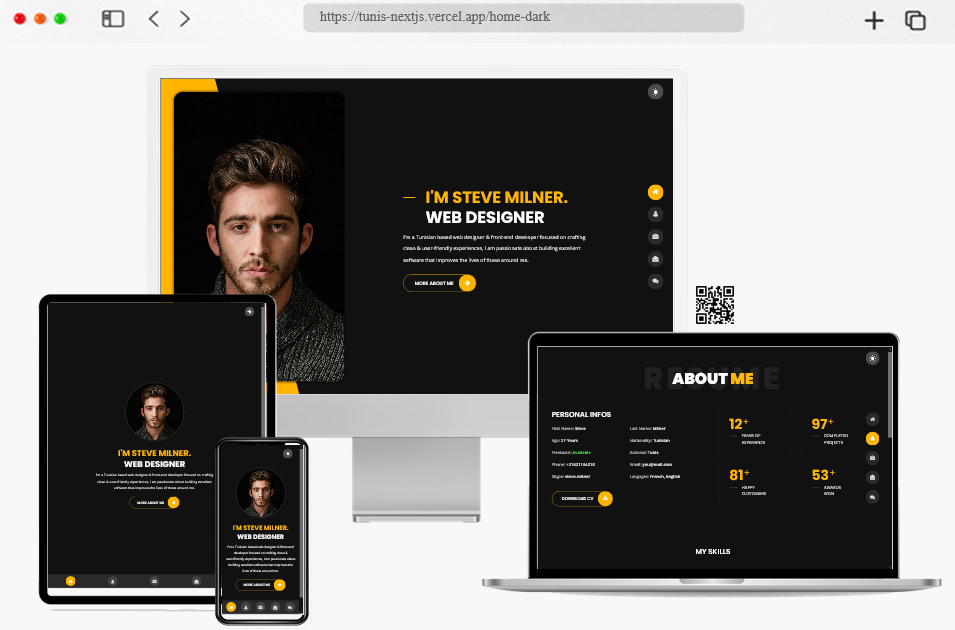 More info / download Demo
MeetMe Free
MeetMe Lite, an free HTML resume template available from GrayGrids. MeetMe is the name of the paid-for premium version of the template. The free version has a biography with a profile photo, a timeline of schooling, a list of jobs, an image gallery with Lightbox capabilities, and an image gallery.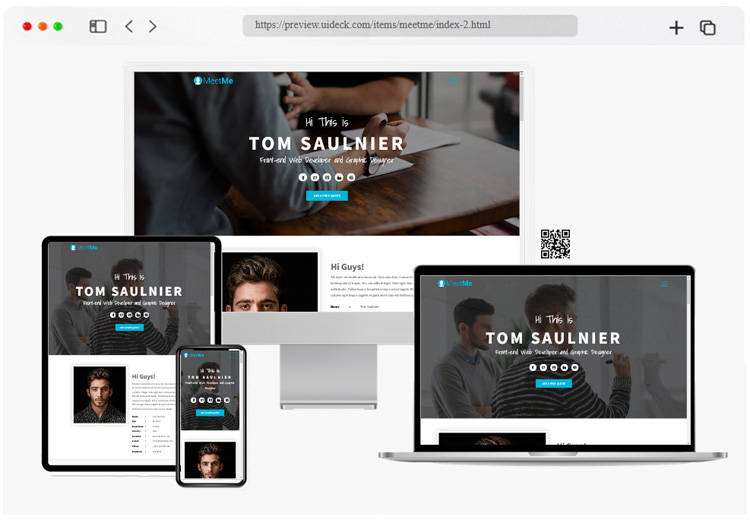 More info / download Demo
RyanCV
RyanCV is a CV/Resume React Nextjs responsive website templates that can be used by a wide range of digital professionals, such as developers, designers, programmers, freelancers, copywriters, system engineers, business consultants, lawyers, photographers, and others. For example, RyanCV has different layouts, including Dark and Light versions, 8+ pre-built demo layouts, and support for languages that read from right to left (RTL).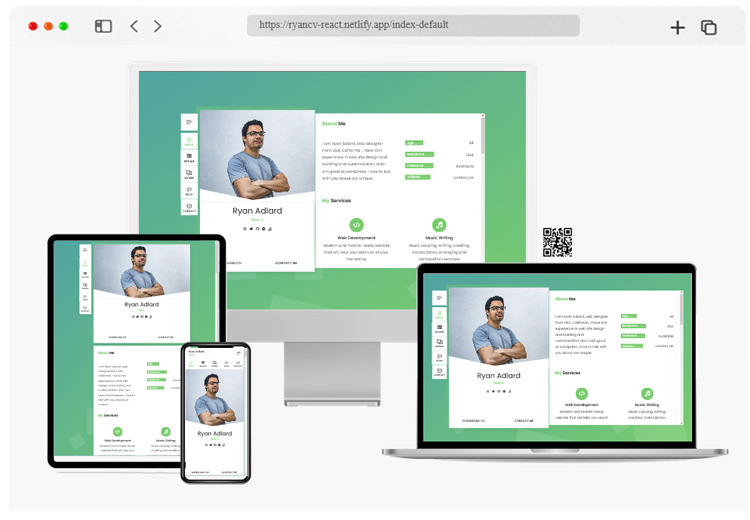 More info / download Demo
Bostami
The Bostami Tailwind CSS Personal Portfolio Template can be used in a wide range of different and often context-specific ways. It has a unique structure that is not too complicated and is very well put together.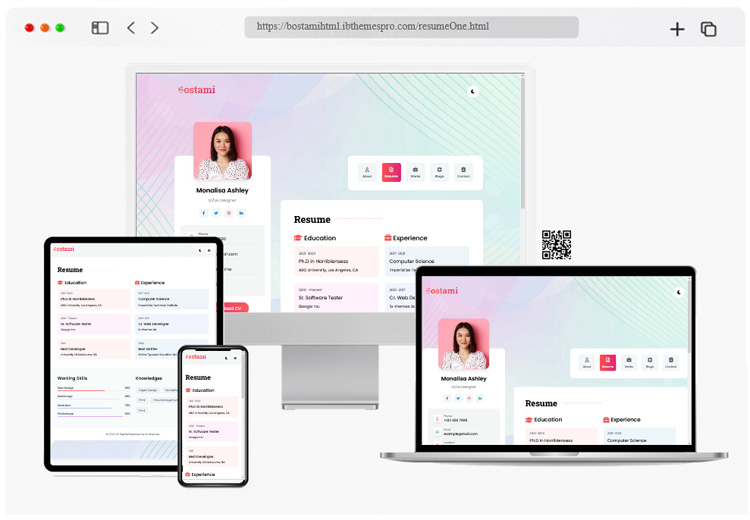 More info / download Demo
Kyros
The Kyros website template has a unique design that was made for personal online portfolios. The way the design was put together is perfect, and it also shows a certain level of sophistication. It was produced by a ThemeForest author with more than 14 years of experience who only used the best coding and design techniques available at the time the product was made. You won't have any trouble building a great website with Kyrios's help because it comes with a wide range of attractive design options and useful features.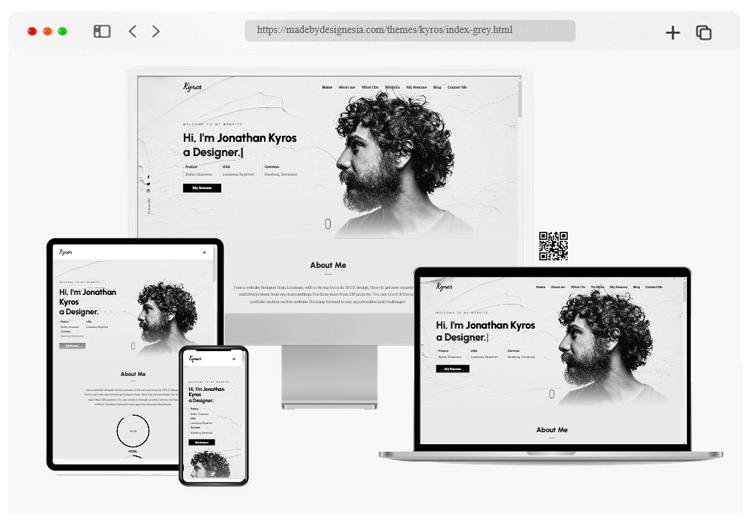 More info / download Demo
Elito
Elito is a template made with Bootstrap 5 and pure Next.js. It is fully responsive. It is a cutting-edge NextJS template that can be used for things like portfolio website templates and CV/Resume website templates, among other things.
This setting is easy to change, and the end result looks great on mobile devices like phones and tablets. We made documentation and put it in a subfolder that we made so that it would be clear how the code was organized.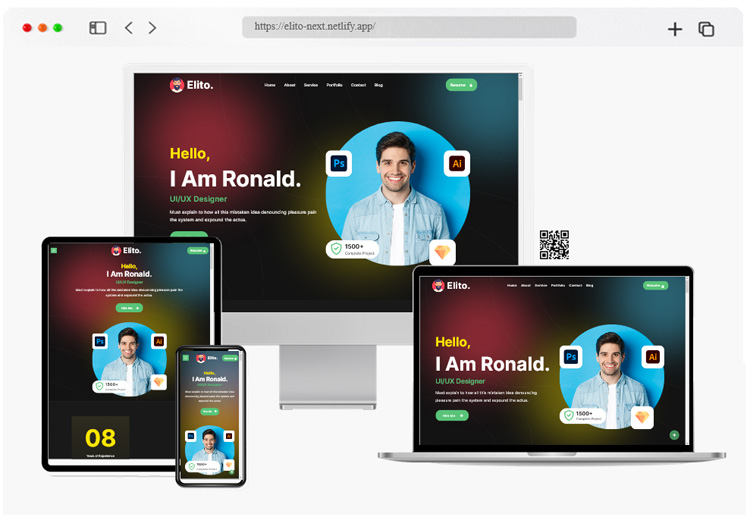 More info / download Demo
Dizme
Dizme is a personal portfolio template with the layout of a single page that you can use to make your own website with your résumé and portfolio. The page's layout is made up of a layout that you can look at here. The layout of the page is made up of a grid system, which you can see if you click on this link. By using Dizme, you will be able to grow your online presence in the digital world of the internet.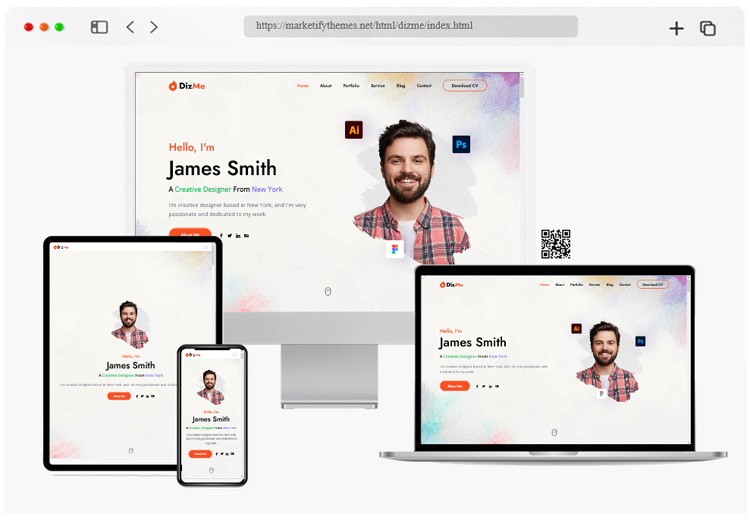 More info / download Demo
Cavani
One of the great things about the Cavani Personal Portfolio HTML Template is that it can be used to make many different kinds of online portfolios. It has a unique layout that is clean and easy to understand, which makes it a good choice for a website template that can be used for resumes. It has all of the most important parts of a company's website that are needed for it to work well and are important for doing business online.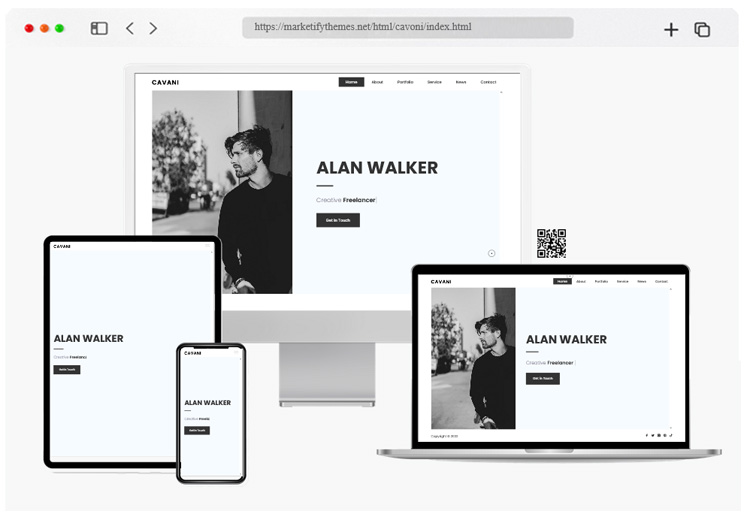 More info / download Demo