The best insurance WordPress themes designed for the insurance company, individual agent, small insurance company or other companies with financial services and insurance. All this premium WordPress themes is a matter of business topics for the insurance agency website that answers very intuitive, easily accessible, technologically accomplished and visually sophisticated, in particular and specially designed to meet the specific needs of insurance provider, Insurance agent, wholesale insurance and reinsurance website. The themes has been built so that any business related to ease, fast safe and hassle adopt and create powerful, functional websites that are impressive modern and professional looking, within minutes without any knowledge of any programming.
Lyfplan
Lyfplan WordPress Theme is an innovative insurance WordPress theme. Create websites for business consulting agencies and insurance companies, insurance agents, independent agencies, and commercial companies.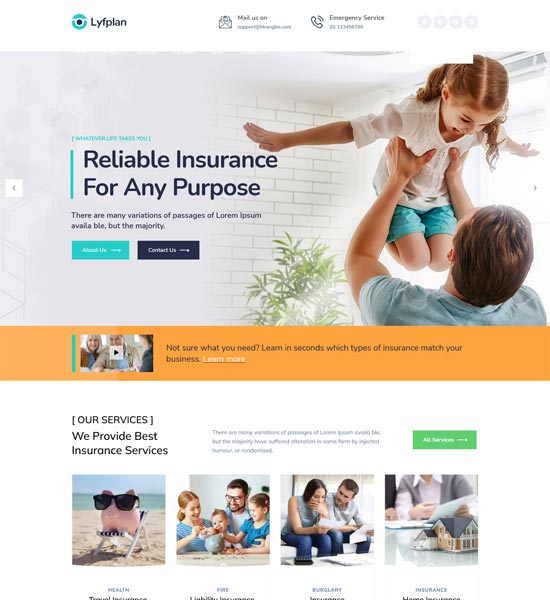 more info / download demo
Insubex
Insubex is a clean, modern and professional multipurpose WordPress theme for Elementor Insurance Agency. It is a clean, modern and simple template that was created for designers, photographers, fashion agencies, freelancers. The design is very elegant, minimalist and attractive. It is based on Bootstrap or Grid 1170px, developed with Revolution Slider and Elementor and packed with over 100 theme options using the redux framework to facilitate the customization process.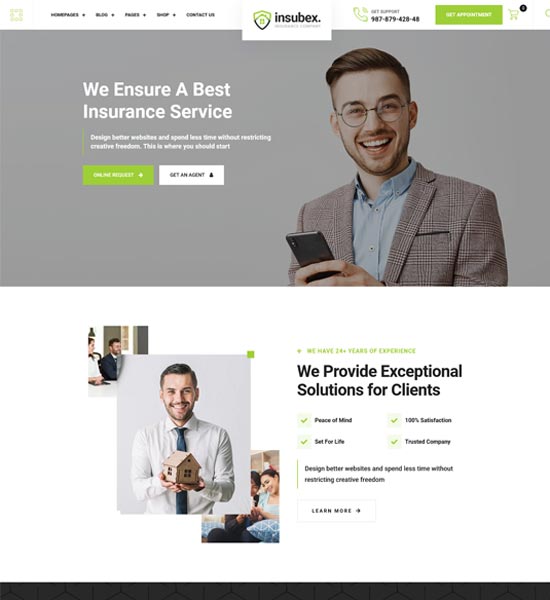 more info / download demo
Topika
A modern WordPress theme for insurance companies. It is a perfect solution for the insurance service agency company or individual, business consulting office, investment advisory company, financial or tax assistance company. The theme is well organized and very easy to edit and modify.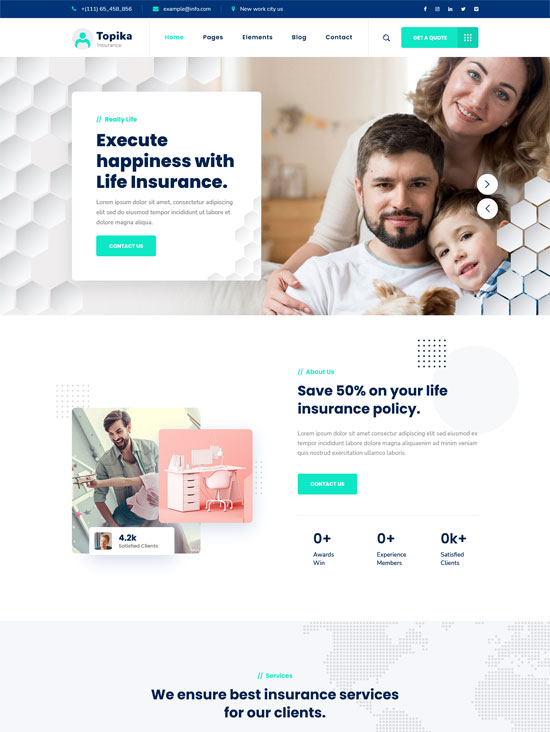 more info / download demo
Assurena
A clean and responsive WordPress theme, especially for insurance agencies, insurance advisors, consulting, finance, and small businesses. (Can also be used with general corporate website). Assurena will surely provide you with all the layouts, functions and options you might need to create an impressive corporate website with the greatest of ease.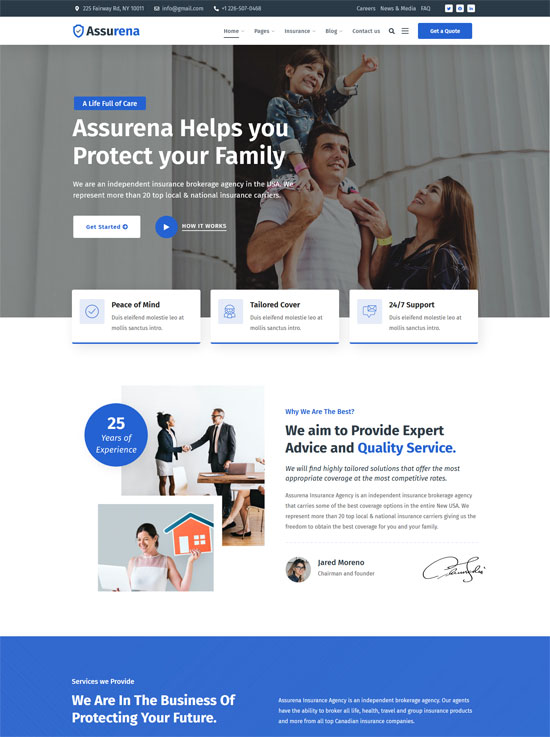 more info / download demo
Jotex
An insurance WordPress theme. Jotex is the best solution for insurance and other similar companies. With its reliable design and feel, it is the best choice for the insurance industry. It is a modern, beautiful and elegant insurance theme. You can change the whole section to your liking. There is a custom option and each section is creative unique to Insurance. It has a unique design with amazing features for the website of insurance companies who want to create their website. We have created all the insurance features that an insurance company website needs.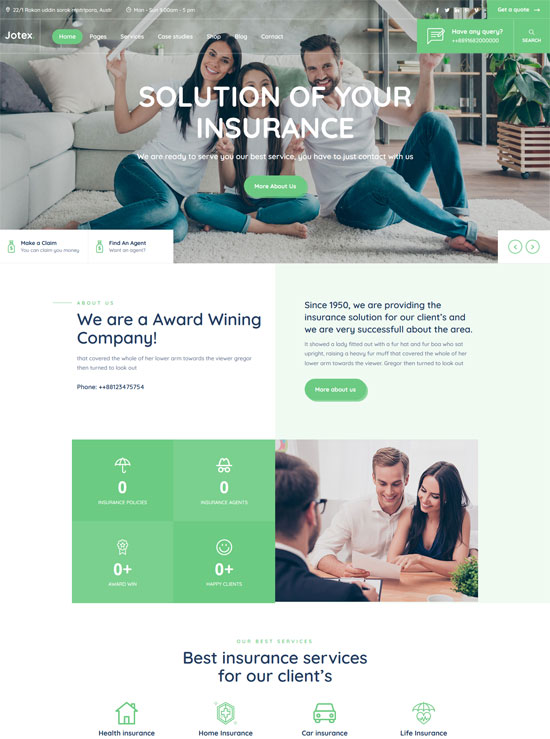 more info / download demo
iDlike
A modern WordPress theme that will adapt to all types of insurance and business. During development, the most popular plugins and our own unique widgets were used. You can easily edit any design element and replace it with yours. Also on the topic, an online calculator was first developed to calculate the cost, which can be easily adapted to the needs of a digital agency, an smm agency, an insurance agency, a corporate agency and be configured according to their rates.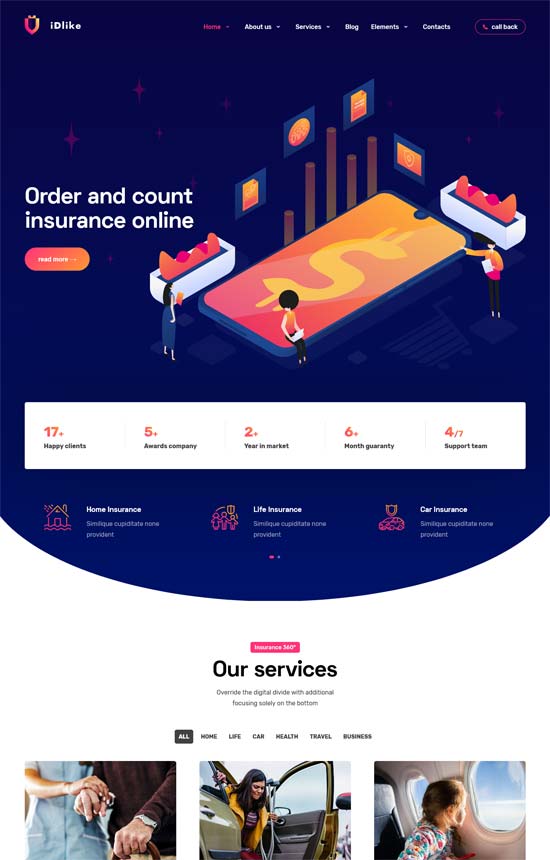 more info / download demo
Alico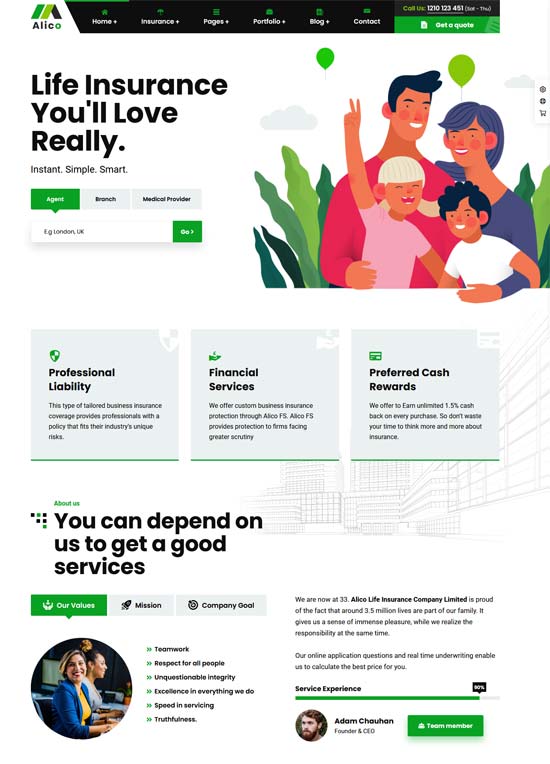 more info / download demo
Instive
A unique WordPress theme for insurance agency specially designed for insurance companies, insurance agencies and small businesses. The theme comes with twitter bootstrap 4, Revolution Slider, Owl Carousel, Insurance Post Type, Needed Shortcode, and more.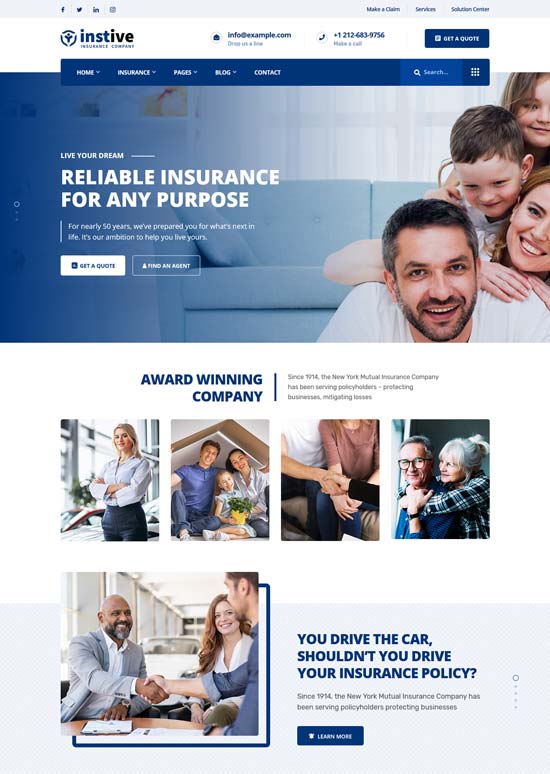 more info / download demo
Bellavita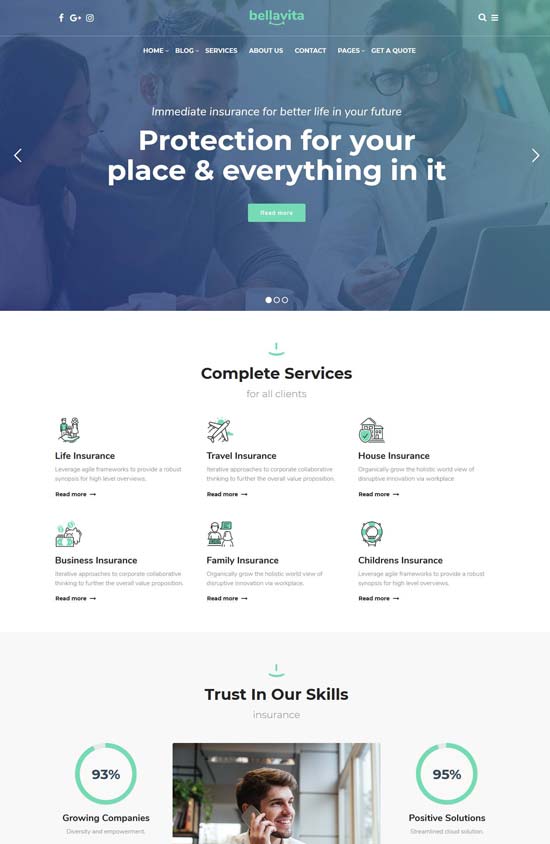 more info / download demo
BiziPress
Specially created for niches of insurance websites. This WordPress theme comes with great features and awesome designs. Its built with Bootstrap, designed for any type of devices. It is suitable for many types of businesses such as consulting companies, insurance, loans, tax aids, etc.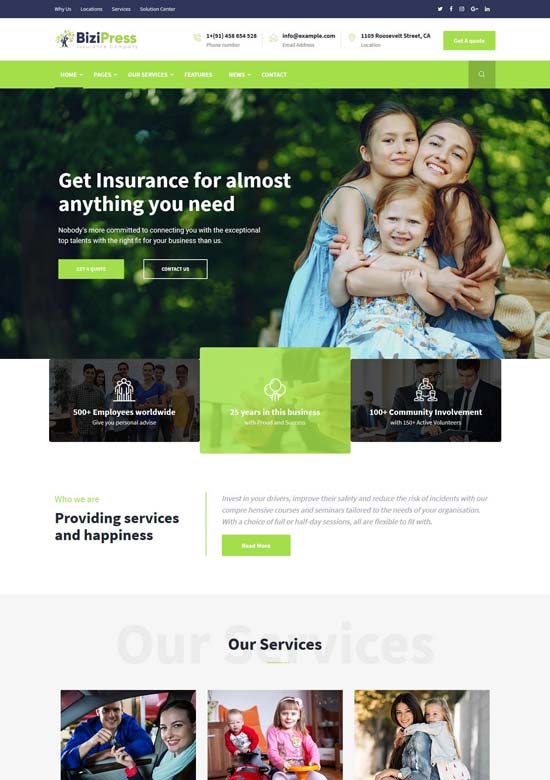 demo more info / download
Iasion
A professionally designed theme for the insurance, consulting and corporate sectors. With its quality sections, anyone can create a professional-quality website for their company or company.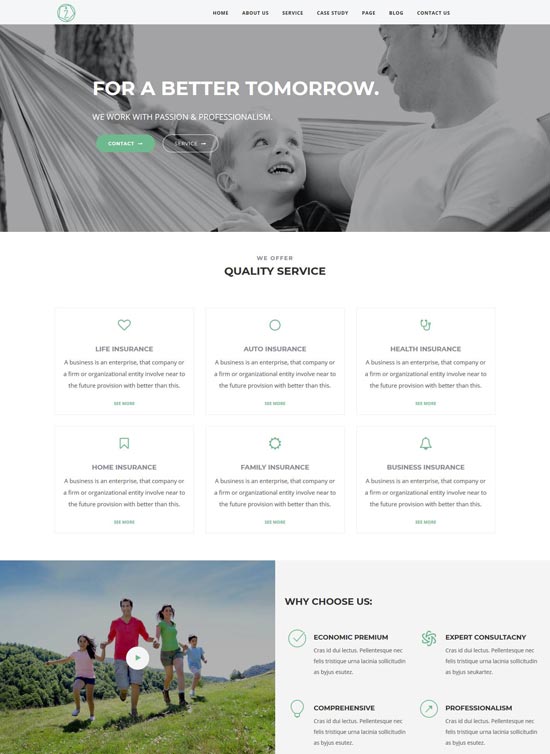 demo more info / download
Insugroup
A powerful, responsive and versatile WordPress theme for insurance companies. It is designed for insurance agencies, tax assistance companies, businesses and individuals. In addition, it is ideal for insurance agent, pension fund counsel.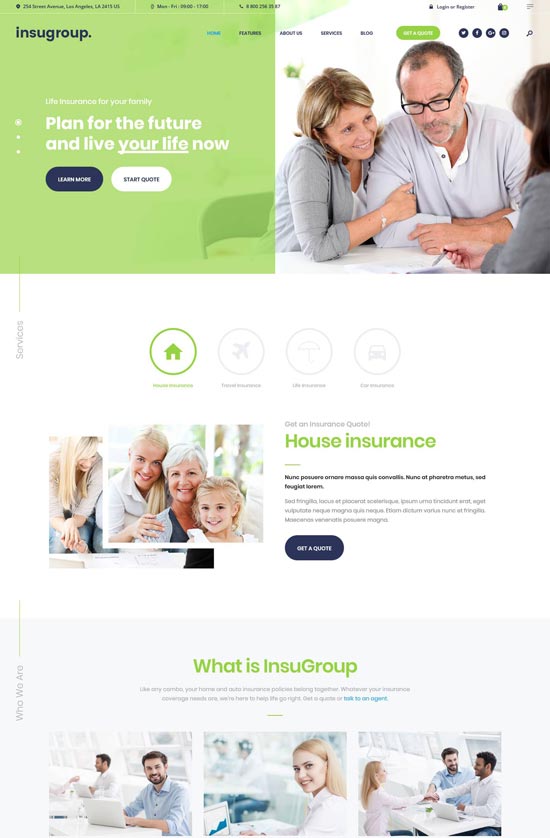 demo more info / download
Roox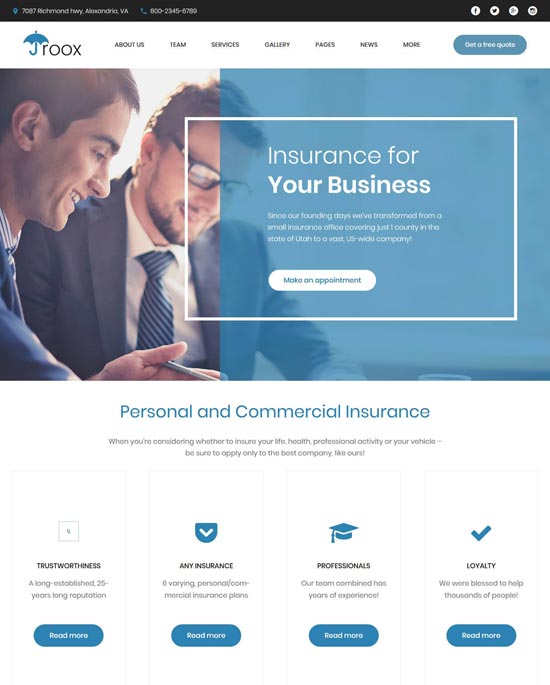 demo more info / download
ShieldGroup
A modern, colorful and responsive WordPress theme. This is an ideal option for the company or an individual, an insurance services agency, a business consulting firm, an investment advisory firm. Shield Group has a fairly versatile design, so it can be used for almost any professional niche and website.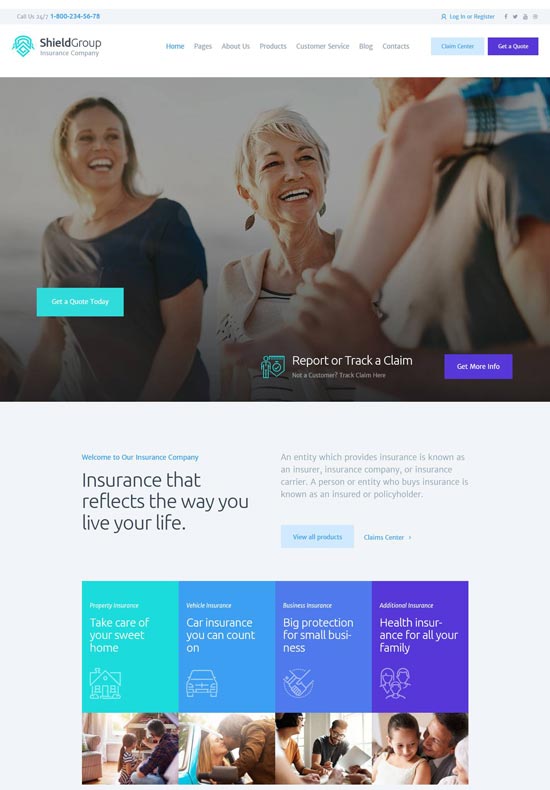 demo more info / download
InsuRel
Modern and fresh business WordPress theme. It is designed for insurance companies, companies providing tax assistance to businesses and individuals. InsuRel's clean and contemporary design gives your website a new look. Its layout is perfect for mentioning all your key services that will help you build a reputation for professionalism and reliability.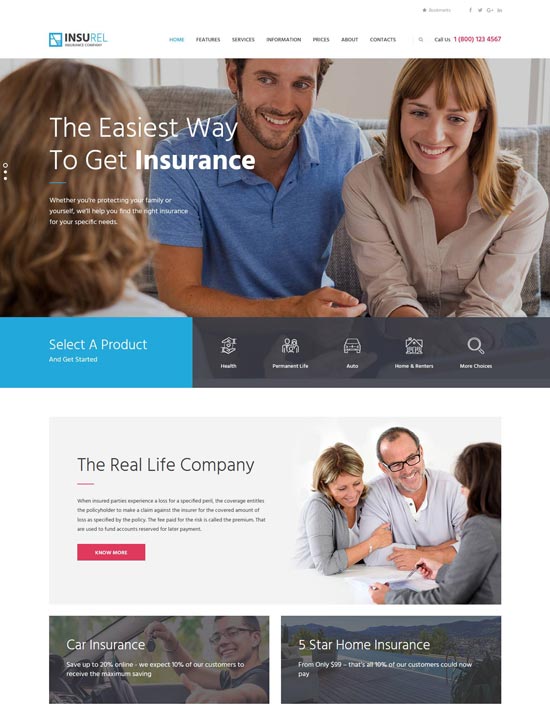 demo more info / download
Health Insurance
Unique and responsive WordPress theme focusing on insurance business websites, health insurance, insurance landing pages, and more. Convenient insurance popup quote forms, tabs with insurance service options, three home pages, three pre-defined color options, one-page or multiple-page website.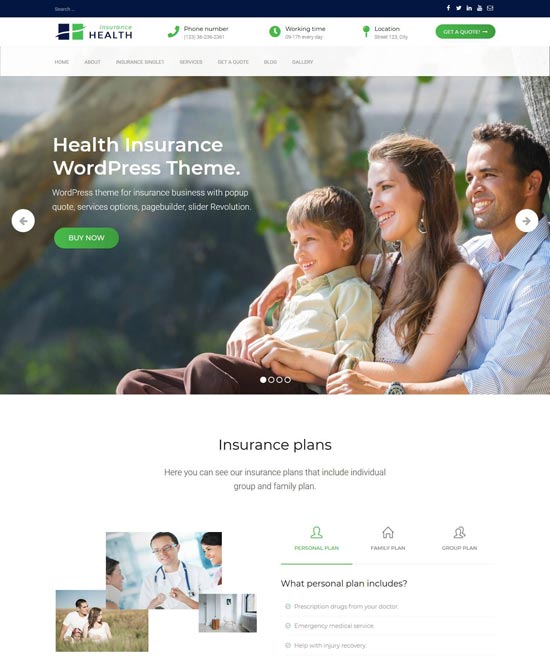 demo more info / download
Insurers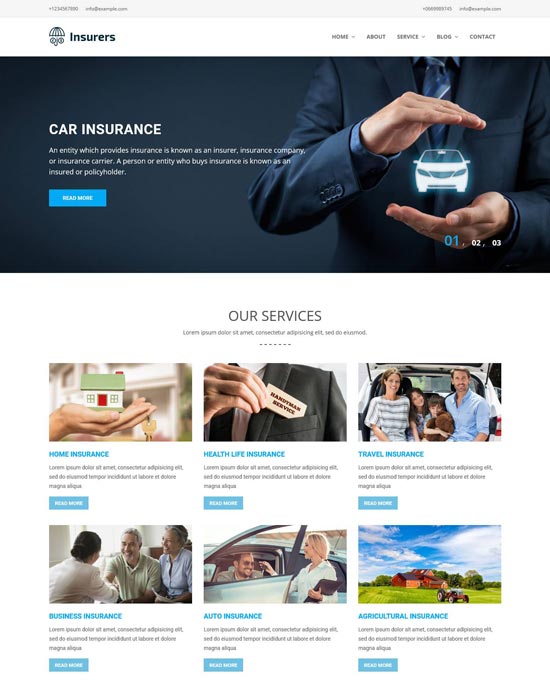 demo more info / download
Insurance Agency
WordPress insurance theme very well suited to the creation of websites for insurance companies, independent auditors, agencies and trading companies. With the special features of this niche segment, the Assurances theme is the answer to your needs.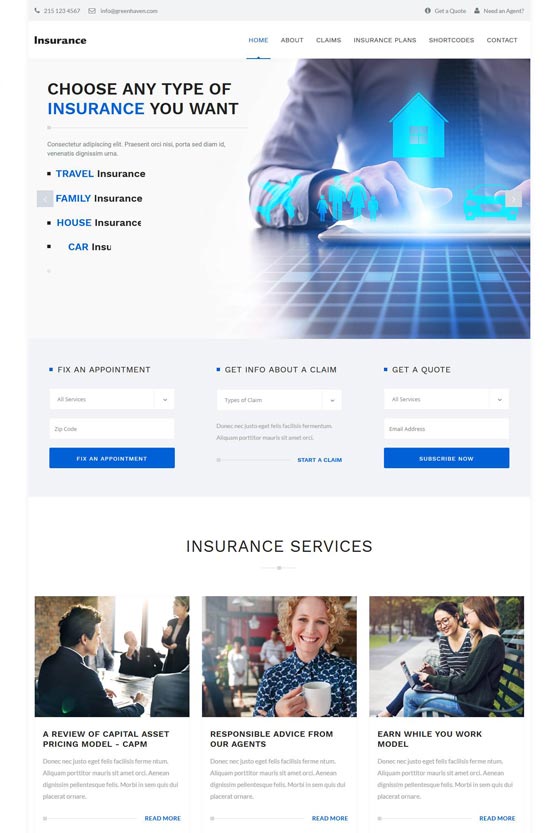 demo more info / download
VG Mirinae
A theme of the WordPress insurance agency, designed for an individual agent, a small insurance agency, a small business, a bank insurance group, a broker or other businesses with related financial services . VG Mirinae comes with 2 predefined layout, visual page builder, revolution cursor, ultimate shortcodes, mega main menu and many features.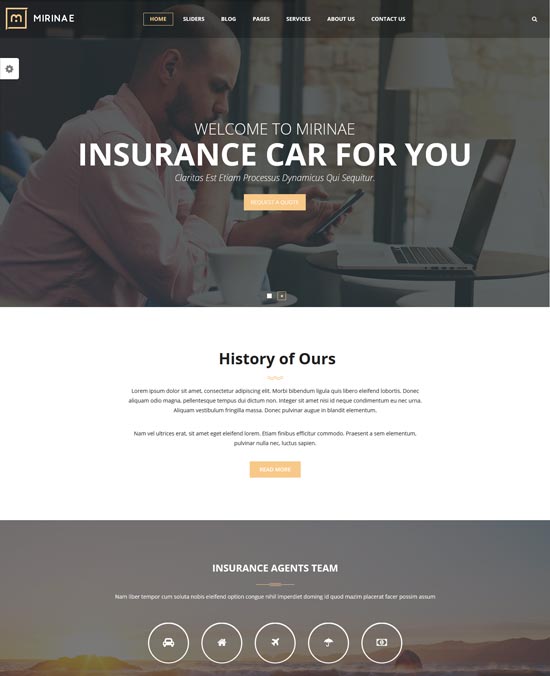 more info / download demo
Insurance Press
A powerful easy to use, highly customization Premium Insurance Agency WordPress theme built on the Bootstrap 3 framework, feature filled.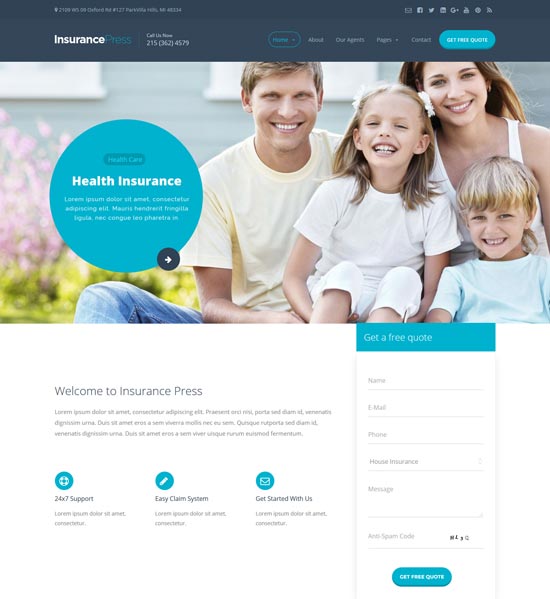 more info / download demo
Convo
A WordPress theme for life insurance, Insurance Agents, Agencies and similar website.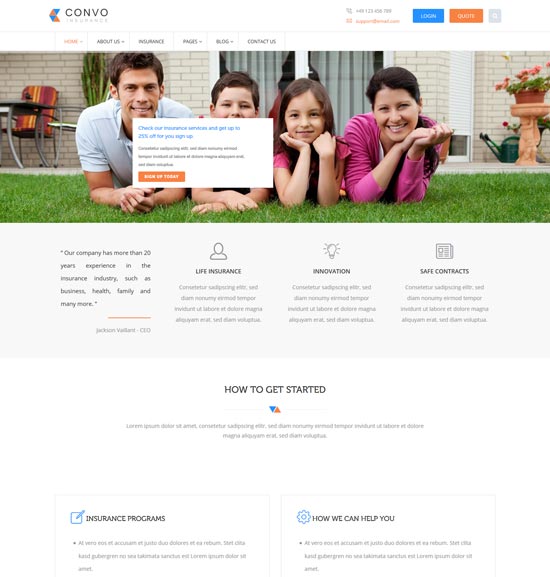 more info / download demo
Saifway
A clean and professional WordPress theme designed specifically for insurance companies or small insurance agency. This theme comes with twitter bootstrap 3, Owl Carousel, Type of Insurance Post, Needed Shortcode, Video Popup and more.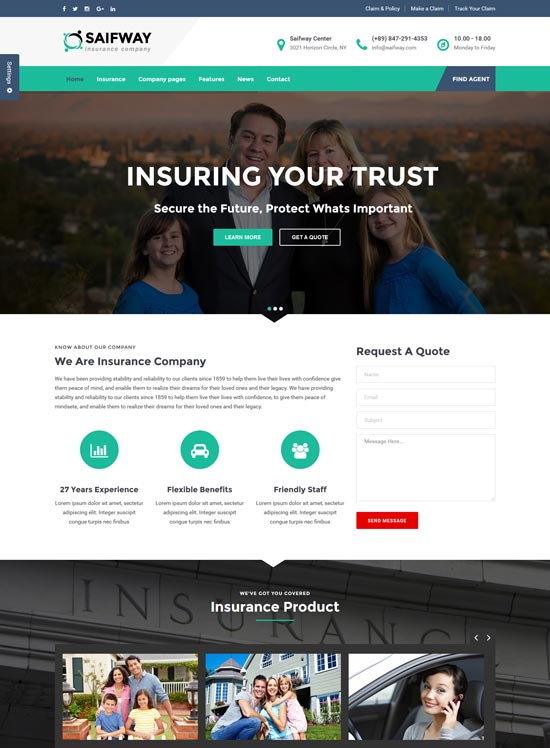 more info / download demo
TrustCo
WordPress Theme Insurance Agency has the own business design, designed for the insurance company, professional insurance agents or other agencies that provide insurance and business services (as well as help Fiscal and financial). It is perfect for home, health, life, automotive, travel and more.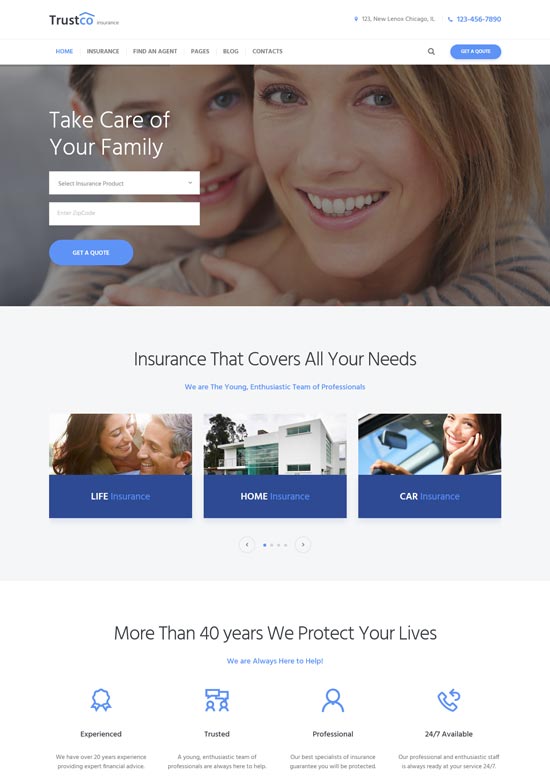 more info / download demo
Insurance Agency
Agency Insurance is the subject WordPress responding well to the powerful and extremely flexible, designed to be easily It has a difference of kind website and imagination of any However, among peculiarly well equipped to handle the task, which claims relating to insurance sites, sites such as insurance companies, service providers, insurance or professional insurance, lawyers and projects related to more sites. Agency Insurance is strong powerful because compounds reserved for the creation of templates and dozens of design professional to start your website and stir your page in a breeze, customize quickly with the option to customize level that can change everything with distinction endless font tons Retina stunning icons, combinations endless ready and all kinds of logos and branding possibilities to make your website yourself. Fleshing page staff with short code and graphic elements that have made manufacturing jobs short calls page eyes, create a page plan in rode a heartbeat price of an input form all types and advanced subscription facilitates e-mail, including shoes, all kinds of headers and footers in the Parallax beautiful animation and more, with an update fixed throughout the life of the customer and the agency guarantee.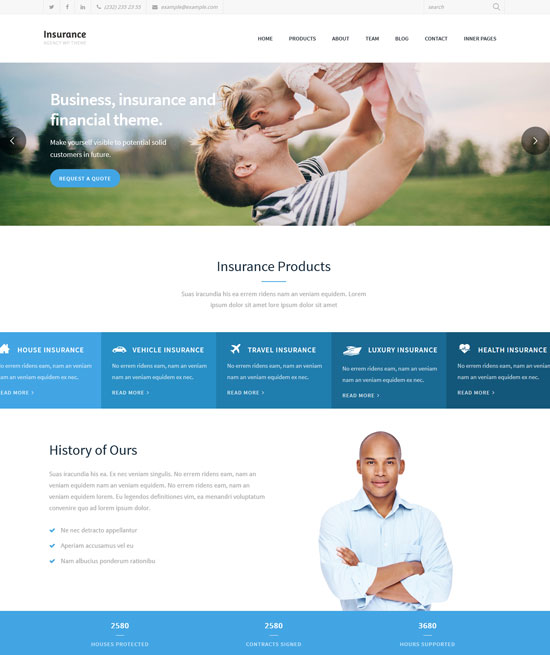 demo more info / download
Peace
An insurance agency WordPress Theme designed for insurance company, individual agent, small insurance company or other companies with insurance & financial related services. Peace is modern, clean & professional layout makes sure your insurance agency builds trust. Peace is a cleverly constructed and well coded theme that is packed with all the most advanced technologies and powerful development, ranging from HTML5 and CSS3 AJAX and parallax in a sleek, streamlined package. Peace template has a lot of features like Slider, insurance product gallery. Find an agent, claim center, Agent, Single Investor, Financial report, Annual meeting Reopen – Download, Career, Wizard form, call to Actions, How it works & many short codes. Plug self-developed incredibly expands the options available to you as you as a business or web corporate of any kind, and especially for webmasters trying to design, develop and maintain business websites insurance or websites related to insurance of any kind. intuitive, clear and understandable step by step guides video are included in the detailed documentation Broker, ensuring every webmaster can really make the most of Broker every time, and its system of customer support world-class is available all day take care of anything that may arise. Broker-serious websites, the easy way!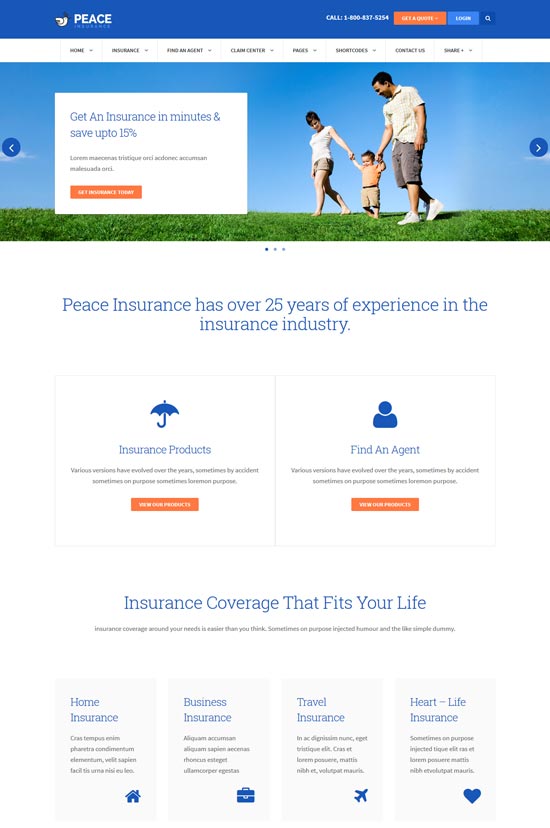 demo more info / download
InsuranceCom
The theme was developed for insurance company. Insurance WordPress theme has a warm and attractive, full-screen picture of a happy family on a slider increases confidence to the website. There are two sliders on the page, so they can show as much content as needed there. The search bar is placed at the top right of the web page where customers can find fast corner. additional links and block social media are arranged in the footer, which is in a place provided for this type of information.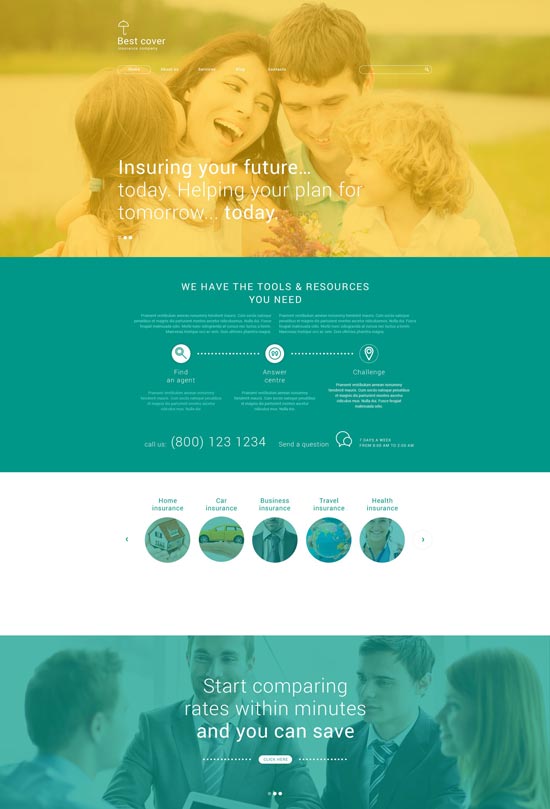 demo more info / download
InsuranceAgency
Insurance powerful drag & drop construction insurance allows you to make your own editing templates and designs are included in order to ensure that your website represent your business to your exact specifications and standards. At the same short code capabilities powerful to customize for a guarantee that a building expansion function blocks in the content of the message and part of your website's that allow you to easily create get forms Quotes and contacts for your customers in the future to ask or request a service provider through its site official. The only part of your website will make a good insurance business agency site for your company.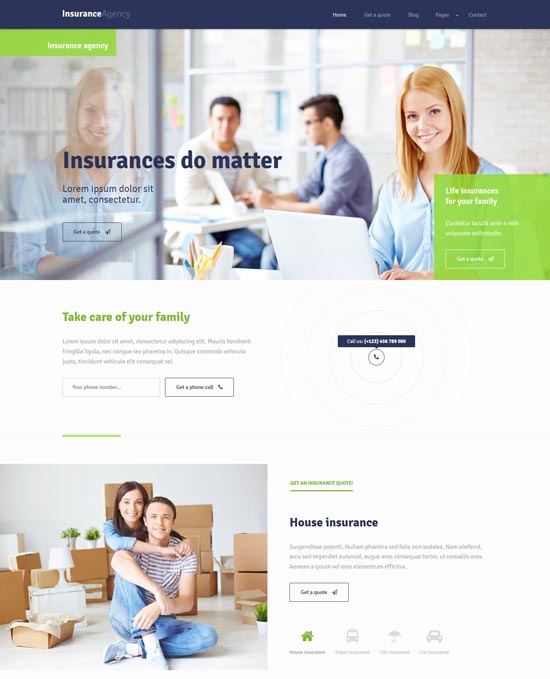 demo more info / download
Travel Insurance
Planning a trip that we not only get first class service and memorable experience, but also feel confident that we will be protected from the unexpected turns when necessary. This is where travel insurance companies are useful. Like any other business, they need to have strong presentation online in order to attract new customers and make people believe in their credibility. The clean design insurance theme with catchy orange hues allow users to navigate your site without problems and pay attention to areas that are worth your attention. Prioritize content is one of the best ways to ensure that people will come up with the information they want to find. Using themed background images trip full width will encourage the audience to select the plan adequate travel insurance and leave for the holidays.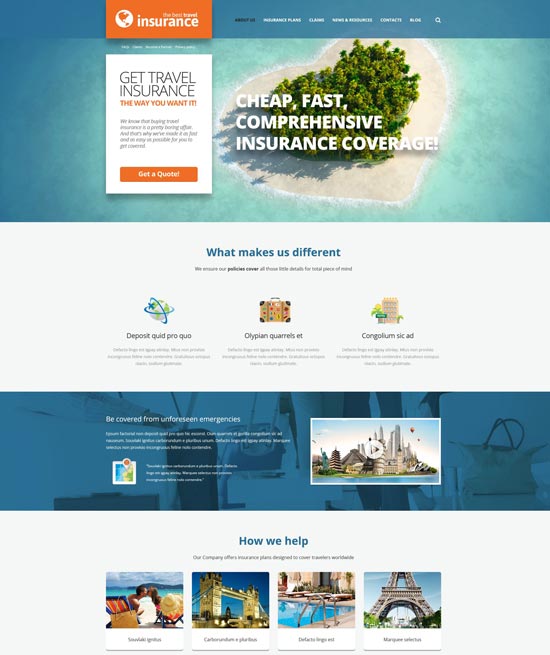 demo more info / download
Mist
A high-speed, enormous, ambitious and expanding, well thought out and composed professional graphics and flexible response on their feet, code skin modern thinking much higher level and has a very attractive, effective insurance theme. Mist is a more flexible, extensive and very much that can be adapted easily to what your needs may be a due approach design-oriented, top down, its makes the layout of the website created for users and focused around content in a professional, polished setting and reliable. In related, fog is a relevant topic for health insurance site and all kinds of sites that worked in insurance coverage or continue and related industries in similar fields. With the holidays, the aesthetic of its entertainment, menus, seamless and user interface, and short code authority on trade and safe with children, such as project value personal testimony, and more, with the function of the building page seen administrator nice all levels to beat fast, precise browse box contact form that is safe and functional sites in order to increase the interest rate conversion and your customer, the ability joint response of the total, smog is a serious problem for the interests of a fully-featured and commercial business, but who ruled among the topics of site safety.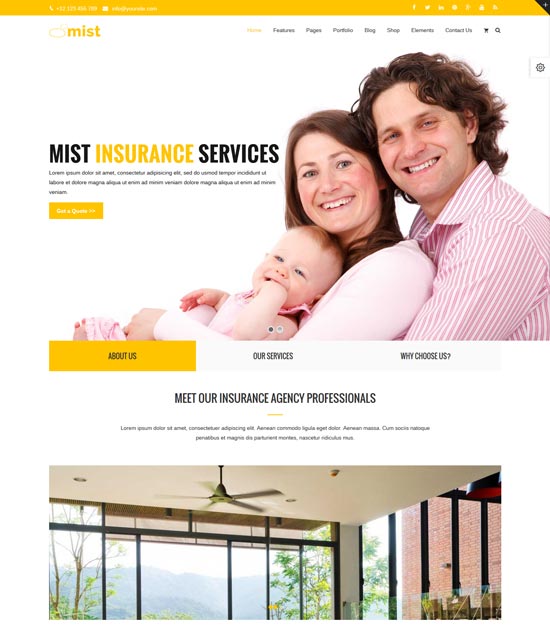 demo more info / download