When it comes to choosing an interior design WordPress theme, there are a few things to keep in mind. First and foremost, you want a theme that is going to be visually appealing and help your website stand out from the rest. Second, you want a theme that is easy to use and customize, so you can make it your own. And lastly, you want a theme that is responsive, so it looks great on all devices.
There are a lot of great interior design WordPress themes out there, so finding the perfect one for your website can be a challenge. But if you keep these things in mind, you're sure to find a theme that you love and that will help your website stand out from the rest.
Related Article
Intexure
Intexure is a fully modern WordPress theme for making websites about interior design and architecture. This theme was made specifically for websites about architecture, interior, exterior, or landscape design and decorating.
We have beautiful templates for your new architecture and interior design portfolio, blog, shop, and a ton of other things. No matter if you run an architecture, interior design, or landscape design business, it's easy to make a beautiful online presentation for your business.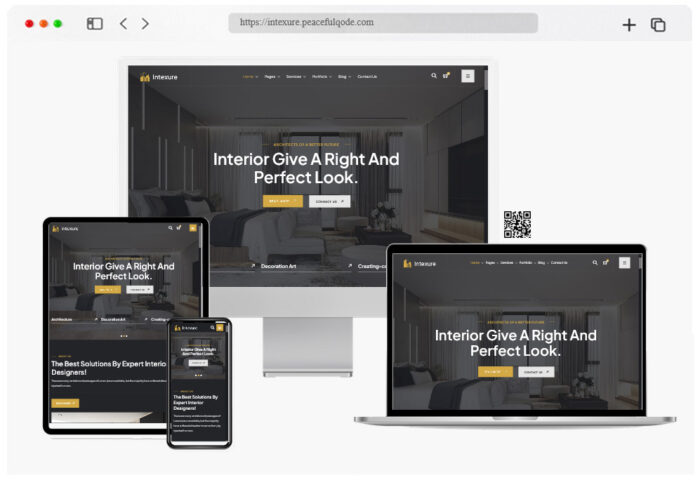 More info / download Demo
Interiar
Interiar is a completely up-to-date and modern WordPress theme for making websites about interior design. The Interiar demos and pre-built content are made to make your website look professional and appealing.
With the Elementor drag-and-drop page builder, anyone can make the page of their dreams. Interiar also has a simple one-click demo importer, a library of useful shortcodes, a variety of inner page layouts, the premium Elementor drag-and-drop Page Builder and Slider Revolution plugins, and a lot of customization options.
You can also use Interiar to make a one-page website and use the WooCommerce plugin to sell things.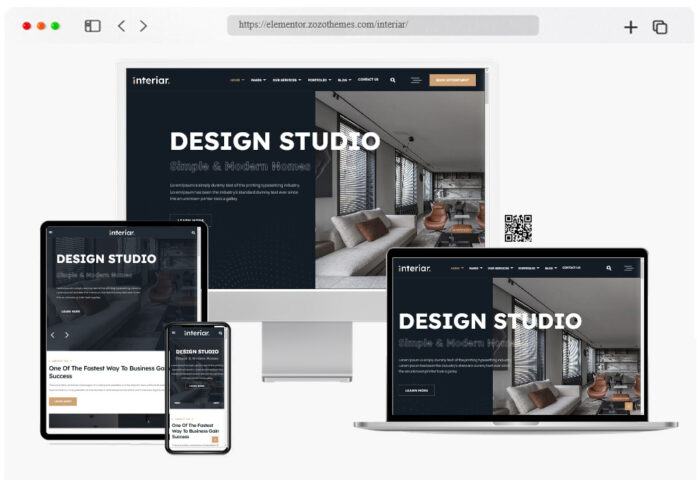 More info / download Demo
Kitchor
Every interior or exterior project needs to have a Kitchor theme. With 06+ beautiful architecture and interior design website demos in a variety of layouts, you can find the best way to show off your projects and works. Also, this WordPress theme for interior design has a great set of elements that are great for architecture websites. Let's start building the site right away.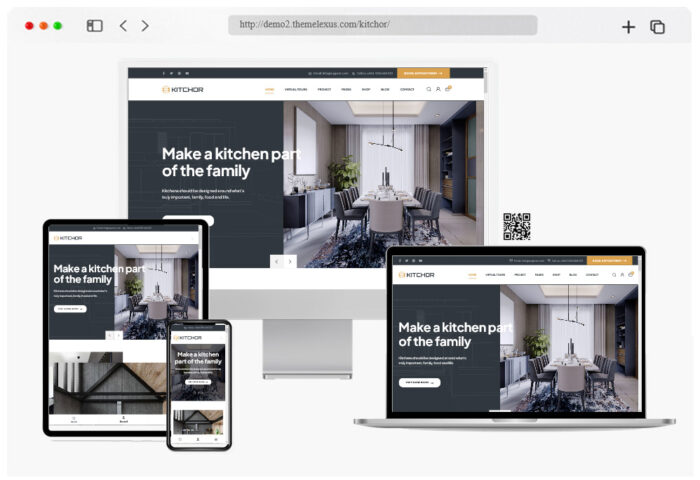 More info / download Demo
Hellix
Hellix has more than 80 sections and 10 Home Pages. Use our theme for your Business to make a unique home page for your website. With our beautifully designed Portfolio pages, you can show off your architectural designs, interior designs, construction photos, building designs, elevations, exterior designs, 3D drawings, floor plans, landscape designs, architectural drawings, engineering drawings, etc.
A theme for Elementor is called Hellix. Elementor is the most used Page Builder for WordPress. All of our pages and sections were made with Elementor. With Elementor, you can change everything about how our pages look and what's on them.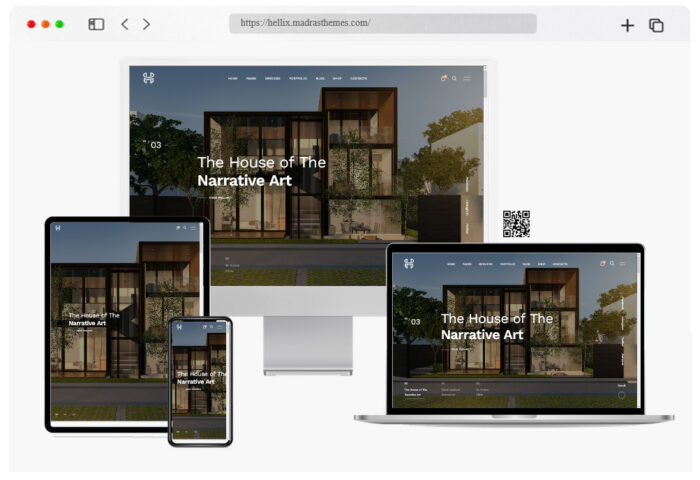 More info / download Demo
ArcHub
ArcHub is the all-in-one site builder with ultra-high performance, an intuitive editor, exclusive features, and an award-winning collection of designs. It includes 30+ pre-built websites, 200+ section templates, and 40+ inner pages. ArcHub is the all-in-one architectural site builder with an ultra-high-performance, intuitive editor, exclusive features, and an award-winning design collection. Bring your ideas to life with an intuitive visual editor.
Visually create, edit and customize your website and see changes instantly. No coding required! One-click installation. Select the demo and data type you want and click import.
The definitive collection created by world-class designers. Import a pre-built section block with a single click, or save your own custom block to reuse on other pages. Build different section blocks to start your design phase and create unique combinations with ease.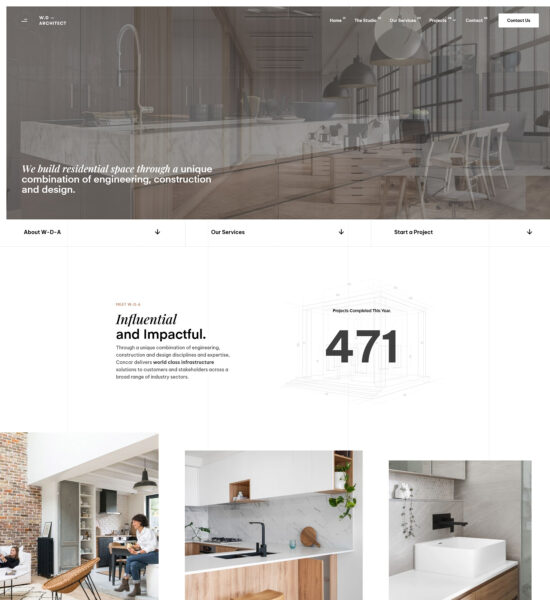 More info / download Demo
Corbesier
The page builder that was used to make this Interior Design Theme is called Elementor. Also, it is made to work with many popular plugins, such as Contact Form 7, elegro Crypto Payment, Slider Revolution, and more!
Because it works with WooCommerce, the theme is not only a great way to show off your skills and services, but also a great way to build an online store. The theme was made to be completely responsive to the needs of users and to be fully Retina-ready, both of which will help your business a lot.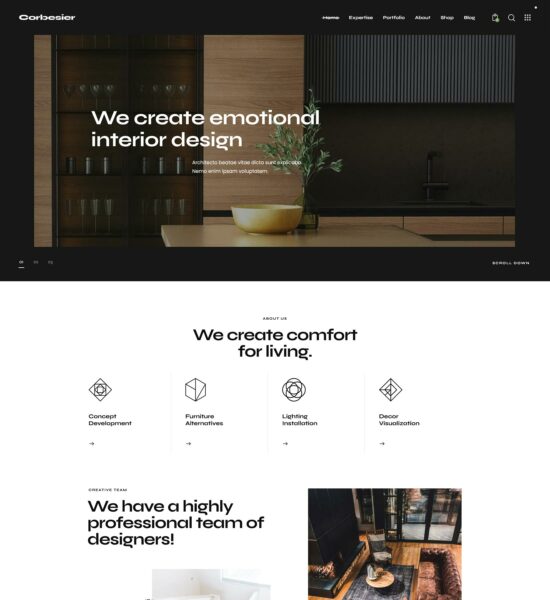 More info / download Demo
Interior Portfolio
Use Interior, a theme we made for websites about modern architecture and interior design, to build a better future for everyone. We have also given you a lot of other things, like beautiful themes for your new architecture portfolio, blog, and store.
The theme works well with the plugin Elementor Page Builder and comes with a premium version of the plugin Slider Revolution Responsive. Whether you run a firm for architecture, interior design, or landscape design, you can easily make a beautiful web presentation for your business with the right tools.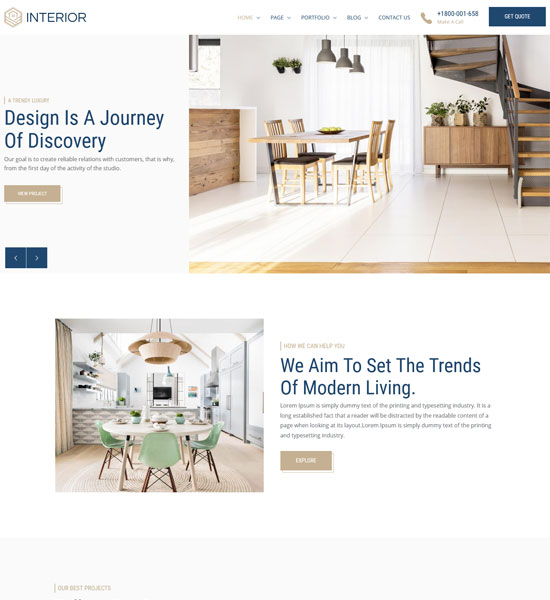 More info / download Demo
Inoterior
Inoterior is a well-known WordPress theme with a design that is perfect for interior and architectural designers. Architecture and Interior Designers can use this beautiful Interior Theme for a wide range of tasks, such as Architecture, Interior, Construction, Structure, Engineering, Building Style, Building Design, Architectural Style, Fabrication, and many more.
It can also be used in many different places, like the home, the bedroom, the living room, the office, the swimming pool, the sports club, school and college, the hostel, the library, the resort, the restaurant, the shop, and the saloon.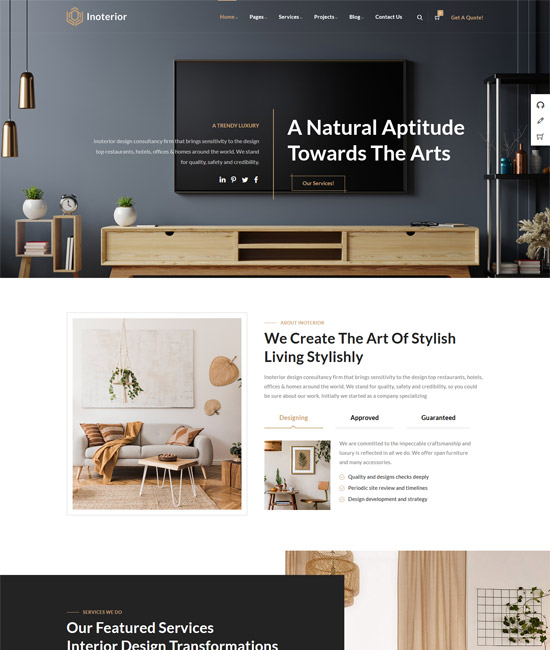 More info / download Demo
Inland
This theme can be used on both a phone and a computer. The layout of the Interior Design WordPress Theme isn't complicated, but it is useful. The parts of the theme are grouped together in a clear way, and the theme flows really well.
This theme is classy, modern, and stylish, so it is sure to bring people to the site. The goal of this theme is to give young architects a chance to show off their skills. This theme is also good for architects who are experts in their field.
Architects make a huge difference in everyone's lives. As the buildings give people the right kind of atmosphere, whether they're at work, at home, or just walking around. So, it's important for every architect to have a website where they can show off their work. As an online platform, you should always help artists reach as many people as possible.
Interior Design WordPress Theme was made by experts who put a lot of thought into it. This is your one chance in a lifetime to get such a cool and classy theme. The Interior Design WordPress Theme is a great theme for anything to do with architecture.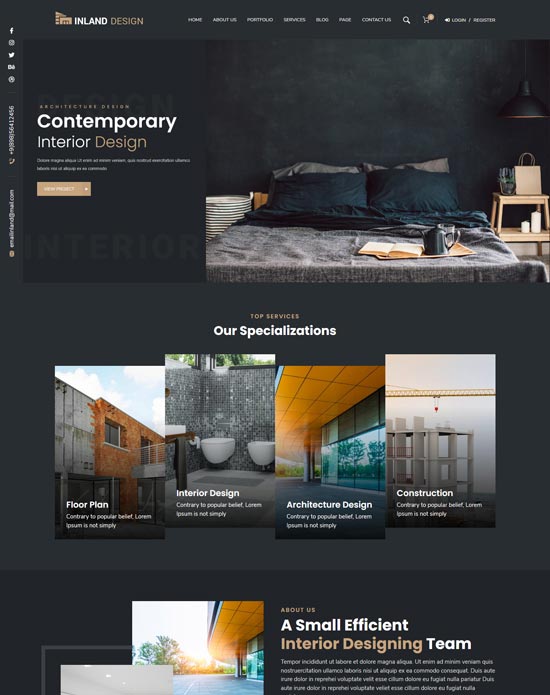 More info / download Demo
Intoriza
Intoriza is a WordPress theme that may be used for companies that provide services related to interior design, architecture, furniture, renovation, or restoration. It is part of the Interior and Architectural category of themes.
The layout can be shifted about easily and looks well on displays of any size, making it suitable for use on a desktop computer, a laptop, a tablet, or a mobile device.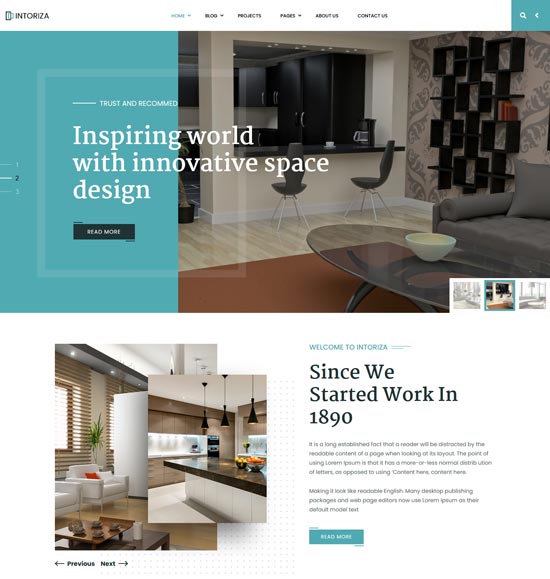 More info / download Demo
BIM
This WordPress theme is ideal for use by architectural organizations such as design studios, creative agency, and other new businesses operating in the modeling industry. Building information modeling, most often abbreviated as BIM, is one kind of architectural theme.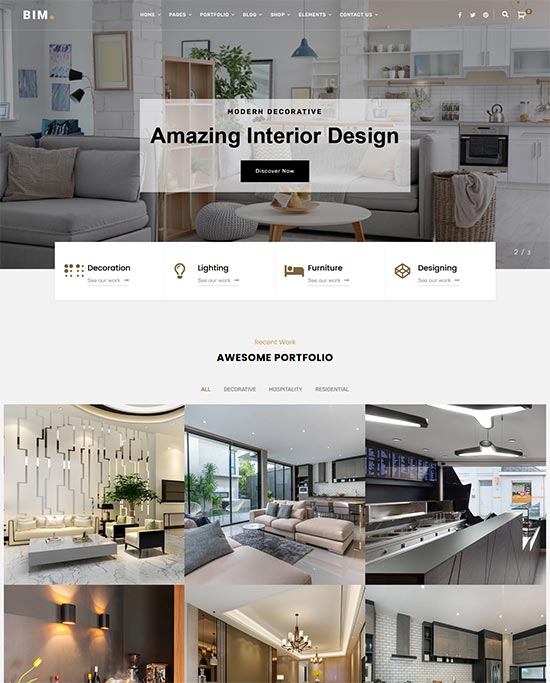 More info / download Demo
Theratio
There are 6 great homepage layouts that come with Theratio. The demo content file has all of the layouts for the homepage. It will help you build your homepage in a big way. You can choose the perfect header from our builds and change it to fit your needs.
You can turn on or off the sticky header and move the menu to the left, right, or center of the header. With the Elementor page builder, you can make as many headers as you want for both the desktop and mobile versions of your site.
You can find the right footer in our builds and change it to fit your needs. You can use one of the three included footer layouts, or you can use the Elementor page builder to make as many footers as you want.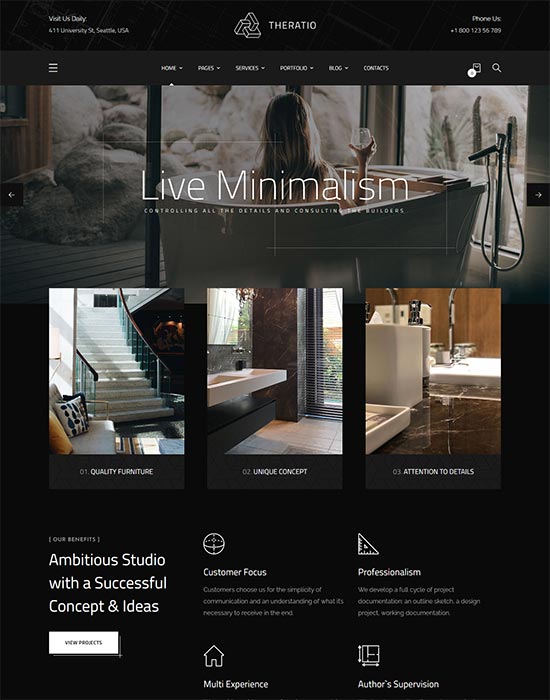 More info / download Demo
Ollis
Ollis Theme has all the necessary pages for an online store that is ready to use WooCommerce. So that you can sell your furniture, mattress, kitchen, 3D visualizations, beds, linens, home decor, design services, architecture services, and other things.
This theme has everything you need: professionally designed homepages, amazing animations, creative headers, 20+ unique shortcodes, galleries, blogs, testimonials, product catalog, product page, about, shopping cart, order, and more. Also, the theme has extra pages with different kinds of content, such as typography, headers, icons, lists, tabs, sliders, a 404 page, and many others.
This theme works with a number of paid plugins, such as WP Bakery Page Builder (Visual Composer). This plugin is a drag-and-drop page builder that is easy to use and will help you make any layout you can think of quickly and easily. And now the theme is ready for translation and works with the WPML plugin.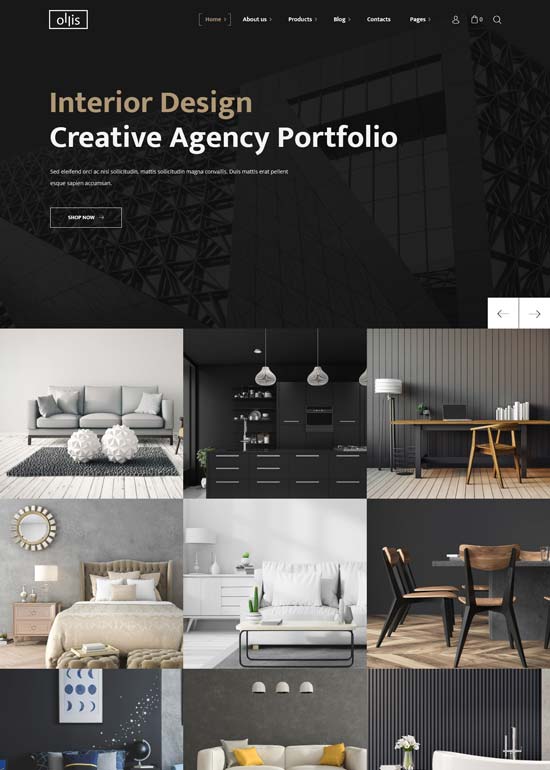 More info / download Demo
Dør
Dør, a theme for modern architecture and interior design websites. With ready-to-use interior design and architectural portfolio layouts, delivered with 2 premium plugins and equipped with all the elements and options you could want, Dør offers you everything for a professional website. architecture or interior design.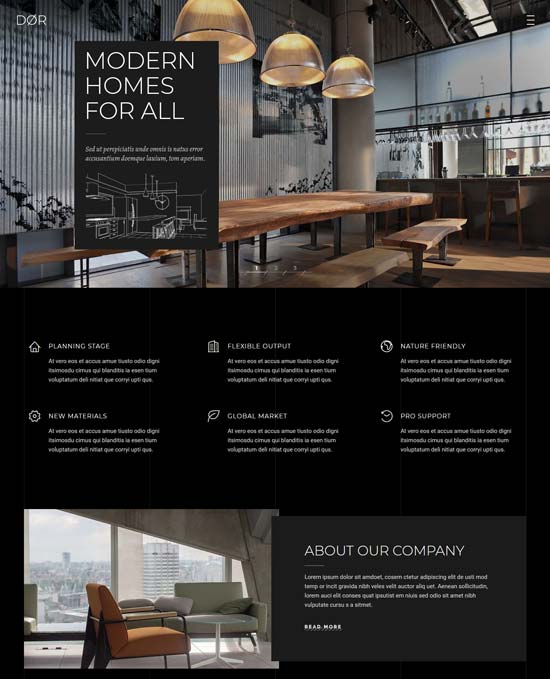 More info / download Demo
Arkhitekton
Arkhitekton is a modern motif that can be used in many different ways, such as in architecture, interior design, and many other fields. Arkhitekton is both very powerful and easy to use because the people who made it paid close attention to every detail. With the most powerful page builder, Elementor, you can do anything.
Even if you want to make a header or footer, all you have to do is drag and drop. There are more than 50 elements that will make you happy when you use Arkhitekton. Arkhitekton also has the ability to copy and paste, a library of templates, visual design, mobile editing, ready translation, and a lot more.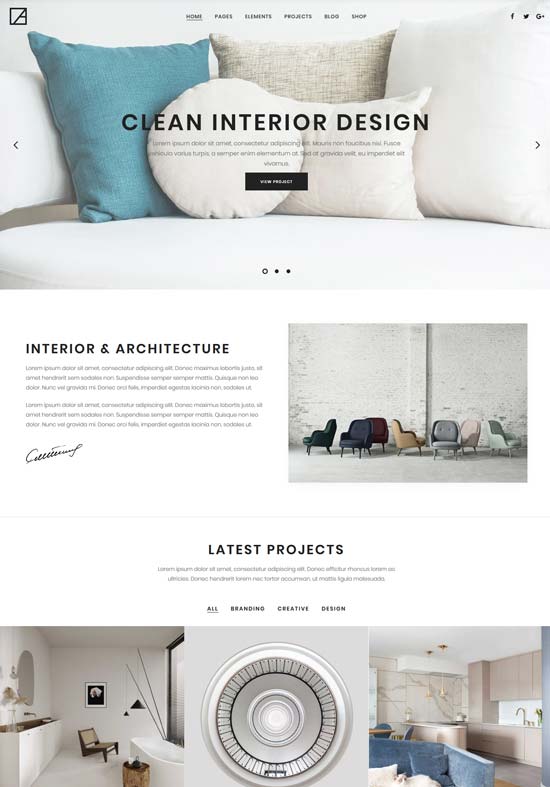 More info / download Demo
Gintol
Gintol is a modern interior design WordPress theme with a clean, contemporary and eye-catching design. It is perfect for all modern interior design studios such as interior design services, dining room, exterior design, kitchen design, living room design, master bedroom design. Gintol is exceptionally well coded, optimized for speed and search engine indexing, making it an extremely fast, responsive and very user-friendly SEO theme, with blog, multiple galleries, unlimited color schemes, WooCommerce store, calendar, slider, and team pages.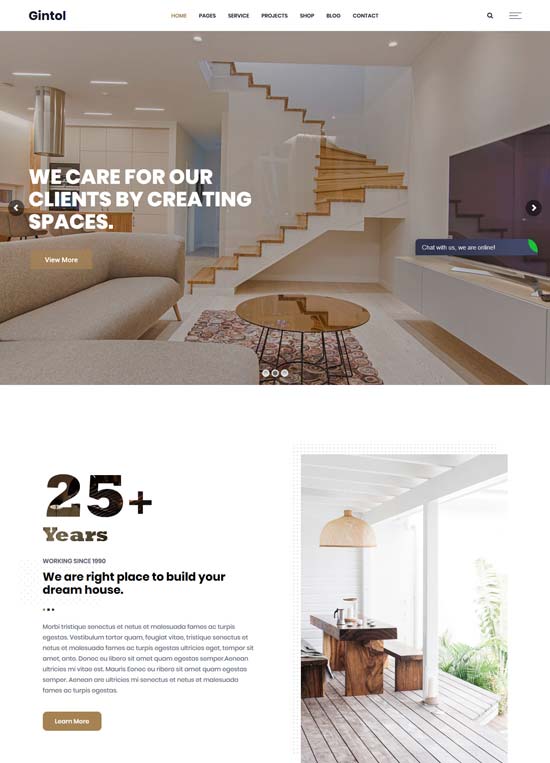 More info / download Demo
Decorazzio
Decorazzio is a premium WordPress theme created for any online store or market, especially for the furniture store, interior design, decoration store, architecture store, design studio and more. The theme comes with several predefined pages included. With one-click demo import, you can save a lot of time and easily make your site look like our demo, or create unique and complex layouts with a custom and intuitive drag-and-drop page generator – no coding required.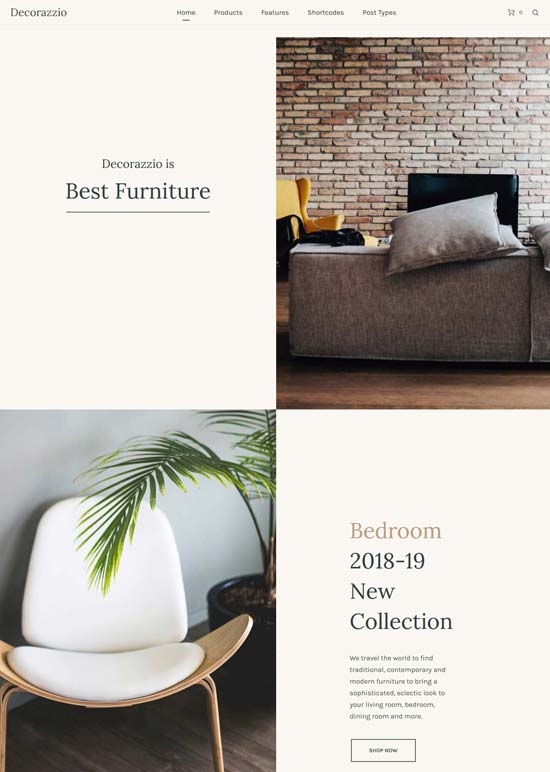 More info / download Demo
Concreate
Concreate is a WordPress theme very suitable for interior design companies. It's very minimalist, but modern, sleek and hand-designed to be compatible with mobile devices. We built this theme on Page Builder, a handy drag-and-drop page builder for WordPress. It should provide you with the most fluid experience possible when creating your website with our theme.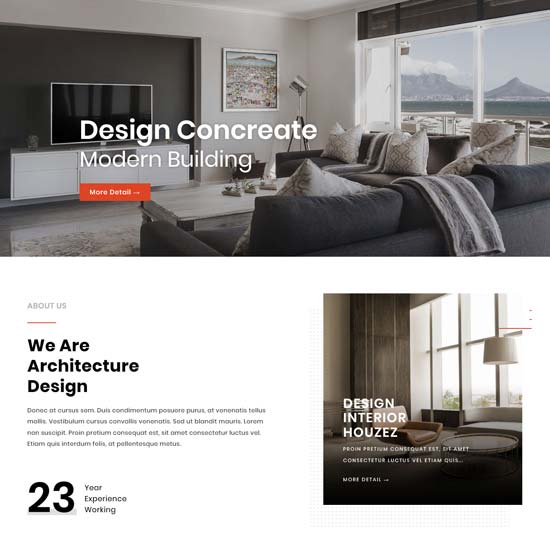 More info / download Demo
Inteco
The Inteco Interior Design & Architecture WordPress Theme is a premium WordPress theme made for the architecture industry, architects, interior designers, furniture stores, and landscape designers. The design is simple, clean, and very stylish. This is one of the best themes for interior design and architecture that you can buy.
Inteco comes with the third version of the GoodLayers framework, which is a very powerful and flexible tool. It also includes the best drag-and-drop page builder. It has a lot of great features, like background wrapper options, custom skin colors for specific element wrappers, three view modes (live, preview, block), an ajax page builder save, pages and pre-built blocks, and much more.
Financity was also featured with the most powerful drag-and-drop slider builder, Revolution Slider, which is worth $19 but was given away for free.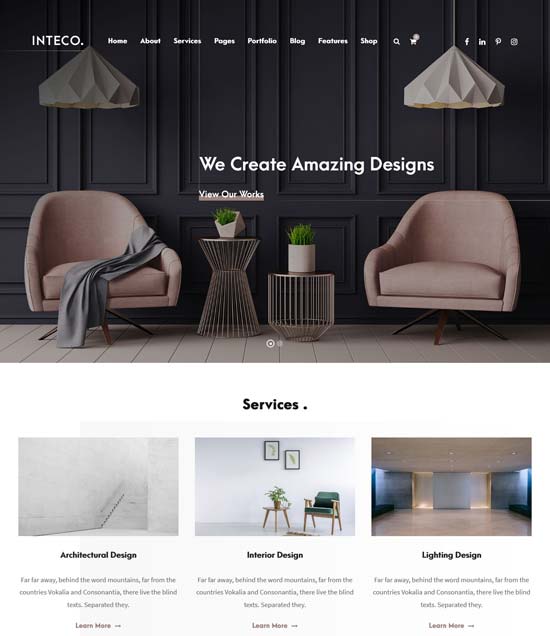 More info / download Demo
Interico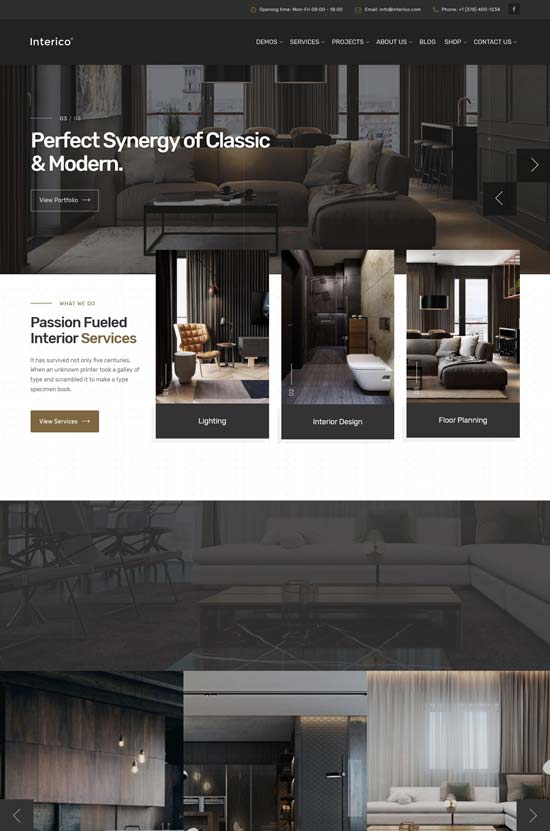 More info / download Demo
Allston
Allston an amazing interior design theme for you. Created specifically for interior decorators, decorators, Allston will help you easily create a stunning website. Packaged with 12 contemporary home pages, this theme is an ideal choice for presenting home and interior design projects. It also comes with awesome features and plugins so you can create a sublime website in no time.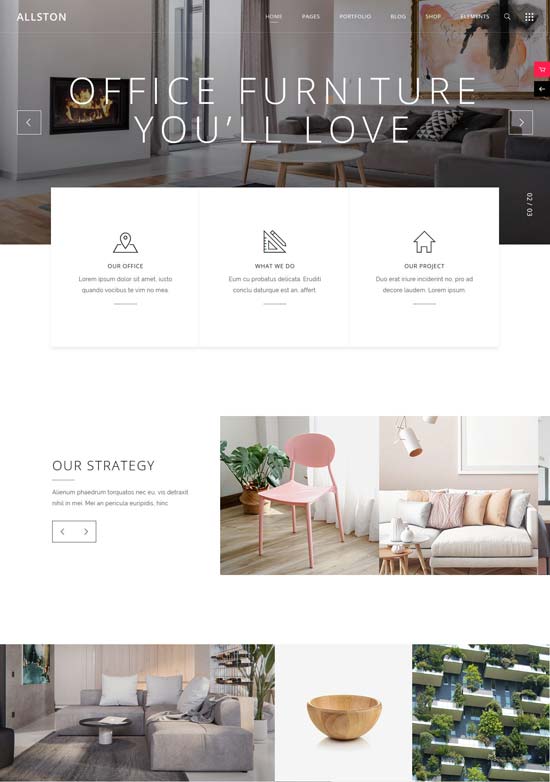 More info / download Demo
KitGreen
KitGreen is presented as a simple and elegant WordPress theme for interior design and kitchen websites. The demo version of this theme has been configured to perfection to help you describe your business with class and professionalism. This theme contains everything you need: 06 professionally designed homepages, over 25 unique shortcodes, galleries, blog, testimonials, product catalog, product page, about, shopping cart, order, etc. The theme also includes additional pages with different content elements such as typography, headers, icons, lists, tabs, sliders, page 404 and many more.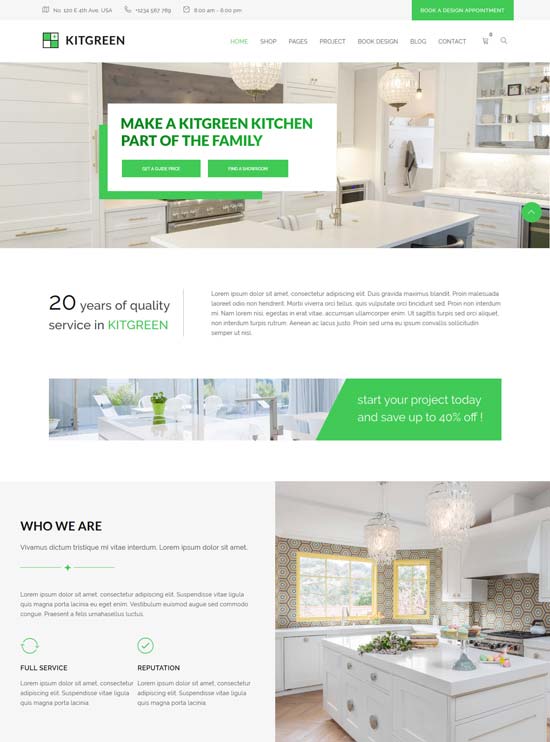 More info / download Demo
Entré
Check out Entré, an elegant interior design and a decorating WordPress theme, designed to help you set up an amazing website with a knowledge of 0 code. Designed with care, Came all you need to create a project or a showcase of quality work – 30 captivating portfolio templates, 12 elegant home pages and a large set of home decorations and furniture Entré also contains an extensive collection of premium items and plug-ins to help you build your website as a professional, hassle-free.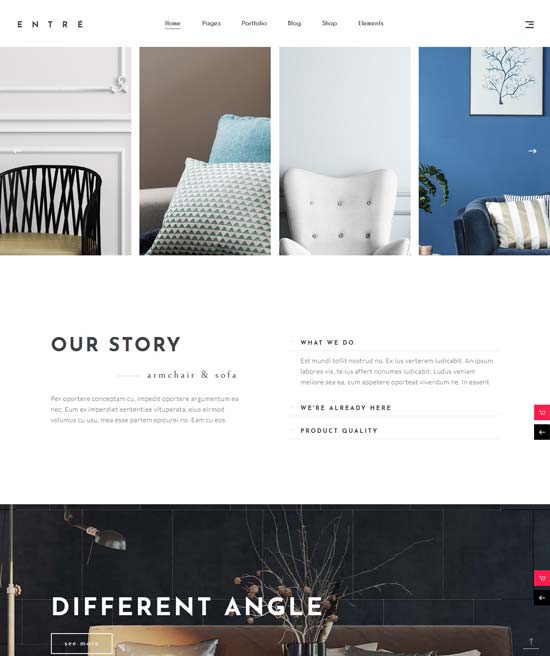 More info / download Demo
Inhousekai
Inhousekai is a modern interior WordPress theme that suits the interior and exterior design website or even the portfolio of architects. Inhousekai uses the drag-and-drop page builder to build page elements, which makes it easier for you to organize your layout.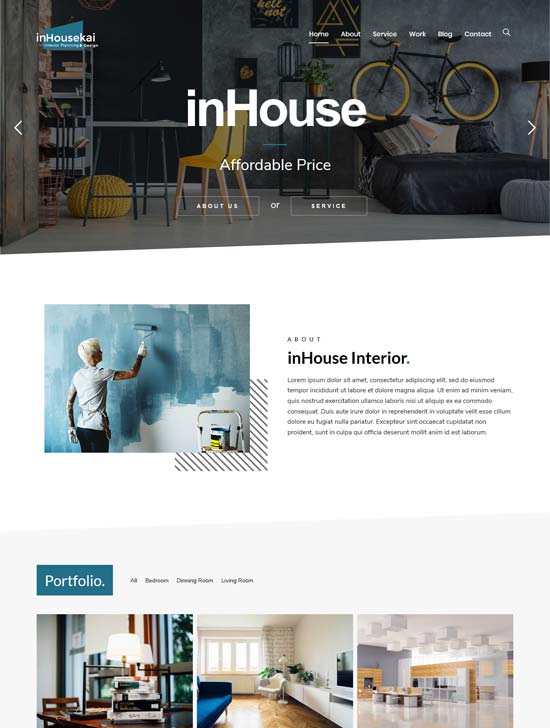 More info / download Demo
Loft
Loft is a one-of-a-kind WordPress theme for interior design that can be used for a wide range of websites. This theme gives you a lot of options that will make it easy to make a beautiful, unique website. This theme can be used on corporate websites, personal blogs, sites about products, and other types of sites.
It can also be used for interior design and furniture design and creation businesses. This theme looks great on tablets and phones because its design is responsive and its graphics are retinal. It has different page types, large layouts with frames, an unlimited number of color schemes, lots of fonts, icons, and more.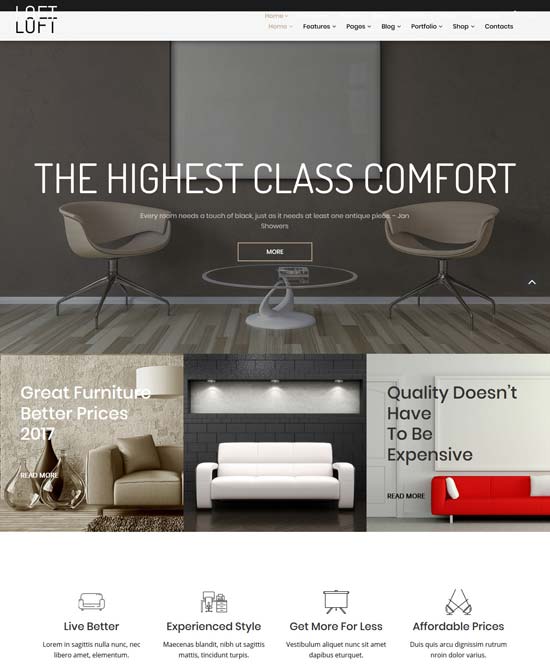 More info / download Demo
Cozy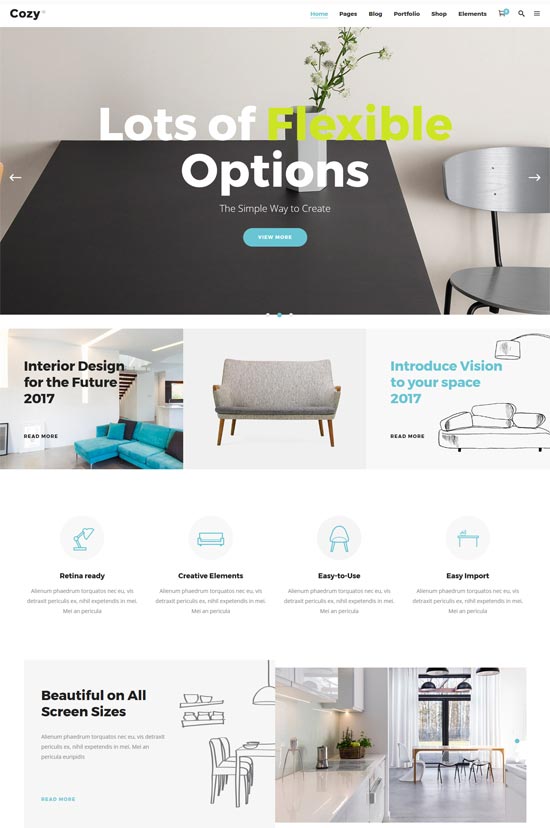 More info / download Demo
InteriArt
InteriArt is a complete WordPress theme solution for interior, architecture and furniture site. No link empty, no link broken. Interiart theme is clean and modern design that is useful for creating furniture and site interior site. Its stunning beauty, fashionable look and good performance, added to the use of Visual Composer, Max Mega Menu, WooCommerce and Revolution Slider, will help you to possess an amazing site for your profile.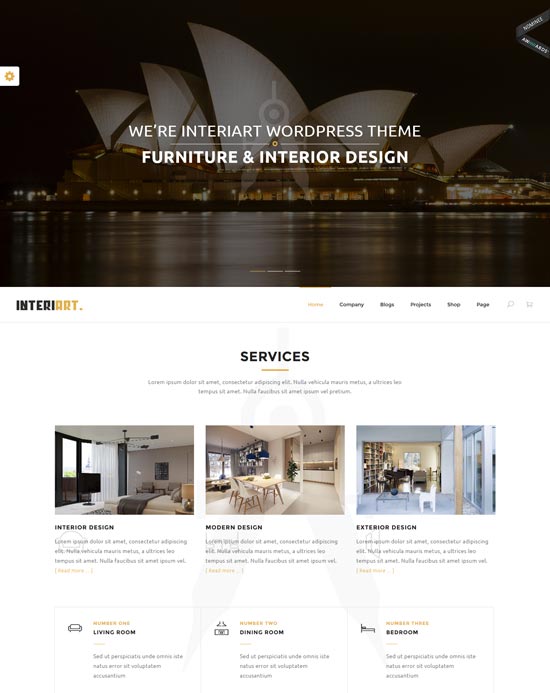 More info / download Demo
Interior Design
Clean, minimal and powerful, it is a best solution for a interior design studio, furniture design bureau, architect office or a modern renovation team. The theme features a clean, minimal and stylish design, perfect for all sorts of architect and interior design studio websites. A large collection of powerful shortcodes help you showcase your works, add team members, display your interior design projects, renovation process videos, post architectural and furniture design articles, show design stats, sell design & art products online.
Demo More info / download
Archi
Archi specially made for Interior Design services, Dining Room, Exterior Design, Kitchen Design, Living Room Design, Master Bedroom Design, Cottage, etc… . Archi help you to build beauty and modern website in no time. Archi has beauty design and bunch of features to make your website stand out of crowd. Powered by HTML 5, CSS 3, jQuery with flexibility of Bootstrap 3. Get Archi now!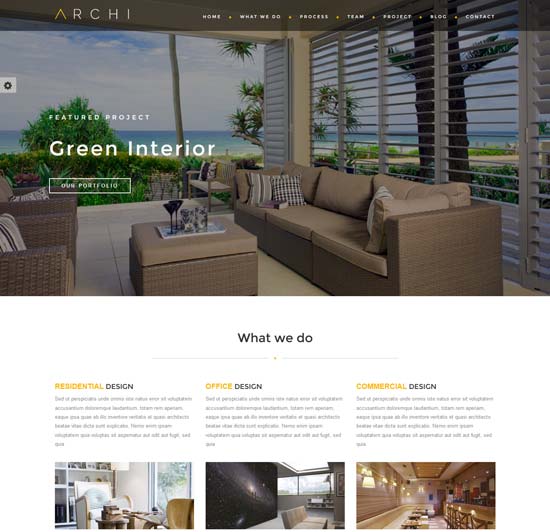 Demo More info / download
Canvas
We would like to announce Canvas WordPress Theme. It is dedicated to interior design and furniture WordPress themes. It is very important to have professionally made interior site with very useful features that make the user experience better. The simple and clean design, fullscreen catalogue, the detailed portfolio item page, eCommerce support and much more…
deKor
The deKor Interior WordPress theme was made to be a great fit for interior design and decorating sites, as well as architecture sites that need special shopping and product presentation features. The deKor theme has a WooCommerce shop plugin that is fully designed and built in.
This lets you show off your products and collections in a creative way. It also has a lot of shortcodes that can be managed through an easy-to-use visual interface called WPBakery Page Builder. The theme is ready to be translated and works with WPML. This will help you get your website to everyone.
With bbPress, it's easier than ever to make forums that people will want to join. Even if you're not a developer, it's very easy to change a theme, and the documentation gives you all the information you need. You'll like it, just like the thousands of other people who have bought our themes.