Looking to create a professional and user-friendly job board website? Our latest blog post explores the top Job Board Website Templates that are tailored to help you build a successful online platform for job seekers and employers. From sleek designs to intuitive navigation, these templates offer a range of features such as search filters, applicant profiles, and employer accounts. Discover the best options to streamline job listings, connect talent with opportunities, and provide a seamless experience for both job seekers and recruiters. Explore our recommended HTML templates and kickstart your job board project today!
Jobi
With Jobi, you have the flexibility of choosing from seven distinct homepages, catering to different audience preferences. With over 50 inner pages, Jobi covers a wide range of job-related content, from categories to company profiles. Its dynamic job details pages provide comprehensive insights into each opportunity, aiding users in making informed decisions. The platform enhances user experience by allowing them to create personalized job wishlists, making their job search convenient and enjoyable. Jobi ensures a comprehensive and immersive experience for job seekers and offers a variety of options to tailor your website's presentation to your target audience's liking.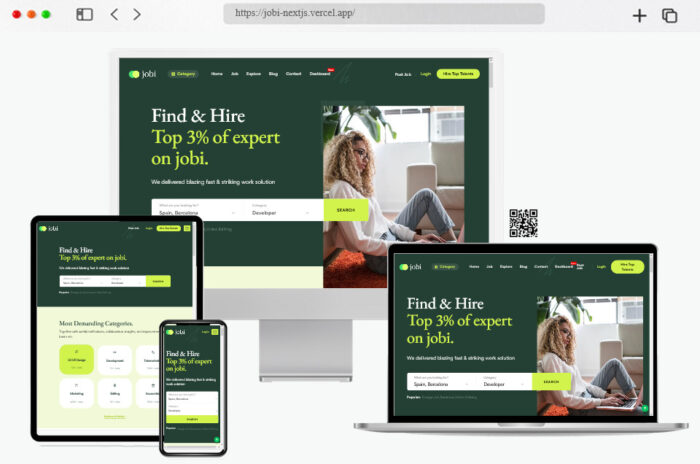 More info / download Demo
Khuj
The khuj HTML5 Template is a responsive and sleek solution for building a job board platform. It offers an intuitive interface and advanced features for job seekers, employers, and recruiters. With a modern design and responsive layout, it ensures accessibility across devices. The template features a robust search function for easy job discovery, empowers employers to manage job listings and applications, and facilitates the creation of company profiles.
Whether you're focusing on a specific niche or a general job board, the jobi HTML5 Template provides the necessary tools for establishing a professional and successful online job marketplace. It encompasses various pages, home page options, and is built on Bootstrap v5x for optimal responsiveness.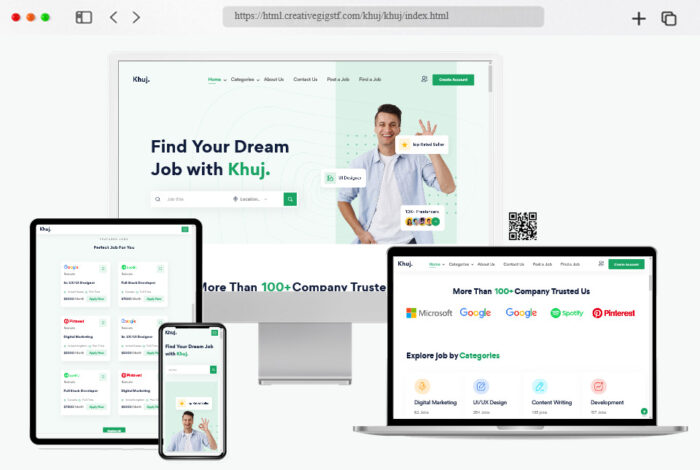 More info / download Demo
Jobstack
Jobstack is a modern and user-friendly React Next.js template designed for job portals and job board websites. It utilizes the latest React and Tailwind CSS toolkit, offering a range of unique pages and components that provide an excellent experience on all devices. With a pixel-perfect design based on React.js, Next.js, and the latest version of Tailwind CSS (V3.3.2), Jobstack is well-suited for various projects related to job search, recruitment, and job listing.
Its clean and intuitive design enables easy creation of websites for advertising vacancies, connecting job seekers with employers, and managing resumes and CVs. The template's simplicity and versatility make it ideal for projects such as job search platforms, directory portals, resume and CV websites, and recruitment agencies. Jobstack features easily customizable components and widgets, allowing for the creation of unique job classified website templates.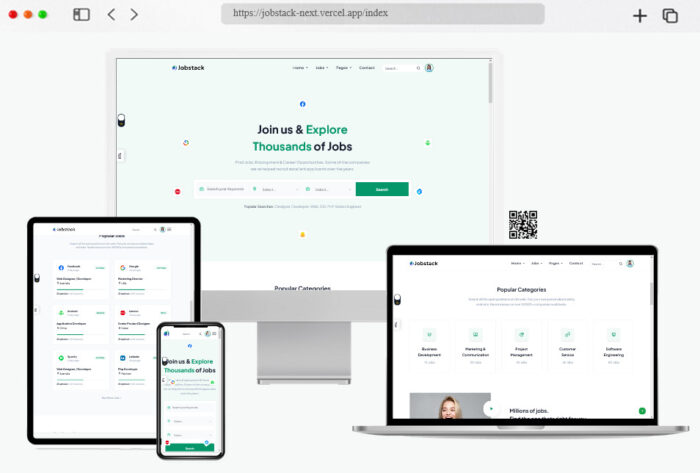 More info / download Demo
Freeio
Freeio is a Freelancer Marketplace HTML template designed to create a dynamic platform for freelancers and clients to connect and collaborate. Tailored to the needs of building freelance marketplaces similar to platforms like Freelance.com, Fiverr, and Upwork, the template features clean lines, soft colors, and a fluid UI/UX design. It offers a user-friendly experience optimized for mobile devices, allowing easy access from smartphones and tablets. Freeio's design aims to provide an engaging and enjoyable Freelance Marketplace experience for users seeking to hire or offer freelance services.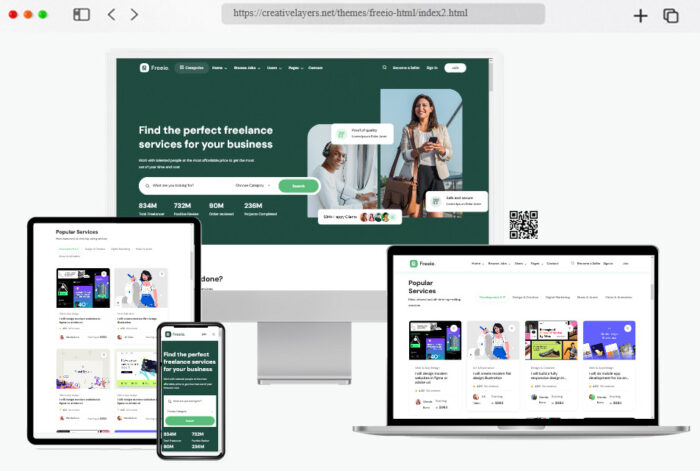 More info / download Demo
Jobtex
Jobtex is a feature-rich HTML Template with over 100 high-quality templates designed for professional networking purposes. It boasts a clean, modern, and neat design, making it user-friendly. This website is ideal for both employers and job seekers who want to post CVs and access a plethora of job postings. Its responsive design ensures compatibility with various devices, and customization is made easy.
The template allows personalization to achieve the desired look for your website. Jobtex offers a wide range of features, enabling users to personalize their job search, connect with employers, and submit job applications effectively. If you find these templates useful, a 5-star rating is appreciated.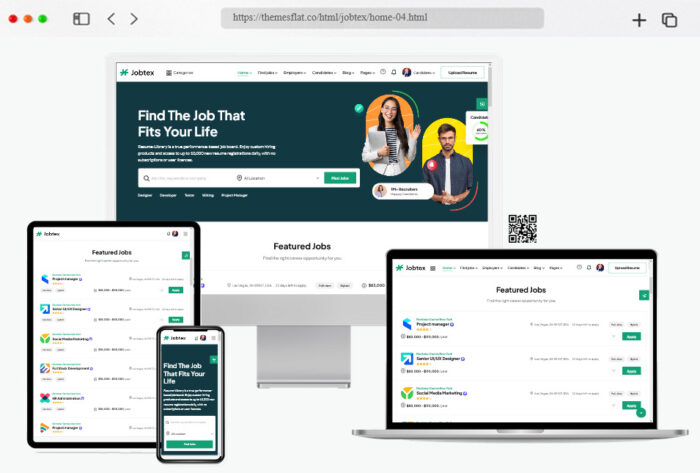 More info / download Demo
Jobes
Jobes is an advanced HTML Job Portal theme featuring cutting-edge features and technologies. With 5 creatively designed home pages and over 20 inner pages, it offers a comprehensive solution for job seekers and employers. The theme includes diverse elements like Job Categories, various Job Listing styles, Pricing and Blog pages. It caters to both candidates and employers, offering Candidate and Company dashboards for managing information and job activities respectively. Developed with HTML5 and SAAS files, it's built on the Bootstrap5 framework, ensuring a well-organized code structure that's easy to customize. Additionally, the theme is SEO-friendly and fully responsive across all devices.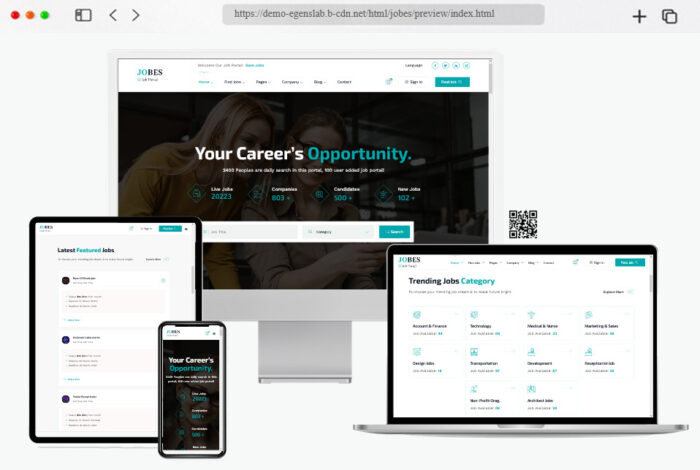 More info / download Demo
Superio
Superio is a top-quality Job Board React Next JS Template designed meticulously for connecting employers and candidates. This template is well-structured and organized, catering to professional job board websites with advanced features and functions. It offers a user-friendly experience for job seekers, employers, and candidates alike. With easy customization and user-friendly navigation, Superio provides features such as signing up, logging in, posting and finding jobs, managing profiles, applications, and more through the dashboard.
Its clean design, gentle color palette, and fluid user experience ensure a Job Board platform that users will appreciate. The template encompasses 89+ pages, including various home pages, job lists, single job pages, dashboards, shop pages, and more. With its flexibility, Superio can be easily customized to suit your business requirements.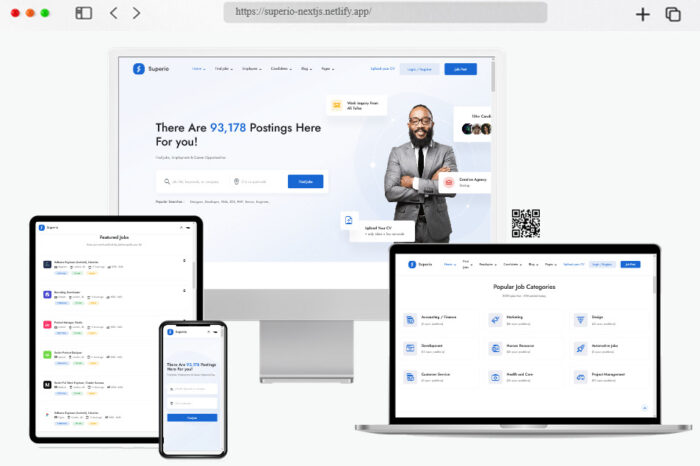 More info / download Demo
JobBox
JobBox is a NextJS-based job board template that offers a variety of pre-designed layouts for home pages and inner pages, providing flexibility for customization. It comes with both HTML source code and a Figma design file, allowing easy modification and extension of the design. With JobBox, you can save on expensive web development costs and reduce design expenses while creating a functional and appealing job portal.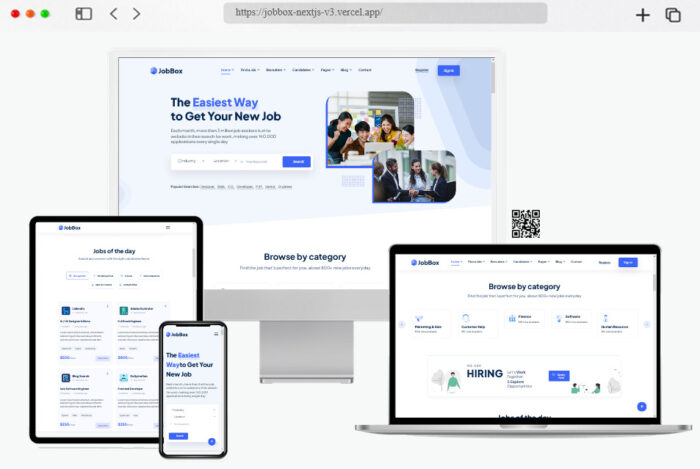 More info / download Demo
Jobzilla
Jobzilla is a specialized Job Board HTML Template designed for creating platforms to advertise job vacancies, connect job seekers with suitable positions, and facilitate the submission of employer's resumes and CVs. The template is tailored to meet the needs of such marketplaces, offering user-friendly features for both employers and candidates. With convenient sign-up and login options, users can easily find jobs, post vacancies, manage profiles, resumes, and applications through the dashboard. Jobzilla encompasses over 70 pages, including a dashboard, allowing for extensive customization to align with your business requirements.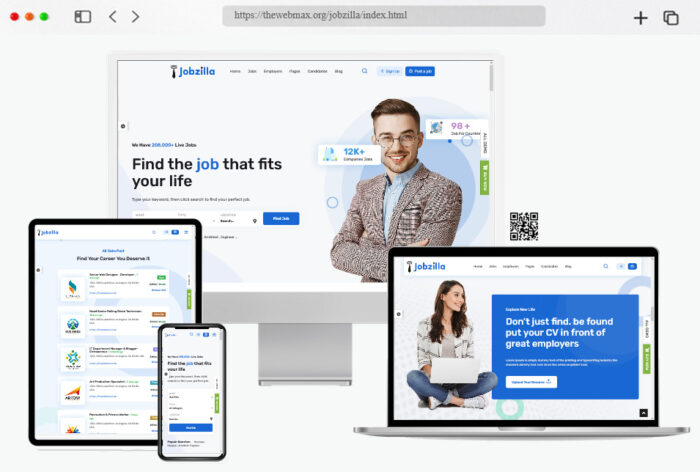 More info / download Demo
Jobhub
Jobhub is a contemporary HTML template designed for job boards. Crafted with a keen understanding of the job market, it aims to connect employers and candidates seamlessly. This template is versatile, catering to all types of job listings, job boards, and job search platforms. By using Jobhub HTML Template, you can establish a fully responsive job board and recruitment website.
The Jobhub template features a clean and professional design that suits modern job search portals. It provides a spacious layout that can accommodate various content types such as text, images, and color, maintaining a harmonious appearance. This template is part of the Jobhub template family, which offers a range of child themes and templates at an affordable price. This versatility makes Jobhub an excellent option for any type of website.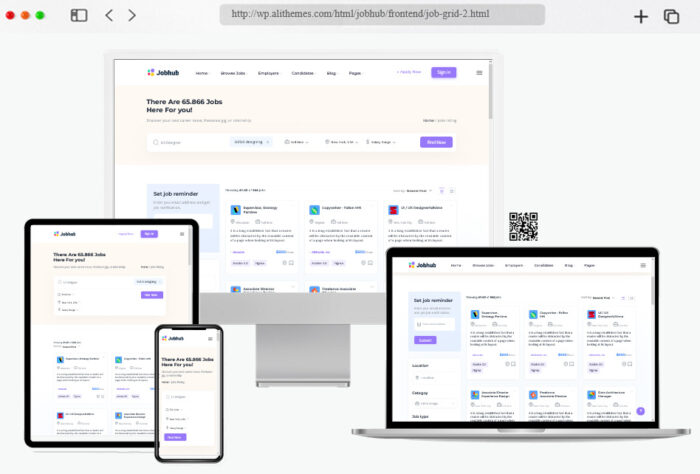 More info / download Demo
Kofejob
Kofejob is a Laravel template designed for creating a freelancers marketplace. It enables users to post projects and receive immediate coding assistance from software developers. With a fully responsive layout compatible with major browsers, Kofejob is suitable for business owners aiming to launch platforms similar to freelancer, Fiverr, or Upwork. It offers a professional solution for freelancing services and project postings.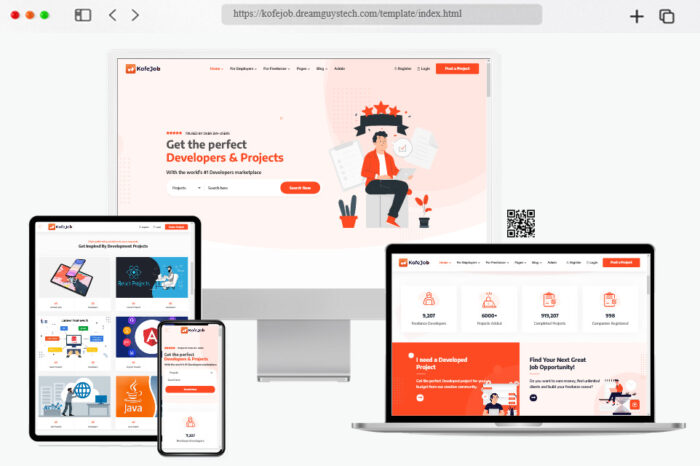 More info / download Demo
Jobick
Jobick is a job board HTML template developed using the Job Admin Dashboard Bootstrap 5 Template and FrontEnd. This template is designed for creating job boards and provides a comprehensive solution for job-related platforms. It includes both backend and frontend components, allowing users to manage job listings and provide a user-friendly experience for job seekers and employers.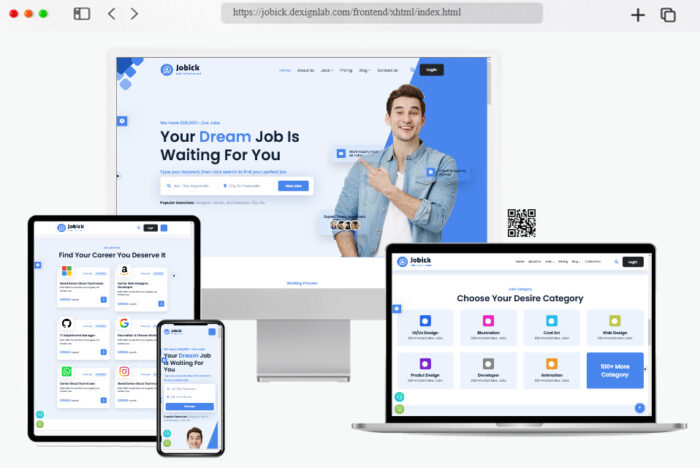 More info / download Demo