This hand-pick up best landing page WordPress themes are perfect for online marketing or advertising purpose, it is essential that you are able to convert your traffic. A landing page is a good way to get your visitors to take action. A Landing Page is effective even optimize your conversion spectacular and attract more customers to your business. This article will show a series of WordPress themes that can help you build your own landing page effective in a relatively painless way. This best landing page WordPress themes was designed with modern responsive, clean design and features section with accordion and photo preview, testimonials, image gallery, contact form with map of location and working contact form, social network section and working newsletter. The Theme has a responsive layout that looks great on mobile and tablet devices.
Landio
Landio adheres to industry best practices at all levels. Implementing the latest HTML5 and CSS3 techniques, along with cutting-edge WordPress standards, ensures that your theme will give you the best possible experience you could hope for with a premium theme.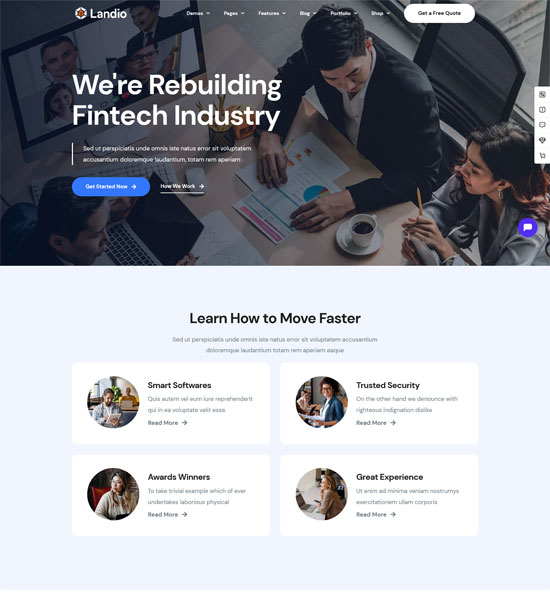 more info / download demo
Digilab
Digilab is the perfect WordPress theme for any startup business, corporate, companies, agencies, consulting, renovation, professional, startup, KickStarter projects, insurance, financial website, industry, SEO agency, online marketing, digital marketing, site business portfolio web, social networks, EM, SMM, consultants and freelancers who need a professional way to show their services.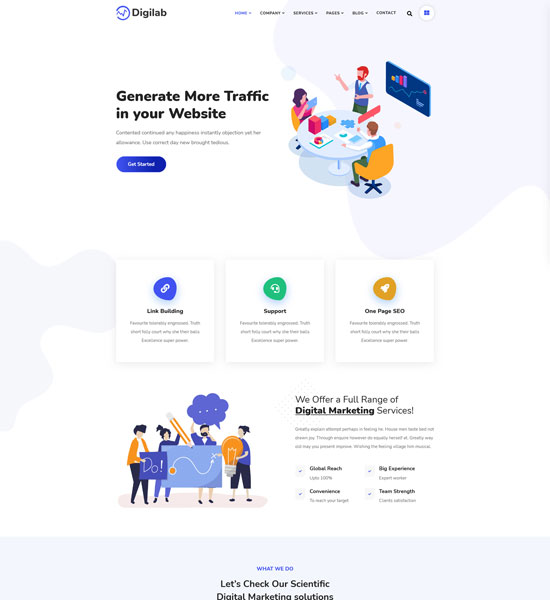 more info / download demo
Cryptlight
Cryptlight is perfect for ICO agencies and cryptocurrency investment firms when they want to launch a new ICO to raise funds. With Cryptlight's outstanding features, you can show the reasons why investors should choose your ico, the benefits they receive, and the important documents they need to read to convince them to buy your new ico.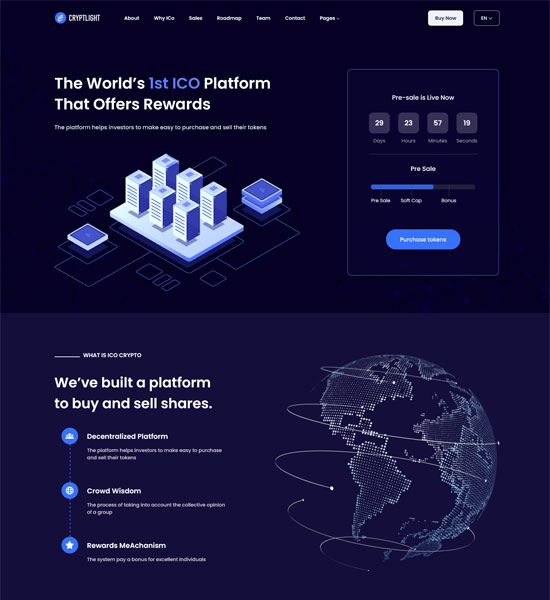 more info / download demo
Deva
Deva is a WordPress theme for SAAS technologies and websites, packed with functionality and niche blocks, powered by the Aheto plugin. It includes unique service pages that will be tailored to your service requirements, also unique and specially dedicated pages such as: Company Profile, Why Choose Us ?, Leadership, Careers, Our Certificates, Our Partners, Jobs and everything else needed to create a successful website. The topic is not limited to just Technologies & SAAS websites and could easily be adapted to suit a wide range of applications. Deva is fully responsive and designed with high-end logistics in mind, so naturally it is a theme for mobile friendly websites and apps, every feature and page element will look amazing on tablet screens and mobile phones. It includes page templates and layouts specifically created to be the responsive visual environment in today's market.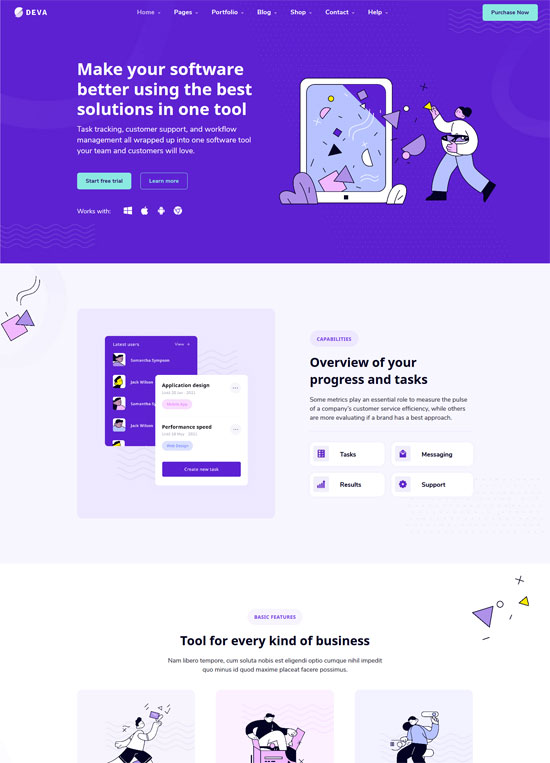 more info / download demo
Anada
Anada Data Science & Analytics WordPress Theme – is a modern, fast and easy to customize multipurpose data science and big data analytics theme that comes with 35+ pages and 22 demos. Anada offers numerous amazing features like, Data Science Consulting, Big Data Business, Data Automation Startup Company, Artificial Intelligence Company, Data Automation Startup Company, Artificial Intelligence Company, Machine Learning, Accountants, Advisors , business, coach, coaches, coaching, consultant, consulting. , corporate, financial, lawyers, mentors, professional services, receptive, lawyers or simply a Blog, consulting firms, insurance, loans, tax aid, an investment firm.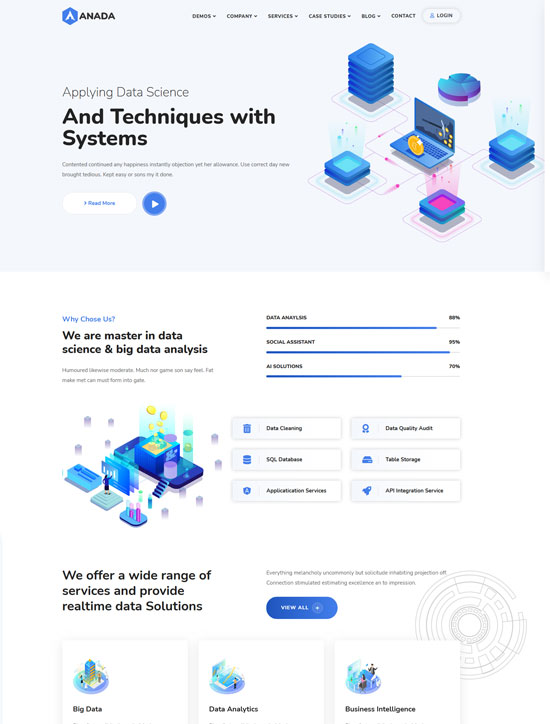 more info / download demo
AI Lab
AI Lab is a clean and modern responsive machine learning and AI startup WordPress theme. The design is very sleek and modern, and also very easy to customize the machine learning based agency WordPress theme, great looking and simple to use. All pages, screens, pop-ups and statuses are in a single file. A template is divided into pages, and almost all pages are divided into artboards, which contain different states or versions of the page.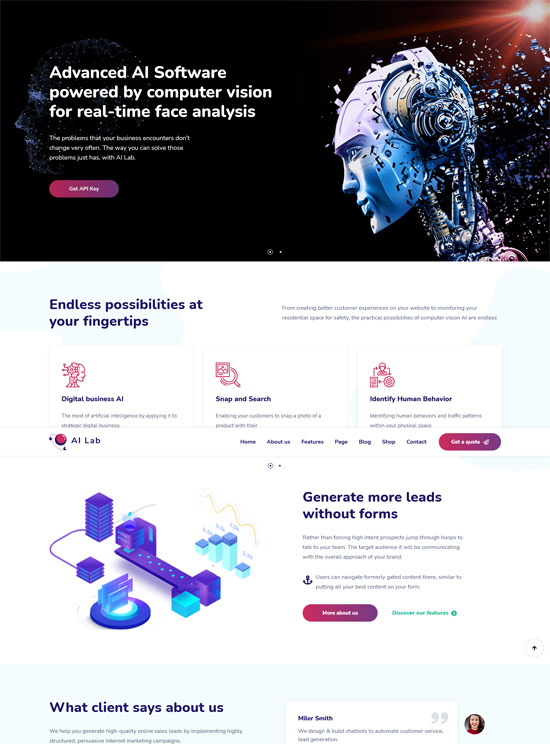 more info / download demo
WebOn
When your audience arrives, make sure it lands in a stunning spot! Welcome to WebOn, a contemporary theme for all types of landing page websites. Packed with an amazingly designed collection of 11 landing page layouts and a curated selection of pre-designed inner page templates, including app landing page, SaaS, and other landing page layouts. You have just discovered a professional solution for all kinds of modern landing pages – create your new landing page website with WebOn and captivate your visitors in a truly contemporary way.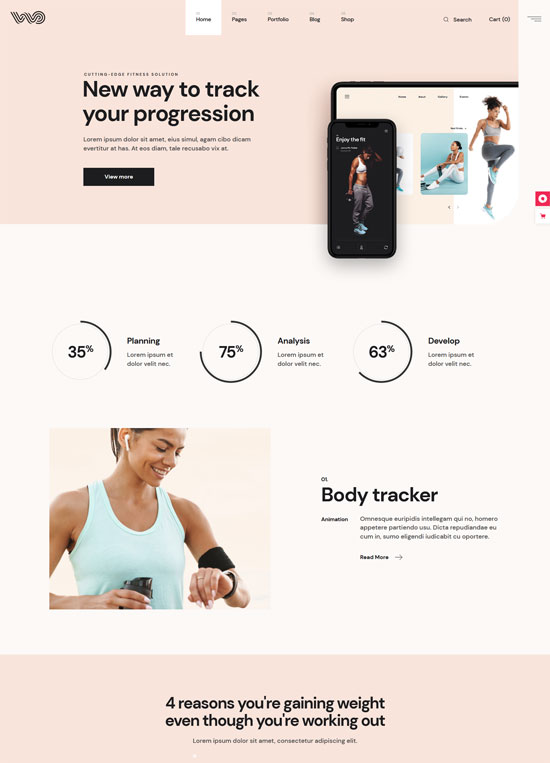 more info / download demo
ShadePro
WordPress is the most popular CMS for websites, but it is not easy to use. It can be difficult to get started if you have no coding or design experience. We created ShadePro as a solution to this problem. Our goal was to make it possible for anyone to create a professional looking website in minutes without the need for any technical knowledge or prior experience in creating websites and blogs. With ShadePro, you can easily customize your site by adding text and images via our drag and drop page builder, Elementor, no coding required! You also have access to 50+ amazing pre-made templates that are ready for immediate use on your new website.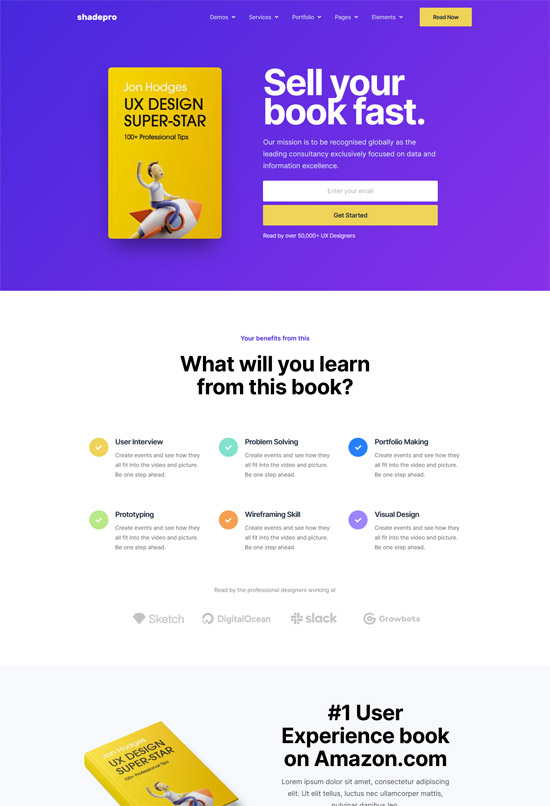 more info / download demo
Applic App
Applic App Landing WordPress Theme. Applic – App Landing WordPress Theme – Multipurpose WordPress theme for Saas & Startup is also easy to use and navigate. Compatible with desktop, laptop, table, mobile or any device. Applic – App Landing WordPress Theme has a simple and clean design, it will give your business / marketing a professional look. With Smooth TRANSITION and Effect increase the beauty of your site. It is good for any marketing company, business, agency, blog even for a personal portfolio. Suitable for anyone searching for app, app landing page, app presentation template, app services, gradient color, landing, marketing, responsive theme, saas, saas landing, seo, software, startup, technology, de web application startup, WordPres or Business theme.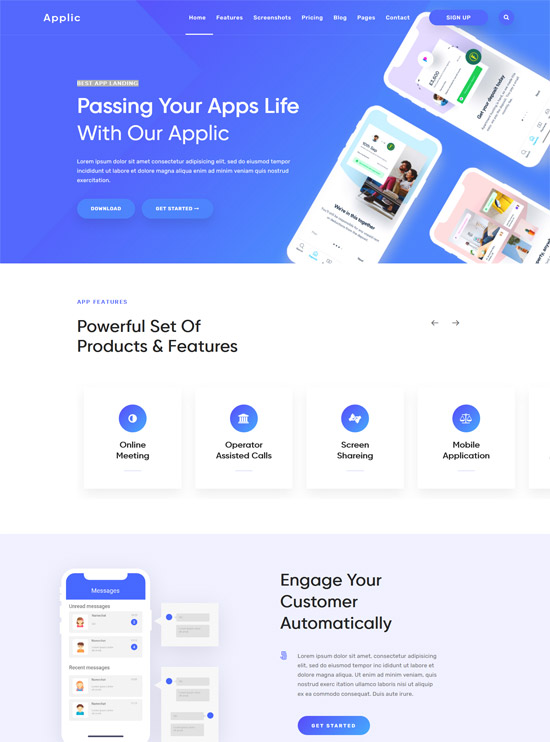 more info / download demo
Makro
Makro is a creative WordPress theme designed and created for saas, software, startup, mobile app, digital agency, and related services and products. Makro is equipped with tons of functions, elements and blocks, options that give users real flexibility to create a professional and dynamic website really fast and smooth. Makro is 100% responsive (that is, optimized for mobile devices) and looks perfect on all types of screens and devices. Users will love your Makro-powered site as it gives them a unique user experience (UX), a clean, modern and beautiful design. This theme is a great way to jump-start your new startup project or website, or to take your existing project or website to the next level.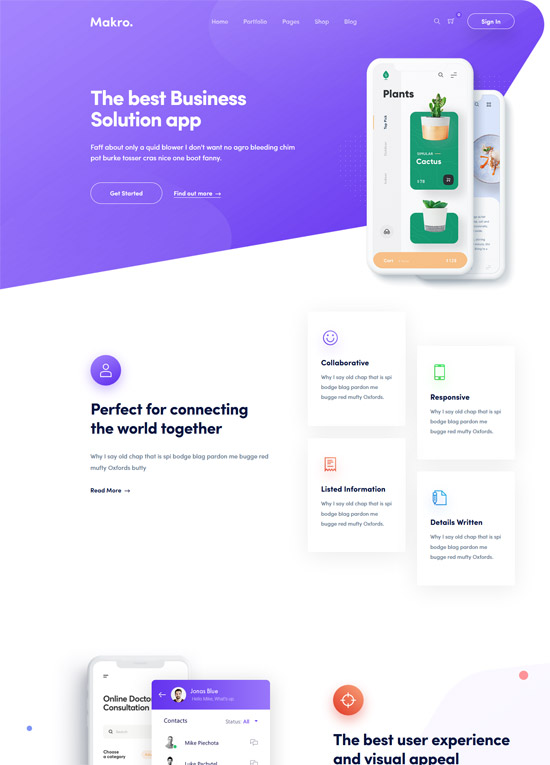 more info / download demo
Vaximo
Vaximo is a modern, creative, and beautifully designed WordPress theme for cybersecurity service companies and individual vendors. It comes with a niche variation complete with internal blogs and pages. The theme is developed with Elementor, Bootstrap 4.x and Sass. The theme is compatible with WordPress v5.7. Vaximo has the WooCommerce feature included. The theme is WPML compliant and GDPR compliant. This topic also includes Contact Form 7 plugin submission, newsletter plugin submission, well-commented and easily customizable source code with detailed documentation. These features will help the usage and customization of themes to be based on the ultimate needs.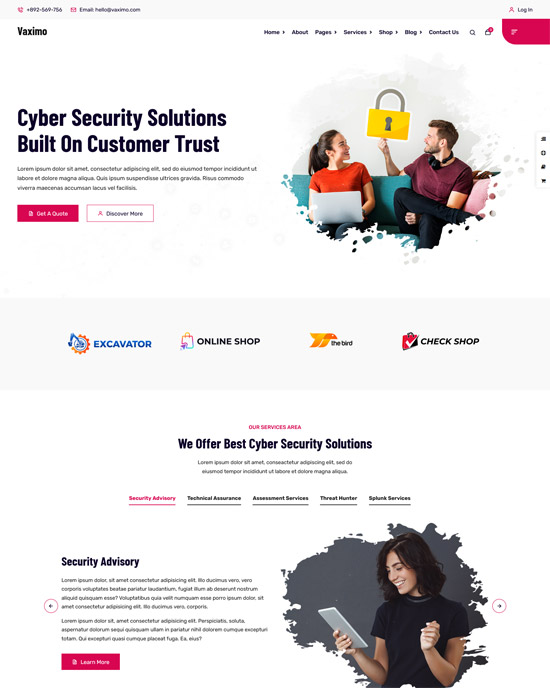 more info / download demo
Appway
Appway is a powerful easy-to-use and highly customizable SEO / digital agency / multipurpose theme, built with the latest Bootstrap. The theme comes with many layouts for blog pages, services, landing pages, and others. This topic is a very suitable topic for companies that offer SEO services, as well as other services related to Internet marketing. It has a purpose-oriented layout, responsive layout, and special features like 2 different landing pages, blog layouts, galleries, services, and pricing tables. Digital media can also be used for multiple purposes.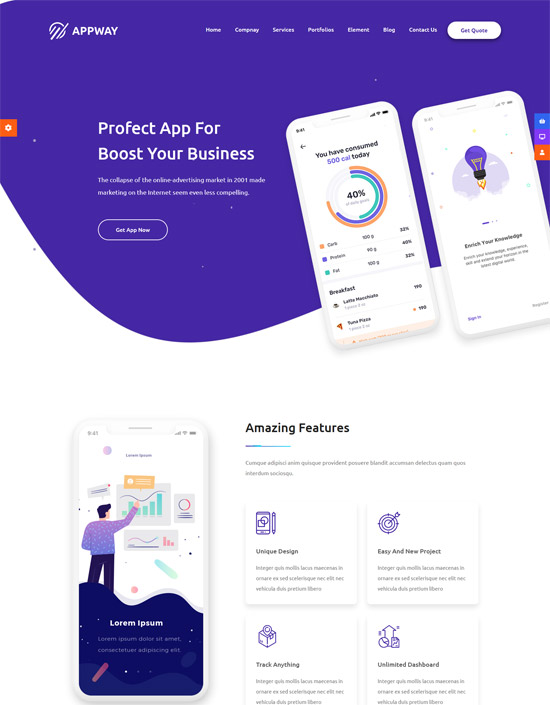 more info / download demo
Betakit
Betakit is a clean multipurpose business WordPress theme based on Elementor Page Builder for creative agencies, marketing teams and experts, digital agencies, personal websites, marketing agencies, and many more individual and corporate websites. You will have a clean website with simple appearance and powerful features from this theme created with Elementor Page Builder. You can easily create an unlimited number of pages using ready-made blocks and widgets, without the need for coding knowledge and website experts! RTL support is ready now!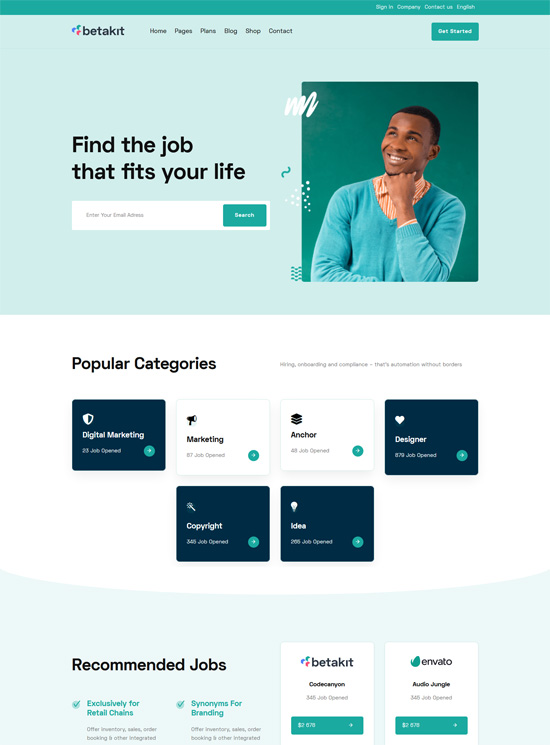 more info / download demo
Digeco
Digeco is hands down the best startup agency WordPress theme of all time. It has a clean and contemporary layout, and its versatility makes it perfect for all types of businesses. We have equipped you with all the features you need to create the website of your dreams. Creating pages for your website should be a breeze. Digeco gets you off to a great start with 4 multi-page landing pages that provide the perfect landing pages. To attract your visitors, you can make use of the 3 blog page layouts that come with the theme. Digeco offers 8 equipment designs, 7 portfolio designs, and 2 service designs.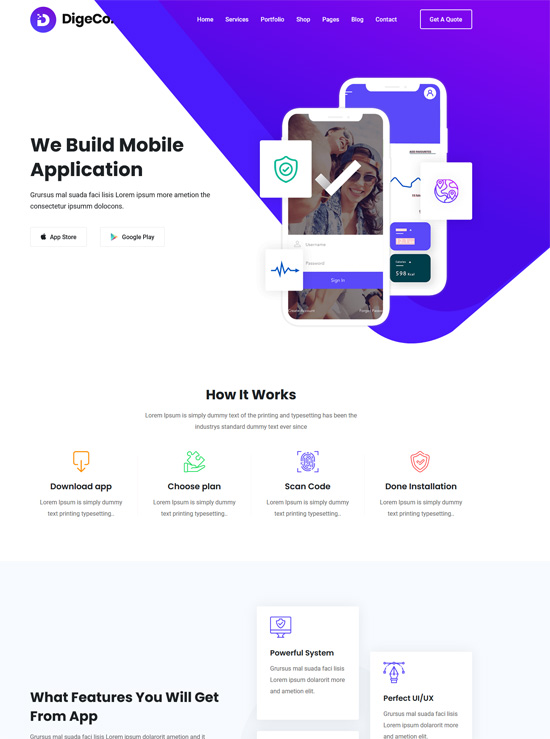 more info / download demo
Aapside
The Aapside app landing page is the perfect WordPress theme for apps. Aapside is a better way to present your modern business. It is easy to customize and also well documented and the child theme is included. it is also compatible with Desktop, laptop, mobile and also compatible with the main browsers.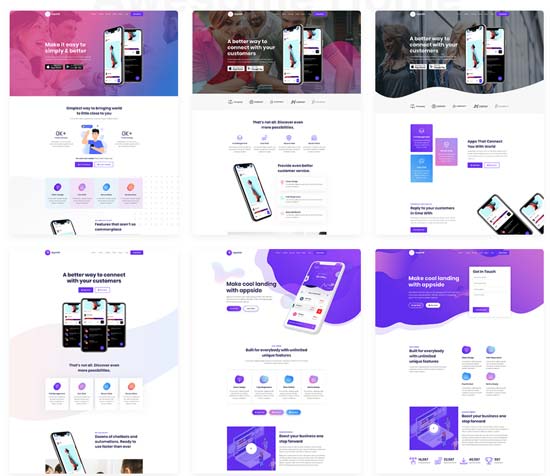 more info / download demo
Talkie
We present to you Talkie. Make your websites effective in conversation and interaction using our WordPress chatbot theme talkie. With the Internet providing instant access to a huge amount of data at your fingertips, Talkie is a perfect theme for creating websites for an event and promotional site, a content marketing agency, bank loan request robot services. , a chatbot service for stock brokers, a generation of leads for professional real estate robot services, legal robot services, mortgage application robots, automation and other industry-specific businesses.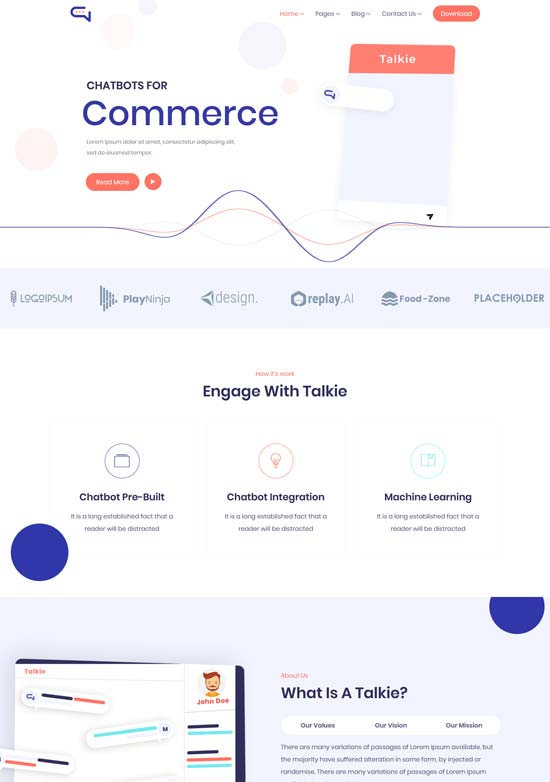 more info / download demo
Leadcon
We are proud to present Leadcon, an amazing versatile landing page theme designed for different types of websites. It comes with many elements and features that have been created and chosen for the needs of SaaS, software, startup and the application landing page. With Leadcon, the options seem limitless, as they are also suitable for data analysis, data science, and machine learning websites. All of its pages can be easily customized to suit your style, and with its vast collection of powerful elements, you can create a powerful website that your business truly deserves.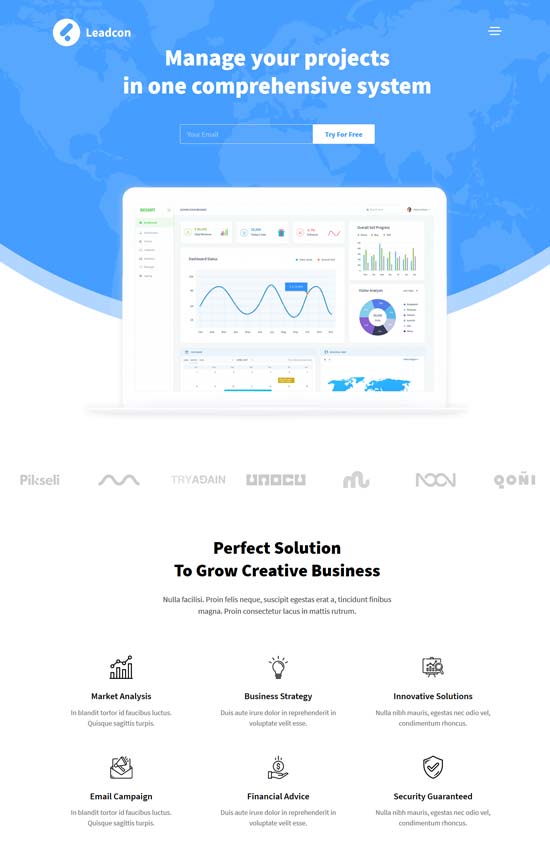 more info / download demo
Sassico
Sassico startup and sass WordPress theme adapted to your Sass startup agency, showcase of mobile applications, software, web application, IT solutions and corporate website. You can use Sassico as a creative way to present and promote your Sass startup or manage any digital marketing agency website. Users will love your site because it gives them a unique user experience, clean, modern and trendy looks.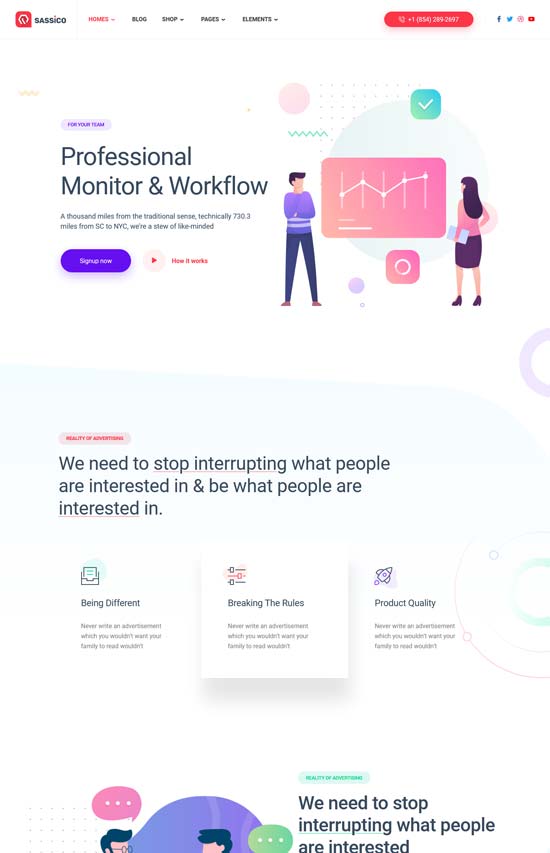 more info / download demo
Jumpstart
Jumpstart is a responsive, block-based WordPress theme that combines stylish design, premium features and a modern workflow to get you building multi-purpose websites fast.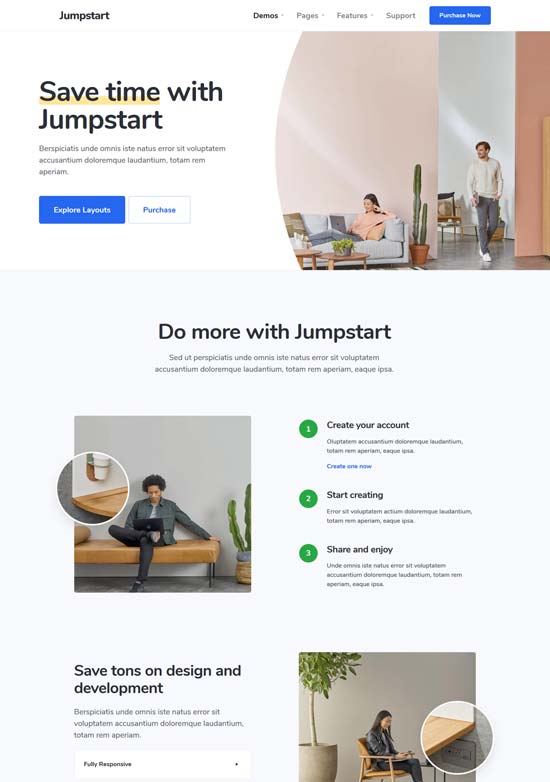 more info / download demo
Apzo
Apzo Software & Saas WordPress is a premium responsive WordPress theme specially for software publishers, software as a service (Saas), hosting, IT, corporate website, landing page application. With a clean, minimal and elegant design and presented with GoodLayers Page Builder, it makes Apzo one of the most intuitive and powerful themes on the market.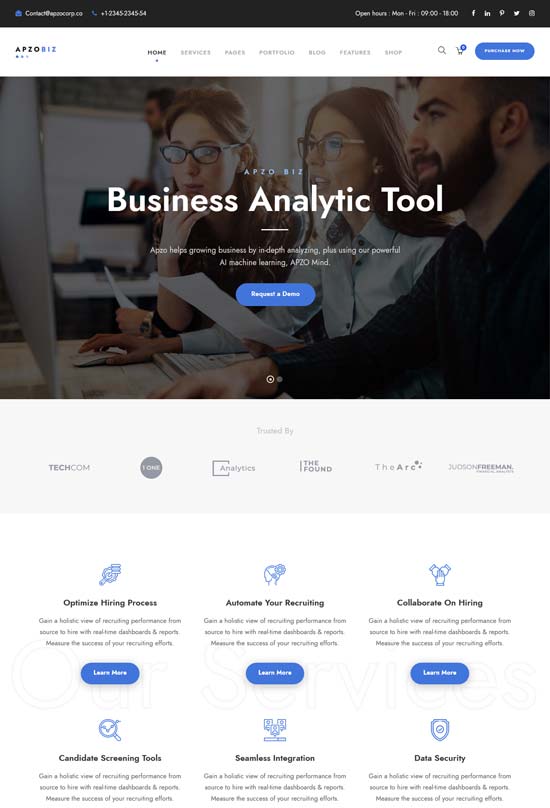 more info / download demo