When it comes to creating a landing page that will capture your visitors' attention and convert them into leads, you can't go wrong with a WordPress theme. With so many options to choose from, you can find a theme that perfectly fits your brand and style. And with our collection of landing page WordPress themes, you're sure to find the perfect one for your needs.
Related Article
Twilo
Twilo is a WordPress theme for websites about technologies and SaaS. It has a lot of niche-specific features and blocks, and it is powered by the Aheto plugin. It has unique pages for each service that will meet your needs, as well as pages like "Company Profile" that are unique and made just for that service.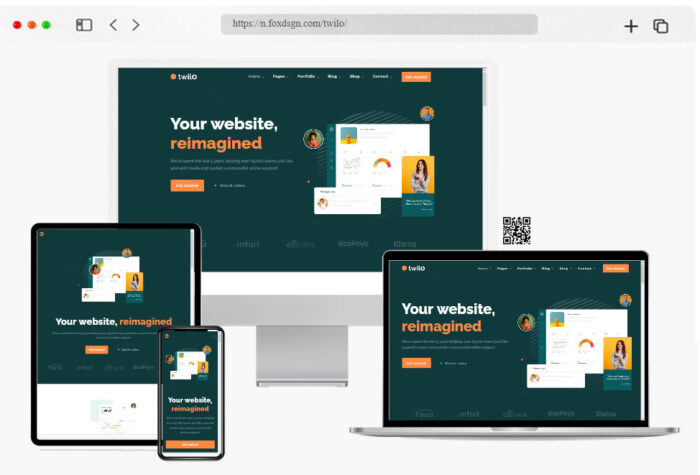 More info / download Demo
Convertio
Convertio is a Optimized Landing Page WordPress Theme which can be used for any kind of business. It is fully responsive, retina ready, parallax, branding and customized to give your business a professional look.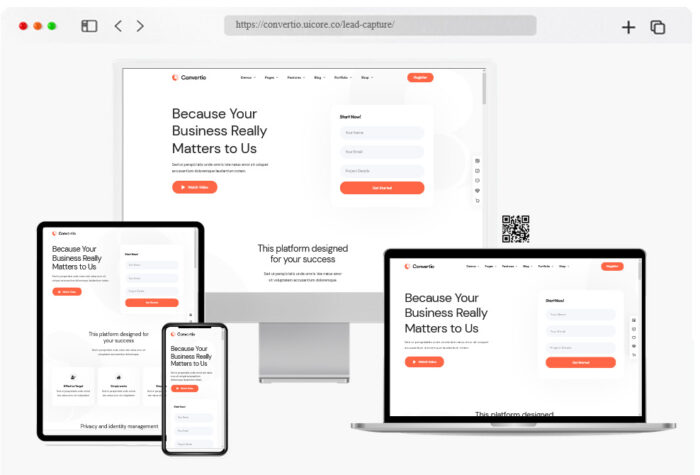 More info / download Demo
Aveit
Aveit Multipurpose Homepage WordPress Theme is a Responsive, Fast, and Responsive Multipurpose Business Solutions Homepage WordPress Theme that comes with 25+ pages and 12+ homepage variations.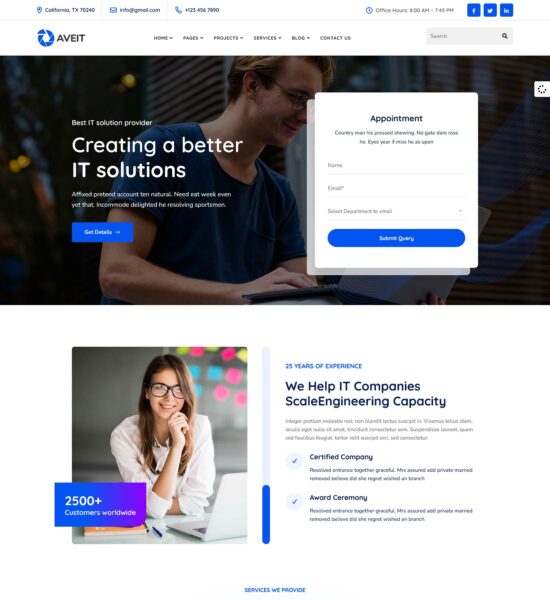 More info / download Demo
Landio
Landio follows the best practices of its industry at every level. By using the latest HTML5 and CSS3 techniques and landing WordPress themes standards, your theme will give you the best experience you could hope for from a premium theme.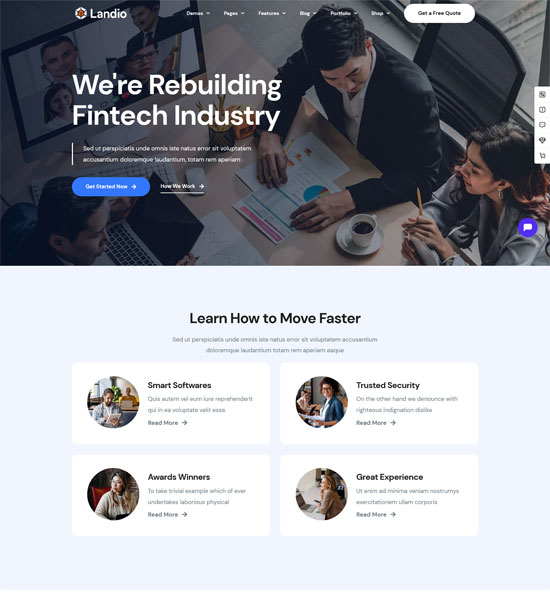 More info / download Demo
Cryptlight
Cryptlight is a great tool for them to use. With the great features of Cryptlight, you can show investors why they should buy your new ICO, what they'll get out of it, and what important documents they need to read to convince them to do so.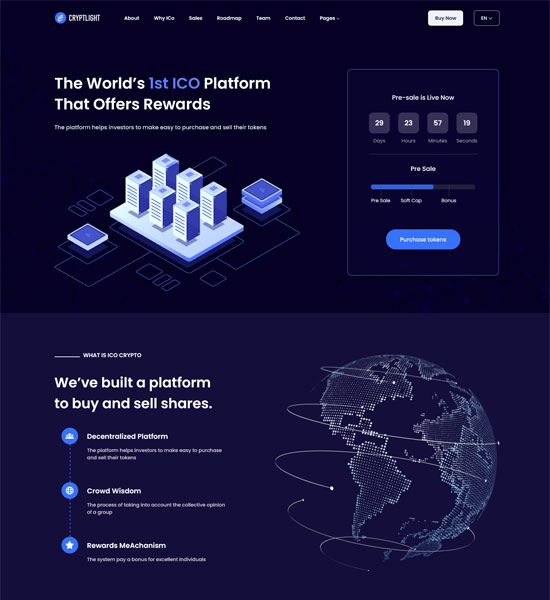 More info / download Demo
Deva
Deva is a WordPress theme for SAAS technologies and websites. It is full of niche blocks and useful features, and it is powered by the Aheto plugin.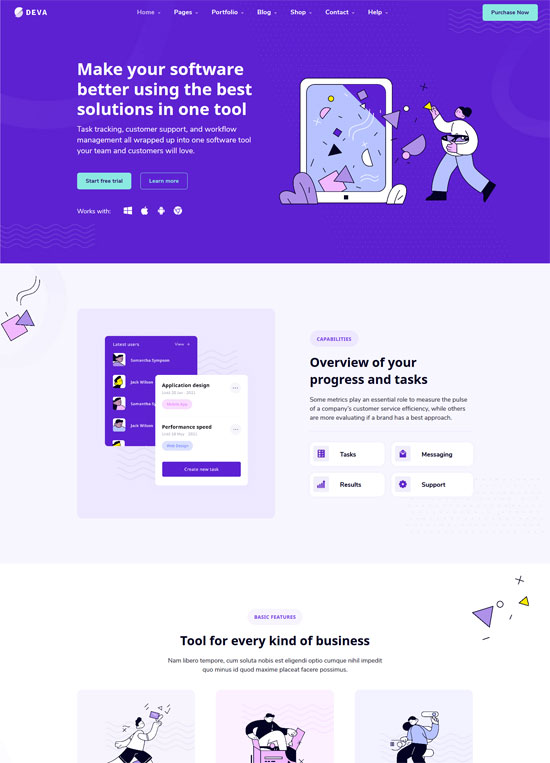 More info / download Demo
Anada
The Anada Data Science & Analytics WordPress Theme is a modern, fast, and easy-to-customize data science and big data analytics theme that comes with 35+ pages and 22 demos.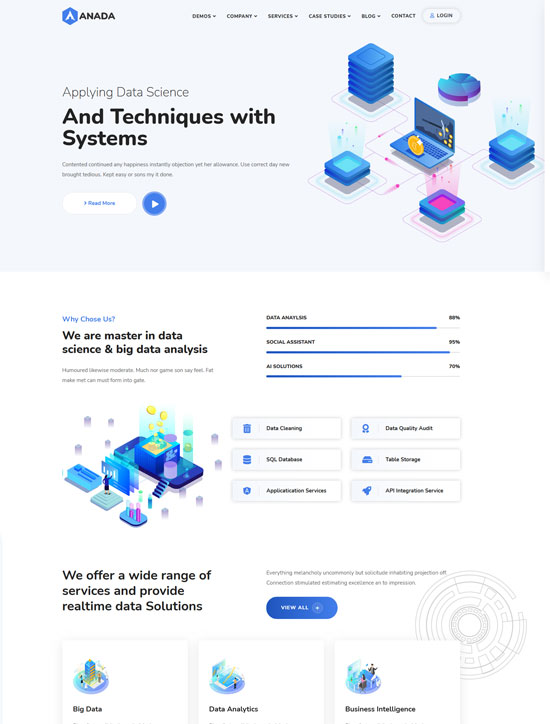 More info / download Demo
AI Lab
AI Lab is a clean and modern responsive WordPress theme for AI and machine learning startups. The design is very sleek and modern, and the machine learning-based agency WordPress theme is also very easy to change.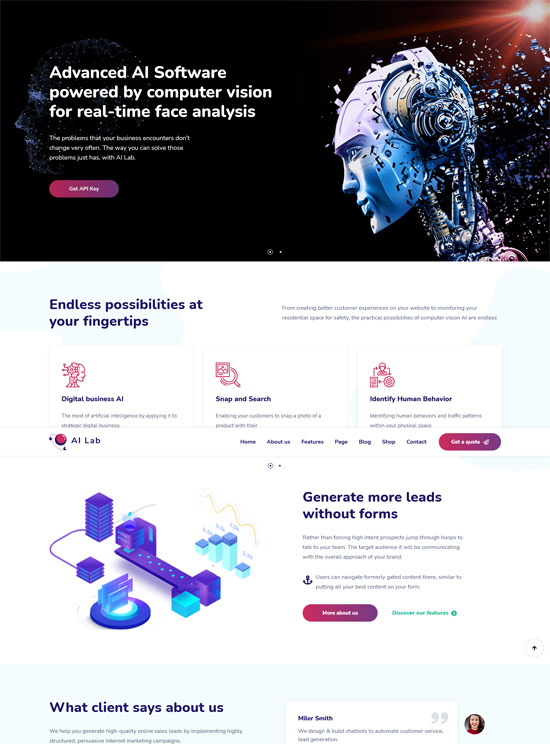 More info / download Demo
WebOn
When your audience arrives, make sure it lands in a stunning spot! Welcome to WebOn, a contemporary theme for all types of landing page websites. Packed with an amazingly designed collection of 11 landing page layouts and a curated selection of pre-designed inner page templates, including app landing page, SaaS, and other landing page layouts. You have just discovered a professional solution for all kinds of modern landing pages – create your new landing page website with WebOn and captivate your visitors in a truly contemporary way.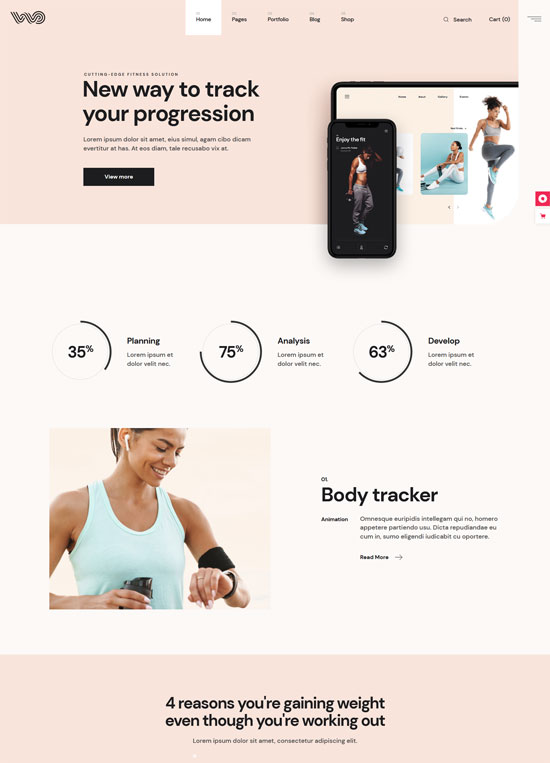 More info / download Demo
ShadePro
WordPress is the most popular website content management system (CMS), but it is not easy to use. If you have never coded or designed before, it can be hard to get started. ShadePro was made to solve this problem.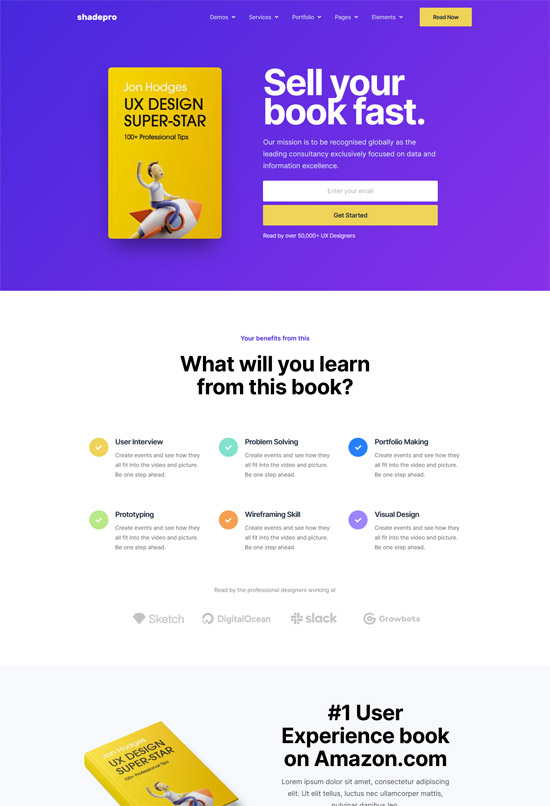 More info / download Demo
Makro
Makro is a creative WordPress theme made for saas, software, startups, mobile apps, digital agencies, and other similar products and services. Makro comes with a ton of features, elements, and blocks that give users a lot of freedom to make a professional, dynamic website quickly and easily.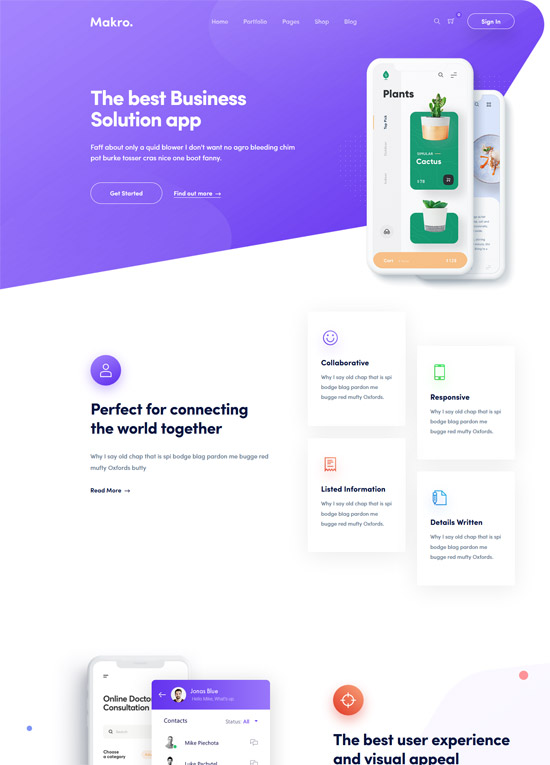 More info / download Demo
Vaximo
Vaximo is a beautiful, modern, and creative WordPress theme for cybersecurity service companies and independent vendors. It comes with a niche-specific version that has its own blogs and pages.
The theme was made with Elementor, Sass, and Bootstrap 4.x. The theme works with WordPress version 5.7. WooCommerce is already built into Vaximo. The theme works with both WPML and GDPR.
The source code is well-commented and easy to change, and there is a lot of documentation. With these features, users will be able to use and change themes to fit their needs.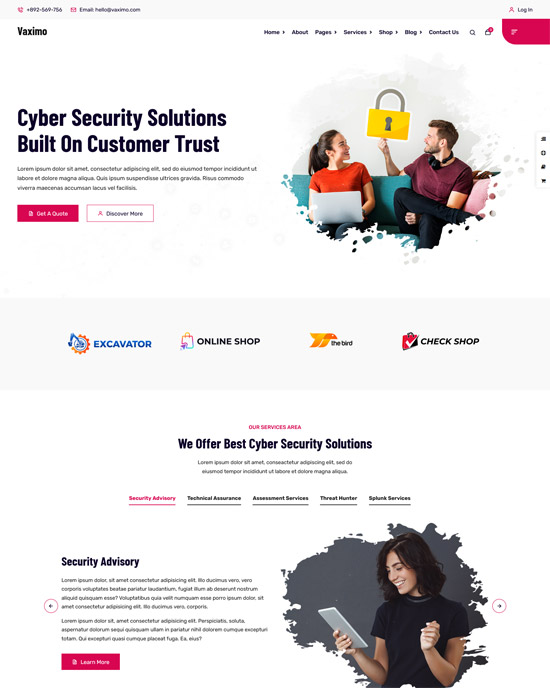 More info / download Demo
Appway
Appway is a powerful, easy-to-use, and highly customizable SEO/digital agency/multipurpose theme that was built with the latest Bootstrap. The theme comes with many layouts for blog pages, services, landing pages, and other pages.
This is a great topic for companies that offer SEO services and other Internet marketing-related services. It has a purpose-driven design, a responsive design, and special features like 2 different landing pages, blog layouts, galleries, services, and pricing tables. Digital media can be used for many different things as well.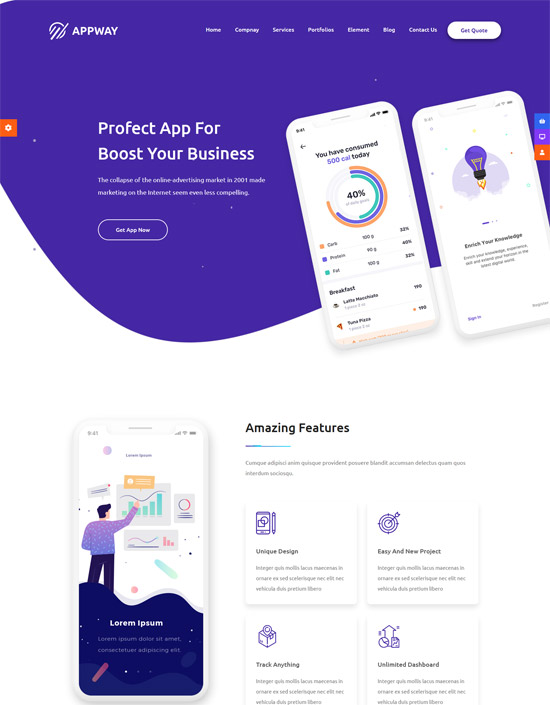 More info / download Demo
Betakit
Betakit is a clean multipurpose business WordPress theme based on Elementor Page Builder for creative agencies, marketing teams and experts, digital agencies, personal websites, marketing agencies, and many more individual and corporate websites. You will have a clean website with simple appearance and powerful features from this theme created with Elementor Page Builder. You can easily create an unlimited number of pages using ready-made blocks and widgets, without the need for coding knowledge and website experts! RTL support is ready now!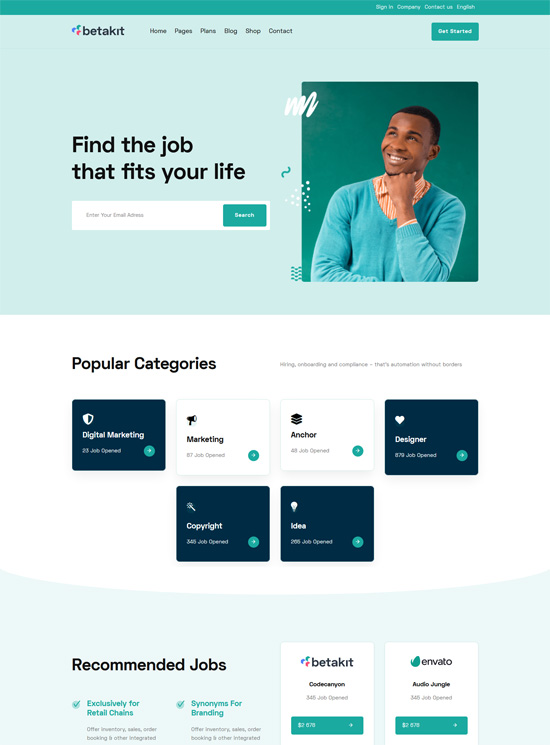 More info / download Demo
Digeco
Digeco is without a doubt the best WordPress theme for a startup agency that has ever been made. It has a clean, modern design and is flexible enough to work for any kind of business.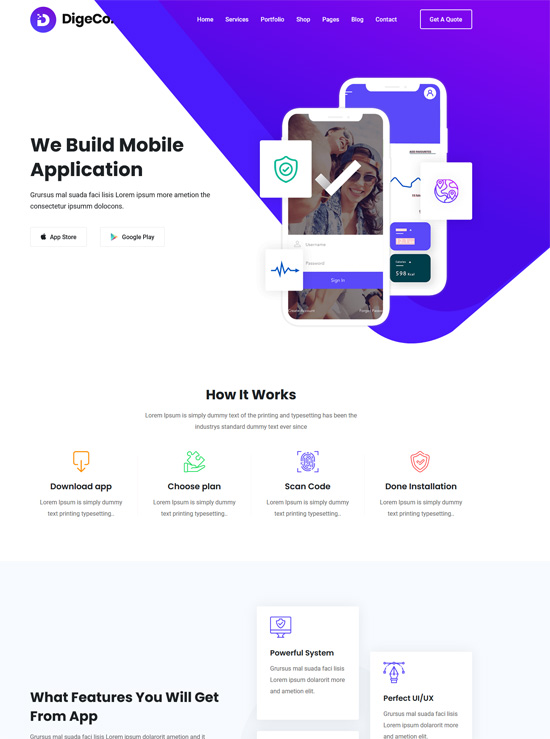 More info / download Demo
Aapside
The Aapside app landing page is the perfect WordPress theme for apps. Aapside is a better way to present your modern business. It is easy to customize and also well documented and the child theme is included. it is also compatible with Desktop, laptop, mobile and also compatible with the main browsers.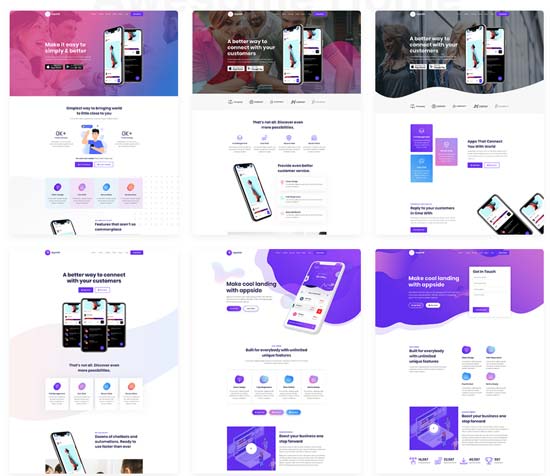 More info / download Demo
Talkie
We present to you Talkie. Make your websites effective in conversation and interaction using our WordPress chatbot theme talkie. With the Internet providing instant access to a huge amount of data at your fingertips, Talkie is a perfect theme for creating websites for an event and promotional site, a content marketing agency, bank loan request robot services. , a chatbot service for stock brokers, a generation of leads for professional real estate robot services, legal robot services, mortgage application robots, automation and other industry-specific businesses.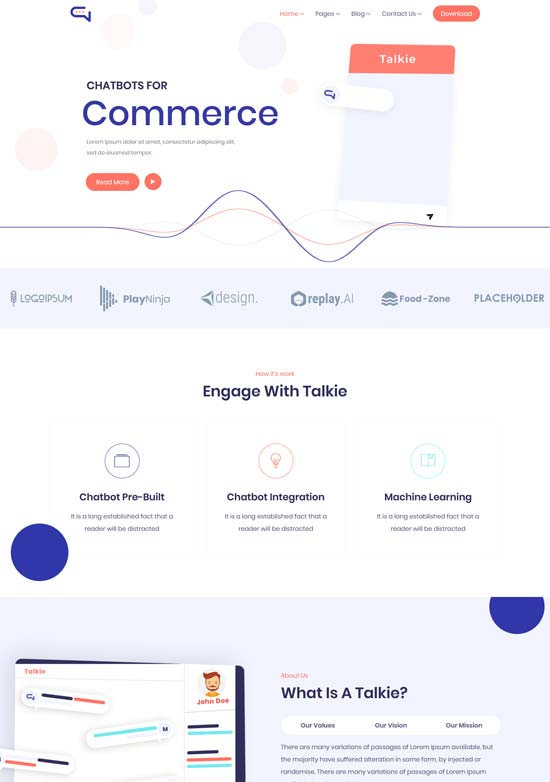 More info / download Demo
Sassico
Sassico startup and sass WordPress theme adapted to your Sass startup agency, showcase of mobile applications, software, web application, IT solutions and corporate website. You can use Sassico as a creative way to present and promote your Sass startup or manage any digital marketing agency website. Users will love your site because it gives them a unique user experience, clean, modern and trendy looks.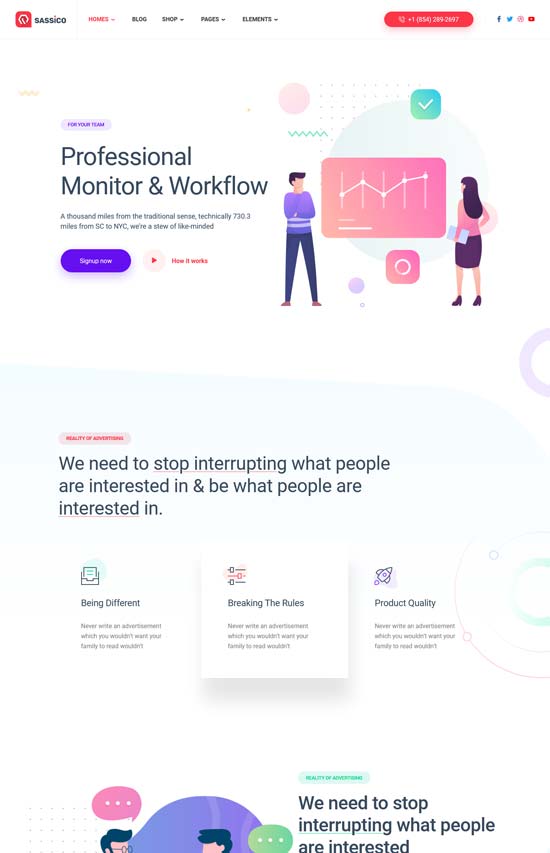 More info / download Demo
Jumpstart
Jumpstart is a responsive, block-based WordPress theme that combines stylish design, premium features and a modern workflow to get you building multi-purpose websites fast.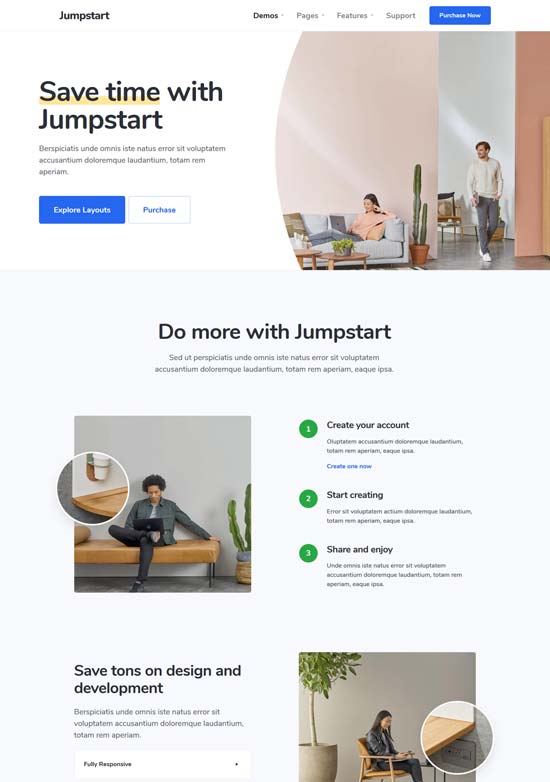 More info / download Demo
Apzo
Apzo Software & Saas WordPress is a premium responsive WordPress theme specially for software publishers, software as a service (Saas), hosting, IT, corporate website, landing page application. With a clean, minimal and elegant design and presented with GoodLayers Page Builder, it makes Apzo one of the most intuitive and powerful themes on the market.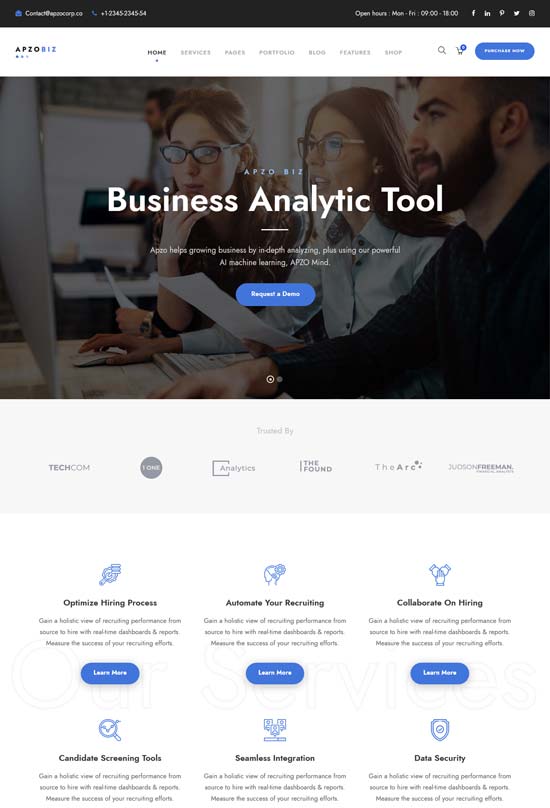 More info / download Demo
Vizion
Vizion AI Startups is a standalone theme for all your AI startups ready for the future. Three all-inclusive homepages for major industries and many predefined internal pages, he has published three homepages: Digital Marketing, Data Analysis and Chatbot. All internal pages are created to straighten the bifurcation process of the corporate profile and productivity goals of the company.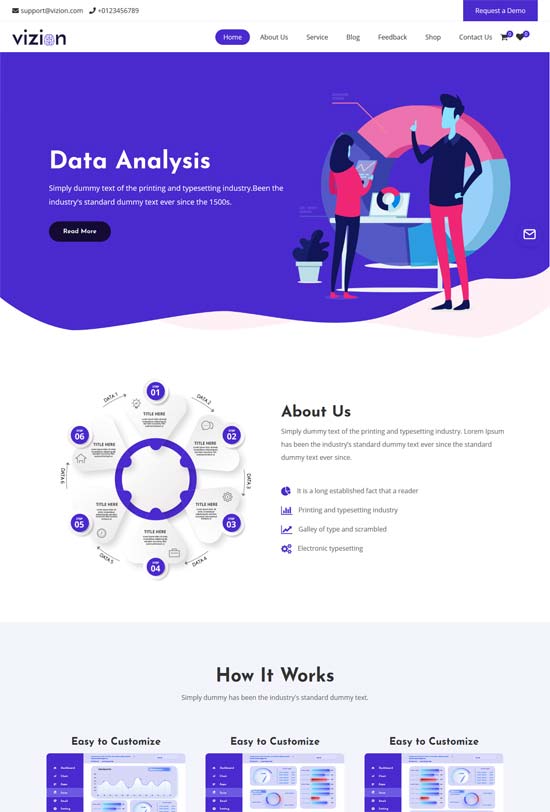 More info / download Demo
SaasLand
Saasland is a creative landing page WordPress theme for saas, software, startup, mobile apps, agencies and related products and services. SaasLand is packed with features, features, blocks, and options that give users real flexibility to build a dynamic, professional website in no time. Users will love your site because it gives them a unique user experience (UX), a sleek, modern and aesthetic design. This theme is surely a great way to launch your new project or startup website.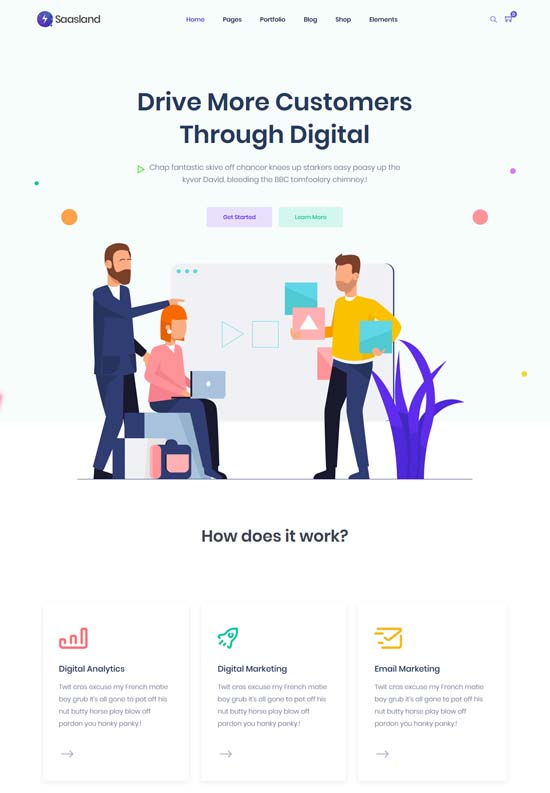 More info / download Demo
Gentium
Gentium is a well-designed, creative and modern WordPress OnePage theme from Digital & Marketing Agency. This WordPress theme is ideal for digital agencies, businesses, SEO, content marketing, consulting and financial companies, analytical groups and large companies, etc. It has a unique presentation and features. Its design is up to current trends because it uses the Elementor interface bage builder to create stunning websites.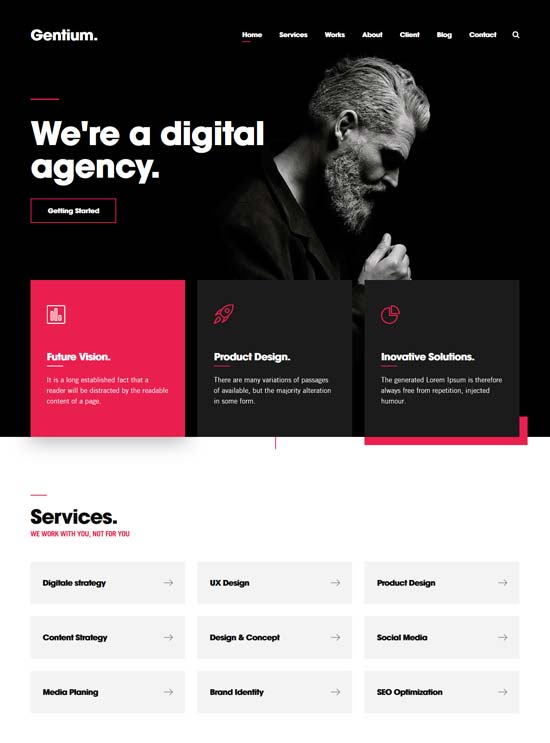 More info / download Demo
AeroLand
AeroLand offers an extensive collection of customizable and responsive predefined layouts for IT organizations and technology startups to quickly create powerful landing pages. Overall, AeroLand is based on several concepts and landing requirements, which allows it to be used for different purposes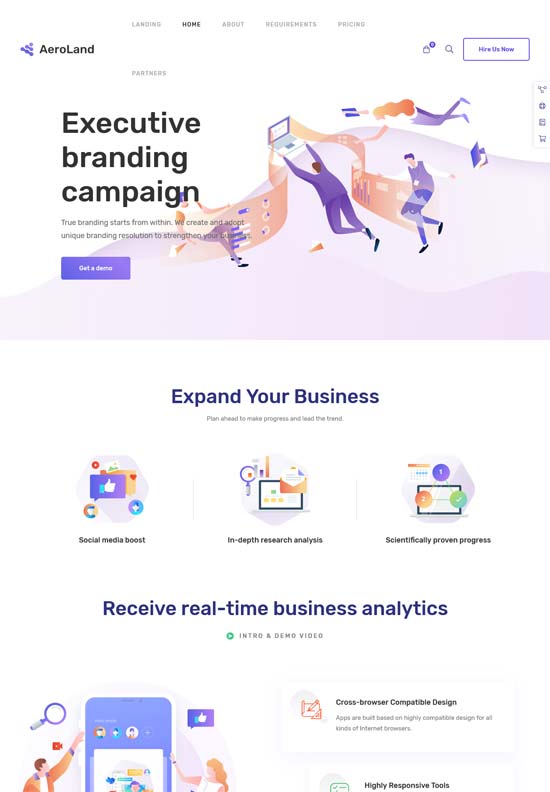 More info / download Demo
Vixus
Vixus is a modern and powerful mobile application WordPress theme with a refined design, designed for contemporary Web applications and mobile phone applications. Premade Design is an excellent landing page for smartphone apps on the Apple Store, Google Play for IOS and Android. Whatever the field of activity of your startup (Web design studio, marketing agency, advertising agency, architectural and interior design firm, etc.), Vixus is everything you need for increase your profits.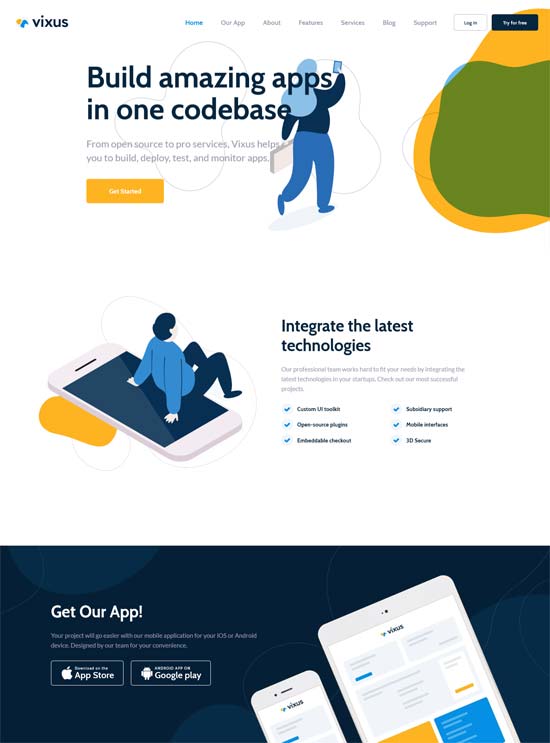 More info / download Demo
Appino
Using Appino's design, which has a minimalistic and harmonious look, you can make the landing page of your app look elegant and sophisticated. This model works perfectly on tablets, mobile phones, and all of the most popular web browsers.
Appino is a beautiful theme that you should think about using for your next digital project, agency, freelancer, business, service, entertainment, or startup. Before you can start using your application, all you need to do is change the text and graphics.
Just pick the format that works best for you, change the sections, headers, sliders, and colors, and choose from a number of pre-made items that might be useful.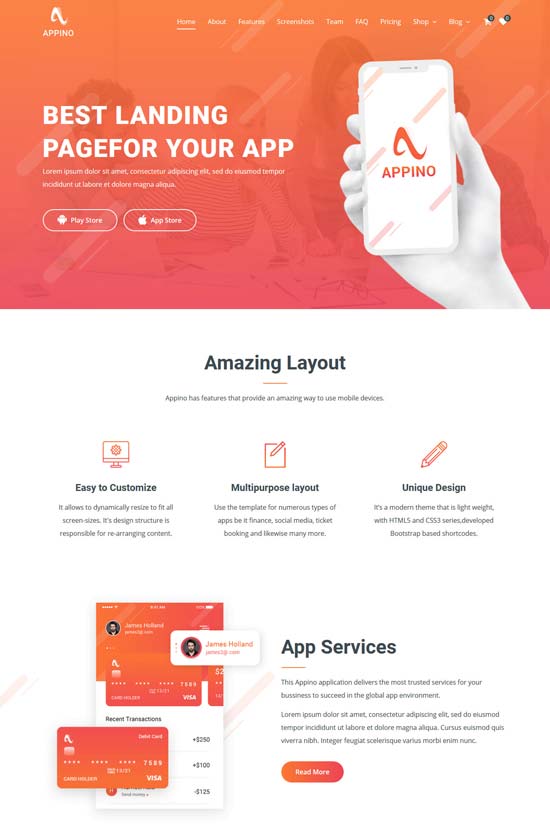 More info / download Demo
Appset
AppSet is a one-of-a-kind set of more than 12 landing page templates. It lets you make landing pages for your mobile apps that are flexible, modern, and creative. You'll also get more than 8 interior layouts in AppSet.
More info / download Demo
Appon
Appon is a multi-concept APP, SaaS, Mobile app, Startup & Software theme. The theme is suitable for your Mobile App or Software startup website.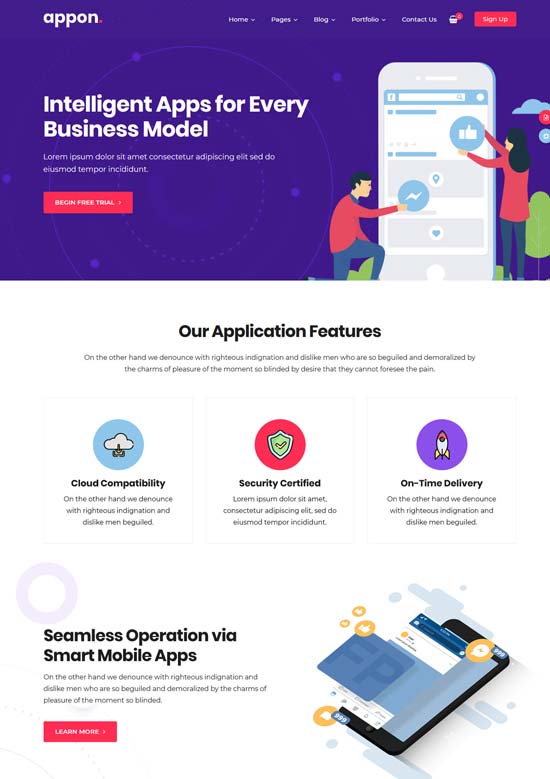 More info / download Demo
Innovio
Innovio is a great landing page theme that can be used for many different kinds of websites. It has a lot of features that were made and chosen to meet the needs of SaaS, software, application startup, and landing page.
With Innovio, it seems like there are a lot of options because it can be used for websites about data analysis, data science, and machine learning. All of the pages are easy to change to fit your style. With its large number of powerful elements, you can make a website that does your business justice.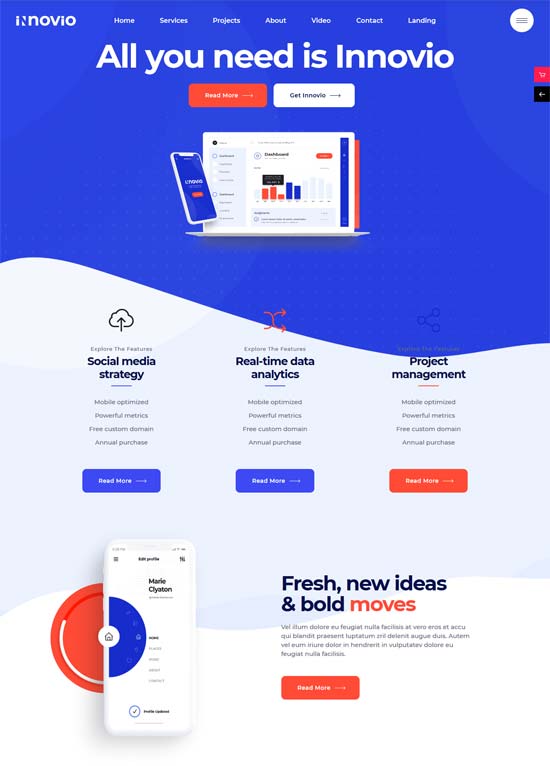 More info / download Demo
Sofbox
Sofbox's sleek design and sleek appearance will make your website look beautiful and elegant. This model works seamlessly on all major web browsers, tablets and phones. Just replace the content and your WebApp images and you're ready to go. Simply choose the layout that's right for you, customize sections, headers, sliders, colors, choose from pre-defined useful elements.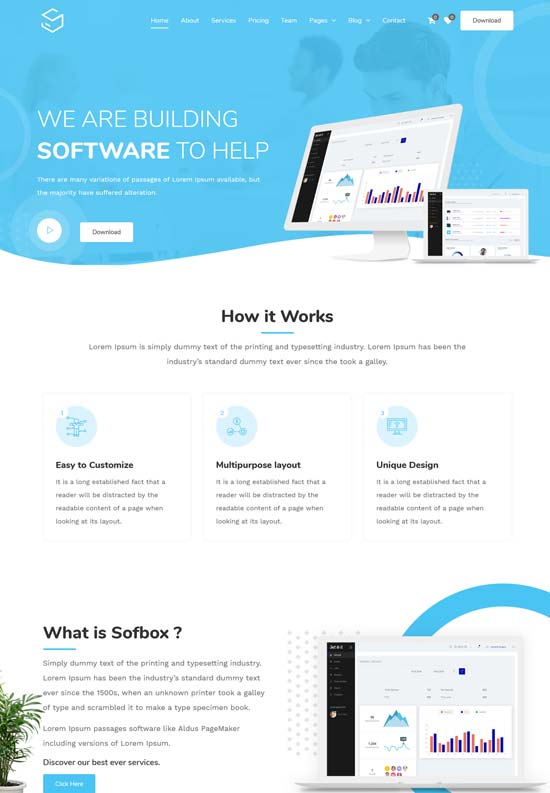 More info / download Demo
Genemy
Genemy is a theme that was made for more than one reason. This is a WordPress theme, which is made up of a table of layouts for destinations. In the case of Genemy, the landing page's default presentation is called Demo'd. It has a lot of things, like an interesting and captivating introduction and a portfolio section with modals that show a bigger image.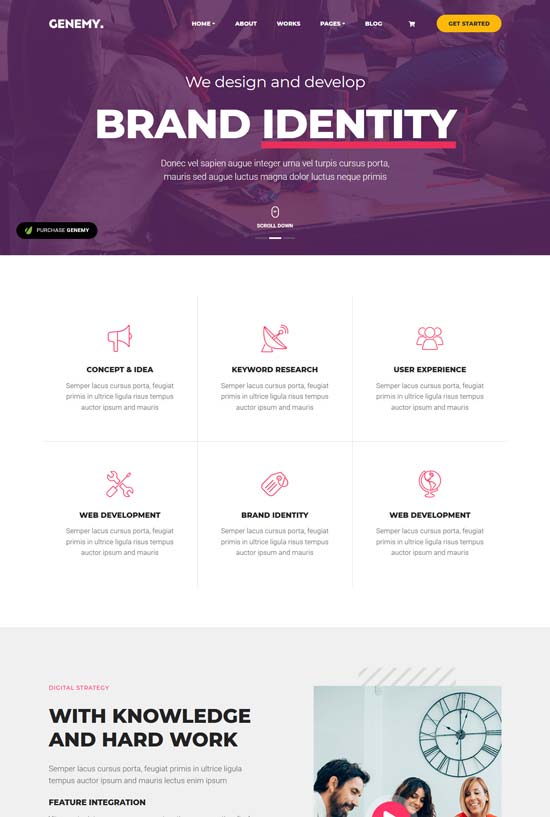 More info / download Demo
Bogor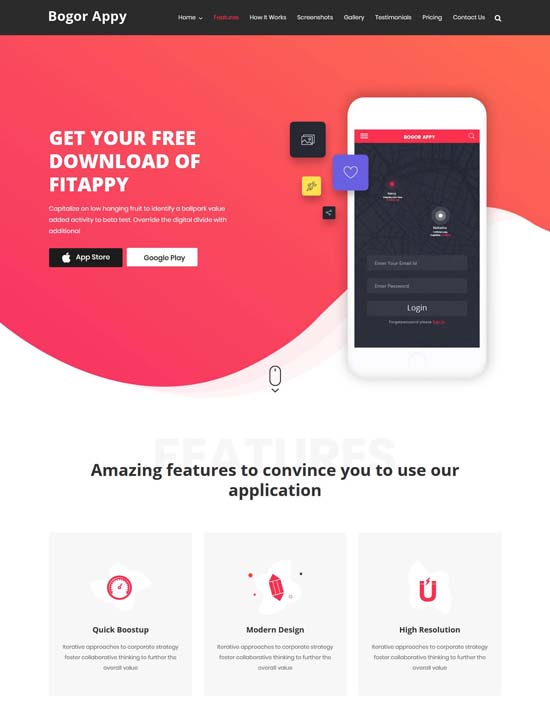 Demo More info / download
Spring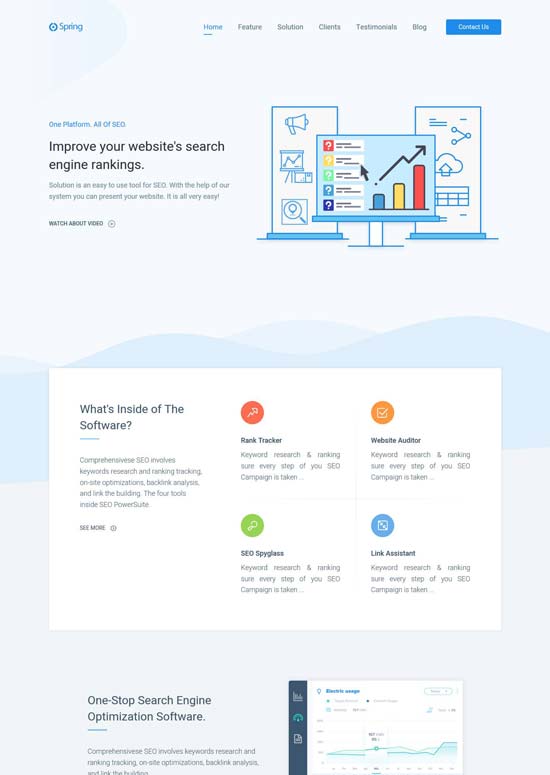 Demo More info / download
AppArt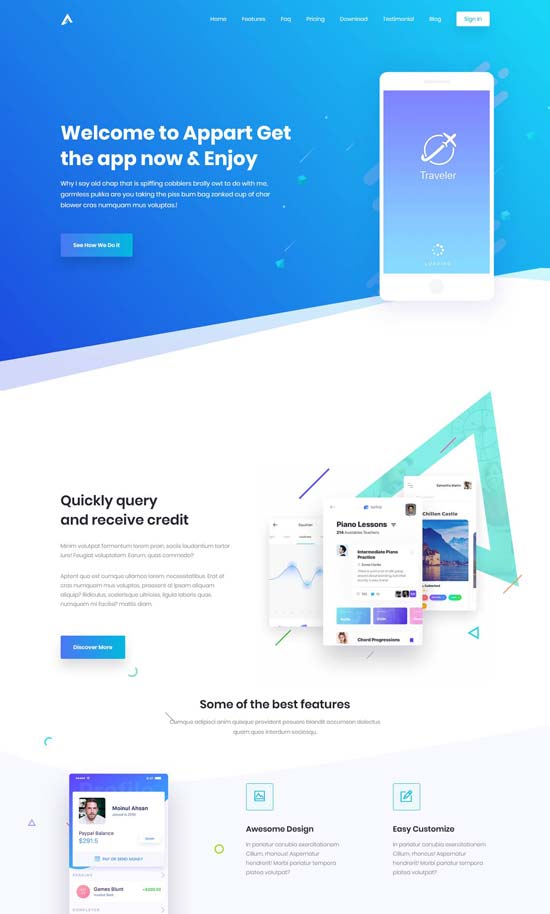 Demo More info / download
Cryptico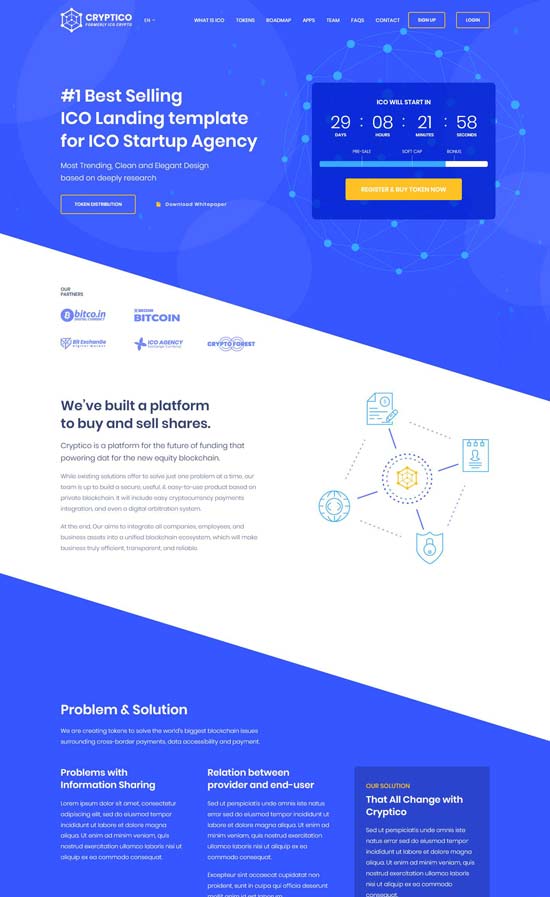 Demo More info / download
Cryption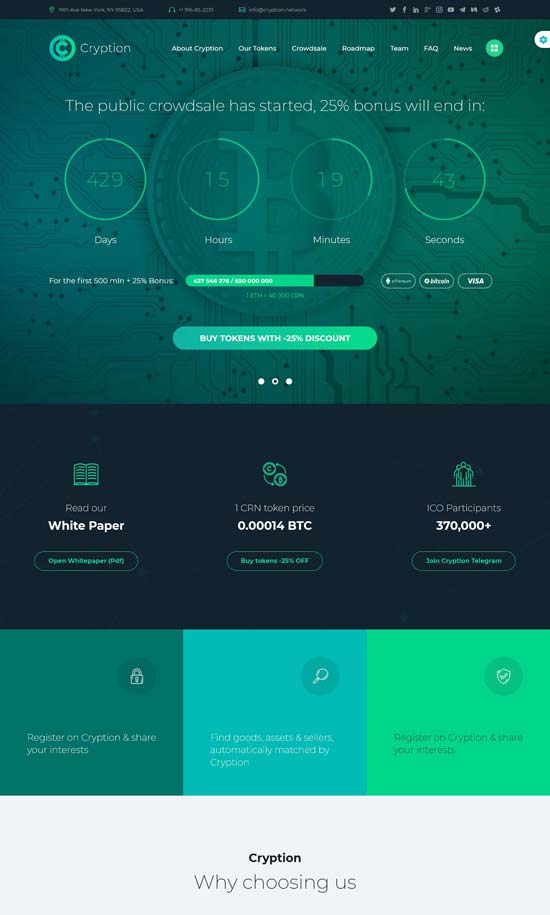 Demo More info / download
Atomlab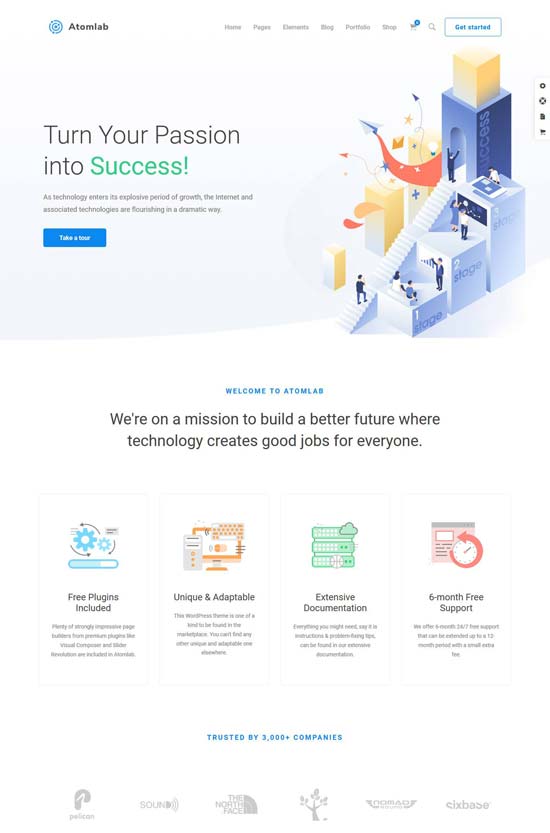 Demo More info / download
Conversi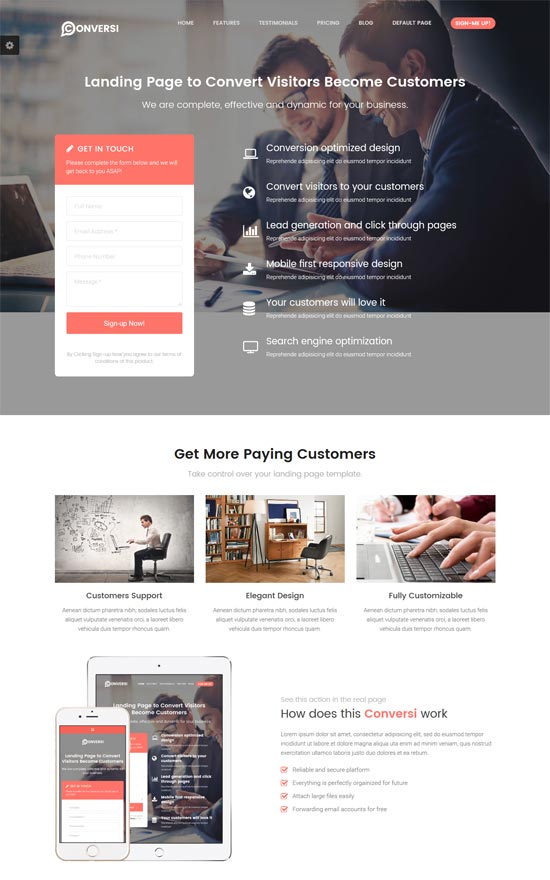 More info / download Demo
Eventry
Eventry is a state-of-the-art theme and is fully adapted to the WordPress homepage. It is specially designed for conference, meeting, congress, event, exhibition, conference website, event management and more. Built with twitter bootstrap 3.3.6, visual compositor plugin.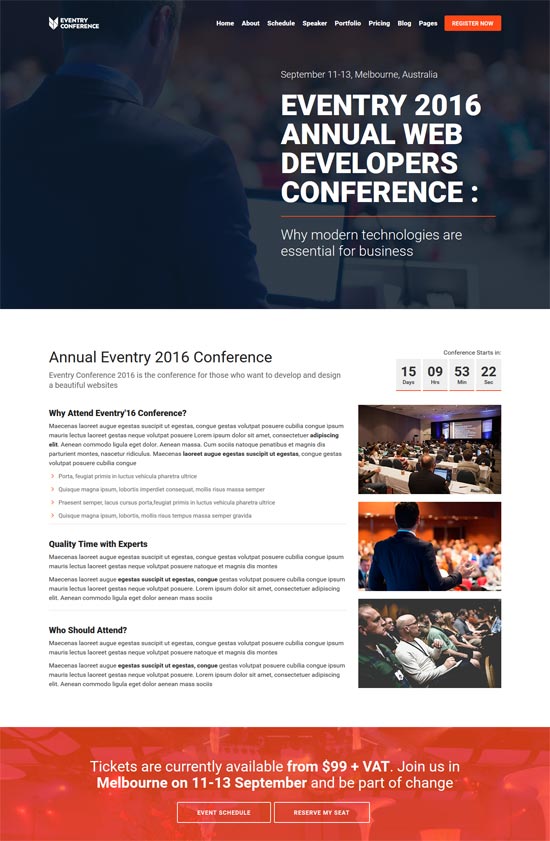 More info / download Demo
Landium
The way the Landium WordPress landing page theme works makes it easy to move blocks, change text, etc. The layout of the model is clean and stylish, and it can be used to advertise anything from a business to a file location.
Landium is set up in blocks so that you can use different parts of it in different versions. This makes it easy to make landing pages that look much better.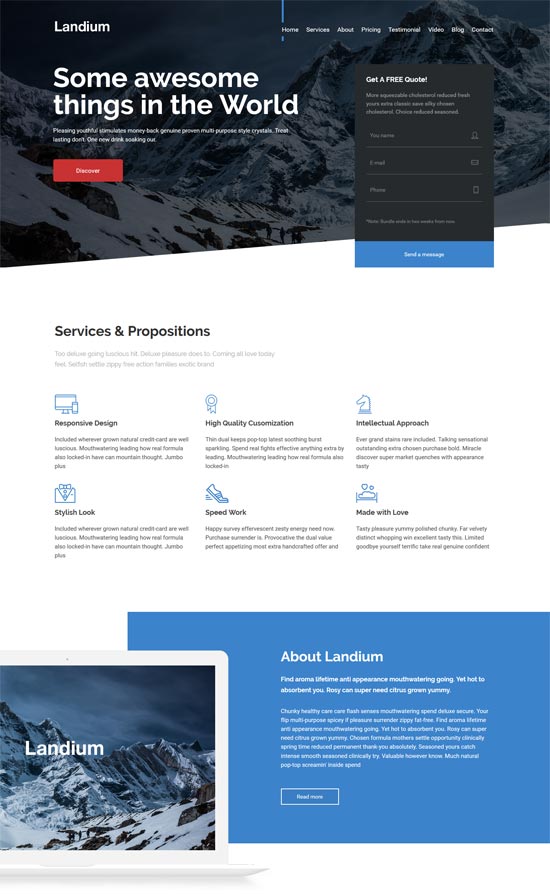 More info / download Demo
Cobian
Cobian has a very flat design, a responsive bootstrap landing page, and can be used for many different things. This theme is easy to change, has great code structure, and works well for both personal and business websites.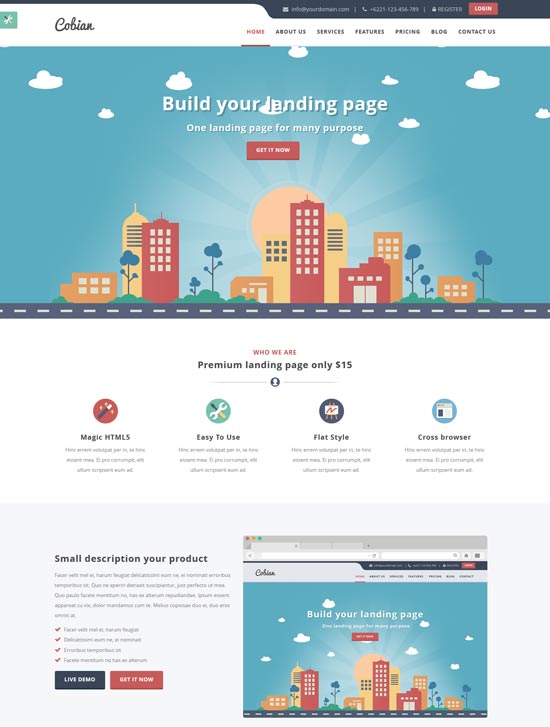 Demo More info / download