Embark on a journey to create a stunning listing and directory website templates with our handpicked collection of top-notch templates. Our blog post is a treasure trove for entrepreneurs, enthusiasts, and developers seeking to build local directories, classifieds platforms, or niche listings. Explore a diverse range of website templates designed to simplify the process, featuring elegant layouts, advanced search functionalities, dynamic map integration, user reviews, and more. Whether you're a coding maestro or a complete beginner, our guide will illuminate the path to crafting an extraordinary online directory that stands out and serves its purpose seamlessly.
Listy
Listy is a robust HTML template designed for Listing and Directory solutions, featuring a contemporary UI/UX design and well-organized code. It offers a versatile range of demos tailored to cater to diverse needs, whether you're aiming to establish a local or global directory platform. With applications spanning from Local Business Listings and City Travel Guides to Restaurant Listings and House Rentals, Listy is a versatile choice.
The template boasts full responsiveness, ensuring its visual appeal and functionality remain consistent across various screen sizes and devices. Listy presents a superior means of showcasing and marketing your business, captivating users through its distinctive user experience, sleek modern aesthetics, and clean design.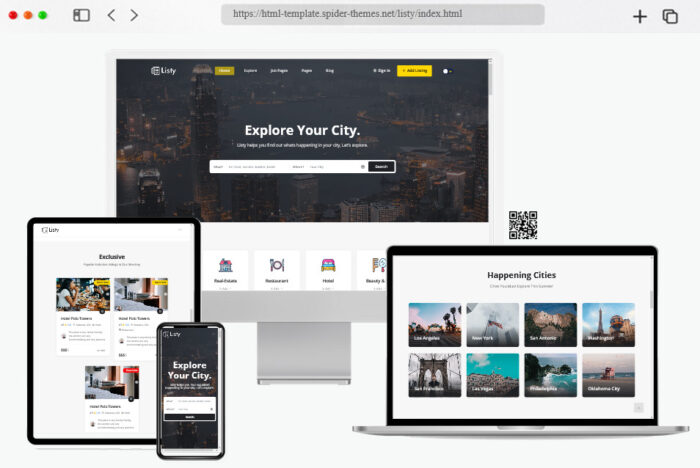 More info / download Demo
GoodUP
GoodUP is a sophisticated HTML template designed for web directories, offering multiple home demo options and contemporary styles, along with an innovative user dashboard. With GoodUP, you have the tools to establish and oversee an exceptional local or global web directory site. Noteworthy features of GoodUP include a wide selection of over 40 pages, 5 distinct home demos, an advanced search function, and integration with Bootstrap 5.1 for enhanced performance.
The template seamlessly incorporates maps, ensuring seamless location-based interactions. GoodUP is retina-ready for crisp visuals, boasts a collection of over 1500 icons, and incorporates a robust popup system. Additionally, it presents more than 8 detailed listing pages, enhancing the depth of information provided. Users benefit from a dedicated dashboard for personalized interactions and management.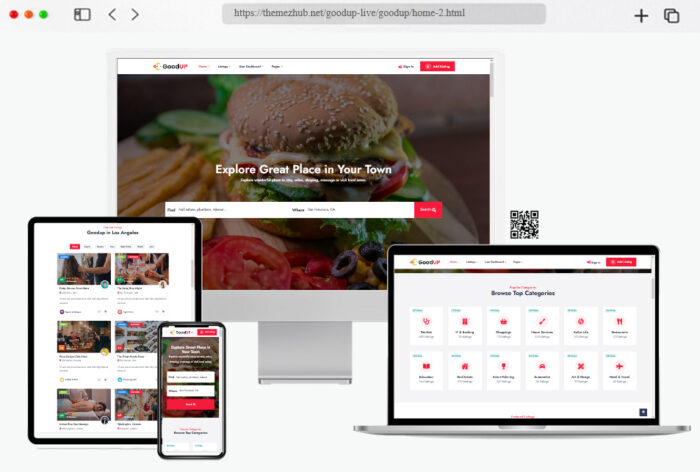 More info / download Demo
Finder
Finder is a versatile template that combines Angular 15 and Bootstrap 5 to create a powerful Directory & Listings platform. It caters to various business sectors, including Real Estate with property listings and interactive maps, Car Finder for vehicle marketplaces, Job Board for job seekers and employers, and City Guide featuring search functionality, maps, points of interest, and personalized accounts.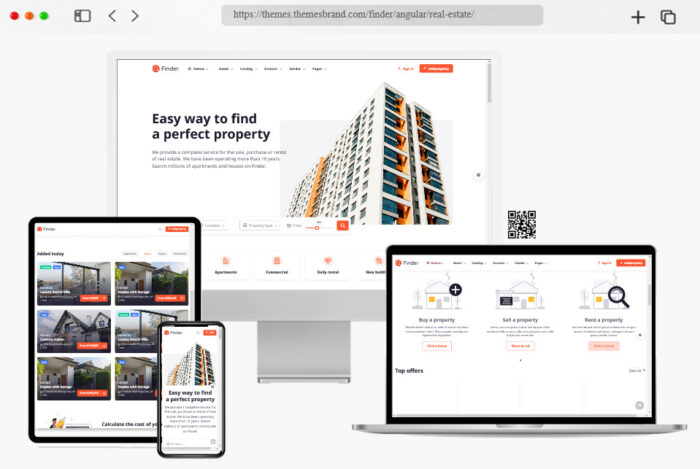 More info / download Demo
Fioxen
Fioxen is a cutting-edge React Nextjs Template designed for business directories and listings, characterized by a contemporary design layout. The template focuses on various directory-based services including Local and Global Business Directories, Listings, Online Business Directories, and Local Food Listings. It caters to a wide spectrum of directory businesses and services, encompassing diverse needs.
Fioxen offers visually appealing home pages, versatile inner pages, and essential sections crucial for different types of local business listing websites. Key features include three unique homepage versions, React-based development, ES6+ utilization, absence of jQuery dependency, W3C compliant HTML5 & CSS3 coding, developer-friendly code structure, a clean and modern flat design, distinctive effects and functionality, and integration with Bootstrap 4 for a responsive and stylish framework. Fioxen presents an ideal platform for crafting dynamic and feature-rich business directory and listing websites.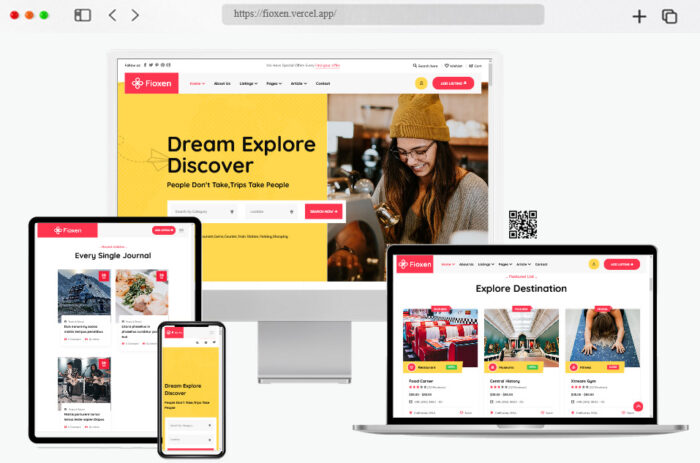 More info / download Demo
Homeradar
Homeradar offers a clean and modern design, making it an excellent choice for directory listings. Designed to support both local and global directory sites, it facilitates creation, management, and monetization. With features like four diverse home page styles (Parallax image, Slider, Slideshow, and Video), a creative and distinct design approach, User Admin Dashboard, six varied Listings pages along with three distinct Listings Single pages, and powerful parallax effects, Homeradar stands as a comprehensive solution for crafting compelling and efficient directory and listing websites.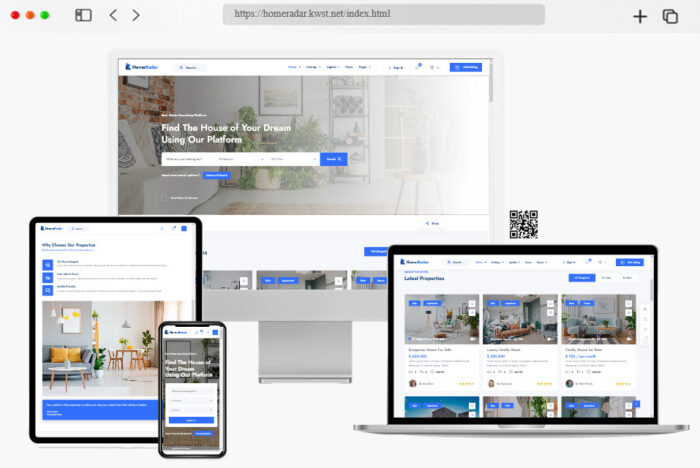 More info / download Demo
Vesax
Vesax stands as a contemporary and responsive Angular template tailored for Directory & Listing websites. Meticulously crafted with Angular, TypeScript, Bootstrap, and Sass, this template caters to both individuals and companies launching directory and classified listing startups, Google Maps or OpenStreetMap-based services, and various listing businesses. It's also suitable for classified listing platforms and related business agencies.
Vesax includes a dedicated Admin Dashboard specifically designed for directory and listing business websites. This admin dashboard boasts a visually appealing design that seamlessly adapts to all devices, ranging from mobile devices to tablets, desktops, and laptops. With its use of Angular, TypeScript, and modern web technologies, Vesax offers a comprehensive solution for creating dynamic and feature-rich Directory & Listing websites with an efficient and user-friendly admin interface.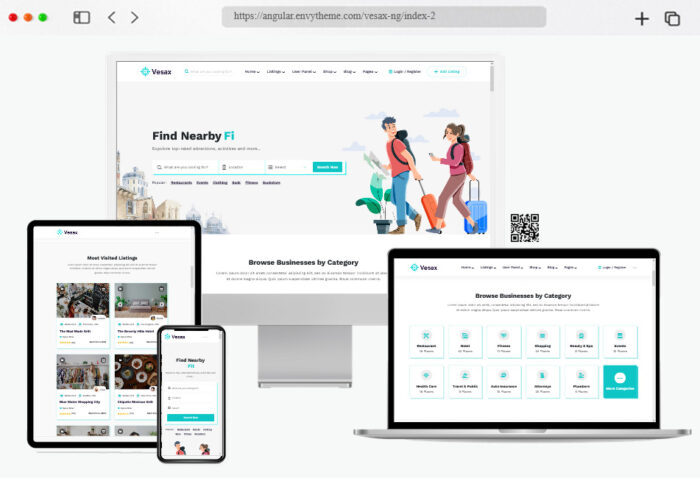 More info / download Demo
Louise
Louise offers a sleek and modern responsive Angular template perfect for Directory & Listing websites. Built with leading technologies such as Angular, TypeScript, Bootstrap, and Sass, this template serves as an ideal solution for individuals and businesses venturing into directory and listing startups.
With integration capabilities for Google Maps or OpenStreetMap-based services, it's tailored for listing businesses and is equally adept for Classified Listings and related business agencies. Louise merges modern design aesthetics with robust technical frameworks, ensuring a comprehensive platform for creating dynamic directory and listing platforms.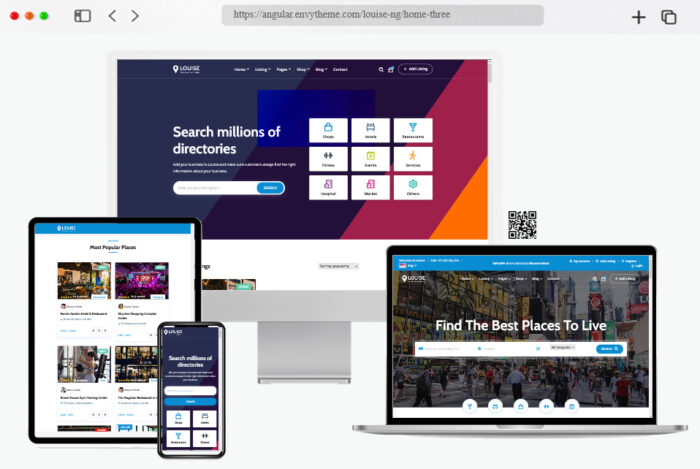 More info / download Demo
Prozim
PROZIM is a sleek and modern HTML5 template designed for Professionals Directory and Listings. It's developed with a strong focus on Page Speed Performance as a core aspect. The emphasis on Page Speed aligns with Google's ranking signal and contributes to improved search engine positions and enhanced user experiences. This balance between features and speed is a standout feature of PROZIM. The template is optimized for file sizes, clean code, and critical CSS load.
With 39 HTML pages, PROZIM offers a comprehensive solution for creating dynamic directory and listing platforms. It's fully responsive, ensuring its adaptability across various devices. Powered by the latest Bootstrap 5x framework, the template provides a modern foundation for your website.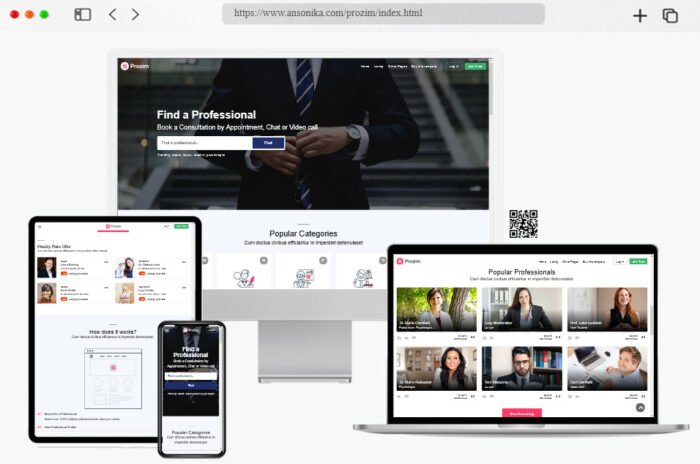 More info / download Demo
Townhub
Townhub – Directory & Listing Template offers an impeccable clean and modern design, making it a prime option for those seeking a sophisticated aesthetic. Serving as a listing directory template, Townhub is designed to facilitate the creation, management, and monetization of local or global directory websites. Whether you're focusing on a specific locale or spanning the globe, Townhub provides the tools needed for a dynamic and lucrative directory platform.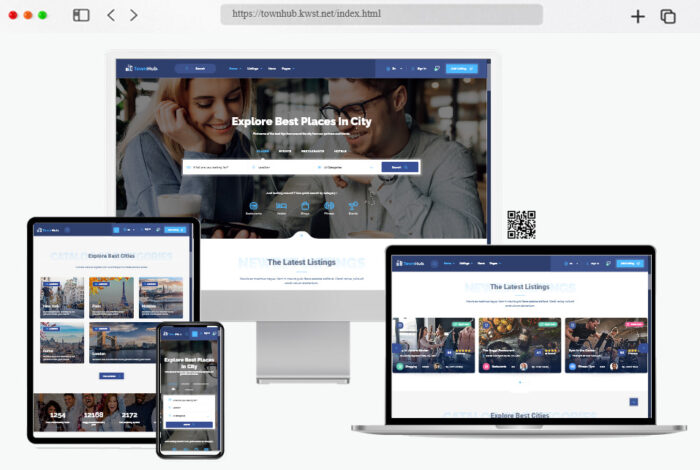 More info / download Demo
BizBook
BizBook presents premium directory and listings templates that offer top-tier quality at an unmatched price point. Tailored for local businesses, portals, classifieds, and diverse directory services, this template is a powerhouse solution. Boasting robust features such as listing submission, event management, blog integration, lead capture capabilities, SEO-friendly structure, source tracking, advanced listing filters, comprehensive user profiles, seamless payment gateway integration, user-centric dashboards, and an intuitive admin panel, BizBook transforms the business directory landscape. Designed to optimize performance, this template is powered by Bootstrap 4.0, ensuring a seamless and responsive user experience. Elevate your directory platform today with the unmatched potential of BizBook.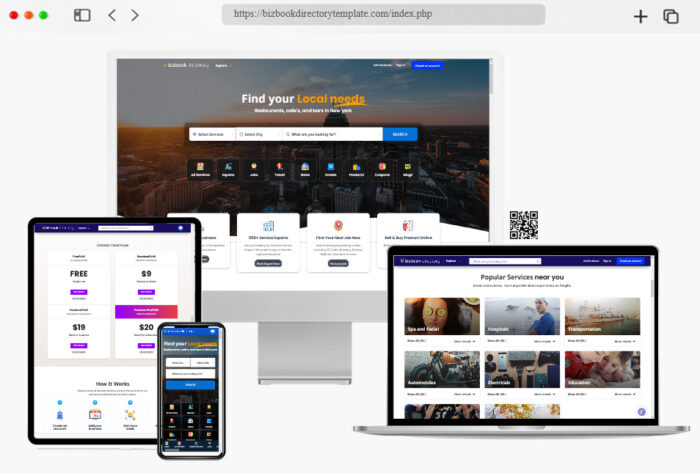 More info / download Demo
Foogra
FOOGRA is a contemporary HTML5 template meticulously crafted for Restaurants Directory and Listings. It places a strong emphasis on Page Speed Performance as a primary feature. Acknowledging Google's consideration of Page Speed as a ranking signal for better search engine positioning, FOOGRA prioritizes optimal user experience. The template achieves a balance between robust features and efficient page speed, meticulously managing file sizes, maintaining clean code, and optimizing critical CSS load. FOOGRA is poised to deliver a seamless and engaging experience, catering to both user satisfaction and search engine visibility.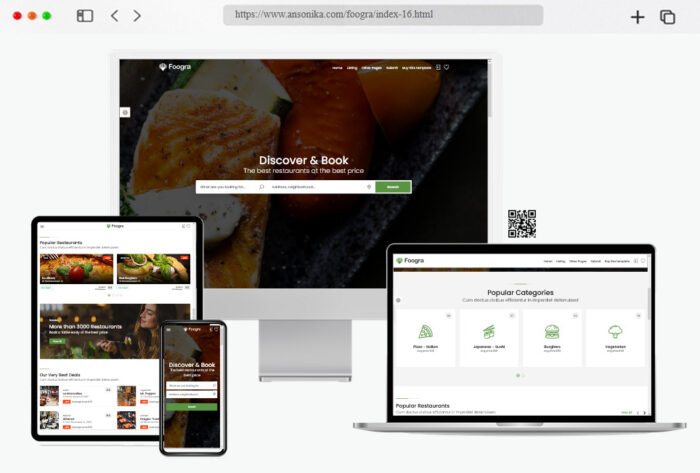 More info / download Demo
Sparker
SPARKER is a contemporary HTML5 template designed for directories and listings. It prioritizes the latest web design trends and mobile-friendliness. The template offers various layout versions and SCSS files. Key features include valid and clean HTML5/CSS3 code, full responsiveness, compatibility with both Bootstrap 5x and Bootstrap 4x, over 70 HTML pages, 10 different home page designs, 11 layouts for listings, 3 options for single listing displays, and 11 pre-designed color schemes.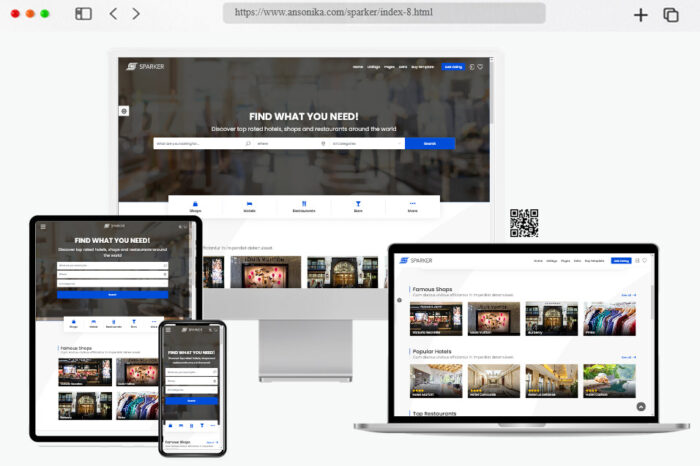 More info / download Demo