Are you a young ambitious personality? Are you in search of yourself? Do you have your own online project but have no idea how to set it up? Have you been waiting for a long time for a sign to change your habitual lifestyle? This is it! Get up off the couch and get moving! Fortunately, we've got something special for you. TemplateMonster is launching the second Marathon Your Own Web Studio in 61 Days. It is a free closed educational project for those who plan to start their own online business in the web development/design sphere.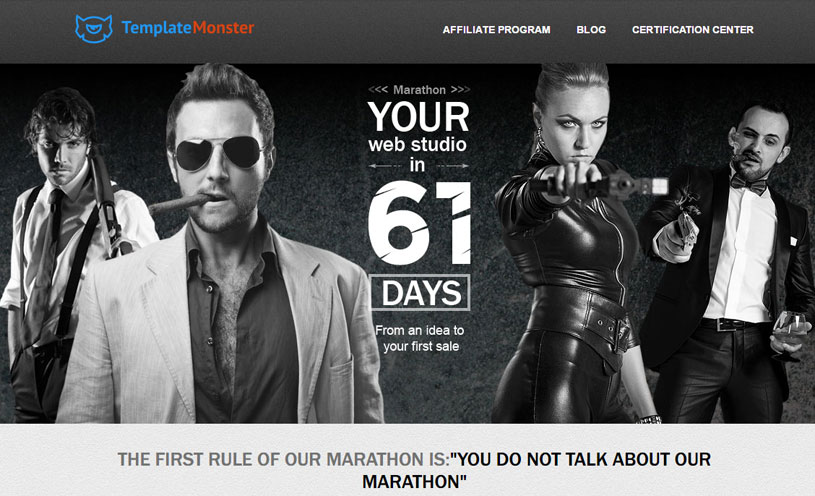 When & Where?
The enrollment is open till February 27th 2017. Don't wait, the places are limited. We choose the most creative and serious minded applicants. After you sign up you need to answer a few questions to show us that you are really worthy of participating.
Rules
Then we offer you 10 lessons comprised of theory and practice. They are not difficult, but there is one strict rule – to follow deadlines. Relative to each of the lessons we send you examples of the tasks that need fulfilling, and until the day before the next lesson starts you have to complete the tasks. If not, you will be disqualified without the right to access course materials anymore. Trust us, deadlines are an important part of work on the Internet.
We promise you uniqueness
Step-by-step we will guide you through all the stages of our marathon and reveal the secrets of managing an online business. The vast knowledge will be given to you so that you can create your own web design studio. You will also learn how to work with freelancers, create an active team, plan the budget, search for the clients and make money. Moreover during the Marathon you will also receive your first orders. Sounds great, doesn't it? Enroll now!
Those are the 10 steps to your dream, and in only 61 days you will be able to:
build websites
create your own web design studio
sort out good freelancers
manage your team
work with clients
sell your products/services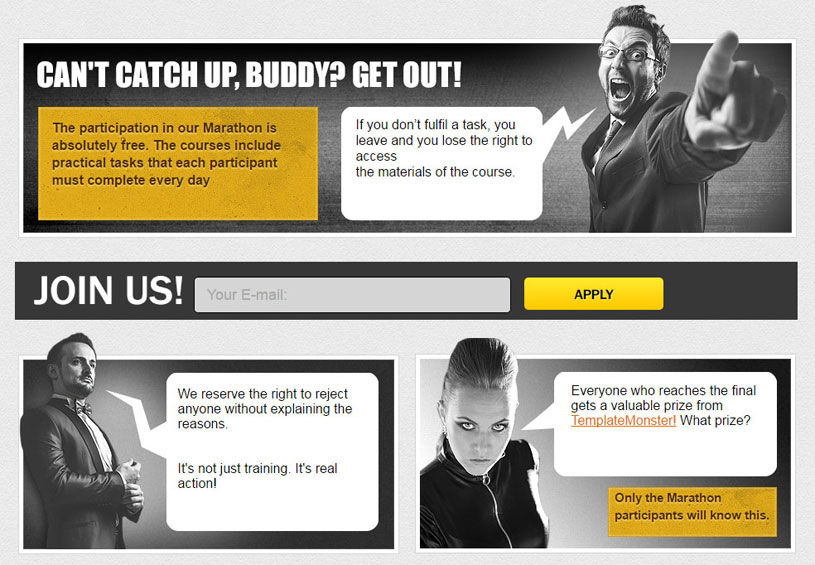 Prizes to winners
Have you understood yet that our Marathon is not just a course of "How to do…" tips. Only those who are really eager to acquire new knowledge and discover new opportunities will reach the final stage. The finalists will be encouraged with valuable prizes and a special offer from TemplateMonster. What prizes? That's exclusively for participants! Are you ready yet to sign up?
Prosper with online business
Are you not aware yet that online business is very popular nowadays with many benefits? It doesn't require a huge investment or a great professional office. Furthermore you can work from anywhere in the world. Moreover it's easy to get foreign users and customers online, so your business can be developed to an international level.
Don't just sit there. Sign up for the Marathon! Do not wait a moment longer! Choose an extraordinary way to build your future! We promise you this Marathon will become an unforgettable experience for you.